Looking for a perfect beef bulgogi recipe? You might have found one.
To us, "perfect" means healthy, easy, and tasty, and this Korean beef BBQ is all three. Our recipe promises tender, juicy, meat coated in a delicious, fragrant sauce that you'll later drizzle all over the rice and veggies.
The best thing about this meal? It comes together in just 20 minutes.
What Is Bulgogi?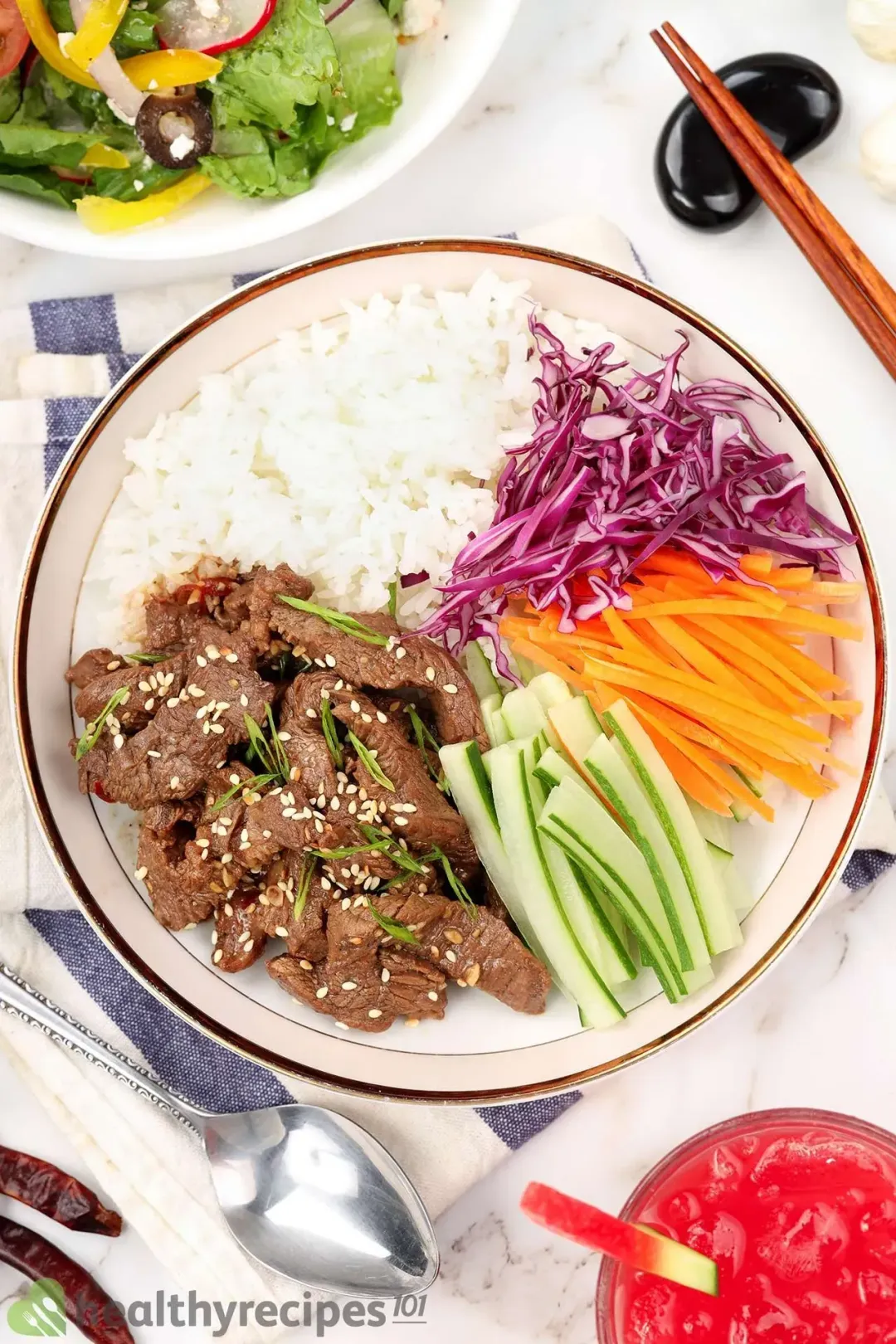 "Bulgogi" is a Korean BBQ dish — "bul" means fire, and "gogi" means meat. The meat is submerged in a fragrant, salty-sweet marinade and then gets sticky either on the grill, in the oven, or in a pan.
People always prepare bulgogi with thinly sliced beef. If a restaurant uses pork, they should list the dish as either "dwaeji bulgogi" or "pork bulgogi" to avoid misunderstanding.
Bulgogi is typically served with white rice and plenty of side dishes like kimchi or vegetables. We served ours with some carrot, red cabbage, and cucumber cut into thin strips, which look just like a Korean "bibimbap" (mixed rice).
Kalbi vs Bulgogi
The two Korean BBQs are sometimes mixed up as they share almost the same marinade. What they don't share is the type of meat: bulgogi uses sliced beef whereas it's short ribs for kalbi.
Plus, kalbi should never be pan-fried. It should always be grilled or at least broiled in the oven.
Is Beef Bulgogi Healthy?
Bulgogi has nothing but proteins but, paired with vegetables and rice, it becomes a balanced meal with reasonable amounts of macronutrients. The diversity of ingredients also brings you a variety of vitamins and minerals.
Experts suggest that we should keep our daily sodium intake to below 2300 mg. Being mindful of this, we used low-sodium soy sauce to marinate the beef, which won't make it any less flavorful.
If you want to learn more about restricting sodium intake (and other nutrition guidelines), check out this article.
What Is the Best Cut of Beef for Bulgogi?
Tender beef cuts like tenderloin, sirloin, or ribeye are the perfect choices for a beef bulgogi recipe. If you can't get them, you can resort to tougher cuts like beef shoulder, as we did.
Regardless of the type of cut, it has to be sliced very thinly and against the grain so it won't turn out chewy. It should look nothing like what we had no choice but to purchase: thick, pre-sliced meat strips with connective tissues running across:
To avoid this predicament, get a whole piece and cut it yourself:
First, you'll need a really sharp knife to make thin slices.
Look closely at the beef to determine the parallel lines of connective tissues and slice perpendicular to it.
Once the meat is nicely cut, it should be marinated in the sauce for at least 10 minutes before cooking.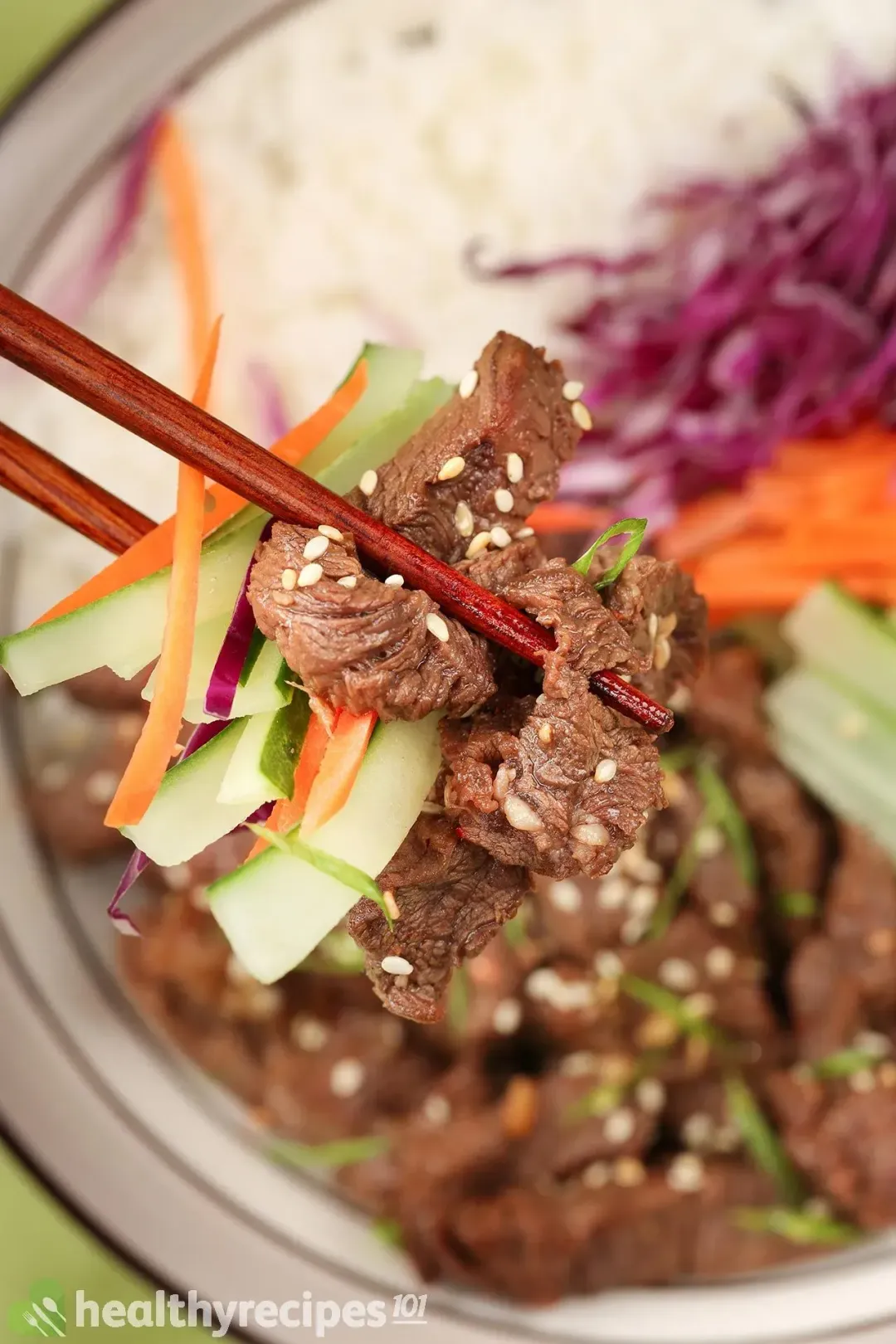 How to Make Bulgogi Sauce
The bulgogi sauce you love will taste a little different in another restaurant because they all have their secret beef bulgogi recipes. The one we'll show you today may not be exactly the same as your favorite, but it's the easiest sauce ever.
The saltiness comes from soy sauce and oyster sauce. You can use just soy sauce if you want to, but we prefer the marinade to be a little thick.
Almost all beef bulgogi recipes call for pears, but we can replicate its sweetness with sugar. We specifically want brown sugar so that the meat will take on a gorgeous color like this beef sauté.
The best pear for cooking also has a hint of tartness and an alcoholic aroma due to natural fermentation. To mimic this complexity, we added a touch of red wine vinegar to the marinade.
Koreans love using garlic and ginger in their cooking, so we used equal amounts of them. You can add more or less to your preference.
Next is an important aromatic that sets this beef bulgogi distinct from western BBQs: sesame oil. If you're someone who enjoys Korean or Asian food in general, this item should always be in your pantry.
Finally, we added some red pepper flakes for a little heat, which you can skip if you want.
Tips for Making Bulgogi Beef
We assume that you have a rice cooker, which will cook you perfect rice every time. If you don't have one, you can also prepare rice on your stovetop:
Add about 1 1/2 cups of Jasmine rice to a pot, and wash the rice with your hands twice to rid excess starch. This starch will make the rice grains stick to each other and make your pot overflow.
Add  2 1/4 cups of water to the washed rice and simmer on low heat for 17 minutes. Fluff the rice with a fork, and set it aside until serving.
To optimize cooking time, you should cook the rice first, marinate the meat, then cut the vegetables while the meat's marinating. A mandoline also makes the prepping a lot quicker and easier.
How to Store and Reheat Leftover Beef Bulgogi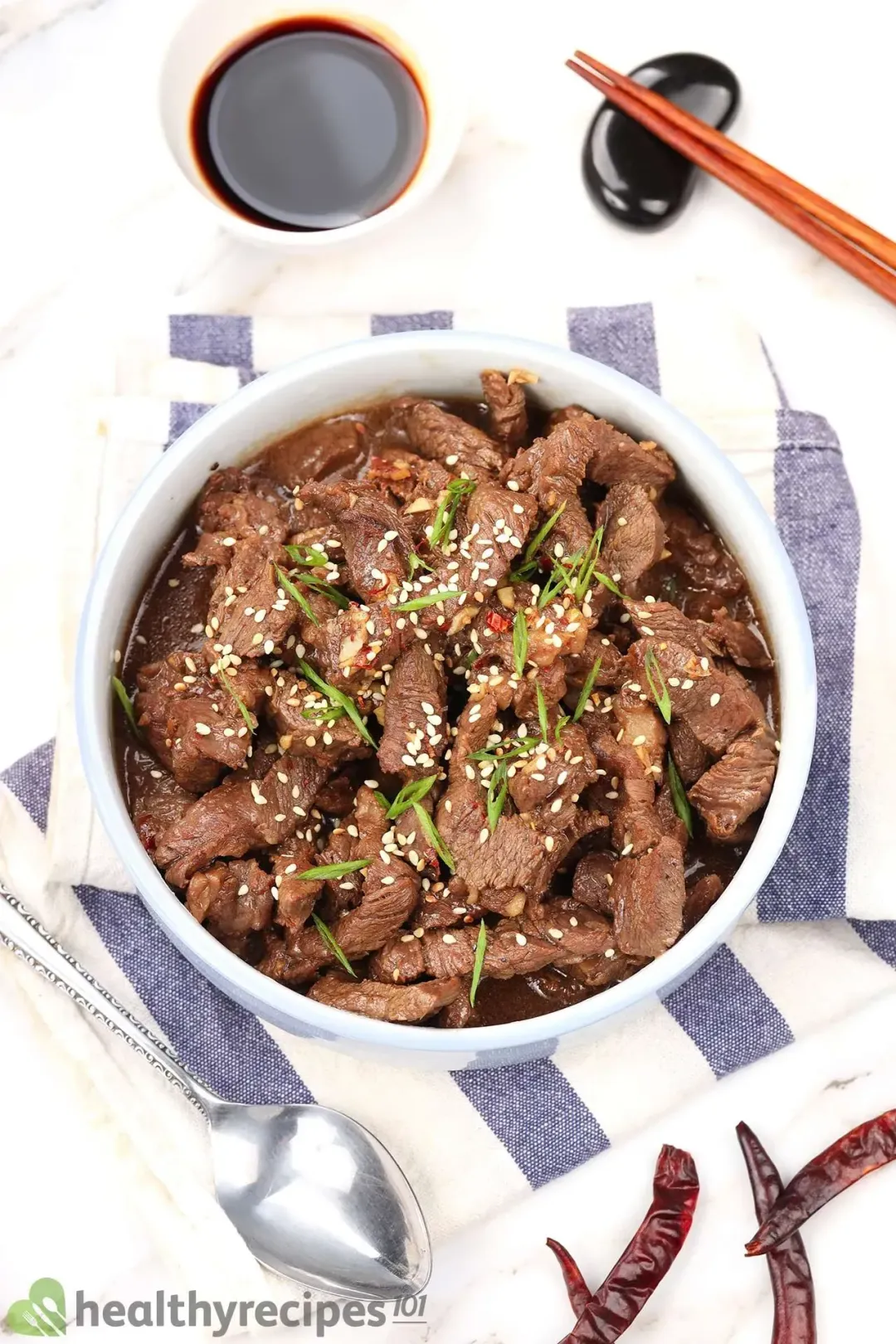 If you happen to cook more beef bulgogi than you can finish, keep it in the fridge. Use an airtight container or simply wrap the container tightly, and it can last for about a week.
To reheat, simply stir-fry it in a skillet over medium heat for about 1 or 2 minutes. You can add a splash of water if things are a little dry.
You can also freeze the beef, but it'll become chewy and less juicy once it's thawed. 
If you don't always have an unoccupied spot in your schedule for cooking, freeze the sliced meat along with the marinade, and cook it later. It'll turn out delicious and will keep for up to 3 months.
What to Serve With Bulgogi Beef
In keeping with the balanced approach Korean meals often adopt, we're serving bulgogi beef with a salad and a drink. Our Greek salad adds tanginess to balance the sweet and savory bulgogi, while the lemon-watermelon drink gives the meal a nice finish: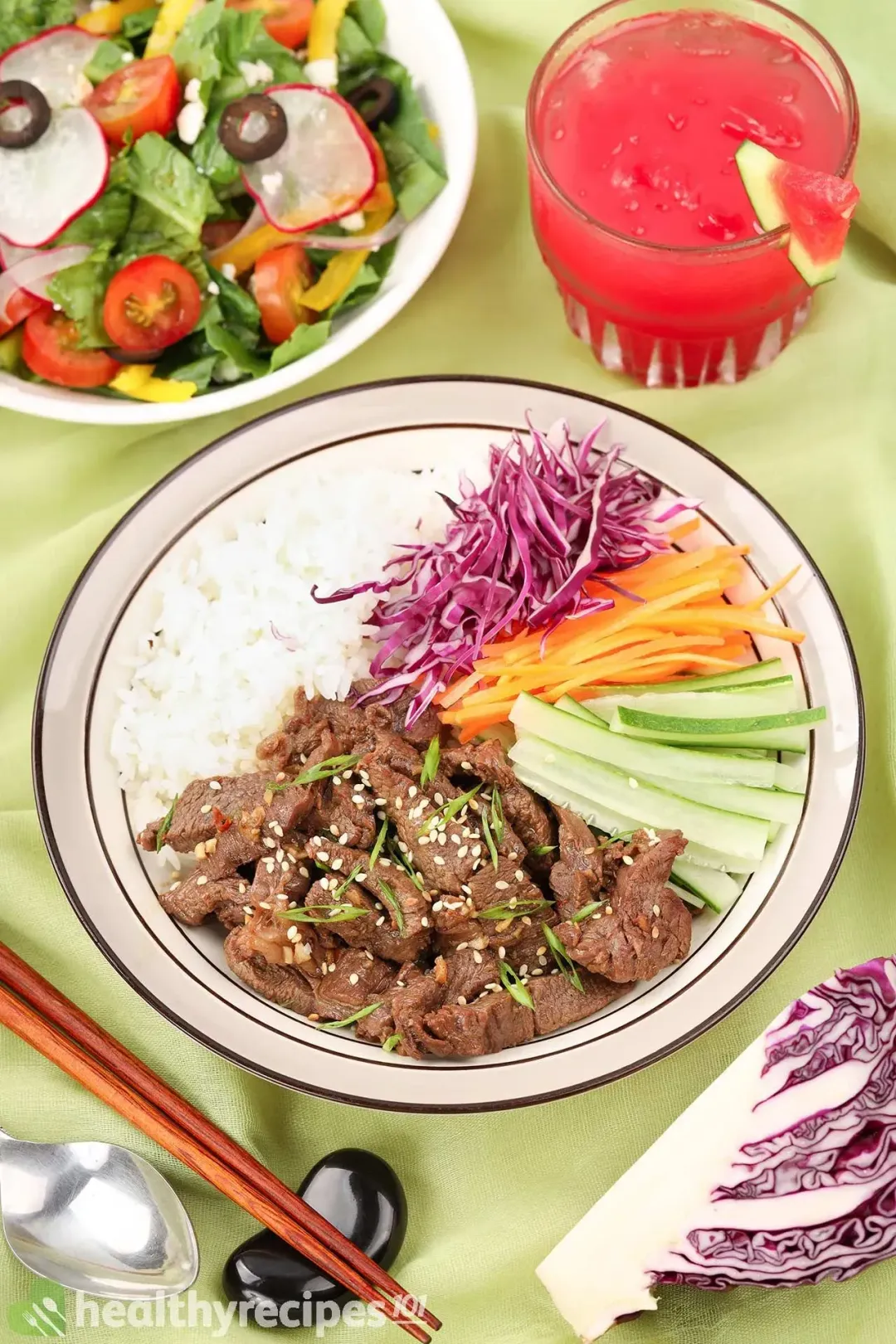 Satisfy Your Cravings with These Irresistible Beef Over Rice Dishes
Indulge in the sweet and savory flavors of our Beef Teriyaki recipe, featuring succulent beef marinated in a homemade teriyaki sauce. Easy to make and bursting with flavor, this dish is perfect for a quick weeknight dinner or a weekend gathering with friends.
Ground Beef and Broccoli is a simple and satisfying meal that can be made in just one pan. This recipe from Healthy Recipes 101 uses lean ground beef, broccoli, and a few other ingredients to create a delicious and healthy dinner that the whole family will love.
If you're a fan of beef and rice dishes, browse through our roundup for similar mouth-watering recipes.
Beef Bulgogi
This 20-minute beef bulgogi recipe brings you an authentic experience with simple and easy-to-find ingredients.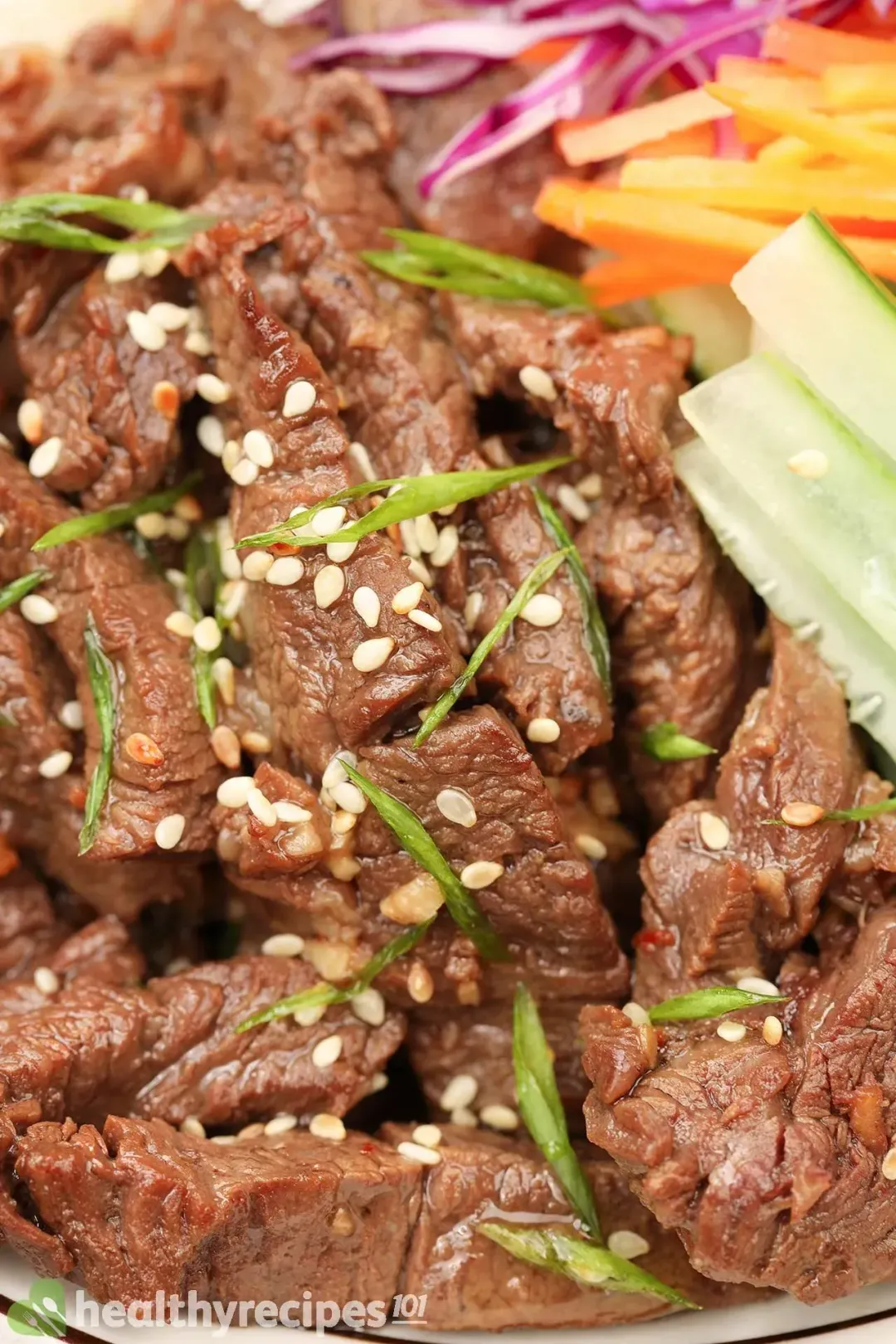 cook TIME

15 mins

prep TIME

5 mins

total TIME

20 mins
COURSE

Main Course

CUISINE

Korean

SERVINGS

CALORIES

477 kcal
INGREDIENTS
16 oz

beef chuck

(shoulder top, thinly sliced)

2 1/2 tbsp

reduced-sodium soy sauce

1/2 tsp

ginger

(finely chopped)

1/2 tsp

red pepper flakes

4 oz

cucumber

(halved, seeded, then sliced lengthwise thinly)

2 oz

red cabbage

(thinly sliced or shaved)

3 1/2 cups

cooked long-grain rice

1/2 tbsp

sesame seeds

(toasted)

2 tbsp

scallion

(sliced on a bias)
INSTRUCTIONS
1
Place 16 oz beef chuck into a large bowl. Add 2 1/2 tbsp soy sauce, 1 tbsp brown sugar, 1 tbsp wine vinegar, 1 tbsp sesame oil, 1 tbsp minced garlic, 1/2 tbsp oyster sauce, 1/2 tbsp black pepper, 1/2 tsp ground ginger, and 1/2 tsp red pepper flakes. Mix it well and marinate for 10 minutes.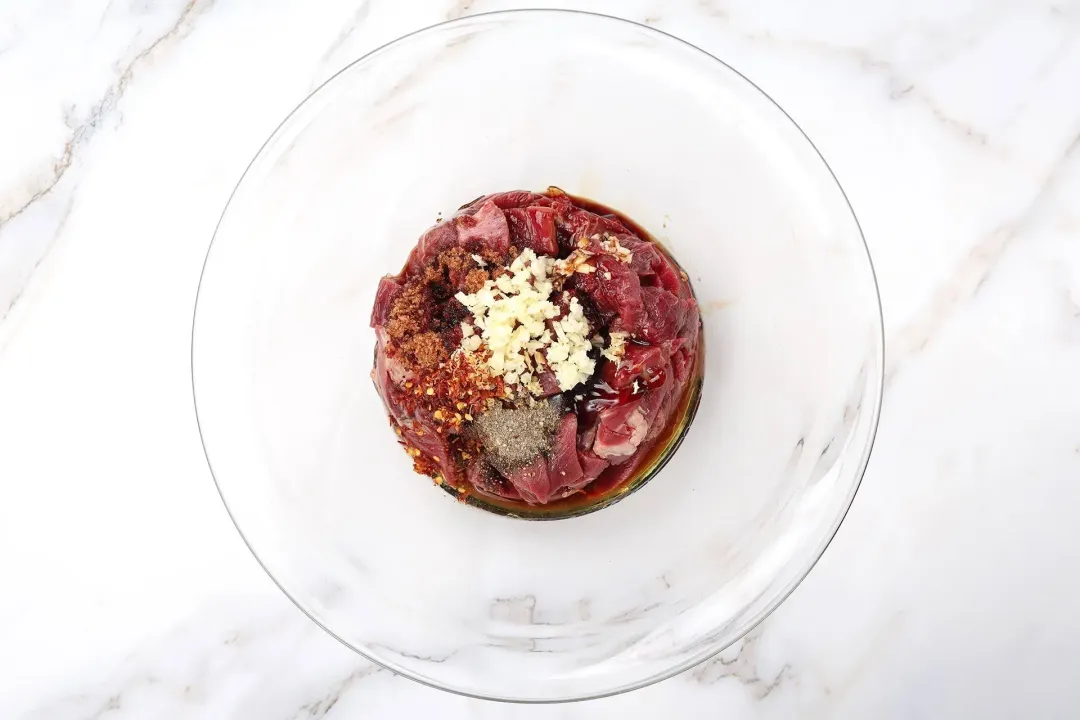 2
Add 2 tbsp olive oil to a non-stick skillet, and heat it over a large heat. Add a beef slice and if it sizzles, add the rest of the marinated beef and stir around to cook for 5 minutes. Remove from heat.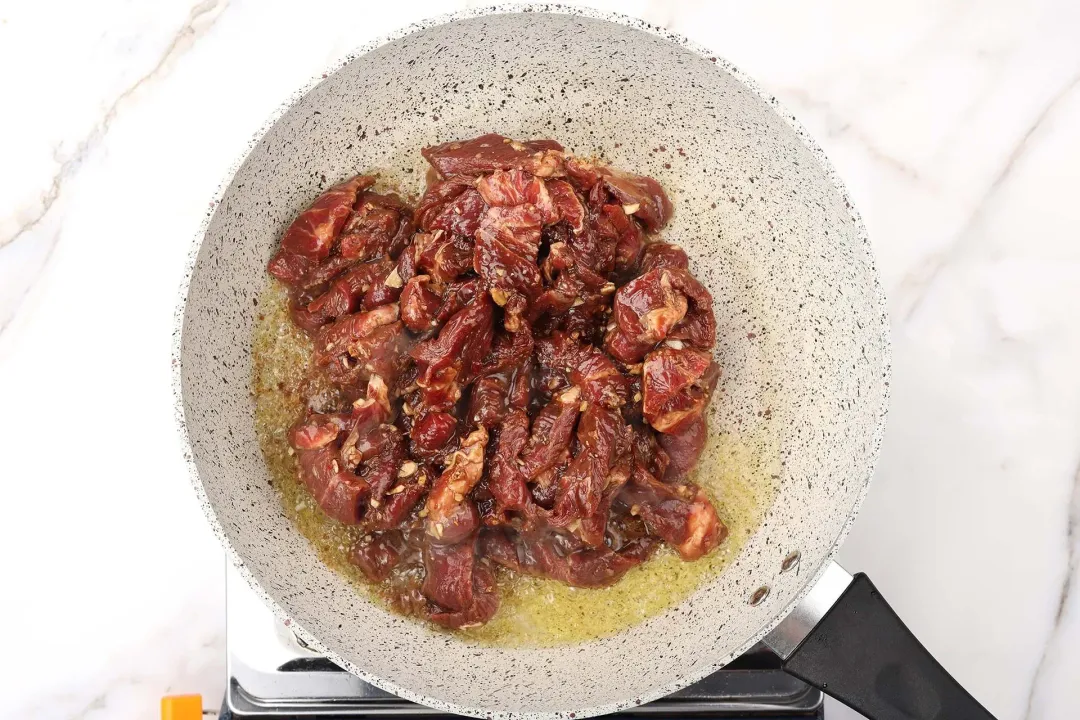 3
Serve: arrange the vegetables: 4 oz cucumber, 2 oz carrots, 2 oz red cabbage, cooked rice, and beef in a bowl and sprinkle 1/2 tbsp toasted sesame seeds and 2 tbsp sliced scallions on top. Enjoy!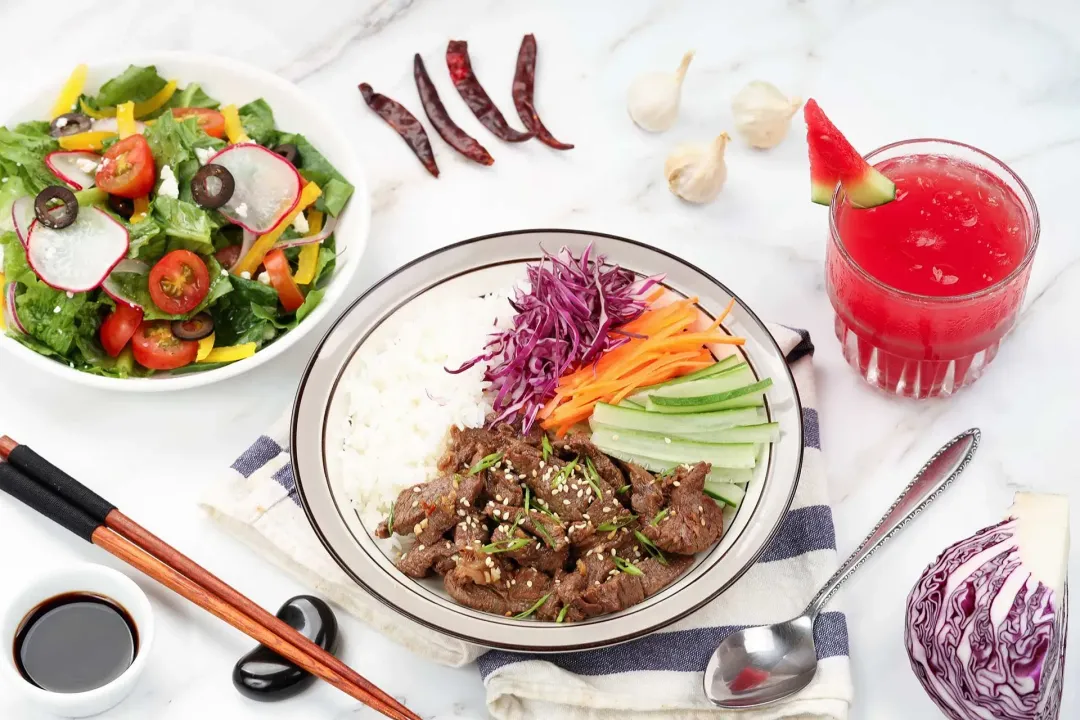 NUTRITION
Nutrition Facts
Beef Bulgogi
Amount Per Serving (1 serving)
Calories 477
Calories from Fat 162
% Daily Value*
* Percent Daily Values are based on a 2000 calorie diet.
Keywords: Beef Bulgogi, Beef Bulgogi Recipe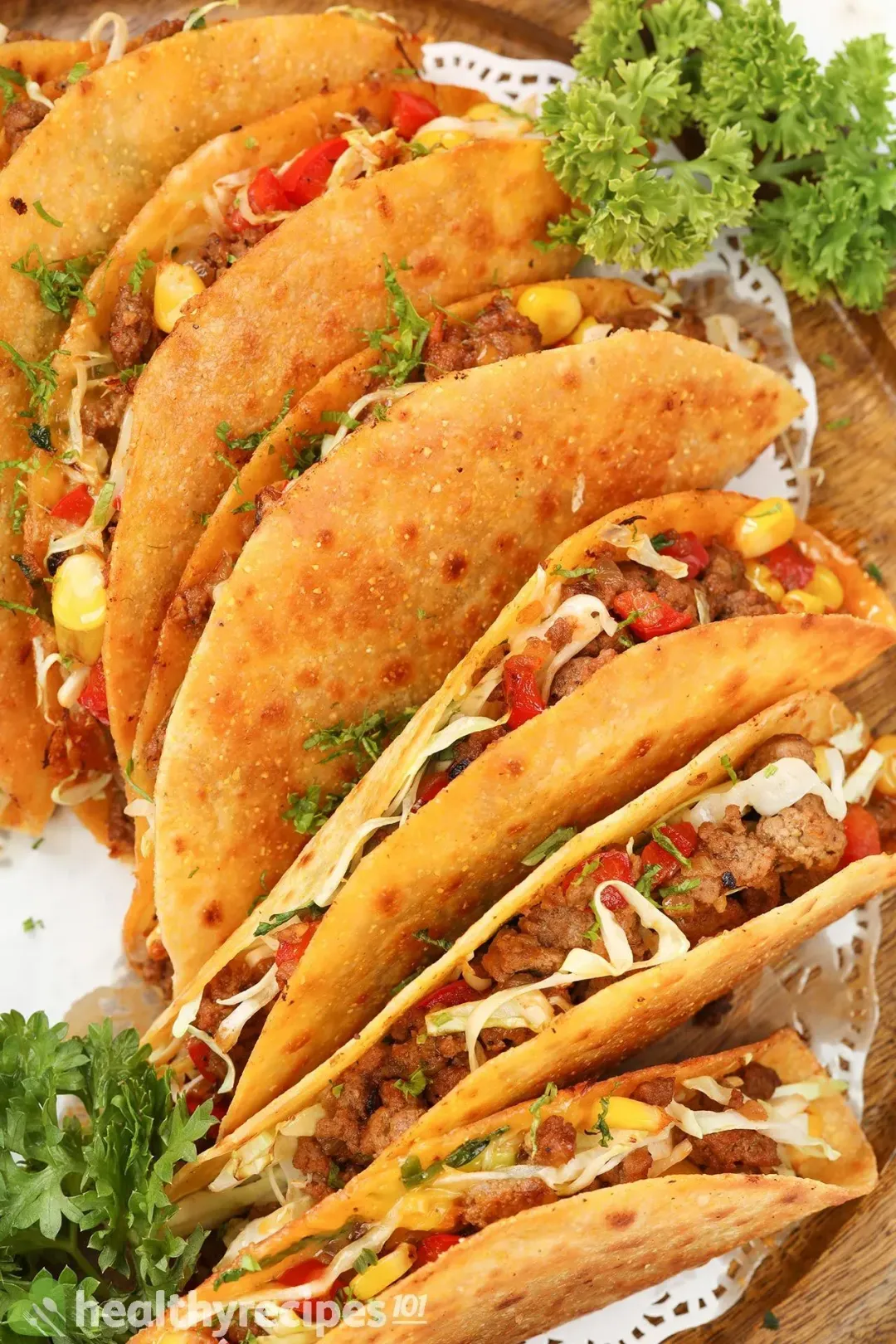 Previous Recipe
Beef Quesadilla
Beef Quesadilla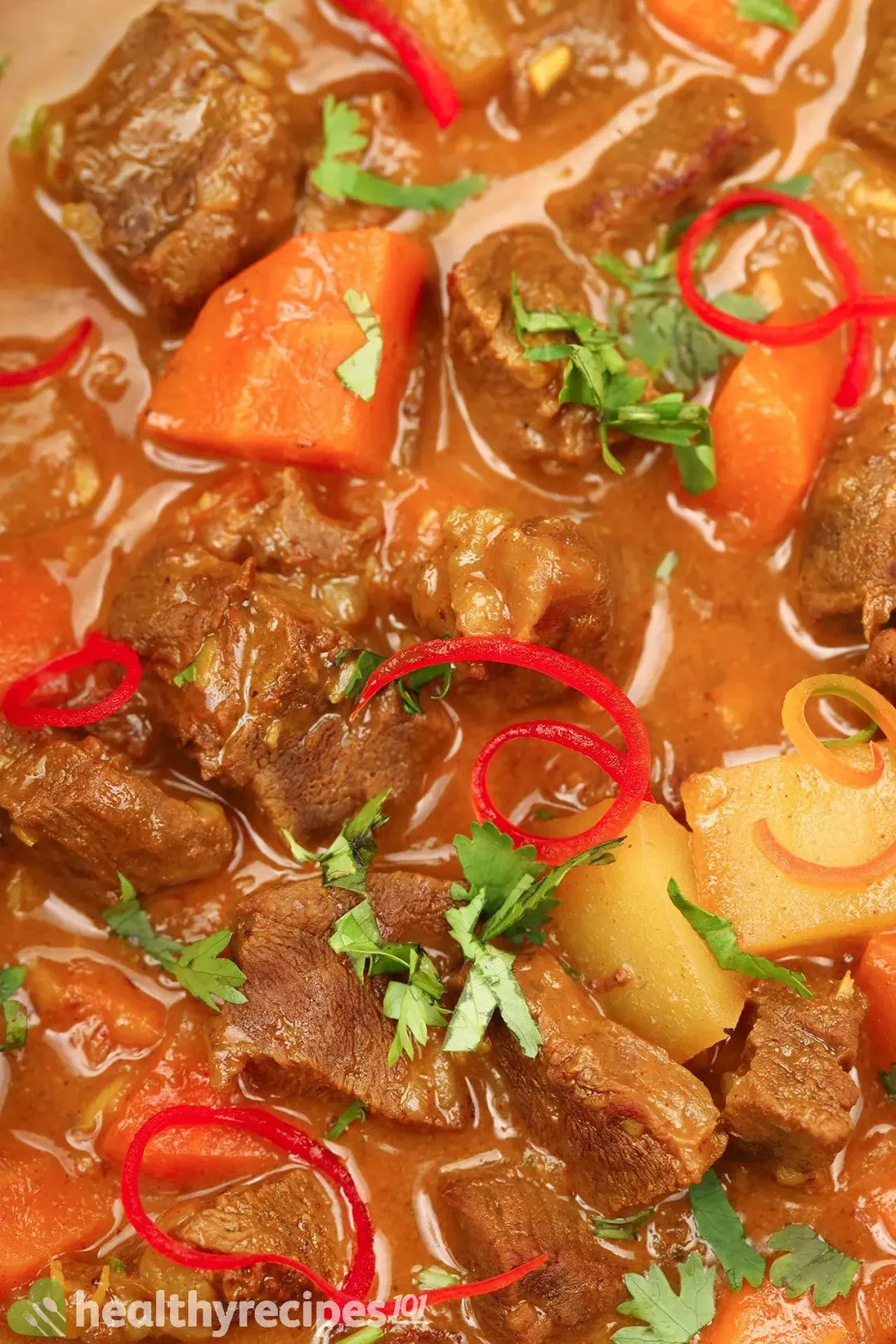 Beef Curry
Head Chef, Culinary Consultant
Tuyet Pham is an award-winning Saigonese chef who believes that joy is the secret ingredient to delicious food. At Healthy Recipes 101, Tuyet personally tests and simplifies every recipe, ensuring maximum flavor with minimal effort. With a background at prestigious French restaurants P'TI Saigon and Le Corto, Tuyet knows how to make every dish exceptional.
Writer, Author
Luna Regina is an accomplished writer and author who dedicates her career to empowering home cooks and making cooking effortless for everyone. She is the founder of HealthyKitchen101.com and HealthyRecipes101.com, where she works with her team to develop easy, nutritious recipes and help aspiring cooks choose the right kitchen appliances.
Nutrition Reviewer
Lizzie Streit is a Minneapolis-based dietitian and founder of It's a Veg World After All. She completed her MS in Human Nutrition from Drexel University, and is an expert in culinary nutrition, recipe development, and nutrition communications. Lizzie's philosophy is centered around making nutrition recommendations, and especially the advice to eat more vegetables, approachable and realistic. She is excited to be working with the team at Healthy Recipes 101 to ensure that their recipes are both nutritious and delicious.
This beef recipe is so flavorful and easy to make! A must-try for any Korean food lover.