This cabbage rolls recipe can be a real time-saver when it comes to meal planning.
If you've looked up this recipe, this means you're a definite comfort foodie-lover. Well we're glad to inform you that you've come to the right place. Our cabbage rolls make for a hearty meal with flavorful meat rolls, cooked and doused in an easy homemade tomato sauce.
The best part about cabbage rolls is that they make great left-overs that can be eaten whenever. All you need to do is, store them in the freezer, reheat them whenever you want, and enjoy!
So, if you're dying to know how to make this delicious meal, hit that "jump to recipe" above to go straight to our cabbage rolls recipe. Or keep reading to learn more about this ultimate comfort food.
Is This Recipe Healthy?
Cabbage rolls are one of the healthiest comfort foods around. Each one of these rolls are packed with an abundance of flavors and nutrients.
For starters, cabbages contain a small amount of fiber and an abundance of micronutrients. The most prominent ones are vitamin C, vitamin K, and polyphenols with antioxidative properties.
Within the rolls you'll find a delicious meat filling made of minced beef, rice, bread, flavored with herbs and homemade tomato sauce. It's a harmonious blend of the macros, and they're just delicious.
Calories
Each serving of this cabbage rolls recipe yields around 507 calories.
Up to 43% of the calories come from minced beef, oil, and some dairy products. We did not hold back on the total fat, because it's essential for our health.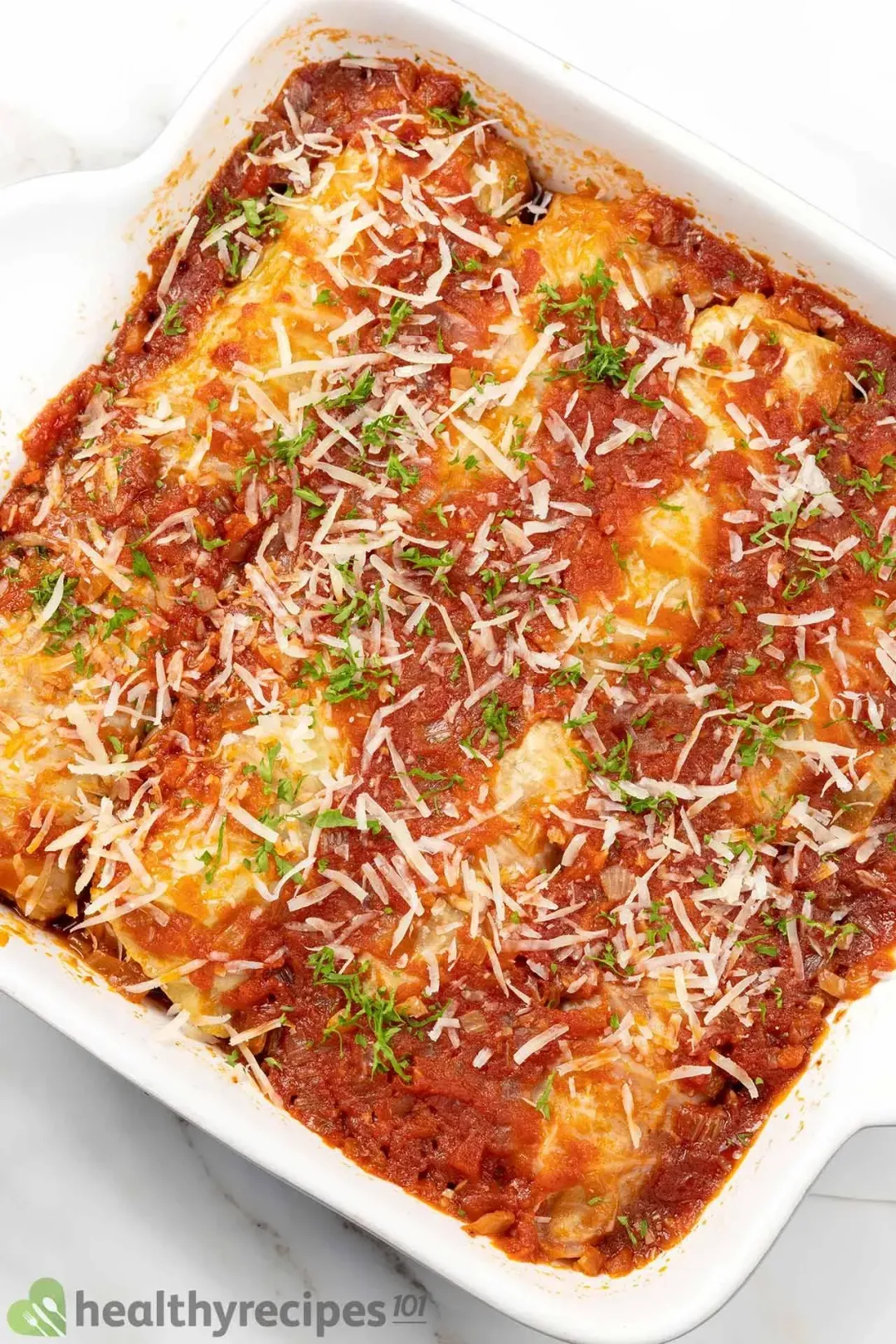 What we did regulate, however, is the saturated fat content since too much of it may raise your blood cholesterol levels. The recipe we provide has an acceptable level of saturated fat.
Another 23% of the calories derive from meat protein. It's full of EAAs, or essential amino acids. They are excellent for muscle building and overall body growth.
The rest of the calories (34%) are from the baguettes and arborio rice. These are good sources of carbohydrates and should be consumed in moderation.
Cabbage vs Lettuce
Despite the similarities in appearance, you can easily tell the two apart by their name tags and the texture. Cabbage is tough, heavy and slightly rough to the touch whereas lettuce is softer, lighter, and has more fragile leaves.
If you're looking for cabbage alternatives, we're sorry to tell you that lettuce won't cut it. No one eats cooked lettuce, to be frank— it's mushy and has a bad texture.
Health-wise, lettuce's nutrient yield is much lower than cabbage. It doesn't come with much fiber, either.
If you do want to switch things up a bit, there are plenty of cabbage alternatives to choose from.
What Types of Cabbage?
Let's have a look at the possibilities
1. Green Cabbage
The original ingredient this recipe calls for is green cabbage, and it has everything to make the perfect rolls. It holds its shape when cooked, looks good with tomato sauce, and doesn't release too much moisture.
2. Red Cabbage
Similar to green cabbage, red cabbage also has the right texture and water content.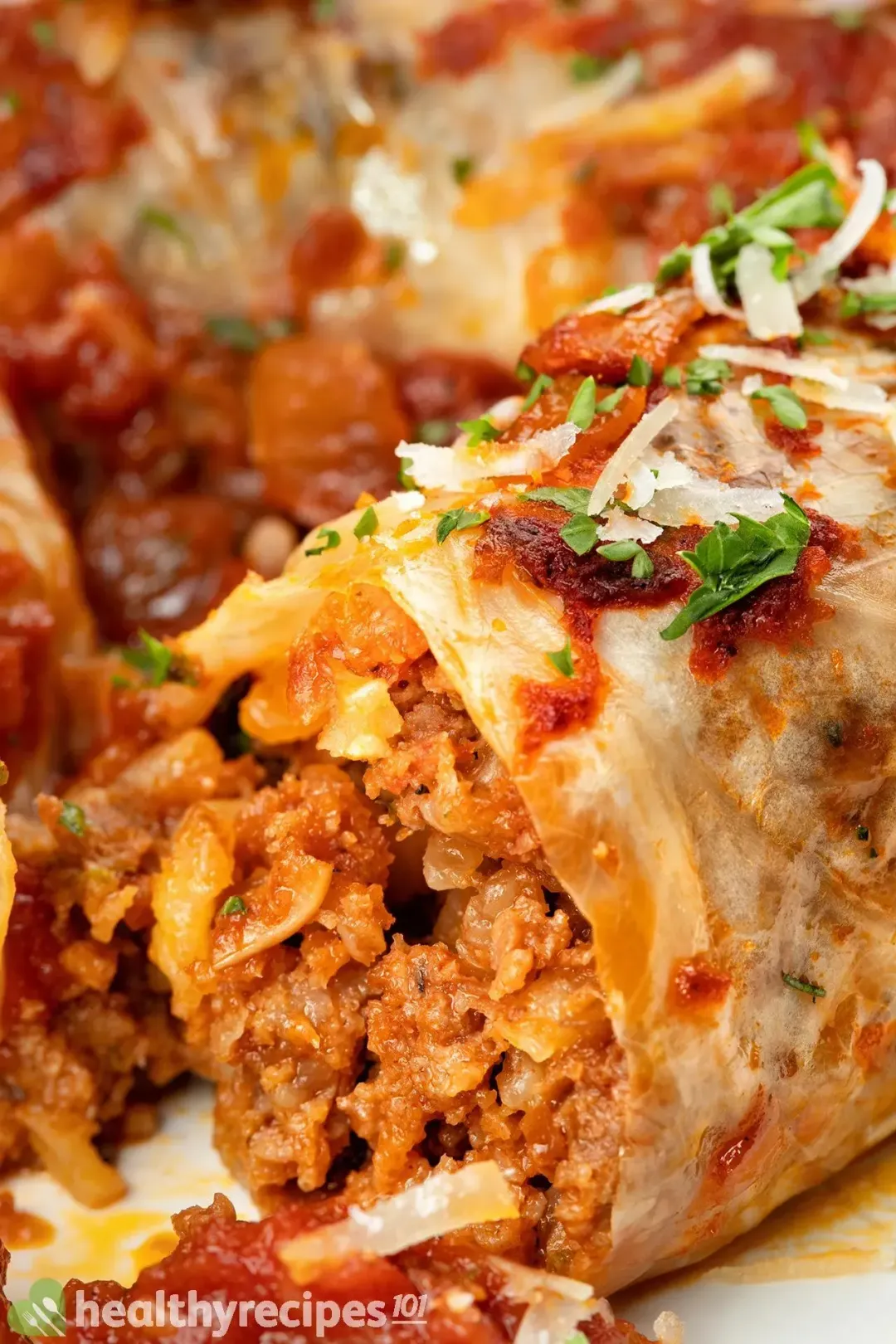 However, as the rolls cook, the purple color from the cabbage can make the sauce turn a little bit dark. If it's not one of your concerns, we're sure it'll bring a new aesthetic experience to your meal.
3. Napa Cabbage
This type is often referred to as Chinese cabbage, which is slightly sweeter, crispier, and has a juicier crunch to it. If you enjoy tender, melt-in-your-mouth meals then you'll definitely want to go for this one.
How Long to Boil Cabbage
For any cabbage rolls recipe, we don't want the cabbage to be well-done at the rolling stage. What we want is soft, pliable leaves that will be baked in the oven and cooked in there.
So, we recommend boiling the water, cooking the leaves for about a minute or so, then washing them with cold water to stop the cooking process.
At this stage, the undercooked stalk can make wrapping difficult as it's still too tough to roll. Since further boiling will cause the leaves to become too mushy, we simply chop the stalk off, and this provides satisfying results.
The batch we made wasn't too big so we didn't boil the whole head of cabbage. We only stripped the parts needed for the recipe, then saved the rest in the fridge for other dishes like cabbage soup.
If you were to use red cabbage, the process is pretty much the same. Although, this will result in a purple boiling water that turns blue with a few drops of lemon.
Sauce
Instead of going for the salty store-bought sauce, we're making the tomato sauce from scratch. By doing this, we can control how much salt goes into the sauce, lowering risk of heart diseases!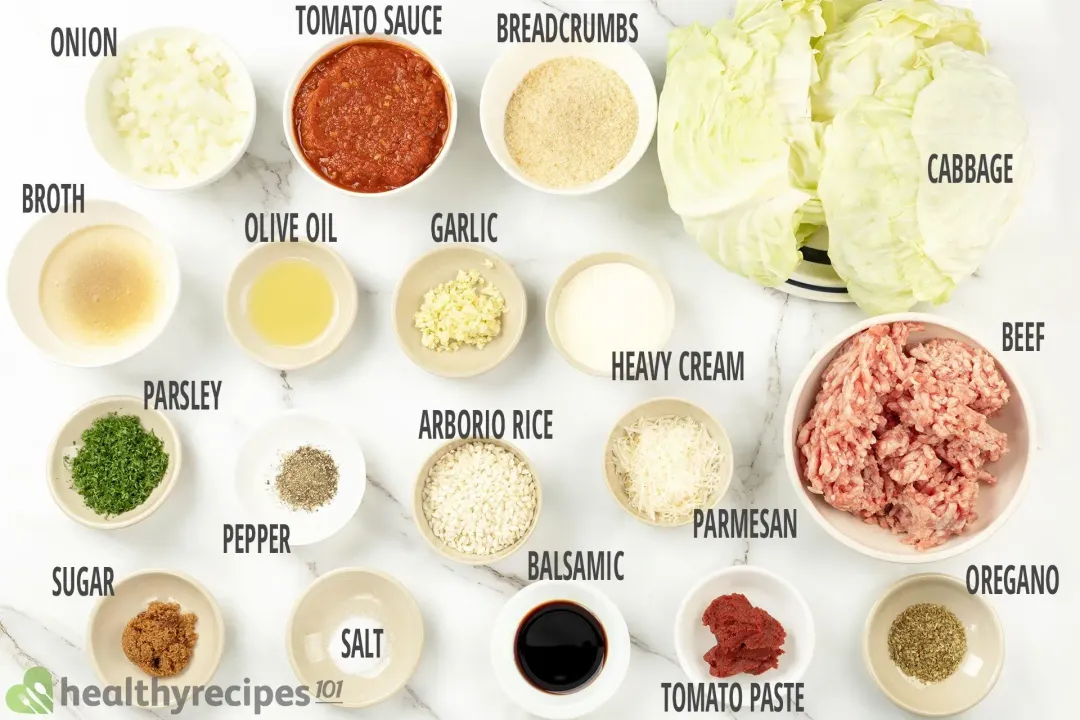 It takes only a few steps:
Pureé diced tomatoes with a food processor;
Simmer tomatoes and seasonings to reduce it;
Strain the mixture through a sieve to get a silky smooth texture;
Use or store in the refrigerator for future use.
For detailed instructions on how to make the sauce, refer to our homemade tomato sauce recipe right here.
How Long Do Cabbage Rolls Last in the Fridge?
Foods in general require proper storage to last. To keep leftovers around the longest possible, store them in an airtight container and place the container in the fridge.
Doing so will allow your cooked cabbage rolls to last for up to 4-5 days in the fridge.
If an airtight container isn't in your kitchen cupboards, simply cover the leftovers with plastic wrap and refrigerate.
Can You Freeze Cabbage Rolls?
Freezing cabbage rolls not only keeps them around longer, but also makes them more delicate. Their texture will be softer, and the flavor becomes more infused and concentrated.
When it comes to freezing food, a question often arises: What's better? Freeze the leftovers or the raw rolls? Well, you can expect two different scenarios.
By storing raw cabbage rolls in the freezer, you need to thaw them out first, then spend another hour or so cooking. In return, the texture almost resembles freshly cooked cabbage, and no one can tell it was originally frozen.
Cooked cabbage rolls are likely to turn mushy if you reheat them for too long. Our tip is, cut each roll in half so it reheats evenly and doesn't take long, and keeps it from turning mushy.
What to Serve With
Cabbage rolls are already good on their own, but they can be better when paired with sides that complement their flavors. Here are some of our ideas:
1. Sweet Potato Gnocchi
This chewy, sweet gnocchi has just the texture and flavors that the little cabbage pouches lack. They really complete each other when served together.
2. Cucumber Lime Juice
We always round off our meals with a refreshing drink, and our selection for today is cucumber lime juice. It's tangy, it's sweet, it's cool, and it's got the perfect low calorie count.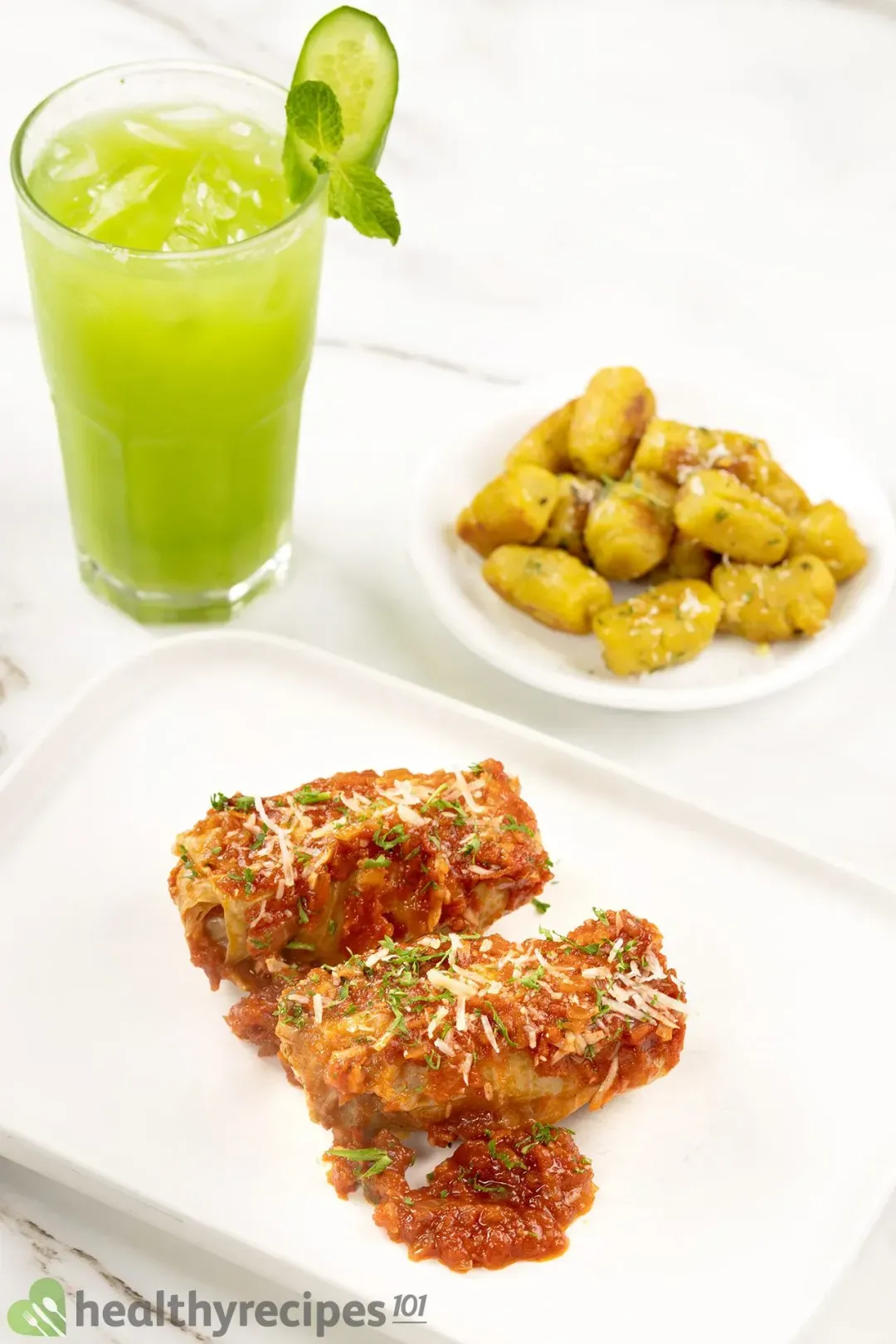 Indulge in the Savory Flavors of These Dishes, too
Spice up your dinner routine with our taco pie recipe. It's made with seasoned ground beef, crispy tortilla chips, and all your favorite taco toppings. It's sure to be a crowd-pleaser.
Or, use this flavorful beef marinade recipe to make a restaurant-worthy eat. It's made with just simple ingredients like soy sauce, garlic, and brown sugar, but has the taste that's made to impress.
If you love oven-baked beef dishes that are equally mouth-watering, browse through our roundup for more inspiration.
Cabbage Rolls
This cabbage rolls recipe is easy and will make a comforting meal for your dinner! Make some mashed potatoes on the side and there is your wholesome, delicious meal.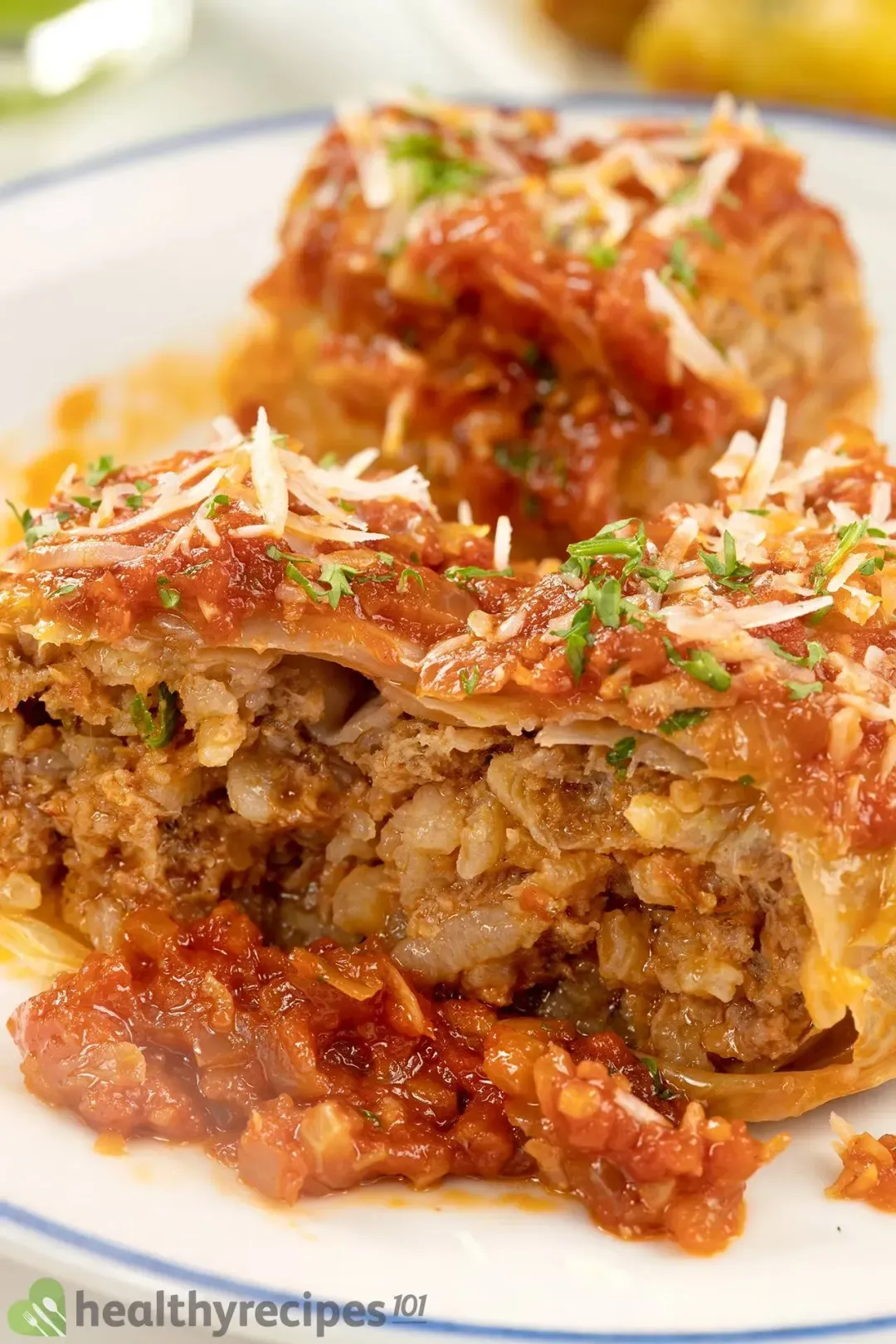 cook TIME

1 hr 15 mins

prep TIME

30 mins

total TIME

1 hr 45 mins
COURSE

Main Course

CUISINE

Global

SERVINGS

CALORIES

469 kcal
INGREDIENTS
12 oz

85% lean ground beef

4 oz

onion

(finely chopped)

1.5 oz

plain panko breadcrumbs

1/2 tbsp

balsamic vinegar

2 tbsp

Hunt's tomato paste

1 1/4 cups

homemade tomato sauce

2 1/2 tbsp

parmesan

(shaved)

1/3 cup

unsalted chicken broth

1/2 tsp

ground black pepper

2 tsp

brown sugar

(unpacked)
INSTRUCTIONS
1
Preheat the oven to 375°F.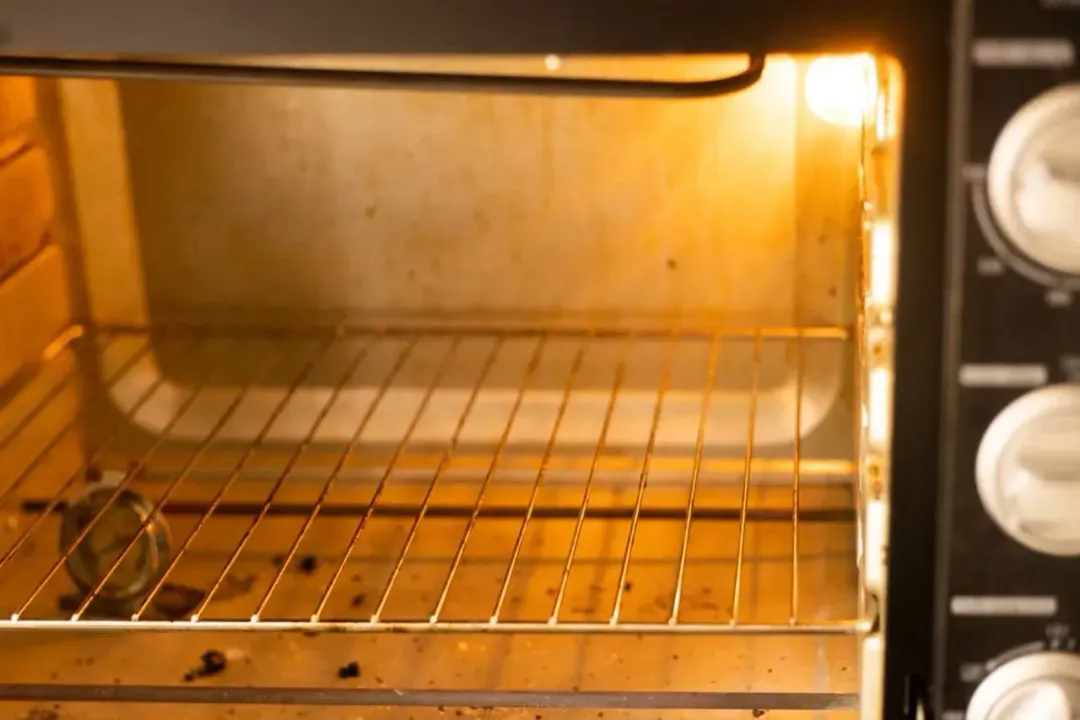 2
Boil 8 leaves of cabbage in hot water for one minute. Use a pair of tongs to take them out of the pot, then carefully cut off the stem sections.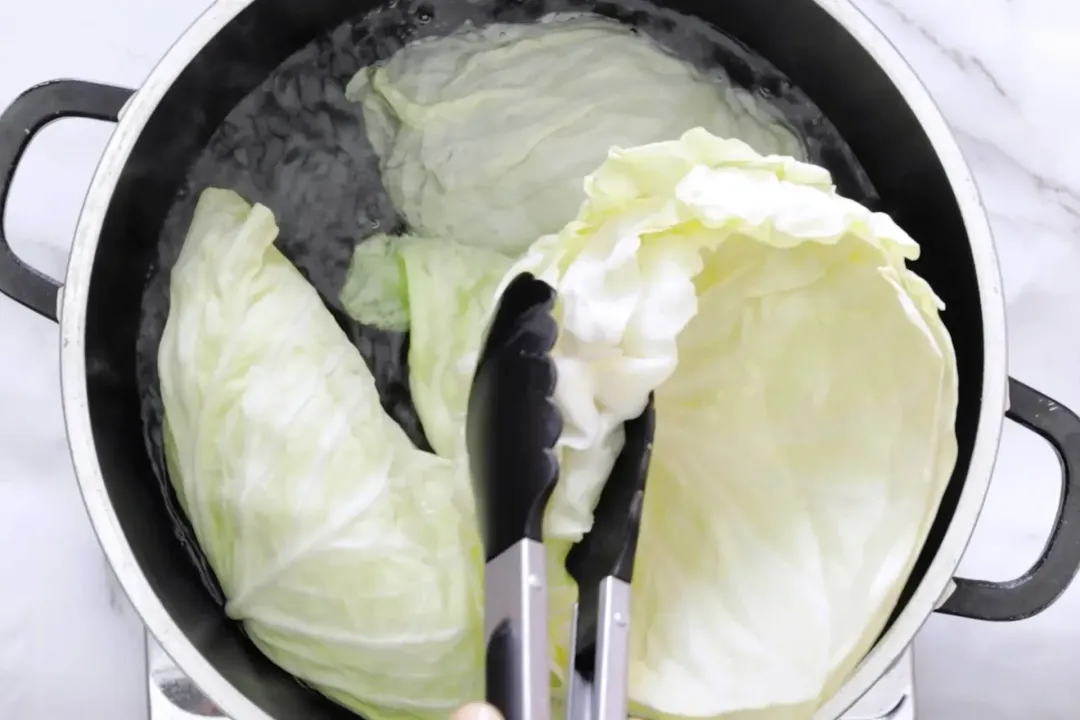 3
Heat 1/2 tbsp olive oil over medium heat in a skillet and then add 4 oz onions. Cook until it's translucent, then add 2 tsp garlic and cook for another minute. Add 2 tbsp tomato paste and cook for 2 minutes. Add 1 1/4 cups tomato sauce in, stir in 1/3 cup chicken stock, and turn off the stove.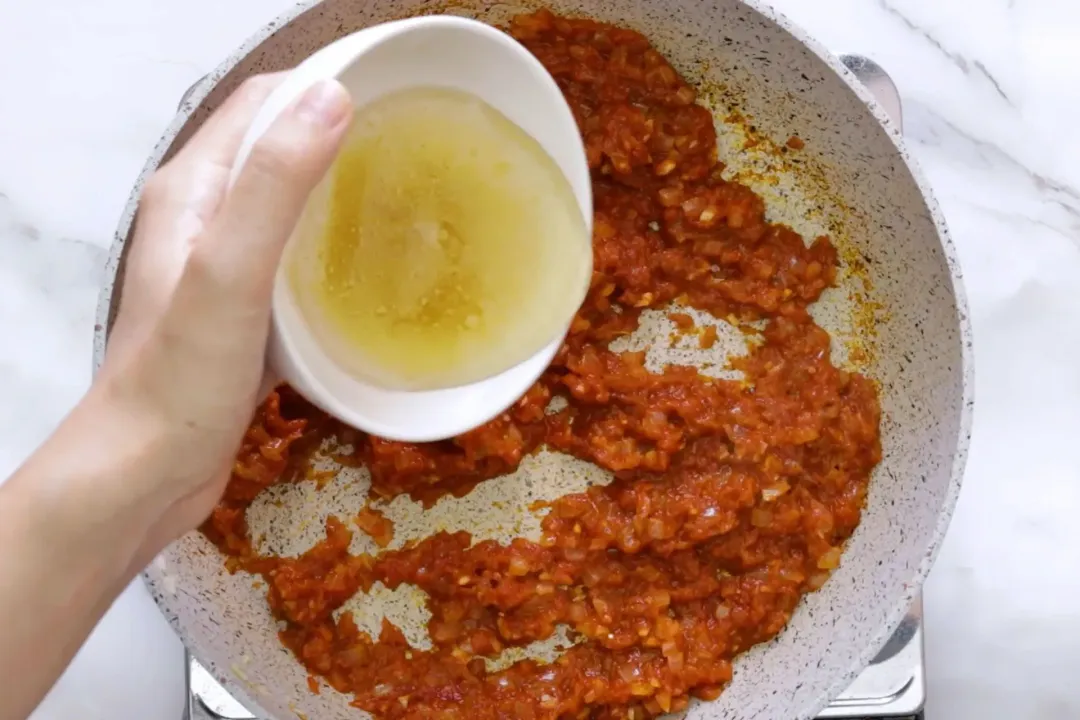 4
In a large bowl, combine 12 oz ground beef, 1 tsp dry oregano, 1/2 tsp salt, 1/2 tsp pepper, 1/2 tbsp balsamic vinegar, 2 tsp brown sugar, 2 1/2 tbsp heavy cream, 1.5 oz plain panko breadcrumbs, 1/3 cup arborio rice, and 1/3 of the sauce you just made. Mix well.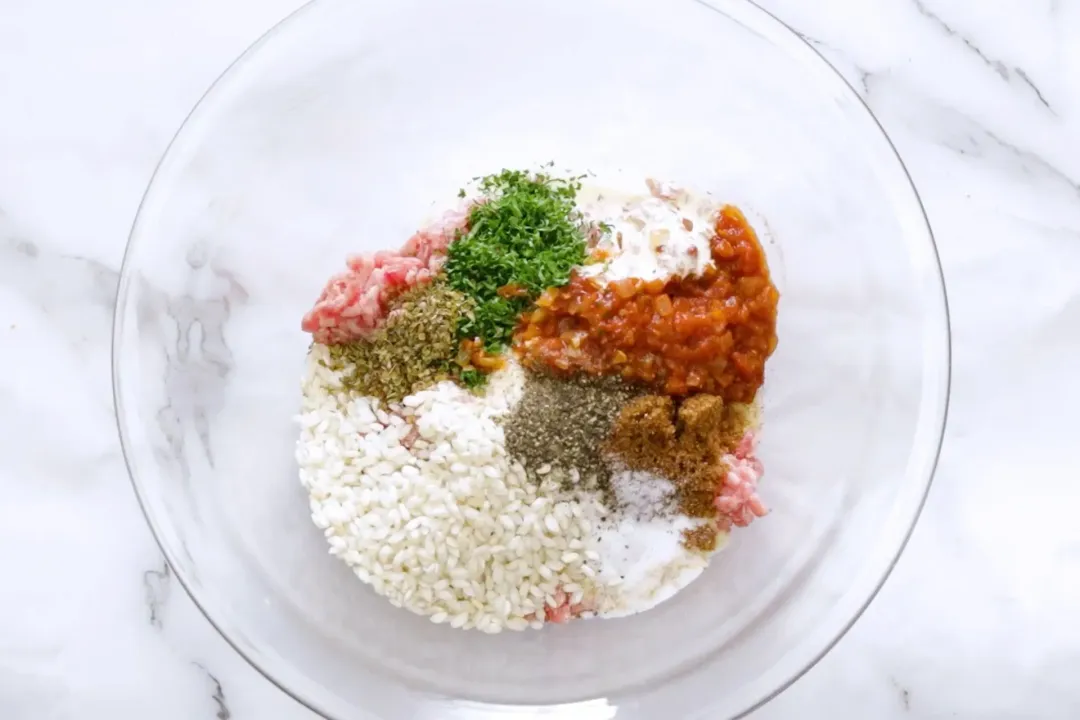 5
Divide the beef filling into 8 portions with a spoon. Lay a cooked cabbage leaf on a flat surface, scoop one filling portion onto it, and start rolling. Tuck the sides in while you roll. Put that aside and continue rolling until you get 8 equal-sized rolls.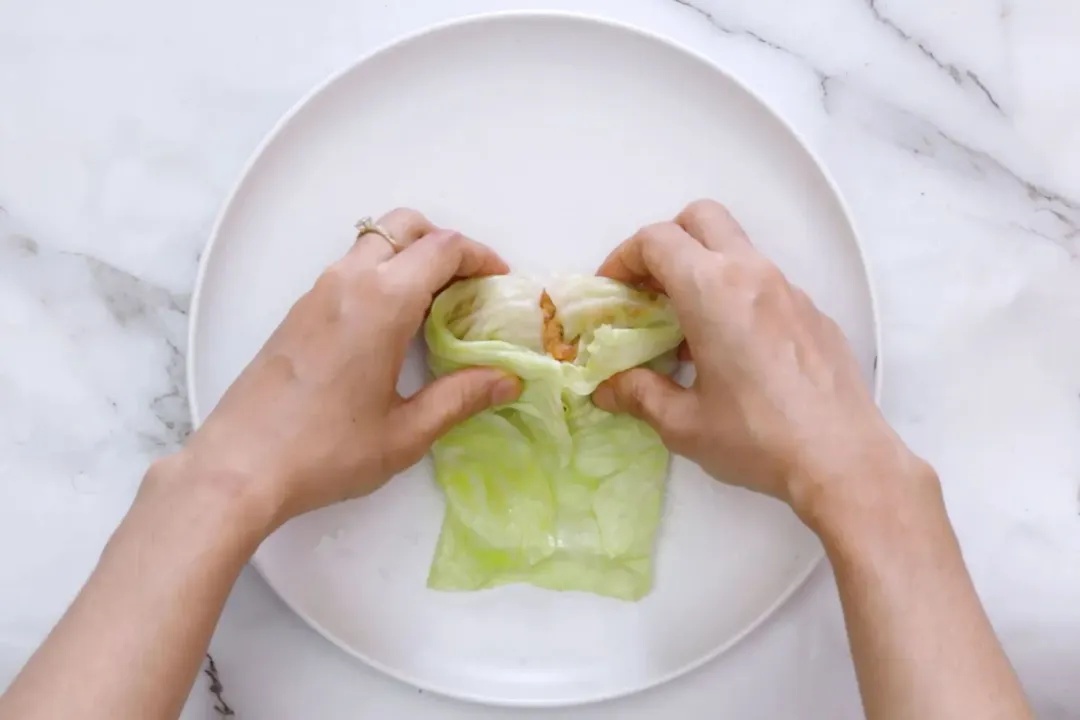 6
Place half of the remaining sauce into a large baking dish. With the spoon you've just used, smear it out to create an even layer. Carefully place 8 cabbage rolls in, and add the remaining sauce on top. Smear that around as well so every roll gets enough sauce. Cover with foil and slide into a preheated oven to cook for 1 hour.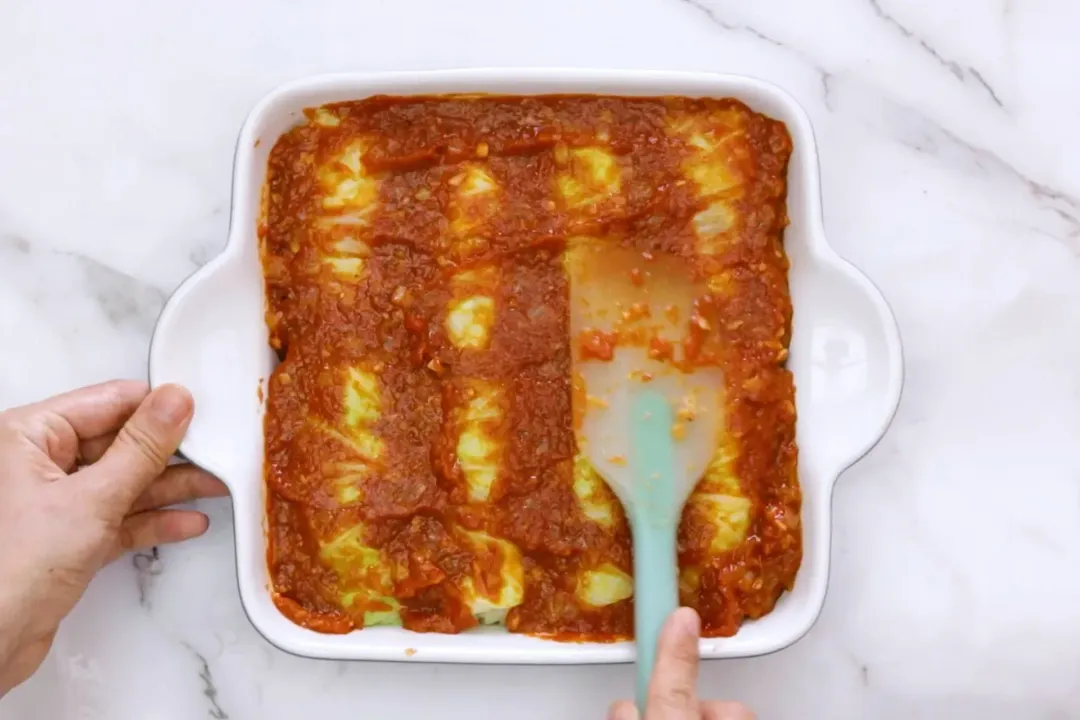 7
When it's done, sprinkle 2 1/2 tbsp parmesan and 2 tbsp parsley on top. Serve immediately or wait until the rolls cool down a bit (they'll be super hot inside!)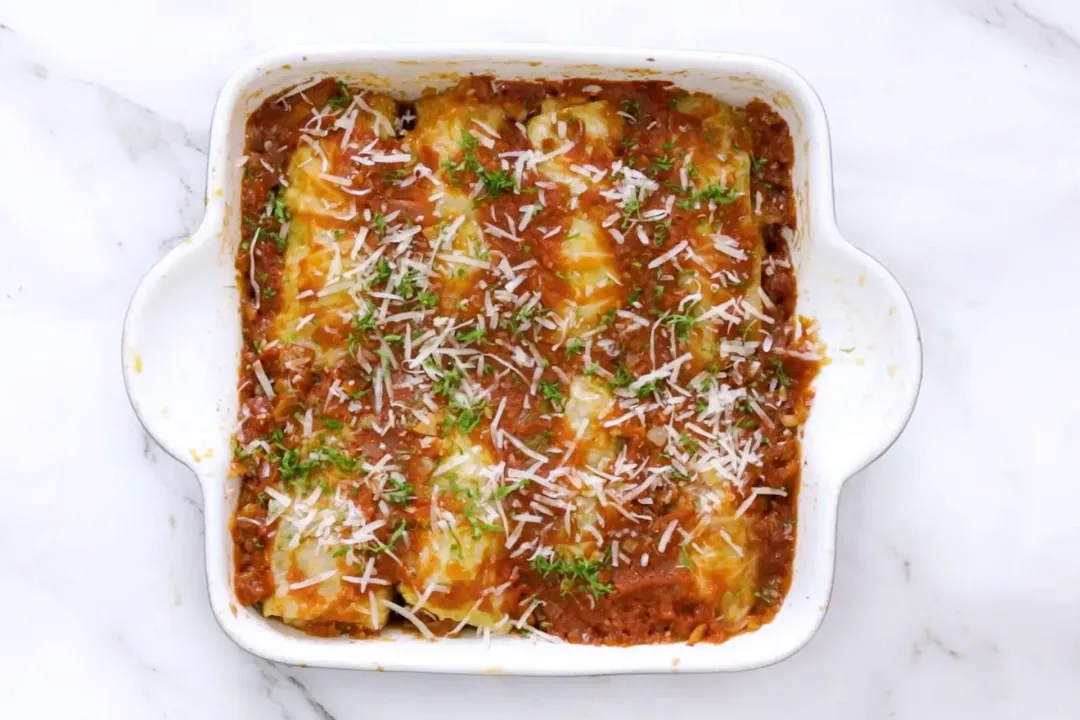 NUTRITION
Nutrition Facts
Cabbage Rolls
Amount Per Serving (1 serving)
Calories 469
Calories from Fat 234
% Daily Value*
* Percent Daily Values are based on a 2000 calorie diet.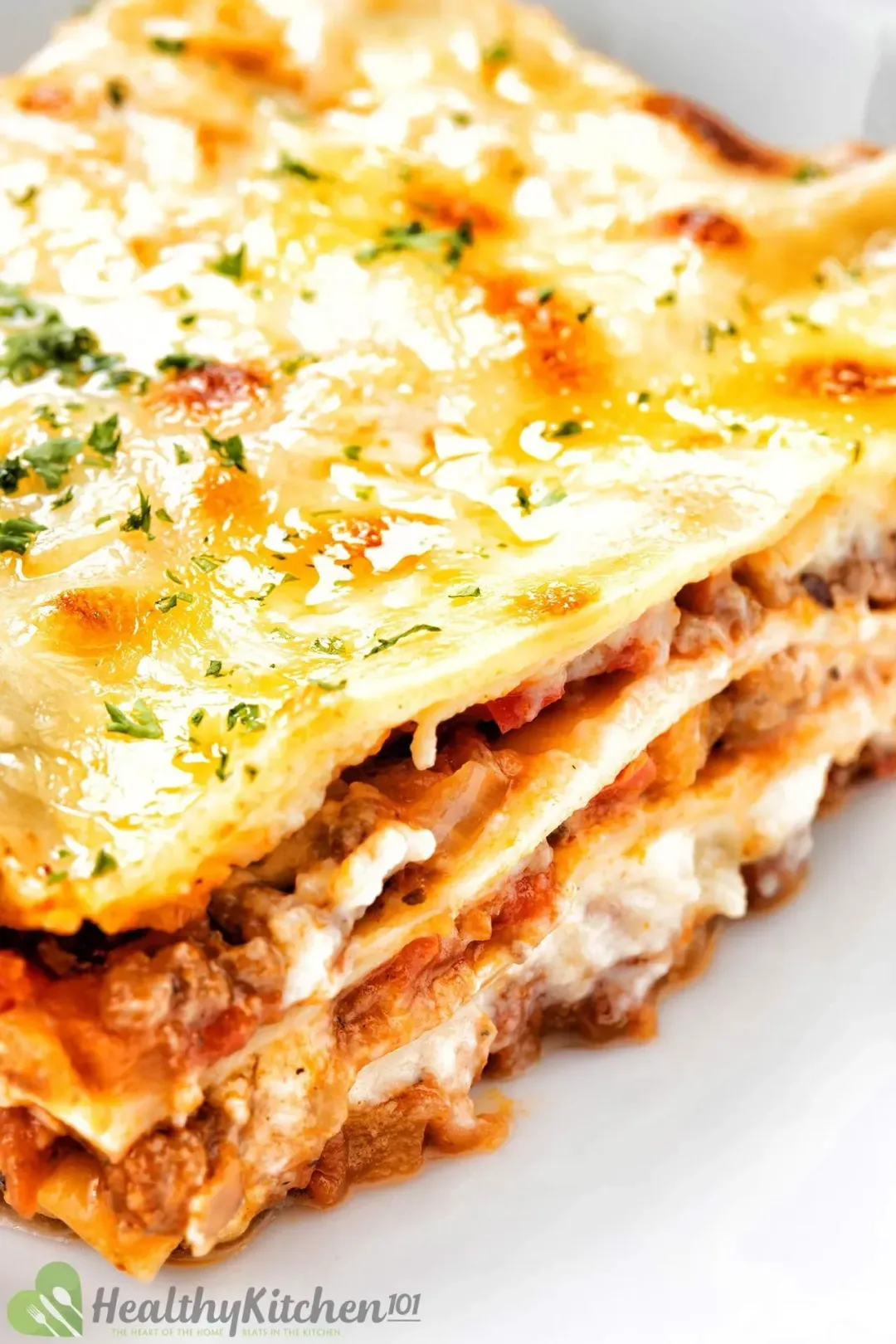 Lasagna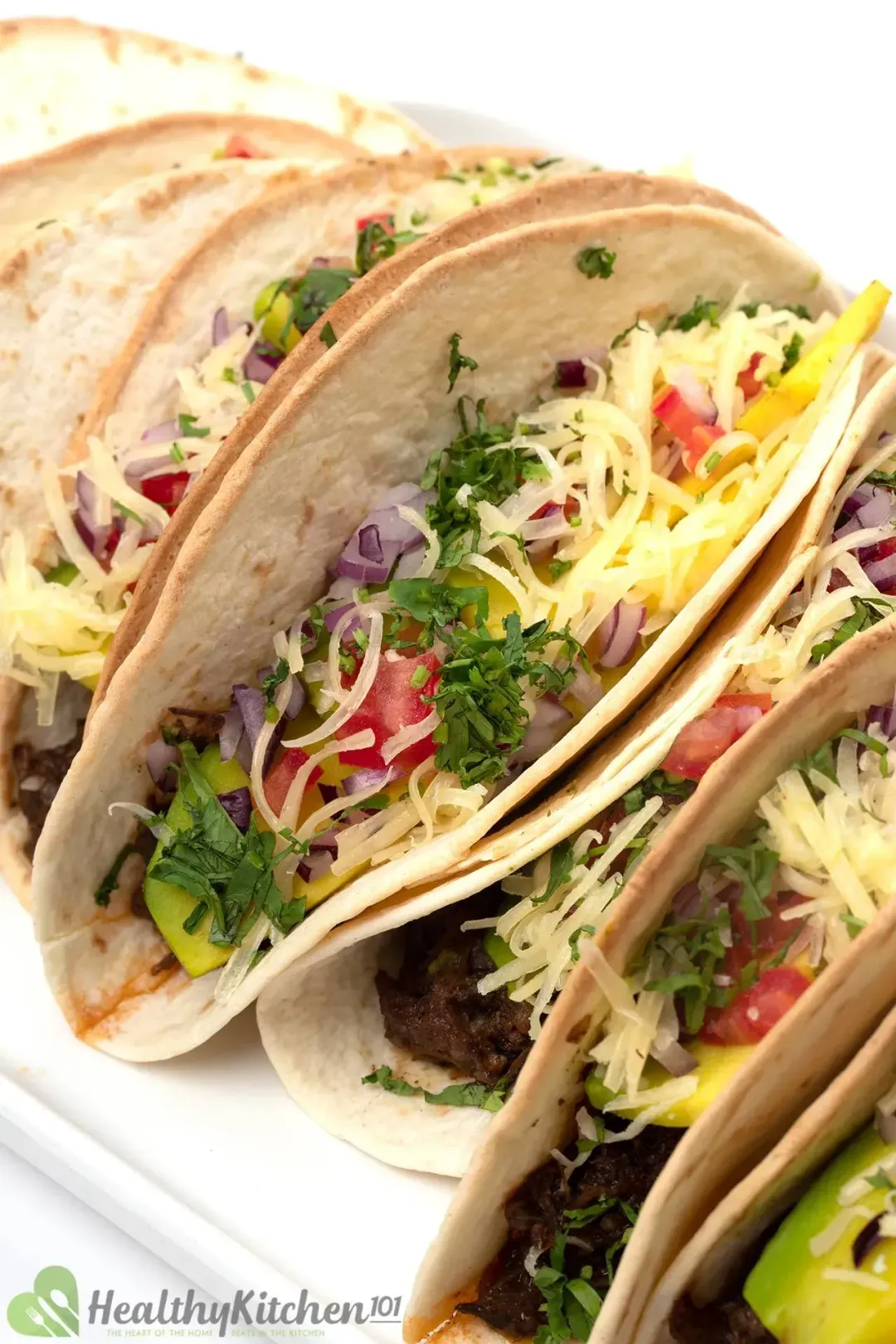 Next Recipe
Instant Pot Barbacoa
Instant Pot Barbacoa
Head Chef, Culinary Consultant
Tuyet Pham is an award-winning Saigonese chef who believes that joy is the secret ingredient to delicious food. At Healthy Recipes 101, Tuyet personally tests and simplifies every recipe, ensuring maximum flavor with minimal effort. With a background at prestigious French restaurants P'TI Saigon and Le Corto, Tuyet knows how to make every dish exceptional.
Writer, Author
Luna Regina is an accomplished writer and author who dedicates her career to empowering home cooks and making cooking effortless for everyone. She is the founder of HealthyKitchen101.com and HealthyRecipes101.com, where she works with her team to develop easy, nutritious recipes and help aspiring cooks choose the right kitchen appliances.
Nutrition Reviewer
Lizzie Streit is a Minneapolis-based dietitian and founder of It's a Veg World After All. She completed her MS in Human Nutrition from Drexel University, and is an expert in culinary nutrition, recipe development, and nutrition communications. Lizzie's philosophy is centered around making nutrition recommendations, and especially the advice to eat more vegetables, approachable and realistic. She is excited to be working with the team at Healthy Recipes 101 to ensure that their recipes are both nutritious and delicious.
Made it with some substitutions. Wonderful!

These were awesome! Savory cabbage rolls for dinner.