The best thing about our Instant Pot brisket recipe is that instead of spending a whole day outside, you can make the dish in a little over an hour.
The beef is slathered in a mixture of seasoning and spices and cooked until falling-apart tender in the Instant Pot. The result is buttery beef with a pleasant chewiness that's bursting with moist and juicy flavors.
This recipe delivers all the goodness of the traditional brisket: it's rich, sweet, savory, and spicy with a signature smoky note.
Is Our Instant Pot Brisket Healthy?
The short answer is yes, our Instant Pot brisket recipe is healthy.
Nutritionally, each serving of our Instant Pot brisket contains approximately 480 calories. This leaves ample space for a salad side dish and vitamin-rich juice, to create a nourishing 750-calorie meal.
Aside from being a filling dish, this brisket is a powerhouse of protein. Each serving of ours provides 44.4 g of protein — nearly 90 % of the recommended daily intake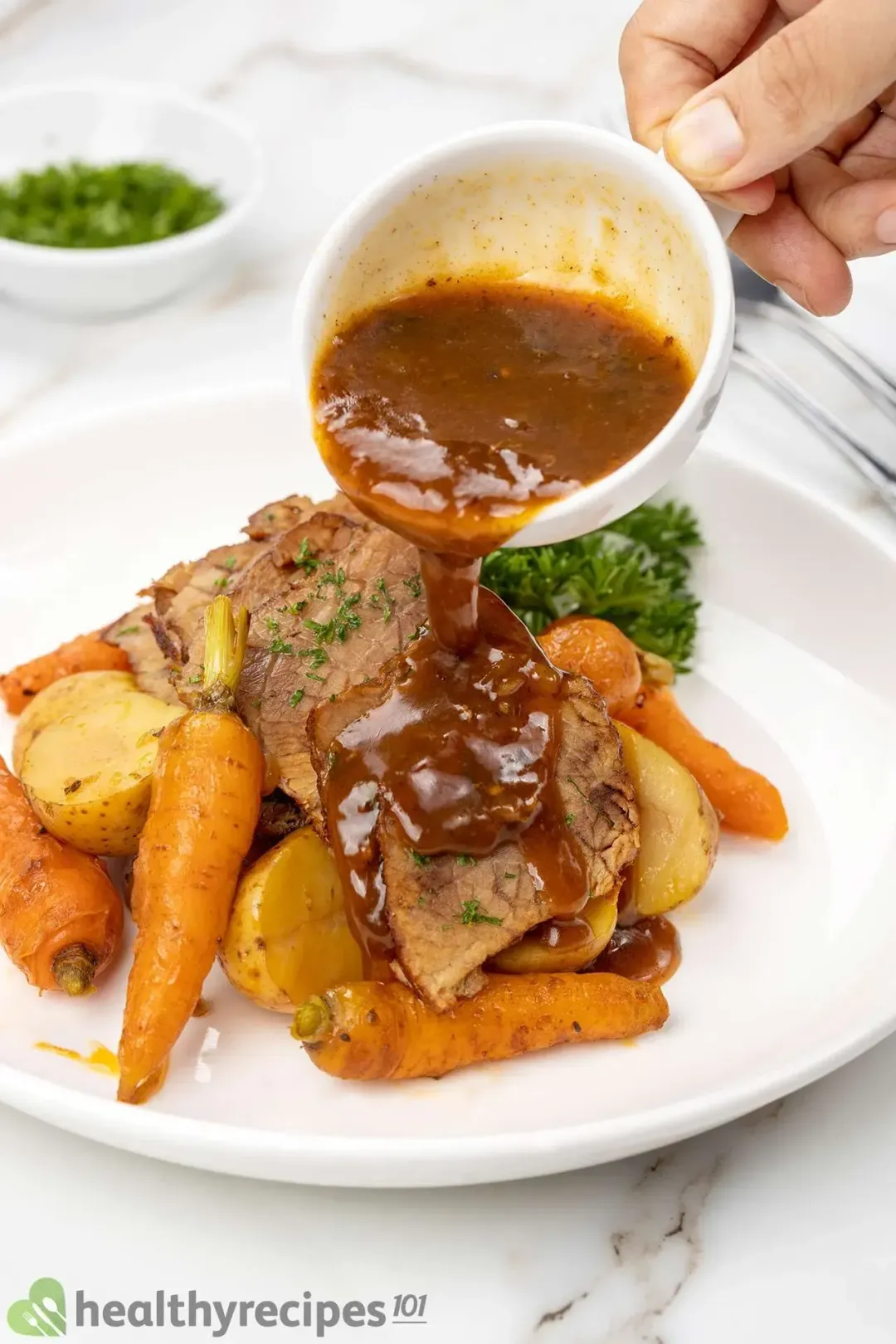 Plus, with the abundance of veggies that's included, our brisket yields a noticeable amount of fiber, vitamins, and minerals; essential nutrients to maintain a healthy body.
How to Prepare Brisket
The traditional smoked brisket is a difficult cut to master. It requires knowledge and skill to go through the whole process from picking the right cut and trimming it, to managing the fire during the long cooking process.
The good news is that our Instant Pot brisket recipe adapts to a foolproof and easier version. All you have to do is prepare and season the beef and the Instant Pot will do the rest.
Every delicious brisket starts from the same point: the right beef cut. Great brisket isn't so much about fancy beef cuts as a tough piece of meat — perfect for slow pressure-cooking.
We suggest a top-quality packer brisket (whole brisket) with marbling in the meat and a thick fat. This cut allows the leaner part to be cooked at almost the same rate as the thicker and fatter parts.
Seasonings for Brisket
The seasoning for our Instant Pot brisket is a blend of barbeque spices. Including salt, pepper, sugar, and a gravy mix, the main flavor profile lends a true taste of Texas while still letting the beef flavor dominate.
Dried herbs like thyme, oregano, and rosemary, along with red wine, soak into the meat and add another dimension of flavor. The spices and seasoning also help to tenderize the meat, resulting in a melt-in-your-mouth experience.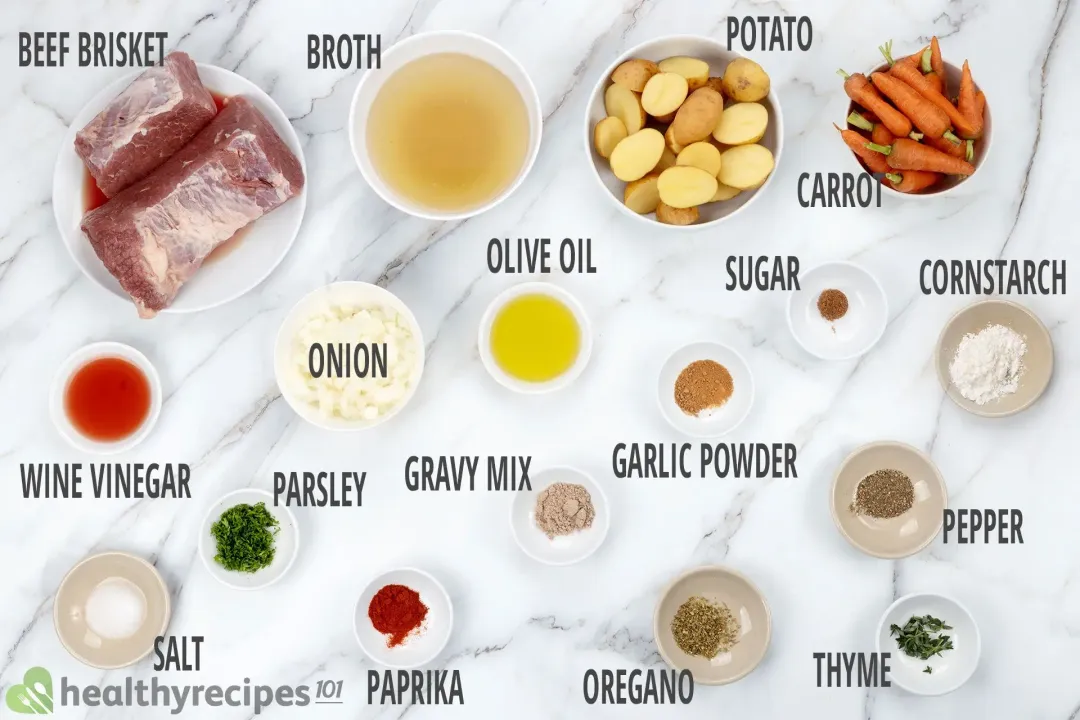 How to Cut Brisket
A whole flavorful packer of brisket can be an intimidating cut for any home cook since the way you cut it actually affects the final taste and texture. 
Thus, to slice a brisket the proper way, follow these steps:
Let the Brisket Rest: Reacting to the high heat in the cooking process, most of the moisture will escape from the meat. Resting the brisket reverses that process and allows the juices to be reabsorbed.
Pick the Right Knife: We recommend a sharp and serrated slicing knife of 12 – 14 inches. It doesn't have to be a really expensive type, it just has to be capable of cutting through the brisket with minimal pressure. 
Find the Grain: Our aim is to slice against the grain. That will break up the chewy muscle fibers so that the meat becomes much more tender in every slice. 
Slice: Slice the brisket at an angle against the grain. This way every slice will remain the same: a perfect balance of meat, fat, and smoke.
How to Store and Reheat Leftover Brisket
Cooked brisket with gravy will last about 3 to 5 days in the fridge. If you have leftovers, allow them to cool before transferring to an airtight container and pacing in the fridge.
You can also keep it in the freezer where it will last up to a month. Make sure you store it in an airtight container or Ziploc bag to prevent freezer burn.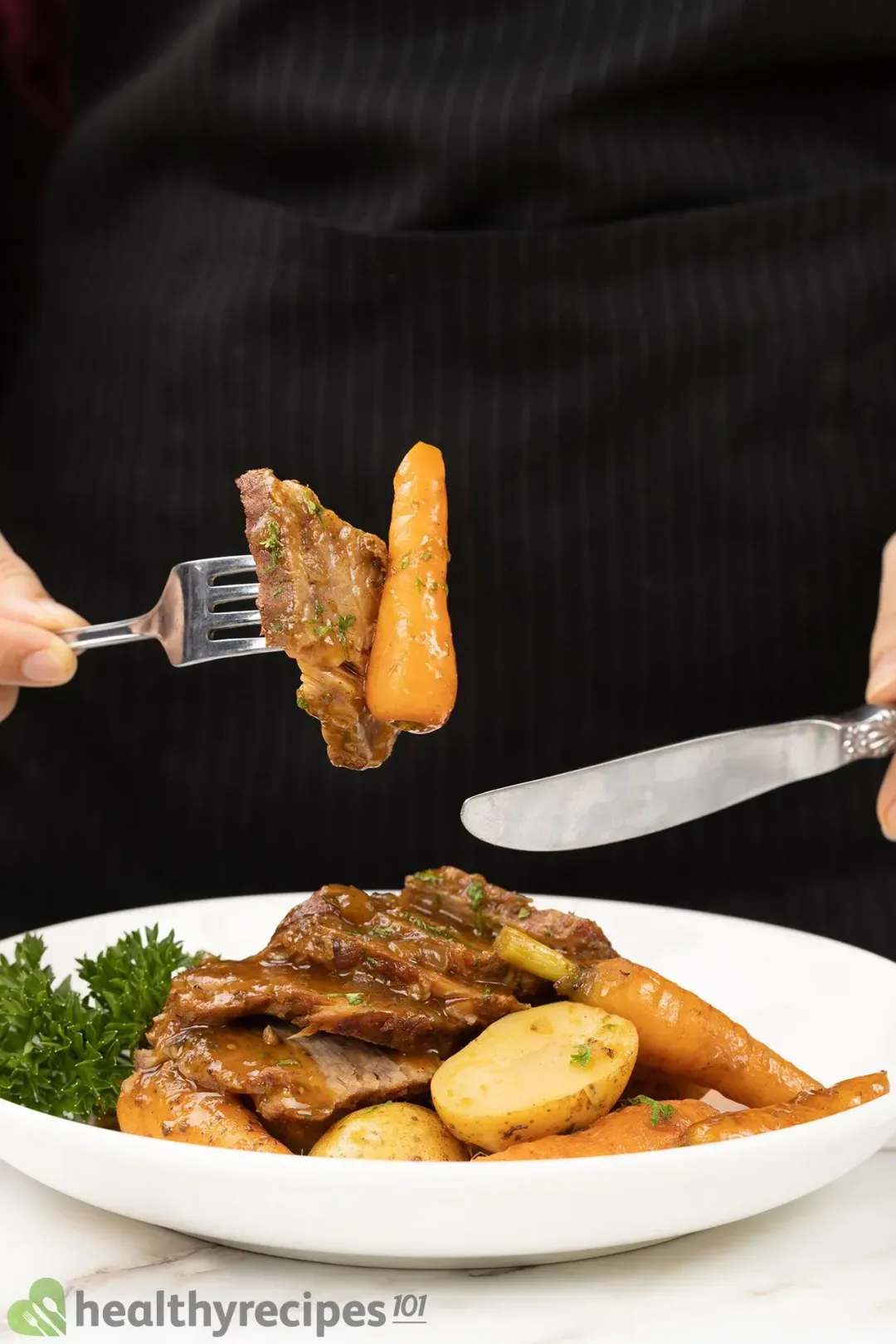 What to Serve With Instant Pot Brisket
Here are a few suggestions on complementary side dishes for your brisket:
1. Coleslaw
Coleslaw is a simple cabbage salad that goes perfectly with our brisket. You can mix this salad the night before and put it in the fridge to rest and marinate.
The following day, you will have a delicious coleslaw to serve with your brisket. The cool, crunchy, and raw cabbage will make a nice contrast to the rich, savory, tender beef.
2. Mashed Potatoes
A side of mashed potatoes is a great companion to any braised dish, and brisket is no exception.
For a beautiful presentation, take a scoop of the mash and put it in the middle of a plate. Use the back of a spoon to make a dent on top of the mash.
Place your sliced brisket on top of the mashed potatoes and pour the sauce over. This allows you to mix the sauce with the mash, creating a comforting, savory taste in every bite.
3. Meal Plan with Brisket
Although coleslaw and mashed potatoes are both delicious, they may be too high in calories. To make a healthy meal plan, you should look for alternatives with fewer calories.
Our recommendations are a side of watermelon arugula salad and a glass of pineapple celery juice.
A fresh salad is the best way to add more fiber and brighten up a rich, savory dish like brisket. After that, have a refreshing glass of sweet tropical fruit juice to cleanse your palate and finish a satisfying meal.
Here are the combined of the meal: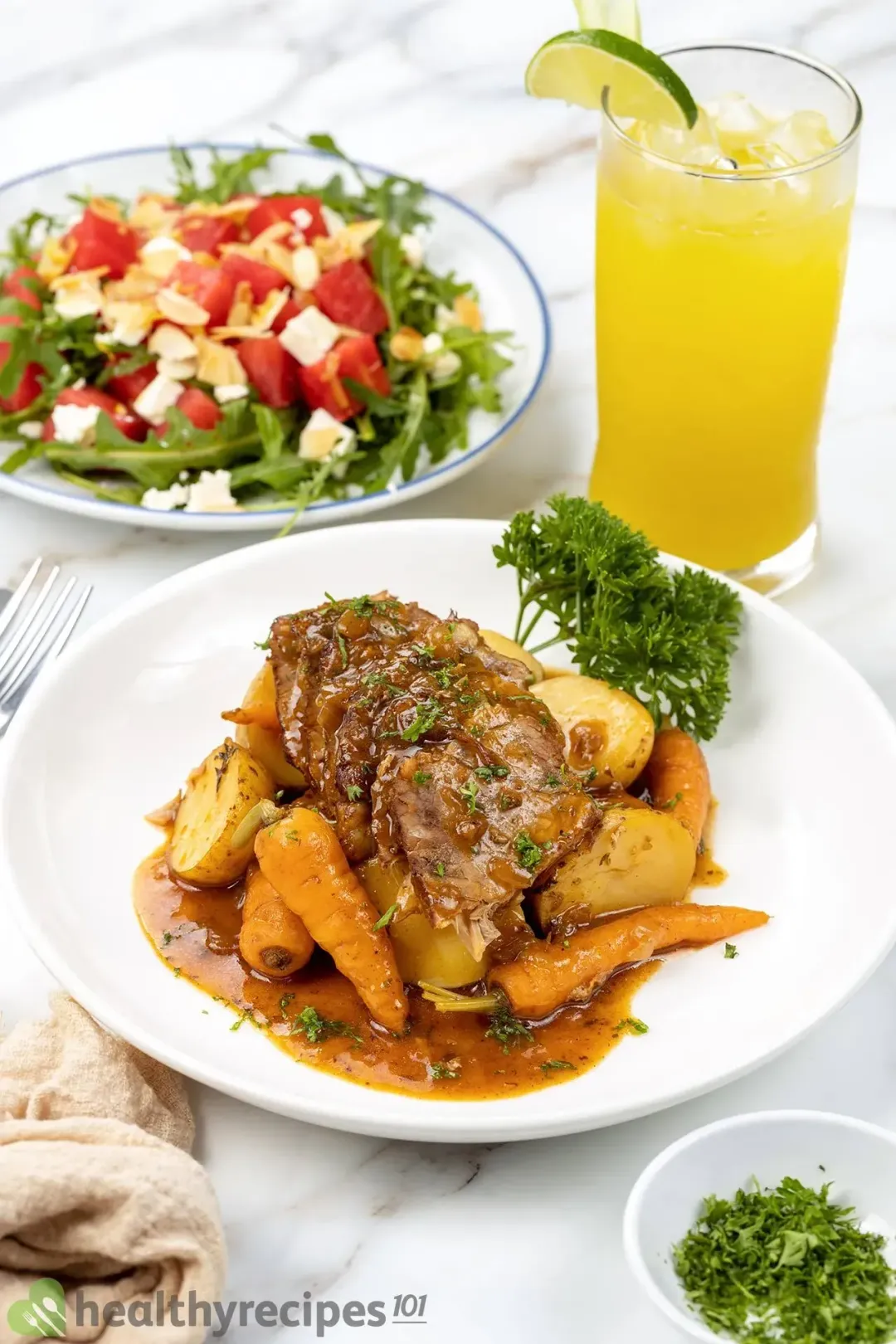 Satisfy Your Hunger Pangs with These Scrumptious Instant-Pot Beef Recipes
This Cuban classic is made easy with the Instant Pot. Tender shredded beef, cooked with onions, peppers, and spices, makes for a flavorful and hearty meal that's perfect for any occasion.
This article provides a unique take on the classic pot roast recipe by incorporating tangy pepperoncini peppers and savory ranch seasoning. The result is a flavorful and tender beef dish that's perfect for any occasion.
If you're a fan of quick and easy Instant Pot beef dishes that don't skimp on flavor, then this collection is perfect for you! Explore new recipes today.
Instant Pot Brisket
Our Instant Pot brisket recipe will show you how to prepare and cook a delicious meal. It may take some time, but it's actually very simple.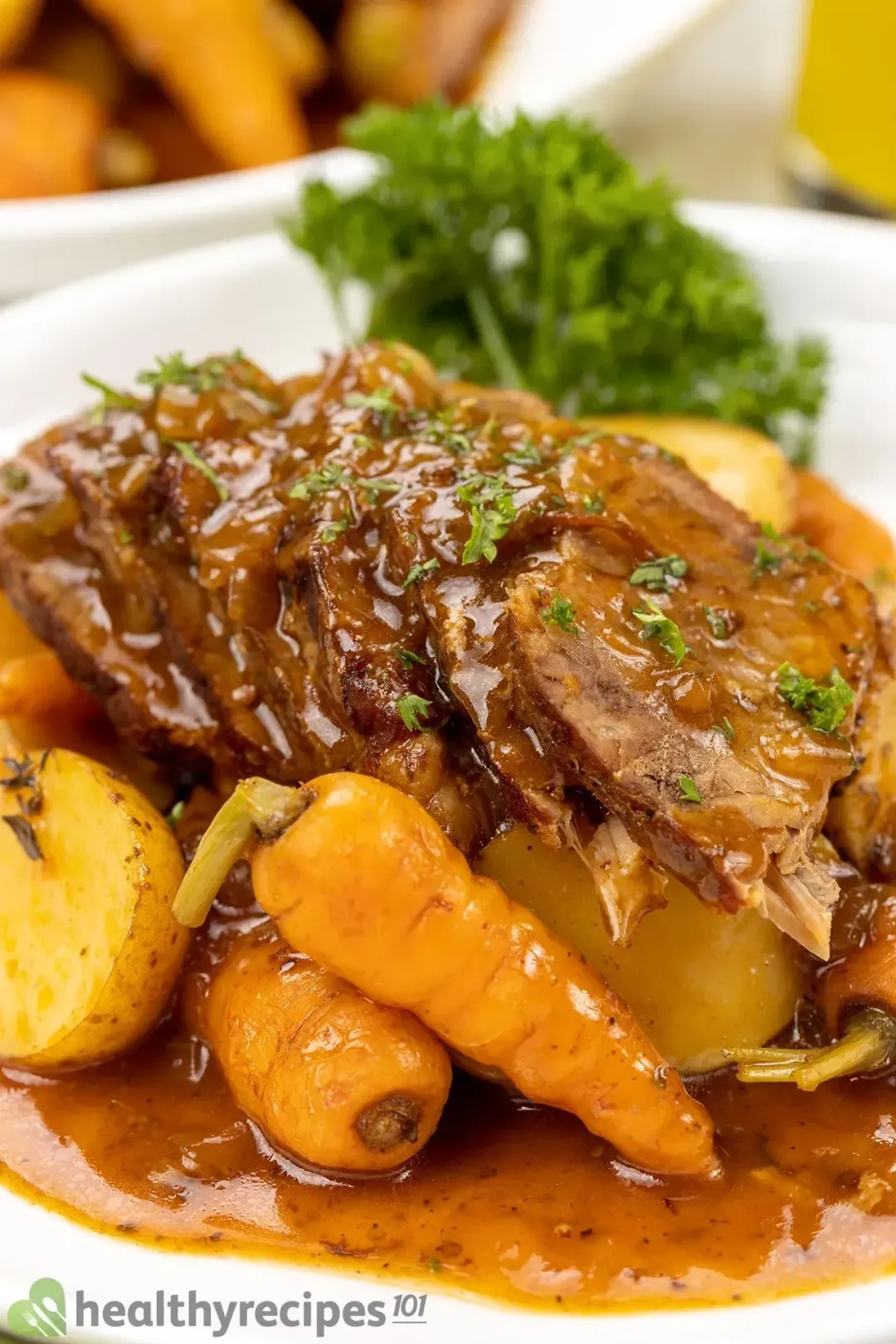 cook TIME

1 hr 45 mins

prep TIME

10 mins

total TIME

1 hr 55 mins
COURSE

Dinner, Lunch, Main Course

CUISINE

American

SERVINGS

CALORIES

476 kcal
INGREDIENTS
4 oz

onions

(finely chopped)

12 oz

baby potatoes

(cut in half)

8 oz

baby carrots

(whole)

1 1/2 cup

unsalted chicken broth

(reserving 2 tbsp)

2 tbsp

parsley

(roughly chopped)
INSTRUCTIONS
1
Sear the beef: Turn on your Instant Pot, set it to the 'Sauté' program, and wait for it to heat up. Add 2 tbsp olive oil and 28 oz beef. Sear for 5 minutes, flipping halfway through to brown on both sides. Transfer to a plate and set aside.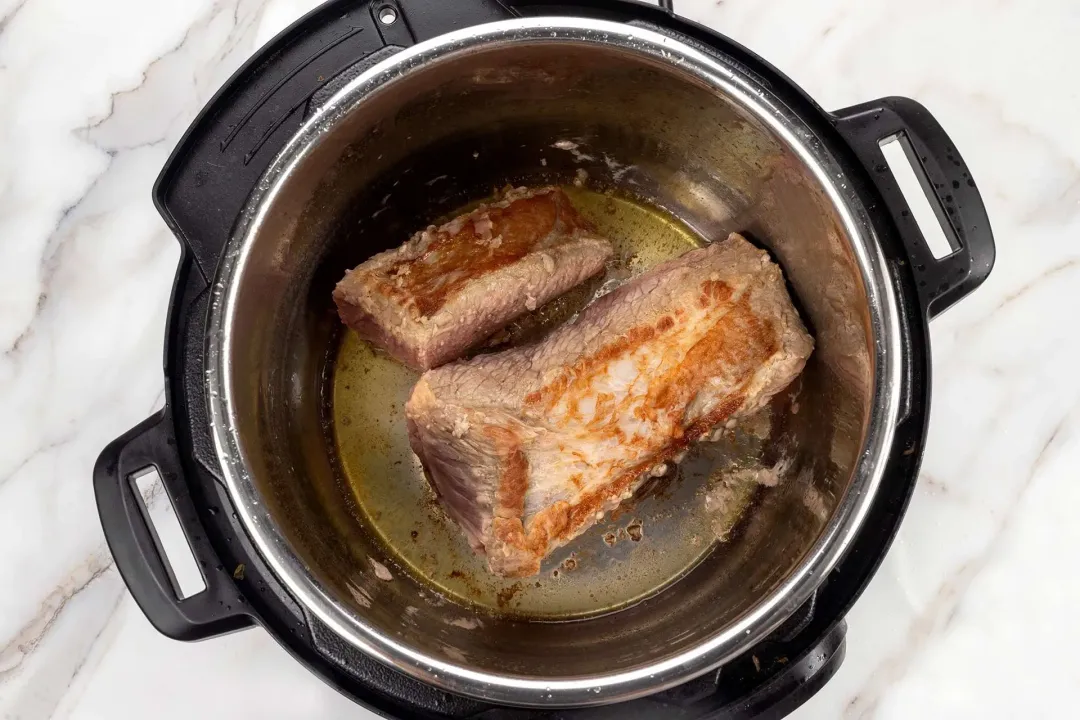 2
Sweat the onions: Add 4 oz chopped onions to the pot and cook for 2 minutes or until translucent, stirring constantly.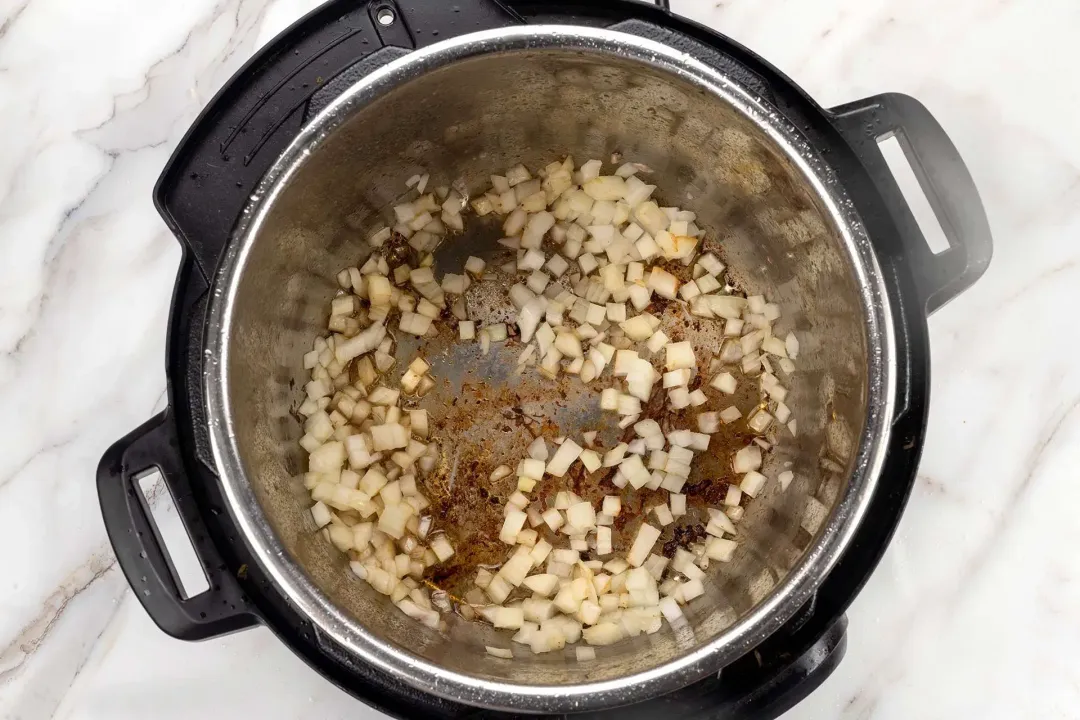 3
Wake the spices: Add 1 tsp thyme, 1 tsp paprika, 1 tsp dried oregano, 1/2 tsp garlic powder, 1/2 tsp gravy mix, 1/2 tsp salt, 1/2 tsp pepper, 2 tbsp red wine vinegar, and 1/2 tsp brown sugar. Stir for 30 seconds to wake the aroma.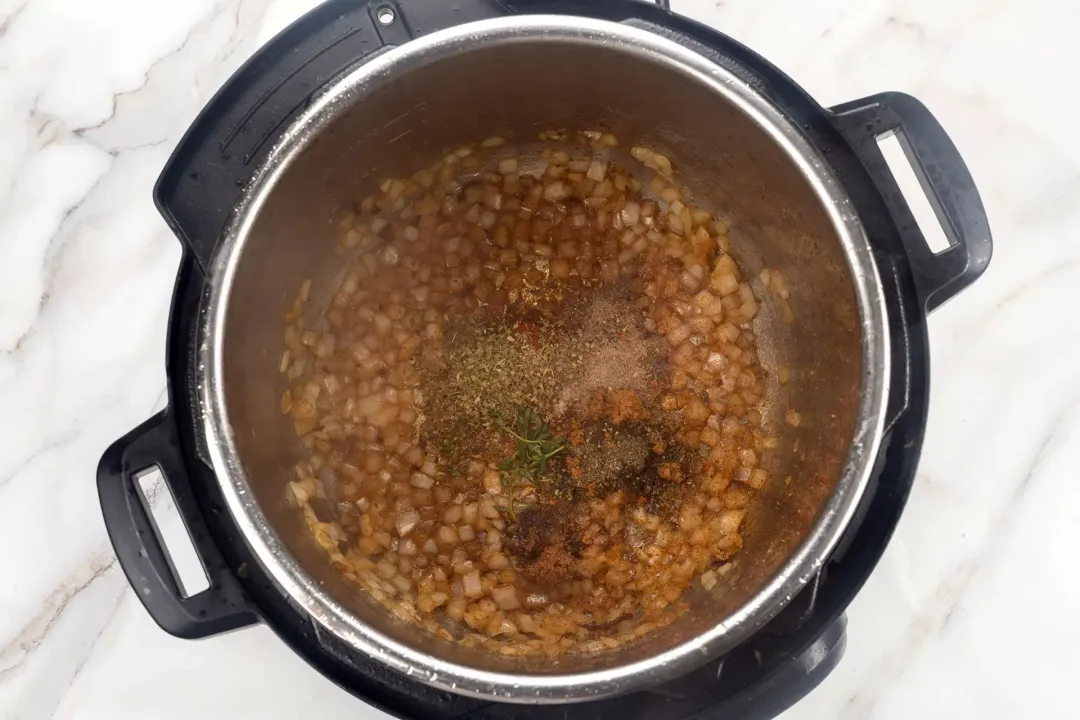 4
Cook the brisket: Put the seared beef back in the pot. Reserve 2 tbsp chicken broth in a small bowl. Pour the remaining chicken broth into the pot. Cover with the lid and turn the valve knob to 'Sealing Position'. Set your device to the 'Meat Stew' program and cook for 65 minutes.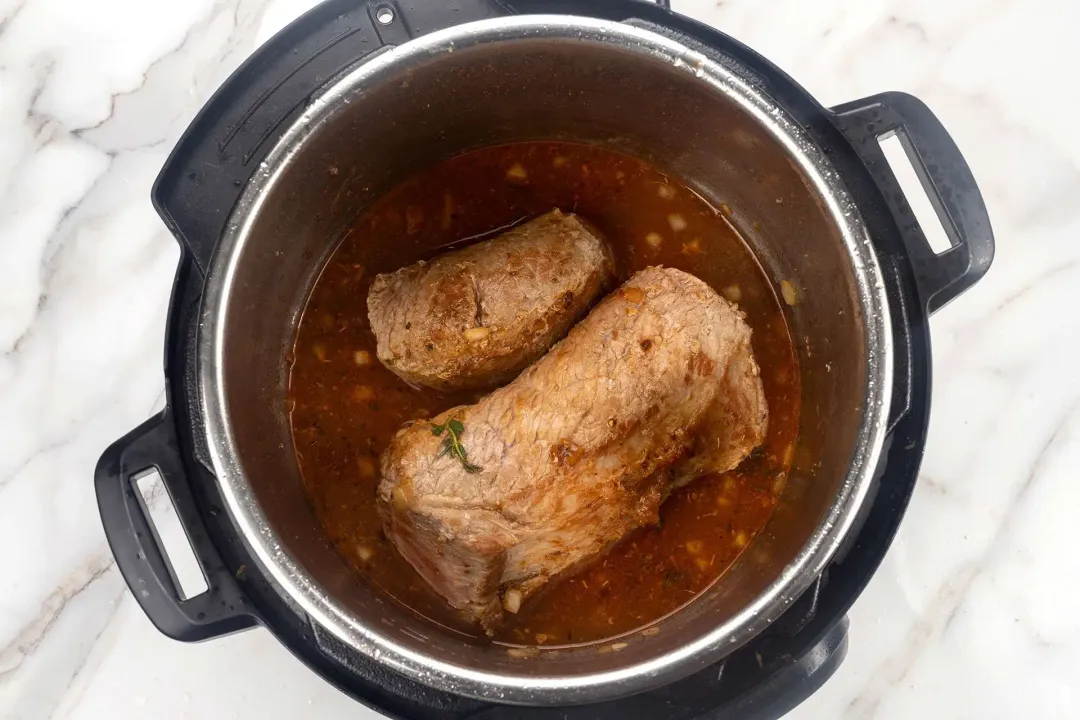 5
Add vegetables: Carefully turn the valve knob to release the steam. Add 12 oz potatoes and 8 oz carrots to the pot. Cover and set your device to cook for another 20 minutes.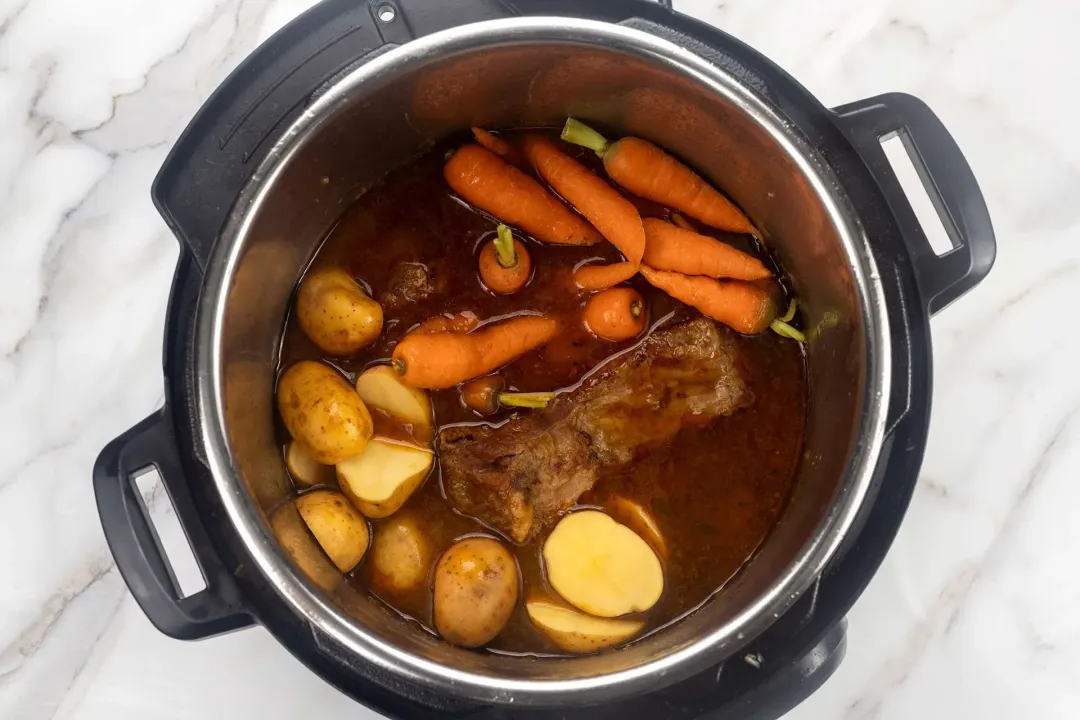 6
Reduce the sauce: Remove the beef, potatoes, and carrots from the pot, put them onto a plate, and set aside. Set your device to the 'Sauté' program and cook for 10 minutes or until the sauce is reduced, stirring occasionally.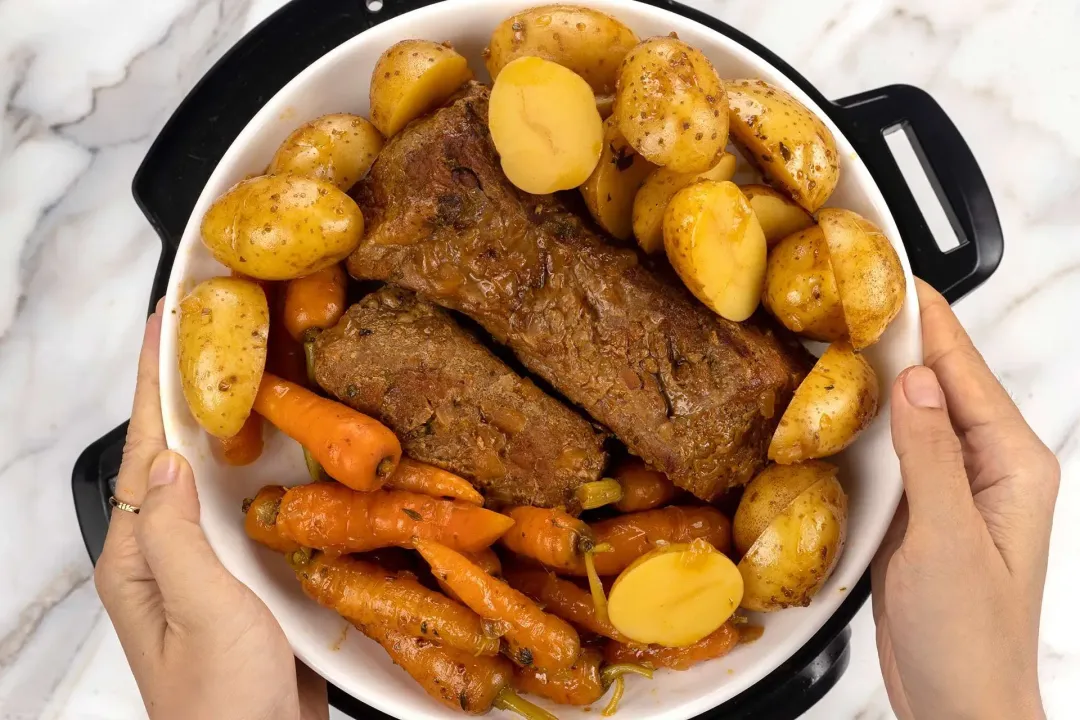 7
Thicken the sauce: Mix 2 tsp cornstarch and the previously reserved 2 tbsp chicken broth together. Add this to the sauce, stir for 1 minute, and turn the Instant Pot to 'Keep Warm' setting.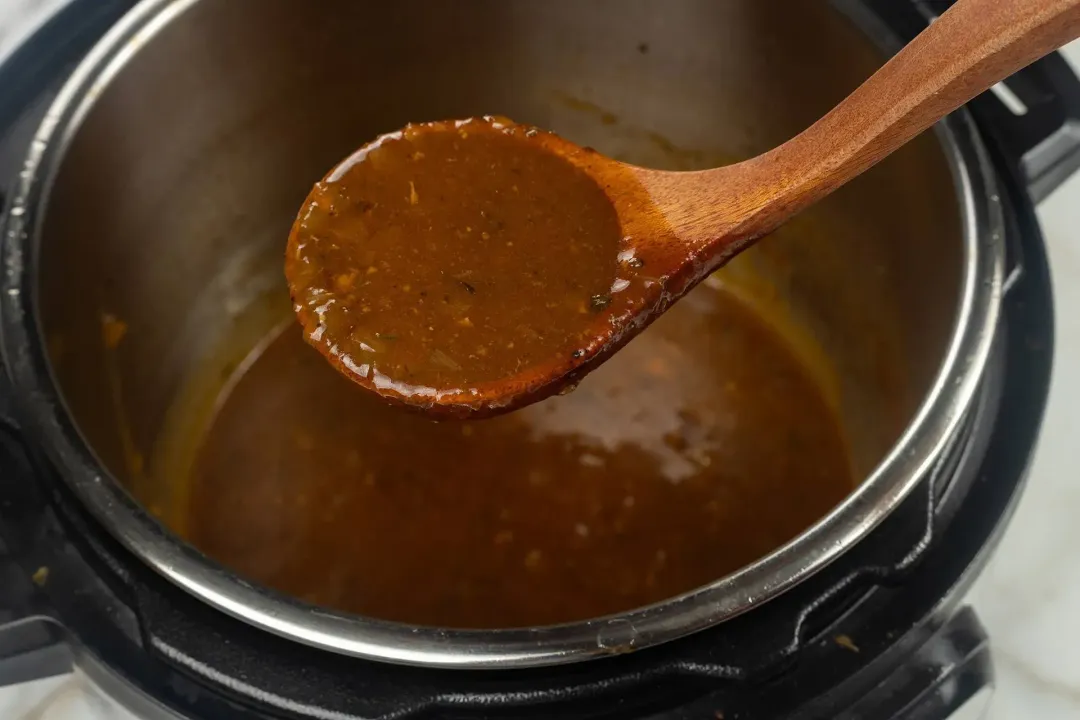 8
Garnish and serve: Cut the brisket into thick slices. Arrange the brisket, potatoes, and carrots on a serving plate. Sprinkle with freshly chopped parsley and serve.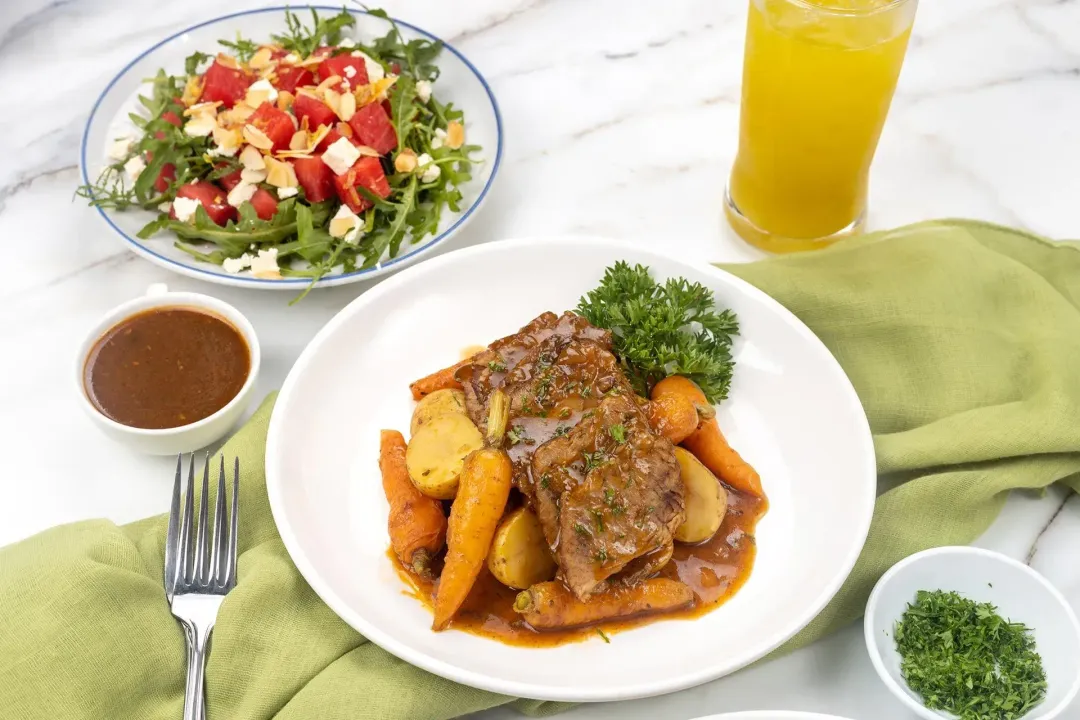 NUTRITION
Nutrition Facts
Instant Pot Brisket
Amount Per Serving (1 serving)
Calories 476
Calories from Fat 198
% Daily Value*
* Percent Daily Values are based on a 2000 calorie diet.
Keywords: how to make brisket in the instant pot, instant pot brisket, instant pot brisket recipe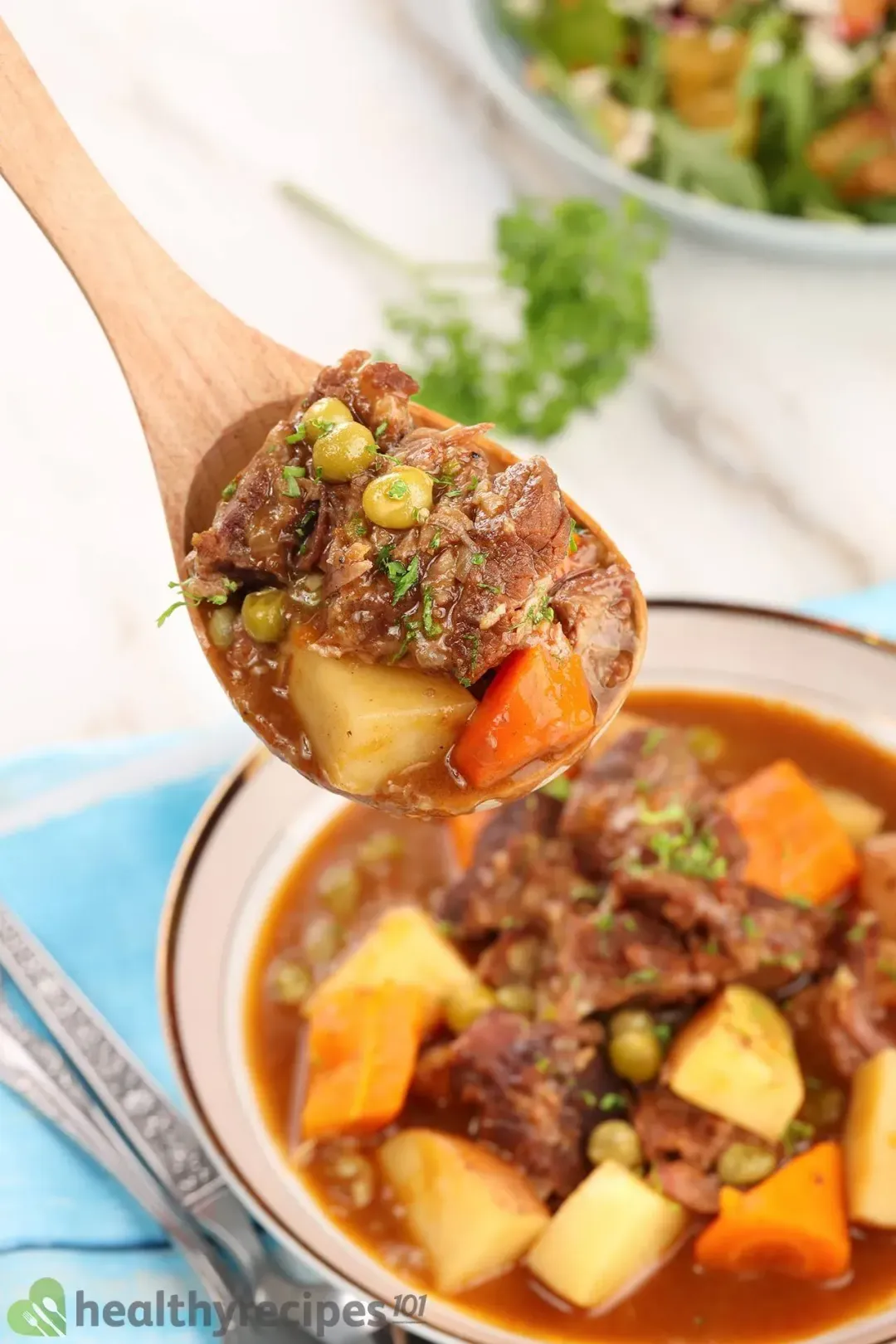 Previous Recipe
Instant Pot Beef Stew
Instant Pot Beef Stew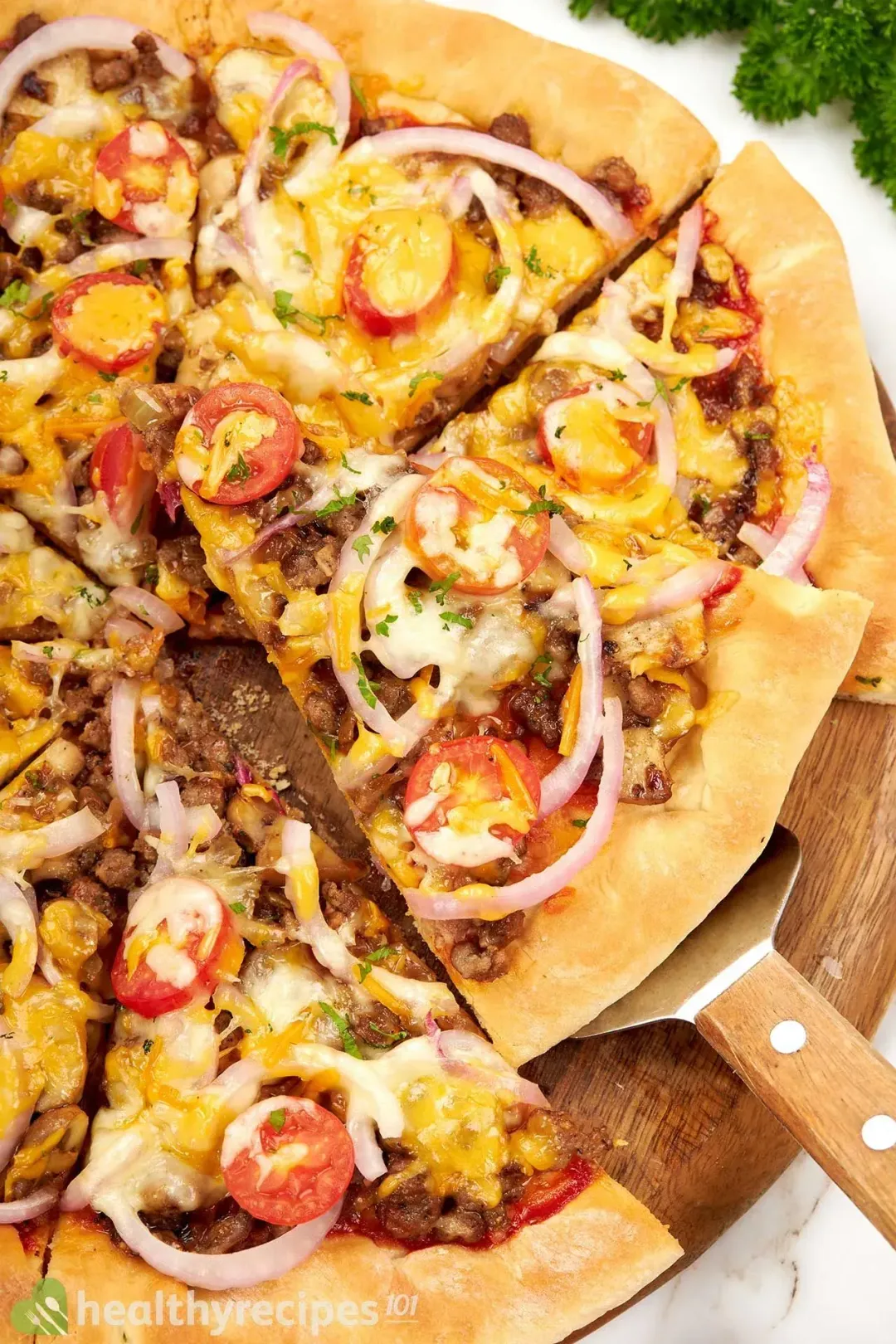 Next Recipe
Cheeseburger Pizza
Cheeseburger Pizza
Head Chef, Culinary Consultant
Tuyet Pham is an award-winning Saigonese chef who believes that joy is the secret ingredient to delicious food. At Healthy Recipes 101, Tuyet personally tests and simplifies every recipe, ensuring maximum flavor with minimal effort. With a background at prestigious French restaurants P'TI Saigon and Le Corto, Tuyet knows how to make every dish exceptional.
Writer, Author
Luna Regina is an accomplished writer and author who dedicates her career to empowering home cooks and making cooking effortless for everyone. She is the founder of HealthyKitchen101.com and HealthyRecipes101.com, where she works with her team to develop easy, nutritious recipes and help aspiring cooks choose the right kitchen appliances.
Nutrition Reviewer
Natalie Butler is a registered dietitian nutritionist with a passion to help others live their best life through food, fitness, safer beauty and a healthy lifestyle. She has expertise with a variety of diets and diseases and believes that there is no one-size-fits-all approach for health.
Instant pot brisket? Yes, please!