There's something so nostalgic about making this vegetable beef soup recipe. It could be the tender beef chunks, the melt-in-your-mouth potato cubes, or any of the colorful vegetables.
Is Vegetable Beef Soup Healthy?
Yes, it certainly is.
This vegetable beef soup recipe calls for beef chuck eye and wholesome, fresh vegetables. The soup base is made by simmering unsalted chicken broth with herbs, spices, and tomato paste to create an organic, heart-warming flavor.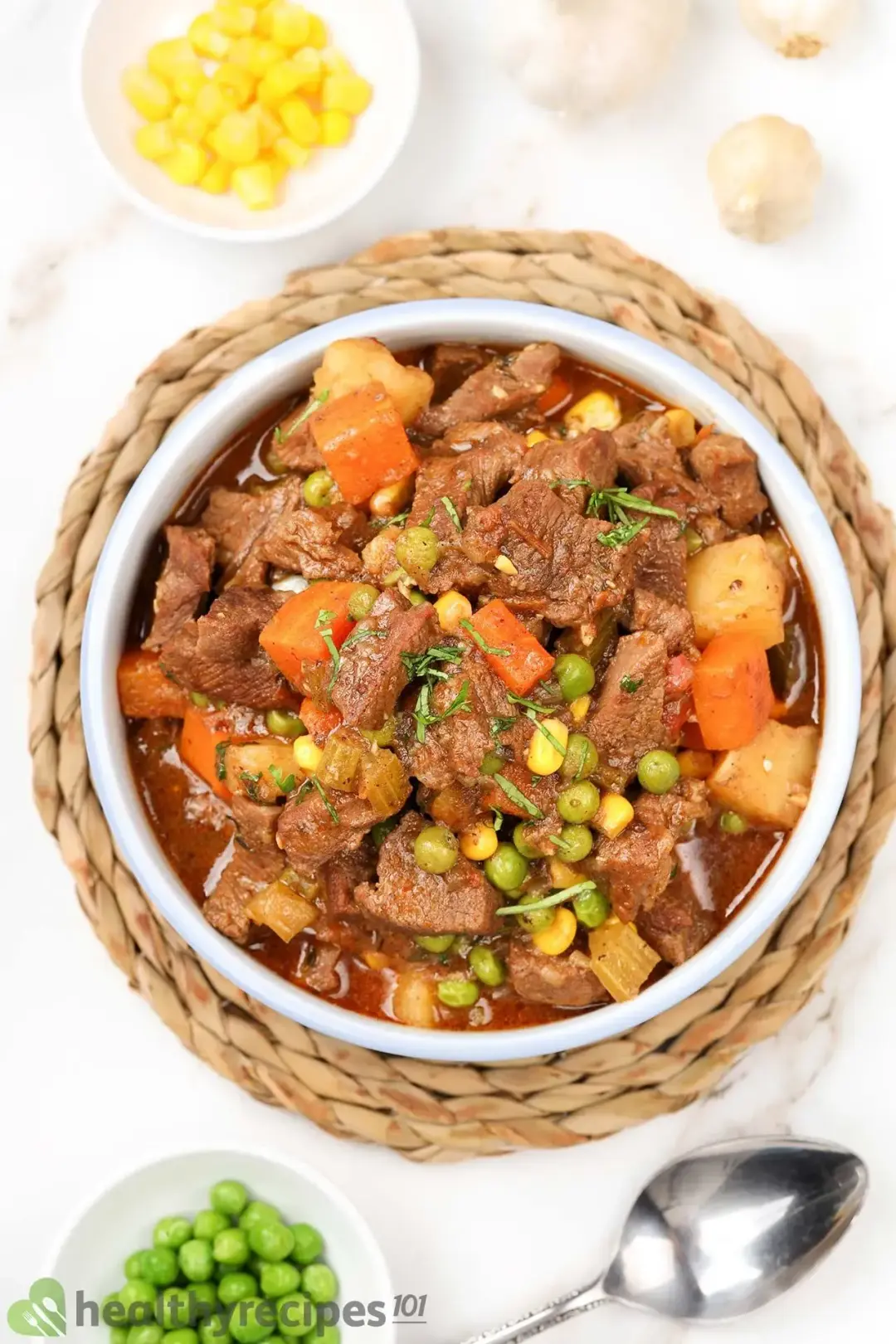 One serving of this dish adds 502 calories and 44 grams of protein to your meal. Among the ingredients, the beef chuck contributes the most to these nutritional values.
Ingredients for Vegetable Beef Soup
Here are the main ingredients to make this warm, soul-stirring soup in your kitchen:
1. Beef Cut
Beef chuck eye with its bold beefy flavor is definitely the choice for our recipe.
Chuck eye roast comes from the areas with the most muscles. These well-worked muscles have a lot of collagen-rich connective tissue, so the cut stands up well to, and throughout, the slow-cooking and lends a rich beefy flavor to the soup.
Chuck eye roast is usually diced into large chunks and left to simmer at very low temperatures for hours to reach the desired melt-in-your-mouth tenderness. The result is super rewarding — you'll feel those savory juices bursting onto your palate with every bite.
However, your options aren't limited to just chuck eye roast. We believe ground beef to be a tasty and economical choice for this beef soup.
Using lean ground beef in soups and stews is a smart way to cut down both the simmering time and the budget. In return, however, you will have to choose between convenience and having slow-cooked tender beef chunks to devour. 
If you're using ground beef, please remember to brown the meat before bringing it to simmer with the potatoes and other vegetables. The cooking time should also be reduced by 30 minutes.
2. Vegetables
We've opted for a mix of potatoes, onion, celery, carrots, green peas, corn, and tomatoes for this recipe. They're all wholesome and fresh produce with earthy flavors and strong nutritional profiles.
The carrots, onions, and celery are simmered together with the beef to ensure they'll all cook to tender at the same time. Russet potatoes will hold up well in the slow-cooking process and also soak up the flavors from the beef and spices.
Feel free to incorporate your own favorite vegetables, but keep in mind that the firmer the vegetables are, the more time you'll need to add to the simmering.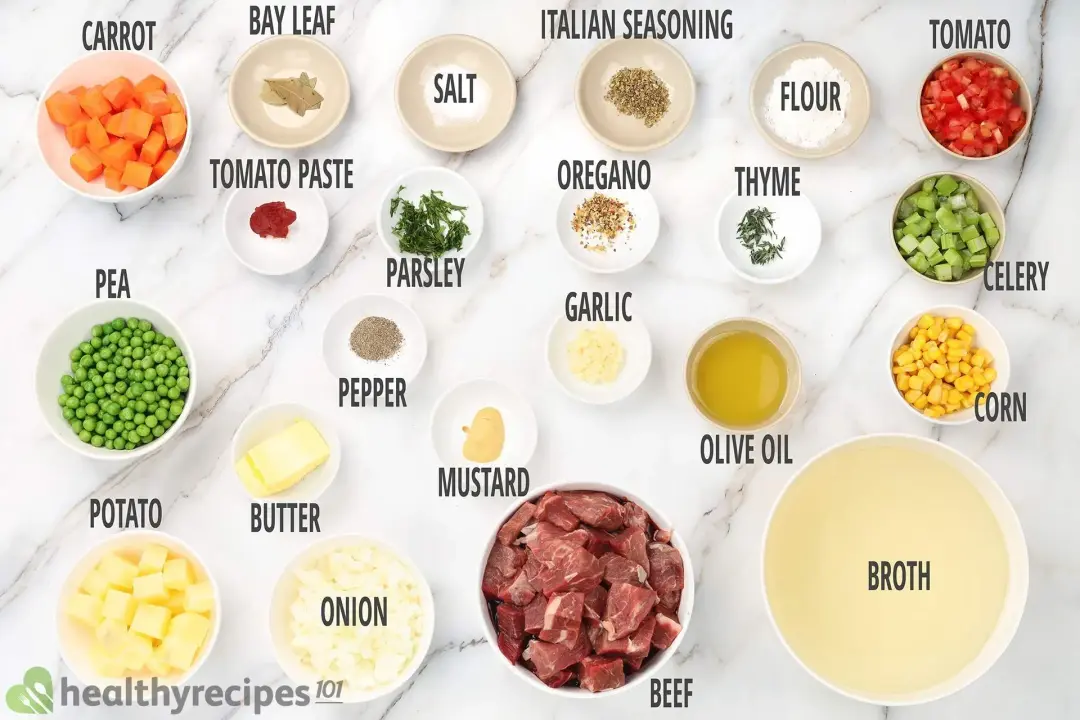 3. Soup base
Our beef soup base is infused with tomato paste, onion, garlic, butter, salt, bay leaf, Italian seasoning, oregano, thyme, and mustard. An hour of low simmering this base on the stovetop will give you a rich and comforting soup that will warm you up on those chilly evenings.
As we prefer a slightly thick soup that's almost like a gravy, we stirred flour into the broth. Simply omit this step if a light and thin consistency is what you look for in a beef soup.
How to Make Homemade Vegetable Beef Soup
Our easy homemade vegetable beef soup recipe is sure to bring you a heart-warming appetizer for the coming fall and winter. The tender beef chunks join the hearty potatoes and colorful vegetables in a slow-simmering process to create rich and well-rounded flavors.
Best of all, it takes just a few easy steps: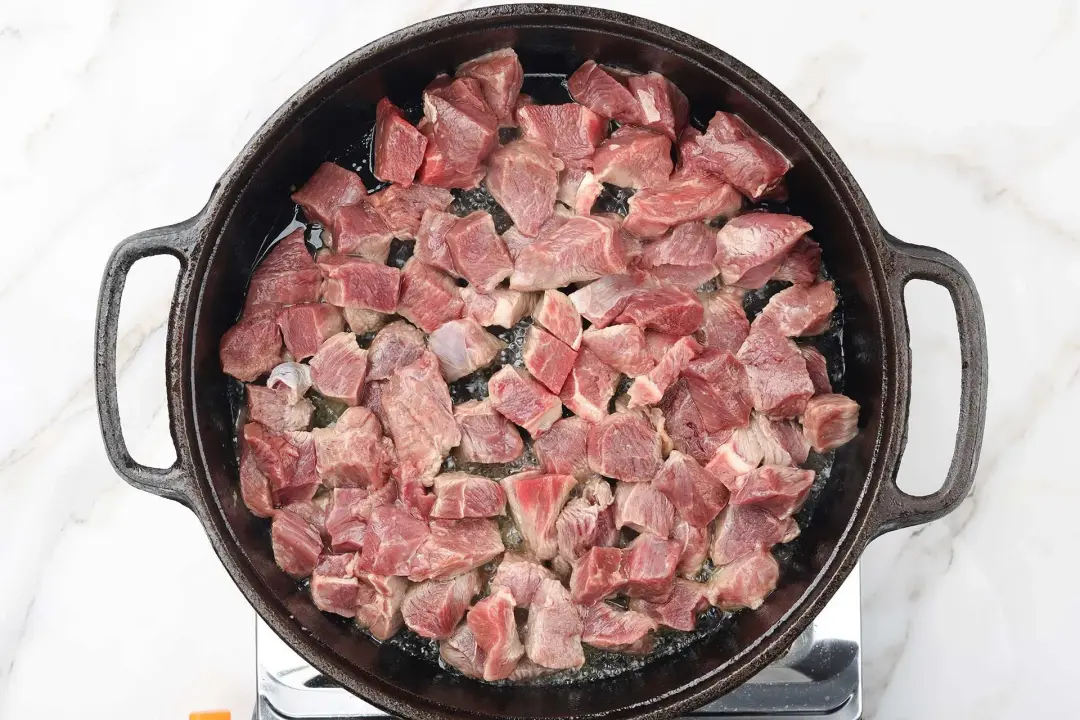 In a large pot, heat olive oil until very hot. Quickly brown the beef, then remove into a bowl and set aside.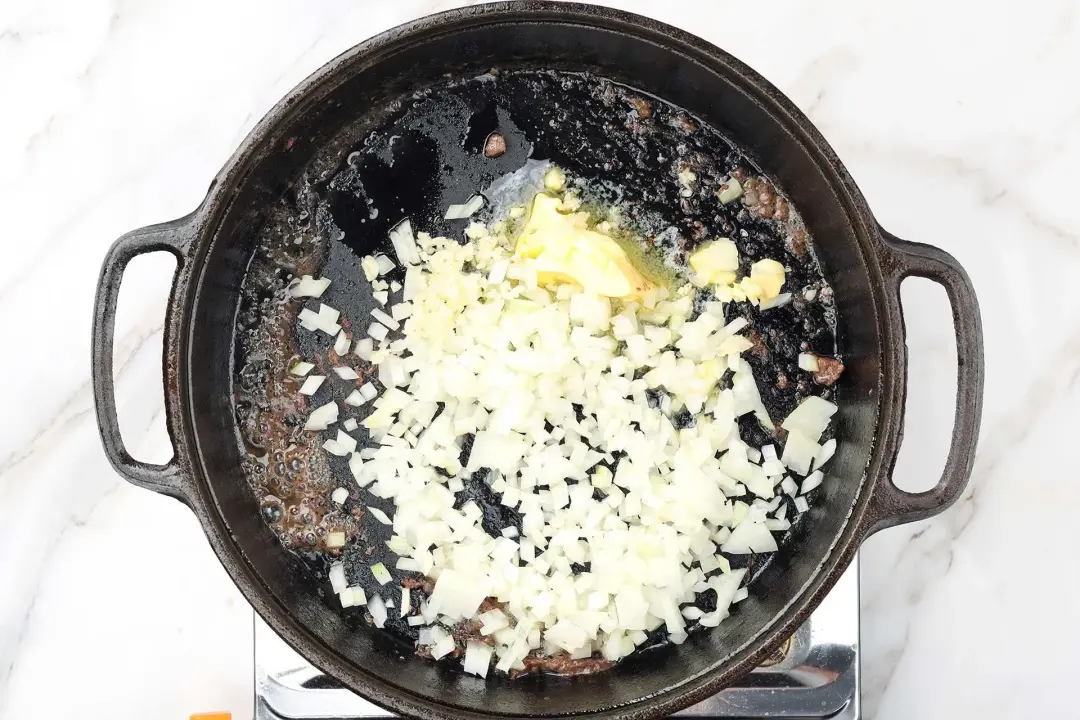 Sauté the onion and garlic in melted butter until fragrant.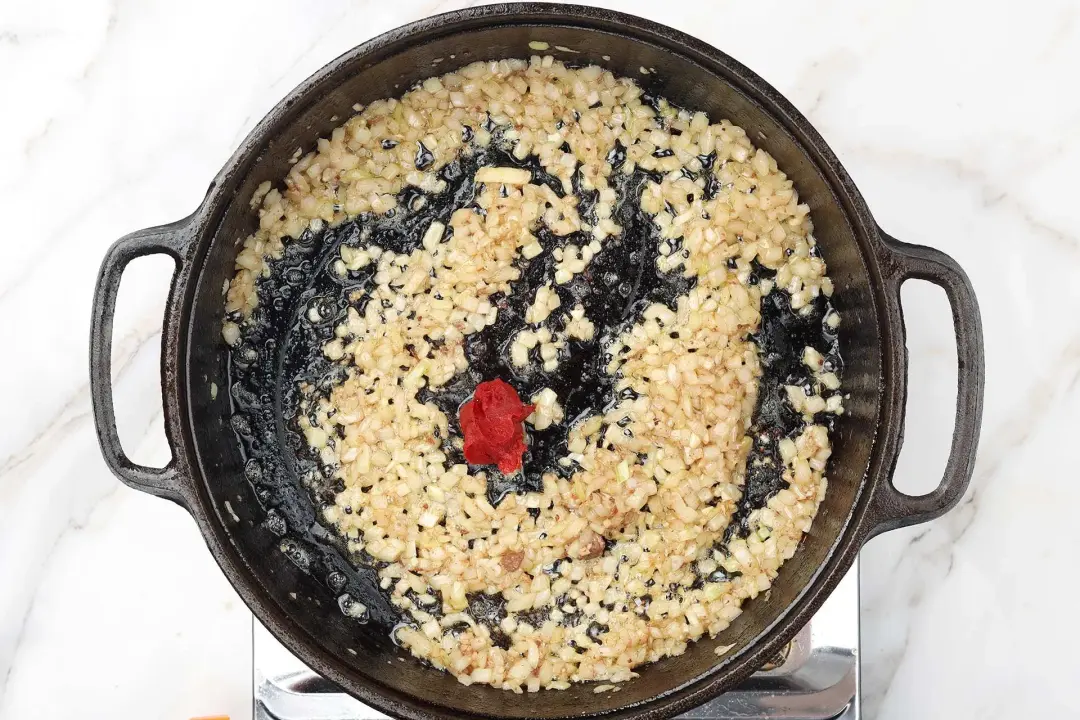 Add tomato paste. Stir.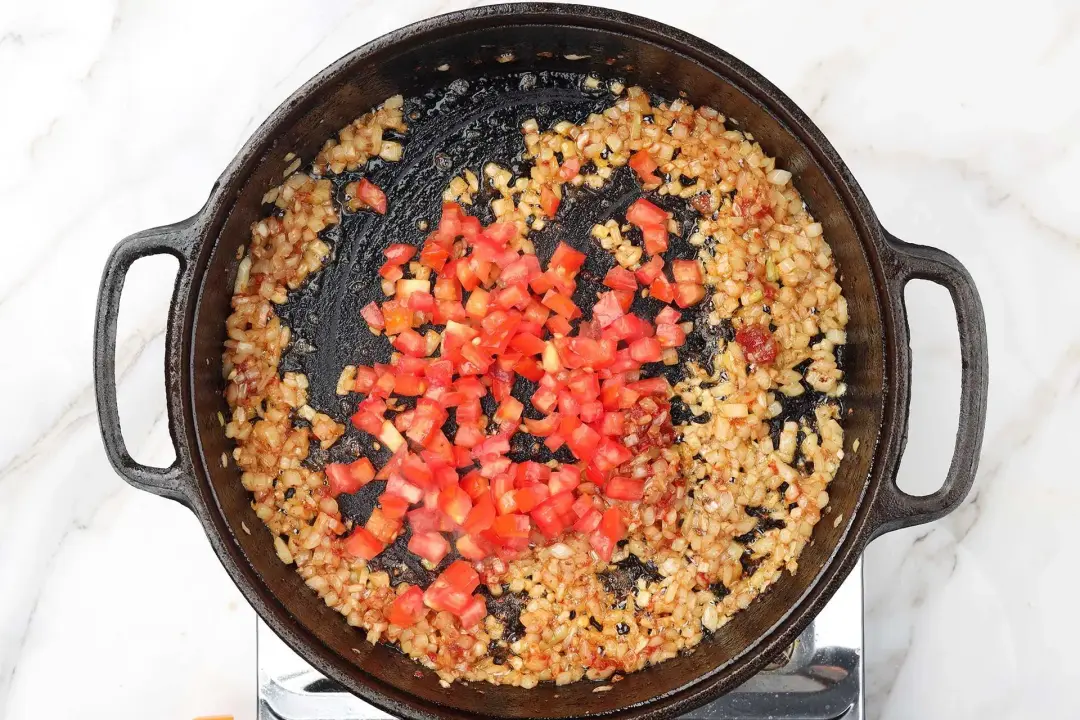 Add the diced tomatoes. Stir.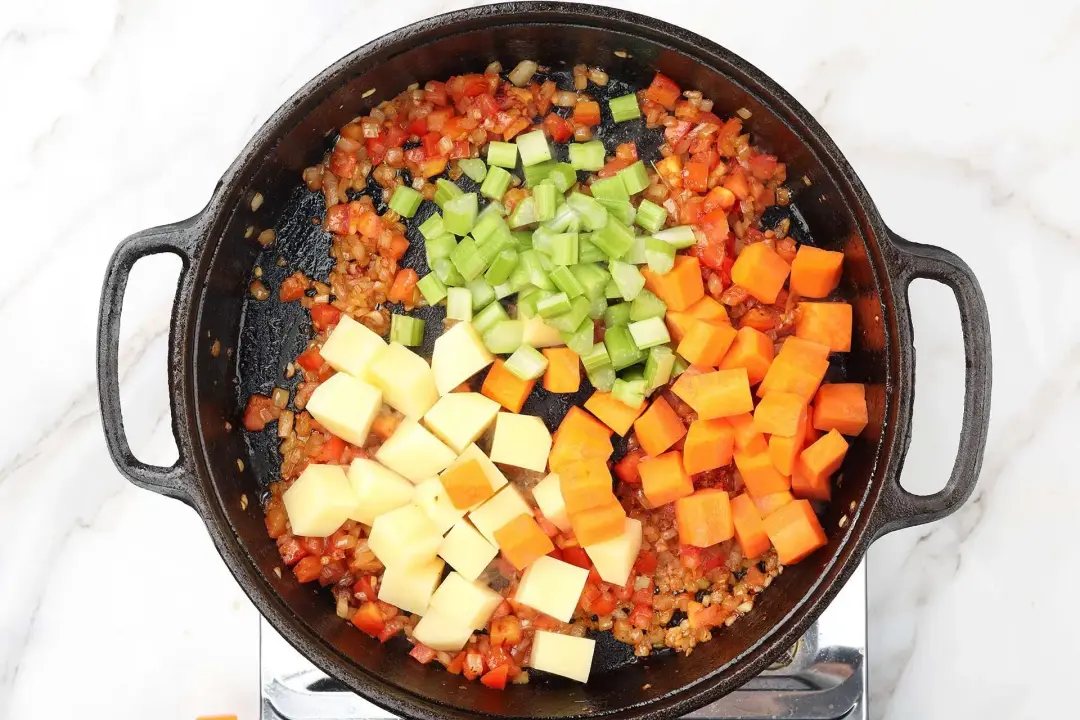 Add the celery, potatoes, and carrots.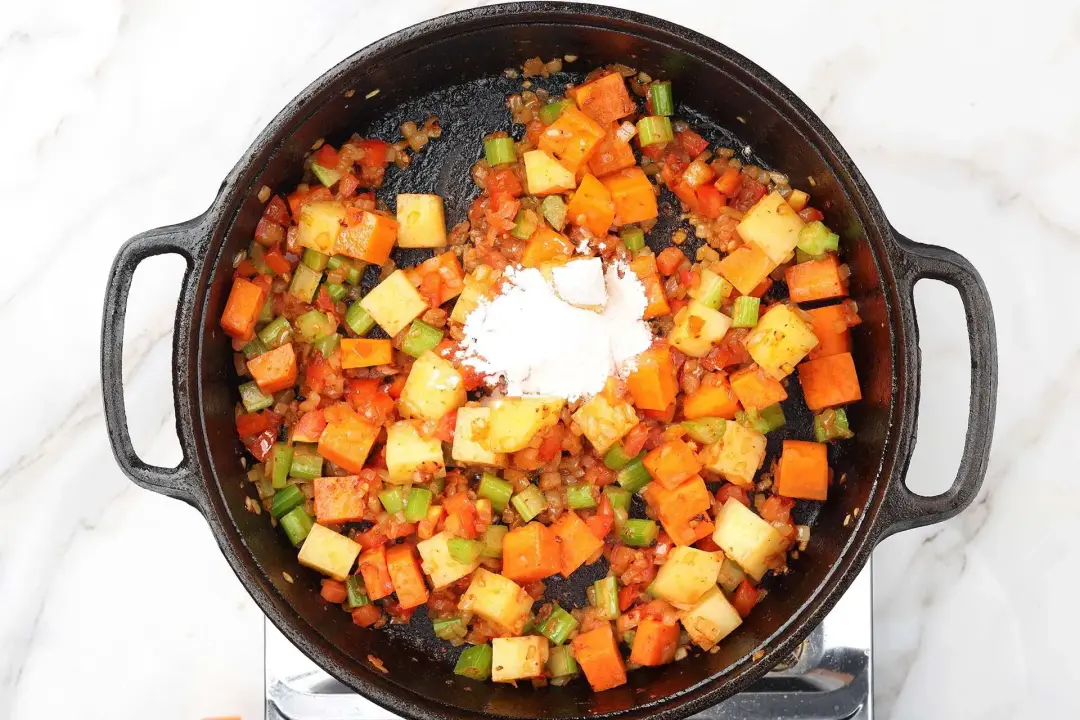 Stir in the flour.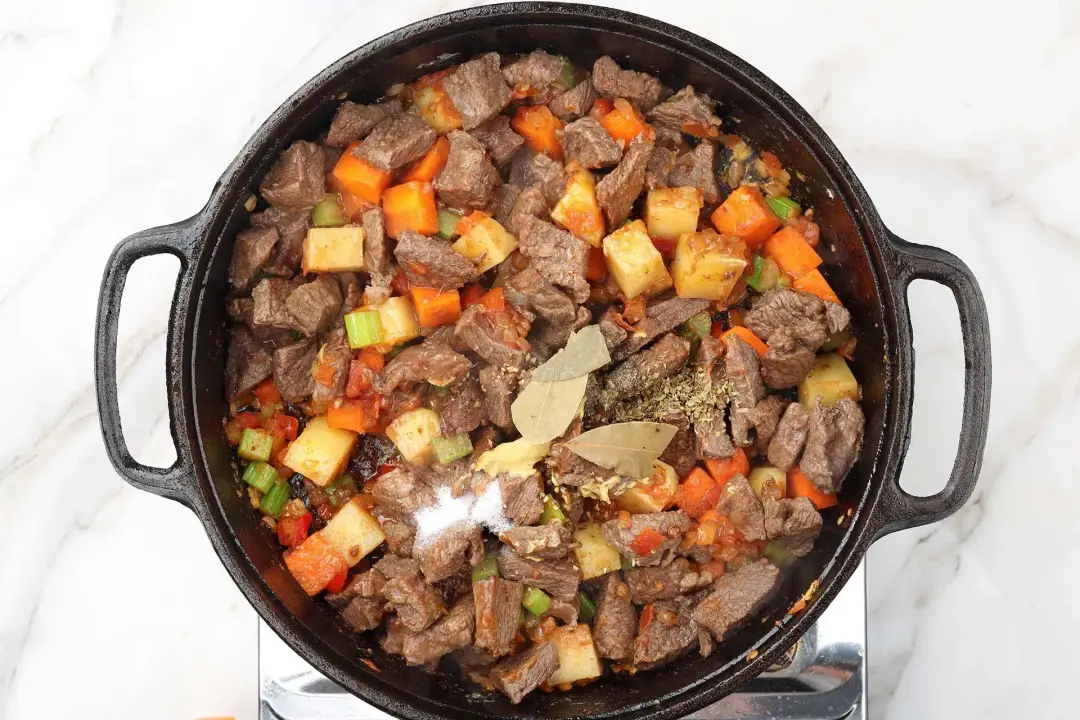 Return the browned beef to the pot along with the spices. Stir.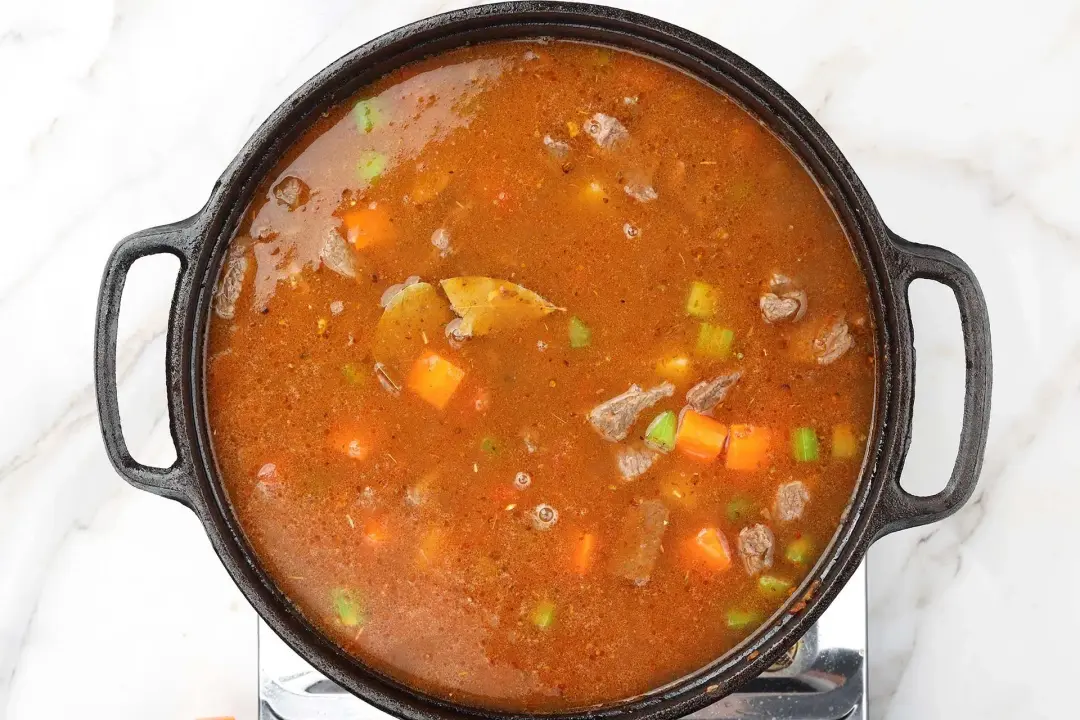 Stir chicken broth in and bring to a medium simmer, then reduce to low heat and simmer for 45 more minutes until the beef is tender.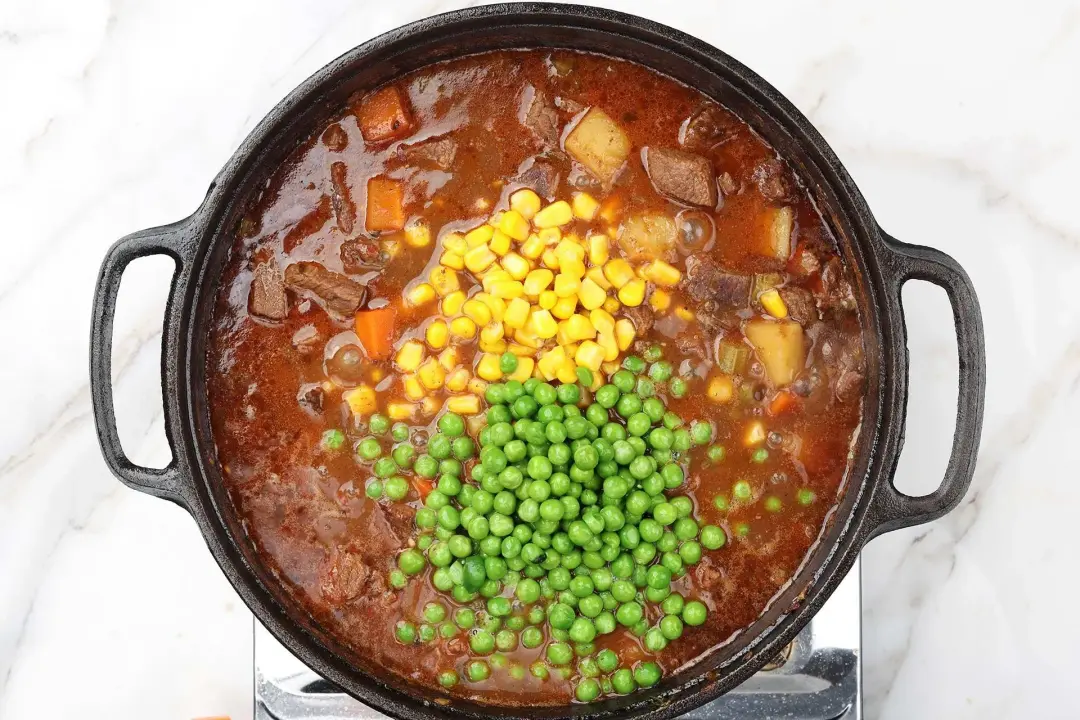 Add the corn and green peas at last.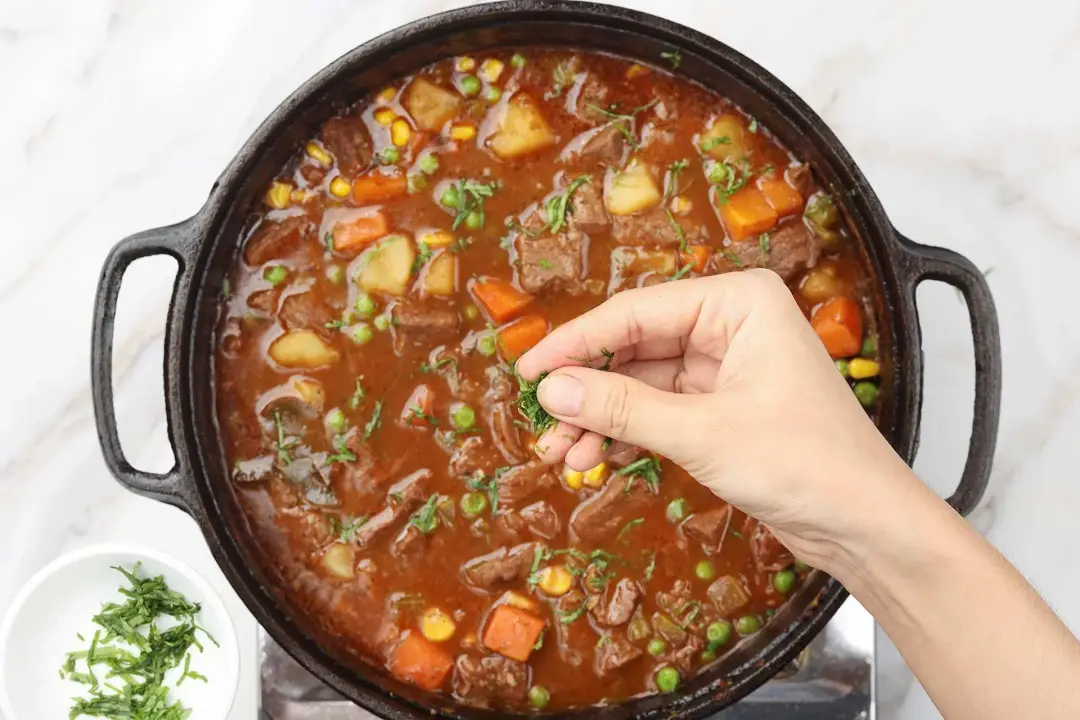 Remove the pot from the heat, garnish with coriander, and serve hot.
How to Store and Reheat Vegetable Beef Soup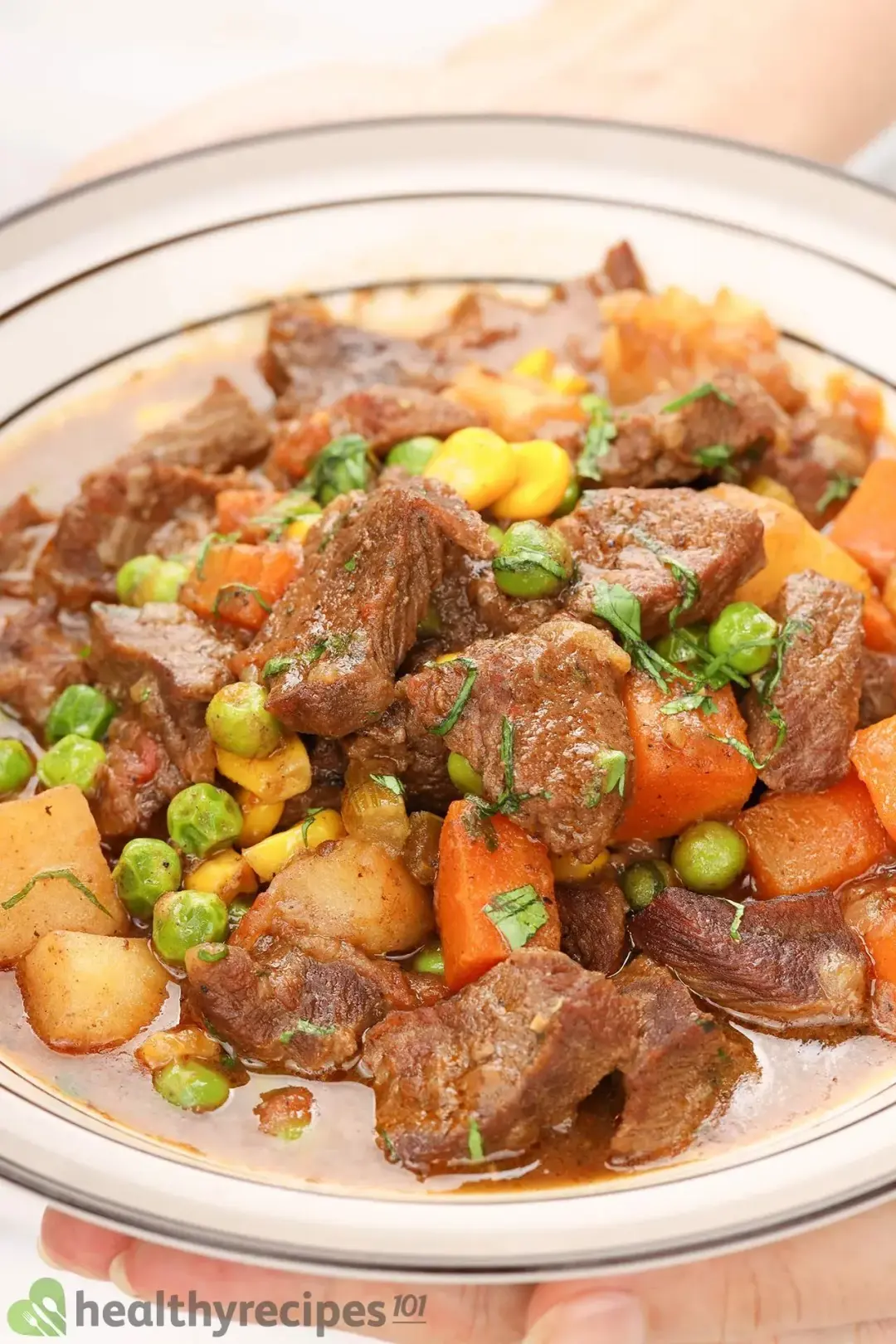 This vegetable beef soup will keep well in the fridge for 3-4 days. It can also be frozen in portions in airtight containers or Ziploc freezer bags for up to 3 months.
Keep in mind that the soup must be left to cool down completely before storing. Putting hot soup directly into your fridge will cause a temperature spike, thus reducing the energy efficiency of the appliance over time.
The soup will expand when frozen, so it's best to leave some space in the bag or the container for expansion, rather than filling it to the brim.
To reheat, first, thaw the frozen portions in the fridge overnight, then reheat them on a low setting in the microwave or on low heat on the stove-top the following day.
What to Serve With Vegetable Beef Soup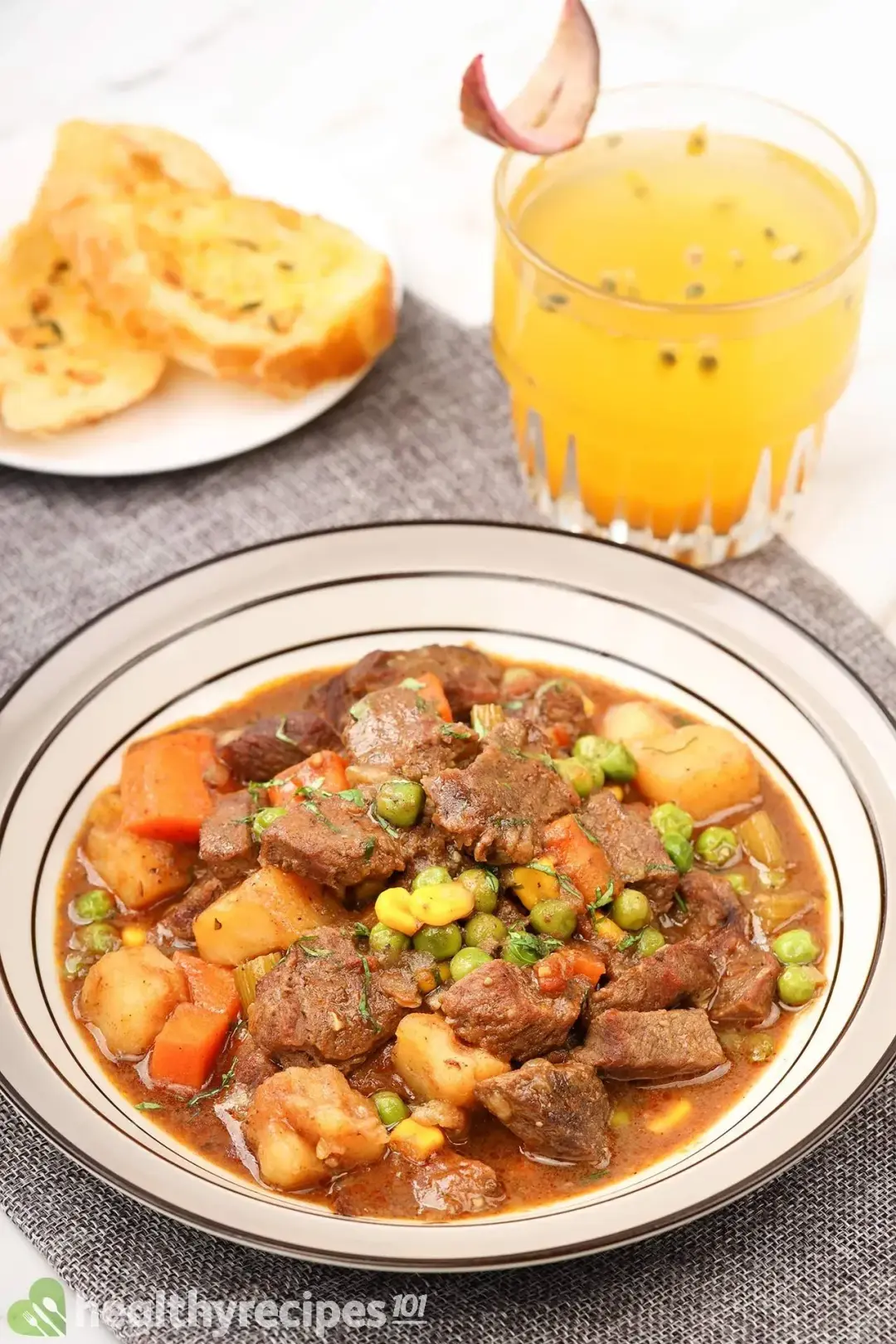 Although this vegetable beef soup is amazing even when served alone, it makes a hearty last-minute meal when paired with a tasty cheesy garlic bread on the side for dipping.
Garlic bread: Done in 10 minutes with pantry ingredients only, this garlic bread is a great last-minute side to pair with pastas, salads, soup, and stews.
Passion fruit juice: Our passion fruit juice features a perfect balance of sweetness and tartness, and is a refreshing choice with richly flavored meals. With only four ingredients, this juice adds robust and fruity flavors to freshen your taste buds after every bite.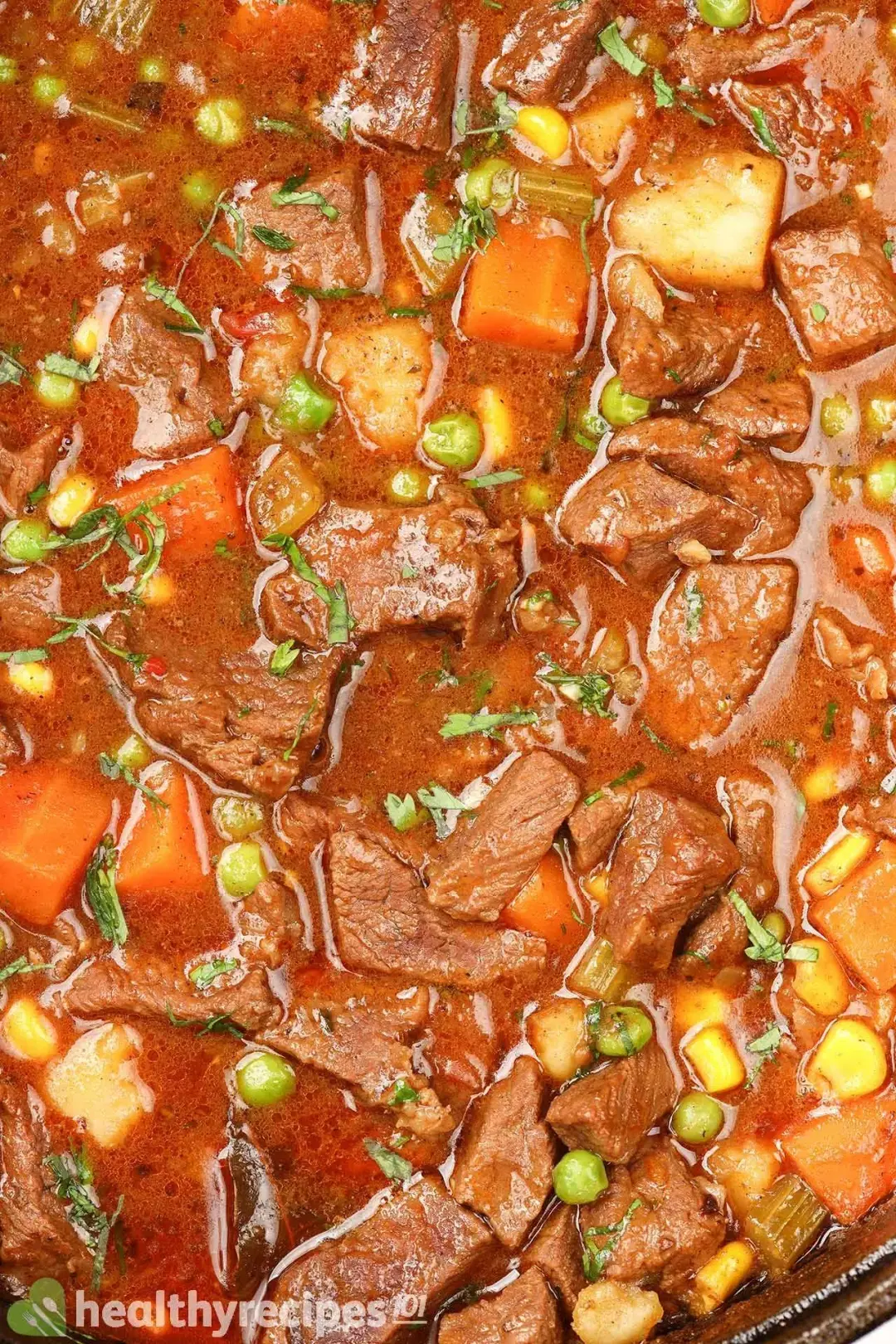 Be sure to check out our Instant Pot Beef Stew Recipe and Beef Stew Recipe.
Vegetable Beef Soup Recipe
Our easy homemade vegetable beef soup recipe is sure to bring you a heart-warming appetizer for the coming fall and winter. The tender beef chunks join the hearty potatoes and colorful vegetables in a slow-simmering process to create rich and well-rounded flavors.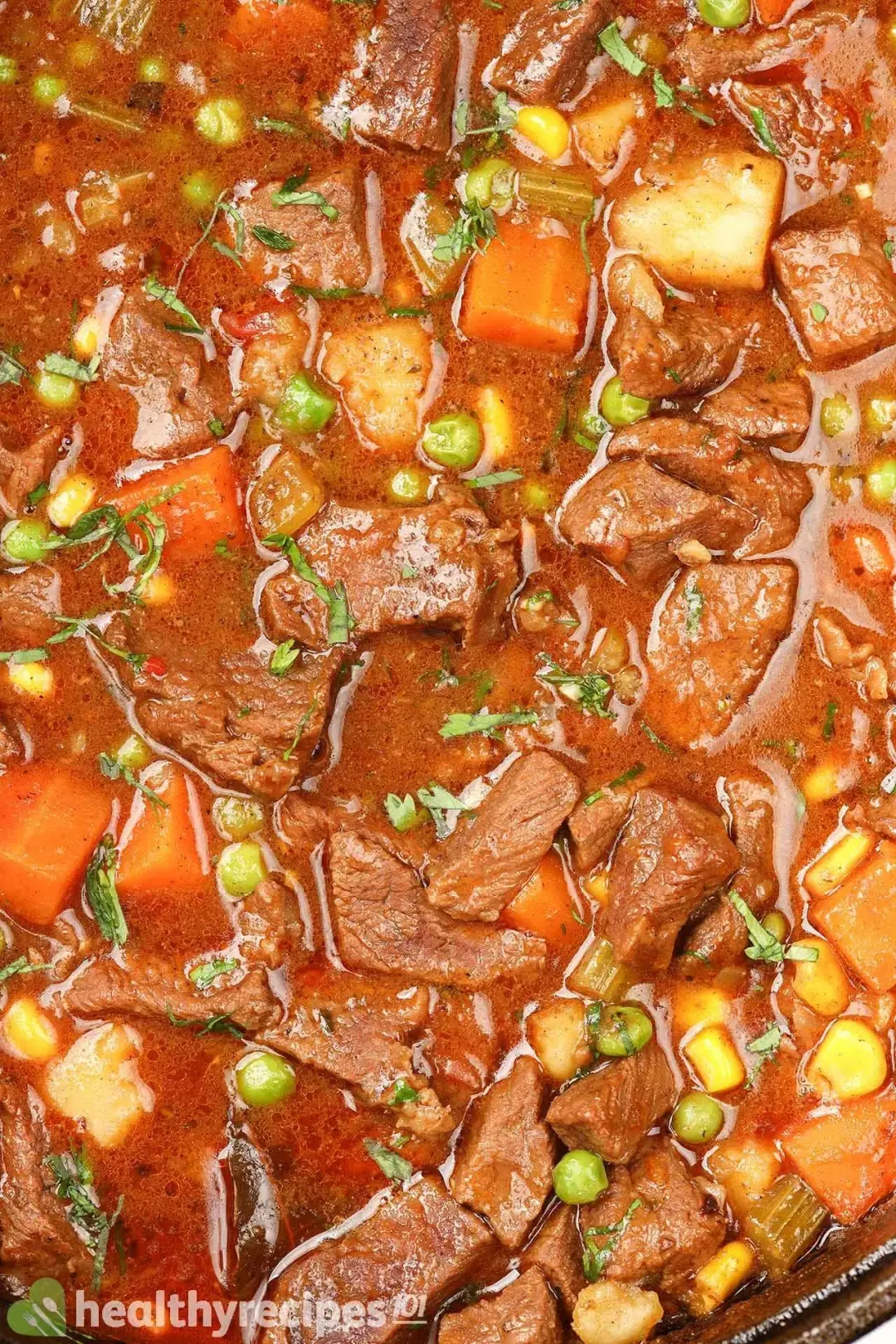 cook TIME

1 hr

prep TIME

5 mins

total TIME

1 hr 5 mins
COURSE

Main Course

CUISINE

American

SERVINGS

servings

CALORIES

502 kcal
INGREDIENTS
26 oz

lean chuck eye chunked

3 tbsp

olive oil

4 oz

onion diced

1 tbsp

garlic minced

2 tbsp

unsalted butter

1 tsp

Hunt's tomato paste

0.5 cup

tomatoes diced

2 oz

celery diced

4 oz

potatoes cubed

4 oz

carrots cubed

1.5 tbsp

all-purpose flour

0.5 tsp

salt

1

bay leaf

0.5 tsp

Italian seasoning

0.5 tsp

oregano

0.5 tsp

thyme chopped

1 tsp

traditional Dijon mustard

4 cup

unsalted chicken broth

0.5 tsp

ground black pepper

2 oz

corn

4 oz

green peas

2 tbsp

parsley chopped
INSTRUCTIONS
1
In a large, heavy based pot, heat 3 tbsp olive oil over high heat until very hot. Brown 26 oz lean chuck eye for 3 minutes, then remove into a bowl and set aside.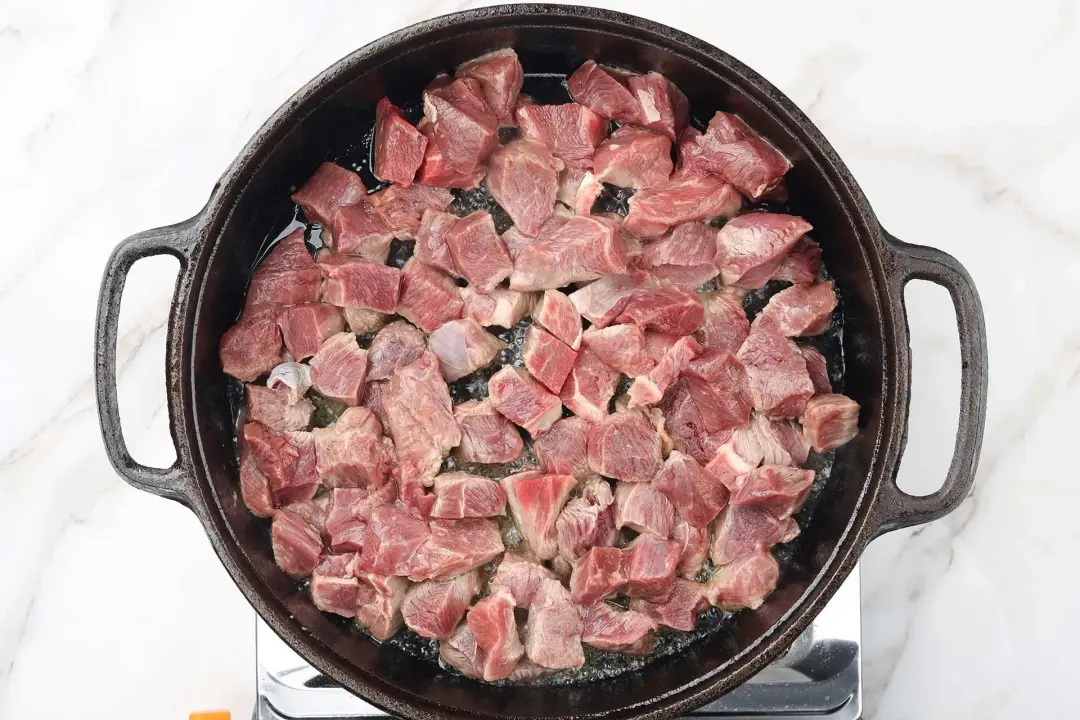 2
Turn it down to medium heat, sauté 4 oz diced onion and 1 tbsp minced garlic in 1 tbsp garlic for 1 minute.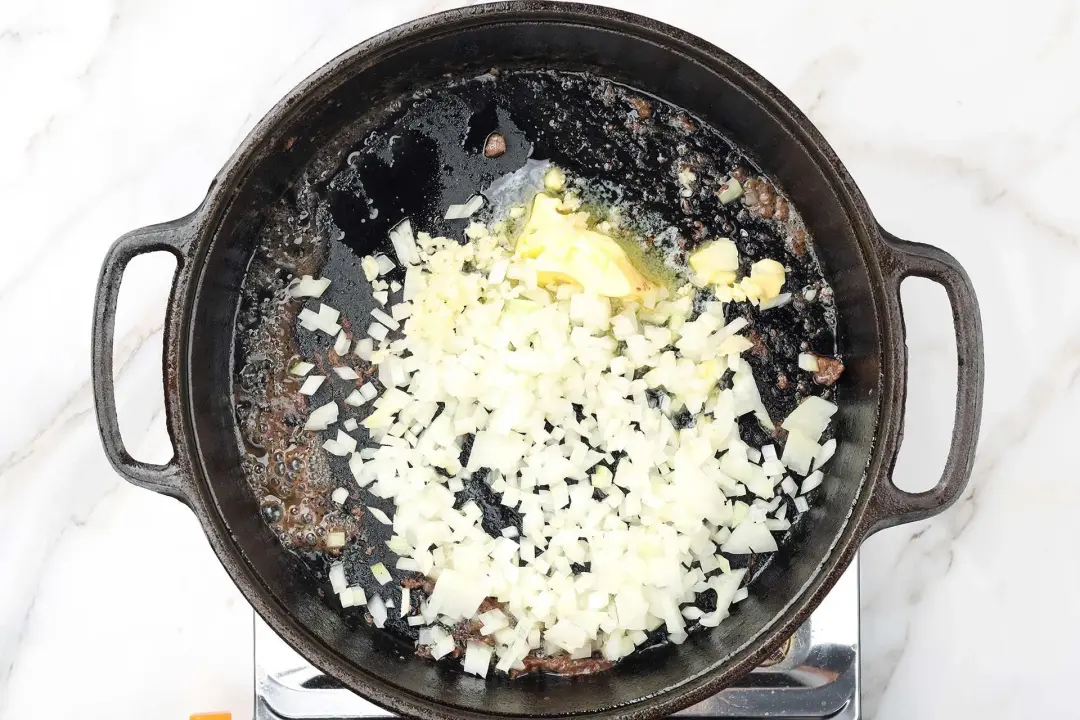 3
Add 1 tsp tomato paste. Stir.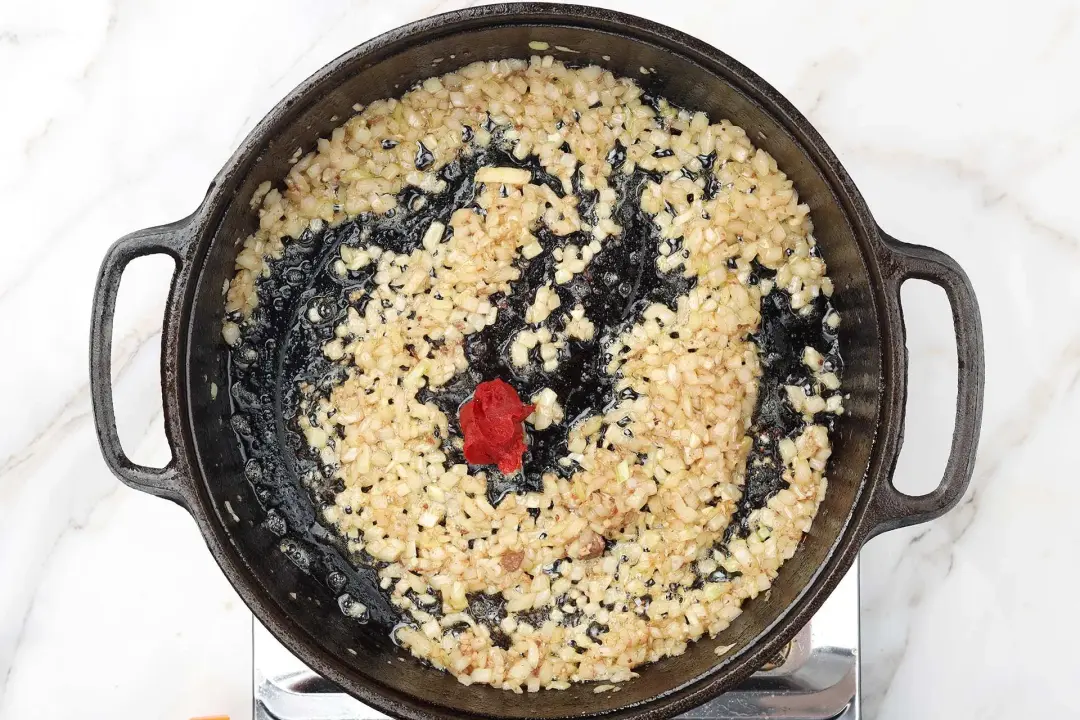 4
Add 1/2 cup diced tomatoes and keep stirring.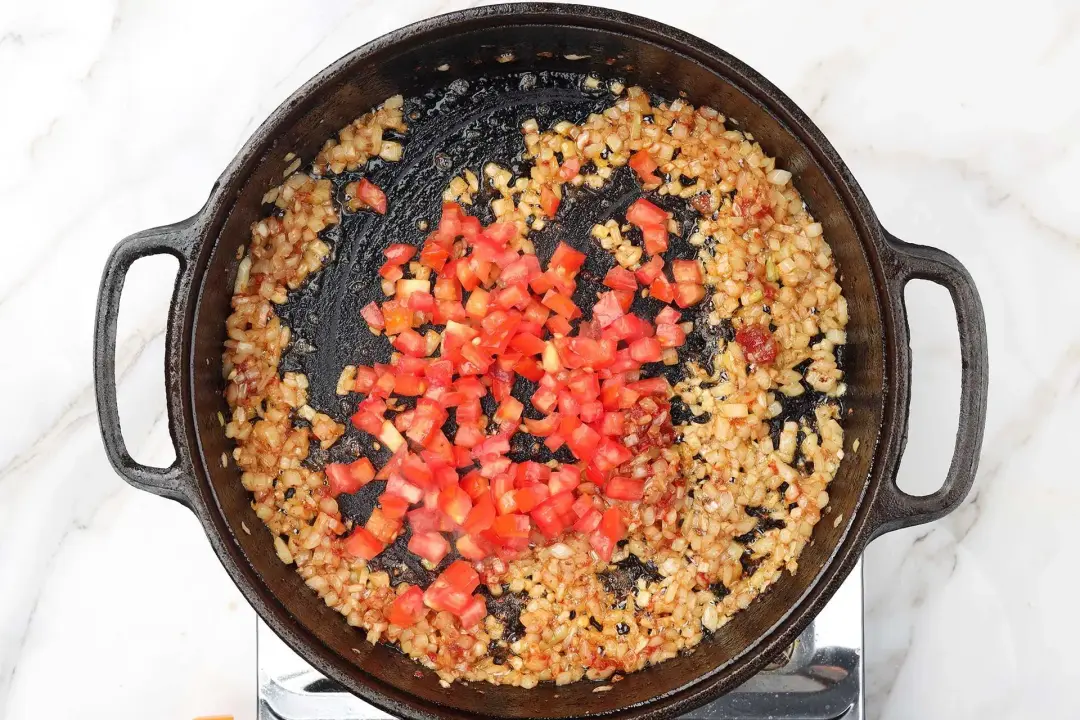 5
Add 2 oz celery, 4 oz potatoes, and 4 oz carrots. Stir for 2 minutes.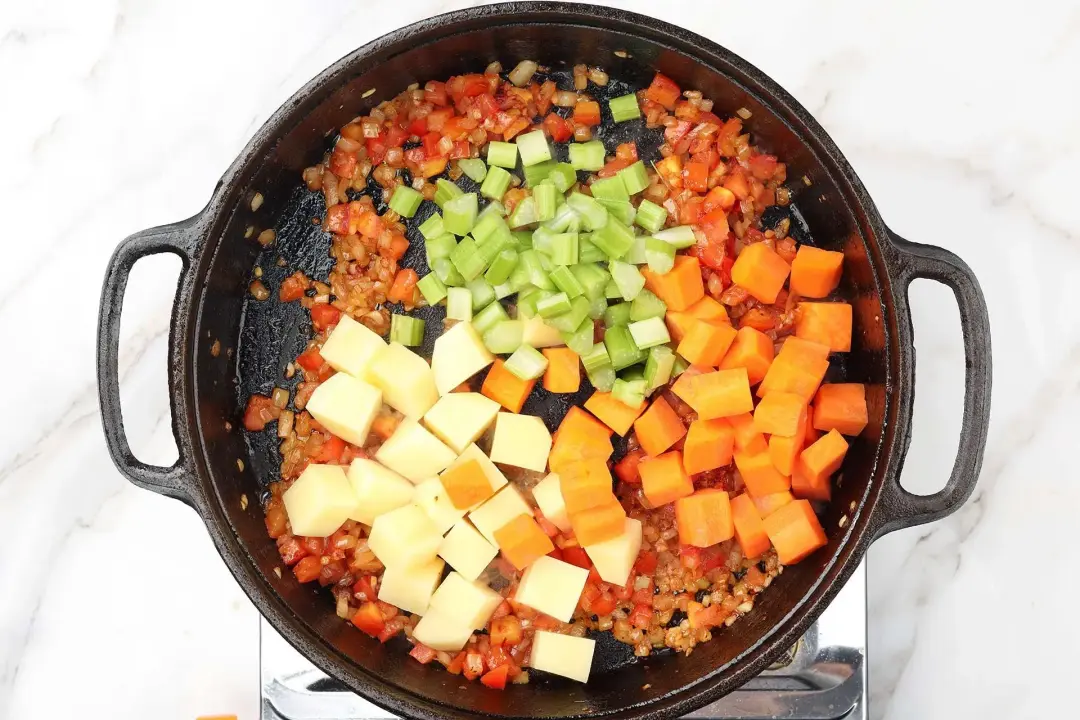 6
Stir in 1.5 tbsp all-purpose flour.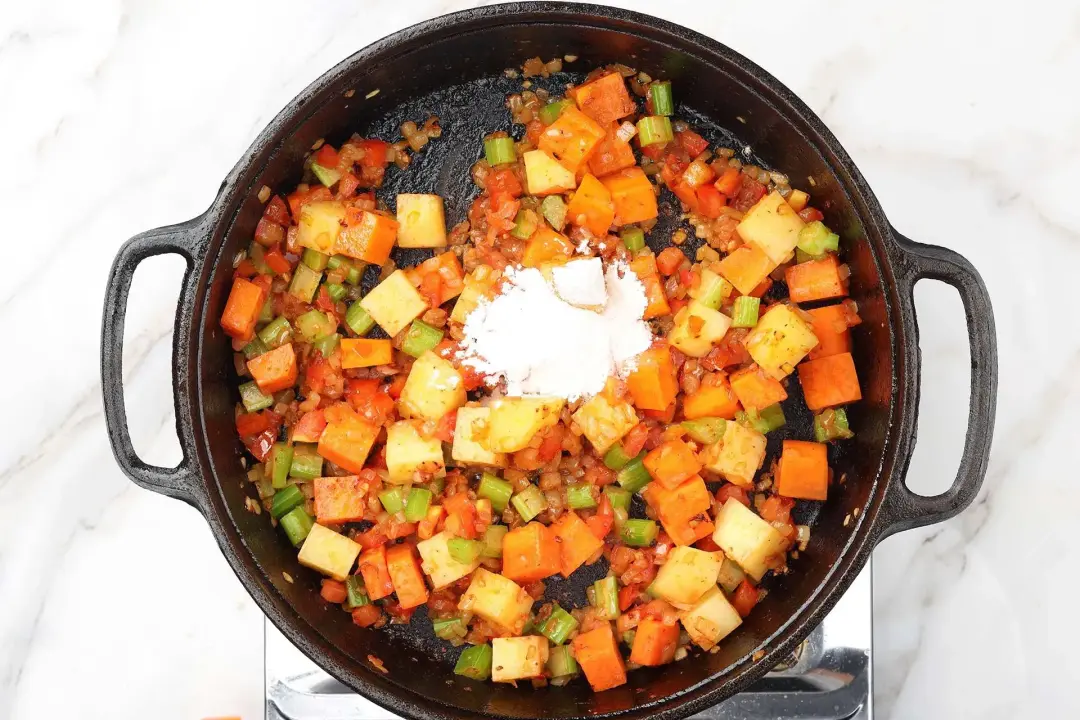 7
Return the browned beef to the pot along with 1/2 tsp salt, 1 bay leaf, 1/2 tsp Italian seasoning, 1/2 tsp oregano, 1/2 tsp thyme, and 1 tsp Dijon mustard. Stir.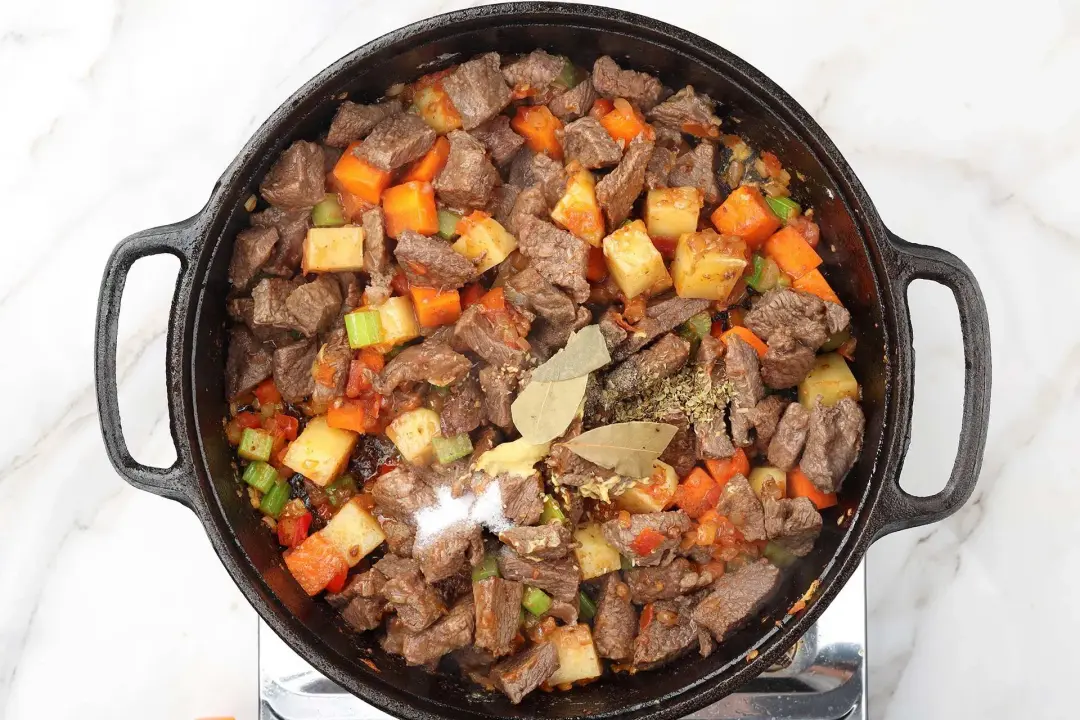 8
Stir in 4 cup unsalted chicken broth and bring it to a medium simmer for 2 minutes. Then turn the heat down to low and simmer for an extra 45 minutes or until beef is tender.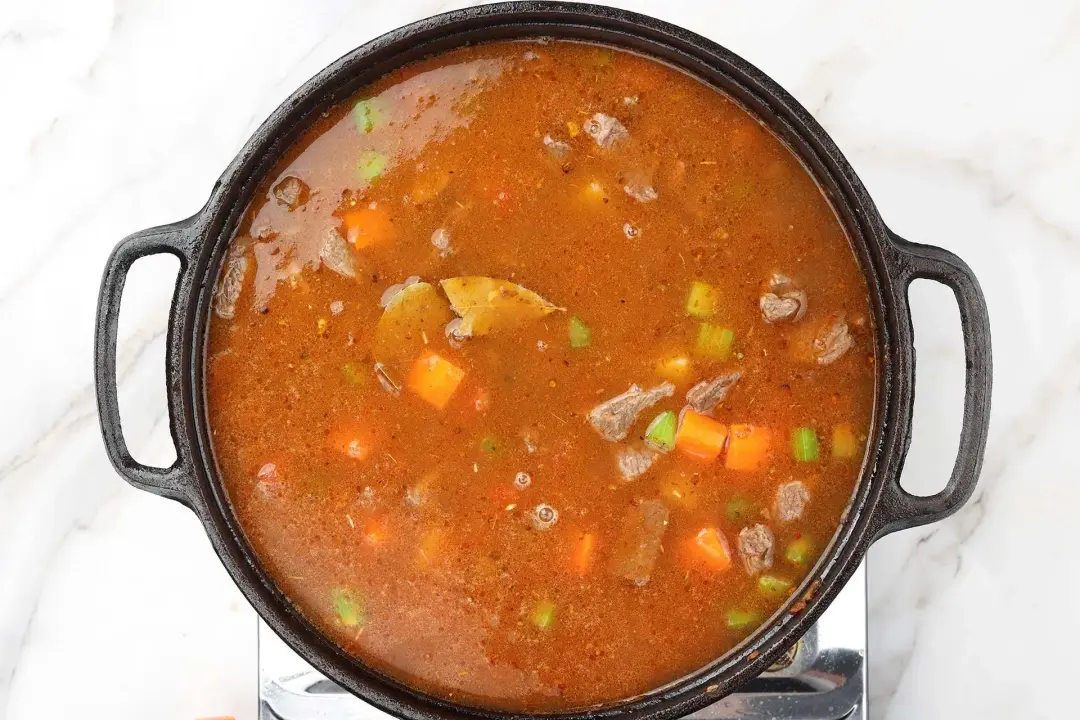 9
Add 2 oz corn and 4 oz green peas last and cook for 5 more minutes.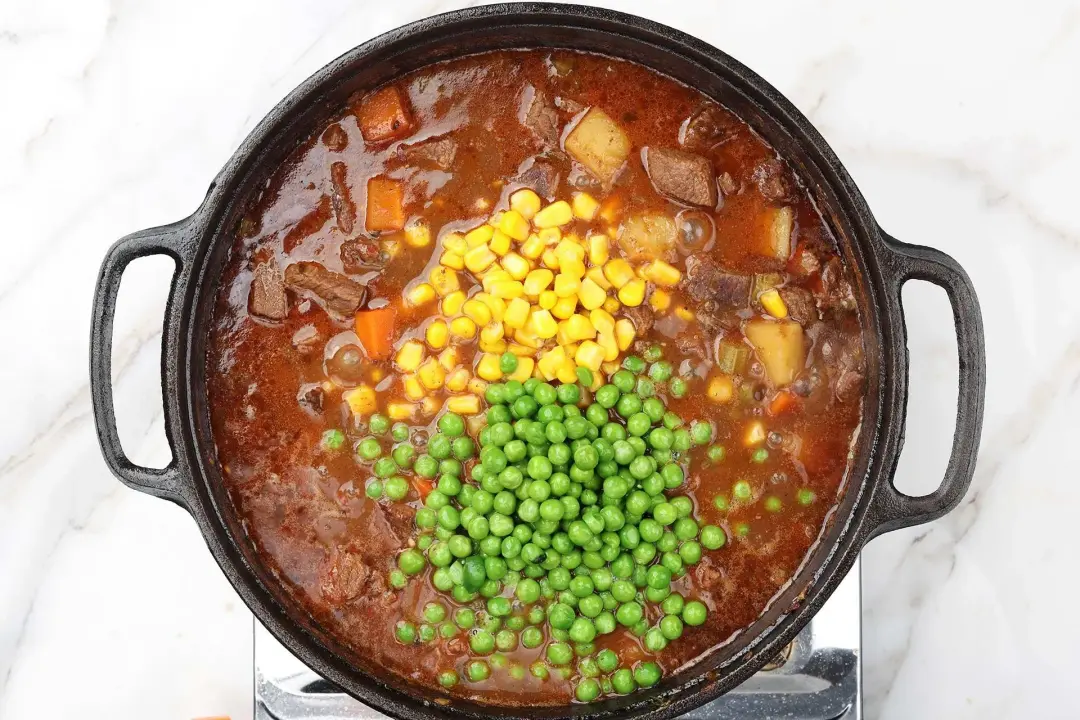 10
Remove the pot from heat, and garnish with 2 tbsp freshly chopped parsley. Serve hot.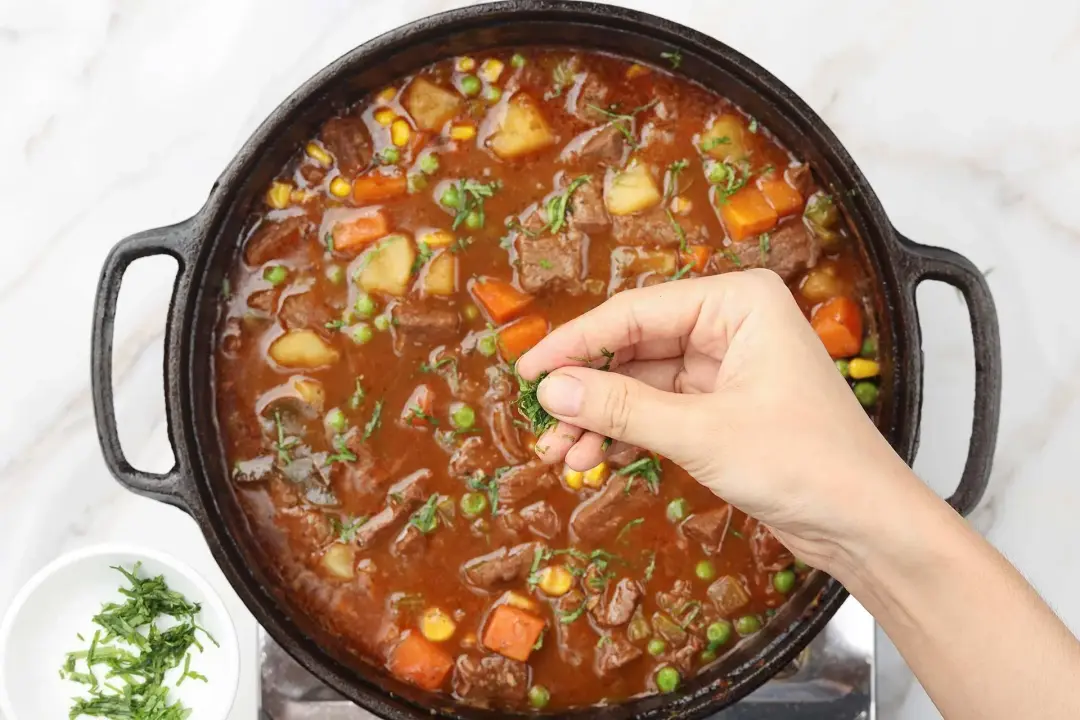 NUTRITION
Nutrition Facts
Vegetable Beef Soup Recipe
Amount Per Serving (1 serving)
Calories 502
Calories from FDA
% Daily Value*
* Percent Daily Values are based on a 2000 calorie diet.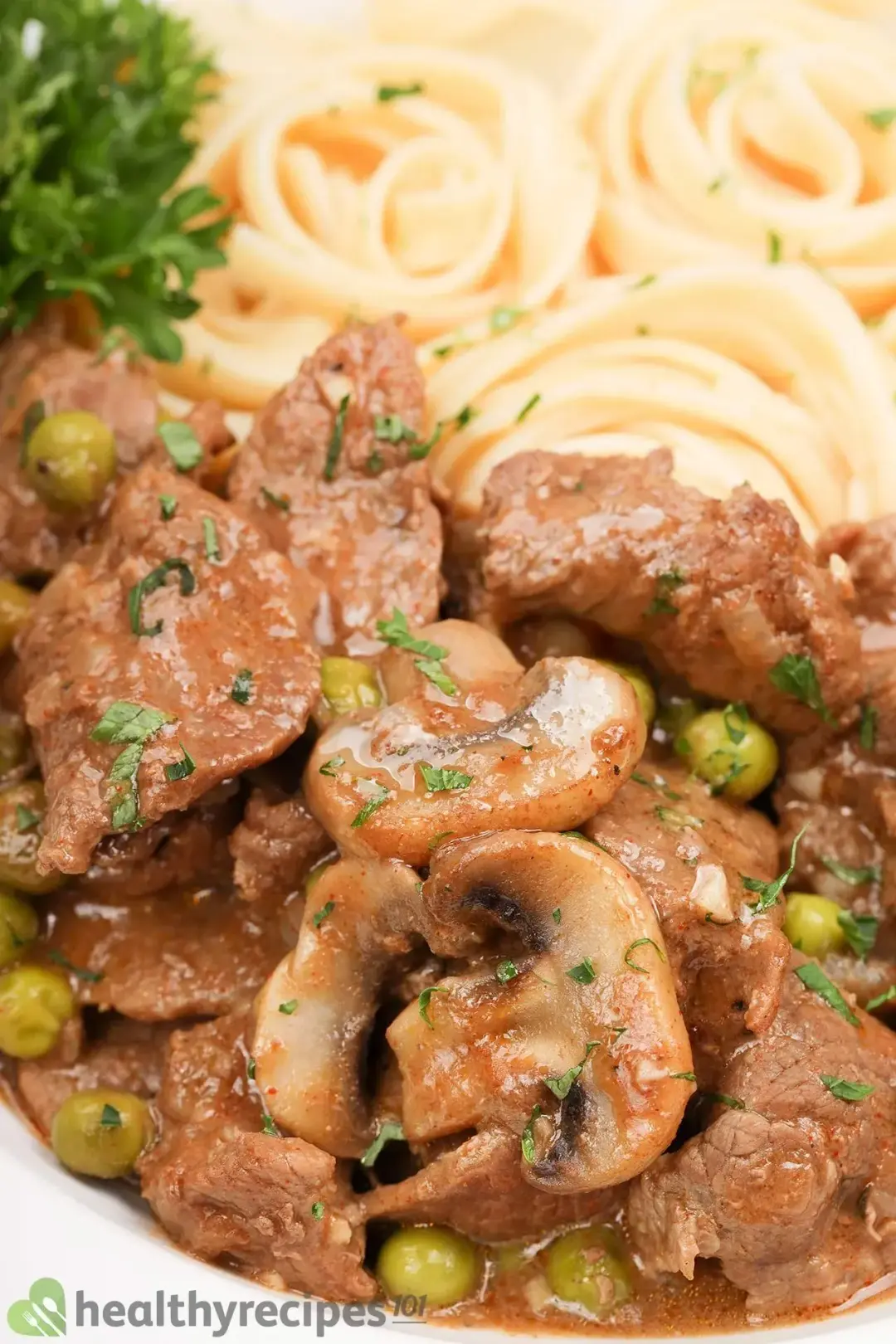 Previous Recipe
Beef and Noodles
Beef and Noodles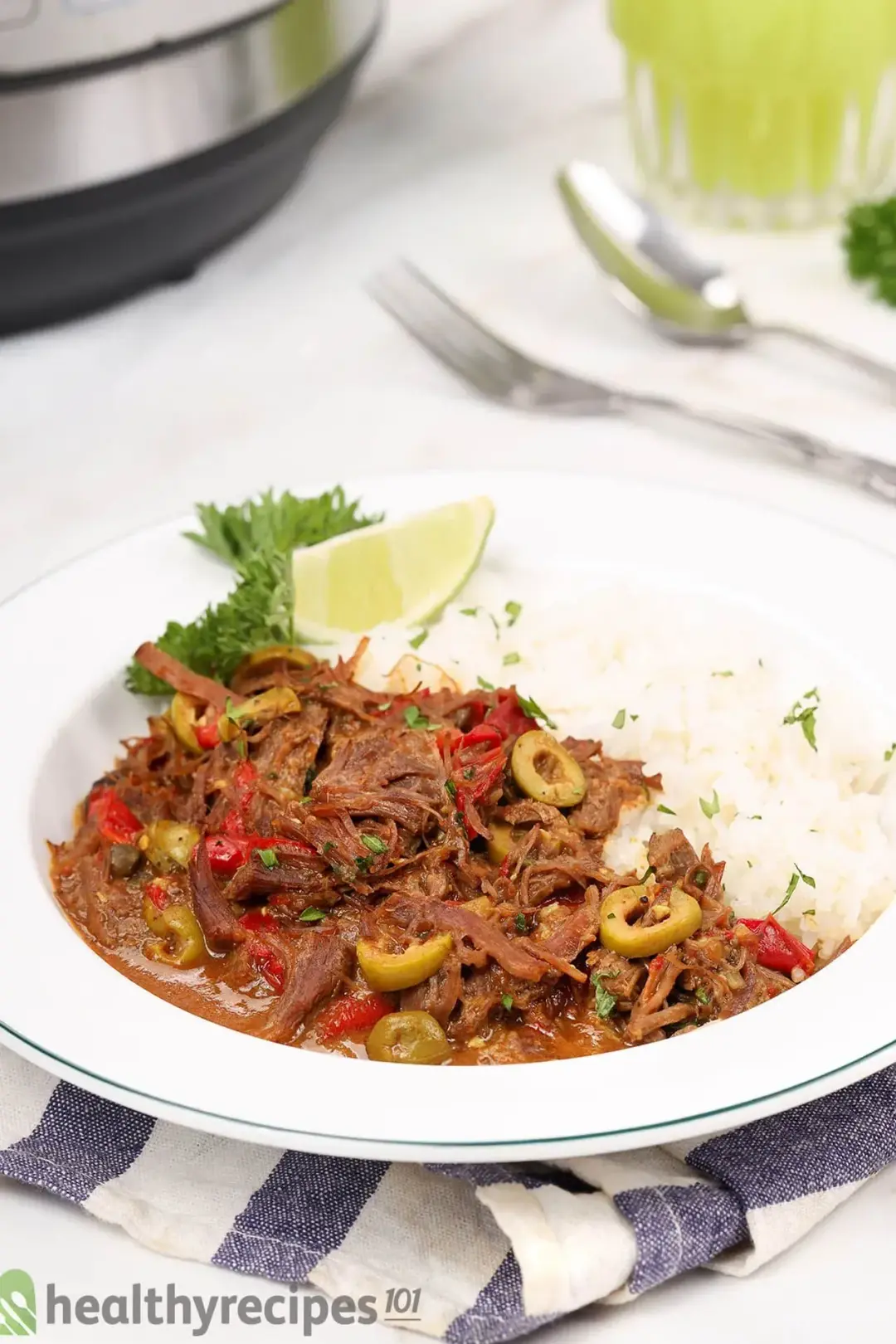 Next Recipe
Instant Pot Ropa Vieja
Instant Pot Ropa Vieja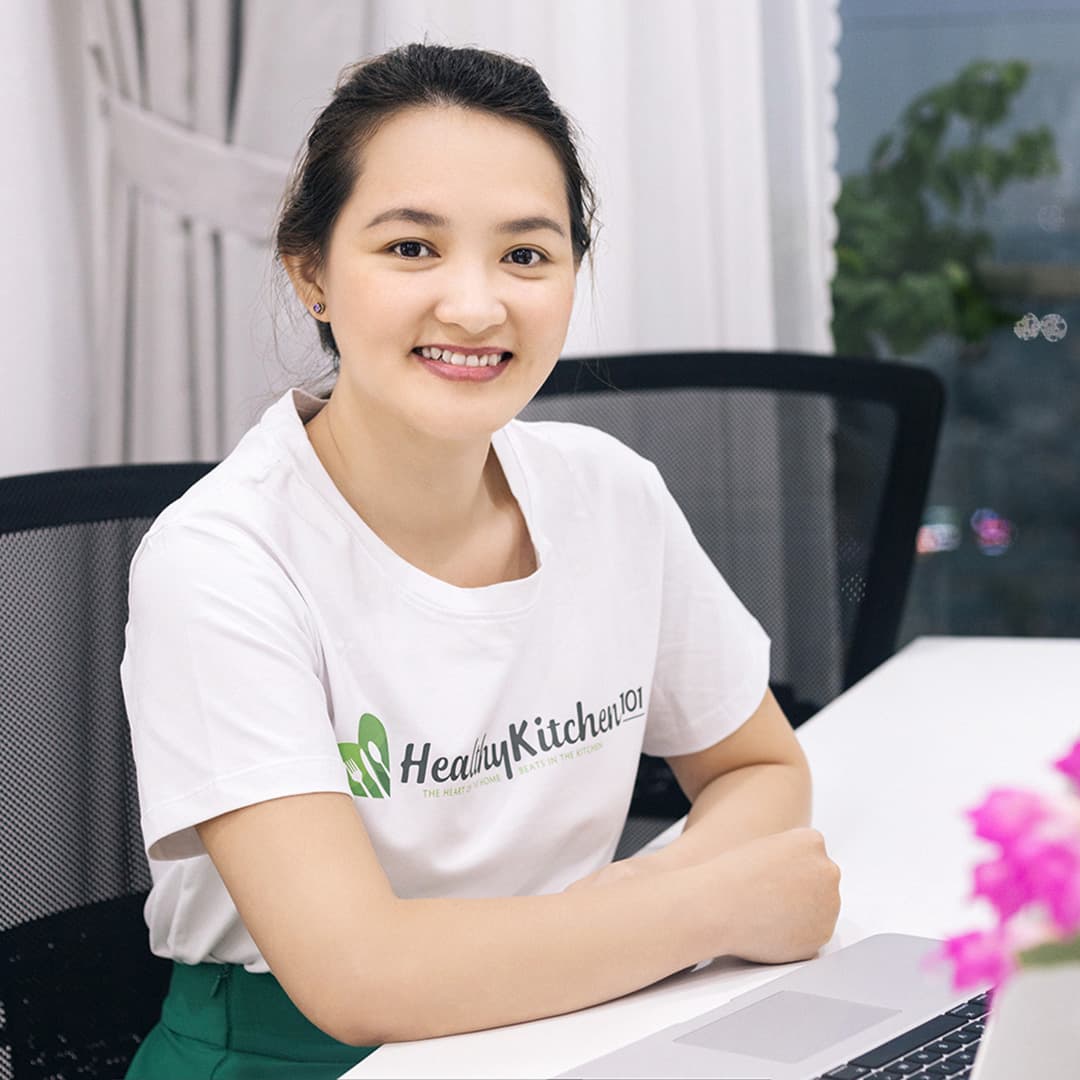 Luna Regina
A writer and entrepreneur, Luna's day doesn't start at the computer keyboard, but in the kitchen.
Half of her working hours are spent on mixing ingredients for her recipes. The other half involve working with the tech team to research and test the tools and appliances that promise to make kitchen work effortless and mess-free. From a kitchen knife or water filter to the Instant Pot, if it can help save time and effort for the home cook, Luna and her team are on it.
Luna's extracurricular pastimes include camping, travel, and photography.
Comments/ Reviews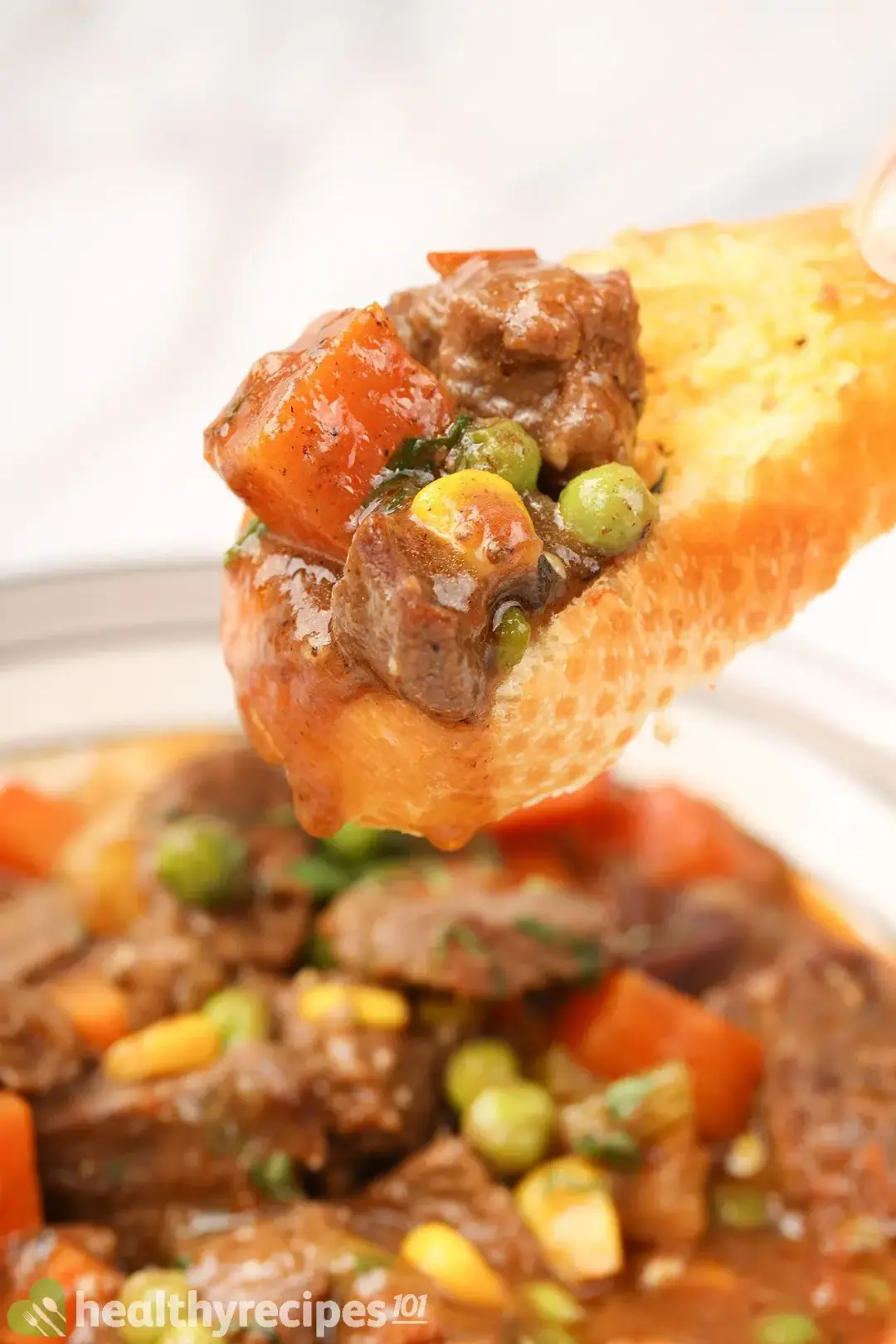 Vegetable Beef Soup Recipe