Our beef stew recipe is sure to give you a pleasurable eating experience.
If you're seeking a healthy one-pot meal loaded with rich flavors, you've come to the right place. This stew features tender beef morsels and hearty veg cooked to perfection in a savory, velvety sauce – a true comfort food.
The stew's nutritional profile also complies with our guidelines, making your journey to a healthy lifestyle both easy and enjoyable.
What Is Beef Stew Meat?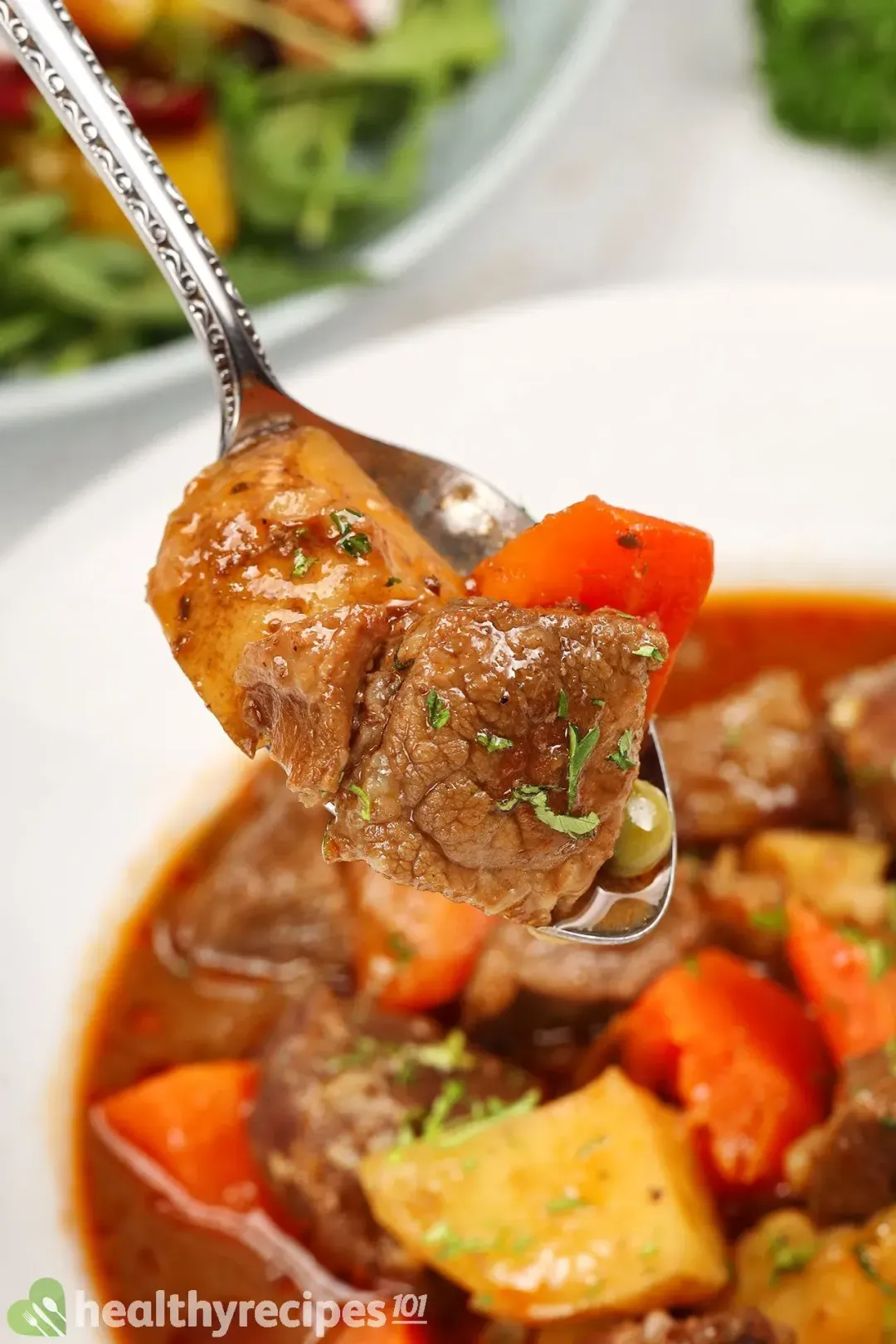 Beef stew meat is the best beef cut to use in a stew, like the round or chuck. They have lots of connective tissues, which, once cooked for hours, turn into collagen, enrich the sauce and give it a velvety consistency.
Besides stews, these tough cuts are not much use, especially when cut into chunks. However, they can be sliced thinly for stir-frying or hot pots, and sometimes ground or minced for casseroles, meat pies, meat sauces, soups, or chillies.
Is Beef Stew Good for You?
The stew is loaded with red meat and vegetables, two vital food groups. They provide you with necessary nutrients such as proteins, complex carbohydrates, fiber, and micronutrients.
Nevertheless, some beef stews have high levels of saturated fats and sodium – substances present in some of our foods like dairy and salt. Their excessive intake is linked to several diseases, including those related to the heart (details in the links).
Our beef stew recipe, by contrast, contains lower, healthy amounts of saturated fats and sodium, at 5.3 g and 605.8 mg respectively. This is a result of moderate ingredient use.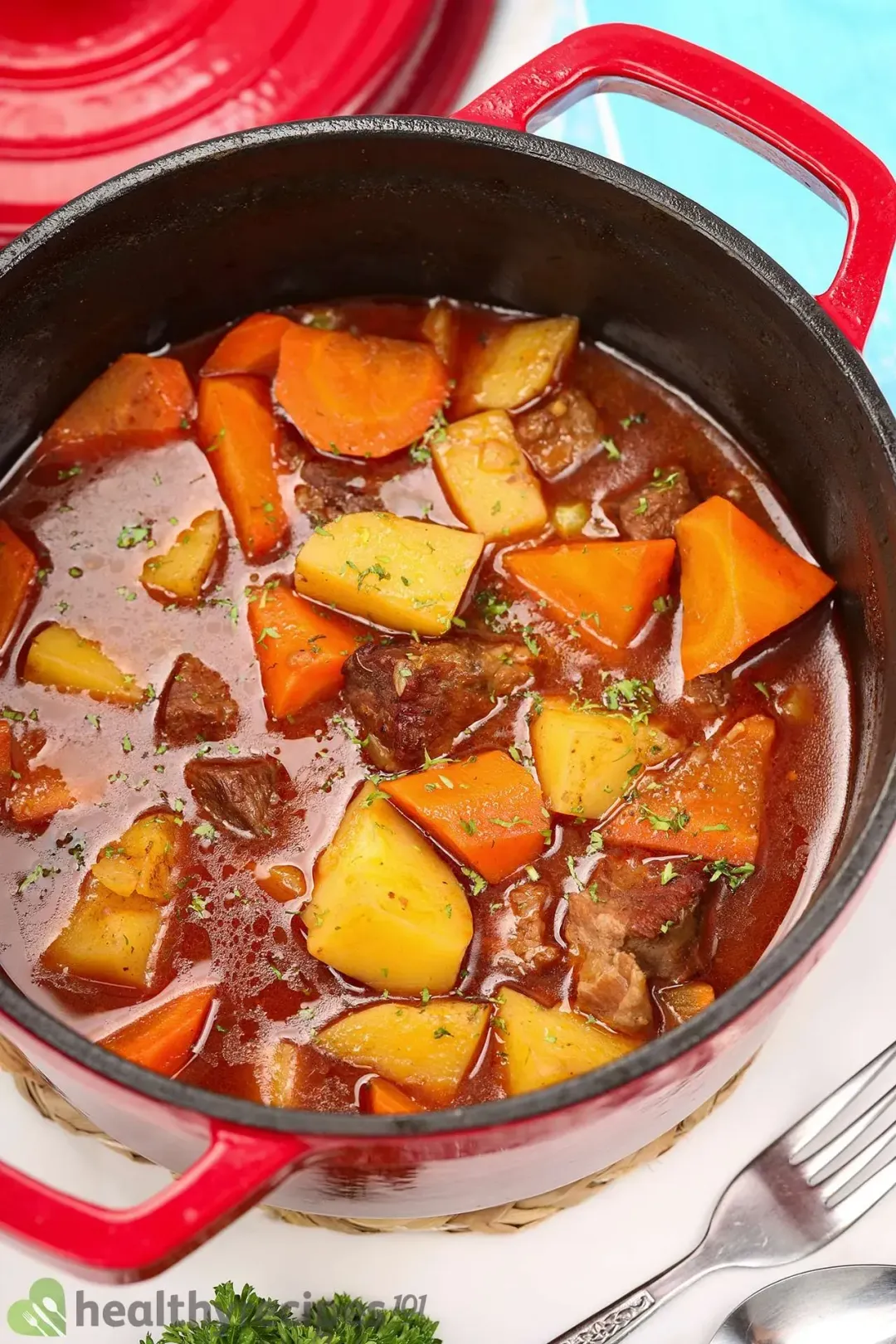 Beef Stew Calories
Each serving yields 476 calories, translating to roughly 17.6 – 23.8% of your daily quota. To find out what percentage applies to you, have a look at our guidelines.
Ingredients for Beef Stew
First, let's talk about beef cuts.
1. Beef Cuts for Stew
As mentioned, any beef stew meat will work well here. We're using beef chuck, cut into chunks about the size of your spoon — one and a half inch cubed.
These chunks are usually seared as-is, but to speed up the caramelizing process, we coated them in all-purpose flour. We find the seared meat looks more appealing this way, and as it cooks, the flour naturally disintegrates into the broth, giving it a sauce-like consistency.
2. Veggies for Beef Stew
Like just about any savory dish, you want to cook this stew with aromatics, garlic, and onion. They give layers of flavor and aroma that these dishes can't do without.
For root veg, beef stew is typically cooked with potatoes and carrots, sometimes shallots. They're safe choices, but not necessarily the only ones. Swap the potatoes for yam or sweet potatoes, and include a few chunks of beetroot for a different vibe.
3. Marinade for Beef Stew Meat
You can marinate the meat, but you don't have to. Being a stew, the beef has plenty of time to absorb the flavors.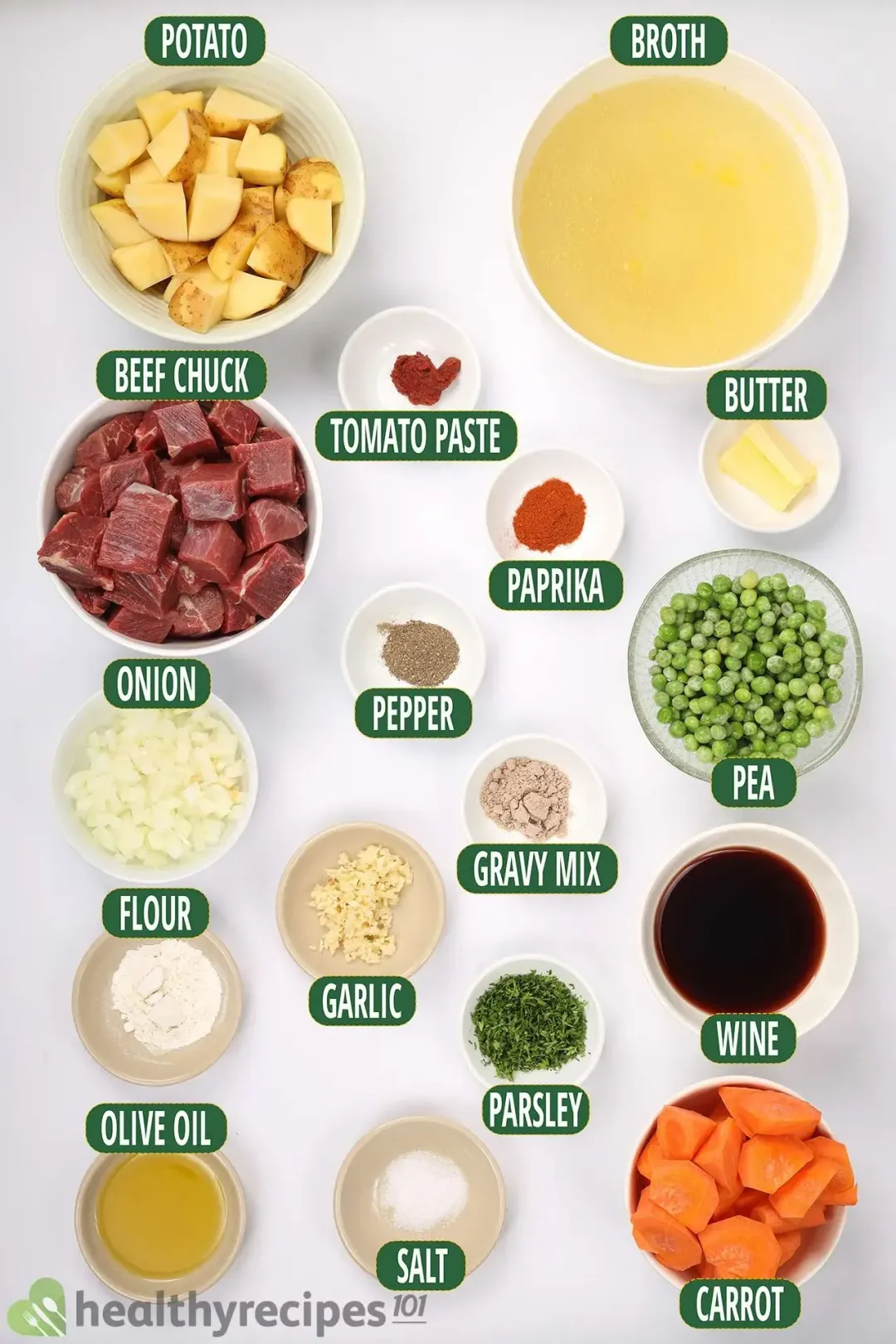 Speaking of flavors, here's what goes into the pot beside the beef and veg:
Butter, adding fragrance to the stew.
Tomato paste, giving the sauce a tangy nature. It's often cooked in a bit of grease to release more flavor, so we left it to cook in the butter for about 1 minute.
Broth: beef broth is the most suitable option for any beef stew, but as we couldn't find an unsalted product, we went with Swanson's unsalted chicken broth. We also added a teaspoon of gravy mix for extra savoriness and adjusted the taste with a pinch of salt.
Paprika, for a tantalizing kick.
Also going into the pot is wine, but since it's a crucial ingredient, we dedicated a whole section to it.
4. Wine
Most people agree with red wine when it comes to a beef stew, and cabernet sauvignon is the usual option. The brand, though, is nothing more than a preference — you can choose your favorite or another and still turn out the same delicious meal.
Replace red wine with white wine and you'll have a very different experience. Red wine has a soft, rich, nutty flavor inherited from the grape's skin, while white wine tastes rather zesty and acidic.
Some beef stew recipes call for white wine, but the complementary seasonings are not the same as red wine. As such, it would be better saved for another recipe.
Can I Make Beef Stew in the Instant Pot?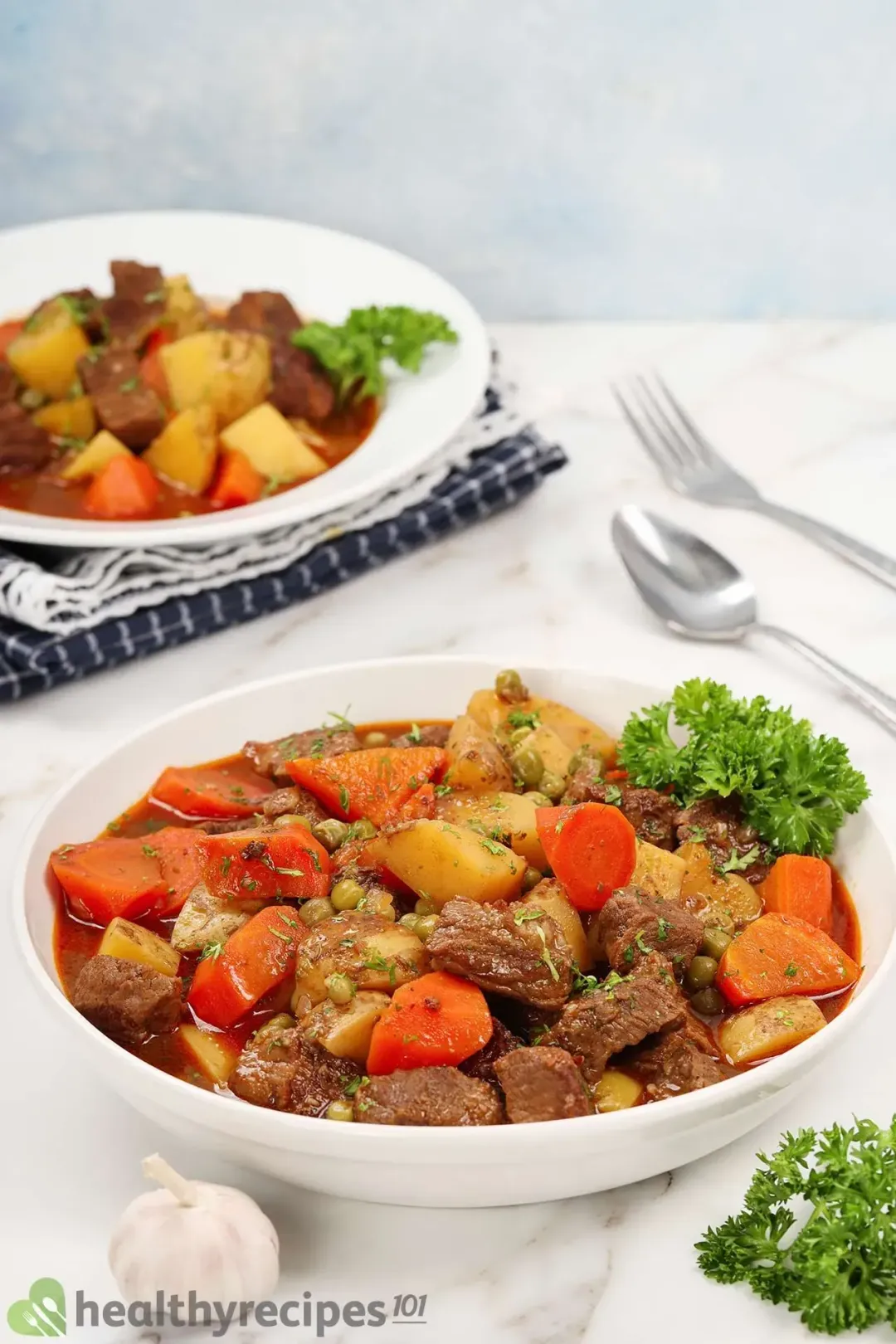 Not only is it possible, but it's also a more convenient, time-saving method. We're talking about an hour or more saved, thanks to the machine's innovative pressure-cooking mechanism.
A few things to keep in mind:
The tomato paste needs to be cooked in butter, so spend about a minute or two on it before moving on to step 3.
Once you deglaze the pot with red wine, scrape the pot to release the flavorful bits sticking to the bottom. Our pot is non-stick so we used a wooden spoon to avoid damaging the coating.
The broth should be added when the wine reduces to about half its original volume.
The pot doesn't need to be covered.
You can use fresh peas or frozen peas.
To meet the nutritional goals we mentioned earlier, precise measurement of ingredients is necessary. We encourage you to stick to our beef stew recipe card at the bottom.
You can have a look at the Instant Pot Beef Stew Recipe or Vegetable Beef Soup Recipe. Besides a few differences in operation, the cooking steps are the same.
How to Store and Reheat Leftover Beef Stew
Portion the beef stew into separate airtight containers or Ziploc bags and store them away. Your stew will keep in the fridge for only 4 days, so to store it for up to 3 months, you should store it in the freezer.
We highly recommend using Ziploc bags to save fridge space.
If your fridge is large and there's just one serving left, keep it in a saucepan. You can put it on the stove straight from the fridge, which will save you from dirtying another container.
To reheat, simmer the stew over low heat for 5 – 10, depending on whether it's refrigerated or frozen. A microwave will help to speed things up.
Side Dishes for This Beef Stew
This rich, saucy dish should be complemented by something fresh, like our beet and feta cheese salad. Besides the main ingredients, it also has plenty of arugula and juicy orange segments, which taste even more refreshing when chilled.
To round off all of these exciting flavors, we've chosen our cucumber and lemon juice. Its flavor is mild, but the citrusy, floral aroma is what ties it all together.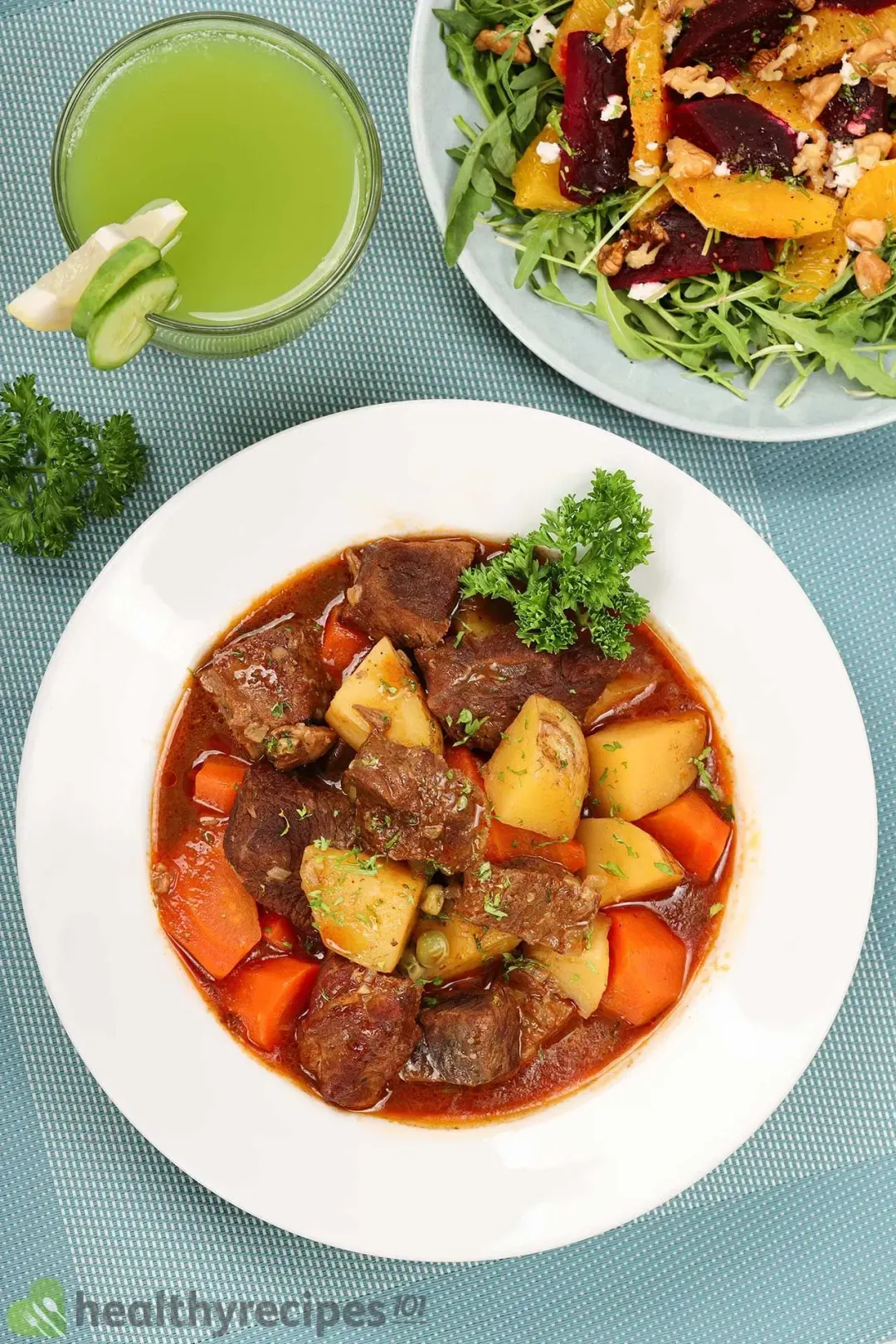 Warm Up Your Winter with These Hearty and Delicious Beef Soups
This article introduces a delicious and easy-to-make meatball soup recipe that is perfect for cold weather or any time you crave a comforting meal. The recipe includes flavorful ingredients such as ground beef, vegetables, and spices, and can be customized to your liking. The article also provides tips for making the perfect meatballs and storing leftovers.
This easy and delicious hamburger soup recipe is a great way to use up any leftover ground beef you have on hand. Loaded with veggies like carrots, celery, and tomatoes, it's a healthy and satisfying meal that the whole family will love.
Can't get enough of beef soup? Our roundup features even more delectable recipes for you to try!
Beef Stew
This beef stew recipe packs hearty, rich flavors and wholesome chunks of meat and veg. It may take 2 hours, but most of it is hands-free.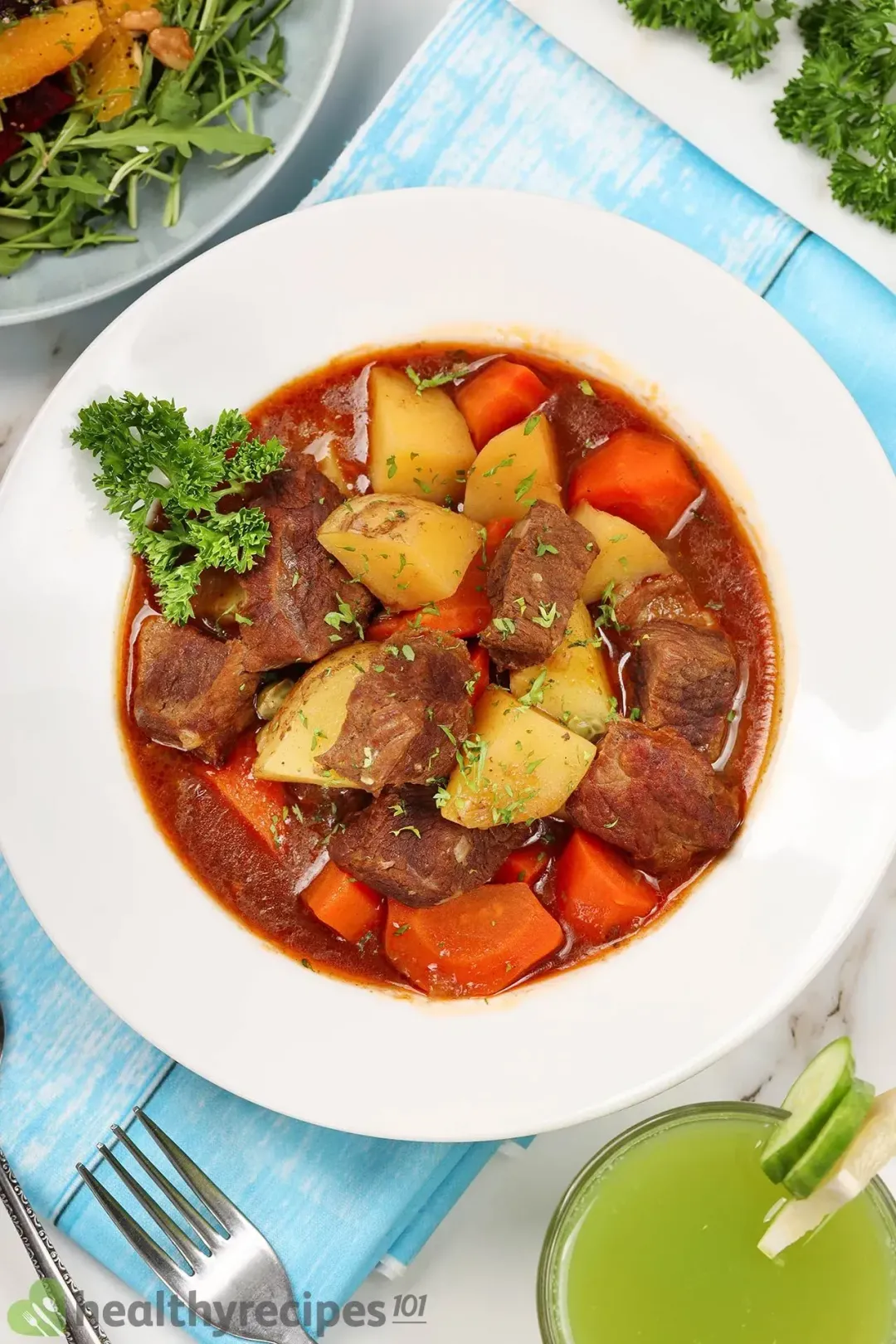 cook TIME

1 hr 50 mins

prep TIME

10 mins

total TIME

2 hr
COURSE

Main Course

CUISINE

Global

SERVINGS

CALORIES

476 kcal
INGREDIENTS
12 oz

potatoes

(about 1 medium or 1.5 small russet, cut into chunks)

8 oz

carrots

(about 3-4 medium, cut into chunks)

6 oz

green peas

(fresh or frozen)

6 cups

unsalted chicken broth

6 tbsp

red wine

(Cabernet Sauvignon)

1 tbsp

garlic

(about 3 cloves, minced)

2 oz

onions

(about half a medium, finely chopped)

1 tsp

Hunt's tomato paste

1/2 tsp

ground black pepper

2 tbsp

parsley

(finely chopped)
INSTRUCTIONS
1
Coat 24 oz beef chuck in 1 tbsp all-purpose flour. Heat 2 tbsp olive oil in a (non-stick) pot, drop a piece of garlic in. When it sizzles, sear all sides of the meat until golden, for about 3 minutes.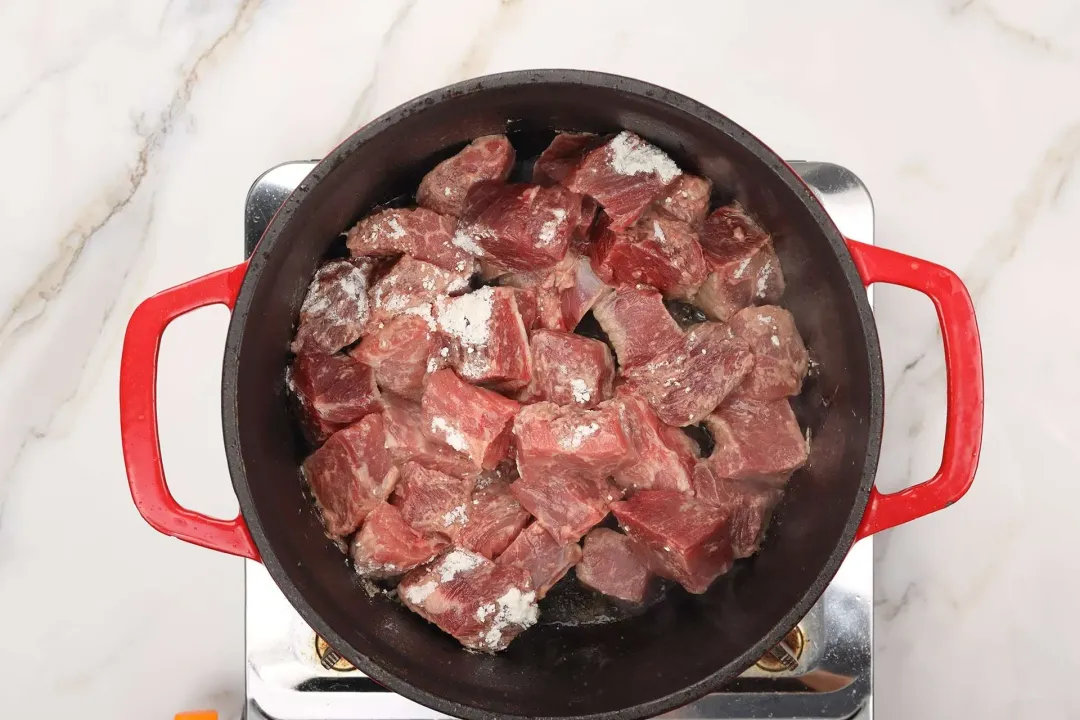 2
Put the beef away in a bowl, then add 1 tbsp minced garlic and 2 oz chopped onions to sauté for about 1 minute or until the onions become translucent. Add 1 tbsp unsalted butter, 1 tsp tomato paste, 1 tsp gravy mix, 1 tsp paprika, 1/2 tsp salt, and 1/2 tsp pepper, and stir everything for about 2 minutes.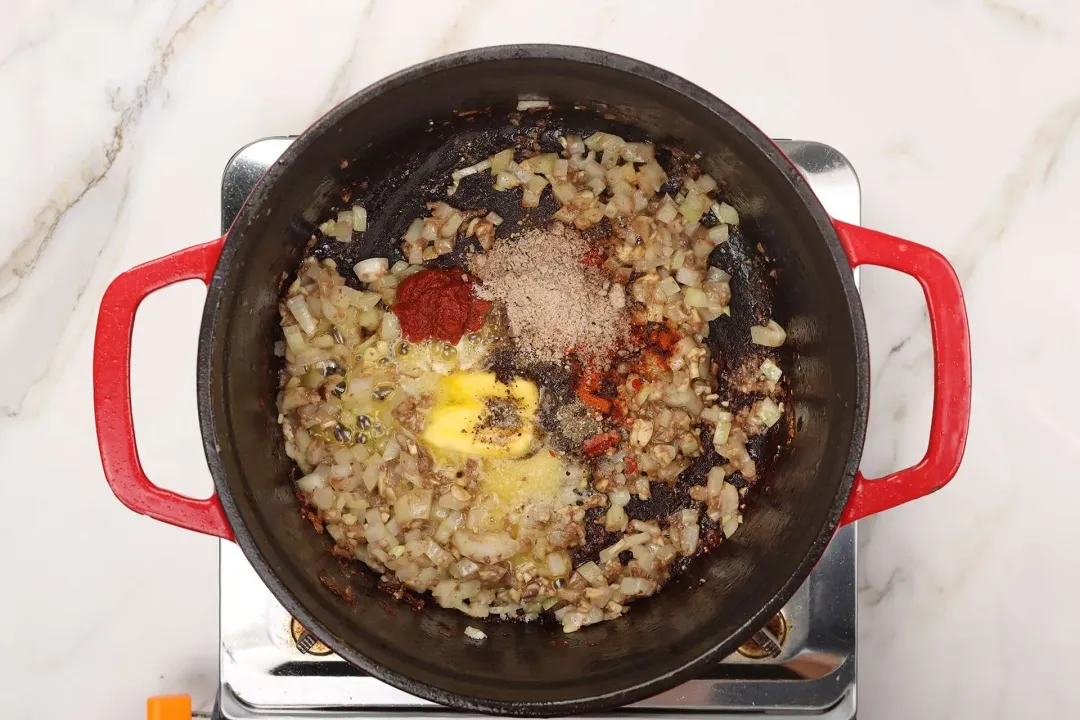 3
Add the beef back, stir, and cook for 2 minutes, then deglaze the pot with 6 tbsp red wine.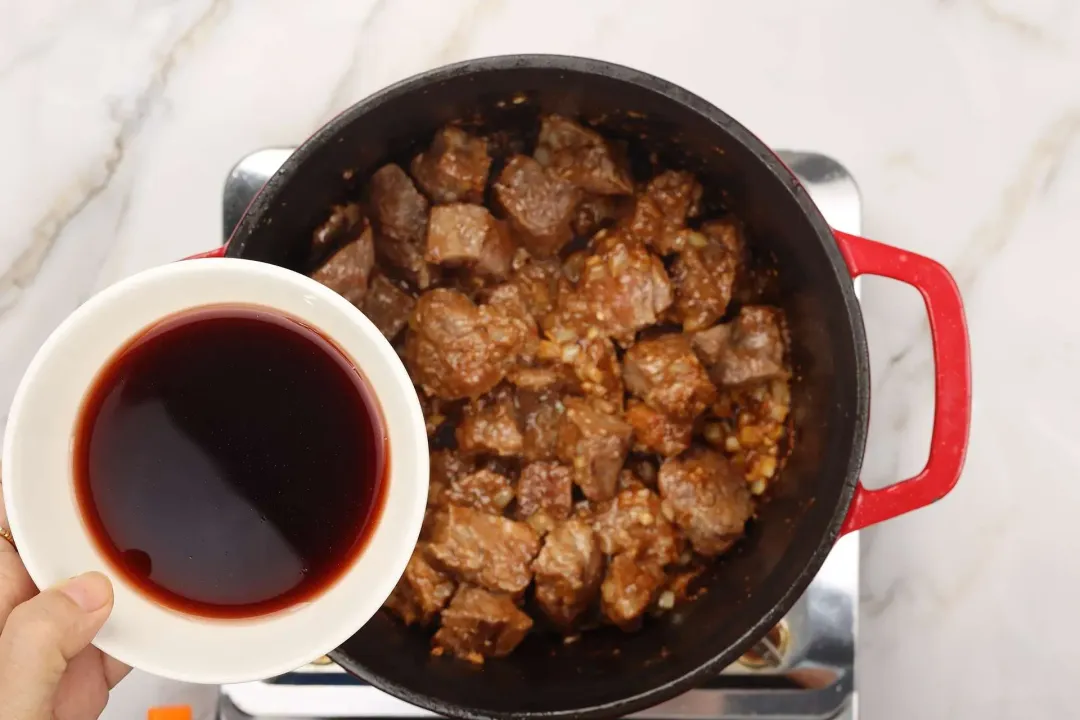 4
When the wine reduces to about half its volume, add 6 cups unsalted chicken broth and simmer everything on low heat for 60 minutes, uncovered.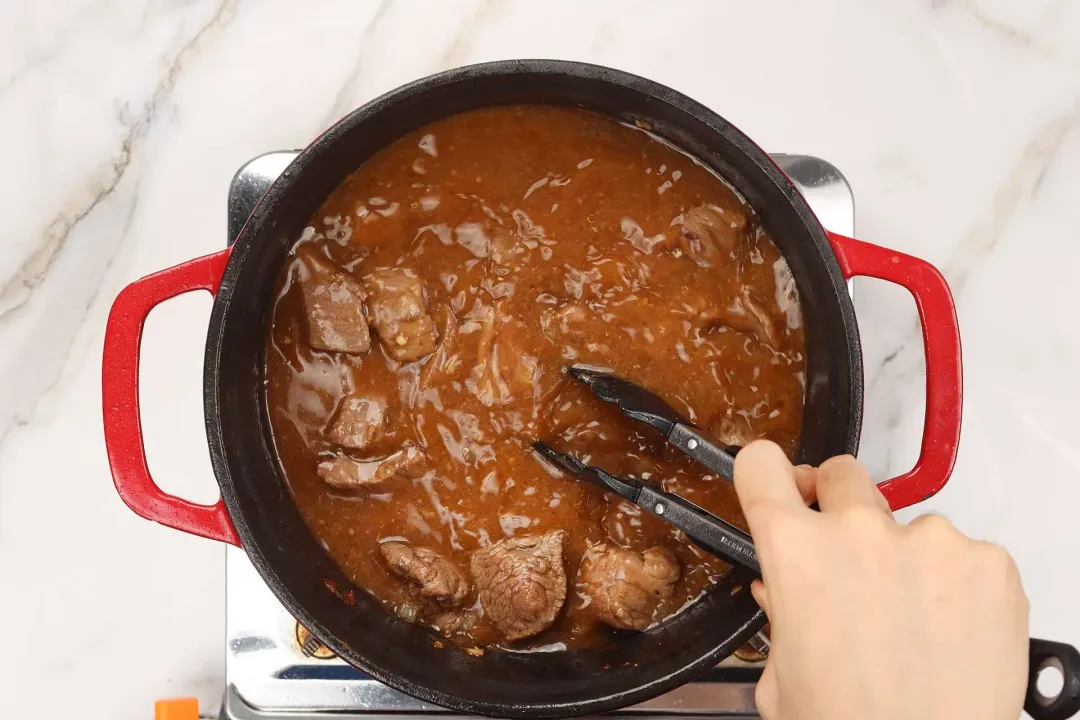 5
Add 6 oz green peas, 8 oz carrots, and 12 oz potatoes in. Continue to simmer on low heat for another 40 minutes.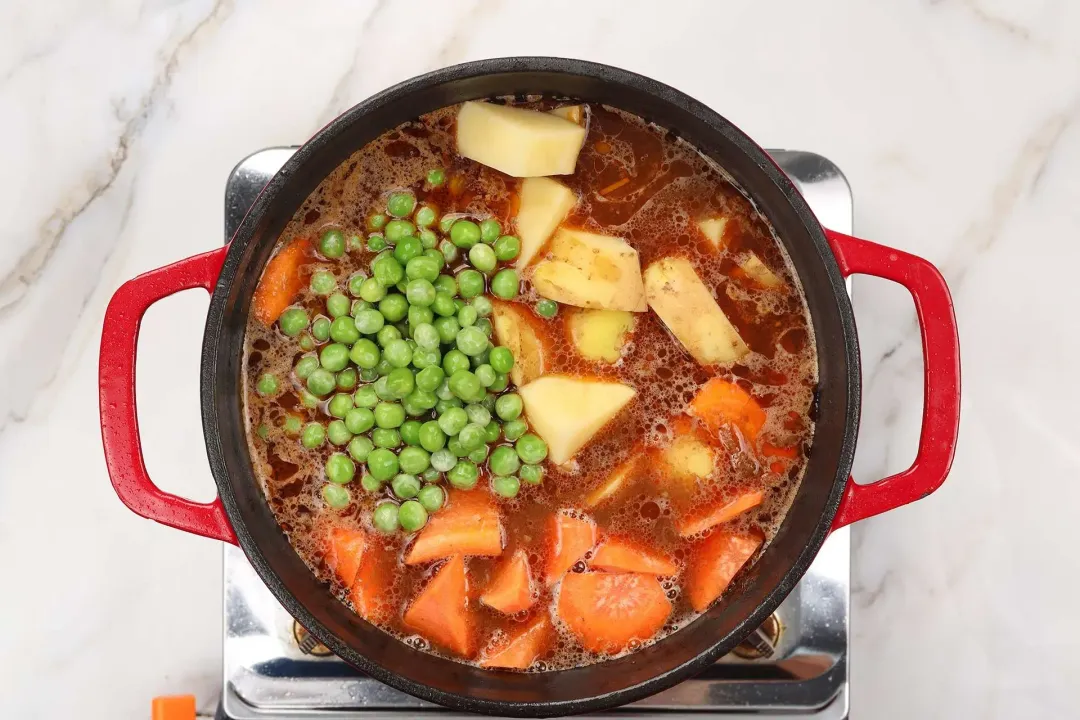 6
Turn the heat off and garnish with 2 tbsp finely chopped parsley on top. Serve with side dishes.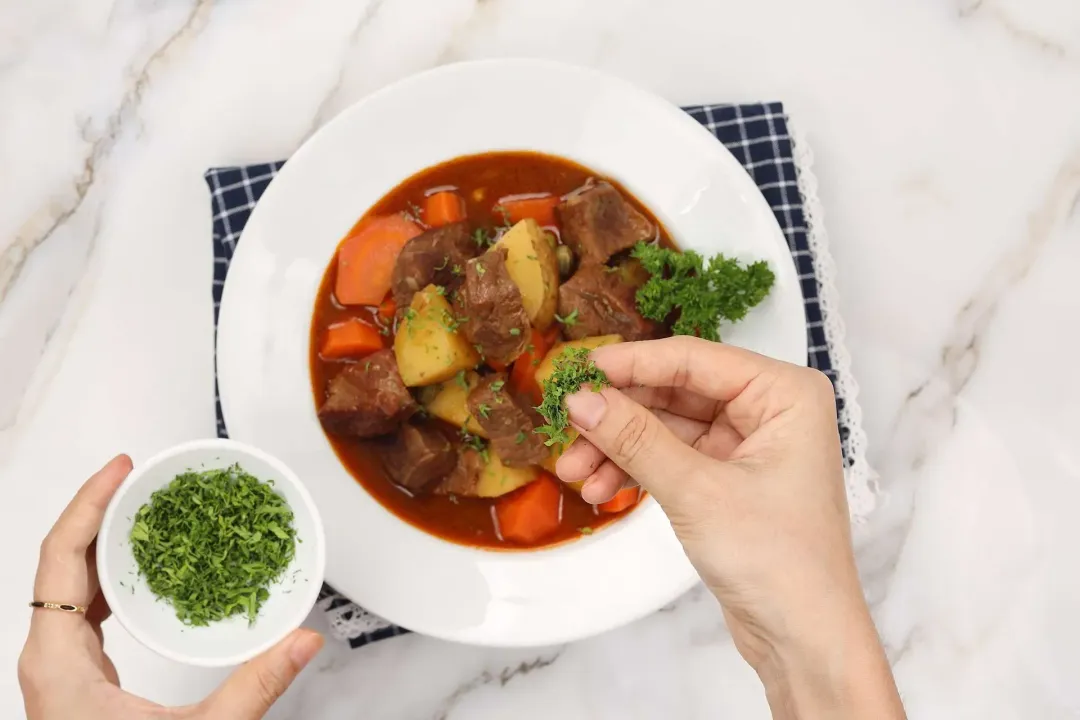 NUTRITION
Nutrition Facts
Beef Stew
Amount Per Serving (1 serving)
Calories 476
Calories from Fat 171
% Daily Value*
* Percent Daily Values are based on a 2000 calorie diet.
Keywords: beef stew, beef stew recipe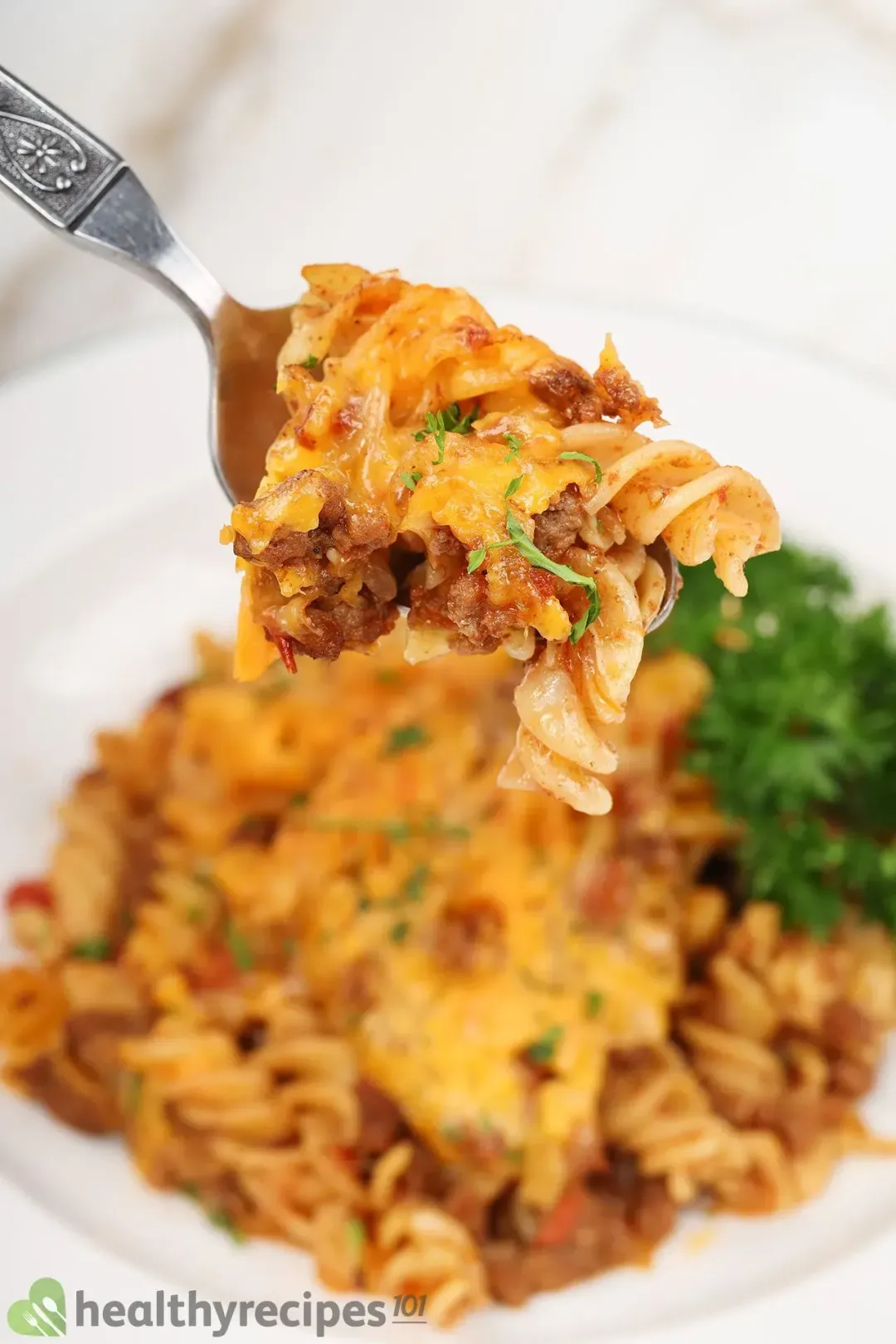 Previous Recipe
Ground Beef Casserole
Ground Beef Casserole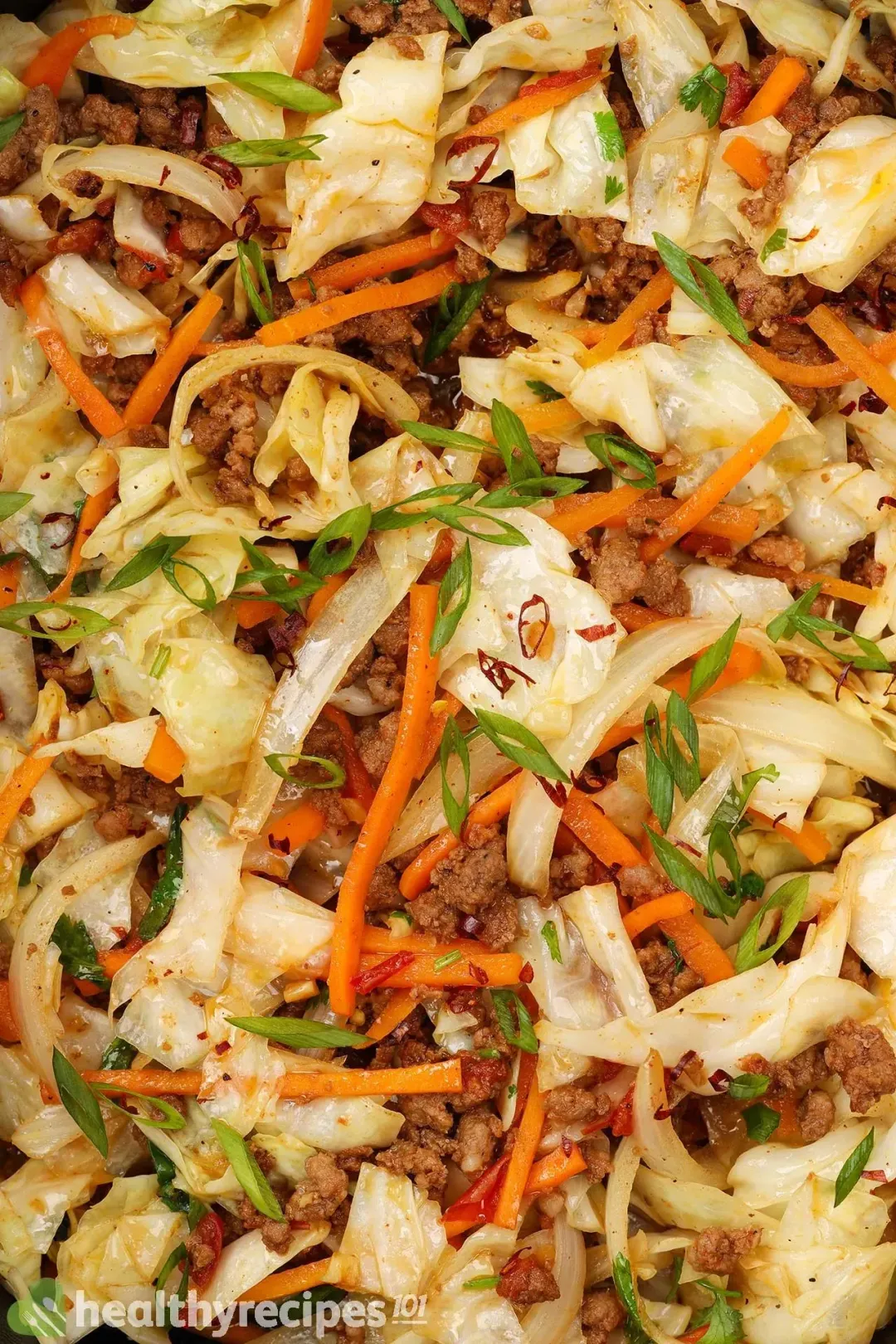 Next Recipe
Ground Beef and Cabbage
Ground Beef and Cabbage
Head Chef, Culinary Consultant
Tuyet Pham is an award-winning Saigonese chef who believes that joy is the secret ingredient to delicious food. At Healthy Recipes 101, Tuyet personally tests and simplifies every recipe, ensuring maximum flavor with minimal effort. With a background at prestigious French restaurants P'TI Saigon and Le Corto, Tuyet knows how to make every dish exceptional.
Writer, Author
Luna Regina is an accomplished writer and author who dedicates her career to empowering home cooks and making cooking effortless for everyone. She is the founder of HealthyKitchen101.com and HealthyRecipes101.com, where she works with her team to develop easy, nutritious recipes and help aspiring cooks choose the right kitchen appliances.
Nutrition Reviewer
Lizzie Streit is a Minneapolis-based dietitian and founder of It's a Veg World After All. She completed her MS in Human Nutrition from Drexel University, and is an expert in culinary nutrition, recipe development, and nutrition communications. Lizzie's philosophy is centered around making nutrition recommendations, and especially the advice to eat more vegetables, approachable and realistic. She is excited to be working with the team at Healthy Recipes 101 to ensure that their recipes are both nutritious and delicious.
Warm and comforting beef stew recipe that's perfect for chilly nights.