Today's chicken Vesuvio recipe will serve up a hearty and comforting meal where everything is cooked in one skillet. You'll enjoy tender, succulent chicken thighs nicely roasted with broth, white wine, and fresh herbs.
What Is Chicken Vesuvio?
Chicken Vesuvio is an Italian-American dish made with one whole-piece chicken, cooked together with baby potatoes and a choice of mixed spices. Vesuvio derives from Mount Vesuvius, the most famous volcano in Italy.
In chicken Vesuvio, the main ingredients are cooked and basted with a garlicky sauce made of white wine and butter. It can be garnished with fresh parsley or a scattering of green peas before serving.
Is Chicken Vesuvio Healthy?
We believe the answer is yes.
Our chicken Vesuvio recipe provides 453 calories and 45 grams of protein per serving. While we're using both olive oil and butter in the recipe, we still managed to keep the saturated fat at a moderate amount of 7.2 grams.
We favored chicken thighs for our recipe as they're well-known to be a healthy source of protein. These cuts are not prone to drying out as they have enough (but not too much) fat to remain moist and tender when seared on the skillet.
Furthermore, it will provide 23.8 grams of carbohydrates, which comes mainly from the potatoes and green peas, being the only main sources of starch in this dish.
Ingredients for Chicken Vesuvio
Our chicken Vesuvio recipe is made with skin-on, boneless chicken thighs. The chicken pieces are quickly seared on the skillet before cooking with white wine and a mix of spices and herbs.
Baby potatoes and green peas are added to the skillet and simmered in broth for a few minutes to allow all the flavors to come together.
You will be met with a host of different flavors and textures in this dish. It starts with the crispy juicy chicken, progresses to the soft starchy potatoes, and then rounds off with the crunchy green peas.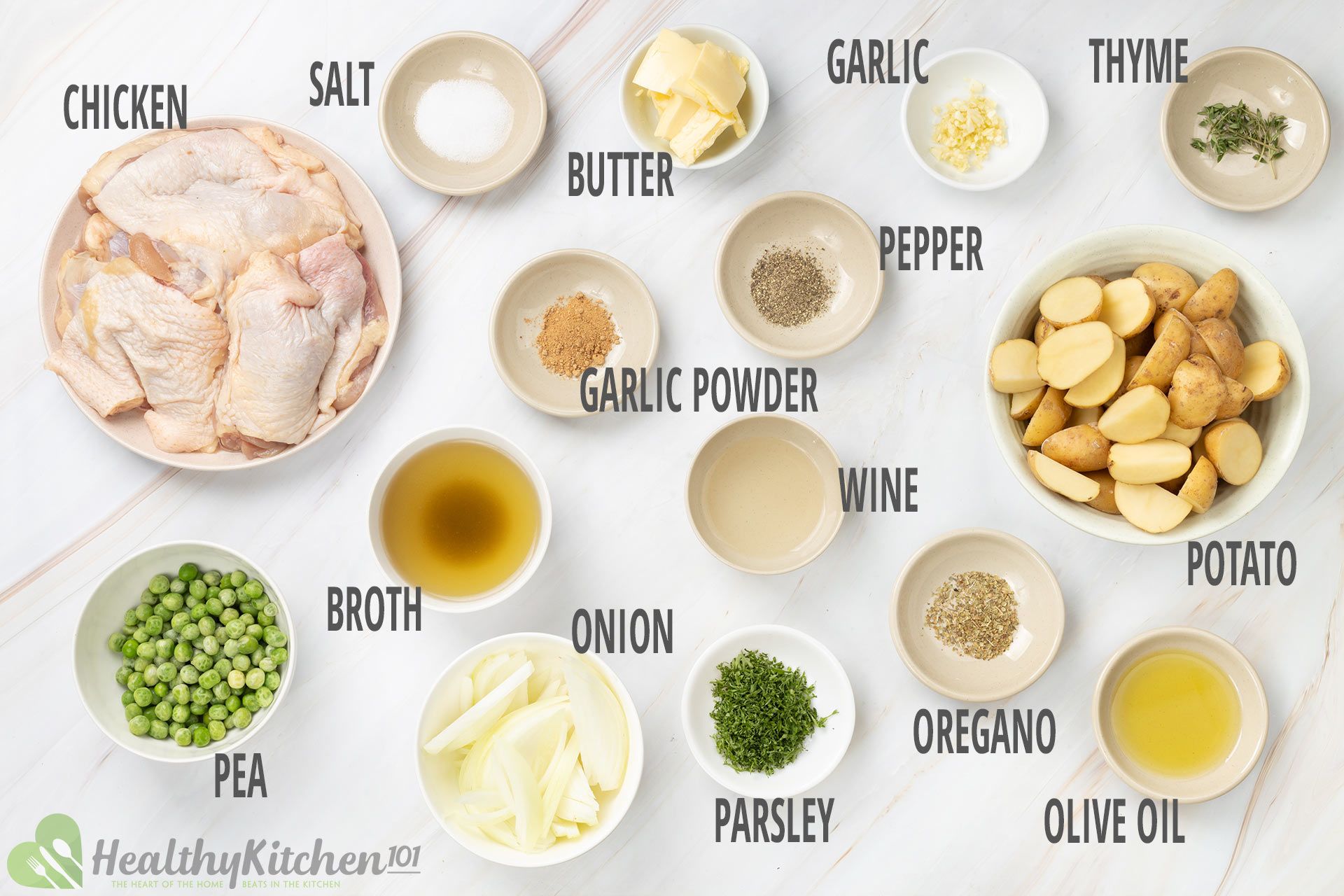 At the final stage, everything will be doused (but not drowned) in a savory garlicky wine sauce made of butter, white wine, garlic, thyme, salt, black pepper, and oregano. Garnish with fresh parsley and serve with a delicious side dish of your choice.
How Long Does Chicken Vesuvio Last?
Our chicken Vesuvio can last up to 3 days in the fridge and 2 months in the freezer.
The leftover servings should always be put in airtight containers to prolong their freshness and prevent them from picking up unwanted odors from other foods in your fridge.
For chicken Vesuvio that's been in the fridge for a few days, all you need to do to rewarm is to microwave it for a few minutes. Doing so will allow the chicken pieces to poach in their own fat and become juicy and moist again.
For any frozen portions, let them thaw in the fridge overnight, and rewarm them on the day of serving as instructed above.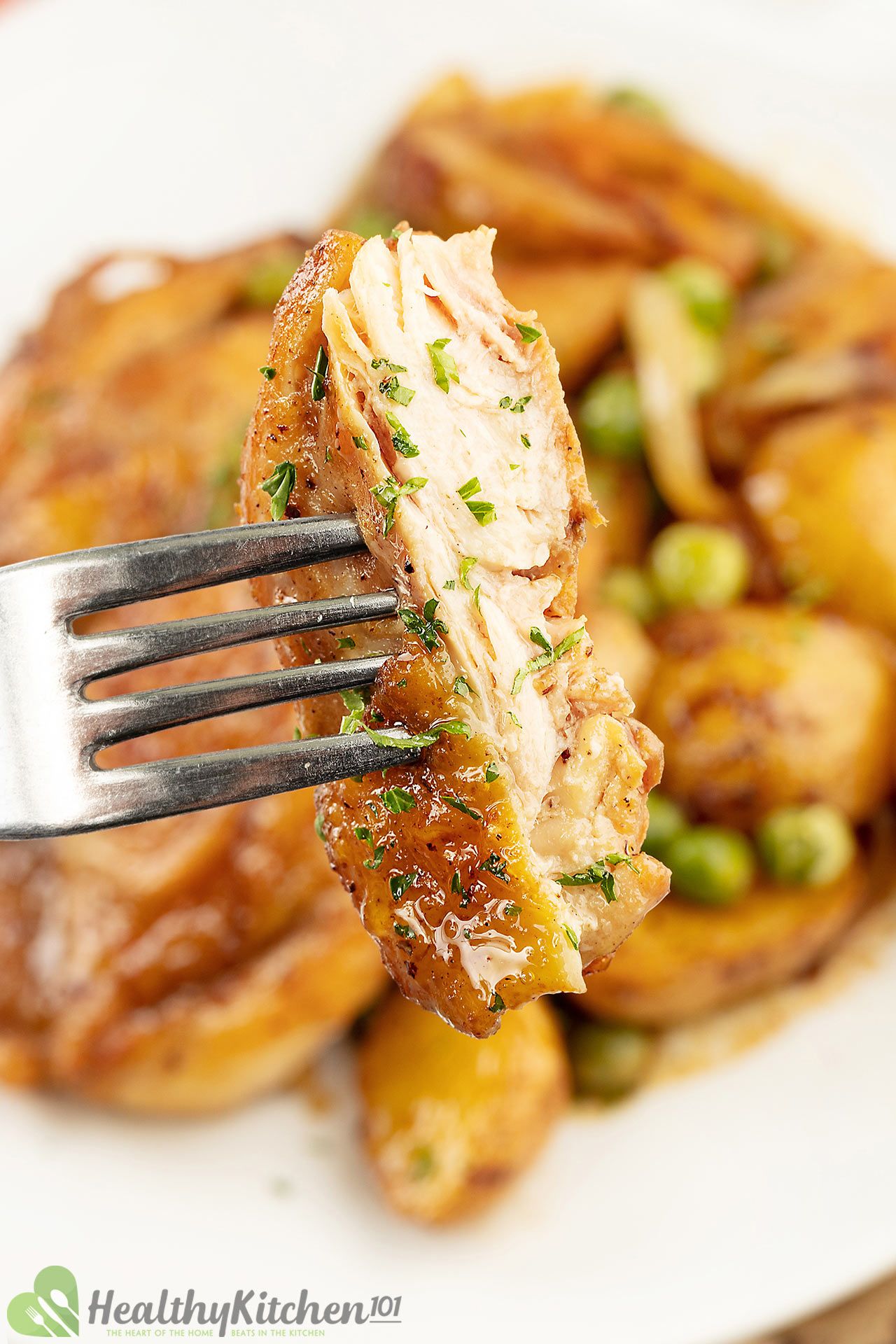 Looking for more delicious one-pan recipes? Don't miss these heavenly chicken dishes also posted on our website:
What to Serve with Chicken Vesuvio
Chicken Vesuvio is best served with a side dish and there are plenty of them to choose from — from crusty breads to light salads and cold fizzy drinks. Here, we've got all you need to create a full meal out of this dish:
1. Green Beans
Green beans are our first choice of side dish to be paired with chicken Vesuvio. As green beans are available all year round, this classic Thanksgiving dish is quick and simple to make on any occasion.
Green beans themselves are versatile and healthy — they retain their nutrients well after cooking. Thanks to their low carb and calorie count, green beans can be incorporated into many diets.
Our green beans recipe combines essential vegetables with a creamy cheese sauce in one skillet. It delivers an umami flavor and hits all the right notes with chewy mushrooms and crunchy beans while still remaining vegan and light-tasting.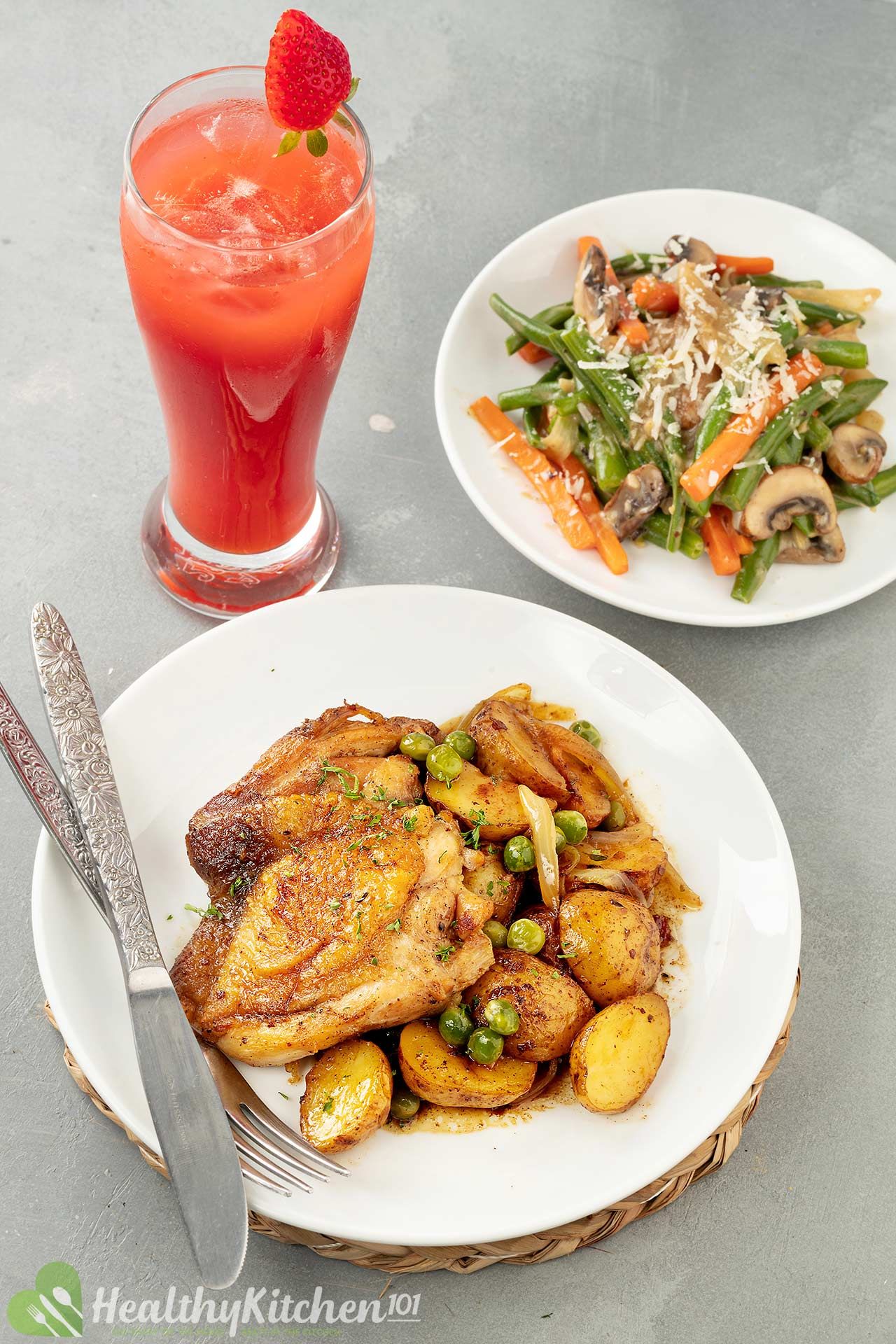 2. Strawberry Lemonade
Rounding off our meal is this 5-ingredient, sweet but tart strawberry lemonade. It's packed with vitamin C and a cool refreshing taste, making it an excellent choice for sweltering hot days.
You'll have a zesty summer drink with an appealing red-orange hue whipped up in a few minutes with just a small amount of sugar. Try it now for a refreshing experience!
Nutritional values in this table vary somewhat to those below due to different app calculations. Read more...
If you want to include more chicken in your diet, this healthy chicken thigh roundup or best delicious chicken recipes have a bunch of ideas.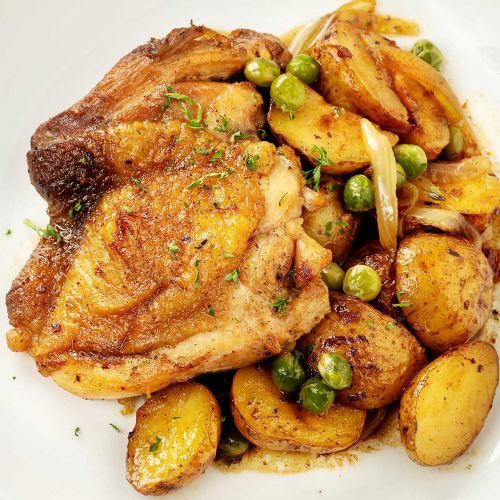 Chicken Vesuvio Recipe
Today's chicken Vesuvio recipe will serve up a hearty and comforting meal where everything is cooked in one skillet. You'll enjoy tender, succulent chicken thighs nicely roasted with broth, white wine, and fresh herbs.
Ingredients
20

oz

boneless chicken thighs

16

oz

baby potatoes

quartered

1/2

tsp

garlic powder

1/2

tsp

ground black pepper

divided

1/2

tsp

salt

divided

1/2

tbsp

olive oil

1/2

tbsp

unsalted butter

1/2

fl oz

white wine

1

tsp

garlic

minced

1/4

tsp

thyme

1/4

tsp

oregano

4

oz

onion

sliced

1/2

cup

frozen green peas

thawed

1/2

cup

unsalted chicken broth

1

tbsp

parsley

chopped
Instructions
Put 16 oz baby potatoes in a large bowl, cover with cling film, and microwave for 7 minutes over medium heat.

In another large bowl, rub 20 oz boneless chicken thighs with 1/4 tsp salt, 1/4 tsp ground black pepper, and 1/2 tsp garlic powder.

Heat 1/2 tbsp olive oil in a non-stick skillet over medium heat, sear the chicken for 10 minutes until golden on both sides. Transfer the chicken to a clean plate lined with a paper towel to drain any excess oil and set aside.

Add 1/2 tbsp unsalted butter and baby potatoes to the skillet. Sauté the potatoes for 5 minutes.

Add 1/2 fl oz white wine, 1 tsp minced garlic, 1/4 tsp thyme, 1/4 tsp ground black pepper, 1/4 tsp salt, 1/4 tsp oregano, and 4 oz onion. Stir together until the potatoes are cooked through.

Add 1/2 cup green peas and 1/2 cup unsalted chicken broth to the skillet, stirring well.

Return the seared chicken back to the skillet, let it simmer for a couple of minutes so the flavors have time to melt together, then remove from the heat.

Sprinkle 1 tbsp parsley on top and enjoy.
Nutrition
Nutrition Facts
Chicken Vesuvio Recipe
Amount Per Serving (1 serving)
Calories 452
Calories from Fat 243
% Daily Value*
Fat 27g42%
Cholesterol 143mg48%
Sodium 444mg19%
Potassium 850mg24%
Carbohydrates 24g8%
Protein 27g54%
Vitamin A 559IU11%
Vitamin C 17mg21%
Calcium 41mg4%
Iron 2mg11%
* Percent Daily Values are based on a 2000 calorie diet.