This bruschetta chicken recipe puts a twist on the classic Italian starter bruschetta and turns it into an impressive dinner that comes together in just 30 minutes. Instead of the crispy toast, we used tender chicken while still sticking to the original tomatoes, garlic, cheese, and balsamic combination.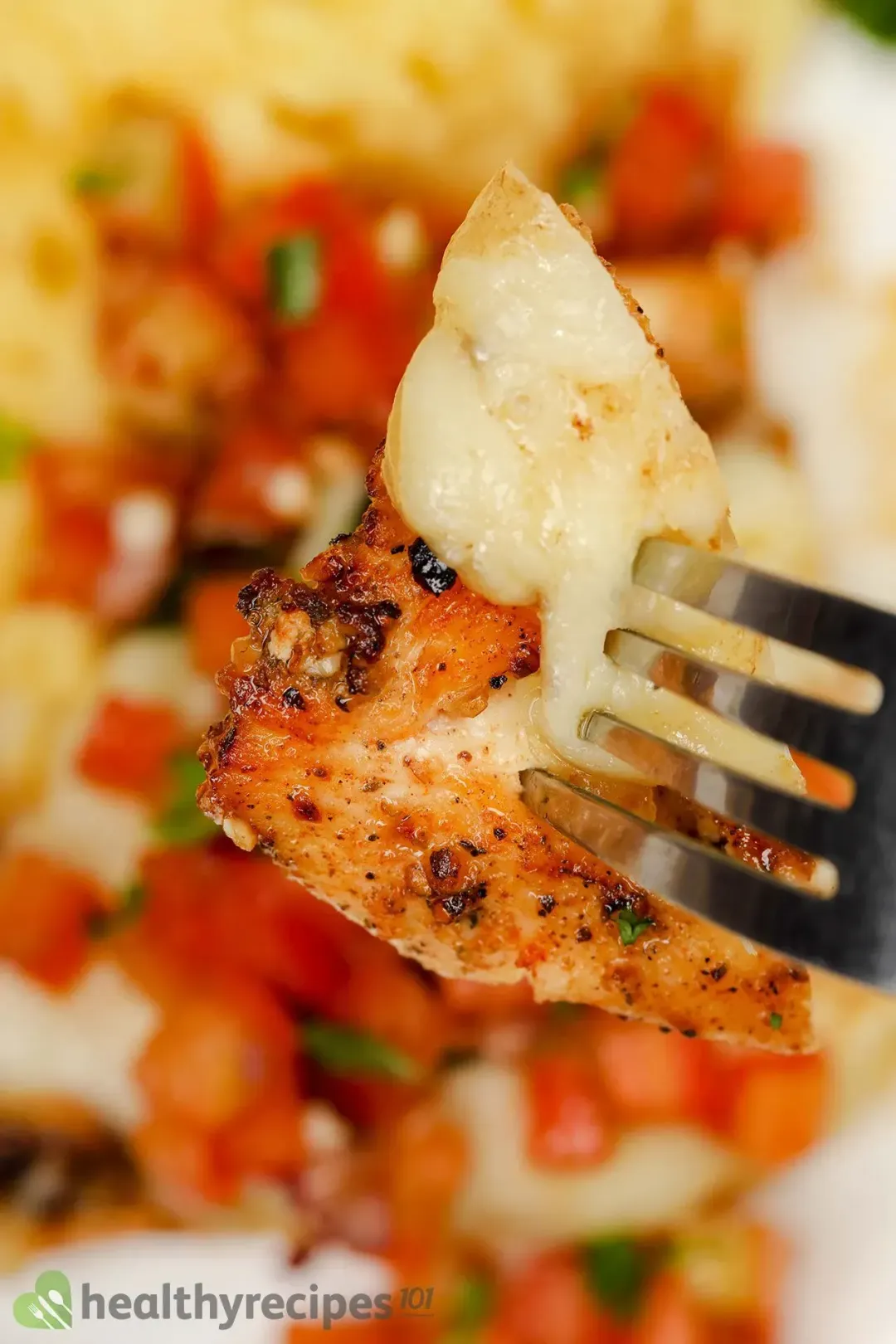 The delectable ingredients give the dish a vibrant brightness and tender warmth that perfectly capture the sunny essence of summer. Contrasted by a darkly sweet balsamic base, this one-pan dish carries flavor depths that will captivate your taste buds from the very first bite.
What Is Bruschetta Chicken?
Bruschetta is an Italian dish that features toasted bread slices rubbed with garlic and topped with a hearty mixture of chopped tomatoes, herbs, balsamic vinegar, olive oil, cheese, and any other optional ingredient. It's most commonly eaten as a starter, but it also works as a snack and a side dish.
This bruschetta chicken recipe replaces the bread with chicken, turning it into an impressive main course that serves up golden meat covered in bright tomatoes and melted cheese. It still carries the classic bright and vibrant taste of the original dish, but with an added meaty sweetness that's distinctive to chicken.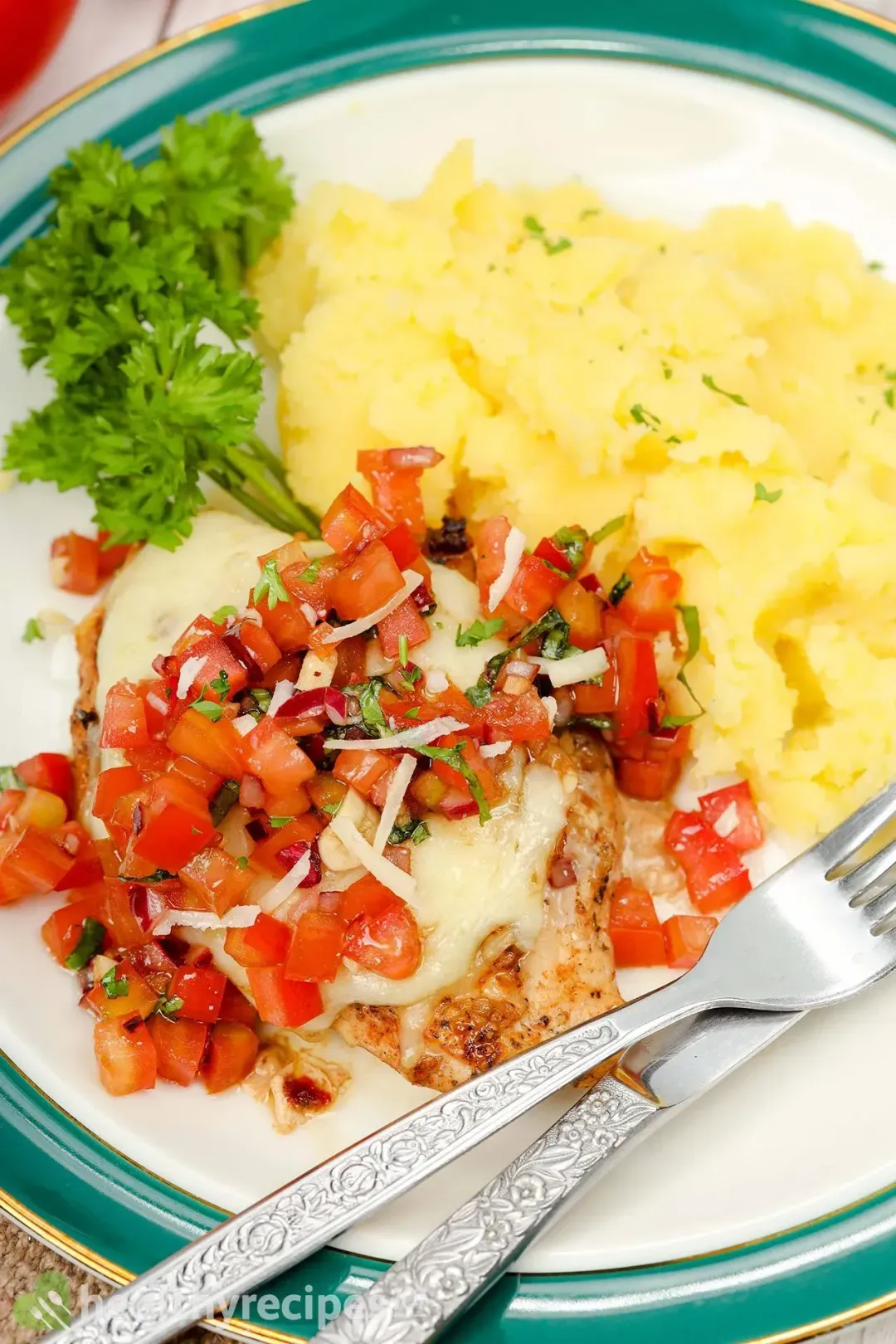 Is Bruschetta Chicken Healthy?
With an abundance of meat and veggies, this bruschetta chicken is certainly healthy.
Chicken, as most commonly known, is an incredible source of complete protein. Not only that, but it also provides vitamins B6, B3, and B12, heme iron, zinc, potassium, magnesium, phosphorus, and various other nutrients.
Bruschetta is defined by the use of tomatoes, so this dish is loaded with the fruit's amazing range of vitamins and minerals. However, it's most prominently known for lycopene—an antioxidant that may help to promote heart health and reduce neuropathic pain. 
We serve the bruschetta chicken with a hefty side of potatoes, which also loads you up with fibers that could have great benefits for the digestive system.
With careful adjustments to the ingredient portions, we also managed to limit the saturated fat and sodium amounts to 5.9 g and 553 mg, respectively. For a 493-calorie serving, we believe that's quite reasonable.
Ingredients for This Recipe
This recipe includes everything you'd normally find in a bruschetta dish, but with a switch-up between the bread and the chicken. More specifically, it requires the following ingredients: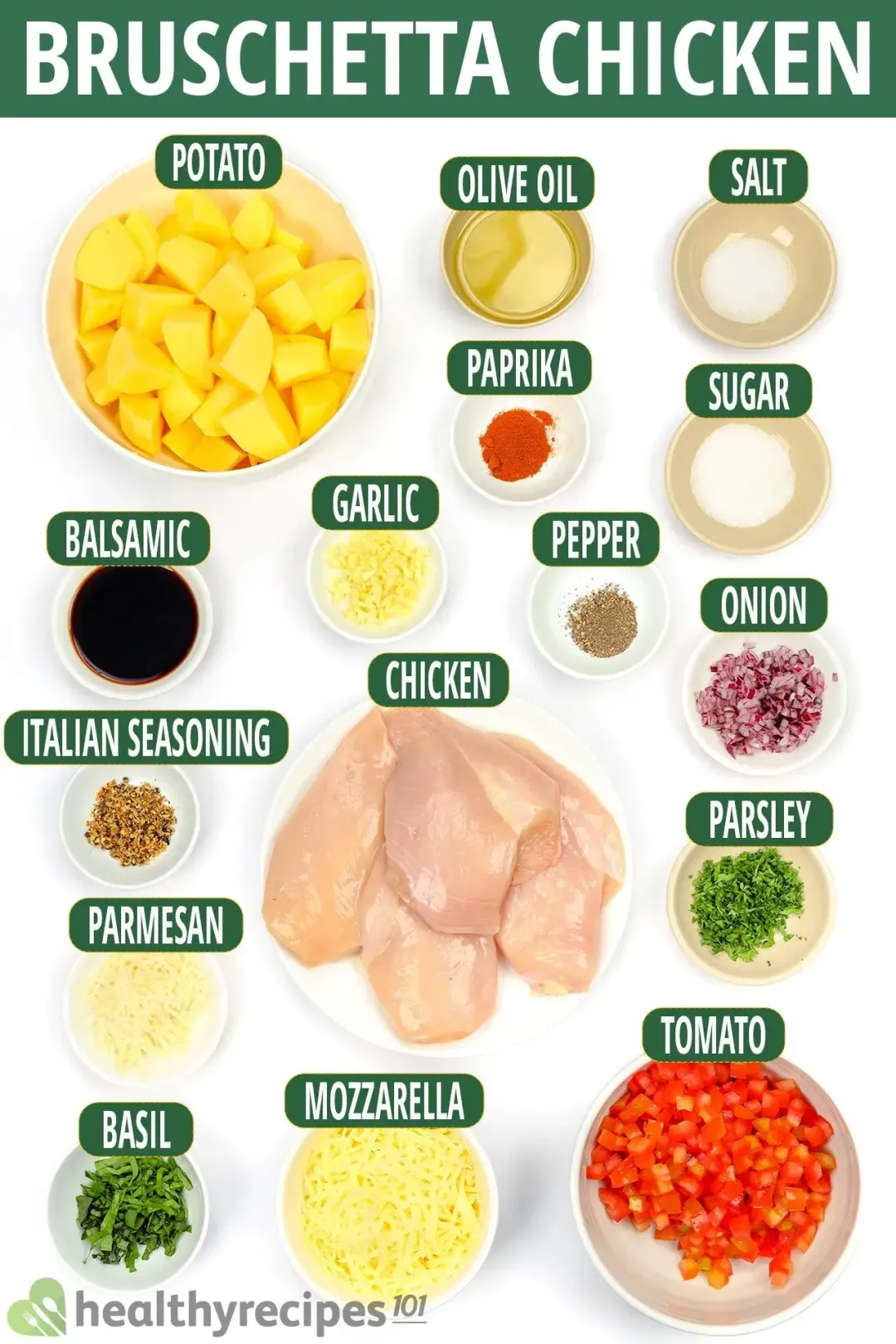 Chicken: This recipe uses one of the most common cuts that's loved for its versatility—boneless skinless chicken breasts. Since the meat will be drenched in loads of seasonings and sauces, you don't have to worry about it being dry or tasteless. If you want another option, boneless skinless chicken thighs will also work.
Tomato: For the dish to have the most vibrant flavor and juicy texture, we recommend picking out ripe tomatoes.
Potato: Keeping things simple but still filling and satisfying, we paired the bruschetta chicken with mashed potatoes. It has a subtle taste and creamy consistency that perfectly balances out the tomatoes' vivid sweetness and juicy texture.
Aromatics: Aromatics are a seemingly small yet essential part of this bruschetta chicken. We went with red onion, garlic, parsley, and basil to infuse the dish with peppery and earthy undertones that wonderfully complement the balsamic's deep sweetness.
Cheese: Giving the chicken that irresistible melted cheese appearance, we coated it in a generous amount of mozzarella and parmesan. These varieties have contrasting flavor notes that complement each other quite nicely, creating a harmonious blend of sweet, earthy, and tangy flavors.
Balsamic Vinegar: The viscous balsamic glaze not only makes the dish look irresistible but also ties everything together with its dark taste and underlying sweetness.
Spices: In addition to staples like salt, pepper, and sugar, we also used other robust seasonings like paprika and Italian seasoning to bolden the dish's overall flavor profile.
How to Store and Reheat the Leftovers
This chicken bruschetta should last for up to 2 days when kept in airtight containers in the fridge. Reheat the chicken over medium heat on a stovetop or place it in the oven at 350 °F for 5-10 minutes.
What to Serve With Bruschetta Chicken
Flavorful and delectable, this bruschetta chicken makes an excellent main dish for hearty and warming meals. Since it's already quite bold, we reckon a simple fresh salad should be more than enough. Here are some ideas to choose from: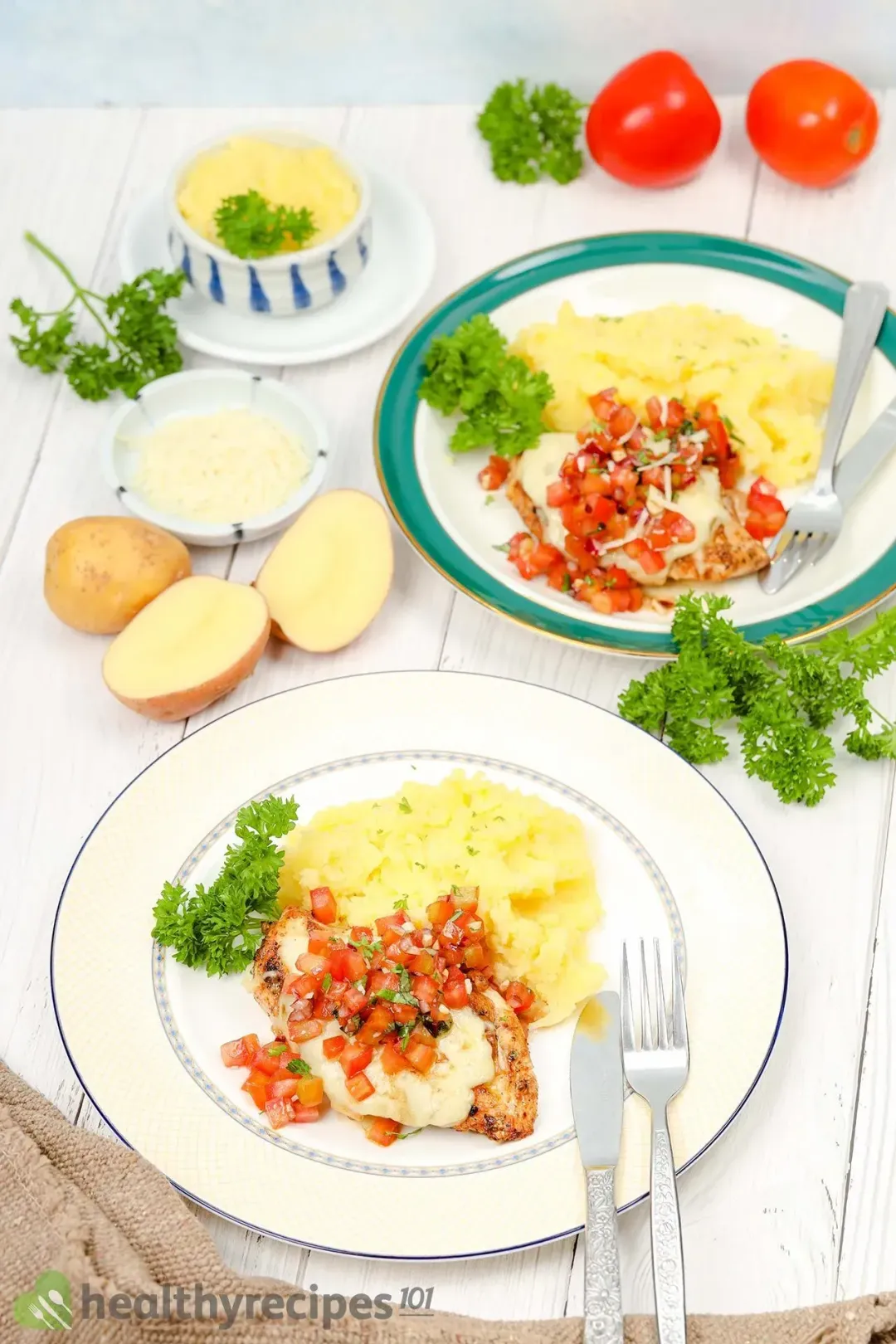 Other Recipes for Golden Chicken
This recipe pan-sears the thighs first, then leaves them to simmer to achieve a tender and juicy meat hidden under a crispy, chewy edge. Each bite is filled with a rich mixture of sweet, savory, and spicy flavors, enhanced by soft and creamy potatoes. Even better, this braised chicken only takes less than an hour.
This ground chicken patties recipe is full of savory goodness, and the simple-yet-satisfying mayo-ketchup sauce adds zing to every bite. Thanks to the natural texture of chicken thighs, they're super chewy.
How to Make Bruschetta Chicken
This bruschetta chicken recipe puts a twist on the classic Italian starter bruschetta and turns it into an impressive dinner. We swapped out the crispy toast for tender chicken while still sticking to the original tomatoes, garlic, cheese, and balsamic combination.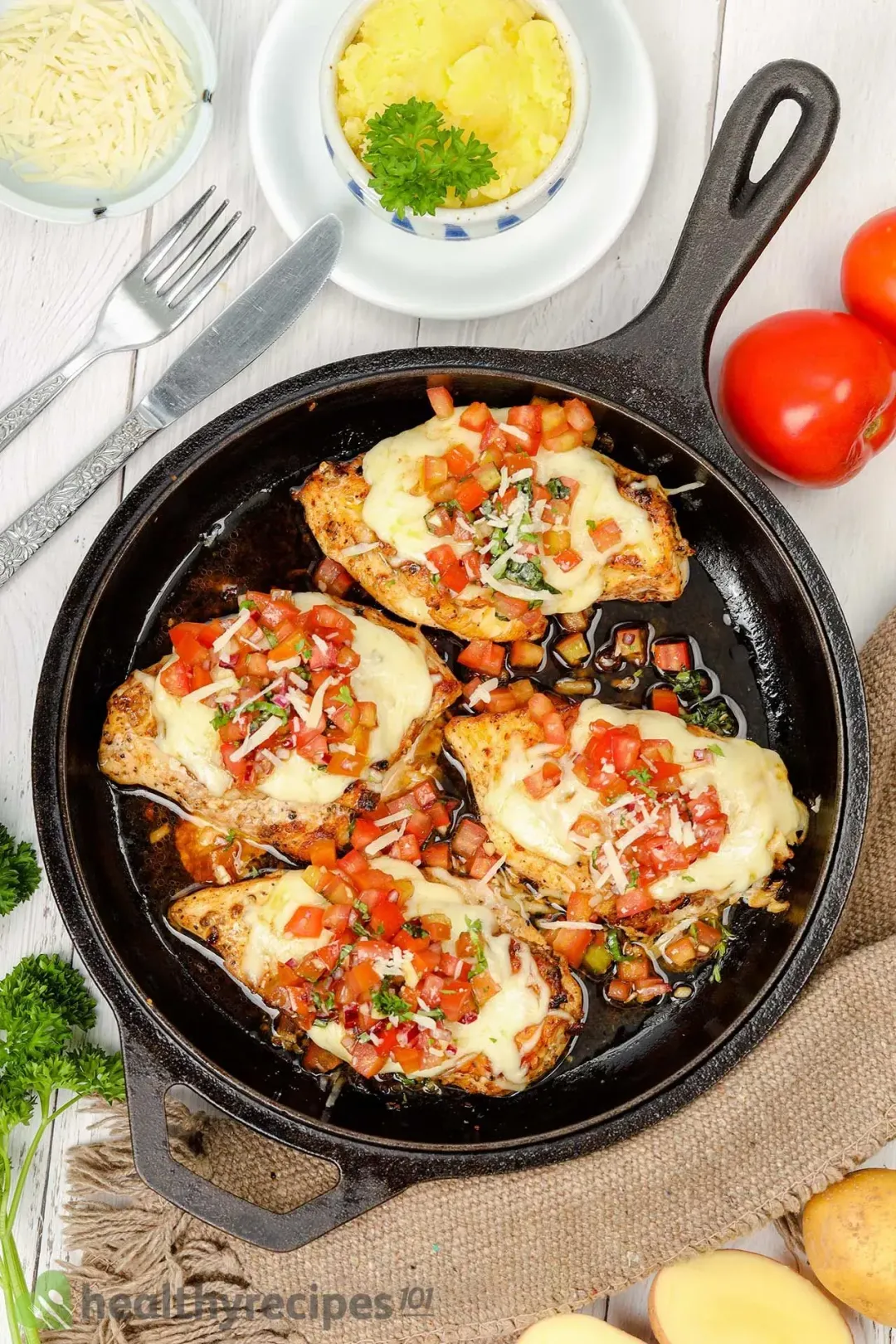 cook TIME

20 mins

prep TIME

7 mins

total TIME

27 mins
COURSE

Main Course

CUISINE

Italian

SERVINGS

CALORIES

493 kcal
INGREDIENTS
20 oz

skinless boneless chicken breast

3 oz

shredded mozzarella cheese

0.5 oz

shredded parmesan cheese

24 oz

potatoes

(cut into large cubes)

1/2 tsp

ground black pepper

1/2 tbsp

Italian seasoning
INSTRUCTIONS
Prep:
1
Prepare the Chicken: Use paper towels to gently dab away any excess moisture. Slice a knife through the side of the chicken breast using sawing motion to butterfly it. Only slice to nearly the end, not all the way through.
2
Dice the Tomatoes: Quarter the tomatoes into wedges, slice off the seeds, then lay each wedge vertically and thinly slice into strips. Line up the strips horizontally and dice them into small cubes.
3
Slice the Potatoes: Use a peeler to remove the skin. Cut the potatoes in half lengthwise, then again into quarters. Gather the wedges, lay them horizontally, and slice them into cubes.Soak the potatoes in water to remove excess starch.
4
Dice the Onion: Cut the onion in half lengthwise. Lay the half vertically then thinly slice without touching the root. Turn the onion horizontally then push the knife crosswise into the slices. Finally, thinly slice lengthwise to create diced cubes.
5
Mince the Garlic: Separate the cloves then bash them with the flat side of the knife to remove the peel. Thinly slice the cloves then rock the knife over the sliced pile a few times until the pieces are finely minced.
6
Chop the Parsley: Gather the leaves together in one hand then thinly slice. Then, rock the knife over the leaves a few times until they are finely chopped.
7
Chop the Basil: Stack the leaves into a pile then roll them lengthwise into a tight tube. Steady it with one hand then hold the knife in the other and thinly slice.
Cook:
1
Microwave the Potatoes: In a microwave-safe bowl, put 24 oz potatoes, cover them with plastic wrap, then microwave at full power for 12 minutes.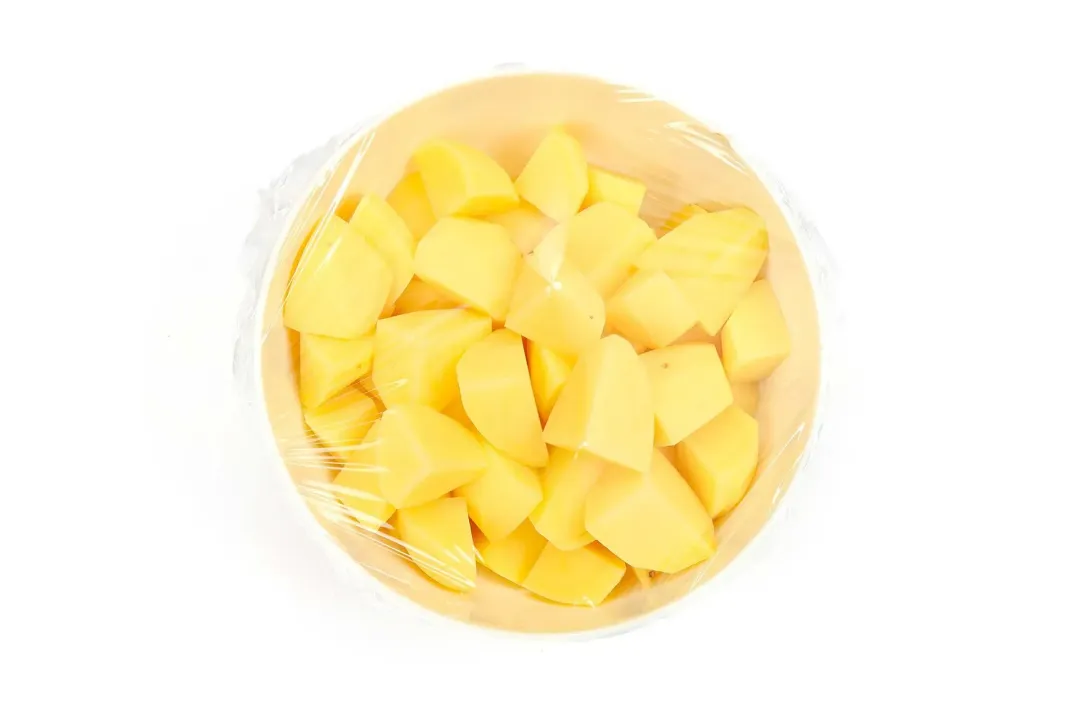 2
Mash the Potatoes: Put the potatoes into a food mill or use any available appliance to mash the potatoes.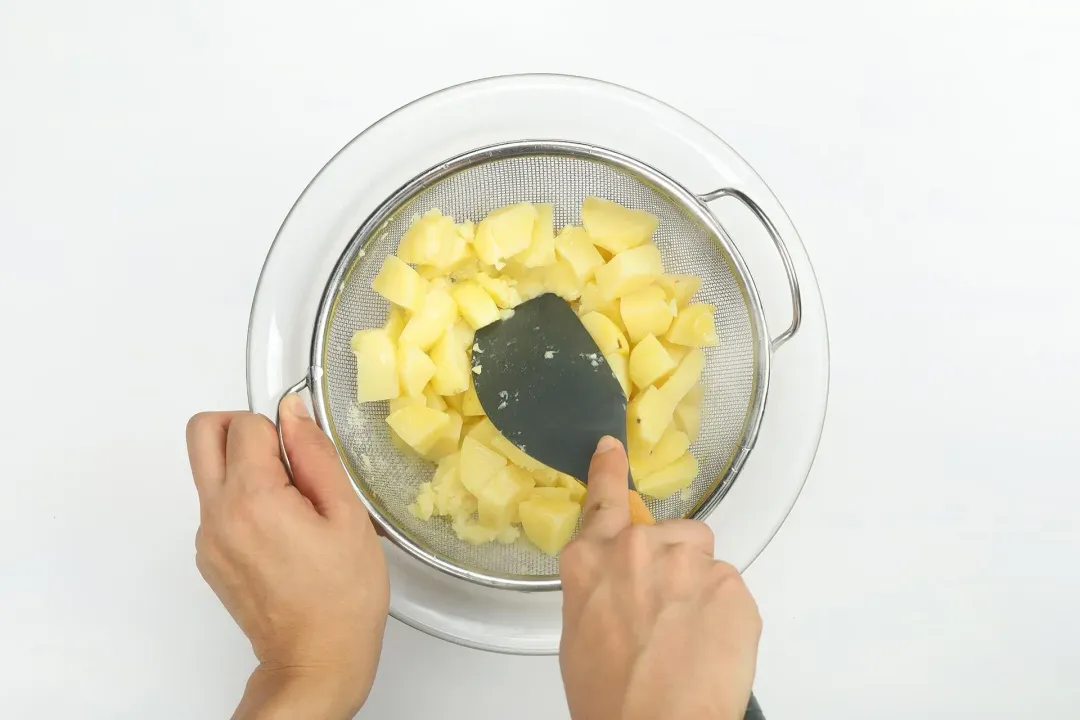 3
Season the Chicken: On a plate, lay 20 oz skinless boneless chicken breast then add 1/4 tsp salt, 1/2 tsp ground black pepper, 1/2 tbsp Italian seasoning, and 1/2 tsp paprika. Dry rub all over the surface and insides to let the spices be fully absorbed.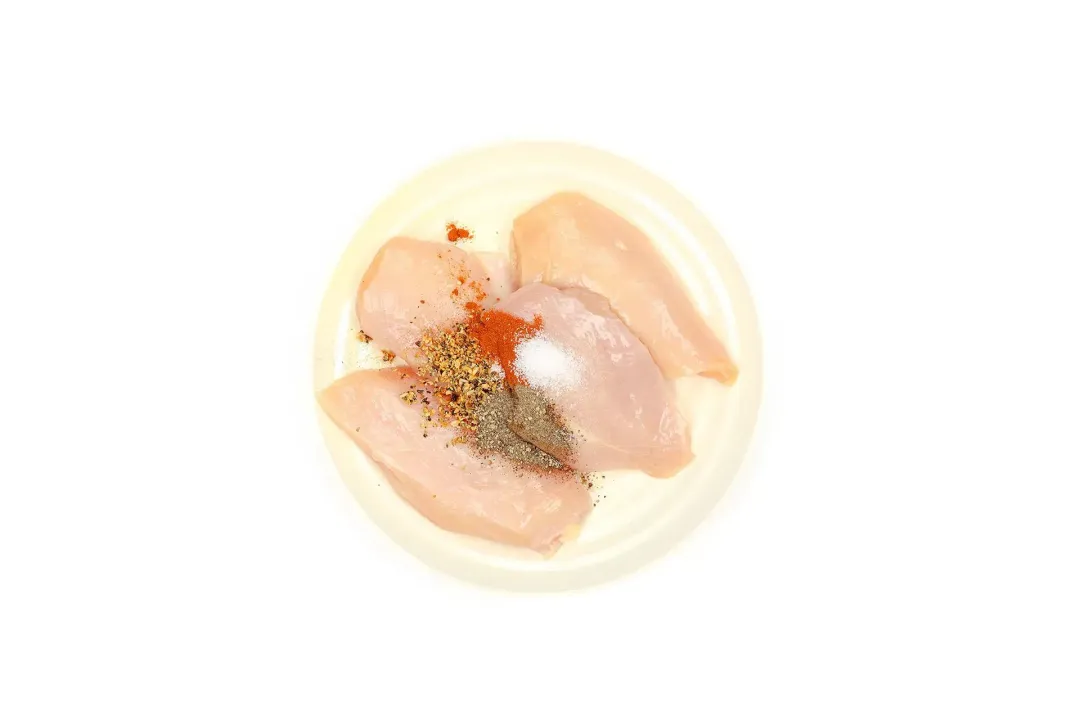 4
Sear the Chicken: On a skillet over medium heat, sear the seasoned chicken breasts with 1 1/2 tbsp olive oil for 7 minutes on both sides.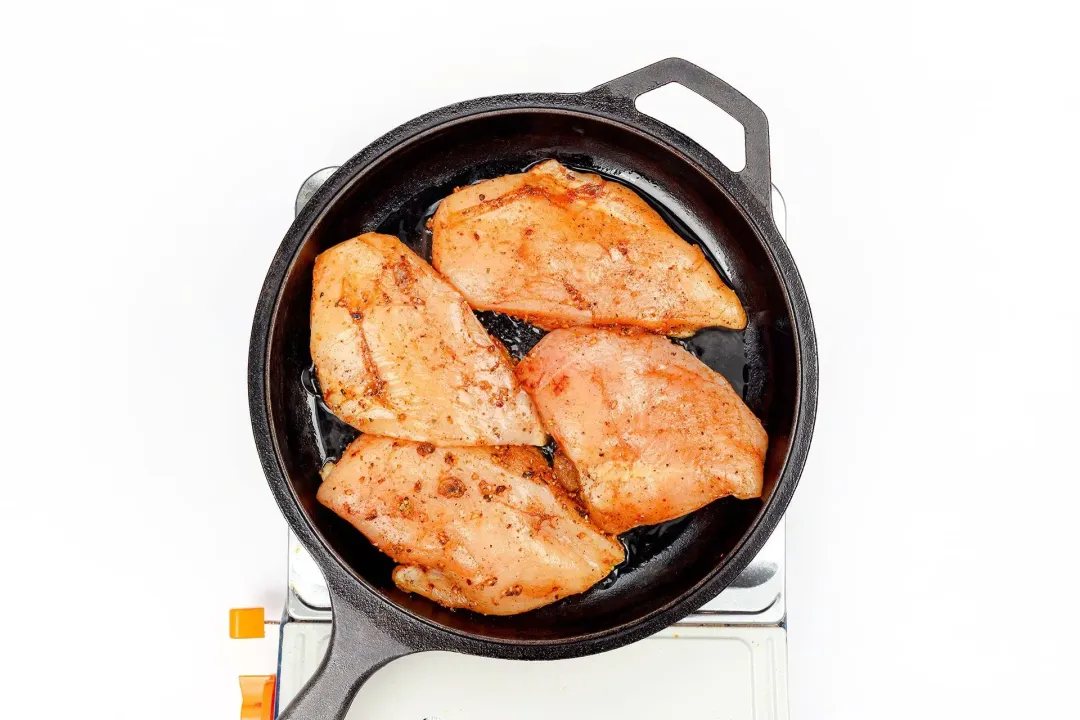 5
Add the Cheese: Preheat the oven to 400 °F to prepare for step 7 then cover the chicken's top sides with 3 oz shredded mozzarella cheese.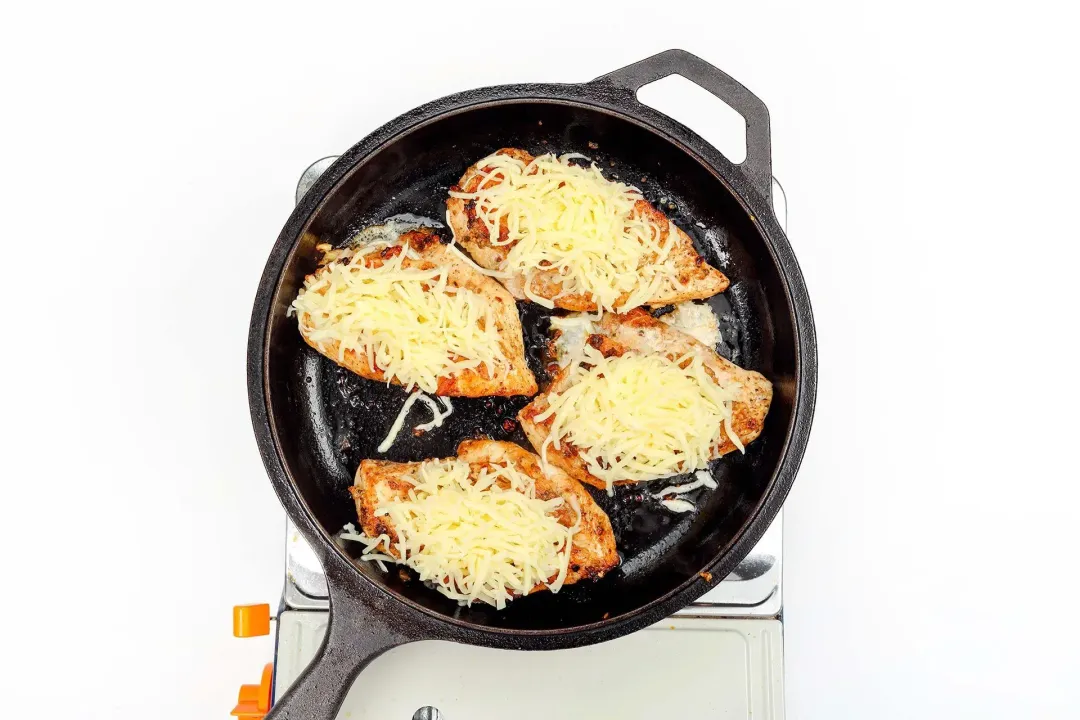 6
Bake the Chicken: Put the skillet in the middle rack of the oven to bake at 400 °F for 5 minutes.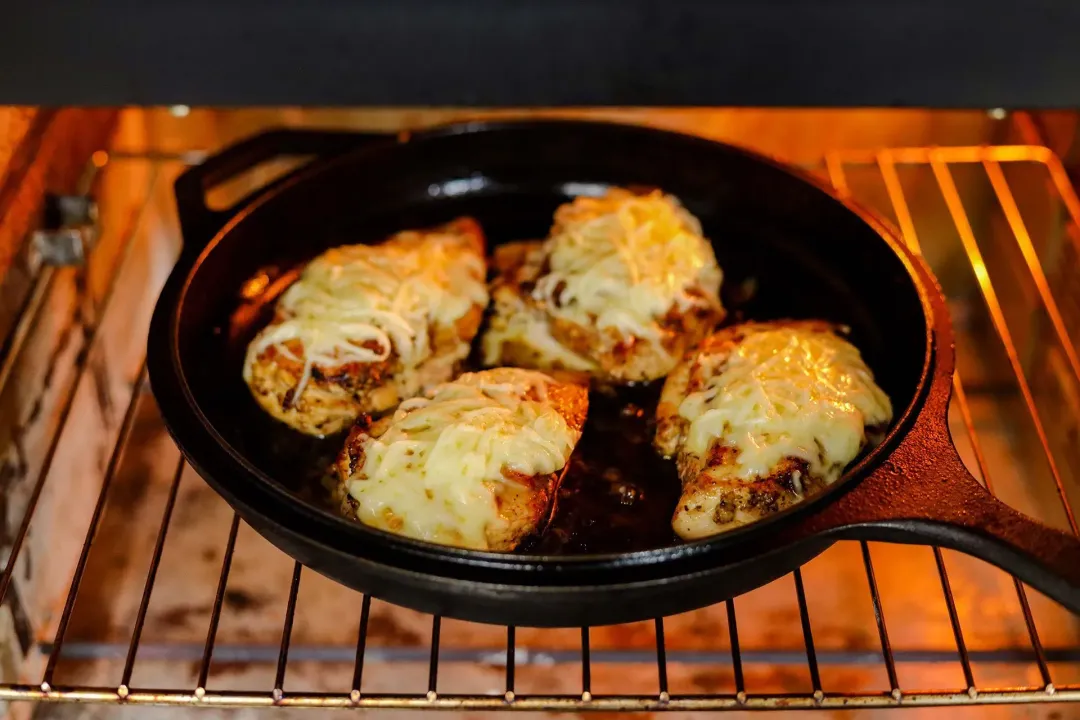 7
Make the Sauce: In a bowl, mix 3 tbsp balsamic vinegar, 1 1/2 tbsp olive oil, 1/2 tbsp sugar, and 1/4 tsp salt until well combined.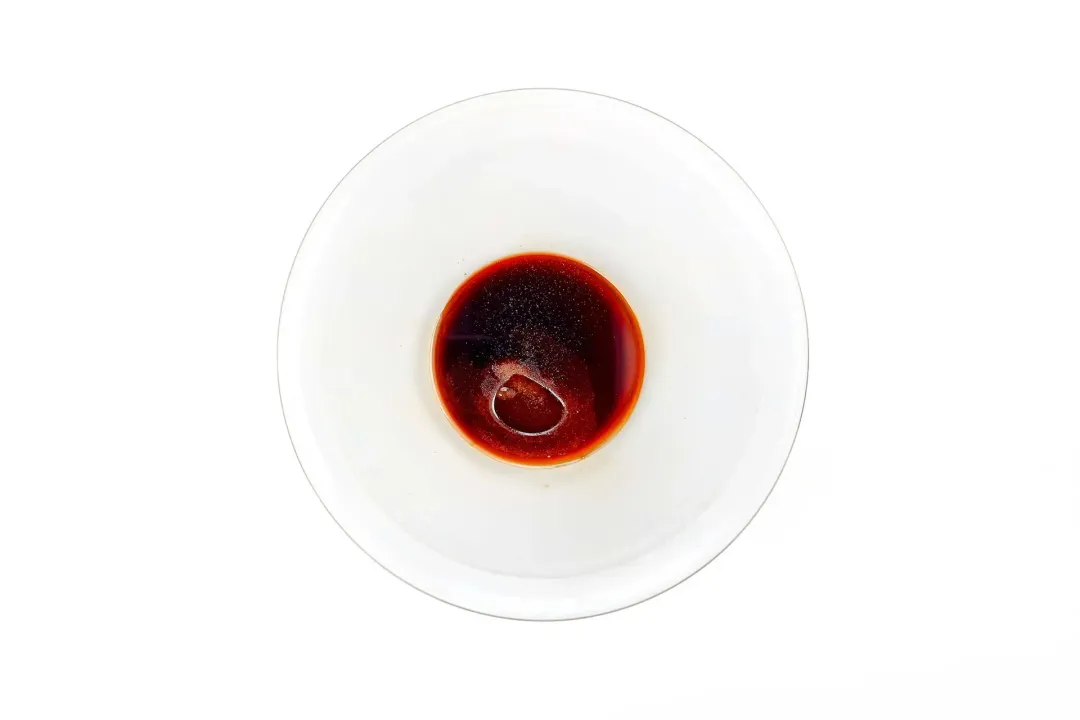 8
Add the Veggies: Add 8 oz tomatoes, 1 oz red onion, 1 tbsp garlic, and 2 tbsp basil to the sauce bowl and stir around to evenly coat the veggies.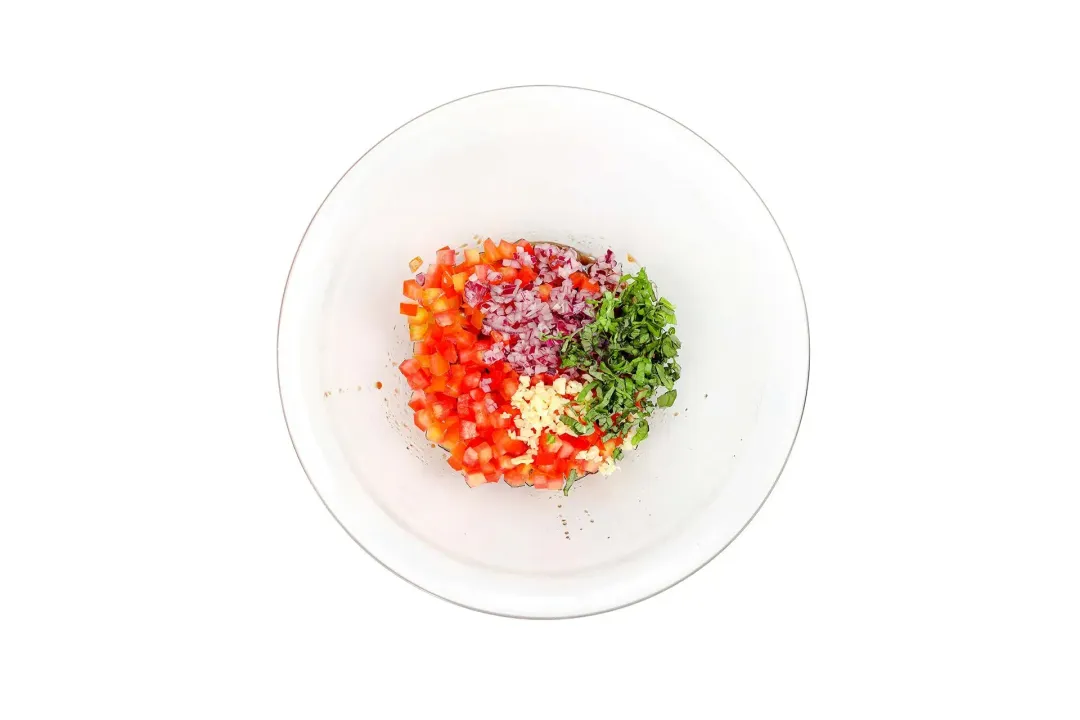 9
Add the Sauce to the Chicken: Remove the chicken from the oven then scoop the mixed sauce onto the chicken breasts and sprinkle 0.5 oz shredded parmesan cheese all over their surfaces.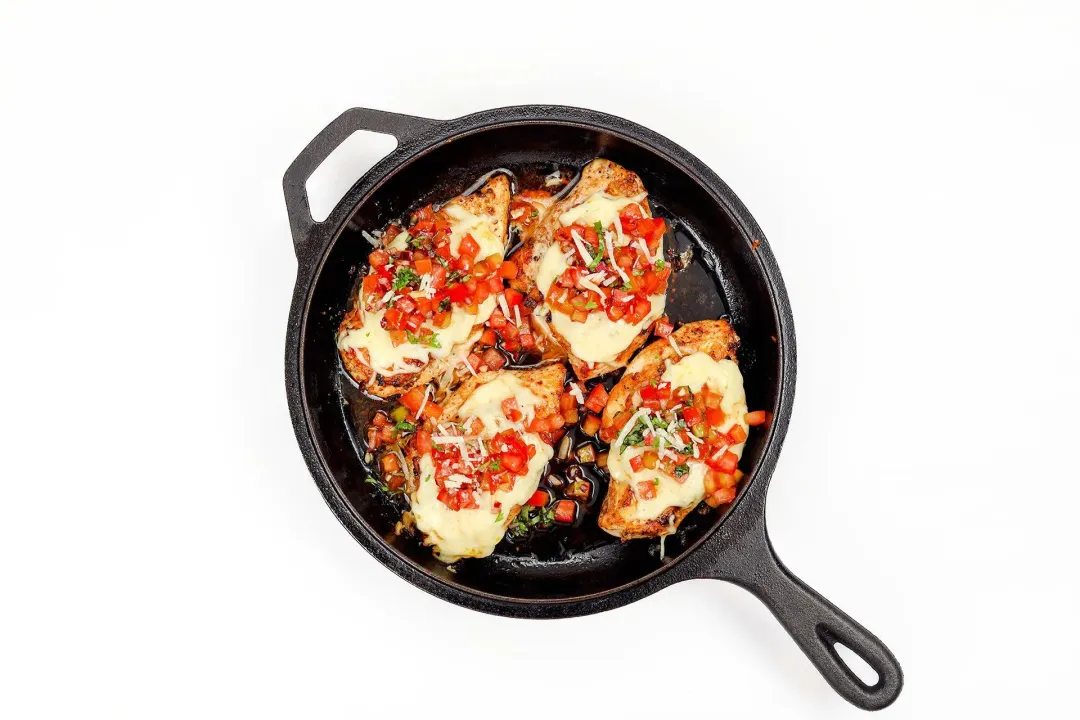 10
Serve: Transfer the chicken onto serving plates, lay them next to the mashed potatoes, garnish with 2 tbsp parsley, and serve hot.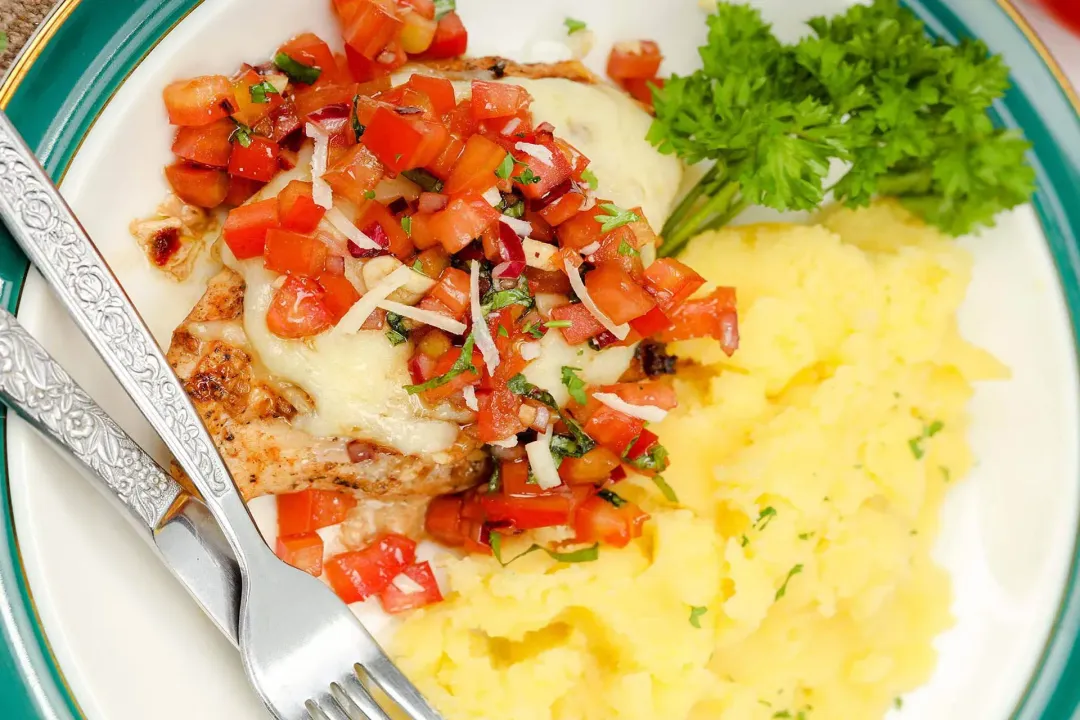 NUTRITION
Nutrition Facts
How to Make Bruschetta Chicken
Amount Per Serving (1 serving)
Calories 493
Calories from Fat 183
% Daily Value*
* Percent Daily Values are based on a 2000 calorie diet.
Keywords: bruschetta chicken, bruschetta chicken recipe, how to make bruschetta chicken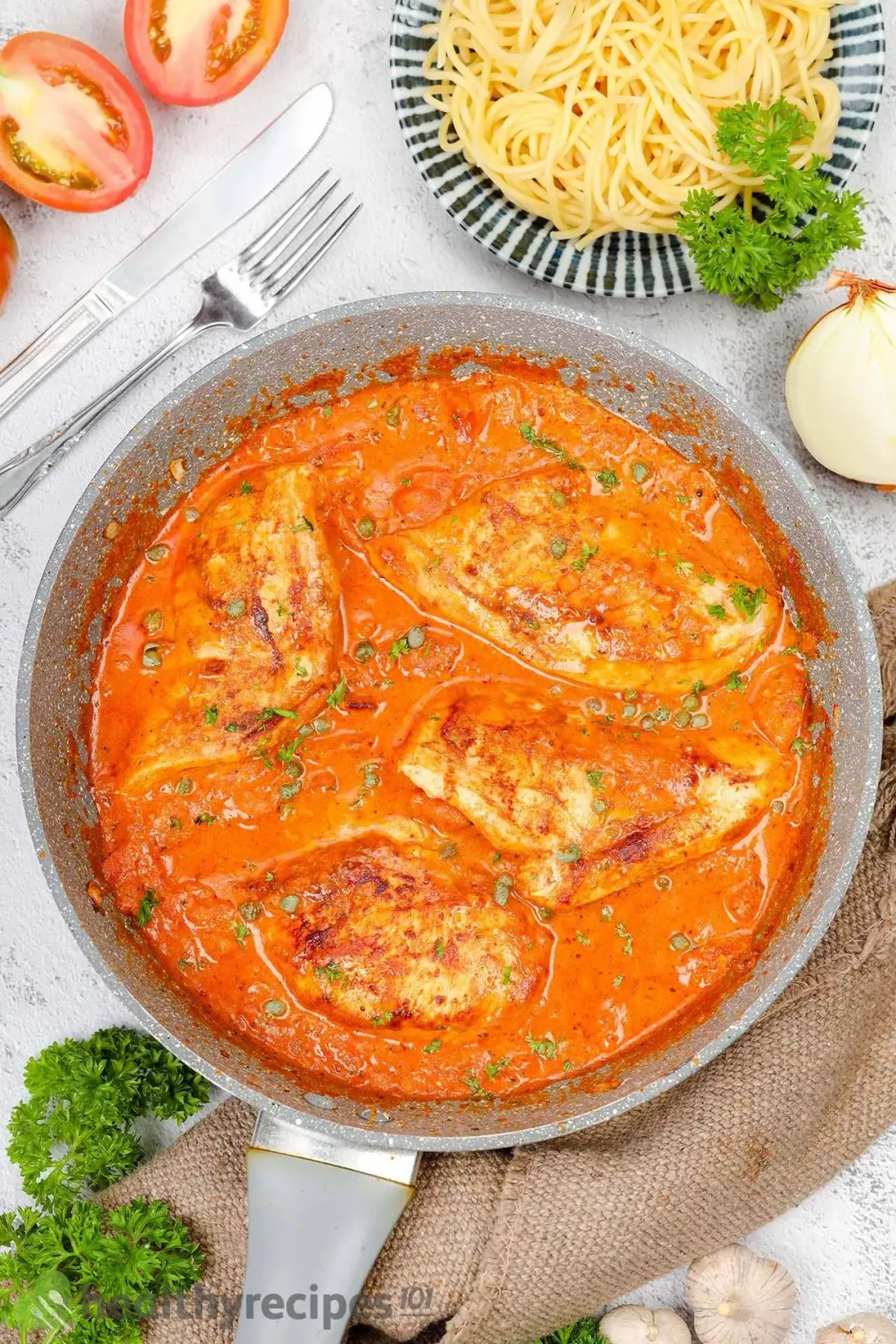 Previous Recipe
Chicken Tomato
Chicken Tomato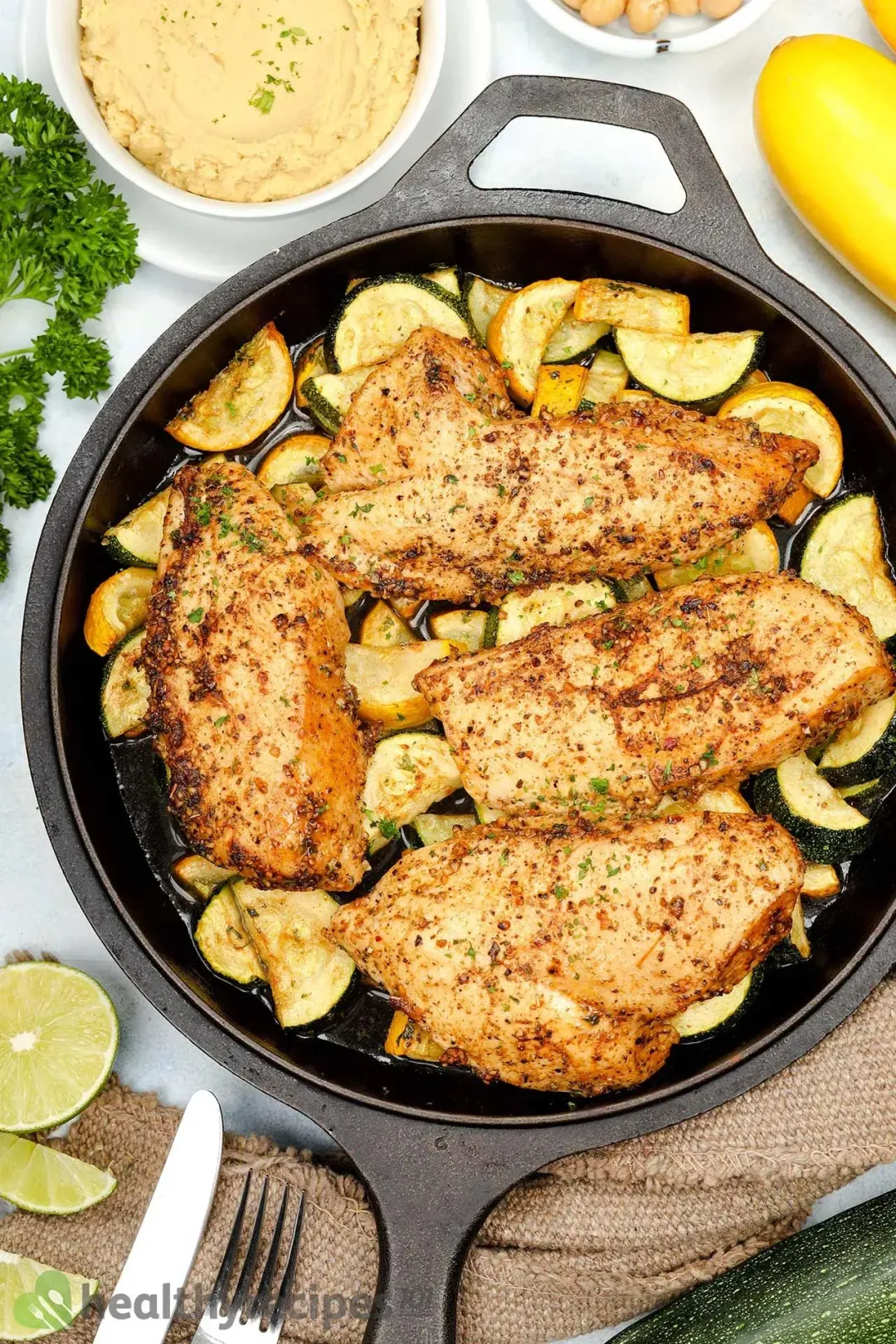 Next Recipe
Skillet Chicken Zucchini
Skillet Chicken Zucchini
Head Chef, Culinary Consultant
Tuyet Pham is an award-winning Saigonese chef who believes that joy is the secret ingredient to delicious food. At Healthy Recipes 101, Tuyet personally tests and simplifies every recipe, ensuring maximum flavor with minimal effort. With a background at prestigious French restaurants P'TI Saigon and Le Corto, Tuyet knows how to make every dish exceptional.
Writer, Author
Luna Regina is an accomplished writer and author who dedicates her career to empowering home cooks and making cooking effortless for everyone. She is the founder of HealthyKitchen101.com and HealthyRecipes101.com, where she works with her team to develop easy, nutritious recipes and help aspiring cooks choose the right kitchen appliances.
Nutrition Reviewer
Natalie Butler is a registered dietitian nutritionist with a passion to help others live their best life through food, fitness, safer beauty and a healthy lifestyle. She has expertise with a variety of diets and diseases and believes that there is no one-size-fits-all approach for health.
Delicious bruschetta chicken, bursting with flavor!