Our air fryer chicken tenders recipe can help you recreate exactly what you love, but minus all the grease.
If you love crispy, juicy chicken tenders but hate to deep-fry your food, an air fryer is what you need. With just a little bit of oil (or none at all ), they will still come out crisp and won't grease a finger.
You can click Jump to Recipe for quick access to the full ingredients list and detailed instructions. Or, read on to learn more about how air-fried chicken tenders are better for your health.
Are Air-Fried Chicken Tenders Healthy?
Air-fried chicken tenders are better than the original deep-fried version: they are cooked in hot air instead of hot oil. Any present fat will melt and stay at the bottom of the air fryer, cutting out plenty of calories (and saturated fat) from your food.
Plus, cooking starch (in the coating) in hot oil produces plenty of acrylamide, a compound known to raise the risk of cancer. By using an air fryer, you're also lowering the level of acrylamide in food significantly.
If air-fried finger foods up your alley, check out some of our homemade fast-food recipes: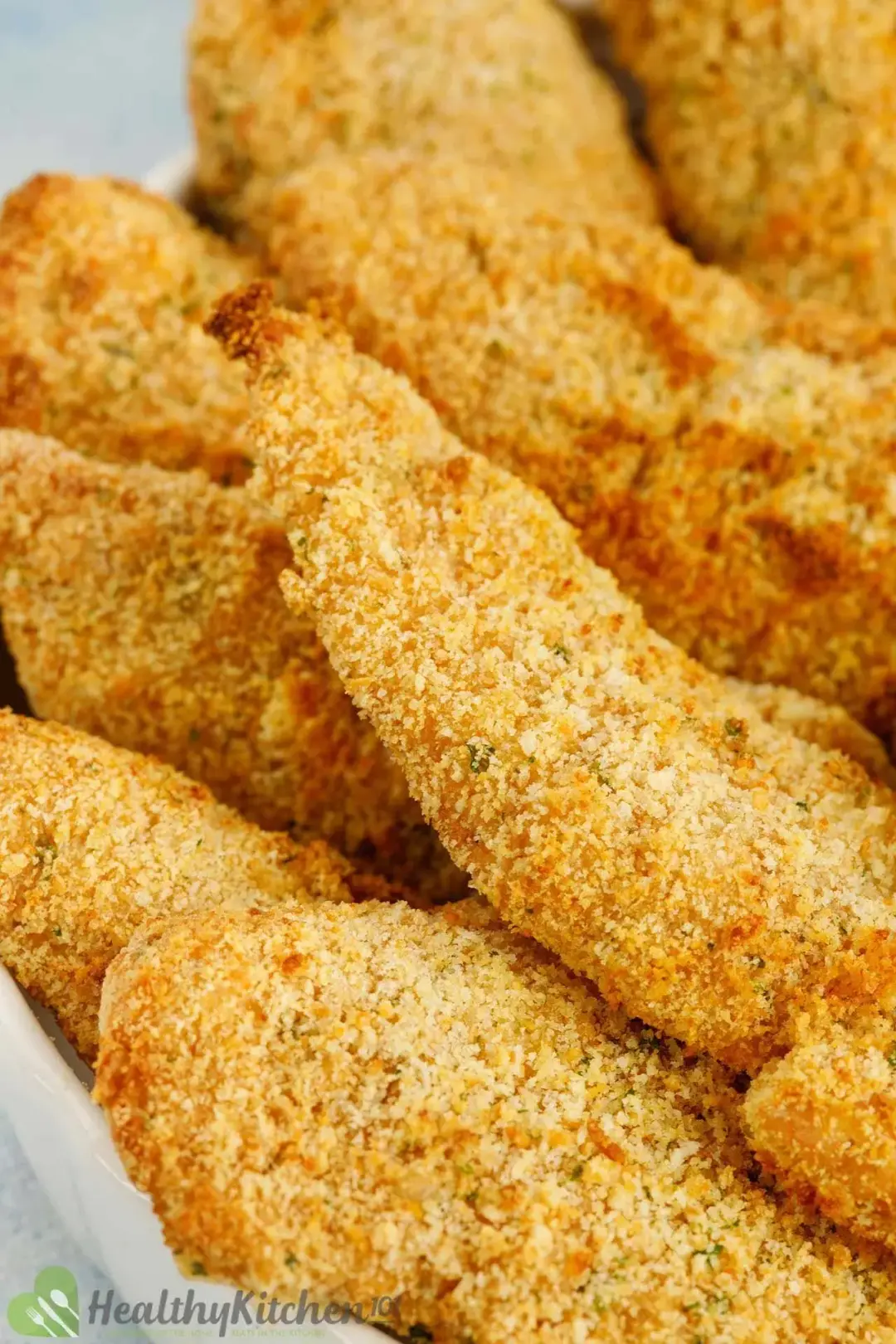 How Our Air Fryer Chicken Tenders Recipe Is Healthier
At Healthy Recipes 101, we make sure your favorite dishes have nutritional profiles that comply with the USDA's dietary guidelines. Specifically, we adjust the ingredients, so the calories, sodium, and saturated fat content stay within moderate levels:
The seasoning: We only seasoned the chicken tenders with 1/8 tsp salt, to keep the sodium within allowance.
The coating: Most of the saturated fat comes from the eggs, butter, and parmesan cheese. We adjusted the amount, so the tenders turn out fragrant, crispy, and have a moderate amount of saturated fat.
The oil: We could spray a little oil on top, but we tried a no-oil version instead, and the chicken still came out crispy. This significantly reduced the calorie content.
The dipping sauce: Dips like mayonnaise are rich in saturated fat and sodium, so we only serve the chicken tenders with 2 tbsp of mayonnaise.
As a result, each serving has three large chicken strips and dip, but only yields 250 calories and moderate levels of sodium and saturated fat.
To learn more about the USDA's allowance (and ours) for different meal courses, click here.
Main Ingredients for This Recipe
Let's have a look at your to-be grocery list:
1. Chicken Tenders
Chicken tenders are the white meat located on either side of the breastbone, under the breast meat. They are shaped like fingers and hence, are also called chicken fingers or chicken strips.
Since chickens don't have plenty of chicken tenders, some restaurants use chicken breast or finger-shaped pulverized chicken meat instead. You can use either — your chicken tender will still be juicy and crispy.
2. Seasoning
Firstly, we seasoned the chicken with salt and pepper — the musts.
Then, we added onion and garlic powder instead of fresh onions and garlic cloves. They are concentrated with flavor and have no problems sticking to the meat.
To give them a little bit of heat, we used paprika and chili powder. Some recipes also call for Cajun powder, and we think it's a lovely addition.
We also added dried oregano for aroma. Oregano complements chicken the way thyme does a steak.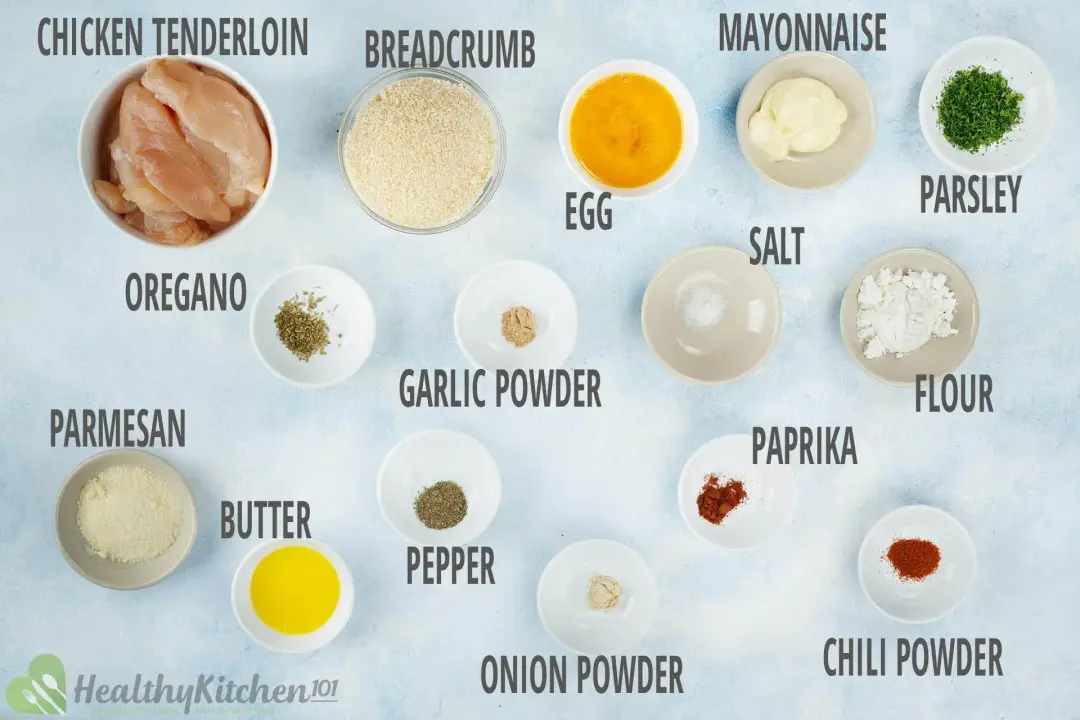 3. Coating
Like other fried treats, chicken tenders have a simple breadcrumb coating. They're first floured, then dipped into beaten eggs, and finally into the breadcrumb mixture.
For a thicker and more flavorful coat, we double-breaded the chicken and added parmesan and butter to the breading. This is the secret to crisp, finger-licking good chicken tenders.
4. Sauce for Chicken Tenders
Besides mayonnaise, you can serve chicken tenders with one of these dips:
Chick-fil-A sauce: a salty-sweet dipping sauce with a hint of smoky flavor. Make by combining 2 parts mayonnaise, 2 parts BBQ sauce, 1 part Dijon mustard, and 1 part honey.
Honey mustard sauce: sweet, tangy, and pungent. Make by combining 1 part honey, 2 parts Dijon mustard, and a little bit of red wine vinegar to taste.
Pesto sauce: a refreshing dip that preserves the pure flavor of the chicken. Make by blitzing 1 part olive oil, 1 part garlic, 2 parts parmesan, and 4 parts basil until smooth.
Thousand island sauce: a simple dip that works for most snacks. Make by combining 2 parts mayonnaise, 2 parts ketchup, and 1 part honey.
Since sauces are often high in sodium and saturated fat, we recommend having only 2 tbsp of sauce for 4 servings.
Check out this air fryer marinated chicken recipe – guarantees a mouth-watering tasting experience without making a mess
How to Make Chicken Tenders in an Air Fryer
With the ingredients gathered, here's what to do next:
Marinate the chicken
Preheat the air fryer
Prepare the breading stations
Coat the chicken strips
Cook them for 7 minutes
Serve with dipping sauce
For the more detailed air fryer chicken tenders recipe with measurements and timing, refer to the recipe card below.
For more easy and nutritious air fryer recipes, take a look at our air fryer dinner roundup or healthy chicken recipes in air fryer.
Cooking Frozen Chicken Tenders in an Air Fryer
You can place frozen chicken tenders in your air fryer and cook them without thawing them first. They only need 10 minutes in a 350°F preheated air fryer.
You can get frozen chicken tenders in stores, or make them yourself. Simply follow our recipe, place the breaded tenders into a Ziploc bag, and you can store them for months in the freezer.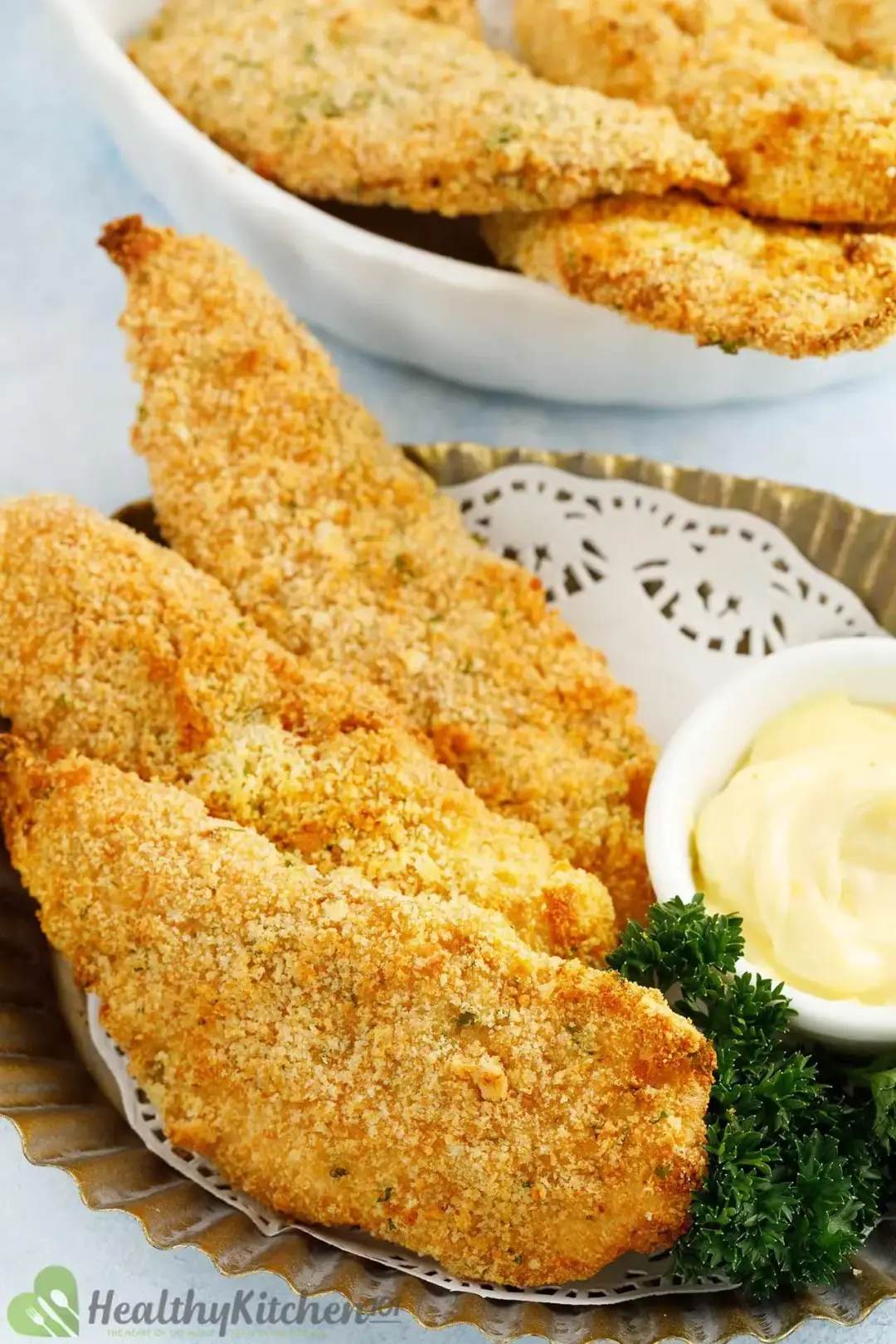 Storing and Reheating Chicken Tenders
If you have leftover chicken tenders, you can refrigerate or freeze them and reheat them using your air fryer. However, since the coating is already cooked, you won't achieve the crispy coating after reheating.
We highly recommend that you just make enough chicken tenders and then freeze the rest. Frozen chicken tenders only take 10 minutes to cook.
If you're interested in other chicken recipes as healthy as this one, we've got some seriously delectable ones: best chicken recipes and 20+ chicken thigh roundup.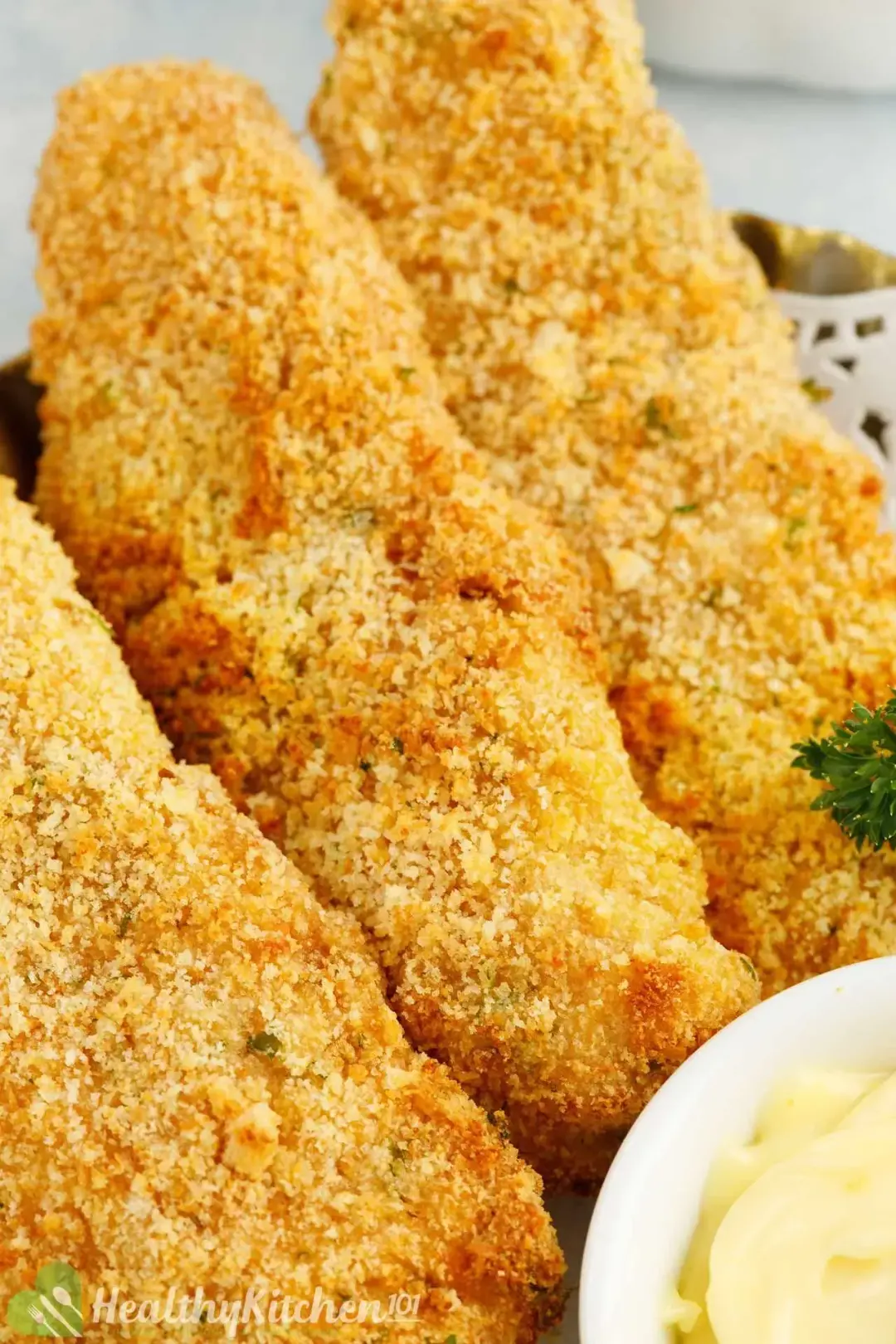 Air Fryer Chicken Tenders Recipe
This air fryer chicken tenders recipe only takes you 25 minutes to turn out 12 crisp, juicy chicken fingers for four.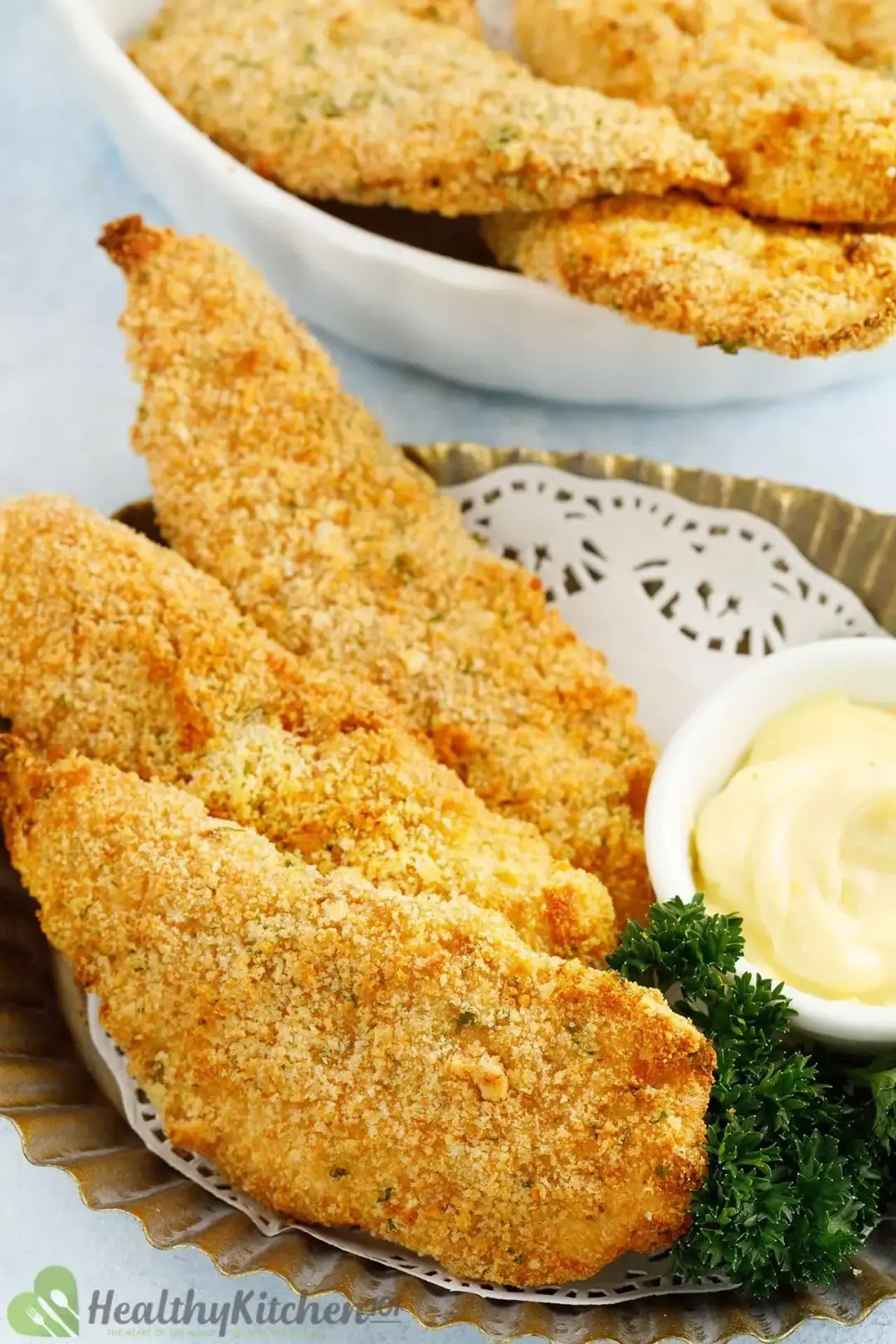 cook TIME

15 mins

prep TIME

10 mins

total TIME

25 mins
COURSE

Side Dish

CUISINE

American

SERVINGS

servings

CALORIES

254 kcal
INGREDIENTS
10 oz

chicken tenders (or chicken breast cut into strips)

0.1 tsp

salt

0.3 tsp

ground black pepper

0.3 tsp

onion powder

0.3 tsp

garlic powder

0.3 tsp

dried oregano

0.3 tsp

paprika

0.3 tsp

chili powder

1 cup

plain panko breadcrumbs

0.3 oz

parmesan cheese (shredded)

1 tbsp

parsley (finely chopped)

0.5 tbsp

unsalted butter (melted)

2

small eggs

2 tbsp

all-purpose flour

2 tbsp

Japanese mayonnaise
INSTRUCTIONS
1
Place 10 oz chicken tenders in a bowl. Add 1/8 tsp salt, 1/4 tsp pepper, 1/4 tsp onion powder, 1/4 tsp garlic powder, 1/4 tsp dried oregano, 1/4 tsp paprika, and 1/4 tsp chili powder. Mix everything together and allow to marinate.
2
Preheat the air fryer to 350°F (skip if you're making chicken tenders to freeze).
3
In another bowl, mix 1 cup breadcrumbs with 0.25 oz parmesan, 1 tbsp parsley, and 1/2 tbsp melted butter. Crack 2 small eggs into another bowl.
4
Coat the seasoned chicken in 2 tbsp flour. Dip each piece into the eggs, then the breadcrumbs, then eggs one more time, and the breadcrumbs again. Place the coated pieces on a plate.
5
Open the air fryer. Place the chicken tenders in the frying chamber on one layer (we cooked them in 2 batches) and cook for 7 minutes. If you're using frozen chicken tenders, cook for 10 minutes instead.
6
Serve with 2 tbsp mayonnaise or any dip you fancy.
NUTRITION
Nutrition Facts
Air Fryer Chicken Tenders Recipe
Amount Per Serving (1 serving)
Calories 254
Calories from FDA
% Daily Value*
* Percent Daily Values are based on a 2000 calorie diet.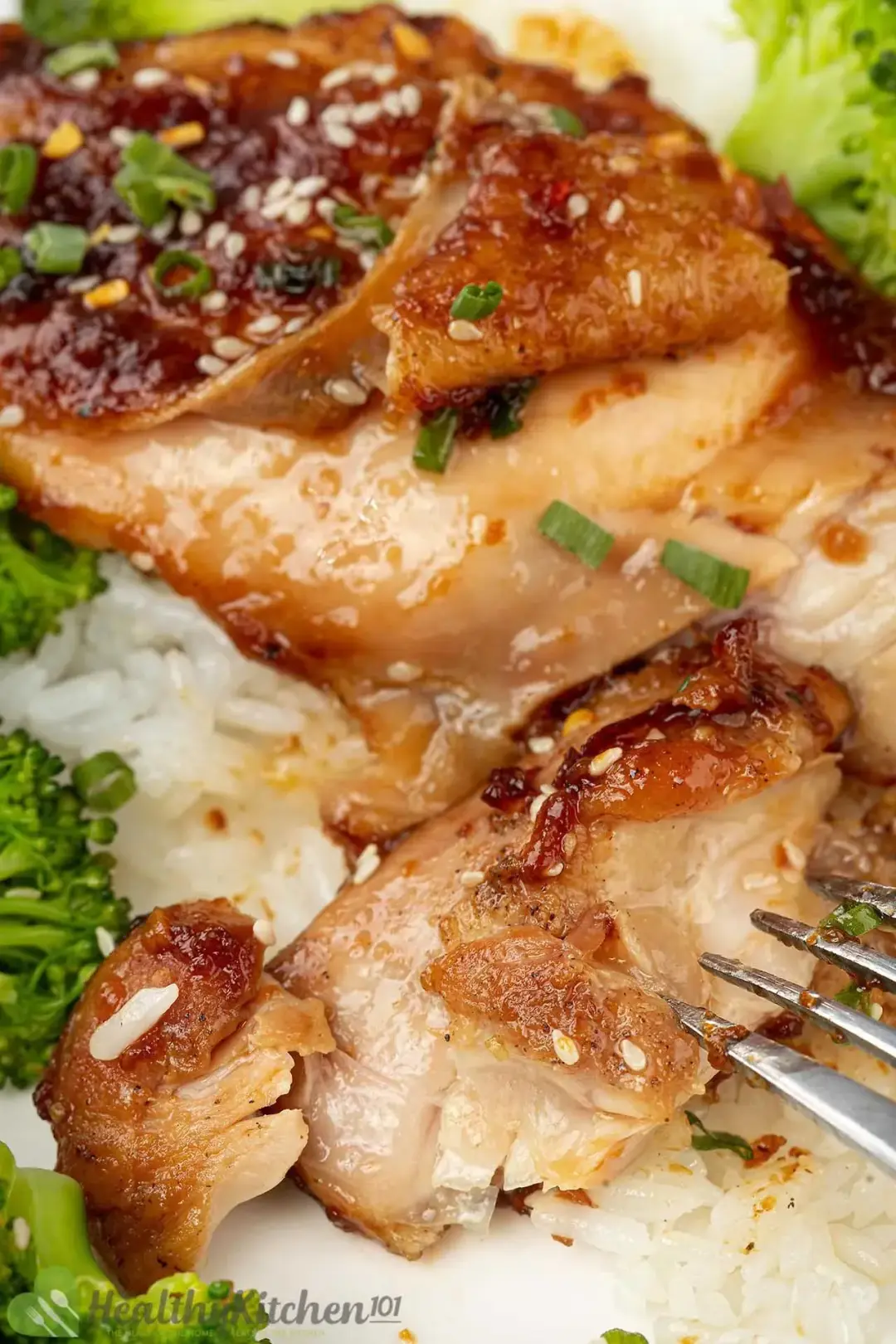 Previous Recipe
Shoyu Chicken
Shoyu Chicken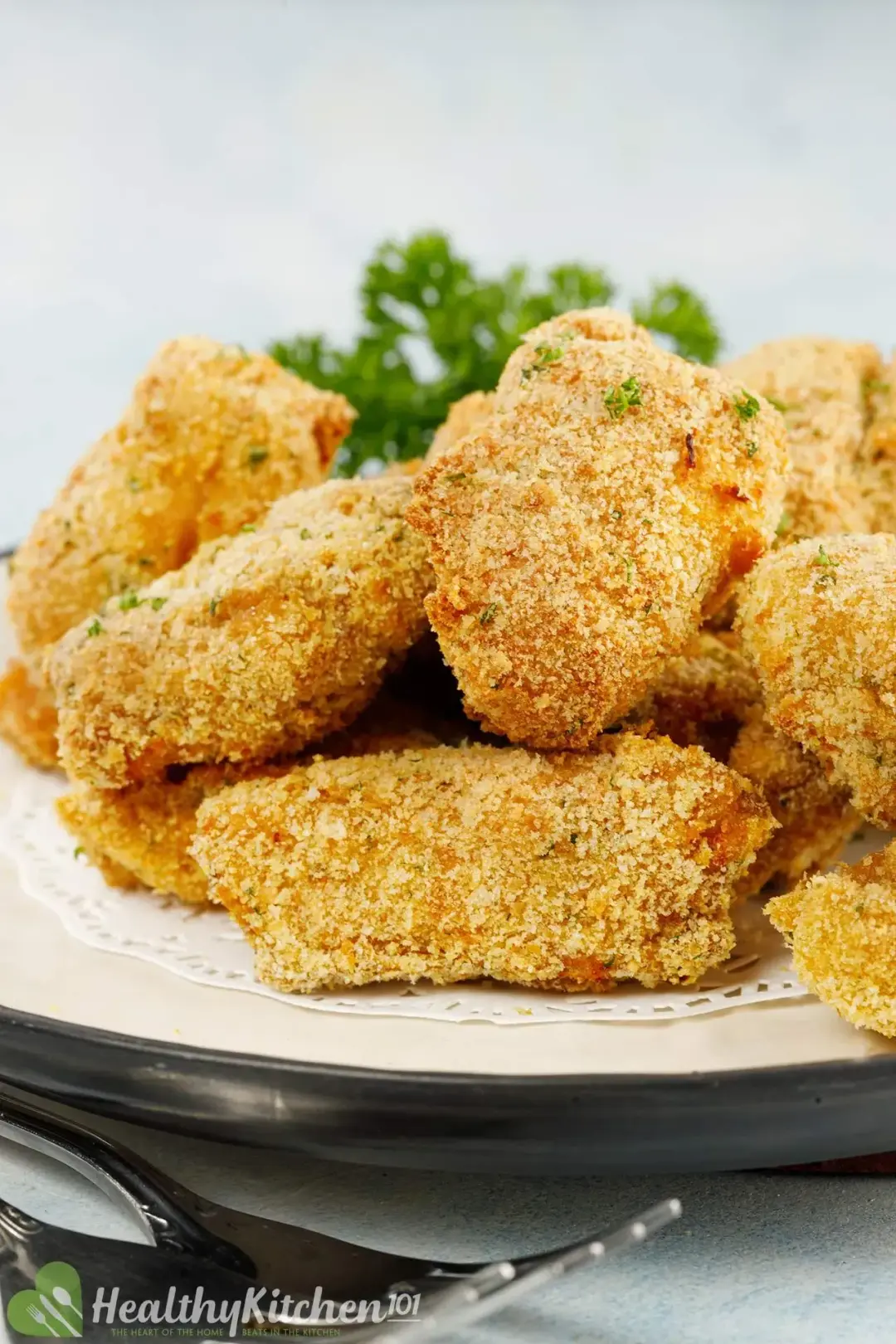 Next Recipe
Air Fryer Chicken Nuggets
Air Fryer Chicken Nuggets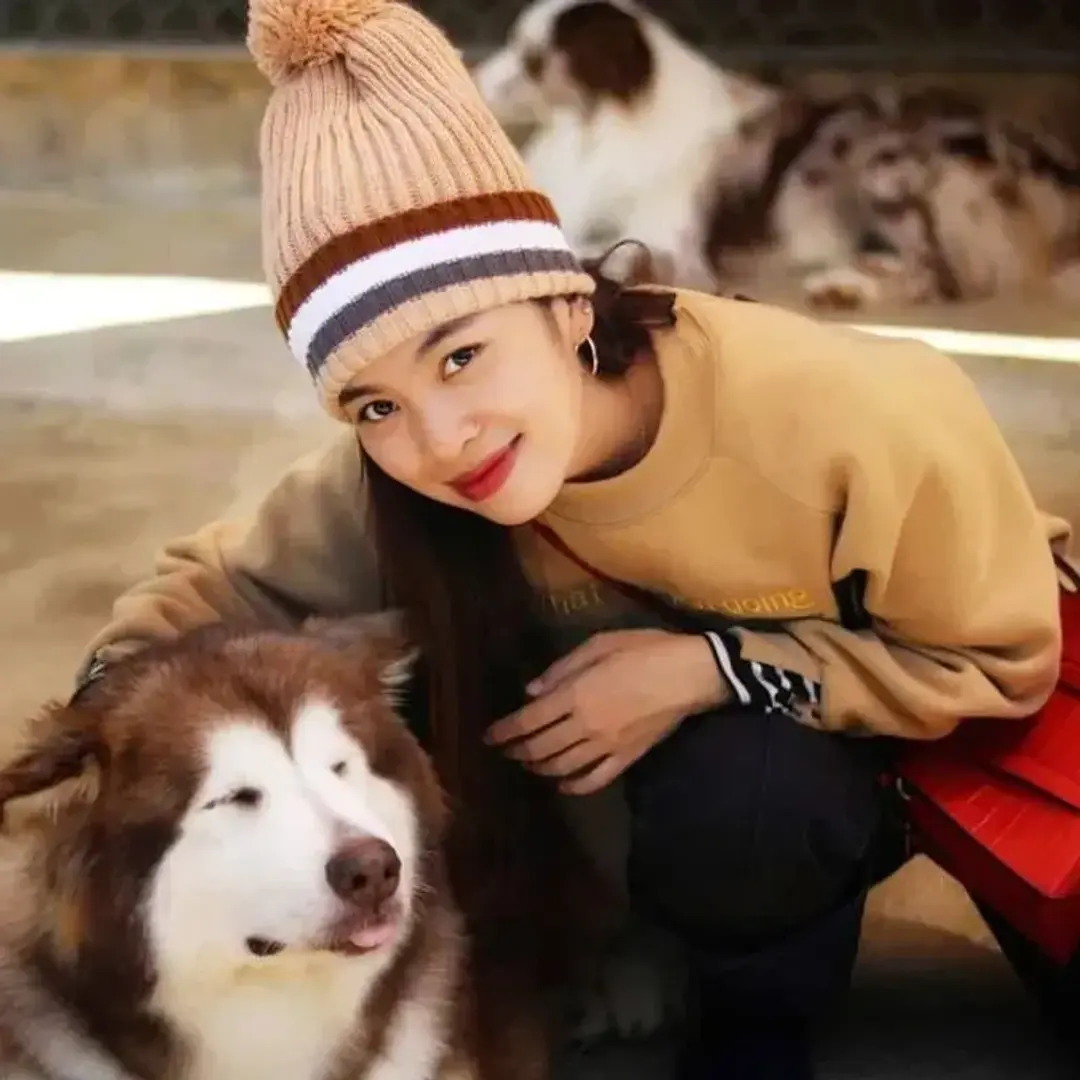 Chef, Culinary Consultant
Tuyet Pham is an award-winning Saigonese chef who believes that joy is the secret ingredient to delicious food. At Healthy Recipes 101, Tuyet personally tests and simplifies every recipe, ensuring maximum flavor with minimal effort. With a background at prestigious French restaurants P'TI Saigon and Le Corto, Tuyet knows how to make every dish exceptional.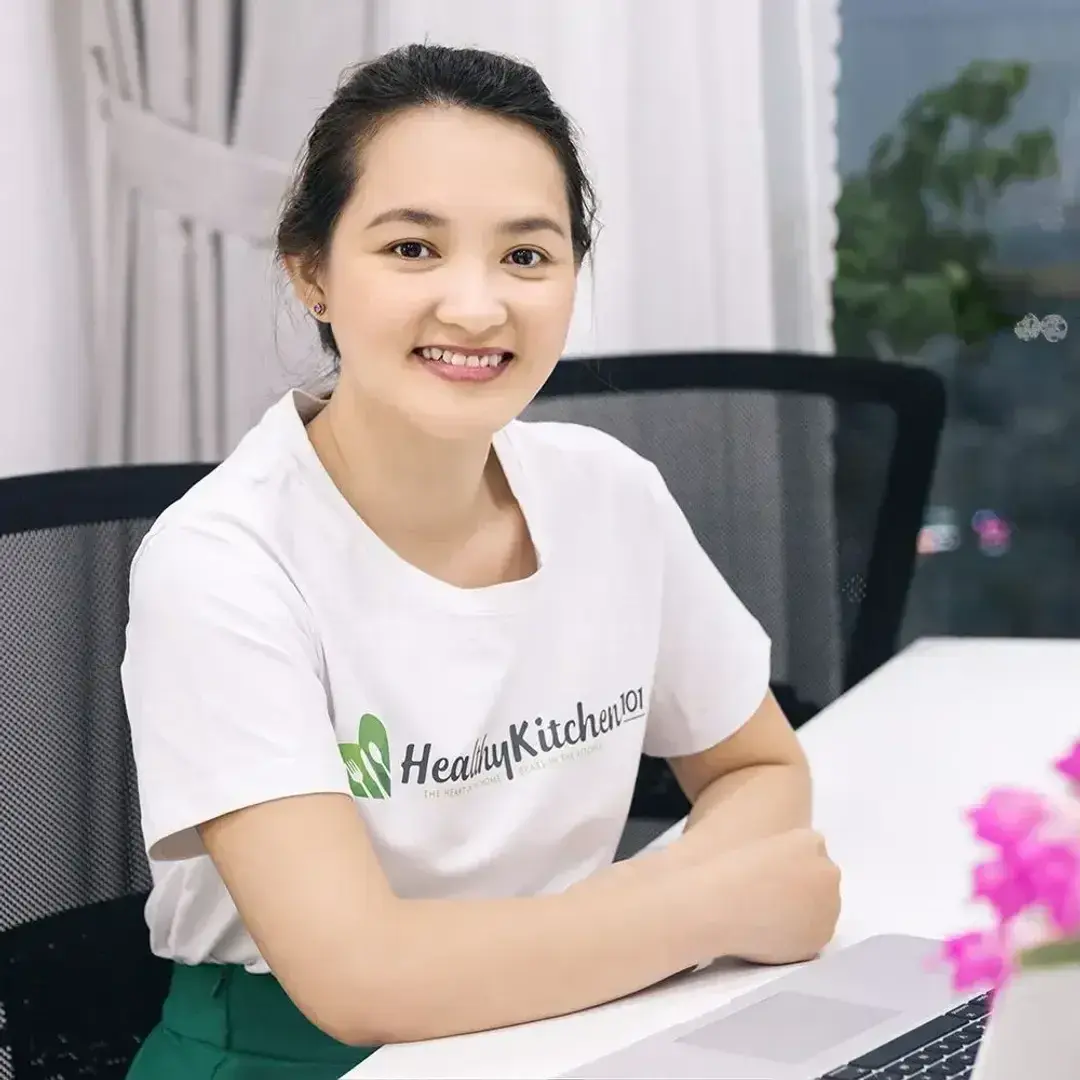 Writer, Author
Luna Regina is an accomplished writer and author who dedicates her career to empowering home cooks and making cooking effortless for everyone. She is the founder of HealthyKitchen101.com and HealthyRecipes101.com, where she works with her team to develop easy, nutritious recipes and help aspiring cooks choose the right kitchen appliances.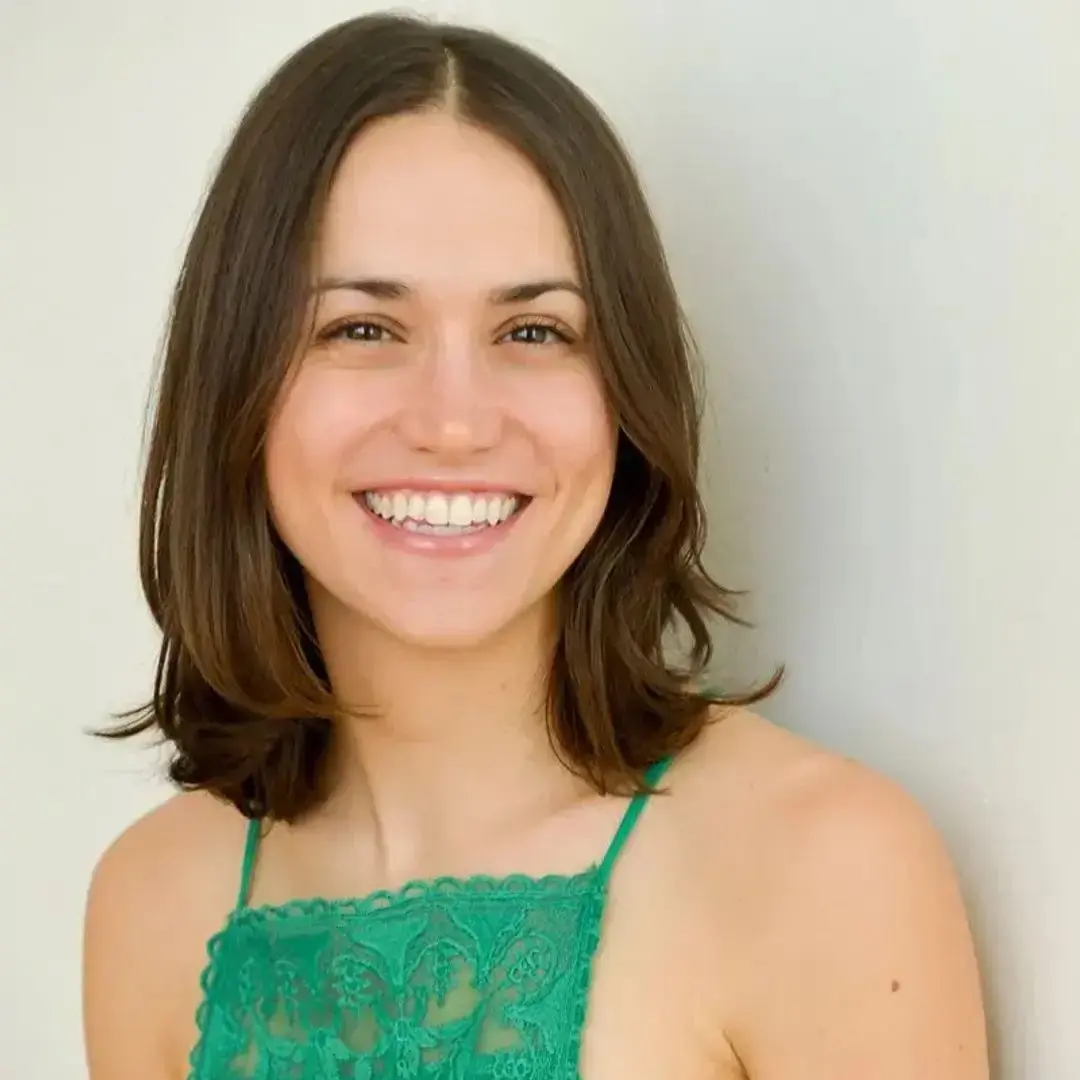 Nutrition Reviewer
Lizzie is a Minneapolis-based dietitian and founder of It's a Veg World After All. She completed her MS in Human Nutrition from Drexel University, and is an expert in culinary nutrition, recipe development, and nutrition communications.
Comments/ Reviews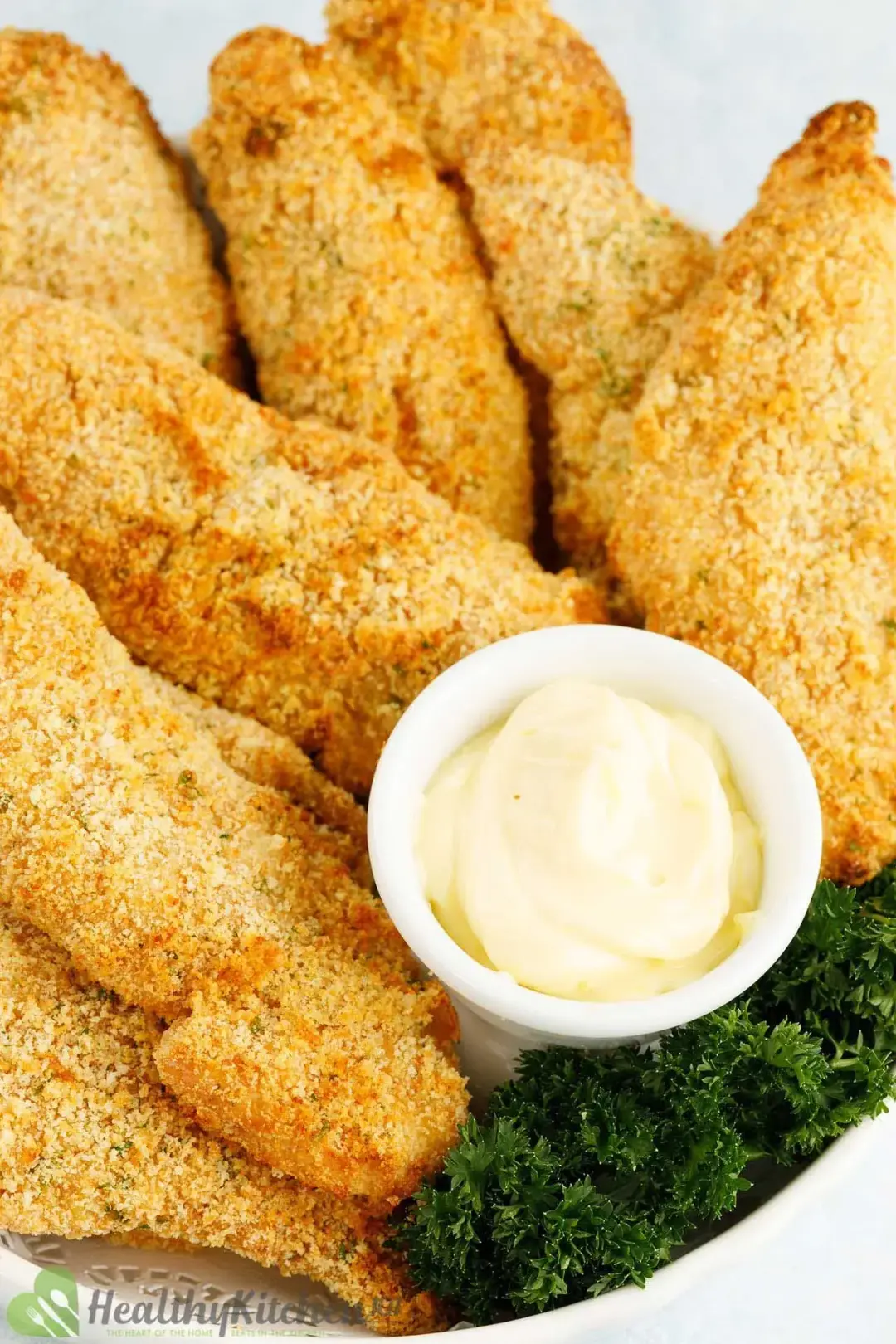 Air Fryer Chicken Tenders Recipe