With simple steps and common ingredients, today's air fryer marinated chicken recipe guarantees a mouth-watering tasting experience without making a mess.
The chicken is soaked up in a perfect blend of olive oil, mustard, honey, lemon juice, and Worcestershire sauce to make the meat juicy and delicious. It is then cooked in an air fryer to golden perfection, bursting with flavor.
Is This Recipe Healthy?
Yes, our air fryer marinated chicken recipe is healthy.
By using the air fryer to cook the chicken, we reduce the amount of added fat in the recipe. To be specific, there is only 0.5 tablespoon of olive oil used for each serving, keeping the saturated fat content at 3.6 grams.
Furthermore, we tried to use as little salt and honey as possible, while still ensuring the dish delivers a great balance of flavors. As a result, the chicken comes out tasty and the nutritional content, including fat, sodium, and calories is in line with the USDA Dietary Guidelines.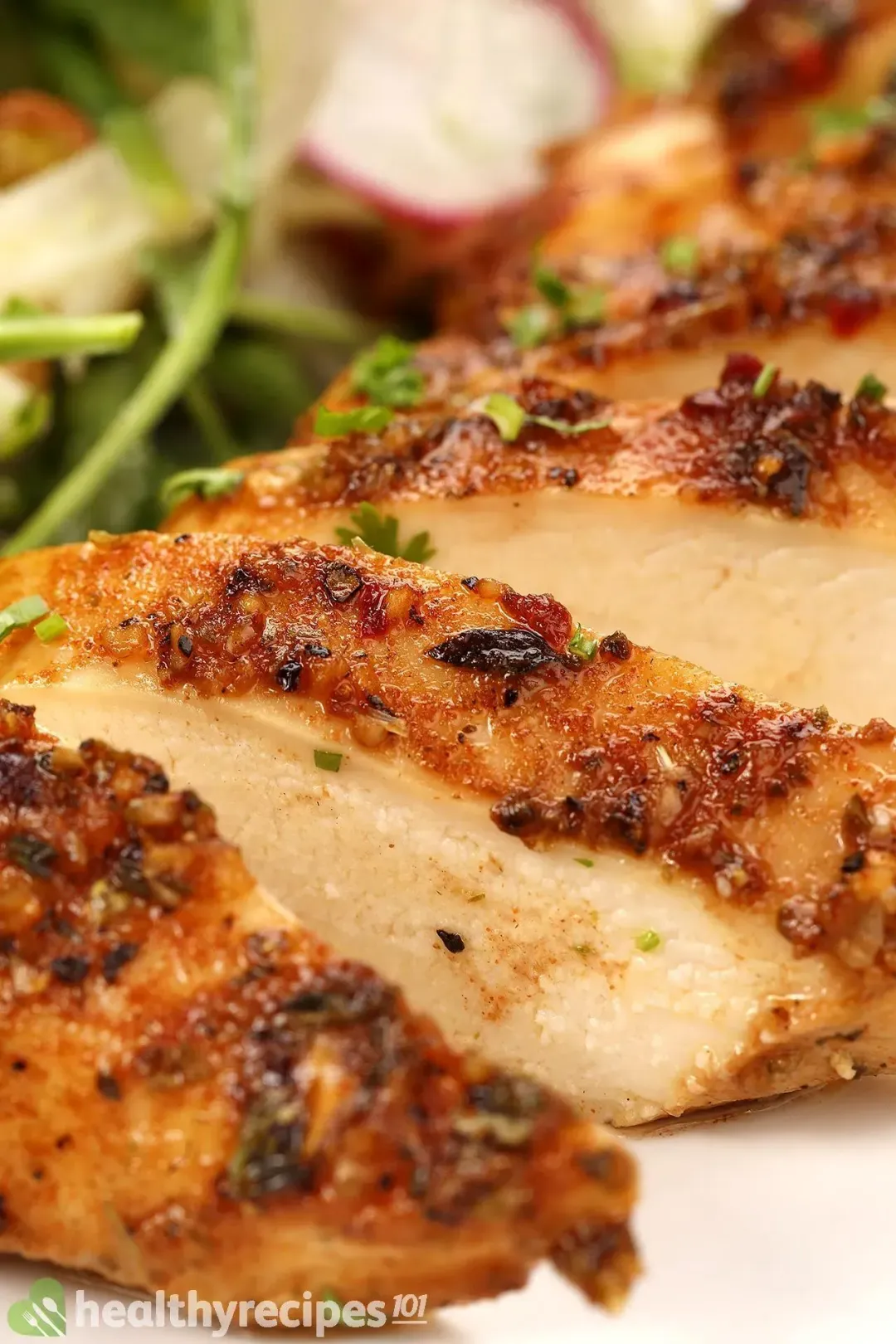 We also recommend serving the dish with some green salad and juice, which provides extra fiber and micronutrients.
Ingredients You'll Need
Chicken: This recipe will work for any cut of chicken, though it is especially great with chicken breast since the citrus-based marinade acts as a flavor injector providing extra juiciness to the lean cut of meat.
Marinade: A great marinade should have a balanced flavor and combine three basic components: fat, acid, and seasoning. Vinegar, citrus juice, or enzyme-rich fruits like pineapple will soften the meat's surface and allow the flavor to be absorbed more easily. Fat acts as a moistening agent while the seasoning imparts flavor.
Marinating is a wonderful way to experiment with ingredients while still using the cooking techniques that you are familiar with. Read on for details about the marinade we used in this recipe.
Sauce 
Common ingredients are sometimes the hardest ones to prep and cook, and chicken breast is a perfect example. Since the meat is so lean, once cooked, it easily turns out hard, dry, and bland.
A simple trick to save your chicken breasts from drying out is to marinate your chicken in a flavorful sauce before cooking it. The marinade ensures tender and juicy meat everytime and the recipe is quick and easy.
Lemon juice is the key element in our marinade. Besides tenderizing the lean meat, it gives the chicken a slight lemon flavor without overpowering the other spices in the sauce.
The olive oil keeps the chicken moist and juicy while the Worcestershire sauce gives it a savory depth. Honey adds sweetness and gives the meat an irresistible golden brown crust once cooked.
And finally, a touch of herbs and spices beautifully rounds off the perfect chicken dish.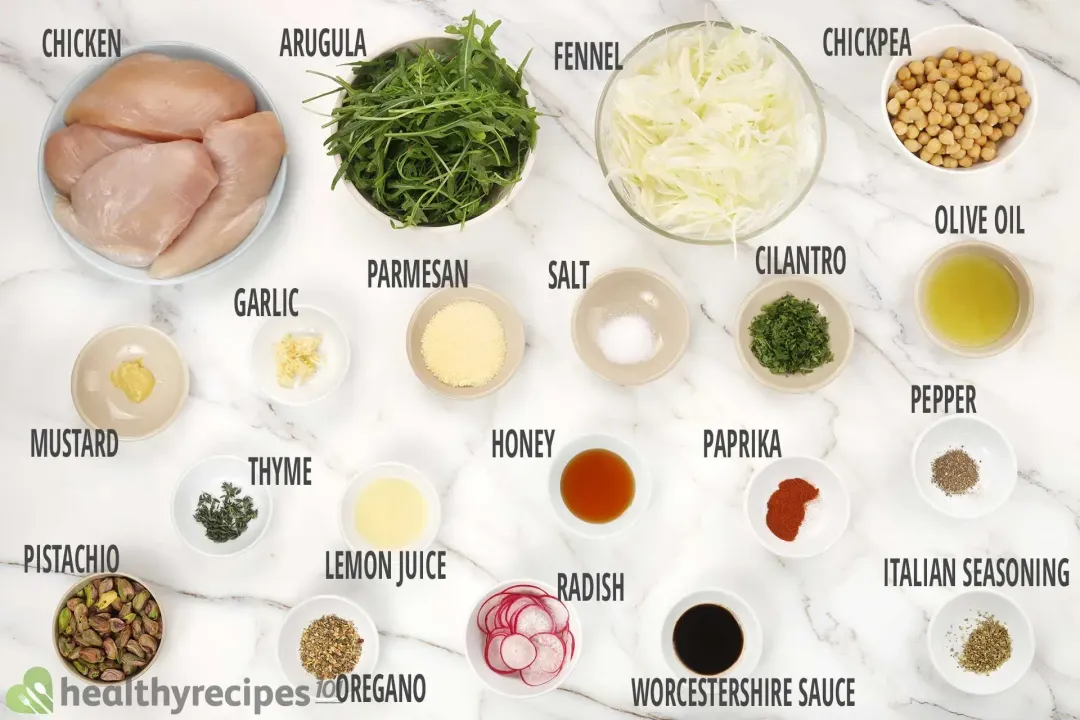 If this marinated chicken is of interest to you, you may also find this air fryer chicken recipes helpful. Or, simply have a look at our air fryer dinner roundup for more air fryer ideas.
How To Cook
1. Can You Cook Marinated Chicken From Frozen?
Technically, you can cook marinated chicken from frozen but the result might not be satisfying. 
 Frozen chicken will release water into the marinade as it thaws, leaving the sauce watery and bland. Therefore, we recommend you let the meat thaw completely before marinating it. That way, the meat will be able to absorb all the goodness from your marinade.
2. What Happens If You Marinate Chicken Too Long?
You might think that the longer you marinate the chicken the more delicious it will be but that's not always the case. The citrus element in the marinade could essentially break down the proteins in the meat, turning your chicken soft and mushy.
The size of the cut and the ingredients in the marinade also make a huge difference in the marinating time, so don't assume that all marinades need the same length of time. For this skinless chicken breast recipe, it's possible to add decent flavoring in 10 – 30 minutes.
Tips
The chicken thickness: Usually, one end of the chicken breast is thicker than the other. Once cooked in the air fryer, the breast could end up drying out at the thinner end while still being raw in the thicker part.
To solve this, place the meat in a plastic bag or wrap it in a plastic wrapper and pound it with a rolling pin. The more evenly shaped your chicken breasts are, the easier they will cook through at the same time.
The temperature: Your chicken breast is done when it reaches an internal temperature of 165°F. This is where an instant thermometer comes in handy. It is not an expensive kitchen tool but will ensure your chicken is cooked through without any guesswork.
While food safety experts recommend home cooks use a thermometer to check if the food is done, we understand that not everyone has a one to hand. But there are other ways to do the job, a simple one being to pierce the chicken and see what color juice comes out.
When chicken is cooked properly, the juice will run clear. This means that it is fully cooked and ready to be served. If the juice is red or pink, your chicken may need to be cooked a bit longer.
Can You Freeze?
Yes, marinated chicken can be easily frozen and can last for up to 3 months. However, to avoid multiple pieces of chicken getting stuck together once frozen, wrap each chicken piece in an individual wrapper before placing them in an airtight container or Ziplock bag. This also allows you to defrost only the desired amount of chicken instead of thawing the whole container.
What To Serve With
Because the chicken sucks up the marinade and traps all the moist goodness inside, making it extra juicy, you are not going to need any sauce or soup here. Some salad, mashed potatoes and lemon watermelon juice to wash it down are all you'll need for this filling and nutritious dinner.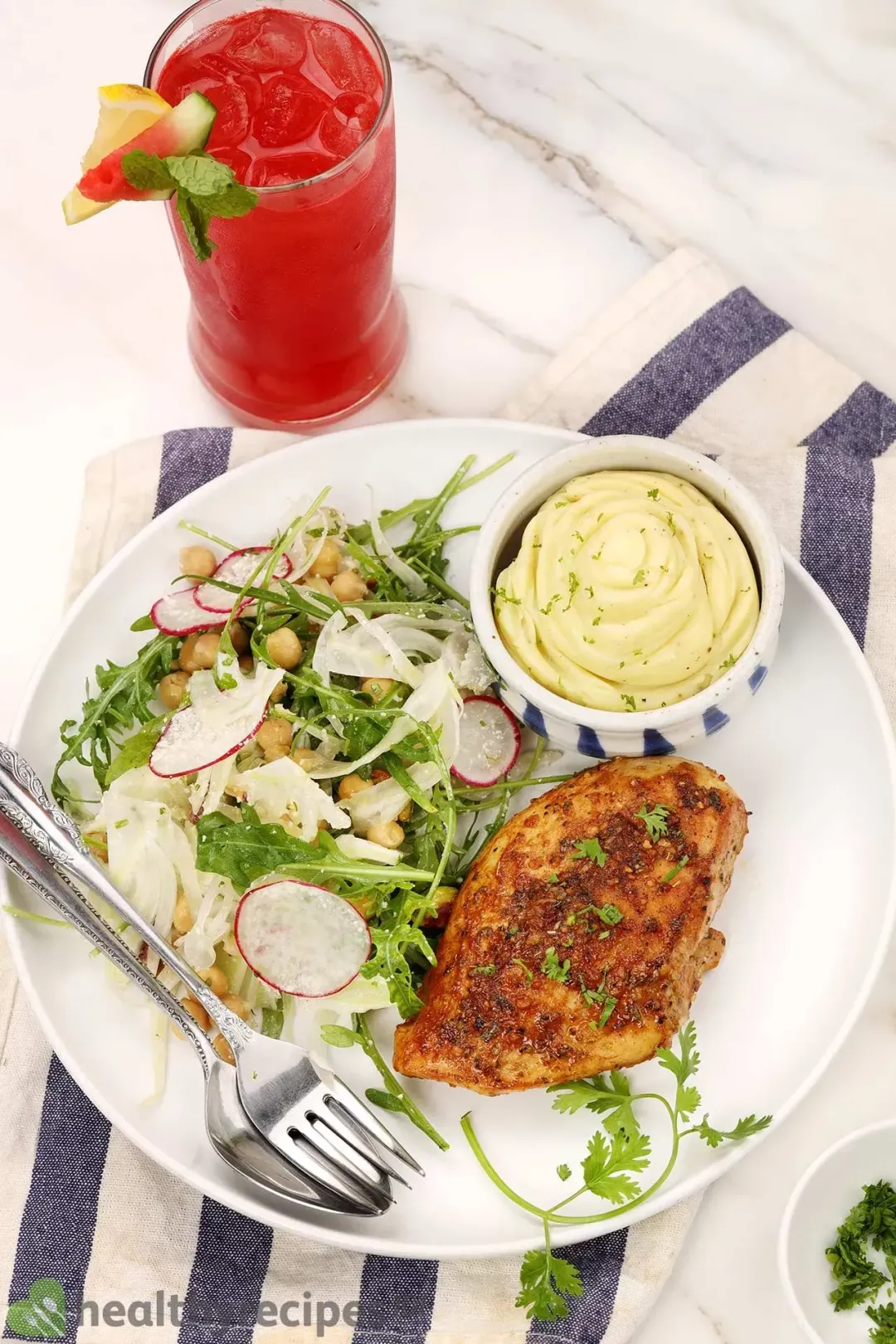 Include These Air-Fried Dishes in Your Cooking Repertoire
With a piece of foil, you can transform your air fryer into a multipurpose cooking device. As a demonstration, we'll show you how we cooked our chicken wings in it—nicely glazed and tender and served with veg over cooked rice.
In this air fryer chicken tacos recipe, we stuff crispy tortillas with wholesome fillings like juicy chicken, crunchy veggies, cheese, and creamy dressing for a flavor-packed dish. It's a hassle-free dinner for four.
Marinated Air Fryer Chicken
Say goodbye to dry and bland chicken breast with our marinated air fryer chicken recipe. This tasty, juicy dish is ready in just 35 minutes.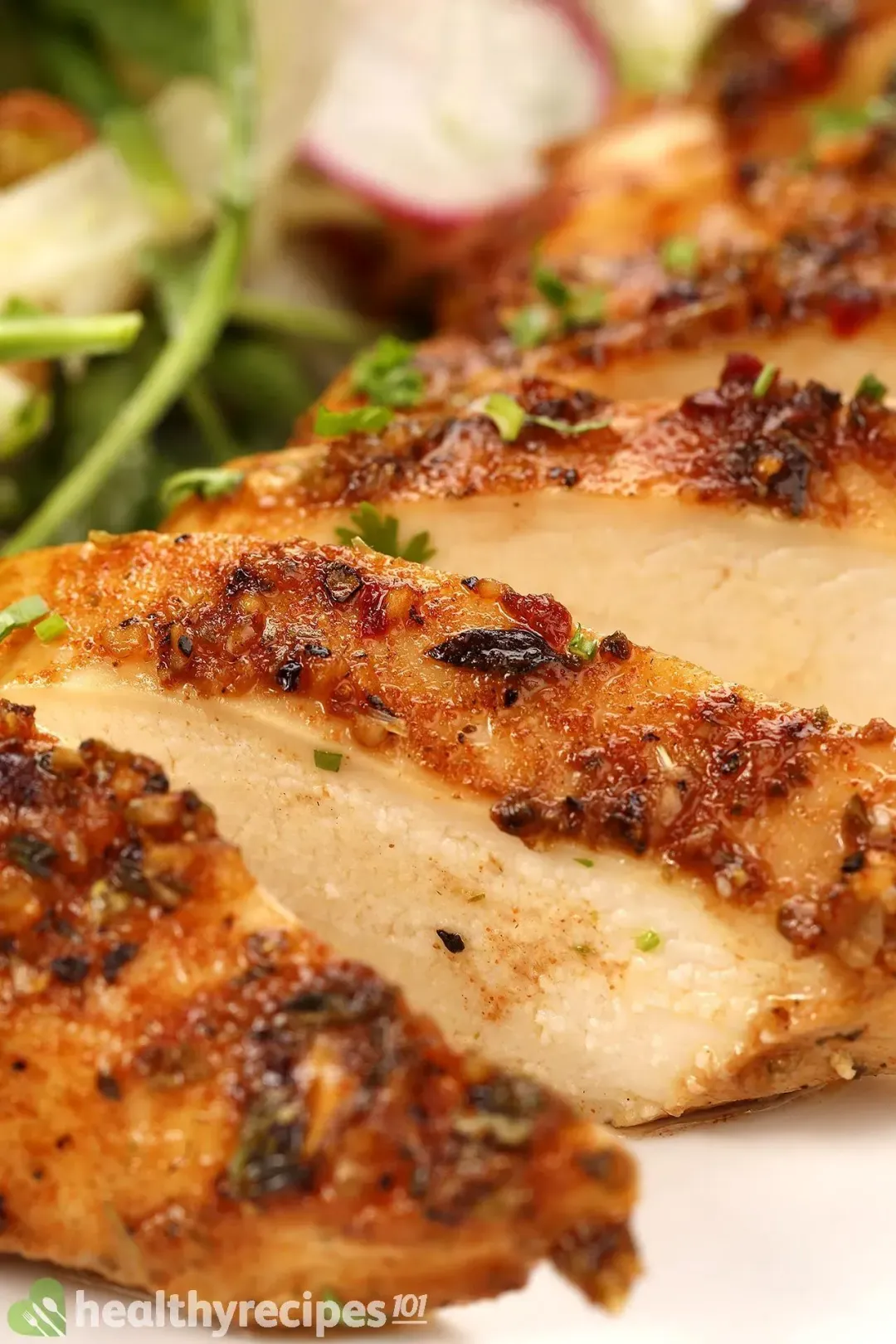 cook TIME

15 mins

prep TIME

10 mins

total TIME

35 mins

INACTIVE TIME

10 mins
COURSE

Dinner, Lunch, Main Course

CUISINE

Global

SERVINGS

CALORIES

457 kcal
INGREDIENTS
26 oz

skinless boneless chicken breast

(4 breasts)

2 tbsp

olive oil

(divided)

1 1/2 tbsp

lemon juice

(divided)

1 1/2 tbsp

honey

(divided)

1 tsp

Worcestershire sauce

1/2 tsp

traditional Dijon mustard

0.5 oz

shredded parmesan cheese
INSTRUCTIONS
1
Prepare the marinade sauce: whisk together 1 tbsp of olive oil, 1 tbsp of honey, 1 tsp thyme, ½ tsp oregano, ¼ tsp ground pepper, ½ tsp salt, ½ tsp paprika, 1 tsp garlic, 1 tsp Worcestershire sauce, ½ tsp Dijon mustard, 1 tsp Italian seasoning, and ½ tbsp of lemon juice in a small bowl.
2
Place the chicken on a plate and pour the marinade over the top of the chicken, making sure it is covered. Let it marinate for 10 minutes.
3
Add chicken breast to the air fryer and brush it with the remaining marinade from the plate. Cook at 350°F for 15 minutes.
4
While the chicken is in the air fryer, make the salad. For the salad dressing: Stir together 1 tbsp olive oil, ½ tbsp honey, 1 tbsp lemon juice, and 2 tbsp cilantro.
5
In a big bowl, add 2 oz arugula, 6 oz chickpeas, 6 oz fennel, 0.5 oz radishes, and the dressing. Gently stir until well combined.
6
Then sprinkle 2 oz pistachio and 0.5 oz parmesan cheese over the salad.
7
When the chicken is done, transfer it from the air fryer to a plate. Serve the chicken with salad.
NUTRITION
Nutrition Facts
Marinated Air Fryer Chicken
Amount Per Serving (1 serving)
Calories 457
Calories from Fat 180
% Daily Value*
* Percent Daily Values are based on a 2000 calorie diet.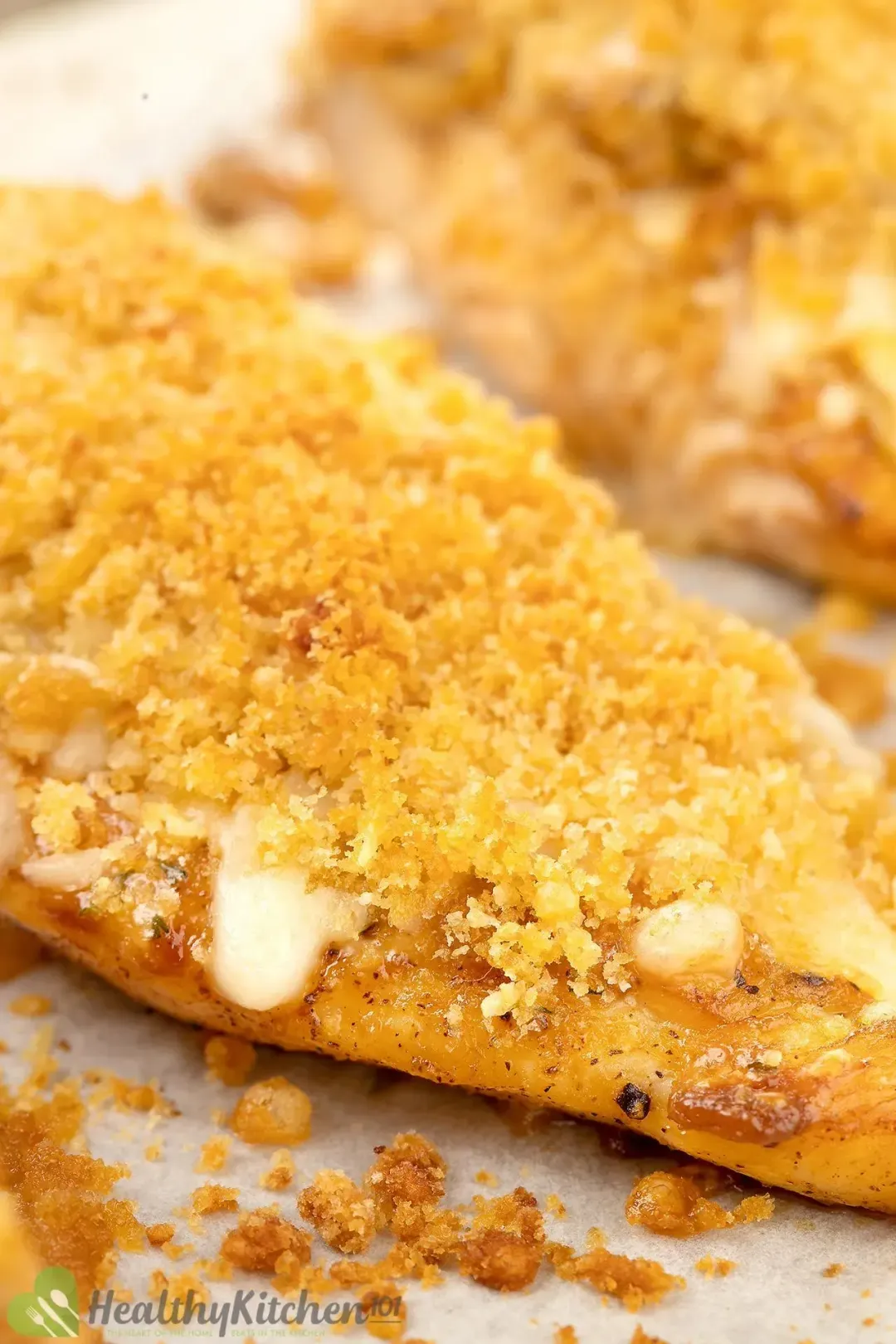 Previous Recipe
Longhorn Parmesan Crusted Chicken
Longhorn Parmesan Crusted Chicken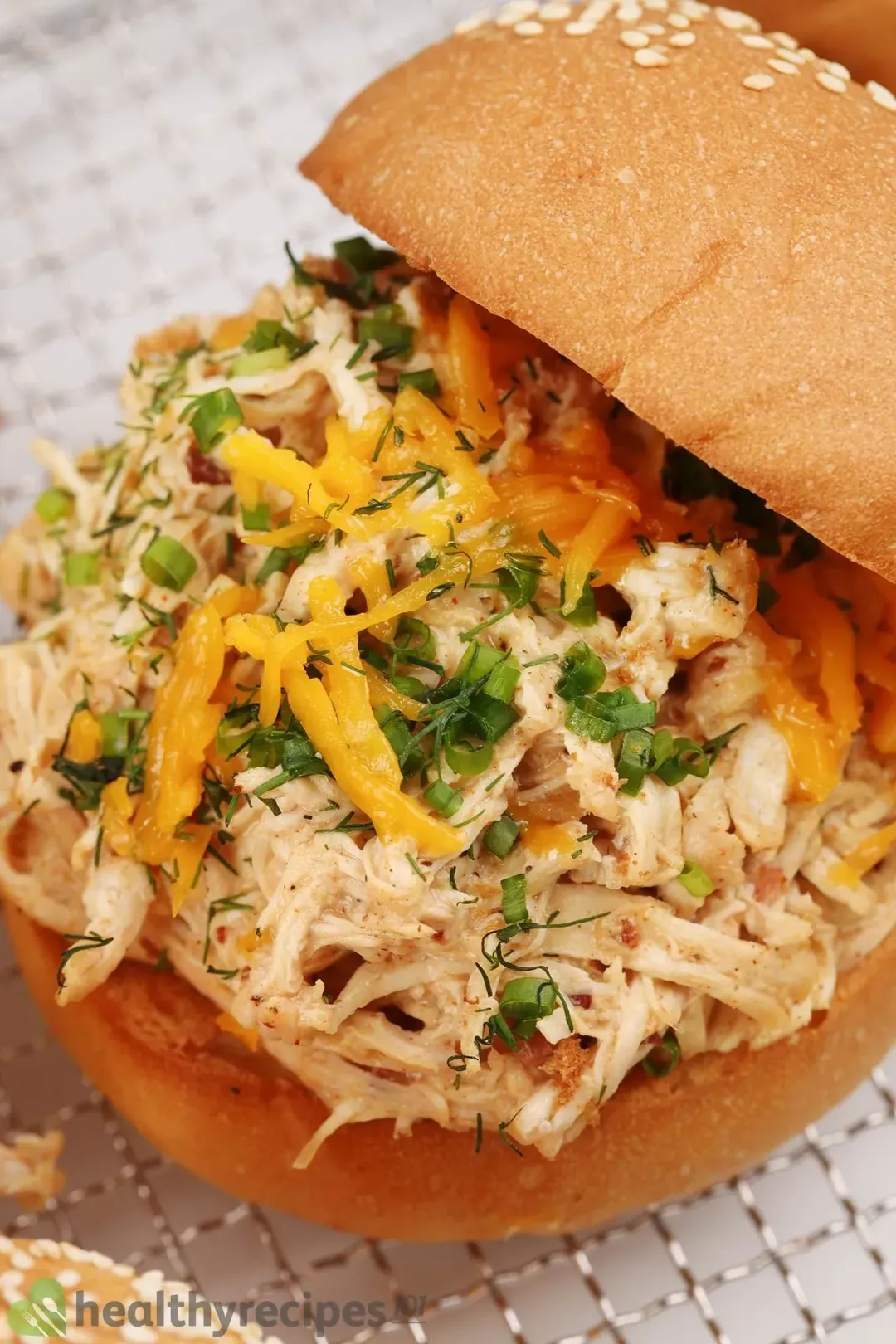 Next Recipe
Instant Pot Crack Chicken
Instant Pot Crack Chicken
Head Chef, Culinary Consultant
Tuyet Pham is an award-winning Saigonese chef who believes that joy is the secret ingredient to delicious food. At Healthy Recipes 101, Tuyet personally tests and simplifies every recipe, ensuring maximum flavor with minimal effort. With a background at prestigious French restaurants P'TI Saigon and Le Corto, Tuyet knows how to make every dish exceptional.
Writer, Author
Luna Regina is an accomplished writer and author who dedicates her career to empowering home cooks and making cooking effortless for everyone. She is the founder of HealthyKitchen101.com and HealthyRecipes101.com, where she works with her team to develop easy, nutritious recipes and help aspiring cooks choose the right kitchen appliances.
Nutrition Reviewer
Lizzie Streit is a Minneapolis-based dietitian and founder of It's a Veg World After All. She completed her MS in Human Nutrition from Drexel University, and is an expert in culinary nutrition, recipe development, and nutrition communications. Lizzie's philosophy is centered around making nutrition recommendations, and especially the advice to eat more vegetables, approachable and realistic. She is excited to be working with the team at Healthy Recipes 101 to ensure that their recipes are both nutritious and delicious.
Marinated chicken did not disappoint! The marinade added such a delicious flavor - juicy, tender chicken that melted in my mouth. Highly recommend this one for sure!