This balsamic glazed chicken thighs recipe gives you the best of both worlds—the hearty comforts of homemade food and the quality of a restaurant dish. It's as simple as can be, requiring no more than 30 minutes to create a luscious and heavenly sweet chicken dish that you can enjoy on all occasions. 
What Does Balsamic Glazed Chicken Thighs Taste Like?
This dish features chicken thighs coated in a balsamic glaze, otherwise known as balsamic reduction. It's basically balsamic vinegar simmered until the consistency thickens and becomes syrupy. Occasionally, sweeteners like sugar or honey are also added to deepen the sweetness of the glaze.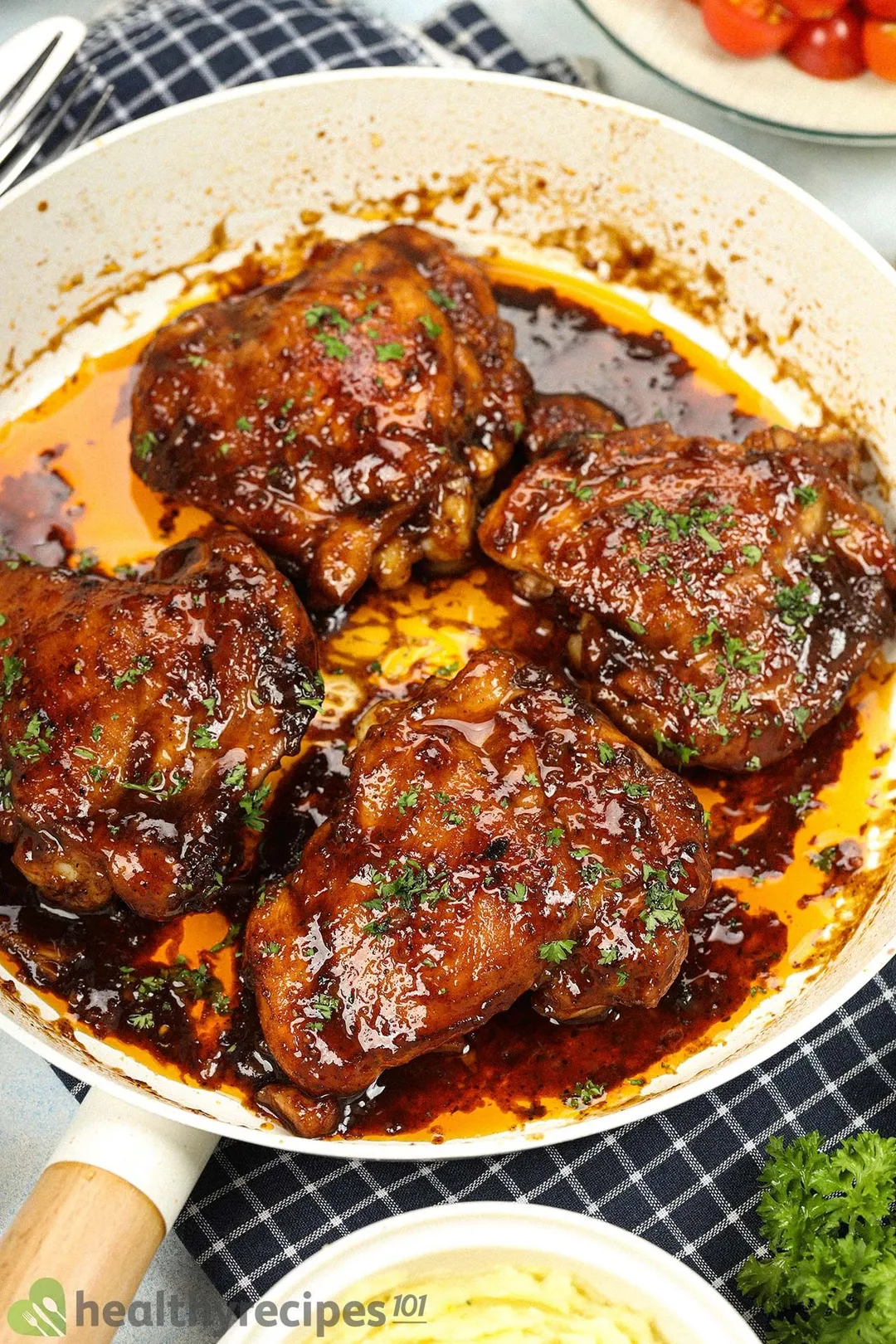 The glaze evenly coats the thighs, making their interior delectably tender and juicy with an added lusciousness. Flavor-wise, it carries a mildly savory taste along with the signature rich and sweet-tart taste of balsamic vinegar, with the sweetness highly emphasized.
Is Balsamic Glazed Chicken Thighs Healthy?
Yes, it is.
Sticking to our nutrition guidelines, this dish keeps important dietary components within acceptable limits. More specifically, each serving contains around:
495 calories
4.7 g saturated fat
588 mg sodium
Moreover, with chicken thigh as the main ingredient, it's loaded with complete protein. Chicken is also a good source of other essential nutrients, such as zinc, heme iron, choline, vitamins B6 and B12, etc. We also paired the chicken with a side of cherry tomatoes, potatoes, and green beans, so you can obtain a decent amount of fiber as well.
[Video] How to Make
Ingredients for Balsamic Glazed Chicken Thighs
Here is everything you'll need to make this dish: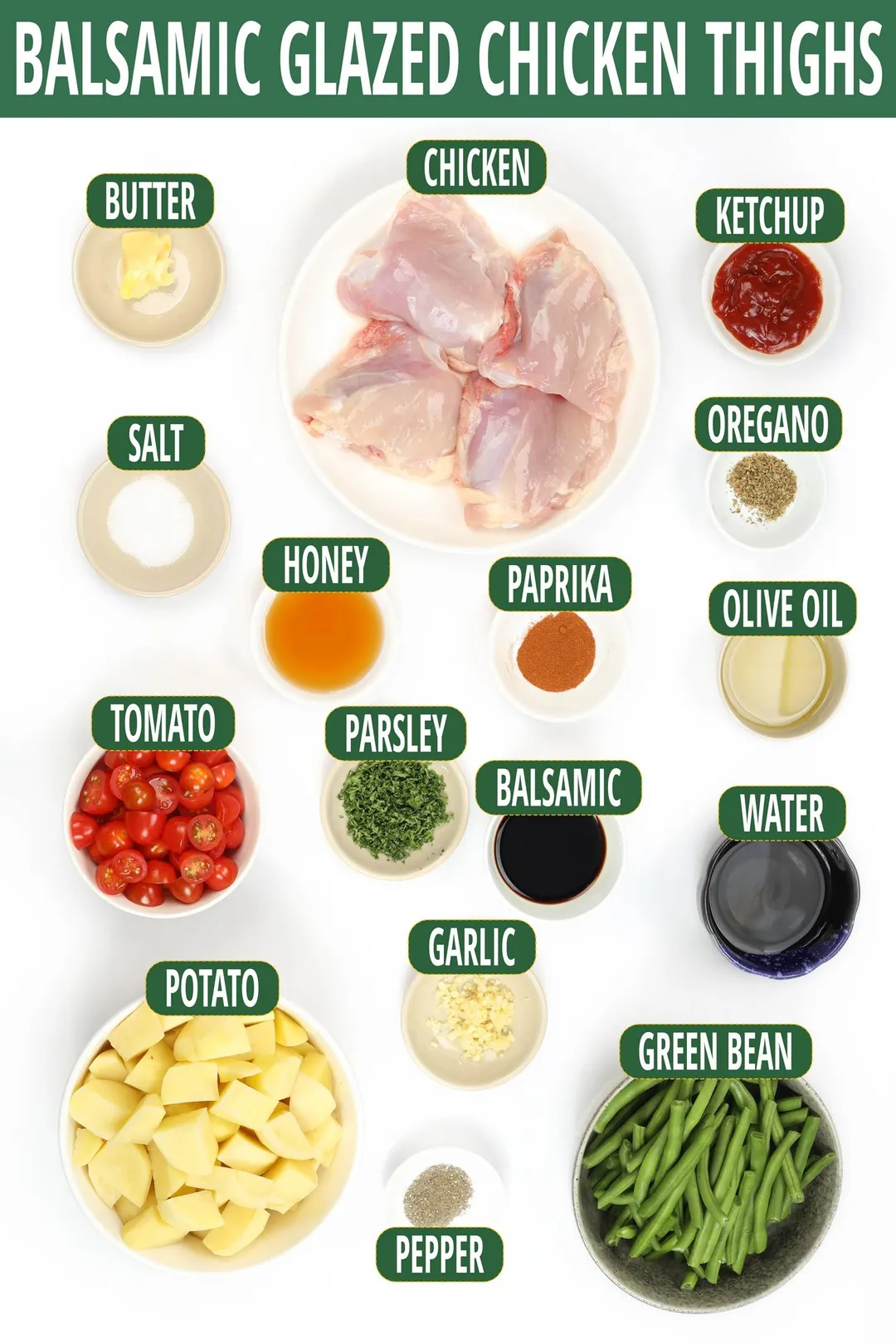 Chicken: As the name suggests, this recipe uses chicken thighs. We went with the bone-in variety since the bone marrow will seep out during the cooking process, making the meat a lot more flavorful and succulent.
Vegetables & Legumes: The chicken is served with a side of cherry tomatoes, mashed potatoes, and cooked green beans to make the dish more filling.
Garlic: Garlic works as an amazing aromatic for this dish, giving it a subtle yet tantalizing flavor kick.
Seasonings & Spices: Since the balsamic glaze's taste is relatively strong, we kept it simple with the seasonings and spices. We went with the usual combo of salt and ground black pepper, along with a pinch of paprika to induce a subtle heat.
For the Glaze
Balsamic: We used store-bought balsamic vinegar, which is more affordable and accessible, for this recipe. Feel free to use whichever brand and variety you have available.
Honey: Balsamic vinegar is paired with honey to enhance the glaze's sweetness as well as thicken its texture.
Ketchup: We also added a small dollop of ketchup for a sweet and tangy aftertaste.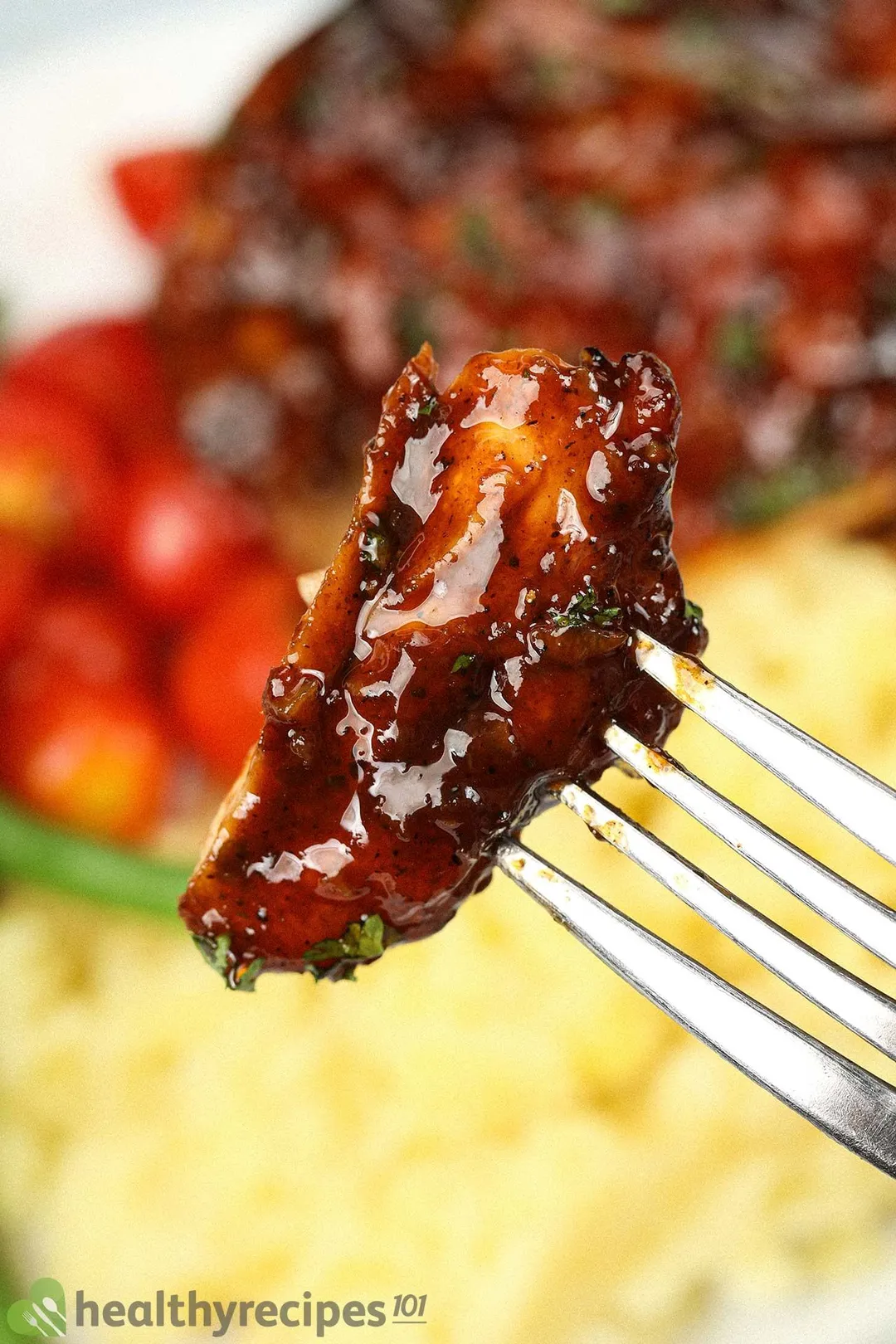 FAQ
1. Is balsamic glaze the same as balsamic vinegar?
No, it's not. Balsamic glaze is made from a mixture of balsamic vinegar and other optional sweeteners. The mixture is reduced on medium heat until it becomes syrupy and velvety, meanwhile, the vinegar is liquidy and has a less concentrated flavor.
2. Can I substitute chicken breast in this recipe?
Yes, you can. In fact, this recipe works for just about any meat cut—the breasts, the drumsticks, the wings, etc.
How to Store and Reheat
These balsamic glazed chicken thighs can last up to 3 days when kept in airtight containers in the fridge. To reheat, give them a quick stir on the stovetop over medium heat.
What to Serve With Balsamic Glazed Chicken Thighs
We already included a hefty side of vegetables and legumes in this dish, so the side dish doesn't need to be too elaborate. Here are a few of our recommendations: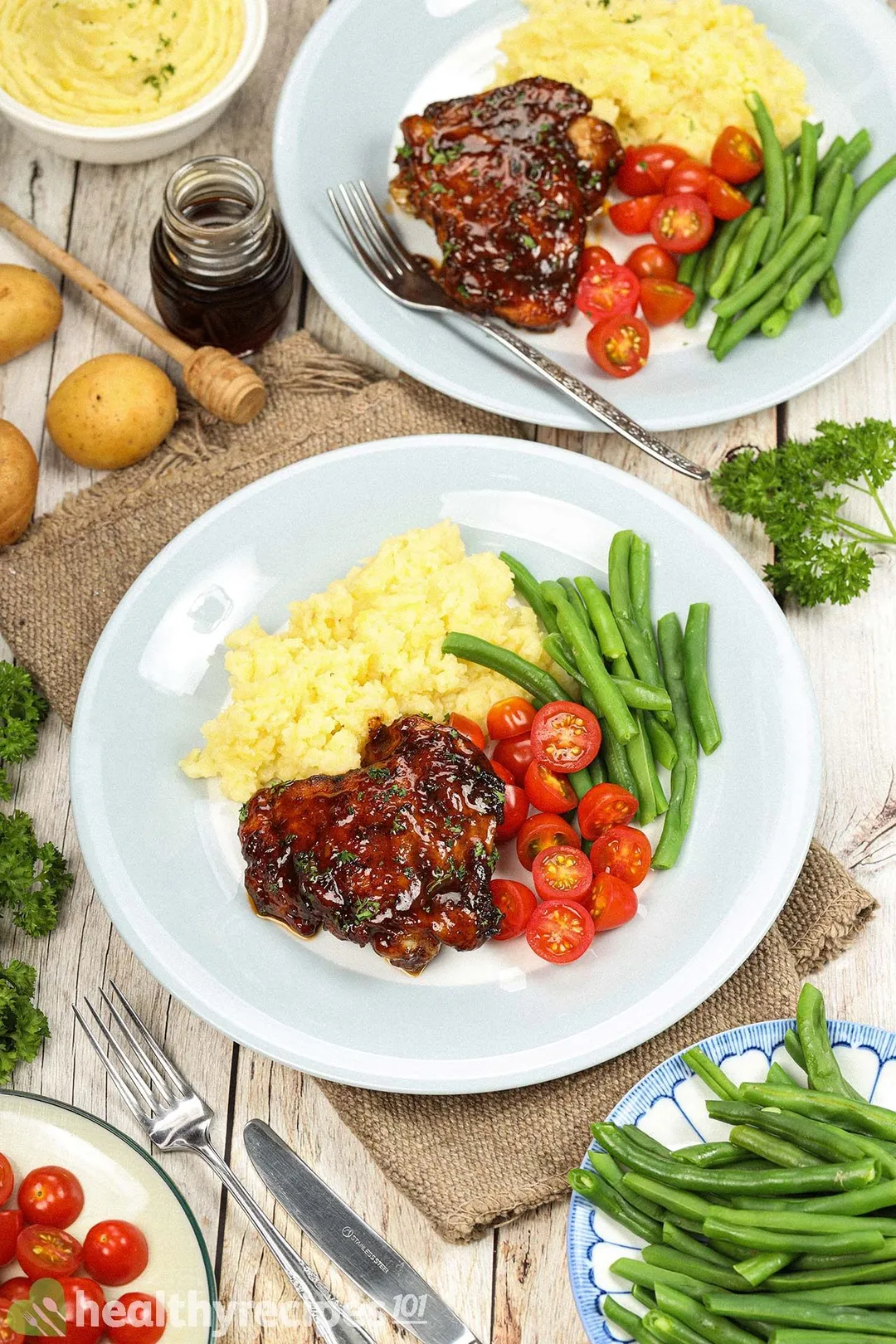 Delicious Chicken Skillets You Should Try This Week
Pan-seared chicken thighs may seem delicious already, but with this honey mustard chicken thighs recipe, they will be downright irresistible. The tender meat is cooked to golden brown perfection, then covered in a decadent honey mustard sauce that beautifully enriches its savory flavors.
This pineapple chicken recipe will take your taste buds on a tropical adventure. It's a stir-fried chicken and pineapple dish with colorful bell peppers served over a steaming bed of white rice, as the name suggests.
Balsamic Glazed Chicken Thighs
Whether it's a lavish feast or a casual weeknight dinner, this balsamic glazed chicken thighs recipe will undoubtedly make a perfect addition to your homemade meals.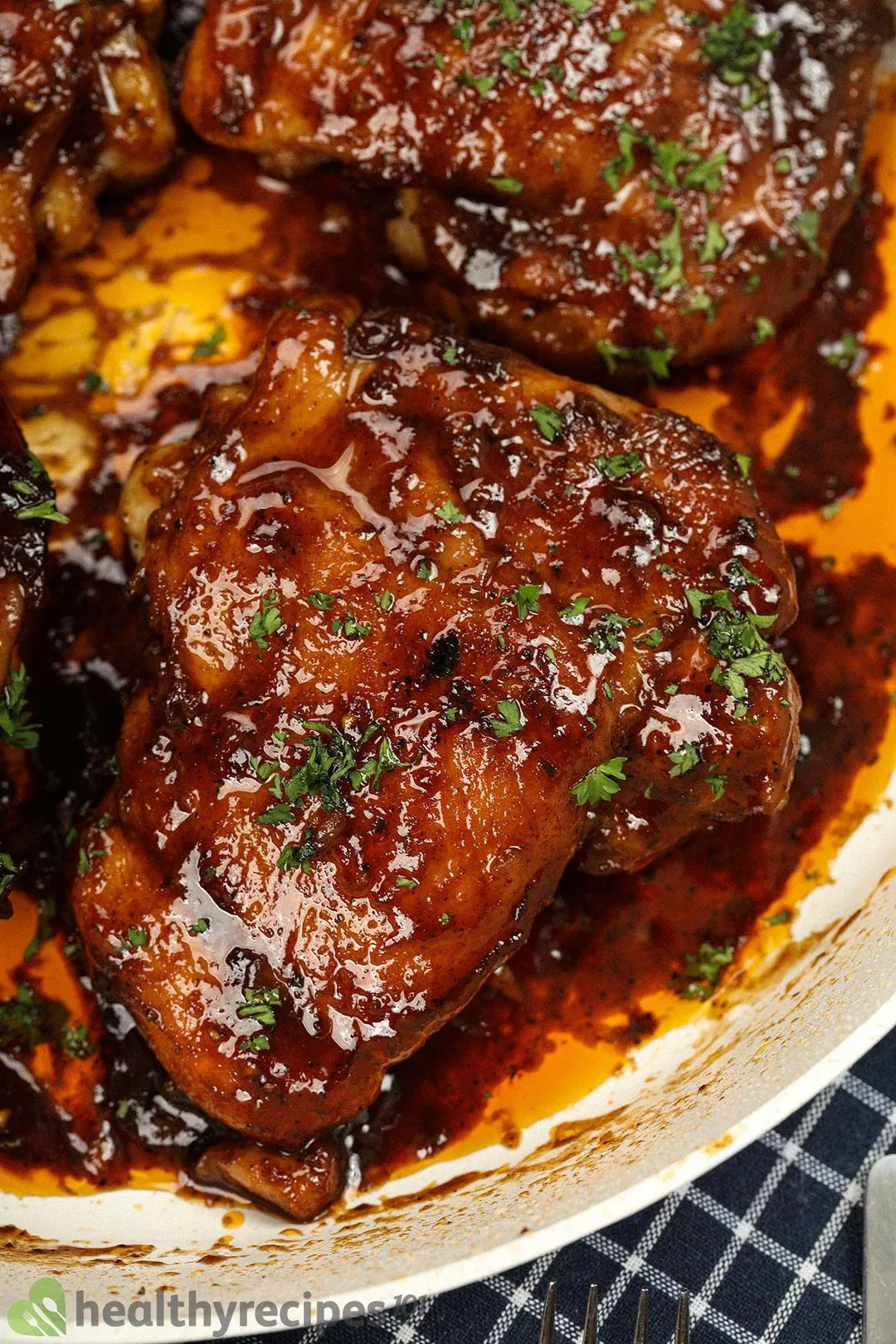 cook TIME

20 mins

prep TIME

5 mins

total TIME

25 mins
COURSE

Main Dish

CUISINE

American

SERVINGS

CALORIES

493 kcal
INGREDIENTS
20 oz

skinless chicken thigh

26 oz

potato

(sliced into large cubes)

8 oz

green bean

(ends removed)

8 oz

cherry tomato

(halved)

2 1/2 tbsp

olive oil

(divided)

1/2 tsp

ground black pepper
INSTRUCTIONS
Prep:
1
Slice the potatoes: Peel off the skin, cut the potato crosswise into 1-inch slices, then cut the slices into large cubes.
2
Mince the garlic: Separate the cloves then thinly slice them. Rock the knife over the sliced pieces a few times until they are finely minced.
3
Chop the parsley: Remove the stems then gather the leaves and thinly slice them. Rock the knife over the sliced pile a few times until they are finely chopped.
Cook:
1
Make the balsamic mixture: In a small bowl, mix 1/4 tsp salt, 1/2 tsp ground black pepper, 4 tbsp balsamic vinegar, 2 tbsp honey, 3 tbsp Heinz ketchup, 2 fl oz water, and 1/2 tsp dried oregano.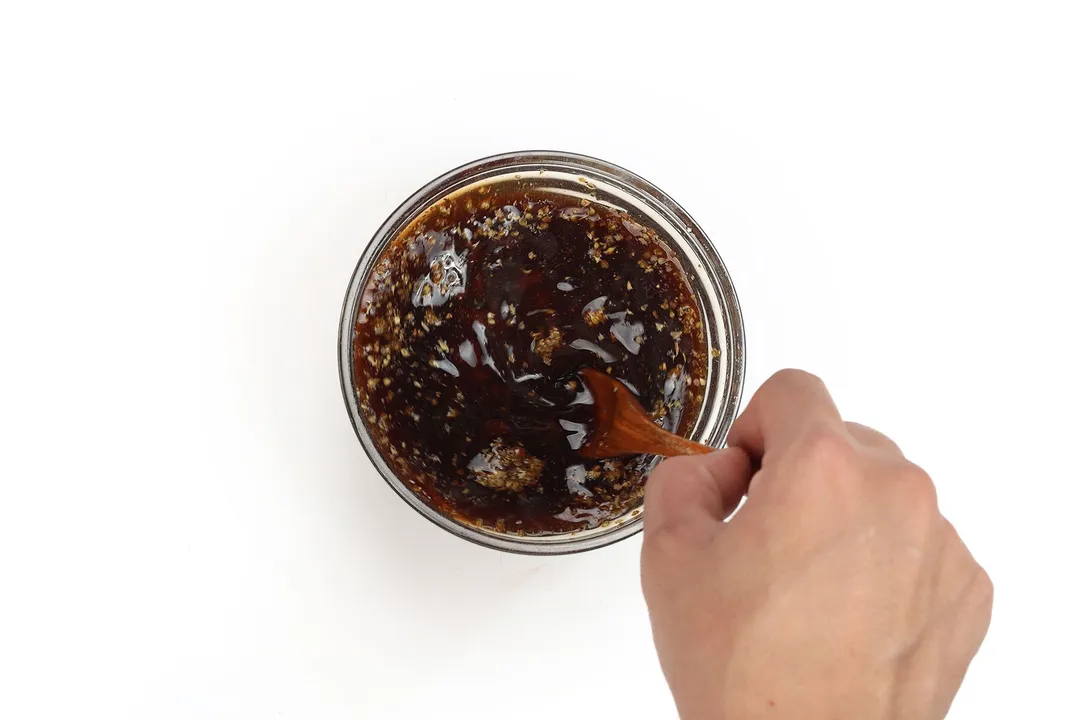 2
Microwave the green beans: In a microwave-safe bowl, add 8 oz green bean, and cover it with cling wrap. Microwave for 4 minutes then run them through cold or lukewarm water to keep them crisp and green.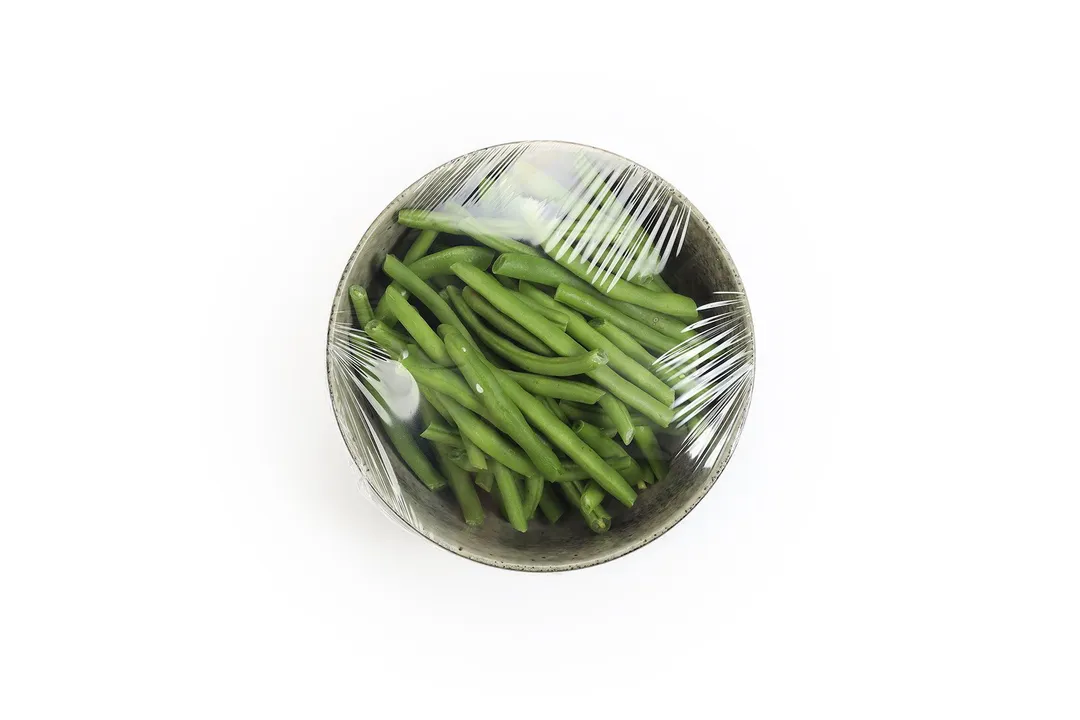 3
Microwave the potatoes: In a microwave-safe bowl, add 26 oz potato and cover it with cling wrap. Microwave for 10 minutes.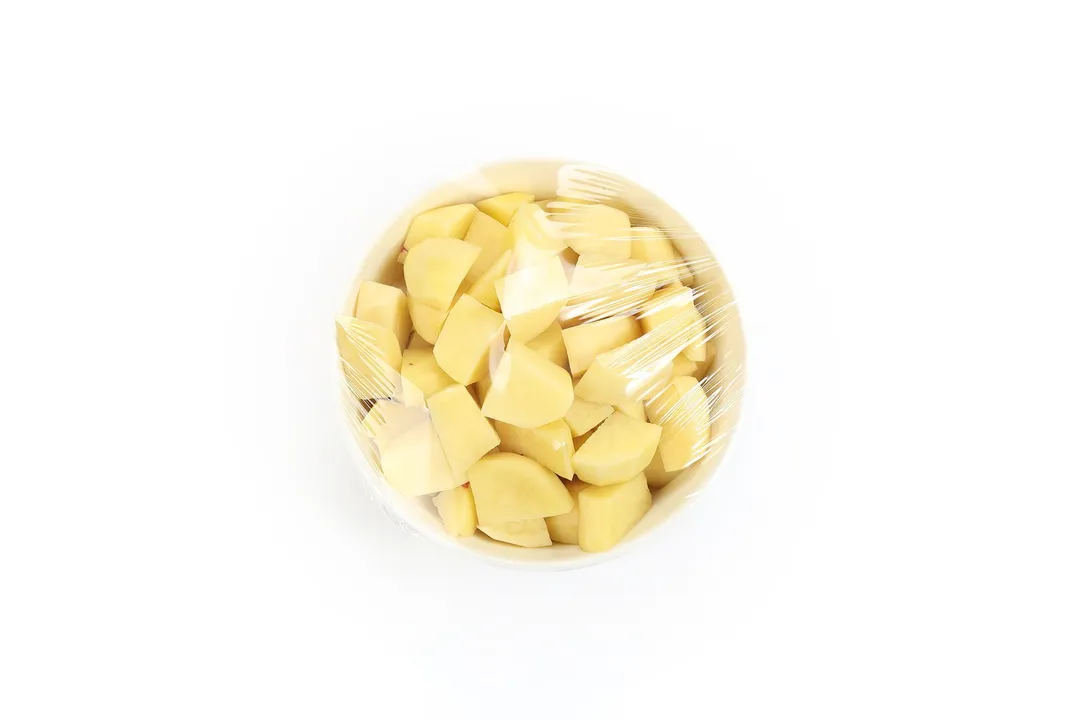 4
Season the chicken: Shallowly slice into 20 oz skinless chicken thighs to make small slits so the flesh can absorb the spice better. Dry rub 1 tsp paprika all over the chicken.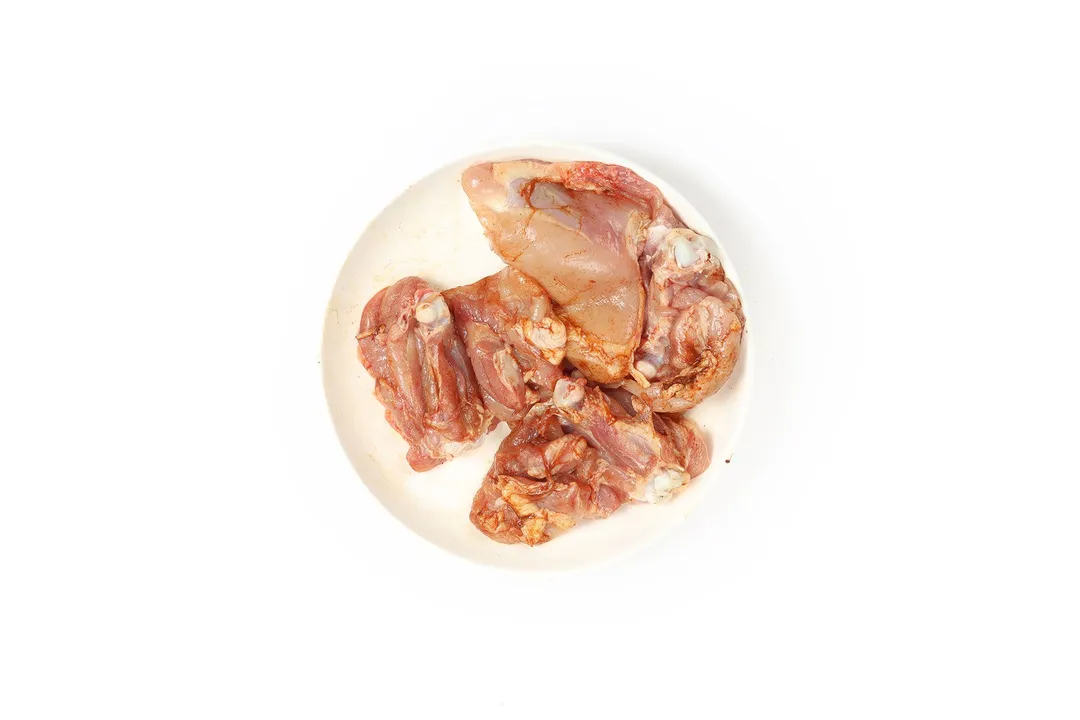 5
Pan-sear the chicken: In a pan over medium heat, pan-sear the seasoned chicken with 2 1/2 tbsp olive oil for 10 minutes until the outside is slightly charred.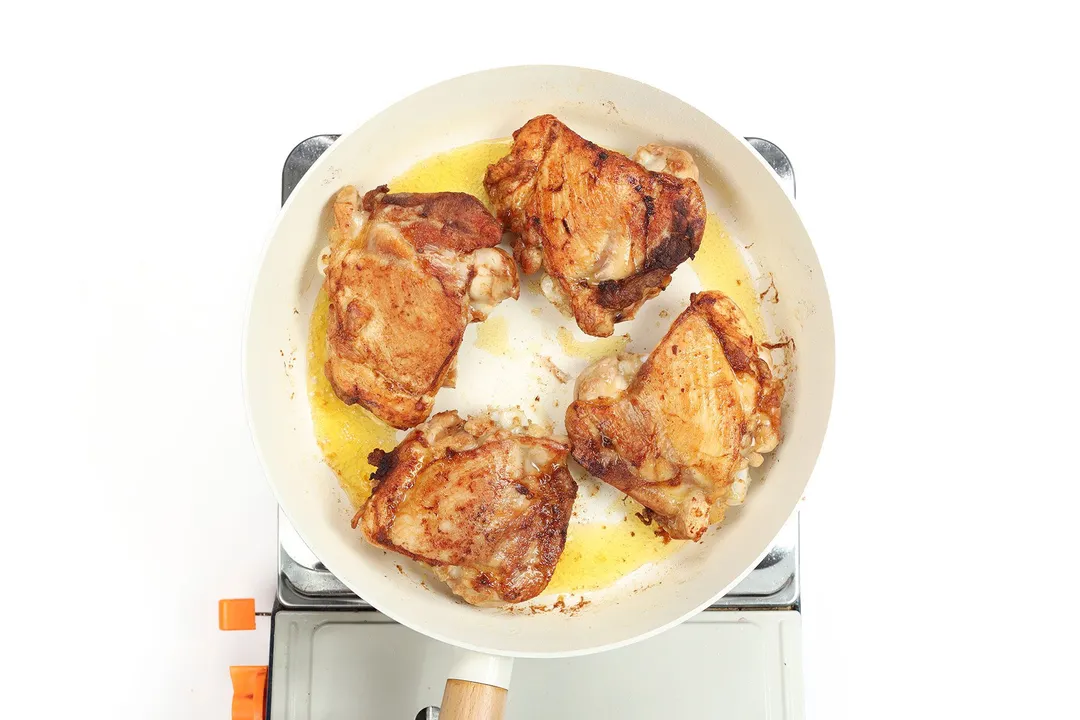 6
Make the glaze: Add 1 tbsp minced garlic to the pan and sauté for 30 seconds. Add the balsamic mixture then cook for another 3 minutes until it starts to thicken.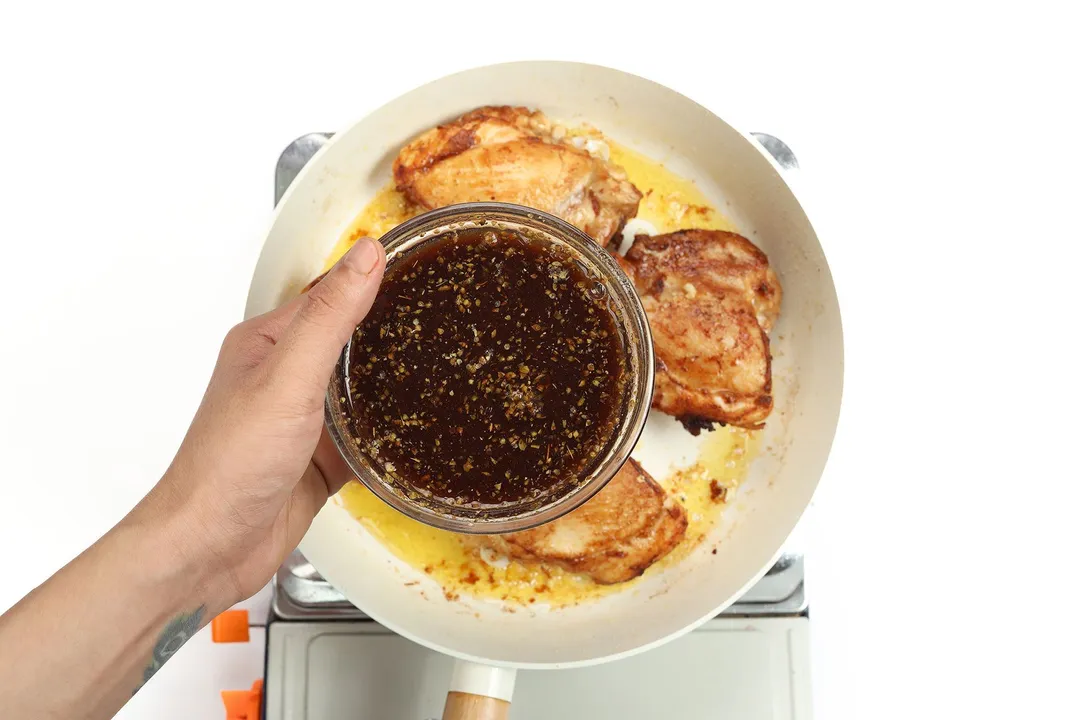 7
Mash the potatoes: Once the potatoes are done microwaving, mash them with 1 tbsp unsalted butter, 1/4 tsp salt, and 1/2 tbsp olive oil until creamy.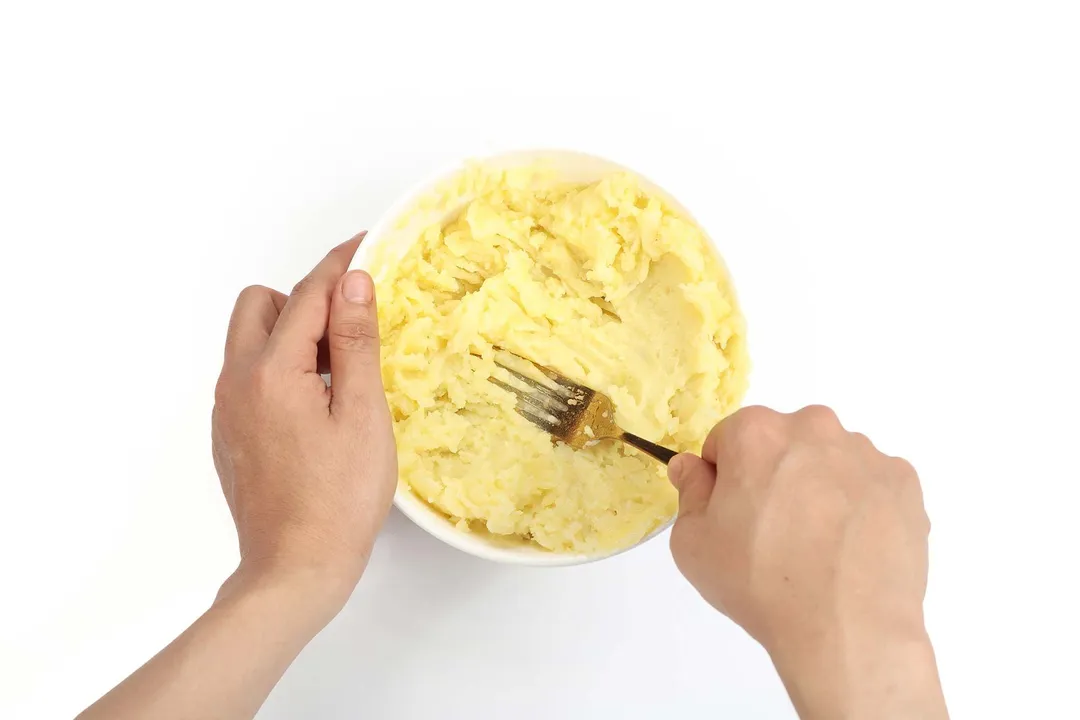 8
Garnish and serve: Transfer the chicken onto serving plates alongside the mashed potatoes, cooked green beans, and 8 oz cherry tomato. Garnish with 2 tbsp parsley and serve hot.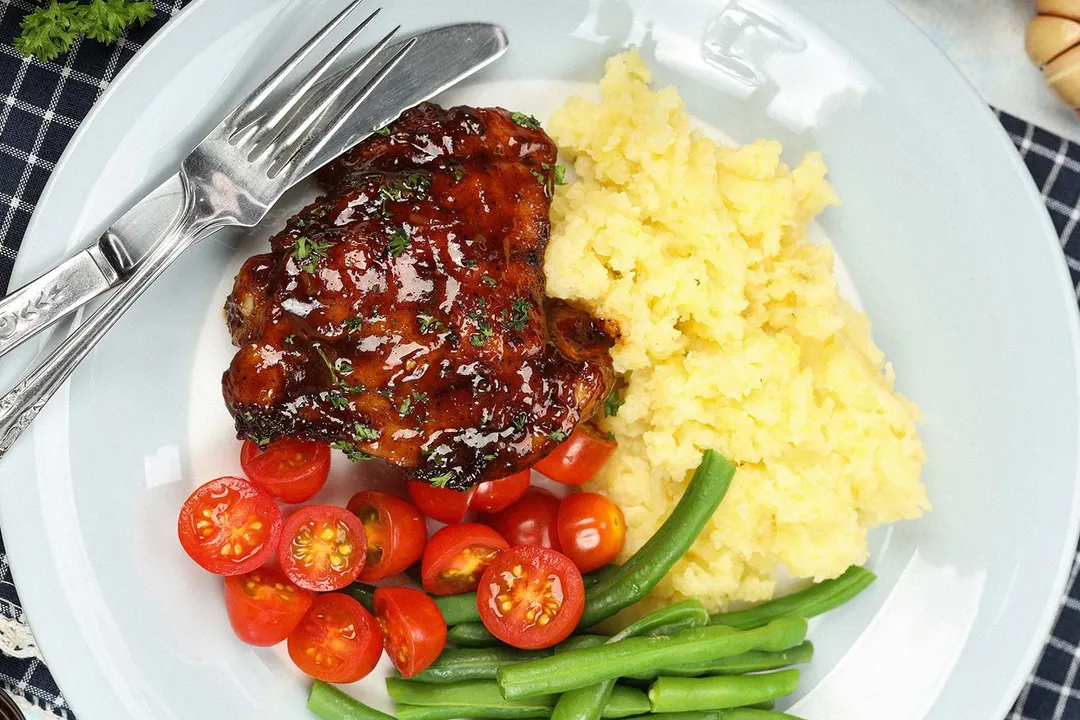 NUTRITION
Nutrition Facts
Balsamic Glazed Chicken Thighs
Amount Per Serving (1 serving)
Calories 493
Calories from Fat 162
% Daily Value*
* Percent Daily Values are based on a 2000 calorie diet.
Keywords: balsamic glazed chicken thighs, balsamic glazed chicken thighs recipe, how to make balsamic glazed chicken thighs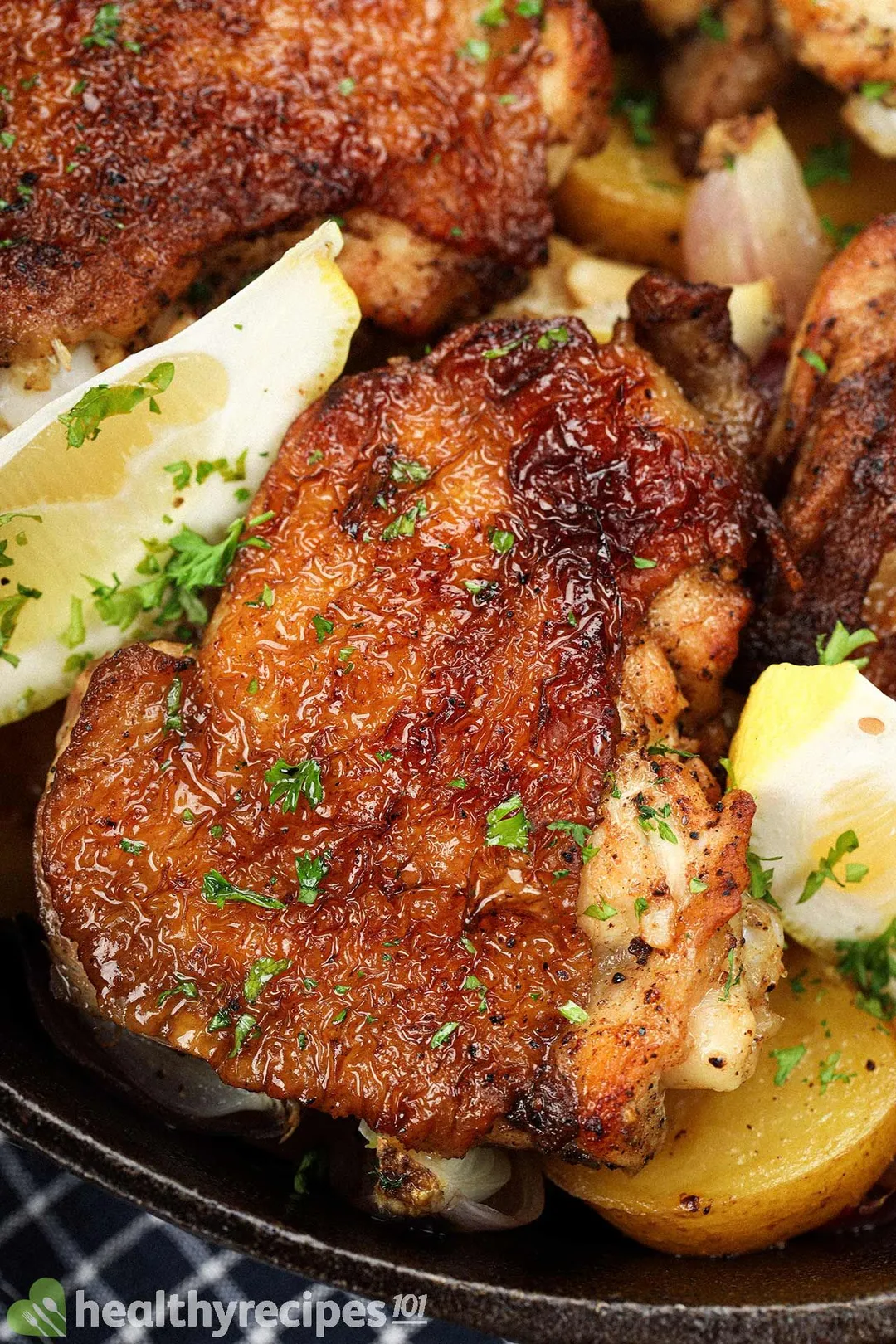 Previous Recipe
Braised Chicken
Braised Chicken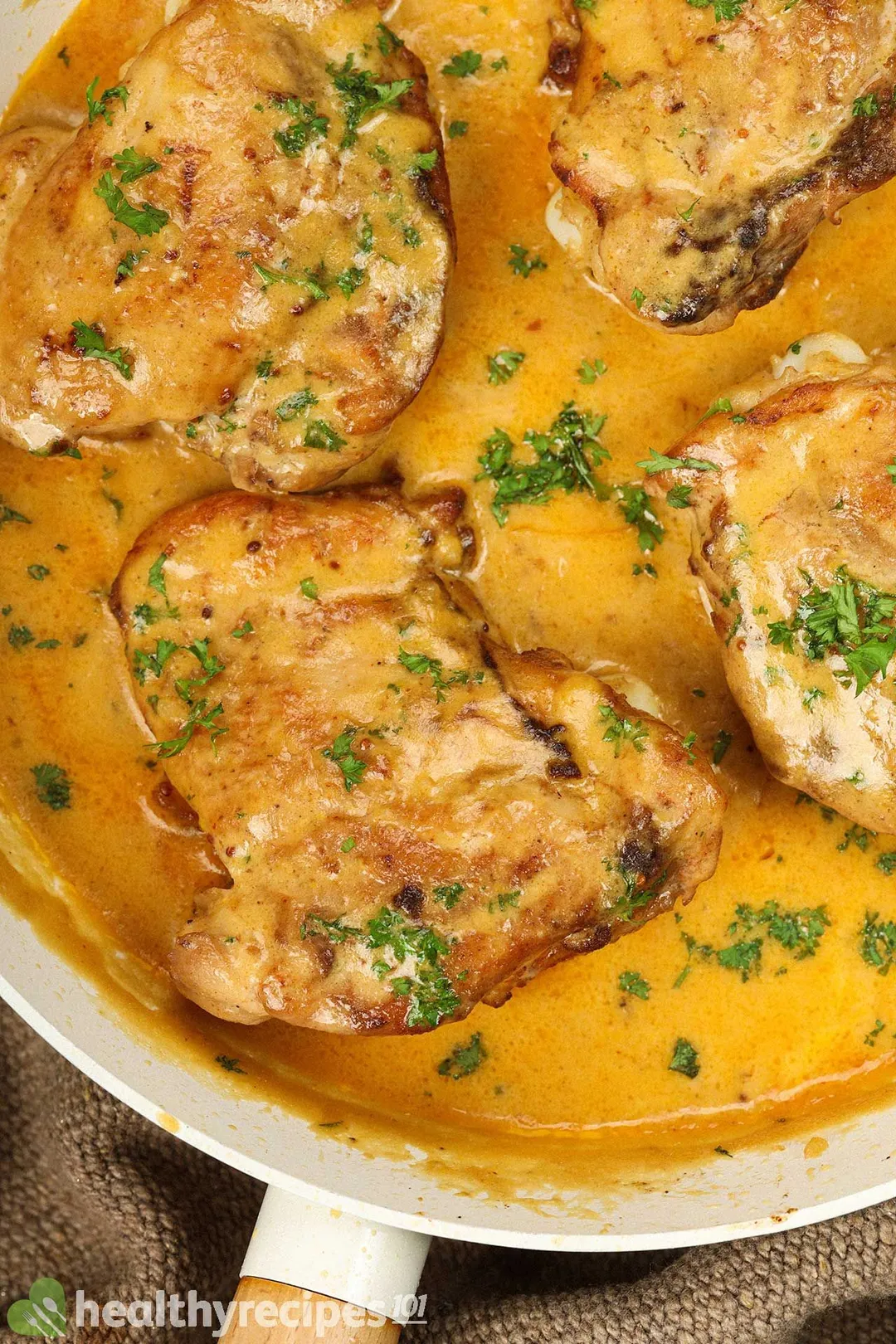 Next Recipe
Honey Mustard Chicken Thighs
Honey Mustard Chicken Thighs
Head Chef, Culinary Consultant
Tuyet Pham is an award-winning Saigonese chef who believes that joy is the secret ingredient to delicious food. At Healthy Recipes 101, Tuyet personally tests and simplifies every recipe, ensuring maximum flavor with minimal effort. With a background at prestigious French restaurants P'TI Saigon and Le Corto, Tuyet knows how to make every dish exceptional.
Writer, Author
Luna Regina is an accomplished writer and author who dedicates her career to empowering home cooks and making cooking effortless for everyone. She is the founder of HealthyKitchen101.com and HealthyRecipes101.com, where she works with her team to develop easy, nutritious recipes and help aspiring cooks choose the right kitchen appliances.
Absolutely delicious! Garlic and thyme adds an extra layer of flavor that makes this dish truly irresistible.

Flavorful balsamic glazed chicken.