Today's paprika chicken recipe is a fitting choice for a chilly winter night. Originating in Hungary, this dish uses various seasonings to make a unique sauce for chicken.
For the most authentic experience, our recipe features most of the ingredients in the original dish. Paprika chicken may be a bit peculiar or even intense at first, but we believe the Hungarian charm of this dish will turn you around and leave you wanting more.
What Does Paprika Chicken Taste Like?
The dish is paprika chicken, and you can be sure its namesake dictates the overall flavor profile.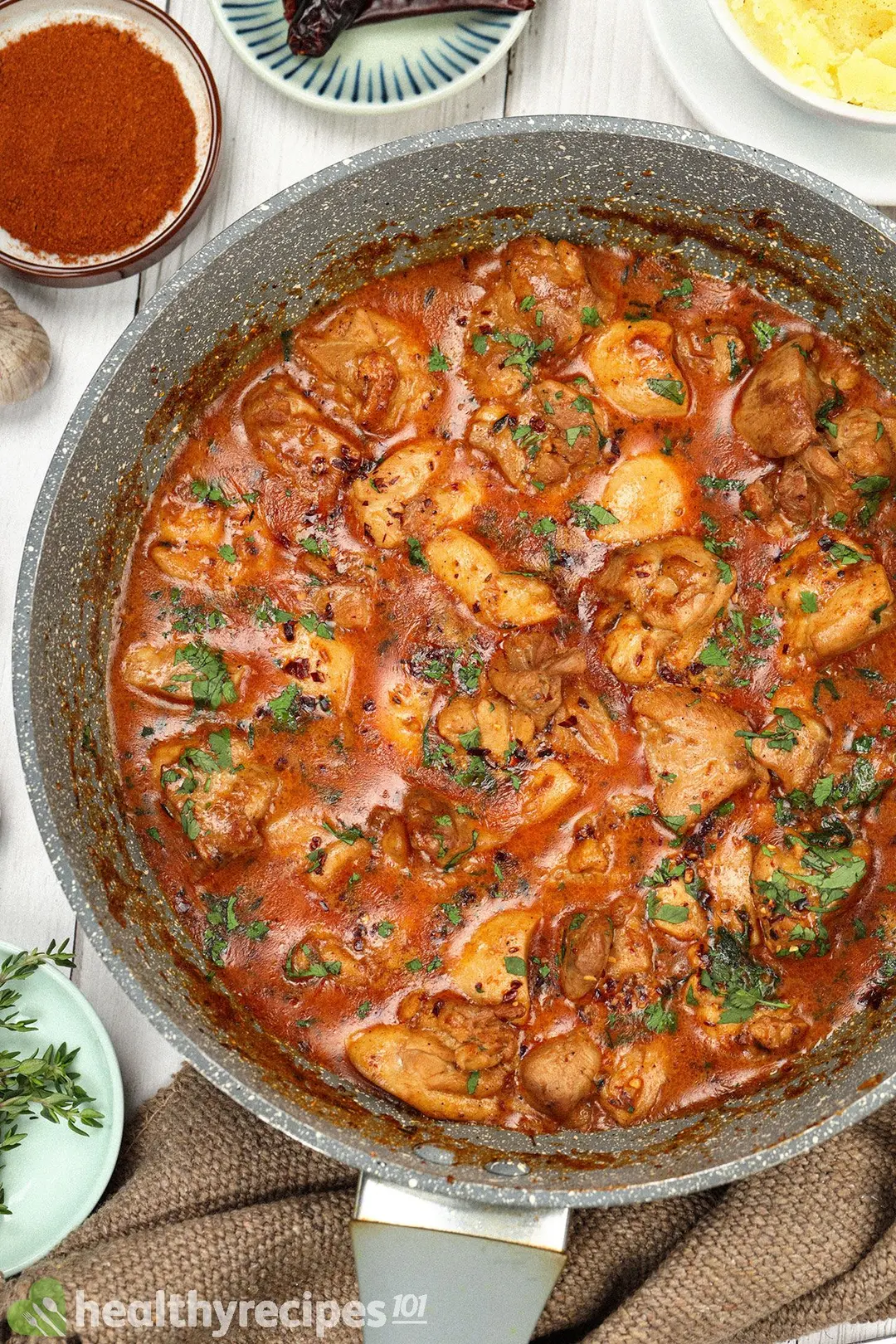 Paprika chicken is spicy due to many hot ingredients like chili powder, red pepper flakes, and paprika. The intensity can be a bit too much for some people, which is why this dish is especially fitting for cold weather.
On the other hand, heavy cream gives the sauce a soothing effect that nicely balances out the heat.
Is Paprika Chicken Healthy?
Yes, paprika chicken is healthy.
This dish has only 461 calories and 6.4 g of saturated fat in each serving, which are decent numbers for a dish with a creamy sauce. Following suit, the amount of sodium is kept to 576 mg per serving. All nutrients in this recipe are kept within the limits of our nutrition guidelines.
Thanks to the chicken thighs, there are 37.7 g of lean protein in each serving. Meanwhile, potatoes add some much-needed fiber, vitamins, and minerals to this dish.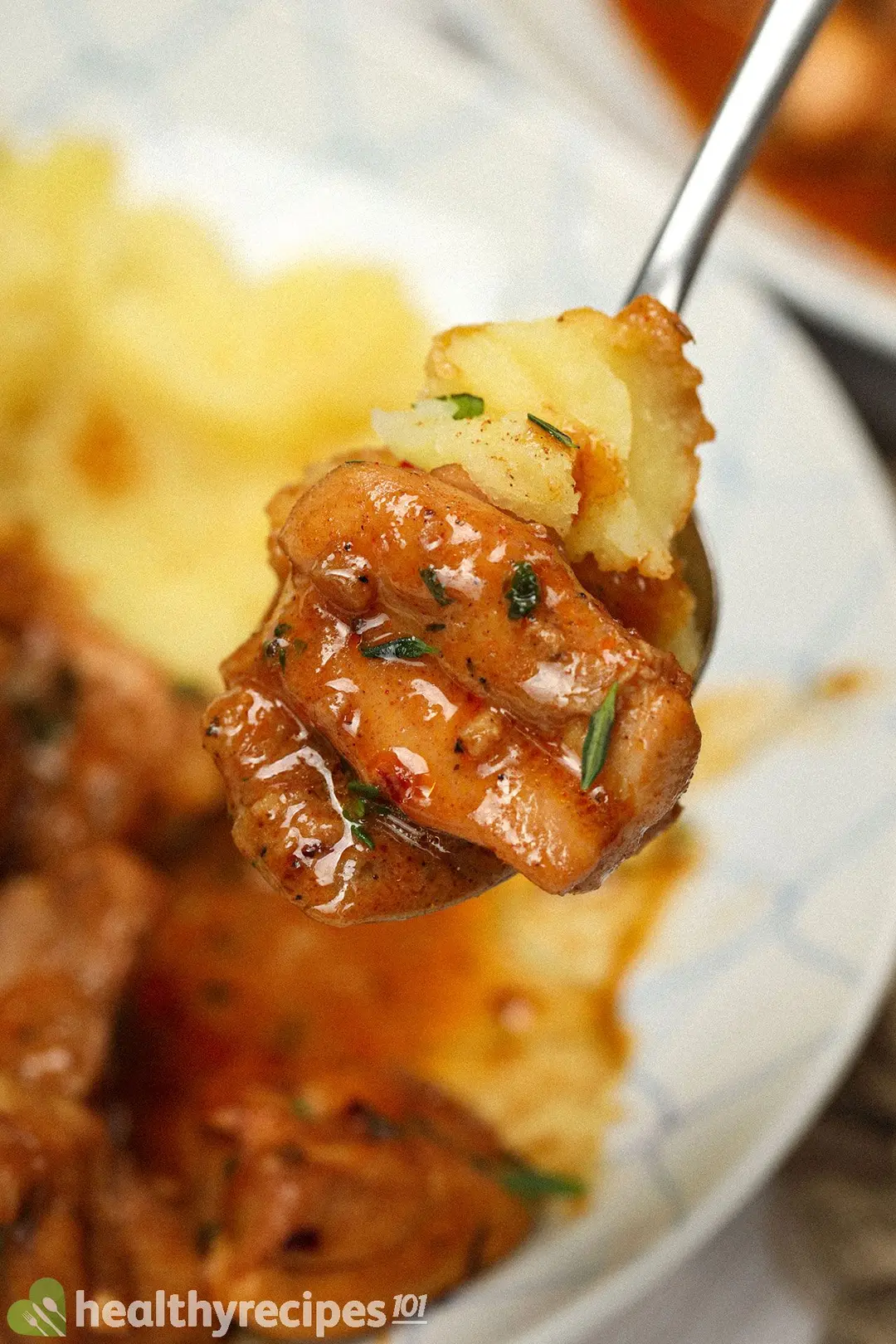 Ingredients for Paprika Chicken
Our choice for this recipe is skinless boneless chicken thighs for their tenderness. However, you can make paprika chicken with any other cut. Keeping the chicken's moisture won't be a problem because you're cooking it in a broth.
The sauce is made from the seasoning and broth. The seasoning blend for the chicken includes white wine, paprika, Cajun seasoning, dried oregano, red pepper flakes, chili powder, salt, and pepper. As evidenced by the list, this sauce is spicy, but we can assure you that the flavors are more layered on the plate.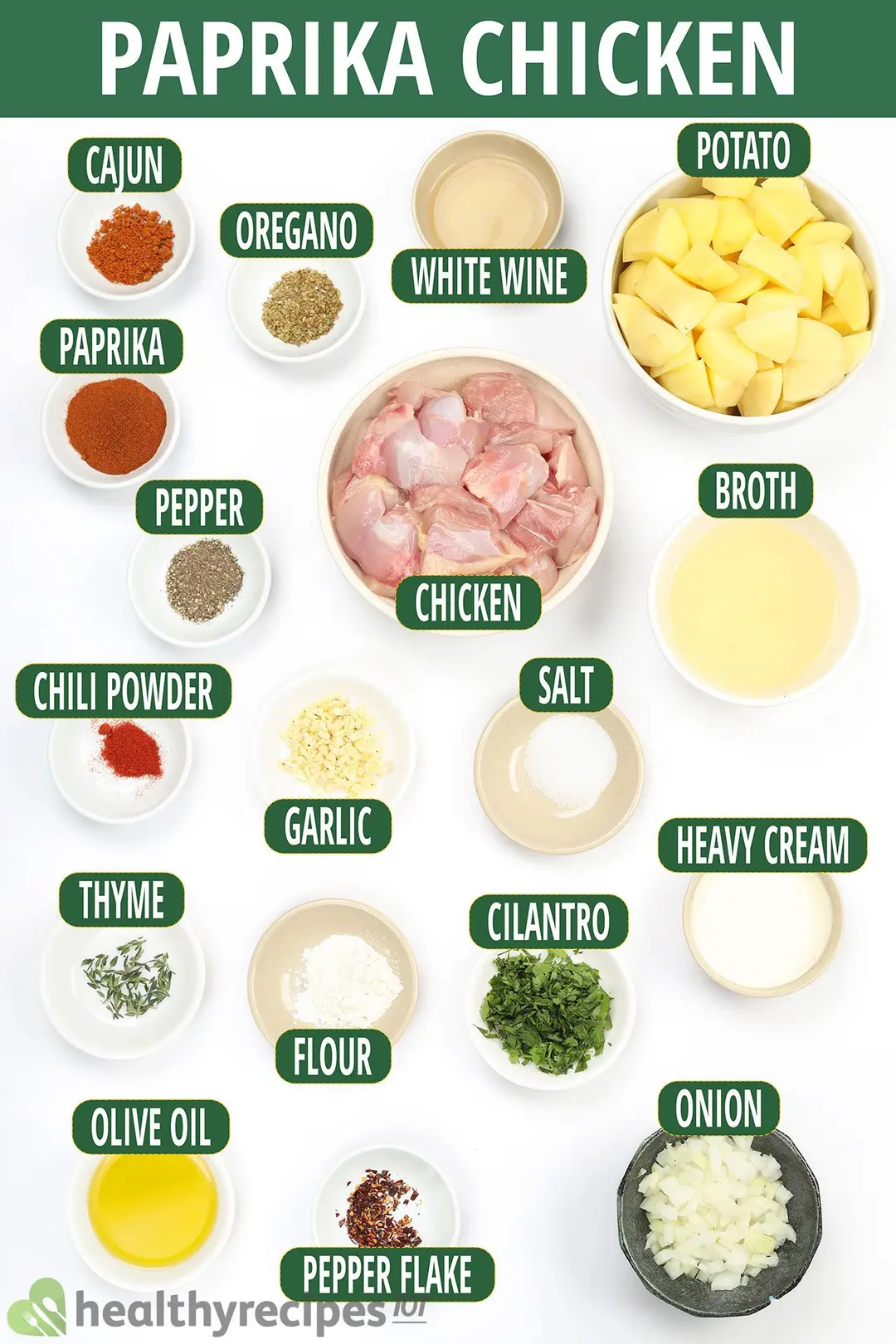 Chicken broth and heavy cream come in to balance out the spiciness. These two ingredients combine to give the sauce a thicker consistency and soothing creaminess.
Some types of starch work incredibly well with the paprika sauce, so for this recipe, we go with mashed potatoes. Not only do they add fiber to the meal, but mashed potatoes can also absorb the sauce, making them more flavorful. Therefore, there's no need to add any seasoning to the potatoes.
How to Store and Reheat Leftovers
Chicken paprika should last for 3 to 4 days in the fridge and up to 3 months in the freezer. Make sure to transfer the leftovers to an airtight container before storing them.
You can reheat the dish in the microwave or on the stovetop. Reheat on medium-low heat to ensure that the sauce doesn't break. Stir frequently while heating and remove from the heat when warm through.
Add a few tbsp of chicken broth into the leftovers if the sauce gets too thin.
What to Serve With Paprika Chicken
A fresh salad will be perfect alongside this paprika chicken. These are our recommendations.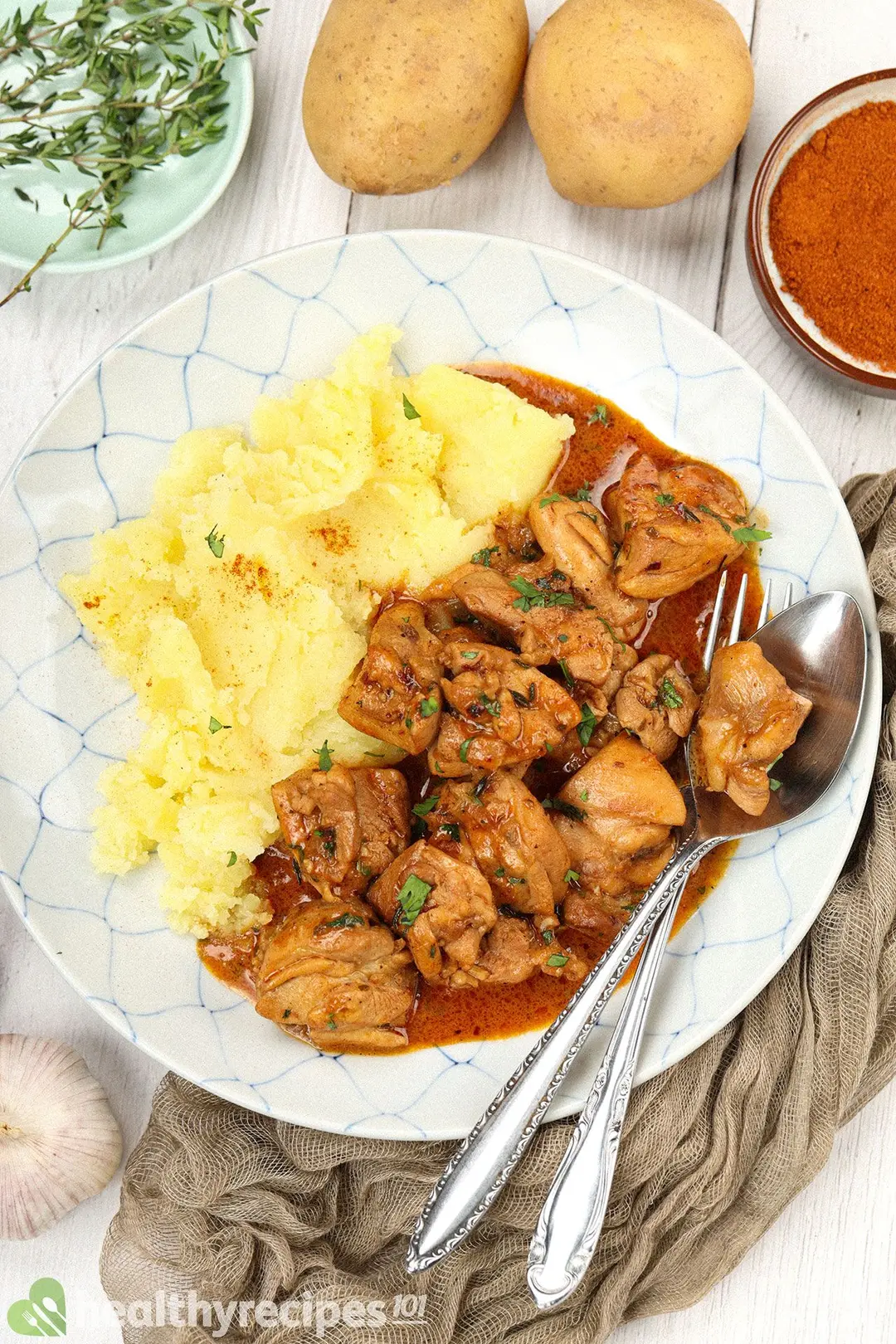 Paprika Chicken Recipe
Our paprika chicken recipe helps you make a simple and homey Hungarian chicken dish with a creamy and aromatic sauce.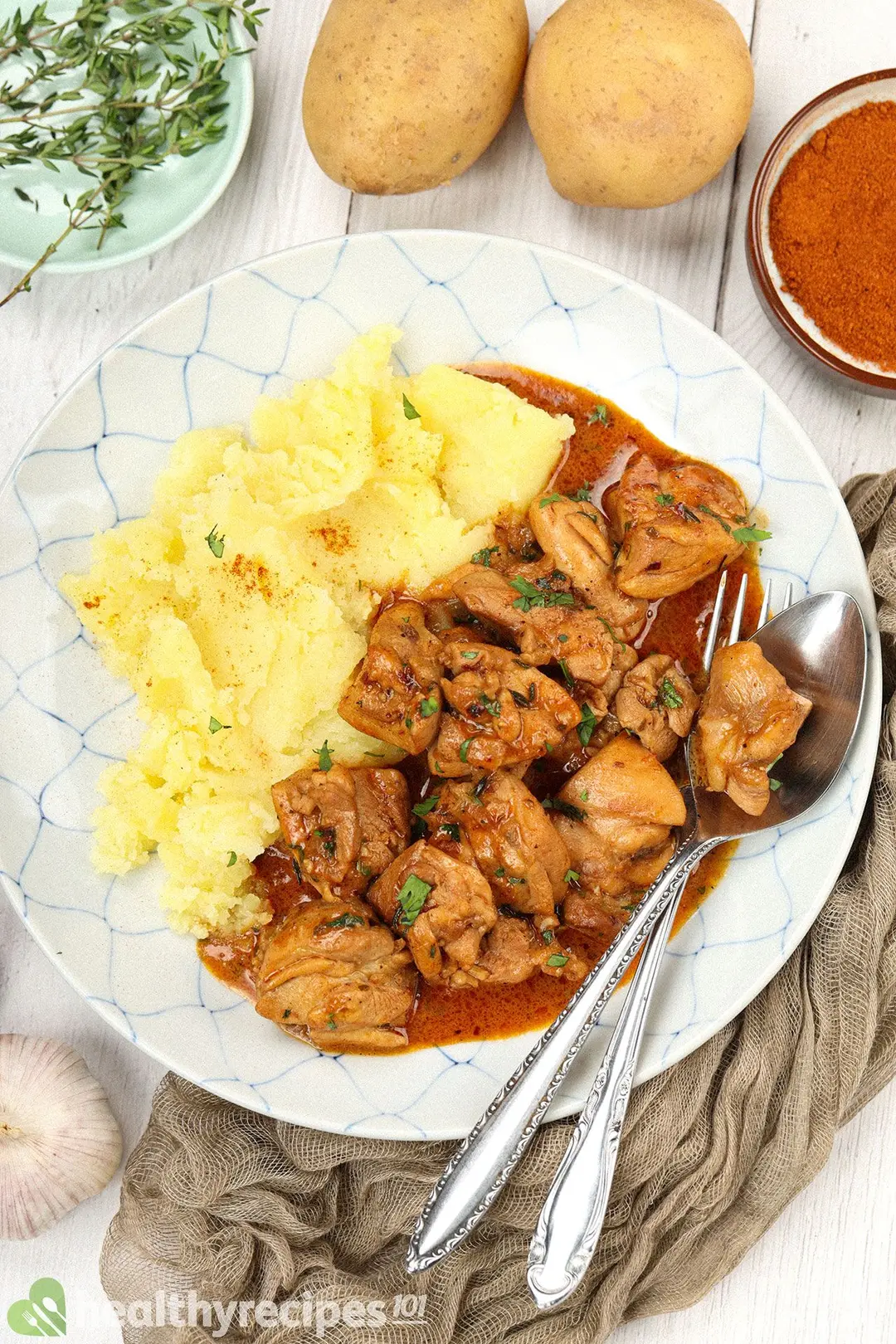 cook TIME

38 mins

prep TIME

7 mins

total TIME

45 mins
COURSE

Main

CUISINE

Global

SERVINGS

servings

CALORIES

461 kcal
INGREDIENTS
24 oz

skinless boneless chicken thighs cut into chunks

24 oz

potatoes cut into cubes

2 tbsp

olive oil

1 tbsp

garlic minced

2 oz

onion chopped

0.5 tsp

thyme

0.5 tbsp

all-purpose flour

1 fl oz

white wine

1 tbsp

paprika

1 tsp

Cajun seasoning

1 tsp

dried oregano

0.5 tsp

salt

0.5 tsp

ground black pepper

0.3 tsp

chili powder

0.5 cup

unsalted chicken broth

4 tbsp

heavy cream

0.3 cup

cilantro finely chopped

0.5 tsp

red pepper flakes
INSTRUCTIONS
Prep:
1
Cut the chicken: Cut the pieces of chicken thighs into large equal chunks.
2
Cut the potatoes: Peel the potatoes. Cut them into 1/4-inch slices, cut the slices into fingers, and cut the fingers into cubes.
3
Mince the garlic: Slice off the root part of the cloves and peel the skin. Mince them with a garlic mincer or a knife.
4
Chop the onions: Cut the onion in half and peel the skin. Keeping the root intact, make a crosshatch pattern on the onion half with horizontal and vertical cuts. Slice the onion half to get even cubes.
5
Chop the cilantro: Bunch the cilantro together and chop finely.
Cook:
1
Microwave the potatoes: Put 24 oz potatoes in a large bowl. Cover it with plastic wrap and microwave for 12 minutes.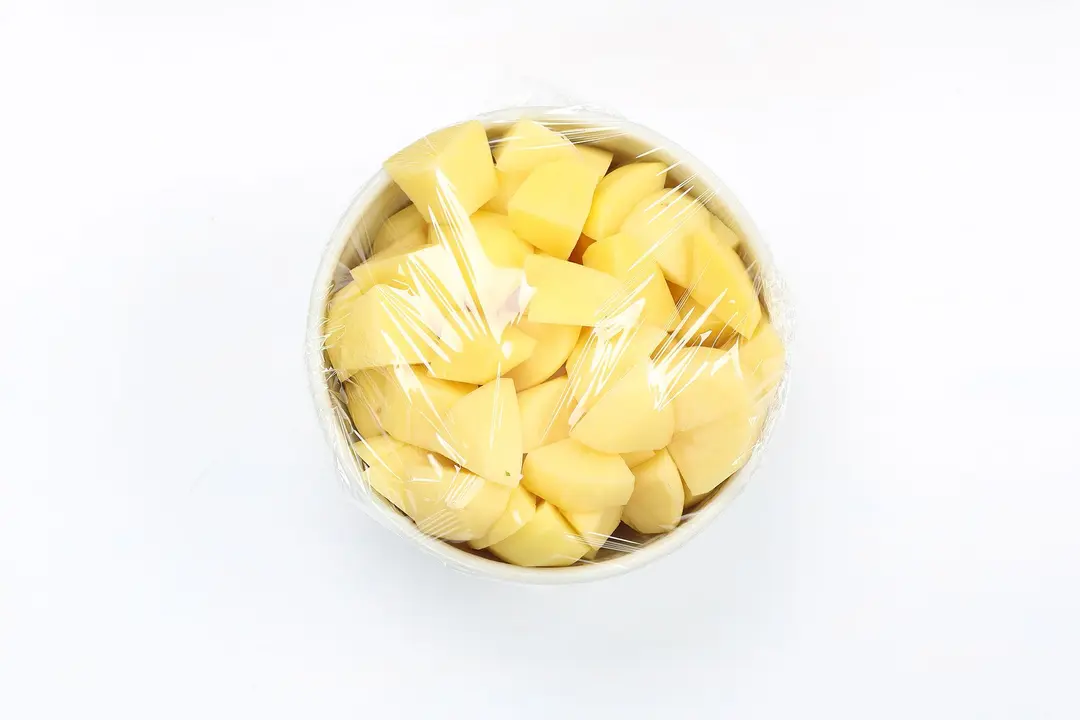 2
Caramelize the garlic and onion: Meanwhile, prepare a hot pan over medium heat. Add 2 tbsp olive oil, 1 tbsp garlic, 2 oz onion, and 1/2 tsp thyme. Stir for 1 minute to caramelize.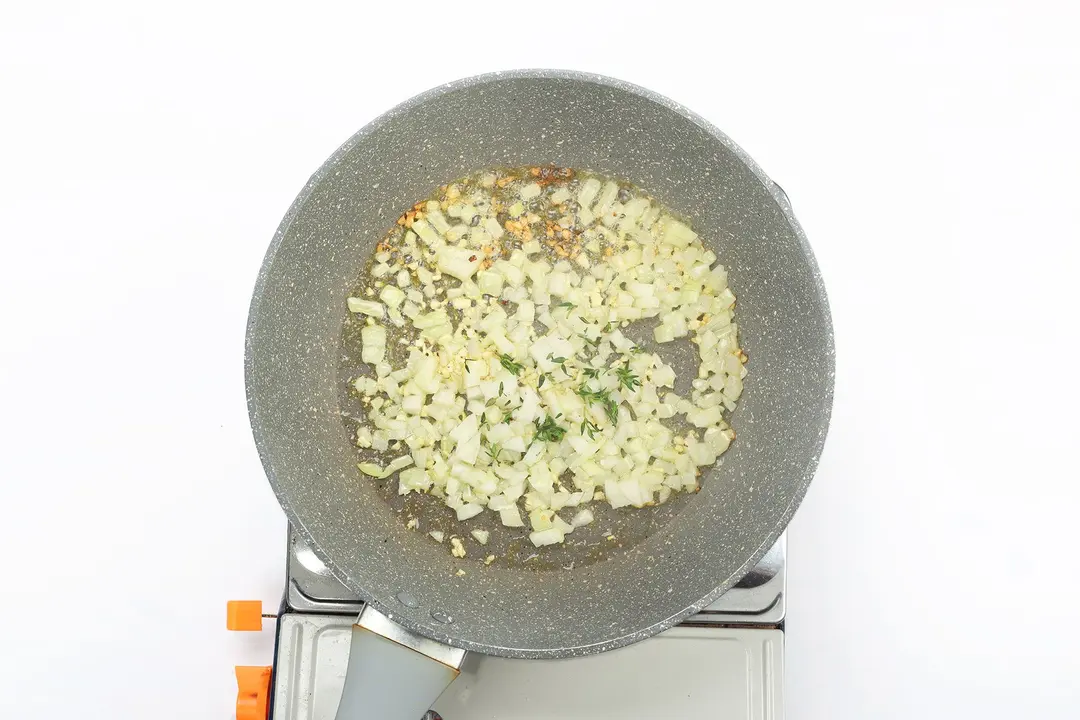 3
Stir in the flour: Add 1/2 tbsp of all-purpose flour to the caramelized garlic and onion. Stir for 30 seconds.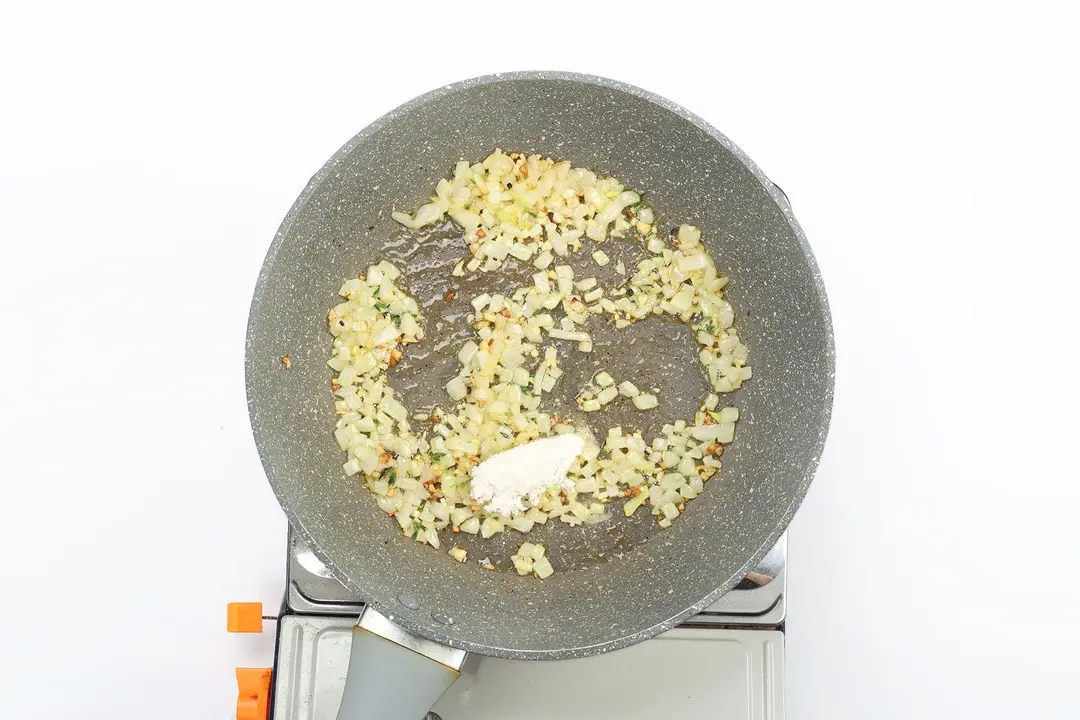 4
Sauté the chicken: Add 24 oz chicken thighs and sauté for 5 minutes.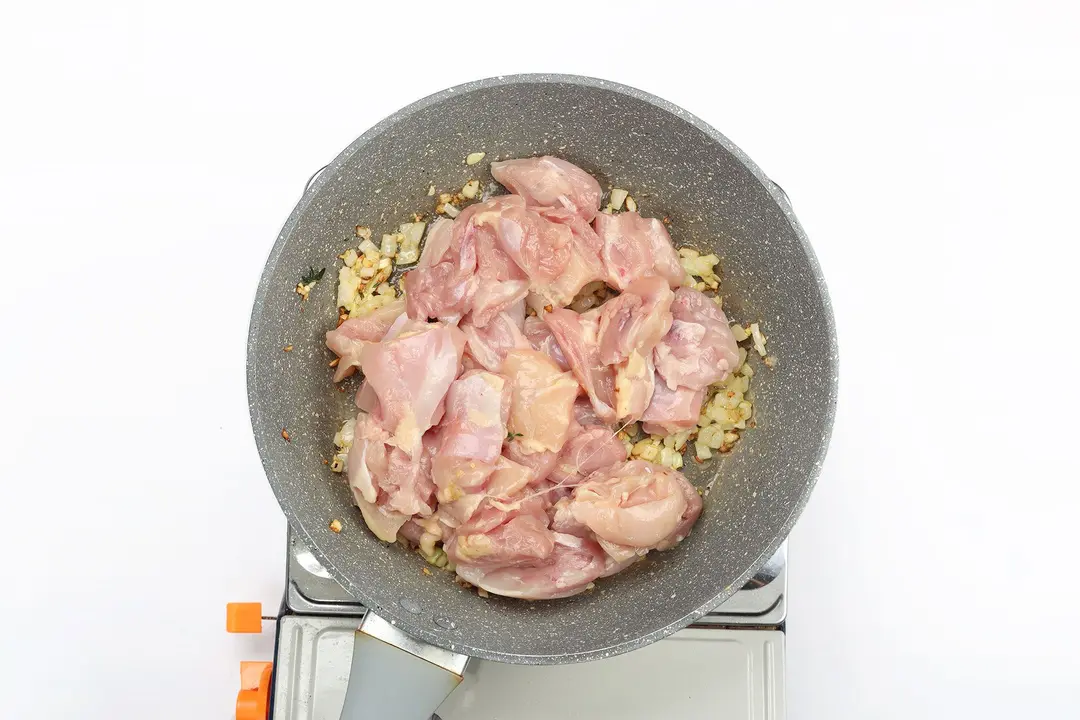 5
Season the chicken: Add 1 fl oz white wine, 1 tbsp paprika, 1 tsp Cajun seasoning, 1 tsp dried oregano, 1/2 tsp salt, 1/2 tsp ground black pepper, and 1/4 tsp chili powder. Stir for 2 minutes to combine.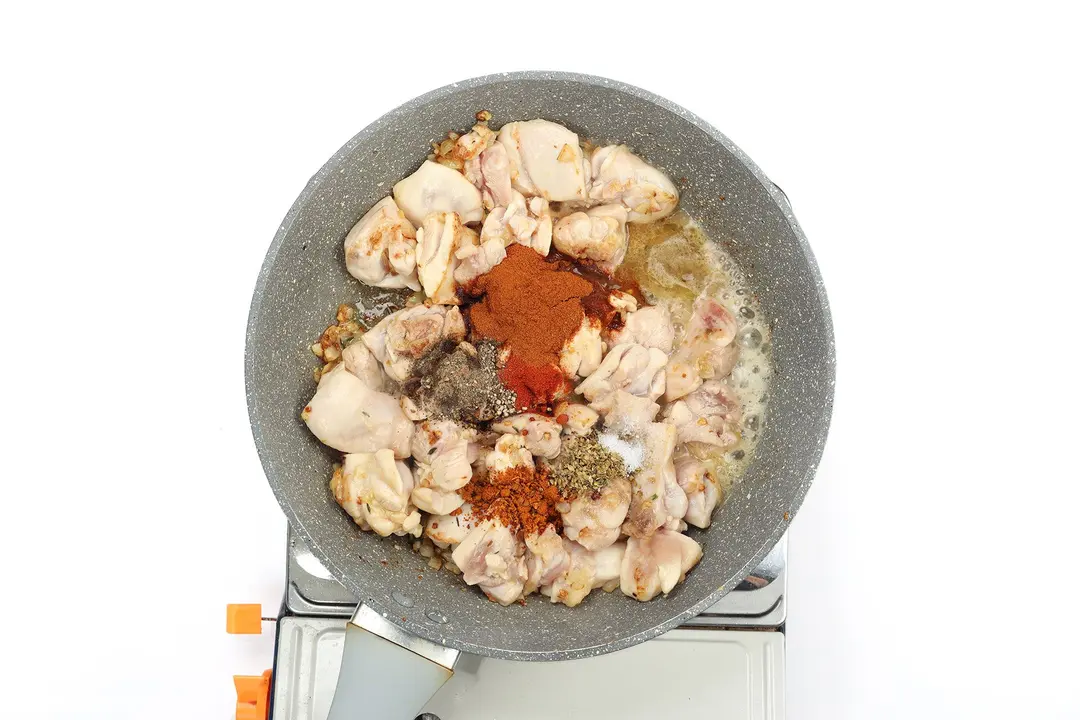 6
Cook the chicken in the broth: Add 1/2 cup of unsalted chicken broth and 4 tbsp heavy cream. Let the chicken cook over low heat for 10 minutes.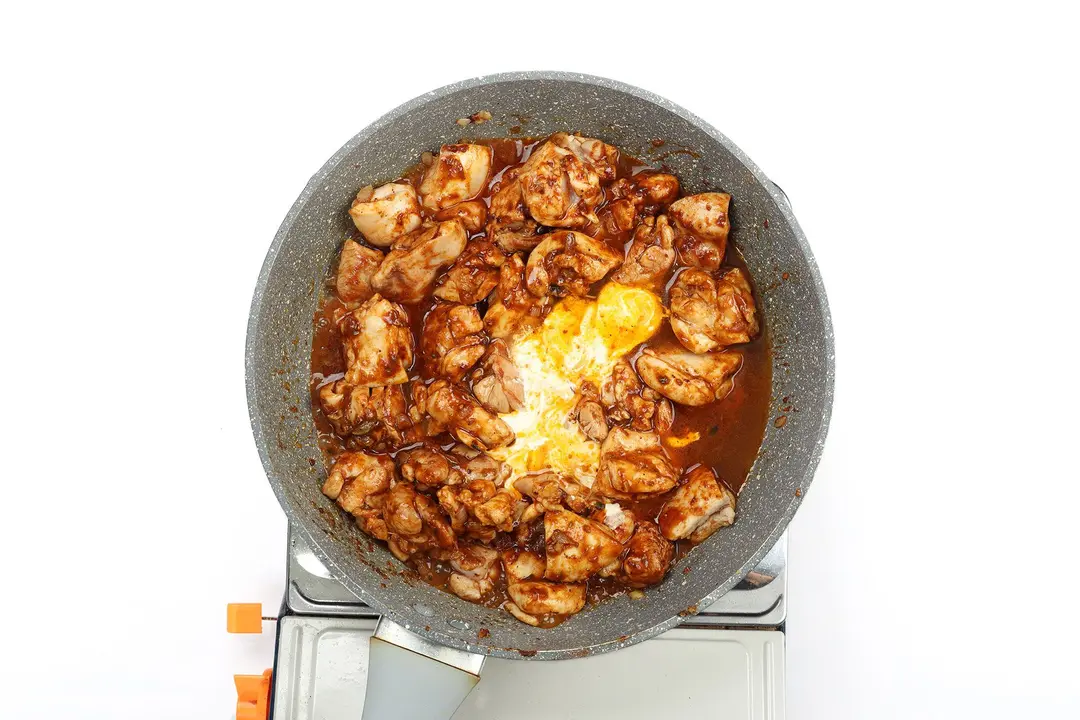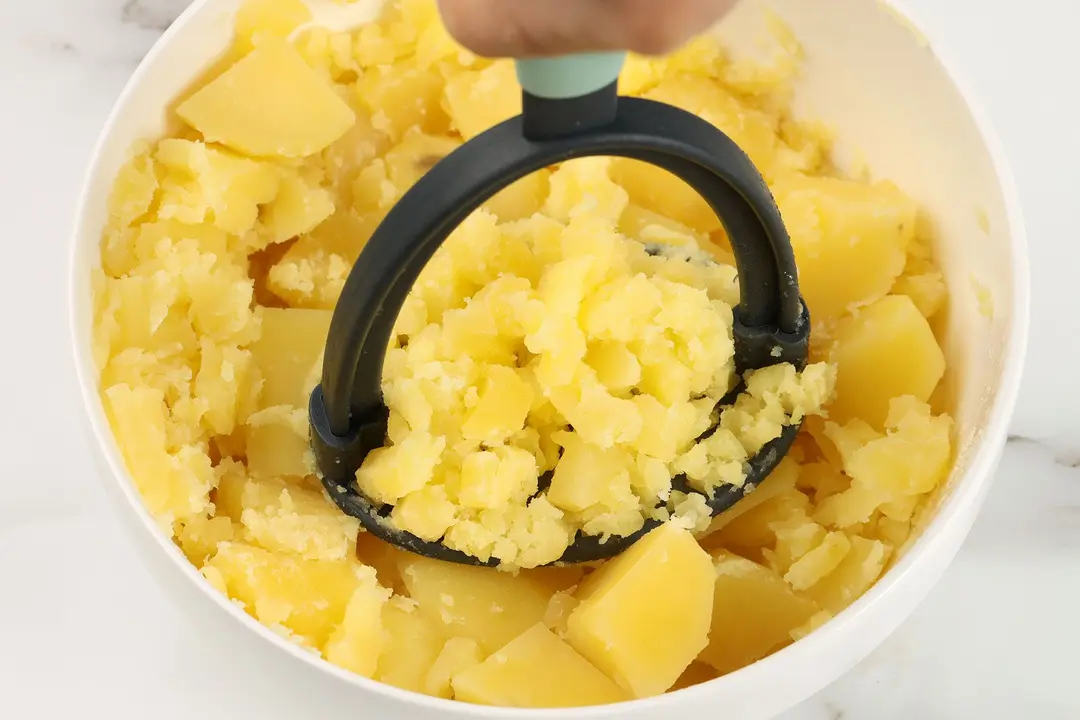 8
Garnish and serve: Sprinkle with 1/4 cup of cilantro and 1/2 tsp red pepper flakes. Serve the chicken in the sauce with the mashed potatoes.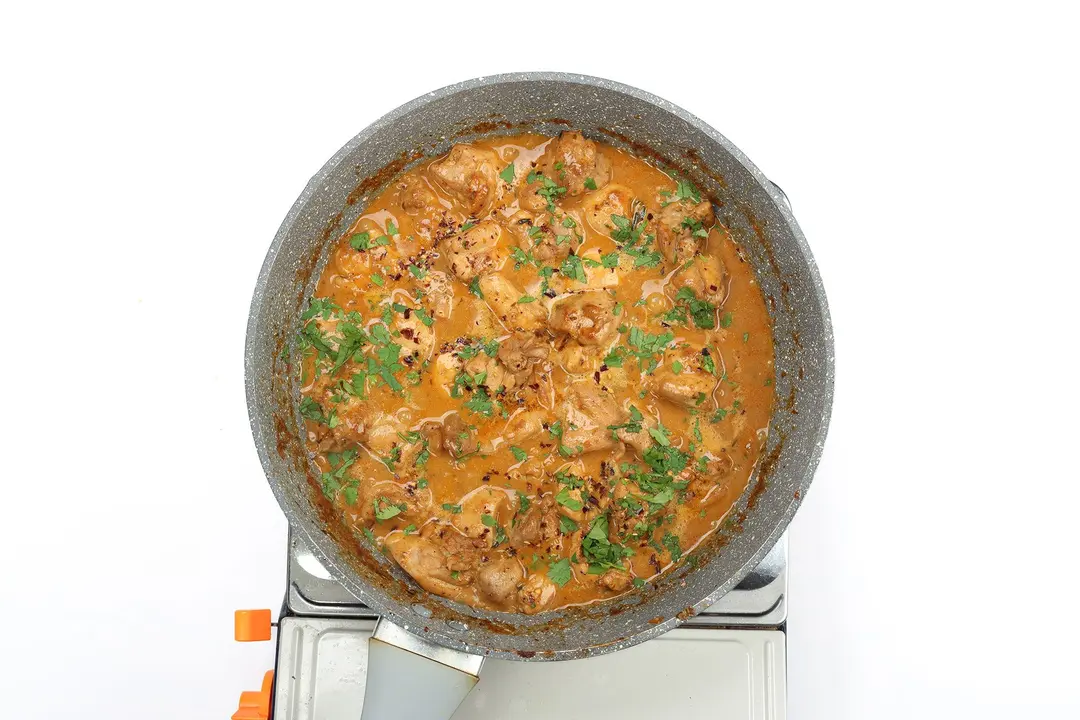 NUTRITION
Nutrition Facts
Paprika Chicken Recipe
Amount Per Serving (1 serving)
Calories 461
Calories from FDA
% Daily Value*
* Percent Daily Values are based on a 2000 calorie diet.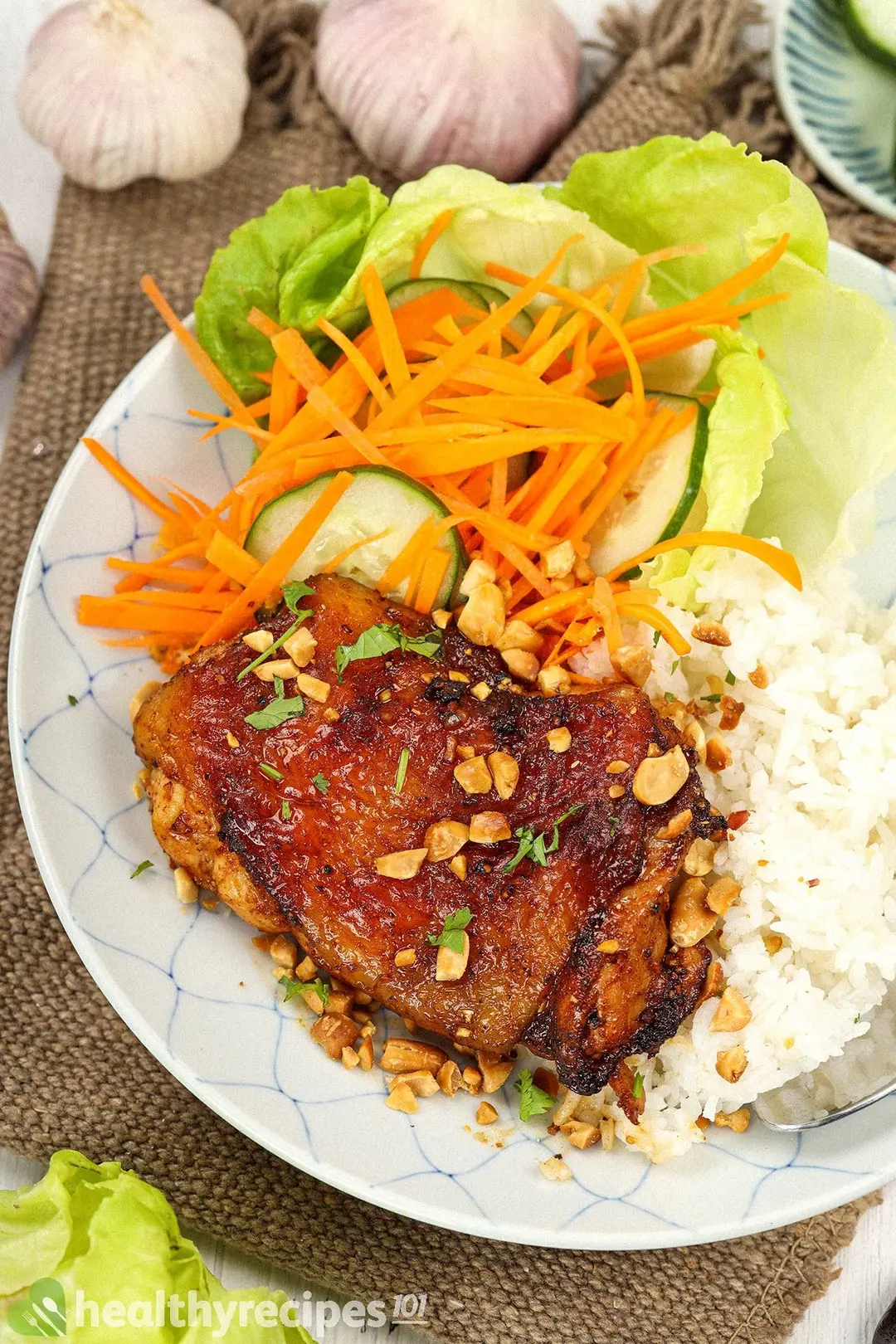 Previous Recipe
Thai Chicken
Thai Chicken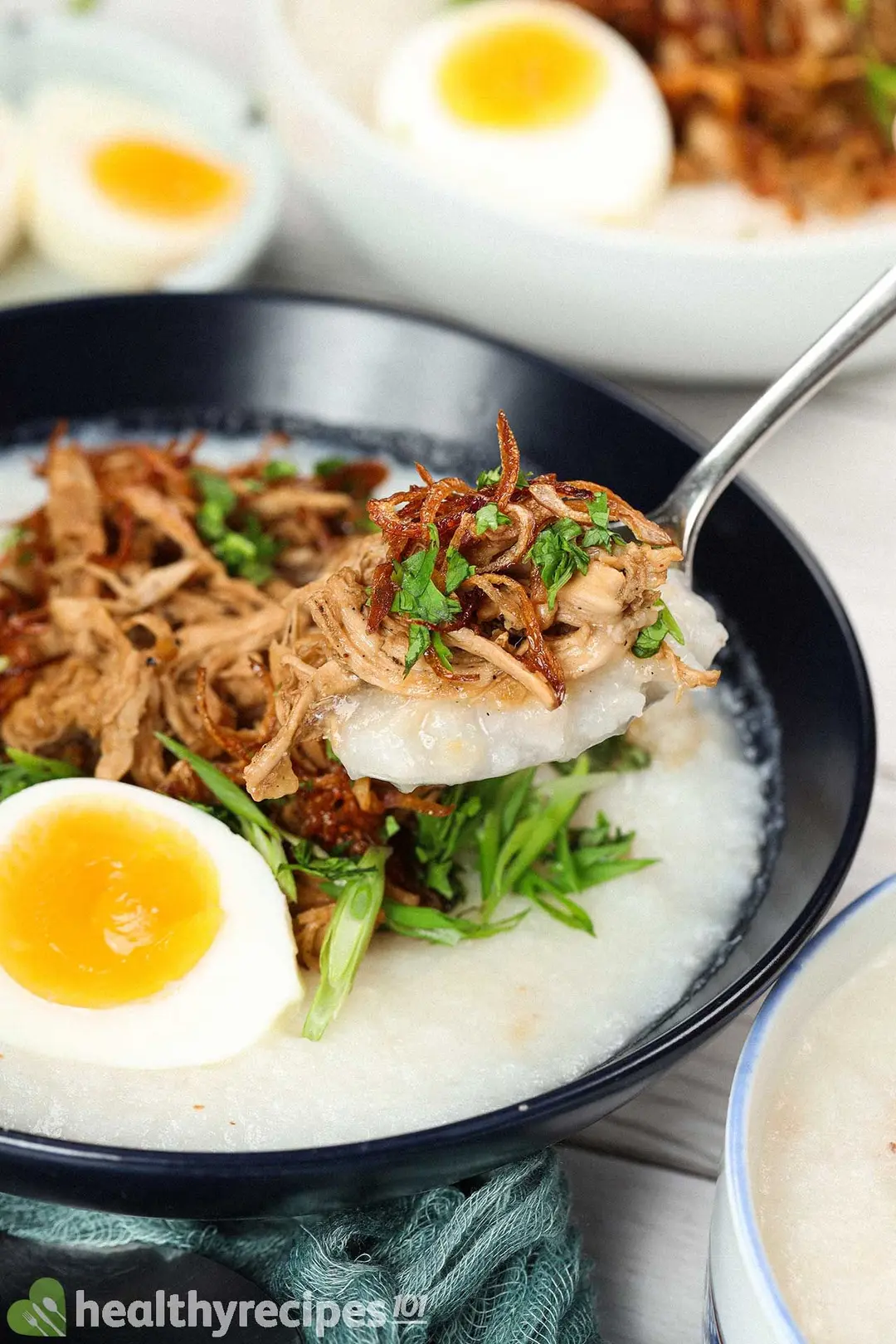 Next Recipe
Chicken Congee
Chicken Congee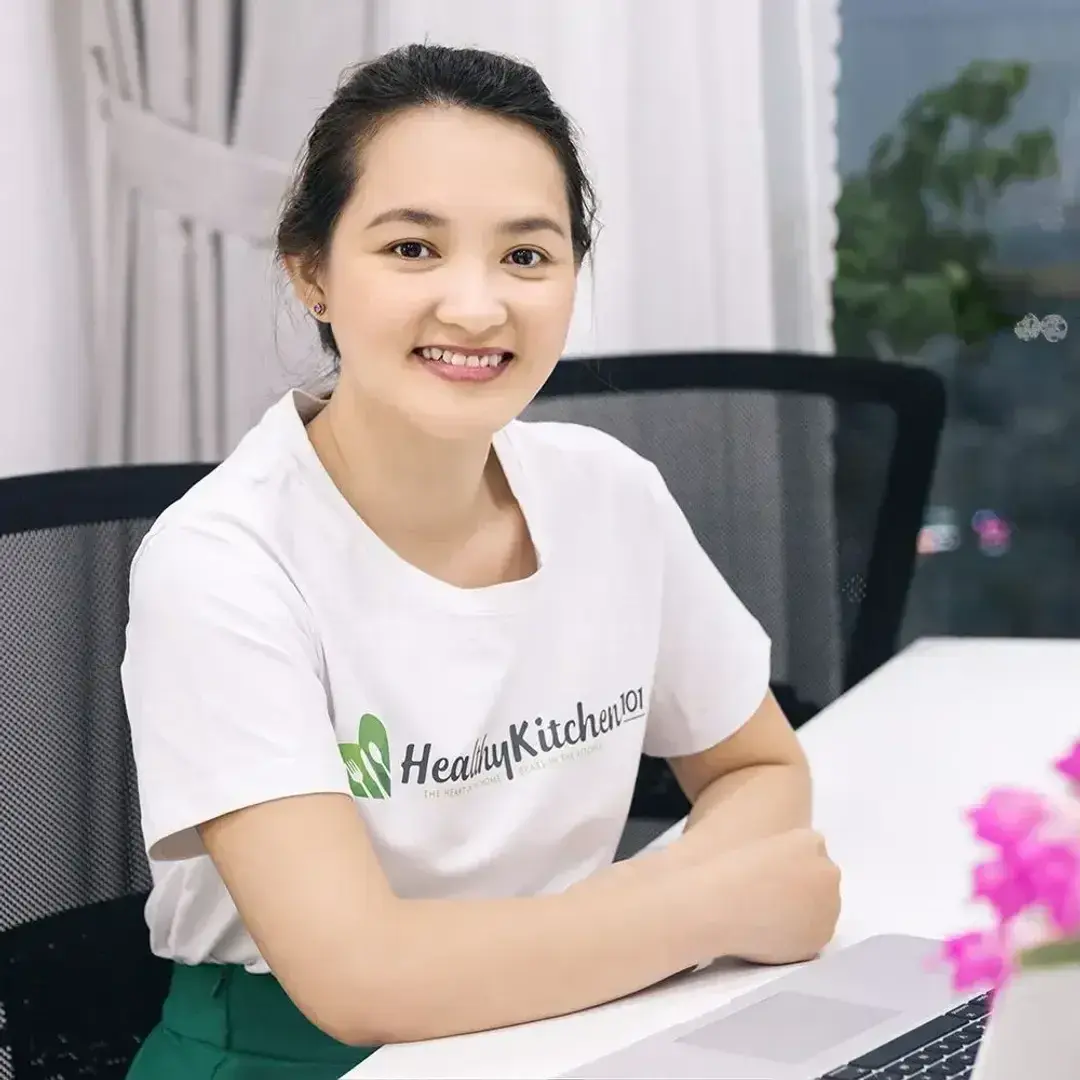 Luna Regina
Luna is the founder and chief recipe developer of Healthy Recipes 101. Apart from cooking, she also loves reading, programming, exploring the outdoors, and collecting useless facts about everything.