Made with simple ingredients, our coconut smoothie recipe makes for a refreshing quencher or a quick snack in less than 10 minutes. Thanks to the coconut water and coconut milk, this smoothie is thick, creamy, and bursting with tropical flavors. It's a satisfying way to start your day!
Is This Coconut Smoothie Recipe Healthy?
Yes, our coconut smoothie recipe is healthy.
When we designed this smoothie, we made a conscious effort to avoid adding excessive amounts of sugar or sweeteners containing sugar (honey or maple syrup, for instance). One serving of this smoothie has only 8.2 grams of added sugar, which is within the USDA's recommended limits.
Plus, our coconut smoothie is also loaded with healthy fats thanks to the coconut milk and almonds.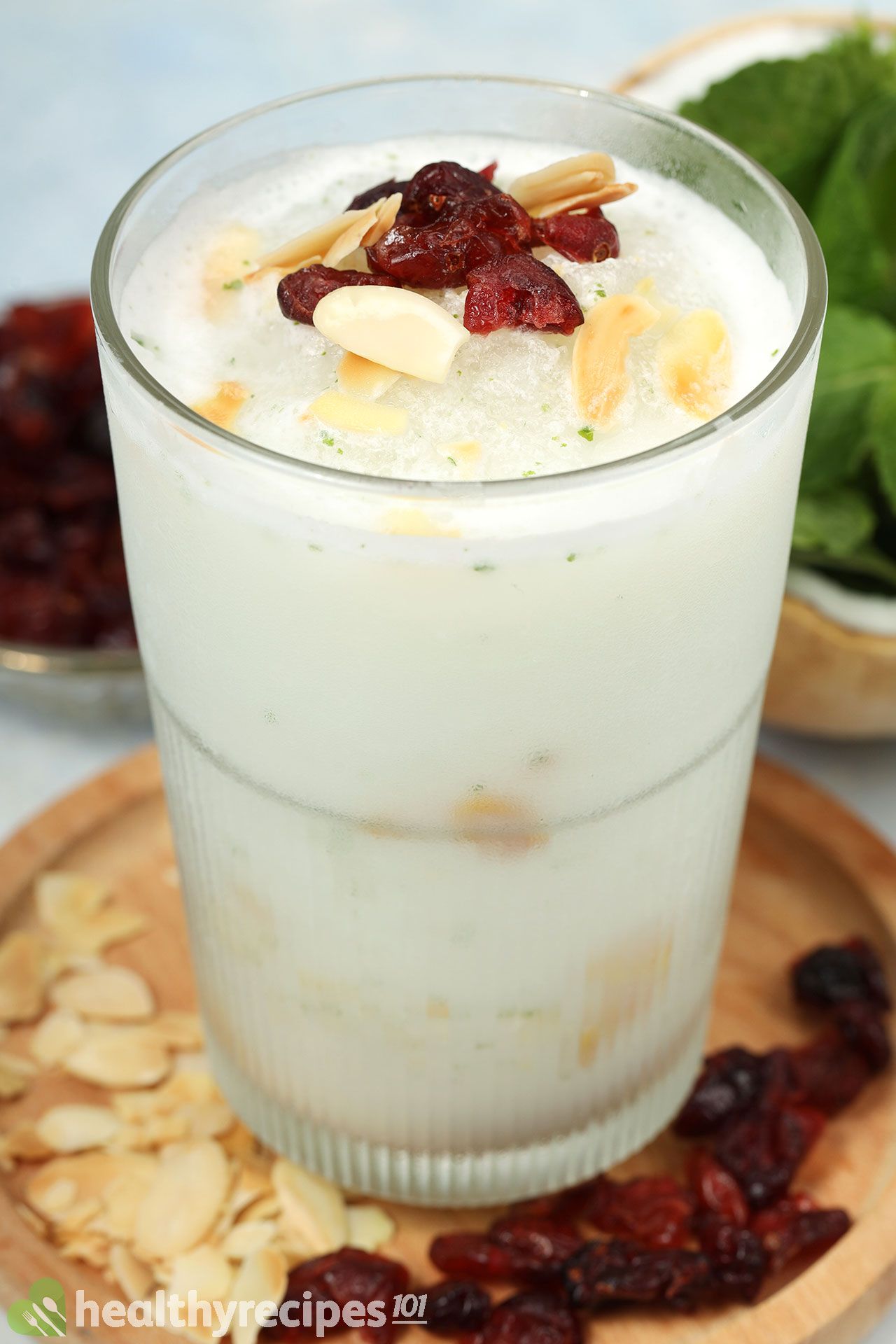 Benefits of Coconut Water
Coconut water is suitable for low-calorie diets, as it has only about 45 calories per cup. Additionally, it is naturally rich in electrolytes such as potassium, magnesium, and phosphorus. With all its electrolytes, coconut water is an optimal choice for rehydration after exercise, especially in the summer months when nutrient losses are the greatest.
Furthermore, one cup of coconut water has more potassium than a medium-sized banana, with 600 mg compared to the banana's 422 mg. Potassium-rich diets may benefit heart health by lowering blood pressure and potentially guarding against stroke, according to some research. When it comes to supporting a healthy heart, it's a good idea to get potassium both from coconut water and from other natural potassium-rich items such as fruits and vegetables.
Coconut smoothies are fantastically versatile, and you can add all sorts of add-ins. If you love smoothies featuring summer flavors, please check out our Pineapple Smoothie Recipe for another great homemade drink.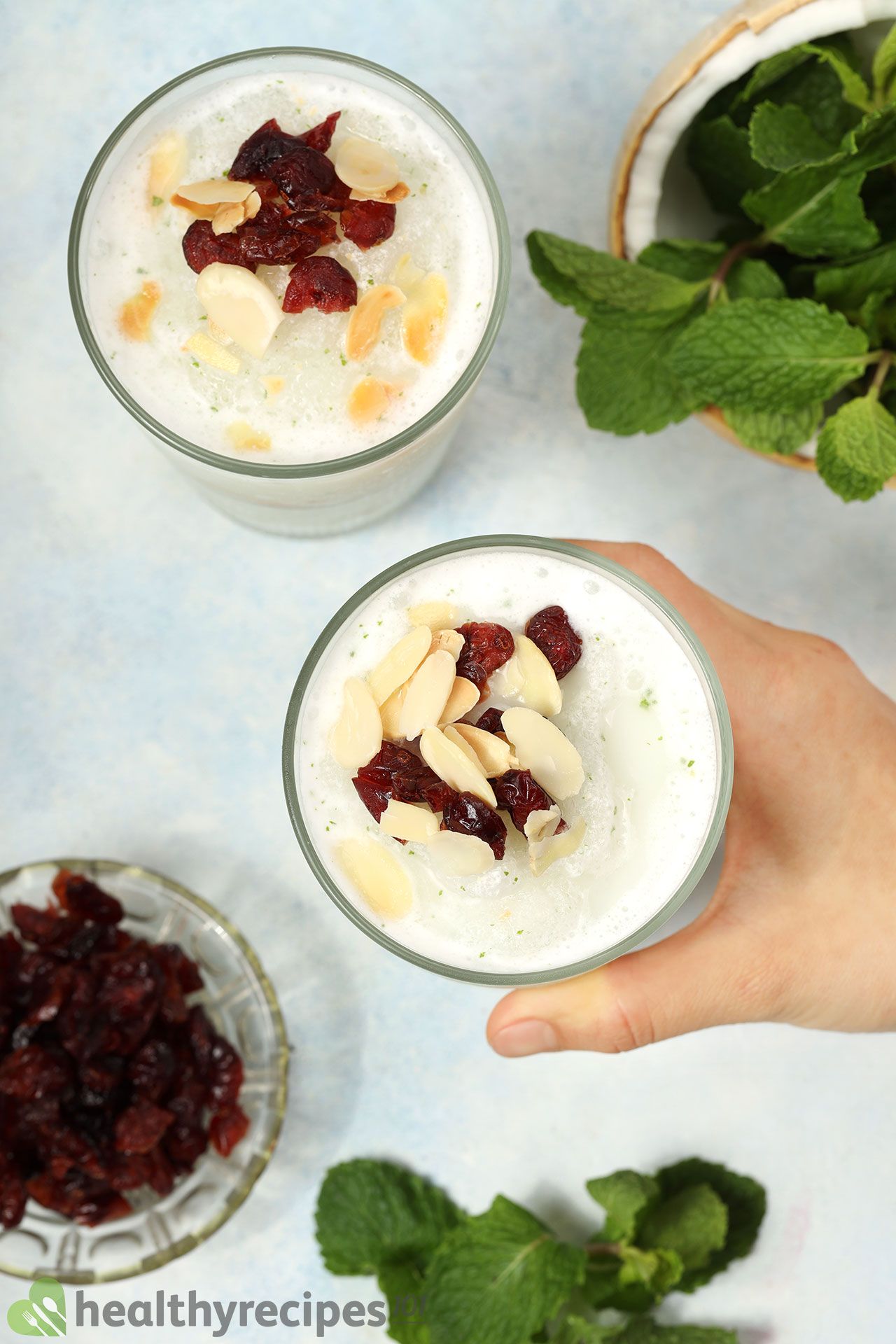 Ingredients for Coconut Smoothie
Coconut Water: Coconut water is naturally refreshing and has a sweet, nutty flavor. It is also an excellent source of electrolytes.
We went with fresh coconut water but you can choose the canned variant if you wish. However, make sure that you choose an unsweetened style that's free of strange additives. You want your smoothie to contain only the freshest components.
Coconut Milk: This gives the smoothie most of its coconut flavor and adds a creamy texture. Coconut milk from either a carton or a can is fine, but again, make sure it's unsweetened. You're much better off when you can control the amount of sweetener that goes into your smoothie.
Sweetener: We sweetened things up a little bit with some agave, but you can always swap it out if necessary. Either granulated sugar or a liquid option like maple syrup or honey works wonderfully in this coconut smoothie. Or if you feel coconut is sweet enough already, skip sweeteners entirely.
Ice: Ice thickens the texture and makes it even more refreshing.
Mint Leaves: Mint is a great garnish and a refreshing hint of extra flavor.
Almond Slices and Dried Fruits: While this smoothie is delicious on its own, we love to add a bit more flavor and texture. Other flavor variations include cinnamon, cocoa powder, peanut butter, chia seeds, cashews, pecans, and walnuts.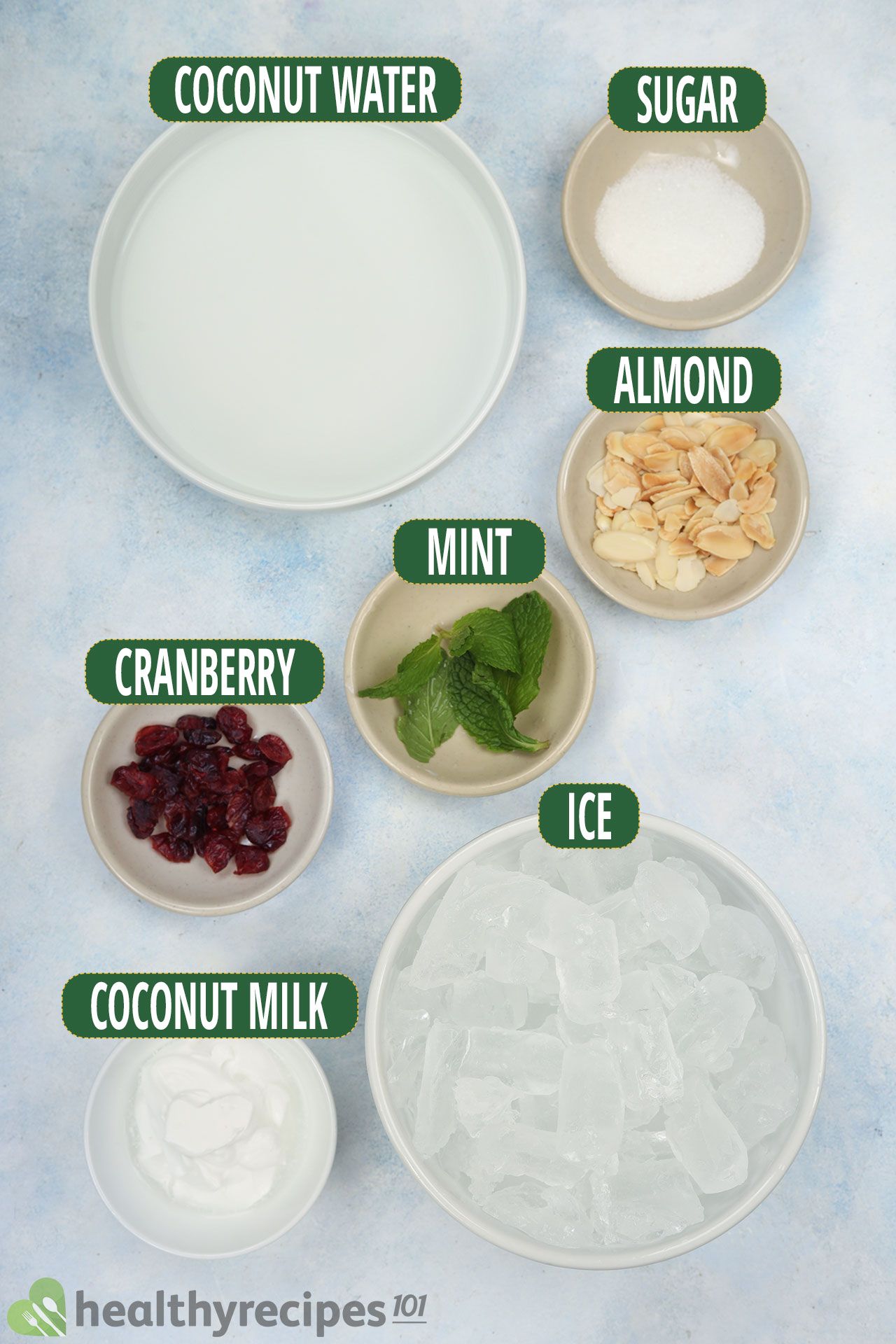 How to Make Coconut Smoothie
Our coconut smoothie is easy to blend up. All you have to do is to throw the ingredients in a blender and blend until smooth.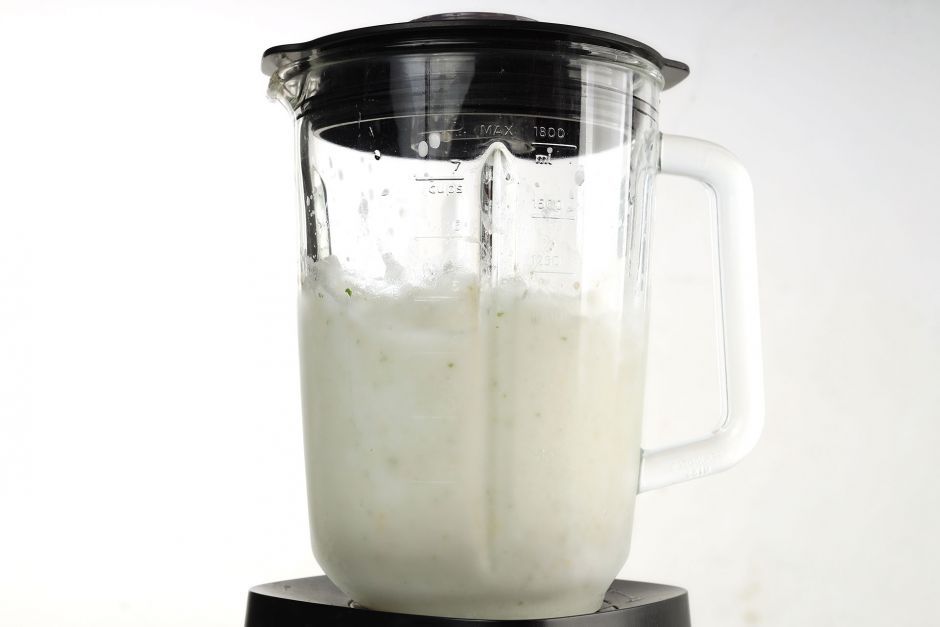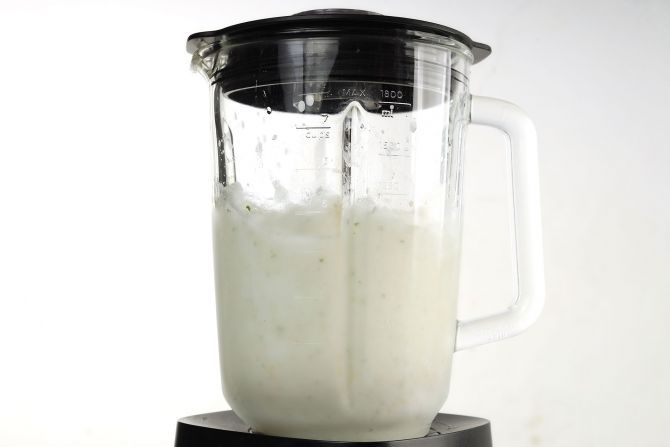 Blend ingredients.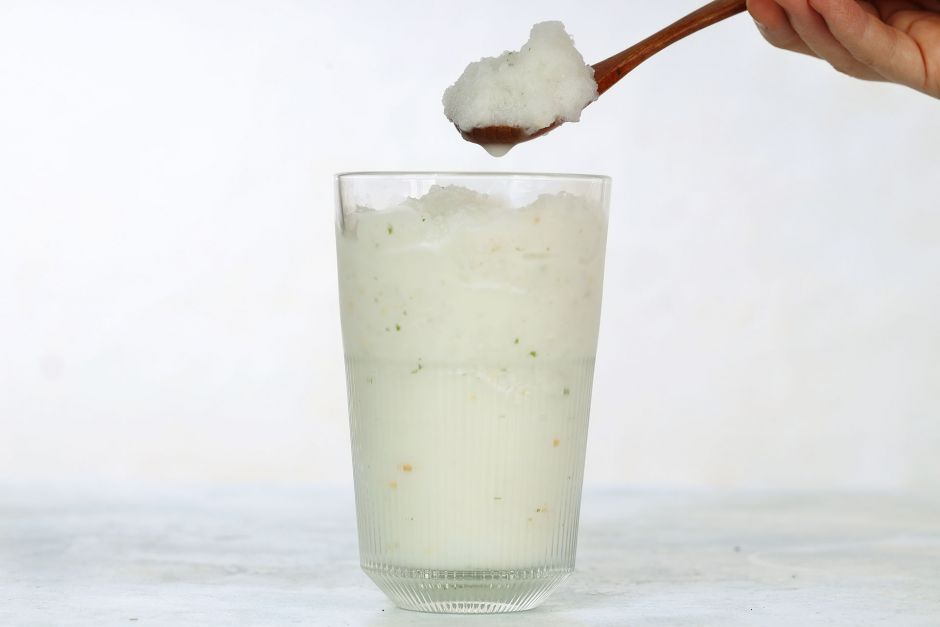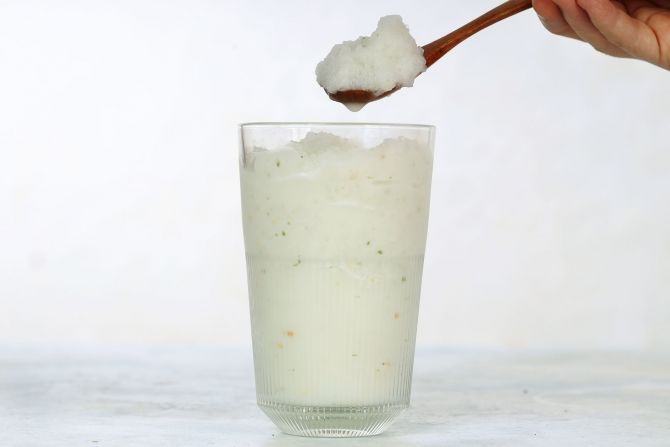 Pour into serving glasses.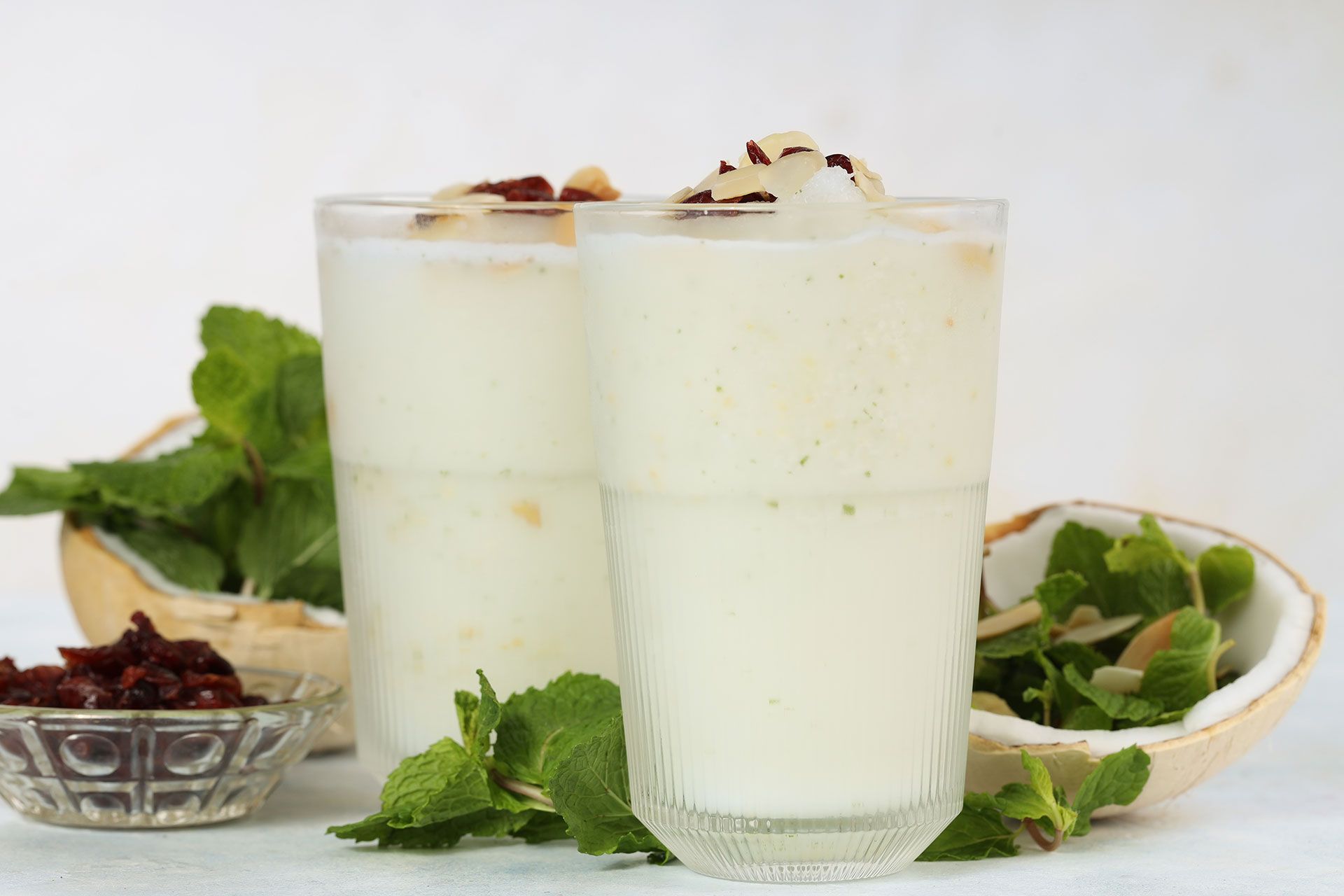 Garnish with the remaining mint, and serve immediately.
How to Know If Coconut Milk Is Bad
Coconut milk, like all non-dairy milk products, can go rancid. Once opened, any type of coconut milk will begin to spoil.
When coconut milk goes bad, there are several significant indications. Mold is a prominent indicator of spoilage. If the coconut milk appears to have any mold or a film on the surface, it should not be consumed.
Similarly, if the milk becomes lumpy, darkens in color, or begins to curdle, it is past its expiration date and should be thrown away.
Another good indicator of spoilage is the smell. If the milk smells sour or rancid, just toss it.
Thick coconut milk will naturally separate, so that is not an indication that it has spoiled. Frequently, the fat rises to the top of the can while the more watery liquid sinks. Simply shake the unopened can or stir an opened one before using the coconut milk.
Store and Freeze Coconut Smoothie
While the best and healthiest option is to drink your coconut smoothie immediately, you do have the option of storing it for a while.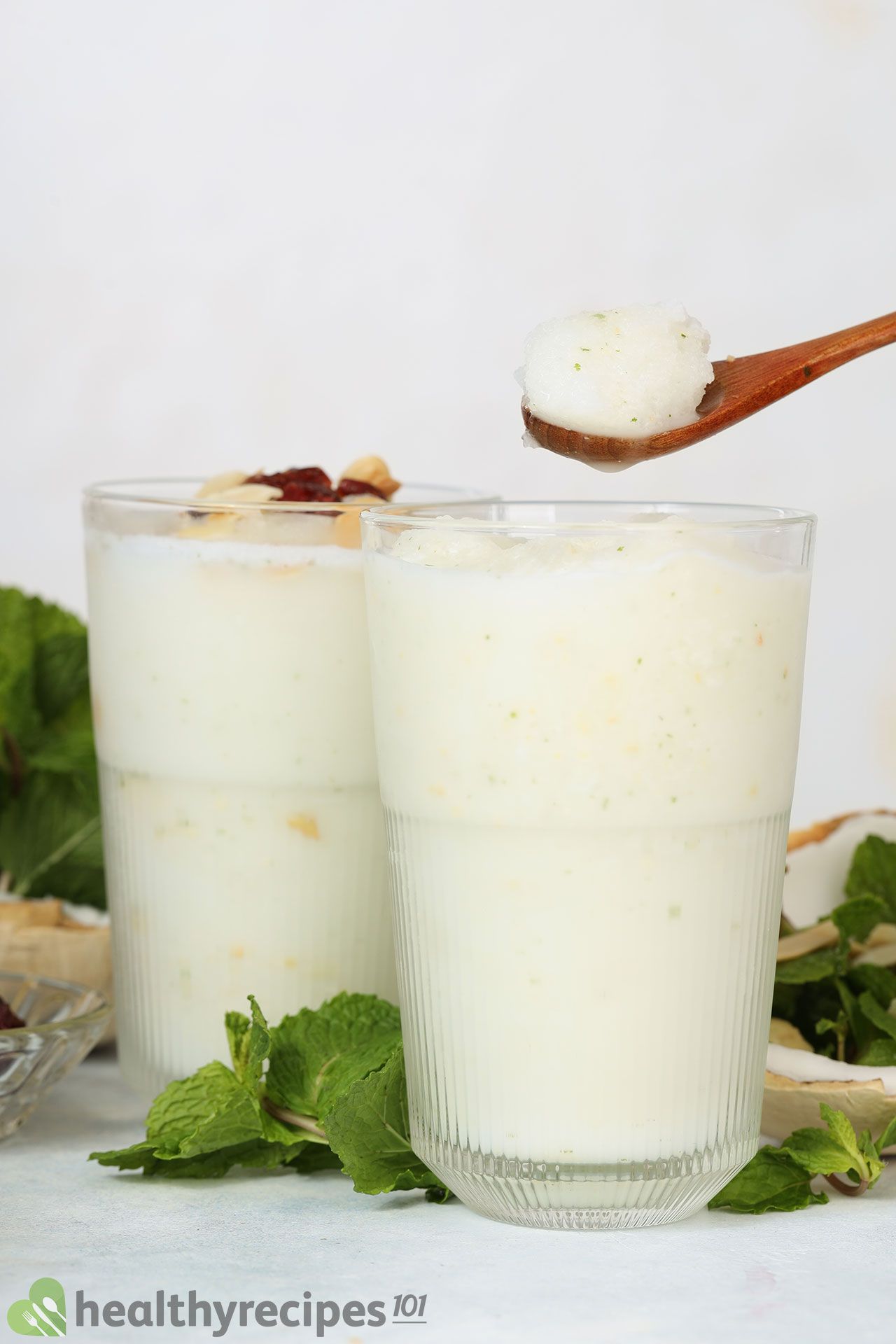 If you keep the smoothie in the fridge overnight, you may notice a difference in the flavors and texture. The ice will melt, giving the drink a less pronounced coconut flavor.
To properly store the coconut smoothie, we recommend keeping it covered or in a sealed container in the freezer, where it should be good for up to 2 months. When ready to use, re-blend it until smooth.
If you know you're going to be pressed for time, another alternative is to prepare the dry ingredients in advance and freeze them immediately in baggies. When you're ready, combine the frozen ingredients with the coconut water and milk, blend it up, and enjoy your smoothie.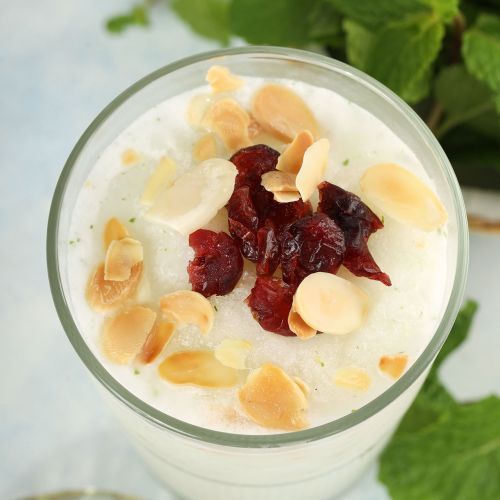 Coconut Smoothie Recipe
We made this tropical coconut smoothie recipe with refreshing coconut water, creamy coconut milk, sugar, dried fruits, and crunchy nuts.
Ingredients
1 1/2

cup

coconut water

1/4

cup

coconut milk

3

cups

ice

1

tbsp

sugar

1

oz

almond slice

0.5

oz

dried cranberries

8

mint leaves
Instructions
Put 3 cups of ice, 1 1/2 cup coconut water, 1/4 cup coconut milk, 1 tbsp sugar, 0.5 oz almond slices, 0.5 oz dried cranberries, and 4 mint leaves into a blender. Blend until smooth and creamy.

Pour into serving glasses.

Garnish with the remaining mint, and serve immediately.
Nutrition
Nutrition Facts
Coconut Smoothie Recipe
Amount Per Serving (1 serving)
Calories 110
Calories from Fat 63
% Daily Value*
Fat 7g11%
Sodium 106mg5%
Potassium 319mg9%
Carbohydrates 11g4%
Protein 3g6%
Vitamin A 85IU2%
Vitamin C 3mg4%
Calcium 53mg5%
Iron 1mg6%
* Percent Daily Values are based on a 2000 calorie diet.