Today we have a spinach artichoke dip recipe that you're going to absolutely love! It contains no cream cheese and makes a healthier alternative to traditional spinach artichoke dips.
You can put this together for a Sunday night football snack and enjoy any leftovers the next day. Or, you can save the recipe for National Artichoke Hearts Day (March 16) or National Chip and Dip Day (March 23)!
Just remember not to have it more than twice a week. It's healthier but can be too rich in fats for regular consumption.
This spinach artichoke dip is creamy and rich, plus it has added health benefits from spinach and artichoke. Read on to learn how healthy spinach artichoke is and how to prepare this delicious treat.
What Is an Artichoke?
An artichoke is a budding flower that grows from thistle plants. By the time it's ready to eat, it hasn't fully matured.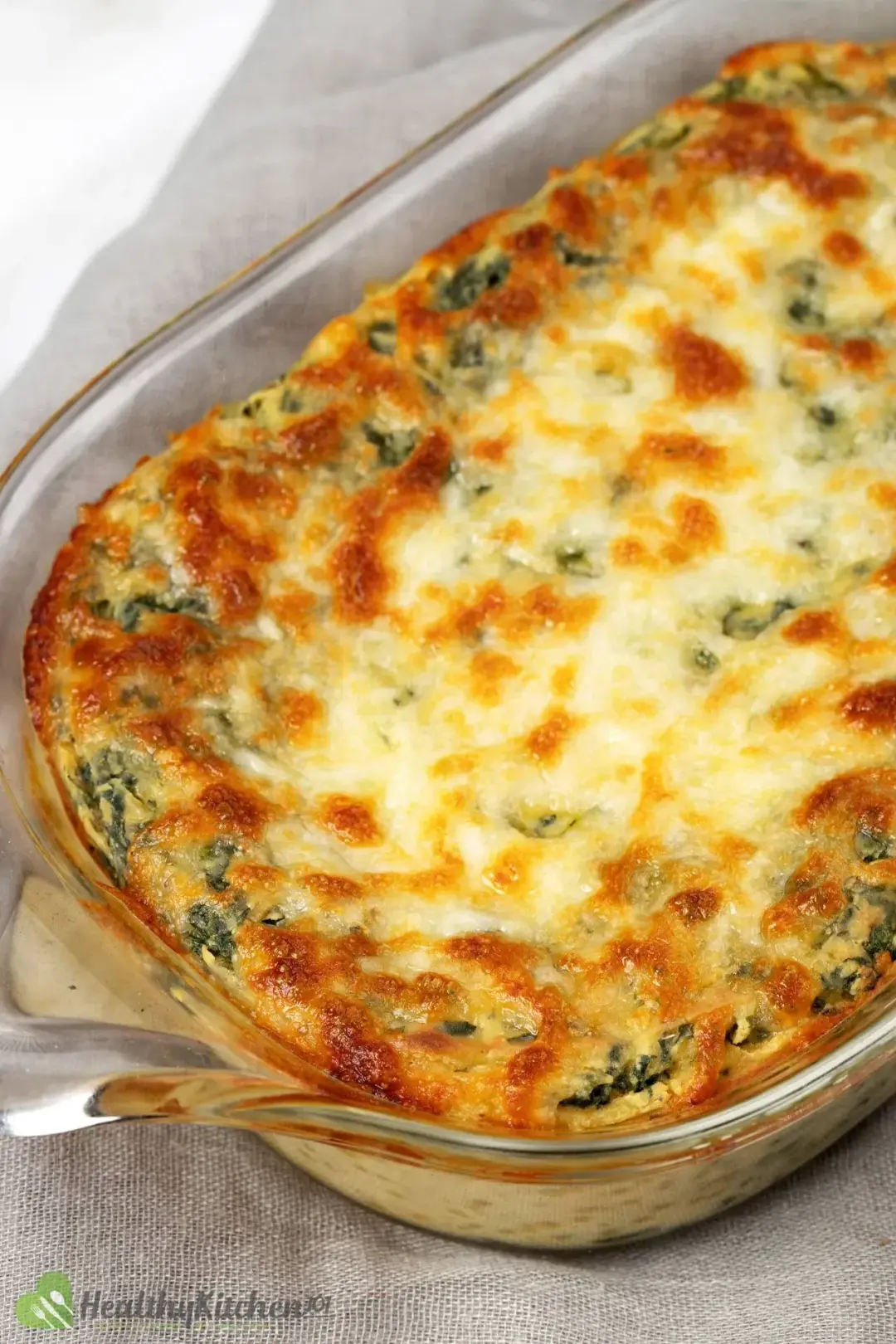 Most artichokes you find at the grocer are green and oval-shaped, while others are a cone shape. Whatever the appearance, you can tell an artichoke by its thick petals that resemble a pine-cone.
Artichokes are available fresh, marinated in oil or brine, and tinned or canned— all of which look very different and have different flavors.
Inside an artichoke are softer petals surrounding an inedible center made of stringy hairs you'd choke on if you ate— thus the name "artichoke." Emerging from the stem and cushioned between it and the choke is the heart, the meatiest and most delicious part of an artichoke.
In terms of taste, artichokes mimic a cross between celery and asparagus. They have a fresh and earthy essence, a slight crunch, and take on the flavors they are paired with, making them a refreshing and adaptable vegetable.
Is Spinach Artichoke Dip Healthy?
Yes! This spinach artichoke dip is healthy.
It's made using nutrient-rich, fresh ingredients which offer a plethora of health benefits, some of which are explained below.
1. Benefits of Spinach
Like most leafy greens, the benefits of eating spinach are plenty and abundant. Spinach is jam-packed with antioxidants which help fight free radicals.
As a result, eating spinach may lower the risk of cancer and improve the condition of patients with diabetes.
Spinach also has a low glycemic index, meaning consuming it won't cause blood sugar levels to rise. With its low-carb properties, spinach makes an excellent option for people with diabetes to incorporate into their diet.
2. Artichoke Benefits
The artichoke also boasts several nutrients and has long been advocated as a liver remedy in Mediterranean folk medicine. Studies confirm that it is high in antioxidants and has been shown to regulate high blood pressure.
High blood pressure can sometimes arise from diabetes, so artichokes may also benefit diabetes patients when included in their diets.
Main Ingredients
Below is a brief outline of the main ingredients for this spinach artichoke dip recipe.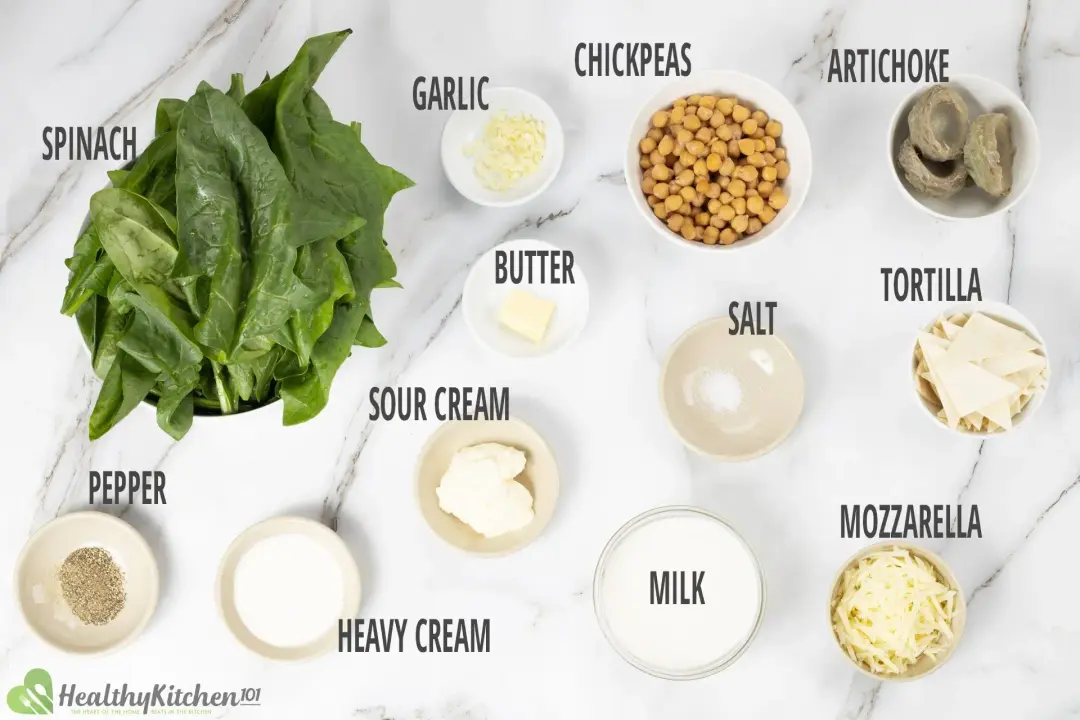 1. Fresh Artichokes
For this recipe, you can use either regular or baby artichokes. We used regular, fresh artichokes.
Canned artichoke hearts are also perfect because they're softer and the brine will further flavor the dip.
2. Fresh Spinach
We used fresh spinach. However, dishes that use frozen spinach, like lasagna, also deliver the same fresh and earthy flavors that leafy greens offer.
3. Cheese
When it comes to cheese, you can mix in various kinds for this recipe. The most popular types are cream cheese and mozzarella.
This spinach artichoke dip, however, uses mozzarella only. It incorporates sour and heavy creams in place of cream cheese thus maintaining a creaminess which makes this spinach dip irresistible.
Meanwhile, the mozzarella will give this recipe a melted cheese effect, perfect for baking to a crispy, golden brown.
How to Steam Artichokes
You can easily steam or boil artichokes. However, their unique exterior often intimidates most novice cooks, so here are some steps to help you prepare an artichoke like a pro.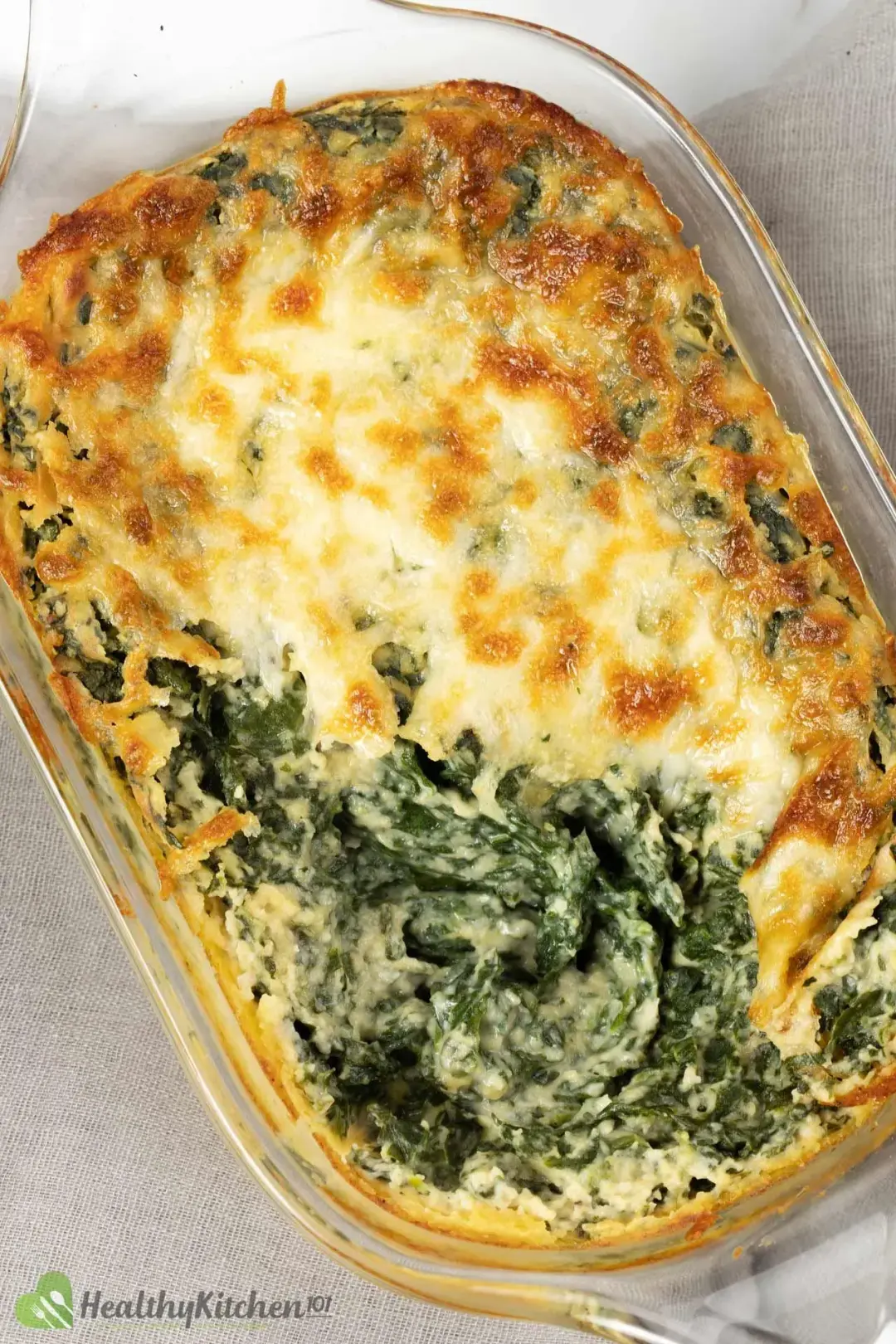 1. How to Prepare Artichokes
Use a sharp knife to cut the top off the artichoke. Then chop off the stem and remove the petals along its edges.
Trim the base to remove any lingering ends and use scissors to trim the sharp barb off the tops of the remaining petals.
Next, submerge the artichoke into a bowl of water to prevent it from browning. Or slice a lemon in half and rub it against the cut artichoke surfaces at the bottom and top, to prevent it from oxidizing.
This also works for your hands; by rubbing some lemon juice on your hands, you can avoid them turning black or becoming discolored when cooking.
There are several ways to cook artichokes; one is steaming.
Steaming releases the artichoke's sweet essence, which resembles that of fresh celery.
2. Steaming
To steam artichokes, start by putting just enough water to cover the bottom of the pot, about 1/2 an inch. Place a steaming basket inside, ensuring that the water does not cover the bottom of the basket.
Then bring the water to boil over medium heat while cutting and preparing the artichoke. Next, place the artichoke in the steaming basket (bud down and stem up, if possible) and cover the pot with a lid.
After 30 to 40 minutes, the artichoke petals should be softer and easy to separate from the plant.
You can check for readiness using a knife to cut into the artichoke's base. It should be tender and the artichoke ready to serve.
In this case, it's ready to use in the next step.
How to Make Spinach Artichoke Dip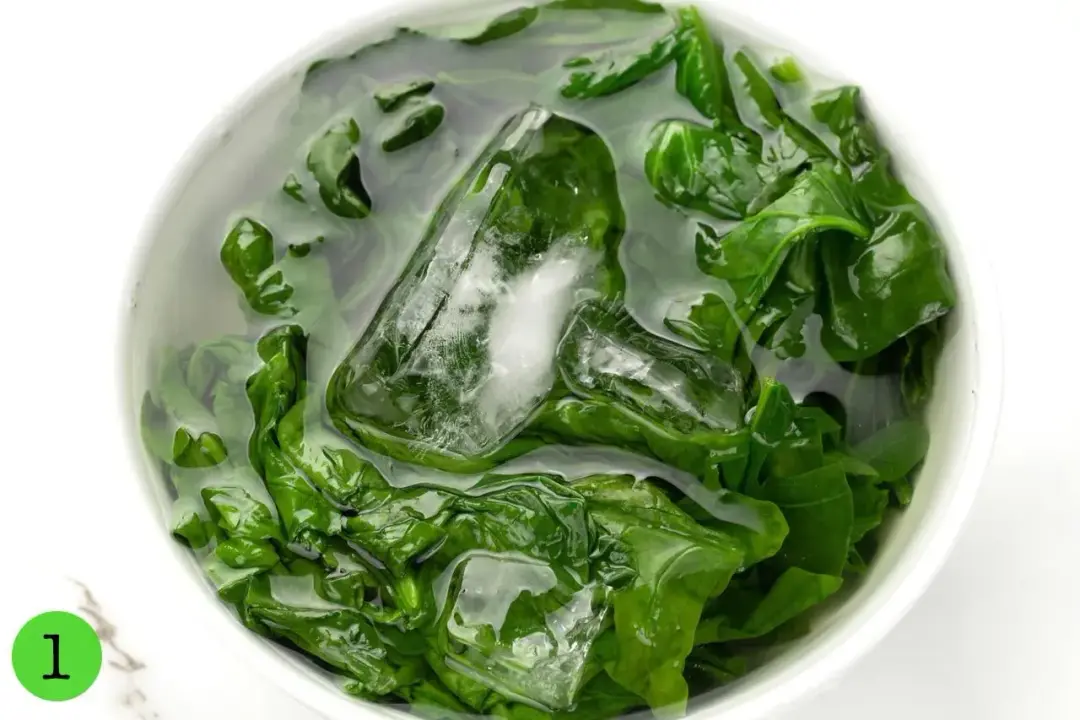 Boil spinach and submerge in an ice bath before chopping it roughly.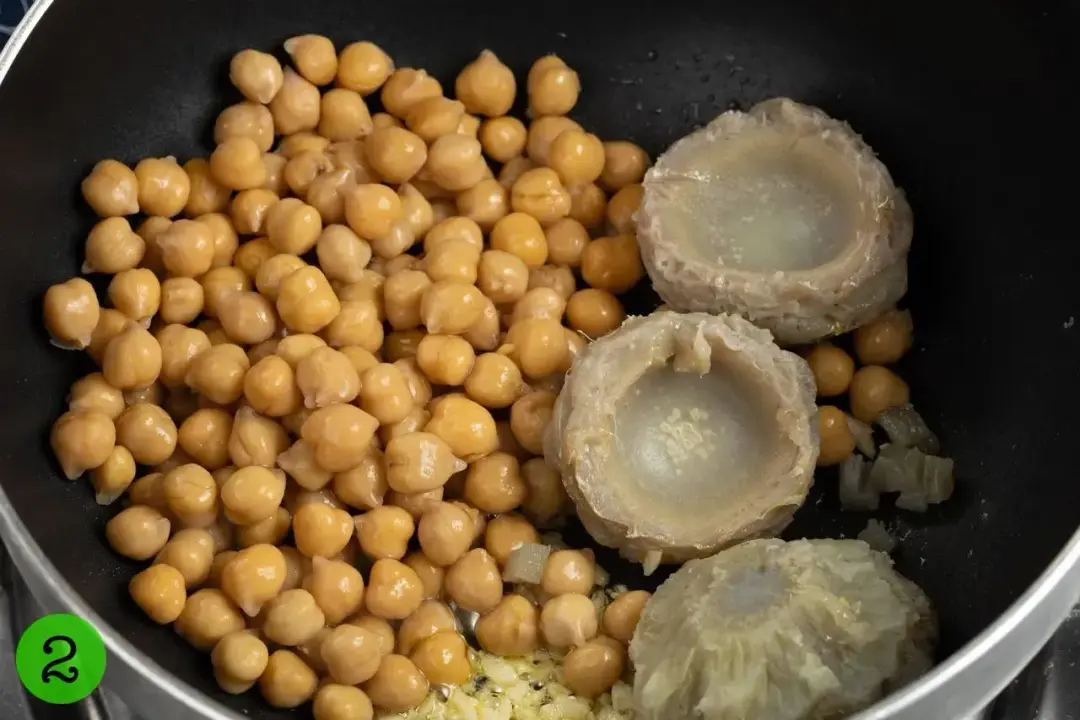 Melt butter and add garlic, cooking both together before adding the chickpeas and artichokes. Cook again.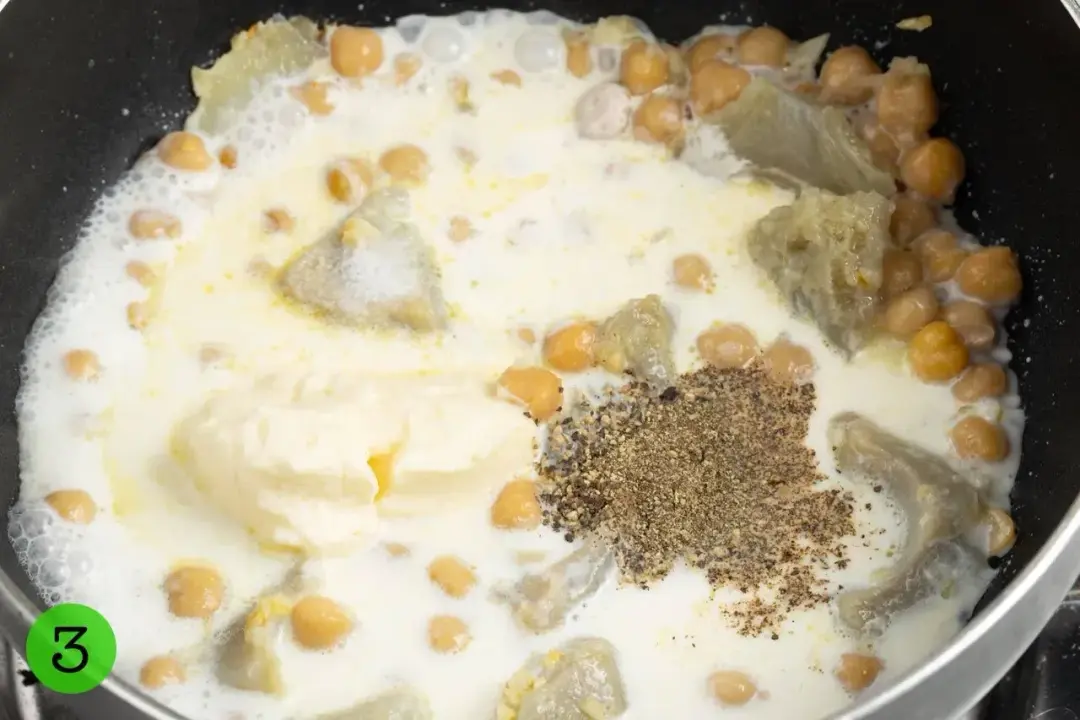 Add sour and heavy creams, milk, salt, and black pepper and bring it to a boil. Remove from heat and allow to cool completely.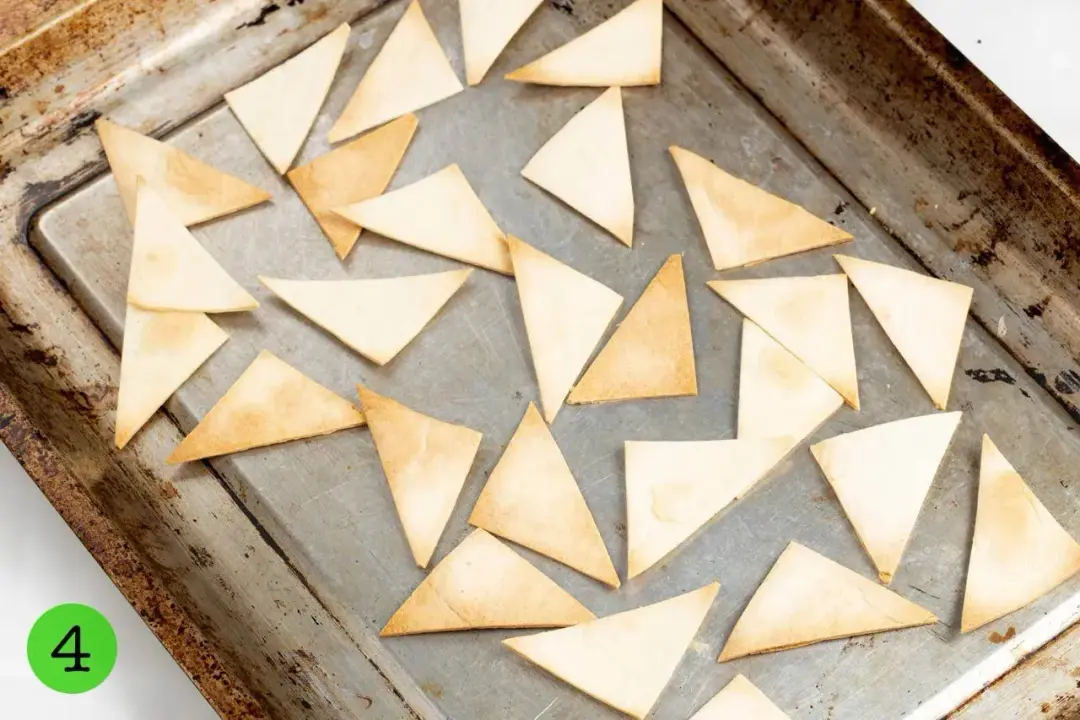 While the mixture cools, cut tortillas into triangles and bake.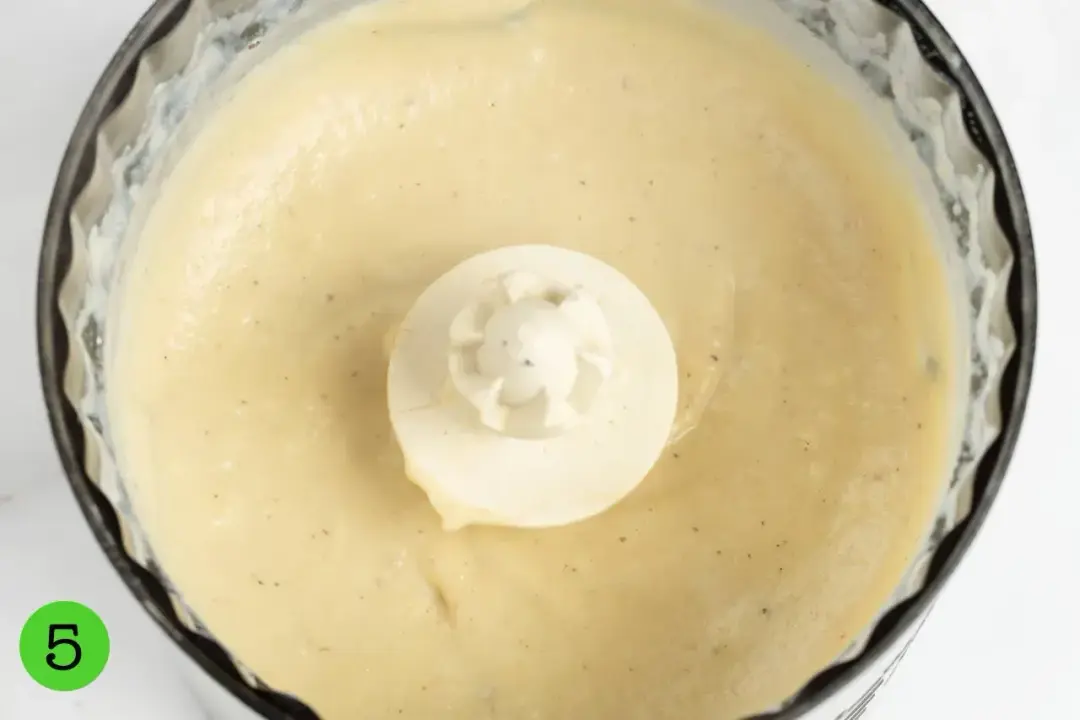 Blend the mixture.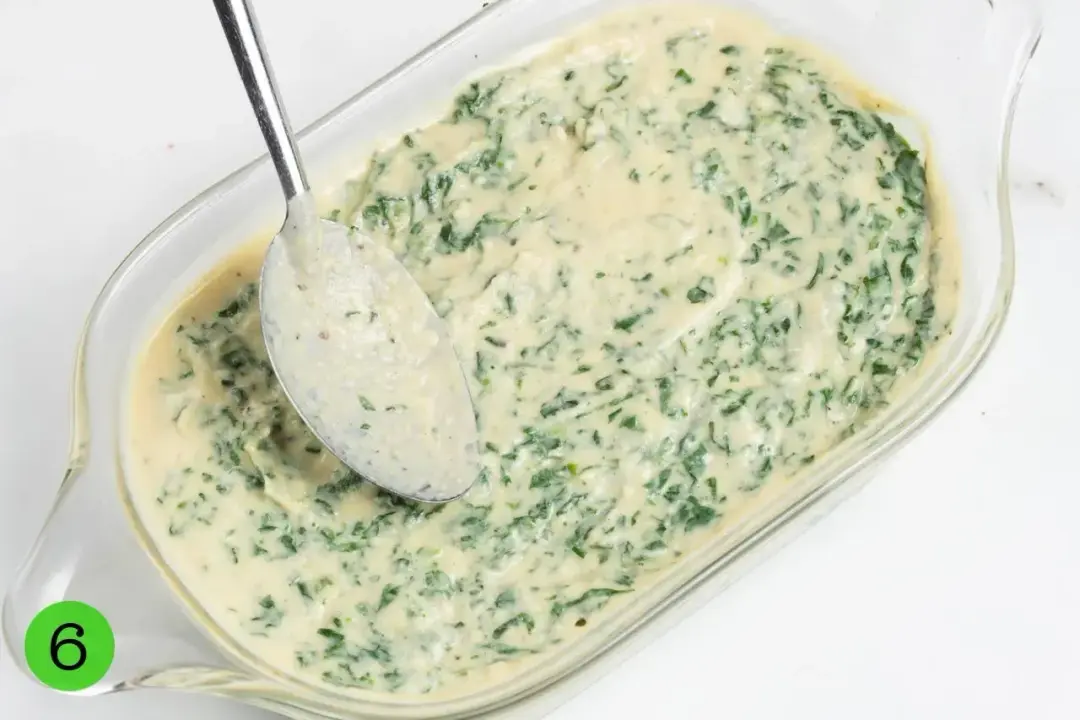 Pour it into a baking dish and mix in the spinach. Bake for 15 minutes.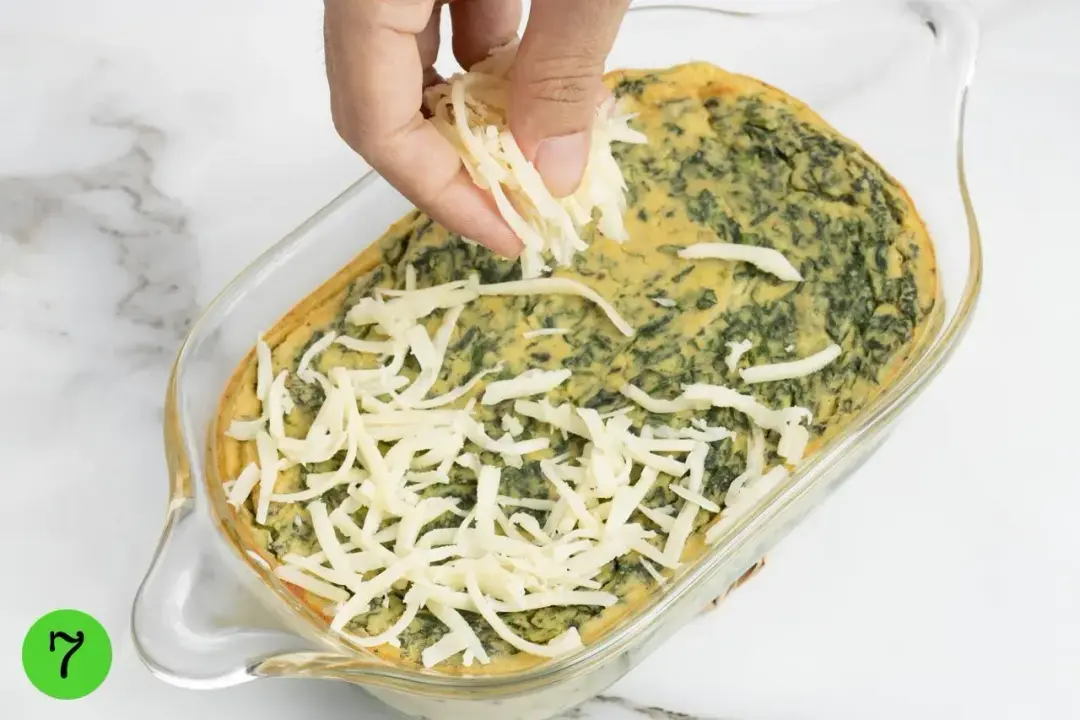 Sprinkle cheese and bake again to a golden brown.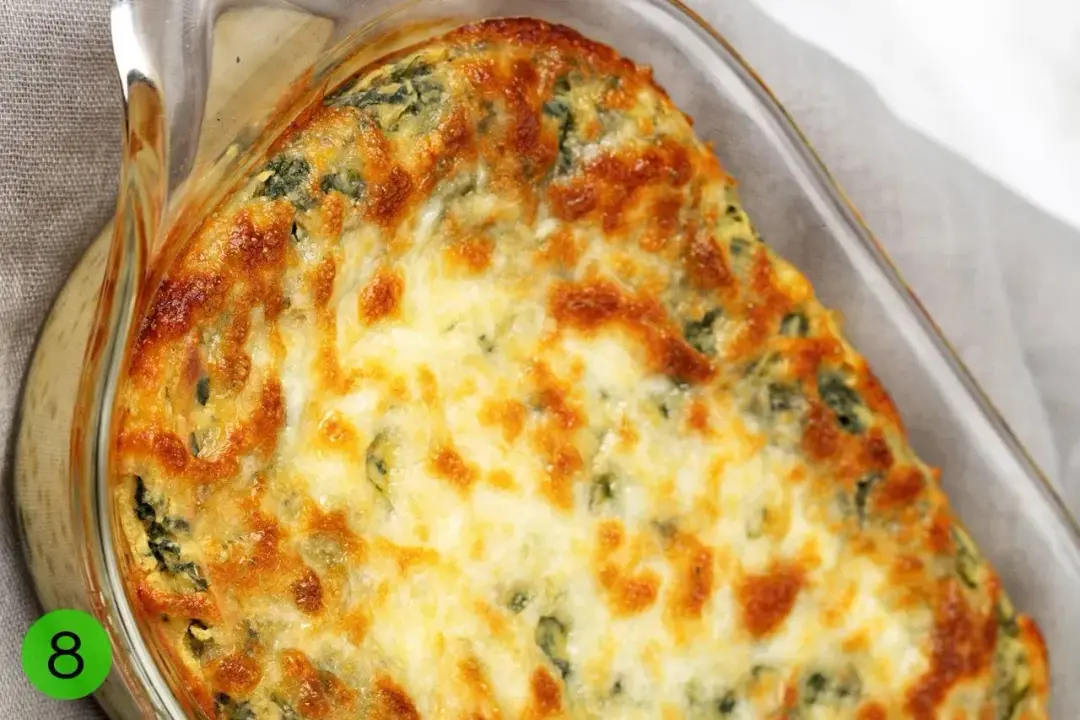 Serve
What Goes Well with Spinach Artichoke Dip?
With the spinach artichoke dip ready, all that's left is something edible and crunchy to scoop it into your mouth! These are a few options that make excellent pairings with this delicious spinach artichoke dip.
1. Tortilla Chips
Tortillas are a classic spinach dip staple. Some varieties, like corn tortillas, are suitable as low carb, keto-friendly, and gluten-free options.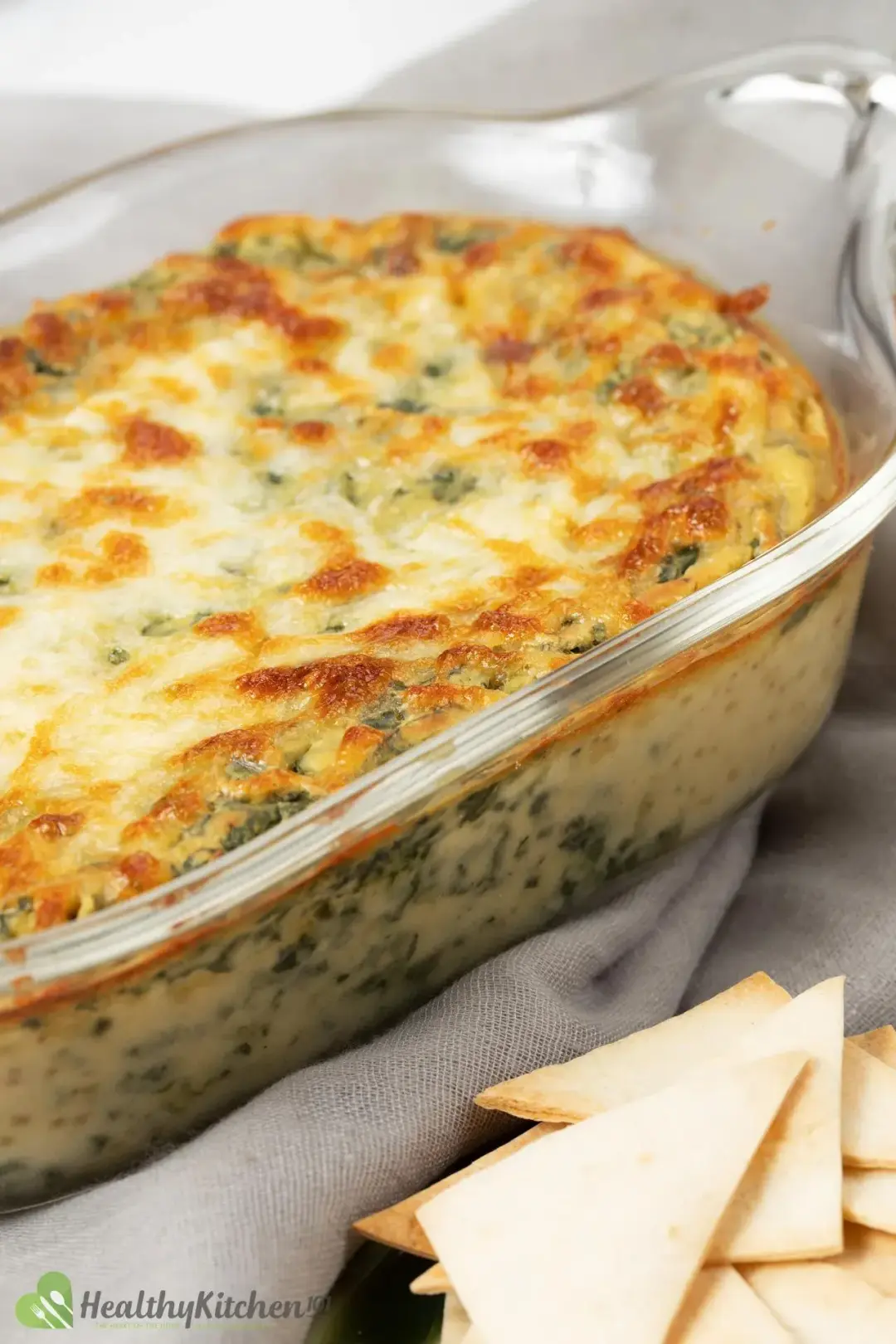 In this recipe, however, we use flour tortillas. Their light texture baked to a crunchy, golden brown is all you need to complete this creamy dip.
You can also enjoy tortillas in our guacamole dip, which is easy to make, delicious, and full of healthy fats.
2. Bread
Bread is another excellent complement to this spinach artichoke dip recipe. There's nothing wrong with a hearty cream and carbs dip that will leave you satiated.
You can also have it in smaller amounts to reduce the total amount of calories for this meal.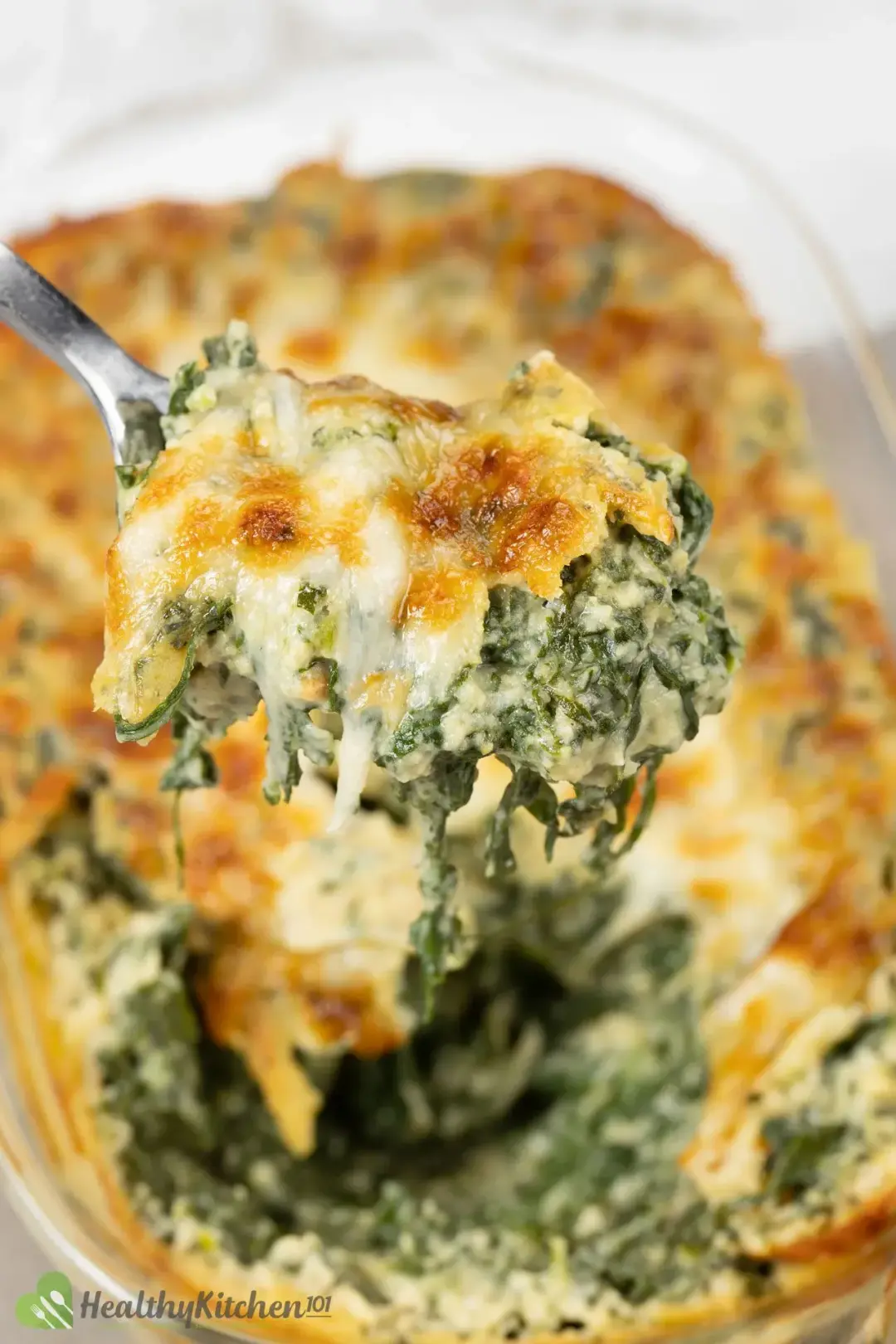 FAQ
1. Is Spinach High in Fiber?
Yes. Spinach certainly doesn't look or feel like the crunchy carrot or fibrous broccoli, but it contains plenty of fiber.
Spinach has insoluble fibers. These are fibers that don't dissolve in water and pass through the digestive tract unaltered.
However, just like soluble fibers, spinach's insoluble fibers can boost your health.
2. How Many Calories Are in Spinach Artichoke?
This dip contains 167 calories per serving. Of these calories, 17.6 grams are carbohydrates, which is only 6% of the Daily Value on a 2,000-calorie diet.
Most of the calories are in the form of proteins, which should leave you feeling satiated over long periods.
3. How Long Does Spinach Artichoke Dip Last?
This spinach artichoke dip can last up to 48 hours in the refrigerator. Unlike other dips, the fresh cream makes it more prone to separation and spoiling, so only make what you are likely to consume in a day or two.
Keep it chilled at all times in an airtight container.
4. Can You Freeze Spinach Artichoke Dip?
Yes. You can freeze spinach artichoke dip.
Store it in a freezer-safe container and keep it for up to two months in the freezer.
Spinach Artichoke Dip Recipe
This spinach artichoke dip recipe is a smooth, decadent dish rich with creamy spinach and blended chickpeas. Serve hot with baked tortillas for a classic crunchy dip.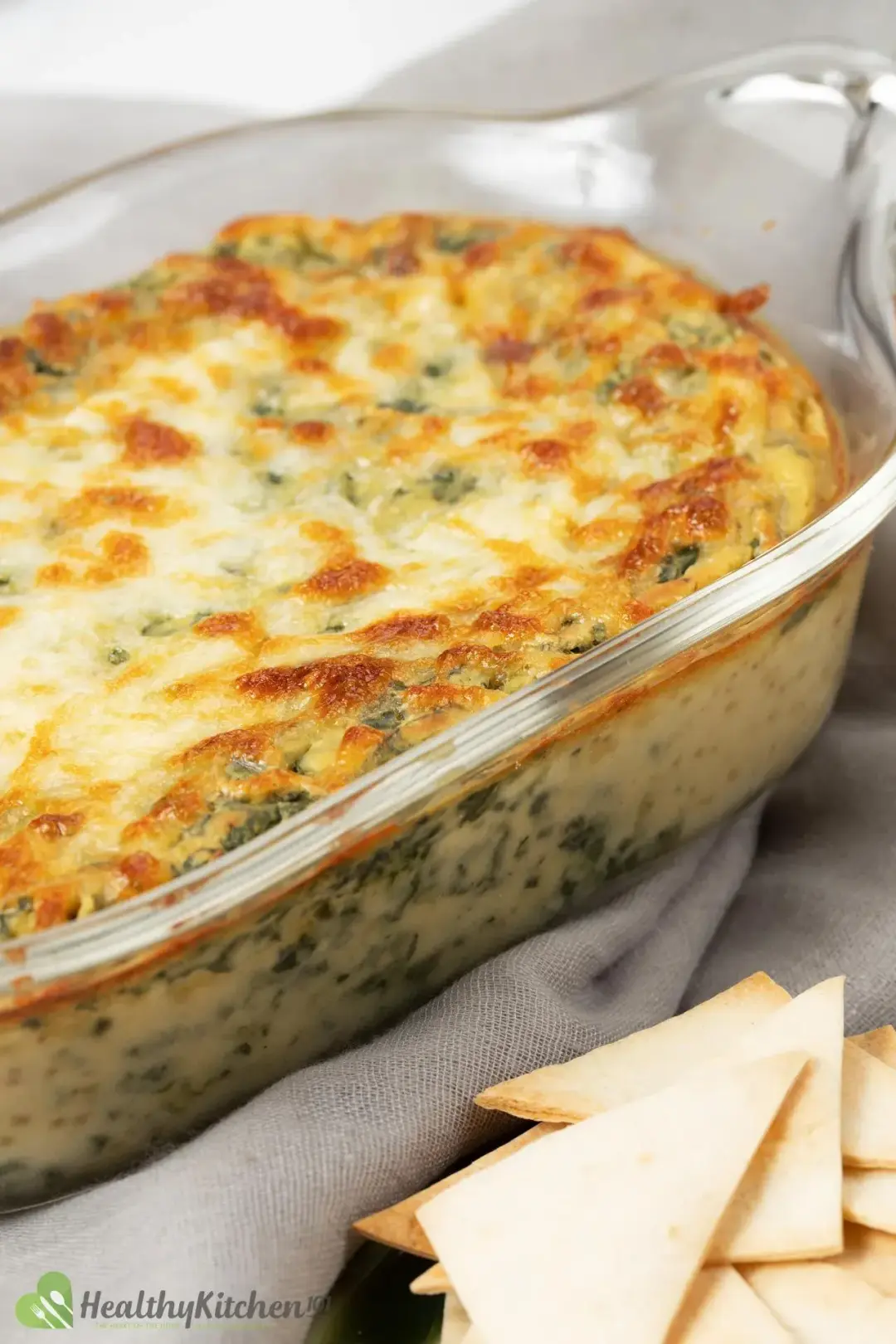 cook TIME

40 mins

prep TIME

10 mins

total TIME

55 mins

INACTIVE TIME

5 mins
COURSE

Dinner, Lunch, Side Dish

CUISINE

American

SERVINGS

servings

CALORIES

173 kcal
INGREDIENTS
8 oz

spinach

4 oz

artichoke (steamed or boiled)

5 oz

canned chickpeas (drained)

1 tsp

unsalted butter

1 tbsp

heavy cream

3 tbsp

sour cream

0.5 cup

milk

0.1 tsp

salt

0.5 tsp

black pepper

1 tsp

garlic (chopped)

1 oz

mozzarella cheese

1.5 oz

flour tortillas
INSTRUCTIONS
1
Preheat the oven to 340°F.
2
Wash spinach. Boil spinach, shock in ice water, and squeeze out excess moisture before roughly chopping.
3
Steam artichokes until tender.
4
Melt butter in a pan over medium heat. Add garlic and cook until fragrant before adding chickpeas and artichoke. Cook for 2 minutes.
5
Add sour cream, heavy cream, milk, salt, and black pepper. Bring to a boil before removing from heat. Leave to cool completely at room temperature.
6
Meanwhile, cut tortillas into triangles and bake for 5 minutes.
7
Blend the artichoke mixture in a food processor.
8
Mix in spinach to combine evenly.
9
Once tortillas are done, remove them from the oven and turn it up to 400°F.
10
Pour the spinach mixture into a baking dish and bake for 15 minutes.
11
Sprinkle cheese on top and bake for another 10 minutes before removing from the oven. Serve hot with tortilla chips.
NUTRITION
Nutrition Facts
Spinach Artichoke Dip Recipe
Amount Per Serving (1 serving)
Calories 173
Calories from FDA
% Daily Value*
* Percent Daily Values are based on a 2000 calorie diet.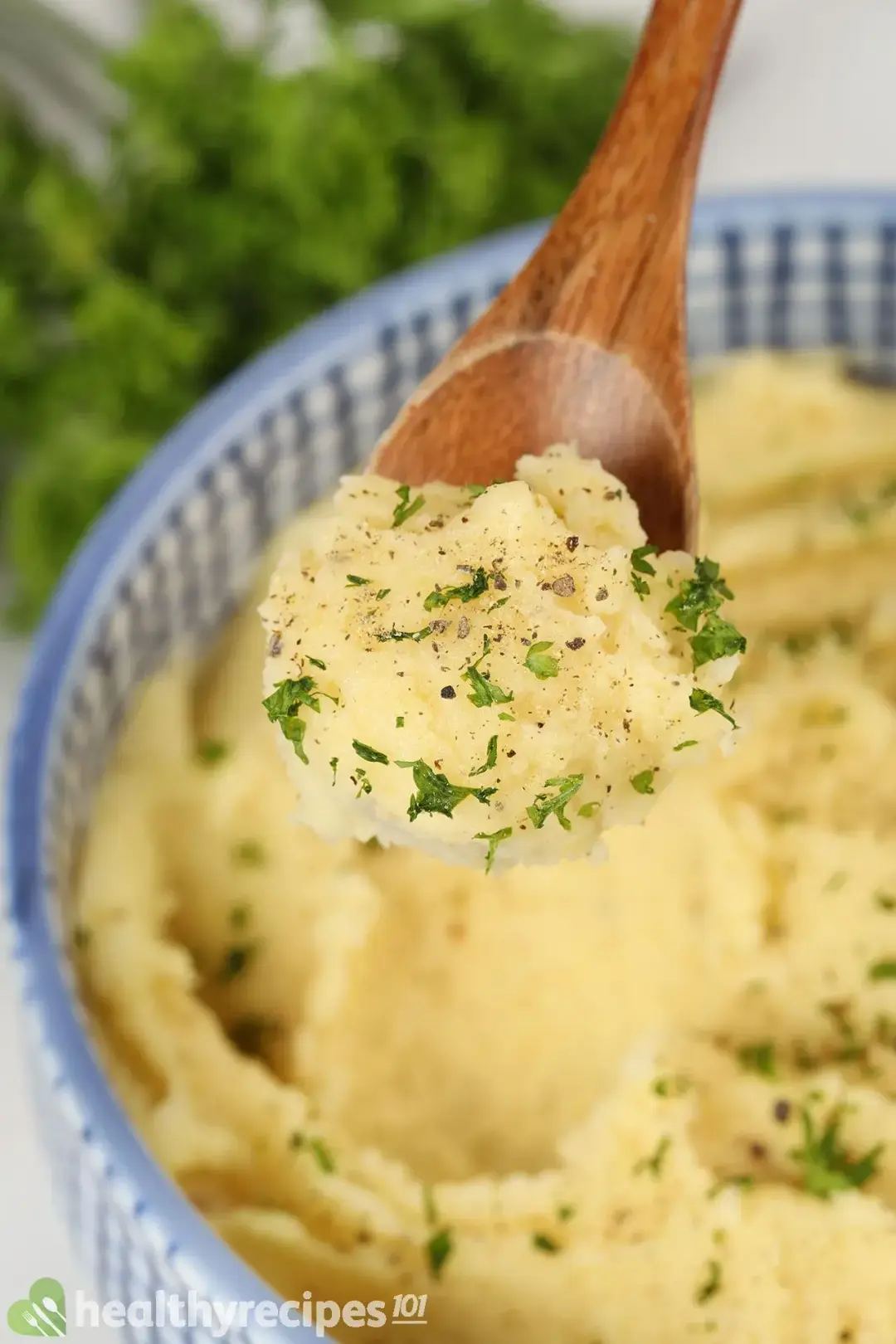 Previous Recipe
Healthy Mashed Potatoes
Healthy Mashed Potatoes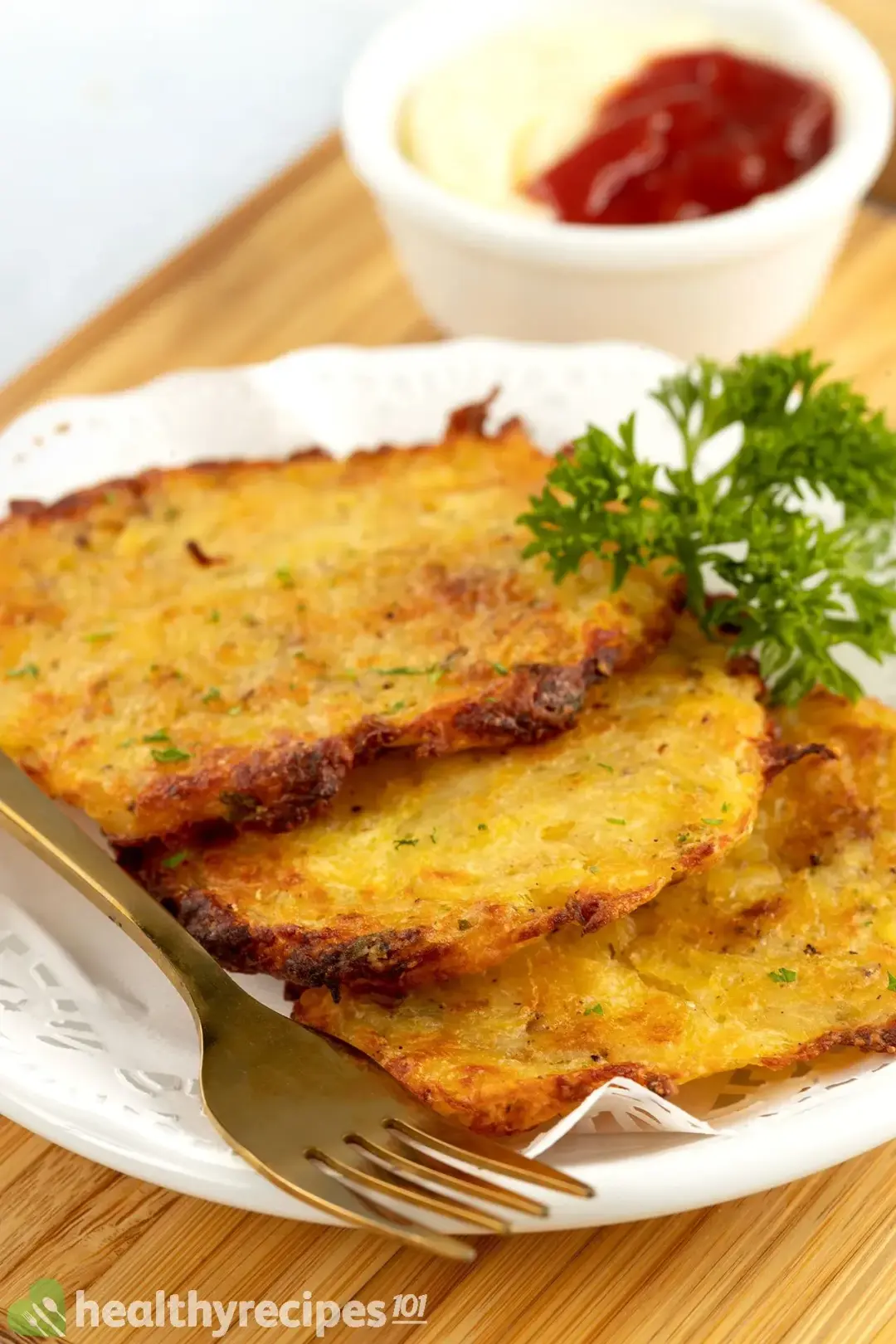 Next Recipe
Air Fryer Hash Browns
Air Fryer Hash Browns
Comments/ Reviews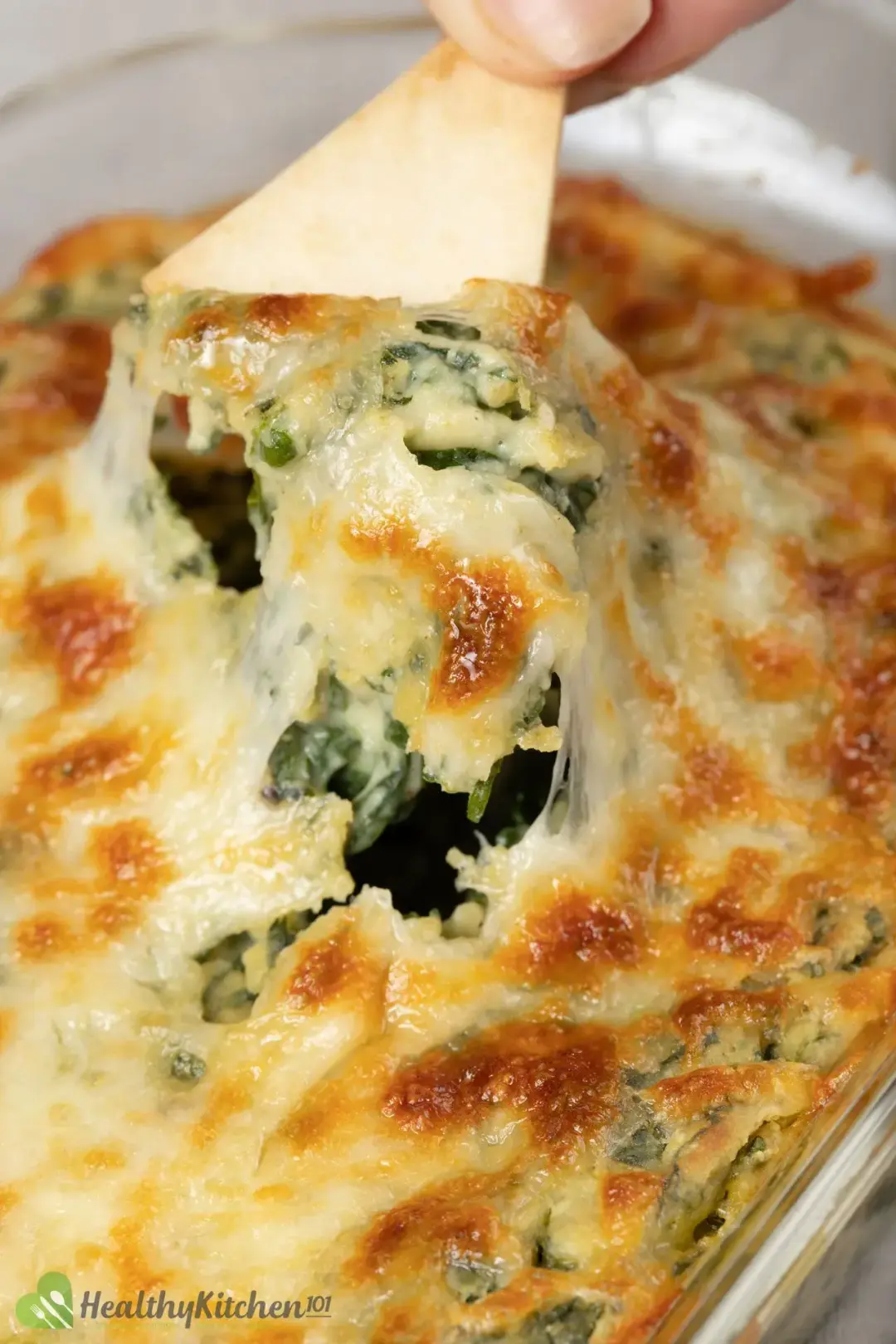 Spinach Artichoke Dip Recipe