This Monte Cristo sandwich recipe is an innovative take on hearty food. It brings relished flavors that deliver a bellyful in one petite serving — a perfect start to National Monte Cristo Day (September 17).
The sandwich is such an effortless treat that brings fabulous flavors to a humble toast. This one is no different.
Except, with lower sodium, cholesterol, and calories, it's a much healthier treat! Read on to learn about Monte Cristo and its health benefits.
What Is a Monte Cristo Sandwich?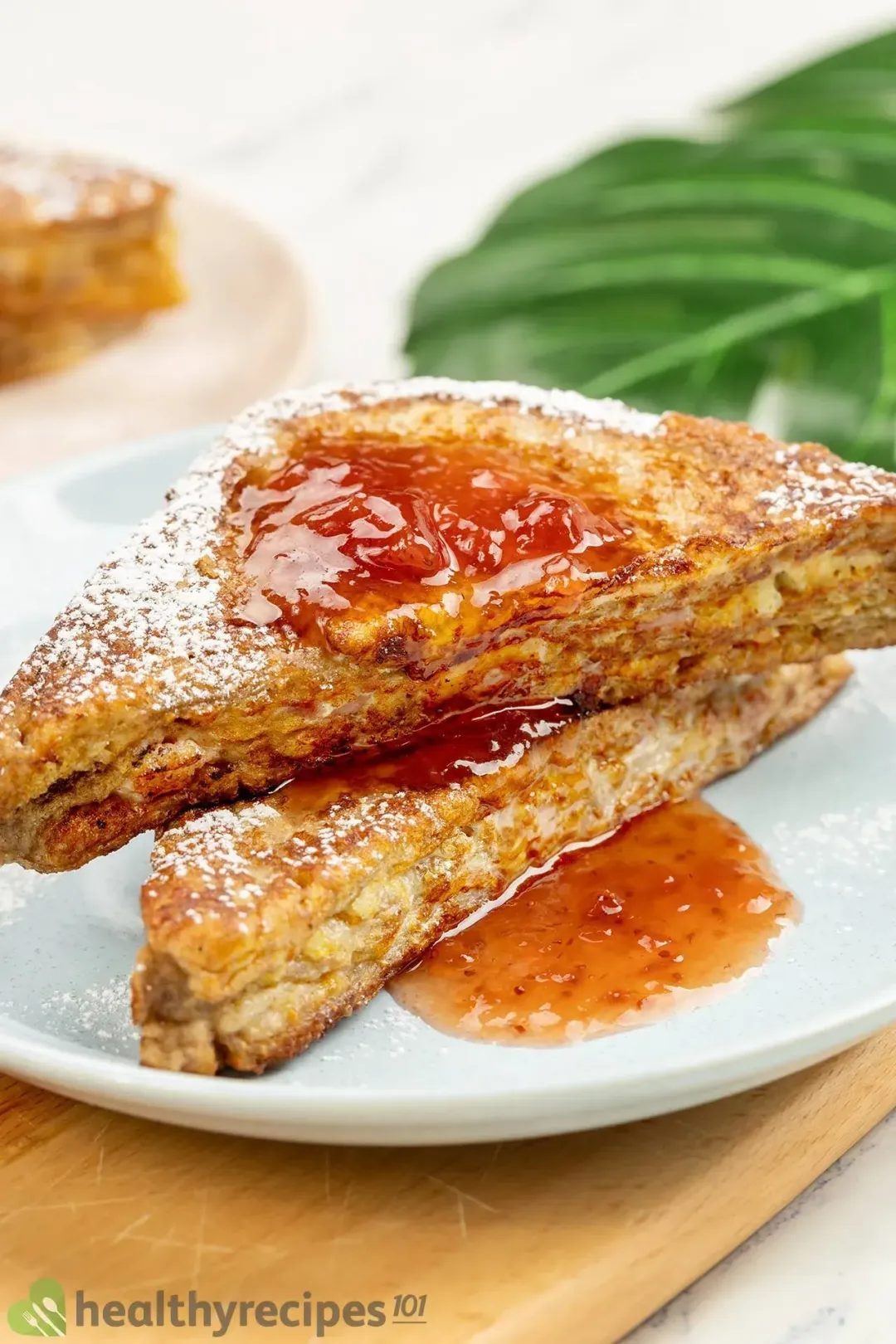 Typically, a Monte Cristo is a replica of a ham and cheese sandwich. After assembling, it's dipped in an egg batter, fried in butter, and sprinkled with powdered sugar to top it off.
Over time, the Monte Cristo has developed into several sweet and savory variations, leaving flavoring choices in the maker's hands.
Croque Monsieur vs Monte Cristo
Croque Monsieur is the original French dish the Monte Cristo is supposed to have originated from. The difference comes in adding a béchamel sauce that really enhances the flavor of a Croque Monsieur.
What's more, a Monte Cristo is dipped in an egg custard, whereas a Croque Monsieur typically is not.
Is a Monte Cristo Sandwich Healthy?
Let's begin with bread, which has the most nutritional value. Compared to white bread, sprouted wheat bread has more fiber and serves half the amount of sodium per slice.
There's every reason to monitor our sodium intake, what with all the snacking and cheat meals we may choose to indulge in throughout the day.
Reducing salt and sodium intake may help reduce the risk of heart disease, among many other complications. Low vitamin D and high blood pressure cases are just some examples of conditions that may result from high-sodium diets.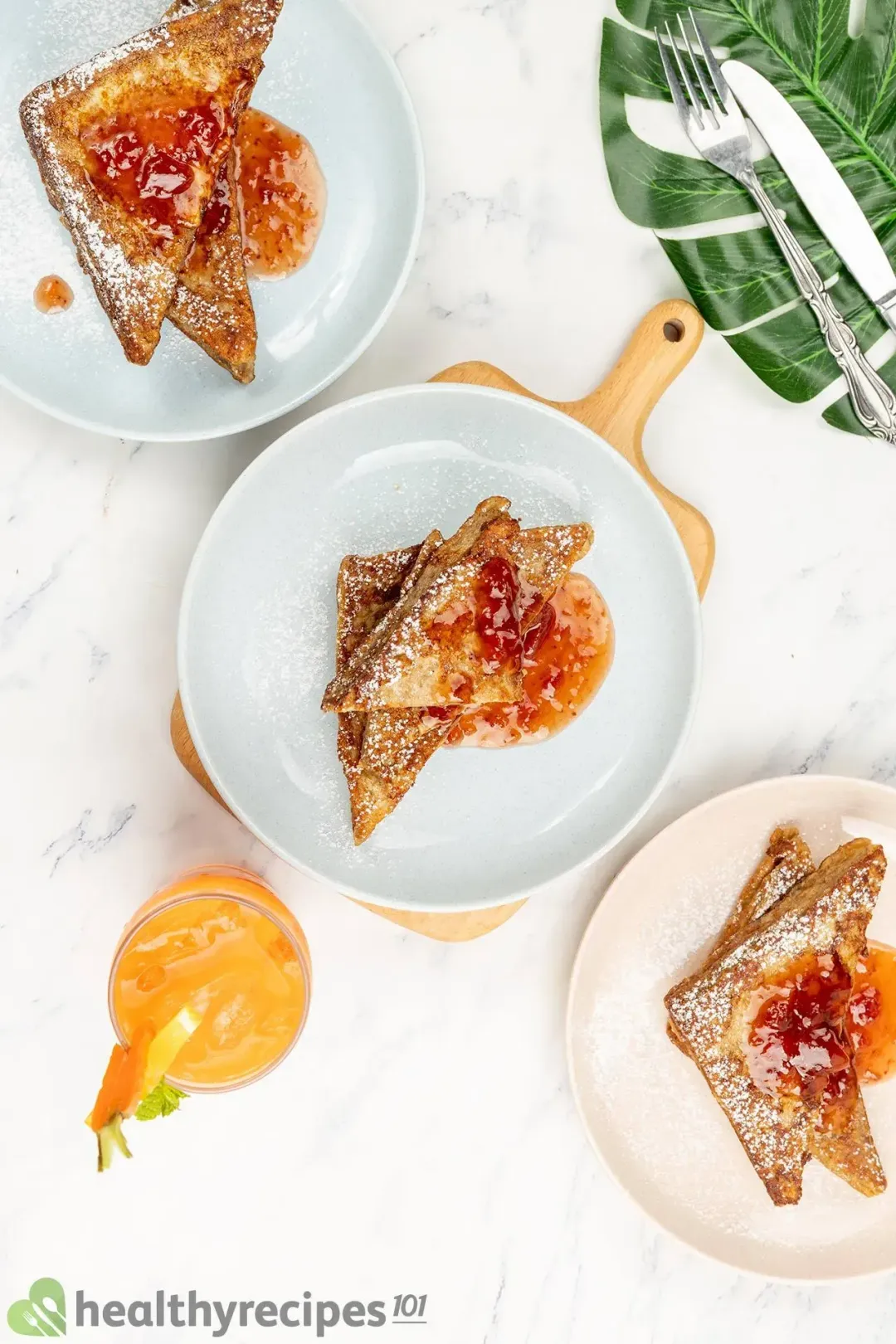 Sprouted wheat bread is also lower in calories, giving us room to add more slices to this sandwich!
Another nutritious aspect is eggs. Egg whites are a low-calorie source of proteins.
They contribute over 60% of the protein found in a whole egg while staying low in other nutrients and overall calories. As a result, they are an excellent option for those wanting to lose weight and build muscle.
What's in a Monte Cristo Sandwich?
Like any other sandwich, a Monte Cristo is made up of bread and filling. However, your choice of these elements makes all the difference.
1. Best Bread for Monte Cristo Sandwich
Brioche or French bread are our go-to choices for every fried sandwich recipe. Whether it's French toast or the Monte Cristo, these types of bread are perfect for soaking up egg custard without absorbing too much of it.
Brioche is denser than standard bread loaves, meaning it will produce a firmer sandwich. You can get similar results using day-old sliced bread or baguette bread, which is drier than other varieties.
If you want to try another recipe, our French Toast Casserole or club sandwich recipe also makes a delicious breakfast treat.
2. Meat
For us, this is the fun part when making a Monte Cristo; you can stack juicy, flavorsome meat between the bread for a savory center. Meat like ham, or bacon, is excellent for adding natural fat that accentuates flavor.
Turkey slices are also a perfect way to get yummy pork flavor with less fat. Whichever meat you use, remember to layer it with some cheese, like mozzarella, for that stringy cheese effect we all love.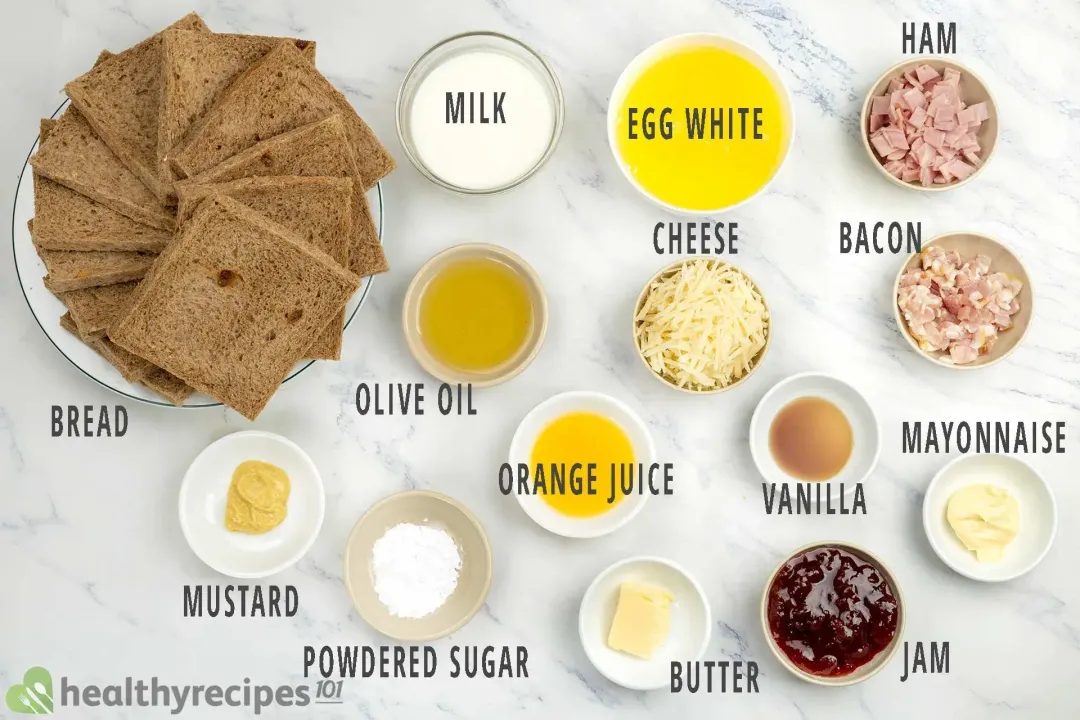 3. Jam
At first, we weren't sure how the flavors of meat and berry would go together in this dish. But we knew a Monte Cristo sandwich without jam would be just another regular sandwich.
Adding jam is the finishing touch that takes the sandwich from simple to elegant. It brings berry zest to complete a dish bursting with sweet and savory flavors.
Preparation Tips
First, to get a nice, compact sandwich that's easy to cook, use a cutting board to compress the sandwich.
Next, use a spatula, with one hand on top, to dip the sandwich for about 4 seconds on each side. The batter should reach halfway up the middle slice, so you get a fair whack of creaminess.
You'll also be surprised how any citrus juice will add pleasant, tangy flavors that bring another facet to the dish.
What to Serve with a Monte Cristo Sandwich
Below are a few of our favorite accompaniments for Monte Cristo.
1. Berry Dip
Make a zesty berry dip using strawberry, or any jam of your choice and orange juice. Berries are superfoods rich with nutrients.
On a taste level, they give a sweet-savory flavor to the dish and a tartness balanced by the creamy toast.
2. Fruits
Bite-sized fruits like grapes (or tomatoes) are a smart way to add light calories. They are full of quenching flavor and add an appreciated sweetness to the dish.
Their acidity also helps to cut through the decadent flavors of the Monte Cristo.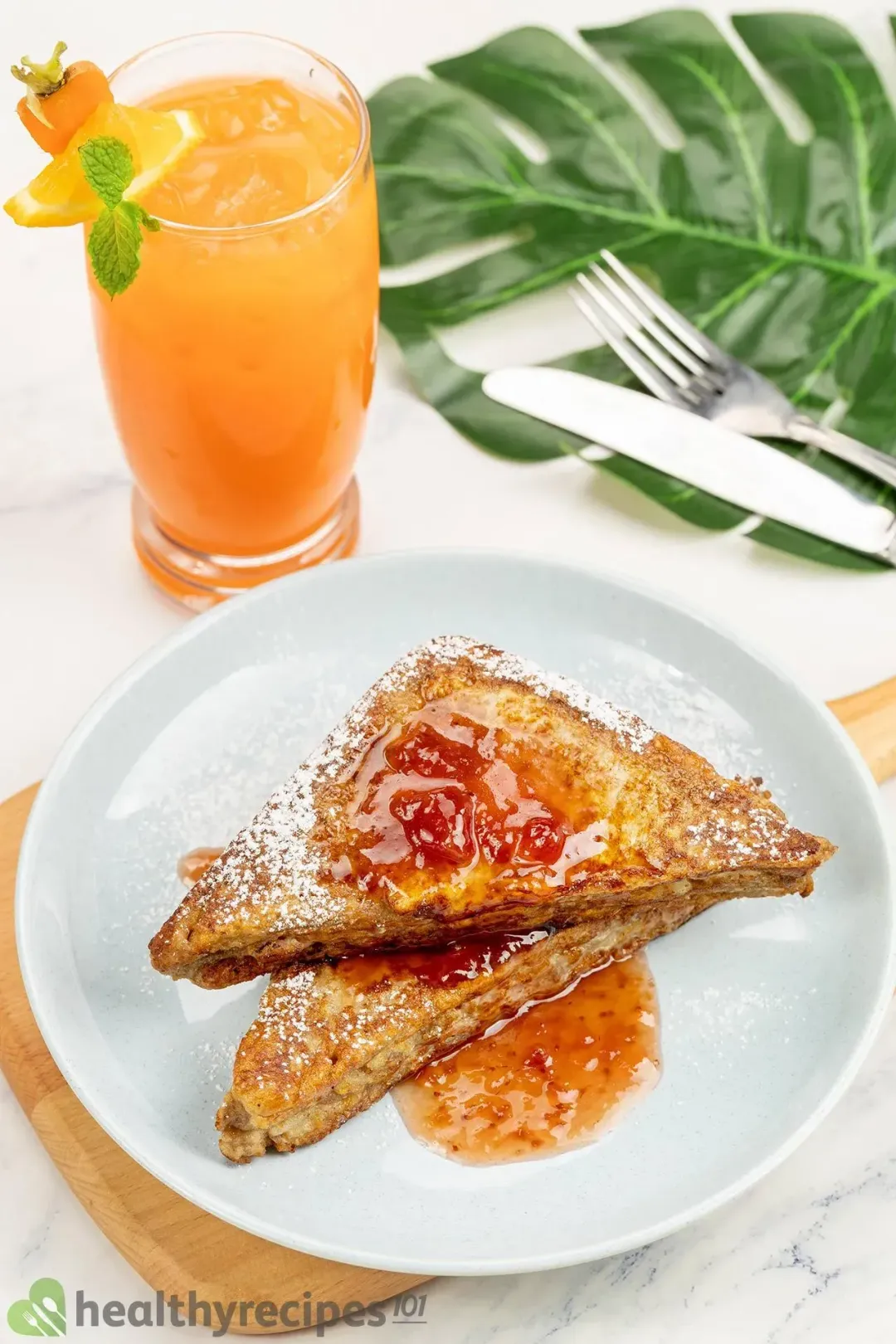 3. Carrot Orange Ginger Juice
To complete a full and filling breakfast, add a quenching element like a carrot beverage. Carrot juice not only complements a sweet and cheesy sandwich but also adds nutrients and healthy calories.
We suggest keeping Monte Cristo side dishes simple, light, and nutritious. This way, you can round up your meal without taking away from the filling flavors of the sandwich.
Other Delicious French Dishes
FAQ
1. How Many Calories Are in Monte Cristo Sandwich?
This Monte Cristo sandwich contains 469 calories per serving, about 23% of your daily calories on a 2,000-calorie diet. Most of them come from proteins, meaning this dish will keep you satiated for longer periods.
A significant chunk also comes from carbs, namely 26% of your daily fiber need and 14 grams of net carbs.
2. Can You Freeze a Monte Cristo Sandwich?
Yes, you can freeze a Monte Cristo sandwich.
All you have to do is wrap each sandwich separately using plastic wrap. After that, place them in an airtight container like a Tupperware box.
Monte Cristo sandwiches are best enjoyed fresh. However, if you leave frozen batches to defrost in the fridge and then lightly fry them in butter, you can reintroduce that crispy fried exterior.
Remember not to add jam or powdered sugar to the sandwiches if you're storing them. Store plain sandwiches and add the condiments only after reheating.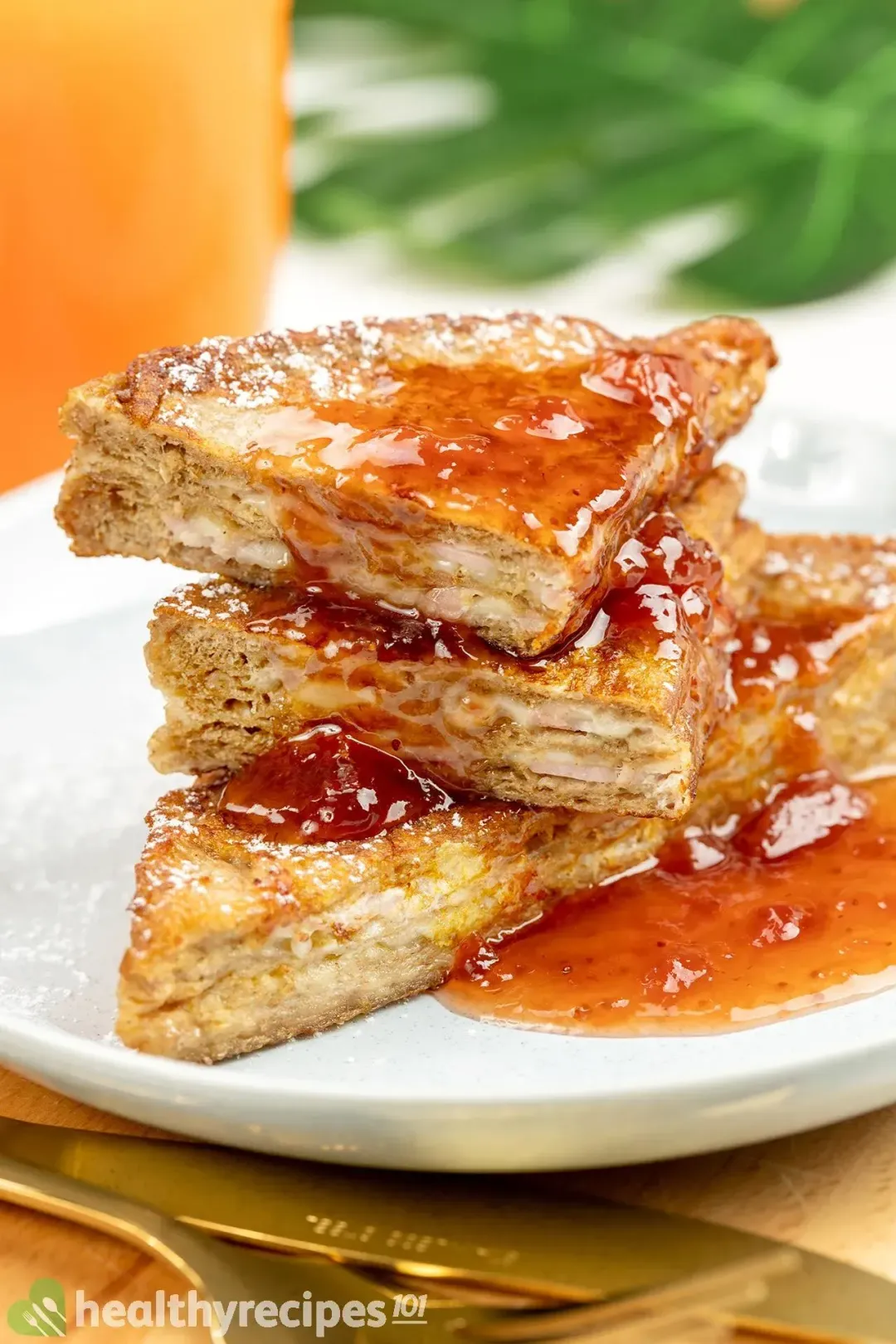 3. How Long Does a Monte Cristo Last?
Monte Cristo sandwiches can last from two to three months in the freezer. But you can also store them short-term in the refrigerator for up to three days.
Monte Cristo
This Monte Cristo Sandwich is a quick but satisfying breakfast with a melted cheese, bacon, and ham center. You can also use day-old bread with similar results. Serve it hot or cool along with a zesty berry sauce.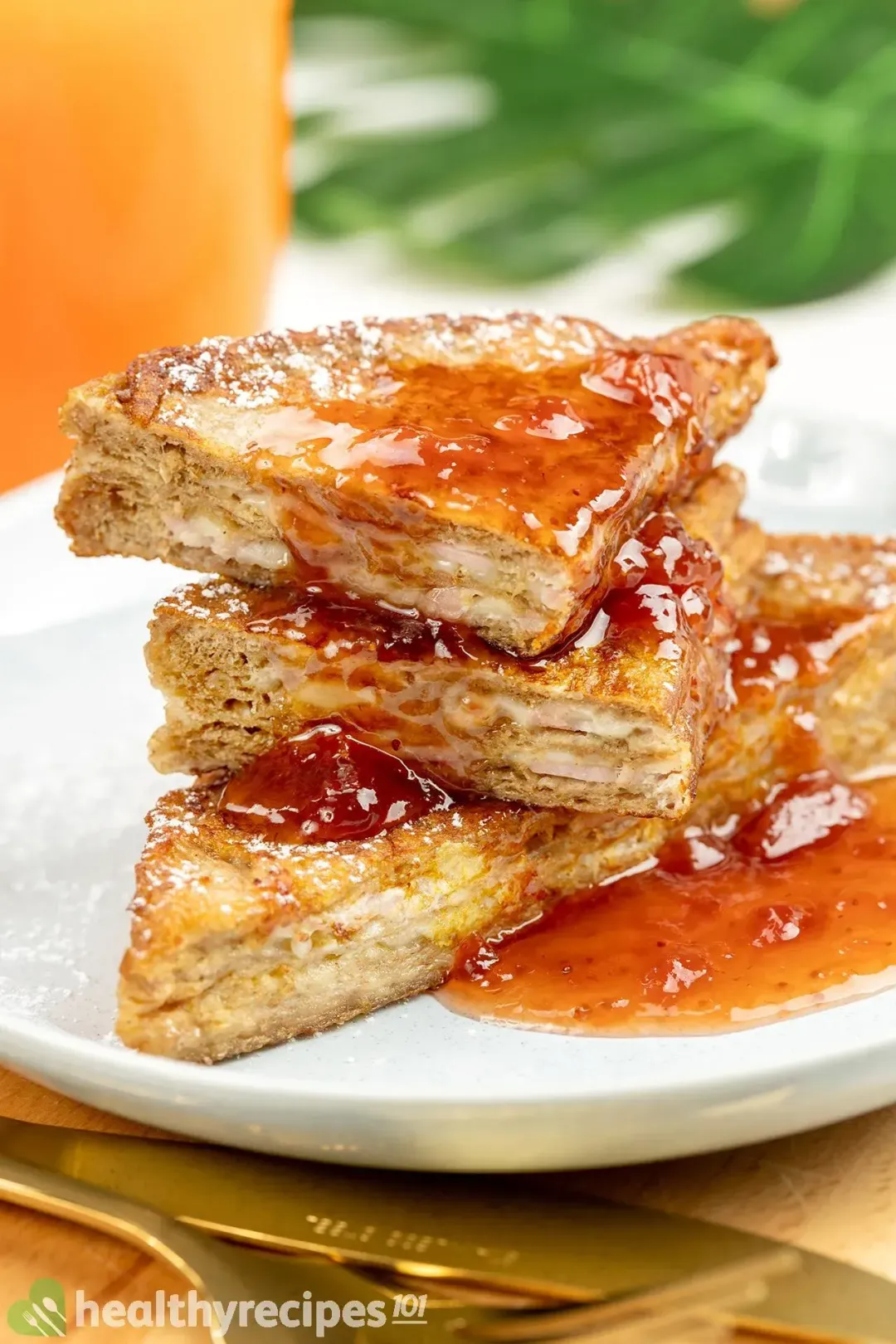 cook TIME

12 mins

prep TIME

5 mins

total TIME

19 mins

INACTIVE TIME

2 mins
COURSE

Breakfast, Dinner, Lunch

CUISINE

American, French

SERVINGS

CALORIES

469 kcal
INGREDIENTS
Sandwich

12 slices

sprouted wheat bread

(crusts sliced off *)

2 oz

swiss cheese

(grated)

1 tbsp

Japanese mayonnaise

2 tsp

traditional Dijon mustard

1.5 oz

ham

(cut into tiny squares)

Egg Dip

Berry Dip

4 1/2 tbsp

jam

(strawberry)
INSTRUCTIONS
1
Start by roughly chopping 1.5 oz raw cured bacon.
2
Combine 1 tbsp Japanese mayonnaise and 2 tsp traditional Dijon mustard in a dip bowl.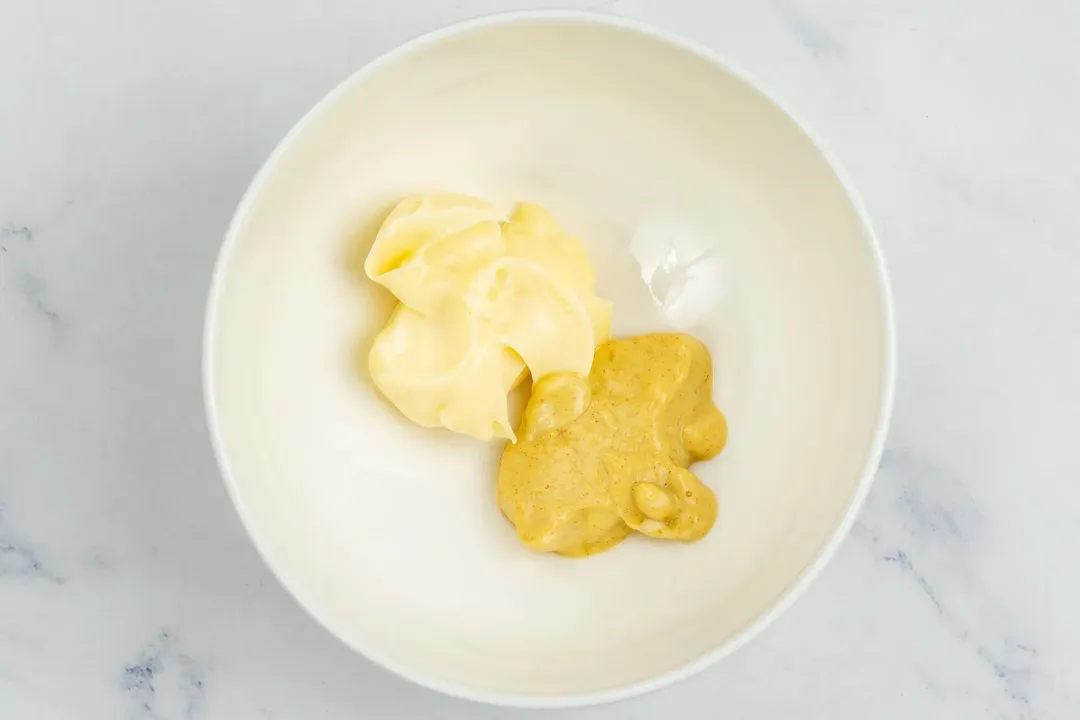 3
In another bowl, mix 4 1/2 tbsp jam and 4 tsp orange juice to create a dip.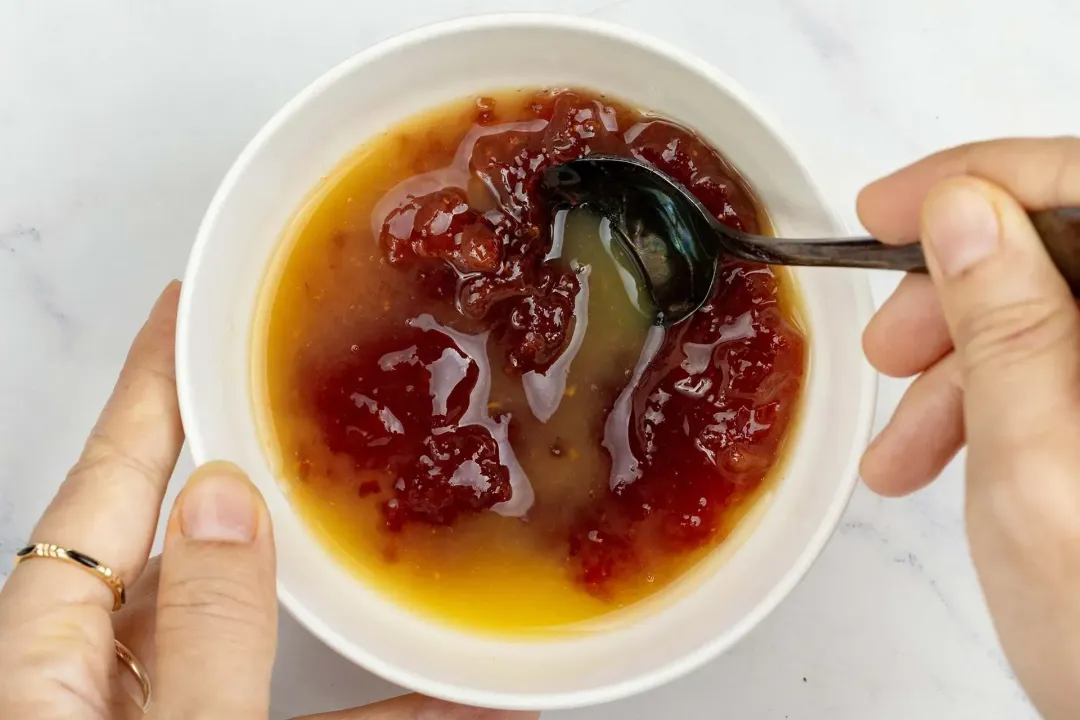 4
In a shallow dish, add 5 egg whites, 8 tbsp milk, and 1 tsp vanilla and whisk together until mixed.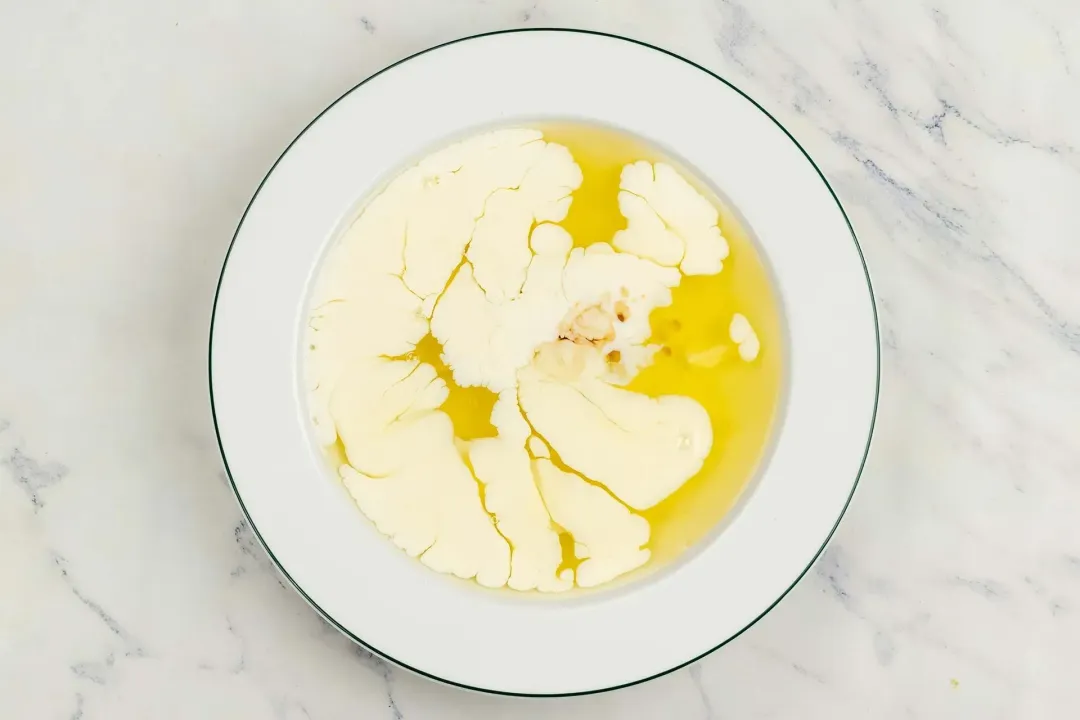 5
To make one sandwich, lay out 3 slices of bread. Add cheese onto the first slice, followed by ham. Spread the mayonnaise and dijon mixture onto one side of the second slice. Place it on top of the ham (mayonnaise side down) spread the mayonnaise and dijon mixture, then add bacon, followed by cheese. Finally, add the third slice of bread.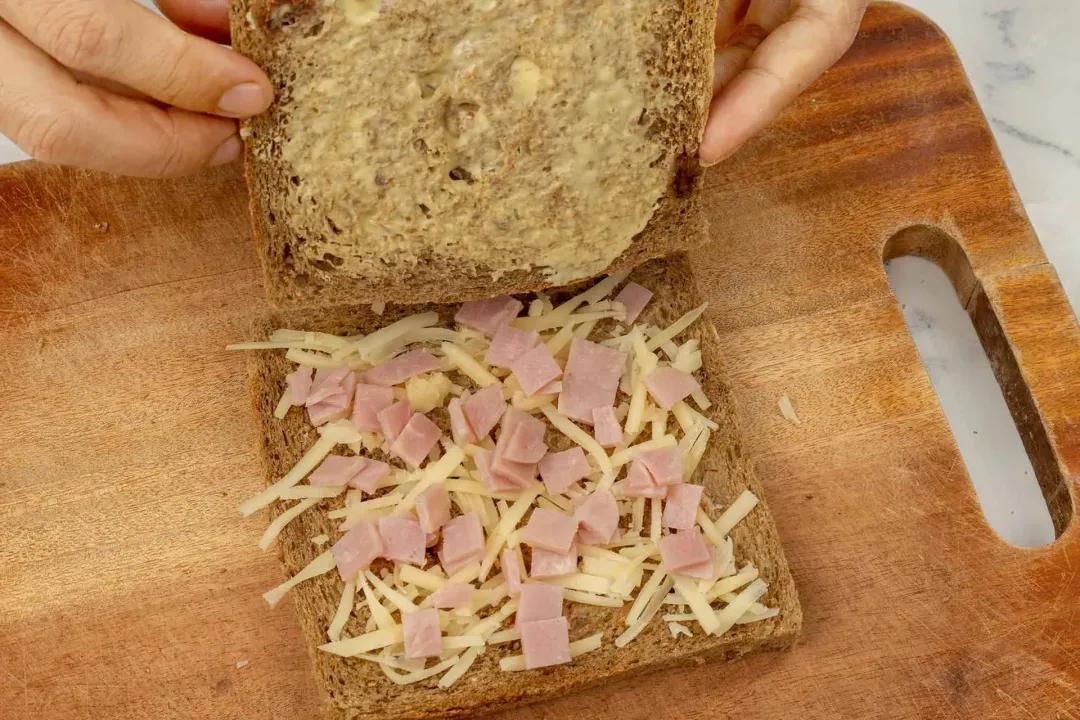 6
Use a rolling pin or cutting board to compress the sandwich for about 10-15 seconds. Cut the sandwich diagonally.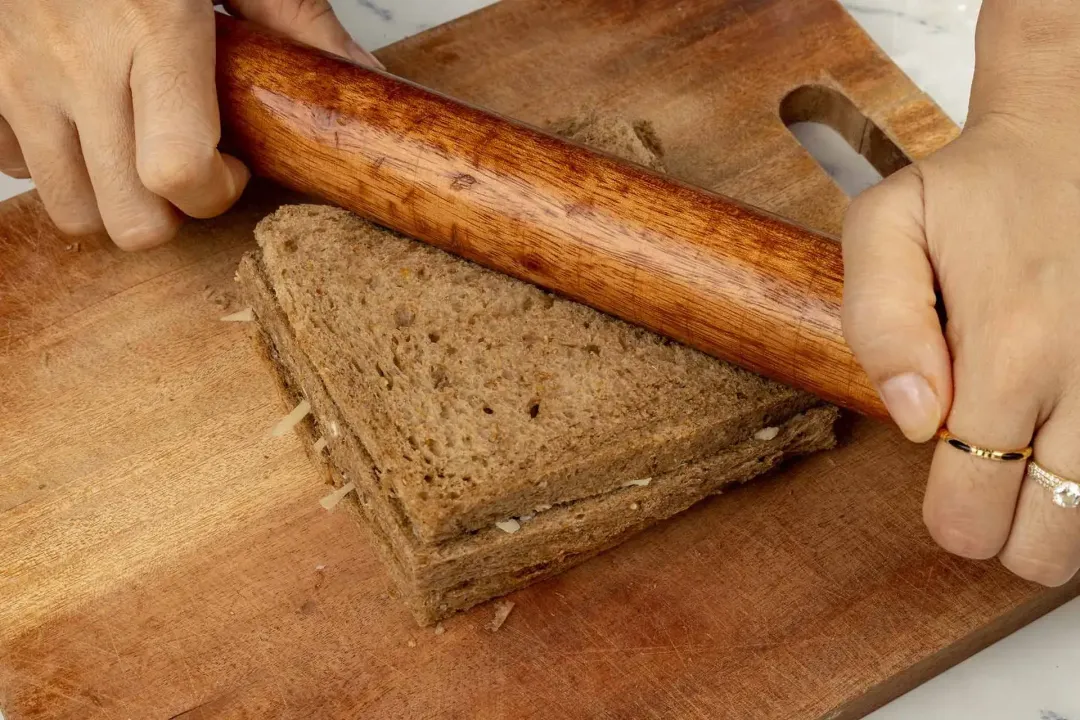 7
In a skillet, melt some butter and add olive oil at medium heat. (You can fry two sandwiches at a time if the skillet is large enough. Just remember to divide the butter and oil accordingly.) Dip the sandwich into the egg mix and transfer it to the skillet.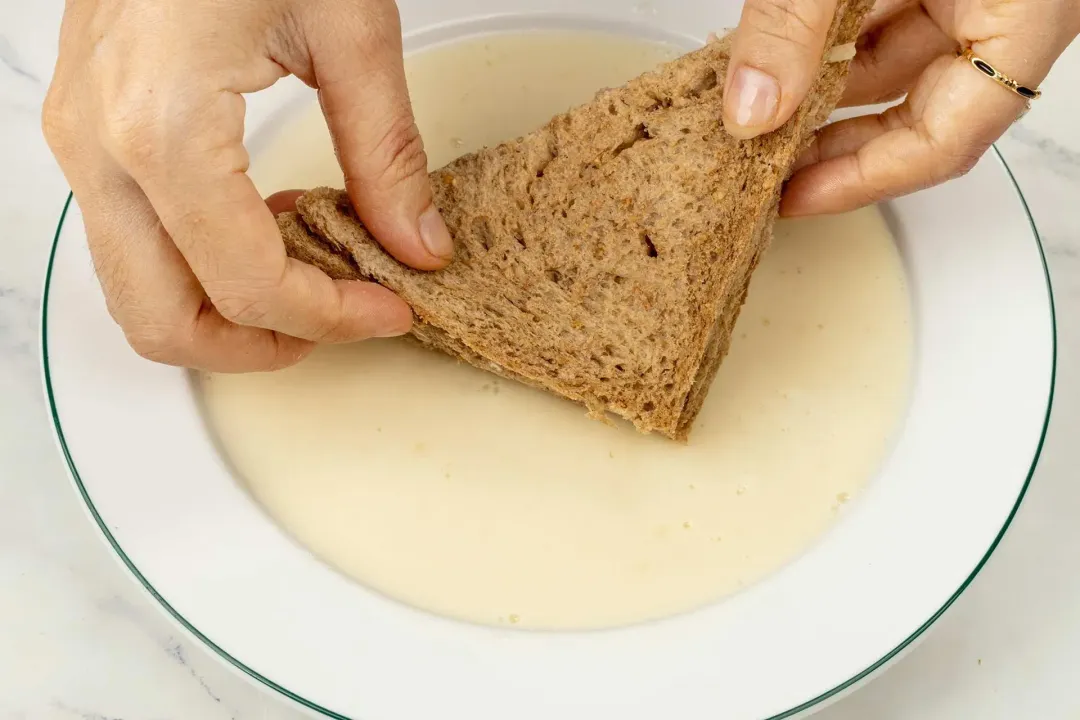 8
Cook for 4 minutes on each side until a dark, crispy brown crust forms.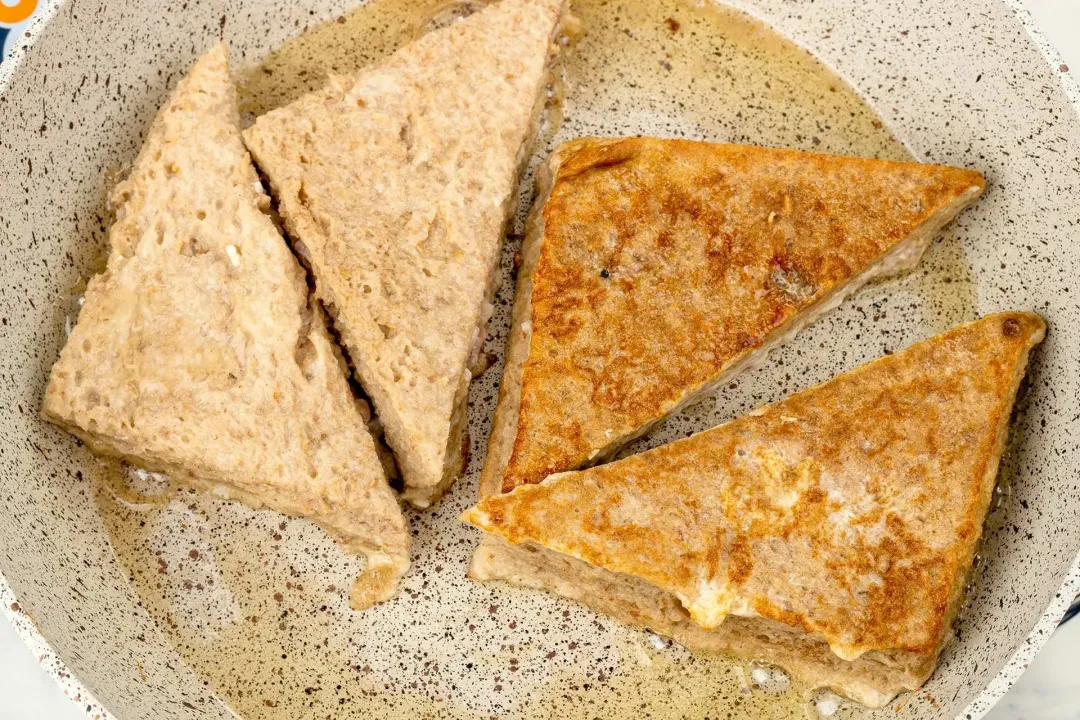 9
Remove from the heat and sprinkle with 1/2 tbsp powdered sugar. Serve immediately with the jam dip and a light beverage.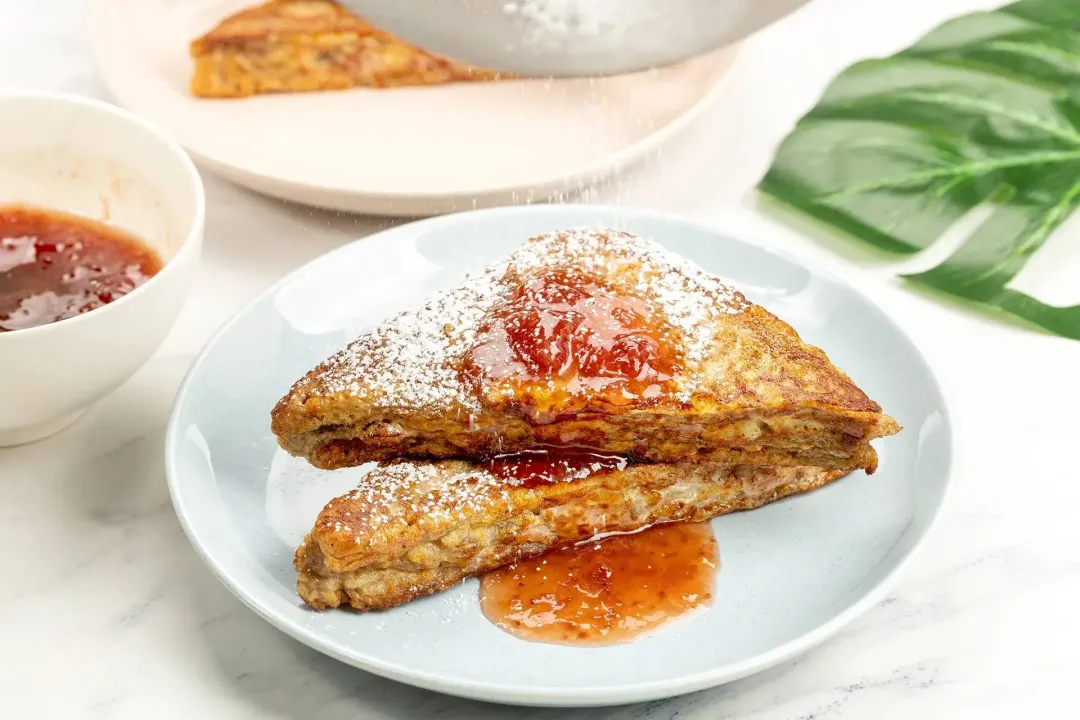 (*) Only some of the bread is used and we have calculated nutritional values based on the amount in the final product. The total amount consumed is 10 slices of sprouted wheat bread.
NUTRITION
Nutrition Facts
Monte Cristo
Amount Per Serving (1 serving)
Calories 469
Calories from Fat 207
% Daily Value*
* Percent Daily Values are based on a 2000 calorie diet.
Keywords: How to make Monte Cristo Recipe, Monte Cristo, Monte Cristo Recipe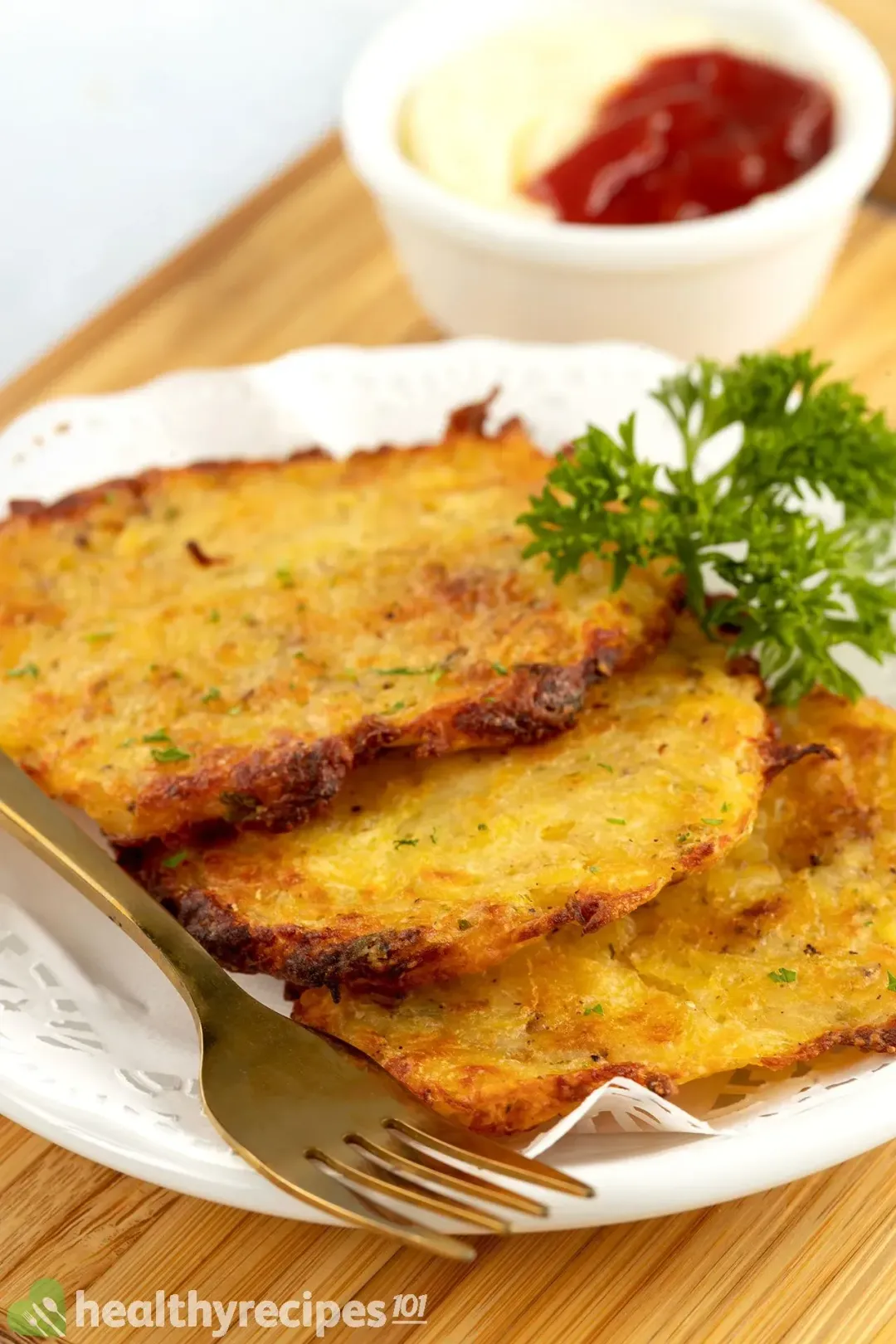 Previous Recipe
Air Fryer Hash Browns
Air Fryer Hash Browns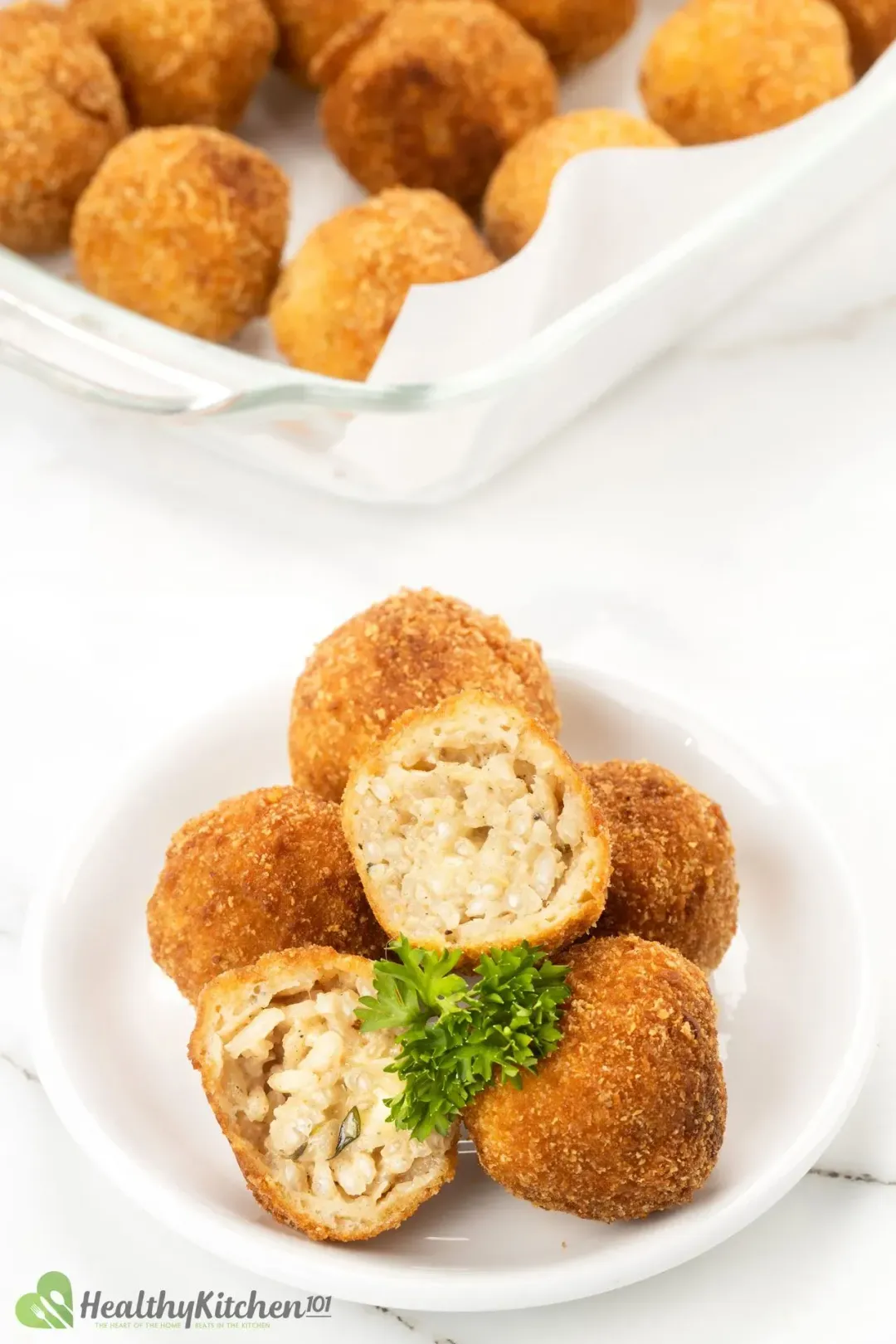 Next Recipe
Arancini (Rice Balls)
Arancini (Rice Balls)
I just prepared a Monte Cristo sandwich and it was scrumptious! The balance of sweet and savory flavors made it irresistible.