Our air fryer salmon sticks recipe may be the perfect simple-yet-tasty way to get your picky kids to eat more fish. Or just fry some for yourself — we won't judge!
The tender and protein-rich salmon fish sticks are coated in a delectable crispy shell before being dipped in a creamy, tangy tartar sauce. Unlike ordinary fried foods, though, the dish doesn't require any additional oil to cook. It's one of the best choices for those who care about daily nutritional value but still want that nostalgic flavor.
Is This Recipe Healthy?
Compared to deep-fried methods, air frying is a far healthier way to cook. Air fryers accomplish with air what deep-fryers do with hot oil, so you rarely have to add much oil to the food at all. That means your meals will have significantly less fat content than their deep-fried counterparts.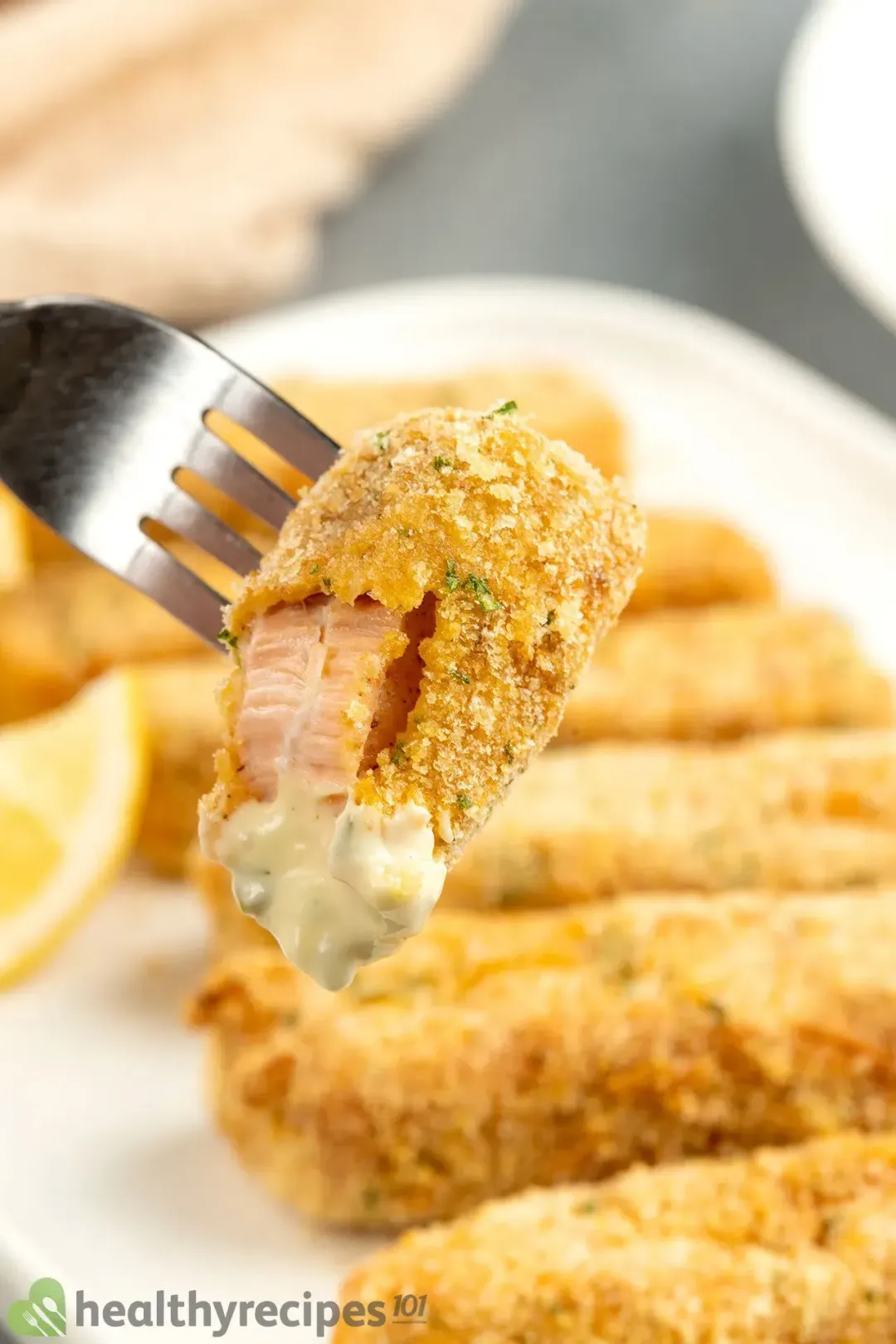 Lowering your oil intake can benefit your health. Scientists link the high fat intake to increased health risks such as heart diseases, high blood pressure, and negative impacts on mental health.
In terms of nutritional content, we carefully calculated the calories, sodium, and saturated fat in the recipe to ensure they're in line with the USDA Dietary Guidelines. To sum up, yes, we believe our air fryer sticks recipe is relatively healthy.
What Are These Sticks Made of?
Fish sticks (in the US) or fish fingers ( in Britain) are normally deep-fried fillets made using white fish like cod, hake, or pollock. The dish is served with a simple sauce like mayonnaise or ketchup, making it a go-to finger food for many home cooks.
Here is what you need to make fish sticks: 
Fish: A white and firm fish like cod or haddock is popular for fish sticks, but other fish types can also work just as well. You'll want to cut it into strips, so 1-inch-thick fillets are a great choice to buy.
All-purpose Flour: Flour is used to coat the outside of the fish, forming a barrier to absorb excess moisture and keep the fish from getting soggy.
Egg: Before the second breading, the fish strips are dipped into an egg wash to ensure the next step's panko layer sticks to the surface.
Breadcrumbs: Panko breadcrumbs are the secret for a perfect fried-fish coating. It doesn't have to be this recipe either; give this parmesan crusted salmon a try to see how versatile the breading can be. Made from white bread without crust, panko is lighter and stays crispy for longer than traditional breadcrumbs.
Spices and Seasonings: It's important to season your ingredients in each step. Salt, pepper, and garlic powder add the most complementary flavors with minimal ingredients. We also add a bit of paprika, not for the taste but to color the sticks, giving them a nice golden coating once fried or baked.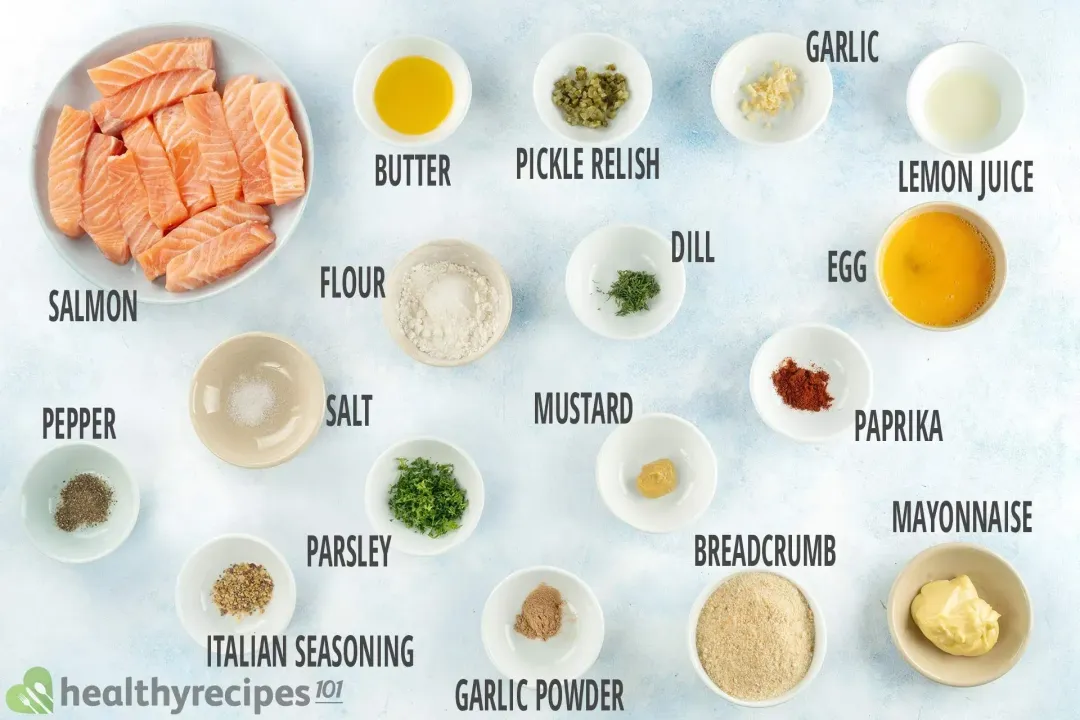 Sauce
These tasty, air-fried salmon sticks wouldn't be complete without a tartar sauce. Tartar is a mayonnaise-based condiment flavored with spices and herbs. The sauce varies in taste and texture since the recipe can go with many different add-ins like lemon juice, mustard, garlic, or pickle juice. 
This creamy, tangy, and savory dipping sauce is made for fish and seafood dishes. We think it acts as the perfect finish for this air fryer fish sticks recipe.
Don't be afraid, though — there is no set of rules for what can go with these sticks. Ketchup or mayonnaise are simple, classic choices, but you can just as easily try your own concoctions.
How to Cook Frozen Sticks in the Air Fryer
Frozen fish sticks can be cooked easily in the air fryer without any special techniques. In fact, even if your fish sticks are frozen, there's no need to thaw them — just place them directly into the air fryer's basket.
We recommend spraying the fish strips with a bit of olive or vegetable oil to help the strips crisp up even more in the air fryer. However, this step is optional, and the air fryer still does a great job of that on its own.
How Long to Cook
Store-bought frozen fish sticks come in different sizes and thicknesses. This means you have to adjust the cooking time for each frozen stick batch.
An easy way is to "test" 1 - 2 fish strips for the first round and estimate the time for the next round. Usually, after the first testing time, you'll be able to gauge how to cook your frozen fish sticks efficiently.
If you need a specific number to start your first testing round, from our experience, most of the available frozen sticks need to be cooked for about 8 - 10 minutes to get a perfect golden brown color.
Tips for Making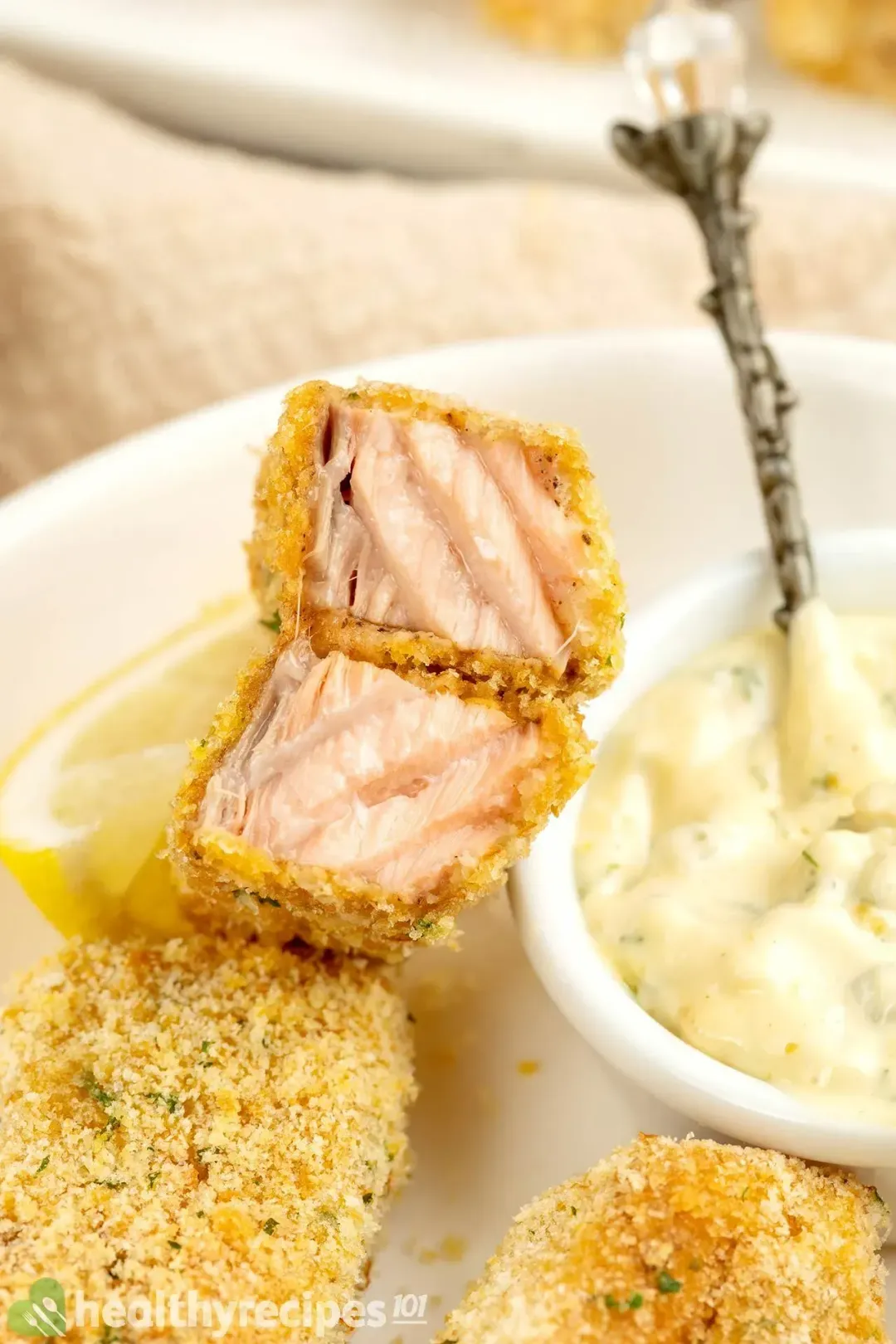 Do not overcrowd your air fryer's basket: It's important to place those strips in a single layer so that the heat can circulate and ensure they are all cooked evenly.
Don't leave your fish on the counter longer than necessary: Since the fish fillets are often well-seasoned before you coat them, leaving them at room temperature for too long could allow more of the fish's internal juices to seep out. The fish sticks might then turn out too soft and soggy.
Use the right temperature: Correct temperature is one of the most vital determinants of the dish's quality and texture. Low heat can result in soft, soggy sticks while overly high heat could burn the strips. An ideal temperature of 340 - 360°F will ensure the fish gets cooked through wonderfully.
What Goes with This Dish
Fish sticks are often served as an appetizer or quick snack. If you want to make a light meal around your fish, consider the options below:
1. Salad
Salad is a refreshing and healthy way to introduce a good dose of vitamins and essential nutrients to your fish dish. Replace tuna with fish sticks on a Nicoise salad or chop them for a caesar salad.
2. Sandwich
Melt some cheese on top and place the fish stick in a soft bun for a quick homemade fried fish sandwich. And don't forget to lay in some tomato slices and lettuce leaves to round out the textures.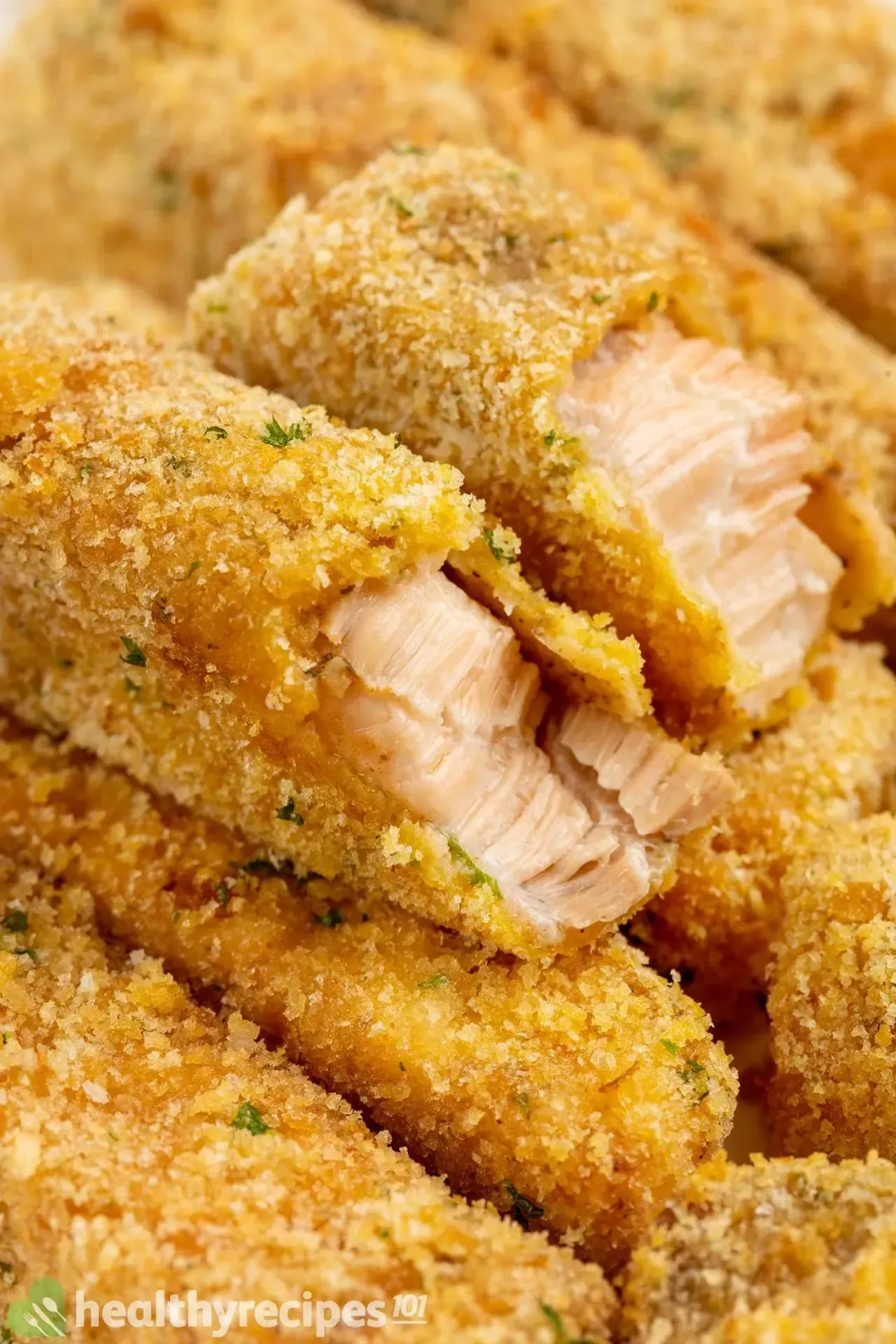 What Else to Make in the Air Fryer
Maybe some salmon patties that cook without oil in just 25 minutes? They're served with a rich, tangy pink sauce, making for a great snack. Or are you into something more fulfilling, say, well-spiced salmon filets served with cooked vegetables? We sure have a lot of salmon dishes, but none has more veggies than this one—it'll up your nutritional intake of the day.
We have some more air-fried salmon dishes collected here. If you have some time, have a look and see which is your favorite.
Air Fryer Salmon Fish Sticks
This air fryer salmon fish sticks recipe makes a quicker yet healthier version of the iconic deep-fried British snack.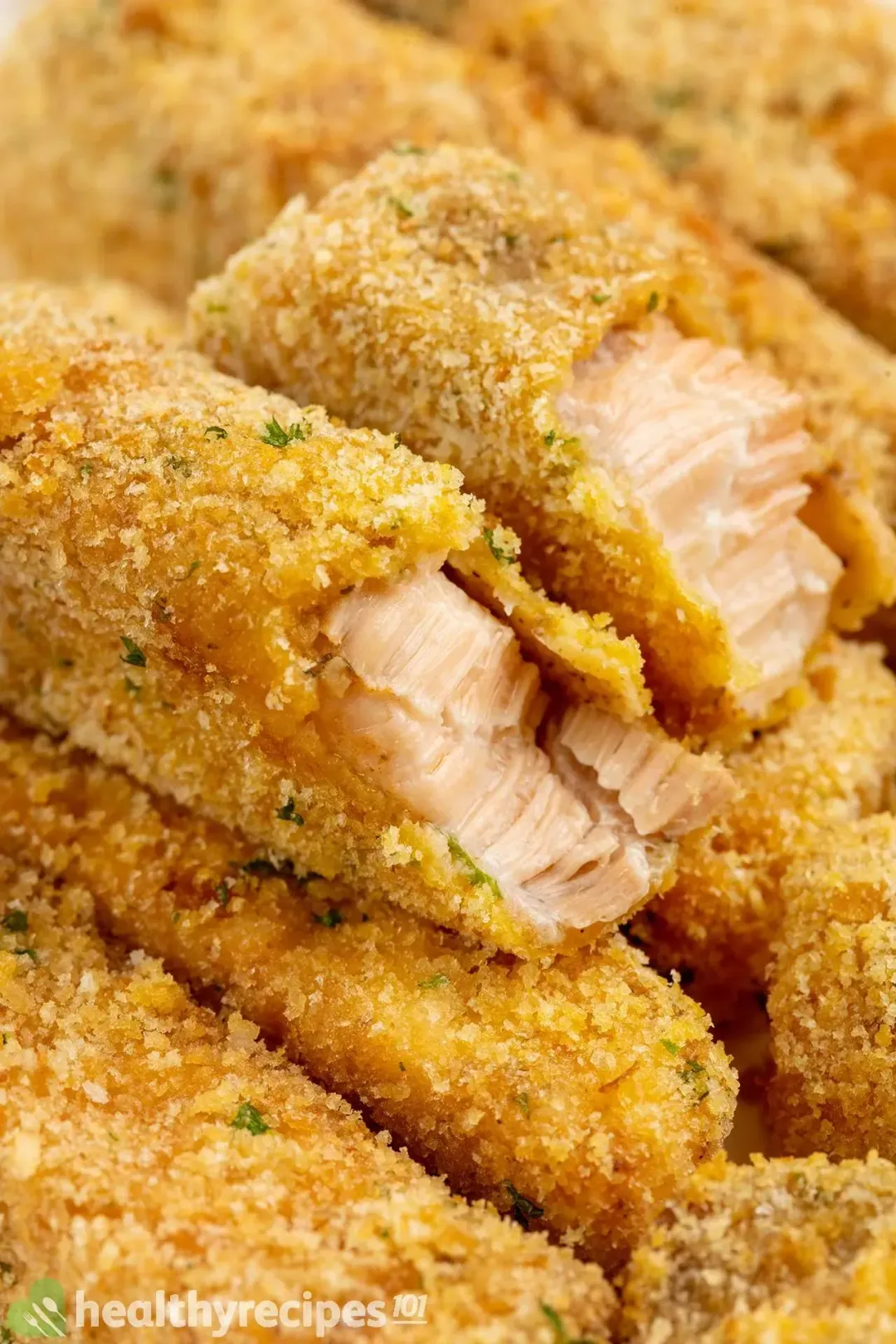 cook TIME

10 mins

prep TIME

10 mins

total TIME

20 mins
COURSE

Side Dish

CUISINE

British

SERVINGS

CALORIES

255 kcal
INGREDIENTS
14 oz

skinless boneless salmon fillets

(cut into 1x3.5 inch strips)

10 tbsp

plain panko breadcrumbs

1/4 tsp

Italian seasoning

2 tbsp

Japanese mayonnaise

1/2 tsp

traditional Dijon mustard
INSTRUCTIONS
1
Season 14 oz salmon with 1/4 tsp garlic powder, 1/8 tsp salt, 1/4 tsp pepper, 1/4 tsp Italian seasoning, and 1/4 tsp paprika.
2
Make the breadcrumb mixture: In a small bowl, mix 10 tbsp breadcrumbs with 1/2 tbsp butter and 1 tbsp parsley. Set aside.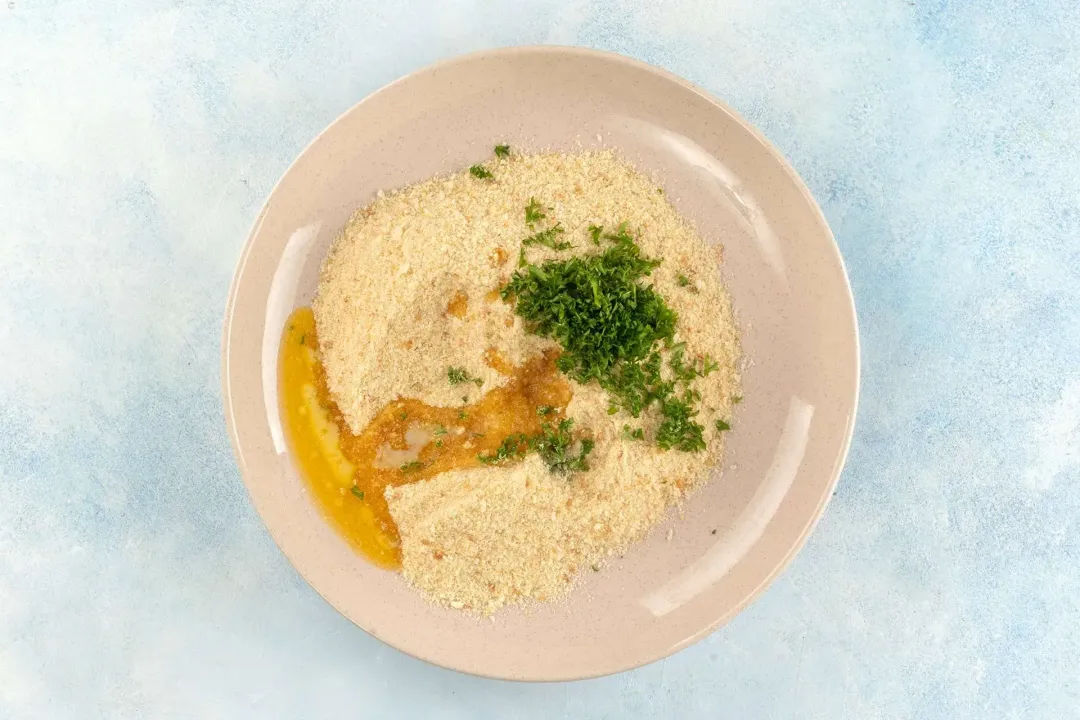 3
Dip each fish stick into 2 tbsp flour, tossing to coat, and shake off any excess. Then dip it into the 1 egg wash and finally into the breadcrumb mixture. Place the breaded fish stick on a prepared plate and repeat with the remaining fish strips.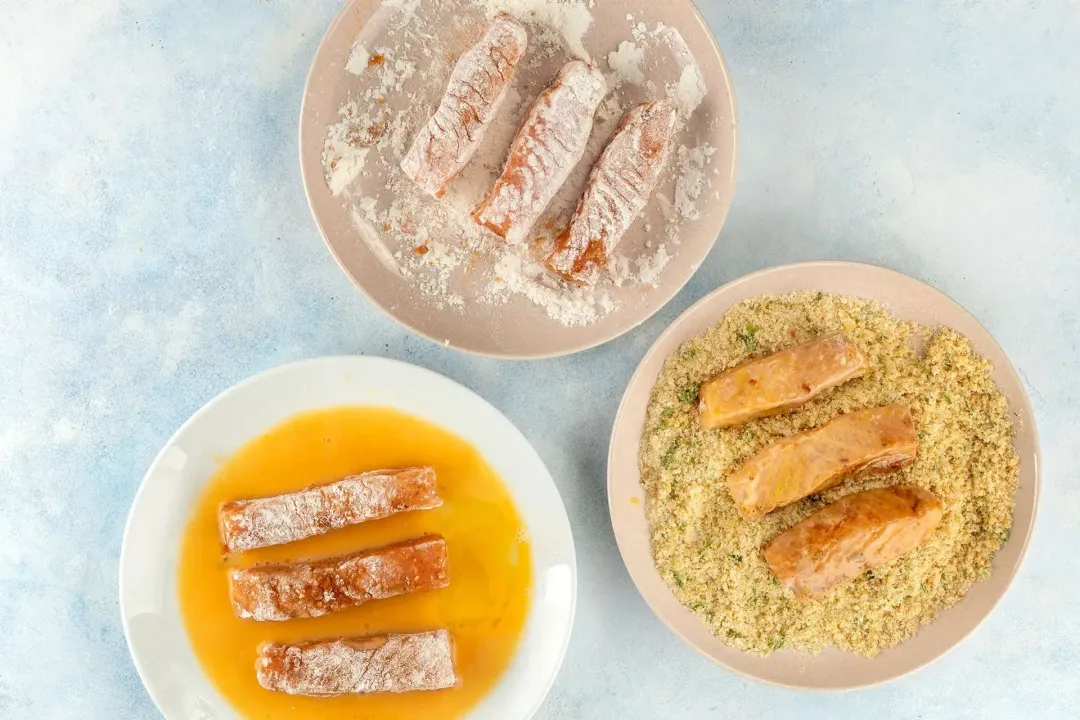 4
Place the fish sticks into the air fryer's basket in a single layer. Cook at 350°F for 10 minutes.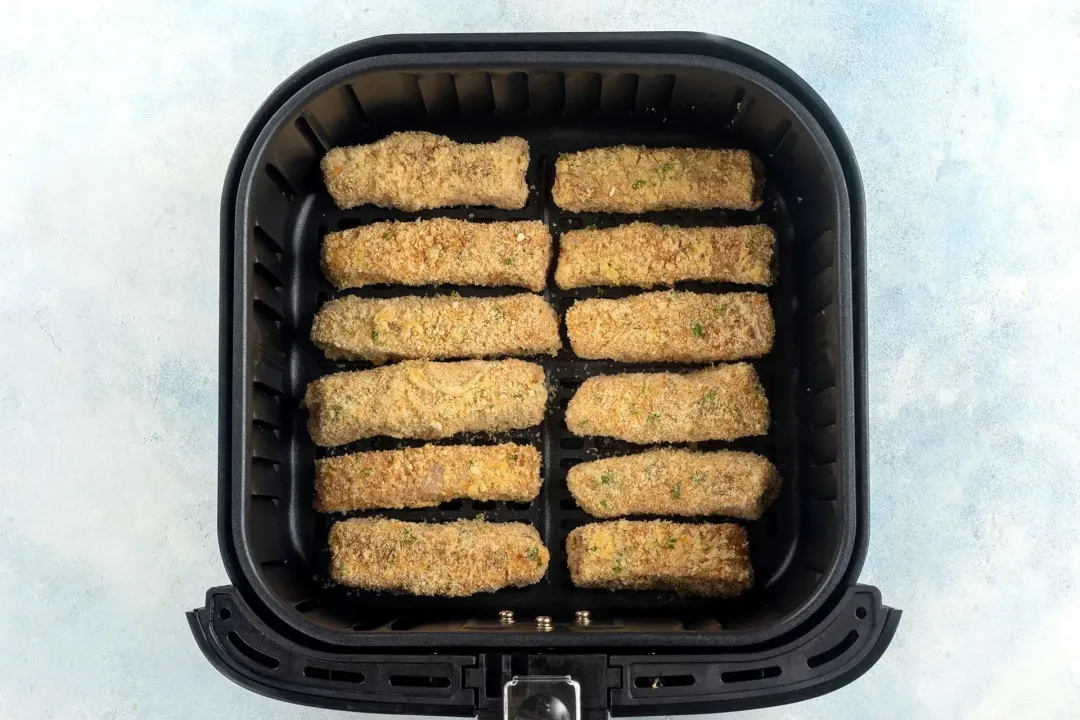 5
Make the tartar sauce: In a small bowl, whisk together 2 tbsp mayonnaise, 1/4 tsp garlic, 1/2 tsp mustard, 0.25 oz pickle relish, 1/4 tsp dill, and 1 tsp lemon juice.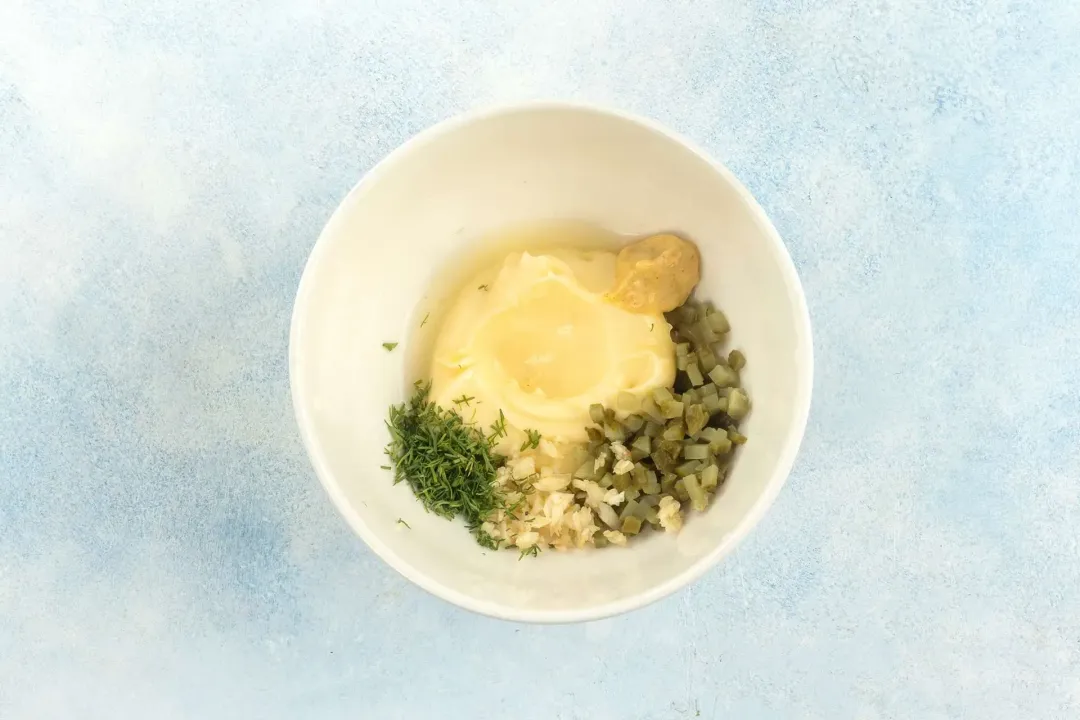 6
Remove the fish sticks from the air fryer. Serve hot, using the tartar sauce as a dip.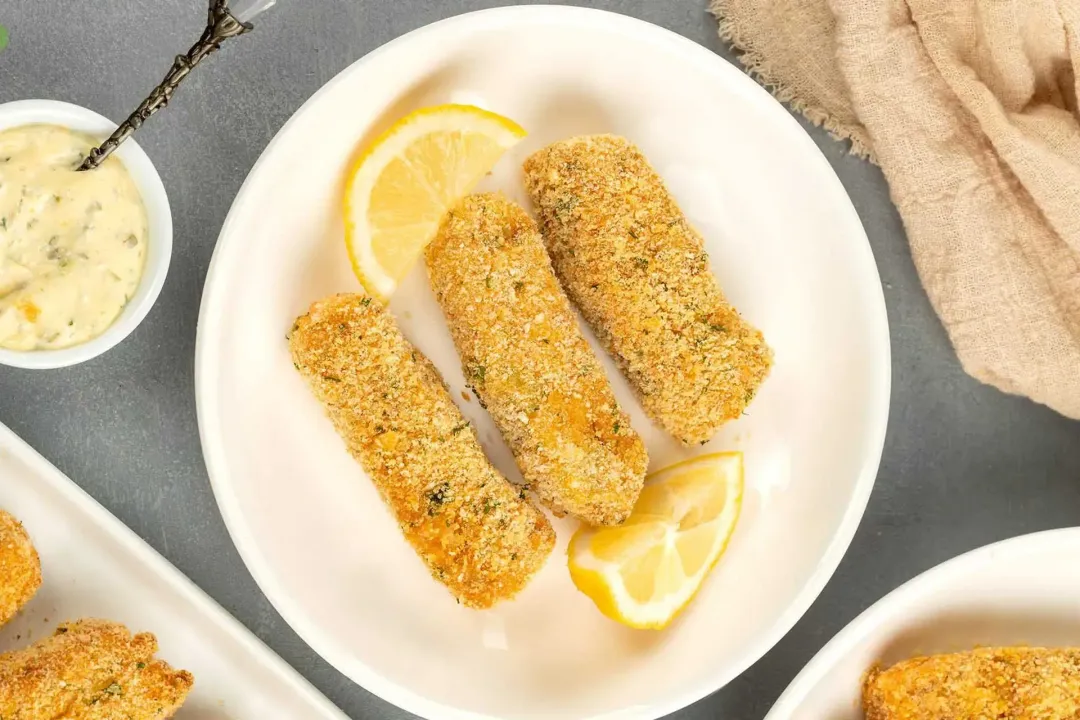 NUTRITION
Nutrition Facts
Air Fryer Salmon Fish Sticks
Amount Per Serving (1 serving)
Calories 255
Calories from Fat 99
% Daily Value*
* Percent Daily Values are based on a 2000 calorie diet.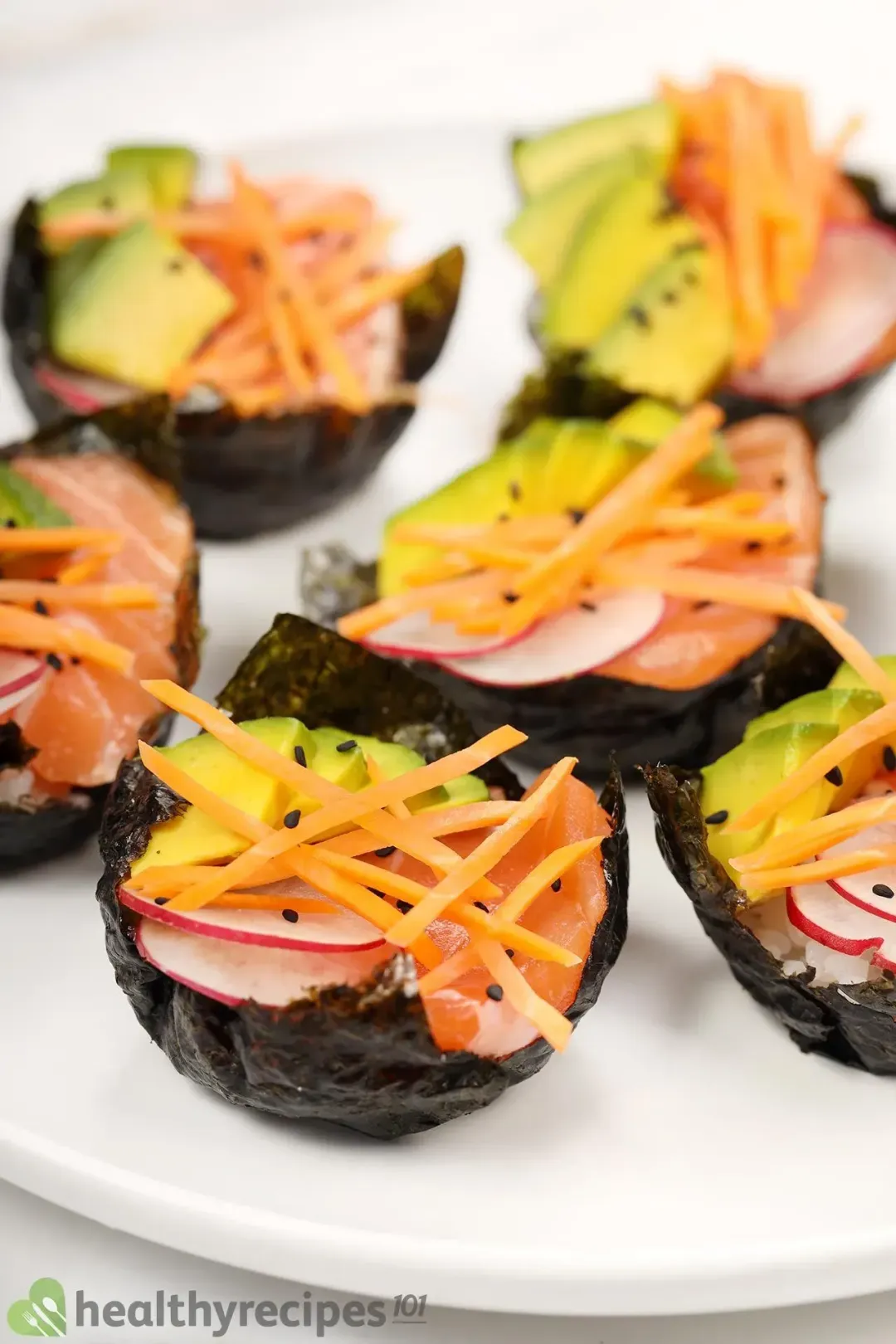 Previous Recipe
Salmon Sushi Cupcakes
Salmon Sushi Cupcakes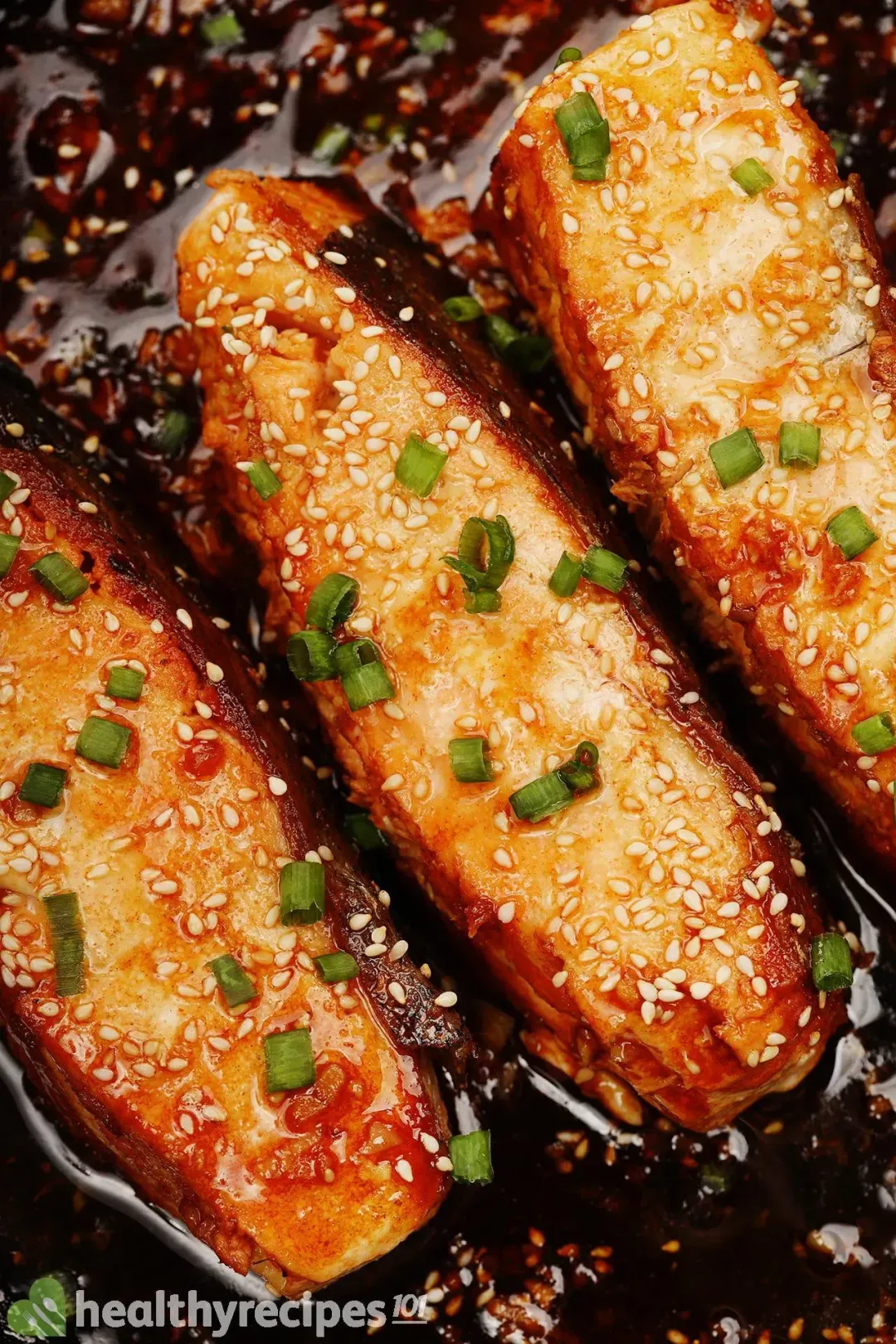 Next Recipe
Honey Soy Salmon
Honey Soy Salmon
Head Chef, Culinary Consultant
Tuyet Pham is an award-winning Saigonese chef who believes that joy is the secret ingredient to delicious food. At Healthy Recipes 101, Tuyet personally tests and simplifies every recipe, ensuring maximum flavor with minimal effort. With a background at prestigious French restaurants P'TI Saigon and Le Corto, Tuyet knows how to make every dish exceptional.
Writer, Author
Luna Regina is an accomplished writer and author who dedicates her career to empowering home cooks and making cooking effortless for everyone. She is the founder of HealthyKitchen101.com and HealthyRecipes101.com, where she works with her team to develop easy, nutritious recipes and help aspiring cooks choose the right kitchen appliances.
Nutrition Reviewer
Lizzie Streit is a Minneapolis-based dietitian and founder of It's a Veg World After All. She completed her MS in Human Nutrition from Drexel University, and is an expert in culinary nutrition, recipe development, and nutrition communications. Lizzie's philosophy is centered around making nutrition recommendations, and especially the advice to eat more vegetables, approachable and realistic. She is excited to be working with the team at Healthy Recipes 101 to ensure that their recipes are both nutritious and delicious.
This air fryer salmon sticks recipe is amazing! I've cooked it a few times and it always turns out perfect. The flavors blend together perfectly and the sticks have a delicious crunchy texture. It's definitely one of my favorite recipes!