With today's air fryer chicken parmesan recipe, you will have a healthy, wholesome dinner in about 30 minutes. It may require many ingredients, but it won't take much effort to make.
Before we start cooking, here are some interesting facts about today's dish.
What Is Chicken Parmesan?
Chicken parmesan, also known as "chicken parm", is an Italian-inspired dish. It consists of boneless, skinless chicken breast crusted in breadcrumbs and parmesan and topped with tomato sauce and melted cheese.
Chicken Parmesan vs. Chicken Parmigiana
Parmesan, or Parmigiano-Reggiano, is a type of aged, hard Italian cheese. It is also one of the main ingredients in today's recipe.
"Parmigiana" is an adjective that refers to the cooking method that uses parmesan cheese. For example, "parmigiana di melanzane" means "eggplant parmesan."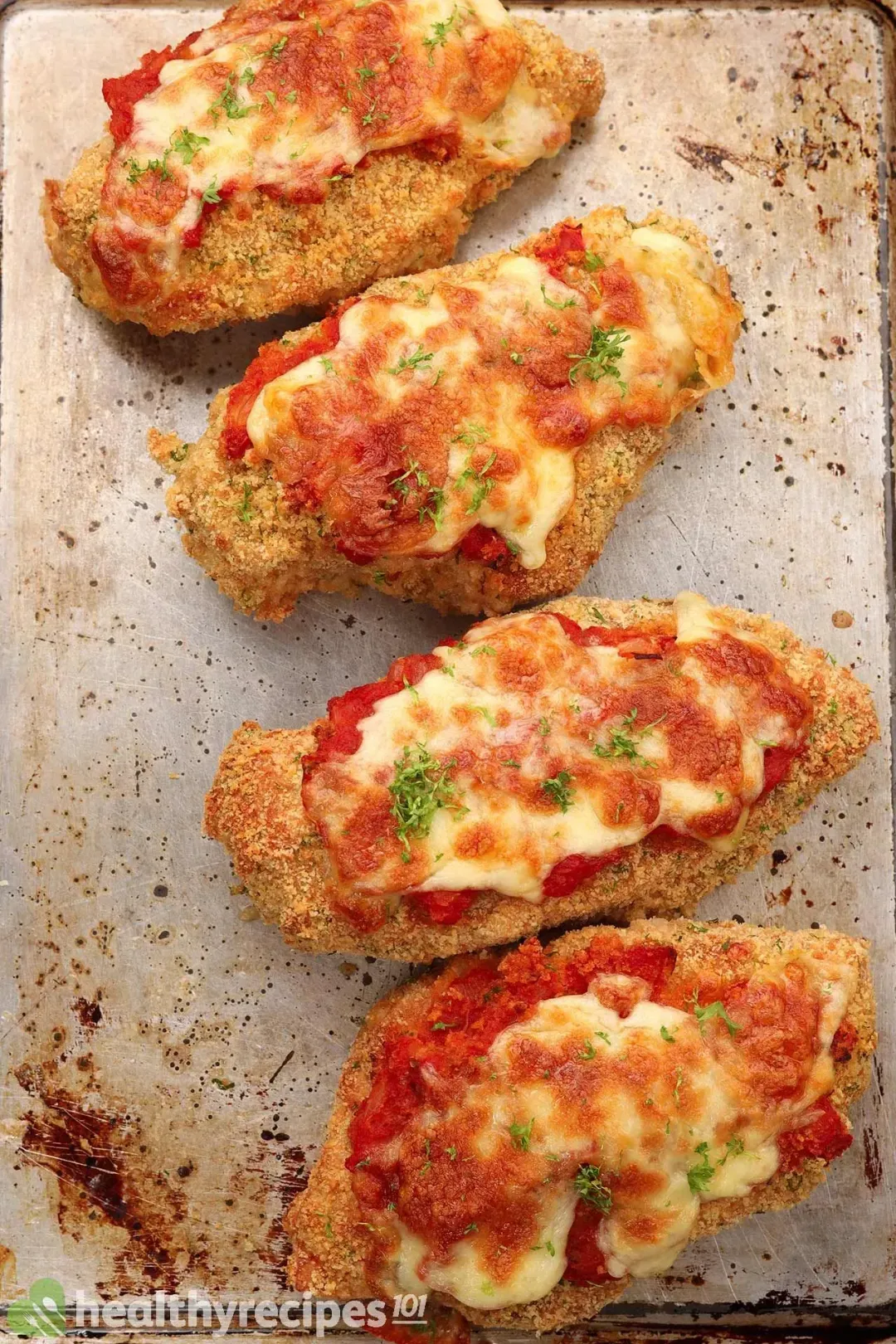 Is This Recipe Healthy?
Yes, this air-fried chicken parmesan is healthy. Here's why:
We're using boneless, skinless chicken breast for today's recipe as it's high in protein. One 4-oz chicken breast can contain 25 grams of protein, which is almost 50% of your recommended daily intake.
Our recipe also contains breadcrumbs, tomato sauce, parmesan, and mozzarella cheese. These ingredients are often high in sodium and saturated fat, but don't worry, we monitor these numbers closely.
We're using our homemade tomato sauce as it is much lower in sodium than commercial ones. We've also adjusted the other ingredients so that the total amount of saturated fat and calories in this recipe follows our healthy eating guidelines.
Main Ingredients
Here are the main ingredients for today's air fryer chicken parmesan recipe:
Boneless, skinless chicken breast: This is the main source of protein for today's meal.
Spices: We used salt, freshly cracked black pepper, garlic powder, and paprika.
Breadcrumbs: We mixed them with grated parmesan cheese, unsalted melted butter, and parsley to make a crust.
All-purpose flour and an egg: This makes the crust stick to the chicken.
Tomato sauce: We're using our own homemade tomato sauce for today's recipe.
Mozzarella cheese: This goes on top of the chicken so it gets caramelized and has a nutty flavor when cooked.
We also made a simple salad on the side consisting of romaine lettuce, orange, radish, cucumber, and roasted cashews.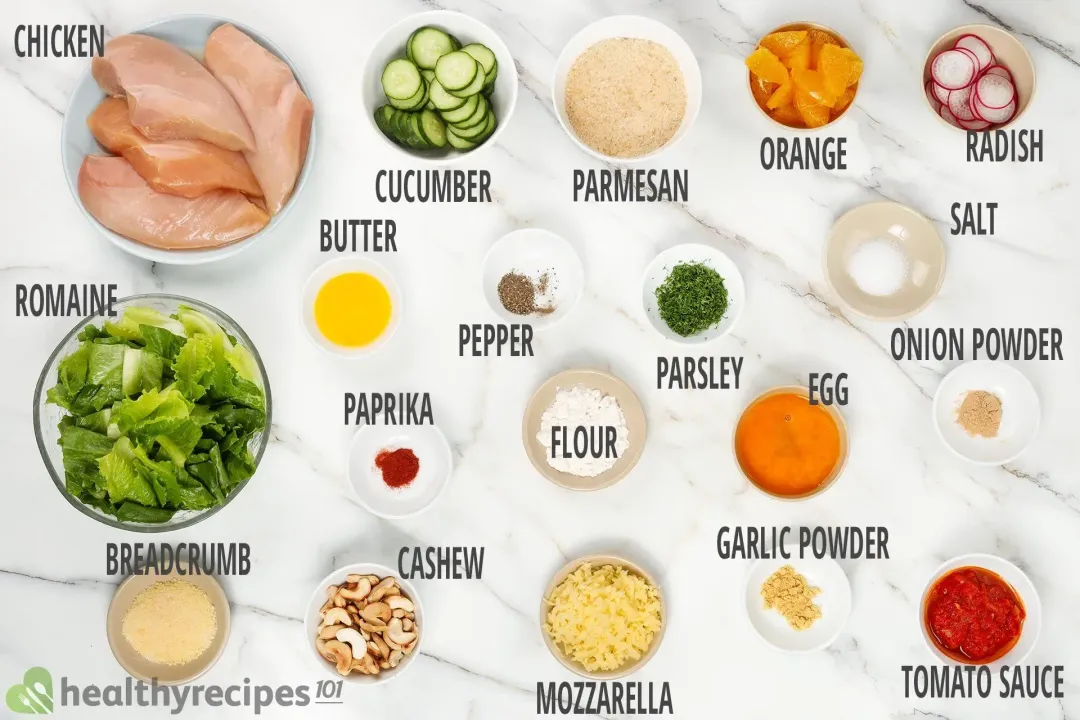 How to Store
If you have any leftovers, you can simply wrap them in cling film and put them in the fridge. Or better yet, store the air-fried chicken parmesan and its complementary salad in separate airtight containers to keep them fresh.
The salad may only last for one or two days, but the chicken can stay good for about five days.
How to Reheat
Using a microwave can be the fastest and most convenient way to reheat food, but it may not be ideal for chicken.
As mentioned, chicken breast is a lean and delicate cut. Although our chicken parmesan is already juicy, refrigerating and reheating it in the  microwave can cause it to lose moisture.
Luckily, there are several ways to warm up your cooked chicken breast without drying it out:
1. In a Microwave
Put your chicken in a microwavable container and cover it with a fitting lid or plate. Be sure not to seal the container tight as that may cause it to burst during the reheating process.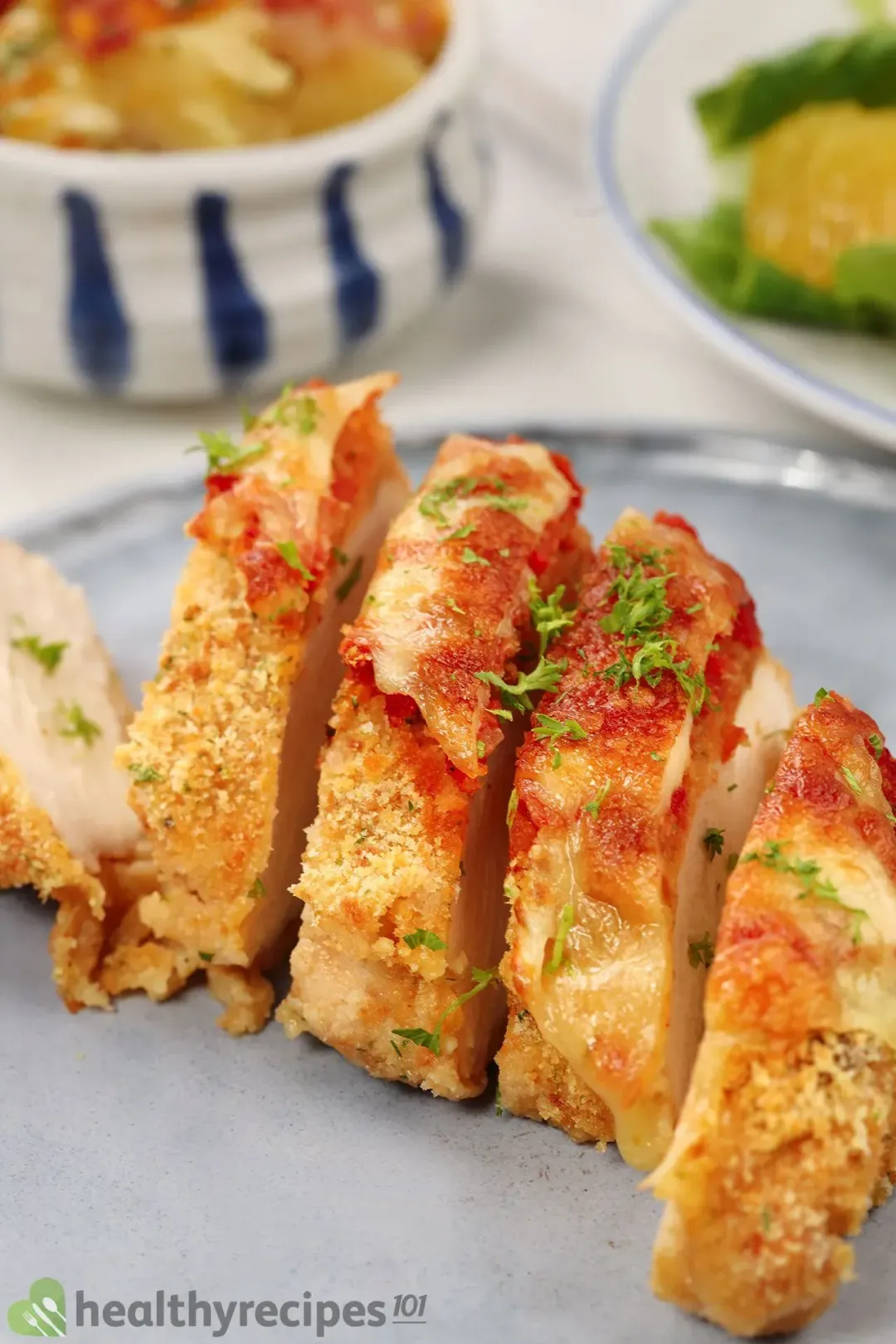 Reheating time depends on your device and the thickness of the food. Usually, a medium-sized chicken breast takes roughly 1 minute 30 seconds to warm up on the highest setting.
If your food is not warmed all the way through, let it go for another 30 seconds and check again.
Don't reheat your chicken breasts for too long as they may become tough and dry.
2. In an Air Fryer
Reheating food in an air fryer takes a few more minutes than in a microwave. However, it won't dry out your food as easily.
Put the cooked chicken directly into the air fryer and cook for 5 minutes at 355°F. You can also wrap the chicken in aluminum foil to help it retain moisture.
Another perk of using an air fryer is that it may revive the crispiness of your crusted chicken.
If you want more chicken parmesan dish, feel free to try our Longhorn Parmesan crusted chicken.
If you fancy this dish, you may also love our Longhorn Parmesan crusted chicken. To include more chicken dishes in your daily meal plans, this healthy chicken roundup or best chicken thigh recipes may give you several ideas.
What to Serve with
Although this air-fried chicken parmesan is delicious and nutritious as is, it may not be enough to fill you up.
We recommend pairing this chicken with a small side of loaded potato salad. As you may know, carb-rich foods can help satiate you  and make you feel full for longer.
After a two-course meal, there is still room for a glass of fresh lime juice to cleanse your palate. And don't worry about excess calories because we're keeping an eye on that for you.
To have perfectly air fryer recipe every time, check out our healthy air fryer chicken roundup or best air fryer dinner ideas.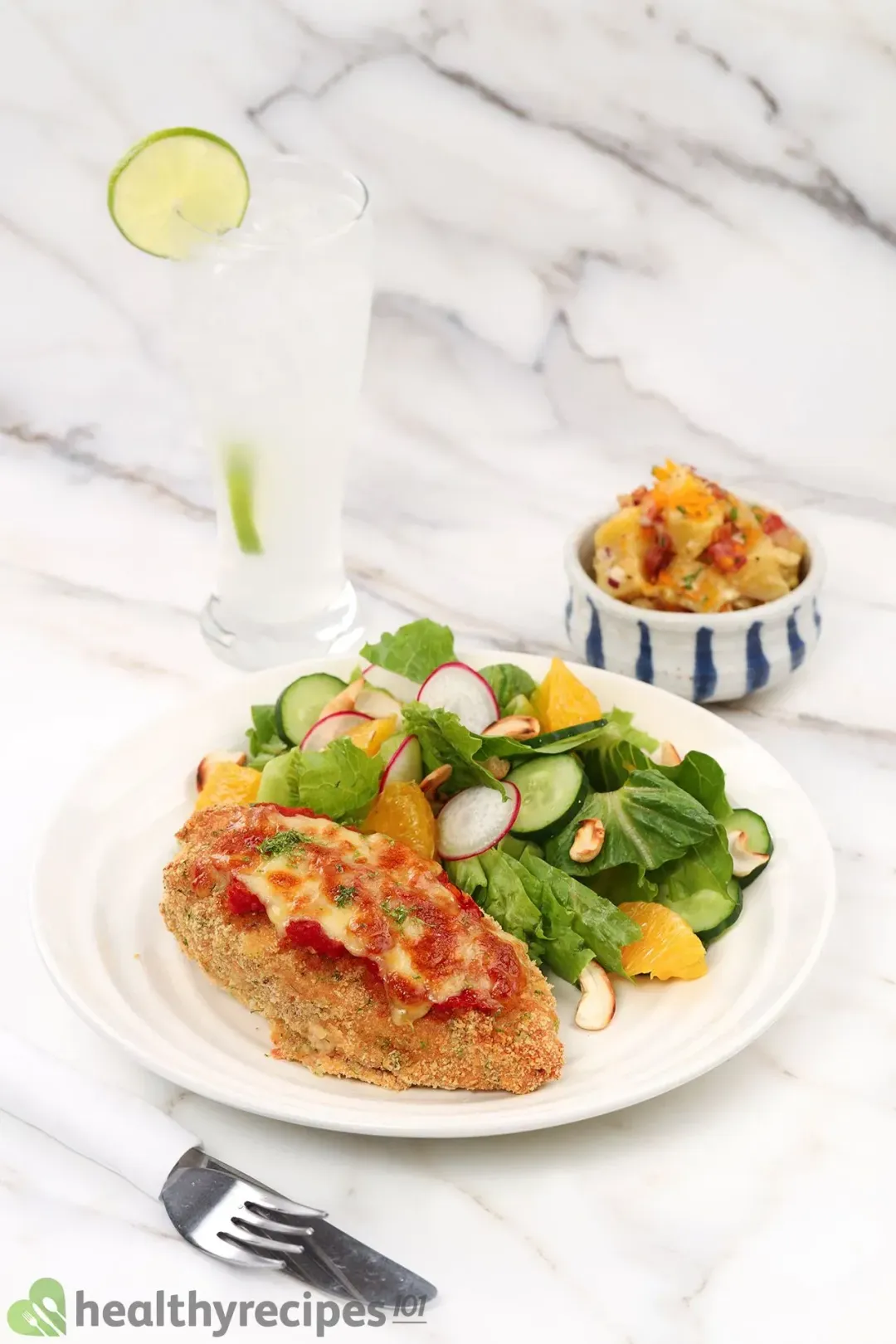 Include These Air-Fried Dishes in Your Cookbook, too
In this air fryer chicken tacos recipe, we stuff crisped-up tortillas with wholesome fillings: juicy chicken, crunchy veggies, cheese, and creamy dressing for a top-notch dish bursting with flavor.
Our air fryer sesame chicken recipe will help you to prepare this Chinese favorite without having to clean any pots or pans. The sauce and chicken are both placed in a foil faux baking tray, which is easy to make and saves time cleaning. The meat is also extremely saucy.
Air Fryer Chicken Parmesan
This air fryer chicken parmesan recipe requires quite a few ingredients, but it takes hardly any effort to make. Let's begin.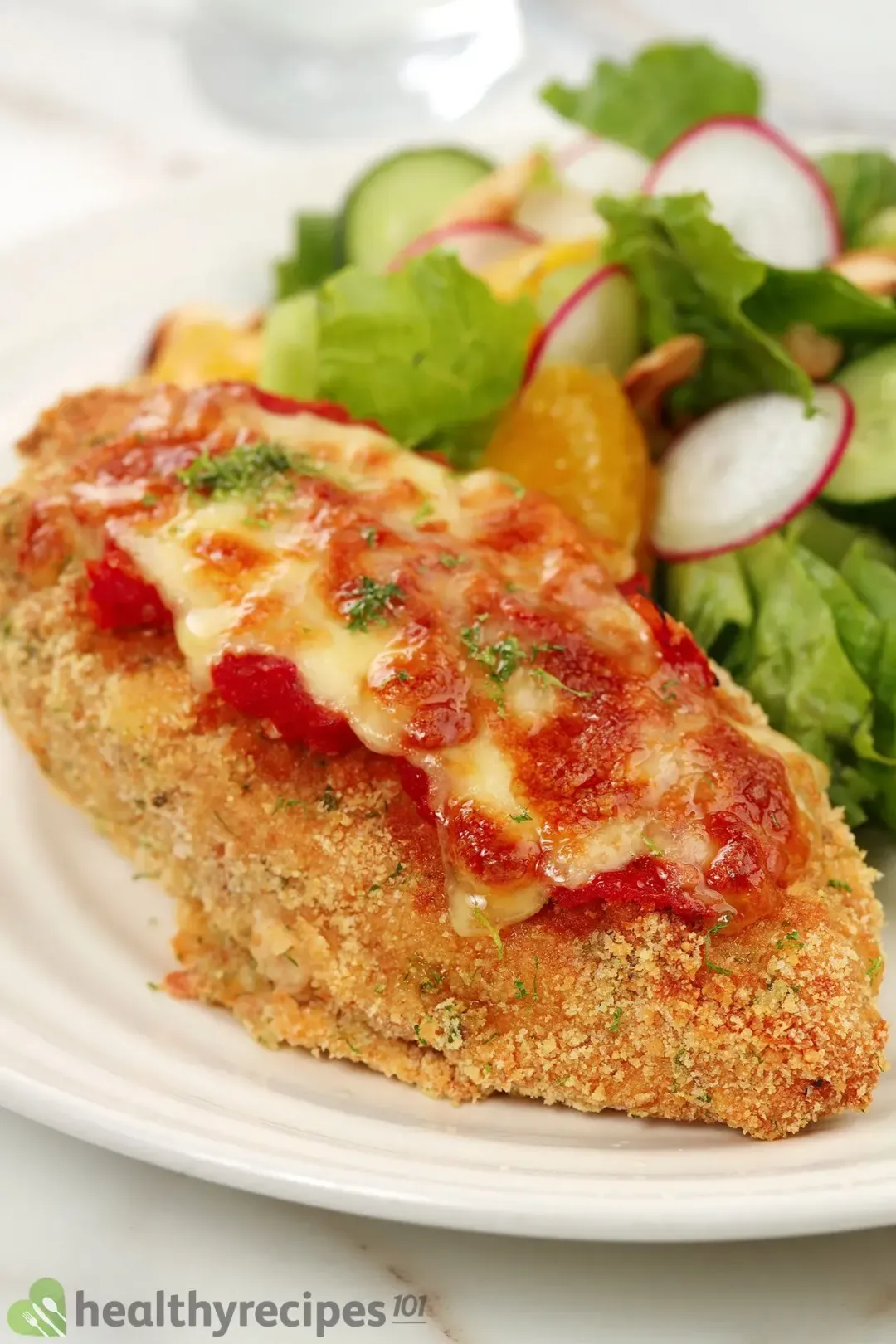 cook TIME

23 mins

prep TIME

5 mins

total TIME

33 mins

INACTIVE TIME

5 mins
COURSE

Main Course

CUISINE

American, Italian

SERVINGS

CALORIES

486 kcal
INGREDIENTS
26 oz

skinless boneless chicken breast

4 oz

orange

(peeled, cut into segments)

4 oz

romaine lettuce

(chopped)

4 oz

cucumber

(cut into ⅛-inch thick slices)

2 oz

mozzarella cheese

(shredded)

0.5 oz

parmesan cheese

(grated)

0.5 oz

radish

(thinly sliced)

2 oz

cashew

(unsalted, roasted)

1/2 cup

plain panko breadcrumbs

1 tbsp

unsalted butter

(melted)

2 tbsp

parsley

(freshly chopped, divided)

1/4 cup

homemade tomato sauce
INSTRUCTIONS
1
Season the chicken: Sprinkle 1/2 tsp salt, 1/4 tsp black pepper, 1/2 tsp garlic powder, 1/2 tsp onion powder, and 1/4 tsp paprika over 26 oz skinless, boneless chicken breast. Rub to coat the spices evenly. Let it rest for 5 minutes on the counter.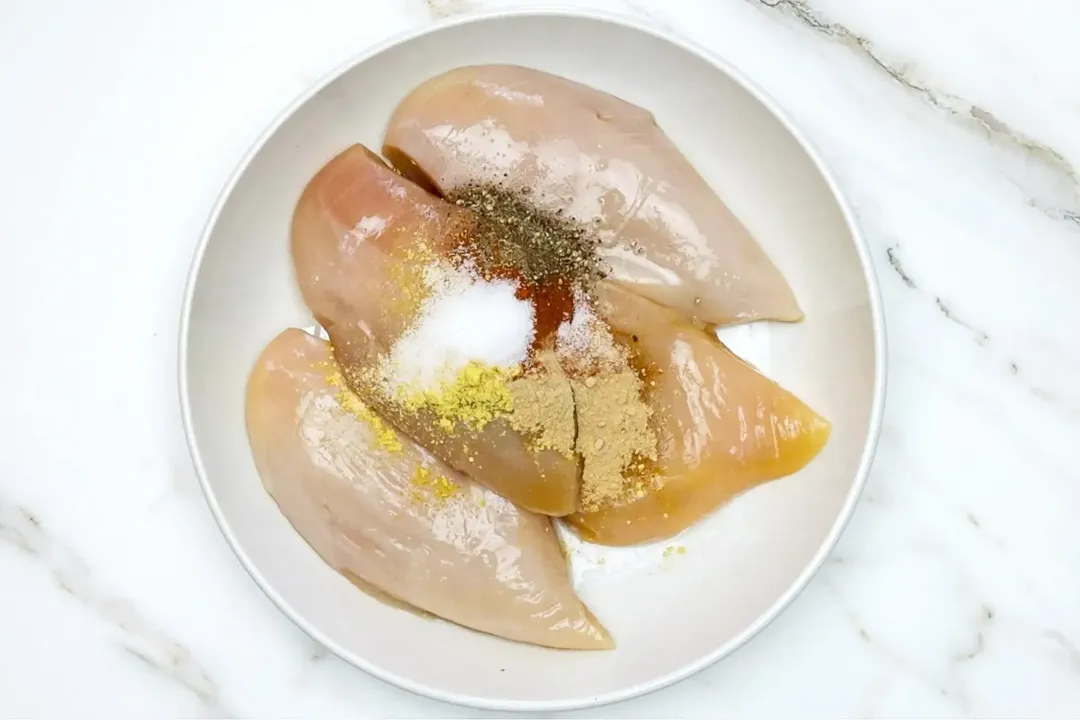 2
Make the crust in the meantime: In a small bowl, combine 1/2 cup breadcrumbs, grated 0.5 oz parmesan cheese, 1 tbsp unsalted butter, and 2 tbsp parsley. Mix well and set aside.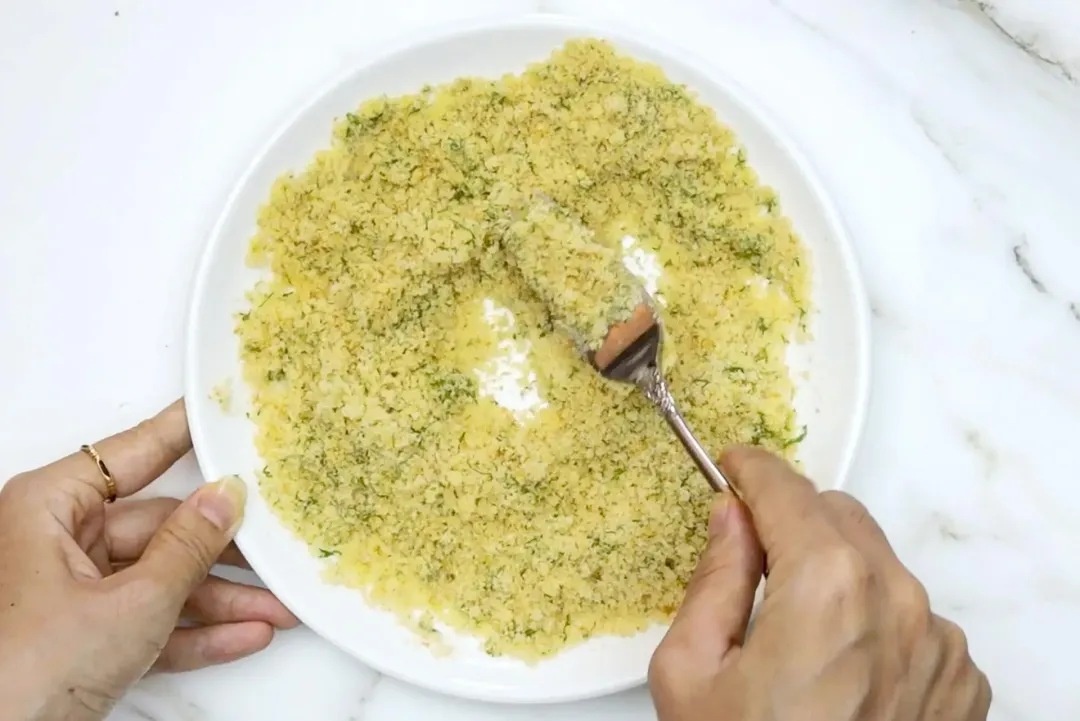 3
Coat the chicken: Dip the seasoned chicken into 2 tbsp all-purpose flour, covering all sides, and shake off the excess. Continue to dip it into the beaten 1 medium egg and finally into the seasoned breadcrumbs. Press lightly to seal the crust onto the chicken. Set aside.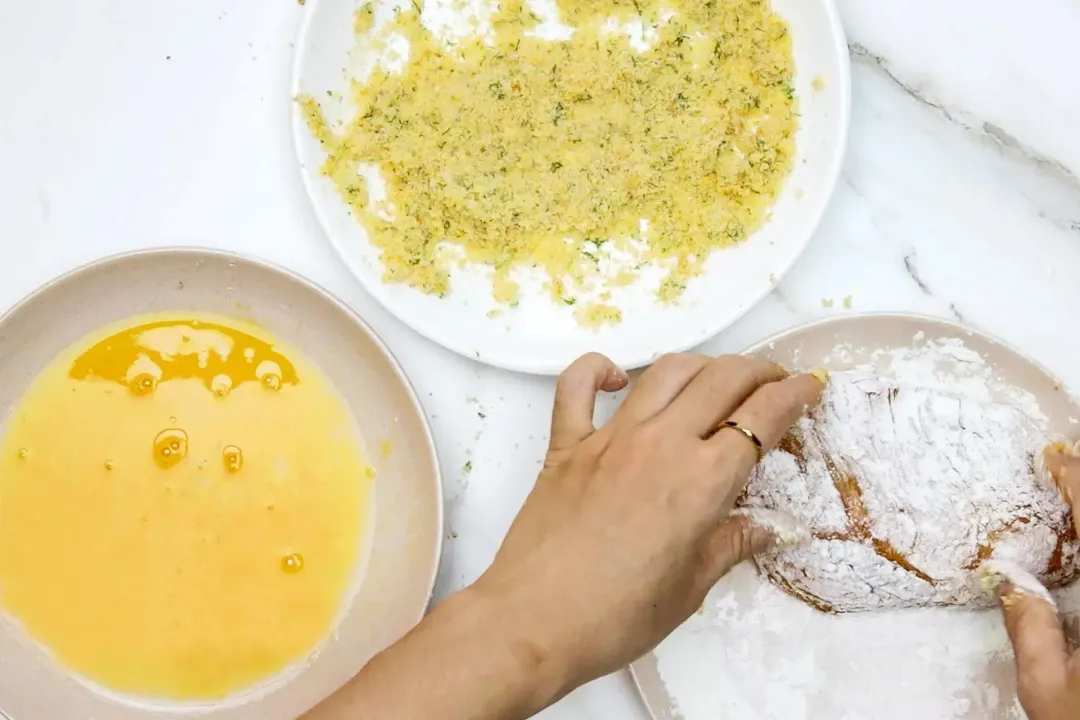 4
Cook the chicken: Preheat the air fryer for 5 minutes at 350°F. Put the chicken into the basket of the air fryer. Close and cook for 15 minutes. Take the chicken out, ladle spoonfuls of 1/4 cup homemade tomato sauce over the chicken, and top with 2 oz mozzarella cheese. Cook for another 3 minutes at 375°F.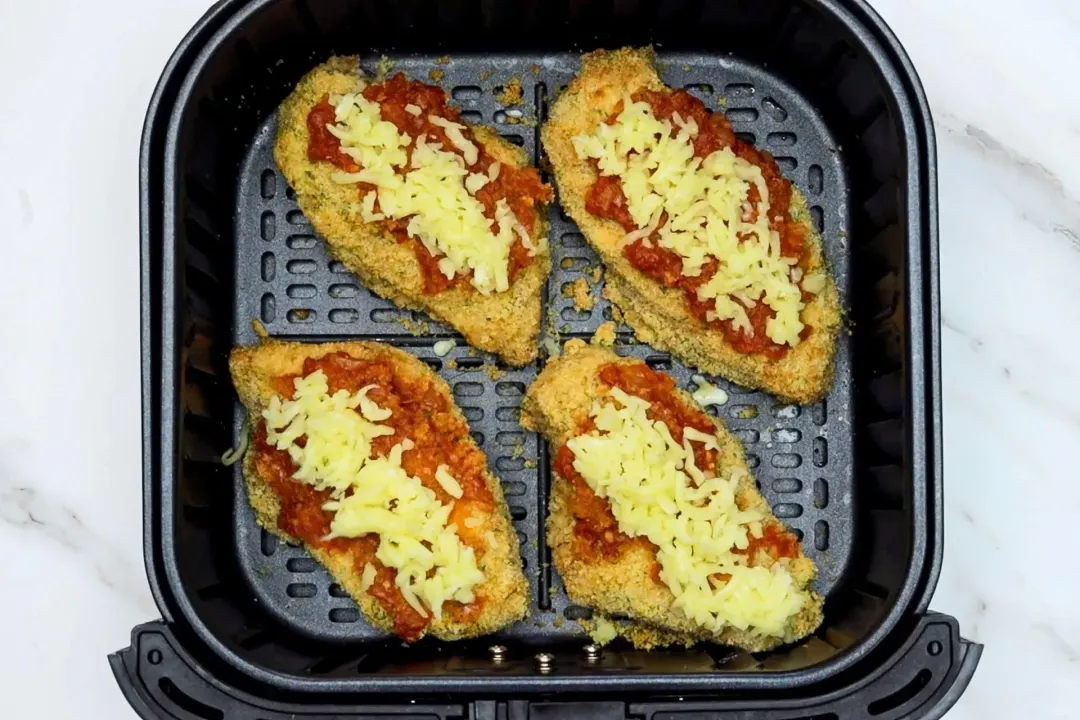 5
Serve: Remove the chicken from the air fryer. Sprinkle the remaining 1 tbsp parsley over the chicken. Put 4 oz romaine lettuce on a serving plate and scatter 4 oz orange, 4 oz cucumber, 0.5 oz radish, and 2 oz cashew on top. Place a piece of chicken next to the salad and serve.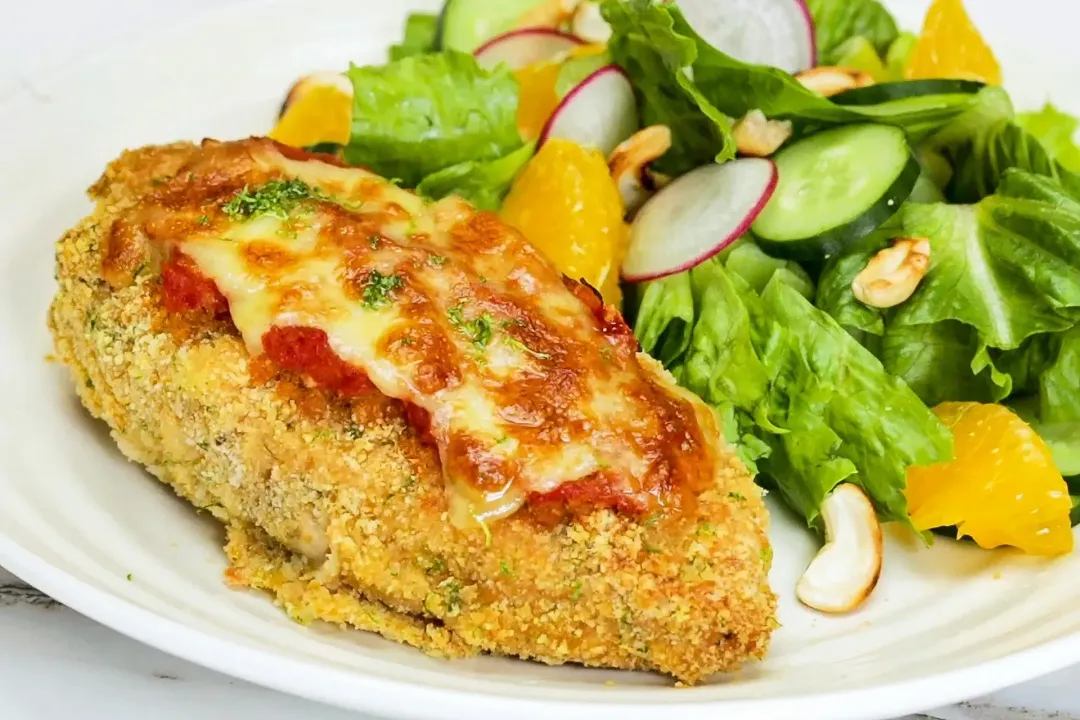 NUTRITION
Nutrition Facts
Air Fryer Chicken Parmesan
Amount Per Serving (1 serving)
Calories 486
Calories from Fat 189
% Daily Value*
* Percent Daily Values are based on a 2000 calorie diet.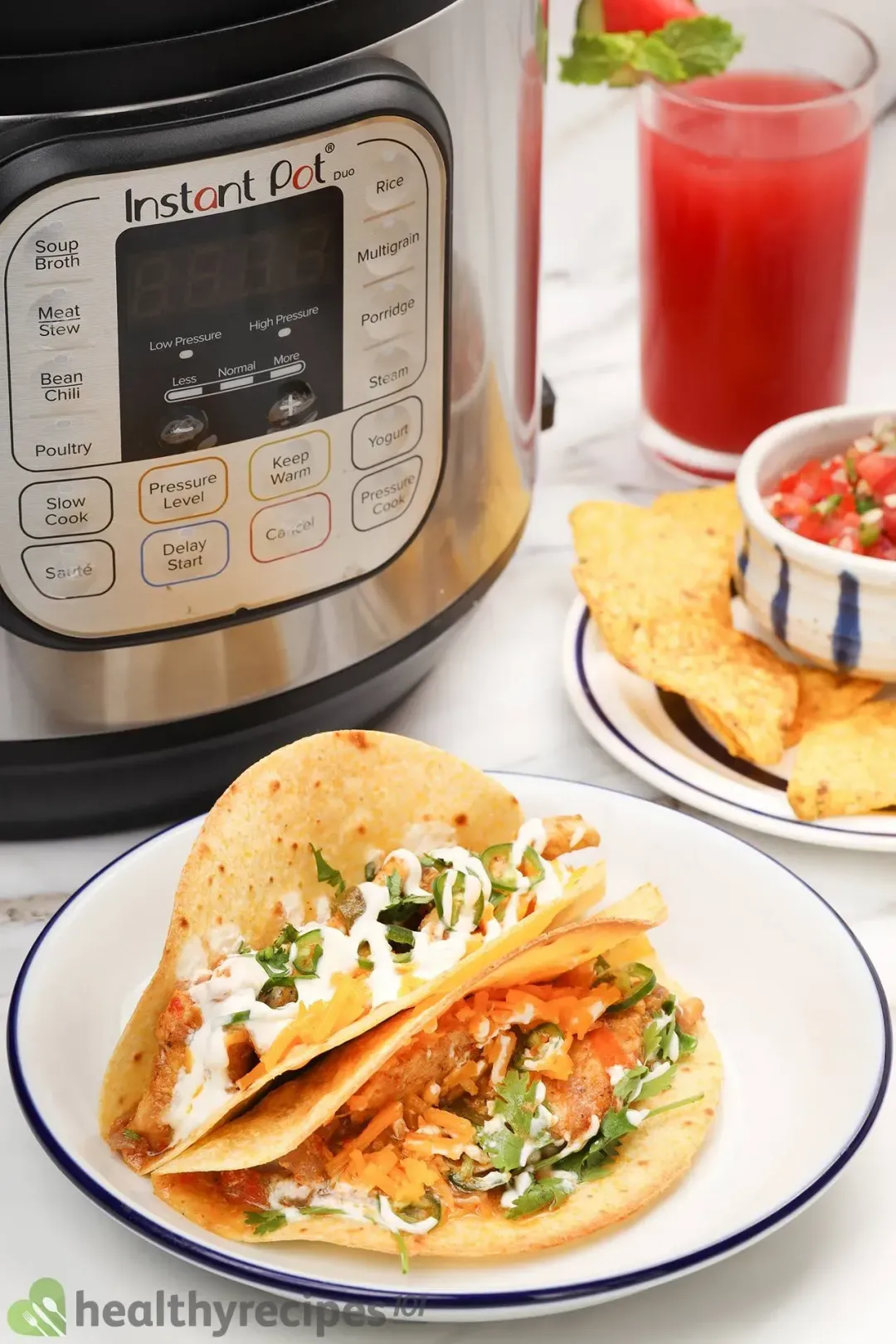 Previous Recipe
Instant Pot Chicken Fajitas
Instant Pot Chicken Fajitas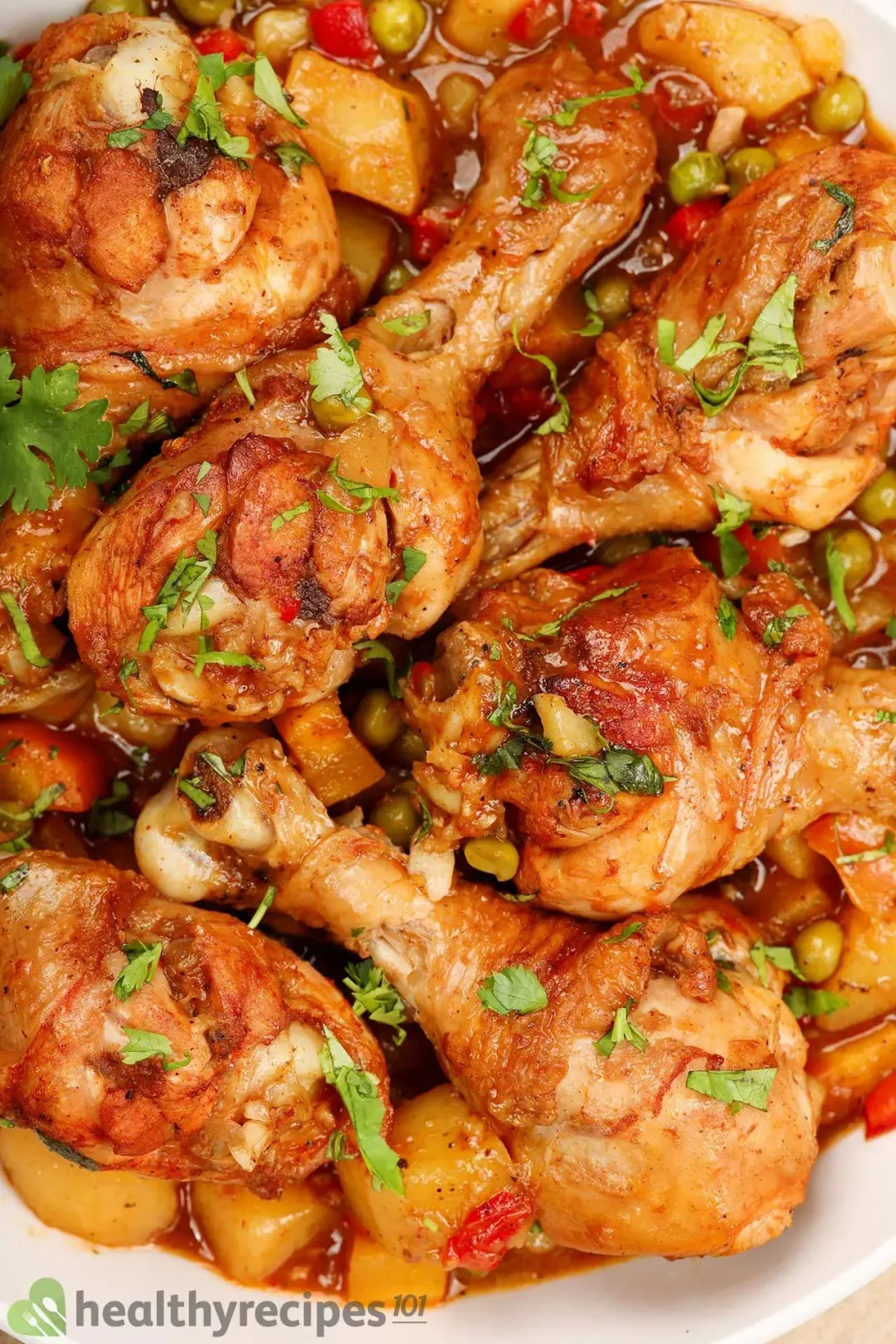 Next Recipe
Chicken Afritada
Chicken Afritada
Head Chef, Culinary Consultant
Tuyet Pham is an award-winning Saigonese chef who believes that joy is the secret ingredient to delicious food. At Healthy Recipes 101, Tuyet personally tests and simplifies every recipe, ensuring maximum flavor with minimal effort. With a background at prestigious French restaurants P'TI Saigon and Le Corto, Tuyet knows how to make every dish exceptional.
Writer, Author
Luna Regina is an accomplished writer and author who dedicates her career to empowering home cooks and making cooking effortless for everyone. She is the founder of HealthyKitchen101.com and HealthyRecipes101.com, where she works with her team to develop easy, nutritious recipes and help aspiring cooks choose the right kitchen appliances.
Nutrition Reviewer
Lizzie Streit is a Minneapolis-based dietitian and founder of It's a Veg World After All. She completed her MS in Human Nutrition from Drexel University, and is an expert in culinary nutrition, recipe development, and nutrition communications. Lizzie's philosophy is centered around making nutrition recommendations, and especially the advice to eat more vegetables, approachable and realistic. She is excited to be working with the team at Healthy Recipes 101 to ensure that their recipes are both nutritious and delicious.
Air fryer chicken parmesan is a healthier version of the classic Italian dish. It's crispy, cheesy, and delicious.