Today's arancini recipe will bring crispy deep-fried rice balls made of risotto rice to your New Year's Eve (December 31) table. Gooey, stringy melted cheese enclosed inside a crispy golden shell, what more could you want?
What Is Arancini
The original name of this dish is "Arancini di Risotto".
"Arancini" is an Italian term derived from the word "arancia"— which means "orange" or "citrus". "Risotto" is a famous Italian rice dish cooked in a broth made from common ingredients like meat and vegetables. Check out our Shrimp Risotto Recipe and Sea Bass Risotto Recipe if you want to learn more about this classic Italian dish.
Of course, there's no citrus here— the name was meant to imply the visual appearance of this rice dish. Arancini bears a great resemblance to the shape of an orange, especially with its burnt sienna color.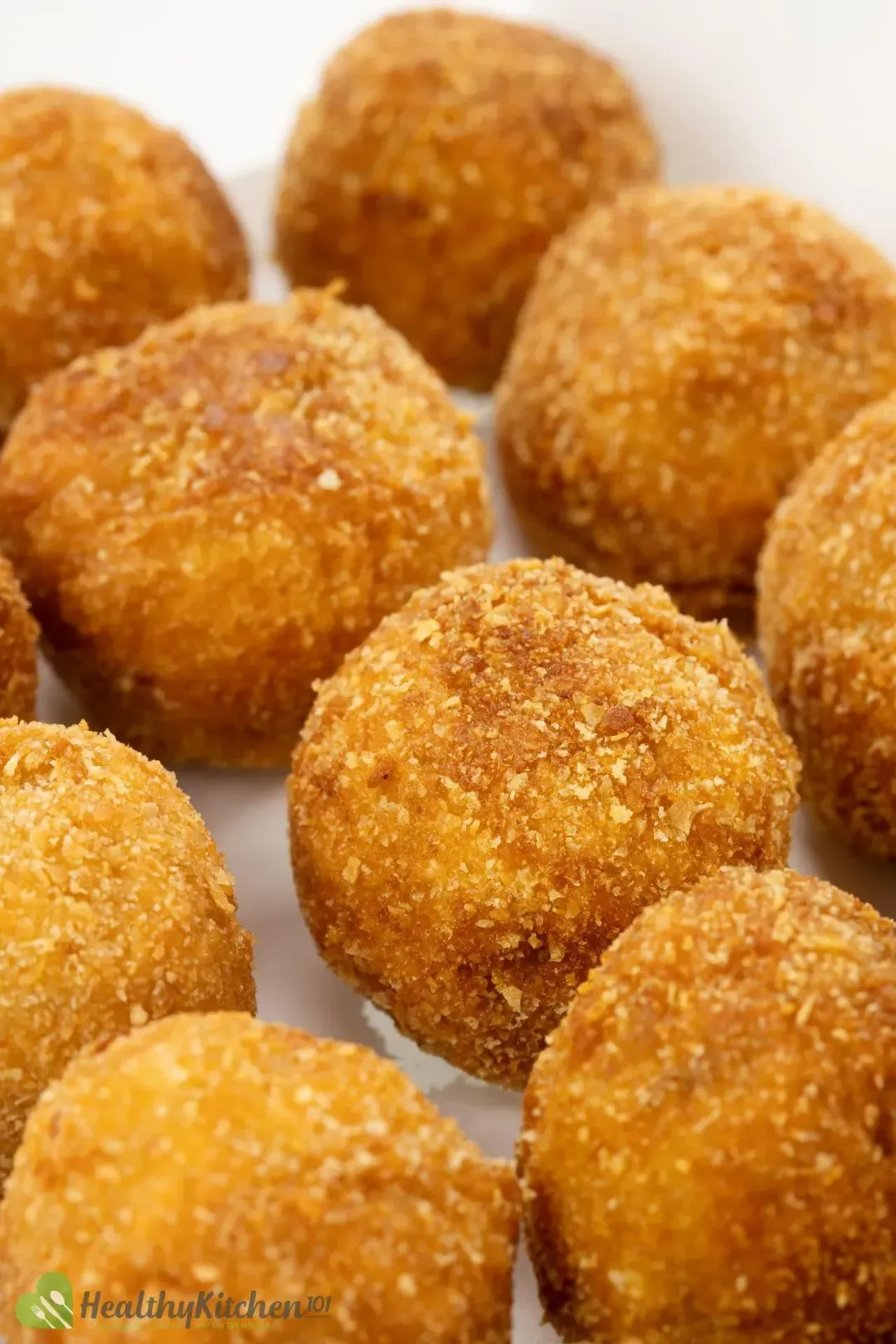 Supplì vs Arancini
Supplì from Rome and arancini from Sicily look quite similar as they both have a crispy outer. Nevertheless, they are not the same, and here's why:
1. Supplì
Supplì is an Italian snack. It's risotto rice balls with a round-tipped, oblong shape, and were originally mixed with ground meat, provatura, and tomato sauce.
In the early 19th century, supplì was a street food in Rome. Now, it's a quick snack that's frequently served as an appetizer.
Supplì are often called "Arancini di riso al telefono". This is because when cracked open and pulled apart, the cheese will stretch and form a long string. As this cheese string connects the two halves, the supplì look just like an old-fashioned telephone line.
2. Arancini
Arancini is an iconic food of Sicily. Though the preparation of arancini is similar to supplì, the differences between these two mostly come from the main ingredients.
For arancini, people always use short-grain rice, varieties of cheese, and their favorite add-ins. After being rolled up into nice soft balls, they are coated with breadcrumbs and deep-fried.
Arancini are bigger than supplì and always come in a round shape. Meat, cheese, and vegetables are made into the filling rather than being mixed with the rice like in supplì.
Rice for Rice Balls
Successful arancini should be creamy and stringy when cracked open, therefore, don't try to use regular rice, especially brown rice. It won't be able to stay together if you try to form a ball with it.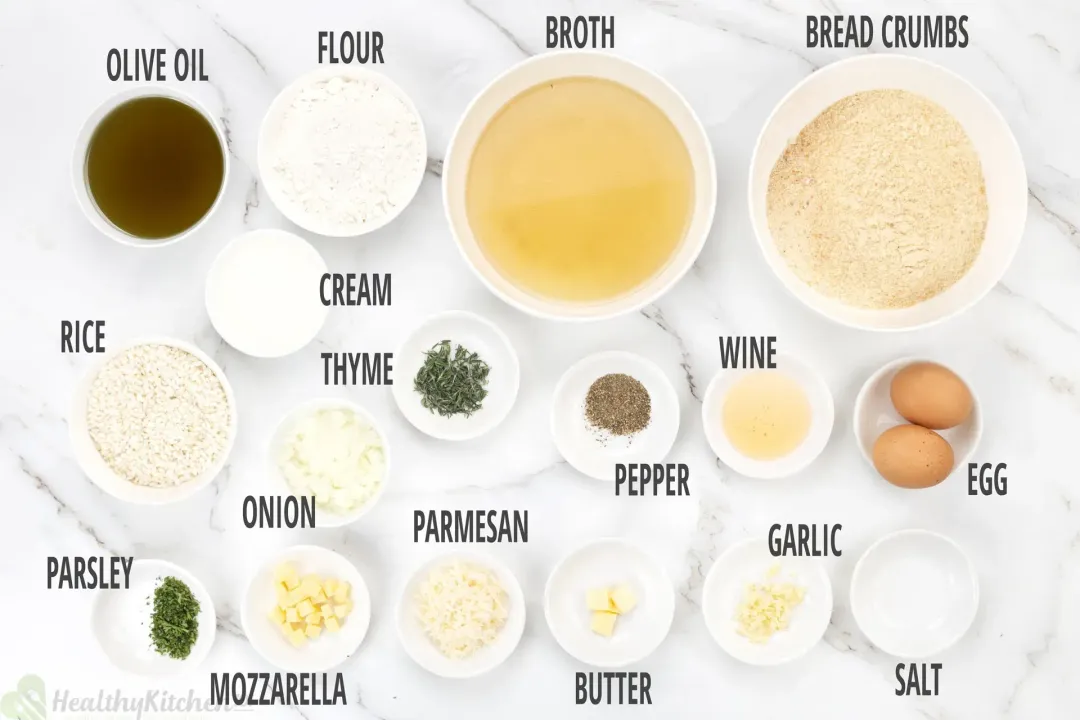 1. Arborio Rice
Arborio is a well-known Italian short rice that's high in amylopectin starch. Thanks to its starchy and sticky nature, it easily rolls up well to form perfectly firm and solid rice balls.
2. Coconut Rice
Made by cooking white rice in coconut milk, coconut rice is favored in Southeast Asia, India, and South America. Coconut rice is super sticky, therefore it can easily be molded into any shape you desire.
However, the sweet and nutty scent of coconut might be too much for some people. So it's best to make coconut rice at home to take control of the amount of coconut used.
Tips for Making
There are actually tons of ways to make the filling for arancini.
Any edible leftover can work well in these rice balls. If you're thinking of veggies and meats being tossed together— go for it!
There's no wrong combination and no magic needed to create the "right" stuffing here. Swap things out if you want to and omit others if it doesn't fit what you fancy.
What to Put in Rice Balls
The possibilities for the fillings of arancini are endless. Below are the most common ingredients that people often add to their rice balls.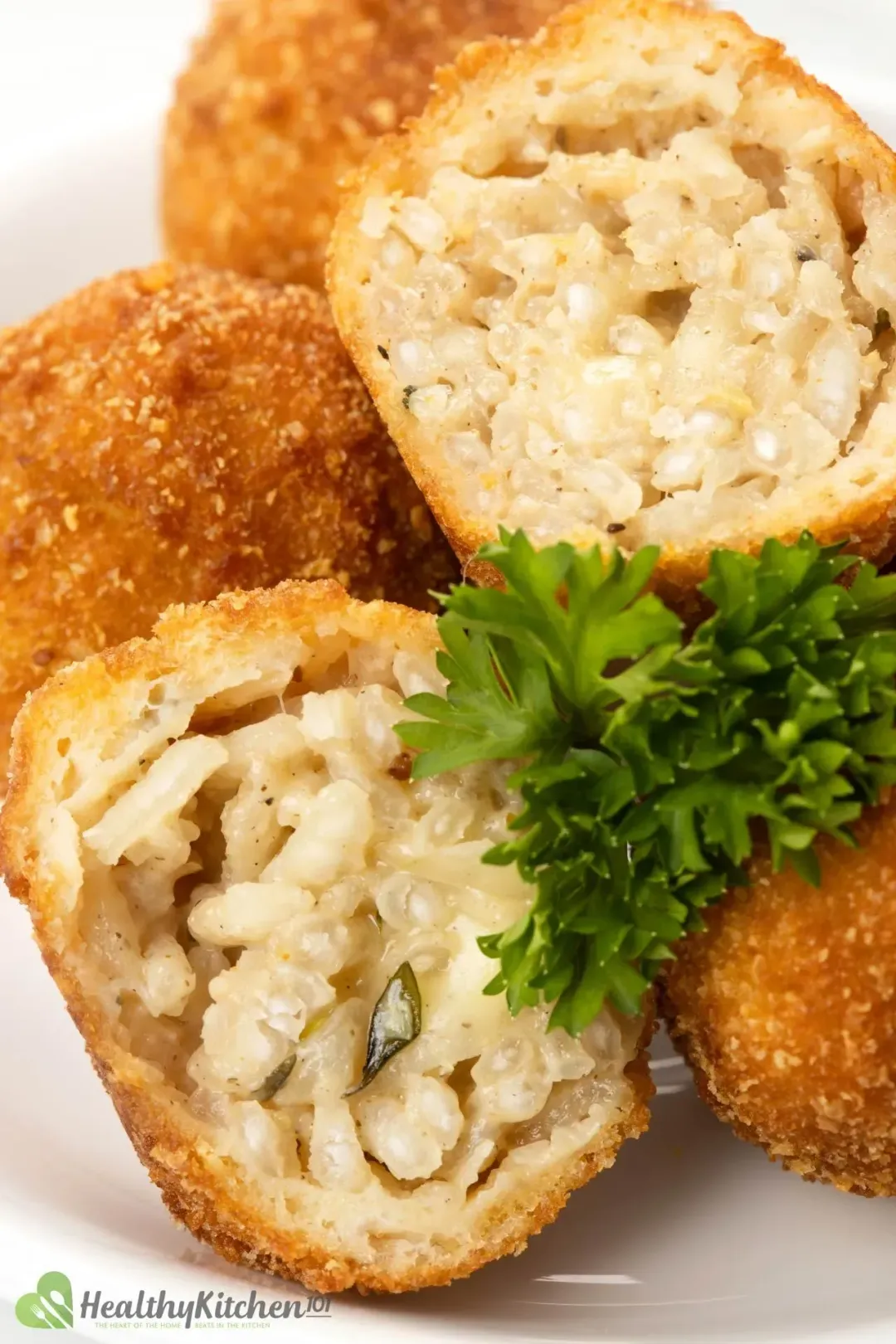 1. Mushrooms
Either porcini, button, or flat mushrooms will work for arancini. If mushrooms are in the filling, usually, a pesto dip will be served on the side to create a combo with balanced flavors.
2. Ham and Cheese
Ham and cheese is a classic combination that tastes great. In our arancini recipe, there's no ham or bacon mixed into the filling, instead, we opted for two types of cheese (this also made it vegetarian friendly).
After cooking the risotto rice to al dente, we let it absorb in the heavy cream, spices, and Parmesan cheese. The other cheese you'll find within the ingredients list is Mozzarella cheese— which is the filling in our recipe.
3. Meat
Ground beef, meat ragù, and minced bacon are the most favorable options to add to the arancini filling. 
The meat is usually cooked with a veggie mix to create a hearty complex flavor for the rice balls. This is a brilliant way to make the best use of any leftover ingredients you have.
In case you're seeking for vegan fried balls, we'd be super glad to recommend falafel.
Packed with protein, chickpeas have been a vegetarian-friendly alternative to red meat or poultry. For falafel, mashed chickpeas are mashed, combined with seasonings and herbs, pressed into balls, and fried to golden crisp. It's a finger food that's often served as an appertizer or snack at parties.
How Long Does Arancini Last
Since arancini are deep-fried rice balls, they'll turn soggy very quickly when left at room temperature for too long. Therefore, we recommend you serve them hot for the best possible flavor and texture.
If stored in the fridge, arancini can last up to 2-3 days. To rewarm, you might need to quickly fry them again on the stovetop.
Ideally though, for each batch of arancini, you should store no more than 3 days for best quality and flavor.
Frozen Arancini
Arancini can freeze well for up to 2 months and be reheated without fuss. Though the shell would not be as crisp as when cooked fresh, the shape should still hold up beautifully.
What to Serve with Arancini Balls
Since arancini is a sizzling menu item, they can either be served plain or paired with a sweet cold beverage.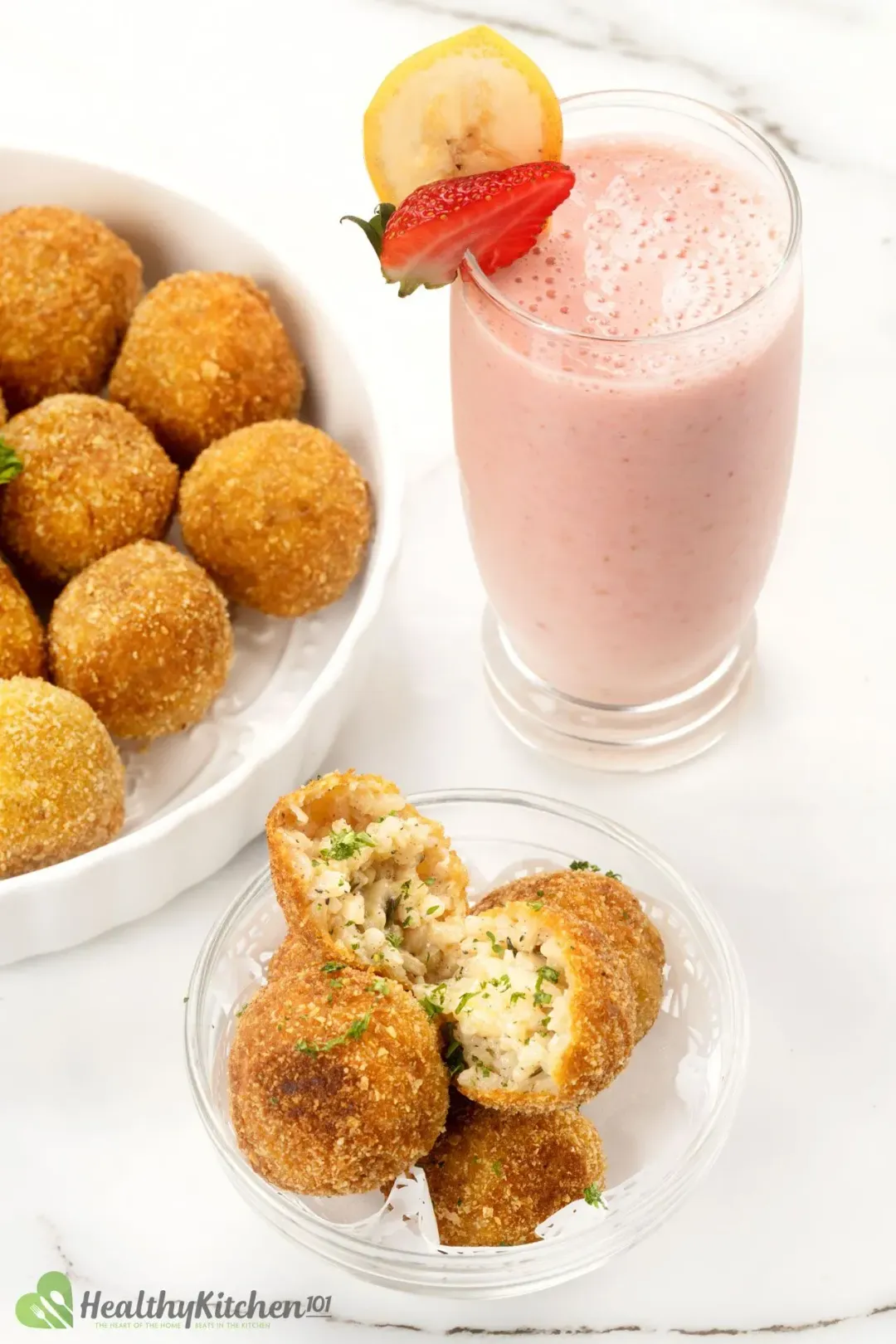 Strawberry Banana Smoothie
We believe a refreshing ice-cold drink will make a nice complement to these lovely fried balls. That's why we prepared this dazzling strawberry banana smoothie to serve alongside.
We would love to hear your thoughts about this combo!
Other Dishes You'll Love
Arancini
I know some people worry about how to properly cook deep-fried foods, but with this recipe you can't go wrong. If you are ready to enjoy crispy yet tender bites in the simplest way, this arancini recipe is the one for you.Proviamolo!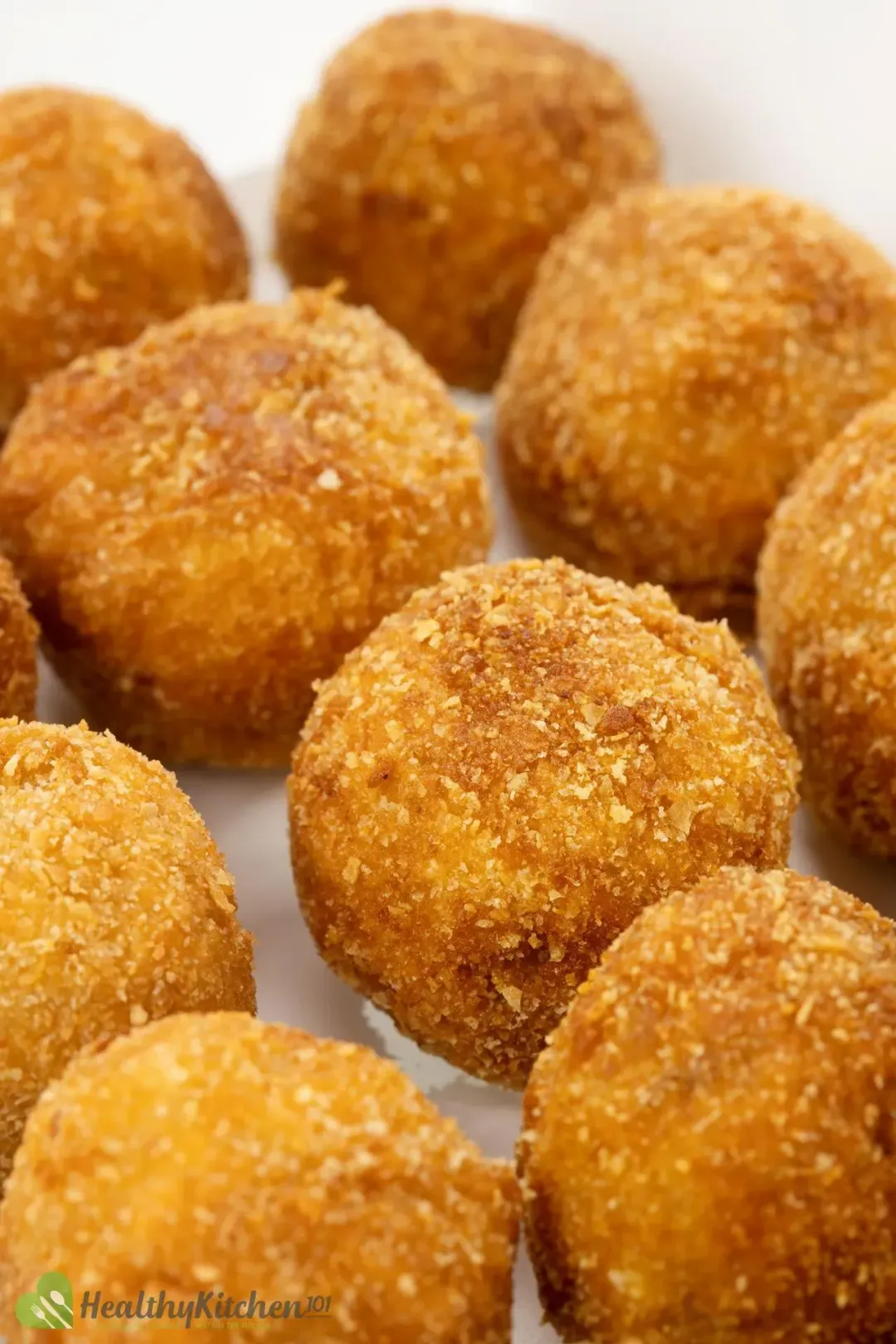 cook TIME

1 hr

prep TIME

5 mins

total TIME

1 hr 20 mins

INACTIVE TIME

15 mins
COURSE

Breakfast

CUISINE

Italian

SERVINGS

CALORIES

397 kcal
INGREDIENTS
0.5 oz

shredded parmesan cheese

0.5 oz

mozzarella cheese

(cubed)

1 cup

all-purpose flour

(*)

2 cup

unsalted chicken broth

1 tsp

ground black pepper
INSTRUCTIONS
Fry rice
1
In a shallow pan, turn on high heat and add in the following: 2 oz chopped onion, 2 tsp fresh thyme, 1 tsp minced garlic, and 1 tsp butter. Stir ingredients around until the butter is completely melted.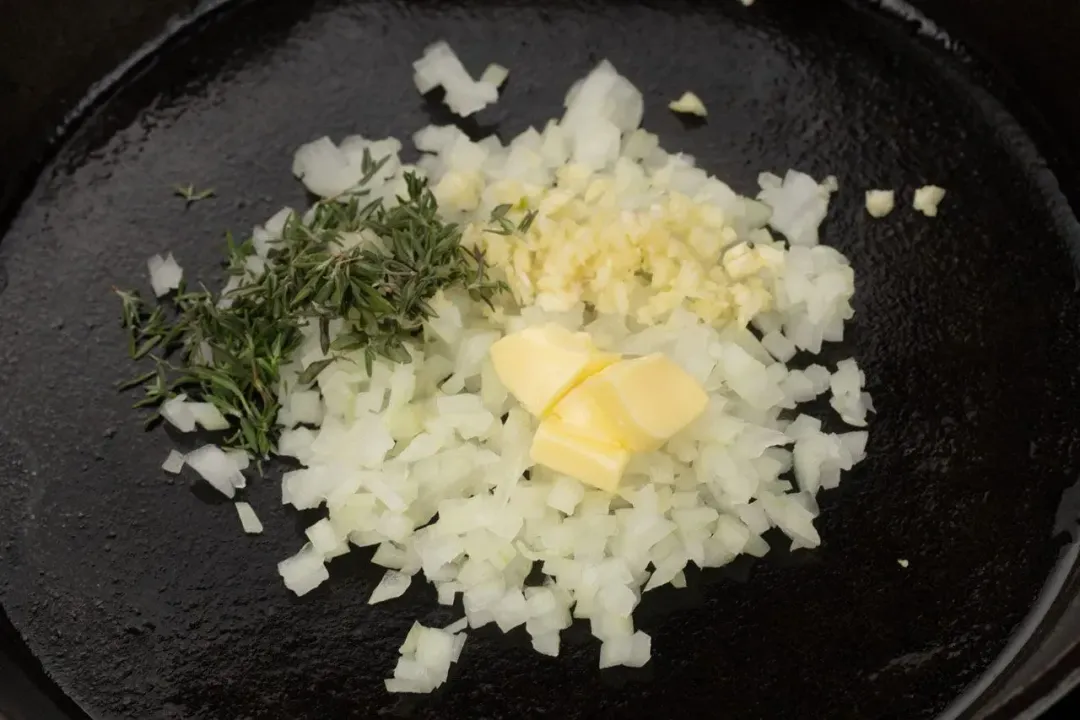 2
Add in the 3/4 cup arborio rice.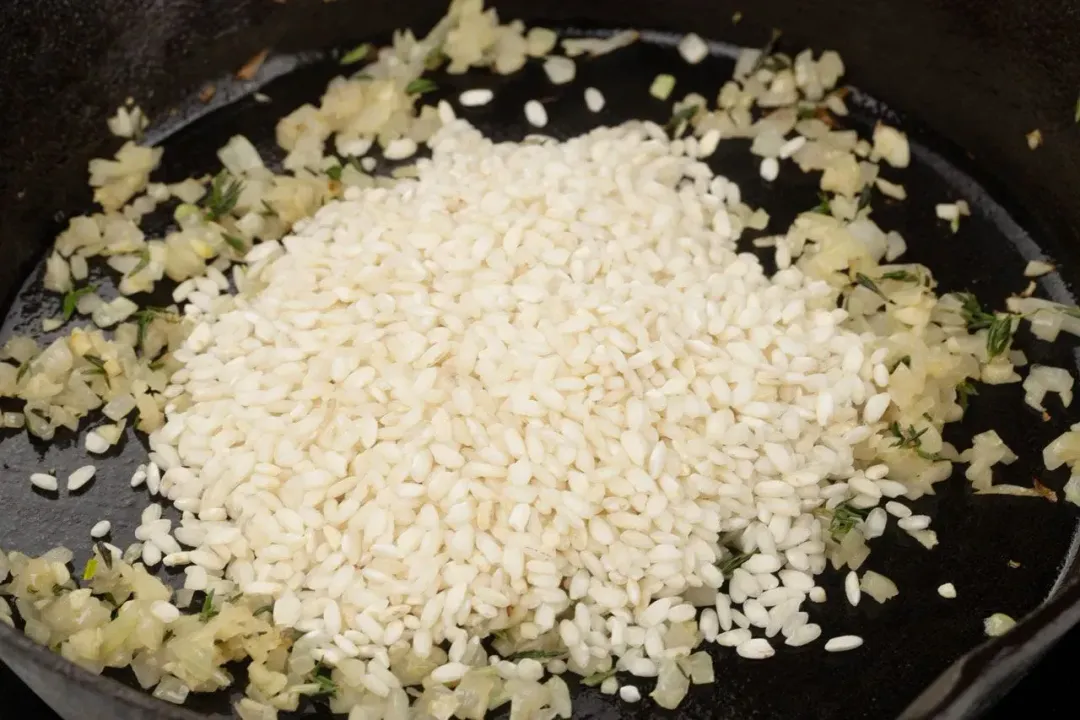 3
Continue to pour 1 tbsp white wine and 2 cups chicken broth into the mixture, reduce the heat to medium, let it simmer until the chicken broth is fully absorbed and the rice is cooked to al dente (we'd say roughly 80% done).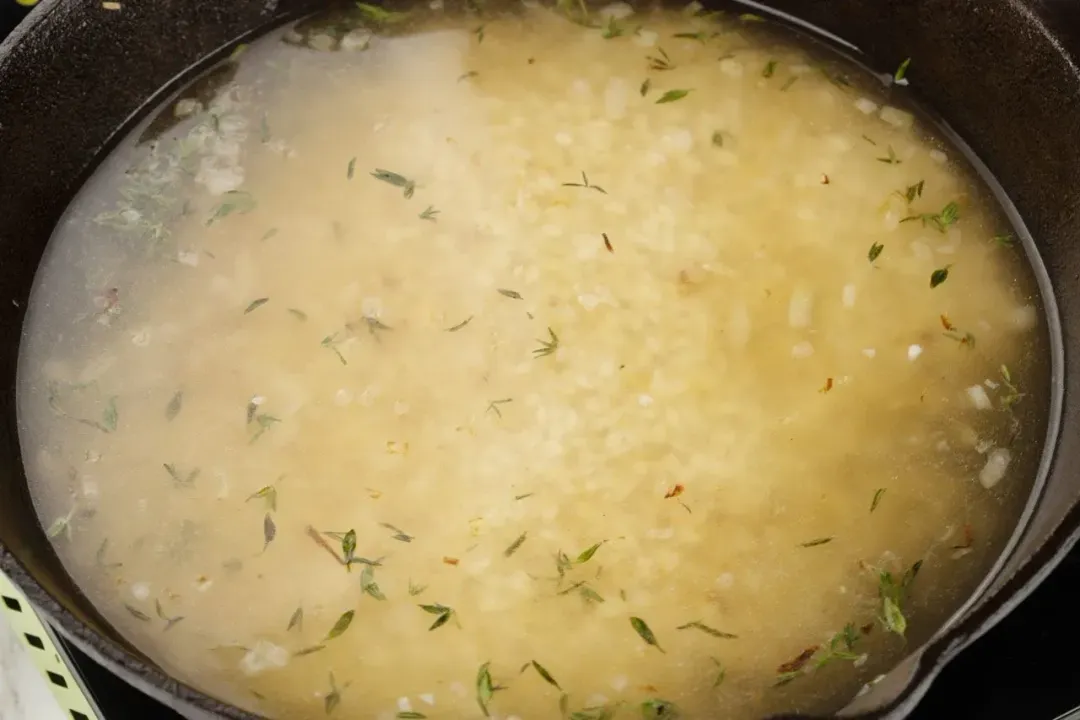 4
The two steps above should take you 20 minutes in total. Next, add 1/4 cup heavy cream, 1 tsp ground black pepper, and 1/4 tsp salt to the pan. Stir quickly.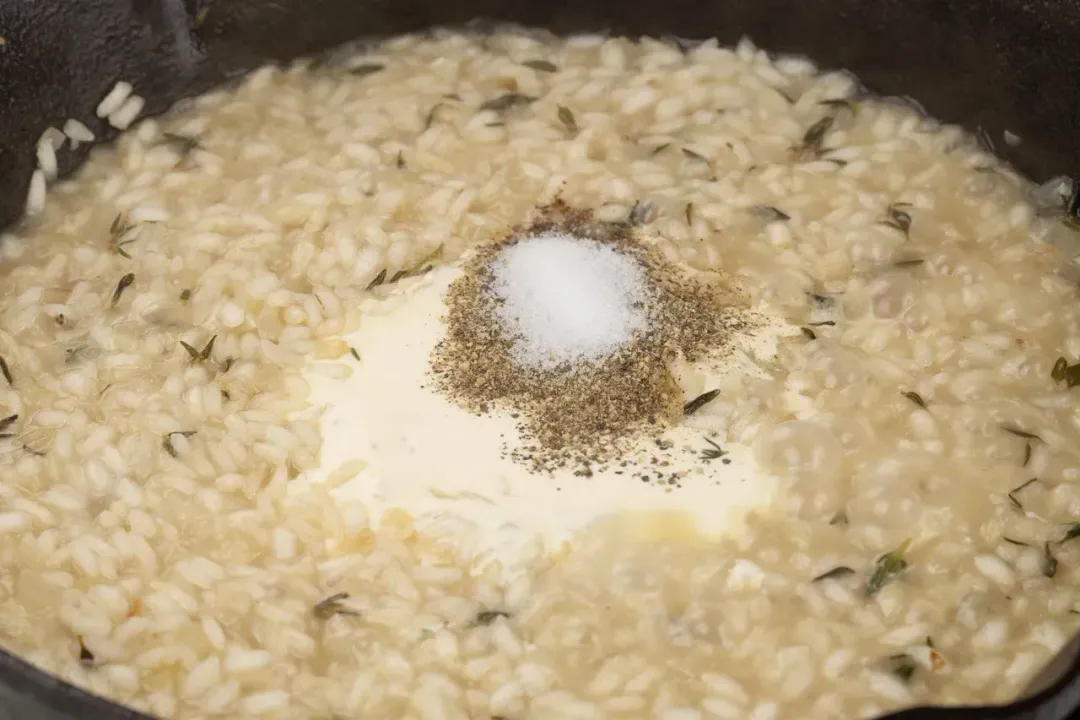 5
Add all 0.5 oz grated parmesan in, give it a few last stirs and turn the heat off. Allow the rice to cool down a bit before making rice balls.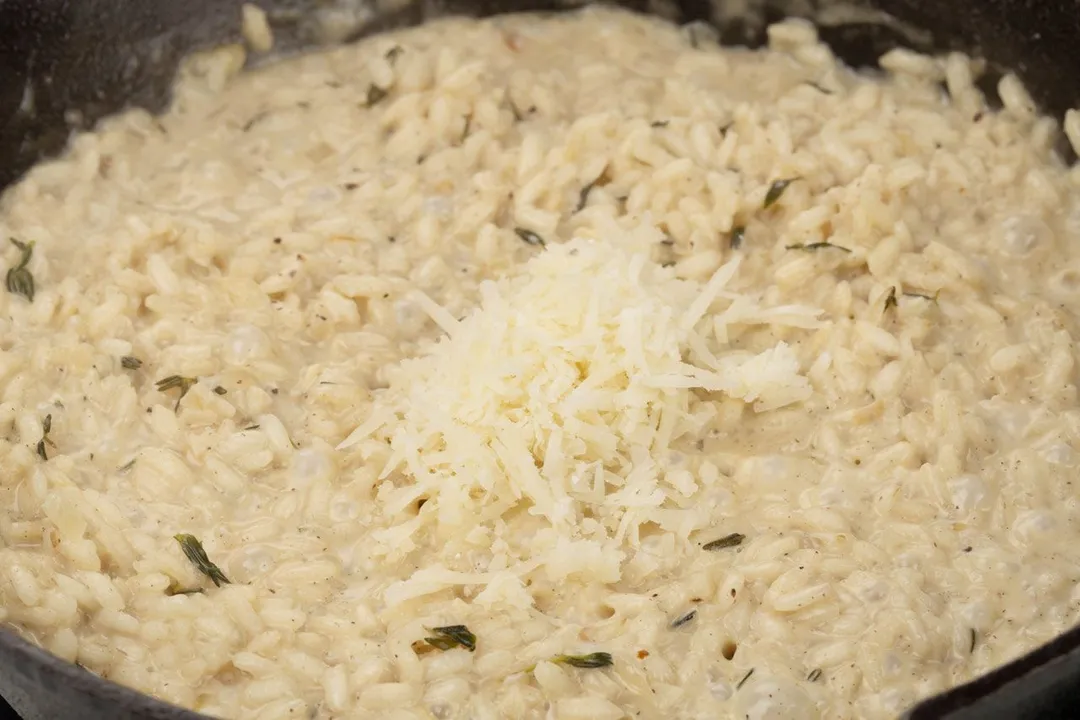 Make balls
1
For each ball, get about 2 tbsp cooked rice and use your palm to roll it into a ball. Press to flatten the rice ball, and put a mozzarella cube right in the center.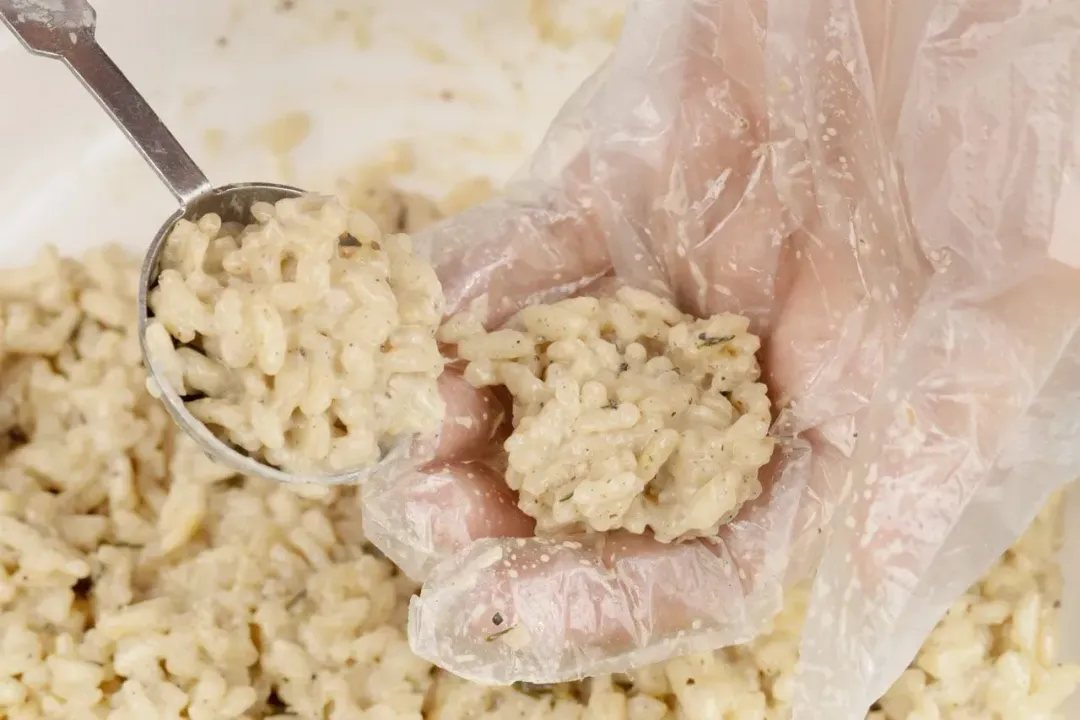 2
Finally, roll up to enclose the cheese within the rice. Repeat with the remaining rice and mozzarella. Make sure that each ball is made the same size.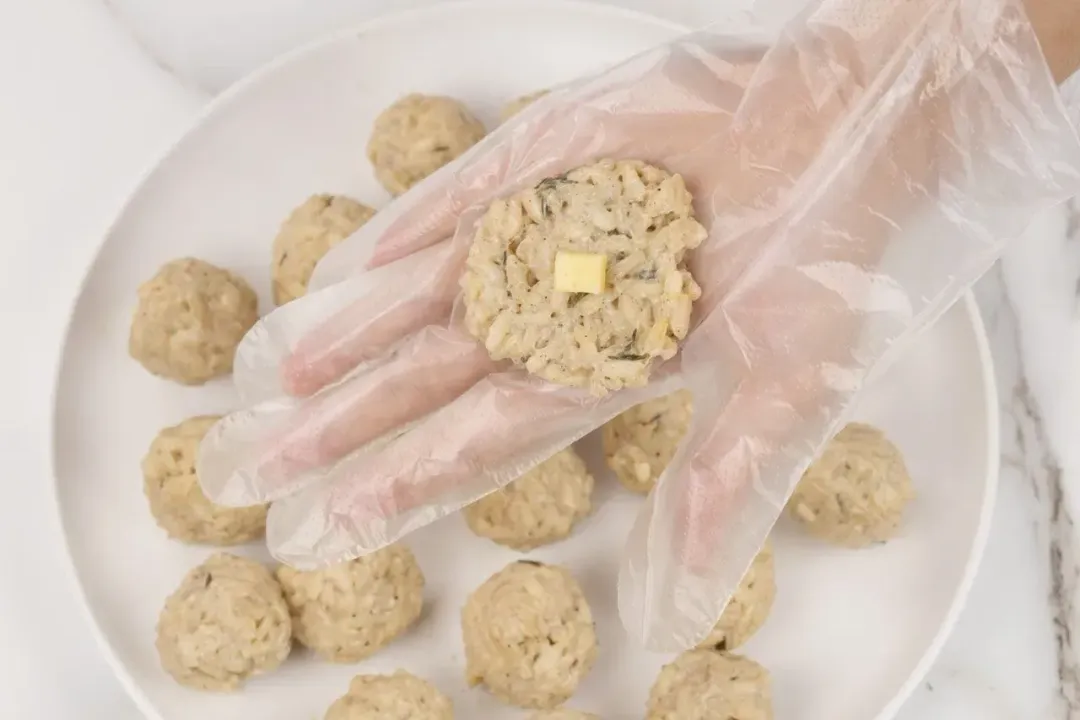 3
Beat 2 eggs in a small bowl. On two separate plates, prepare 1 cup flour and 8 oz breadcrumbs. Coat each ball successively with flour.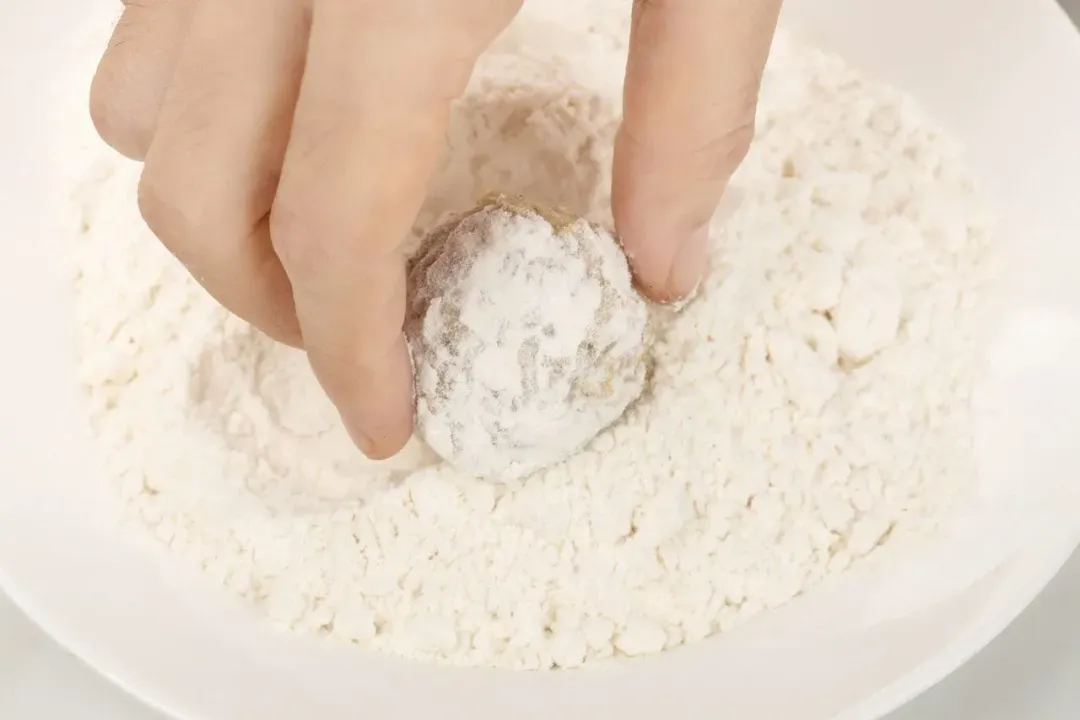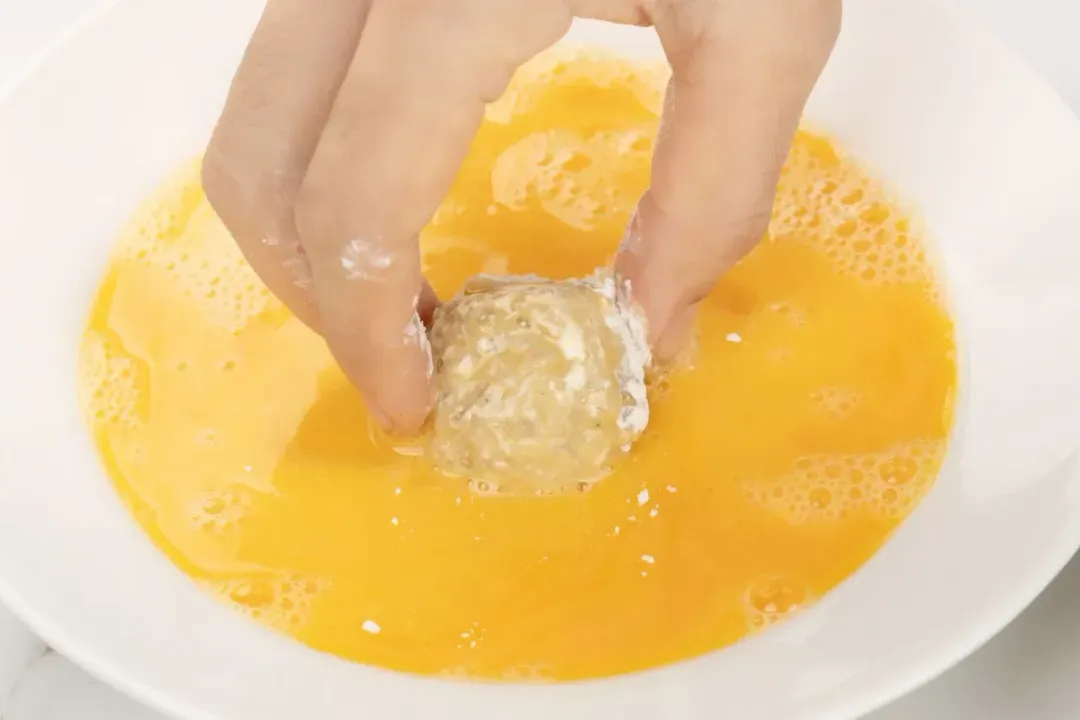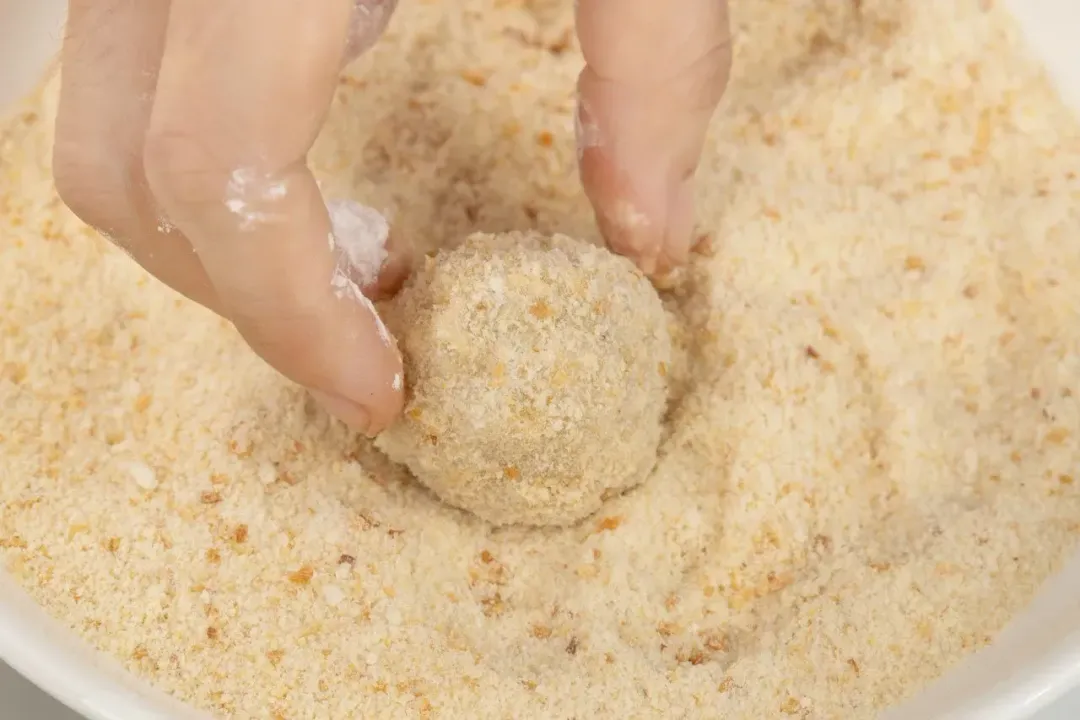 6
Place the coated rice balls on a large plate, cover, and put in the freezer for 15 minutes.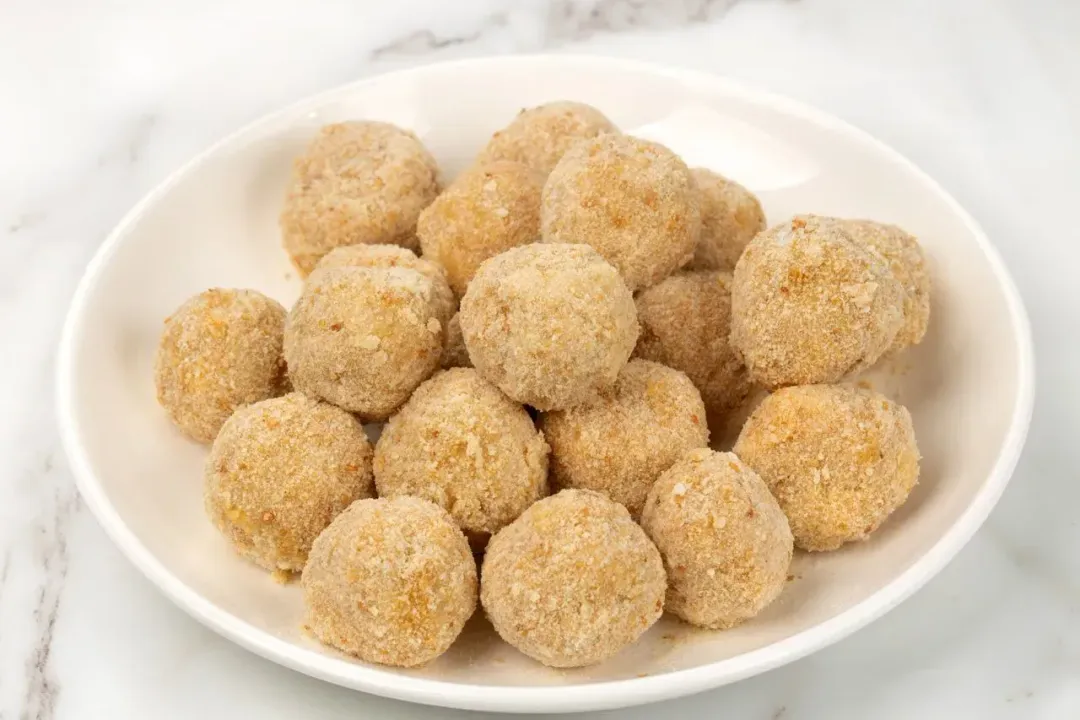 Deep-fry balls
1
Heat 1 cup of olive oil over low-medium heat in a large saucepan until there are tiny steam bubbles on the surface. Fry the balls until they turn golden on all sides, be careful not to overcrowd the pan.
2
Scoop the balls out onto a paper towel to drain. Sprinkle with 1/2 tbsp parsley and serve immediately while they're still hot.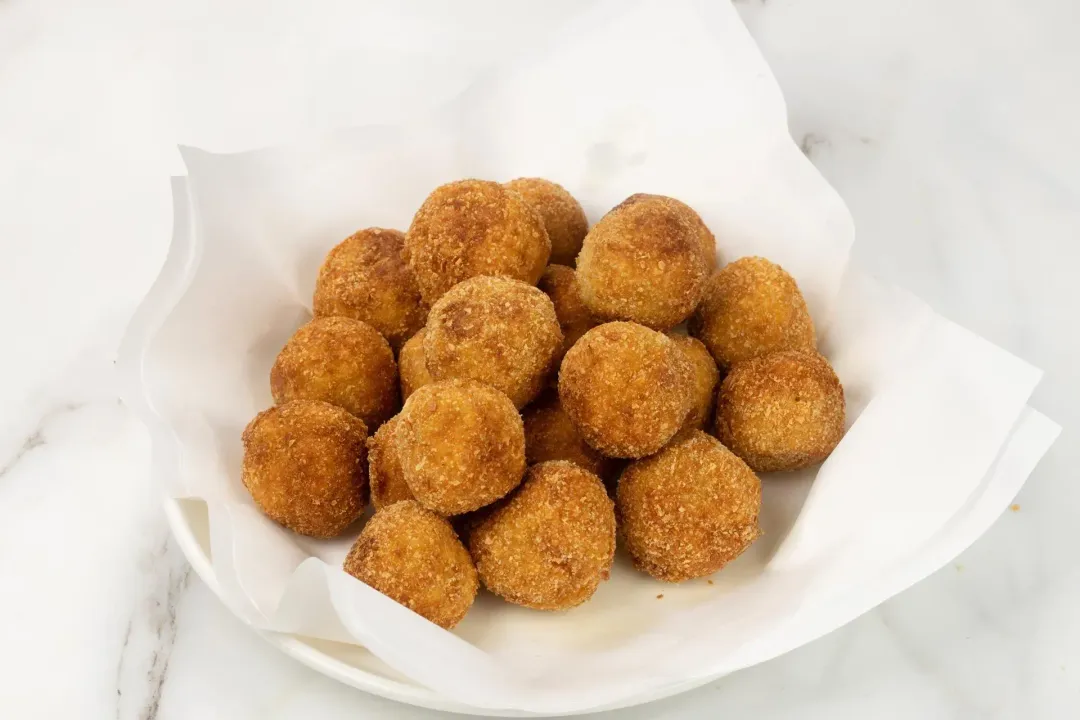 (*) Only part of these ingredients will end up in the final product and we have calculated nutritional values based on those amounts. The whole amount is needed for the coating and cooking process, but what actually ends up being consumed is 1/4 cup of all-purpose flour, 1 medium egg, 2 ounces of breadcrumbs, and 3 tablespoons of olive oil.
NUTRITION
Nutrition Facts
Arancini
Amount Per Serving (1 serving)
Calories 397
Calories from Fat 180
% Daily Value*
* Percent Daily Values are based on a 2000 calorie diet.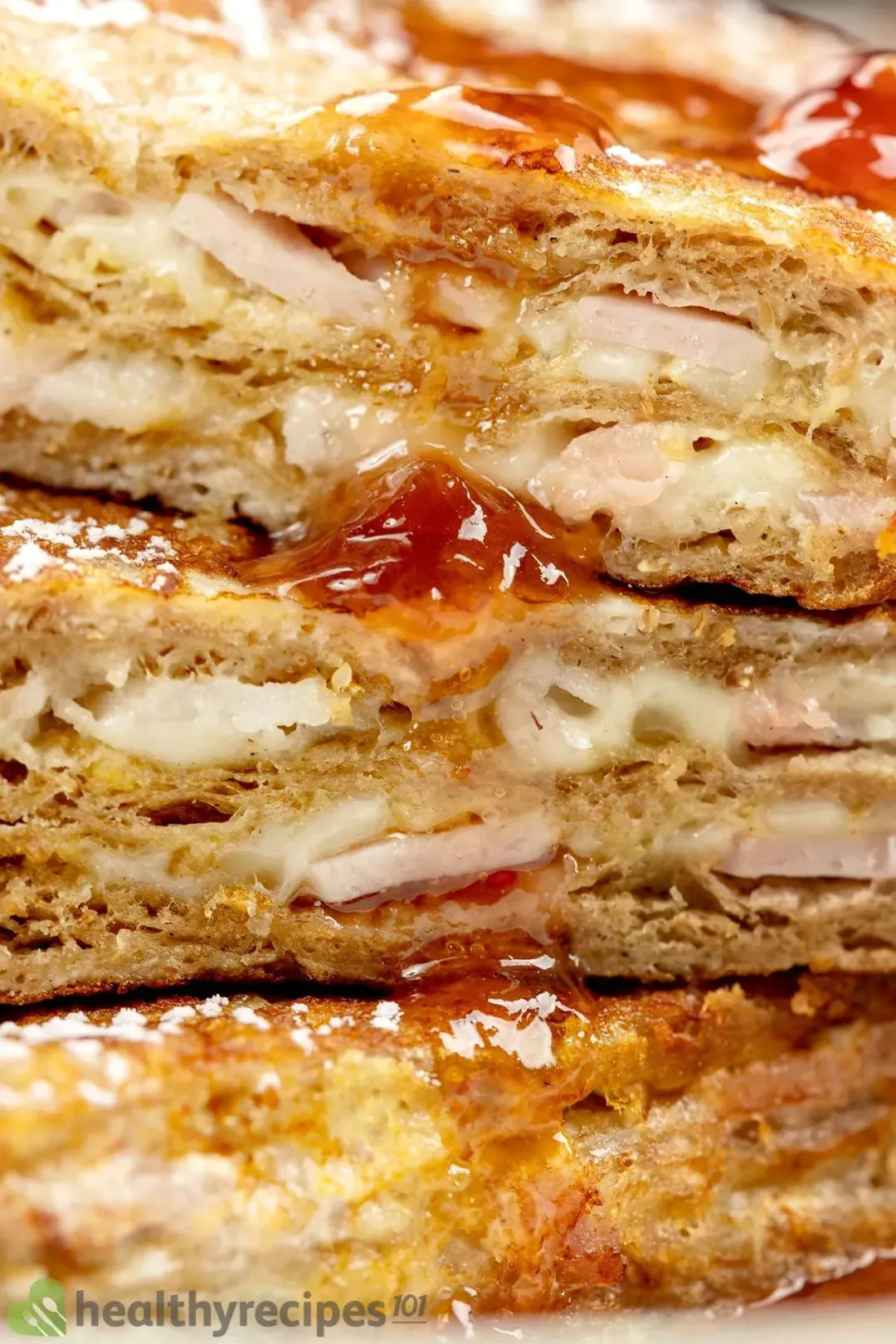 Previous Recipe
Monte Cristo Sandwich
Monte Cristo Sandwich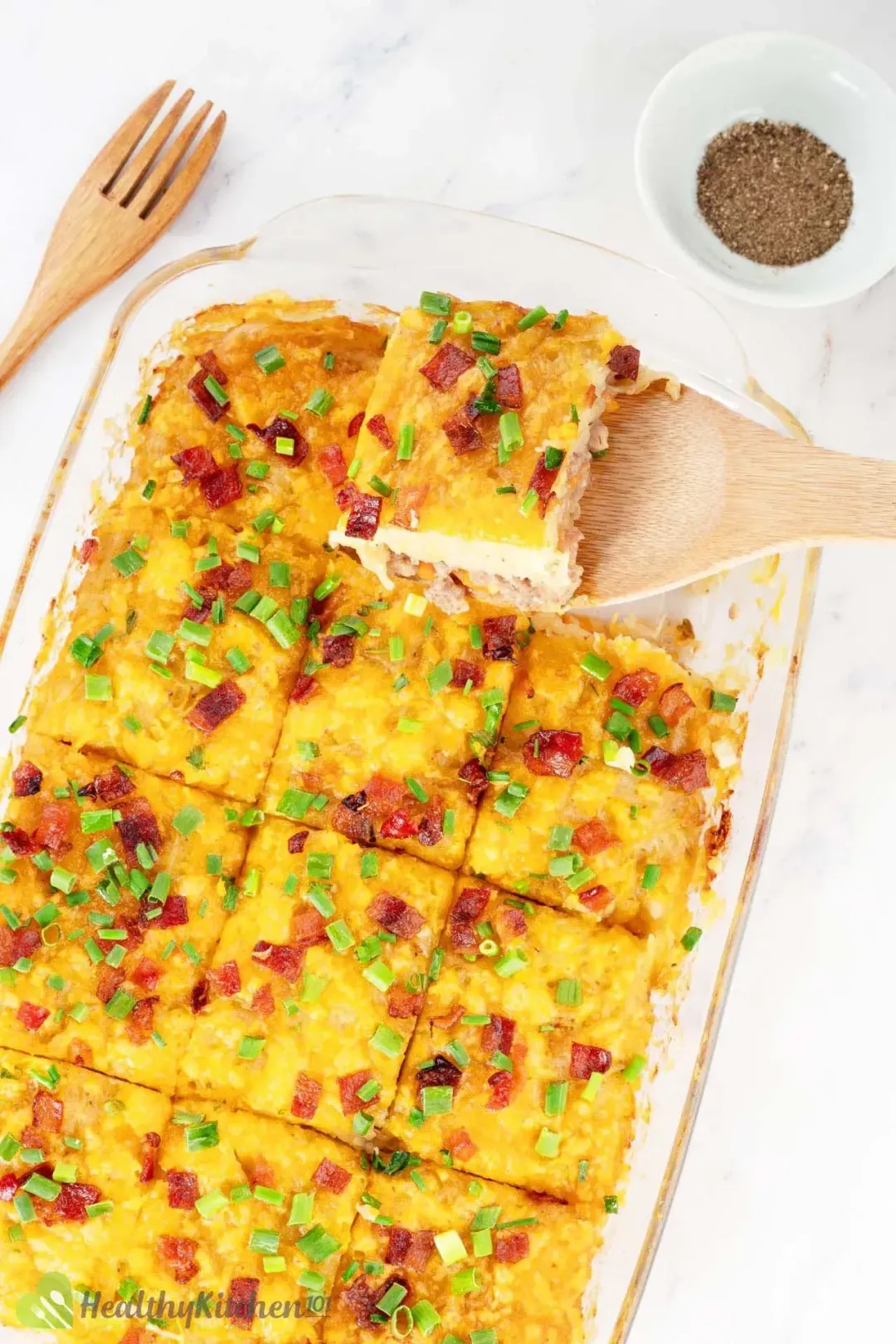 Next Recipe
Cheesy Hashbrown Breakfast Casserole
Cheesy Hashbrown Breakfast Casserole
Head Chef, Culinary Consultant
Tuyet Pham is an award-winning Saigonese chef who believes that joy is the secret ingredient to delicious food. At Healthy Recipes 101, Tuyet personally tests and simplifies every recipe, ensuring maximum flavor with minimal effort. With a background at prestigious French restaurants P'TI Saigon and Le Corto, Tuyet knows how to make every dish exceptional.
Writer, Author
Luna Regina is an accomplished writer and author who dedicates her career to empowering home cooks and making cooking effortless for everyone. She is the founder of HealthyKitchen101.com and HealthyRecipes101.com, where she works with her team to develop easy, nutritious recipes and help aspiring cooks choose the right kitchen appliances.
Nutrition Reviewer
Lizzie Streit is a Minneapolis-based dietitian and founder of It's a Veg World After All. She completed her MS in Human Nutrition from Drexel University, and is an expert in culinary nutrition, recipe development, and nutrition communications. Lizzie's philosophy is centered around making nutrition recommendations, and especially the advice to eat more vegetables, approachable and realistic. She is excited to be working with the team at Healthy Recipes 101 to ensure that their recipes are both nutritious and delicious.
Arancini is a great Italian dish that truly packs on lots of flavors! The rice filling is filled with great ingredients such as parmesan cheese & herbs that give it its classic flavor that we all know & love – perfect for any special occasion or dinner night out. Highly recommend giving this one a go!