Today's shrimp risotto recipe will introduce you to a hearty pot of creamy risotto topped with juicy shrimp and melted cheese. Its richness and glutinousness make this dish a wonderful pick for a comforting homestyle dinner.
What Is a Risotto?
Risotto is an Italian rice dish that's usually made by simmering Arborio rice in meat broth, infused with cream and various seasonings. Swirl the juicy roasted shrimp in the glutinous rice and we have this hearty, rich, fragrant shrimp risotto.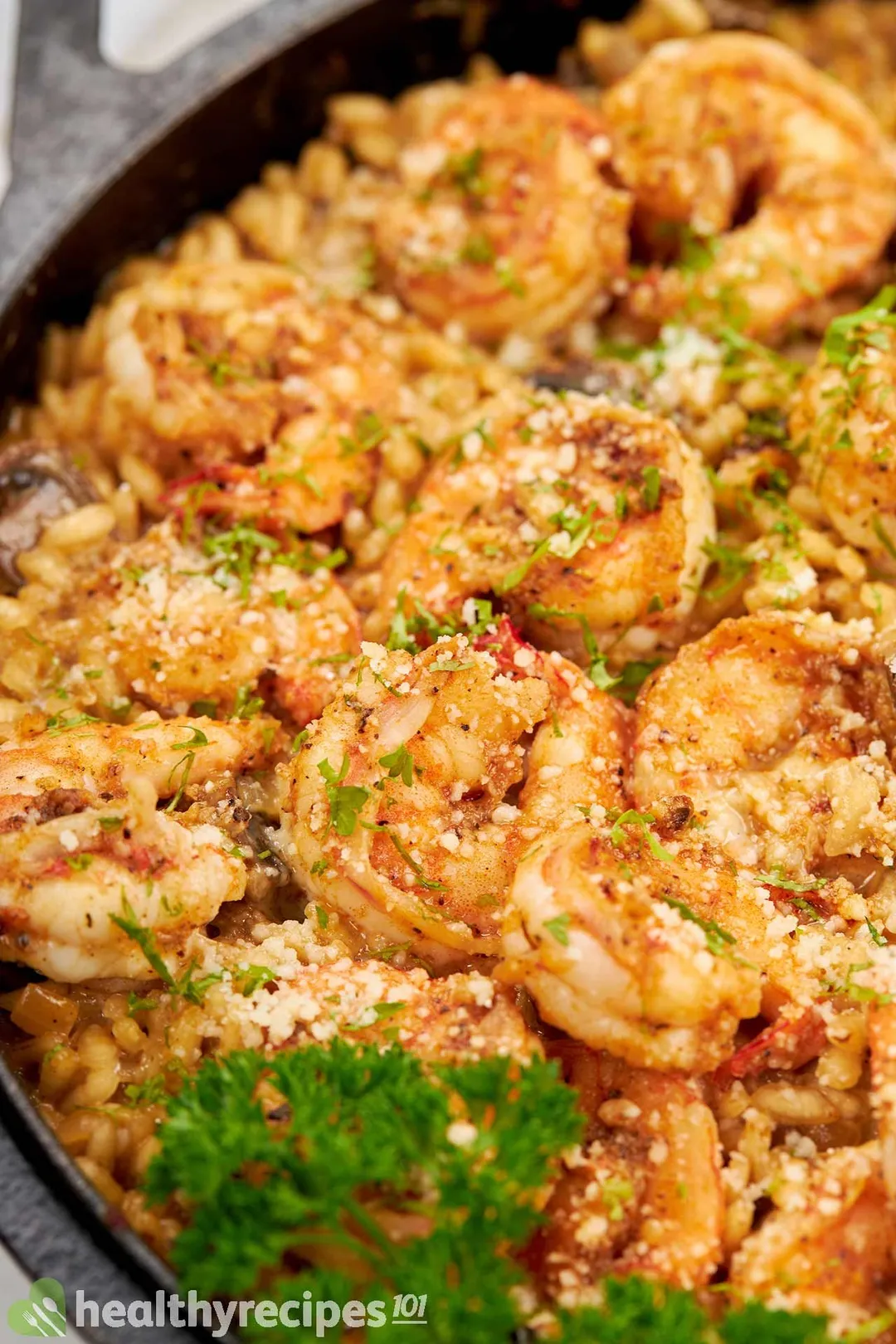 Our recipe follows a simple method of sautéing shrimp with butter and aromatic spices until pink and juicy. As the risotto finishes cooking with the mushroom, we stir the cooked shrimp into it, then top them up with Parmesan cheese for extra creaminess.
Our Sea Bass Risotto Recipe is also a fantastic choice if you want to try some more risotto.
Is Shrimp Risotto Healthy?
Our shrimp risotto is full of flavors and high in protein, carbs, and fat. Although the nutrition values are kept within healthy limits, this dish might not be a great choice to incorporate into your diet if you're planning to shed weight.
Also, it's hard to find a way to replace most of the cream and fat without sacrificing its creamy goodness. We don't recommend substitutions for either the shrimp, the rice, the cream, or the broth.
Rice for Risotto
There are many varieties of high-starch rice that are used in the classical preparation of risotto, ranging from superfino to fino, semi-fino, and commune. Superfino rice is the most likely to produce a delicately creamy risotto.
The three most common types of superfino rice used for risotto are Arborio, Carnaroli, and Vialone Nano. They all slightly differ in shape, starch content, and texture, but for today's shrimp risotto recipe, Arborio rice is our choice to make.
Arborio rice is the most popular short-grain rice for risotto, known for its plump and oval-shaped grains. It's named after the town of Arborio in northwestern Italy.
Arborio rice is high in amylopectin starch and is primarily used to produce the signature creamy, sticky texture for this dish. The rice slowly releases its natural starch as it cooks and fully absorbs the cream and rich broth during constant stirring.
This gradual cooking process results in chewy, luscious, firm grains of rice that you can easily enjoy spoonful bites of without the sappy feels.
Arborio rice is also available in brown. Brown Arborio rice contains more fiber and nutrients but is relatively less starchy and creamy than the white one.
Other types of superfino rice, such as Carnaroli and Vialone Nano, are plumper, larger, and come with higher starch contents than Arborio. They're more preferred in dishes that require a very creamy, gooey, soupy texture.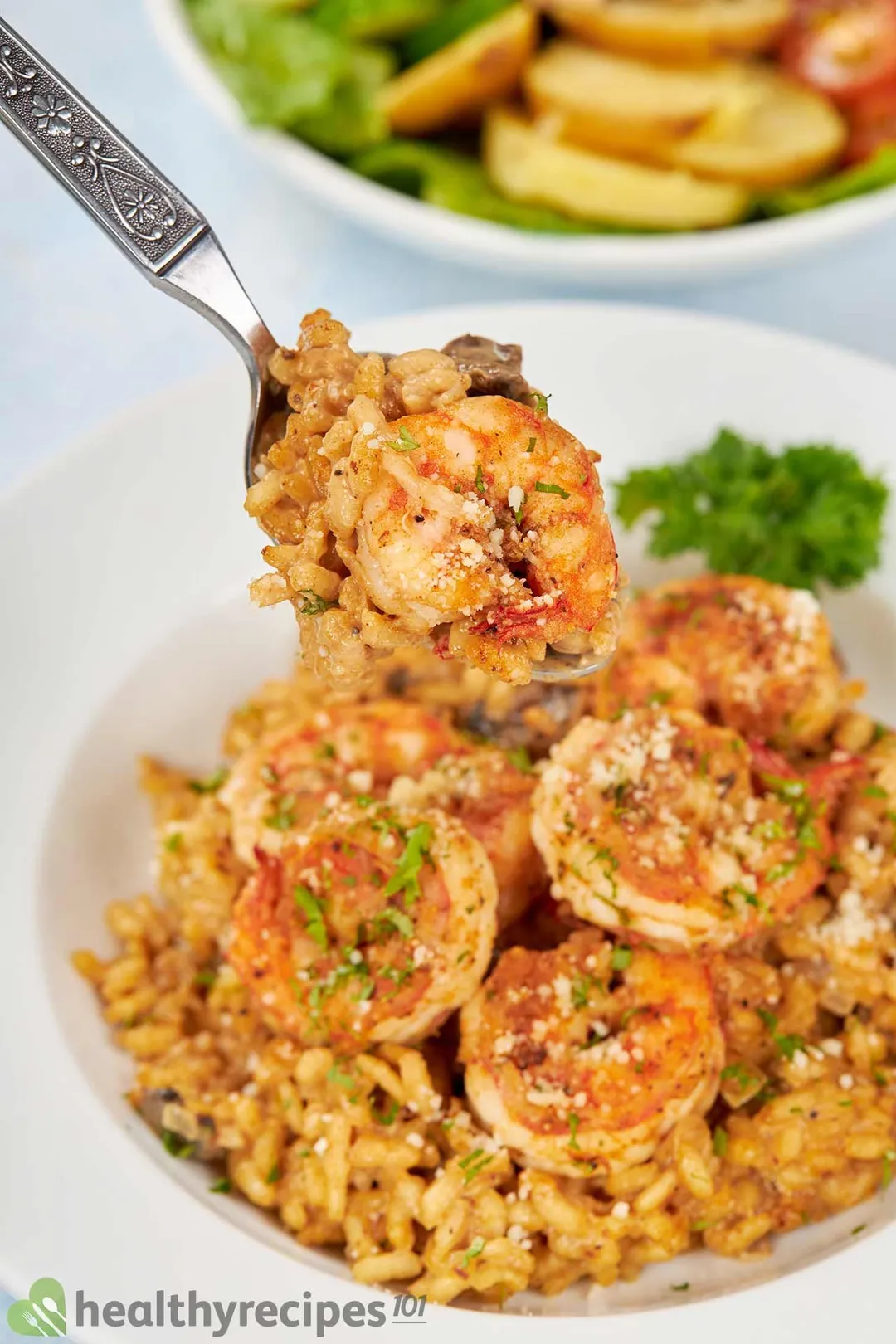 If you're looking for a lighter alternative to risotto, make sure to visit this cauliflower risotto. It's an inventive way to reimagine the traditional risotto but with much fewer carbs and calories. Just like the original version, cauliflower risotto can also be paired with almost any protein on the menu, whether it's grilled steak, chicken, or seafood.
Tips for Making Shrimp Risotto
Small or medium-sized shrimps are the best choice for this dish, so you can have both the shrimp and the risotto rice fit into one mouthful bite. For larger shrimps, we suggest cutting them in half after pre-shelling and removing their tails.
After the chicken broth joins with the Arborio rice, you'll need to stir often until the rice is fully cooked and absorbed in the liquid. Be careful not to simmer it for too long — it should be silky creamy but not mushy.
Our shrimp risotto recipe is a basic one that provides plenty of room for creativity. Feel free to stir in your favorite vegetables and garnish them with whatever toppings you want.
How to Store and Reheat Shrimp Risotto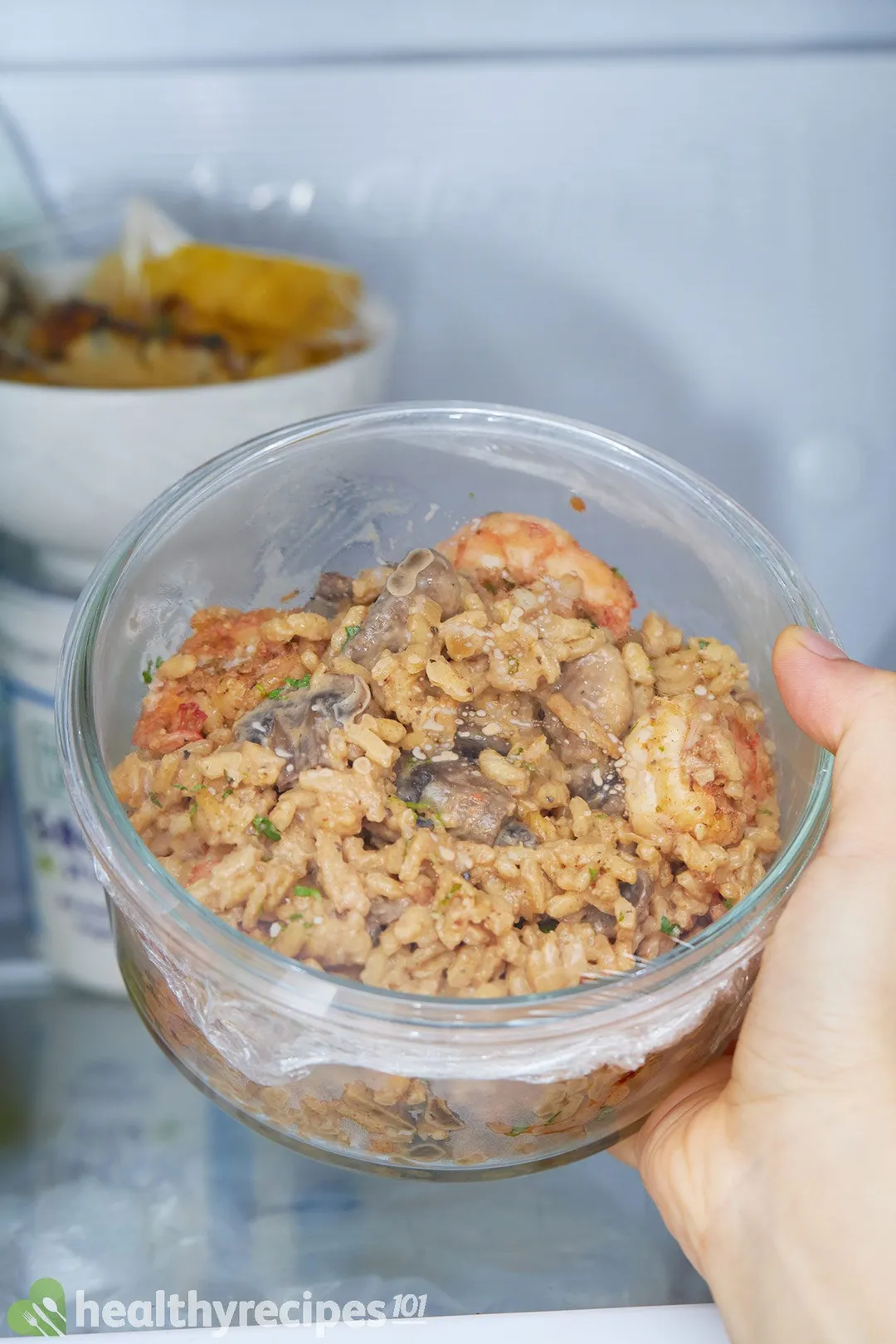 Leftover shrimp risotto can be stored in an airtight container in the refrigerator for up to 3 days. For such a creamy dish, we don't recommend freezing. It's best to plan the actual serving to finish it within the mentioned period.
You can reheat the risotto on the stove by adding a tablespoon or two of broth to loosen it up. Enjoy hot.
What to Serve With Shrimp Risotto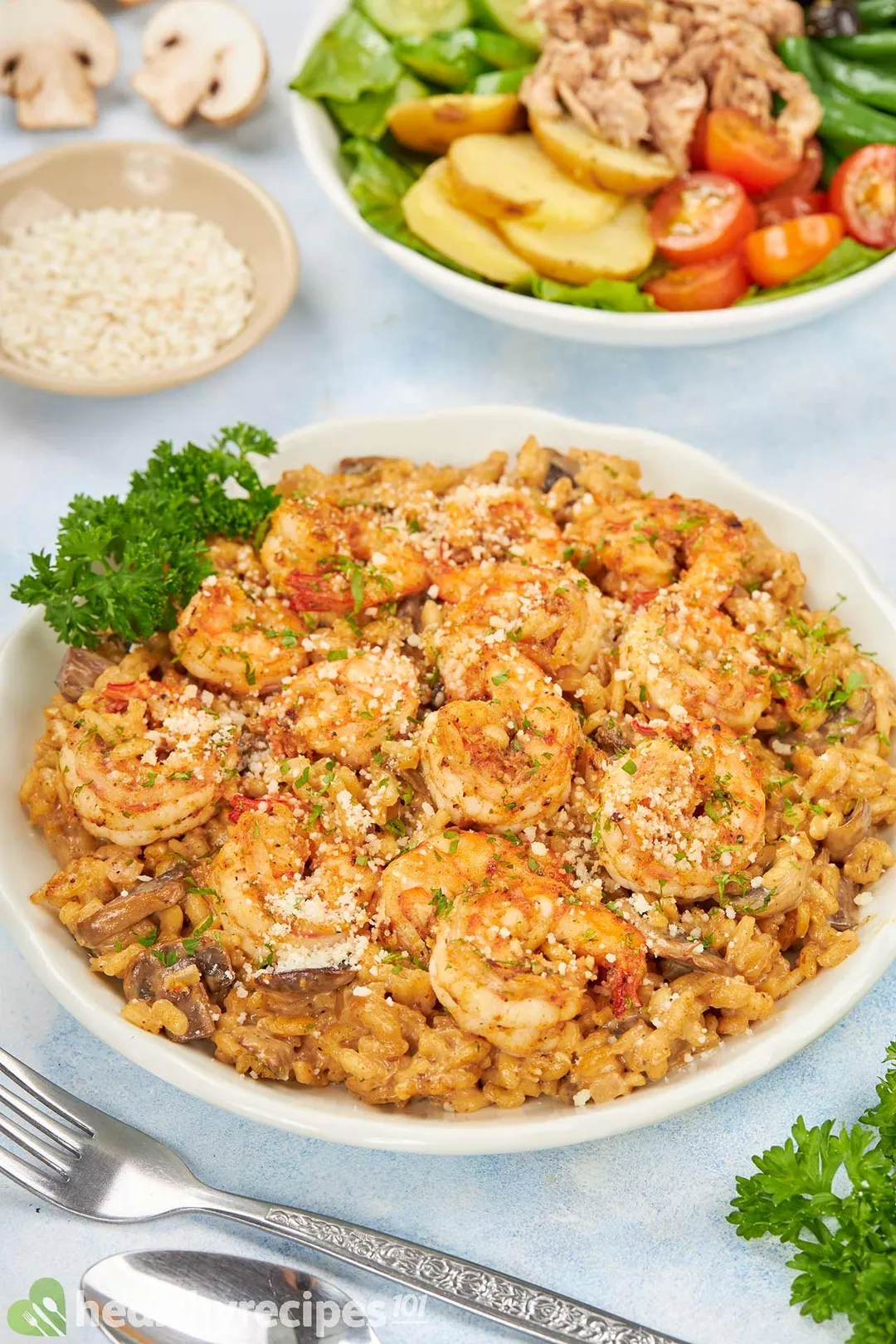 Truth be told, this shrimp risotto alone can already make a quite fulfilling meal. However, we still managed to pair it with Nicoise salad, a composed salad that's aesthetically pleasing with diverse flavors, textures, and colors to balance the creaminess of the risotto.
Our Nicoise salad recipe incorporates cherry tomatoes, tuna, eggs, potatoes, cucumber, green beans, and black olives, arranged in sections over a bed of fresh romaine lettuce. A salty, tangy vinaigrette is also served to round out a delicious and colorful salad that screams the style of French cuisine and allows you to scoop a bit of everything.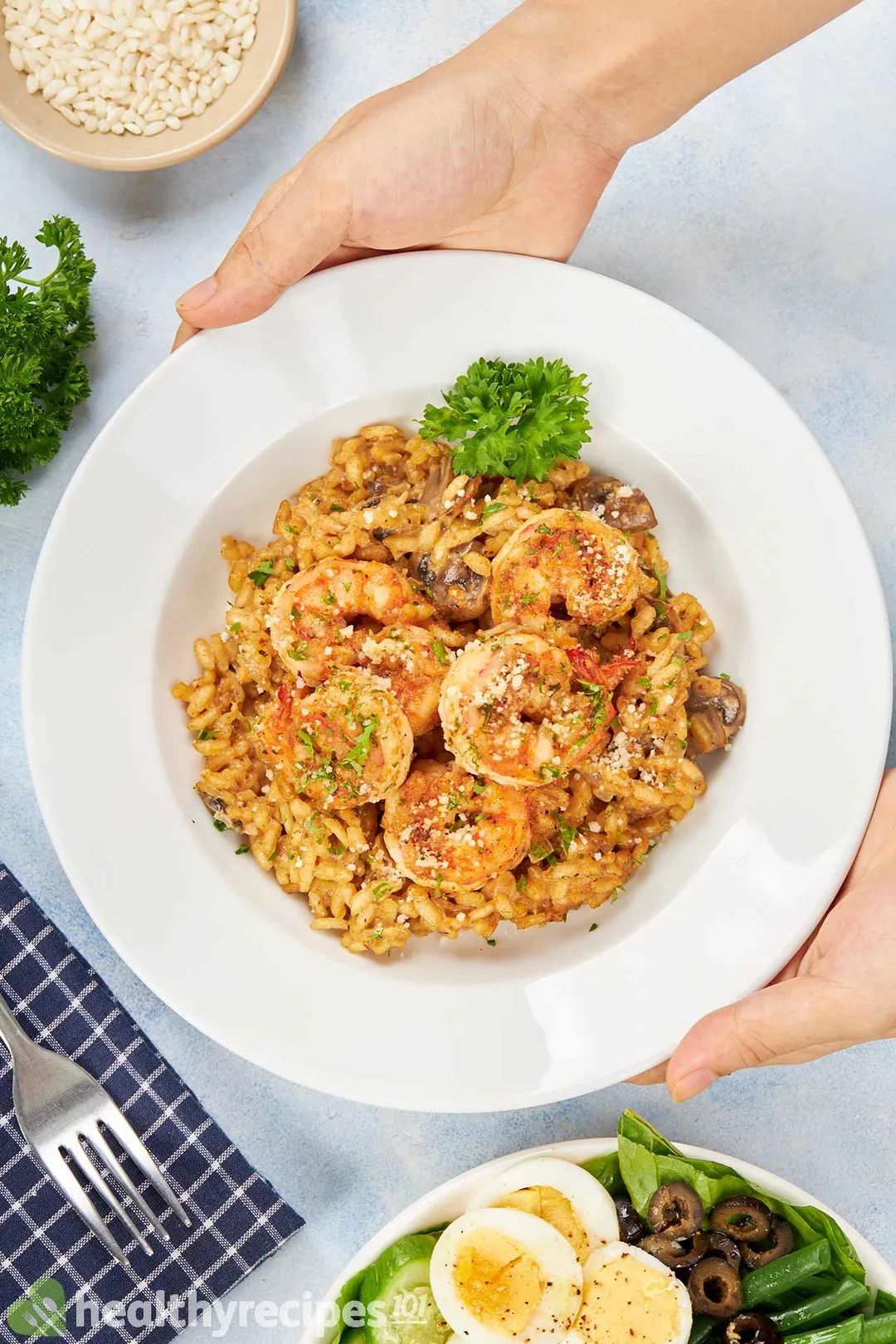 Check Out These Shrimp Recipes
For similar easy and flavorful Italian dishes, check out our collection of Italian Shrimp Recipes.
Shrimp Risotto
​​Today's shrimp risotto recipe will introduce you to a hearty pot of creamy risotto topped with juicy shrimp and melted cheese. Its richness and glutinousness make this dish a wonderful pick for a comforting homestyle dinner.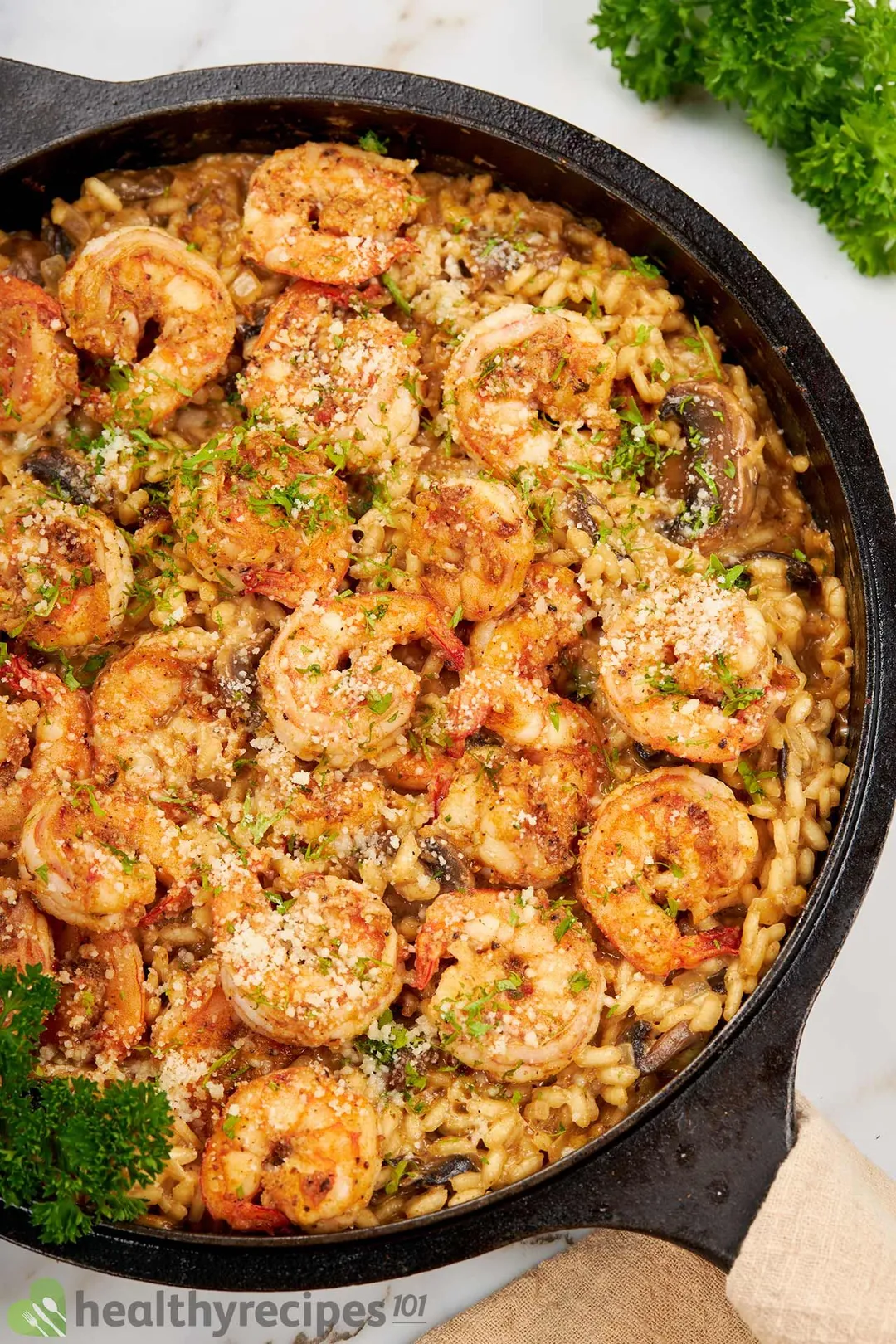 cook TIME

40 mins

prep TIME

10 mins

total TIME

50 mins
COURSE

Main Course

CUISINE

Italian

SERVINGS

CALORIES

500 kcal
INGREDIENTS
13 oz

raw shrimp

(peeled and deveined, equals 24 oz unpeeled)

6 oz

white mushroom

(sliced)

0.5 oz

Parmesan cheese

(grated)

2 cup

unsalted chicken broth

1 1/2 tbsp

unsalted butter

(divided)

1 1/4 cup

uncooked Arborio rice

1 1/2 tsp

paprika

(divided)

1/2 tsp

ground black pepper
INSTRUCTIONS
1
Melt 1/2 tbsp unsalted butter in a skillet over low heat. Add 13 oz raw shrimp, 1/2 tsp paprika, 1/2 tsp garlic powder, 1/4 tsp salt, 1 tsp Italian seasoning, 1/2 tsp ground black pepper, and 1/2 tsp onion powder. Sauté until the shrimp turns pink (about 5 minutes). Remove to a bowl and set aside.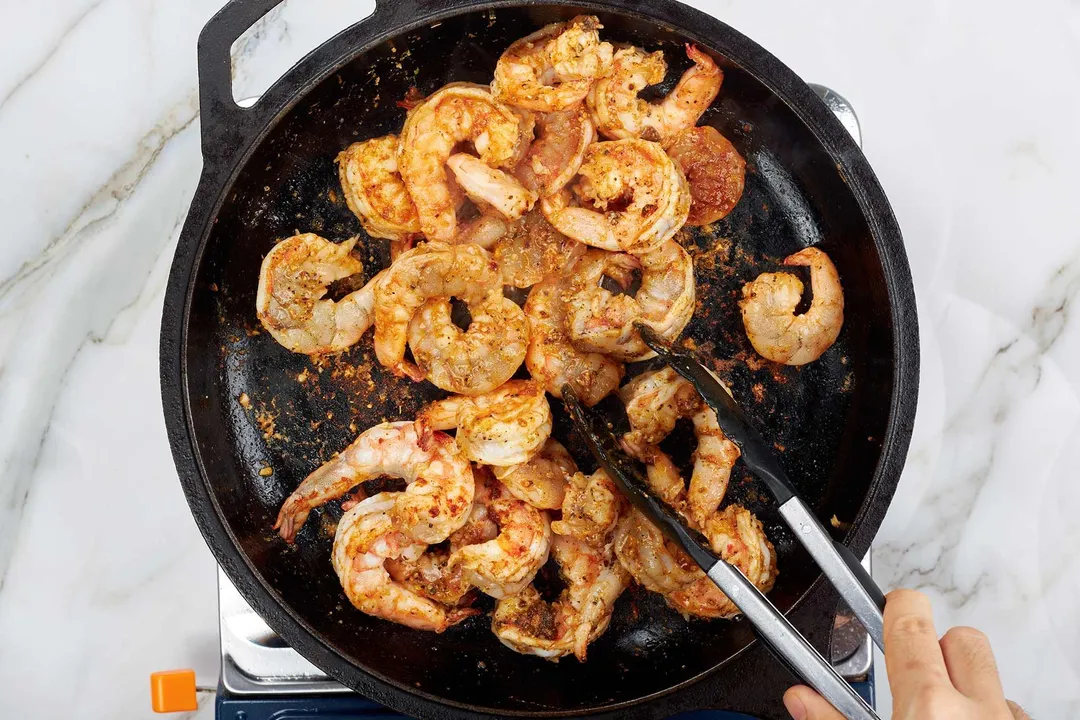 2
Melt another 1 tbsp unsalted butter in the skillet over medium heat. Sauté 1 tbsp minced garlic and 3 oz diced onion until fragrant (about 1 minute).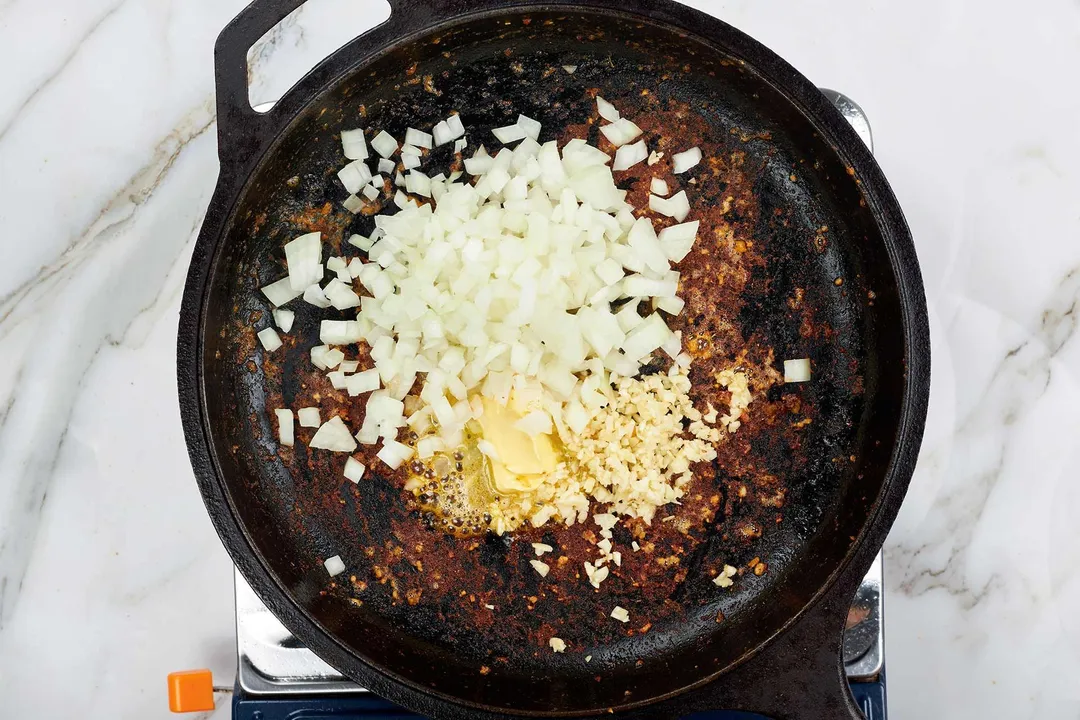 3
Add 6 oz white mushroom and sauté for 3 minutes until soft and golden brown.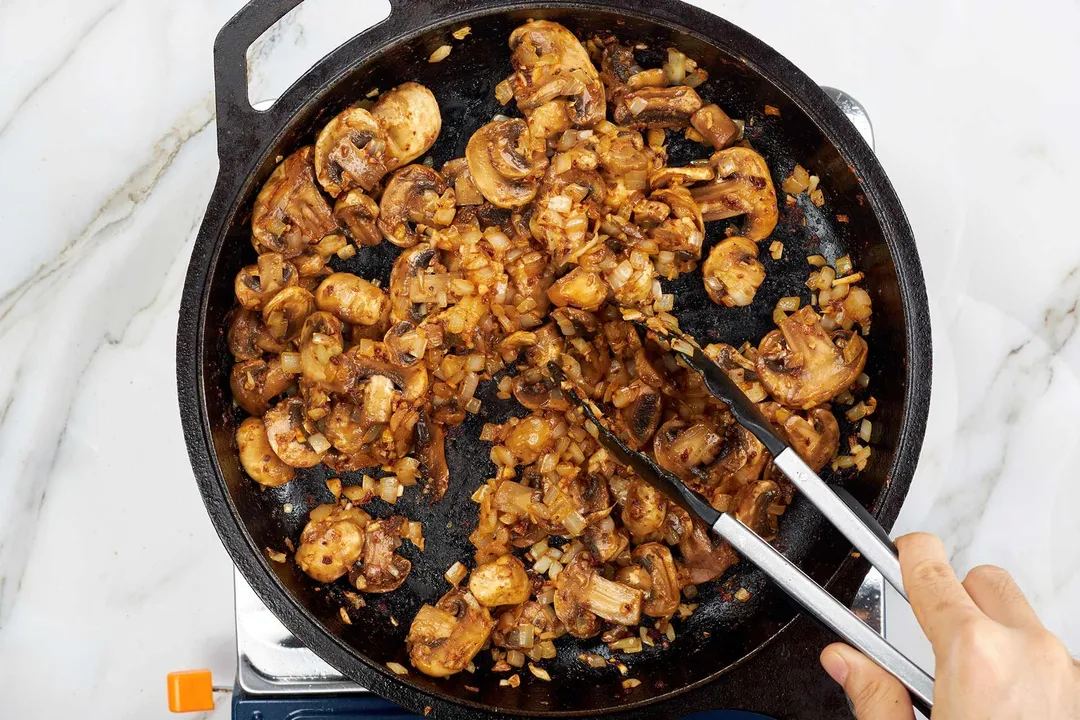 4
Add 1 1/4 cup Arborio rice and stir with the mushroom.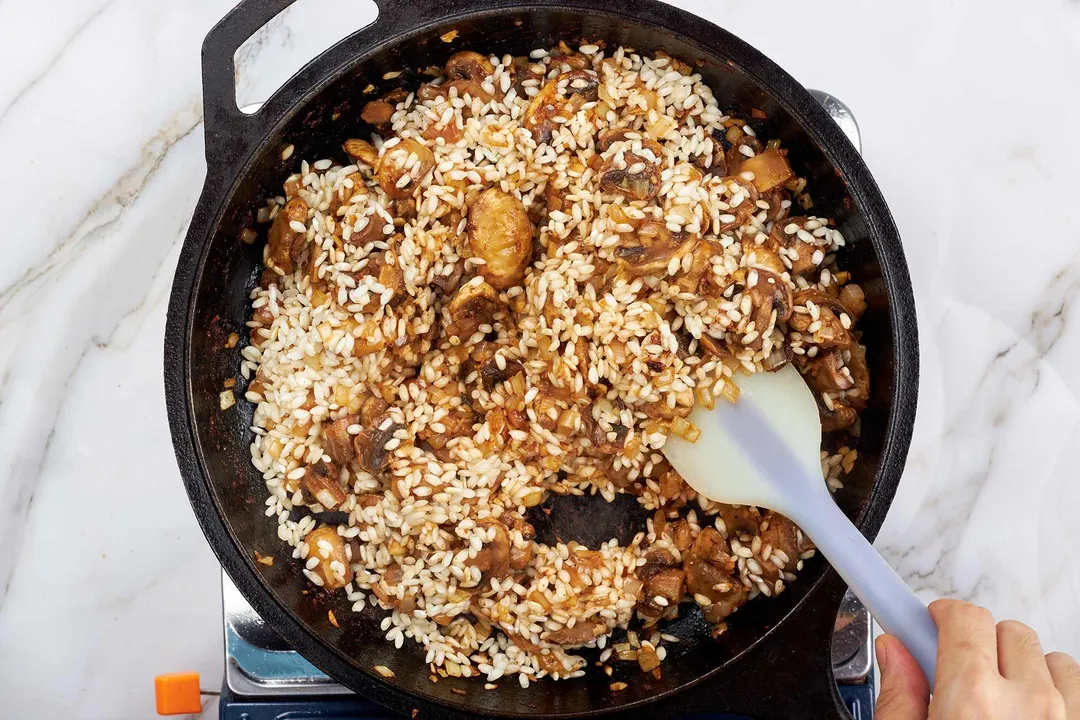 5
Add 1 cup unsalted chicken broth and turn the heat down to low. Stir constantly until the broth is slightly absorbed.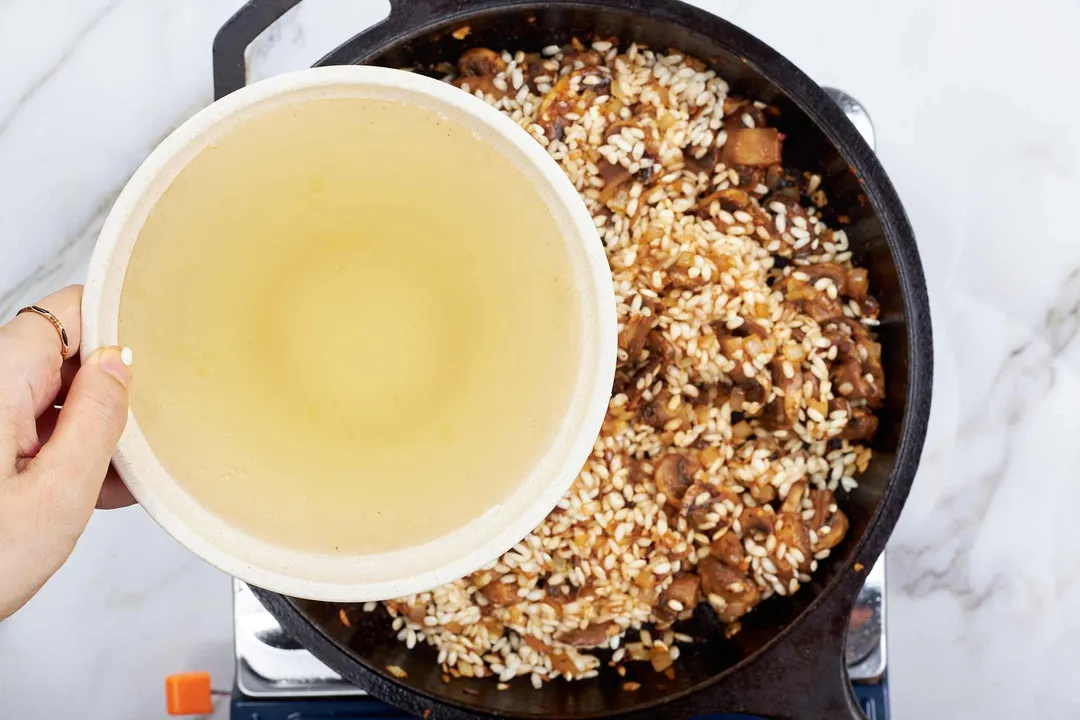 6
Add another 1 cup unsalted chicken broth, stirring often, and let it simmer until it's slightly absorbed. Then, add 1/4 tsp salt, 1 tsp paprika, 1/2 cup whole milk, 1/4 cup heavy cream.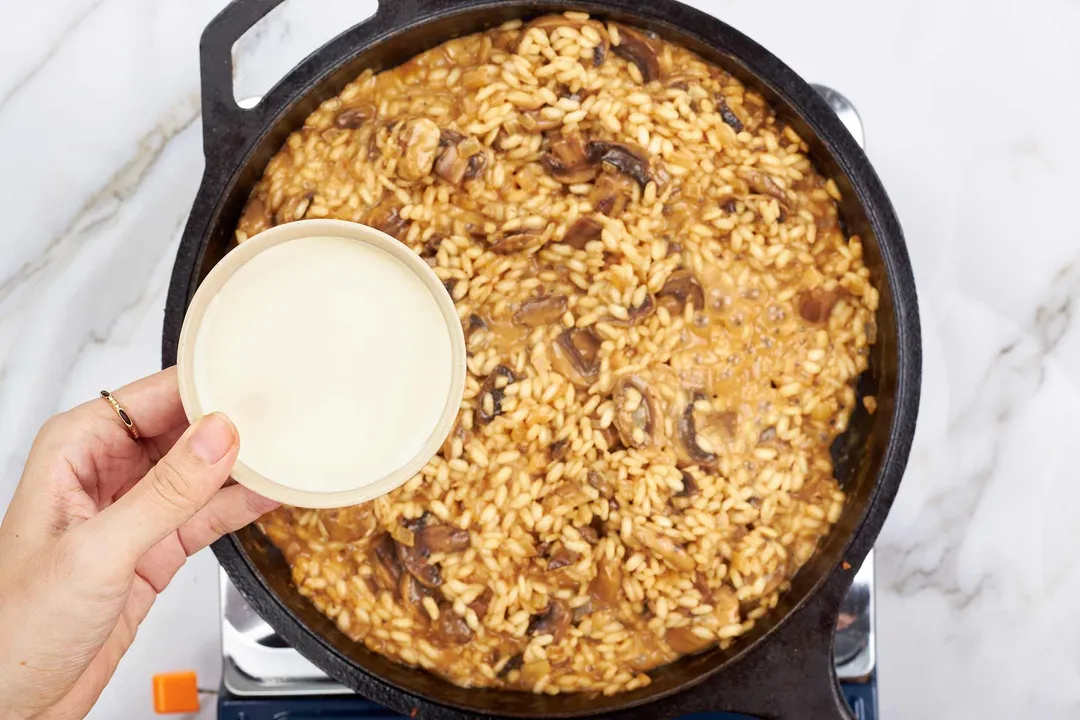 7
Stir occasionally until the liquid is fully absorbed into the rice (about 20 minutes).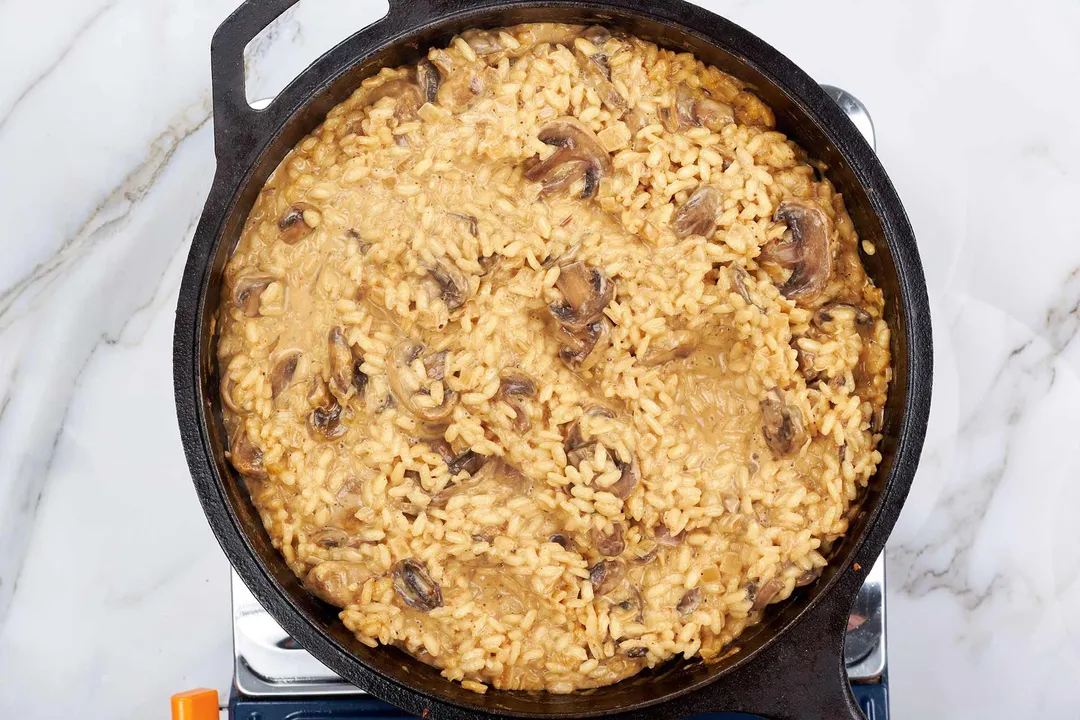 8
Return the cooked shrimp to the skillet and stir it into the risotto.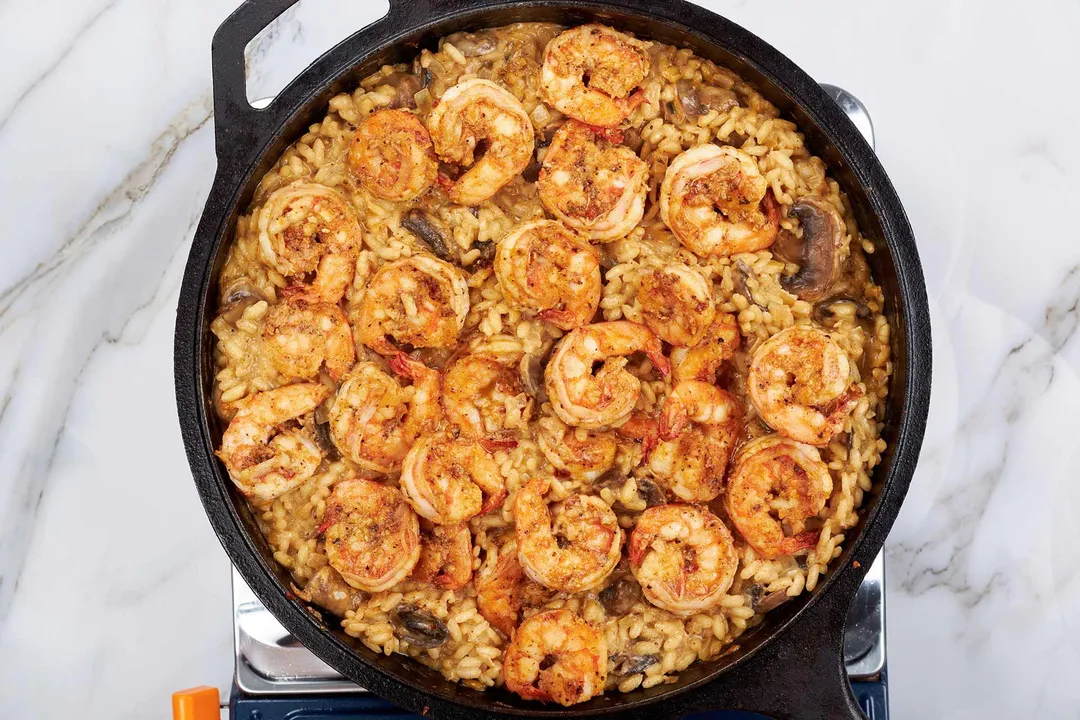 9
Turn off the heat and portion out. Garnish with 2 tbsp chopped parsley and 0.5 oz grated Parmesan cheese. Serve hot.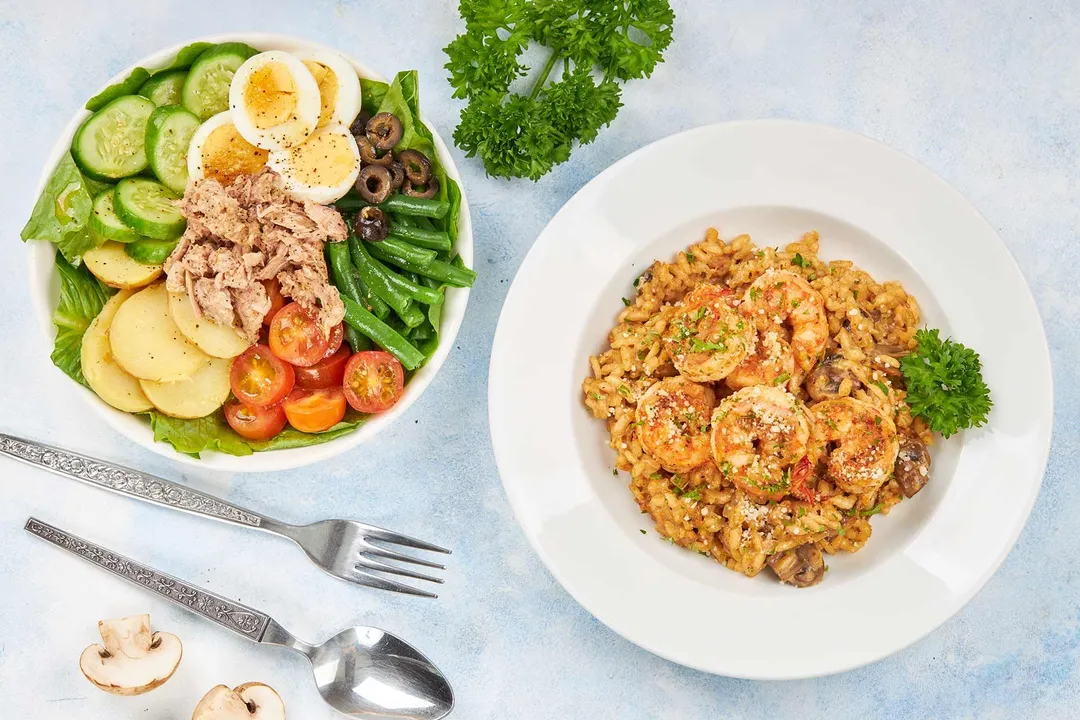 NUTRITION
Nutrition Facts
Shrimp Risotto
Amount Per Serving (1 serving)
Calories 500
Calories from Fat 117
% Daily Value*
* Percent Daily Values are based on a 2000 calorie diet.
Keywords: how to make shrimp risotto, shrimp risotto, shrimp risotto recipe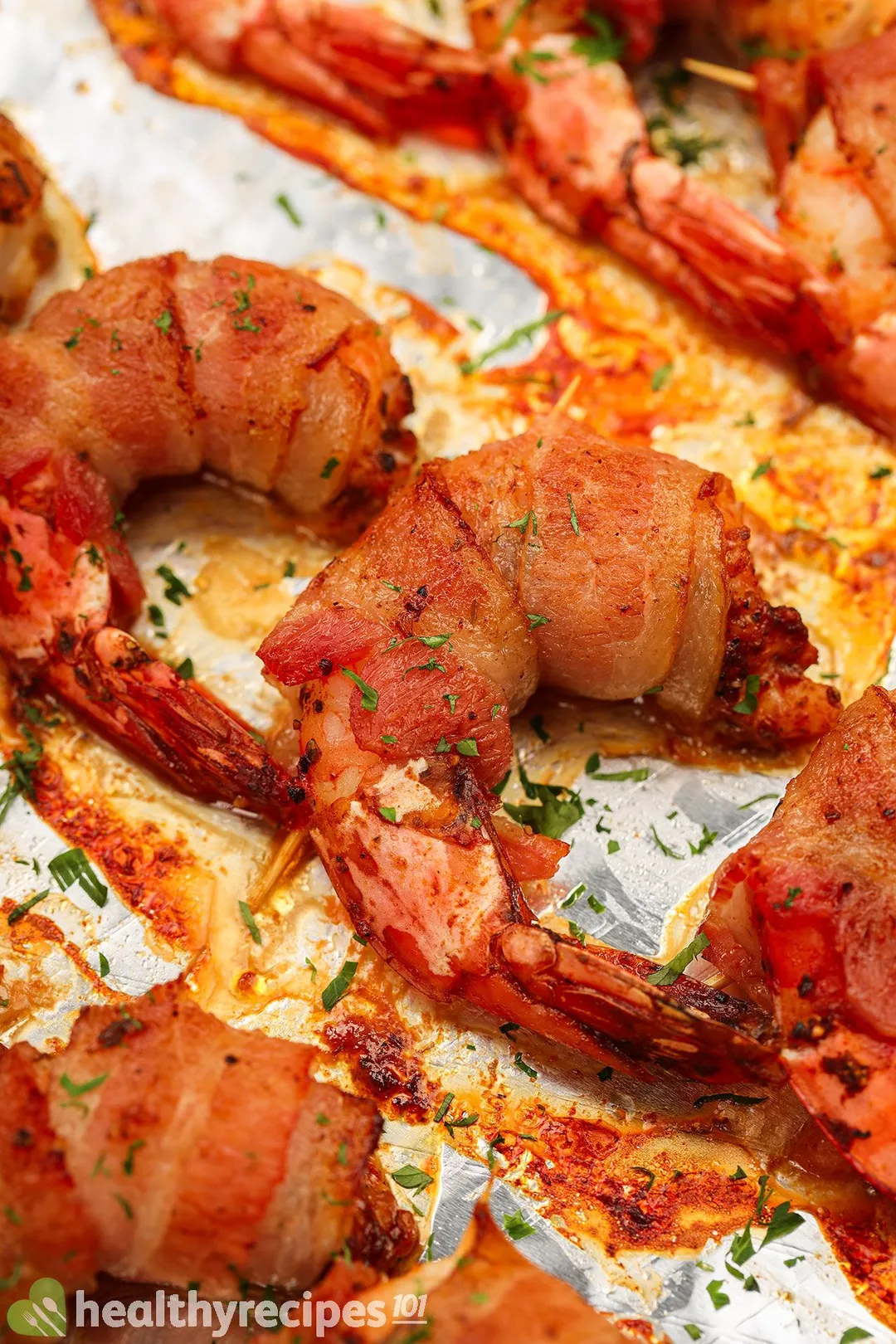 Previous Recipe
Bacon Wrapped Shrimp
Bacon Wrapped Shrimp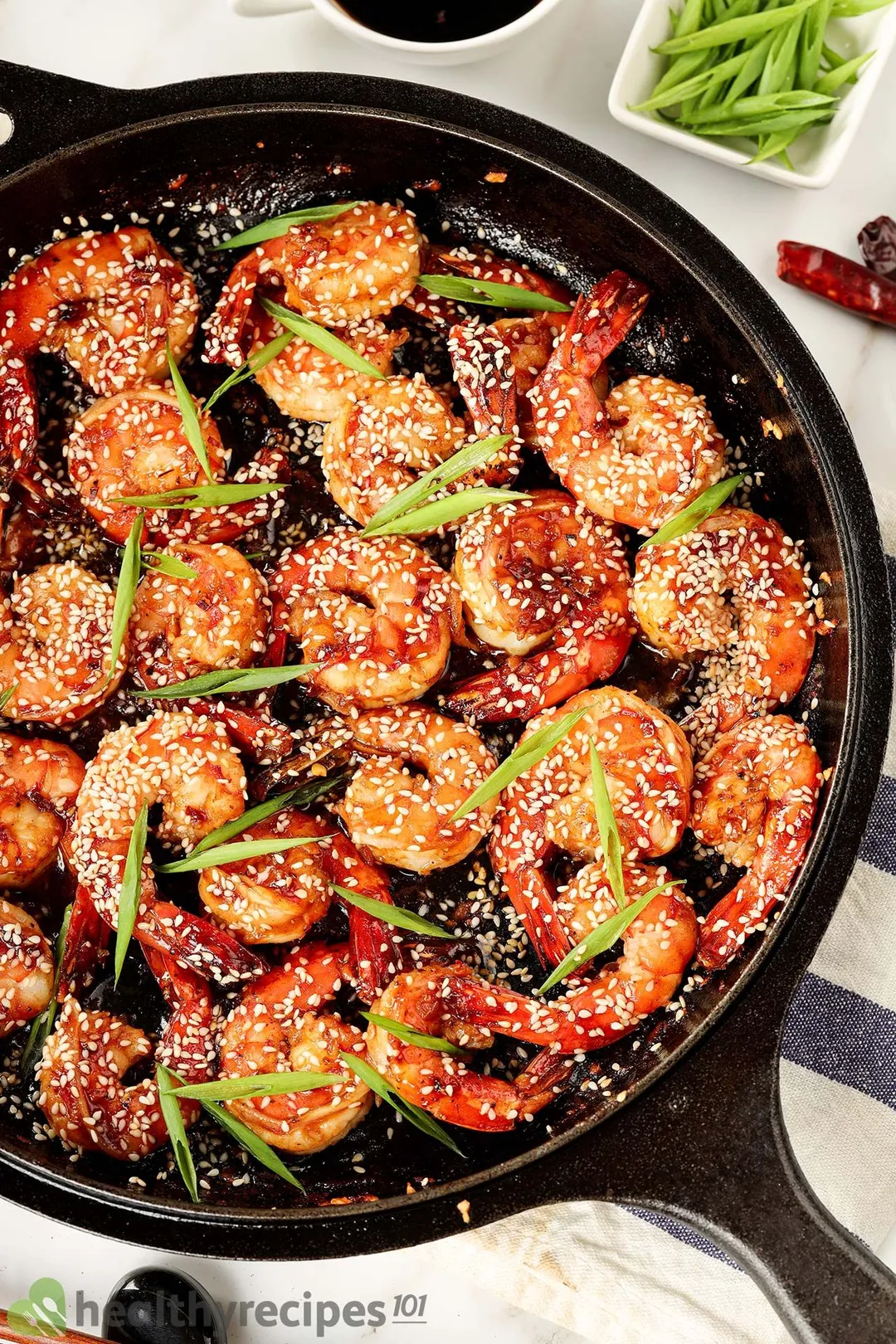 Sesame Shrimp
Head Chef, Culinary Consultant
Tuyet Pham is an award-winning Saigonese chef who believes that joy is the secret ingredient to delicious food. At Healthy Recipes 101, Tuyet personally tests and simplifies every recipe, ensuring maximum flavor with minimal effort. With a background at prestigious French restaurants P'TI Saigon and Le Corto, Tuyet knows how to make every dish exceptional.
Writer, Author
Luna Regina is an accomplished writer and author who dedicates her career to empowering home cooks and making cooking effortless for everyone. She is the founder of HealthyKitchen101.com and HealthyRecipes101.com, where she works with her team to develop easy, nutritious recipes and help aspiring cooks choose the right kitchen appliances.
Nutrition Reviewer
Natalie Butler is a registered dietitian nutritionist with a passion to help others live their best life through food, fitness, safer beauty and a healthy lifestyle. She has expertise with a variety of diets and diseases and believes that there is no one-size-fits-all approach for health.
Shrimp risotto is a flavorful and satisfying meal that's easy to make at home.