Today's boiled peanuts recipe will help you create a tasty, juicy, and cost-effective finger food every National Peanut Lovers Day (March 1), National Peanut Day (September 13), and National Nut Day (October 22).
When it comes to peanuts, our first thought would definitely be the peddlers selling street foods in Asia. Yes— those steaming kettles containing the little soft and moist boiled peanuts that are in high demand.
It may or may not come as a surprise that boiling peanuts at home is actually a very straightforward job. It's a no-brainer kind of simple!
What Are Boiled Peanuts?
Peanuts or groundnuts are a herbaceous crop that belongs to the legume family and originated in South America.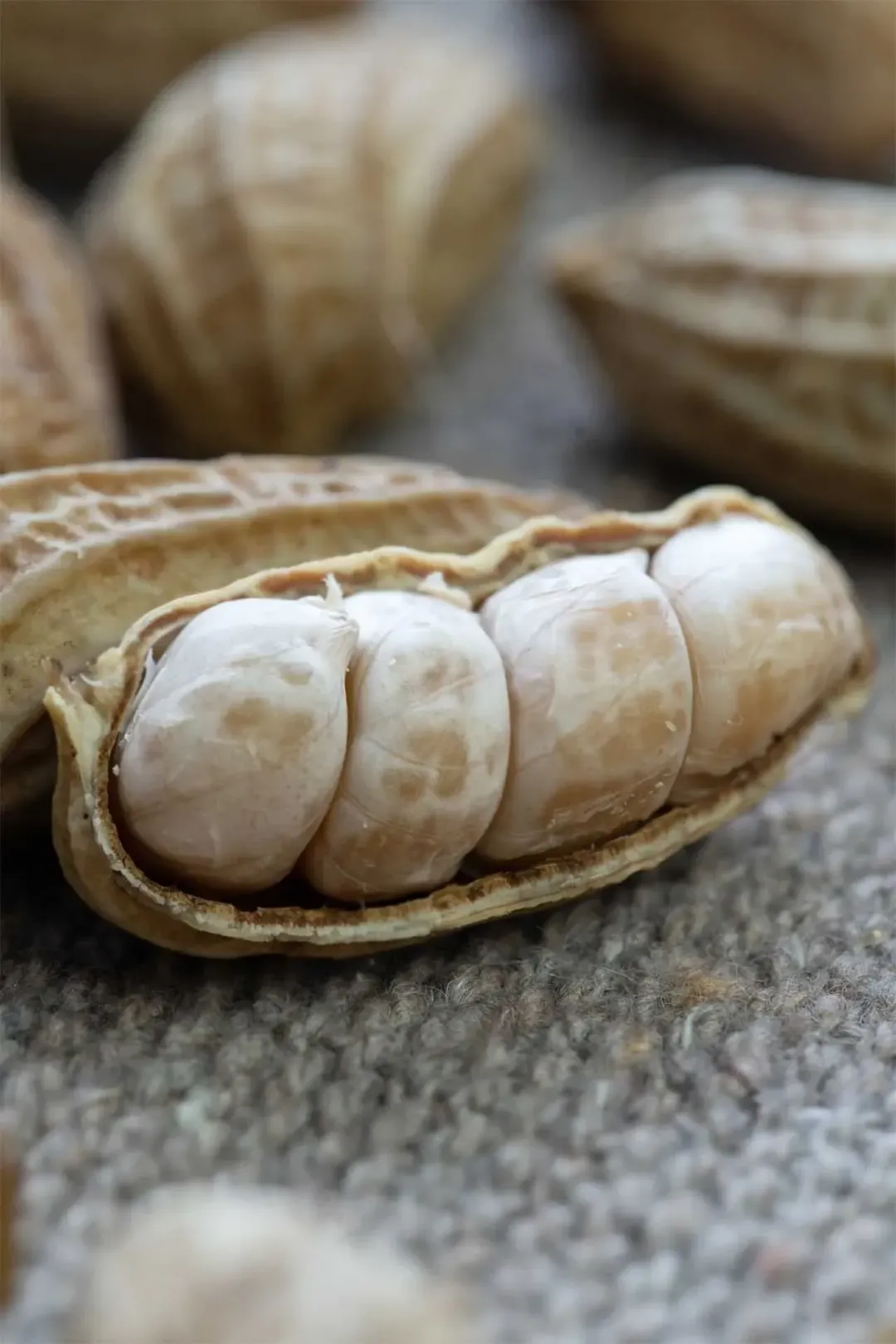 The fruit of a peanut is the peanut pods that develop underground and are known for their earthy and legume-like flavor. Generally speaking, peanuts are super versatile— they can be used for either roasting, boiling, salting, or grinding. Roasted peanuts can often be added to various dishes (like this Kung Pao Chicken) for a delightful crunch and a few nutty finishing notes.
Boiling peanuts is one of the easiest and most hassle-free ways to make a healthy snack that we've ever tried.
With this recipe, you don't have to do a lot of convoluted steps. All you need to do is set the timer and come back later to check if the peanuts are ready.
Is Our Recipe Healthy?
Peanuts are in the same family as beans and lentils (they don't belong to the nut family, as they're from underground!). They're loaded with nutrients— even more than any real kind of nut.
Not only are they naturally low in sodium, but raw peanuts are also rich in protein, fiber, potassium, and vitamin E.
1. Calories
In this boiled peanuts recipe, you'll get 322 calories from a serving of 2 ounces of peanuts. In which, there are 252 calories from fat.
Peanuts are classified as oilseeds— a very large proportion of their harvest is mainly grown for oil. Though high in fat, most of their fat content is made up of monounsaturated and polyunsaturated fatty acids.
2. Carbs
In the mentioned serving, you'll also get 9 grams of carbohydrates and 5 grams of fiber.
How to Make Boiled Peanuts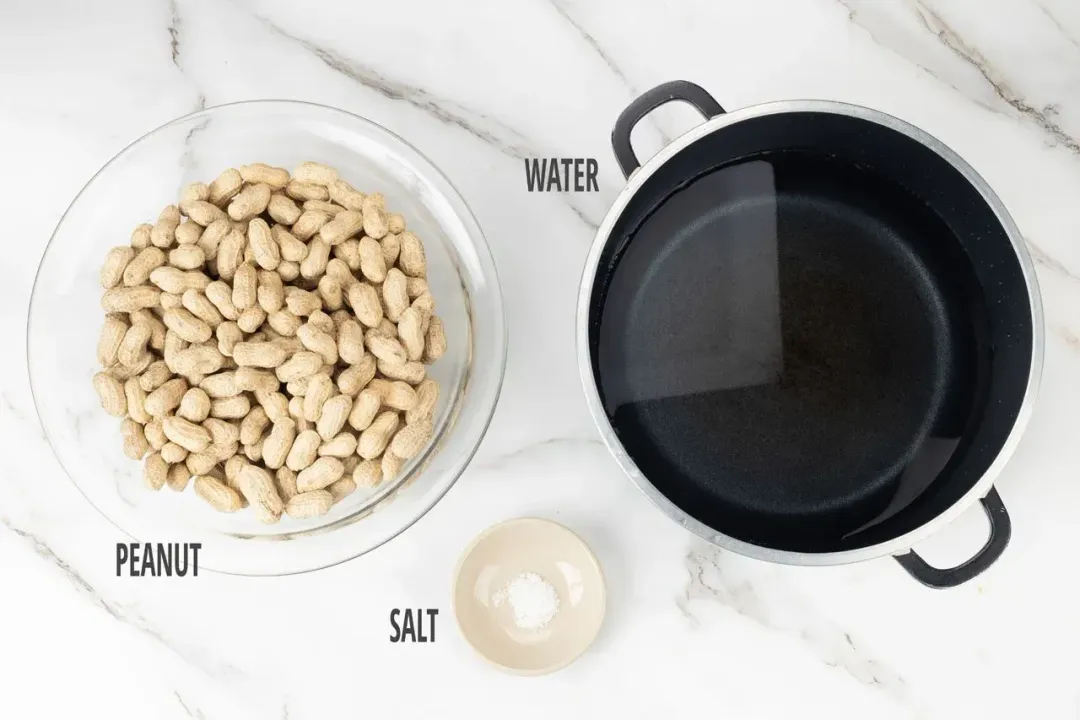 Boiled peanuts are enjoyed globally as they can be eaten anywhere and at any occasion. This recipe gives you the most down-to-earth method of boiling a simple batch of peanuts.
1. Tips for Making
First, please make sure you always have the boiling pot covered. By doing so, the peanuts can absorb the liquid as much as possible.
Here's an easy way to check if the peanuts have absorbed enough liquid:
After reaching boiling point, the peanuts will start settling down at the bottom of the pot slowly. Wait until there's no peanuts left floating on the surface of the water. You can fish them out to check their doneness.
The peanut shell should be soft enough to open after boiling. You can crack it open either with your teeth or your thumb and index finger together.
Once popped open, you can easily find the soft, ready-to-be-extracted beans inside. This allows you to see and test-bite how mushy/tender they are, and if they're ready.
2. How Much Salt for Boiled Peanuts?
In Chinese cuisine, there are two popular types of boiled peanuts: those boiled in saltwater or those boiled in water with spices. The peanuts we're making are the first kind.
Boiling your peanuts at home is a smart way to control the amount of salt that goes in. In this recipe, we add only 1/4 teaspoon of salt for 24 ounces of raw peanuts.
As salt is dissolved in the boiling water, it will be absorbed by the peanuts really quickly. You should always be careful since boiled peanuts can get salty very easily even with just a small amount of salt.
If you're not afraid of overpowering the natural flavor of peanuts with spices, here's more that you can do.
Boiled peanuts can get even better in taste with the addition of stronger-aroma spices. For instance, we recommend you try and get creative by adding ginger or cloves into the boiling pot.
How to Eat Boiled Peanuts?
There's really no change to the flavor of boiled peanuts when they're served cold. Hot or cold, they're just as tasty as they should be.
Peanuts have long been part of Asian cuisine. They are an all-time-favorite at family gatherings, buffets, and casual parties.
Boiled peanuts can act like a snack or an appetizer for whichever meal you want. Thanks to the pleasant aroma, they're also eaten withcold beers in many Asian countries.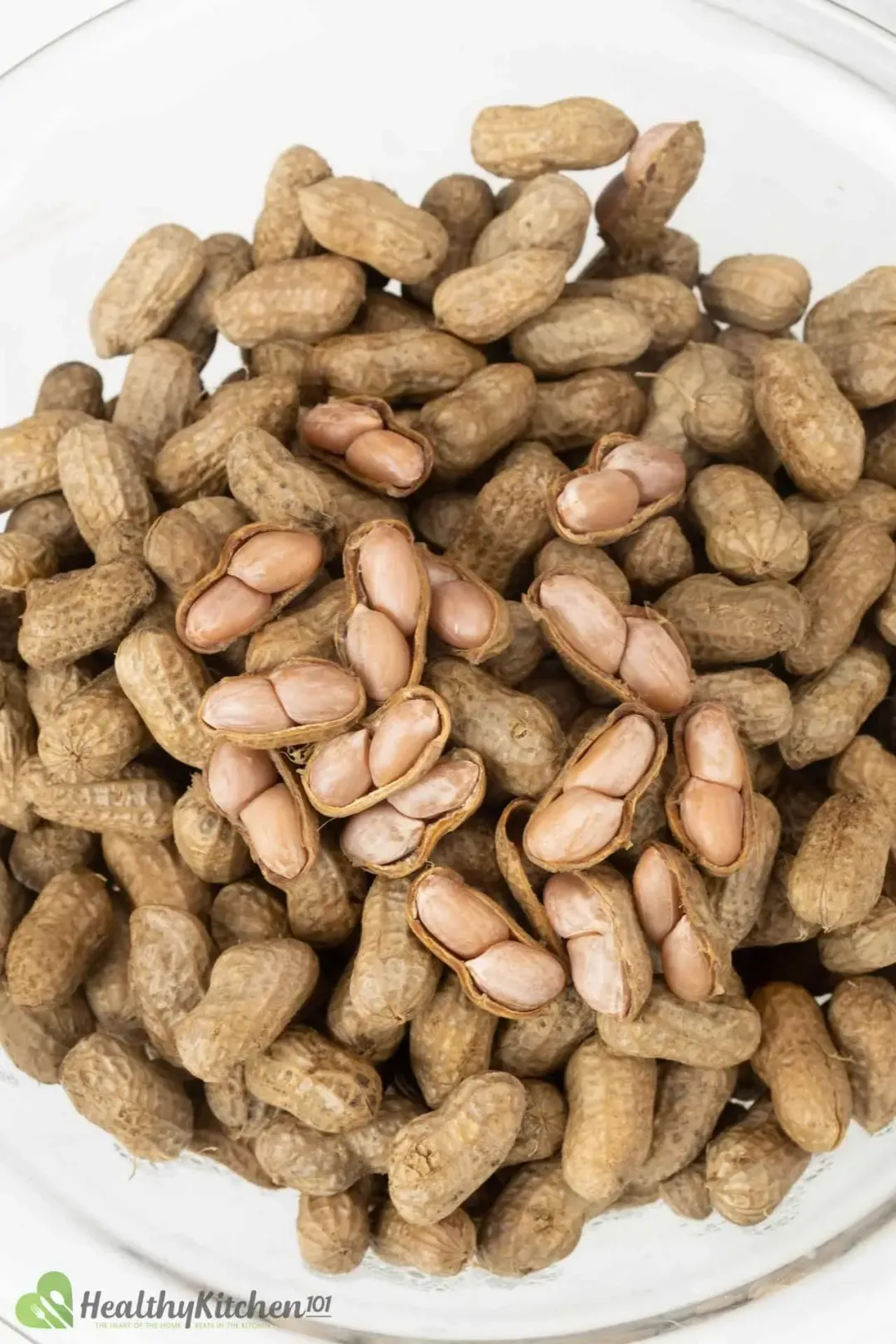 You can also take this recipe up a notch by siding it with rice wine or frosty juices. They would be great when paired with a lovely platter of small biscuits on the tea table too.
How Long Does It Last?
It can last up to 2 days on the counter. That's what makes it one of the most budget-friendly snacks that's readily available any moment you want.
In the Fridge
Likewise, boiled peanuts can last even longer if stored in the fridge— they can remain edible up to 10 days.
Can You Freeze?
Yes, of course you can. Simply transfer the leftover peanuts to ziploc bags or covered containers and put in the freezer.
Boiled peanuts can be safe and savored within 3 months in the freezer. To reheat, microwave them for 1 minute and enjoy.
You can also rewarm frozen peanuts by boiling them in water on the stovetop. However, we don't quite recommend this method as there are risks that the peanuts would become too mushy and squashy.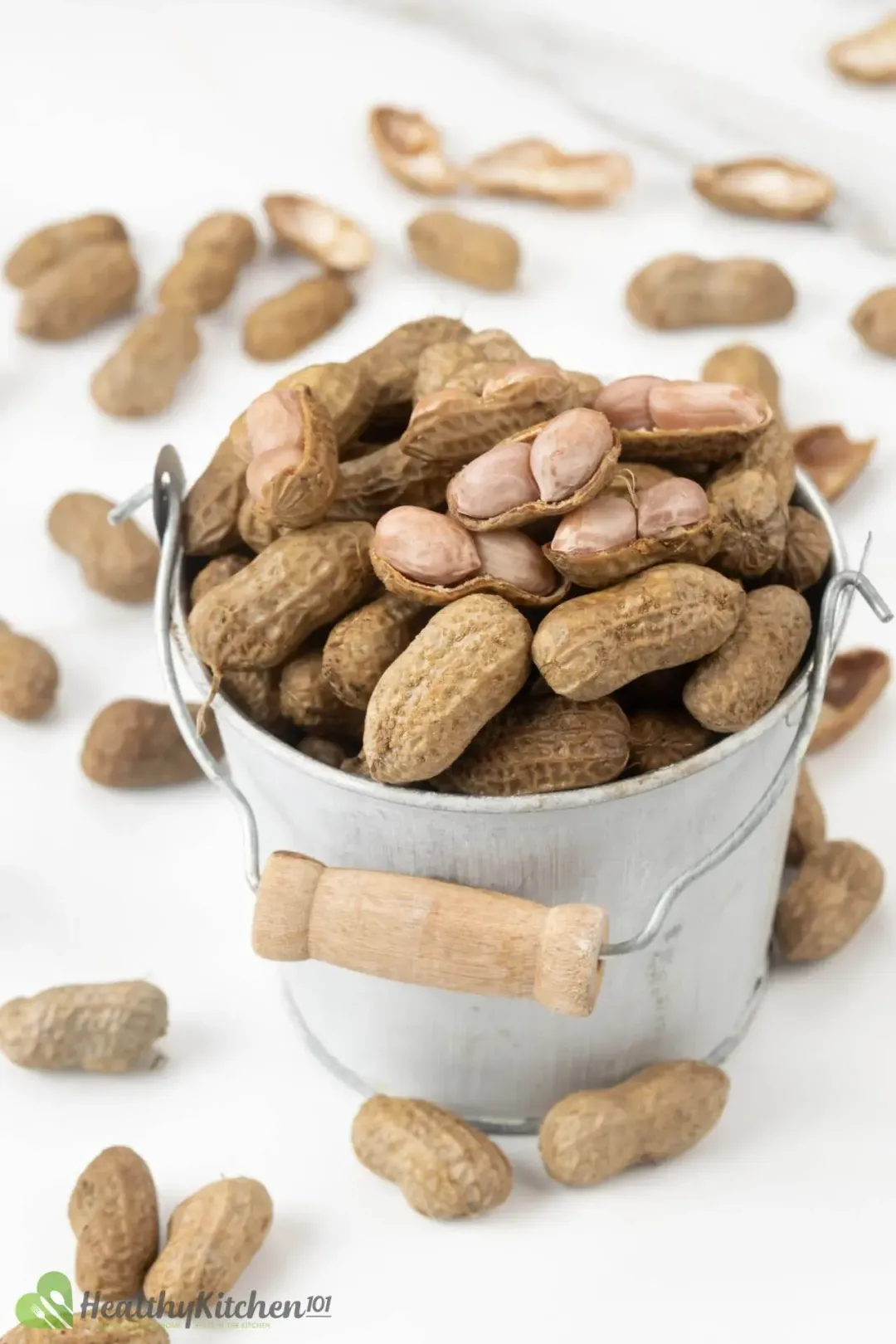 Want More Healthy & Easy Snacks? Check These Out
Boiled Peanuts
If you're not afraid of overpowering the natural flavor of peanuts with spices, get creative by including ginger or cloves into your boiled peanuts recipe. Have fun cooking!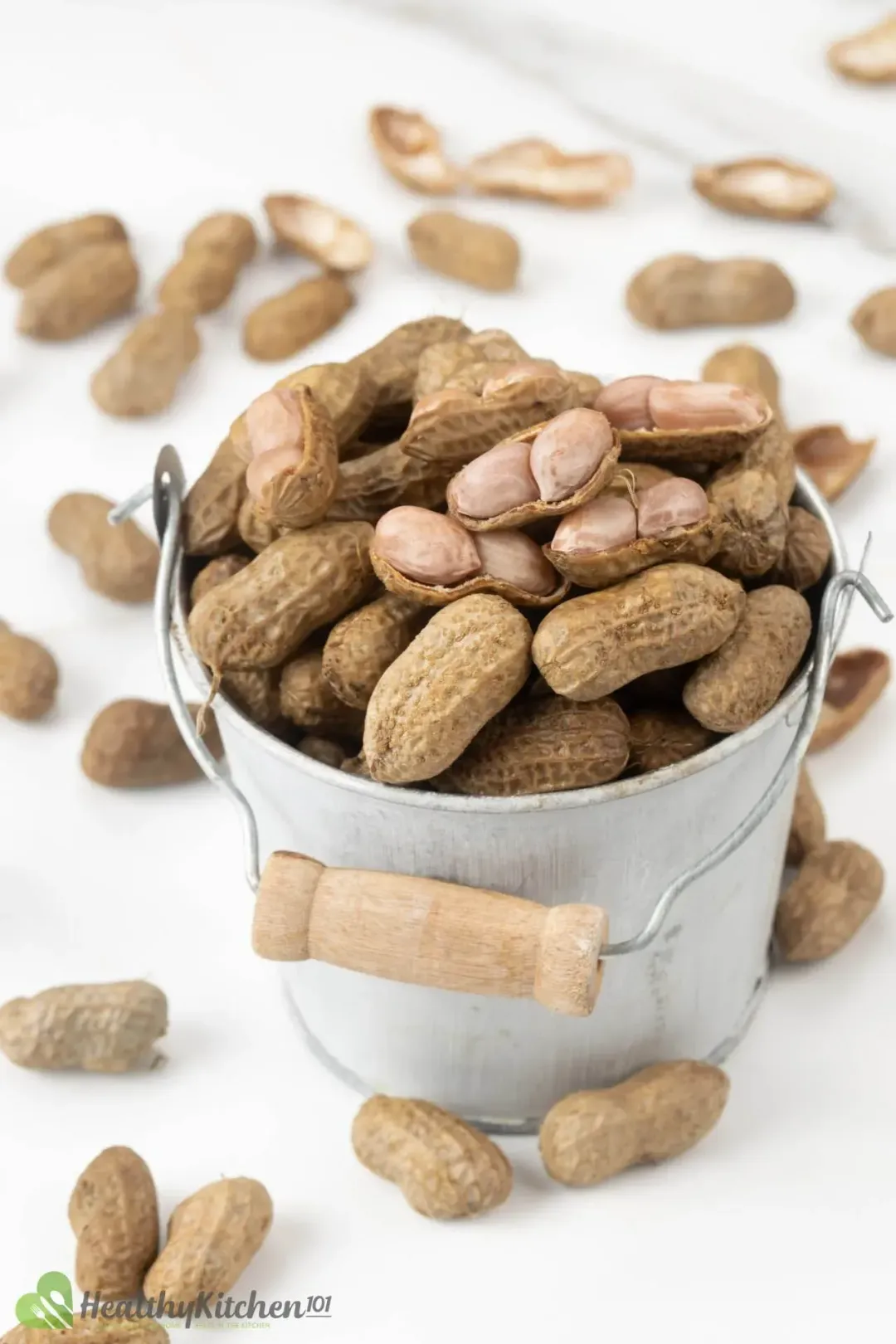 cook TIME

45 mins

prep TIME

5 mins

total TIME

50 mins
COURSE

Dessert, Side Dish, Snack

CUISINE

Global Cuisine

SERVINGS

CALORIES

322 kcal
INGREDIENTS
24 oz

raw peanuts

(with shells on)
INSTRUCTIONS
How to Make
1
In a boiling pot, add 1/4 tsp salt and 8 cups water, stir until completely dissolved.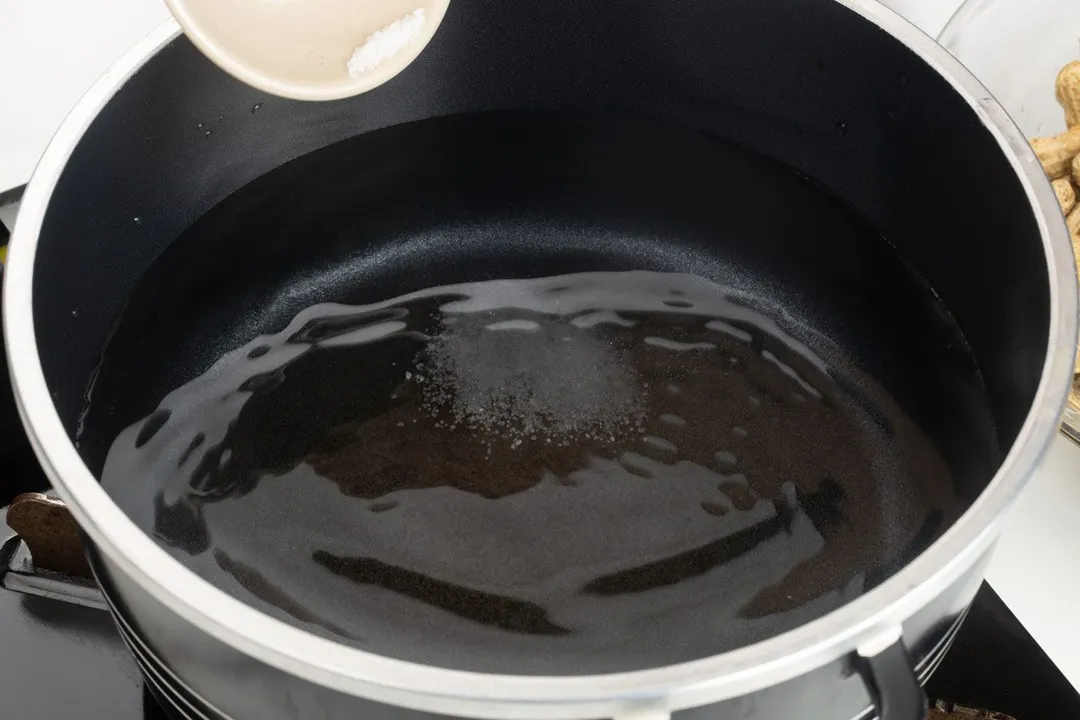 2
Rinse 24 oz peanuts thoroughly, then transfer them to a boiling pot.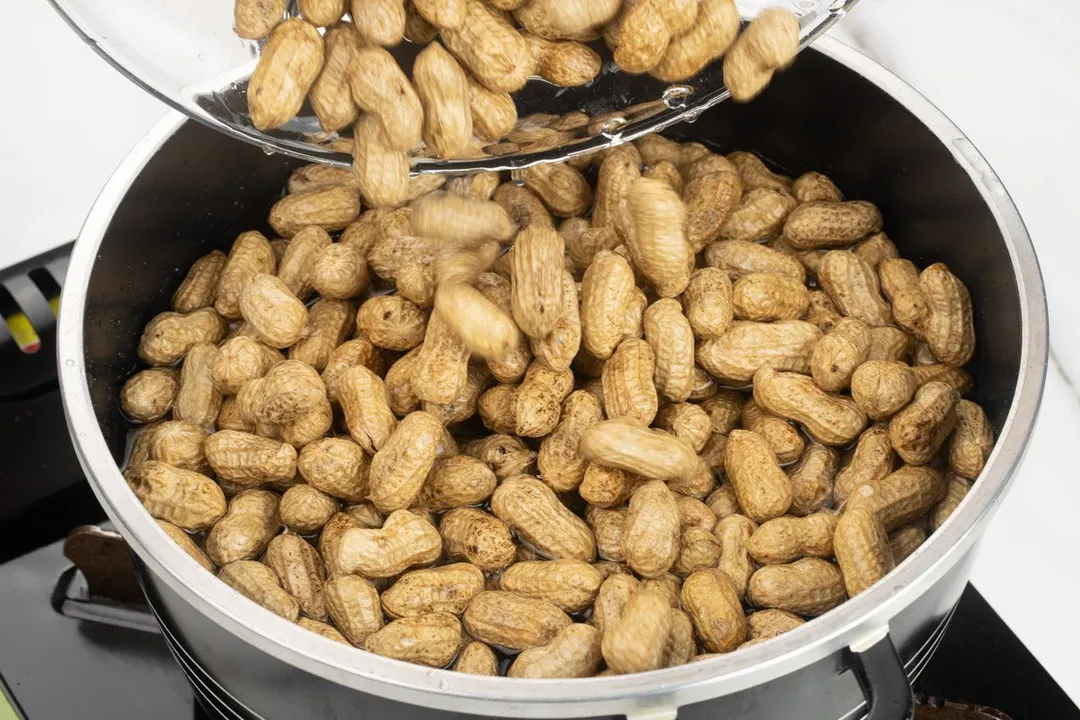 3
Turn on medium heat, bring the pot to a boil. Reduce the heat to a simmer for 45 minutes.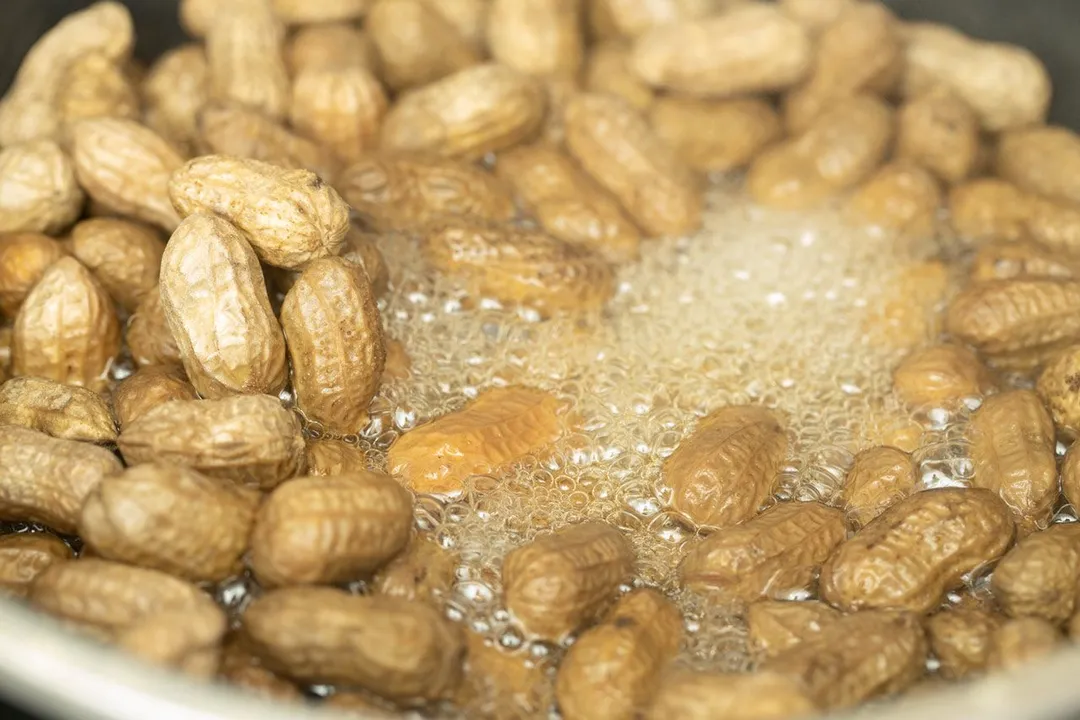 4
Use a slotted spoon to fish all the peanuts out from the water. Pop one peanut to check if it's as soft as you want. If not, return them back to the water and continue to boil, pause every few minutes to check until you've got the desired texture.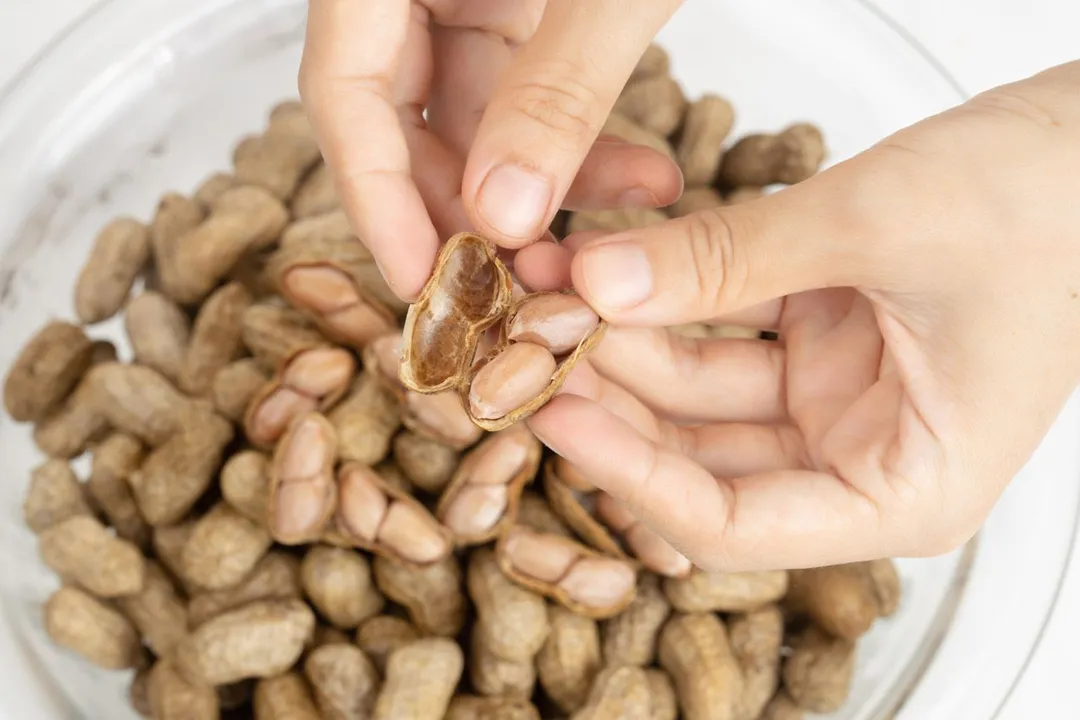 NUTRITION
Nutrition Facts
Boiled Peanuts
Amount Per Serving (1 serving)
Calories 322
Calories from Fat 252
% Daily Value*
* Percent Daily Values are based on a 2000 calorie diet.
Keywords: Boiled Peanuts, Boiled Peanuts Recipe, How to Make Boiled Peanuts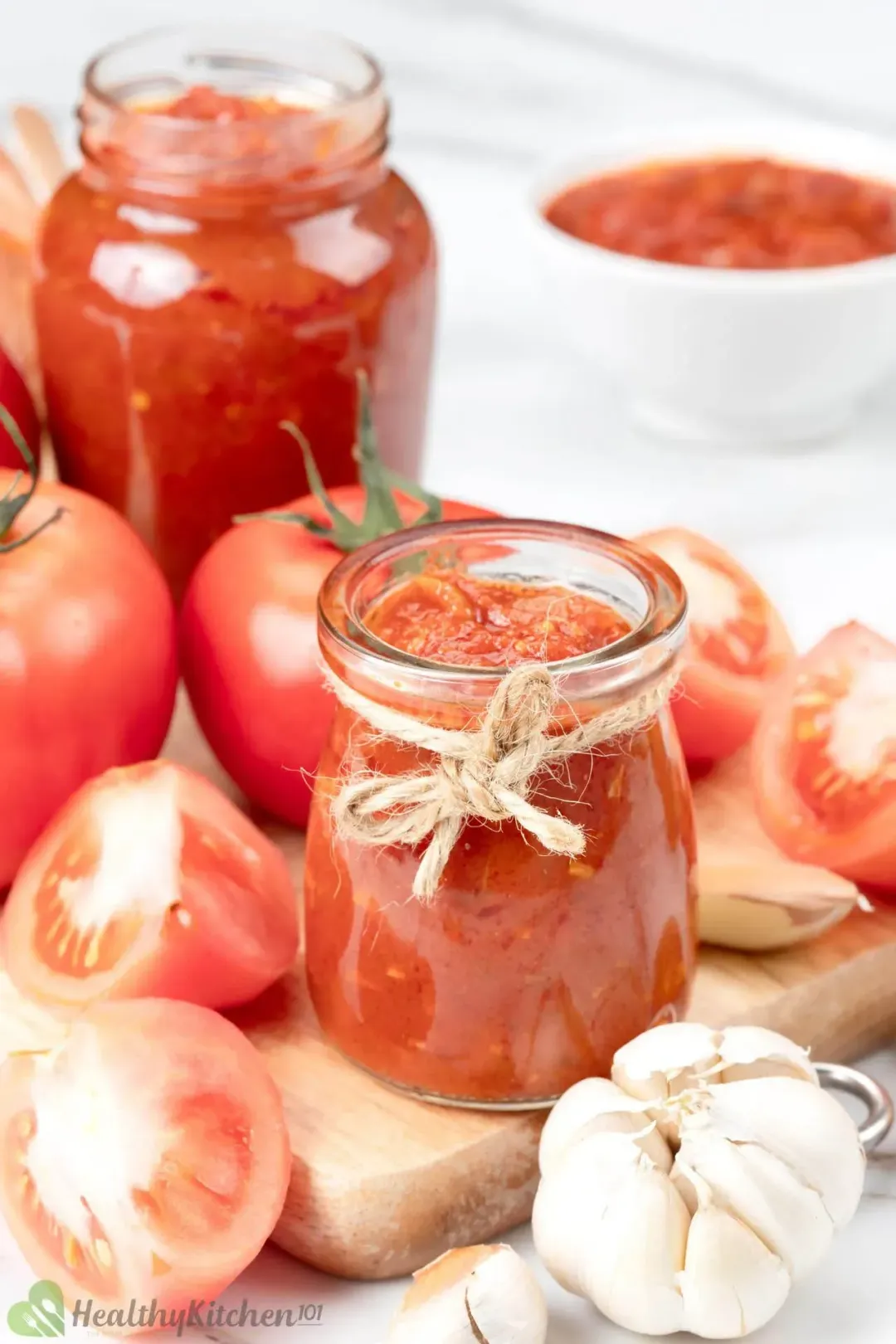 Previous Recipe
Tomato Sauce
Tomato Sauce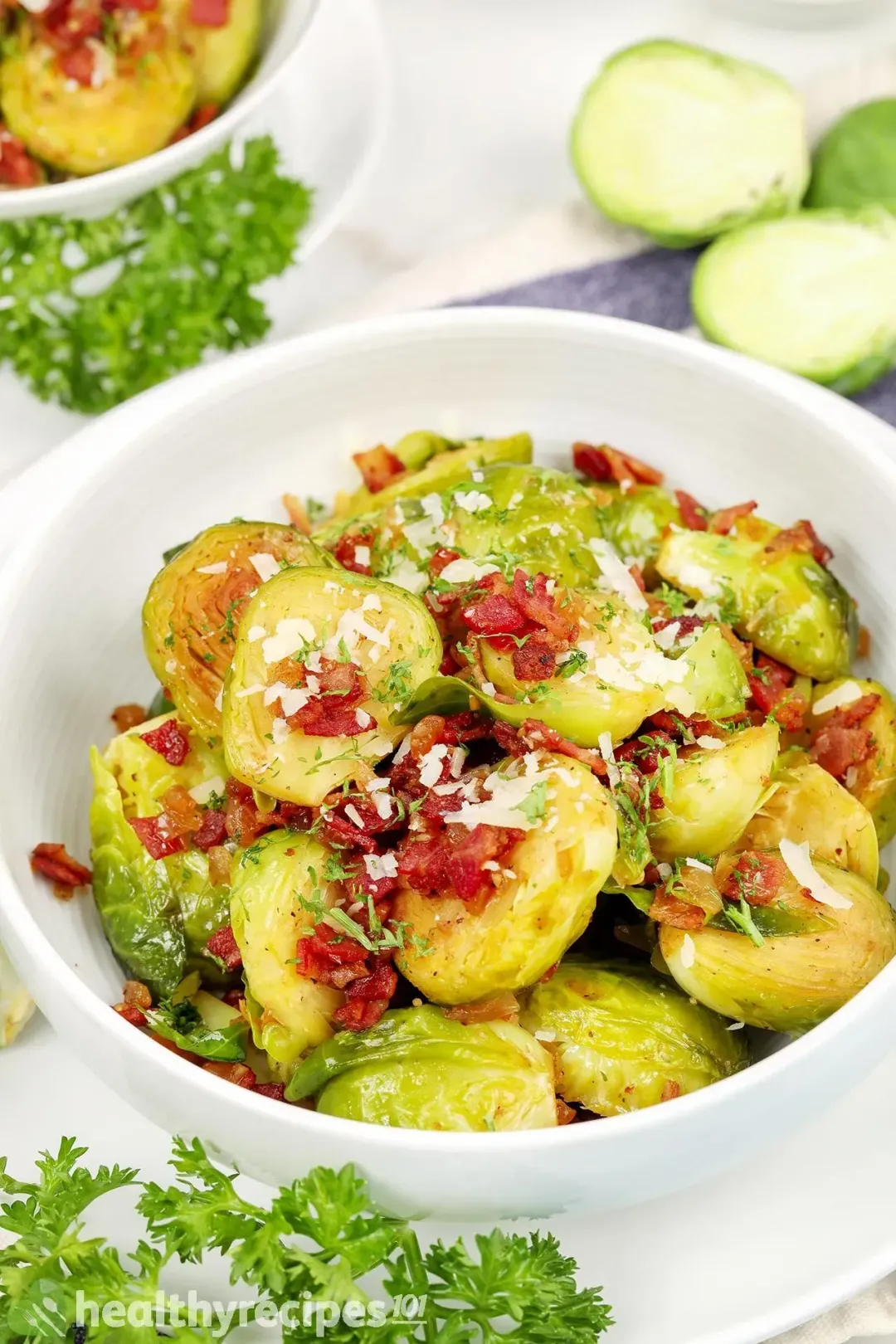 Next Recipe
Instant Pot Brussels Sprouts
Instant Pot Brussels Sprouts
Head Chef, Culinary Consultant
Tuyet Pham is an award-winning Saigonese chef who believes that joy is the secret ingredient to delicious food. At Healthy Recipes 101, Tuyet personally tests and simplifies every recipe, ensuring maximum flavor with minimal effort. With a background at prestigious French restaurants P'TI Saigon and Le Corto, Tuyet knows how to make every dish exceptional.
Writer, Author
Luna Regina is an accomplished writer and author who dedicates her career to empowering home cooks and making cooking effortless for everyone. She is the founder of HealthyKitchen101.com and HealthyRecipes101.com, where she works with her team to develop easy, nutritious recipes and help aspiring cooks choose the right kitchen appliances.
Thank you for this recipe…….

Keep posting recipes like this.