If you crave a warm, autumnal bake, our butternut squash casserole recipe might be the answer. Make a huge batch of it, and it'll be scooped up before you can take a second glance.
What Is Butternut Squash?
Butternut squash belongs to the winter squash family and grows on vines. It's classified as a fruit, but when it comes to cooking, it's treated as a vegetable.
In terms of shape, it has an elliptical shape with a bell-bottom compartment filled with seeds. Slice it in half and you'll find a vibrant orange flesh hidden within the hard, yellow-orange outer skin.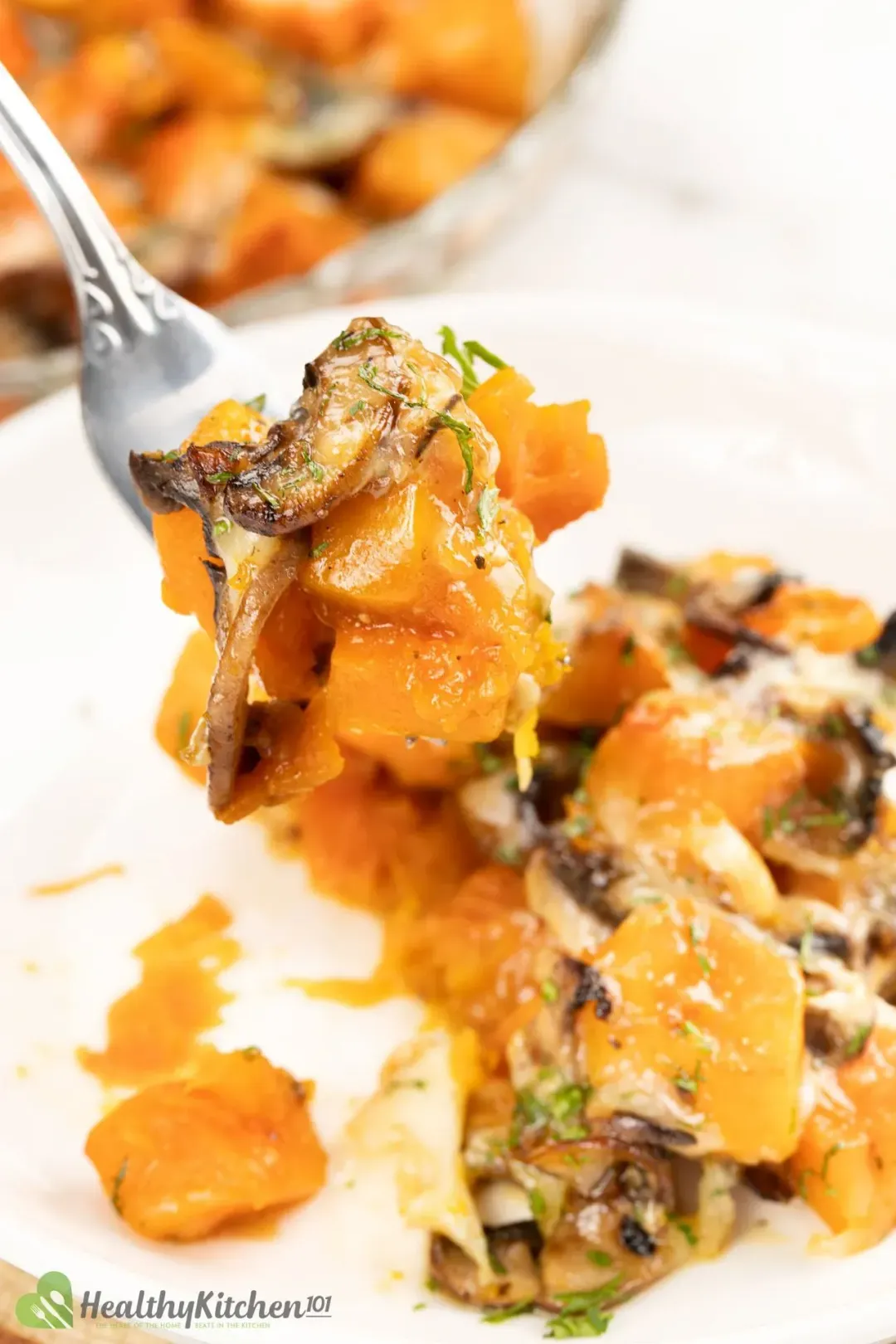 Butternut squash is often harvested in late autumn or early winter. However, you can have it any time of the year, as it can be stored for a very long time.
Calories in Butternut Squash
100 grams of cooked squash provides 40 calories. Compared to cooked potatoes, which yield 87 calories per 100 grams, butternut squash has fewer calories.
Since butternut squash contains fiber, it is considered a clean source of carbohydrates. With a taste similar to pumpkins, butternut squash can be used to make delicious, "clean," healthy pies.
Is Butternut Squash Casserole Healthy?
Not only is it tasty, but our butternut squash casserole also packs an abundance of vitamins, minerals, and antioxidants.
Butternut squash is rich in vitamin A. This is crucial for healthy eyes, and enhances your immune system as an antioxidant.
Besides vitamin A, butternut squash contains a vast amount of other vitamins and minerals:
Our recipe also has white mushrooms, a great source of vitamin D2. Vitamin D aids the absorption of calcium in the body and keeps our bones healthy.
For more casserole recipe ideas, have a look at our best healthy casserole recipes.
How to Cut Butternut Squash
If you just want plain baked butternut squash, simply slice the squash in half lengthwise. Remove the seeds, season, and slide it into a preheated oven, skin side down.
For this casserole, you first need to peel the skin with a peeler. Then, slice it in half, empty its belly, and cut it into cubes.
Since squash can take a long time to cook, it's crucial to cut it into bite-sized pieces. We cut ours like so: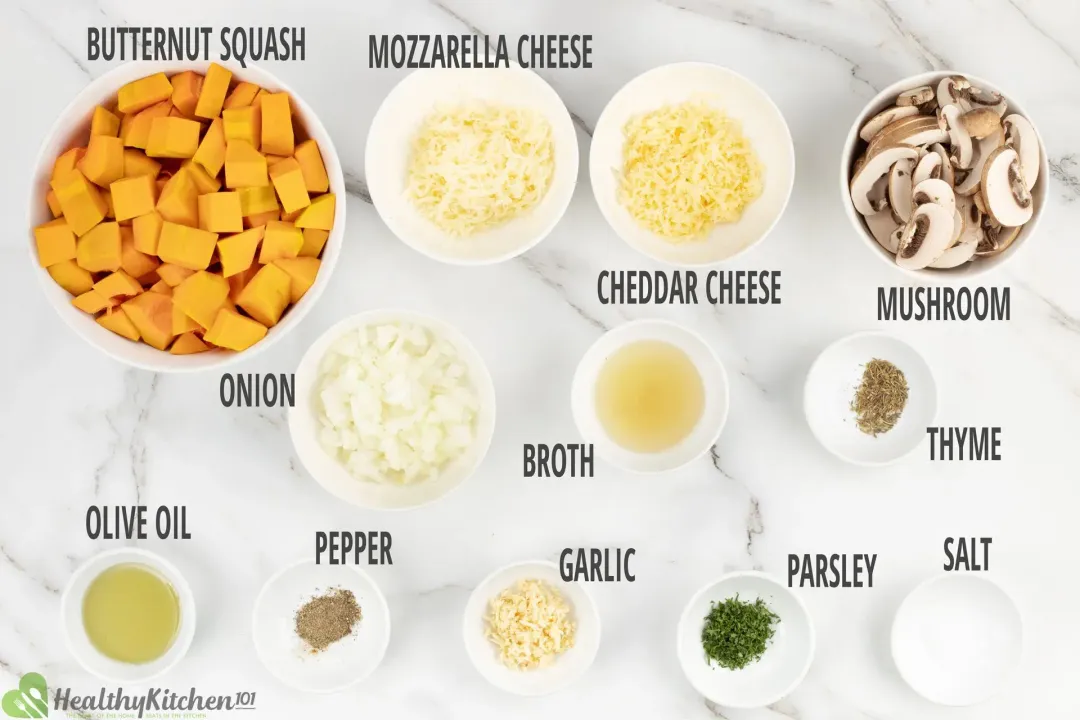 Tips to Make a Perfect Butternut Squash Casserole
Simply spread your ingredients in a baking dish, cover with foil, put it in the oven, and voilà! A tasty bake is born.
But to make it the most flavorful dish, we found these tips to be useful:
1. Cook Your Ingredients First
In this recipe, we slightly stir-fry our ingredients before pouring them all into the baking dish. It may sound like extra work, but it really helps your ingredients to mellow and brings out the flavors.
Then, when you add the stock, it will slowly cook your squash and mushrooms, giving you delicious, savory bites!
2. To Foil or Not to Foil
By skipping the foil, the moisture you add at the beginning evaporates quickly, leaving you with a dry bake. Unless that's more to your liking, we suggest using the foil for a juicy batch of baked squash.
Want a melted cheese topping? Simply remove the foil after baking, add cheese, and torch or broil it for about 3-5 minutes.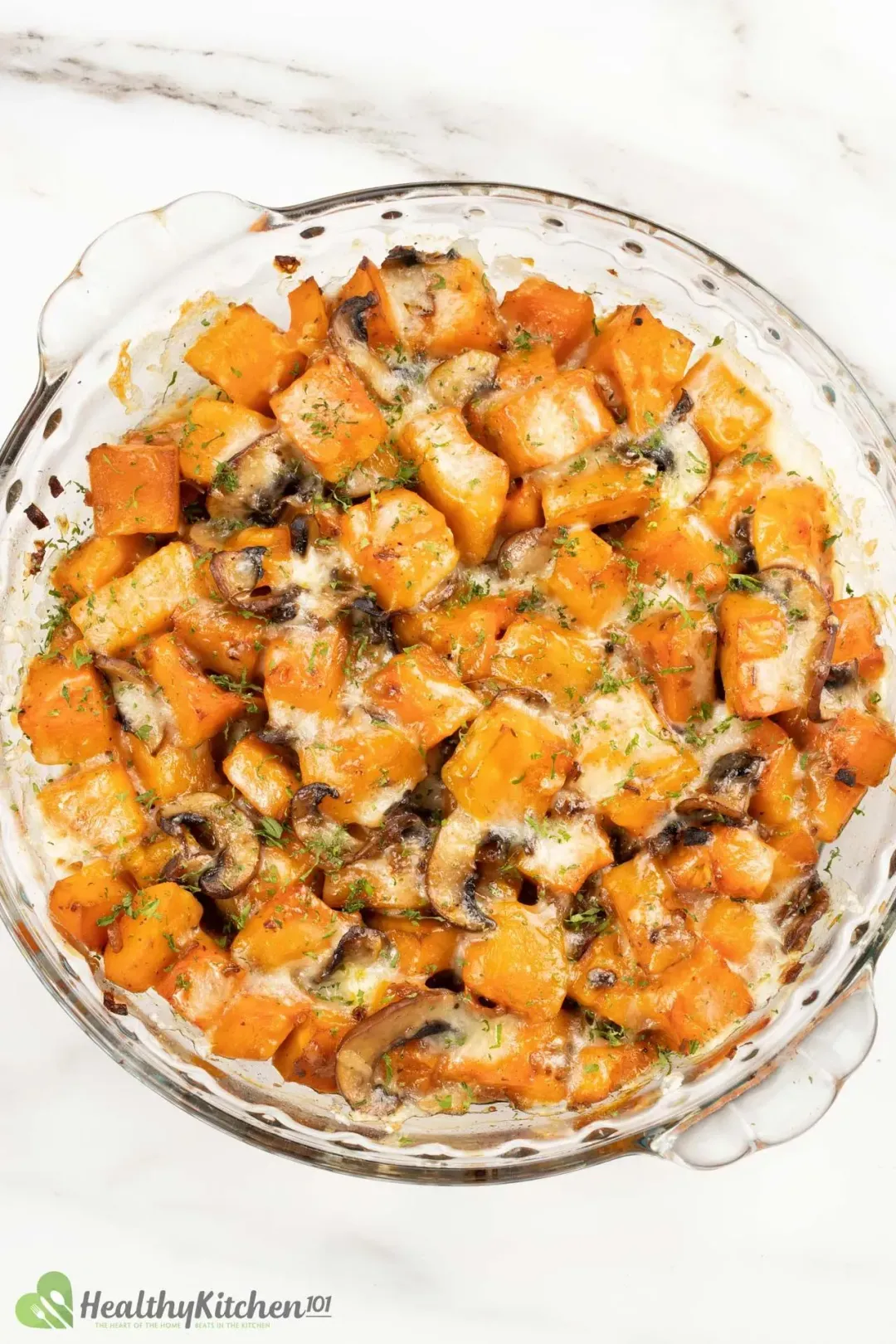 This will give you a satisfying squash casserole with a fantastic melted cheese topping.
What Goes with Butternut Squash Casserole?
Adding extras to a recipe is always a win-win. Sometimes it makes the dish better, sometimes you learn something new.
Here are our recommendations to take your butternut squash casserole to another level:
1. Cheese
The tender umami pieces of squash will be even more flavorful if coated in a salty, creamy, melted cheese. It even adds an interesting texture that could turn many heads.
In this recipe, we used cheddar and mozzarella, for a total of 2 ounces for 4 servings. If you prefer other types of cheese, that's totally okay, but be sure to use 2 ounces only.
2. Sweet Potato
Having a similar texture to butternut squash, sweet potatoes can add non-artificial sweetness to your bake.
Since sweet potatoes take longer to cook, you may want to boil them skin-on first for around 5 minutes. When they're partially cooked, cut them into pieces, then add them to the pan along with the squash.
On a side note, now that the ingredients have increased, you should consider switching to a larger pot.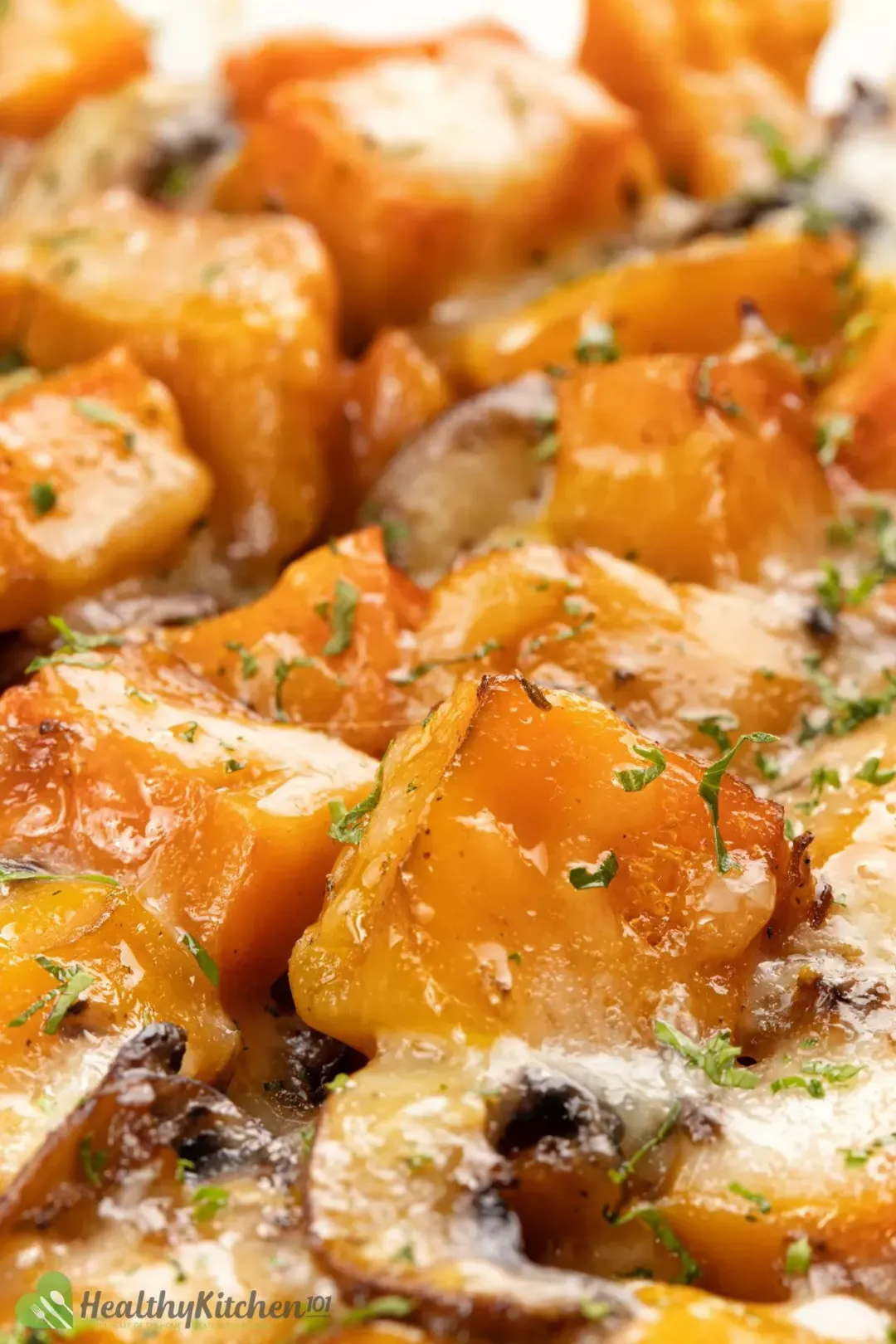 3. Chicken
For a healthy source of lean protein, chicken breasts are the best choice among the types of meat.
Simply cut the chicken breast into cubes, and add them to the pan along with the mushrooms. You also want the chicken to be browned a little bit.
4. Bacon
Bacon adds tons of flavor and crispy, chewy bites to just about anything. No wonder it's among the most beloved foods in the country!
You can cook the bacon in a non-greased pan until crisp, discard its grease, and use it in our recipe. This helps you to avoid any unwanted, unhealthy saturated fat from the bacon.
To keep the saturated fat within recommended levels, we suggest using less than 2 ounces of bacon. You may want to skip the cheese as well, since it also contains saturated fat.
How Long Does Butternut Squash Casserole Last?
A casserole is the kind of dish that you want to make a lot of. It's always great to have leftovers you can reheat and enjoy within 5 minutes.
When it comes to reheating your refrigerated meals, the oven and microwave are two common options. While microwaving your food may seem convenient, it can affect the food's flavor and texture, making it less appetizing.
The oven is the better option. Simply preheat the oven to 375°F, and then slide in your refrigerated casserole (covered with foil) for 10 minutes.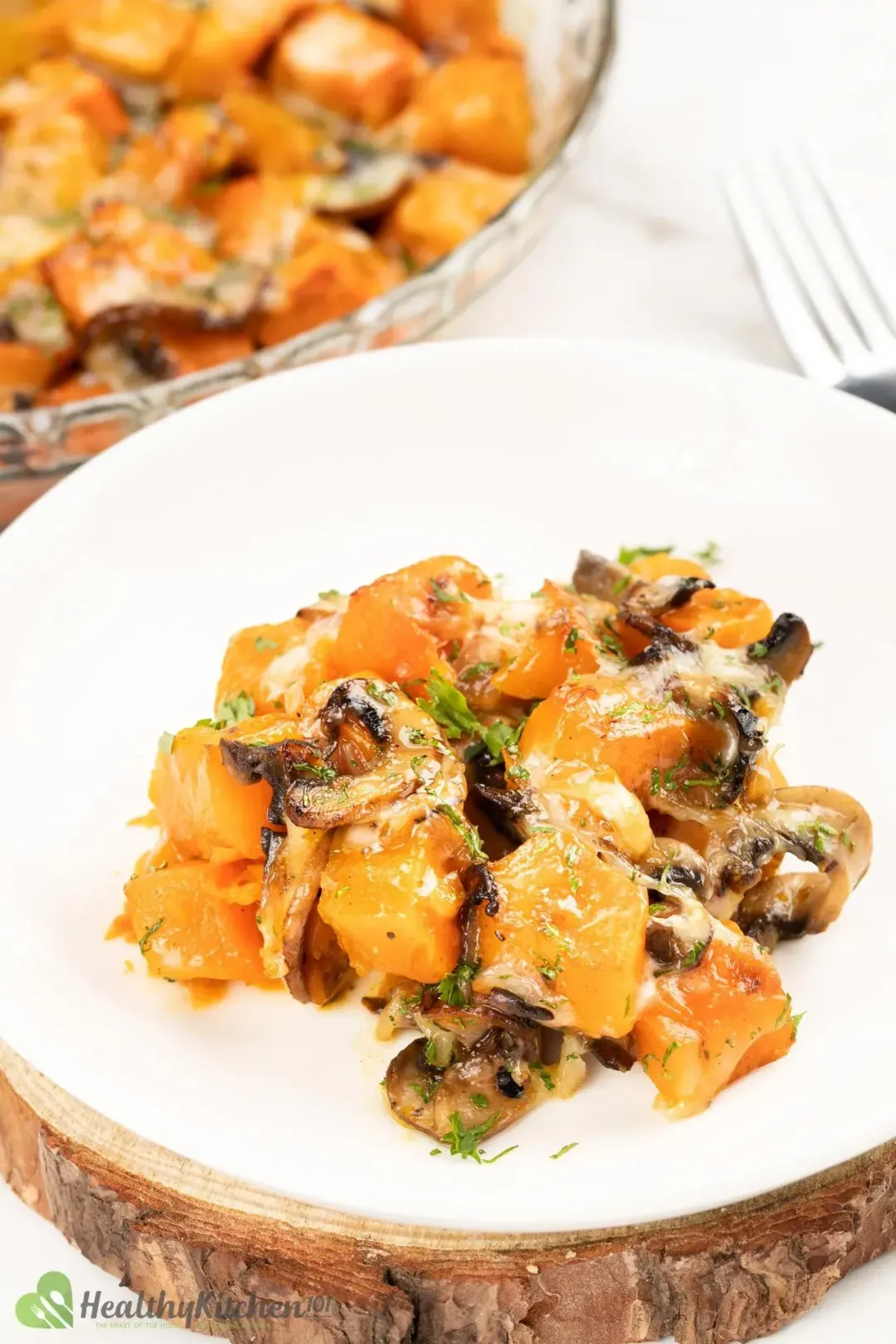 Can You Freeze Butternut Squash Casserole?
Yes, you can. And here's how you do it:
First, leave your casserole to cool completely before freezing. After that, remove it from the baking dish and transfer to an airtight, freezer-safe container.
Frozen butternut squash casserole can last up to one month.
When you want to eat it, take it out of the freezer and thaw it slowly in the fridge. Once it's thawed, transfer to a baking tray and reheat it in the oven as instructed above.
More Squash Dishes Right Here
When fall comes knocking, it would be a waste not to make the best of all the squash this season has to offer. Check out these fall recipes to bring some true seasonal flavors to your meals:
Butternut Squash Casserole
Enough said, let's make our butternut squash casserole recipe!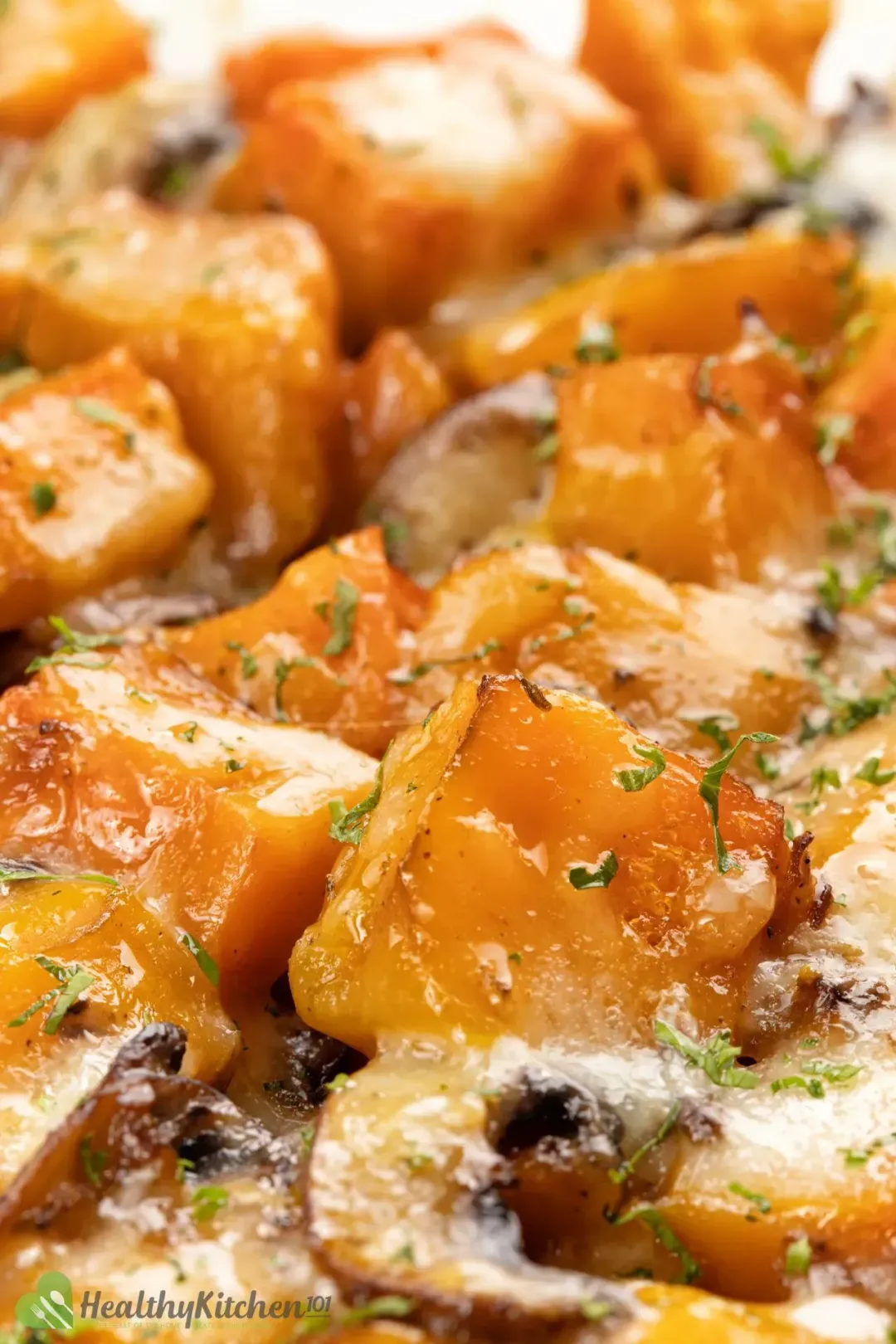 cook TIME

40 mins

prep TIME

10 mins

total TIME

50 mins
COURSE

Side Dish

CUISINE

American

SERVINGS

CALORIES

173 kcal
INGREDIENTS
3 oz

button mushrooms

(sliced)

1/4 tsp

ground black pepper

2 tbsp

unsalted chicken broth

1 oz

cheddar cheese

(shredded)

1 oz

mozzarella cheese

(shredded)
INSTRUCTIONS
1
Preheat the oven to 400° F.
2
Heat a large skillet over medium-high heat. Add 1 tbsp olive oil and sauté 3 oz onions and 2 tbsp garlic for 2 minutes. Set the heat to low. Add 3 oz mushrooms and sauté for 10 minutes.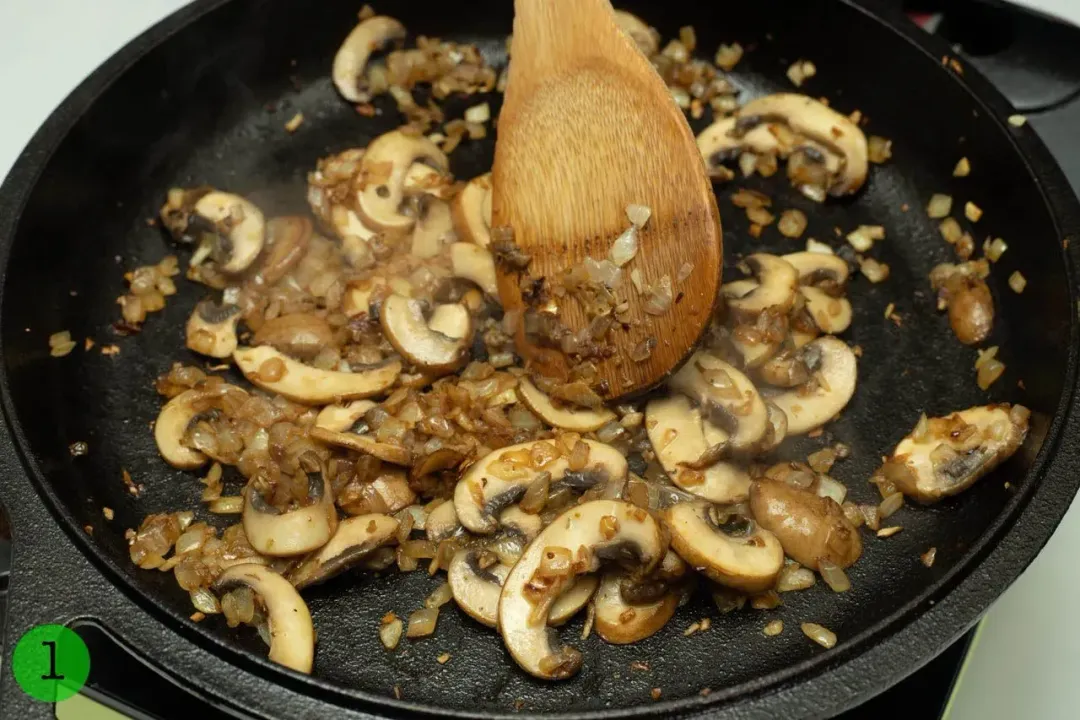 3
Add 24 oz butternut squash and season with: 1 tbsp parsley, 1/4 tsp dried thyme, 1/4 tsp salt, 1/4 tsp ground black pepper. Let it cook for about 5 minutes.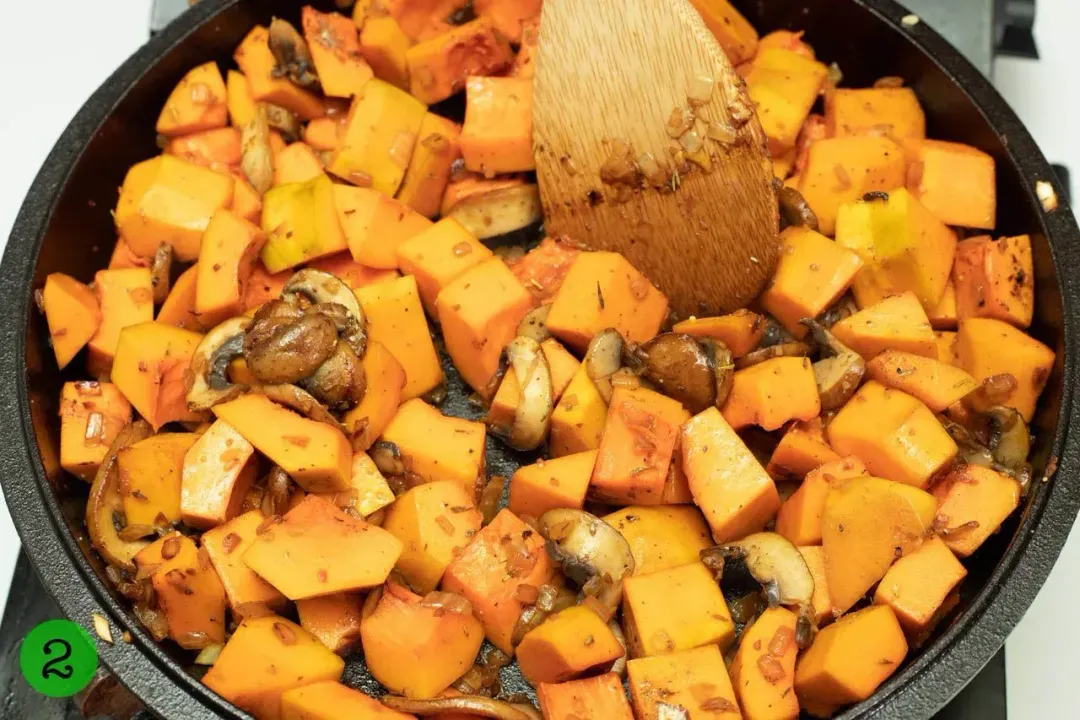 4
Tip the cooked squash and mushrooms into a baking dish (rectangular, 6 inches wide and 8 inches long). Add 2 tbsp unsalted chicken broth. Spread evenly and cover with foil. Bake for about 30 minutes or until the squash is tender.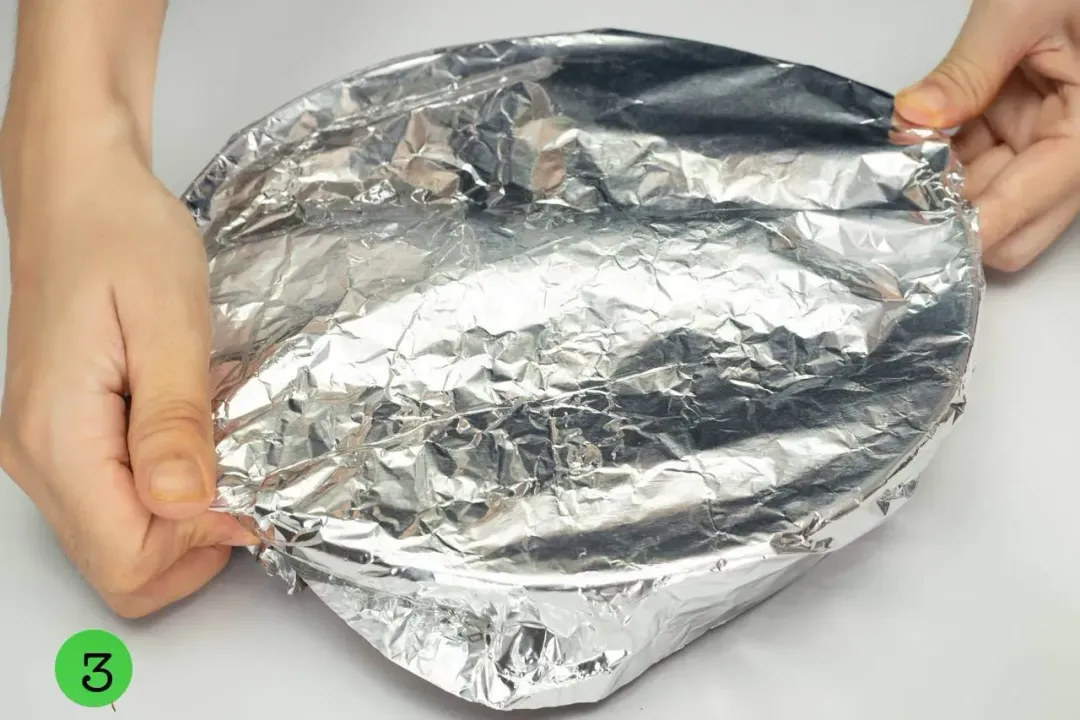 5
Once it's cooked, sprinkle 1 oz cheddar cheese and 1 oz mozzarella cheese on top and broil for about 1-2 minutes, or until the cheese is melted and bubbly.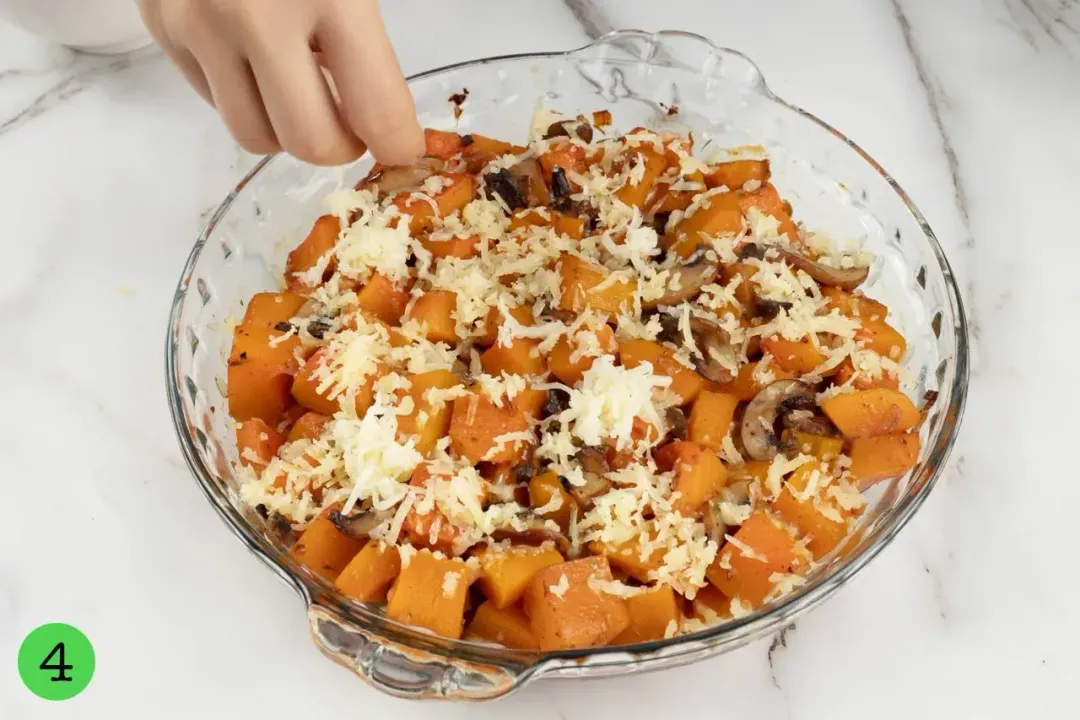 6
Take it out of the oven and serve warm. Decorate with parsley on top.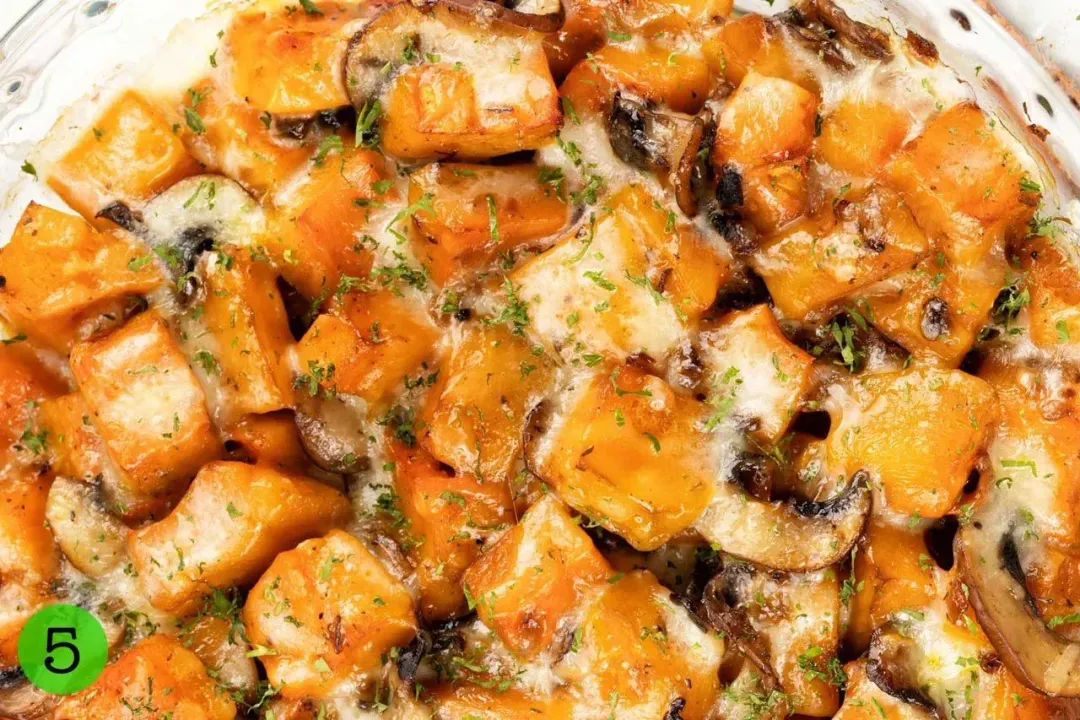 NUTRITION
Nutrition Facts
Butternut Squash Casserole
Amount Per Serving (1 serving)
Calories 173
Calories from Fat 72
% Daily Value*
* Percent Daily Values are based on a 2000 calorie diet.
Keywords: butternut recipe, Butternut Squash Casserole, Butternut Squash Casserole recipe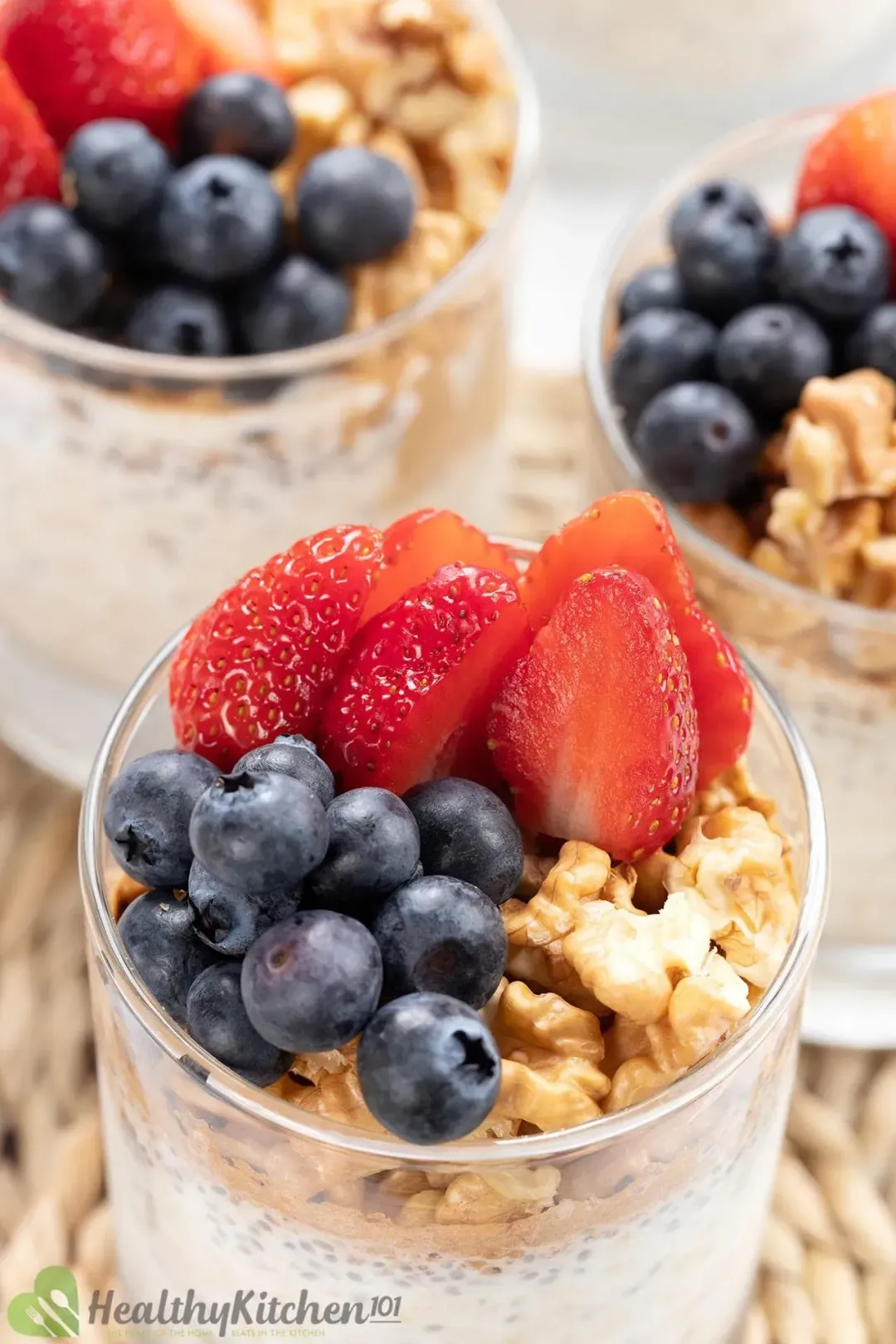 Previous Recipe
Overnight Oats with Yogurt
Overnight Oats with Yogurt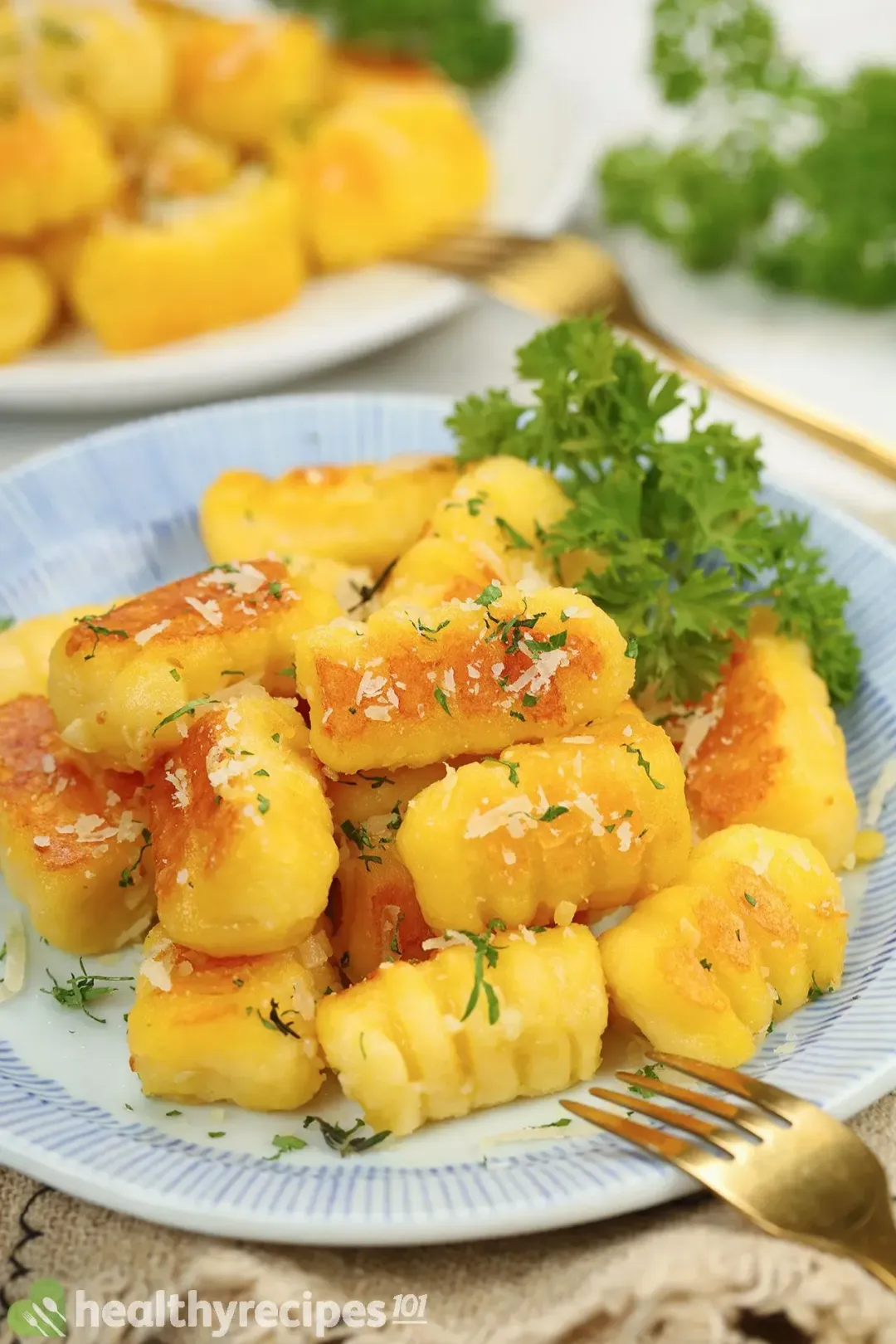 Next Recipe
Gnocchi Potato
Gnocchi Potato
Head Chef, Culinary Consultant
Tuyet Pham is an award-winning Saigonese chef who believes that joy is the secret ingredient to delicious food. At Healthy Recipes 101, Tuyet personally tests and simplifies every recipe, ensuring maximum flavor with minimal effort. With a background at prestigious French restaurants P'TI Saigon and Le Corto, Tuyet knows how to make every dish exceptional.
Writer, Author
Luna Regina is an accomplished writer and author who dedicates her career to empowering home cooks and making cooking effortless for everyone. She is the founder of HealthyKitchen101.com and HealthyRecipes101.com, where she works with her team to develop easy, nutritious recipes and help aspiring cooks choose the right kitchen appliances.
Nutrition Reviewer
Lizzie Streit is a Minneapolis-based dietitian and founder of It's a Veg World After All. She completed her MS in Human Nutrition from Drexel University, and is an expert in culinary nutrition, recipe development, and nutrition communications. Lizzie's philosophy is centered around making nutrition recommendations, and especially the advice to eat more vegetables, approachable and realistic. She is excited to be working with the team at Healthy Recipes 101 to ensure that their recipes are both nutritious and delicious.
When you said "add butternut squash and season with the remaining ingredients," did you mean the parsley as well? I did because I hadn't read to the end of the recipe, which then says to decorate it with parsley. Oh no. Is it going to taste bad now? Maybe edit that part for us novice chefs who don't know any better!