With a few staple ingredients, a little effort, and our gnocchi potato recipe you can make your own traditional Italian gnocchi. These buttery, pillow potato dumplings are mild and delicate in taste, making them ideal for any sauces like a classic tomato sauce, herbal pesto, or even meaty sauce.
Is Our Gnocchi Potato Healthy?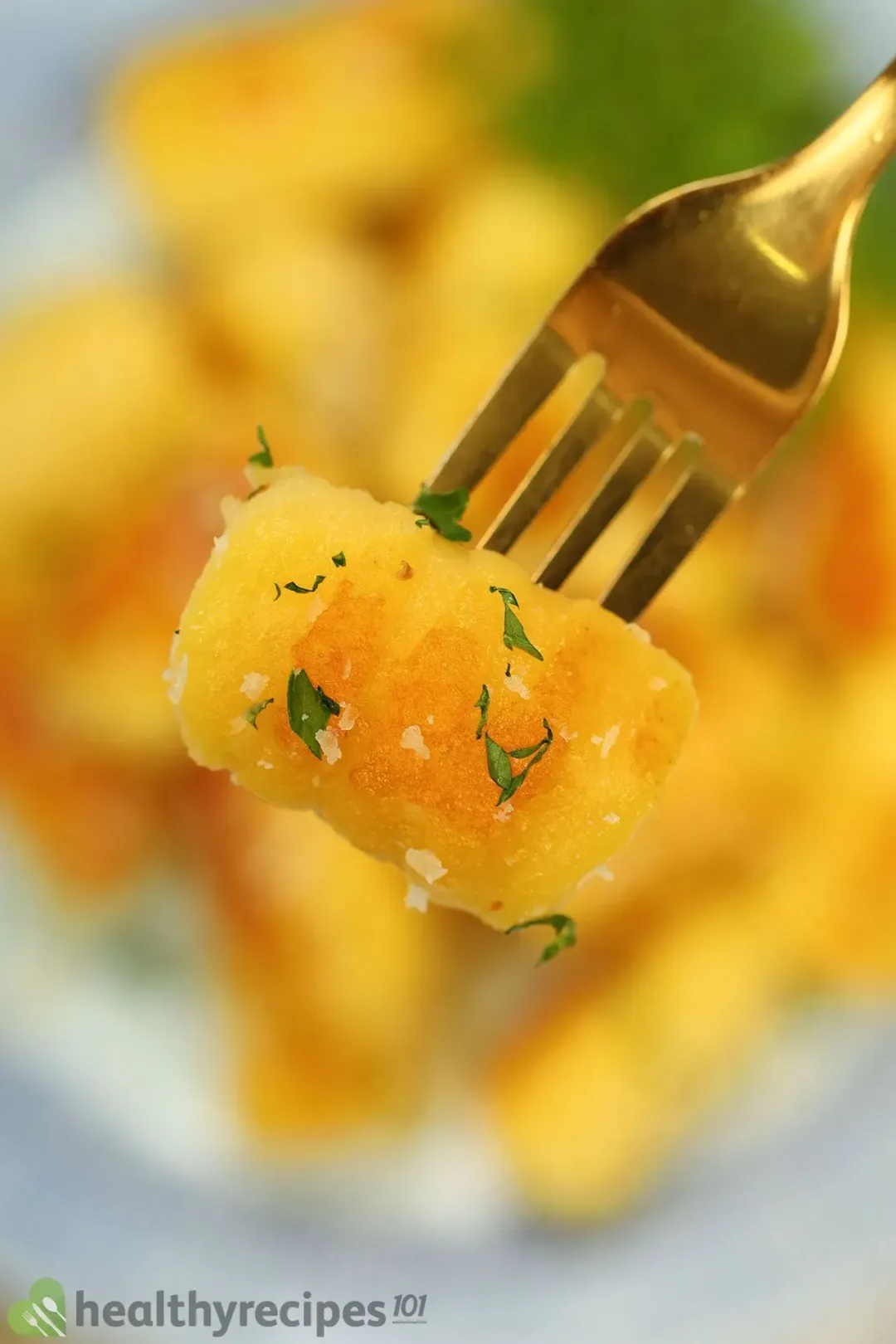 The short answer is yes, our gnocchi potato recipe is a nutritious dish. 
This recipe also adheres to our healthy eating guidelines. We can verify that each recipe contains sufficient calories and adheres to the recommended sodium and saturated fat limitations. 
To be specific, each serving of our gnocchi potato contains 246 calories, including the garlic butter sauce. This amount is sufficient for a side dish; allowing it to pair well with a main course to create a nutritious 750-calorie meal.
In addition, each serving of the dish contains 3 grams of dietary fiber or about 10 percent of the USDA's Recommended Daily Allowance (RDI). Fiber is essential to regulate the body's usage of sugar, helping to control appetite and blood sugar levels and sustain healthy digestive function.
Ingredients for This Recipe
Flavorful gnocchi always starts with the right potatoes. Medium-sized, old variants are the secret to our ultimate gnocchi potato. Additionally, to reduce the boiling time, we recommend cutting the potatoes into small pieces.
You may find many variations of gnocchi recipes, with and without egg yolk. We prefer adding eggs since their yolks provide a more cohesive dough that is simpler to form and roll out without breaking. When cooked, gnocchi made with egg yolks are also more likely to maintain their shape, reducing the chance of dissolving in water.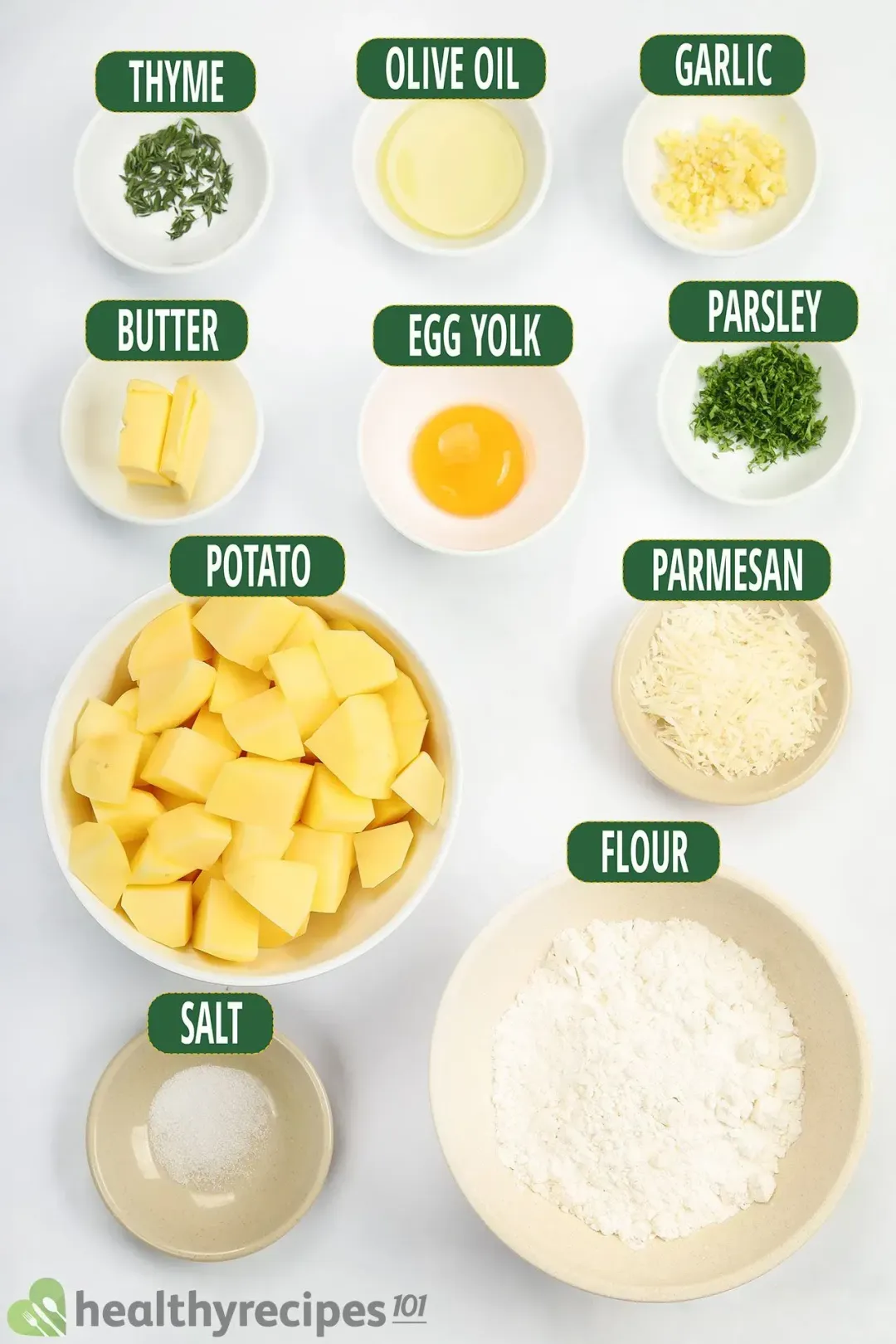 When it comes to flour, all-purpose flour or a gluten-free 1-to-1 blend both work well in this recipe. The rule of thumb is that the less flour that is used, the softer and more appetizing the gnocchi will be. The optimal amount of flour to add to cooked and mashed potatoes is about 30 percent of the potatoes' weight.
To take your gnocchi to the next level, add a cheese of your choice to the dish. Mozzarella is a typical topping to enhance the flavor of gnocchi without making the dish overly pungent. Blue cheese, ricotta, and Gorgonzola cheese are other excellent substitutions to sprinkle on gnocchi or melt directly into your sauce.
The Best Potato for Gnocchi
As we mentioned above, the best type of potato for gnocchi is old potatoes. If possible, use potatoes with red skin variants like Yukon Gold or Russet.
Once mashed, the dry, starchy, old potatoes contain less liquid and absorb less flour. This results in the true flavor of the potatoes coming through in lighter and fluffier dumplings.
That being said, potatoes aren't the only root vegetable you can use to make gnocchi. We've also got this Sweet Potato Gnocchi Recipe if you ever want to switch things up a bit.
Sauce for Potato Gnocchi
This pillowy Italian dish can be served as an appetizer, side dish, or even a main course depending on what ingredients you use for it. As with many other homemade Italian pastas, our potato gnocchi complements the sauce wonderfully. Here are some of our favorite sauces that you can combine into your gnocchi recipe: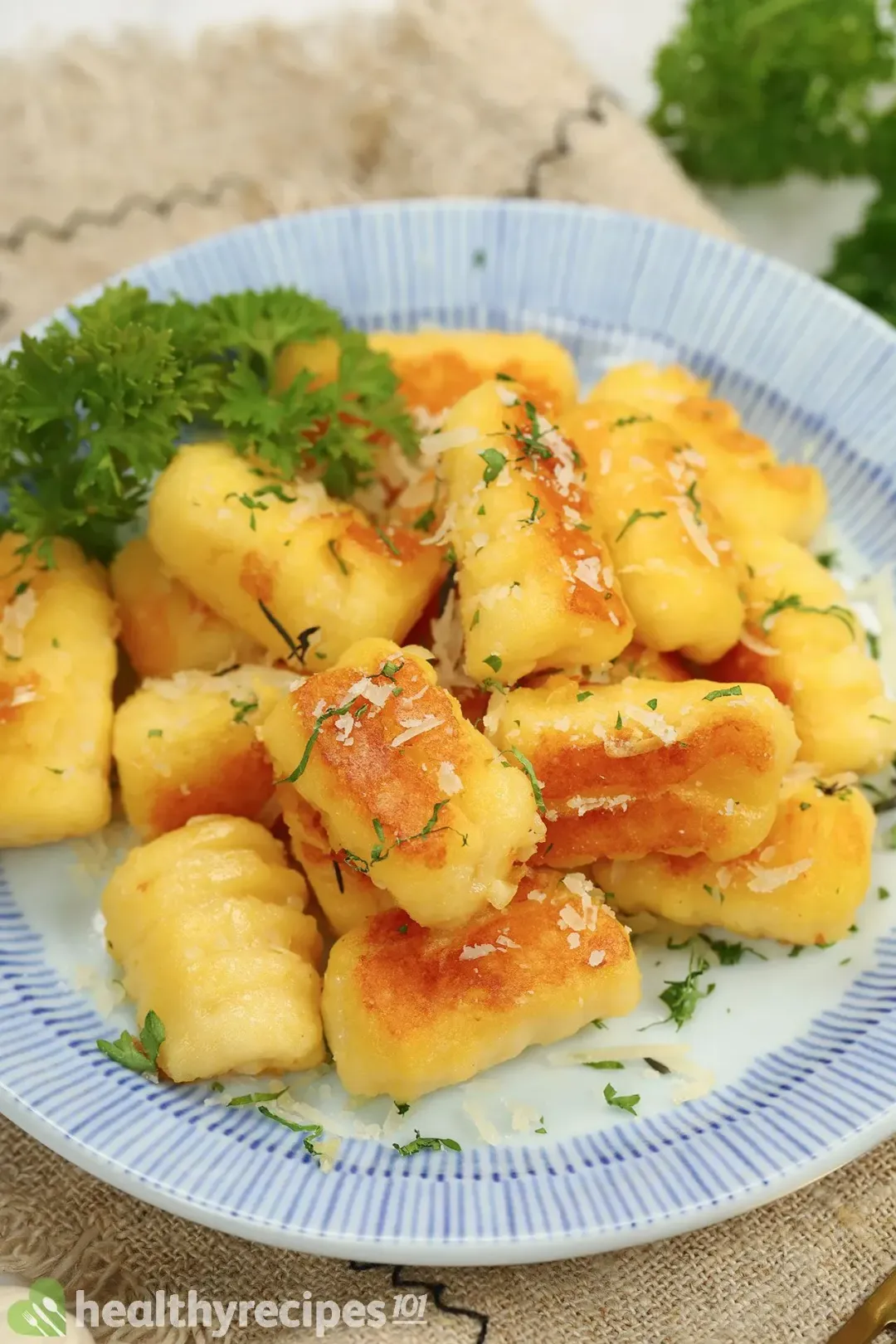 Butter Garlic Sauce: Simple to prepare, butter garlic sauce doesn't require much preparation time. Heat the butter and minced garlic over medium heat until the butter darkens and the garlic begins to smell fragrant. Then drizzle the nutty brown, garlic butter sauce over your gnocchi.
Marinara Sauce: It is a classic Italian tomato sauce that includes fresh herbs, garlic, and spices. Variations can use capers, olives, spices, and wine.
Pesto Sauce: Basil leaves, cheese, olive oil, pine nuts, and other delectable ingredients make a flavorful and creamy pesto sauce.
Meat-Based Sauce: Vegetables, a protein of choice, alfredo sauce, and gnocchi cooked in one pot can turn your simple batch of potato gnocchi into a hearty and tasty main course.
Storage and Reheating
Gnocchi can be stored uncooked and covered for a maximum of one or two hours at room temperature. After that, they will have dried slightly in the air, making the cooking process a little longer. 
To store the potato gnocchi for an extended period of time, keep them frozen. To do so, spread the potato gnocchi evenly on floured trays or cardboard in the freezer for 15 – 20 minutes before transferring to an airtight freezer bag. They will last approximately one month.
When ready to use, transfer the potato gnocchi straight from the freezer into the boiling water. This way, you can preserve the texture and softness of them just like newly prepared gnocchi.
Cooked gnocchi can be kept in an airtight container in the refrigerator for up to 2 days.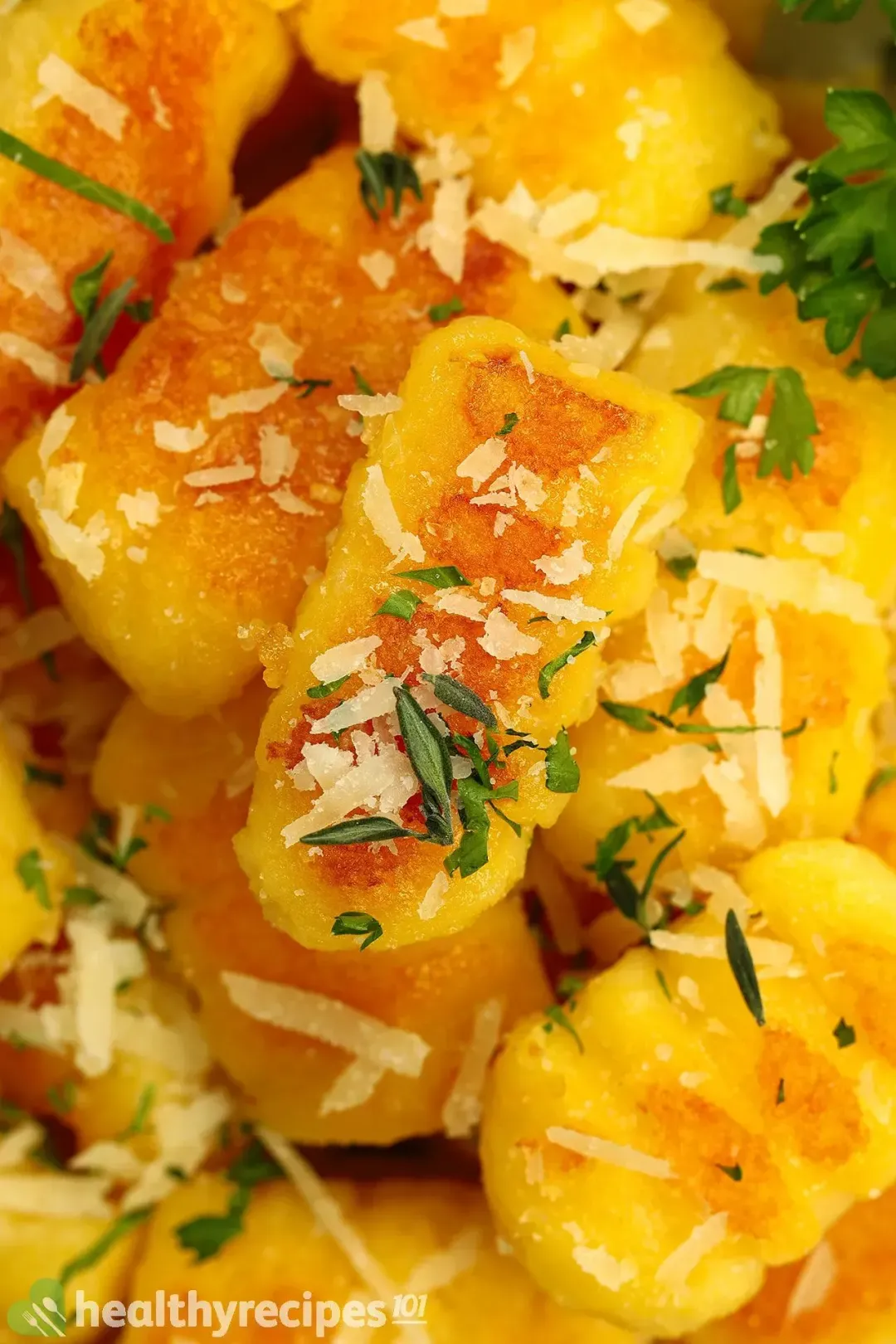 More Delicious Potato Dishes to Try
Potatoes offer a never-ending selection of dishes that always hit the spot. If your potato craving still lingers after this potato gnocchi, why not give one of these dishes a go? 
How to Make Gnocchi Potato
Our gnocchi potato recipe creates soft and buttery gnocchi from scratch. It requires some effort, but the results are well worth it.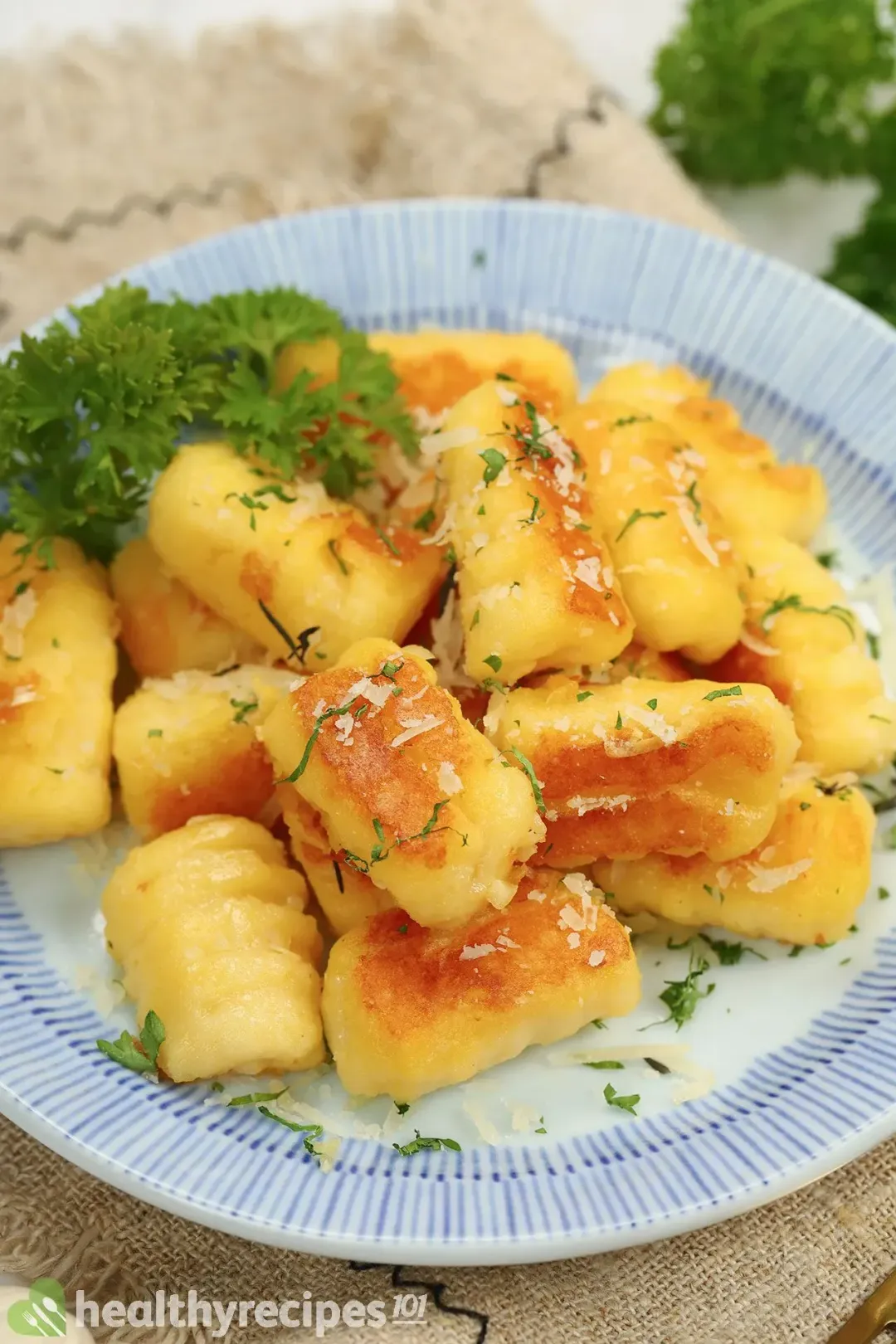 cook TIME

30 mins

prep TIME

15 mins

total TIME

45 mins
COURSE

Side Dish

CUISINE

Italian

SERVINGS

CALORIES

246 kcal
INGREDIENTS
3/4 cup

all-purpose flour

1 1/2 tbsp

unsalted butter

3 tbsp

parmesan cheese

(shredded)
INSTRUCTIONS
1
In a large bowl, add 12 oz potatoes. Microwave the potatoes for 15-17 minutes on high power, or until tender. Drain the potatoes and let them cool enough to handle.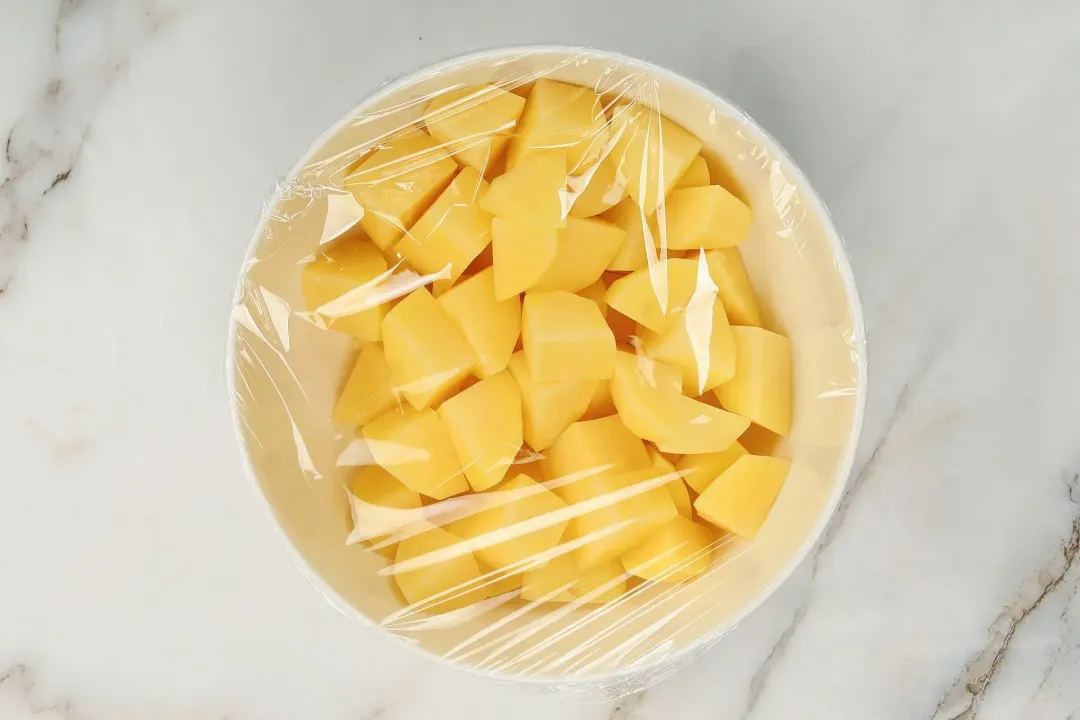 2
Pass the boiled potatoes through a fine mesh strainer using a spoon. Collect the mashed potatoes in a bowl below the strainer.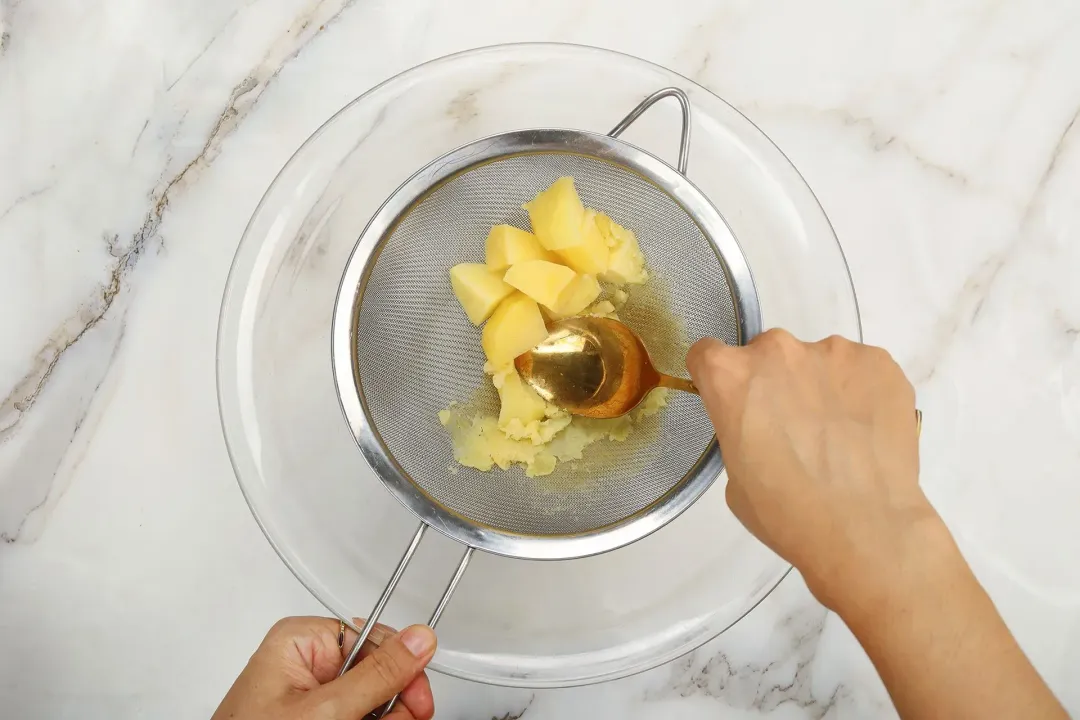 3
Add 3/4 cup all-purpose flour, 1/4 tsp salt, and 1 large egg yolk to the potato bowl. Mix together with your fingers to form a soft dough, it shouldn't stick to your fingers.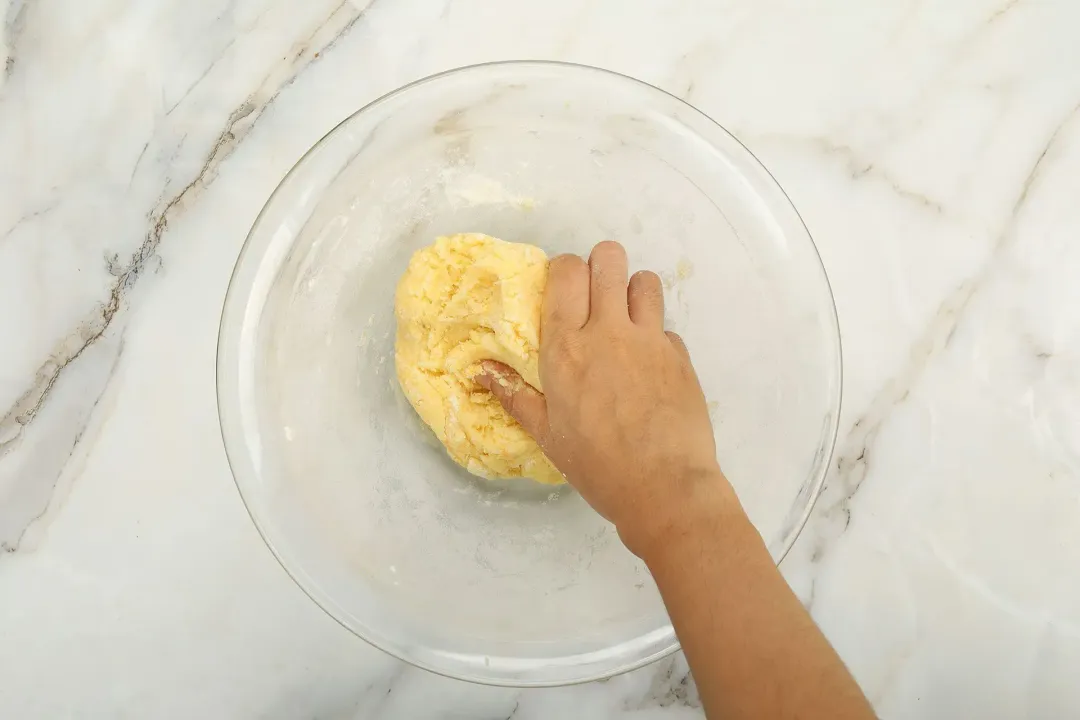 4
On a lightly floured surface, roll the dough into a 3/4-inch thick circle. Use a sharp knife to cut the dough into 6 even lengths.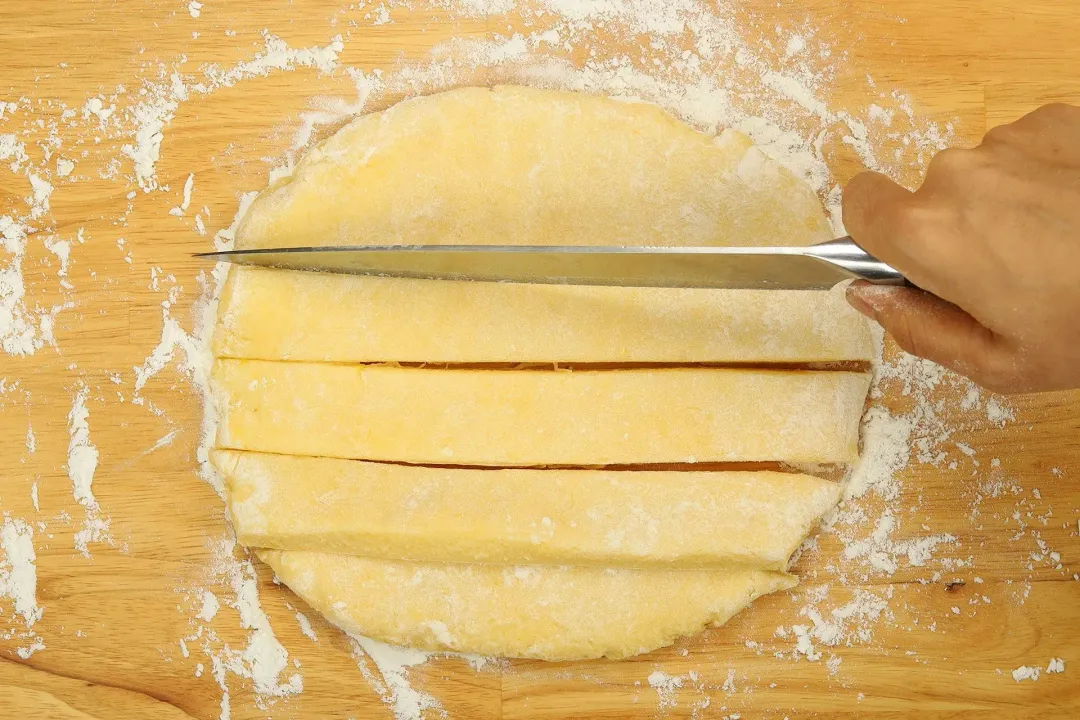 5
Cut the rolls/lengths of dough every 1 inch so you end up with small cylinders. Set aside on the lightly floured surface and repeat with the remaining dough.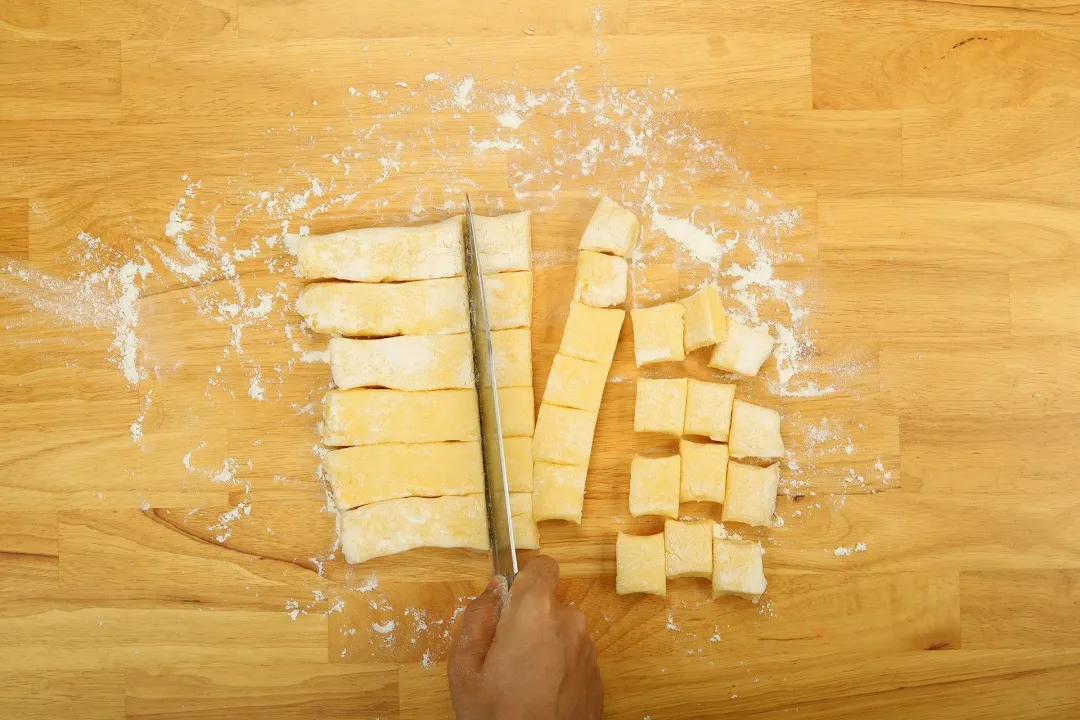 6
Slice each piece of dough on a fork and squeeze a little so they make a decorative shape. Repeat with the remaining.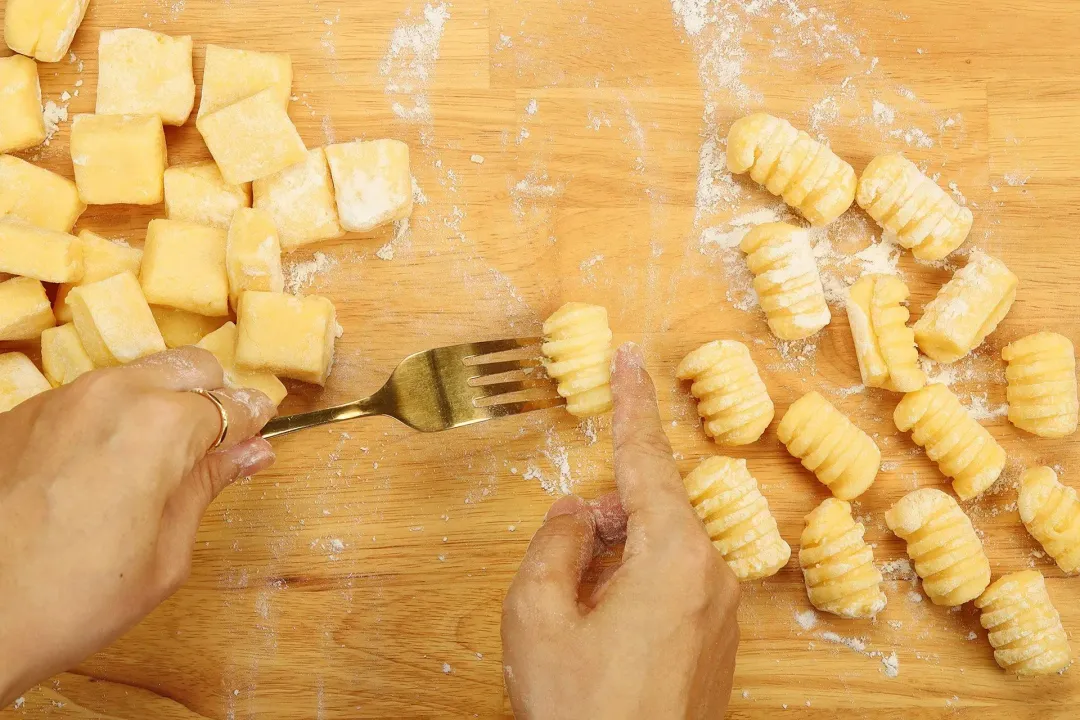 7
Bring a large pot of water to a boil and add the gnocchi, stirring gently to ensure they are not sticking. Boil until they float to the surface. Remove them from the water using a slotted spoon or a strainer.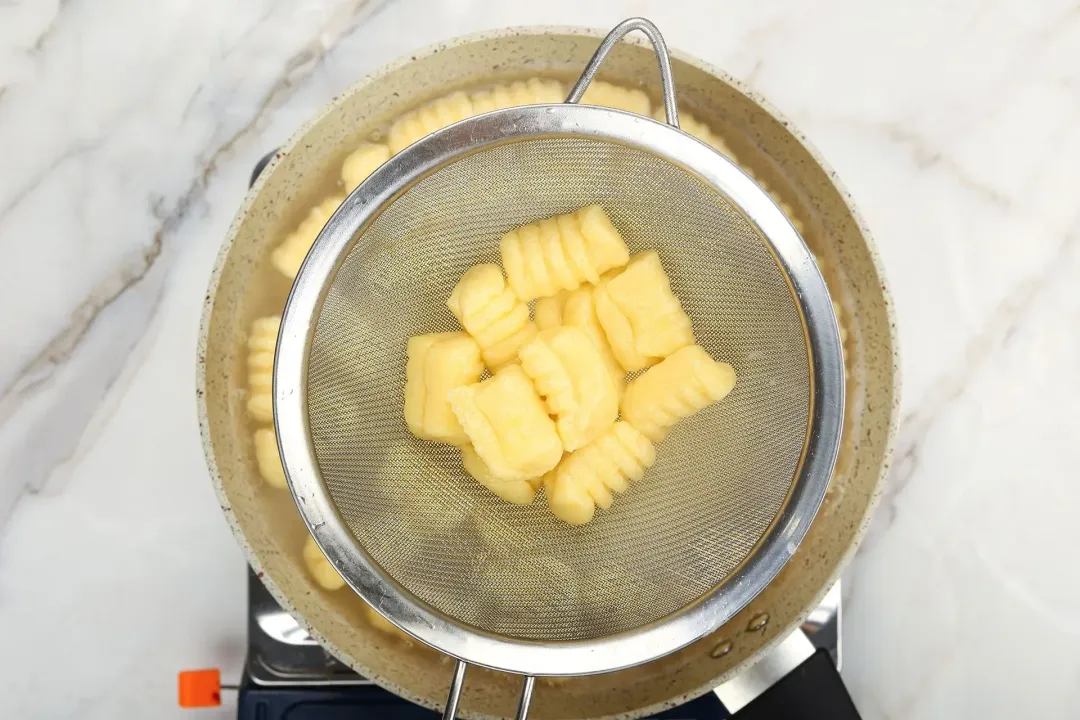 8
In a non-stick pan over medium heat, add 1 tbsp olive oil and 1 1/2 tbsp unsalted butter. Add gnocchi potato to the pan and sear them to a golden brown, about 5 minutes. To avoid crowding the pan, you can sear them in batches.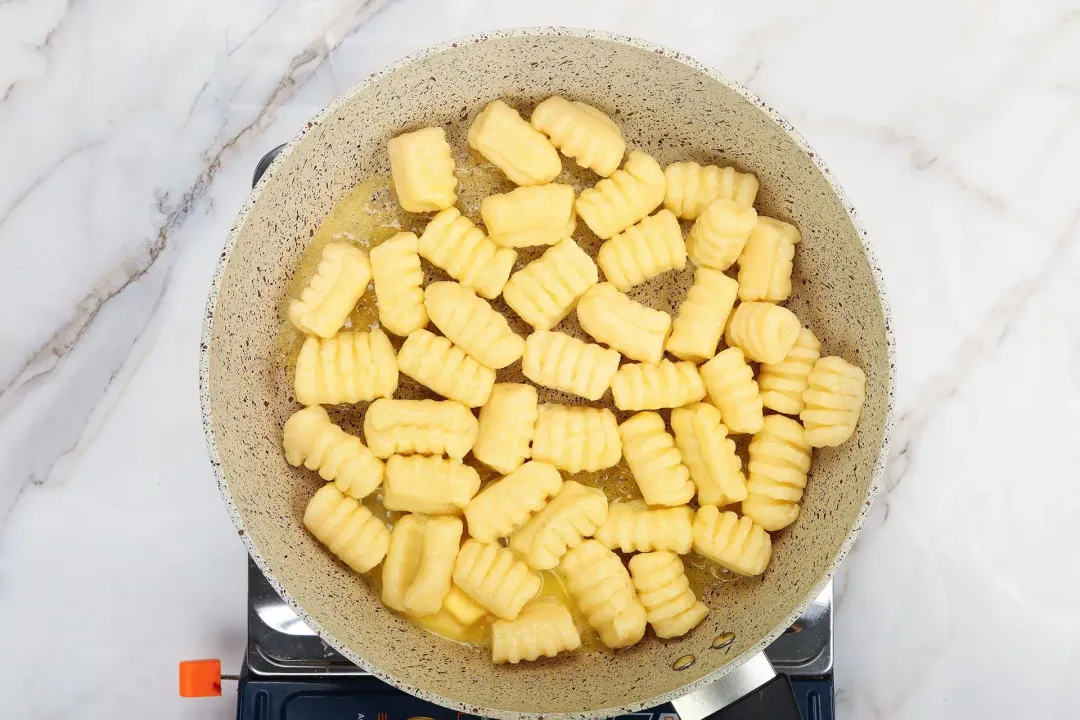 9
Add 1 tbsp garlic and 1 tbsp thyme. Continue to stir for 30 seconds.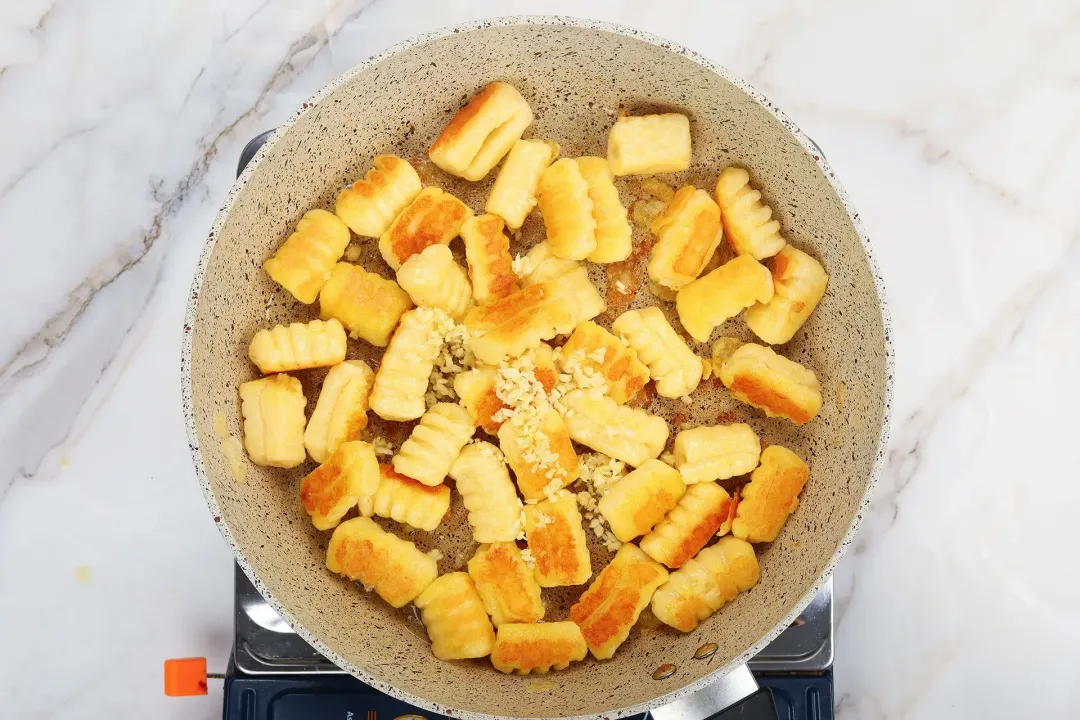 10
Transfer the gnocchi potato to serving plates. Sprinkle with 2 tbsp parsley and 3 tbsp parmesan cheese. Serve.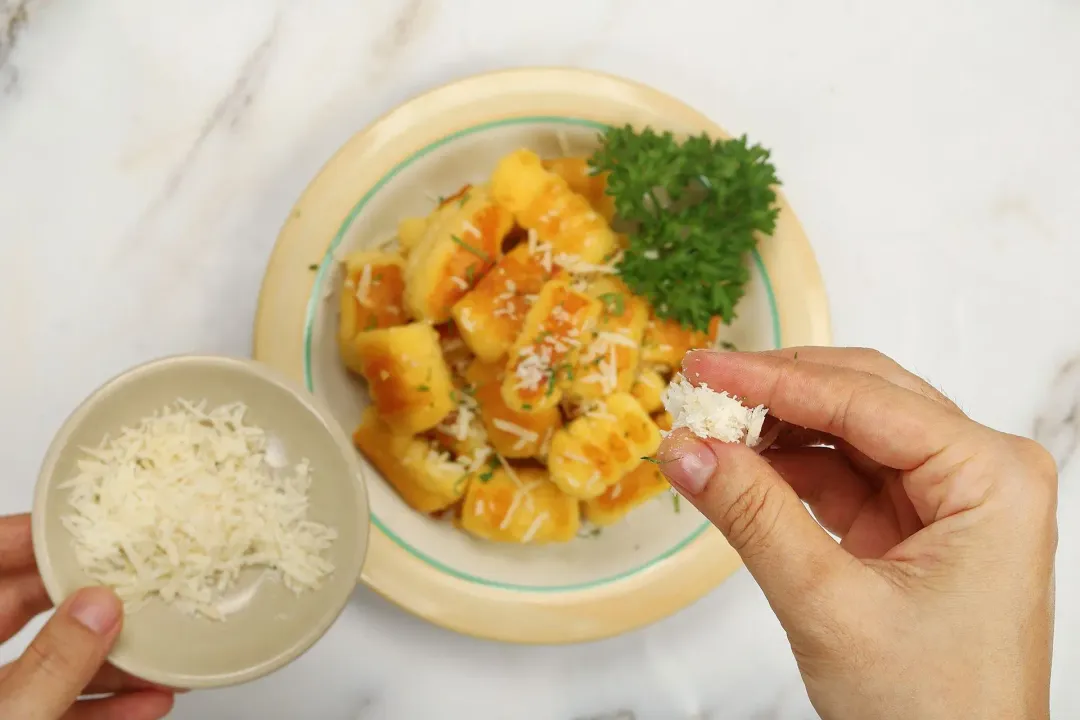 NUTRITION
Nutrition Facts
How to Make Gnocchi Potato
Amount Per Serving (1 serving)
Calories 246
Calories from Fat 93
% Daily Value*
* Percent Daily Values are based on a 2000 calorie diet.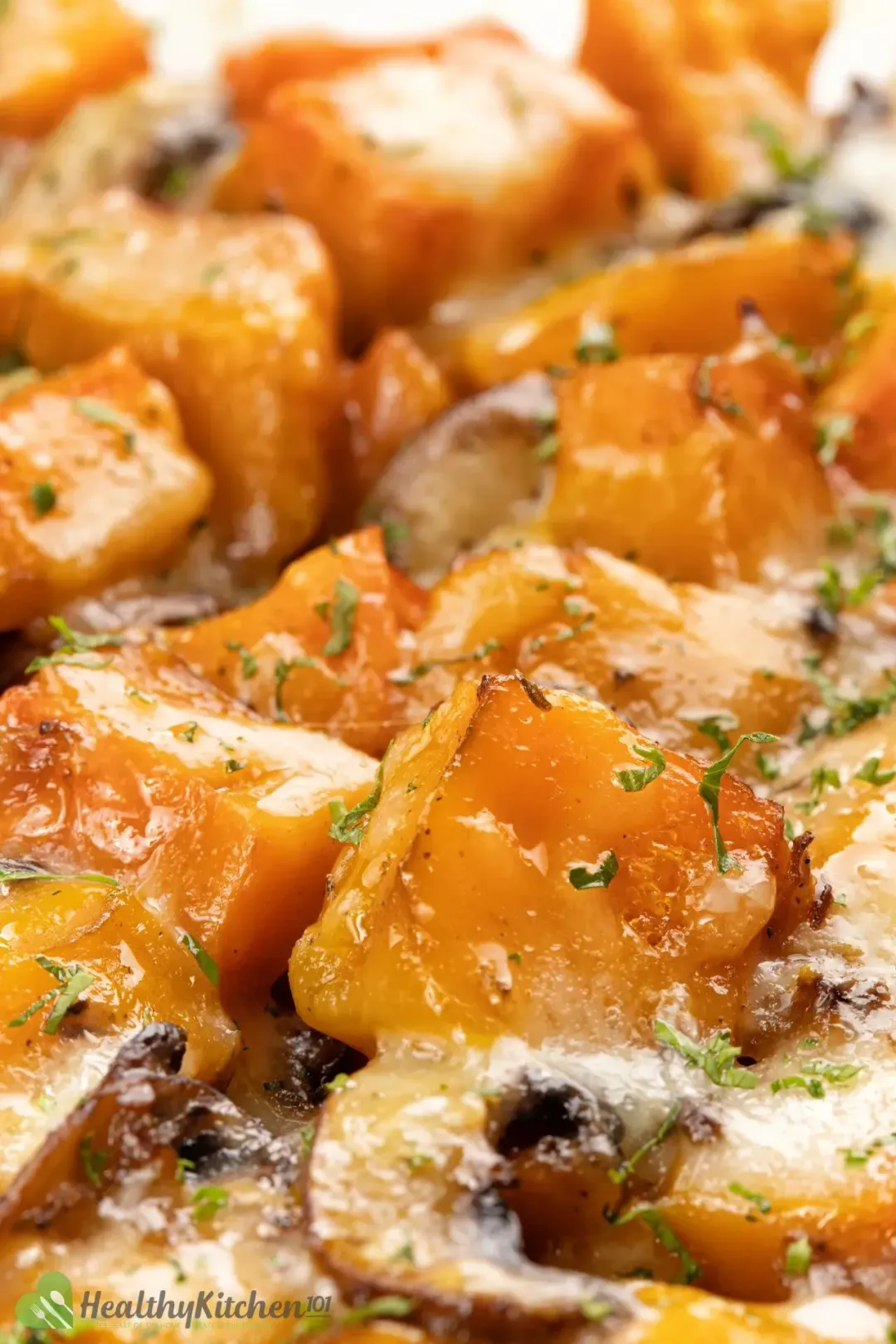 Previous Recipe
Butternut Squash Casserole
Butternut Squash Casserole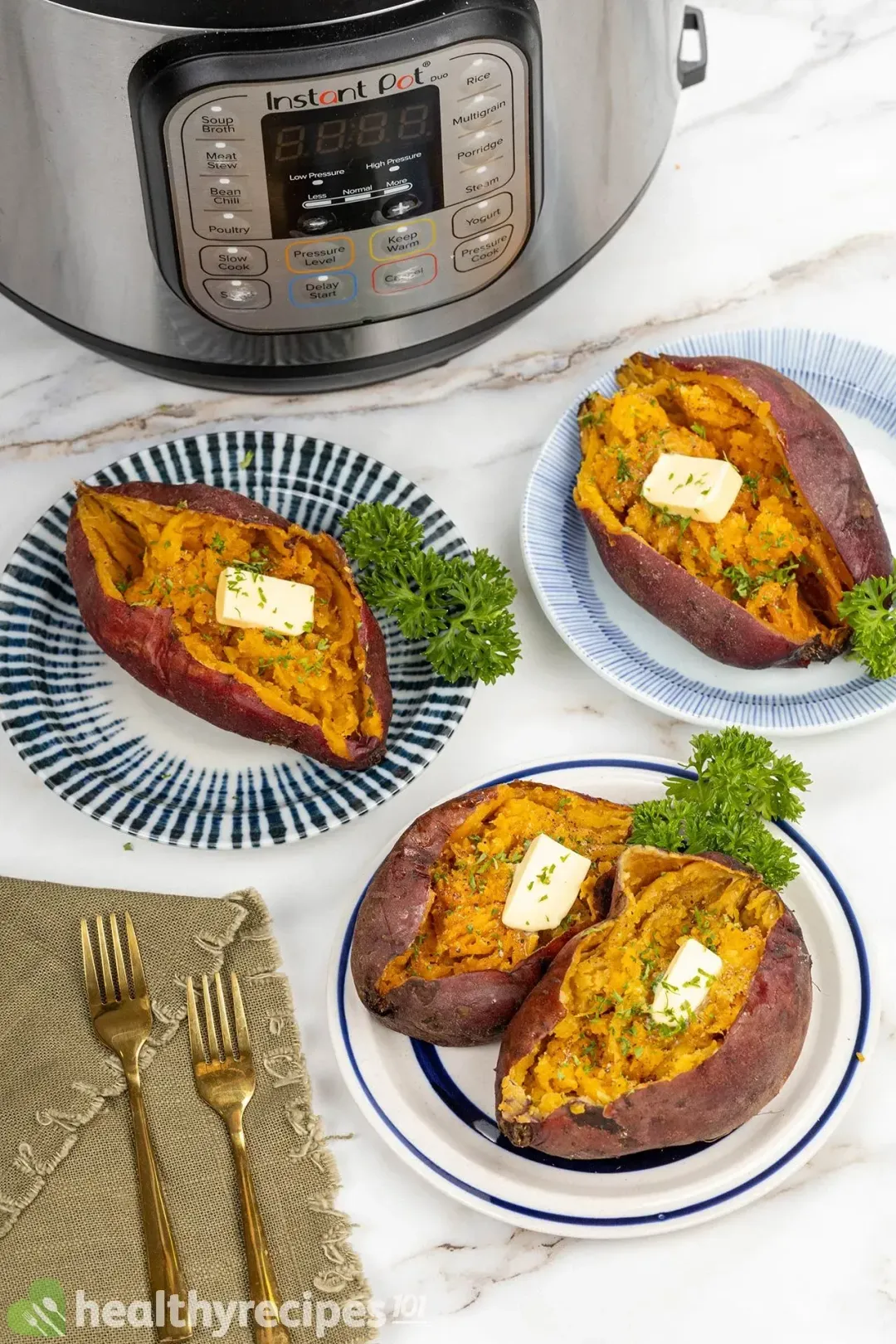 Next Recipe
Instant Pot Sweet Potato
Instant Pot Sweet Potato
Head Chef, Culinary Consultant
Tuyet Pham is an award-winning Saigonese chef who believes that joy is the secret ingredient to delicious food. At Healthy Recipes 101, Tuyet personally tests and simplifies every recipe, ensuring maximum flavor with minimal effort. With a background at prestigious French restaurants P'TI Saigon and Le Corto, Tuyet knows how to make every dish exceptional.
Writer, Author
Luna Regina is an accomplished writer and author who dedicates her career to empowering home cooks and making cooking effortless for everyone. She is the founder of HealthyKitchen101.com and HealthyRecipes101.com, where she works with her team to develop easy, nutritious recipes and help aspiring cooks choose the right kitchen appliances.
Nutrition Reviewer
Natalie Butler is a registered dietitian nutritionist with a passion to help others live their best life through food, fitness, safer beauty and a healthy lifestyle. She has expertise with a variety of diets and diseases and believes that there is no one-size-fits-all approach for health.
Gnocchi potato recipe is a winner.