We can't wait to share with you our healthy take on the classic beefy butternut squash pasta —a childhood favorite of many Americans.
In this recipe, our chefs stir together spaghetti, juicy beef, cheddar cheese, roasted vegetables, and bold spices to serve a wholesome dinner. The good news is this dish only takes 30 minutes to prepare—perfect for the busy bee looking for a quick and easy recipe.
Let's start cooking right away!
Is Beefy Butternut Squash Pasta Healthy?
Yes, our main dish is healthy.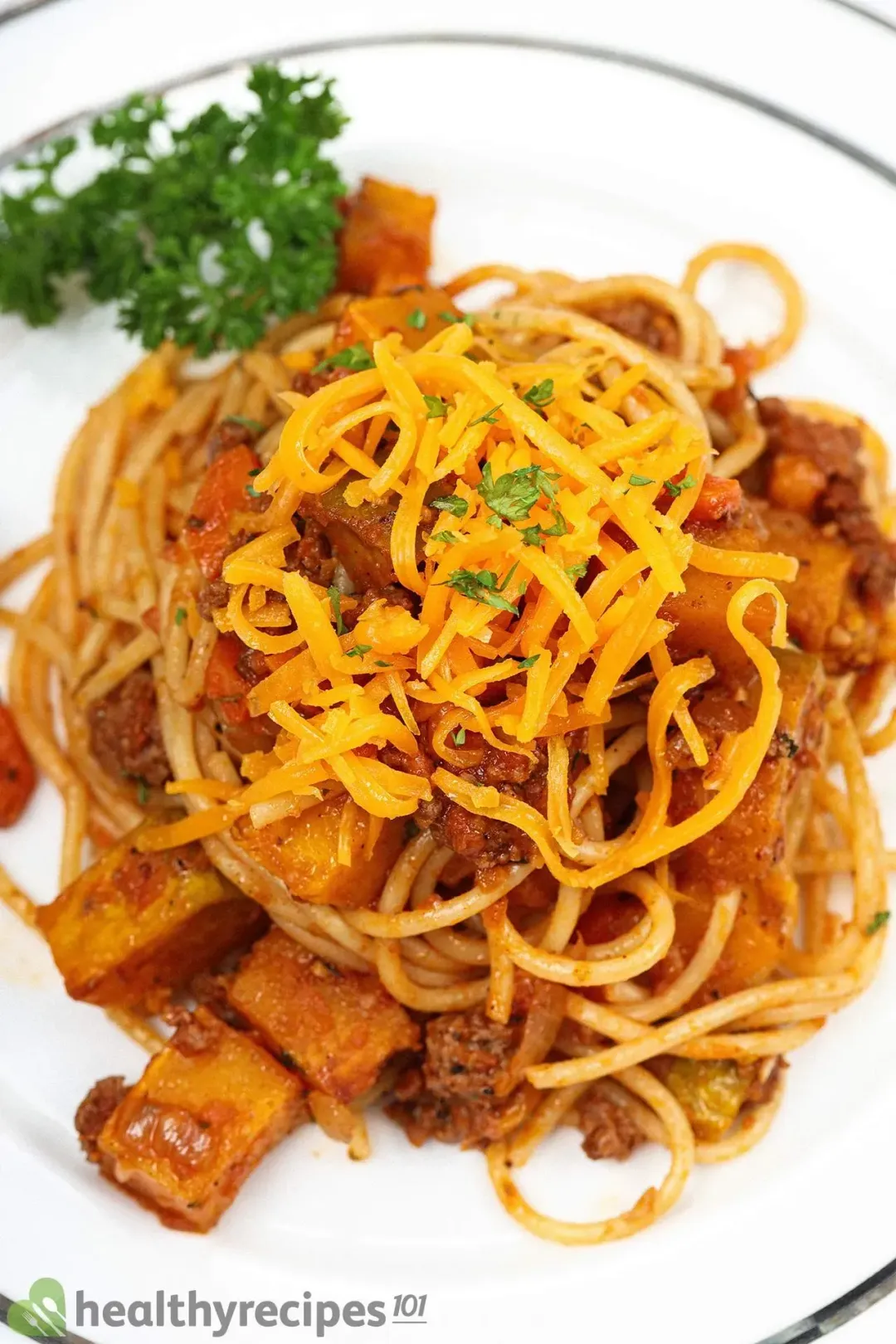 Each serving of this delectable meal provides up to 20.9 g of protein, most of which comes from ground beef. Besides being a great source of lean protein, red meat also contains a significant amount of minerals like iron, zinc, phosphorus, and potassium.
Our chefs have included some vegetables in this recipe. We opt for butternut squash and carrot as both are rich in vitamin A. High vitamin A consumption may help improve eyesight and strengthen your immune system.
We also adjust all the ingredients to keep the dish low in sodium and fat. This hearty meal has only 497 calories, 7.7 g of saturated fat, and around 542 mg of sodium.
Ingredients for Beefy Butternut Squash Pasta
Even though the ingredient list seems long, you can easily find all the items at the grocery stores. Here's what you'll need: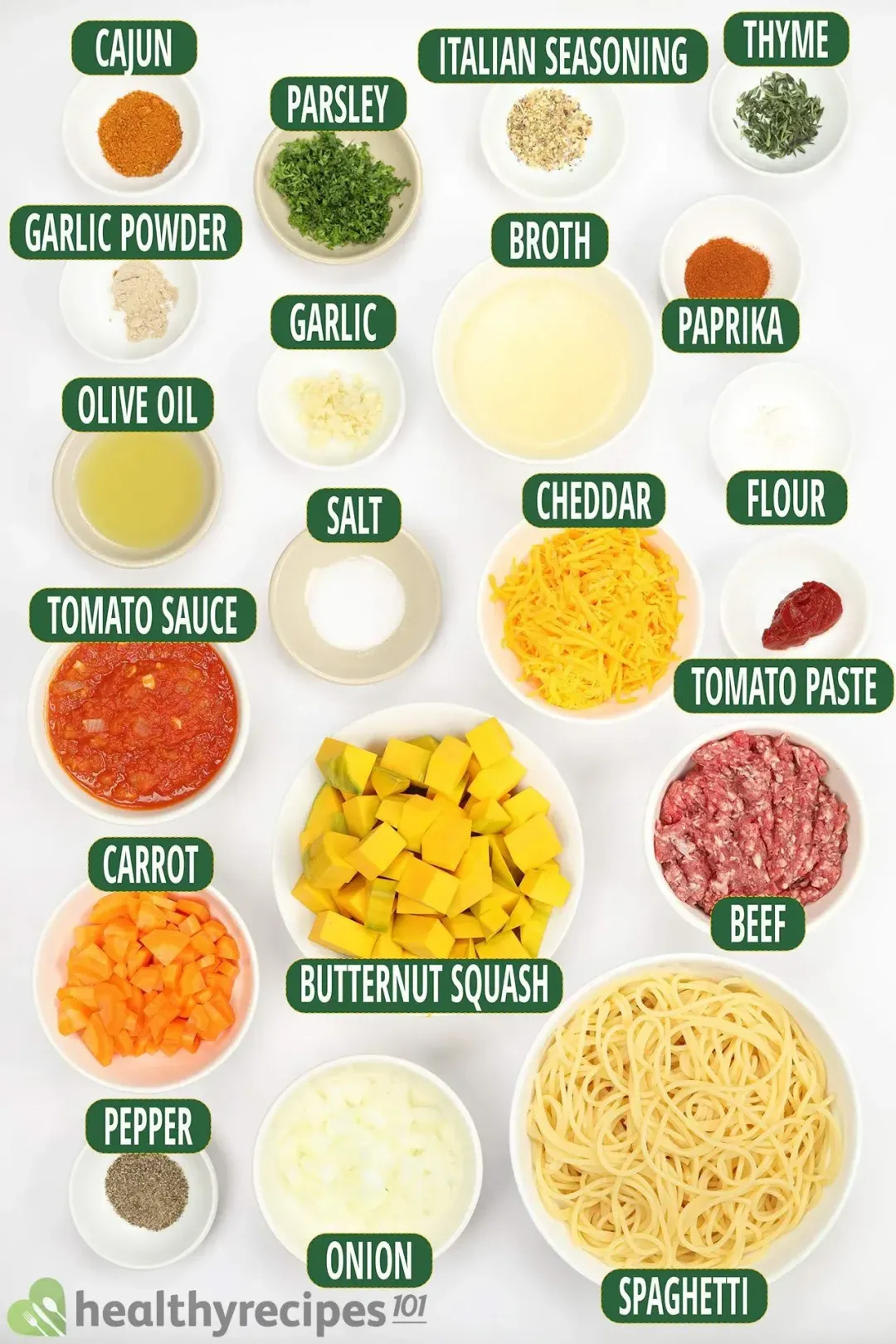 Pasta: Our chefs go with the classic spaghetti as its long shape works wonders with the thick and chunky tomato sauce. And if you want a little twist to your pasta dish, opt for fettuccine or pappardelle.
Ground beef: Working with lean beef is tricky as it tends to dry out once overcooked. Tip to prevent rubbery meat: Cook the meat on medium-low heat and allow the liquid to evaporate gradually.
Butternut squash: Baked to perfection, butternut squash gives off a subtle sweetness and nuttiness, enjoyed by adults as much as it is by children.
Carrot: The bright orange hue of the carrot fits perfectly in the warm color palette of our beefy butternut squash pasta, offering a rustic aesthetic to the dish. Plus, eating carrots has many health benefits.
Onion: To prevent watery eyes, chill the onion in the fridge for around 10-15 minutes before dicing it.
Cheese: Cheddar cheese is our top-notch choice for adding an extra layer of creaminess to pasta. However, if you're lactose-intolerant, feel free to omit dairy from this recipe.
Homemade tomato sauce: The artificial flavor of store-bought sauce cannot compare with the natural sweetness of the homemade version. We've also prepared a step-by-step homemade tomato sauce recipe to make your cooking journey more enjoyable.
Italian seasoning: This spice blend leans more on the herbaceous side with the presence of many dried aromatics (oregano, rosemary, thyme, and marjoram).
Cajun seasoning: You can adjust the amount of Cajun seasoning to suit your taste buds—a pinch for a mild kick or a splash for a more intense flavor.
How to Store and Reheat Leftovers
Our beefy butternut squash pasta is so crowd-pleasing, you'll polish off the dish in no time. However, if you end up with some leftovers, here is how to store them:
Portion your leftovers into different airtight containers and label them to keep track of the storage time. Your pasta will last for up to 2 days in the fridge.
We don't recommend freezing this pasta as the quality of the dish may get affected during the thawing process—mushy spaghetti and clumpy cheese.
What to Serve With Beefy Butternut Squash Pasta
Here are some quick-and-easy side dishes to pair with your beefy butternut squash pasta: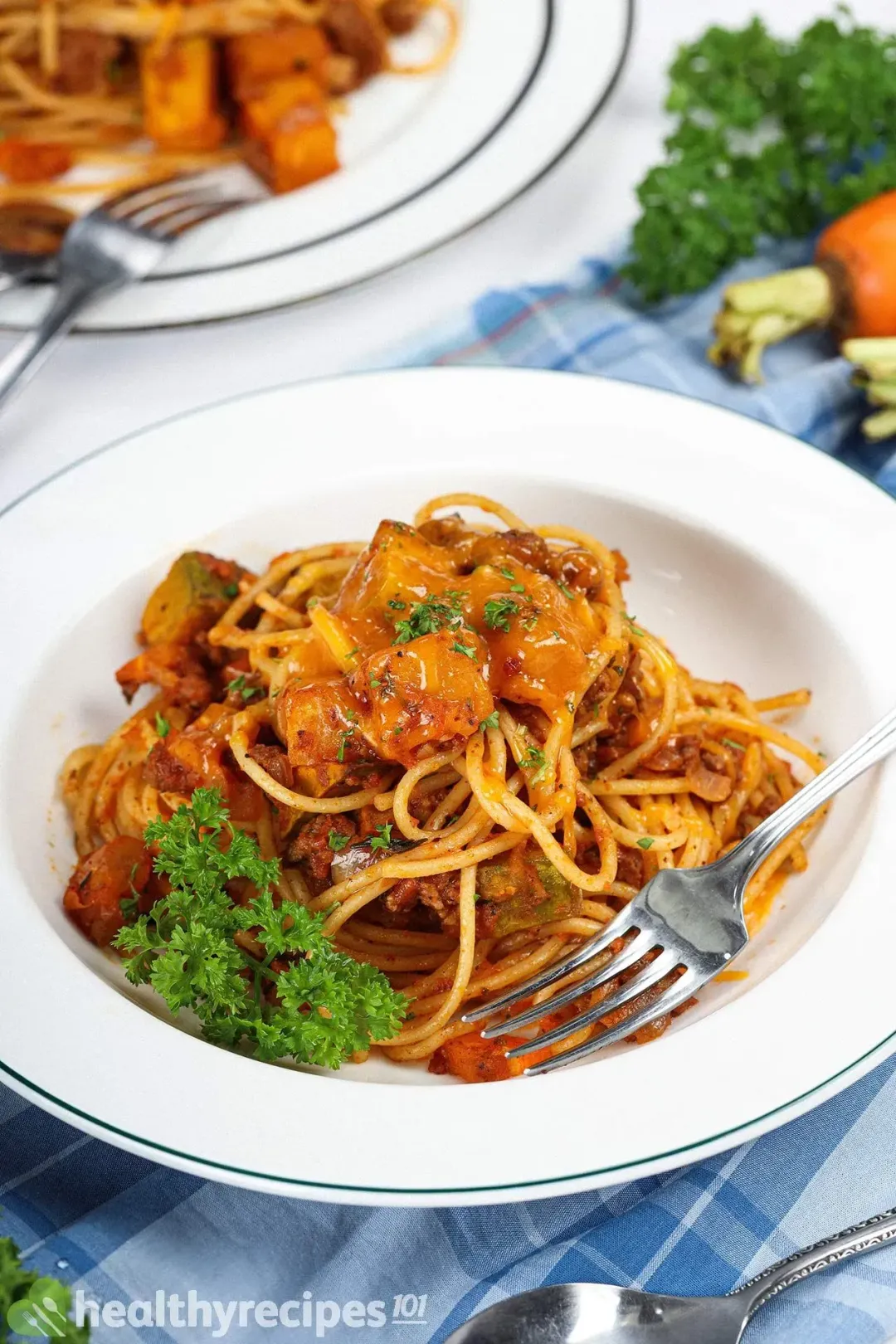 Take Your Taste Buds on a Journey with These Scrumptious Beef and Pasta Dishes
Stuffed Shells are a delicious and satisfying Italian dish that is perfect for any occasion. This recipe from Healthy Recipes 101 uses ground beef, spinach, and ricotta cheese to create a filling that is stuffed into jumbo pasta shells and baked with marinara sauce and mozzarella cheese.
This beef noodles recipe is perfect for those looking for a quick, easy, and delicious one-pot meal. With tender beef, flavorful broth, and chewy noodles, this dish is sure to satisfy your cravings.
Want to impress your dinner guests with a delicious beef pasta dish? Check out our roundup for some inspiration.
How to Make Beefy Butternut Squash Pasta
Today's beefy butternut squash pasta calls for spaghetti, beef, and roasted butternut squash simmered in a flavorful tomato-based sauce. This 30- minute recipe will satisfy your pasta cravings in the comfort of your home.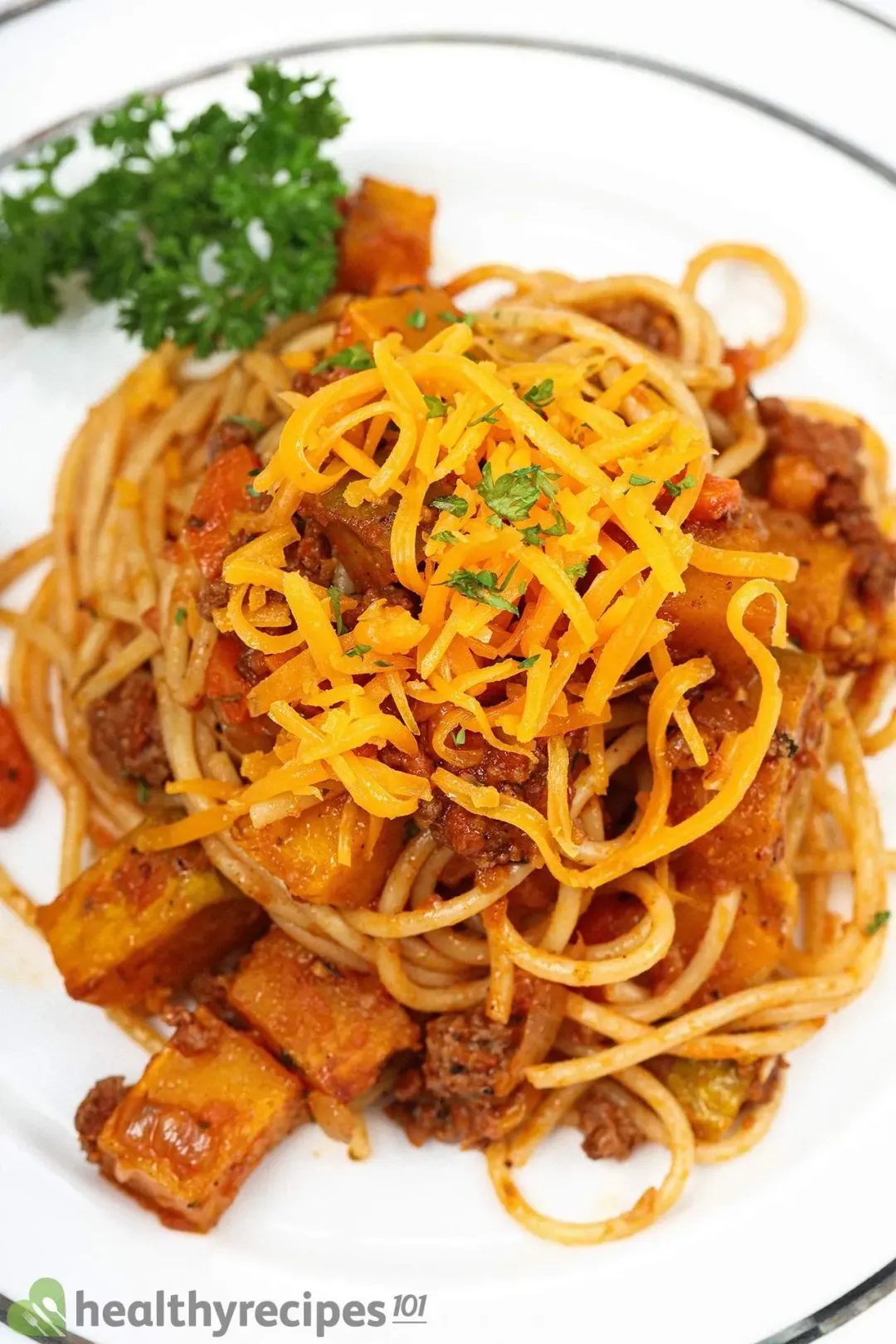 cook TIME

18 mins

prep TIME

12 mins

total TIME

30 mins
COURSE

Main Course

CUISINE

American, Global

SERVINGS

CALORIES

497 kcal
INGREDIENTS
8 oz

85% lean ground beef

12 oz

cooked spaghetti

(from 6 oz uncooked)

10 oz

butternut squash

(cubed)

4 oz

carrots

(cut into quarter slices)

2 oz

cheddar cheese

(shredded)

1/2 tbsp

Italian seasoning

1 tbsp

Hunt's tomato paste

3/4 cup

homemade tomato sauce

1/2 cup

unsalted chicken broth

2 tbsp

parsley

(finely chopped)
INSTRUCTIONS
Prep:
1
Bring a pot of water to a boil, then add the spaghetti. Cook until al dente according to the packaging instructions. Rinse the spaghetti under running water to prevent clumping.
2
Cut off 1/4 inch from the bottom and 1/4 inch from the top part of the squash. Use a peeler to peel away the skin. Slice the squash in half, lengthwise, then use a metal spoon to scrape off the seeds and the stringy pulp. Cut each half of the squash into bite-sized cubes.
3
Trim the carrot tops and roots. Peel and discard the skin. Cut each carrot in half crosswise, then slice these halves across their length. Lay the carrot halves flat side down and slice them vertically in half again. Make vertical cuts from the top to the bottom to further cut the halves into quarter slices.
4
Halve the onion lengthwise and peel the skin. Trim one end and lay the halved onion face down. Make vertical slices, 1/8 inch apart, such that you cut towards the root; leave about 1/8 inch at the end so that the root stays intact. Turn the half 90 degrees and grip the root. Slice the onion horizontally again leaving 1/8 inch at the end to keep the root intact. Chop the onion into small, even cubes. Discard the root.
Cook:
1
Season and bake the vegetables: On a large baking tray lined with parchment paper, add 10 oz cubed butternut squash, 4 oz carrots, 1 tbsp olive oil, 1/2 tsp paprika, 1/2 tsp garlic powder, and 1 tbsp chopped parsley. Gently rub the seasonings onto the vegetables. Preheat the oven to 450 °F, then roast the vegetables for 12 minutes.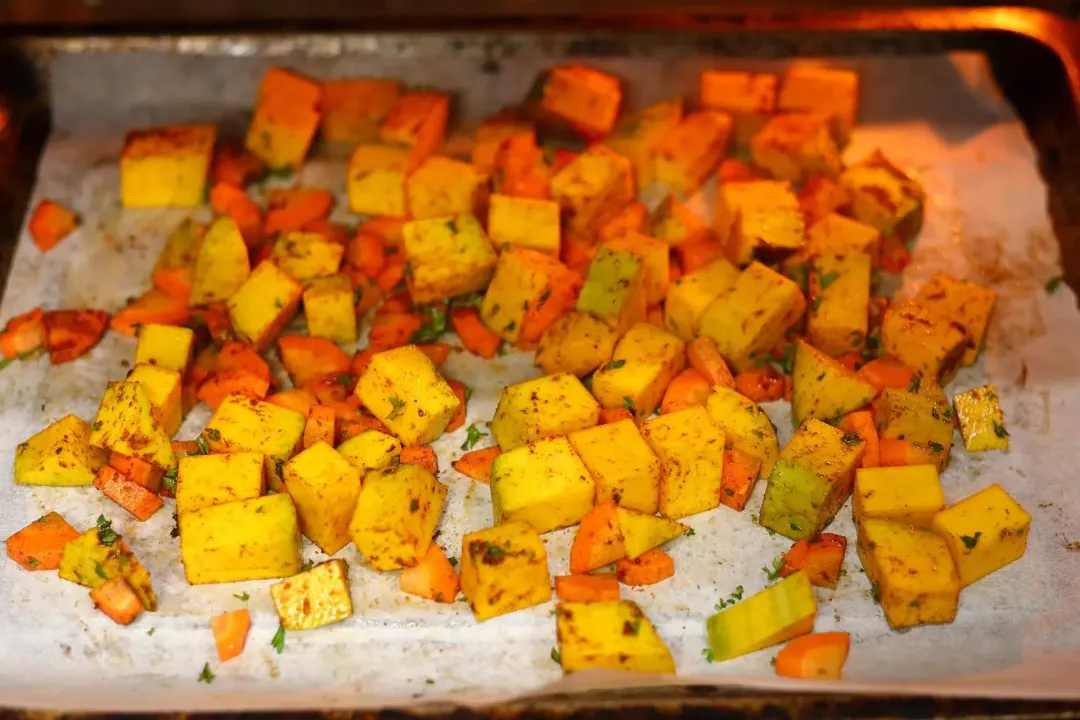 2
Sauté the garlic and onion: Place a frying pan over medium heat. Add 1 tbsp olive oil, 1 tbsp minced garlic, 2 oz diced onion, and 1 tsp thyme. Stir-fry for 1 minute or until the garlic is fragrant and the onion is slightly translucent.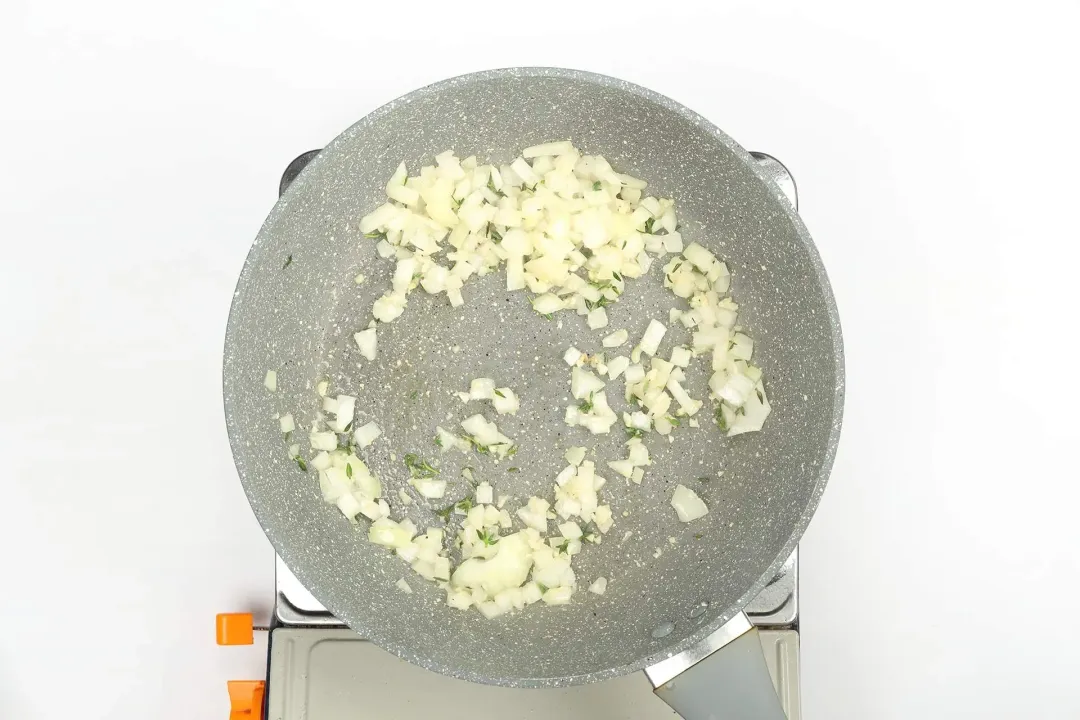 3
Cook the ground beef: In the same pan, add 8 oz 85% lean ground beef and 1 tbsp of Hunt's tomato paste. Stir to cook for 2 minutes.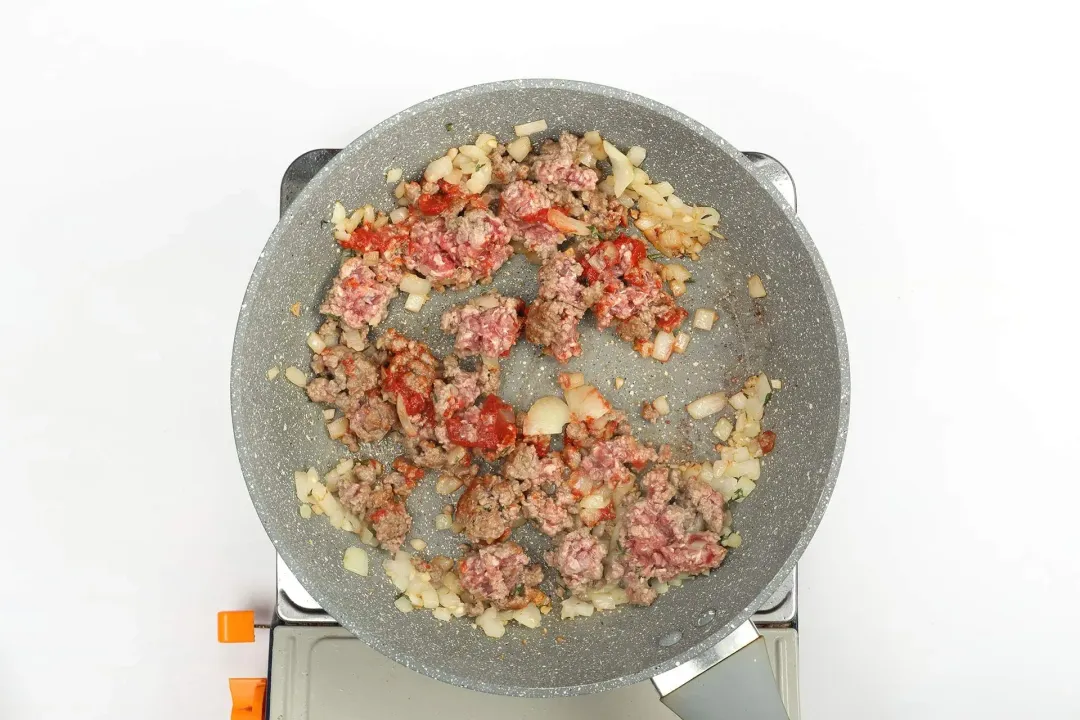 4
Combine the rest of the seasonings: To the beef, add 1 tsp all-purpose flour, 1/2 tbsp Italian seasoning, 1 tsp Cajun seasoning, 1/2 tsp paprika, 1/2 tsp salt, and 1/2 tsp pepper. Cook for another 30 seconds.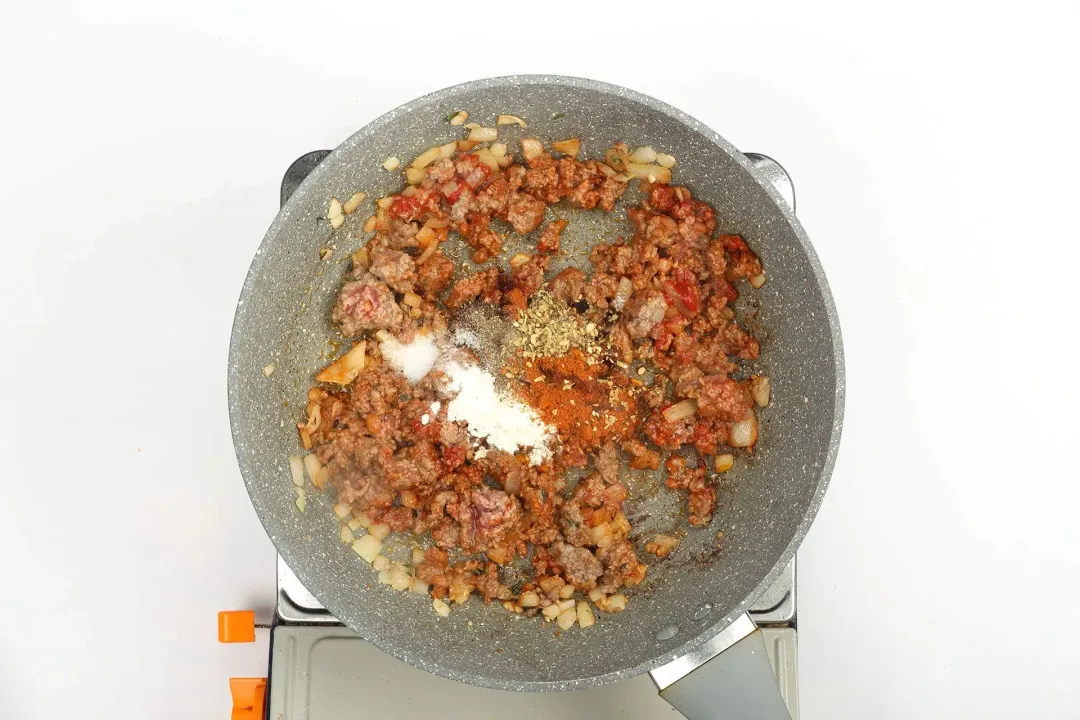 5
Incorporate the tomato sauce and the broth: Add 3/4 cup homemade tomato sauce and 1/2 cup unsalted chicken broth to the pan. Stir occasionally. Bring the mixture to a boil, then add the roasted butternut squash and carrot.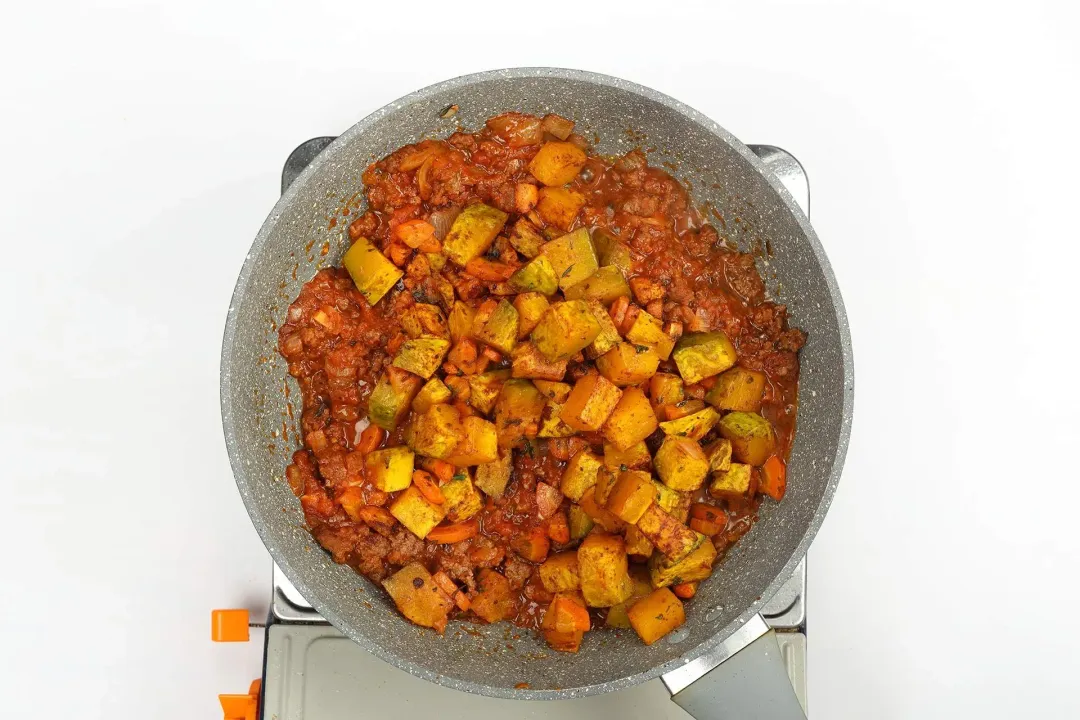 6
Combine the spaghetti: Gently stir in 12 oz cooked spaghetti and let it simmer for 2 more minutes. Remove from heat.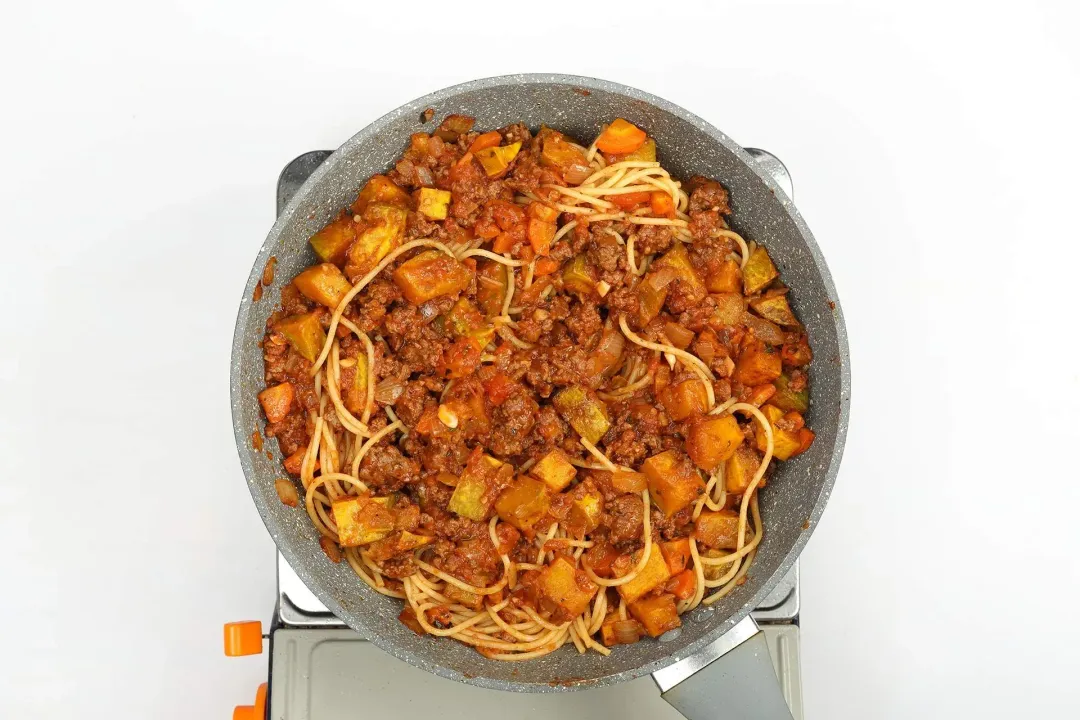 7
Garnish and serve: Transfer your desired portion onto a serving plate. Sprinkle 2 oz shredded cheddar cheese and 1 tbsp chopped parsley on top. Enjoy!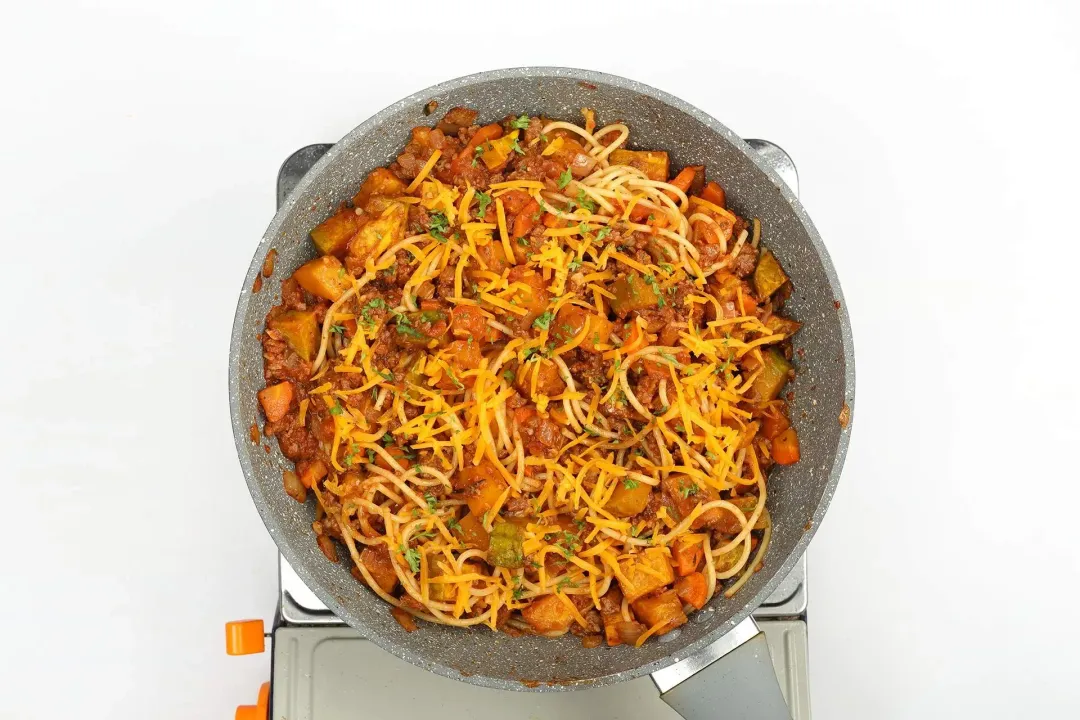 NUTRITION
Nutrition Facts
How to Make Beefy Butternut Squash Pasta
Amount Per Serving (1 serving)
Calories 497
Calories from Fat 230
% Daily Value*
* Percent Daily Values are based on a 2000 calorie diet.
Keywords: beef butternut squash pasta, beefy butternut squash pasta recipe, butternut squash pasta, how to make beefy butternut squash pasta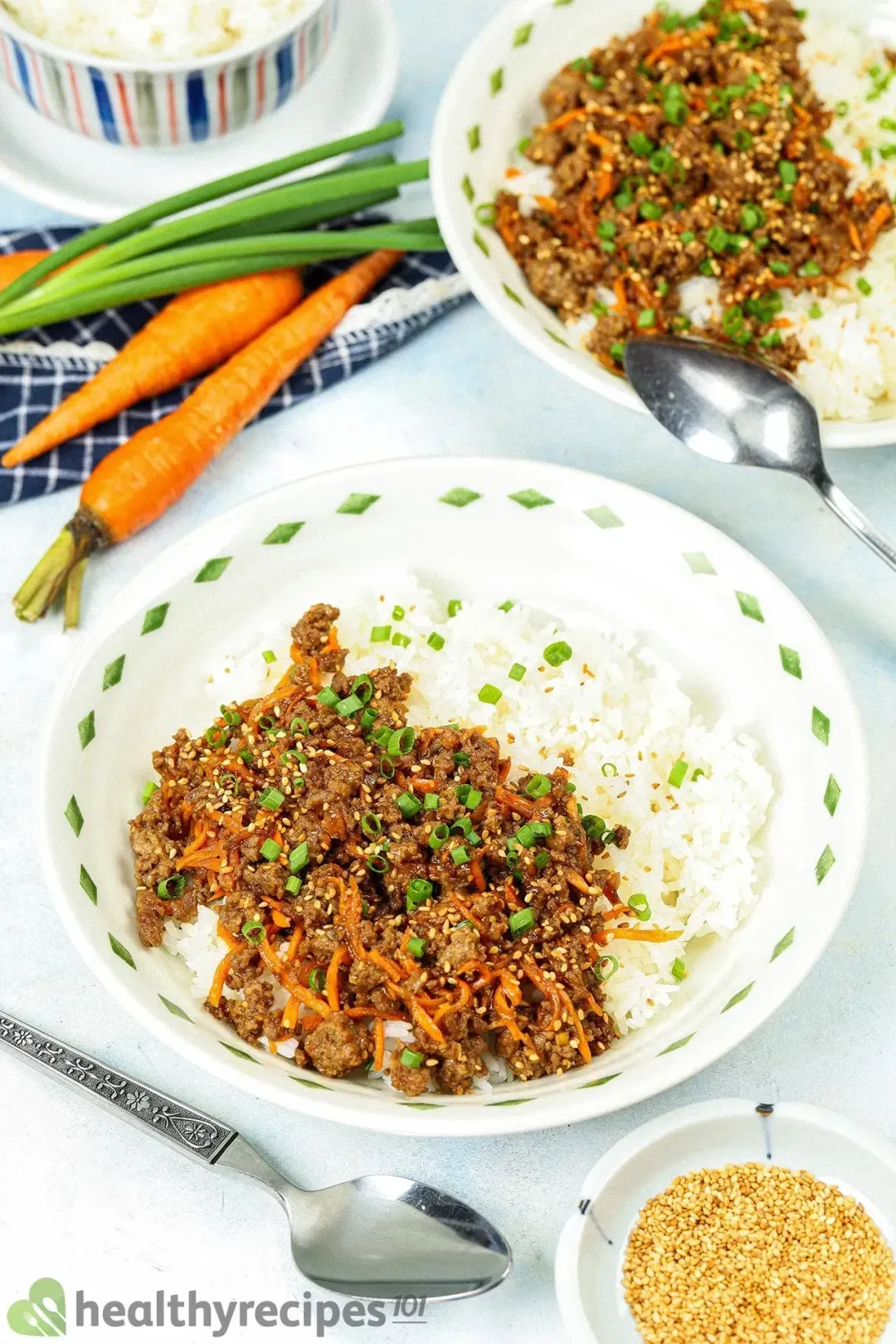 Previous Recipe
Korean Beef Bowl
Korean Beef Bowl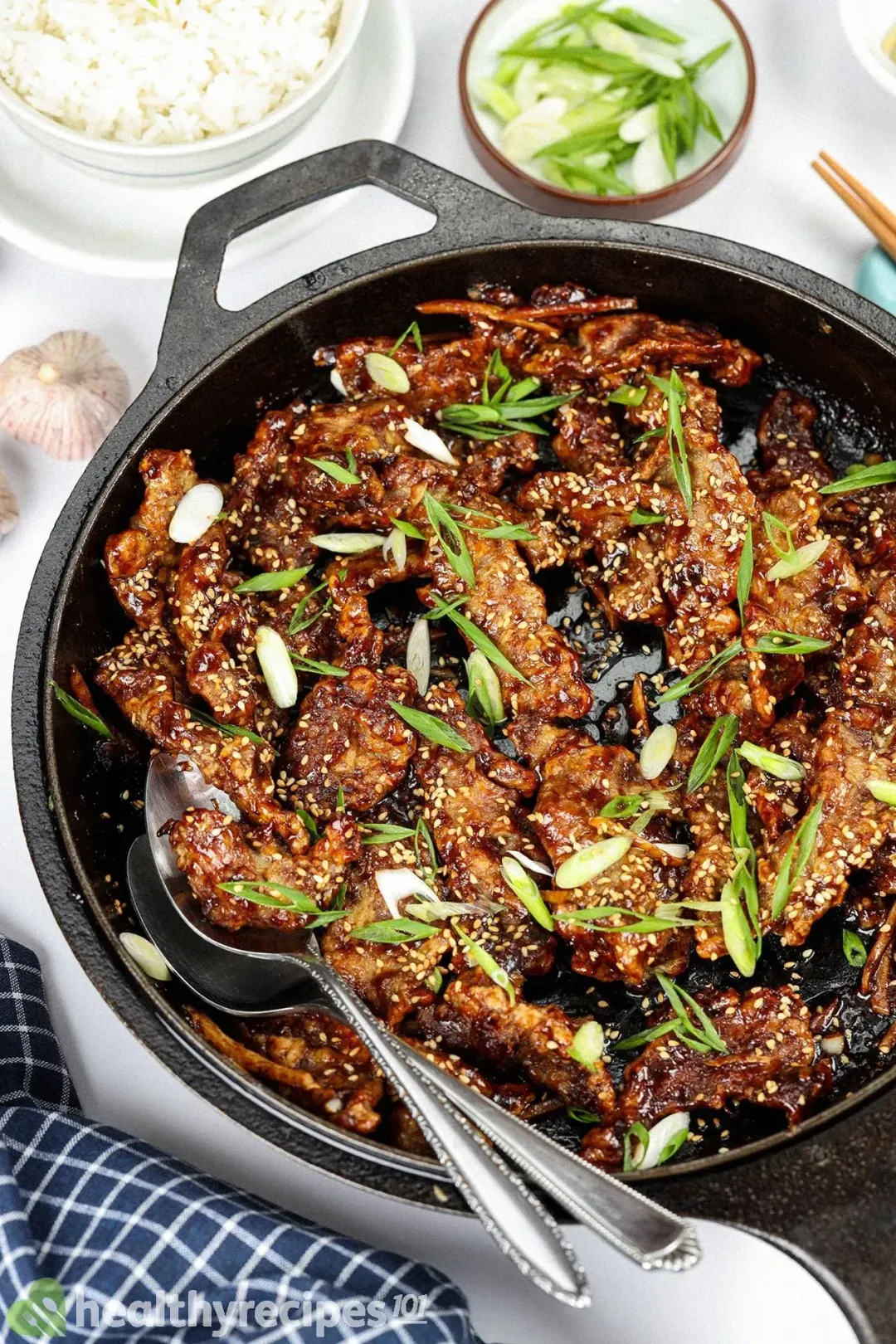 Ginger Beef
Head Chef, Culinary Consultant
Tuyet Pham is an award-winning Saigonese chef who believes that joy is the secret ingredient to delicious food. At Healthy Recipes 101, Tuyet personally tests and simplifies every recipe, ensuring maximum flavor with minimal effort. With a background at prestigious French restaurants P'TI Saigon and Le Corto, Tuyet knows how to make every dish exceptional.
Writer, Author
Luna Regina is an accomplished writer and author who dedicates her career to empowering home cooks and making cooking effortless for everyone. She is the founder of HealthyKitchen101.com and HealthyRecipes101.com, where she works with her team to develop easy, nutritious recipes and help aspiring cooks choose the right kitchen appliances.
Nutrition Reviewer
Natalie Butler is a registered dietitian nutritionist with a passion to help others live their best life through food, fitness, safer beauty and a healthy lifestyle. She has expertise with a variety of diets and diseases and believes that there is no one-size-fits-all approach for health.
Perfect! This got my kids to eat squash!

Made it with my husband and tasted amazing!