This healthy chicken and rice casserole recipe is specially created for those who are often busy running errands. Hopefully, it will make life easier and hit your comfort button.
During our attempts to perfect this dish, we really thought about how to make it more manageable. We want anyone making this to be able to just sit back and not have to stress about overcooking.
Is This Recipe Healthy?
Yes, it is.
Chicken and rice casserole doesn't fall in the refined, fancy meal category. However, it is wholesome and delicious just like its fellow, chicken and rice soup.
This dish is a convenient one-pan meal, where the ingredients are arranged and cooked together in layers. It contains all natural and nutritious ingredients.
In this healthy chicken and rice casserole recipe there's tender and juicy chicken, chewy rice, and savory mushroom soup. Additional flavors from herbs and spices wrap up a wholesome and nourishing meal.
How Many Calories?
In this healthy chicken and rice casserole recipe, one serving delivers 431 calories. This includes one chicken thigh and white rice cooked together with other finely chopped vegetables.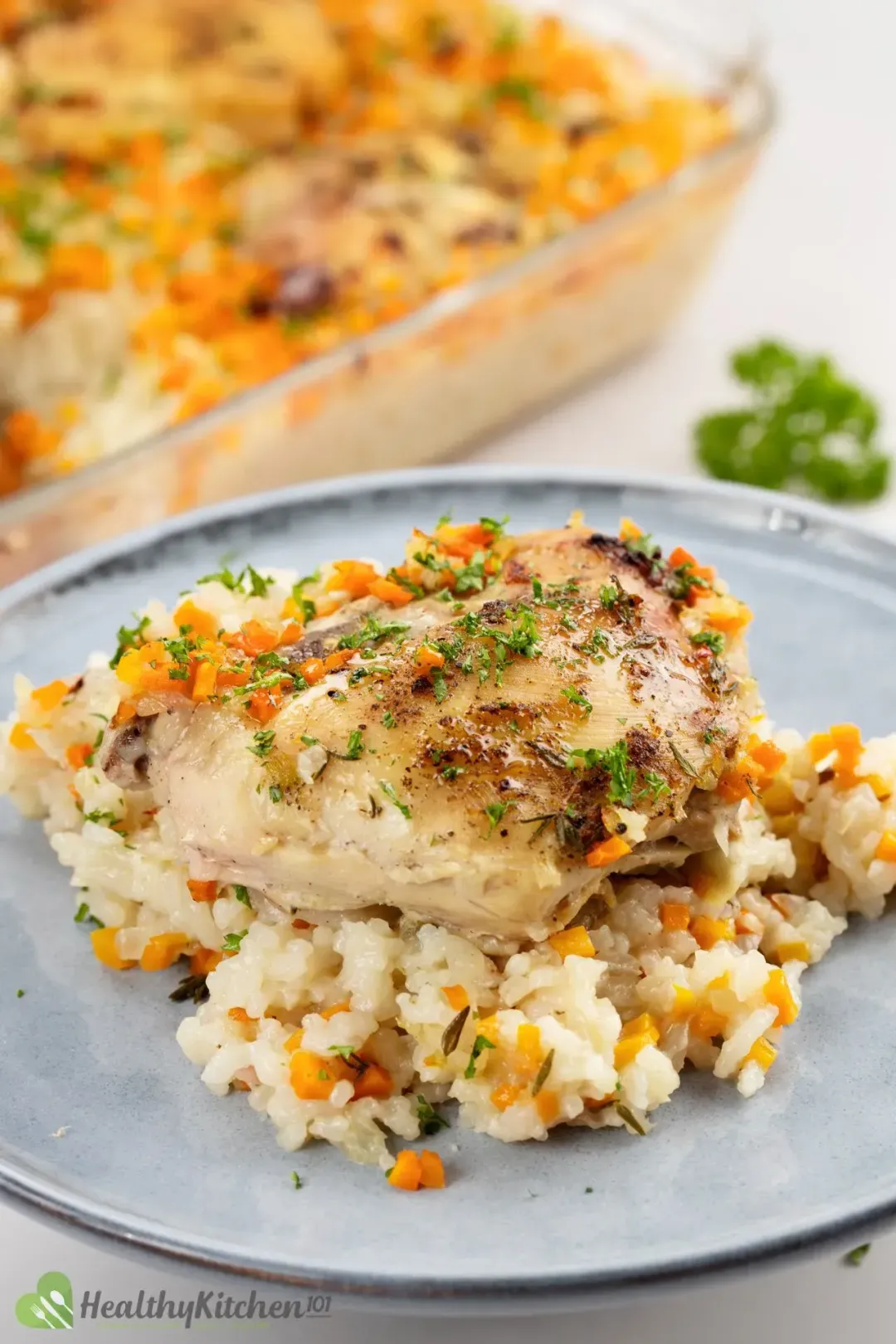 How To Make
The best thing about this dish is the pleasant nostalgia it brings, reminding you of the good old days. As an added bonus, the cooking process is beyond simple and also saves you cleaning time afterward.
Another great one-pan dish that saves you time and clean-up is this hashbrown casserole. Take a look for some more meal inspiration.
1. In The Crockpot
To make chicken and rice casserole in the crockpot, you start by adding uncooked rice, veggies, and dry ingredients. Stir to combine and place the chicken thighs on top.
Sprinkle with garlic, pepper, and other spices, pour in the chicken broth and the cream of mushroom soup, and cover. Cook on high heat for 1-2 hours.
Remove the chicken thighs and transfer them to a clean plate, cover, and keep warm. Stir the rice a few times, then cover and continue to cook on high heat for another hour.
Check the rice to see if it's cooked to tender and return the chicken thighs back to the crockpot. You can tear the chicken into thin strips, finely dice it, or leave it in whole pieces if desired.
Next, if you've thought about adding cheese to your healthy chicken and rice casserole recipe, this is the time for it. Sprinkle the cheese over the top, re-cover the crockpot and cook for a few minutes.
Finally, sprinkle parsley on top and serve warm.
Now, here's a few things to keep in mind when trying a chicken and rice casserole recipe with a crockpot. First, you should quickly sear the chicken fillets before adding them to the crockpot to lock in more flavor.
Always cook on high heat. The rice will easily become mushy as it absorbs liquid from other ingredients that release moisture.
In the same vein, it is important to note that different crockpots may heat at different rates. Your crockpot might need more or less liquid to cook rice than the amount required in a sample recipe.
2. In The Instant Pot
First, sautée vegetables in the instant pot with butter. Add chicken broth and uncooked rice into the Instant Pot together with the veggies.
If there's cheese in the recipe, it should go in right after the rice.
Next, top the mixture with chicken fillets, following with the cream of mushroom soup. Turn the Instant Pot onto high pressure for 10 minutes.
After it's done cooking, let the Instant Pot depressurize for another 10 minutes then do a quick release. Transfer the chicken onto a clean plate, use a spatula to stir the rice beneath.
Use a fork to shred the cooked chicken into strips, stir them back together with the rice. Divide into smaller servings and serve warm.
Unlike the other two methods, the size of the chicken fillets decides its doneness.
When making this dish with an Instant Pot, it is crucial to make sure that the fillet isn't too big. If you happen to buy a thick chicken cutlet (either thigh or breast), shred or cut it in half first.
What Goes With This Recipe
This chicken and rice casserole recipe calls for main ingredients: chicken thighs, rice, chicken broth, and cream of mushroom soup.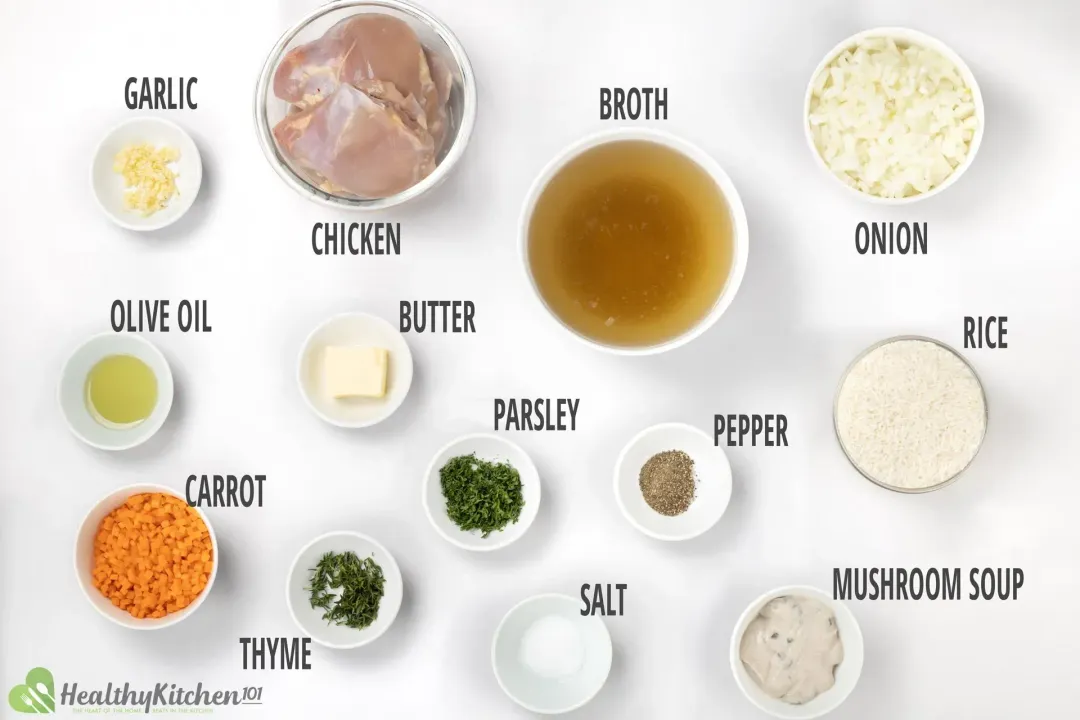 1. Cream Of Mushroom Soup
In this chicken and rice casserole recipe, we put in half a cup of cream of mushroom soup. The cream of mushroom soup is whisked together with the uncooked rice and a combination of vegetables.
Rice will absorb liquid and flavor from both the chicken broth and mushroom soup as they cook together. For busy people, the most convenient option is to use canned options.
2. French Onion Soup
Aside from cream of mushroom soup, French onion soup is also a marvelous choice.
Of course, you can opt for the French onion soup mix for the most convenience. All you need to do is whisk the soup mix together with the rice and broth to enhance the flavor.
3. Sour Cream
If none of the above appeals to you, consider creating a simple soup mixture from sour cream. You can make your own creamy sauce by combining sour cream with your favorite cheese.
Here's another side note. If you're using a Crock-Pot or Instant Pot, be careful with dairy products that will be going into this dish.
It's best to only stir dairy in at the end. Doing this will help prevent the dairy from burning during the long cooking time.
4. Broccoli
If you're a fan of broccoli, there's a simple way to incorporate it into this dish. Simply chop the broccoli into small pieces and sprinkle them on top of the casserole.
If your chicken and rice casserole recipe also calls for cheese, broccoli should be the second to last ingredient. After broccoli goes in, finish it off with the cheese.
Unlike carrots and onion, broccoli cooks very quickly and can easily become mushy. Therefore, if you're using a pressure cooker, you shouldn't sautée it before cooking.
It's best to microwave the broccoli separately for a few minutes first. Set it aside, then finish cooking the rice and chicken.
After that, transfer the broccoli to the cooker and let it cook with the residual heat so it won't burn.
5. Cheese
Regardless of the cooking method you choose, cheese should always be added last in the casserole.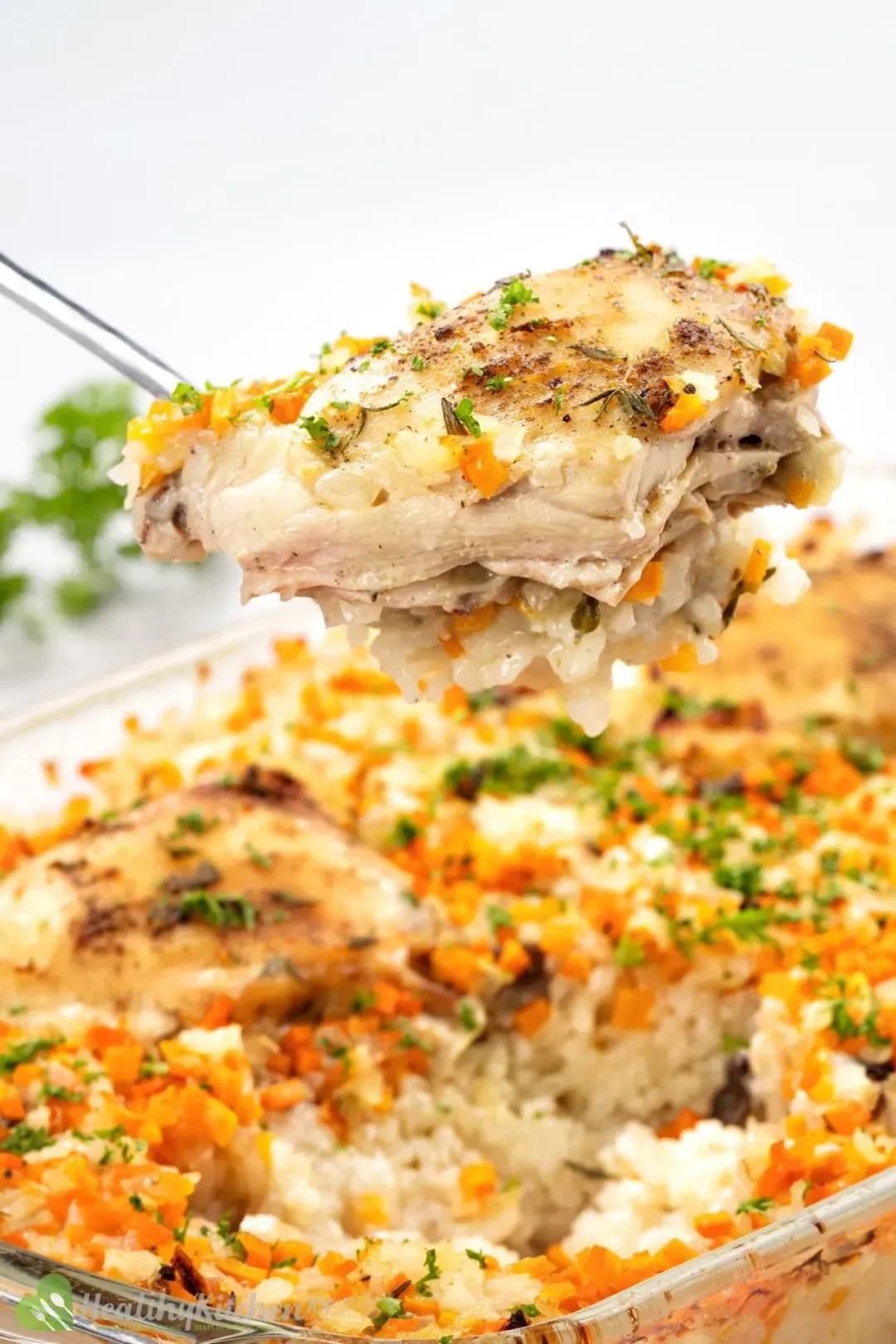 In this chicken and rice casserole recipe, it is recommended you sprinkle the cheese on top. Then serve it right away without returning the dish to heat again.
How Long Should You Bake The Casserole?
This healthy chicken and rice casserole recipe took us roughly one and a half hours to make.
The cooking time can vary in other recipes with different variations of ingredients. However, you can't seem to spend less than 1 hour on this dish.
Don't get frustrated with the long cooking time; we guarantee it will be worth the wait. Both the chicken meat and the rice need adequate time to absorb all the liquid and be cooked through.
Additionally, it's a must to pay attention to the heating mode of the oven. If your oven has the option to switch to different heating modes, be sure to follow this recipe closely.
The baking dish should receive heat from both the top and bottom. Otherwise, neither the rice nor the chicken can be fully done.
To find more tips on preparing chicken properly, check out our baked chicken breast recipe, which digs a bit more into detail.
Can I Substitute Brown Rice For White Rice In The Casserole?
Yes, you can.
Brown rice is a great substitute for white rice as it's higher in fiber and protein. Besides, you'll more likely feel full longer when consuming brown rice.
Nonetheless, it's important to note that brown rice normally needs a longer cooking time than white rice. Consequently, the overall cooking time must increase to ensure the brown rice is cooked to doneness.
Can You Freeze?
Yes, you can.
If you want, you can make 2-3 servings at a time and save them for later use. In fact, this chicken and rice casserole recipe is designed for a table of four.
When storing, it's important to let the casserole cool down to room temperature first. After that, cover it with aluminum foil, then put it in the fridge or freezer.
Chicken and rice casserole can last within 2 days in the fridge and freeze well for up to 3 months. It can be reheated in minutes once defrosted.
To have perfectly cooked chicken every time, check out our 50+ healthy chicken recipes or top 20 chicken thigh recipes.
What To Serve with?
Chicken and rice casserole goes great with a variety of things.
Today, we decided to pair it with Greek salad and milk and orange juice. Adding more fresh greens, and a nice touch of sweet-sour flavor to the meal.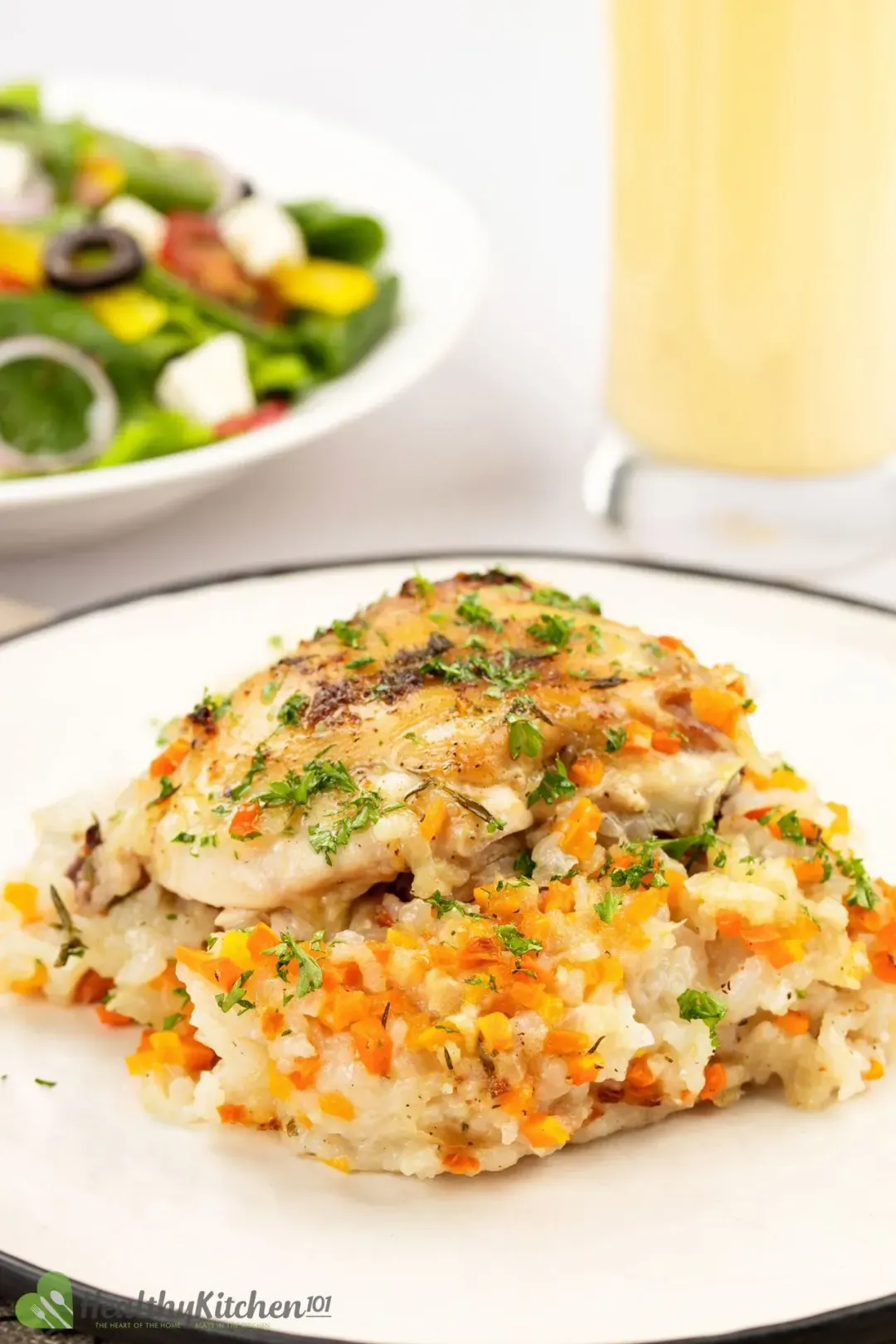 1. Greek Salad
Greek salad is a refreshing salad dish that calls for romaine lettuce, cucumber, and bell pepper. It's topped with tomatoes, olives, and feta cheese, and then drizzled with a homemade vinaigrette dressing.
2. Milk and Orange Juice
Milk and orange juice is a nourishing beverage that leaves a sweet-sour taste and silky mouthfeel. It plays a perfect role as a thirst-quenching drink in this chicken recipe while adding a little citrusy freshness.
Want to try another delicious rice dish? Have a go at our chicken bog (rice with tender chicken), which includes chewy sausage pieces to complete a tasty, filling meal!
More Chicken Casseroles Ideas
Filled with breadcrumbs and broccoli, this flavorful casserole of chicken divan will add yet another easy dinner to your cooking regime. The roux our ingredients cook in is further enriched with swirls of cream and sprinkles of cheddar, turning out a delicious texture when baked.
This cheesy casserole, on the other hand, looks so unhealthy it should be banned, but it really isn't. That melty, colorful cheese layer with burnt edges you see has been calculated, ensuring a tasty, yet guilt-free experience. The casserole has chicken and broccoli, and no, it's anything but bland.
These are just two of the chicken casseroles we have. Check out our chicken casserole collection for more ideas.
Healthy Chicken and Rice Casserole
Healthy chicken and rice casserole is rich, savory, and easily adaptable. It's chicken baked in a creamy sauce with rice, finely chopped veggies, and extra seasoning, delicious! To make it simpler, prepare a large batch and store it in your freezer to have it ready anytime you need it.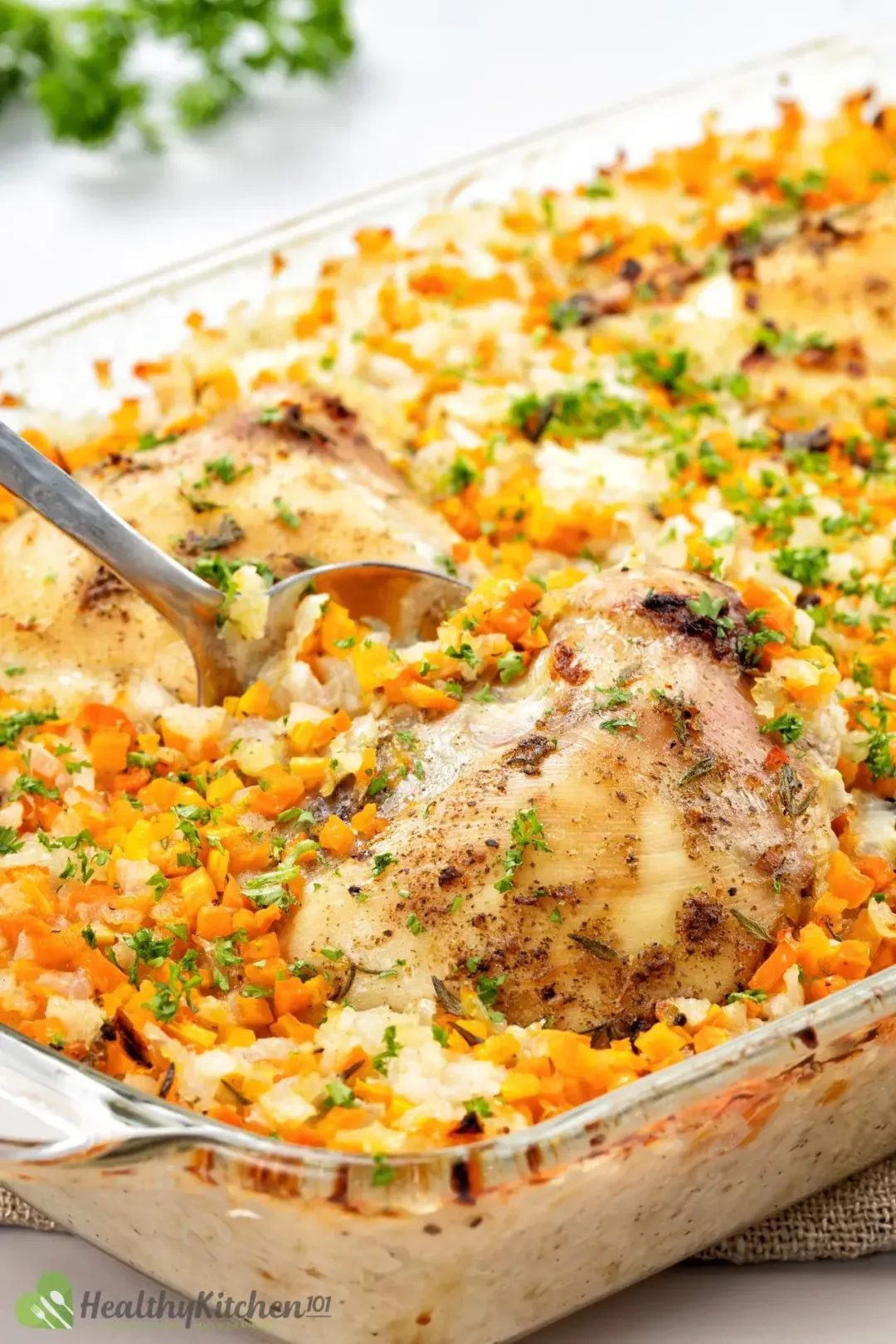 cook TIME

1 hr 10 mins

prep TIME

20 mins

total TIME

1 hr 30 mins
COURSE

Main Course

CUISINE

American

SERVINGS

CALORIES

431 kcal
INGREDIENTS
4

skinless chicken thighs

(about 21 oz)

1 cup

uncooked long-grain rice

4 oz

carrot

(chopped into tiny bits)

2 1/4 cups

unsalted chicken broth

1/3 cup

cream of mushroom soup

1/2 tsp

ground black pepper
INSTRUCTIONS
Prep
1
Preheat the oven to 400°F.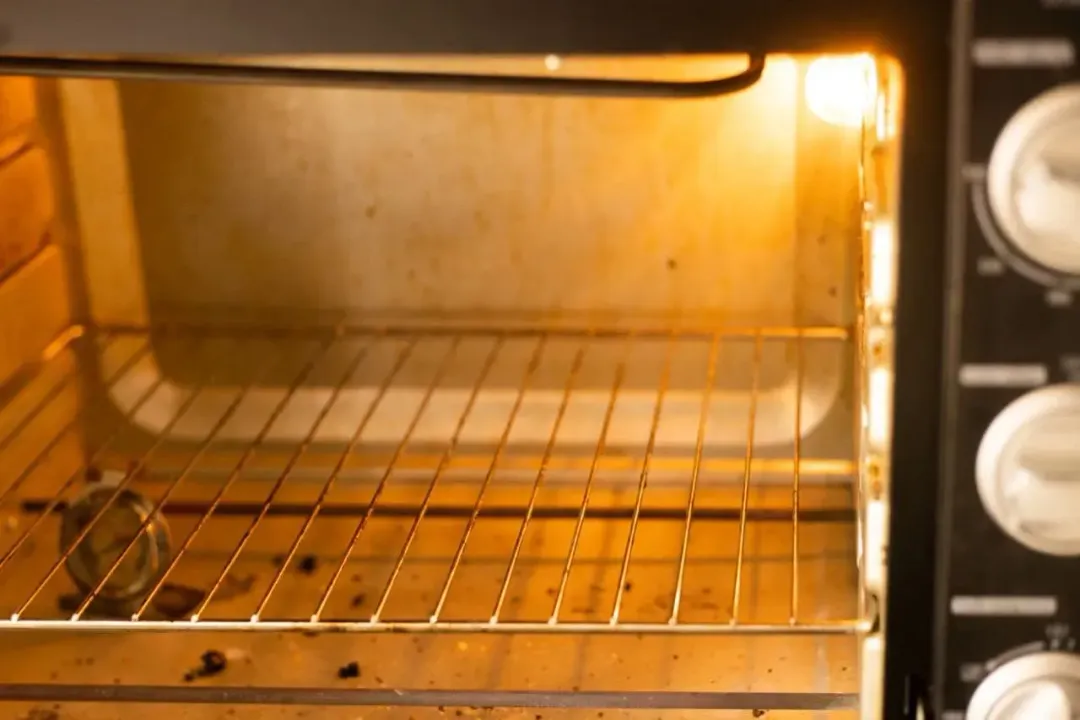 2
In a small bowl, combine 1/2 tsp salt, 1/2 tsp ground black pepper, 2 tsp thyme, and 1 tsp minced garlic together. Divide this spice mixture in half and set aside.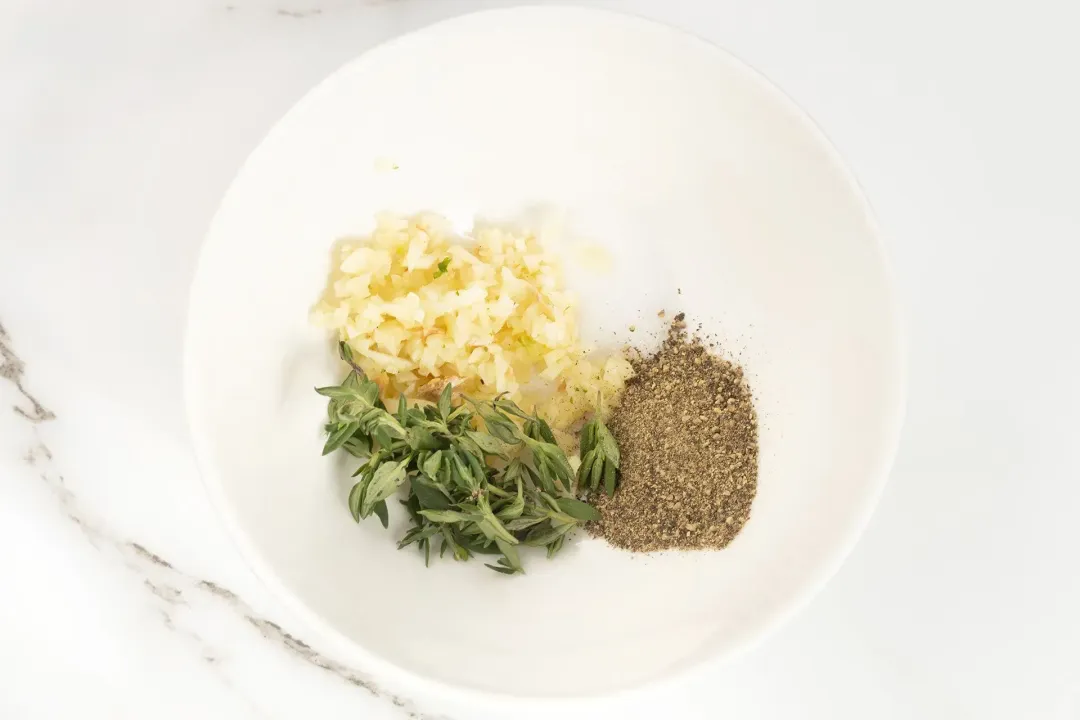 3
Prepare a casserole dish (we use a glass bakeware one), brush it with 1/2 tbsp olive oil on the inside.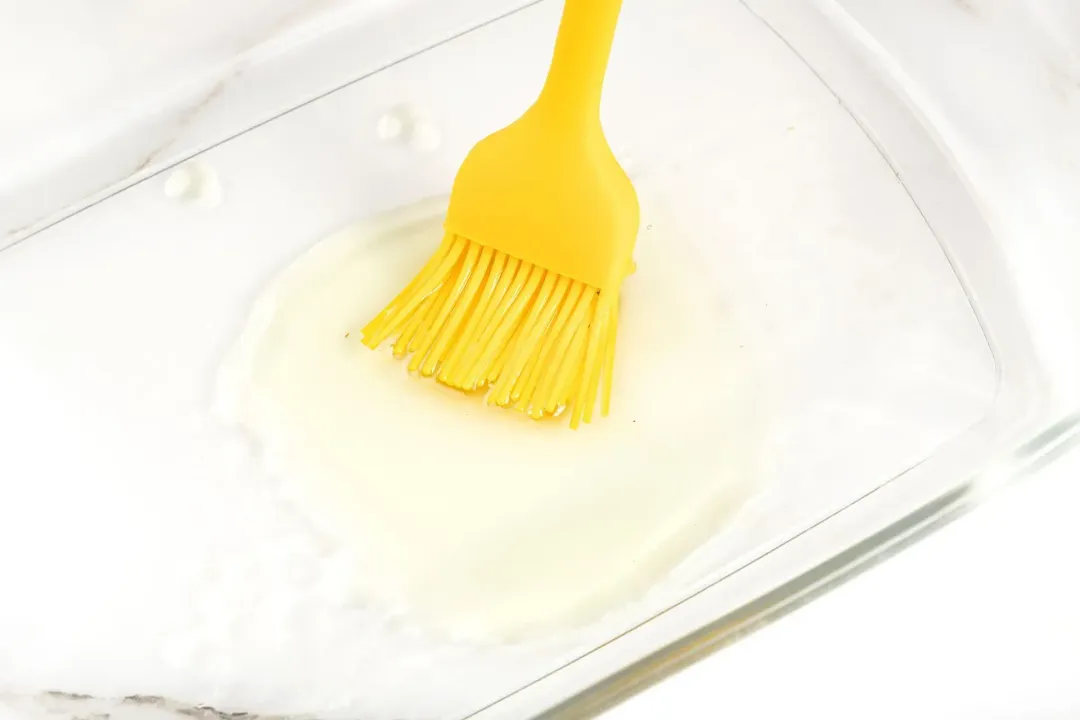 4
Add 4 oz chopped carrot, 4 oz onion, and 1 cup rice to the casserole dish, together with half of the spice mixture.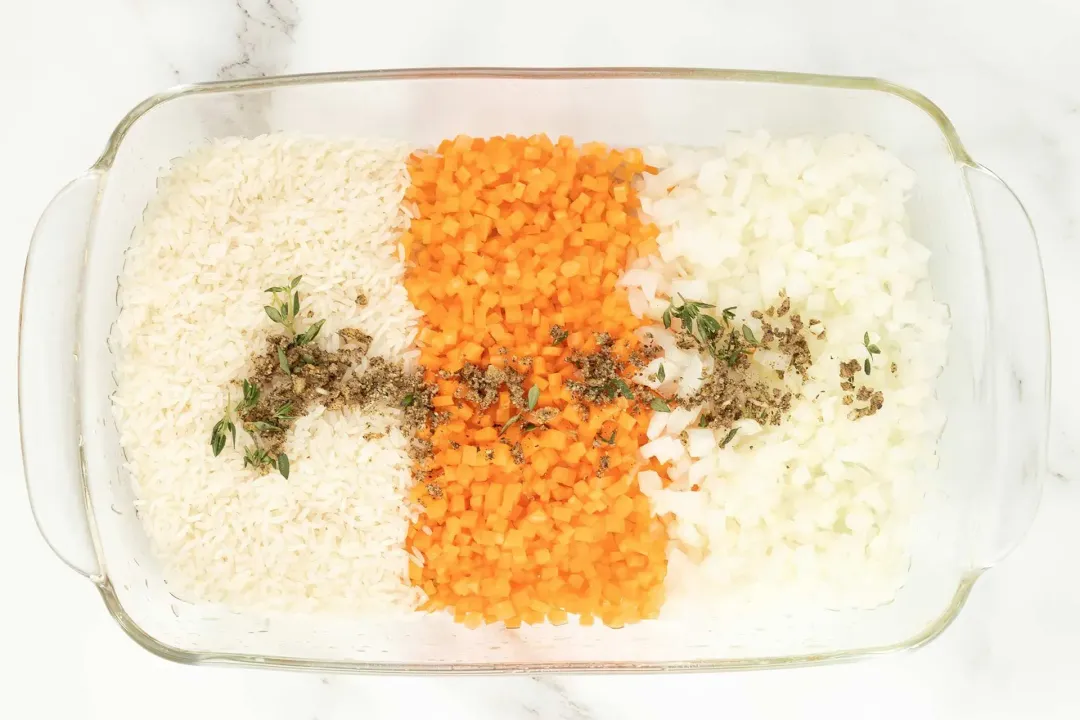 5
Continue to add 1/3 cup mushroom soup and 2 1/4 cups chicken broth to the casserole dish. Mix to combine.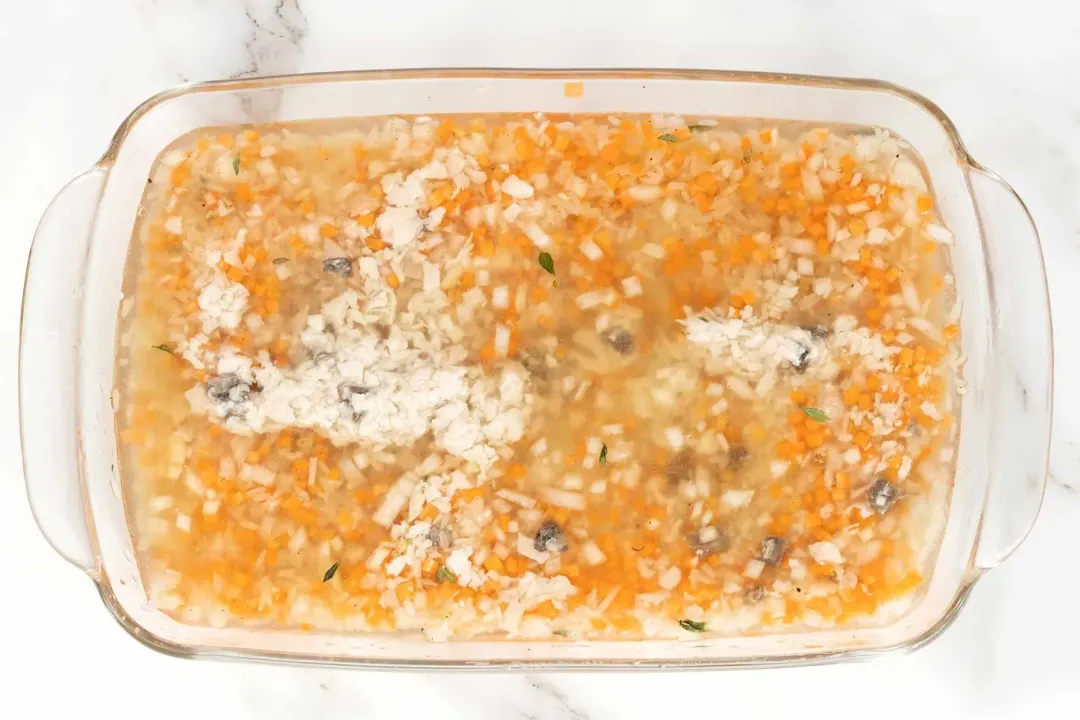 6
Place the chicken thighs on top, brush with 1 tbsp melted unsalted butter, then sprinkle the remaining spice mixture on them.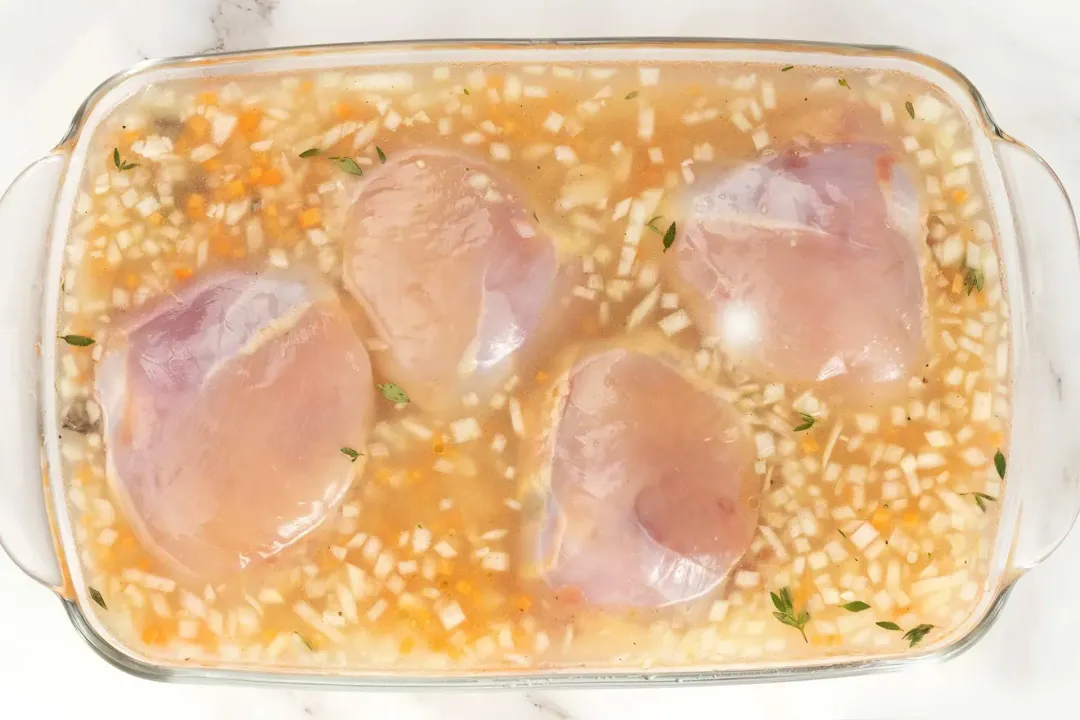 Cook
1
Cover the casserole dish with aluminum foil, place in the preheated oven, and bake for 1 hour. Remember to select upper and lower heat mode, or else the rice might not be fully cooked.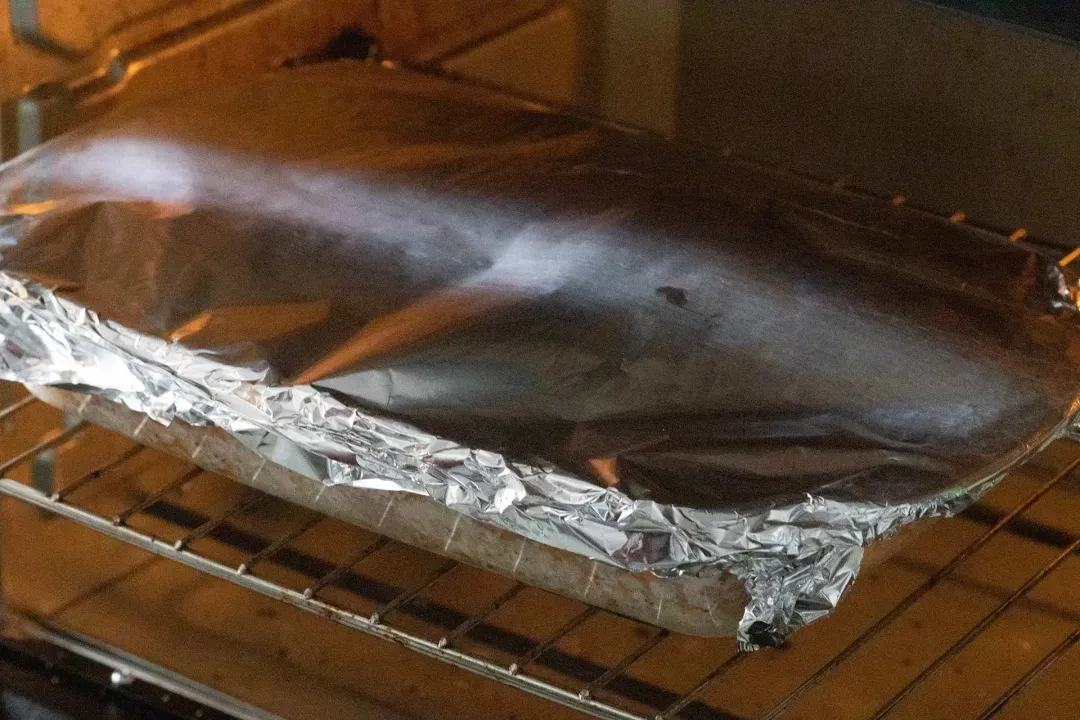 2
After 1 hour, remove the foil and bake for 10 more minutes, select upper heat mode to give some nice charred marks on the chicken thighs.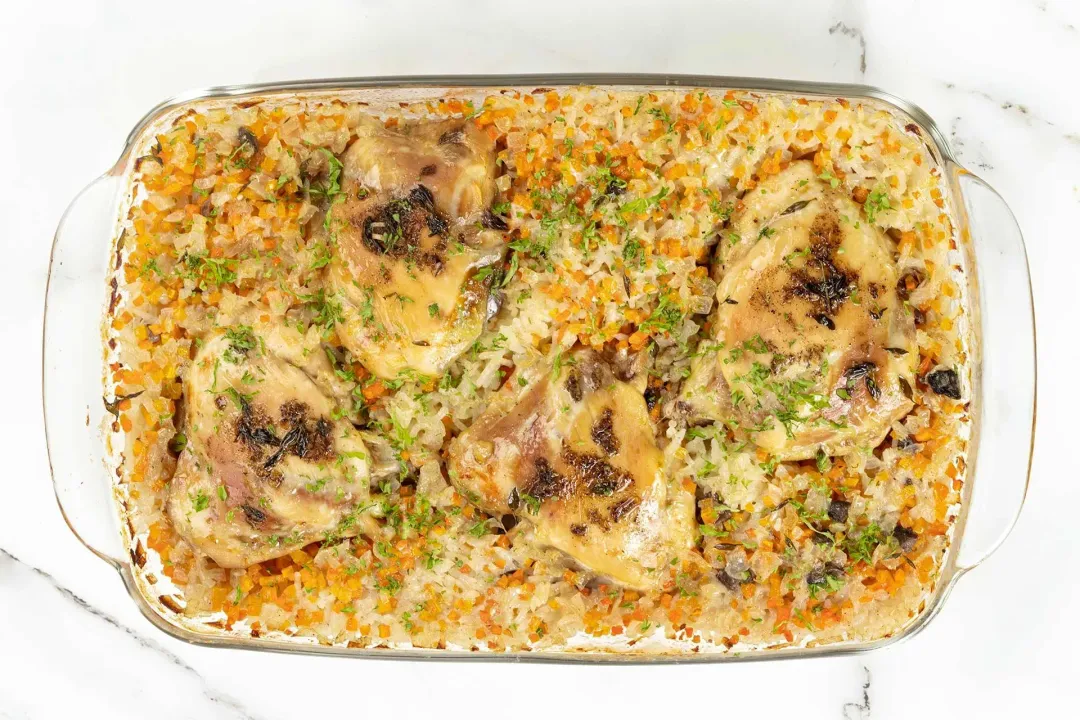 3
Remove the casserole from the oven and sprinkle 1 tbsp parsley on top. Serve while it's still hot.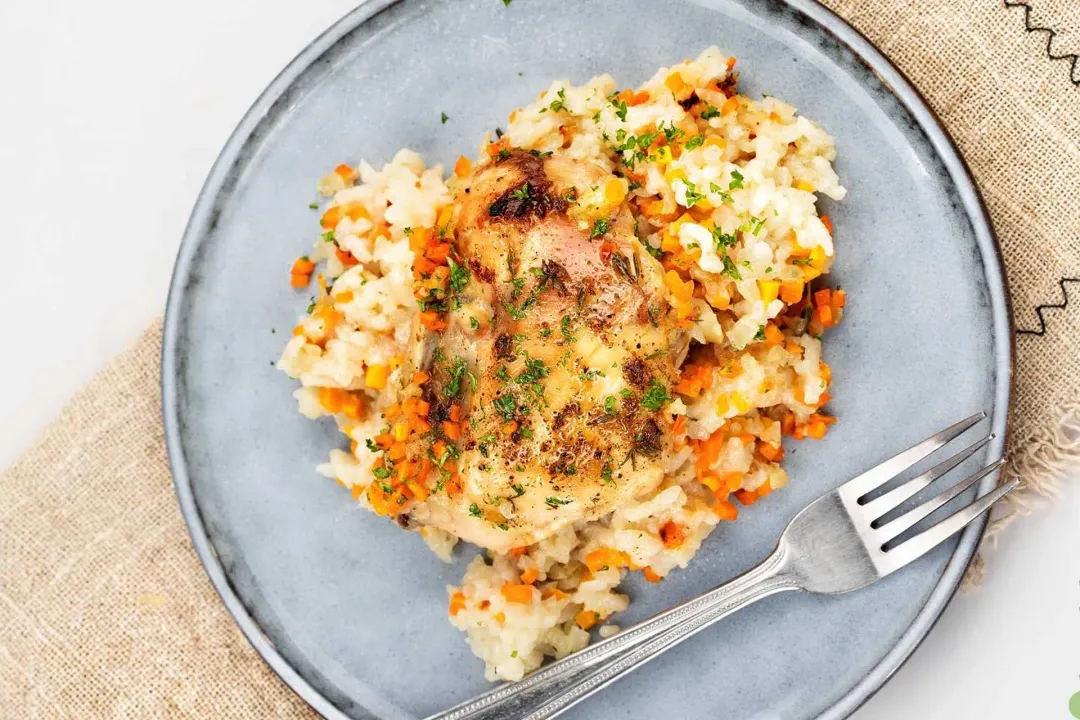 NUTRITION
Nutrition Facts
Healthy Chicken and Rice Casserole
Amount Per Serving (1 serving)
Calories 431
Calories from Fat 99
% Daily Value*
* Percent Daily Values are based on a 2000 calorie diet.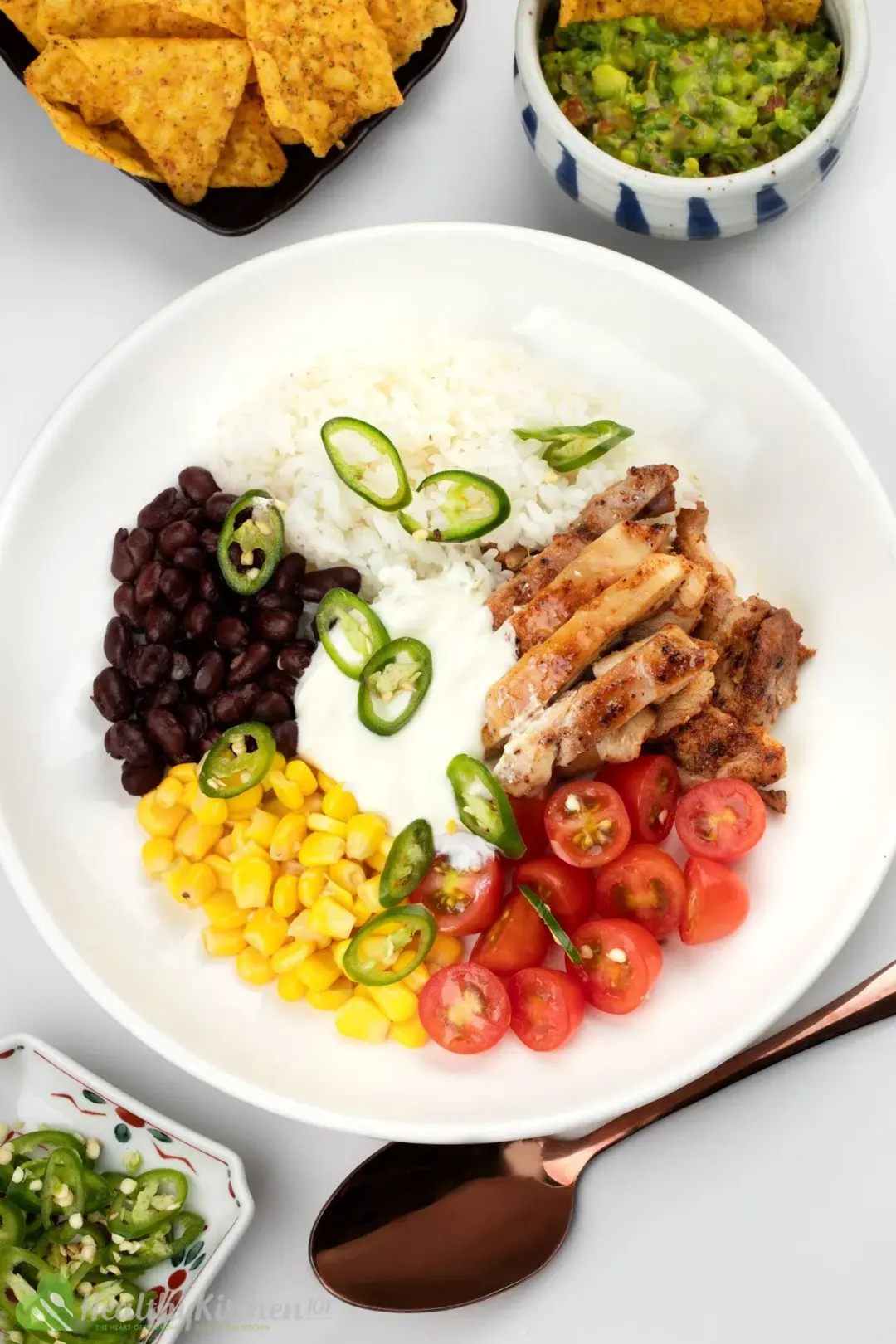 Previous Recipe
Healthy Chicken Carnitas
Healthy Chicken Carnitas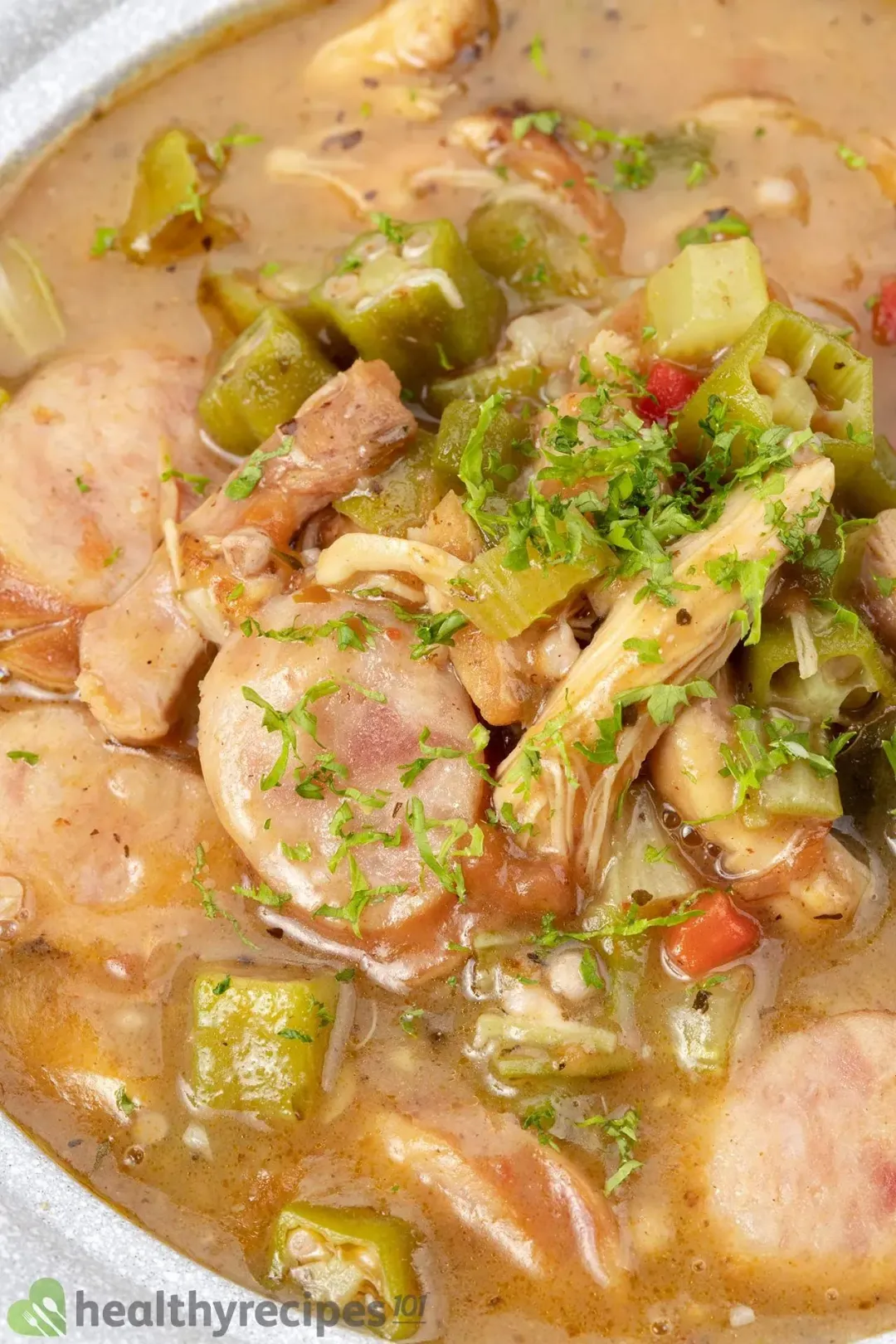 Next Recipe
Healthy Chicken and Sausage Gumbo
Healthy Chicken and Sausage Gumbo
Head Chef, Culinary Consultant
Tuyet Pham is an award-winning Saigonese chef who believes that joy is the secret ingredient to delicious food. At Healthy Recipes 101, Tuyet personally tests and simplifies every recipe, ensuring maximum flavor with minimal effort. With a background at prestigious French restaurants P'TI Saigon and Le Corto, Tuyet knows how to make every dish exceptional.
Writer, Author
Luna Regina is an accomplished writer and author who dedicates her career to empowering home cooks and making cooking effortless for everyone. She is the founder of HealthyKitchen101.com and HealthyRecipes101.com, where she works with her team to develop easy, nutritious recipes and help aspiring cooks choose the right kitchen appliances.
Nutrition Reviewer
Lizzie Streit is a Minneapolis-based dietitian and founder of It's a Veg World After All. She completed her MS in Human Nutrition from Drexel University, and is an expert in culinary nutrition, recipe development, and nutrition communications. Lizzie's philosophy is centered around making nutrition recommendations, and especially the advice to eat more vegetables, approachable and realistic. She is excited to be working with the team at Healthy Recipes 101 to ensure that their recipes are both nutritious and delicious.
I think chicken and rice dishes are some of the most comforting out there. This one sounds super tasty too!

Agree on the comforting! I can even devour it all at once. Can't wait to hear your own insight once you give it a try 😀

Can you use chicken breast instead of chicken thighs or will it be too dry

Made this last night was easy and tasted good. Thanks!