If you love meat, pasta, and cheese, this ground beef casserole might be up your alley. It's a hearty creation made with an eye toward both flavor and a healthy nutritional profile.
The ingredients are also basic — most of them are probably sitting in your pantry right now. The extra things you need are just ground beef, chopped tomatoes, al-dente fusilli, and 25 minutes of your night.
Is Ground Beef Casserole Healthy?
Ground beef casserole is a typical dinner composed mainly of meat, cheese, and pasta. Such a dish often contains a lot of sodium, saturated fat, and calories, which are best consumed only in moderation.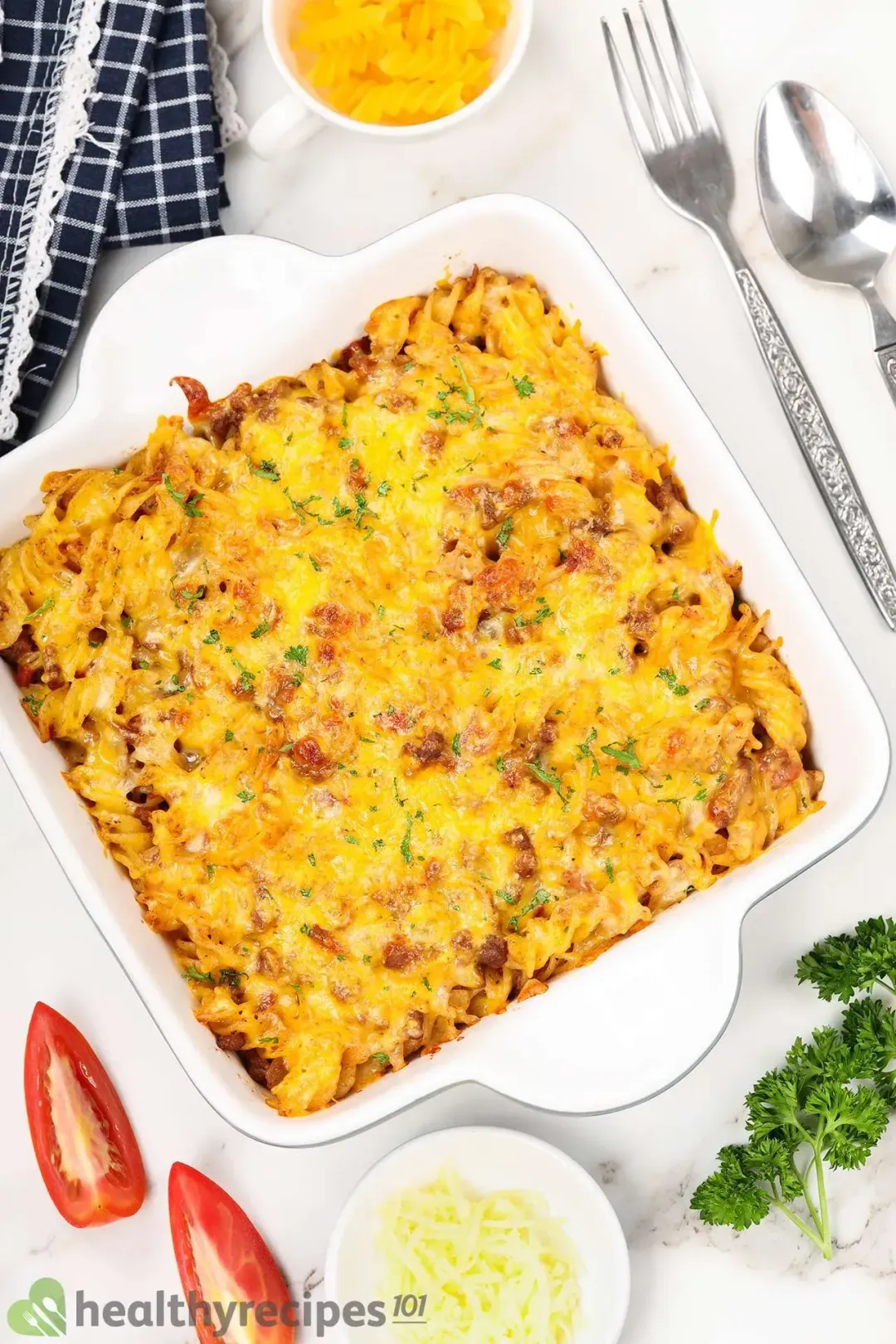 To help improve the nutritional profile, we used more reasonable amounts of cheese, meat, and salt. Each serving, then, contains about 454 calories, 9.2 g saturated fat, and 572 mg sodium so as to comply with our nutrition guidelines.
Ingredients for This Casserole
Garlic and onion are great complementary flavors for savory dishes, so their inclusion in this casserole should come as no surprise. You can substitute them with their powder alternatives for a stronger aroma, or use both for an even better flavor.
Ground beef is the main ingredient, and for the best results we picked the 85% lean type (80 is also acceptable). This protein-fat ratio promises a succulent meat sauce that's neither dry nor too fatty.
Cooked with the beef is some corkscrew-shaped pasta called fusilli or rotini. Its shape allows it to hold the meat sauce, but if all you have is macaroni, rigatoni, or general short pasta, they'll do the trick too.
The pasta and beef are cooked in a tomato sauce made with chopped tomatoes, tomato paste, Italian seasoning, stock, salt, and pepper. We added some brown gravy mix to intensify the beef flavor and paprika for a mild kick.
You'll want cheese to sprinkle on top. It works fine with either cheddar or mozzarella, but we thought, why not both? The casserole will look nicer with both shades of yellow, and things that please the eyes typically please the taste buds as well.
Unlike many chefs, we encourage you to measure ingredients precisely to help you meet nutritional goals. Exact amounts can be retrieved in our detailed Ground Beef Casserole recipe card at the bottom.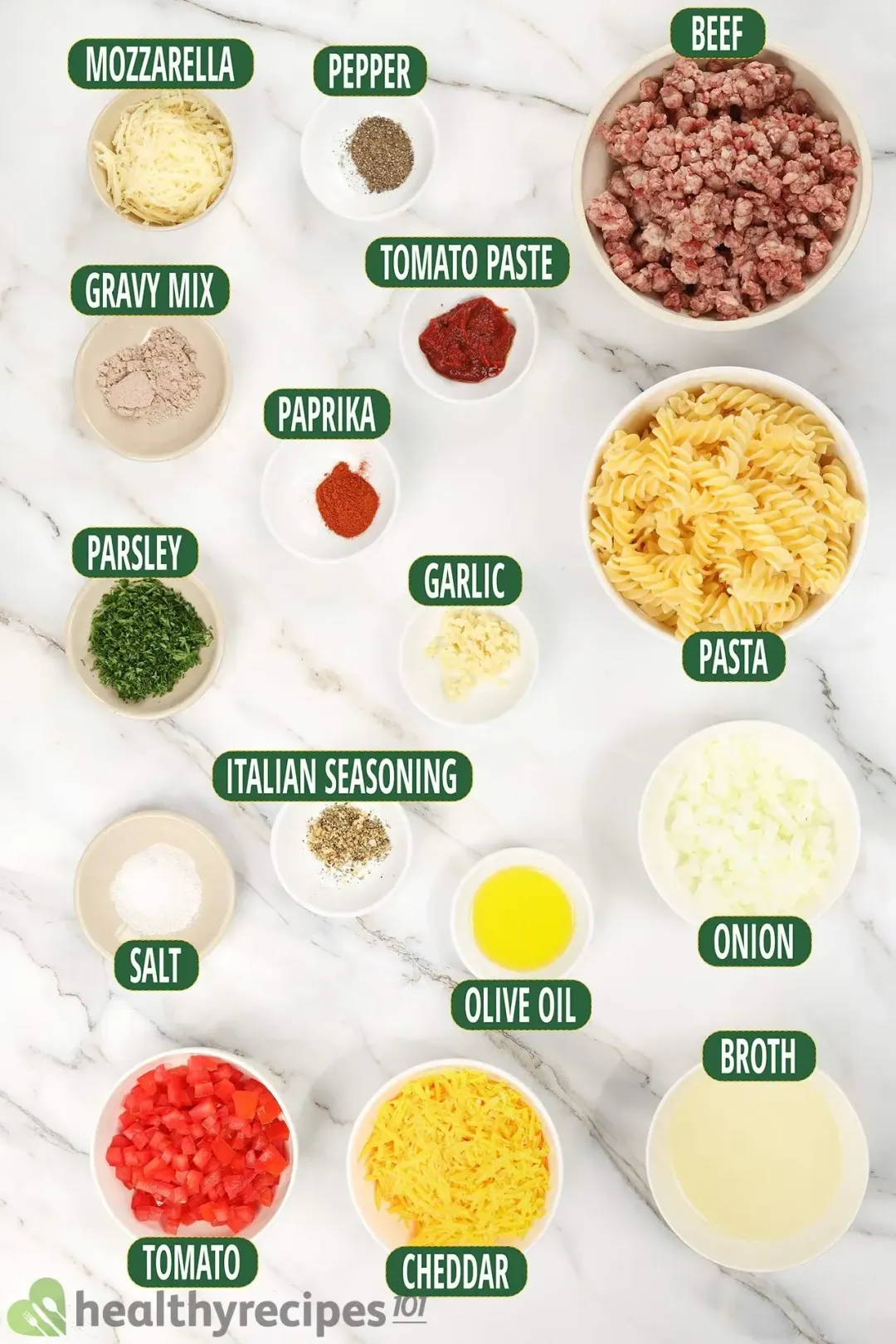 For more casserole recipe ideas, have a look at our healthy casserole roundup.
How to Make Ground Beef Casserole
With the ingredients gathered, first preheat the oven and boil some Fusilli to the point of al-dente (still slightly firm inside). Set the timer according to the lower number in the pasta's instructions (ours says cook for 3-5 minutes, so we went with 3).
As soon as the timer goes off, drain the pasta out and shock it in tap water to halt the cooking process. This helps the pasta to reach the right texture in the oven — otherwise may get mushy.
While the pasta boils, make the meat sauce in a non-stick pan. Saute some minced garlic with olive oil so it turns golden first, then add chopped onion to cook until it becomes translucent.
Tomato paste goes into the pot next, which should be stirred constantly so it cooks evenly in the oil, releasing more flavors. Once it coats the aromatics evenly, add the chopped tomatoes and allow the moisture to evaporate a little.
Once the pan starts to look dry (picture below), add the ground beef along with the seasonings. Smear the beef out to sear for 2 minutes, then flip it and break it up into pieces.
To finish, simmer everything with any sort of unsalted stock you prefer (we chose chicken stock). Mix it with the al-dente pasta, pour into a baking dish, sprinkle with cheese, and allow to bake to perfection.
If you're into easy dinners like this ground beef casserole recipe, be sure to check out our other similar ones. Our chicken and rice casserole and tuna noodle casserole are both healthy and yield fantastic flavors.
How Long Does Ground Beef Last in the Fridge or Freezer?
Properly sealed, raw ground meat lasts for a maximum of 2 days in the fridge. This is just an approximation — sometimes, the meat can spoil before the 2-day mark.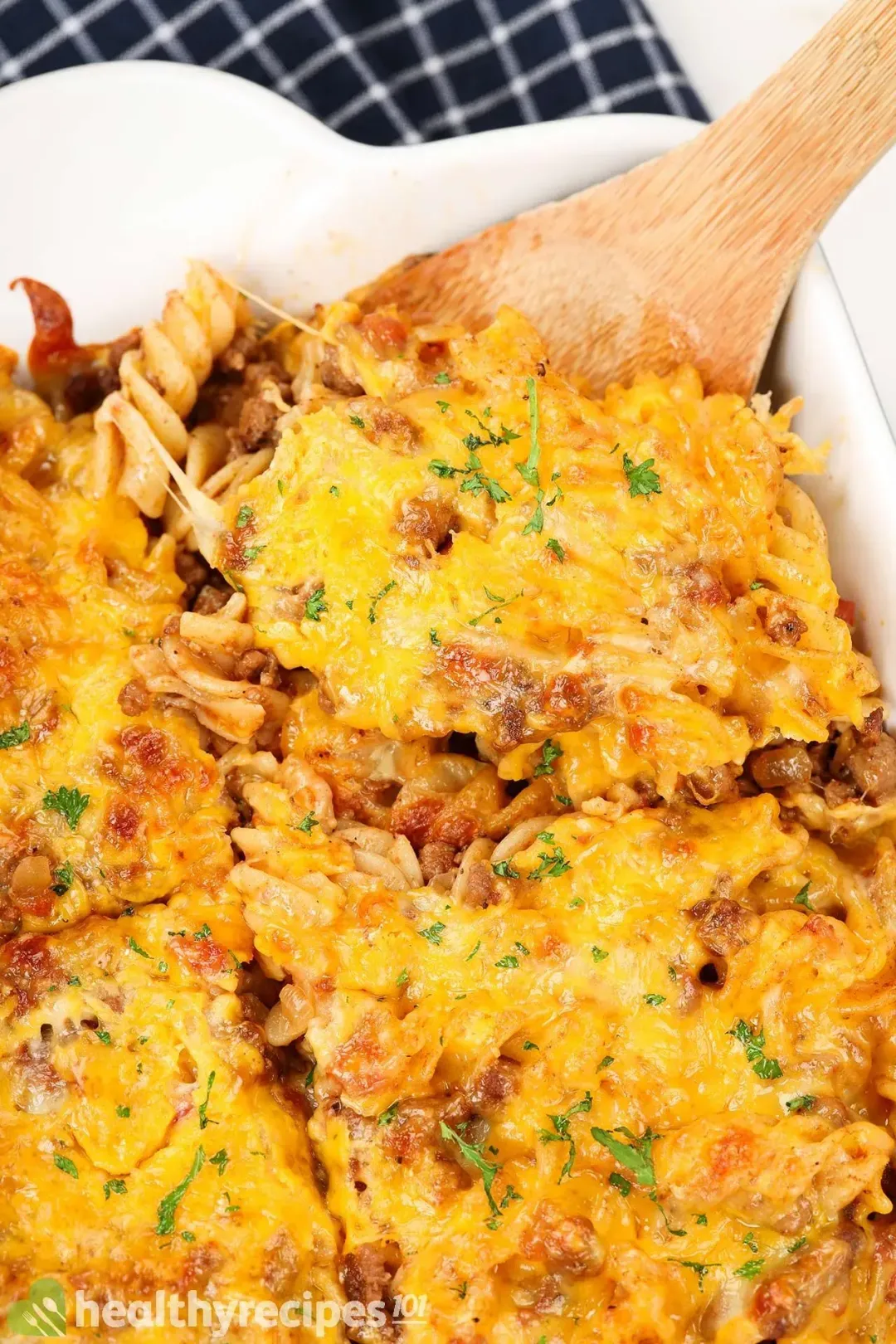 While proper storage is an obvious necessity, it's best to judge your meat based on how it looks before you even try to cook it. Meat that turns brown or develops fuzzy patches of green, blue, or grey should be discarded.
To keep it for longer, consider freezing. Frozen meat often lasts up to 3 months as the low temperature slows bacterial activity to a great degree.
Can You Refreeze Ground Beef?
Refreezing meat after it's completely thawed can result in slightly watery cooked meat. It is still edible but tastes less enjoyable. It's considered a last resort method to preserving meat because there are easy ways to avoid it.
As soon as you bring the freshly ground meat home, divide it into portions (about 4 ounces). Place the portions into Ziploc bags, flatten them, and store them individually. Doing this allows you to thaw the exact portions you want, leaving the others frozen for later.
If you don't want to spring for so many Ziploc bags, consider an alternative method: flattening the ground beef between two sheets of parchment.
Can You Cook Frozen Ground Beef?
You totally can cook beef directly out of the freezer if the meat is stored as flat patties 1/4 inch thick or less. They need just minutes of cooking time in the pan.
If the meat's frozen in a big ball or pile, however, thaw it out by moving it to the fridge the night before. Otherwise, it'll cook unevenly.
How to Store and Reheat Ground Beef Casserole
Transfer the leftovers into a smaller casserole dish or airtight container and refrigerate it (for up to 4 days) or freeze it (for up to 3 months). If there are many servings, portion it out into different containers.
To reheat, place the portions into a baking dish, foil it, and bake it for about 10 minutes at 400°F (15 minutes if frozen).
What to Serve with Ground Beef Casserole
This meaty, hearty casserole should be paired with something refreshing to lighten the deep flavors. Our beet and feta cheese salad has that exact freshness, plus some extra bright oranges.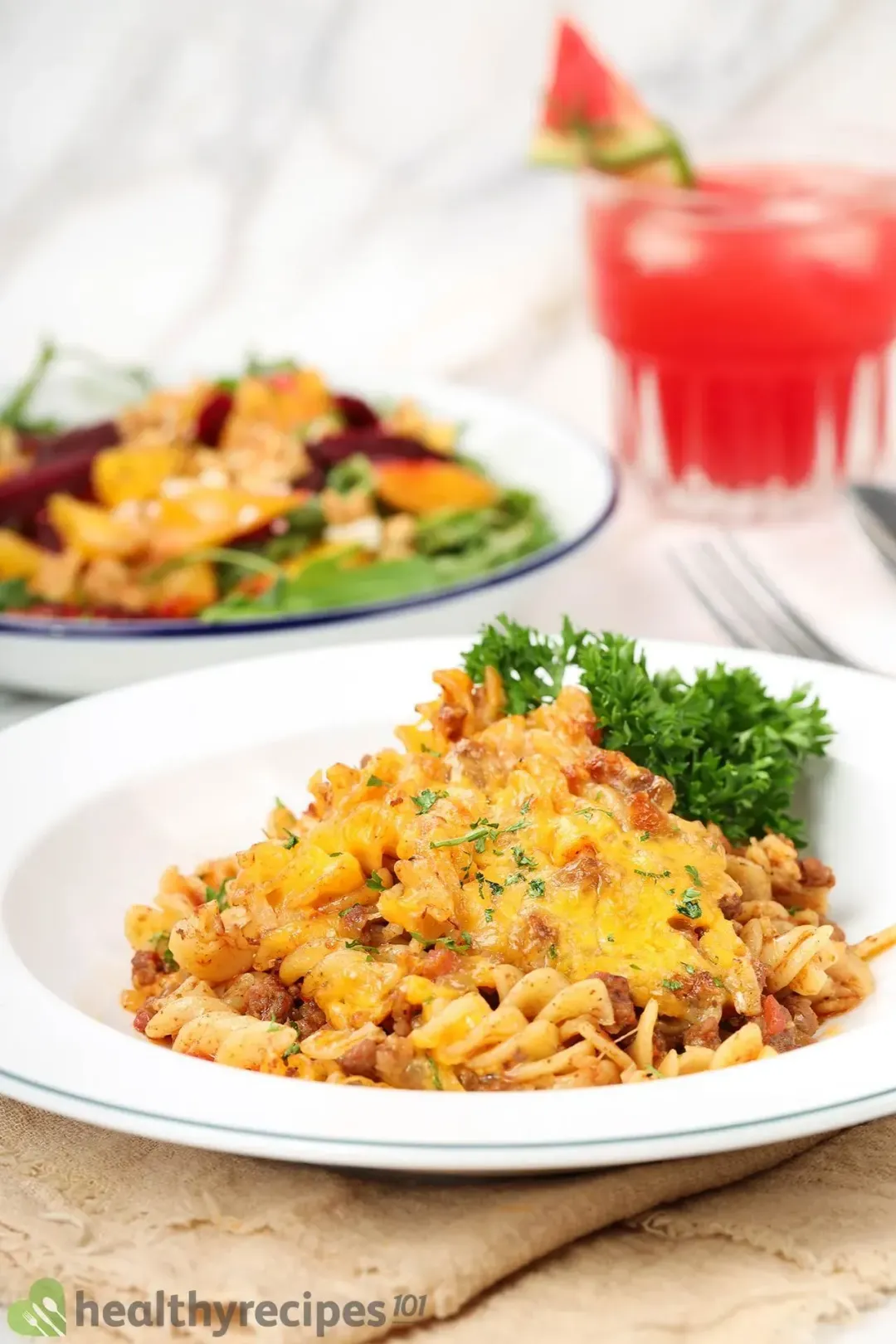 To round the flavors out nicely, a simple glass of chilled watermelon juice does the trick. There is a squeeze of lime in there, making for a bright and sweet beverage.
Check out our quick and easy ground beef and cabbage recipe for a budget-friendly and super fulfilling meal that's loaded with veggies and healthy protein!
Get Creative With These Healthy Oven Beef Recipes of Ours
This crustless pizza recipe introduces a delicious twist of everyone's favorite treat. It's also perfect for those who want to cut down on carbs but can't get enough of pizza. It's just your favorite pizza toppings baked in bowls with sauce and cheese, but boy it's a real innovation if you ask me.
Our calzone recipe is also the perfect solution if you crave the flavor of cheese and beef. Each golden pocket is filled with minced beef that's been cooked in a flavorful tomato sauce and melty cheese. Sounds simple, but it's a personal favorite of mine.
For more of these oven-baked beef recipes that are just as scrumptious, browse through this roundup of ours.
Ground Beef Casserole
This ground beef casserole recipe makes an easy, hearty meat casserole in just 25 minutes. It pleases both the eye and the tastebuds.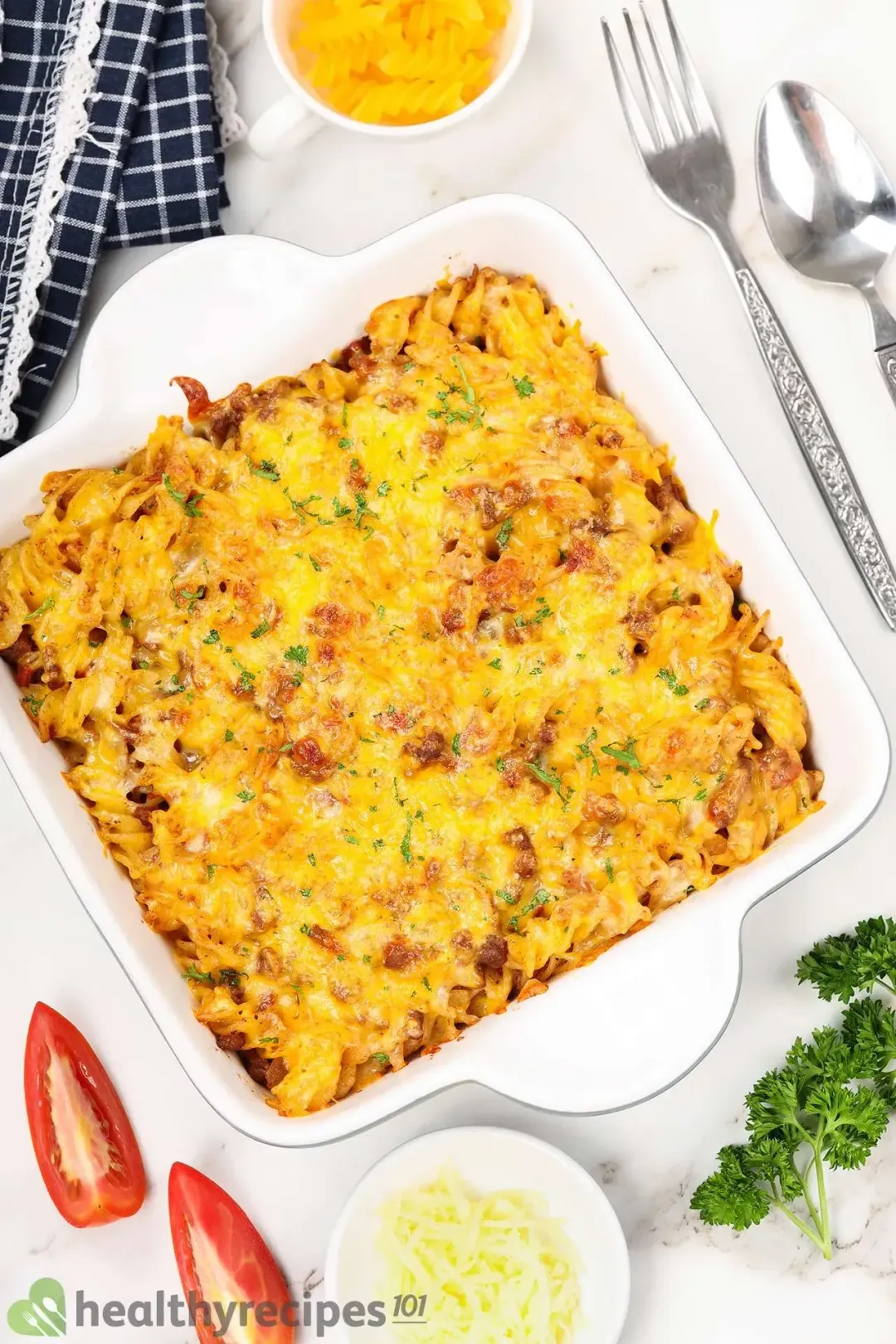 cook TIME

20 mins

prep TIME

5 mins

total TIME

25 mins
COURSE

Main Course

CUISINE

Italian

SERVINGS

CALORIES

454 kcal
INGREDIENTS
12 oz

85% lean ground beef

12 oz

cooked Fusilli

(al-dente)

4 oz

tomatoes

(about 1 medium, finely chopped)

2 oz

onions

(about half a medium, finely chopped)

1 oz

mozzarella

(shredded)

1/2 cup

unsalted chicken broth

1 tbsp

garlic

(about 2 cloves, minced)

1 tbsp

Hunt's tomato paste

1/2 tsp

ground black pepper

2 tbsp

parsley

(finely chopped)
INSTRUCTIONS
1
Preheat the oven at 400°F. If you haven't cooked the Fusilli yet, do so using our instructions in the how-to-make section of this article. Follow the next steps to prepare the meat sauce while it's cooking.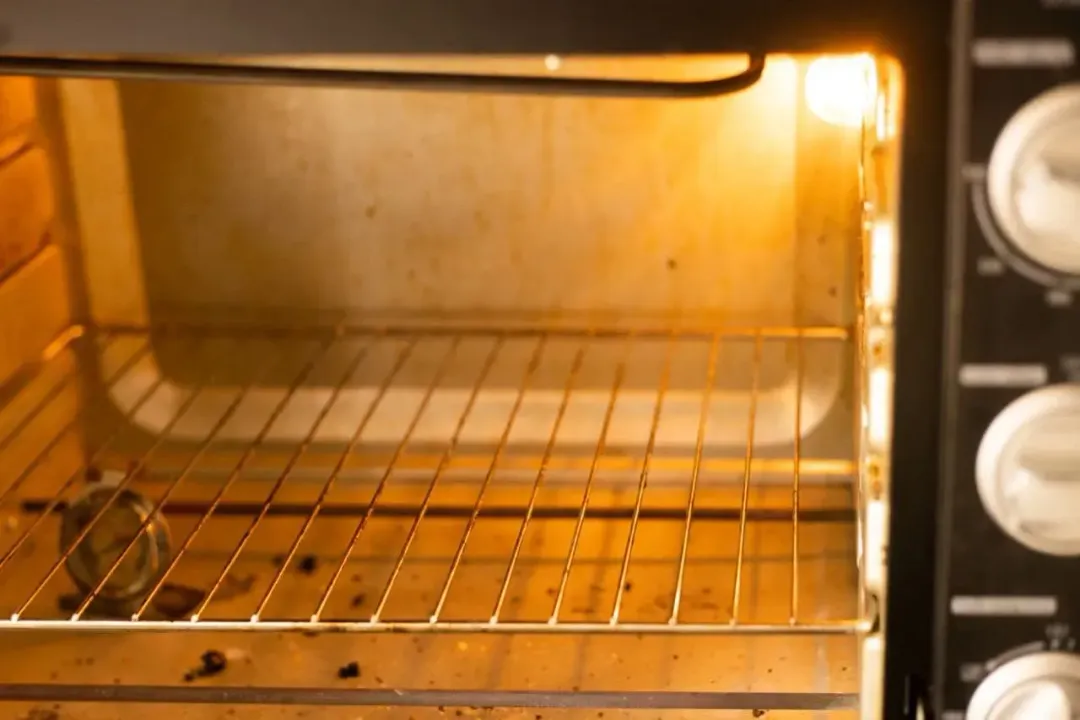 2
Heat 1 tbsp olive oil in a skillet over medium heat. Add a few pieces of minced garlic and when they sizzle, add the rest (1 tbsp) and sauté for 30 seconds or until fragrant. Add 2 oz chopped onions and stir to cook for another 2 minutes.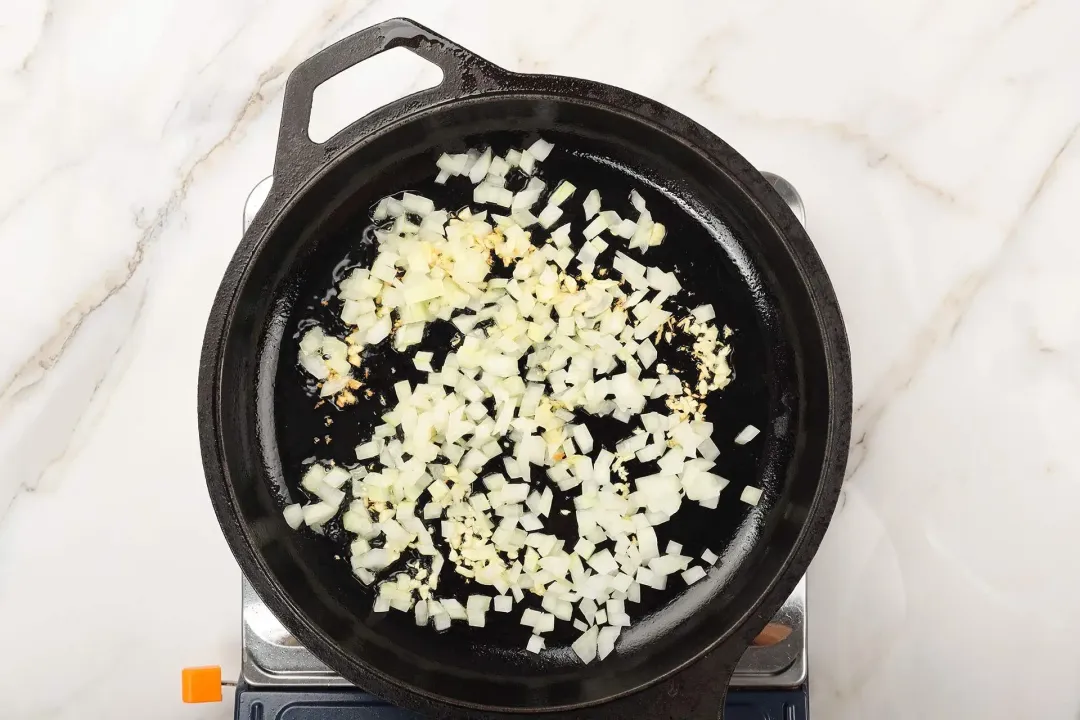 3
Add 1 tbsp tomato paste to the skillet and stir so it cooks evenly in the oil and coats the aromatics. Tip 4 oz chopped tomatoes in and cook for 1 minute.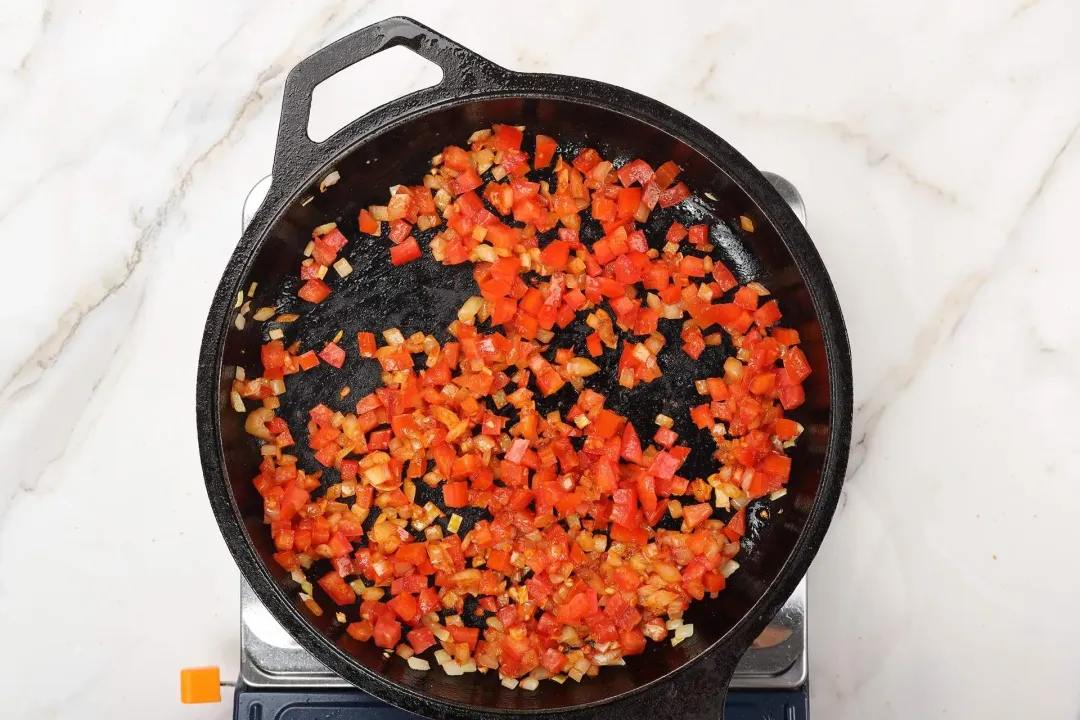 4
Add 12 oz ground beef to the skillet along with the herbs and seasonings: 2 tsp brown gravy mix, 1 tsp Italian seasoning, 1 tsp paprika, 1/2 tsp salt, and 1/2 tsp ground black pepper. Stir to cook for 2 minutes, breaking up the meat into little pieces while it cooks.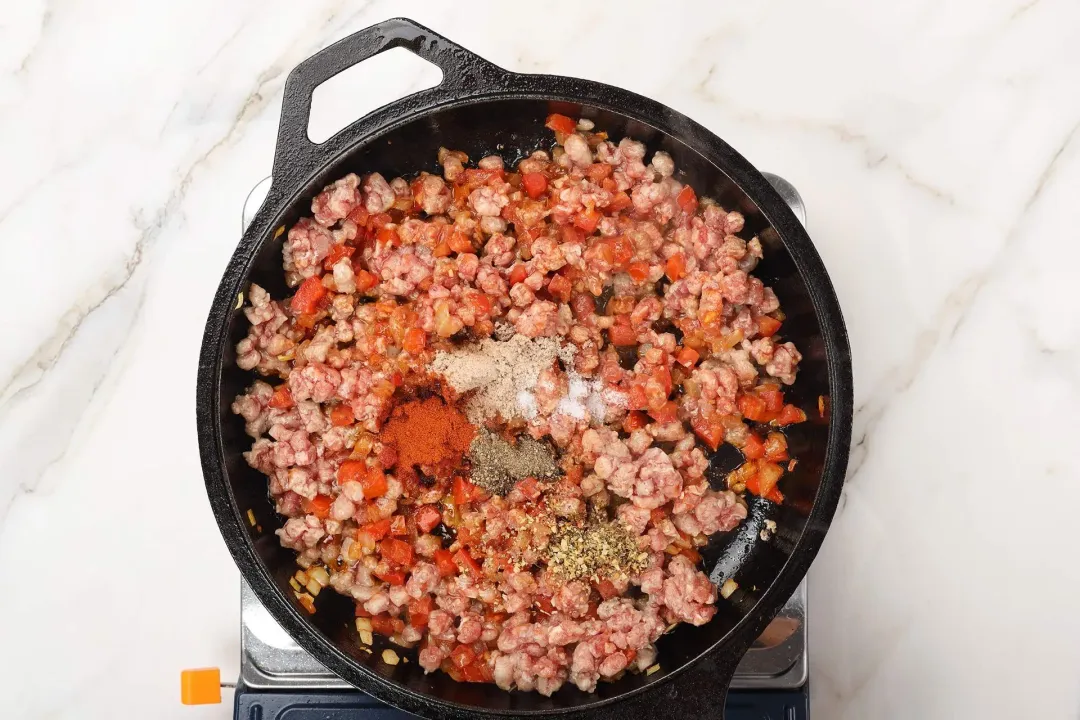 5
Pour 1/2 cup chicken broth in and simmer the sauce over low heat for another 5 minutes.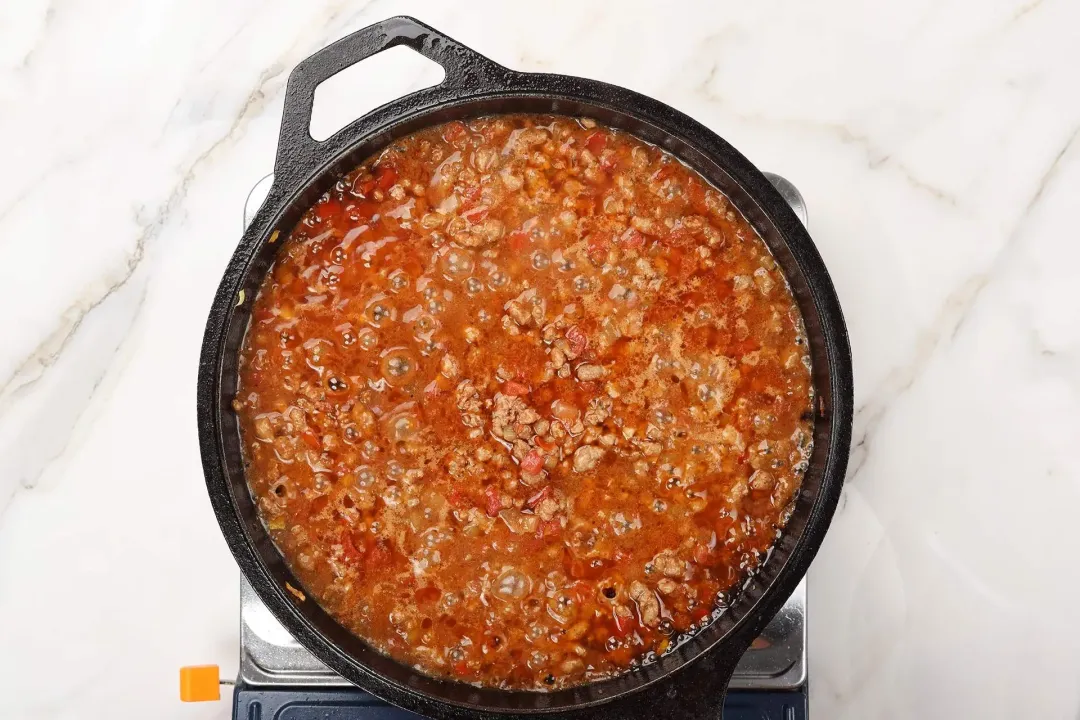 6
Turn the heat off and stir in 12 oz al-dente Fusilli. Pour everything into a baking dish.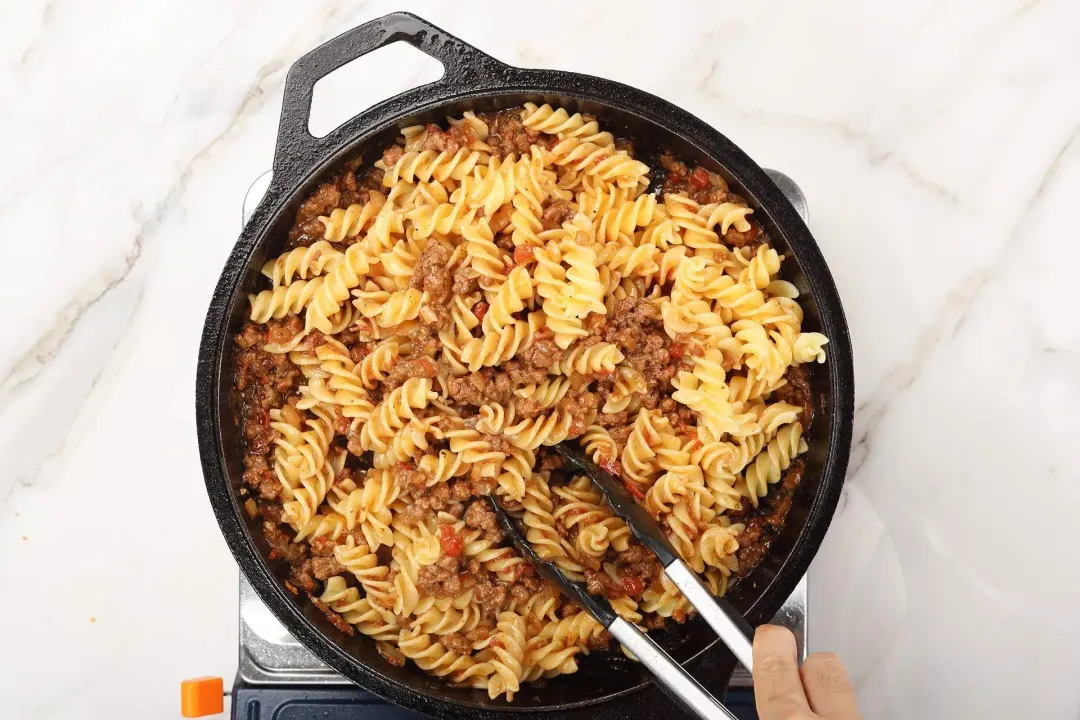 7
Sprinkle 2 oz shredded cheddar and 1 oz shredded mozzarella on top, and slide it all into your preheated oven to bake for 7 minutes.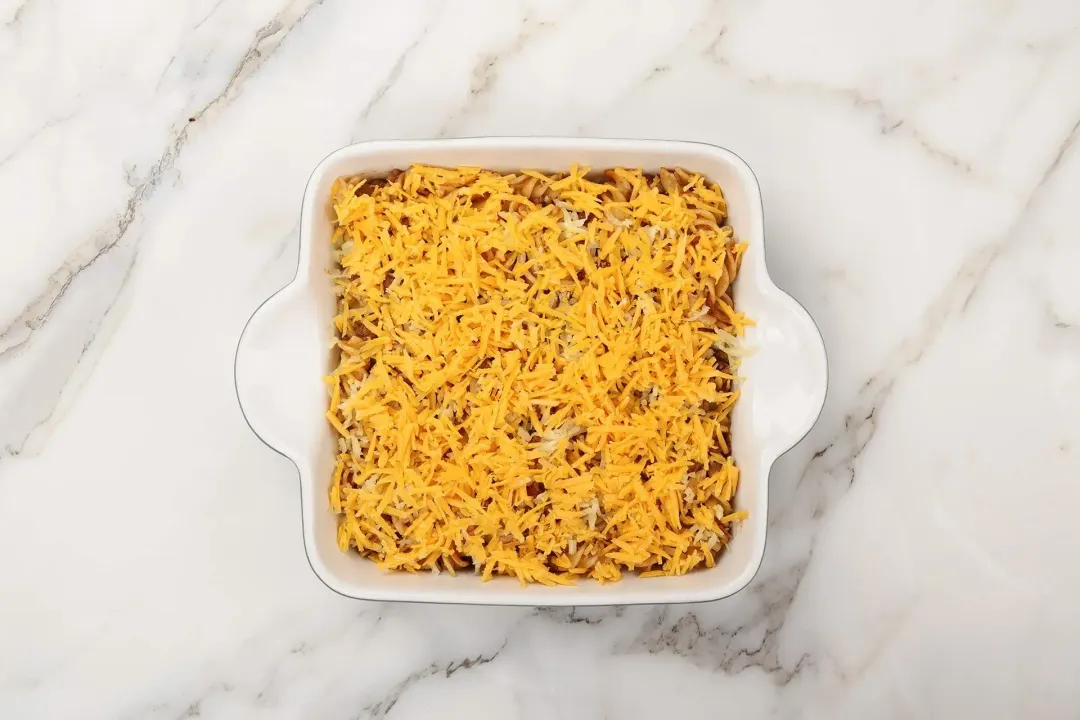 8
Sprinkle 2 tbsp finely chopped fresh parsley on top and serve.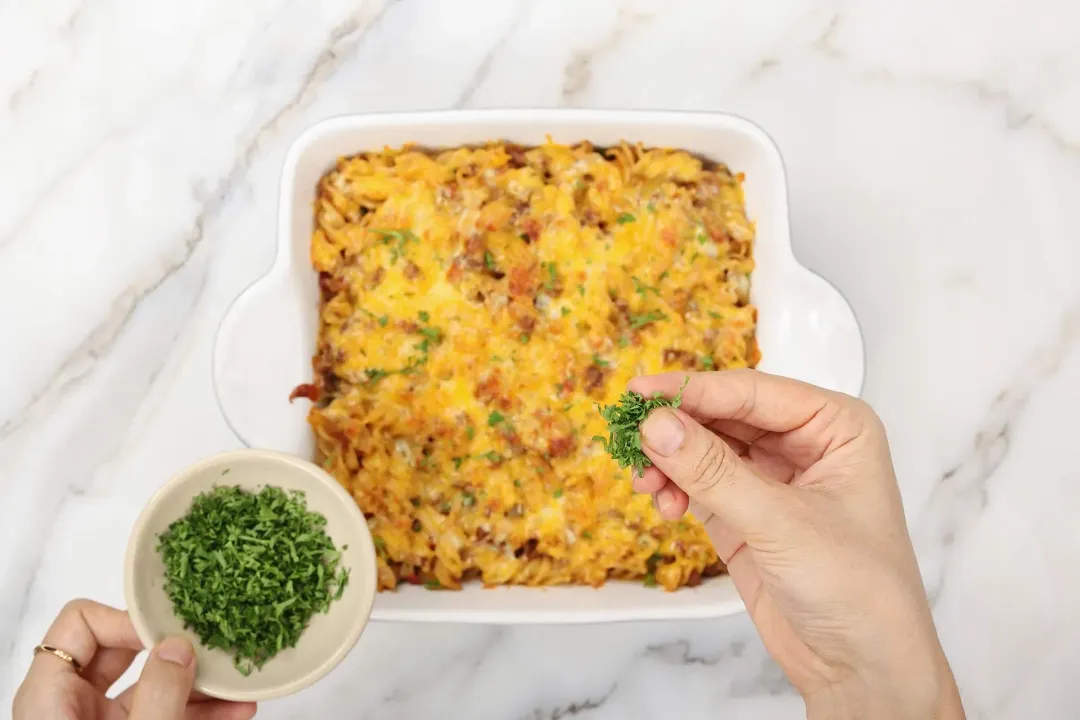 NUTRITION
Nutrition Facts
Ground Beef Casserole
Amount Per Serving (1 serving)
Calories 454
Calories from Fat 216
% Daily Value*
* Percent Daily Values are based on a 2000 calorie diet.
Keywords: Ground Beef Casserole, Ground Beef Casserole Recipe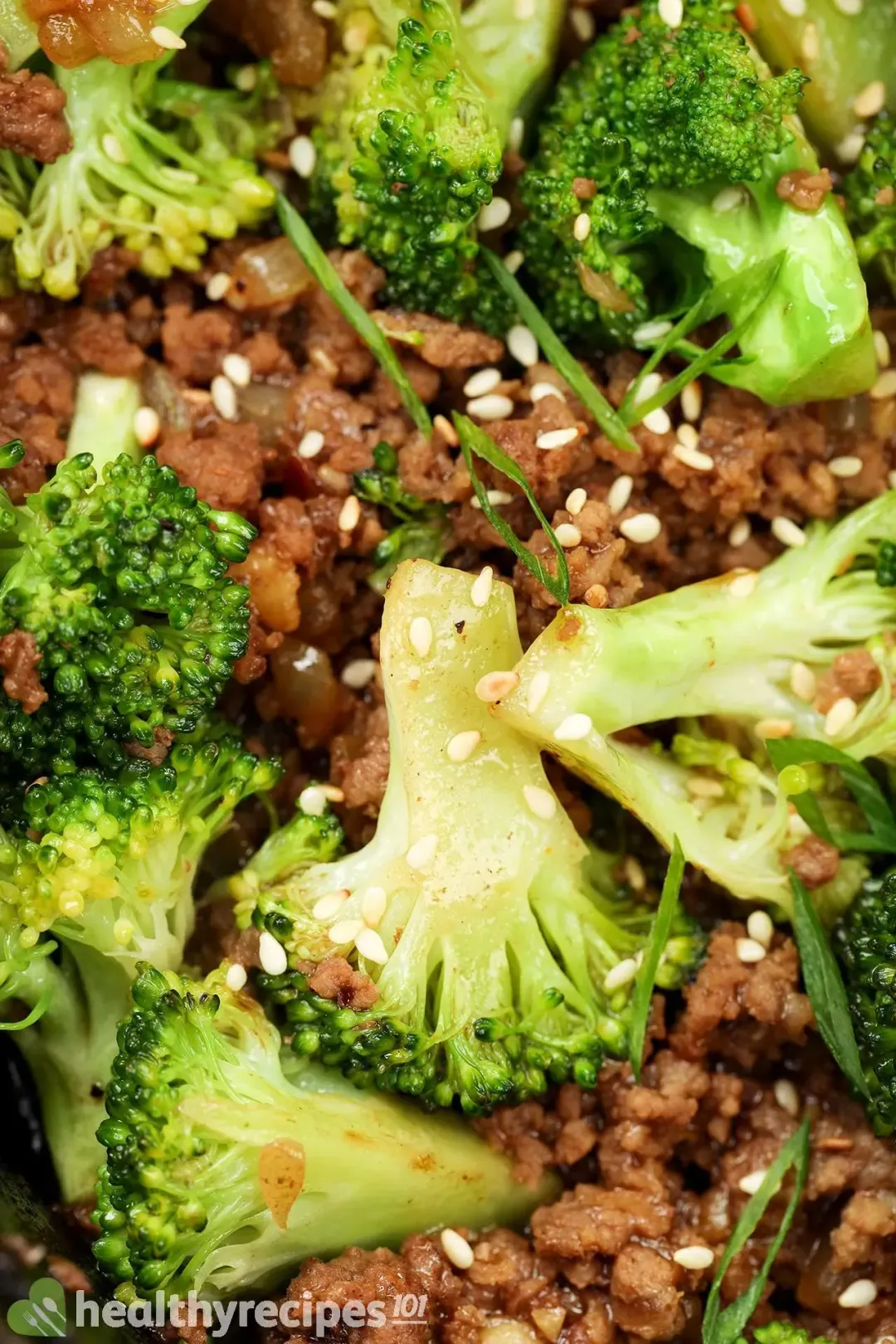 Previous Recipe
Ground Beef and Broccoli
Ground Beef and Broccoli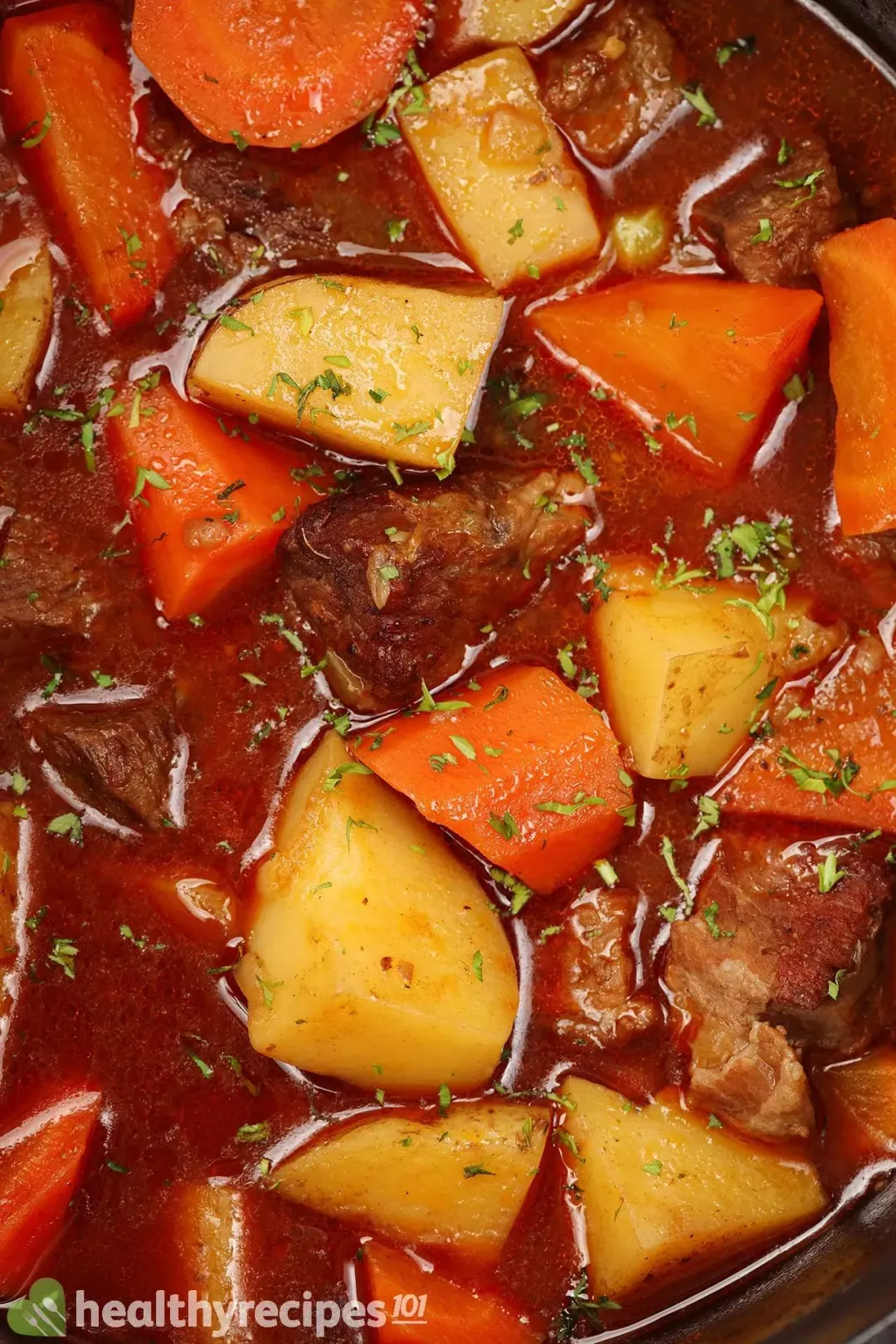 Beef Stew
Head Chef, Culinary Consultant
Tuyet Pham is an award-winning Saigonese chef who believes that joy is the secret ingredient to delicious food. At Healthy Recipes 101, Tuyet personally tests and simplifies every recipe, ensuring maximum flavor with minimal effort. With a background at prestigious French restaurants P'TI Saigon and Le Corto, Tuyet knows how to make every dish exceptional.
Writer, Author
Luna Regina is an accomplished writer and author who dedicates her career to empowering home cooks and making cooking effortless for everyone. She is the founder of HealthyKitchen101.com and HealthyRecipes101.com, where she works with her team to develop easy, nutritious recipes and help aspiring cooks choose the right kitchen appliances.
Nutrition Reviewer
Lizzie Streit is a Minneapolis-based dietitian and founder of It's a Veg World After All. She completed her MS in Human Nutrition from Drexel University, and is an expert in culinary nutrition, recipe development, and nutrition communications. Lizzie's philosophy is centered around making nutrition recommendations, and especially the advice to eat more vegetables, approachable and realistic. She is excited to be working with the team at Healthy Recipes 101 to ensure that their recipes are both nutritious and delicious.
flavorful dish that's perfect for a family dinner or meal prep.

Yummy! Hearty comfort food for all seasons.