Today's healthy salmon steak recipe requires nothing but simple cooking techniques. It'll take you 40 minutes to make with the least amount of effort and very little cleaning.
Before we start, here are some interesting facts about salmon.
What Is a Salmon Steak?
A salmon steak is a type of fish cutlet. This particular piece is cut perpendicular to the fish spine, resulting in it having more bones than a fillet.
That being said, in larger fish like salmon, those bones are often easy to remove. You can even purchase boneless steaks of salmon or tuna sometimes.
They are widely available at supermarkets, fishmongers, or seafood markets.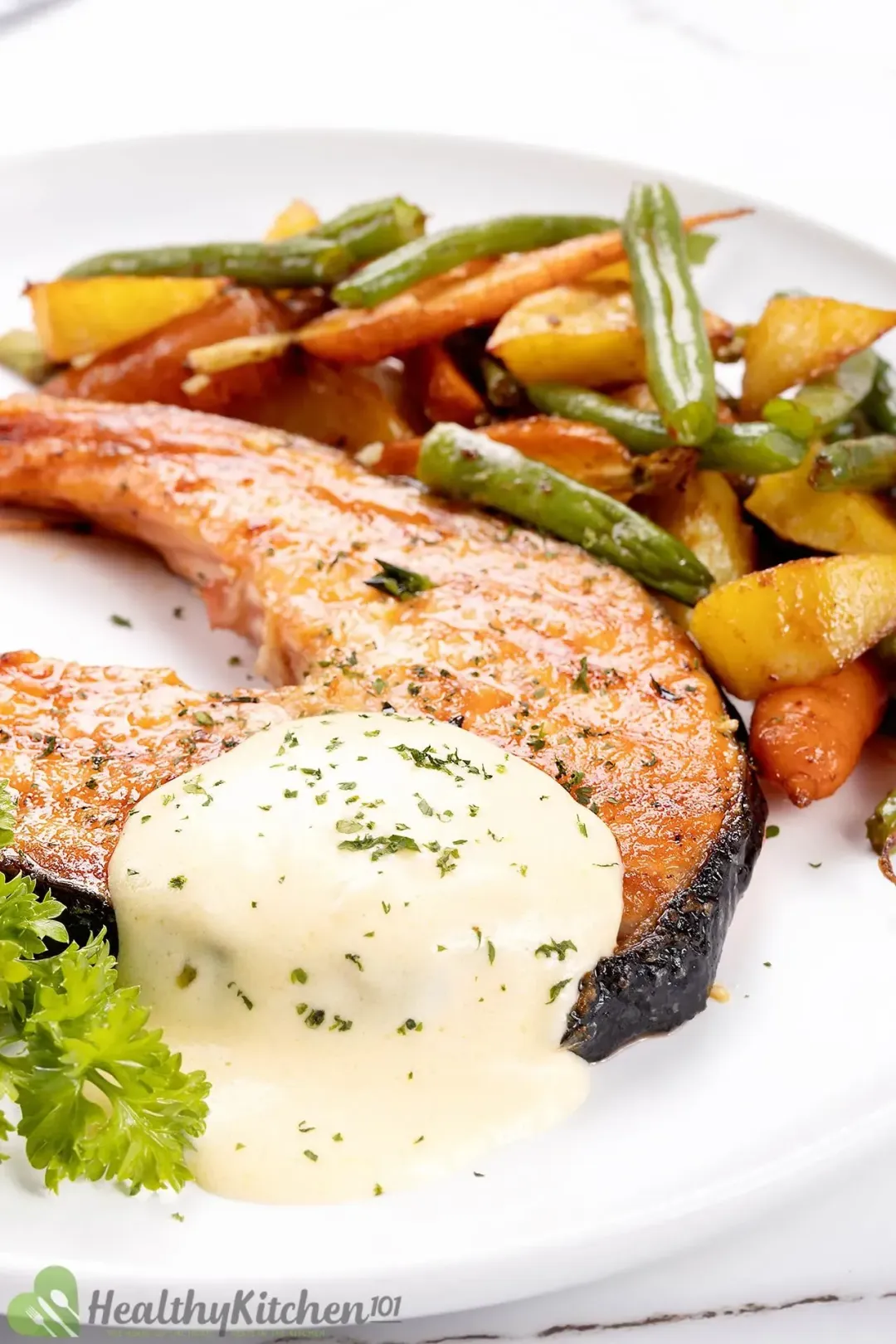 How Healthy Is Salmon?
You may have heard all the talk about salmon being one of the most nutritious fish. But how healthy is it?
First of all, salmon is a good source of protein. 10 0g of raw salmon contains 22.2g of protein.
This amount of protein is almost as much as a boneless skinless chicken breast (22.5g). This makes salmon a great alternative for those who are trying to eat more protein and build muscle.
Another thing we love about salmon is that it's low in calories. Raw salmon can contain 131 calories per 100g— a bit higher than chicken (120 calories).
The reason why salmon contains more calories than chicken breast is because salmon is higher in fat. That being said, those fats are mostly healthy unsaturated fatty acids.
Salmon is rich in omega-3 fatty acids. This type of fat is considered healthy and proven to bring lots of health benefits.
1. Is Salmon Good for Losing Weight?
Eating salmon may help you control your weight.
As mentioned, salmon contains a high amount of protein, while being relatively low in calories. This means that when you eat salmon, you will stay full longer while consuming fewer calories.
While you're in the state of satiety, you won't have cravings and will steer clear of snacks. And, without all the excess calories from said snacks, you won't gain weight.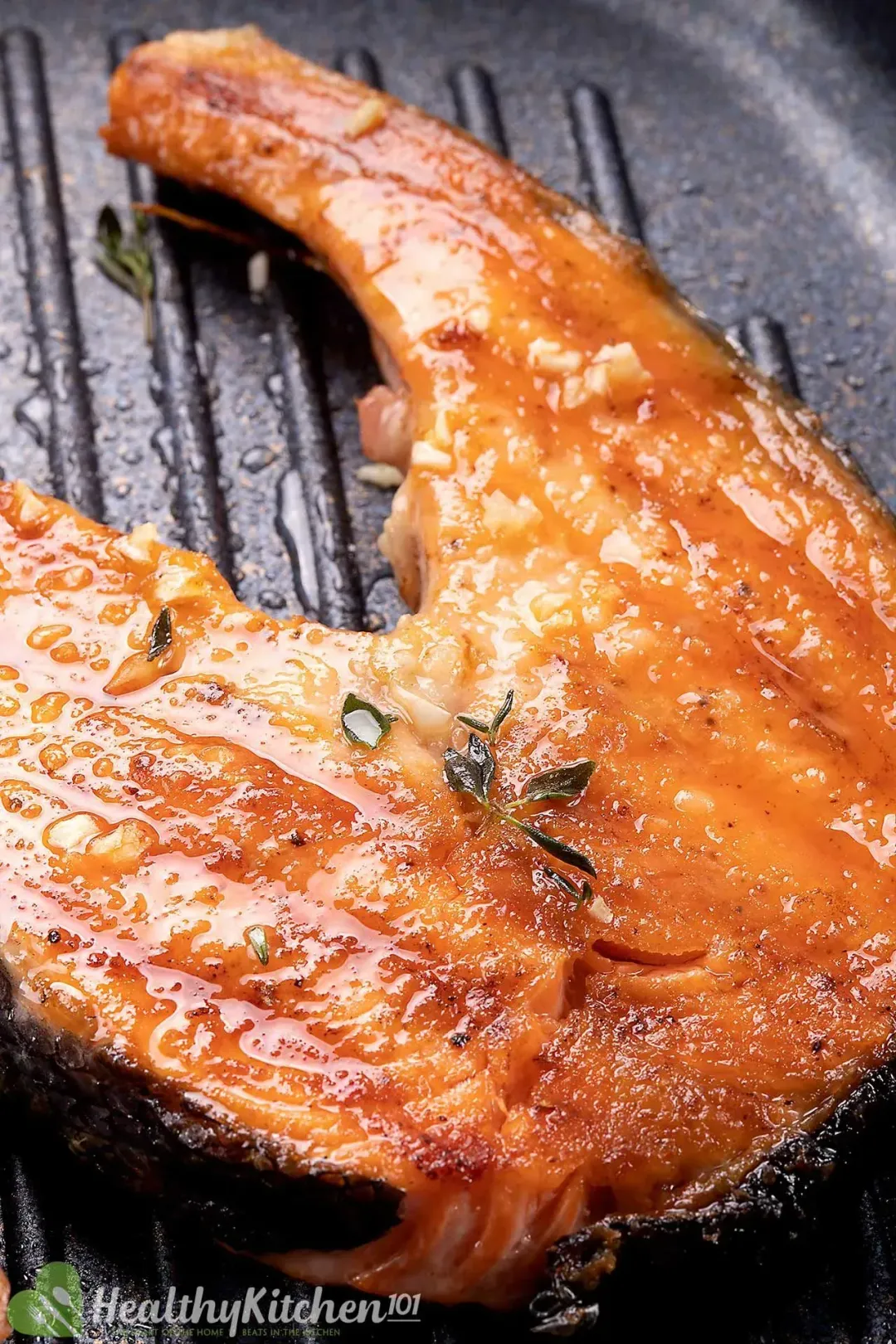 2. Is Salmon Healthier than Tuna?
Since salmon and tuna are both equally delicious and healthy, it would be unfair to decide which one is better. Both fish are rich in protein and contain a small amount of omega-3 — the healthy fats we mentioned.
Each, also, has a slightly different nutritional profile, sharing some micronutrients with the other but in varying amounts (salmon nutritional with tuna). All of them function differently in your body so comparing their importance just doesn't make sense.
The bottom line is, if you're trying to follow a high-protein diet, both salmon and tuna are great for you. In the end, it all comes down to your personal preference.
Spices to Season Salmon
For today's salmon steak recipe, we only use a simple blend of paprika, salt, and pepper to season our fish. However, you can use additional spices to give your fish steak more flavor.
We have a few suggestions:
Fresh herbs: In our humble opinion, thyme and dill are probably the best herbs to go with salmon. Be cautious when using fresh herbs, though, as a little can be powerful enough to flavor your fish.
Warm and aromatic spices: These include cayenne pepper, onion powder, paprika, garlic powder, ginger, turmeric powder, chili powder, chili flakes, and many more. 
Experiment with different spices to discover your favorite flavor profile and season your fish to perfection.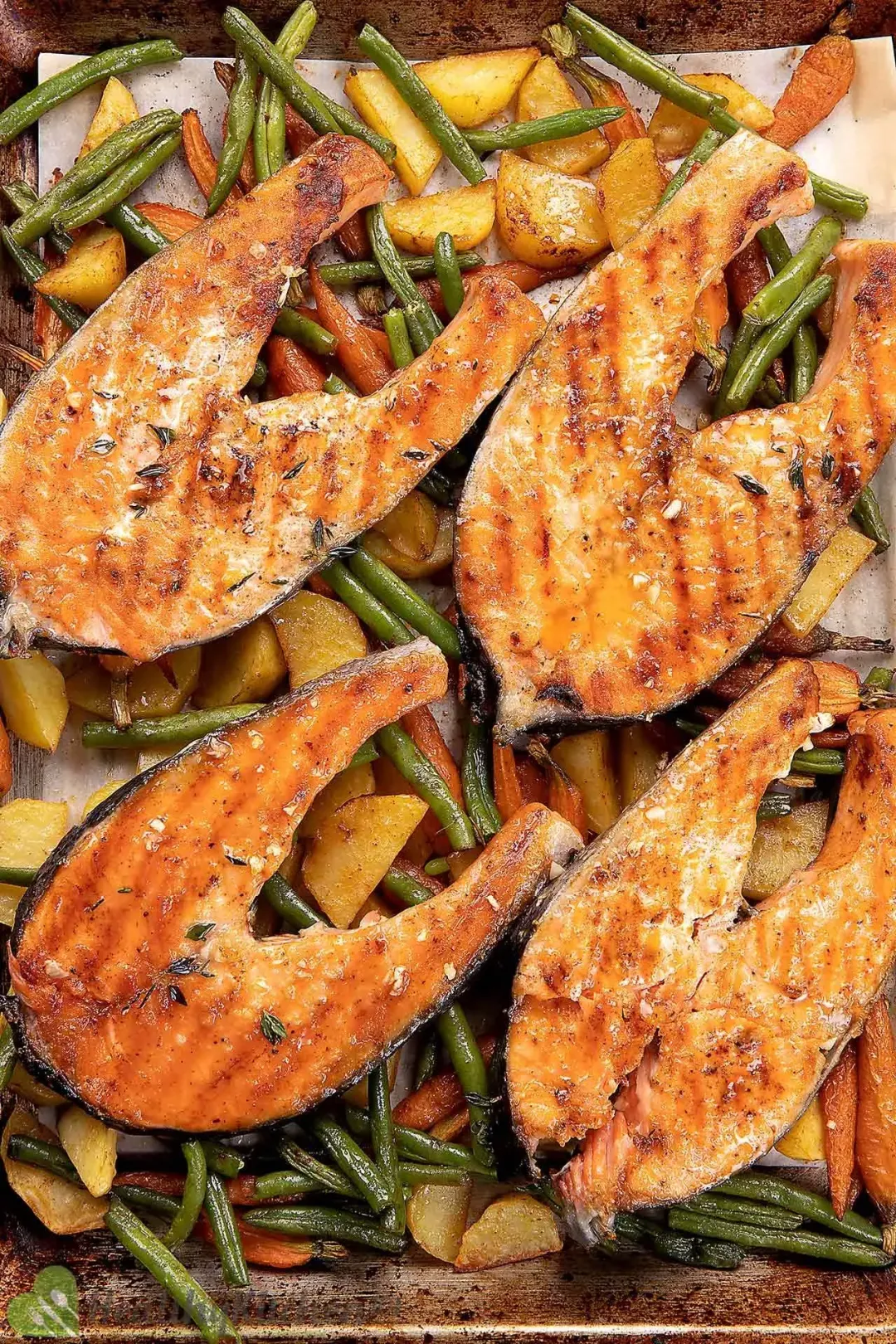 What Temperature to Cook Salmon
The cooking temperature depends on your cooking method and the thickness of your salmon. Therefore, we can't recommend a precise temperature for you to cook your salmon.
There is, however, a safe way to make sure your salmon is perfectly cooked.
We recommend using a probe thermometer to check the internal temperature. No matter which cooking method you use, the thickest part of the salmon should reach 145°F internal temperature.
If the internal temperature is lower, you will need to cook it a bit longer. However, if the temperature is higher, your salmon may be overcooked and become dry.
Other Salmon Ideas
Since we're on the topic of glossy salmon, we'd like to introduce to you a few similar recipes.
This honey garlic salmon cooks in the pan as well, and looks absolutely gorgeous. It combines the best flavors and serves up with some cooked spaghetti for a wholesome, delicious meal.
Our pan-seared salmon also looks glossy, but instead of honey it's the garlic butter that does the glossing. These golden salmon filets are served with cooked mushrooms, broccoli, and cherry tomatoes with some lemon squeezes for a lifting bright tang.
Above are just personal recommendations—we have loads of delicious salmon ideas in this roundup.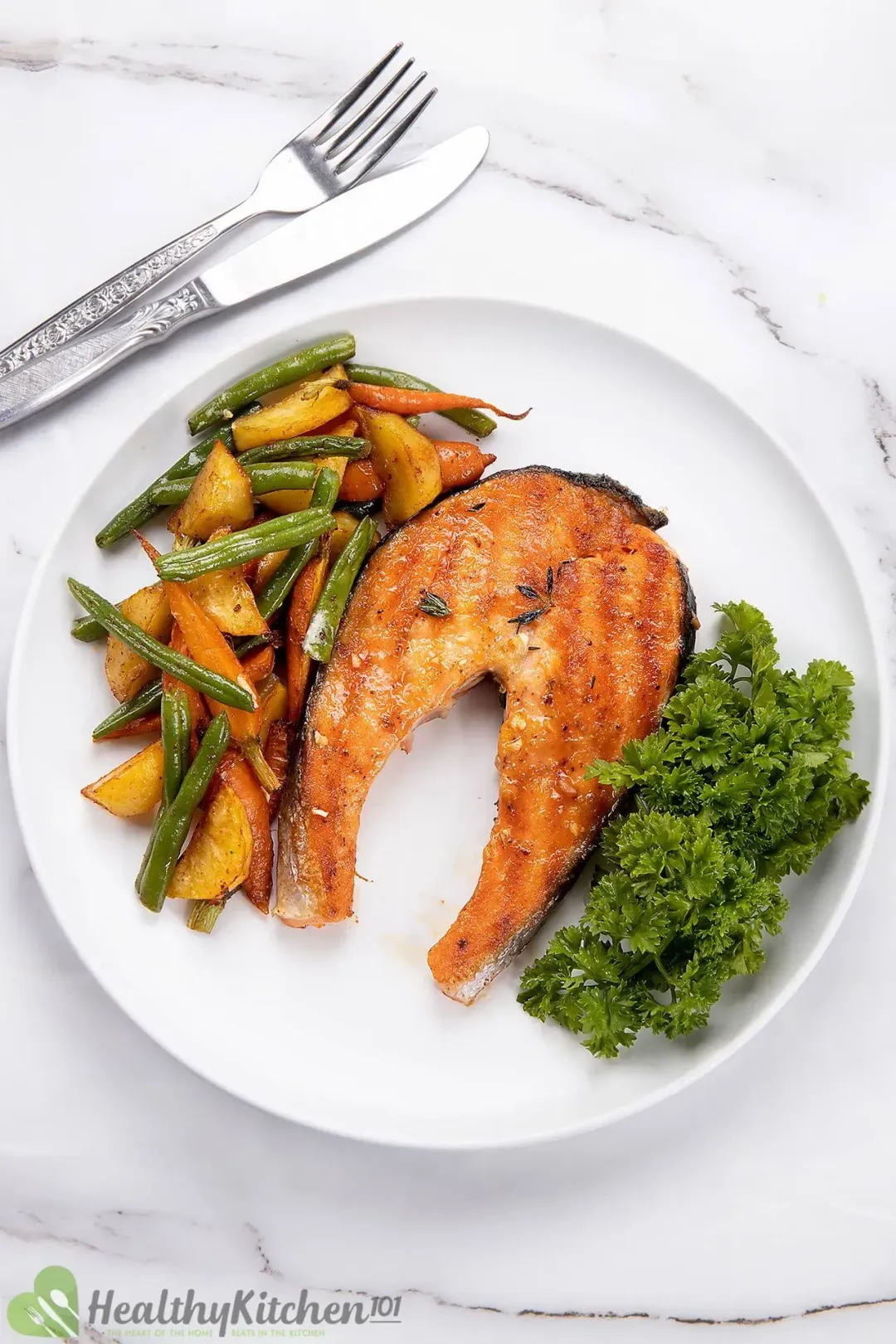 FAQ
1. How Many Calories?
Our salmon steak contains about 507 calories per serving. One serving consists of a healthy portion of protein, vegetables, and just enough sauce to bring everything together.
2. How Long Does It Last?
Salmon steak is easy to make, and even easier to store. If you love planning meals for the whole week, these steaks are perfect for you.
You can make them ahead of time and keep them in the fridge for 3 days.
It's best to let the salmon, vegetables, and sauce cool before refrigerating. We also recommend storing them in separate airtight containers to prolong shelf life.
Salmon Steak
Today's salmon steak recipe will show you how to make a healthy, nutritious, delicious meal in less than an hour. Let's begin.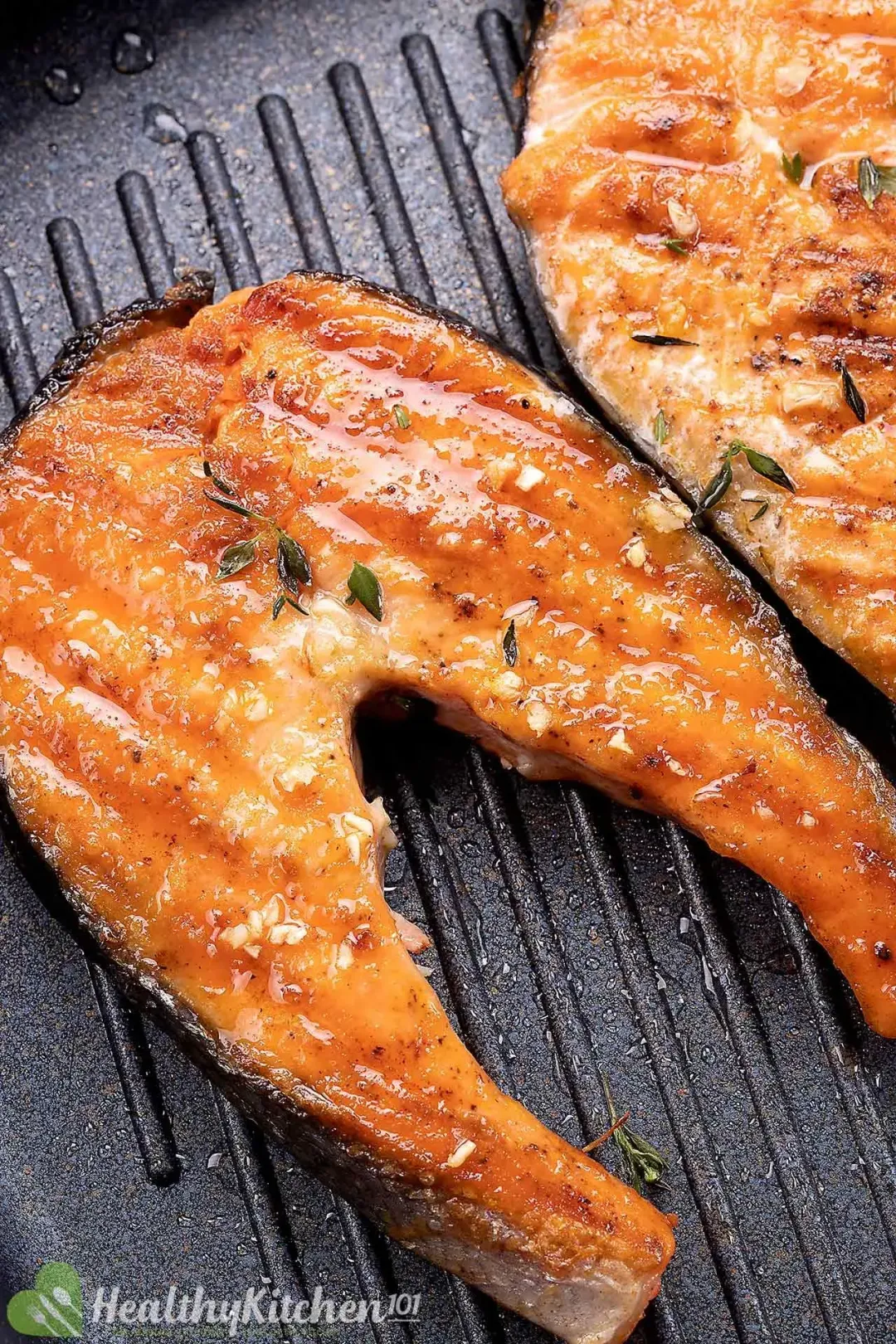 cook TIME

30 mins

prep TIME

10 mins

total TIME

40 mins
COURSE

Dinner, Lunch, Main Course

CUISINE

American

SERVINGS

CALORIES

507 kcal
INGREDIENTS
10 oz

potatoes

(cut into thin wedges)

8 oz

baby carrots

(cut in half lengthwise)

6 oz

green beans

(trim off the ends and cut in half)

0.5 oz

grated Parmesan cheese

1 1/2 tbsp

olive oil

(divided)

2 tsp

garlic

(2 cloves, minced)

1/2 tsp

fresh thyme

(leaves only)

2 tsp

parsley

(roughly chopped, for garnish)
INSTRUCTIONS
1
Preheat the oven to 450°F.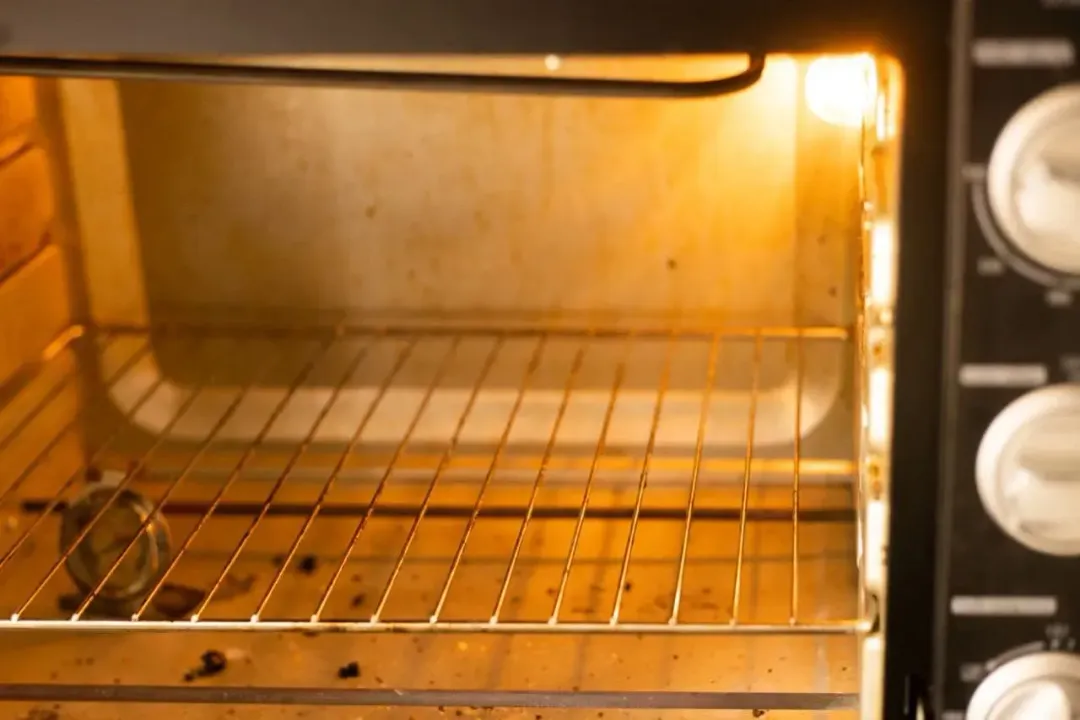 2
Season the salmon: Arrange 26 oz salmon steaks on a large plate. Sprinkle with 1/2 tsp paprika, 1/2 tsp black pepper, and 1/4 tsp salt. Rub the spices onto the salmon evenly. Set aside.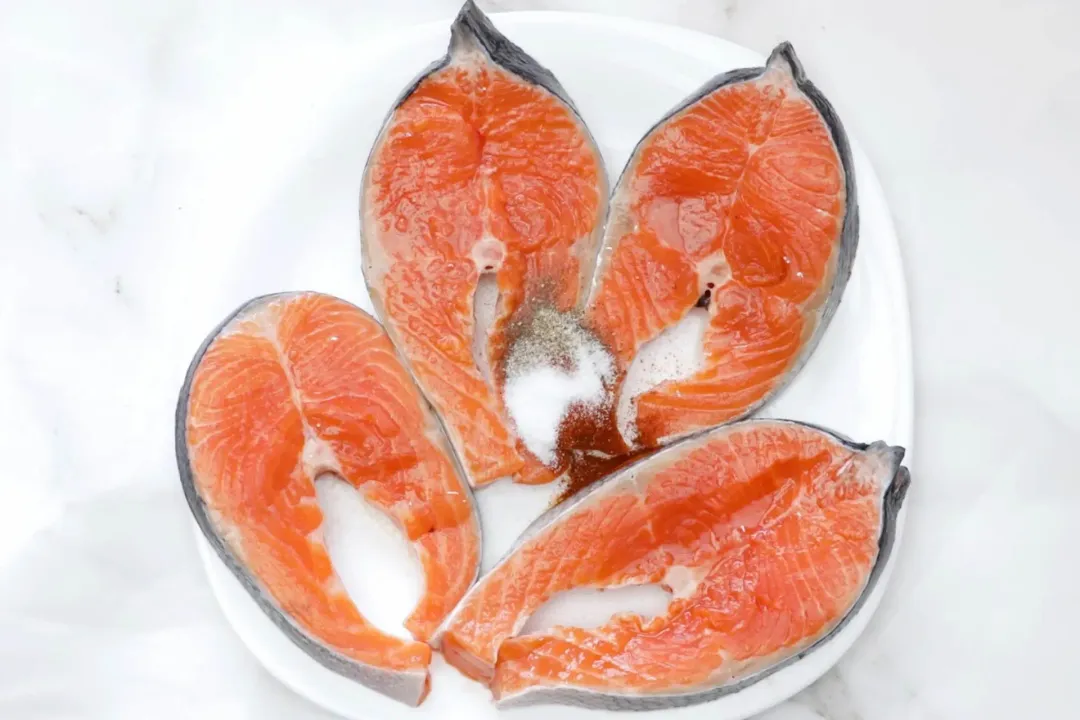 3
Season the vegetables: Line a baking sheet with parchment paper. Combine 6 oz green beans, 8 oz baby carrots and 10 oz potatoes on the sheet. Season with 1/2 tsp paprika, 1 tbsp olive oil, and 1/2 tsp garlic powder. Mix well to coat the spices evenly.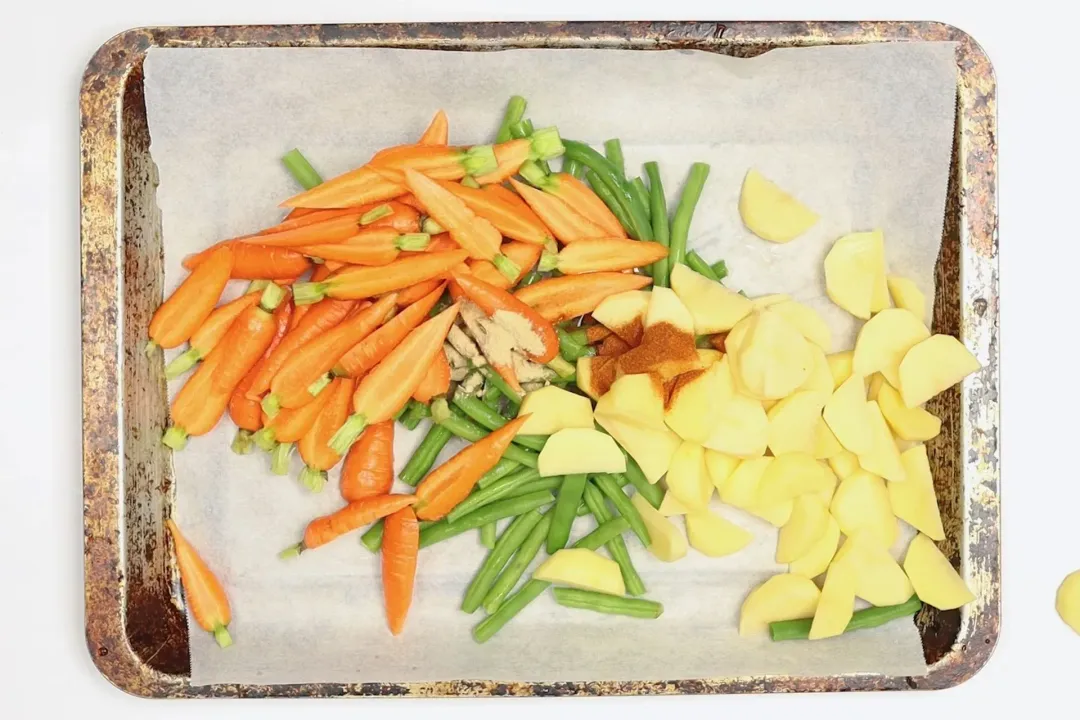 4
Cook the vegetables: Remove the green beans from the baking sheet and put them in a bowl. Transfer the baking sheet to the oven and bake the potatoes and carrots for 10 minutes.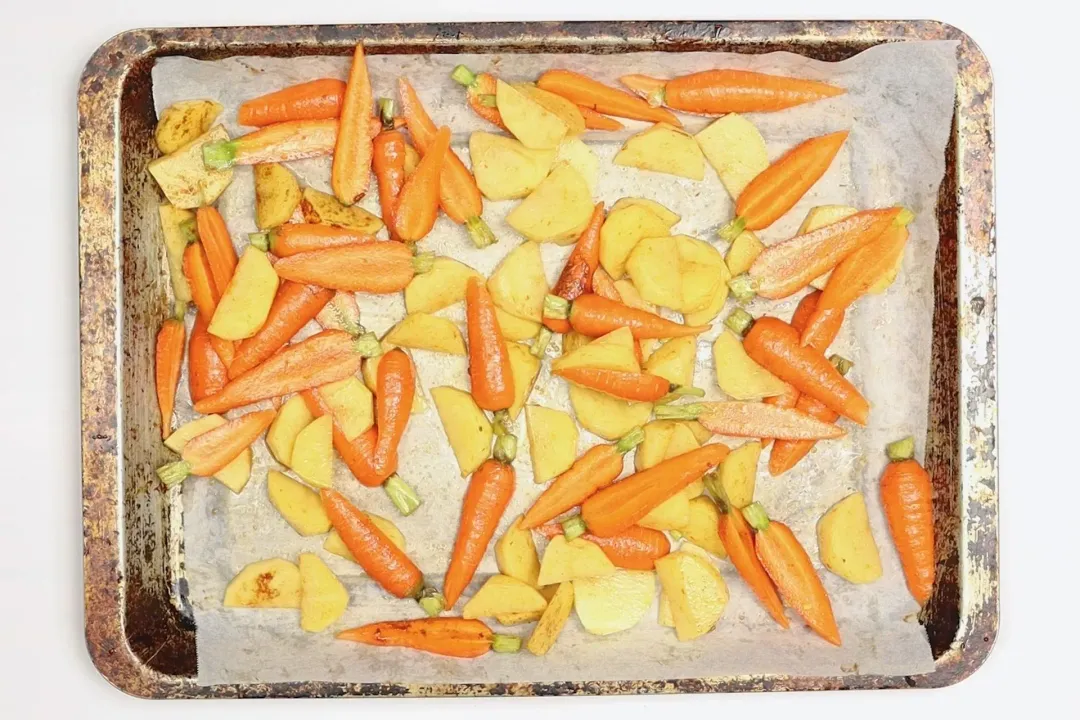 5
Add the green beans: After that, place the green beans onto the tray along with the other vegetables and bake for another 10 minutes. Once the timer rings, take the tray out of the oven and set aside.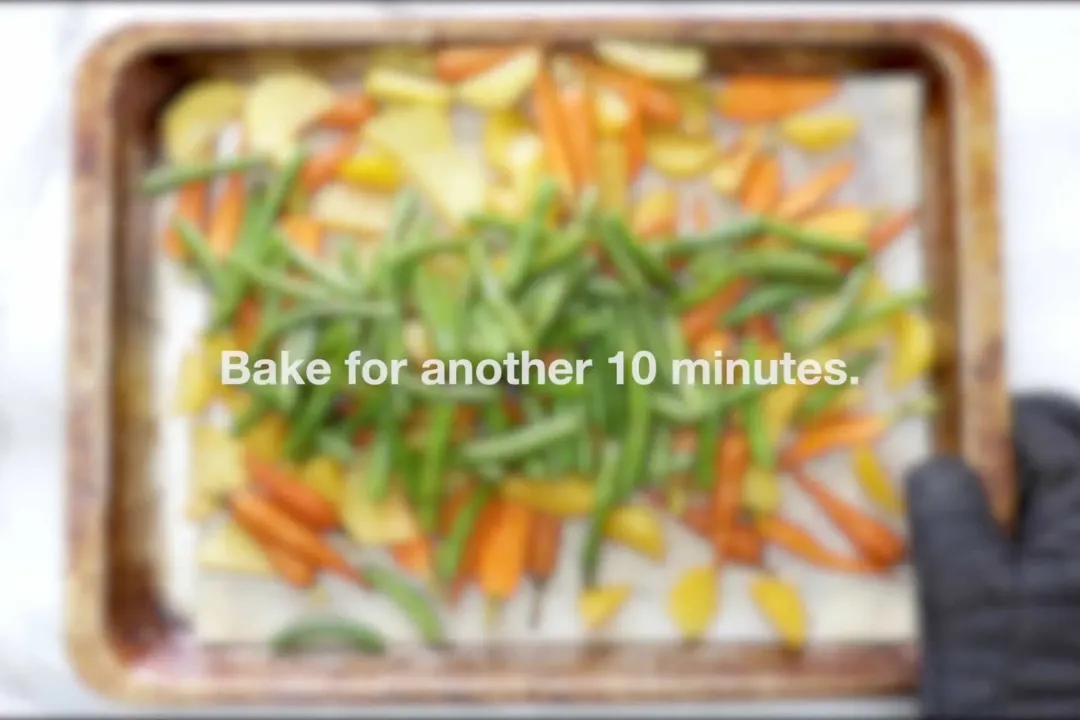 6
Make the sauce: Heat a small saucepan over medium heat. Add 2 tbsp white wine and let it boil for 15 seconds. Add 3 tbsp unsalted butter and whisk vigorously until fully melted. Add 1/4 cup whole milk, 0.5 oz grated Parmesan cheese, 1/4 tsp salt and 1 tbsp heavy cream. Whisk well until emulsified. Turn off the heat and set aside.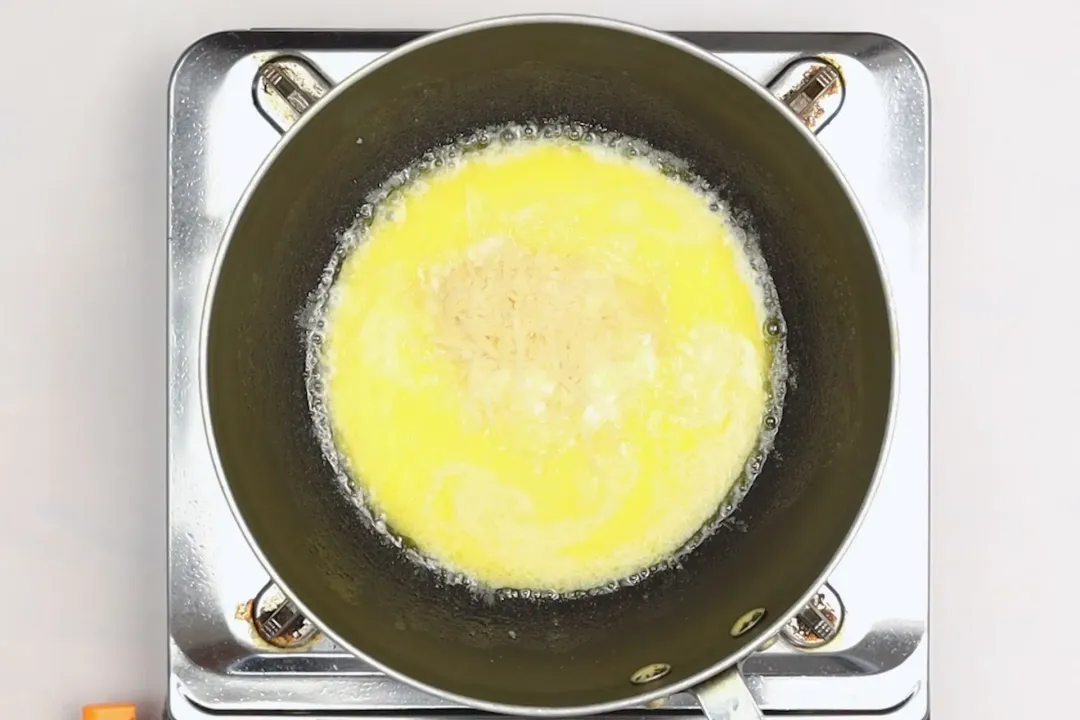 7
Coat the salmon: Add 2 tbsp all-purpose flour to a plate. Use a tong to pick up the salmon and dip it into the flour. Coat the fish evenly with flour on both sides. Once coated, transfer to another plate and set aside.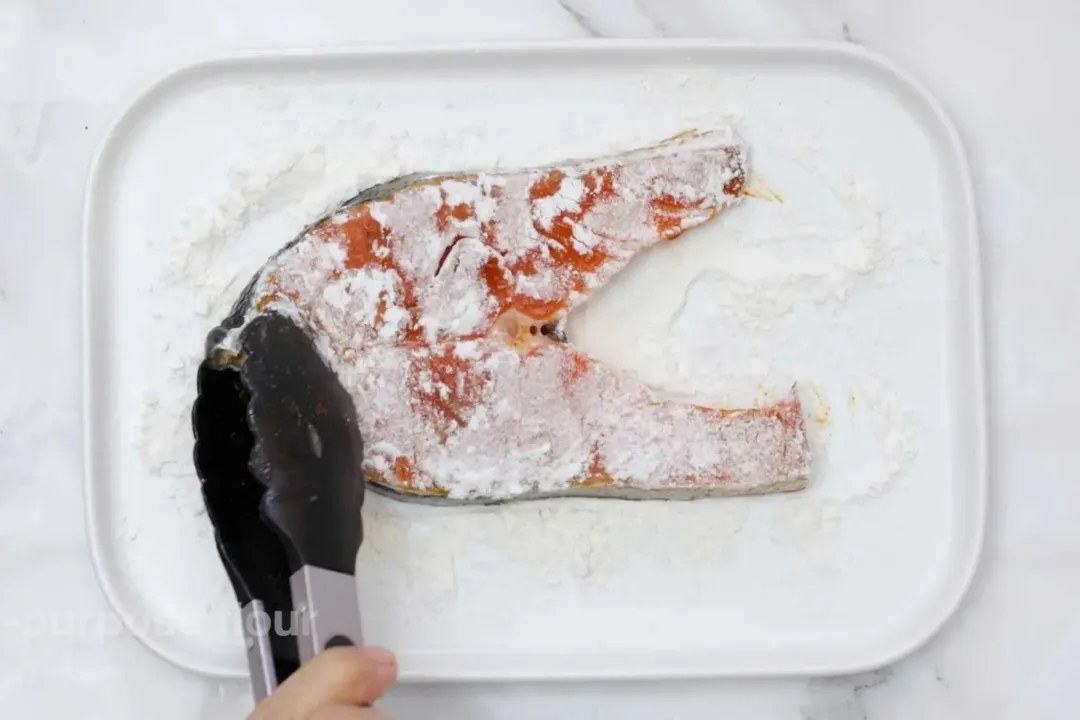 8
Sear the salmon: Heat a grill pan over medium heat. Add the remaining 1/2 tbsp olive oil to the pan. Once it's hot, add the salmon and sear for about 2 minutes or until just cooked. Flip and cook for another minute or until golden brown on both sides. Add 2 tsp garlic and 1 tsp thyme. Cook for 30 seconds or until fragrant. Turn off the heat. (If your grill pan is small, you can cook 1 or 2 pieces at a time like we do in the video.)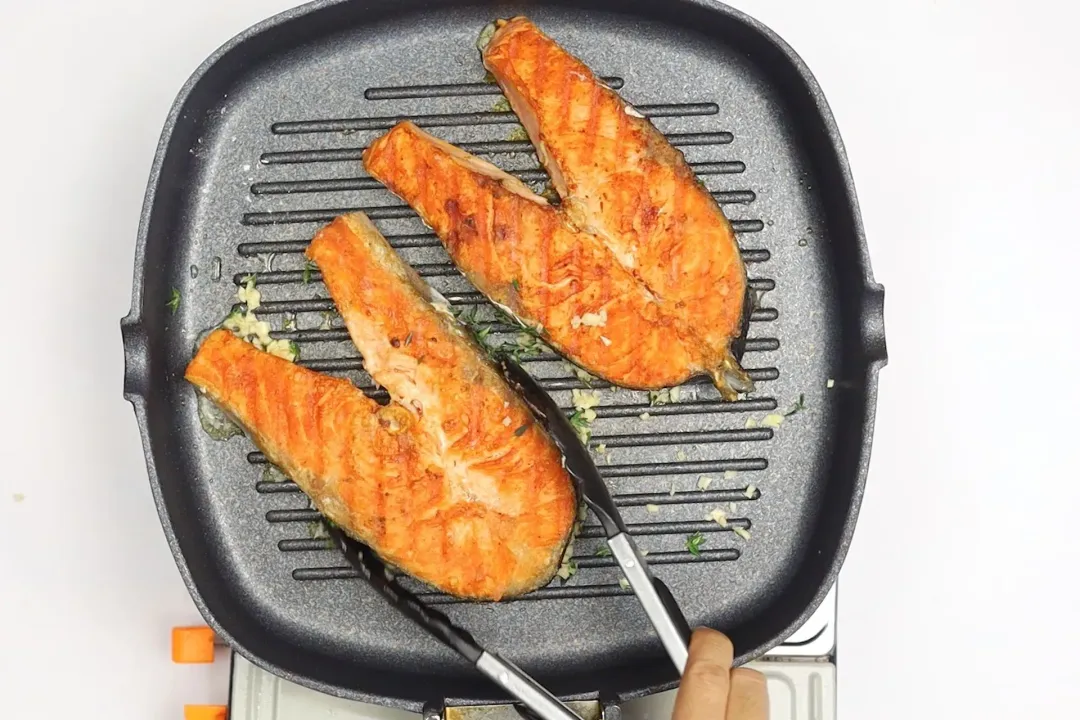 9
Serve: Arrange a stack of vegetables in the center of a serving plate. Place a salmon steak on top. Pour a spoonful of the sauce over the salmon. Sprinkle with freshly chopped parsley and serve.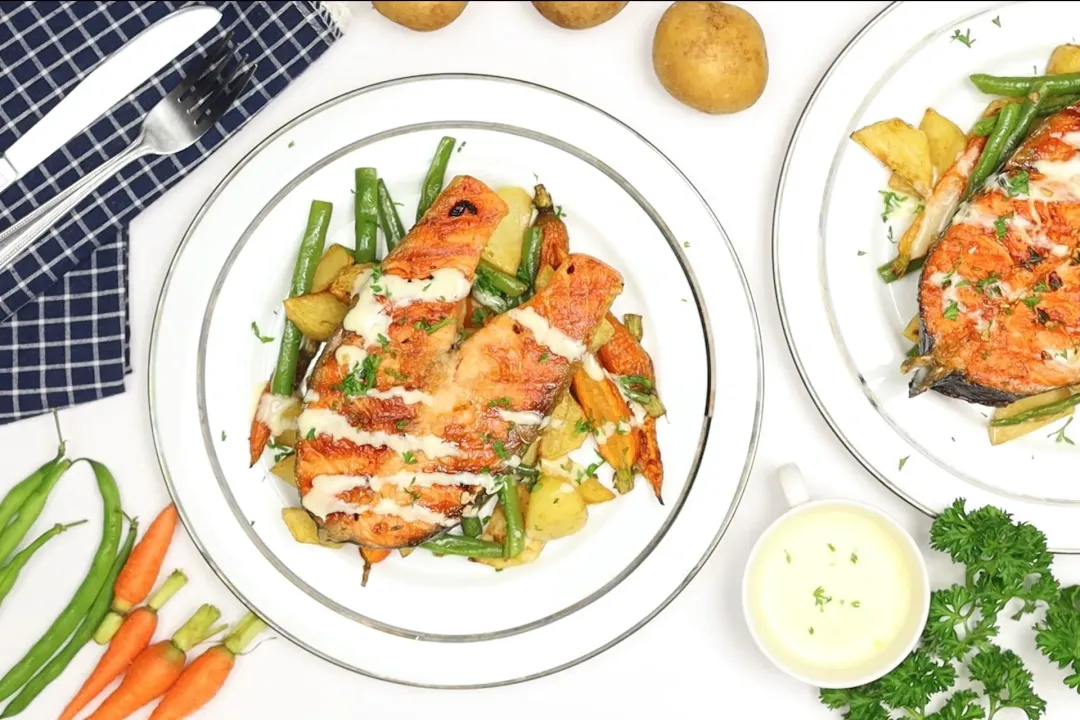 NUTRITION
Nutrition Facts
Salmon Steak
Amount Per Serving (1 serving)
Calories 507
Calories from Fat 234
% Daily Value*
* Percent Daily Values are based on a 2000 calorie diet.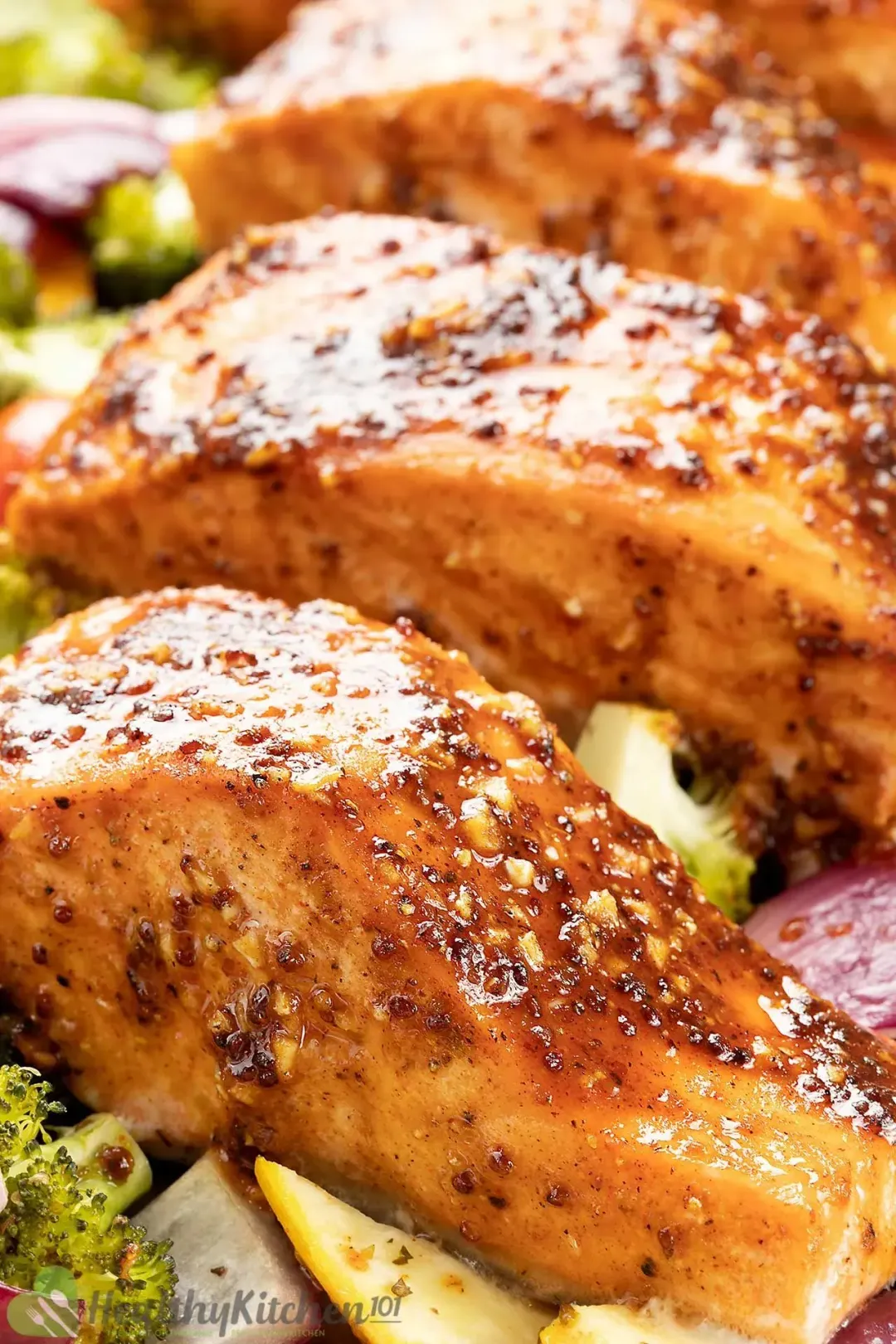 Previous Recipe
Honey Mustard Salmon
Honey Mustard Salmon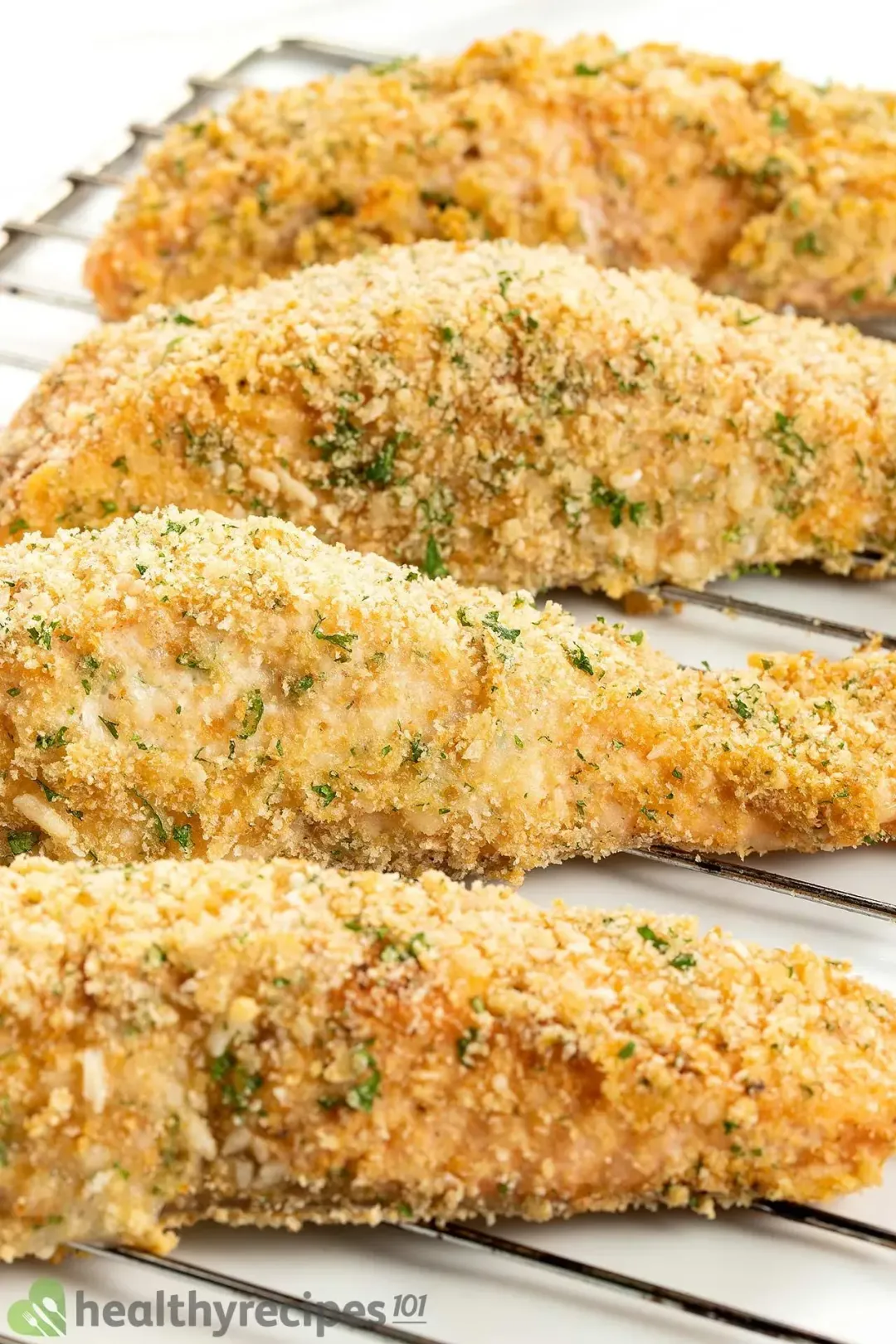 Next Recipe
Parmesan Crusted Salmon
Parmesan Crusted Salmon
Head Chef, Culinary Consultant
Tuyet Pham is an award-winning Saigonese chef who believes that joy is the secret ingredient to delicious food. At Healthy Recipes 101, Tuyet personally tests and simplifies every recipe, ensuring maximum flavor with minimal effort. With a background at prestigious French restaurants P'TI Saigon and Le Corto, Tuyet knows how to make every dish exceptional.
Writer, Author
Luna Regina is an accomplished writer and author who dedicates her career to empowering home cooks and making cooking effortless for everyone. She is the founder of HealthyKitchen101.com and HealthyRecipes101.com, where she works with her team to develop easy, nutritious recipes and help aspiring cooks choose the right kitchen appliances.
Nutrition Reviewer
Lizzie Streit is a Minneapolis-based dietitian and founder of It's a Veg World After All. She completed her MS in Human Nutrition from Drexel University, and is an expert in culinary nutrition, recipe development, and nutrition communications. Lizzie's philosophy is centered around making nutrition recommendations, and especially the advice to eat more vegetables, approachable and realistic. She is excited to be working with the team at Healthy Recipes 101 to ensure that their recipes are both nutritious and delicious.
I just made this the other day. It was a lot easier than I expected!

This was easy to prepare and very delicious!