Contrary to popular belief, a marinade doesn't always take hours to put together. Our beef marinade recipe combines ingredients to make a sauce that tenderizes the meat in a matter of minutes and still delivers a gorgeous dish that's bursting with flavors.
Drenched in a sweet-tangy sauce and accompanied by chunky veggies, this dish strikes the perfect balance between a homemade and restaurant-worthy meal. It's the perfect main course for any occasion—from casual dinners to fancy gatherings.
Is This Beef Marinade Healthy?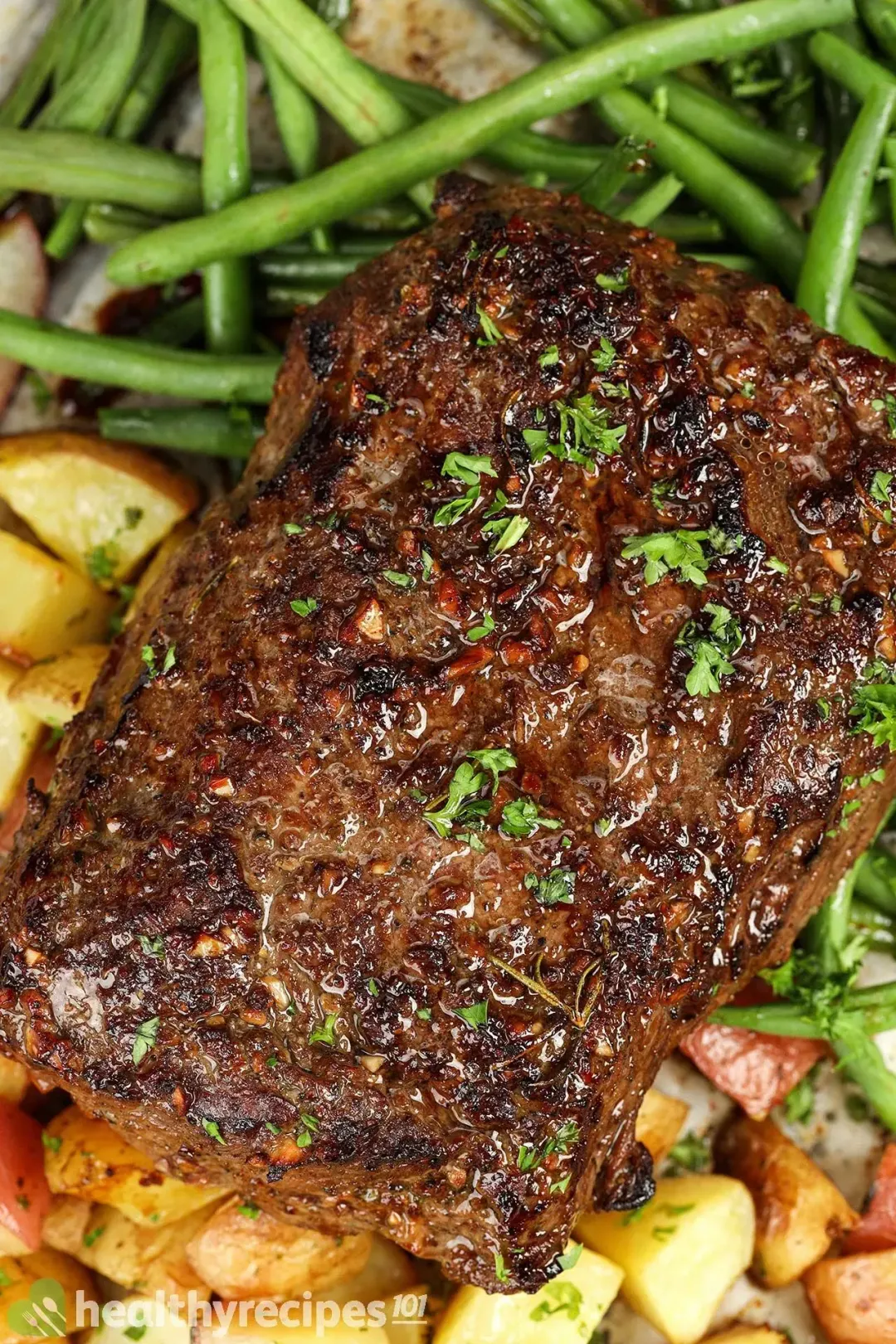 With approximately 7 g saturated fat and 568.5 mg sodium in a 471-calorie serving, it certainly is. These amounts come from meticulously chosen and measured ingredients that follow the standards set by our nutrition guidelines.
Besides being low in fat and sodium, this dish is also relatively high in protein, containing 35.6 g of the essential macronutrient. This amount comes primarily from the lean beef, which is trimmed of visible fat and provides nutrients like omega-3 fatty acids, vitamin B12, zinc, and heme iron.
Accompanying the beef are baby potatoes and green beans. These increase the dish's nutritional value by providing a decent amount of fiber, vitamins, potassium, magnesium, and calcium.
Ingredients for This Recipe
Here are the ingredients you'll need to put together a flavorful beef marinade: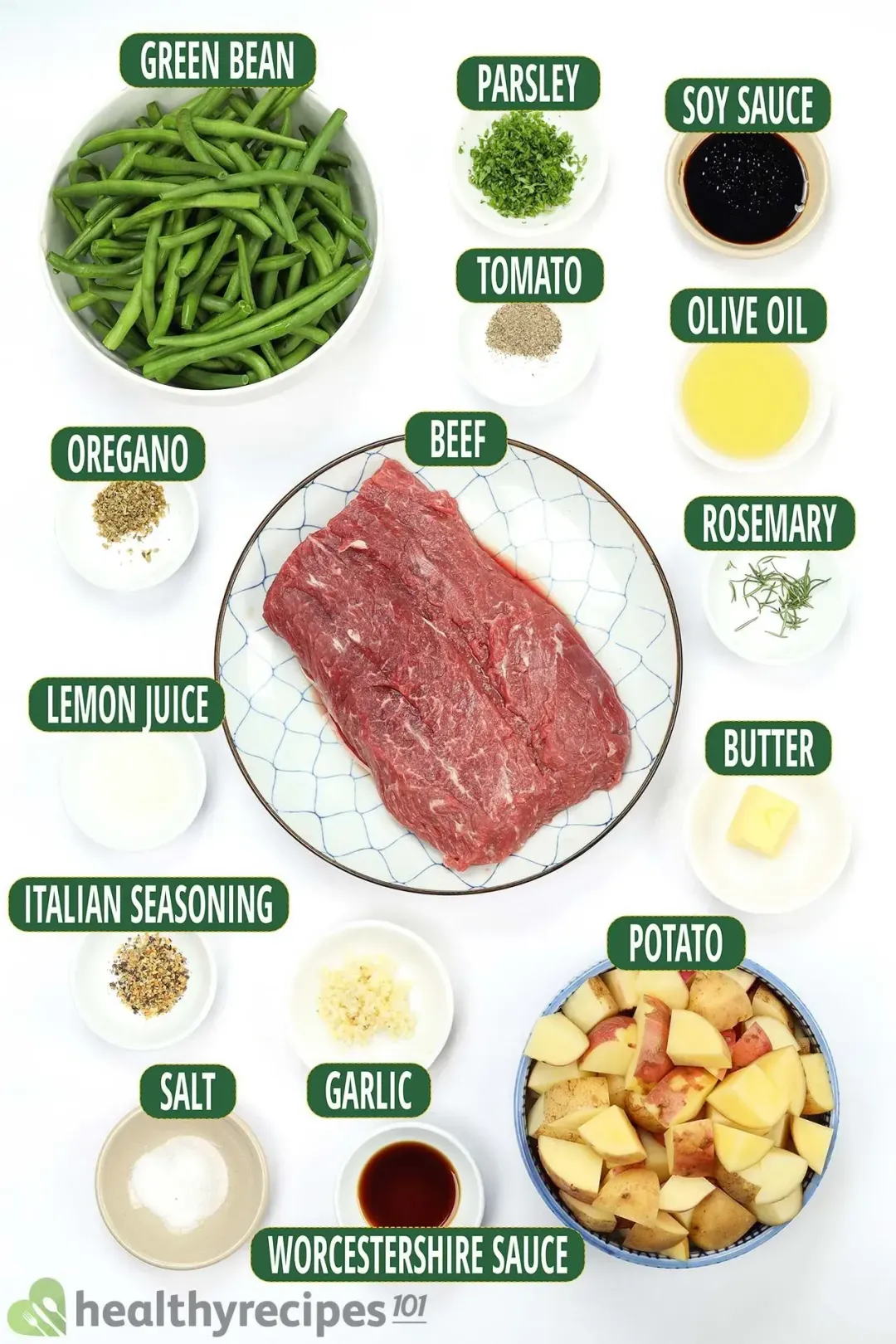 Beef: We went with flank steak for this recipe. This is an all-purpose cut that's lean and slightly tough but offers incredible flavors with every bite. It becomes especially tender and juicy after being marinated in a mixture of robust condiments.
Potatoes: We decided to serve the beef with a classic steak side—roasted potatoes. This root vegetable's sweet and buttery taste, along with its starchy, smooth texture, is a delightful combo that complements the beef's intense savoriness.
Green Beans: Crunchy and earthy, the green beans bring a delightful taste to each bite of this dish. This legume complements the remaining ingredients without overwhelming the already flavorful dish.
Condiments: The marinade is a mixture of Italian seasoning, Worcestershire sauce, salt, pepper, and soy sauce. This gives it a luscious base and a diverse mixture of flavors, including sweet, sour, and tangy, with a hint of a spicy aftertaste.
Lemon Juice: This is a great tenderizing ingredient because it's highly acidic, which helps to break down the steak's connective tissue and makes it easier to chew.
Herbs: In addition to the sauces and spices, we also gave the marinade an herbaceous undertone with small sprinkles of rosemary and dried oregano.
Tips to Make the Best Beef Marinade
Check out these simple tips and tricks that can help significantly improve the overall taste of your steak: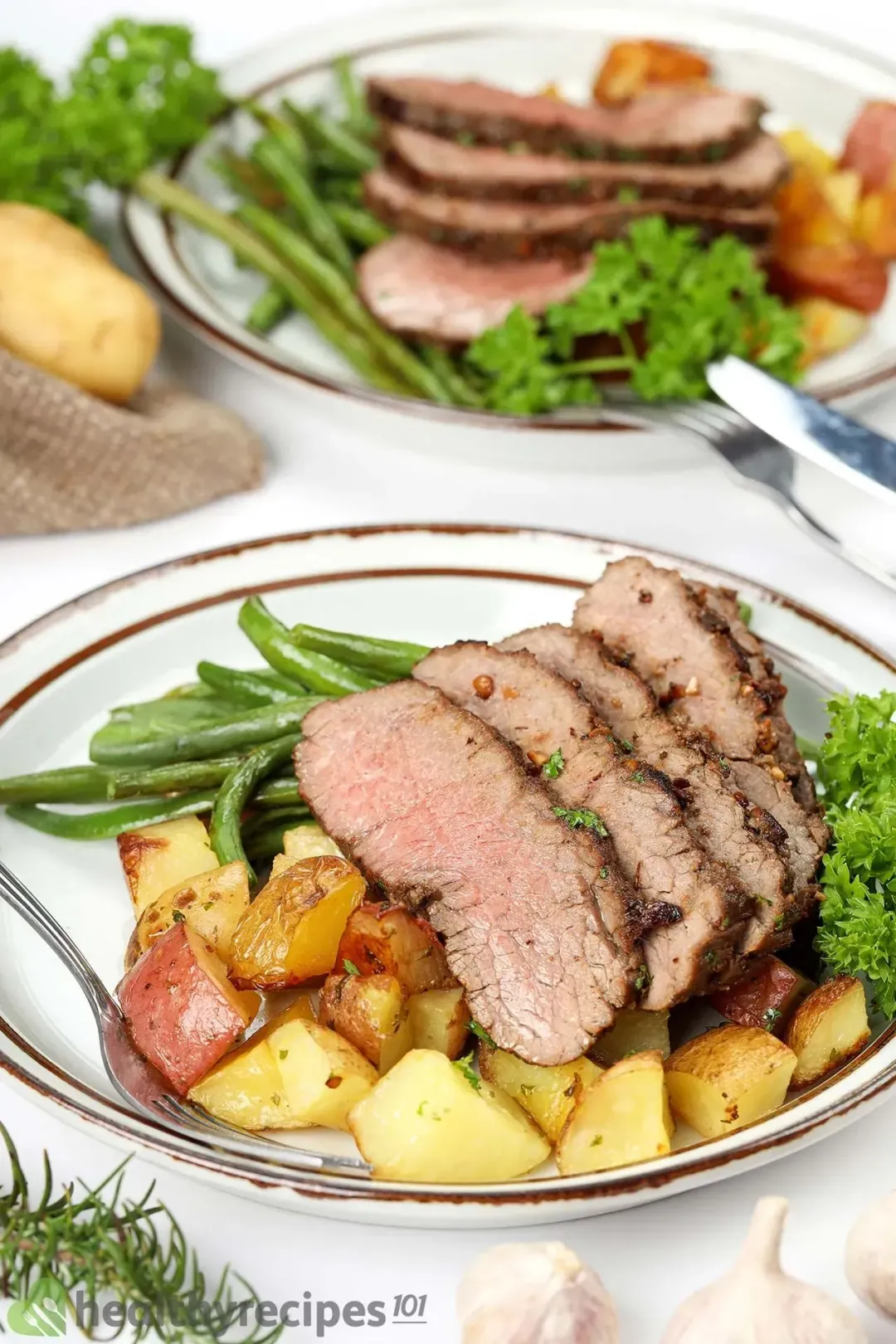 Since the marinade tenderizes the meat, you can use it on tougher meat cuts like chuck, hanger, or skirt. These cuts tend to be quite flavorful and juicy when given proper preparation.
Some beef cuts are naturally tough and chewy. The simplest way to make them more tender is by cutting across the muscle grains to break up the rough fibers. They are lines that run either lengthwise or crosswise on the surface.
Before cooking, lightly dab the steaks with paper towels to remove the excess moisture. This helps the meat brown better in the pan.
Let the steaks rest for 5-10 minutes after they are taken off the heat. This gives the juices time to evenly infuse through the meat. Digging right in may cause the juices to be released onto the plate instead.
How to Store and Reheat the Leftovers
This beef marinade should last for around 3 or 4 days when kept in airtight containers in the fridge. The beef can be reheated either in the microwave at medium power for 1 minute or in the oven at 300 °F for around 5 minutes. The veggies can be reheated in the oven or the microwave..
Note that the leftover beef might become slightly dry.
What to Serve With Beef Marinade
This beef marinade dish is already served with potatoes and green beans, so we recommend keeping it simple and light if you want to add a side dish. Check out these fresh salads if you're looking for ideas: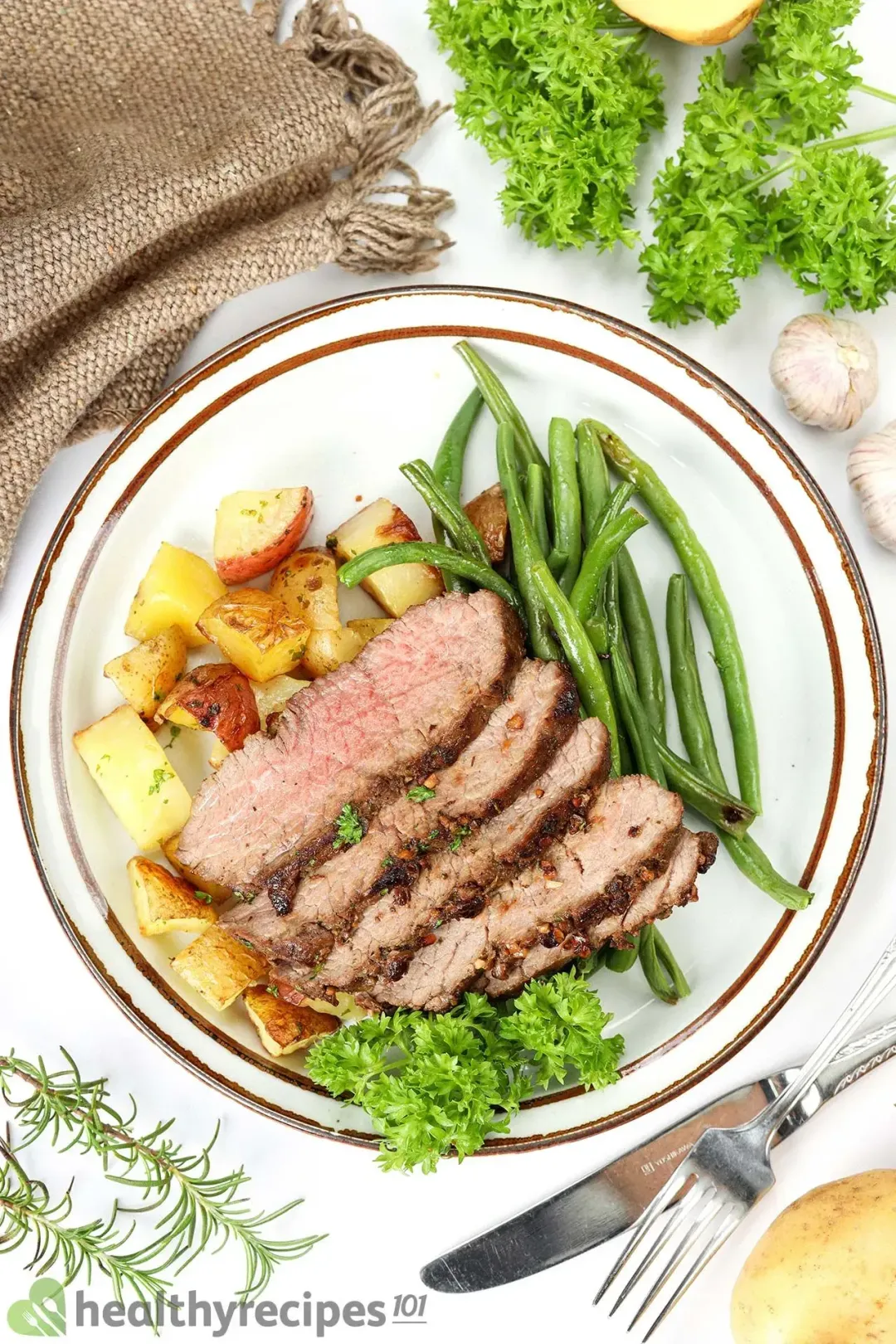 Impress Your Guests with These Gourmet, Healthy Eats
These cabbage rolls are stuffed with ground beef, rice, and lots of seasonings, lending each bite a plethora of flavors. Our recipe also infuses the sauce with sour cream for extra richness.
Or, if you want something beloved and highly expected, check out our meatloaf recipe. It is the perfect combination of ground beef, breadcrumbs, and spices baked into a perfect loaf finished with a tangy glaze. It's made to be a family's favorite.
If you love oven-baked beef dishes that are just as savory, dive into our roundup for more inspiration.
How to Make Beef Marinade
This beef marinade recipe tenderizes steaks in a sweet and tangy sauce with aromatic undertones. The dish comes together in less than 40 minutes and makes the perfectl main course for any occasion—from casual dinners to fancy gatherings.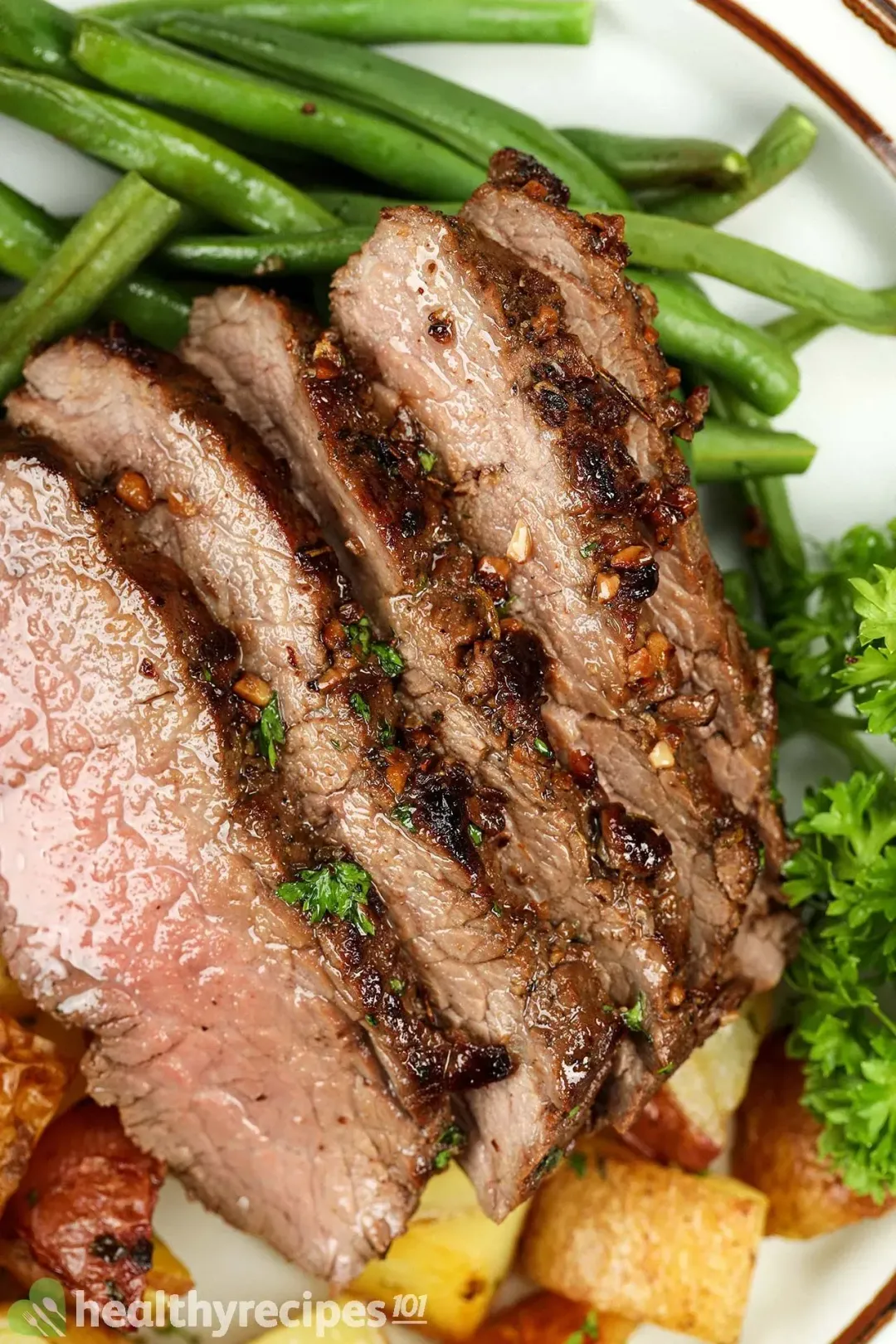 cook TIME

30 mins

prep TIME

7 mins

total TIME

37 mins
COURSE

Main Course

CUISINE

American

SERVINGS

CALORIES

471 kcal
INGREDIENTS
26 oz

baby potatoes

(cut into large cubes)

10 oz

green beans

(ends removed)

1 1/2 tbsp

unsalted butter

1/2 tbsp

Italian seasoning

2 tbsp

reduced sodium soy sauce

1/2 tbsp

Worcestershire sauce
INSTRUCTIONS
Prep:
1
Cut the Potatoes: Slice the potatoes in half, then cut each half lengthwise into 2 or 3 large sticks. Gather the sticks and slice them into preferred-size cubes.
2
Mince the Garlic: Peel the cloves, then thinly slice each one. Rock the knife back and forth over the garlic until it is finely minced.
3
Chop the Parsley: Bunch the parsley leaves together then thinly slice. Move a chef's knife in a rocking motion to chop the sliced pile a few times, until it is finely chopped.
Cook:
1
Make the Marinade: In a bowl, mix 2 tbsp reduced sodium soy sauce, 1/2 tbsp Italian seasoning, 1/2 tsp dried oregano, 1/2 tbsp lemon juice, 1/2 tbsp Worcestershire sauce, 1/2 tsp pepper, 1 tsp fresh rosemary, 1/4 tsp salt, 1 tbsp olive oil, and 1 tbsp garlic until well-combined.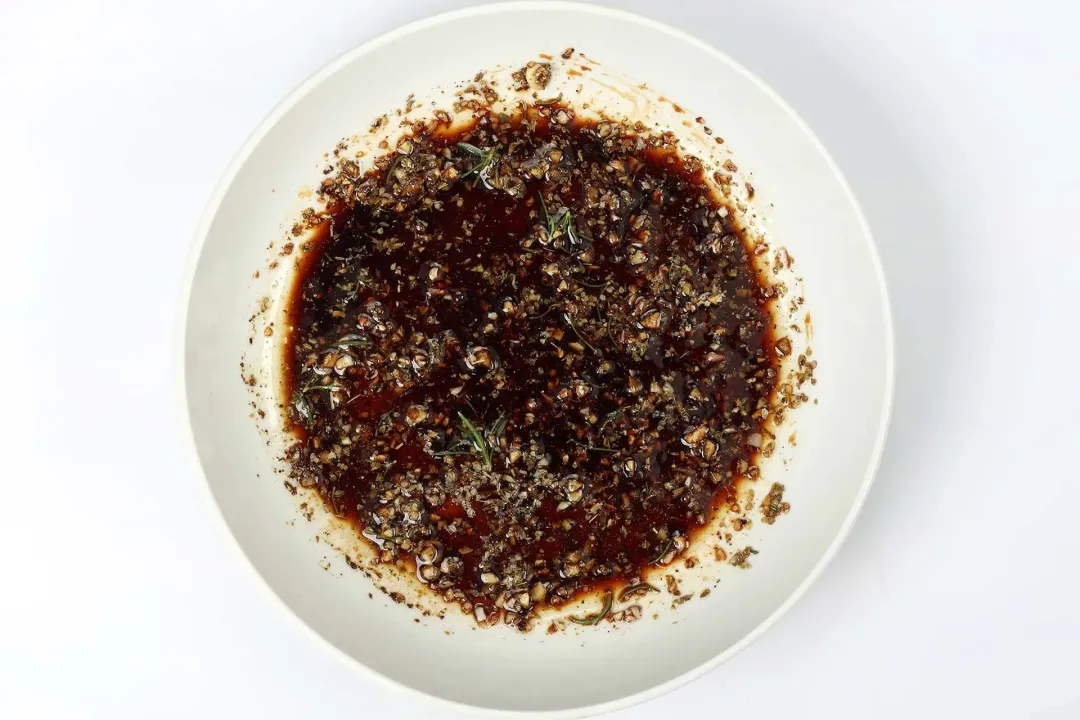 2
Marinate the Beef: Add 20 oz flank steak to the marinade and flip around to make sure all the sides are evenly coated.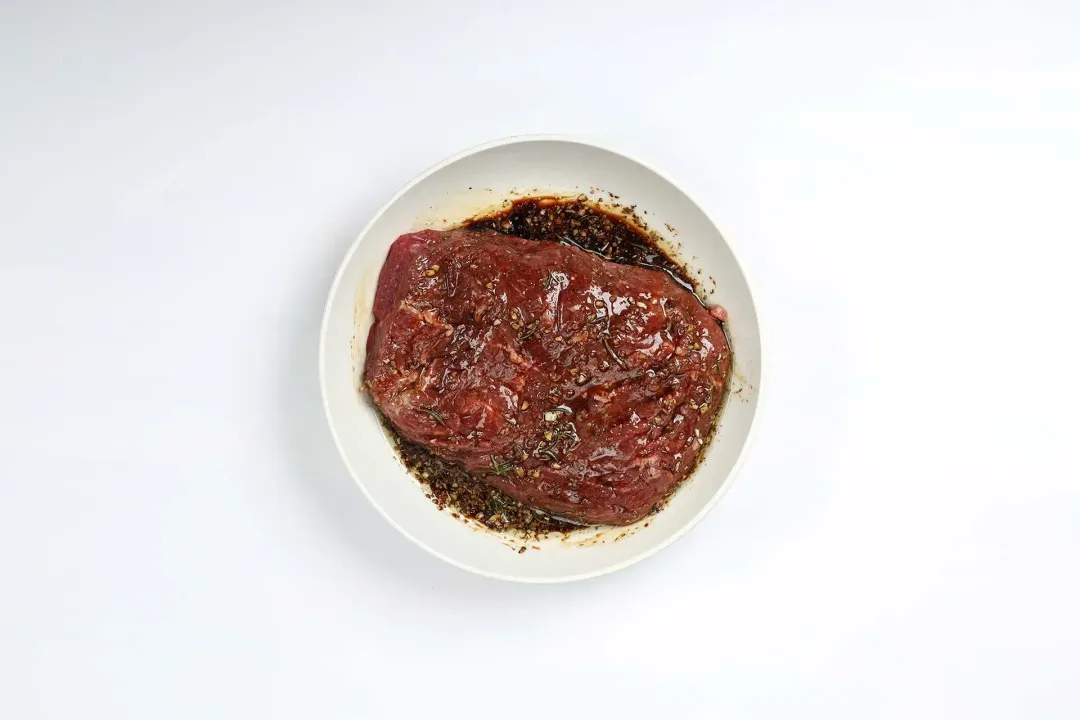 3
Microwave the Potatoes: Put 26 oz baby potatoes in a microwave-safe bowl, cover with plastic wrap, and microwave for 10 minutes.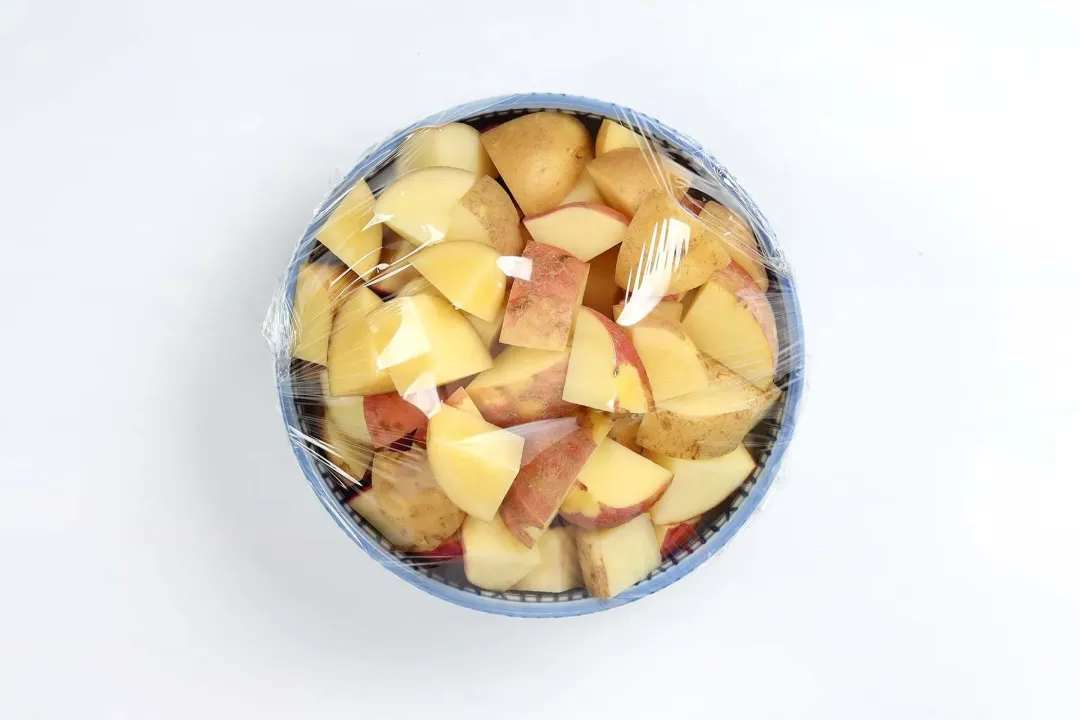 4
Season the Potatoes: Spread the microwaved potatoes onto a baking sheet lined with parchment paper, then season with 1 1/2 tbsp unsalted butter and 2 tbsp parsley.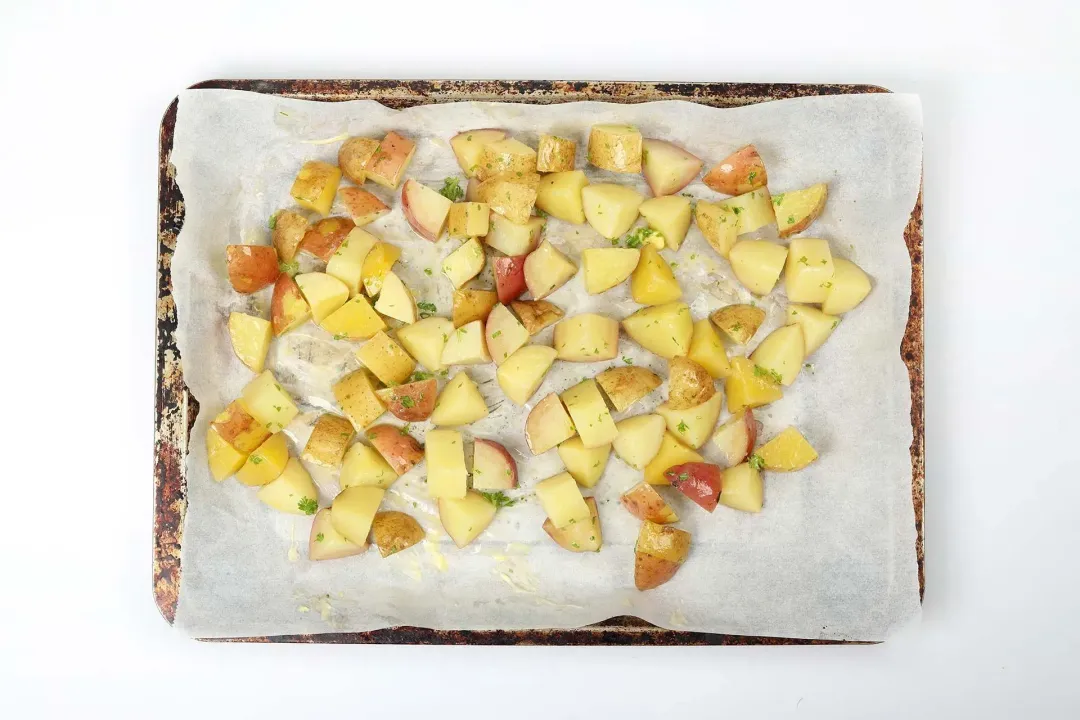 5
Roast the Potatoes: Put the baking tray in the middle rack of the oven and roast at 450 °F for 7 minutes.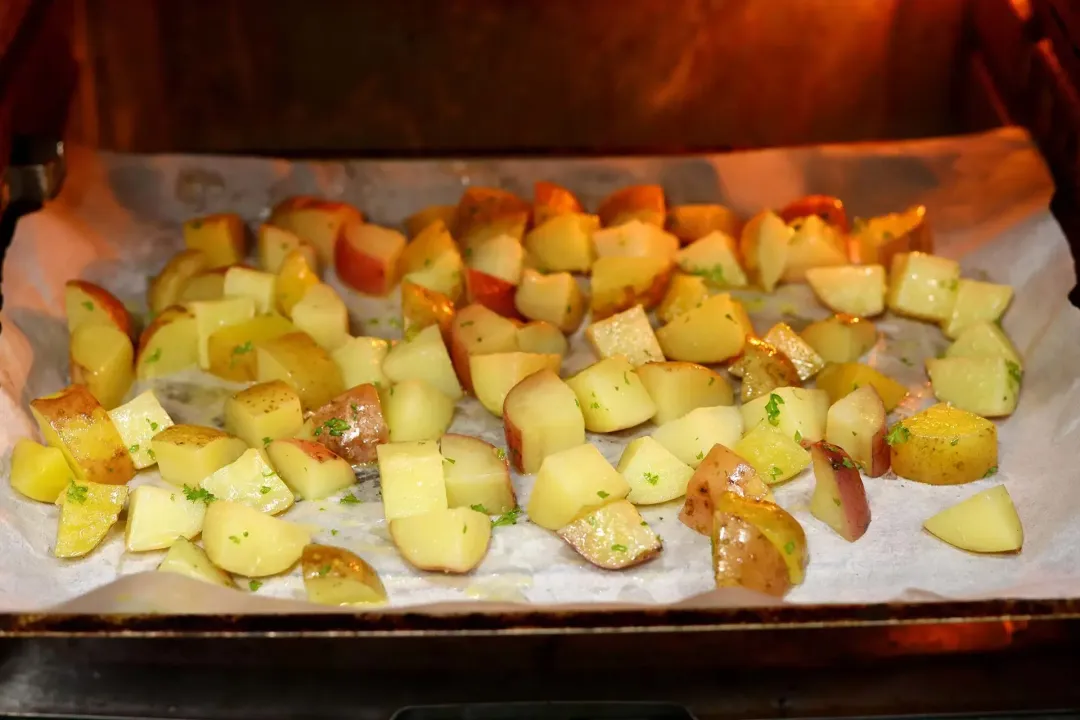 6
Sear the Beef: In a pan over medium heat, sear the marinated beef on both sides with 1 1/2 tbsp olive oil for 7 minutes until brown.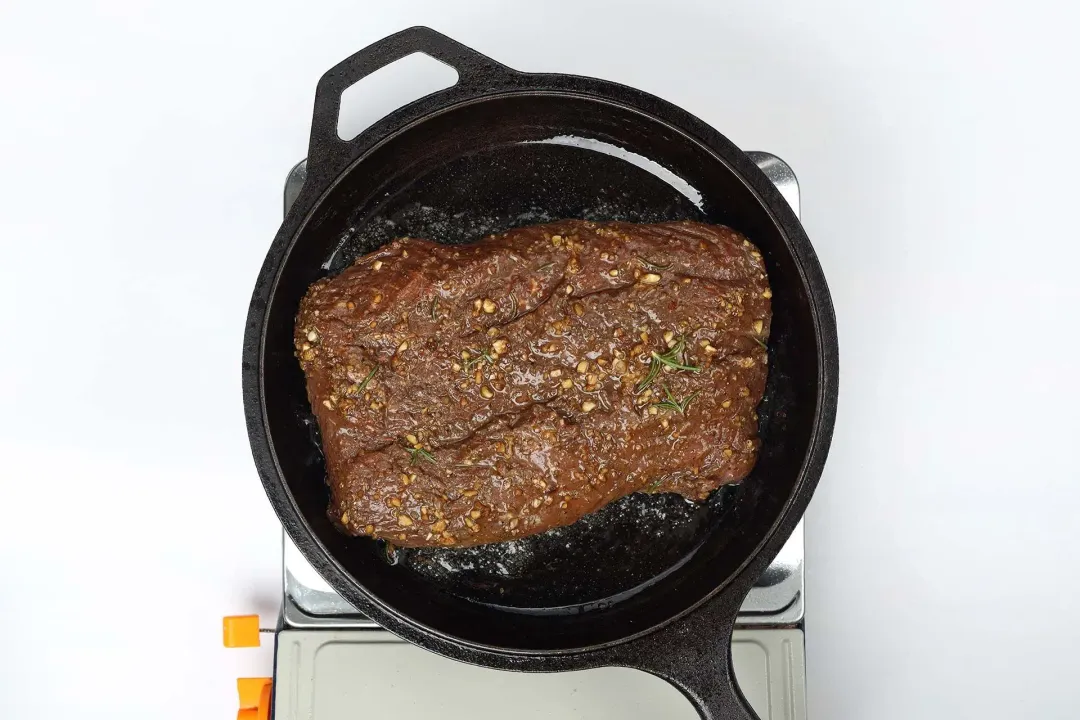 7
Add the Green Beans: Remove the baking sheet and pile the green beans right next to the potatoes.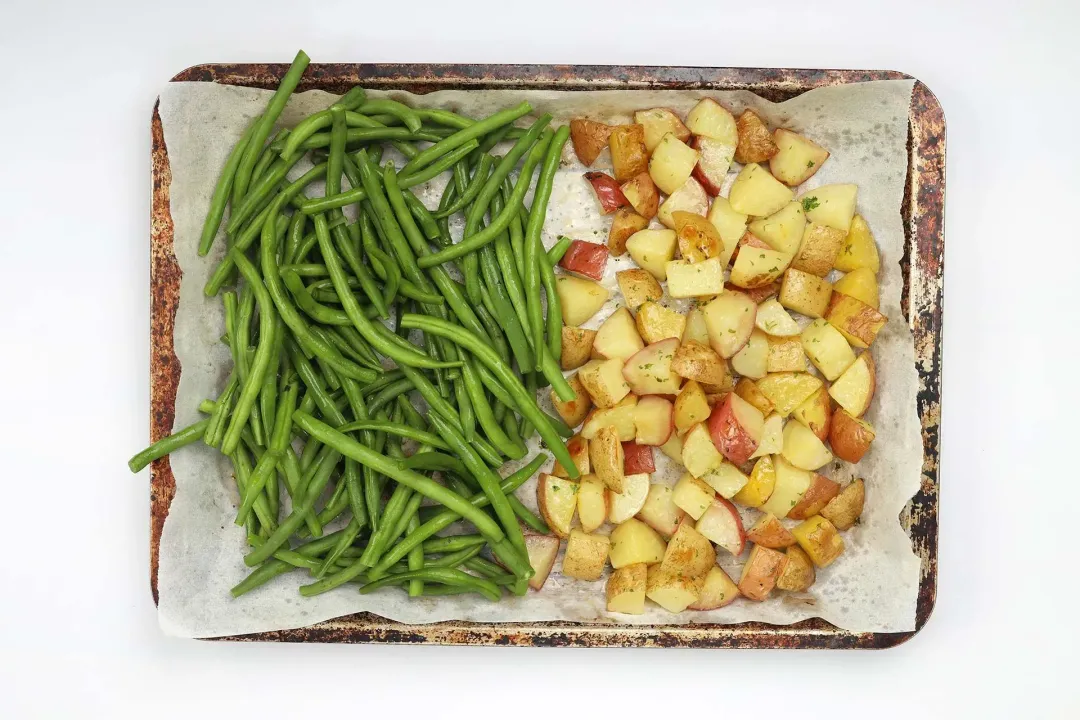 8
Roast the Beef and Veggies: Preheat the oven to 425 °F. Put the veggies tray in the bottom rack of the oven, then lay the beef on a separate roasting tray and place it on the middle rack. Roast for 12 minutes.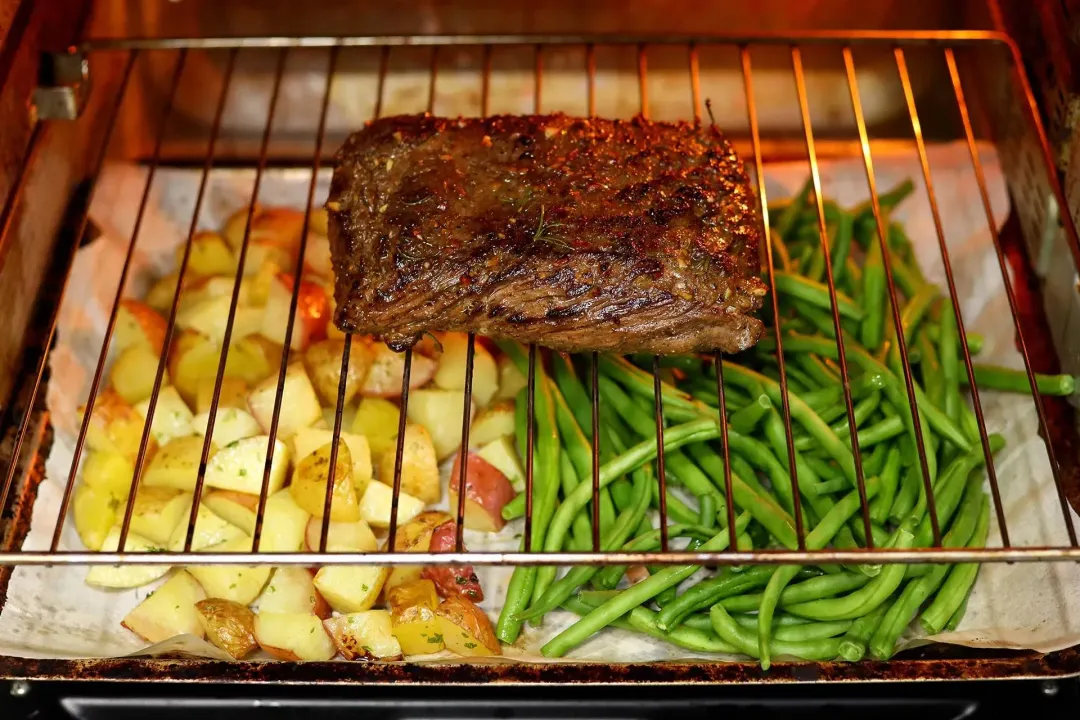 9
Garnish and Serve: Transfer the food onto serving plates, slice the beef into strips, garnish with parsley, and serve hot.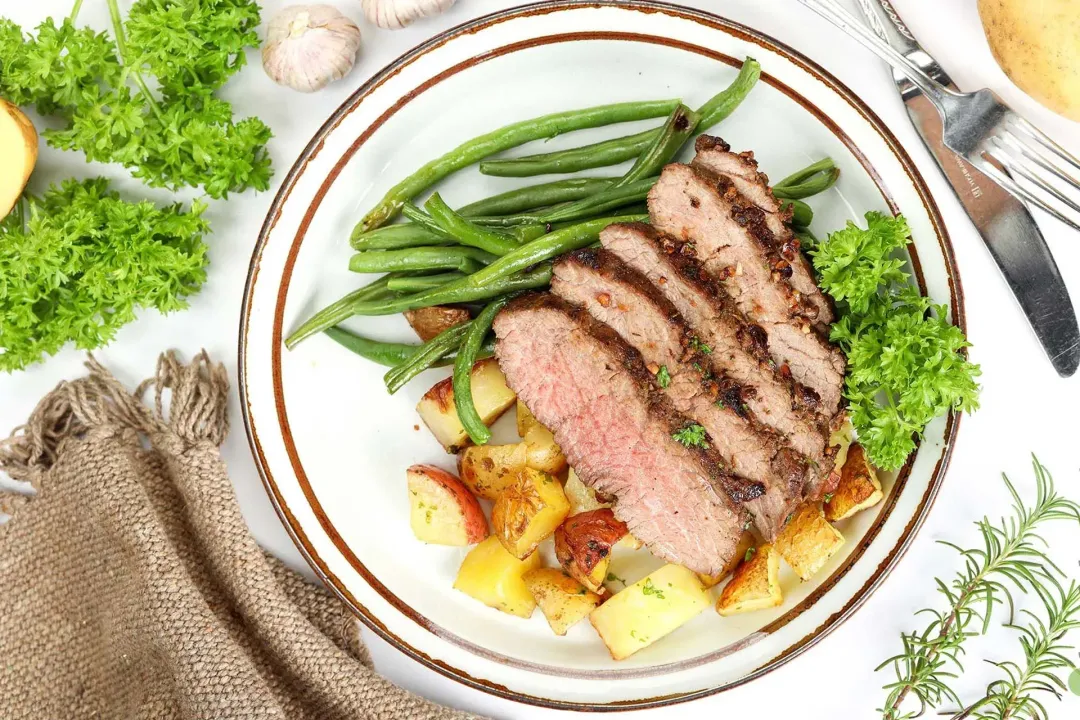 NUTRITION
Nutrition Facts
How to Make Beef Marinade
Amount Per Serving (1 serving)
Calories 471
Calories from Fat 185
% Daily Value*
* Percent Daily Values are based on a 2000 calorie diet.
Keywords: beef marinade, beef marinade recipe, how to make beef marinade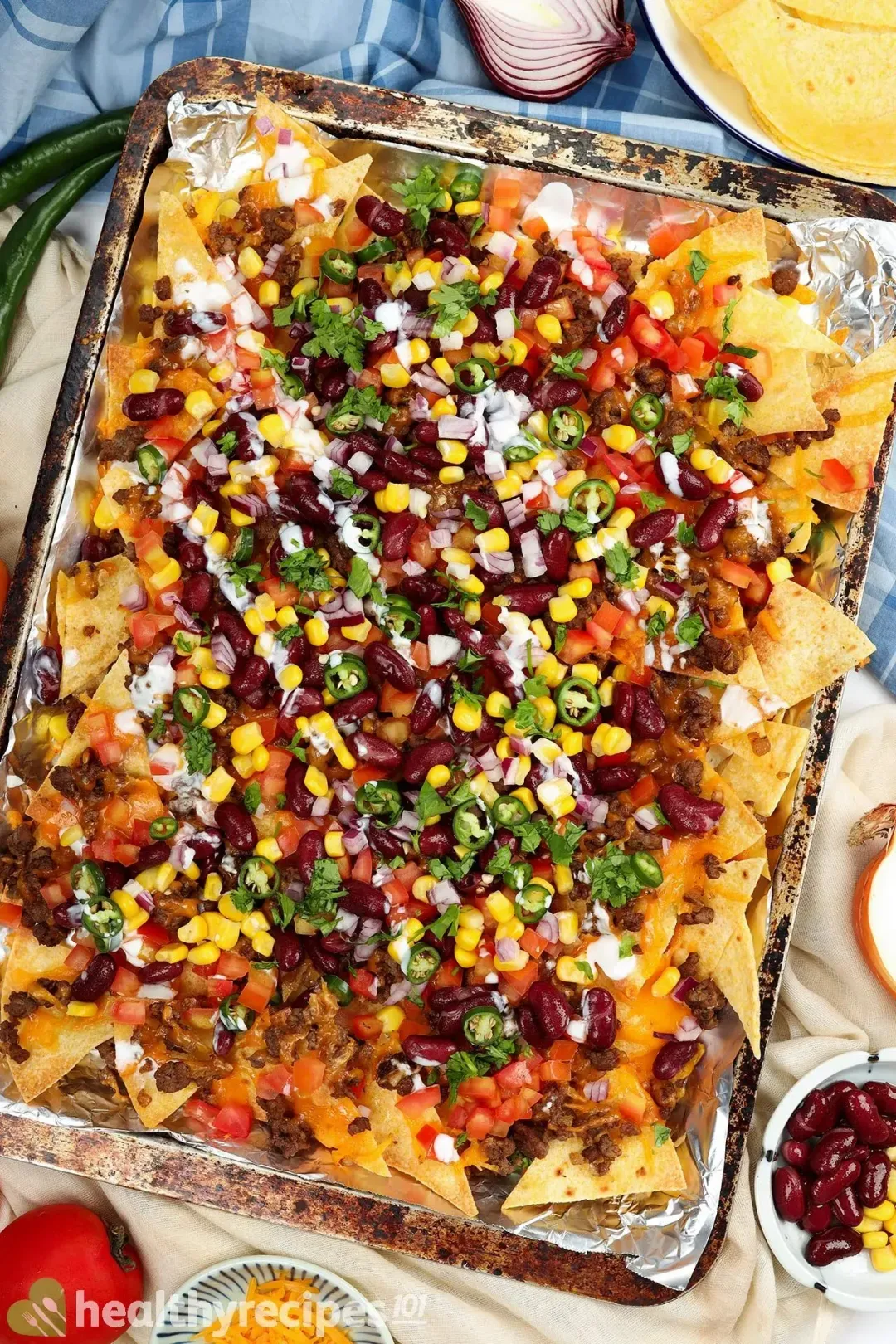 Previous Recipe
Sheet Pan Nachos
Sheet Pan Nachos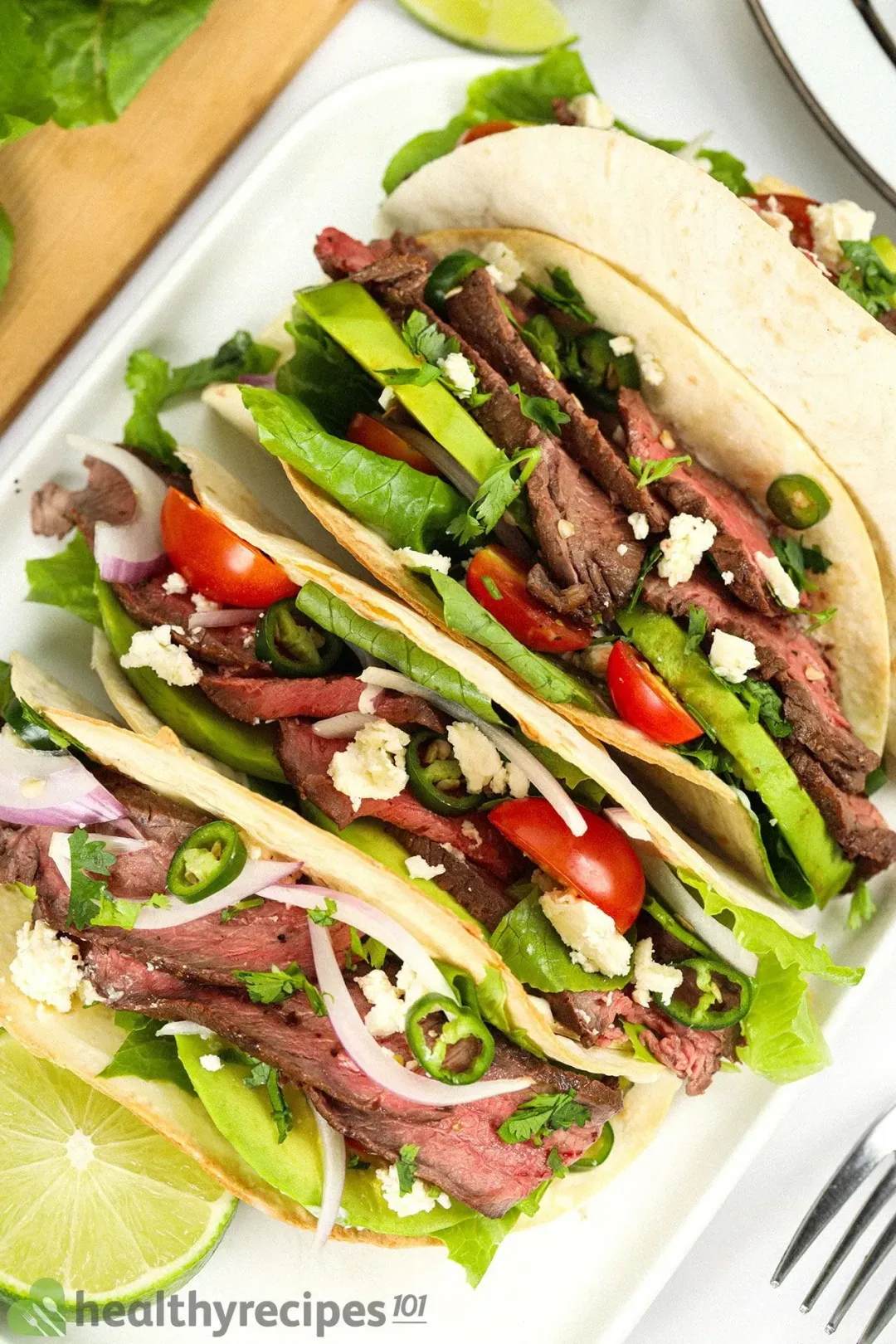 Steak Taco
Head Chef, Culinary Consultant
Tuyet Pham is an award-winning Saigonese chef who believes that joy is the secret ingredient to delicious food. At Healthy Recipes 101, Tuyet personally tests and simplifies every recipe, ensuring maximum flavor with minimal effort. With a background at prestigious French restaurants P'TI Saigon and Le Corto, Tuyet knows how to make every dish exceptional.
Writer, Author
Luna Regina is an accomplished writer and author who dedicates her career to empowering home cooks and making cooking effortless for everyone. She is the founder of HealthyKitchen101.com and HealthyRecipes101.com, where she works with her team to develop easy, nutritious recipes and help aspiring cooks choose the right kitchen appliances.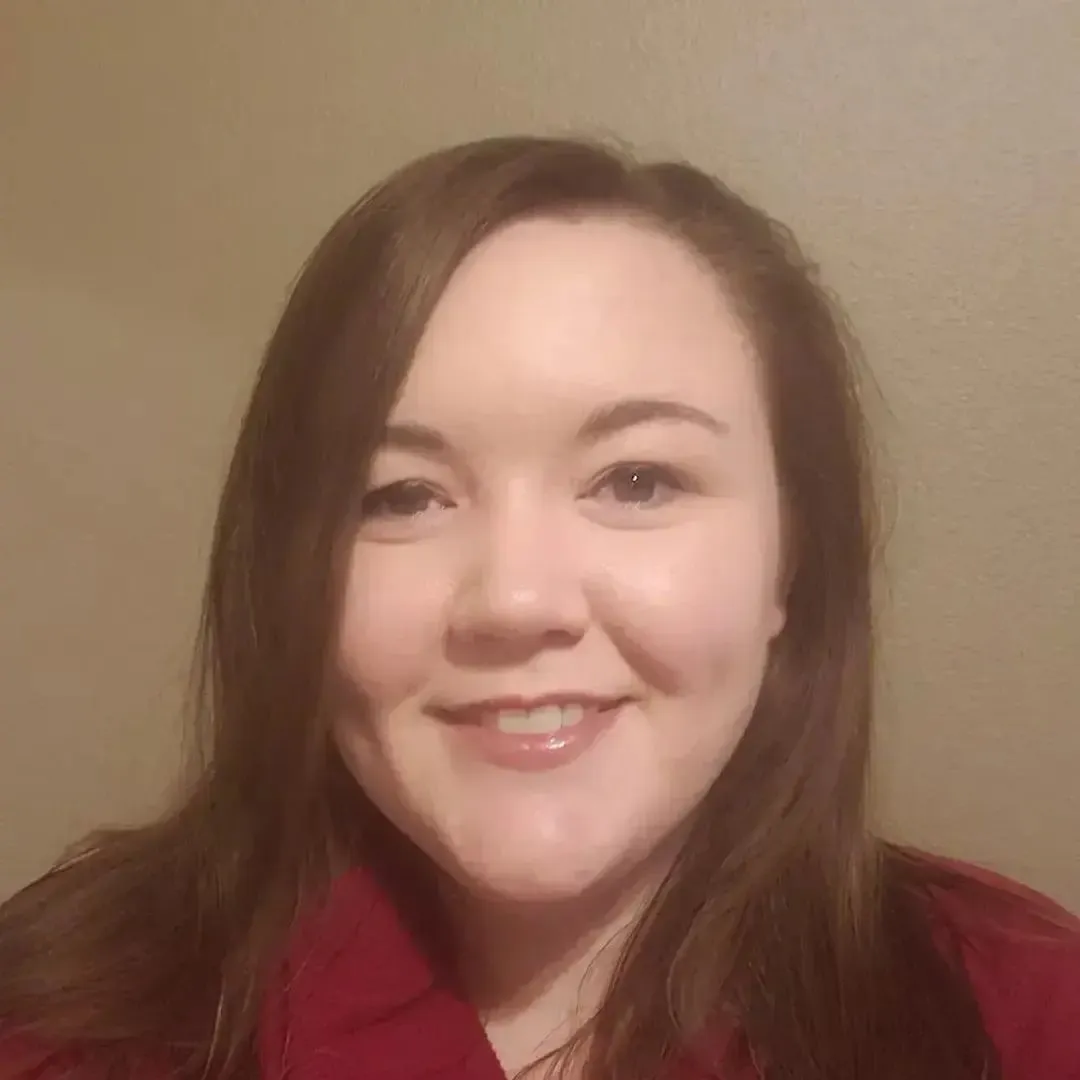 Nutrition Reviewer
SaVanna Shoemaker is a registered dietitian and freelance health and wellness writer. She's passionate about whole food-based eating and holistic nutrition, and uses her platform to help people embrace real food and reduce their sugar and processed food intake. Her work has appeared on Healthline, Greatist, Livestrong, Verywell Health, and more. In her free time, she enjoys gardening, reading, cooking, and weight lifting.
Amazing blend of flavors, great for steak and burger nights!

delicious and easy to make