This grape smoothie recipe takes just minutes to make and turns out a delicious fruit sensation.
Being plump, juicy, crisp, and addictively sweet, grapes are the kind of fruit that people prefer to eat as a snack rather than make treats out of.
But once frozen, grapes will taste even better blended into a smoothie, especially when accompanied by the right 'friends'. Today's grape smoothie turns frozen grapes and strawberries, along with Greek yogurt, into a thick and fresh summer treat.
Is This Grape Smoothie Healthy?
Yes, it is. The benefits from the grapes alone are impressive:
They contain a wide range of vitamins and minerals, such as copper, vitamin K, vitamin B1, vitamin B2, vitamin B6, potassium, vitamin C, manganese, and so on.
They're rich in antioxidants, especially anthocyanins. These substances have the ability to decrease the risks of several diseases.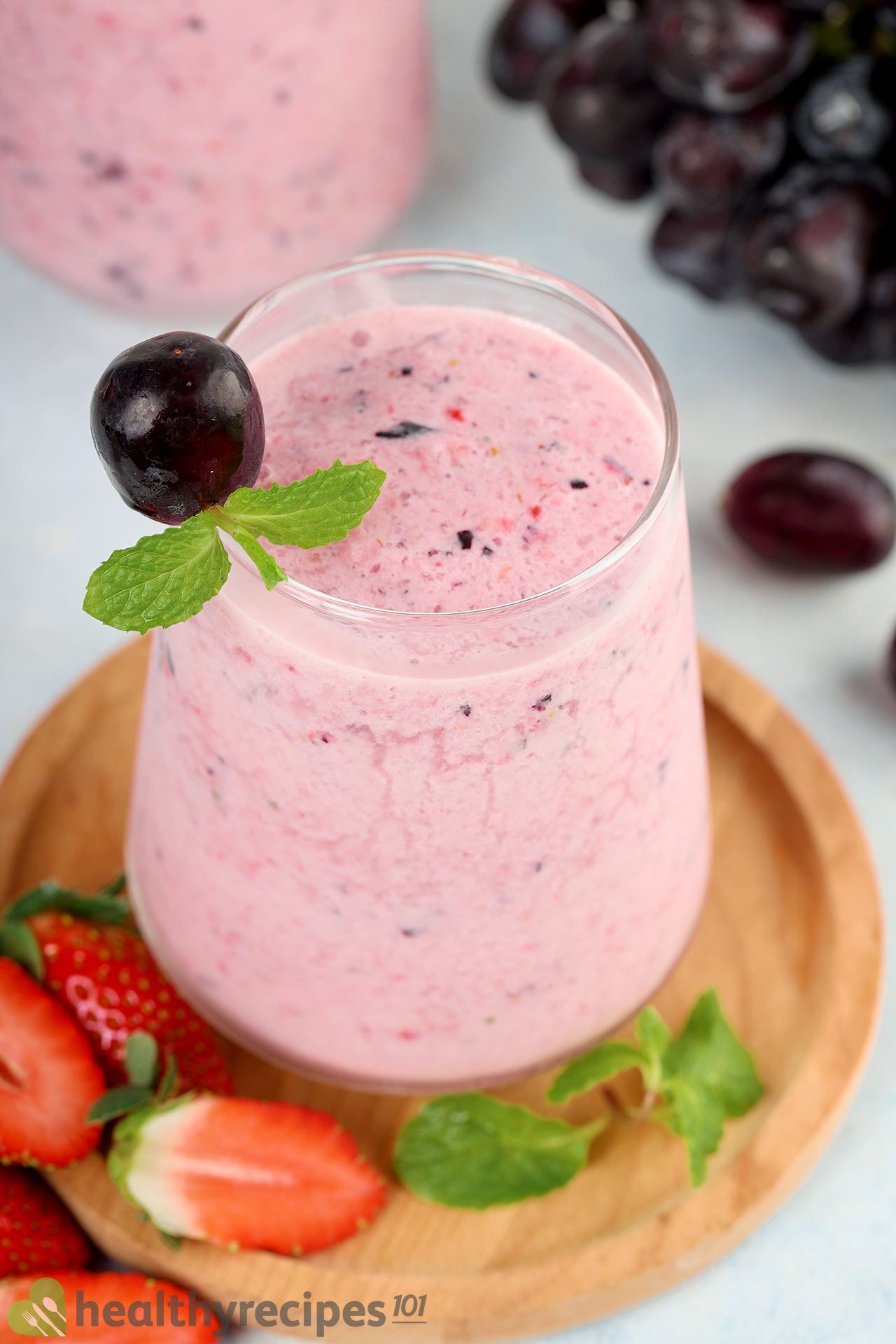 By using Greek yogurt, we also add a small amount of protein to each serving — 3.5 g per serving.
Each serving is sweetened with a small amount of added sugar — 1/4 tbsp, or 3 g sugar. For comparison, the recommended upper limit for a 2000-calorie diet is 50 g.
Ingredients for Grape Smoothie
Our grape smoothie recipe calls for grapes, strawberries, Greek yogurt, milk, sugar, mint, and ice.
We use strawberries because their flavor profile is similar to grapes — sweet and mildly tangy. They also give the smoothie a wonderful pink hue.
If you're cutting down on animal-based products, Greek yogurt and whole milk are probably not for you. You might want to switch to whichever plant-based dairy products you prefer. Still, keep an eye on their saturated fat content and make sure the amount you consume in the day is within limits.
Finally, we add some mint leaves to the mix for a hint of coolness.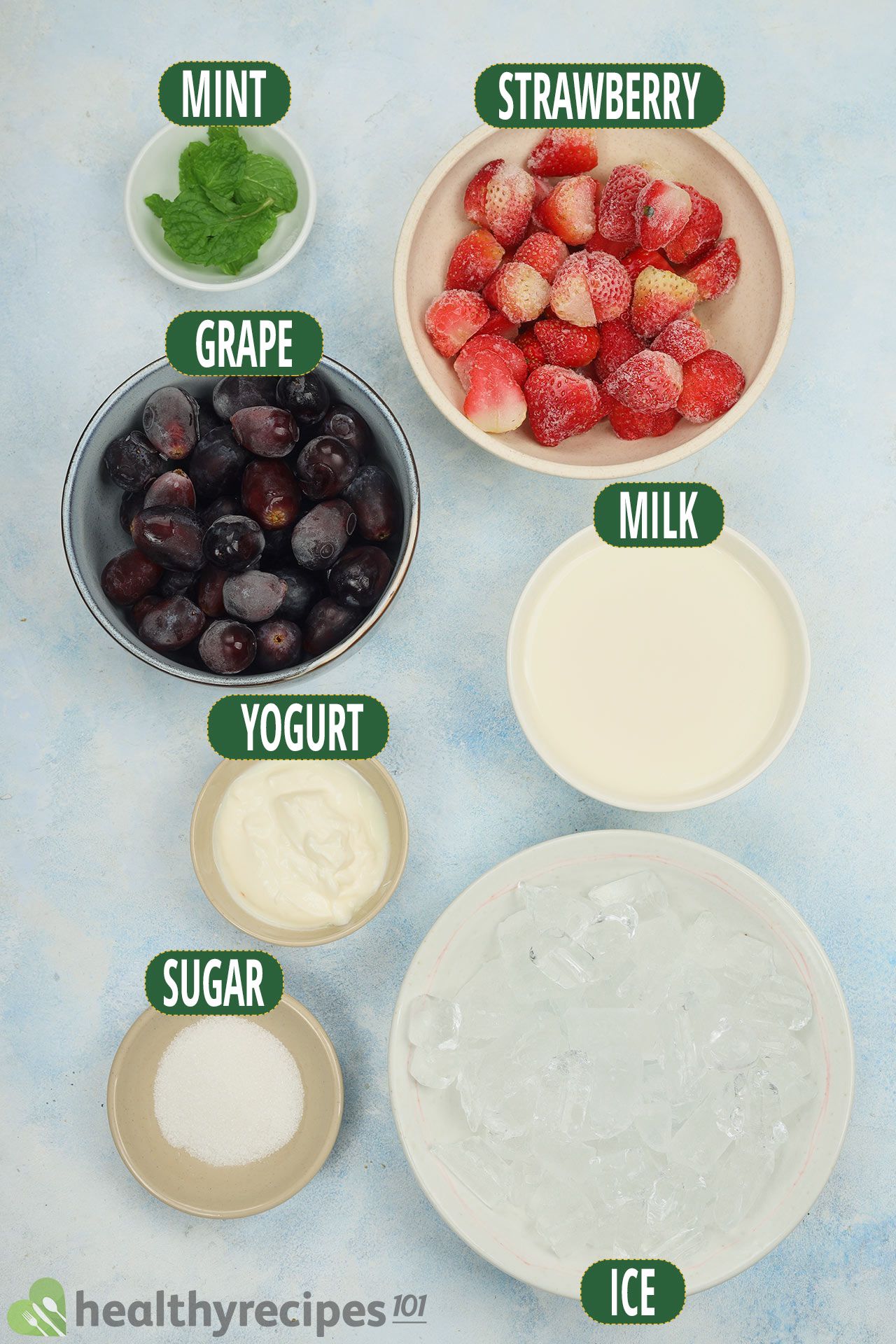 1. Types of Grape You Can Use
We are using red grapes, or any type of grape that's soft and sweet. Green varieties tend to be crispier and more suitable for eating than making smoothies. Still, the choice is yours — either will turn out great.
2. Are Frozen Grapes Good for Smoothies?
Yes, in fact, they're even better than fresh grapes. The smoothie will turn out cooler and thicker, greatly enhancing the grapes' flavor. You can use room-temperature fruits instead, but the frozen is worth your try.
Grapes, especially seedless grapes, are also the easiest fruit to freeze — just place them in a bag and freeze away. They need nothing but a thorough rinse, and won't stick to each other like, say, mangoes or bananas.
Are Grape Seeds Edible?
Yes, you can eat seeded grapes and swallow the whole thing. Plenty of the antioxidant substances are contained in the fruit's seeds, so they are actually good for your health.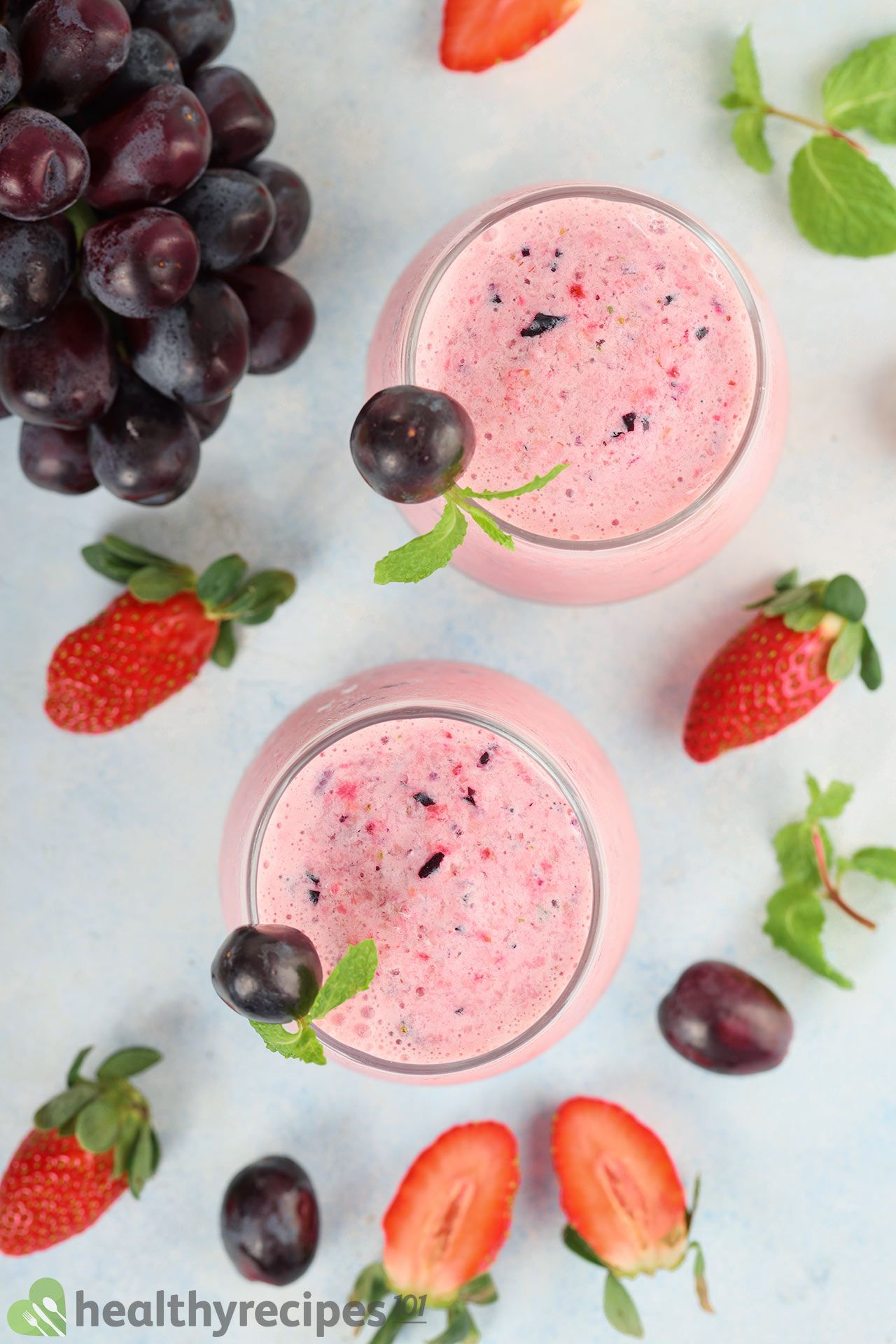 Still, the seeds taste quite bitter and they will add an unpleasant texture to your smoothie. If you want a better-tasting smoothie, we recommend removing the seeds by slicing each grape in half and taking them out by hand.
How to Make a Grape Smoothie
To make this grape smoothie, measure out the grapes, strawberries, ice, yogurt, milk, mint, and sugar, and place them in the blender, ice at the bottom. Pulse a few times to make sure nothing is stuck, and blend all until smooth.
If your smoothie often turns out too chunky, it's most likely because your blender isn't powerful enough to handle hard ice. Soft ice, like ice nuggets, blends easily into fine particles. If you don't have soft ice, break it into smaller pieces with a pestle and cheesecloth first.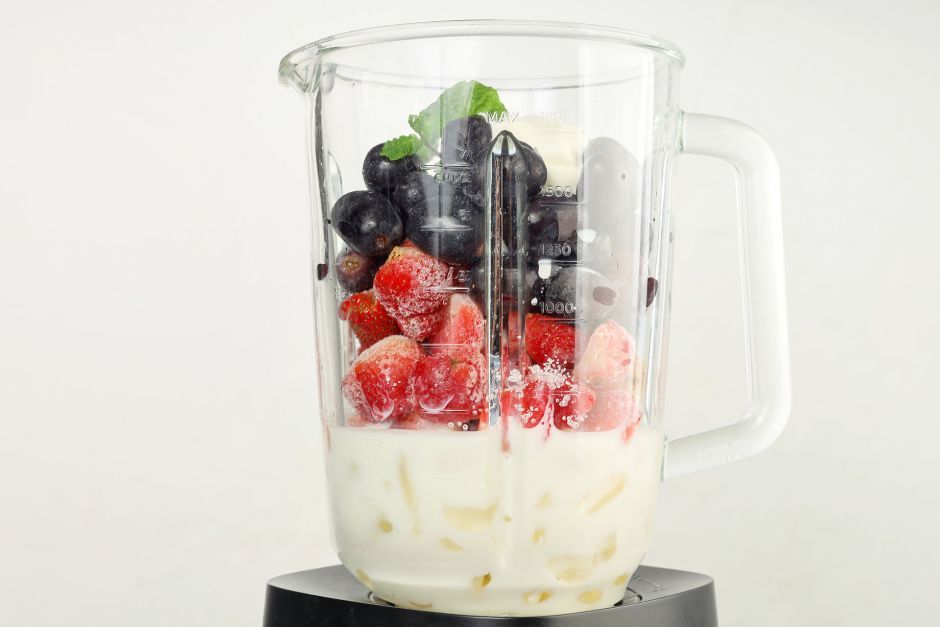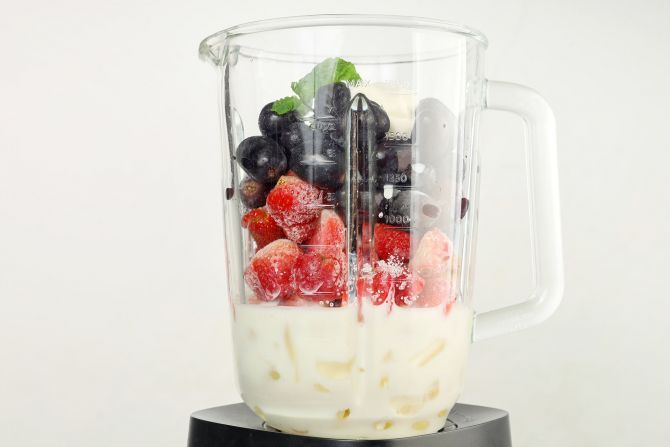 Blend ingredients.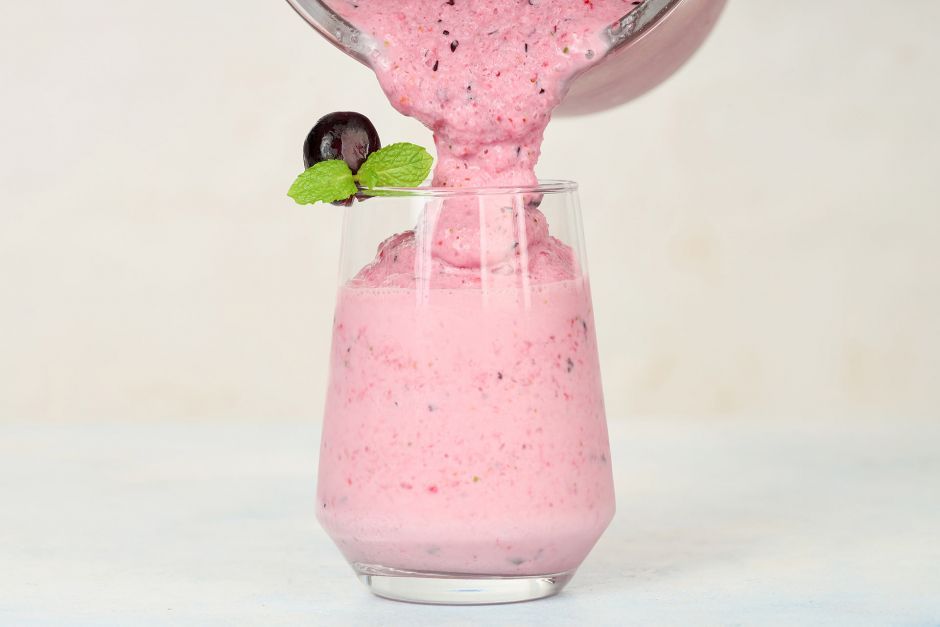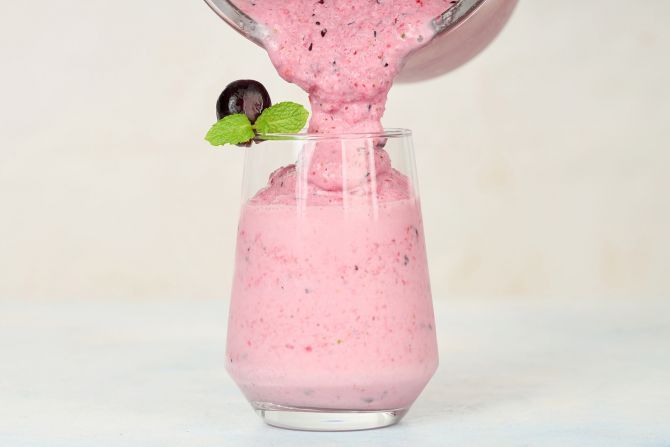 Pour into serving glasses.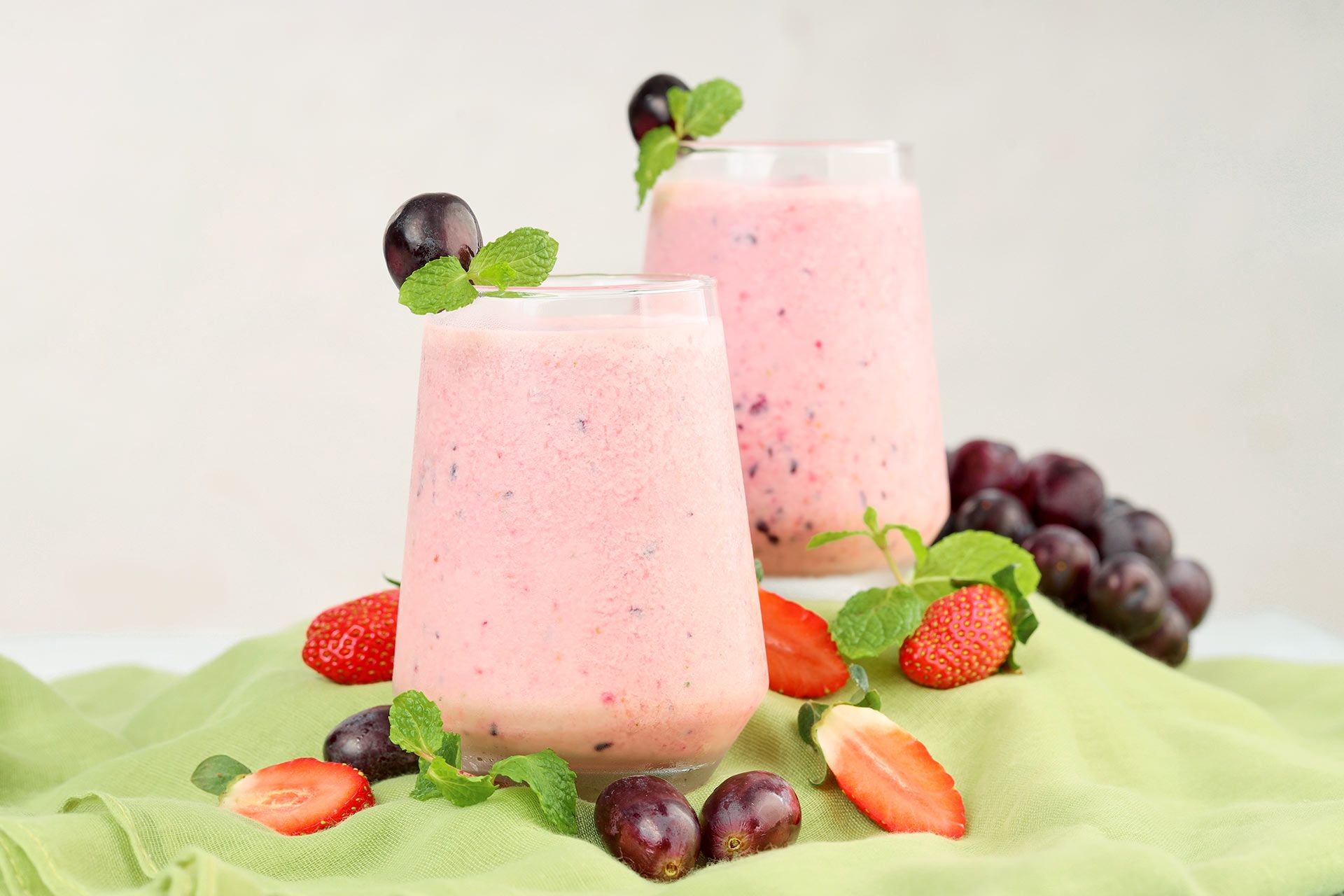 Garnish with more mint leaves and serve immediately.
Jump to Recipe
What Fruit Goes With Grapes?
Grapes are tangy and sweet, so fruits with a similar flavor profile are great pairings. Strawberries, blueberries, raspberries, oranges, and apples are the best ones in our opinion.
How Long Does This Grape Smoothie Last?
Like most smoothies, this one will last for about 2 days in the fridge and up to 3 months in the freezer. Still, we recommend drinking all of it in one go, since the smoothie will get more watery the longer it sits.
To store several servings of smoothies for longer, we suggest that you try this method:
First, blend all of the ingredients but don't add ice. You'll have a concentrated fruit purée.
Divide this purée into small Ziploc bags, seal them, and stack them in the freezer. Date them so you'll know when to toss them away.
Whenever you want a glass of smoothie, simply take out one portion and blend it with ice. The bag can be cleaned easily and reused for the next batch.
We call these frozen bags or fruit purée 'versatile popsicles'. You can eat them as-is or add them to a bowl with nuts and bananas to make a delicious fruit bowl.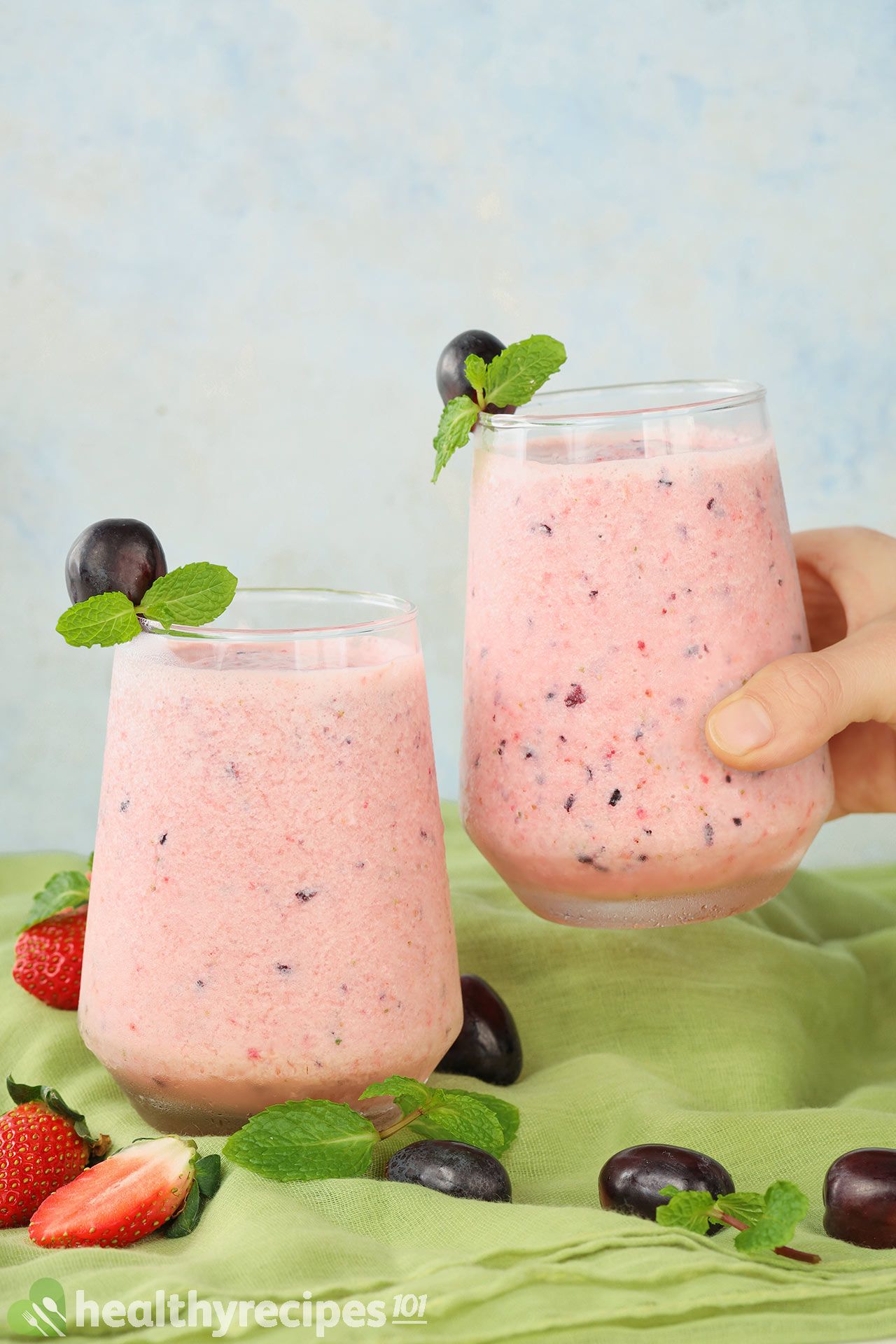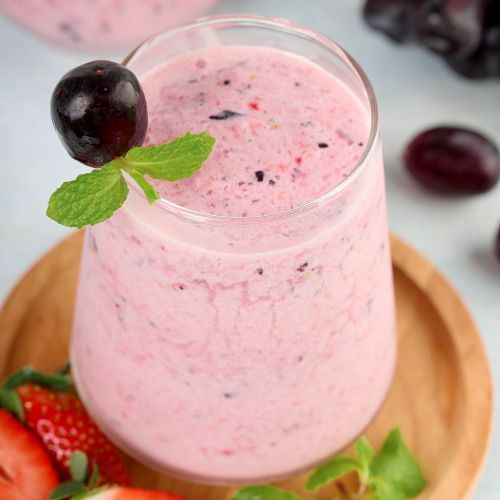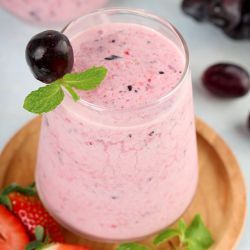 Grape Smoothie Recipe
This grape smoothie recipe turns this delicious fruit snack into a cold, tasty slushie. There are also strawberries within the blend, lending it a wonderful flavor.
Ingredients
8

oz

strawberries

hulled and frozen

12

oz

red grapes

frozen

2

cups

ice

1

cup

whole milk

1/4

cup

plain Greek yogurt

1

tbsp

sugar

8

mint leaves
Instructions
Place all ingredients in the blender, starting with the ice. Cover and blend until smooth.

Pour into serving glasses.

Garnish with more mint leaves and serve immediately.
Nutrition
Nutrition Facts
Grape Smoothie Recipe
Amount Per Serving (1 serving)
Calories 140
Calories from Fat 27
% Daily Value*
Fat 3g5%
Cholesterol 10mg3%
Sodium 41mg2%
Potassium 381mg11%
Carbohydrates 27g9%
Protein 4g8%
Vitamin A 247IU5%
Vitamin C 37mg45%
Calcium 101mg10%
Iron 1mg6%
* Percent Daily Values are based on a 2000 calorie diet.