We modified the typical apple cider vinegar and grape juice recipe to come up with a refreshing alternative. The drink is made up of naturally sweet elements that enhance this delicious beverage.
It's also undeniably good for you, given that its two main components advocate heart health. But how can you benefit from its nutrient-rich properties?
Read on to find out and learn how to make your own glass of apple cider vinegar and grape juice.
What Is Apple Cider Vinegar?
Apple cider vinegar (ACV) is fermented apple juice from the liquid extract of crushed apples and a yeast liquid. The first fermenting round forms alcohol, and the second process forms acetic acid.
Acetic acid is the main component in apple cider vinegar. It constitutes almost 6% of its composition and comes from added bacteria, also known as the "mother"— a combination of yeast and bacteria.
The mother, though appearing murky, lumpy and somewhat unappealing, contains many bacteria strains that make raw apple cider vinegar healthier for you. If you must choose between clear and cloudy ACV, pick the latter for a nutrient-rich choice.
Is This Juice Healthy?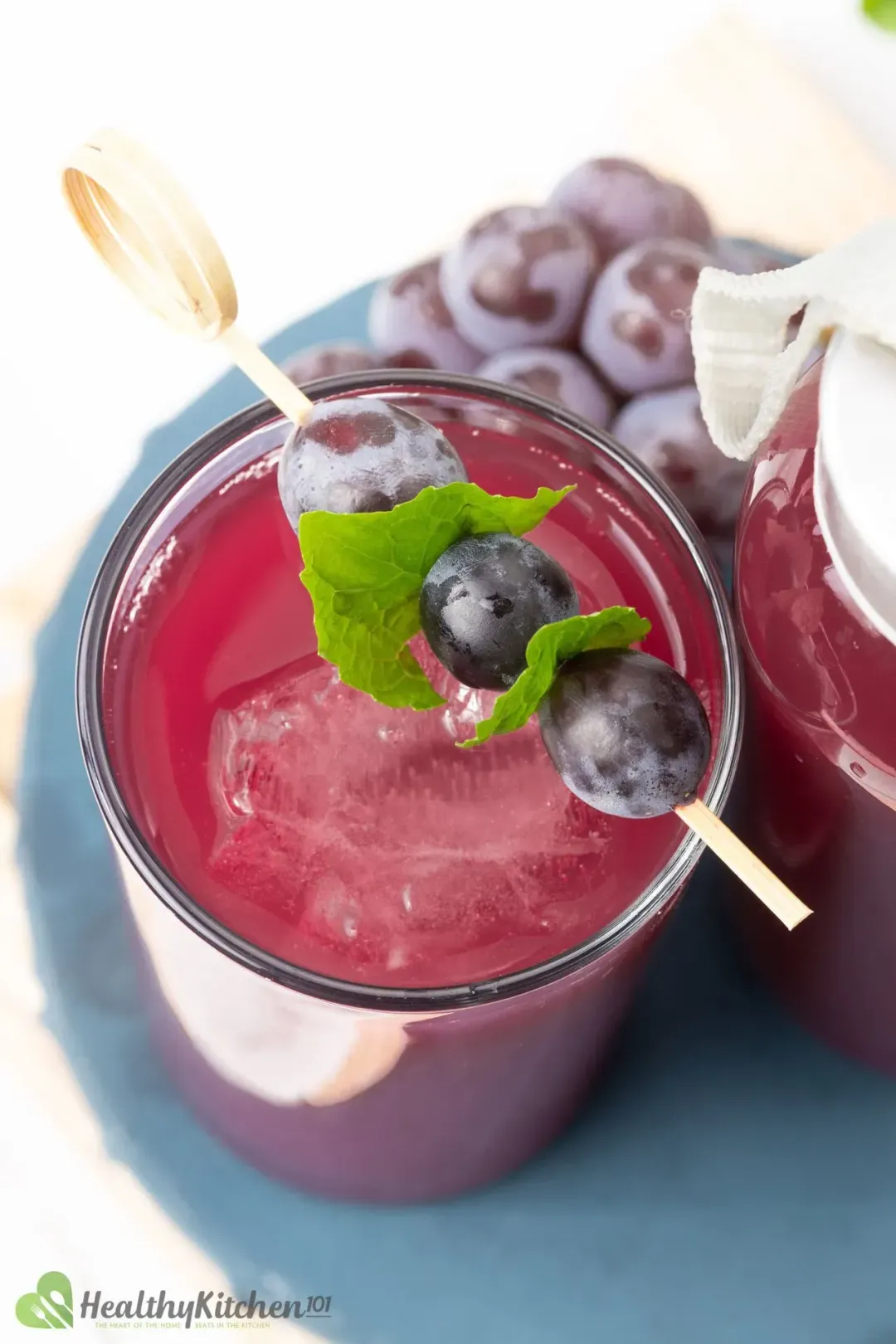 However you choose to look at it, this drink is healthy. Apple cider vinegar and grape juice individually offer health benefits, and combining them maintains their nutrition profiles and improves palatability. In addition, our added ingredients keep your health in mind.
1. For Heart Health
Let's begin with apple cider vinegar. It has a long tradition of use for inhibiting conditions that give rise to cardiovascular disease.
In one particular study, science meets tradition as the administering of ACV was shown to decrease blood lipids in patients with hyperlipidemia.
It shows that not all anecdotal remedies are a farce, and the effects are undeniable when backed with research.
2. For Weight Loss
Grape juice has a high concentration of polyphenols, namely resveratrol, which may prevent obesity and cardiovascular disease.
The benefits of drinking grape juice every day, however, do not preclude its ill effects. We advise that you drink it (and all high-fructose beverages) sparingly to avoid weight gain.
Incorporate up to 3 servings a week into a planned diet. And if you have diabetes, please consult your doctor as consuming grape juice may cause blood sugar levels to rise.
3. Honey
Honey is excellent at tying flavors together, just as in this drink. It's also preferable to sugar since it doesn't raise blood sugar levels as much.
There's only half a tablespoon of pure honey per serving in this apple cider vinegar and grape juice recipe to limit calories. We've kept it within the dietary allowance for a 2000-calorie diet, but it still results in a sweet finish.
Our other healthy ACV drinks include this Apple Cider Vinegar with pineapple juice that's perfect for summer refreshment.
Best Time to Drink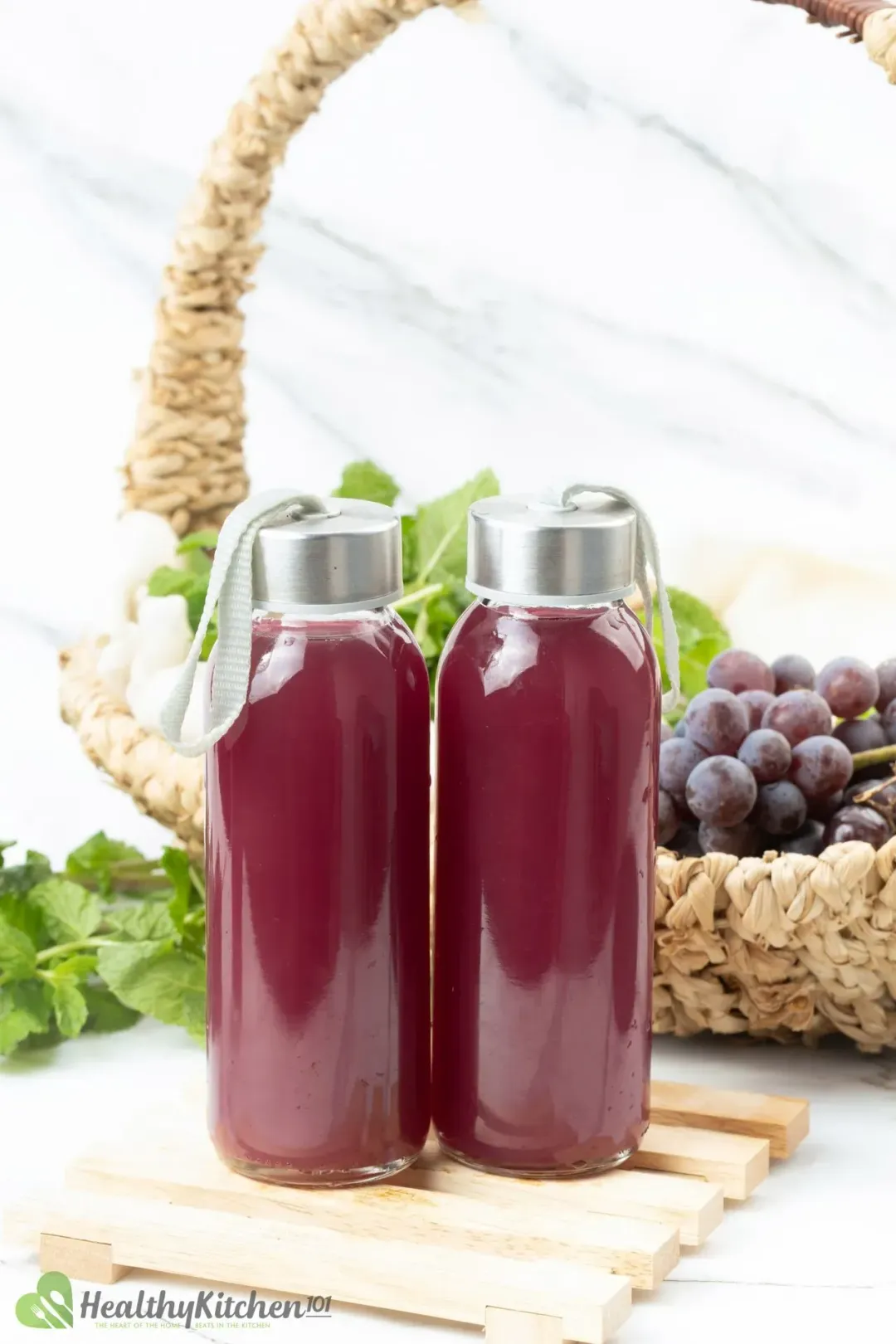 There are no set rules on when or how to drink apple cider vinegar with grape juice. You can have it before breakfast to help you eat less and encourage weight loss.
Another option is to have it with a meal to fulfill lunch or dinner. Or before bed to take care of sweet cravings that could result in nighttime snacking.
As long as you're not drinking outside of your sugar and calorie allowances, you can enjoy it without a timestamp.
How to Make
One rule of thumb when making healthy drinks is to use the freshest ingredients possible. The fewer the additives, the "cleaner" the drink.
Don't pick near ripe ingredients either; the result can be bland.
Start with fresh concord grapes and soak them in salt water for 15 minutes to remove any dirt.
Drain the water and gently rub as you rinse them under running water. Place the grapes into a small saucepan and add apple cider vinegar, water, honey, and mint leaves.
Leave to simmer for 10 minutes over medium-low heat, remove it from the heat, and let the mixture cool. After another 10 minutes, use a blender to pulse it to a smooth consistency.
Set a cheesecloth over a bowl and pour the mixture over it, then squeeze the juice into a bowl.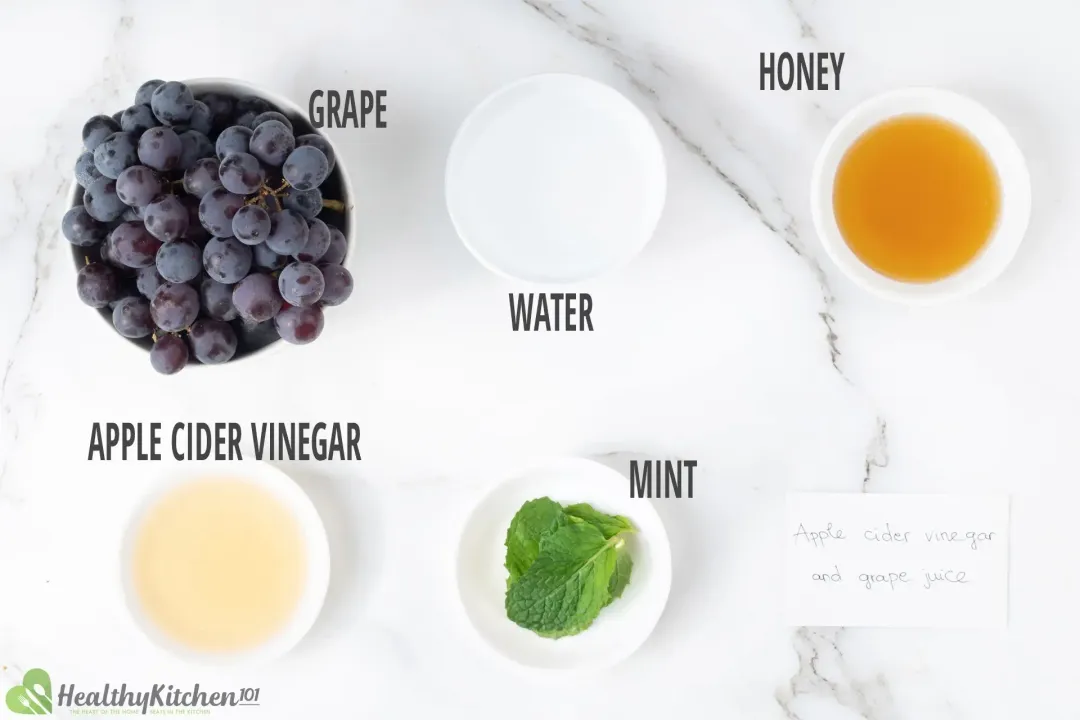 You can use leftover grape juice solids to lend flavor and texture to baked goods. But if you don't plan on baking, discard them.
Next, transfer the juice into a pitcher and fill your serving glasses with ice. Pour in the juice, immediately serve, and store any leftover juice in the refrigerator.
You can create a cocktail with grape juice by adding some vodka. Or you can leave out ACV and keep it as a simple grape juice recipe— the choice is yours.
How Long Does It Last?
This beverage can last up to 3 days in the refrigerator. But don't leave it for more than 2 hours at room temperature as this can cause rapid loss of nutrients.
Also, check it after 48 hours to ensure that it hasn't spoiled.
Though apple cider vinegar doesn't expire, mixing it with grape juice makes the beverage prone to oxidation and nutrient depletion. You can limit these, however, by using an air-tight container that minimizes air exposure.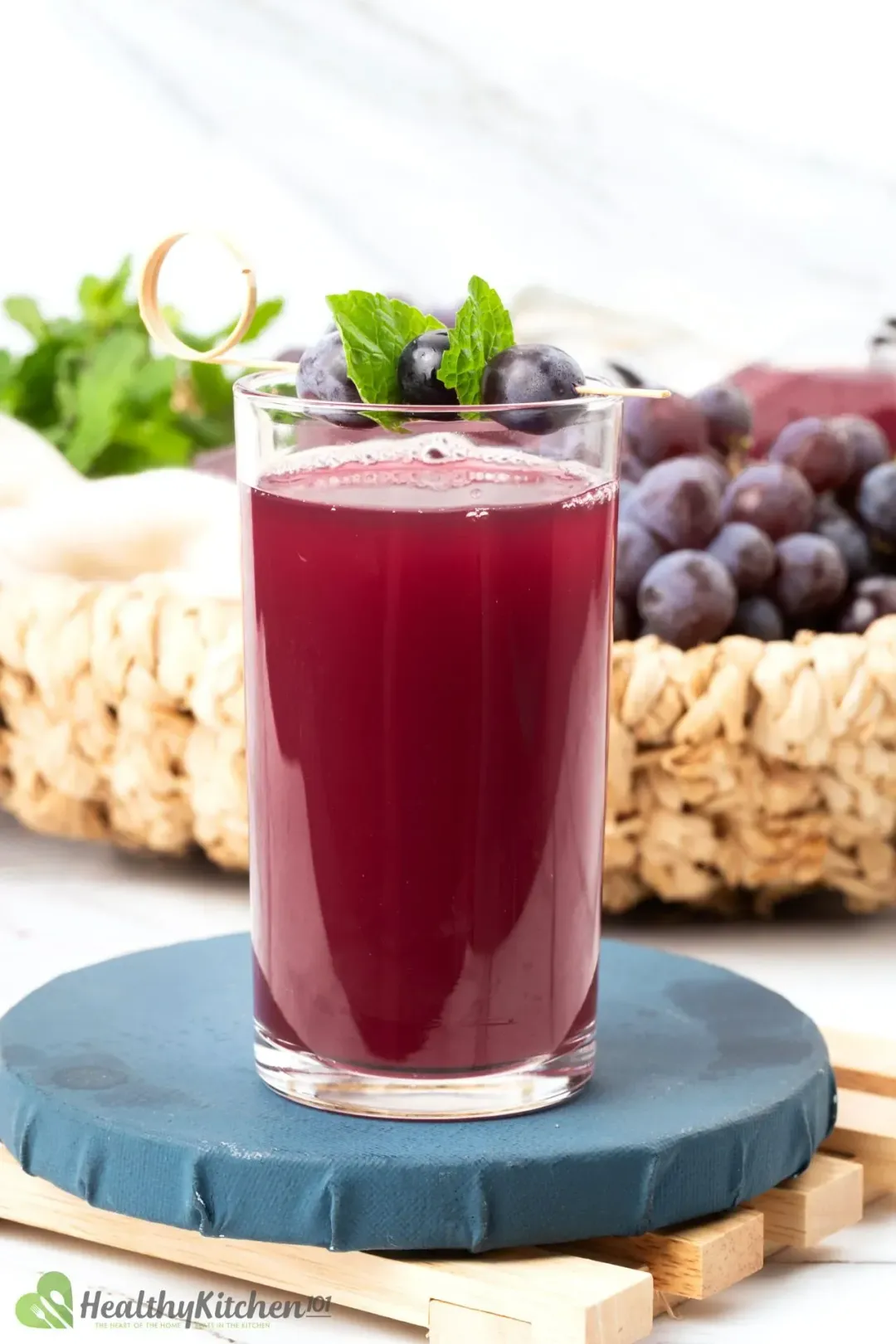 Storing it in a dark place under cool temperatures also limits light and heat exposure that can quicken the decrease in nutrient content.
To store it for extended periods you can freeze it; use a freezer-safe jar, and leave an inch of space to allow for expansion. Keep it for a maximum of 3 months and taste to ensure that it still has flavor before serving.
Please see our article on grape drink recipes if you enjoy this beverage, where you can find other recipes using green grapes too.
Apple Cider Vinegar and Grape Juice
This apple cider vinegar and grape juice recipe is a delicious treat for cravings and offers health benefits. Serve in a tall glass and enjoy cold.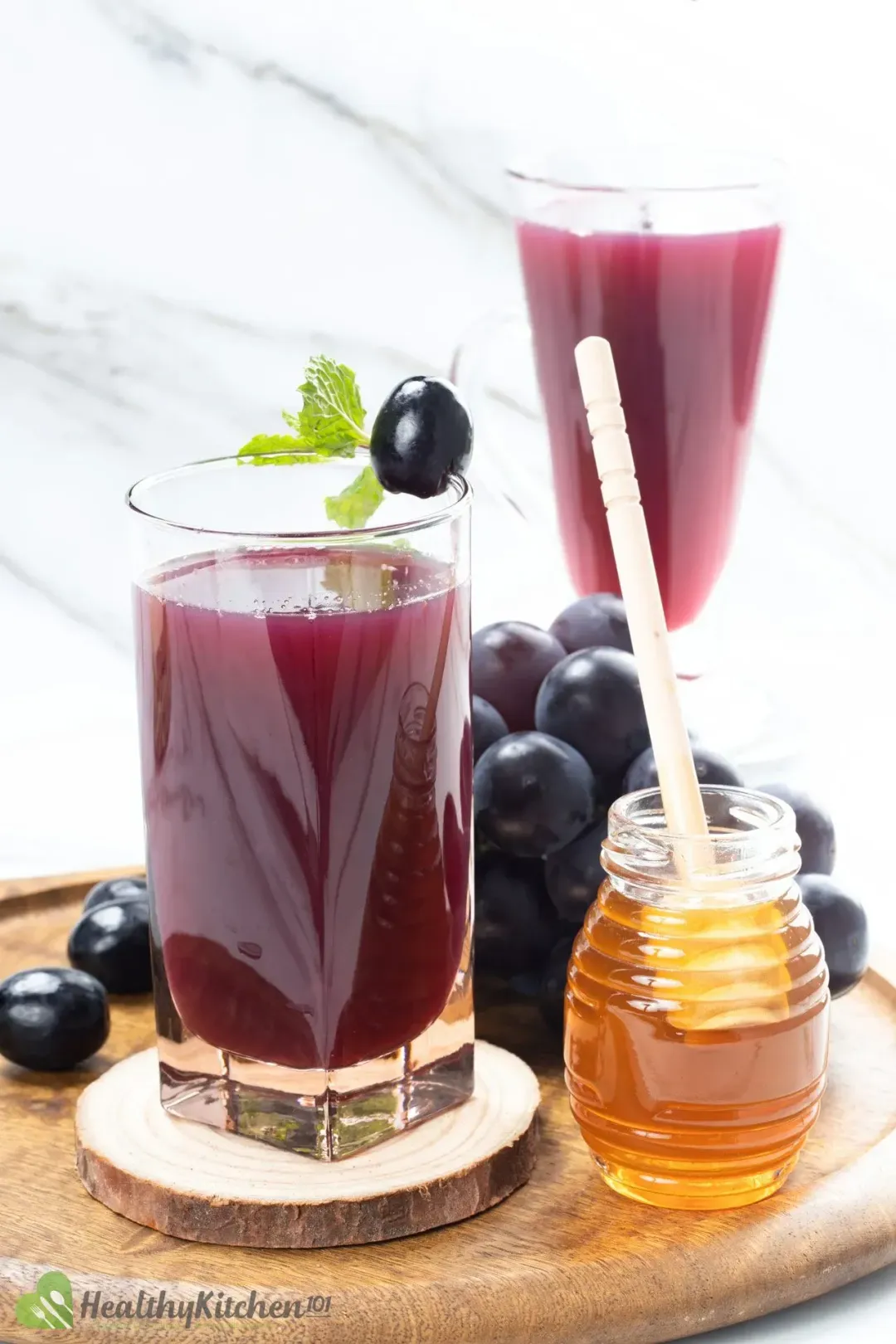 prep TIME

25 mins

total TIME

25 mins
COURSE

Beverage

CUISINE

American

SERVINGS

CALORIES

110 kcal
INGREDIENTS
16 fl oz

grape juice

(from 40 oz grapes)

3 tbsp

apple cider vinegar

8 leaves

spearmint

(fresh)
INSTRUCTIONS
1
In a small saucepan, add 40 oz grapes, 1/4 cup water, 2 tbsp honey, 3 tbsp apple cider vinegar, and 8 mint leaves. Simmer over medium-low heat for 10 minutes. Remove from heat and leave to cool.
2
Add the mixture into a blender and blend until smooth. Place a cheesecloth over a bowl and pour juice over it. Squeeze the cheesecloth to extract remaining juice into the bowl. Discard the residue (or save for later use).
3
Pour the juice into a pitcher and serve over ice.
NUTRITION
Nutrition Facts
Apple Cider Vinegar and Grape Juice
Amount Per Serving (1 serving)
Calories 110
% Daily Value*
* Percent Daily Values are based on a 2000 calorie diet.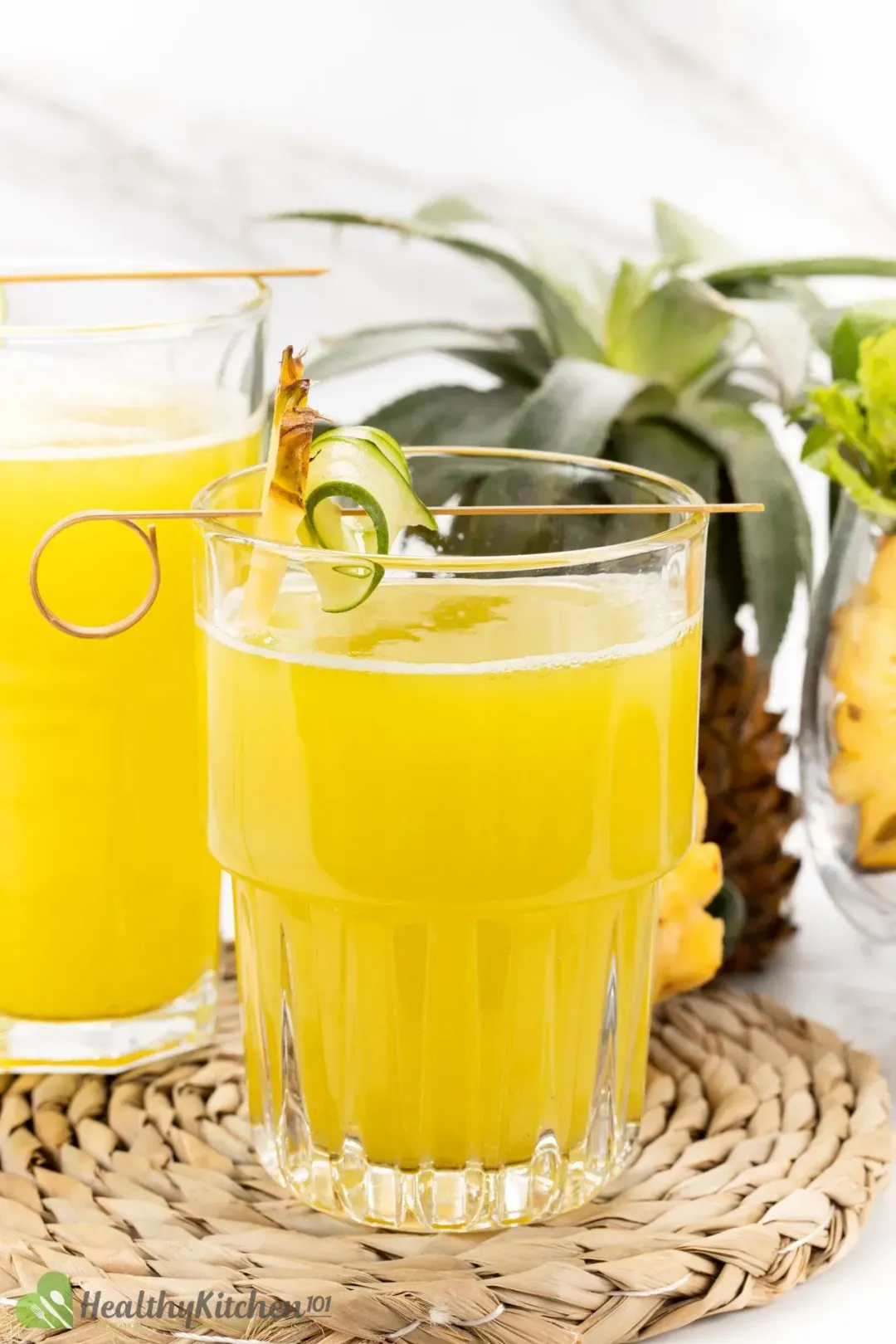 Previous Recipe
Pineapple Cucumber Juice
Pineapple Cucumber Juice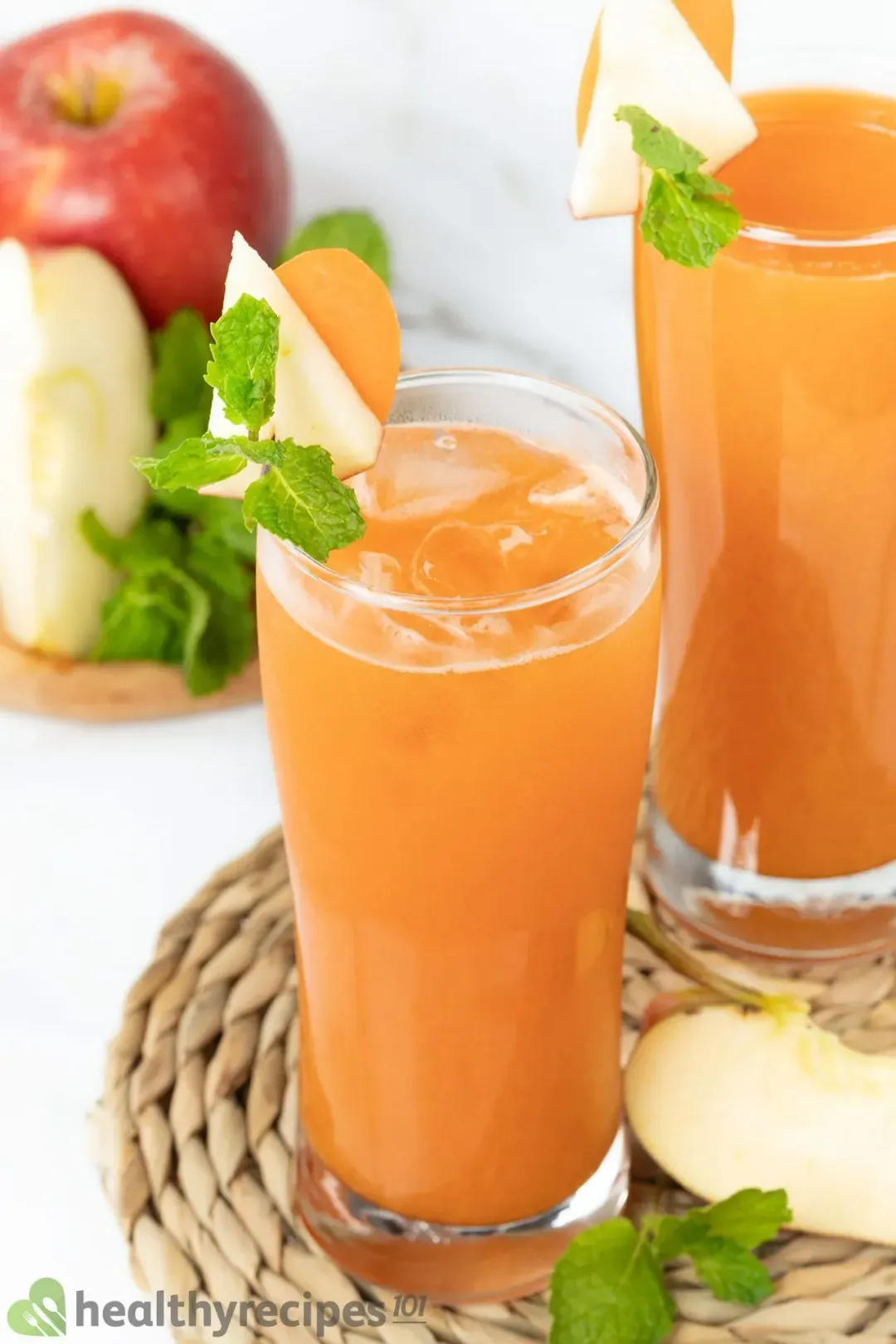 Next Recipe
Carrot Apple Ginger Juice
Carrot Apple Ginger Juice
The color of this drink looks so eye-catching and it's also very easy to make. Thanks a lot for sahring it!

Would putting the grapes through a masticating juicer work as well, or do the have to be cooked?

Sure you can! Place them in the juicer just like you would any other fruit/vegetable. You can see our Vodka and Grape Juice recipe for reference 😉