Our Instant Pot beef stew recipe will show you how to make an easy, healthy, wholesome dinner for your family. With the help of your trusty Instant Pot, the beef gets cooked to perfection in half the time compared to the stovetop method.
The tender beef chuck in its velvety, rich, and tangy wine-based sauce will feel simultaneously fancy, homey, and cozy. It will melt in your mouth and fill your stomach with warmth and satisfaction.
Another great thing we love about this recipe is that it requires minimal utensils to cook. You won't have to spend much time cleaning up afterward.
Before we start cooking, here are a few things you should know about today's recipe.
Is Beef Stew Healthy?
Our Instant Pot beef stew recipe is made from scratch with carefully measured ingredients and nutrition in mind. So yes, it's healthy.
To be precise, each serving of our beef stew contains 466 calories. This leaves ample space for a green side dish and juice drink to fill out a nourishing and fulfilling 750-calorie meal.
And not only is it a hearty dish, this beef stew is also a great source of protein. Each serving provides 39.6 g protein — nearly 80% of the recommended daily intake based on the USDA's Dietary Guidelines.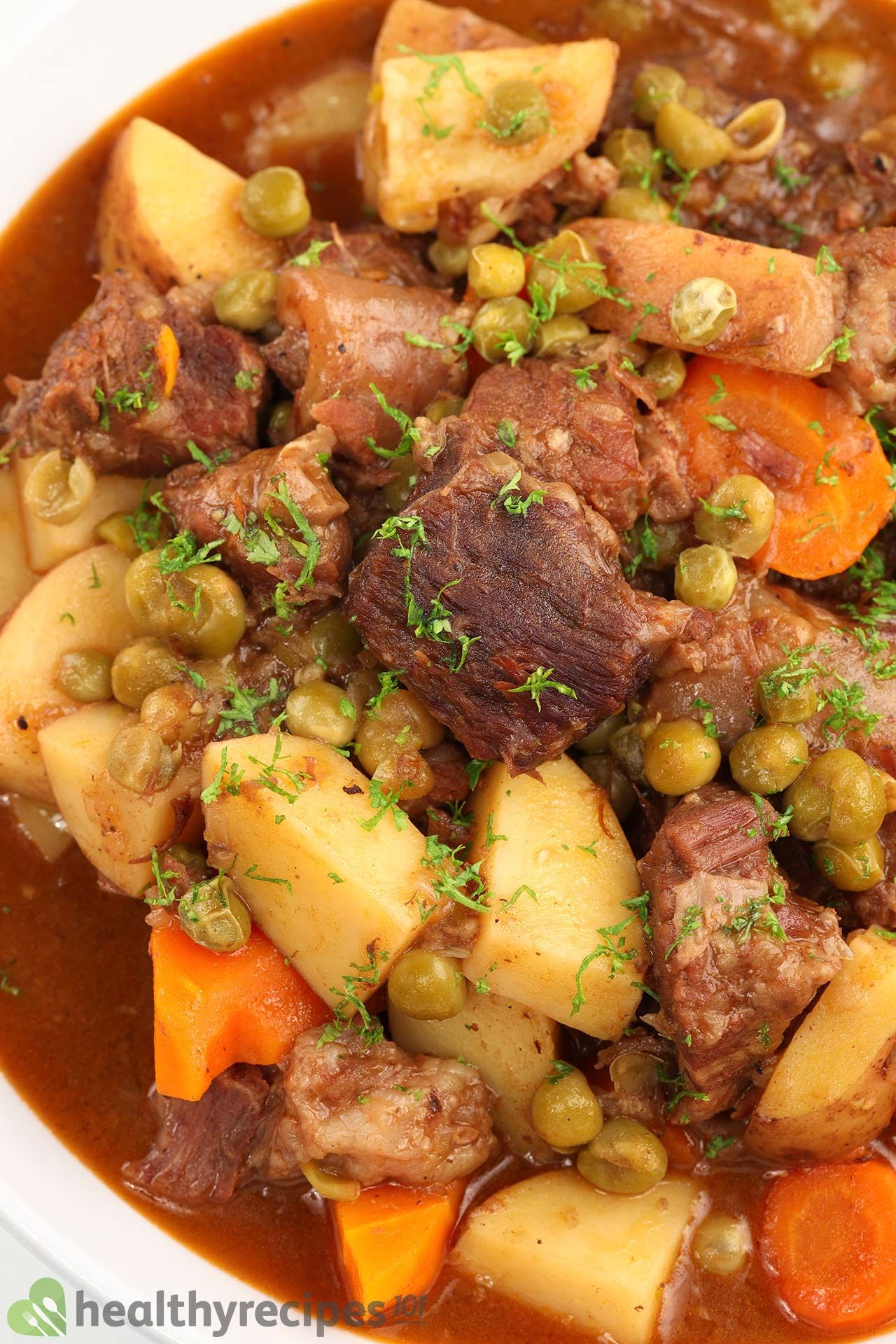 Lastly, with the abundance of veggies included, our beef stew yields a notable amount of fiber, vitamins, and minerals. This recipe is surely one of the tastiest and healthiest ones you can find on the Internet.
If you want to incorporate more healthy stew dishes like this one into your meal plan, don't miss our Instant Pot stew recipe, Instant Pot chicken stew, or our collection of beef stew recipes.
Instant Pot Beef Stew Ingredients
Our beef stew is made with simple ingredients but yields big flavors.
Meat: Ideal protein variations for beef stew include chuck roast, boneless short ribs, and brisket. It's a good idea to choose meat with a little fat content so it can retain the moisture and turn into gelatin as it cooks. That keeps the meat juicy while also thickening and enriching the stew.
Vegetables: Our batch of veggies includes potatoes, carrots, and green peas. They enhance the flavors and diversify the dish's texture. We recommend cutting your potatoes and carrots into large chunks so that they don't get mushy and fall apart in the soup.
Red wine: Red wine is added to deglaze the pot and gets cooked down into the most delicious gravy during the stew's hours of simmering. The specific type of wine is up to you — whether you choose an expensive or affordable bottle, it will still result in a delicious meal.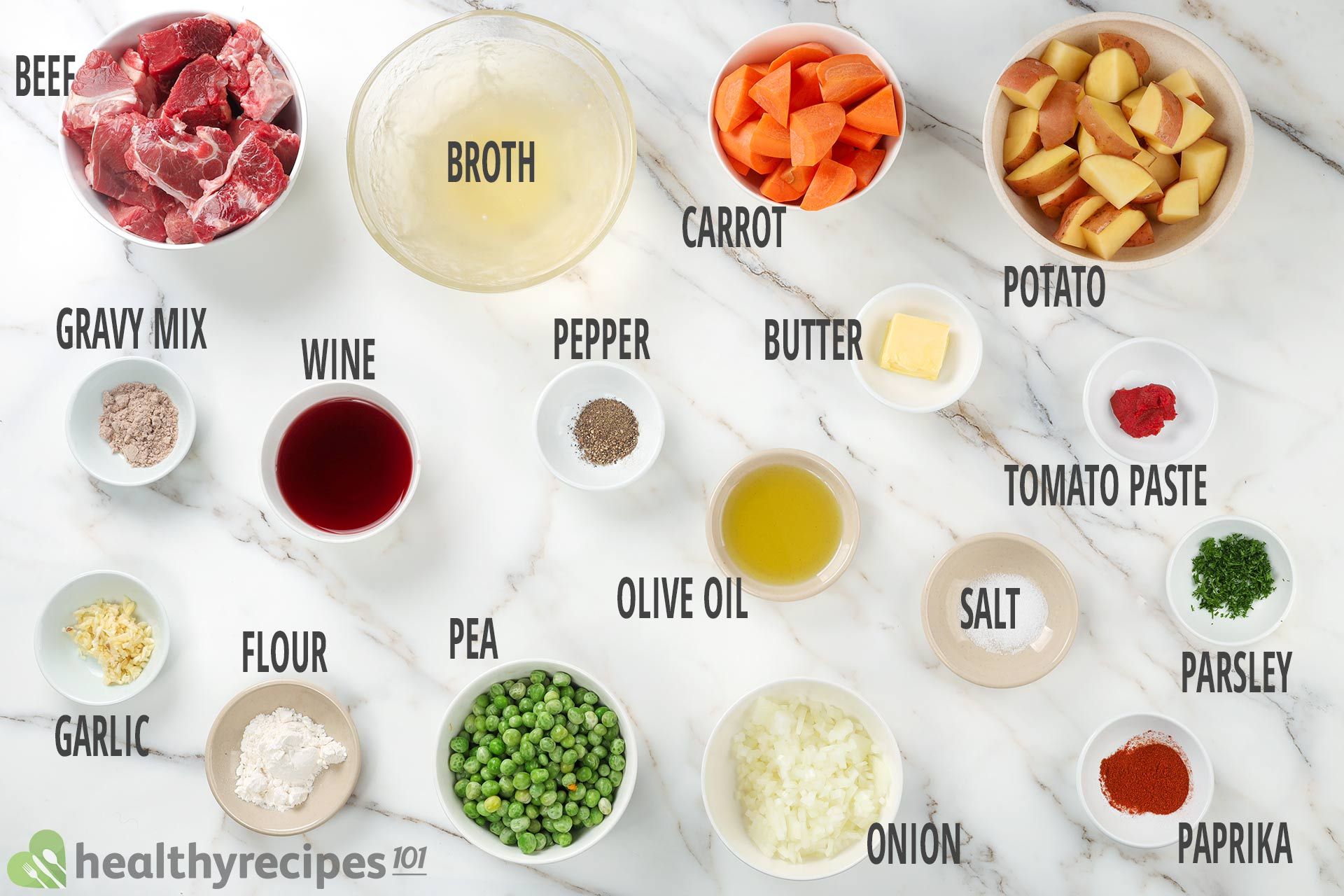 Beef Stew Seasoning
The Instant Pot concentrates flavors in a fraction of the time compared to traditional methods. Keep in mind, too, that trying to re-season the stew once the cooking is done doesn't change the final result much. With stew recipes in the Instant Pot, it's all about seasoning up front.
Our beef stew seasoning has a mixture of salt and pepper to complement the hearty ingredients and gravy mix. It's meant to deliver a rich and complex flavor. A touch of smoked paprika adds spice and depth while tomato paste lends brightness and balances out the final taste.
This flavorful blend is made entirely with handy components but will add great flavors to the stew. Plus, cooking at home allows you to control how much sodium and spices go in.
How to Make Beef Stew in an Instant Pot
Here is a summary of today's Instant Pot beef stew recipe: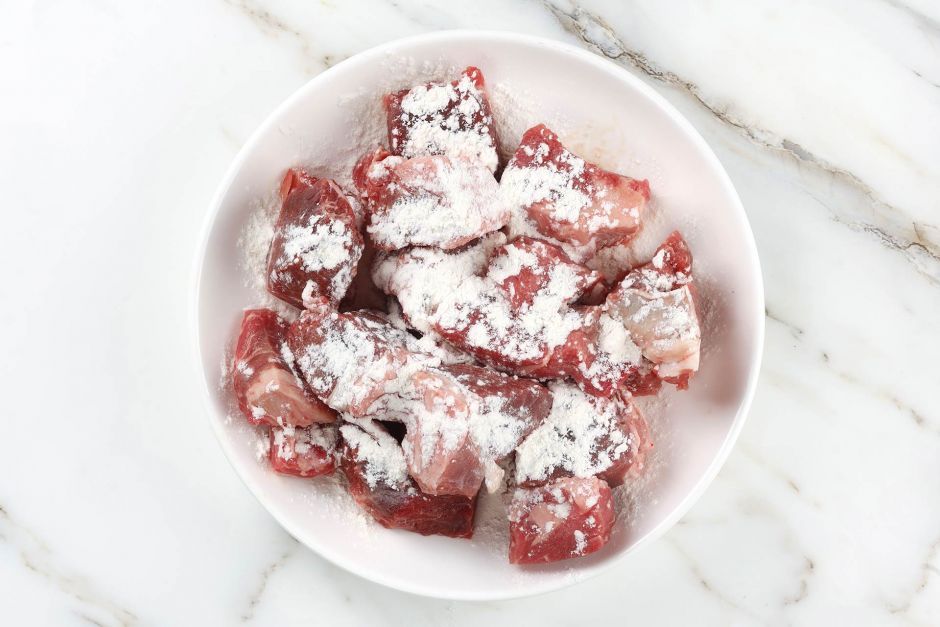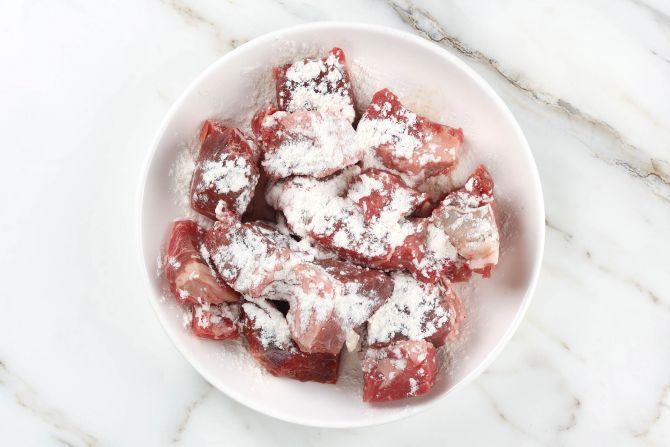 Coat the beef.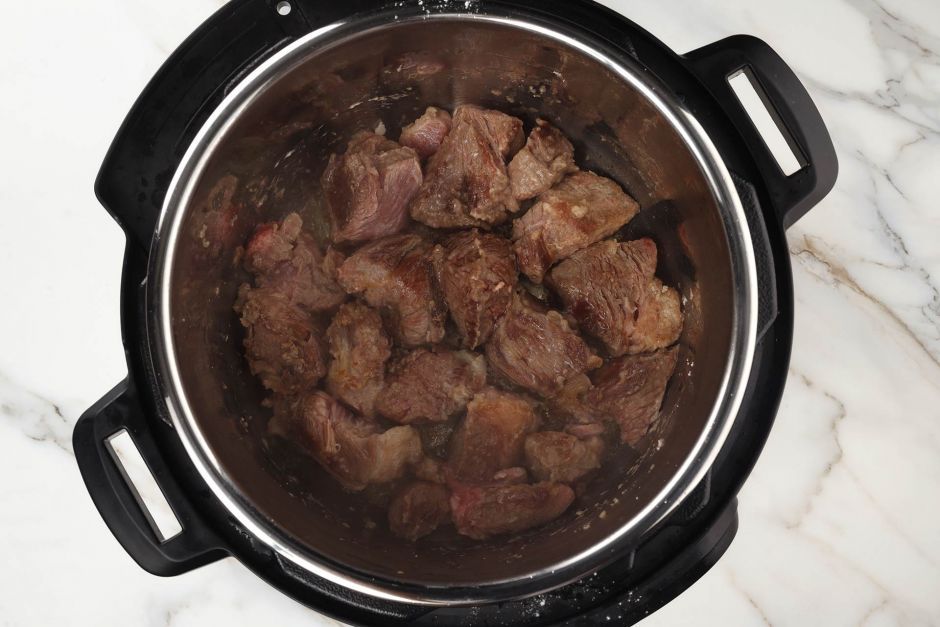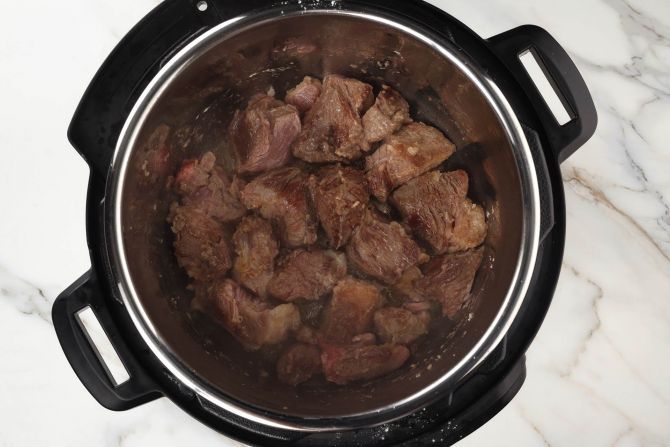 Sear the beef.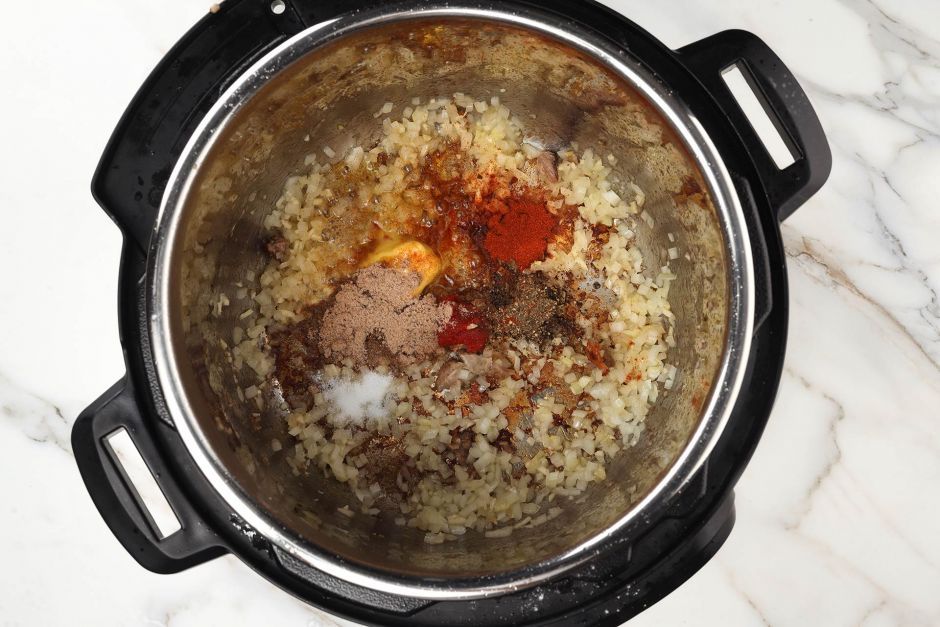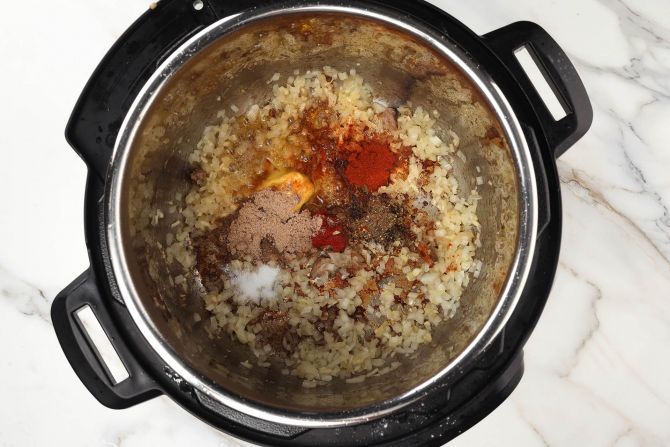 Sauté the vegetables.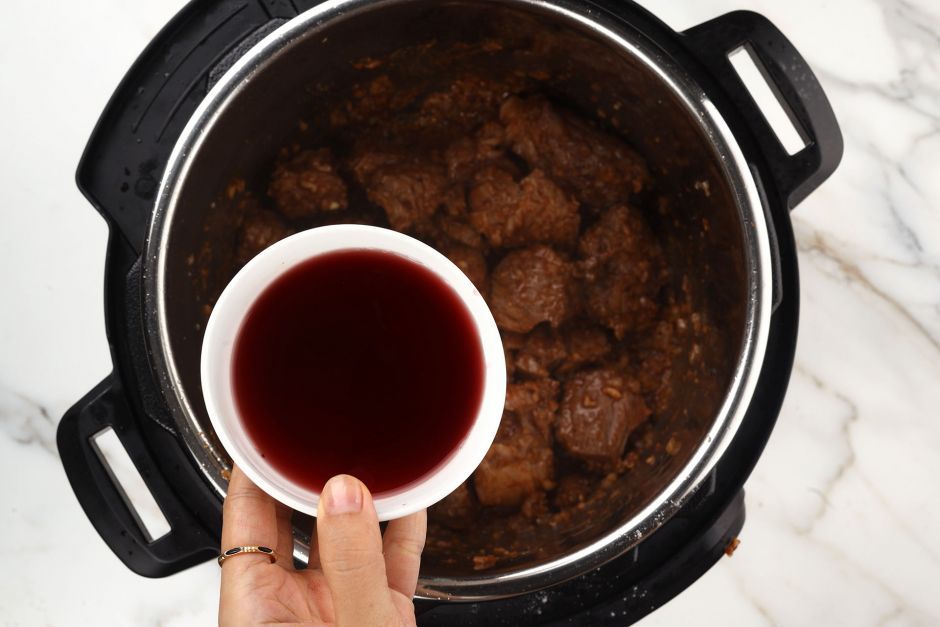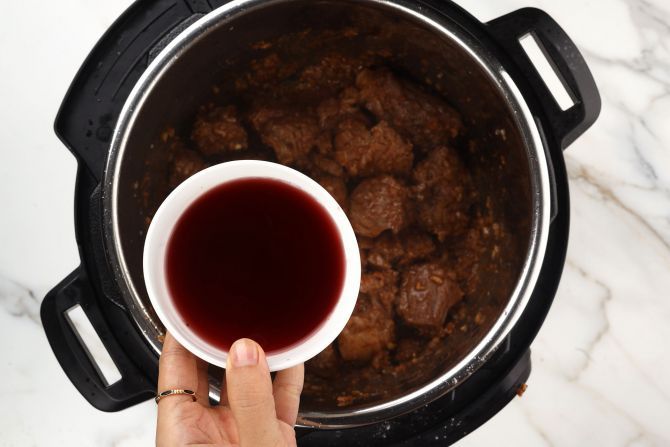 Deglaze the pot.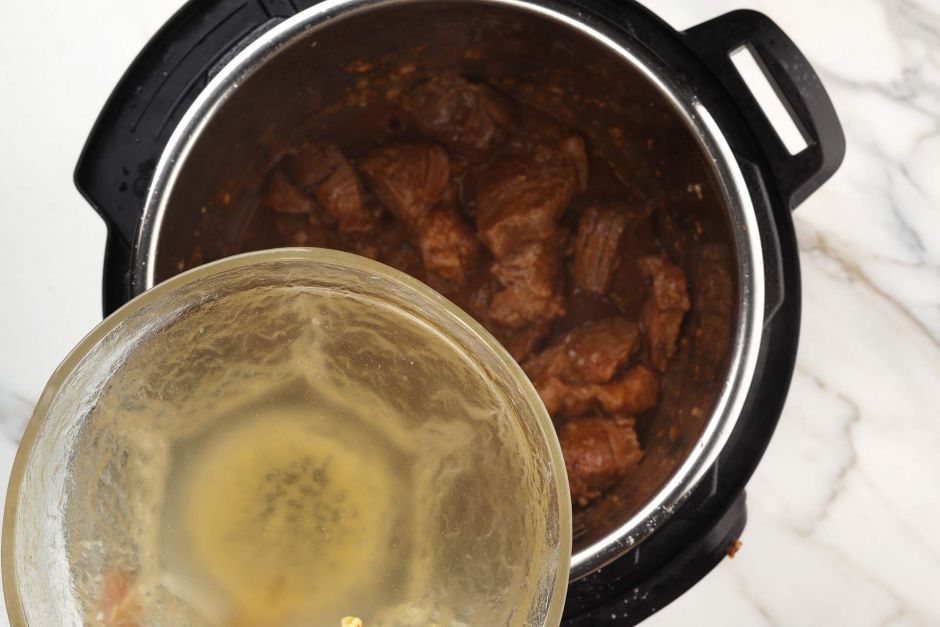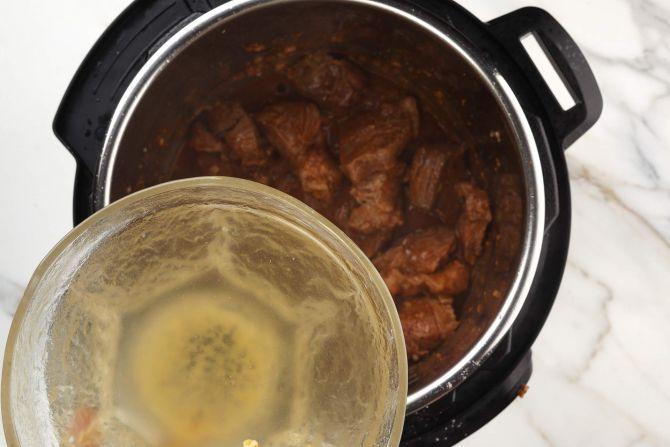 Slow-cook the beef.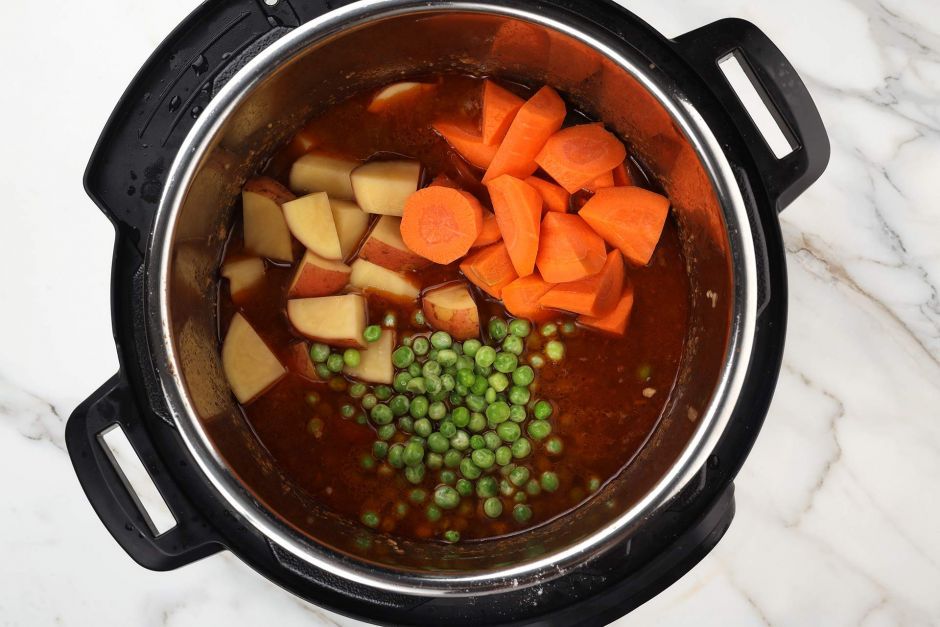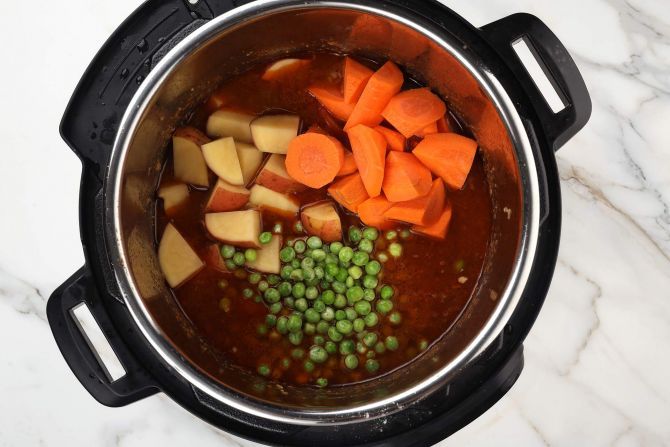 Add the vegetables. Cook on the 'Meat Stew' program.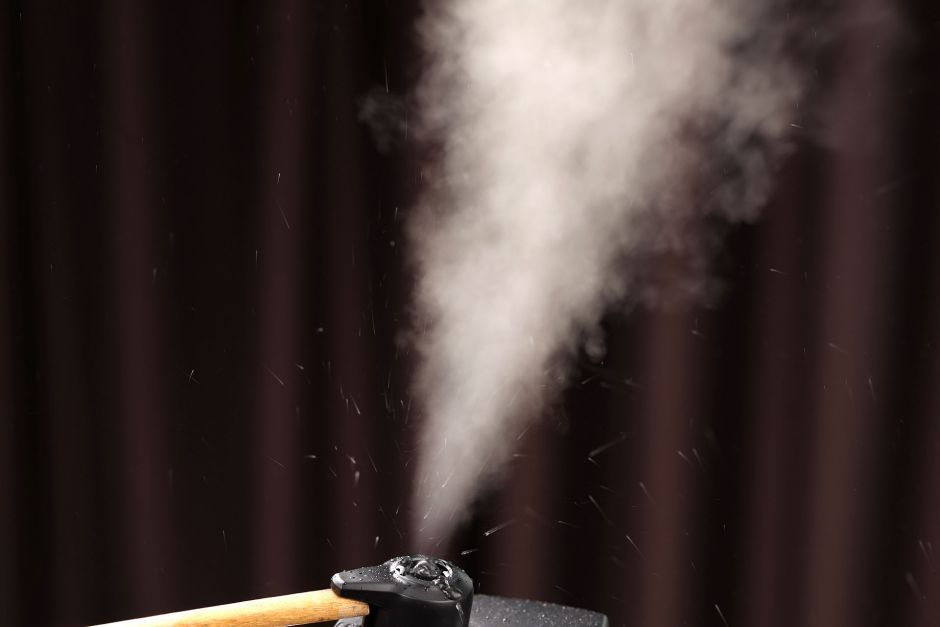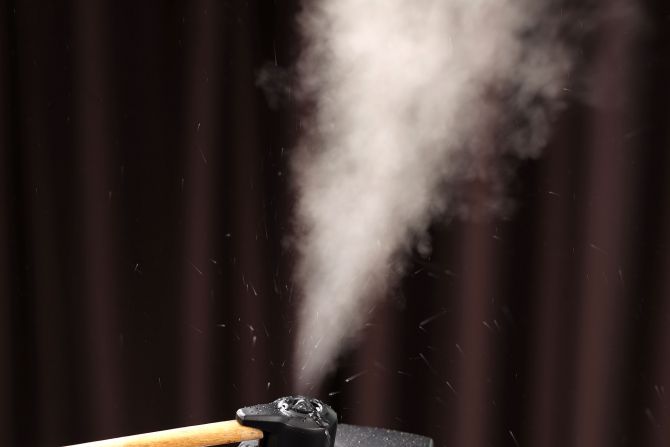 Release the steam and open the lid. Reduce the sauce.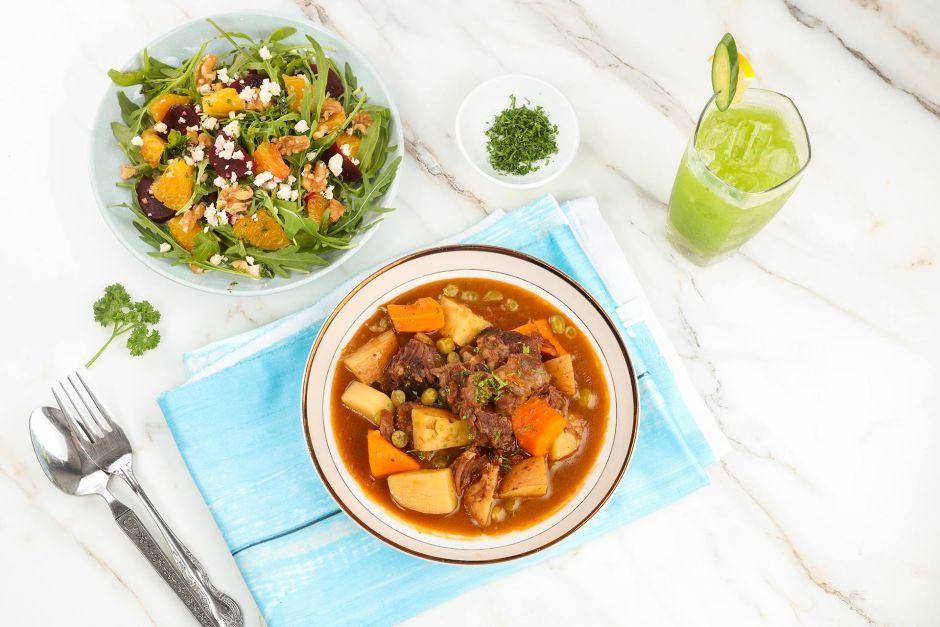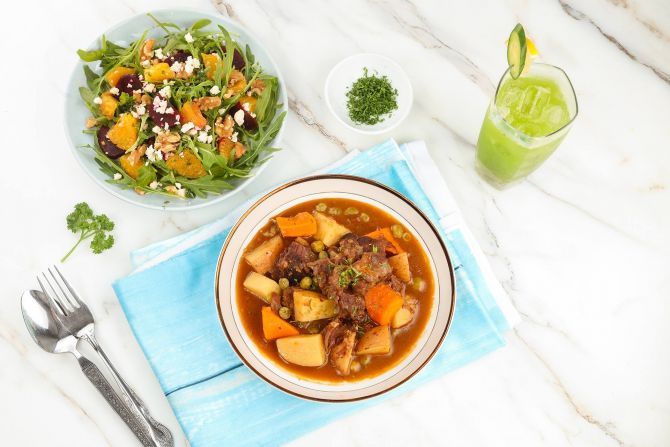 Garnish and serve.
Full ingredient measurements and detailed instructions are available on the recipe card.
How to Thicken Beef Stew
There are several ways to turn your broth into a thick, silky gravy but the most convenient one is to add all-purpose flour.
We coated the beef in all-purpose flour before searing it. The flour will help thicken the stew later while it cooks.
If you don't want to coat the beef, you can add the flour later when you're sautéing the vegetables.
Can You Freeze This Beef Stew?
Yes, you can. You can freeze it by putting the leftover beef stew in a Ziploc bag. Just be sure to let it cool before bagging it.
The frozen stew can last up to one month. We recommend making a big batch, dividing it into serving-sized portions, and freezing it to eat later.
By doing this, you can simply take one serving out of the freezer, defrost it, and have a quick meal.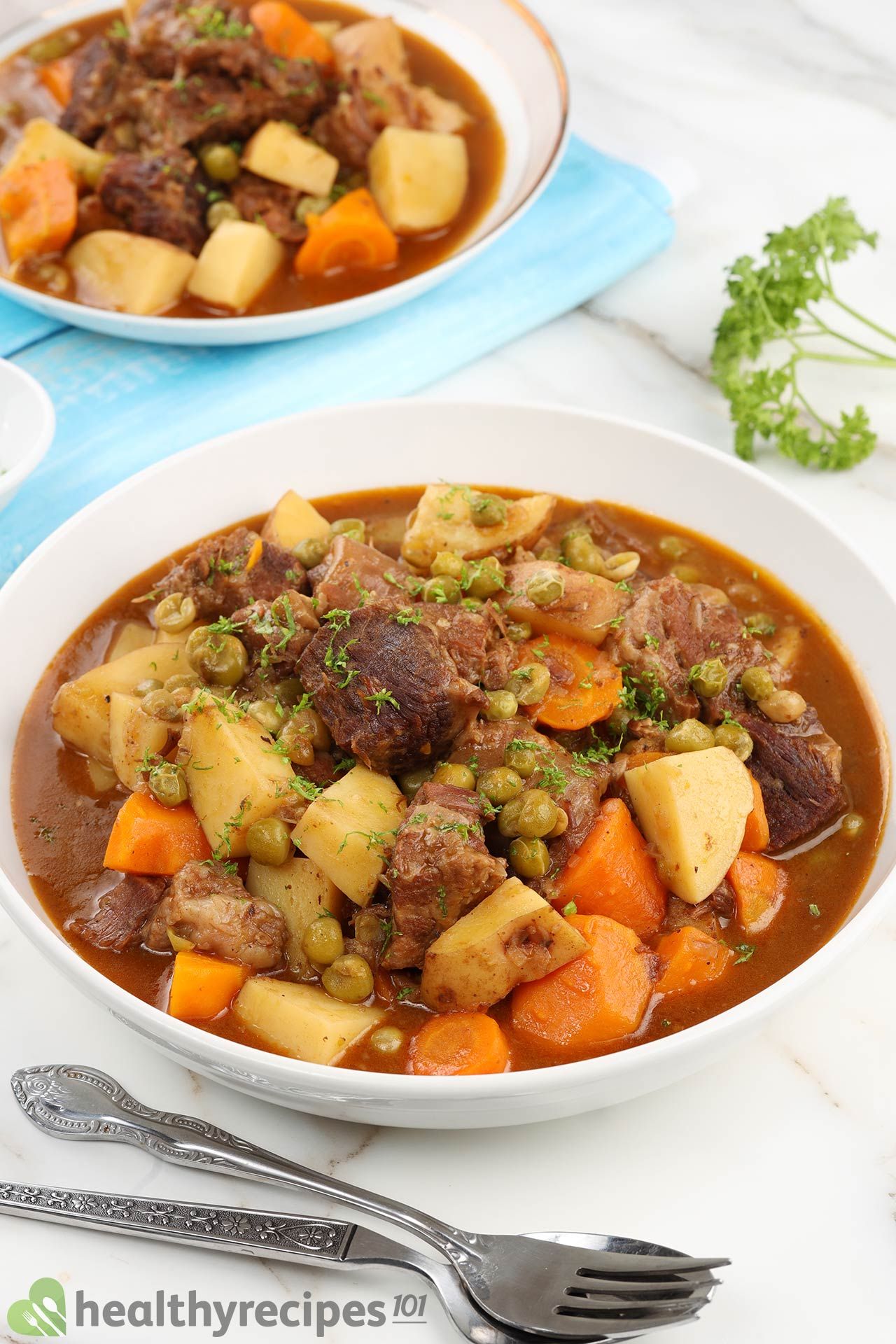 To defrost the frozen beef stew, you can leave it on the counter at room temperature for a few hours. If you don't want to wait that long, put it in the microwave for a few minutes to defrost.
Once the stew is thawed, reheat it thoroughly before eating.
Another thing to keep in mind is that we highly recommend using Ziploc bags to store the frozen stew. They're both freezer and microwave-safe so you don't have to transfer the stew to intermediary containers to defrost it.
What to Serve With Instant Pot Beef Stew
Loaded down as it is with meat and vegetables, this slow-simmered beef stew is a meal in a bowl. But it's never a bad idea to pair it with a side dish to elevate your tasting experience.
1. Pasta
Pasta is a great companion to any saucy, meaty stew, and our Instant Pot beef stew is no exception. There are many different types of pasta to choose from, and you can pick whatever you like, but our favorites are Penne, Fusilli, and Fettuccine.
With flat surfaces or twisted shapes, they have lots of area and crannies to hold onto the creamy sauce.
2. Rice
This saucy stew can also go well with rice since it readily absorbs all the delicious gravy. Cook the rice alongside stew and your dinner will come together in no time!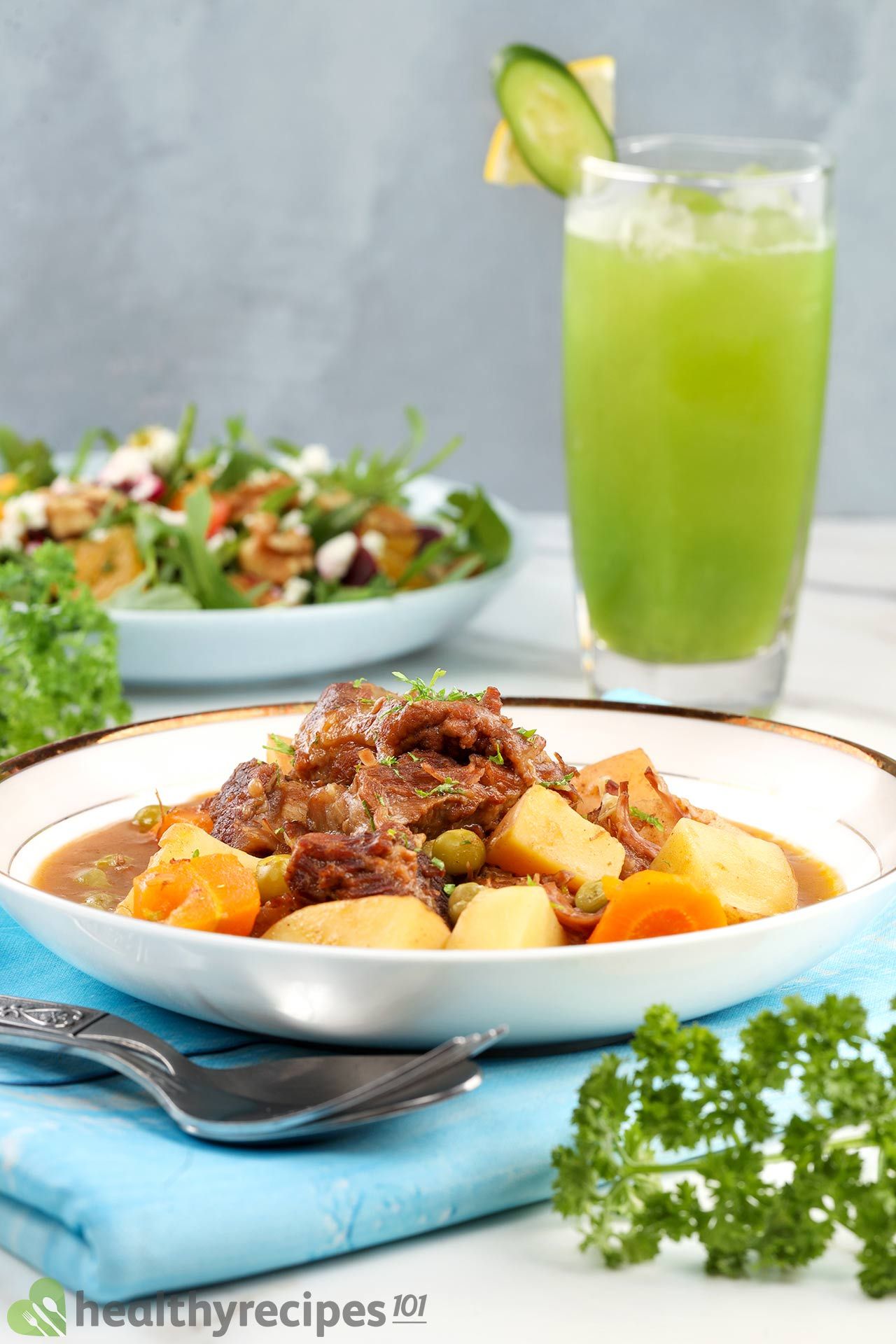 More Magically-Easy Instant Pot Beef Dishes: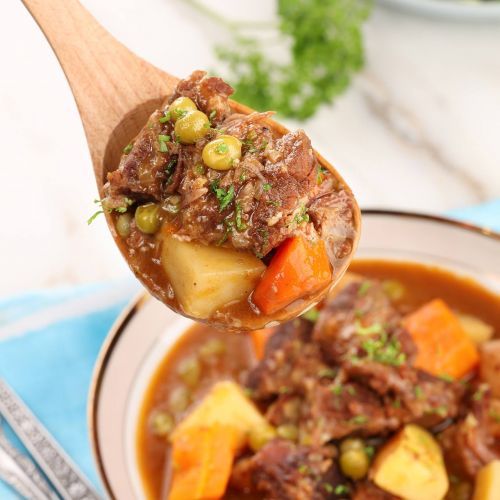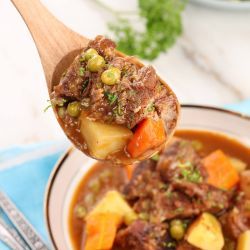 Instant Pot Beef Stew Recipe
Our Instant Pot beef stew recipe makes a belly-warming soup packed with tender beef, creamy vegetables, and rich gravy.
Ingredients
24

oz

beef chuck

cubed

1

tbsp

all-purpose flour

2

tbsp

olive oil

2

oz

onions

chopped

1

tbsp

garlic

minced

1

tbsp

unsalted butter

1/2

tsp

paprika

1/2

tsp

salt

1/2

tsp

black pepper

1 1/2

tsp

brown gravy mix

1

tsp

Hunt's tomato paste

3

fl oz

red wine

2

cups

unsalted chicken broth

12

oz

potatoes

cubed

8

oz

carrots

cubed

6

oz

green peas

2

tbsp

parsley

roughly chopped
Instructions
Coat the beef: In a large mixing bowl, add 24 oz beef chuck and 1 tbsp flour. Toss to coat evenly.

Sear the beef: Turn your Instant Pot to the 'Sauté' program. Once it's hot, add 2 tbsp olive oil and the beef to the pot. Sear for 5 minutes, flipping halfway through to brown both sides. Transfer to a plate and set aside.

Sauté the vegetables: Add 2 oz onions and 1 tbsp garlic, and cook for 1 minute, stirring constantly. Add 1 tbsp butter, 1/2 tsp paprika, 1/2 tsp salt, 1/2 tsp black pepper, 1 1/2 tsp gravy mix, and 1 tsp tomato paste. Stir for another 2 minutes to toast the spices.

Deglaze the pot: Add the beef back in and stir for 5 minutes to coat the beef with the spices. Add 3 fl oz red wine and allow the alcohol to evaporate while scraping the pot.

Slow-cook the beef: Add 2 cups chicken broth to the pot. Stir a couple of times and cover with the lid. Seal the steam valve, turn on the 'Meat Stew' program, and cook for 40 minutes.

Add the vegetables: Carefully turn the valve knob to release the steam before opening the lid. Add 12 oz potatoes, 8 oz carrots, and 6 oz green peas, and stir. Cover with the lid, seal the valve again, and cook for 15 minutes on the 'Meat Stew' program.

Reduce the sauce: Release the steam and open the lid. Turn on the 'Sauté' program and cook for 10 minutes to reduce the sauce, stirring occasionally.

Garnish and serve: Ladle the beef stew to a deep dish or a bowl. Sprinkle with freshly chopped parsley and serve.
Nutrition
Nutrition Facts
Instant Pot Beef Stew Recipe
Amount Per Serving (1 serving)
Calories 466
Calories from Fat 171
% Daily Value*
Fat 19g29%
Cholesterol 108mg36%
Sodium 588mg26%
Potassium 1320mg38%
Carbohydrates 30g10%
Protein 39g78%
Vitamin A 10649IU213%
Vitamin C 23mg28%
Calcium 65mg7%
Iron 6mg33%
* Percent Daily Values are based on a 2000 calorie diet.