If you want to have a hearty dinner ready on the table in less than an hour, you should give our Instant Pot shredded beef recipe a try.
The beef is infused with various seasonings and spices in the Instant Pot, resulting in a flavor-packed dish that melts in your mouth. This recipe can be used to make the filling for different meals, including sandwiches, tacos, and even pasta.
What Is Shredded Beef?
Shredded beef or pulled beef is a popular dish that typically involves slow-cooking beef cuts to create strands of tender meat. Traditionally, people cook beef chuck or beef brisket for a long period of time in an oven or a slow cooker, allowing it to break down into juicy pieces of meat.
After being tenderized, the meat is then coated in a thick seasoned sauce and served with starchy foods like rice, sandwich buns, or tortillas. It can also be good on its own as a main dish.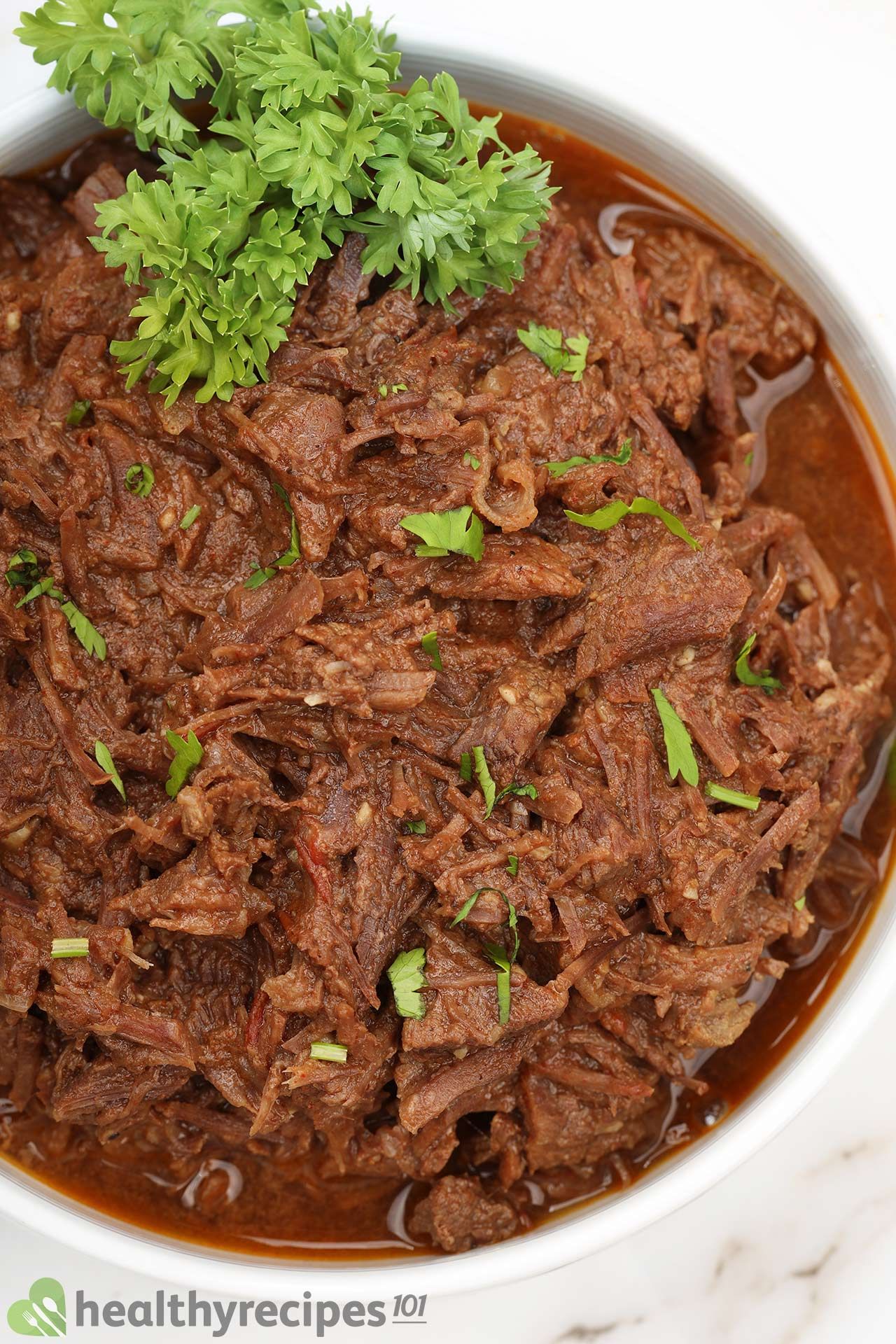 Is Shredded Beef Healthy?
Yes, our shredded beef recipe is healthy. Here's why:
It's packed with protein: Since beef is the main ingredient, this dish is a great source of protein. To be precise, each serving contains 34.6 g of protein — nearly 70% of the recommended daily intake. High-protein food is the most filling; it will help you manage your hunger levels and keep you feeling full for longer.
It's low in sodium and saturated fat: With 556 mg of sodium and 3.5 g of saturated fat per serving, this shredded beef recipe is one of the healthiest versions you can find on the internet. And best of all, it still turns out delectable, savory, and creamy.
Main Ingredients for Instant Pot Shredded Beef
Our Instant Pot shredded beef recipe is made with a handful of ingredients, most of which you probably already have in the panty.
Beef: This versatile meat makes meal planning easy since it can be used in so many different ways. Beef cuts are great to grill, sear, stir-fry, and stew. We'll discuss which cuts are best for this recipe in the next section.
Tomatoes: Fresh chopped tomatoes are stir-fried and mixed with onions, garlic, seasoning, and broth, creating a thick, flavorful sauce.
Orange Juice: There are tons of spices that you can use as flavoring for beef but we have a secret one for this recipe: orange juice. Not to worry, it doesn't make the sauce taste fruity but merely adds a touch of sweetness. Plus, the acidic content helps to tenderize the meat.
Seasoning: The shredded beef is a canvas so you can easily add your spices of choice. In this recipe, we planned to serve the beef over hot steamed rice. Thus, besides the basic blend of salt and pepper, we added a gravy mix to highlight the umami flavors and chili powder spice.
If you're using it as taco meat, go with Mexican flavors like lime juice, cilantro, and oregano. There's a lot of room for creativity!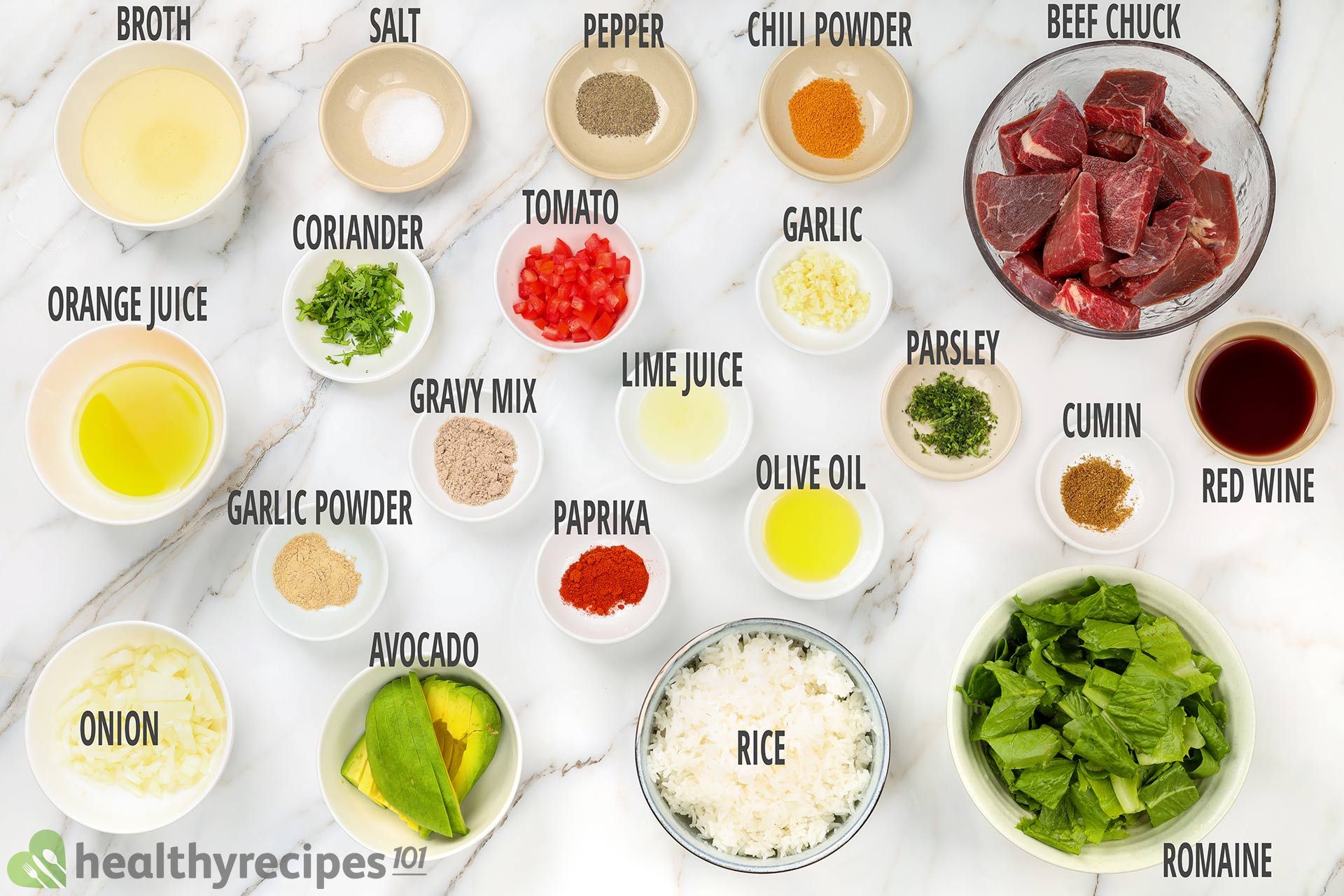 What Cut of Beef Is Best for Shredding?
In our experience, tough cuts like chuck roast — those with strong connective tissue and a little fat — are best for stew recipes. After being simmered slowly for a few hours, the tissue and collagen melt away, yielding shreddable and succulent deliciousness.
Leaner cuts of beef may be your priority, especially when you try to eat healthy and reduce your saturated fat intake. They will still be edible but just realize that you will not get the melt-in-your-mouth beef that you get with chuck roast.
How to Make Shredded Beef in the Instant Pot
Cooking protein can take a lot of time and labor, especially for new homecooks. This shredded beef takes less than an hour to make and most of that is hands-off time.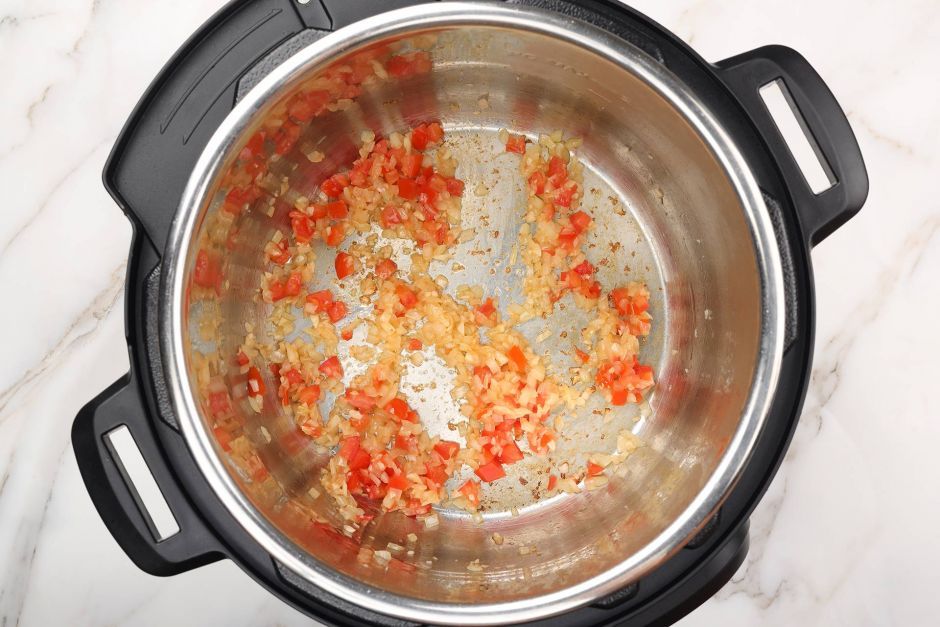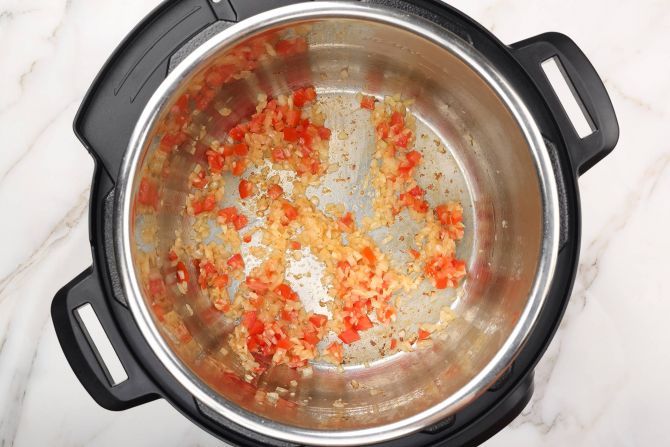 Stir-fry the onion, garlic and tomatoes.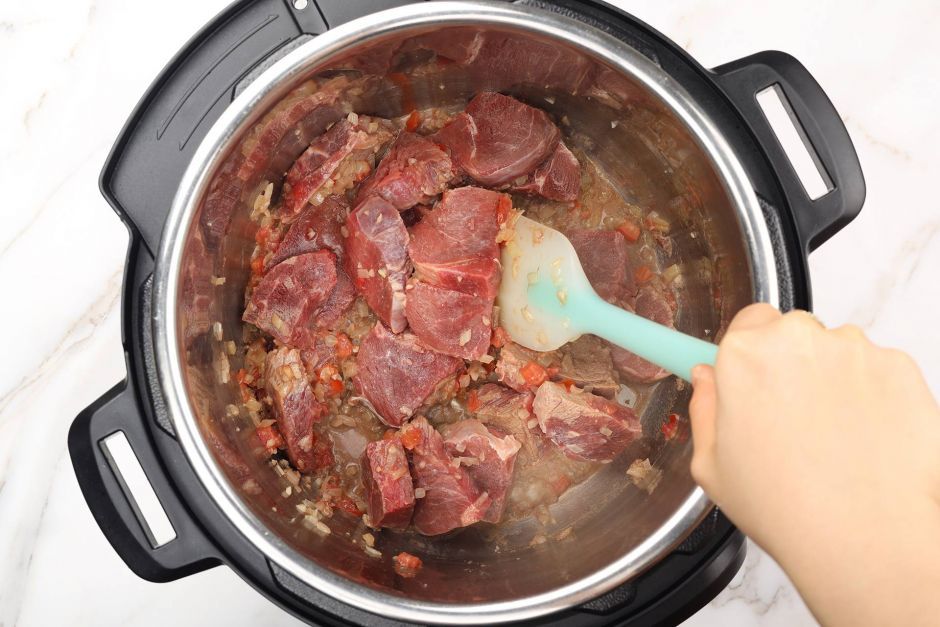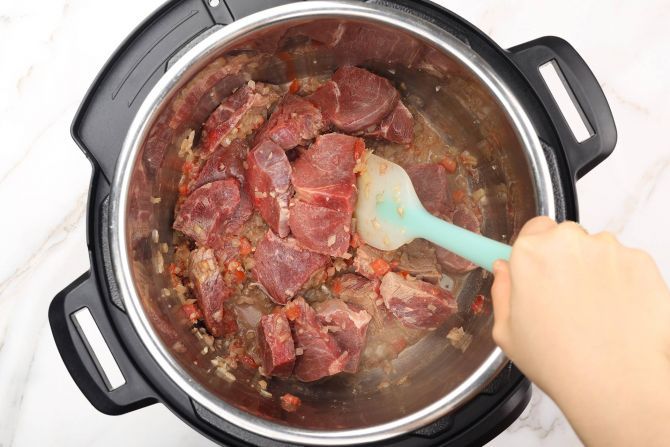 Sear the beef.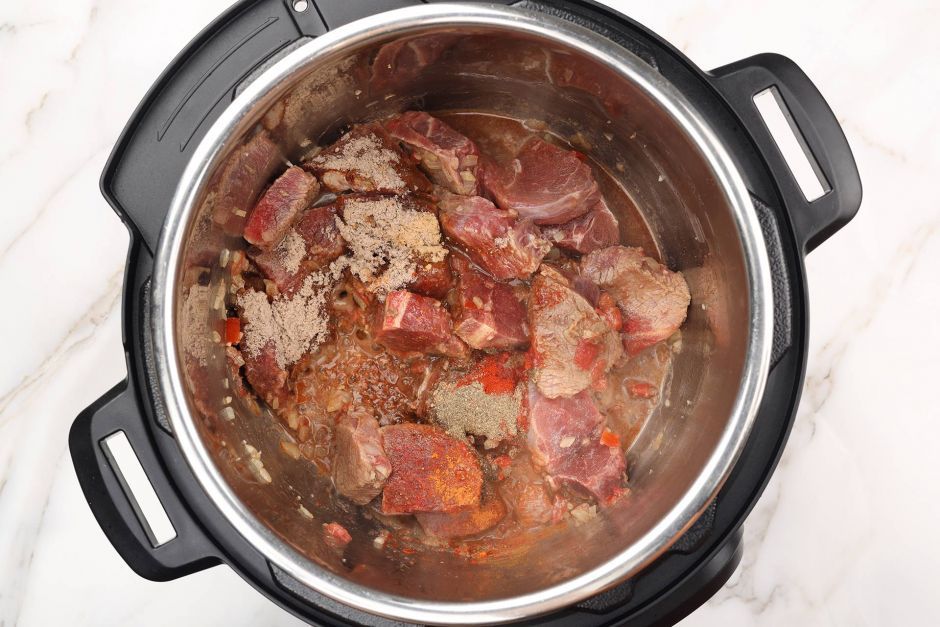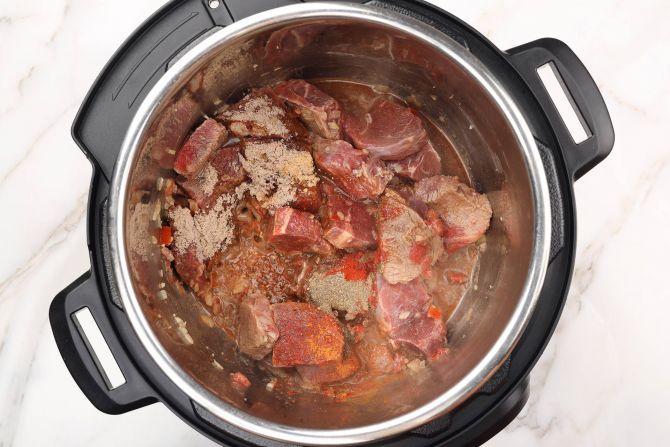 Season the beef.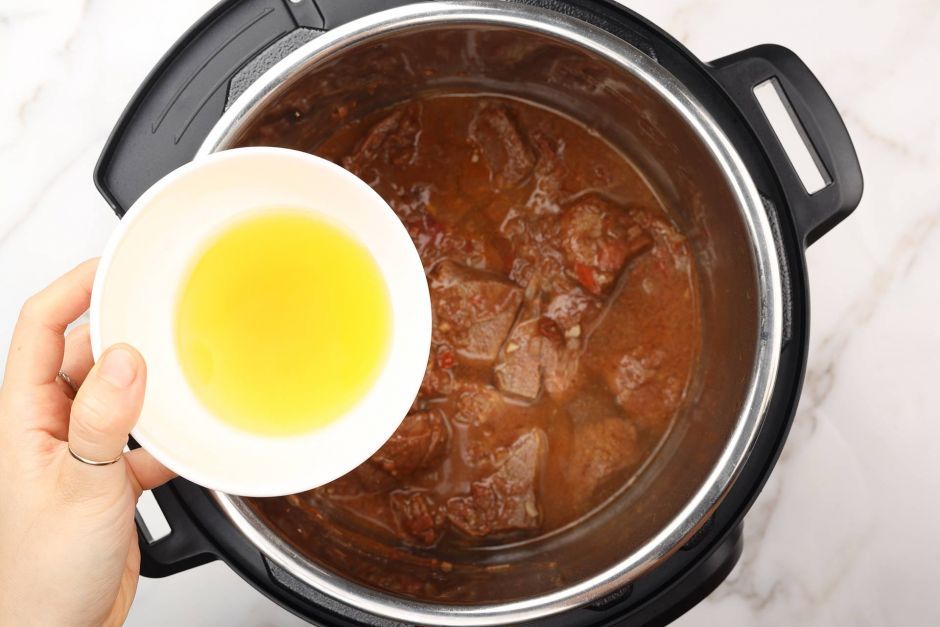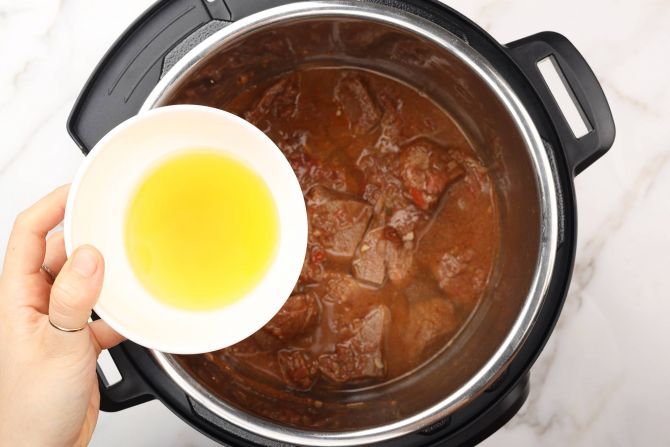 Add the juice and broth to the pot. Cook in 'stew meat' mode.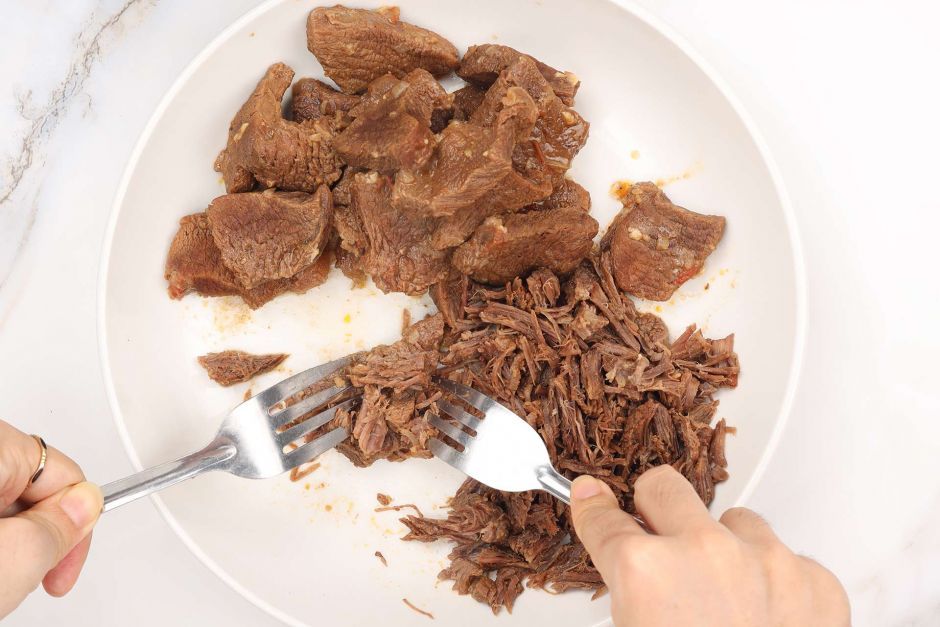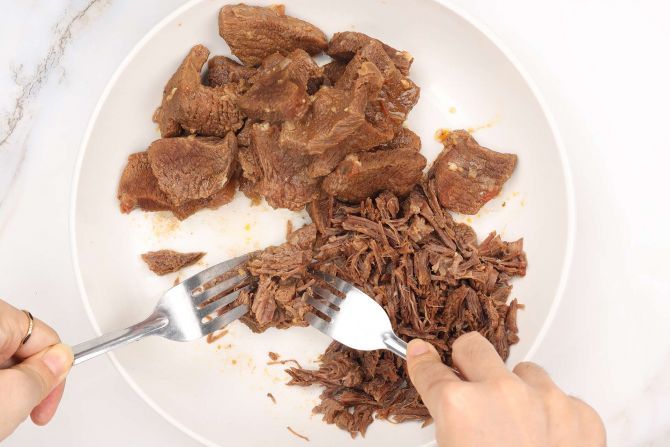 Shred the beef.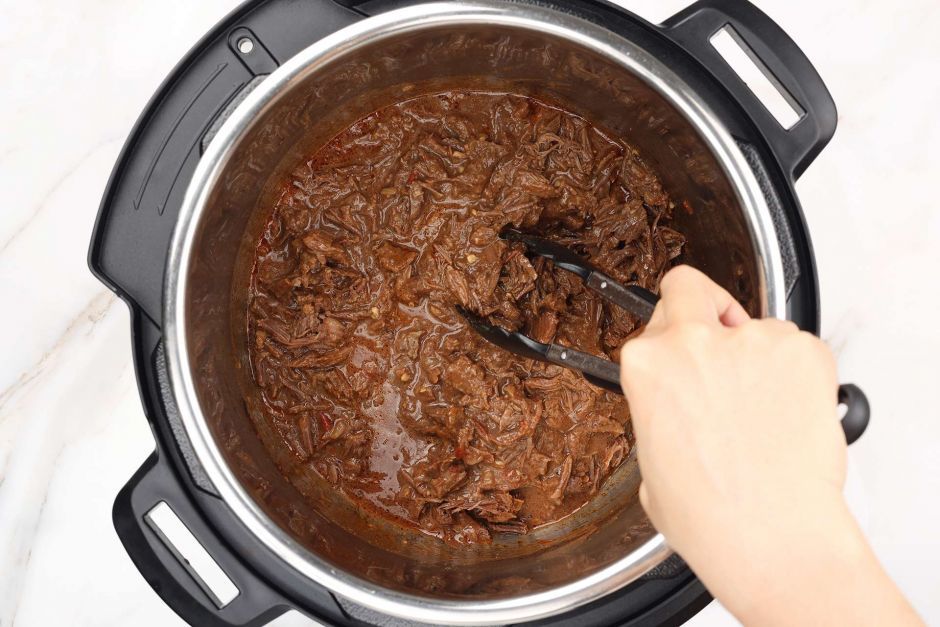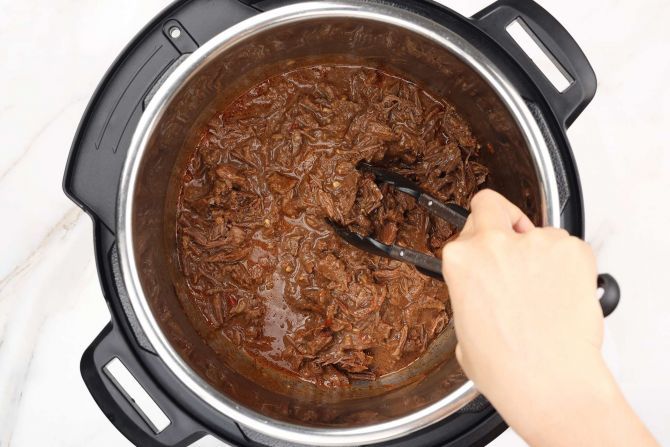 Toss back into the sauce.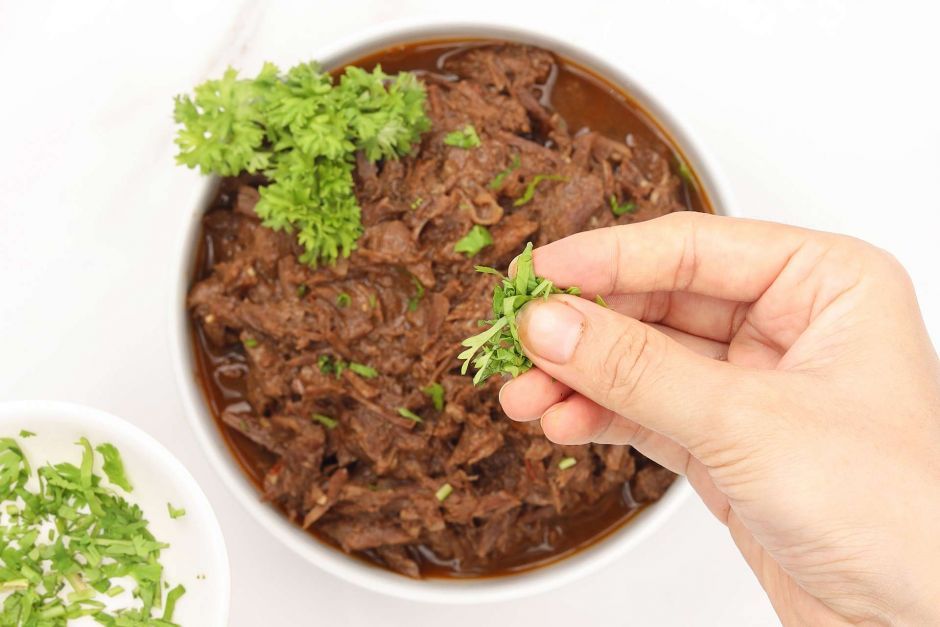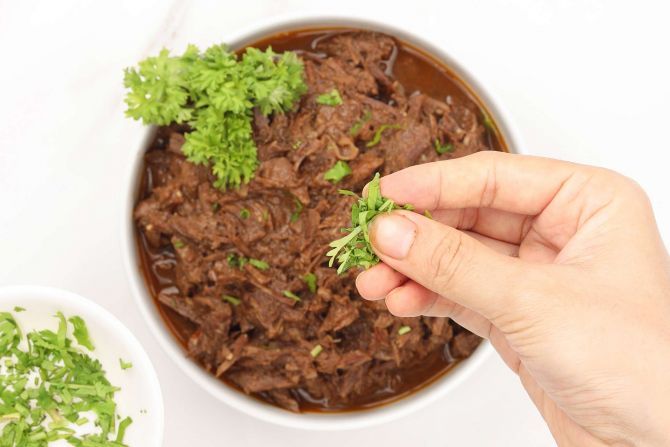 Garnish.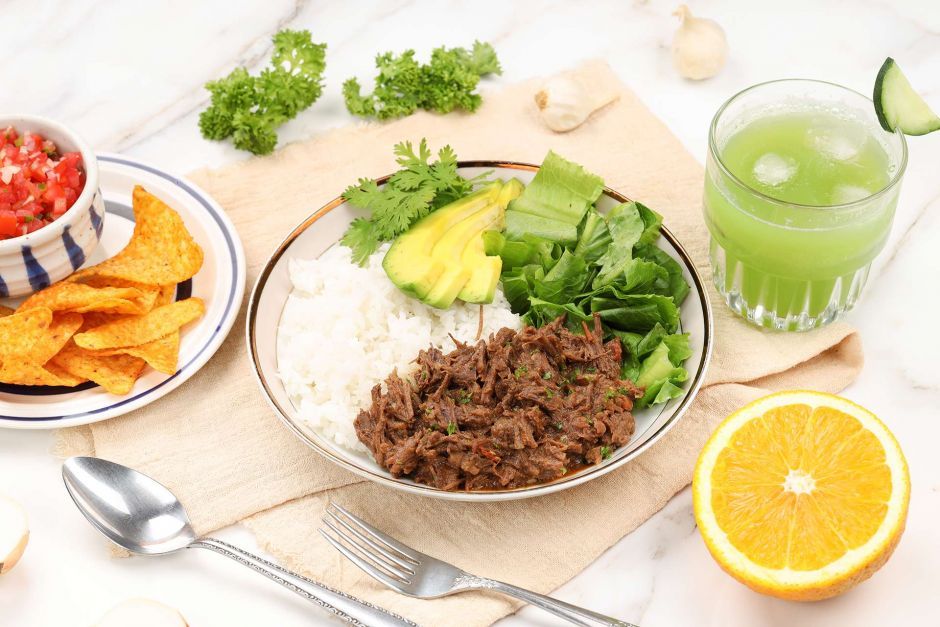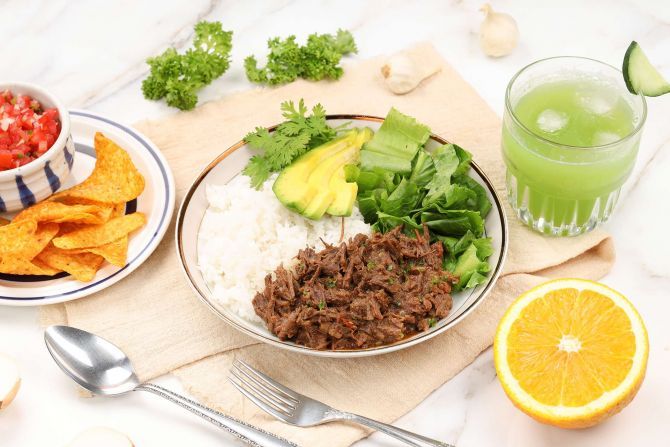 Serve over steamed rice.
Tips for Making Instant Pot Shredded Beef
Cook ingredients before adding liquid: It's tempting to add everything into the Instant Pot and turn it on. However, cooking the onion, garlic, tomatoes, and beef beforehand is essential. This step helps to caramelize the exterior, give the aromatics a chance to bloom, and makes the overall taste truly robust.
Alter the cooking time: Instant Pots and slow cookers can vary in size and capacity, leading to different cooking times. If you understand how yours operates, you can adjust the time until the meat reaches your desired level of tenderness.
What to Do With Shredded Beef
Shredded beef is a great protein that can be added to multiple meals, making it an effortless and budget-friendly option you can enjoy throughout the week.
Sandwiches: Grab hamburger buns, sandwich bread, or even taco shells and fill them with beef, lettuce, and cheese.
Pasta: Mix the shredded beef with your favorite pasta sauce and pour it over boiled noodles.
Enchiladas: Skip the standard ground beef and spice; simply use this cooked shredded beef instead.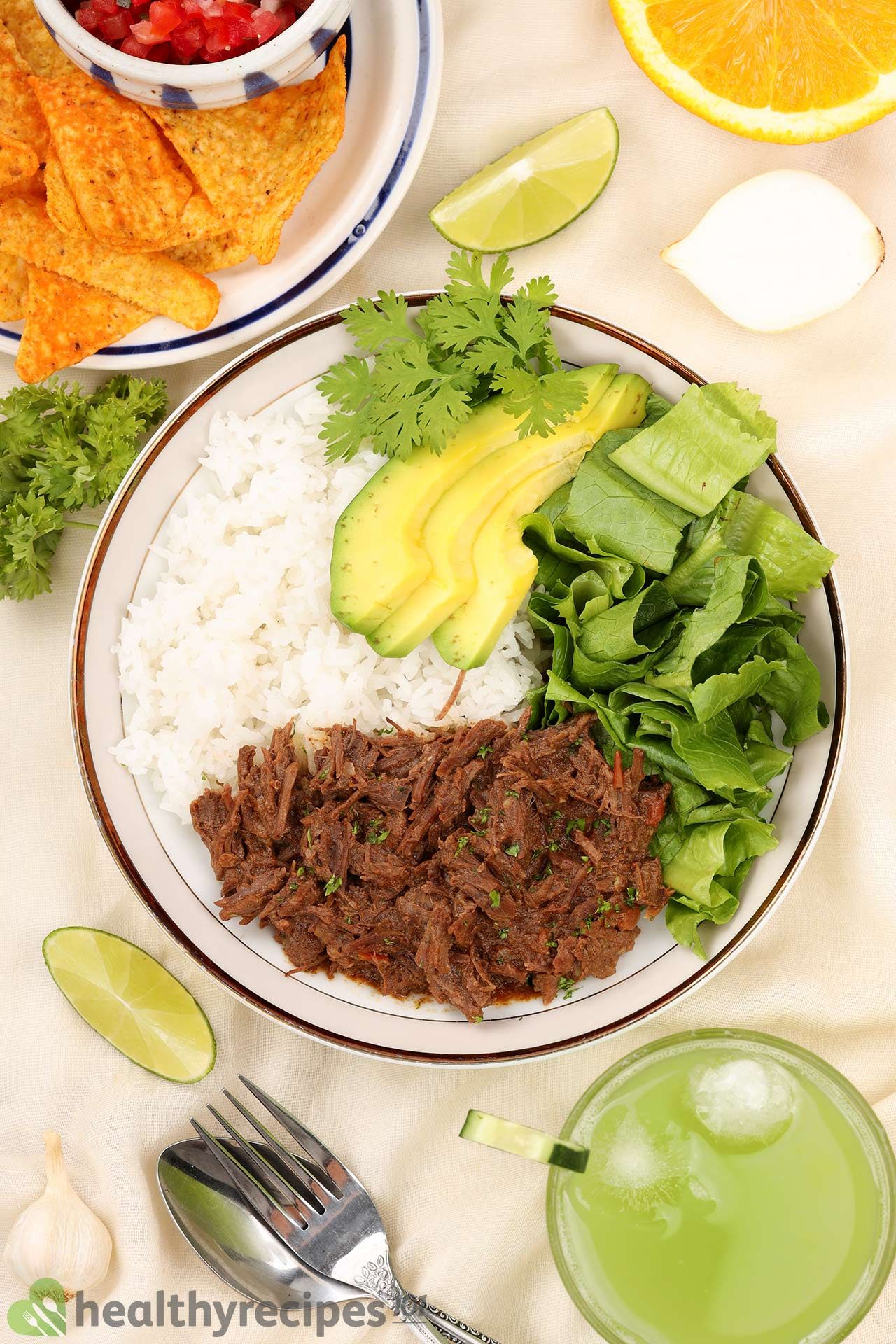 How to Store and Reheat Leftover Shredded Beef
When the shredded beef cools to room temperature, it's best to transfer it to an airtight container within 2 hours to either chill or freeze. Shredded meat can stay good for the next 4 – 5 days in the fridge and can last up to 3 months in the freezer.
When you're ready to use frozen shredded beef, thaw the meat in the fridge overnight. After that, place it over a medium-low flame on the stove until fully heated through. You also may need to add a teaspoon or two of water to prevent the meat drying out in the hot pan.
What to Serve With Shredded Beef
Want a great healthy side for shredded beef? We suggest a simple pico de gallo using chopped tomatoes, onions, lime juice, and jalapeno for spice. The light Mexican salad brightens your mouth and wonderfully cuts through the fat and meaty mouthfeel from shredded beef.
Nutritional values in this table vary somewhat to those below due to different app calculations. Read more...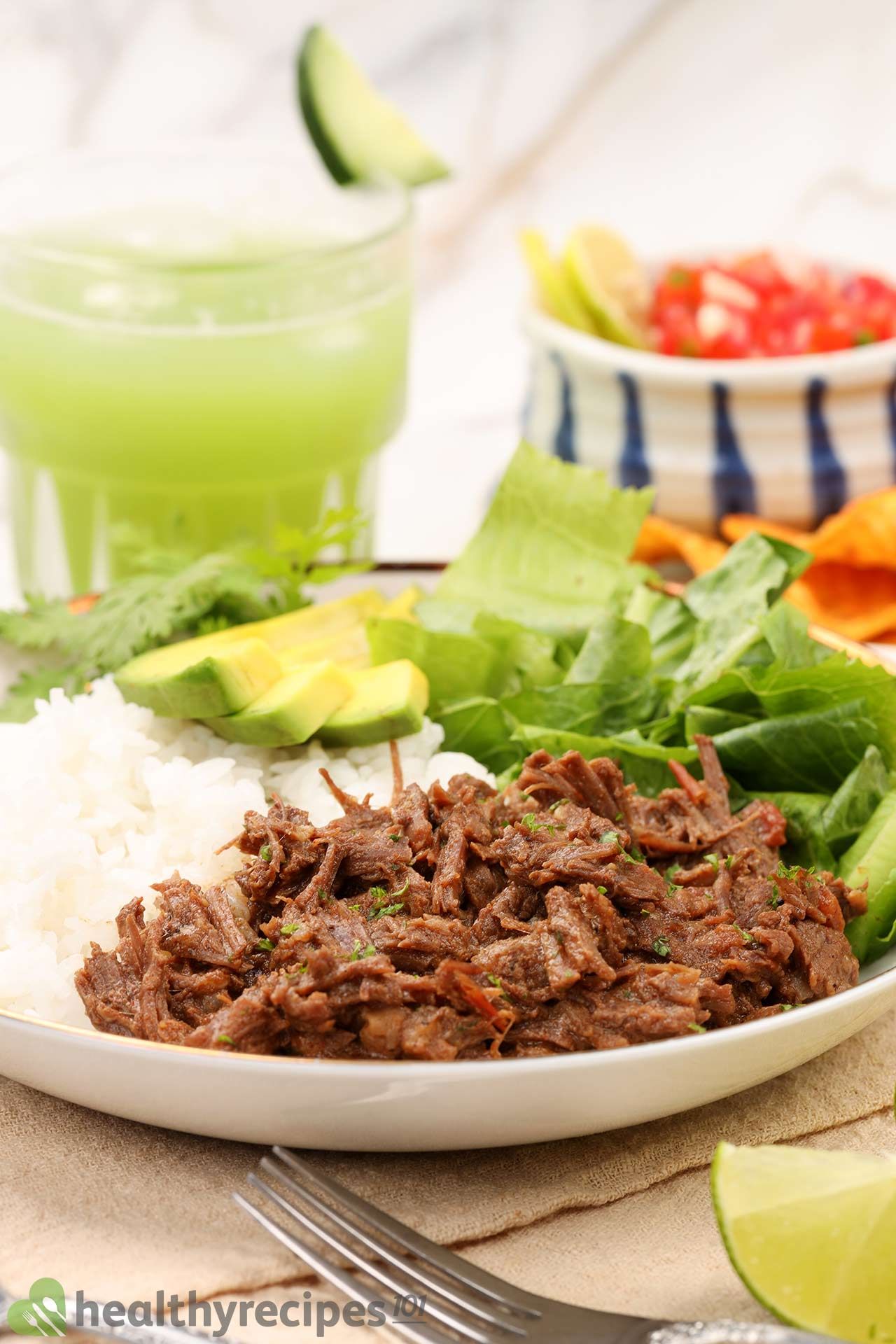 To round out the meal, we paired our beef and salad with a fresh cucumber lime juice. The drink requires no hard-to-find ingredients and only 5 minutes of prep time.
More Instant Pot Beef Recipes Your Family Will Love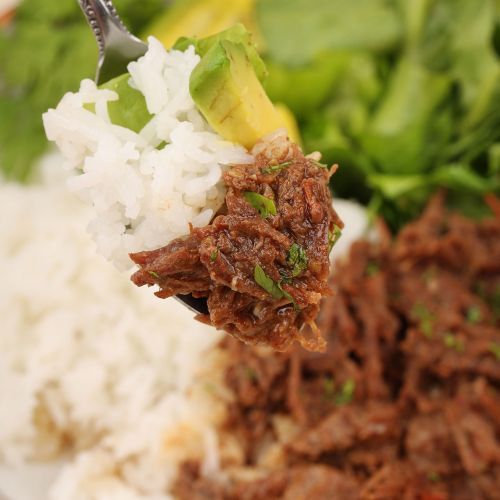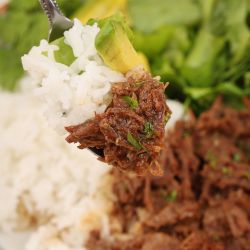 Instant Pot Shredded Beef Recipe
Our Instant Pot shredded beef recipe is an adaptation of the famous shredded beef but comes together quicker and with less effort.
Ingredients
20

oz

beef chuck

sliced

1

tbsp

olive oil

1

tbsp

garlic

chopped

2

oz

onion

chopped

1/4

cup

tomatoes

chopped

1/2

tsp

salt

1/2

tsp

ground pepper

1

tsp

paprika

1

tsp

garlic powder

1/2

tsp

cumin

1

tbsp

lime juice

1

tbsp

brown gravy mix

1

fl oz

red wine

1/2

tsp

unsalted chili powder

1/4

cup

orange juice

1/2

cup

unsalted chicken broth

2

tbsp

parsley

chopped

2

tbsp

cilantro

chopped

3

cups

cooked medium-grain rice

2

oz

romaine lettuce

chopped

4

oz

avocado

sliced
Instructions
In the 'sauté' mode, heat 1 tbsp olive oil. Add 1 tbsp garlic, 1/4 cup tomatoes, 2 oz onion and stir-fry until translucent and fragrant, about 1 minute.

Add 20 oz beef chuck. Stir and sear all sides for 1 minute.

Season the beef with 1/2 tsp salt, 1/2 tsp pepper, 1 tsp paprika, 1 tsp garlic powder, 1/2 tsp cumin, 1 tbsp lime juice, 1 tbsp gravy mix, 1 fl oz red wine, and 1/2 tsp chili powder and stir-fry for another 3 minutes.

Slowly pour 1/4 cup orange juice and 1/2 cup chicken broth into the pot. Secure the lid. Set it to 'stew meat' mode for 35 minutes.

Allow the pressure to release naturally. Open the lid and transfer the stewed beef to a plate. Use forks to shred the meat.

Return the beef to the gravy mixture in the pot and cook until the sauce reduces to your desired consistency, (usually about 2 minutes).

Garnish with 2 tbsp parsley and 2 tbsp coriander.

Serve warm over steamed rice with 4 oz sliced avocado and 2 oz romain.
Nutrition
Nutrition Facts
Instant Pot Shredded Beef Recipe
Amount Per Serving (1 serving)
Calories 484
Calories from Fat 144
% Daily Value*
Fat 16g25%
Cholesterol 83mg28%
Sodium 525mg23%
Potassium 864mg25%
Carbohydrates 50g17%
Protein 33g66%
Vitamin A 1780IU36%
Vitamin C 18mg22%
Calcium 41mg4%
Iron 6mg33%
* Percent Daily Values are based on a 2000 calorie diet.