With this Instant Pot Salisbury steak recipe, you can make juicy, saucy meat patties using just one piece of kitchen equipment. We'll also show you how to steam some veggies to serve with it, making for a healthy, wholesome meal that brings life to National TV Dinner Day (September 10).
What Is Salisbury Steak?
Although steak is in the name, this American sweetheart takes on the shape of burger patties and the texture of meatloaf. The patties are bound with eggs, lightened with breadcrumbs, thoroughly seasoned and seared, then slowly cooked alongside mushrooms in a thick, flavorful gravy.
Explaining the motive behind naming these burger patties 'steaks,' James Salisbury said they're meant to be a better version of beefsteaks. Indeed, these tender 'steaks' cut easily and are unbelievably juicy thanks to their more even fat distribution. They promise the ultimate eating experience every single time.
Salisbury steak is traditionally made on the stove, but we discovered that it's also possible with an Instant Pot. It comes in handy when the stovetop is being used and you're craving something saucy.
Is This Dish Good for You?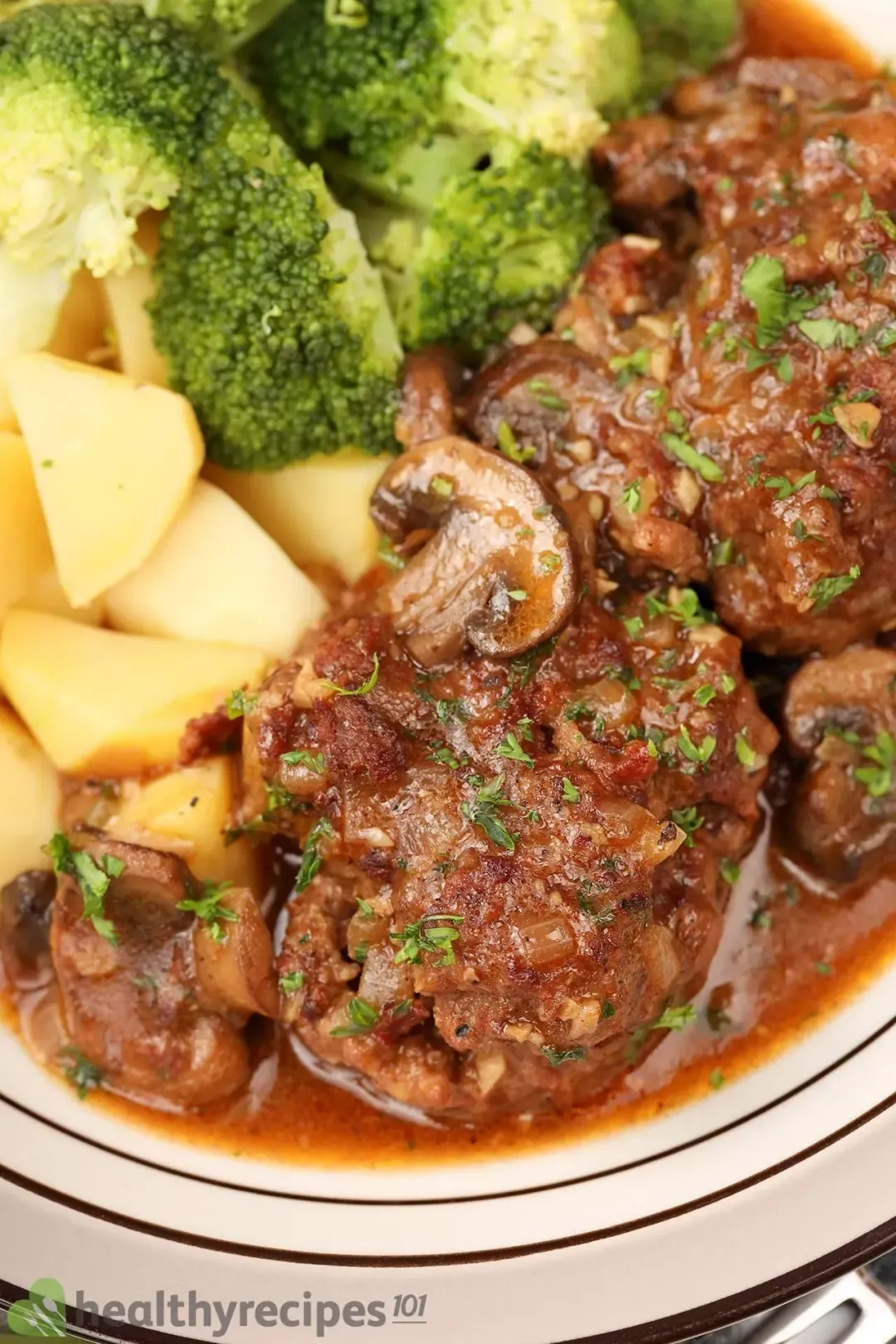 With a moderate portion size, these "steaks" contain a healthy quantity of protein and an acceptable amount of saturated fats. It's quite a heavy main dish, so we're also making some steamed veggies to turn it into a wholesome, balanced meal.
Eyeballing the seasonings can add a lot of sodium to your daily quota — not something experts recommend. We understand the temptation but wanted to make sure that the gravy is flavorful without going overboard with the seasonings.
Main Ingredients
1. The Patties
The steaks consist of 85% lean ground beef (our favorite choice), flour and egg yolk as binders, breadcrumbs to lighten the texture, and seasonings. We use only salt, garlic powder, and onion powder as additional flavorings — it's the delicious gravy that needs more focus.
To the meat, we also add some milk to make the steaks juicier in the end. Just a splash can work wonders.
2. Gravy
First, we sautéd garlic and onions with olive oil to give the gravy an aromatic base. You can use garlic and onion powders instead, but we appreciate the fresh aroma and the hint of sweetness they possess.
Next, tomato paste was added and cooked with the oil to release all of its flavors. We're not going for a tomatoey gravy — we used just enough to give the gravy a hint of tanginess.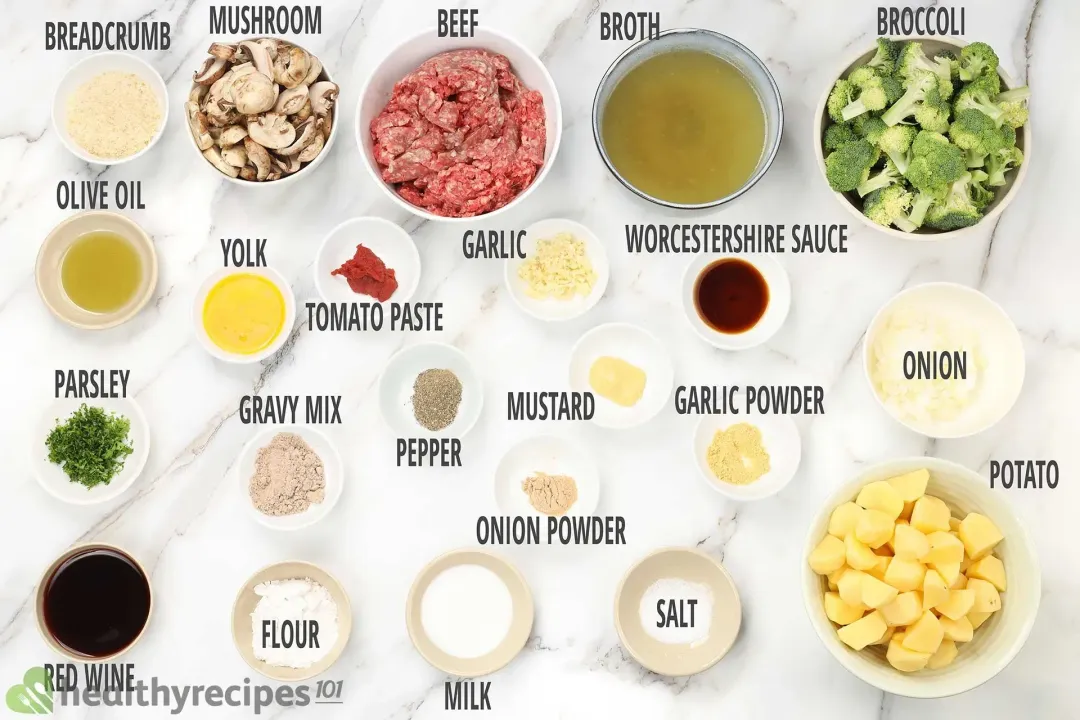 We also cooked a little flour into the paste. It'll thicken the sauce later on.
Beef pairs beautifully with red wine, so we added some red wine to deglaze the pot. It truly makes the gravy smell amazing and gives it a beautiful red color.
It's also traditional to add some brown mushrooms at this point. Cook them until they turn shiny, indicating a chewy texture.
The seasoning continues with Worcestershire, brown gravy mix, and mustard. These three key ingredients add different savory notes to the sauce, so don't skip out on any one of them.
We complete the sauce with quite a lot of chicken broth. It'll fuse with the flour and turn everything into a gravy. You can use beef stock if you prefer — just make sure that it's unsalted.
Finally, some ground black pepper will give your sauce a nice peppery aroma.
3. The Steamed Vegetables
The veggies we chose were potatoes for their healthy carbs and broccoli because it's a good source of nutrients and fiber.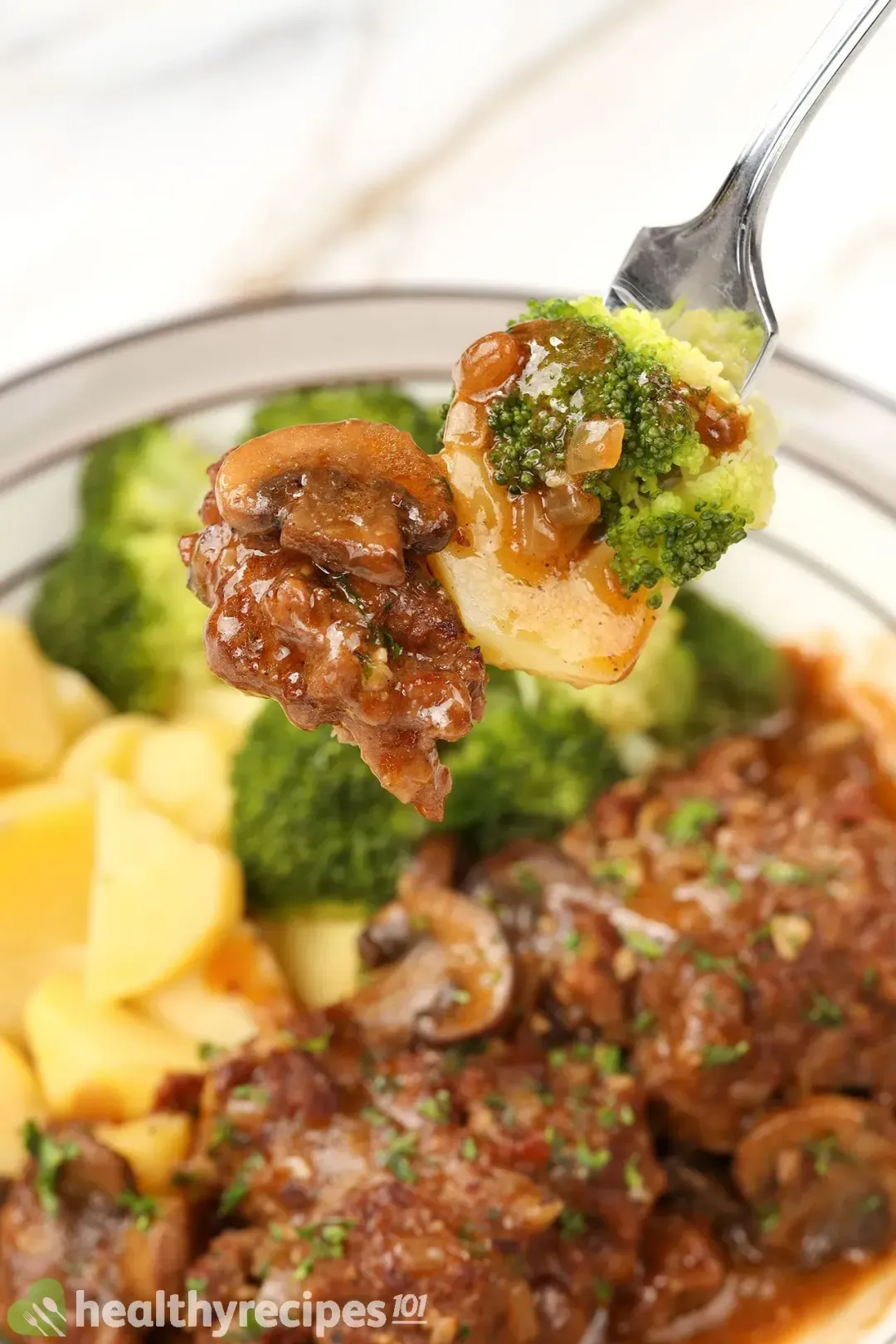 In 'stew/meat' mode, the pressure cooker will cook your taters in just 5 minutes but unfortunately, broccoli takes far less time. You'll have to add the florets once the potatoes are halfway done. That means depressurizing the pot twice, which is time-consuming and annoying.
If you want a simpler option, cook these vegetables in the microwave instead. Place the potatoes in a bowl, cover it, cook for 5 minutes, then add the broccoli and cook for another 2 minutes.
How to Store, Freeze, and Reheat Leftovers
The Salisbury steaks (and the side vegetables) both refrigerate and freeze well. They'll keep for 5 days in the fridge and up to 3 months in the freezer.
To store them properly, portion them into either Ziploc bags or airtight containers. The containers make them easier to microwave, whereas the Ziploc bags save a lot of fridge space.
You can reheat both the steak and the vegetables at the same time.
If they're refrigerated, just 1 minute in the microwave should be enough (2.5 if they're frozen). Or, heat them in a pan over low heat with a little bit of water (about 2 tbsp per serving) for about 2 minutes (5 if they're frozen).
For more healthy instant pot recipe to put into your collection, check out this article.
Side Dishes
What this meal is missing is a refreshing salad and a cool glass of juice. We think our sweet, crunchy spinach salad and lemonade are the perfect candidates: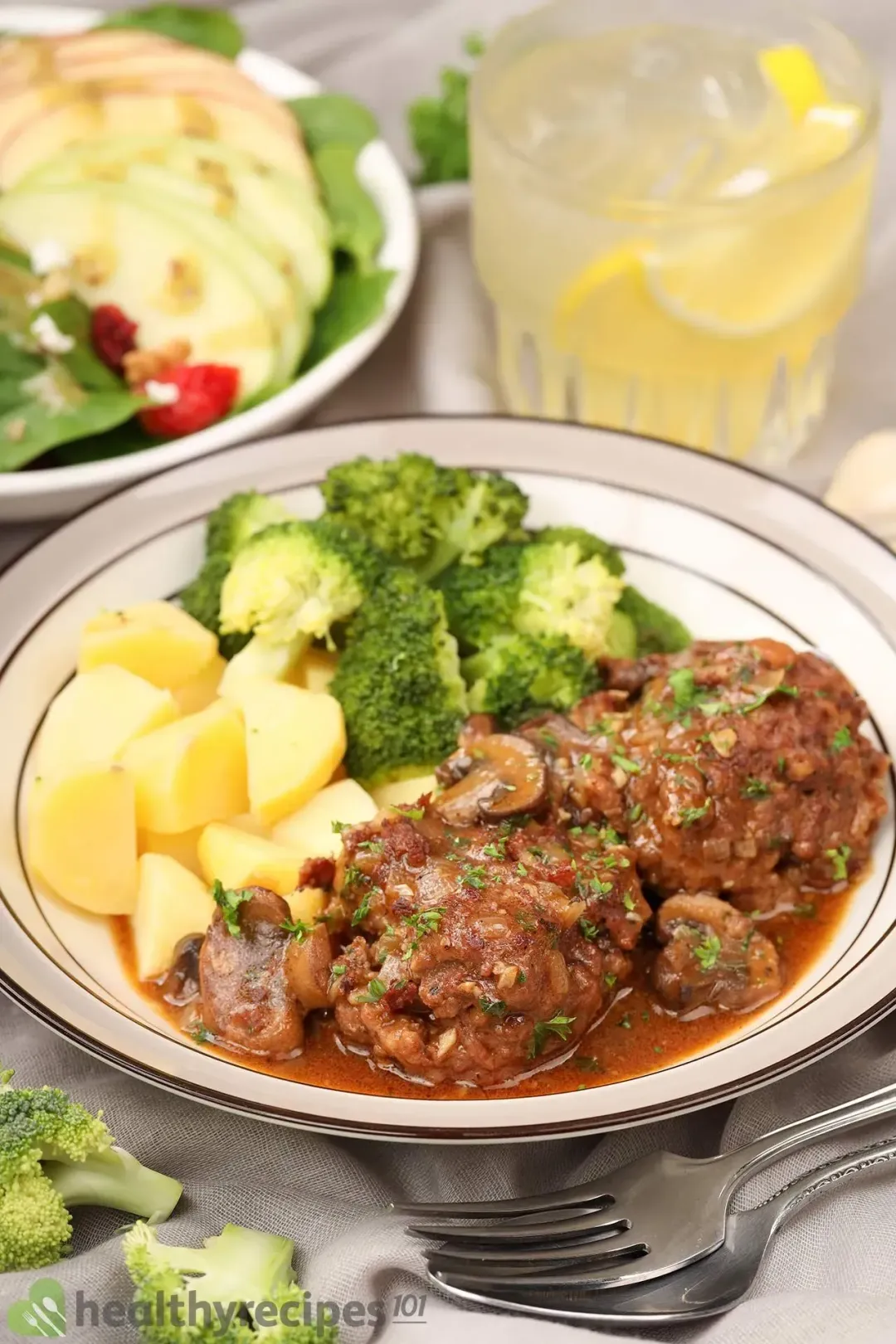 Unleash Your Inner Chef with These Easy and Delicious Instant-Pot Beef Recipes
Looking for a delicious and easy way to make barbacoa at home? Look no further than our Instant Pot barbacoa recipe! With just a few simple ingredients and your trusty pressure cooker, you can have tender, flavorful beef that's perfect for tacos, burritos, or even on its own.
A classic comfort food made even easier with the Instant Pot. Tender beef, hearty vegetables, and savory broth come together in this delicious and satisfying stew that will warm you up on even the coldest days.
For those who love Instant Pot beef dishes and want to try something new, we've compiled a list of equally tasty recipes for you to discover.
Instant Pot Salisbury Steak
This Instant Pot Salisbury steak recipe is an efficient alternative to the traditional preparation method. It turns out saucy and tender meat patties.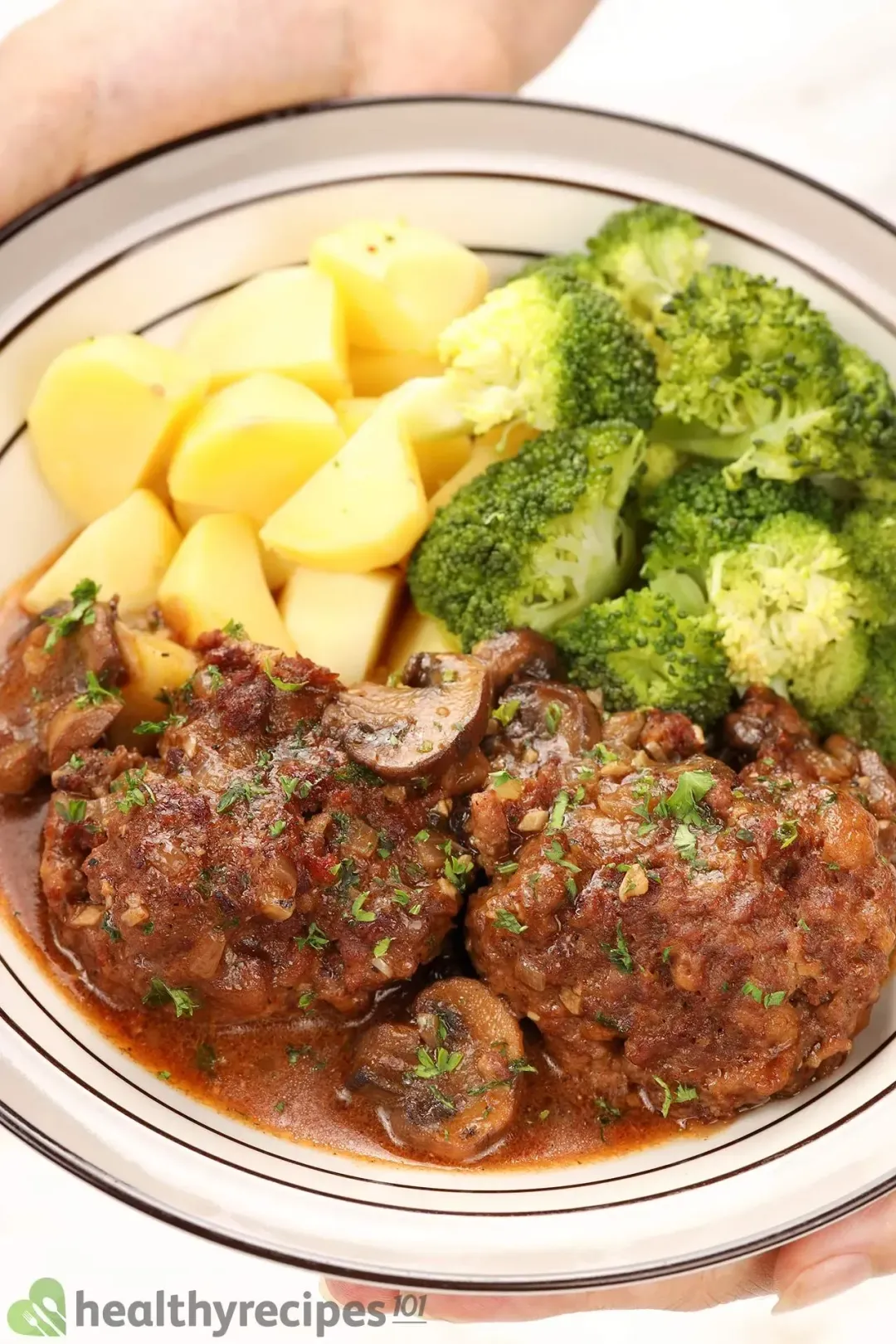 cook TIME

40 mins

prep TIME

5 mins

total TIME

45 mins
COURSE

Main Course

CUISINE

American

SERVINGS

CALORIES

497 kcal
INGREDIENTS
18 oz

85% lean ground beef

10 oz

broccoli

(cut into florets)

14 oz

potatoes

(cut into bite-sized chunks)

6 oz

brown mushrooms

(sliced)

2 oz

onions

(finely chopped)

1/4 cup

plain Panko breadcrumbs

1/2 tbsp

Worcestershire sauce

1/2 tbsp

Hunt's tomato paste

3 tbsp

all-purpose flour

(divided)

1 1/2 cups

unsalted chicken broth

1/2 tsp

ground black pepper

1 tsp

traditional Dijon mustard

2 tbsp

parsley

(finely chopped)
INSTRUCTIONS
1
Pour about 1/4 cup water into the pot and add a steaming basket. Place 14 oz potatoes into the basket. Close the lid and switch the steam handle to 'sealed.' Select 'meat/stew' mode and steam for 3 minutes. Use a spoon to switch the steam handle to 'venting.' Wait for the steam to escape, then carefully open the lid. Add 10 oz broccoli to steam for 2 minutes in the same manner. Set the broccoli and potatoes aside and clean the pot.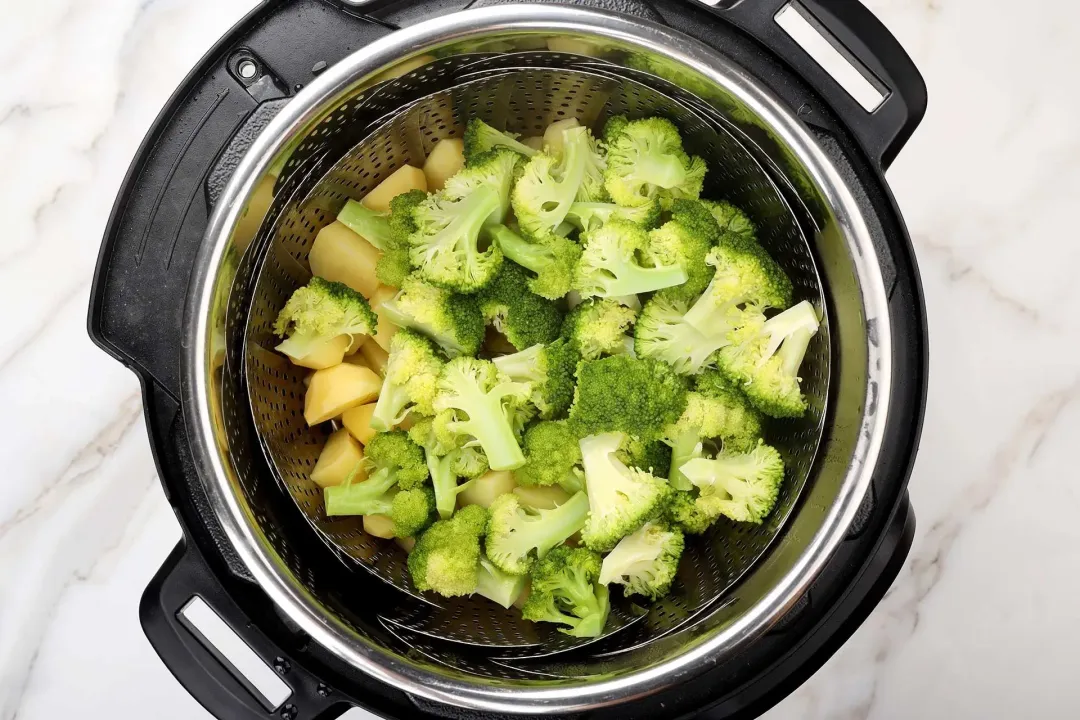 2
While they're steaming, in a large bowl, combine 18 oz ground beef, 1 egg yolk, 1/4 cup breadcrumbs, 1/2 tsp garlic powder, 1/2 tsp onion powder, 1/4 tsp salt, 2 tbsp all-purpose flour, and 1 tbsp whole milk. Stir until uniform. Divide the mixture into 8 portions, roll them into round balls, gently flatten, and place them on a plate. When the potatoes are done, move on to step 3 before going back to the meat.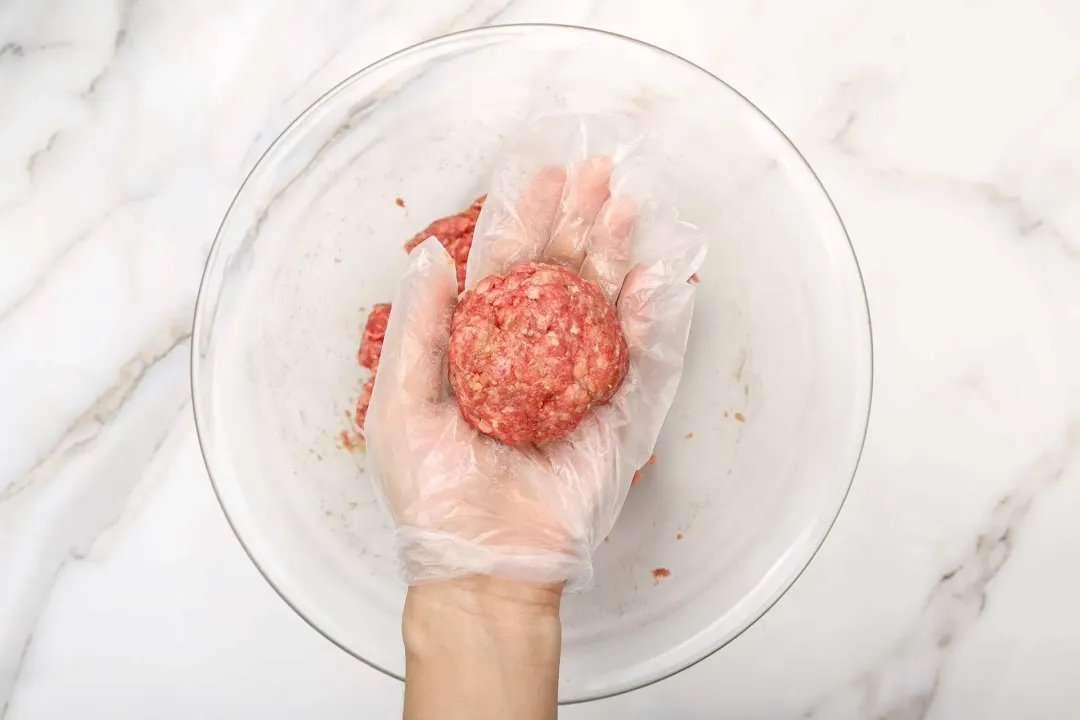 3
Once the vegetables are done, release the steam again in the same manner. Remove the basket, discard the water, wipe the pot clean with a kitchen towel, and heat 1 tbsp olive oil under 'sauté' mode. Sear all 8 meat patties for 3.5 minutes per side, then place them onto a clean plate and set aside.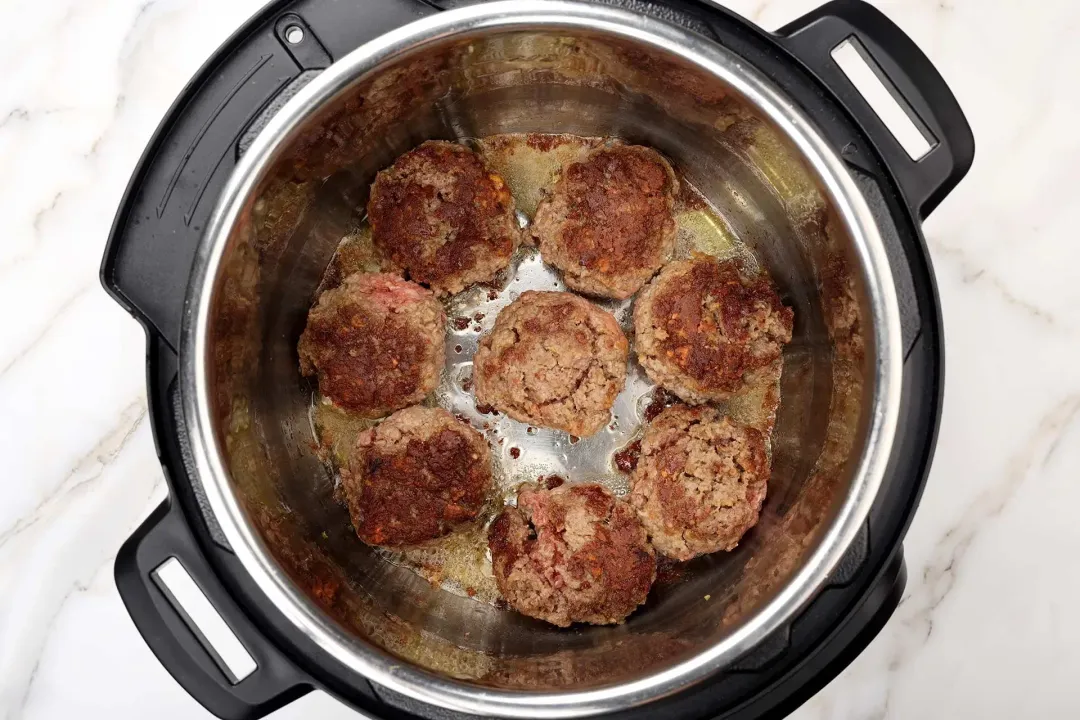 4
Using the same oil, cook 1 tbsp minced garlic and 2 oz chopped onions in the pot for about 1 minute, then stir in 1/2 tbsp tomato paste and cook for an additional 30 seconds, add remaining 1 tbsp flour, stir. Deglaze the pot with 1/4 cup red wine — scrape the bottom of the pot with a wooden spoon to loosen any stuck bits.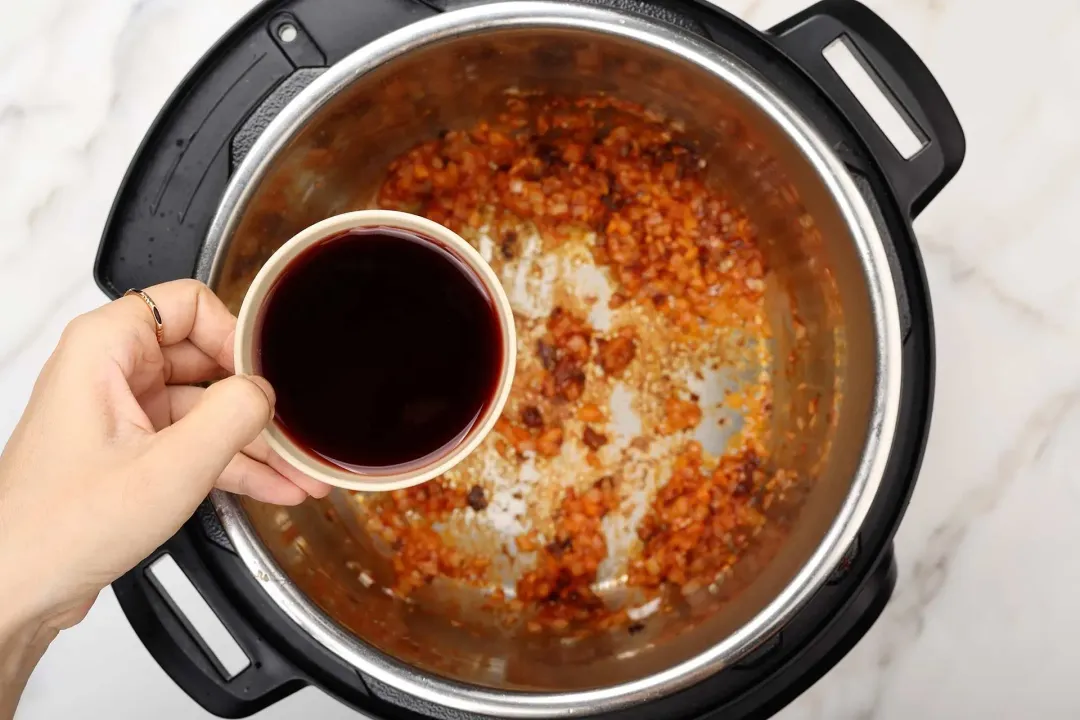 5
Add 6 oz brown mushrooms, 1/4 tsp salt, 1/2 tsp pepper, 1/2 tbsp Worcestershire sauce, 2 tsp brown gravy mix, and 1 tsp mustard. Stir and cook for 1 minute. Add 1 1/2 cups chicken broth along with the beef patties, close the lid, switch the steam handle to 'sealed,' and cook on 'meat/stew' mode for 7 minutes.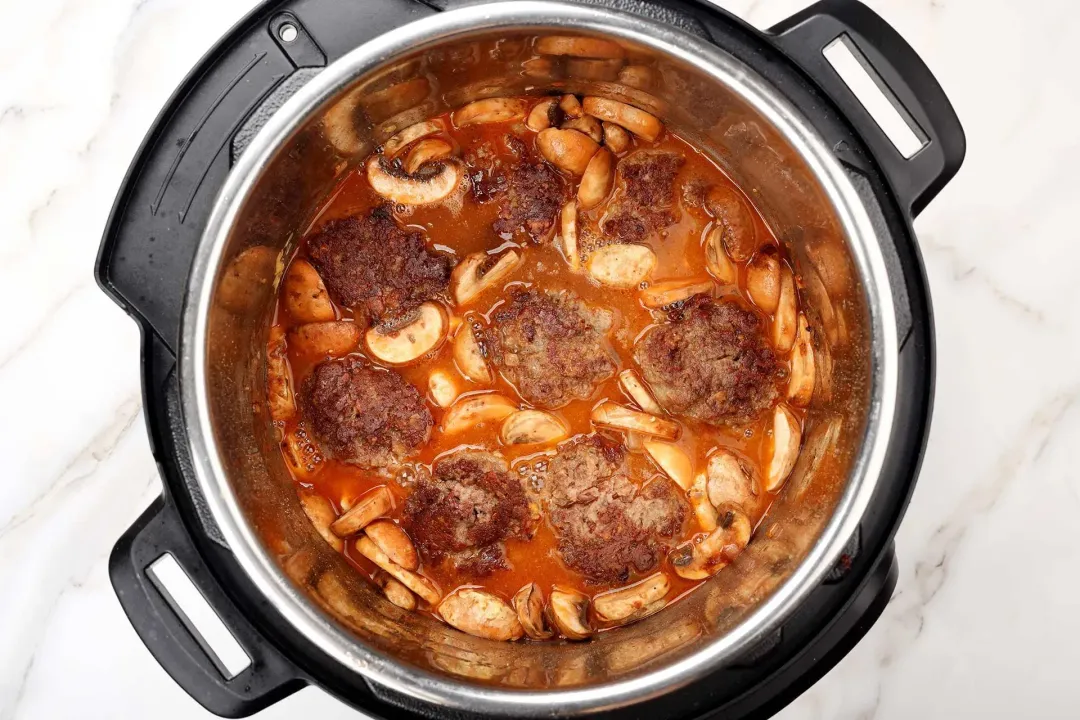 6
Manually release the steam as instructed, then select 'sauté' and reduce the sauce for about 3 minutes.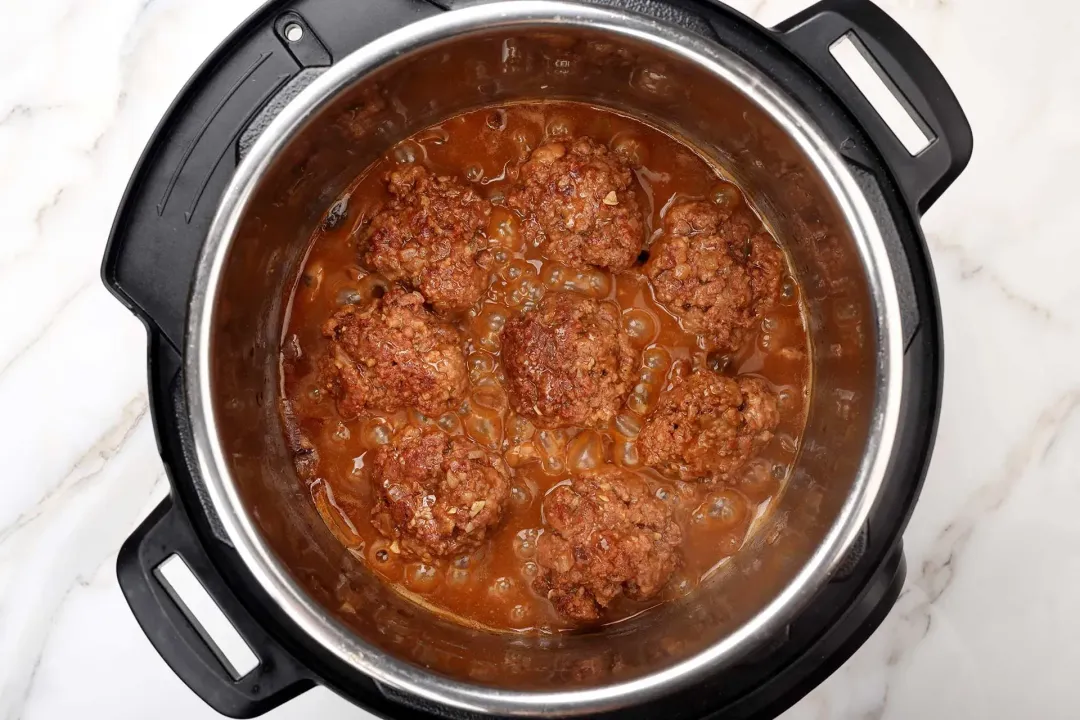 7
Sprinkle with 2 tbsp chopped parsley and serve with the steamed vegetables.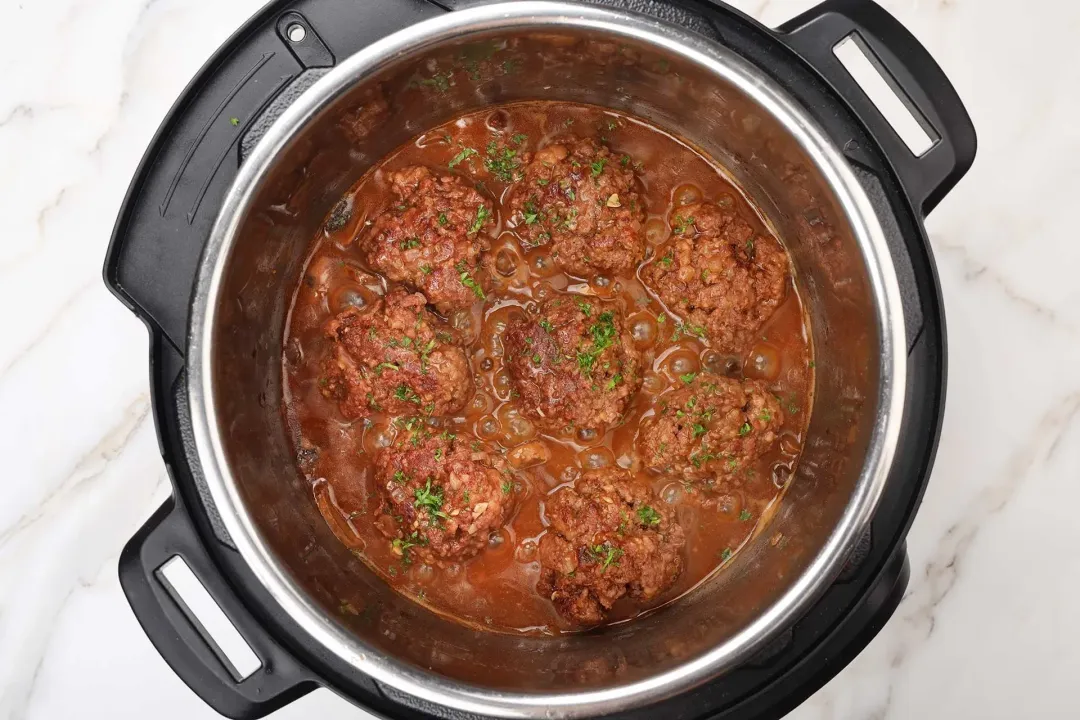 NUTRITION
Nutrition Facts
Instant Pot Salisbury Steak
Amount Per Serving (1 serving)
Calories 497
Calories from Fat 225
% Daily Value*
* Percent Daily Values are based on a 2000 calorie diet.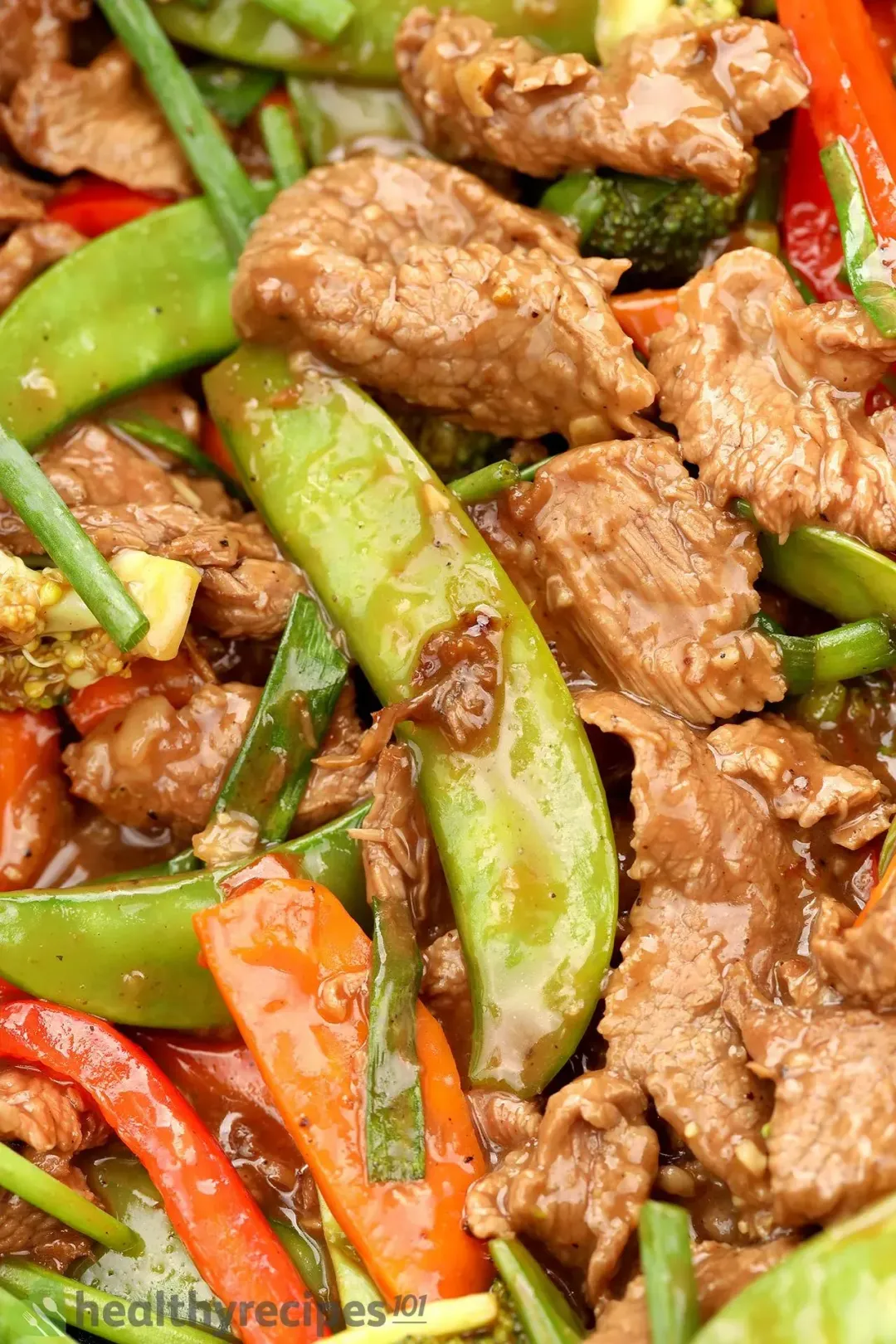 Previous Recipe
Beef Stir-Fry
Beef Stir-Fry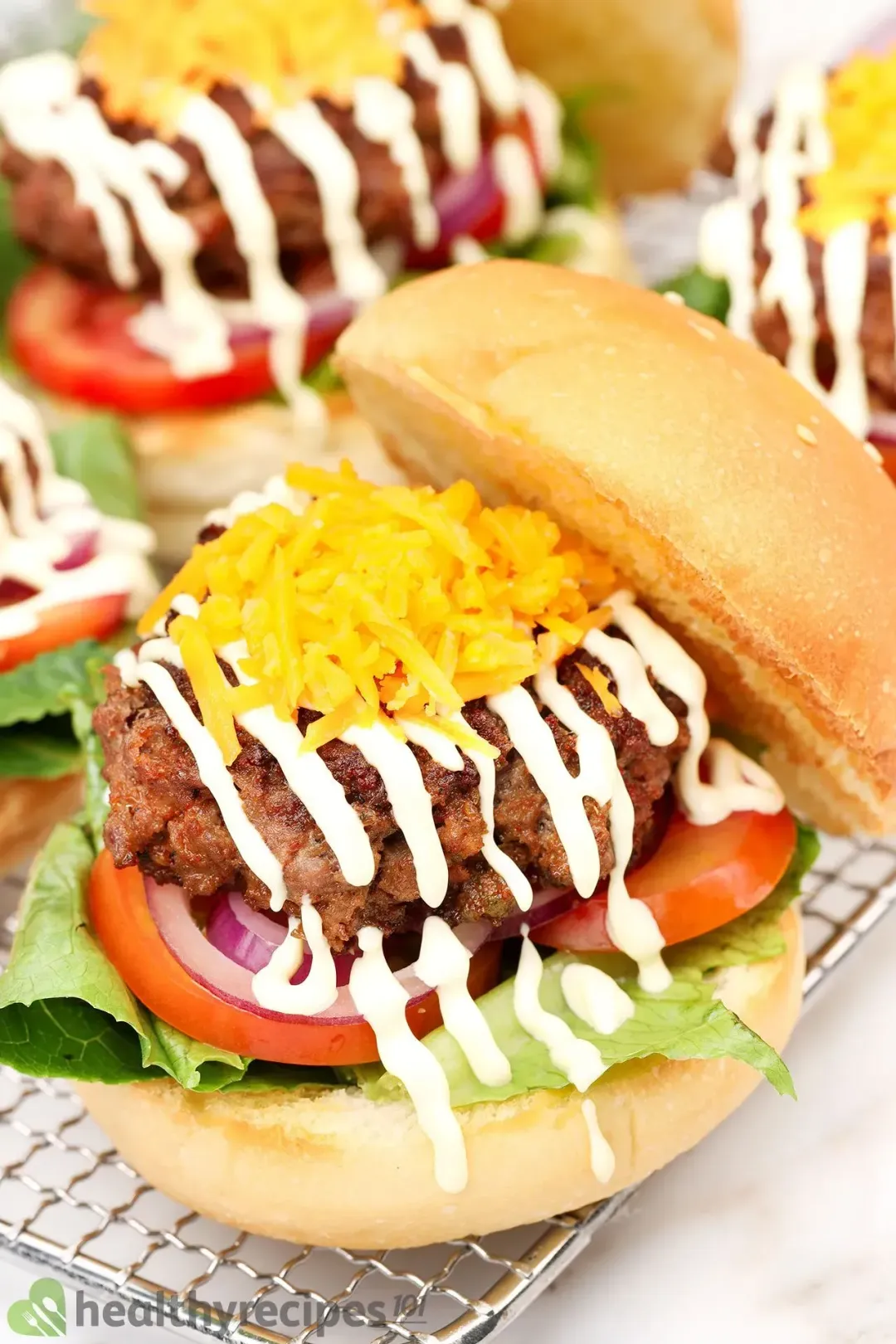 Beef Burger
Head Chef, Culinary Consultant
Tuyet Pham is an award-winning Saigonese chef who believes that joy is the secret ingredient to delicious food. At Healthy Recipes 101, Tuyet personally tests and simplifies every recipe, ensuring maximum flavor with minimal effort. With a background at prestigious French restaurants P'TI Saigon and Le Corto, Tuyet knows how to make every dish exceptional.
Writer, Author
Luna Regina is an accomplished writer and author who dedicates her career to empowering home cooks and making cooking effortless for everyone. She is the founder of HealthyKitchen101.com and HealthyRecipes101.com, where she works with her team to develop easy, nutritious recipes and help aspiring cooks choose the right kitchen appliances.
Nutrition Reviewer
Natalie Butler is a registered dietitian nutritionist with a passion to help others live their best life through food, fitness, safer beauty and a healthy lifestyle. She has expertise with a variety of diets and diseases and believes that there is no one-size-fits-all approach for health.
A classic comfort food made easy and healthy with this recipe.