Our apple cider hot toddy recipe has been created with the same ingredients as the traditional toddy but with a moderate amount of alcohol. It's warm, bursting with strong flavors, and even relatively healthy.
The perfect apple cider hot toddy has a wonderful balance of sweetness and acidity without being too strong, making it pleasant to drink hot. It is a cozy drink perfect to sip on those cold nights with your family and friends.
What Is a Hot Toddy?
A toddy is a strong, warm classic winter beverage that has been around for a long time. Legend has it that it originated from Scotland in the 18th century when people added honey and spices to mask the flavor of cheap, bad Scotch.
A modern-day hot toddy, composed of liquor, hot water, sweetener, and herbs, is served hot — as the name implies. The drink eventually became extremely popular and is still enjoyed as a winter warmer and DIY cold prevention.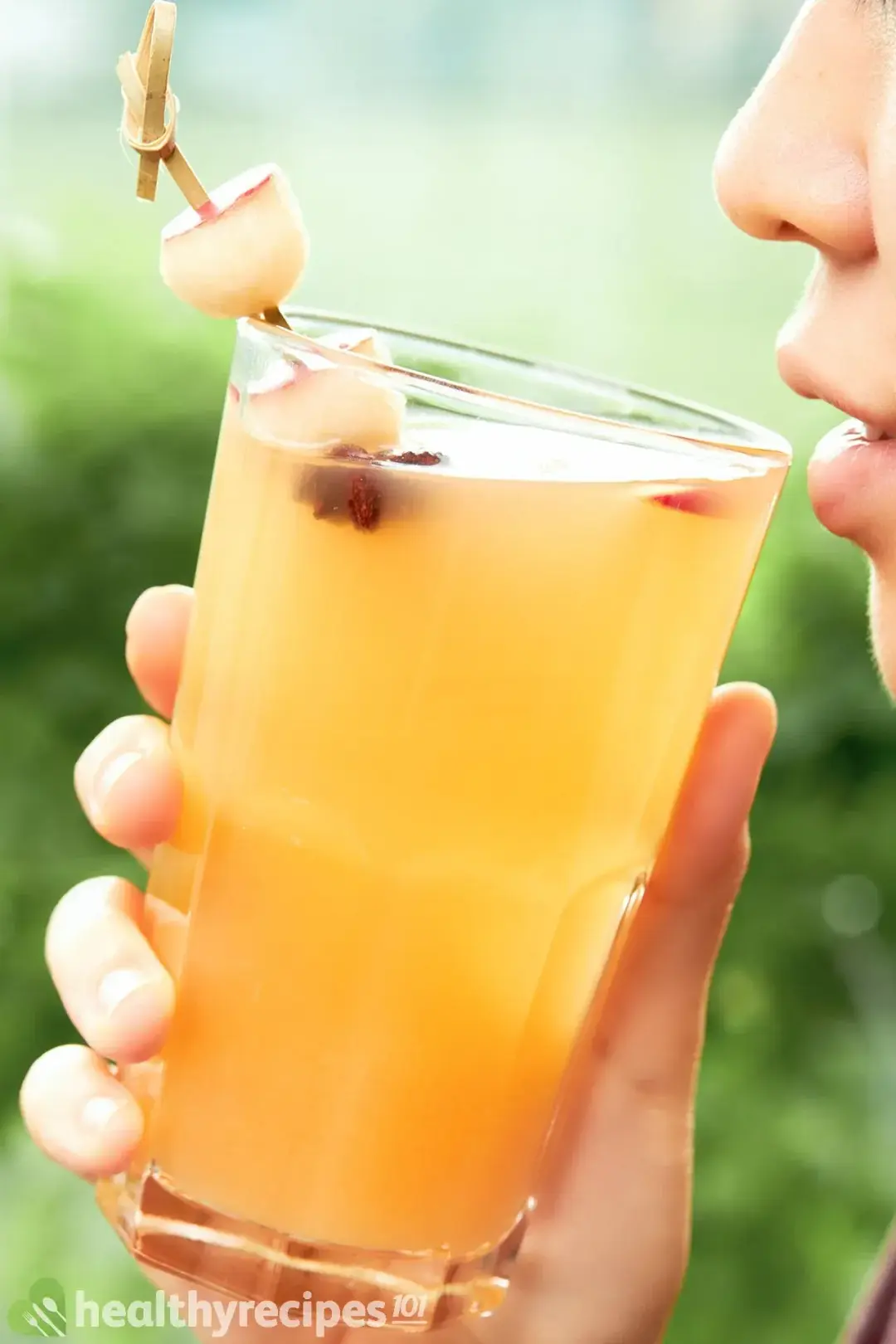 Is Apple Cider Alcoholic?
Apple cider, soft cider, or cider is the liquid extract from apples. The name is used for unsweetened and non-alcoholic beverages in the United States and Canada.
Outside America, cider refers to hard cider — an alcoholic drink that is as dry and bubbly as champagne and as refreshing as beer. The drink is an 'adult version' of apple cider.
Is Apple Cider Healthier Than Apple Juice?
Before answering the question, allow us to clarify a misconception: apple cider and apple juice are different.
In the United States, the majority of cider is made from extracting the mashed apples and sometimes calls for an addition of pear juice. The finished product has a caramel color due to the apple particles, despite being filtered.
Apple juice is also made from pulp apples but is more carefully filtered to remove all the particles. The juice is then sweetened with sugar, pasteurized, and vacuum-packed to prolong the shelf life.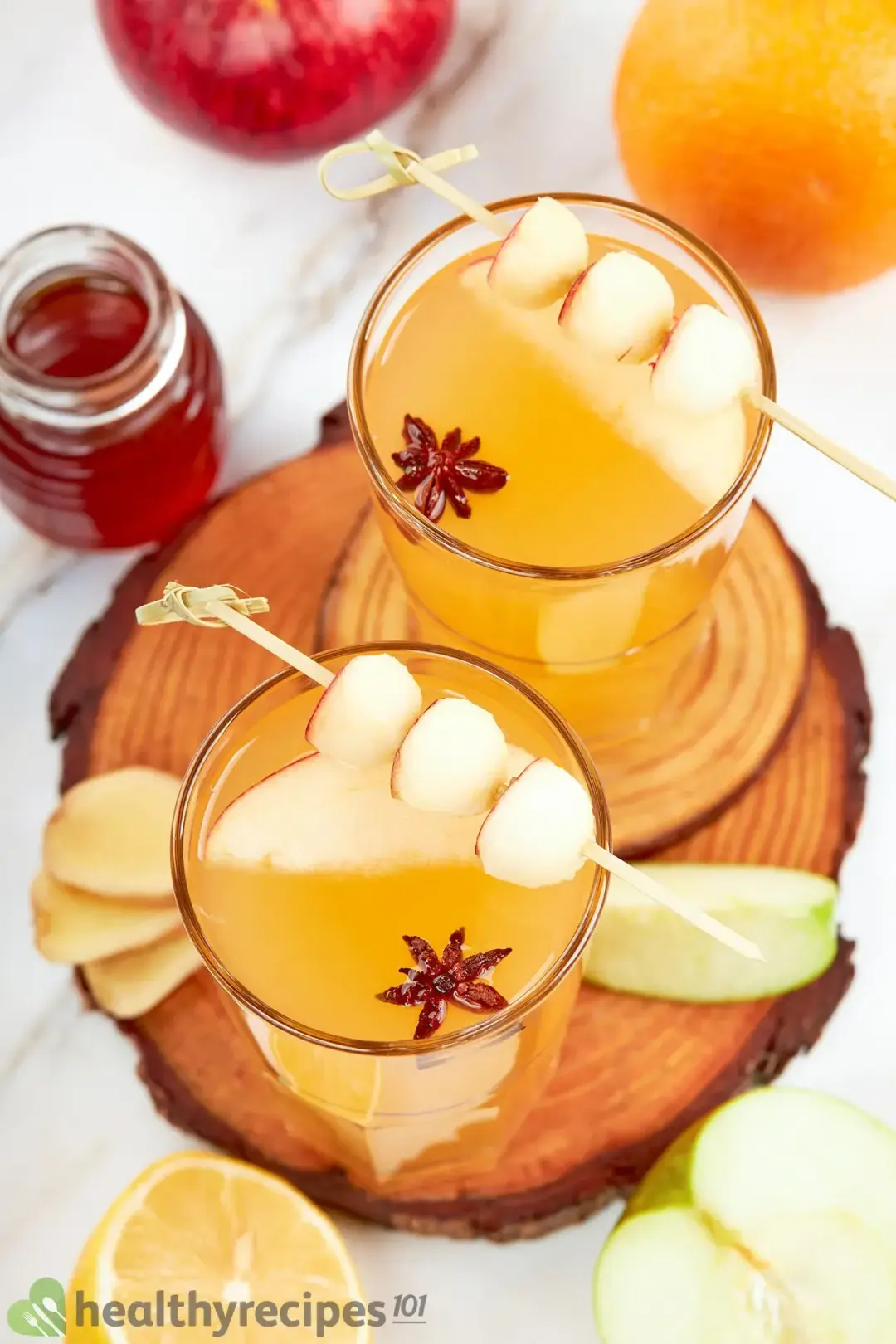 Apple juice, therefore, has much less nutritional value since a sweetener and preservatives are added during the process. Cider, on the other hand, tends to be more nutritious as it still preserves most of the polyphenol — a compound that can boost the digestive system and promote heart health.
Apple Cider Hot Toddy Ingredients
Apple Cider: While many hot toddies can be made with hot water and lemon juice, our version calls for homemade apple cider for an extra dose of seasonal goodness. If you prefer the store-bought version, pick the sugar free apple cider to keep the cocktail slightly tangy and not over-sweet.
Honey: We prefer sweetening the drink with honey rather than sugar. Honey is not only the apple cider flavor's best friend but also provides a nice kick of nutrients and health benefits.
Lemon Juice: Just the right amount of tang can take a hot toddy to the next level. We recommend you just add a little to start with, have a taste, and adjust until it suits your palate.
Whiskey: An apple cider toddy draws much of its flavor from whiskey. The liquor has strong smoky, briny notes of a deep complexity, making it an excellent selection.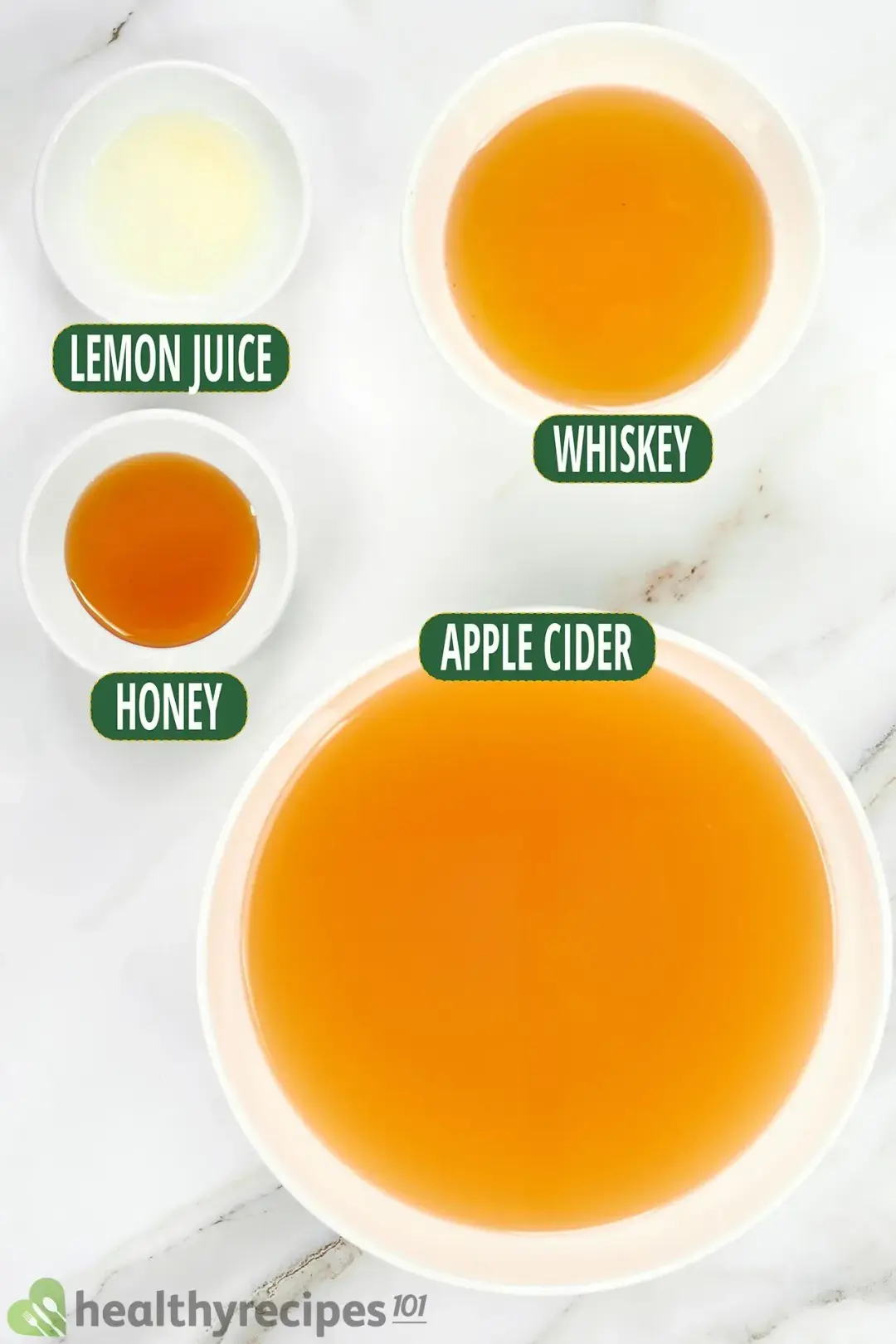 The formula of a base spirit, apple cider, and honey make an apple cider hot toddy an easy cocktail to master and also allows for experimentation. A touch of cinnamon or nutmeg brings out different notes in the base spirit or try adding a piece of ginger for a spicy, warm touch.
How to Make Apple Cider Hot Toddy
This warm and cozy drink is extremely quick and straightforward to make.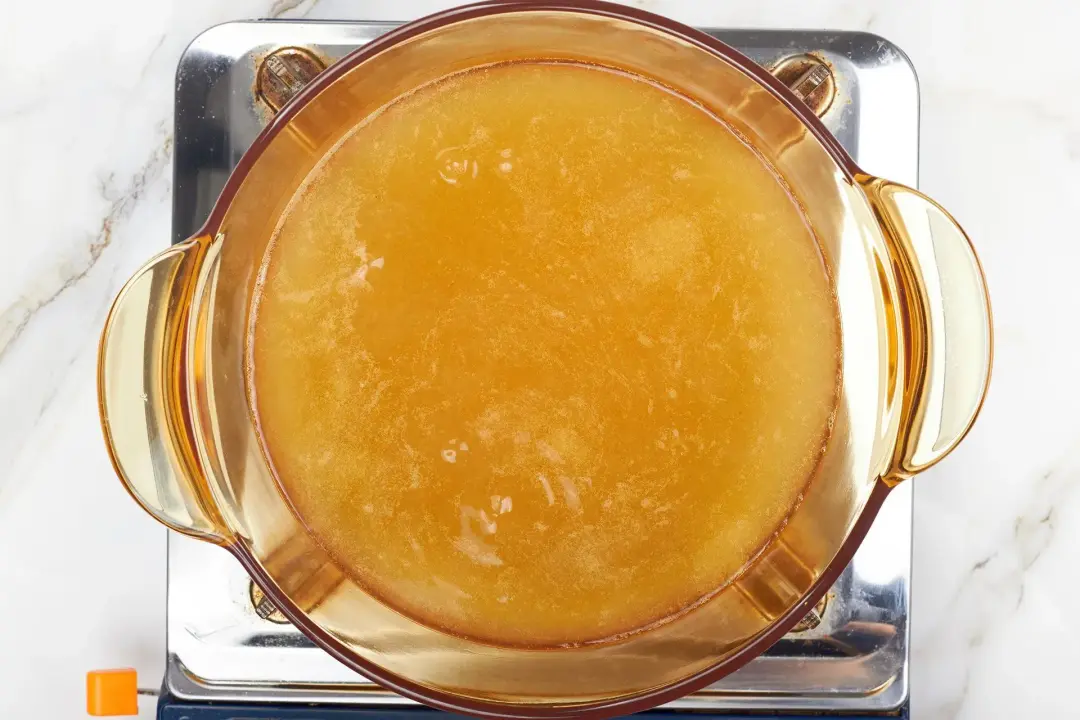 Boil the apple cider.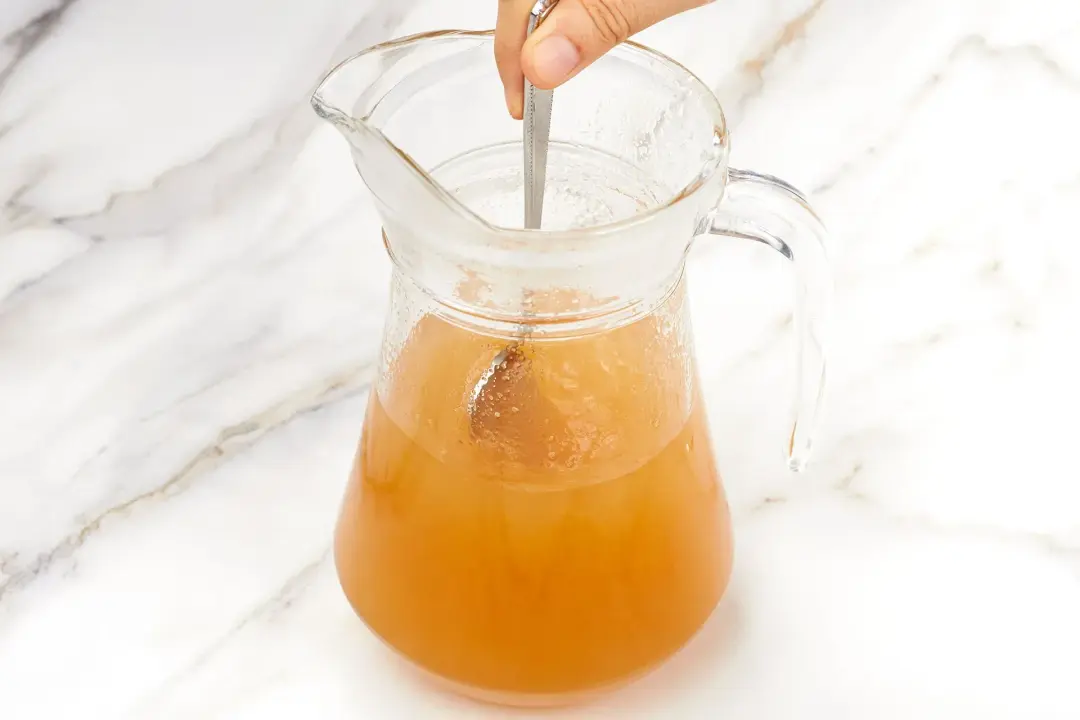 Gather all ingredients in a pitcher and stir to combine.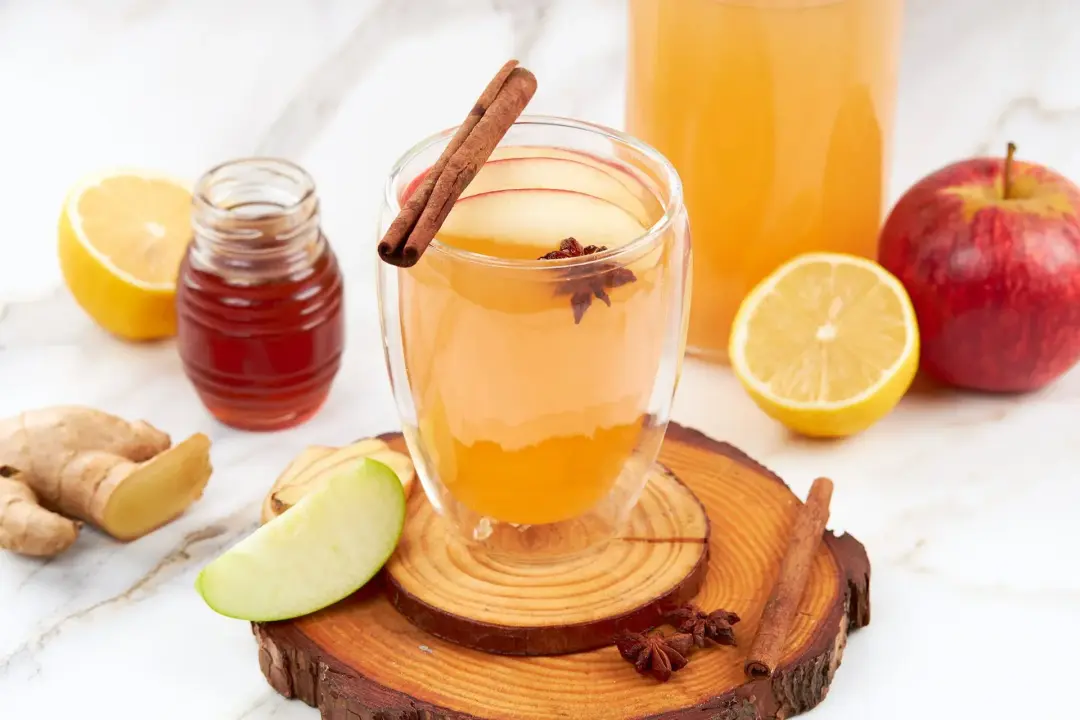 Serve warm.
What Spirit to Go With Apple Cider Hot Toddy
An apple cider hot toddy is mostly made with whiskey, but you can make it with almost anything — tequila, gin, rum, or bourbon.
Bourbon, with its rounded balance of sweet tones and spices particularly compliments the apple cider. Tequila, on the other hand, provides sugary flavors followed by a note of citrus, making for an amazing apple cider cocktail.
Vodka is another great alternative. As it turns out, vodka gives the drink a twist for a lighter version but the final result is still as flavorful as the original. If you like Scotch, be sure to choose a variation that is no more than slightly smoky. Anything with an intense scent will overpower the other elements' flavors.
Surprisingly, the choice of liquor isn't the biggest concern. What does matter is the balance of flavor, texture, aromatics, and perhaps most importantly — your preference. The best spirit in your perfect hot toddy is the one you have to hand.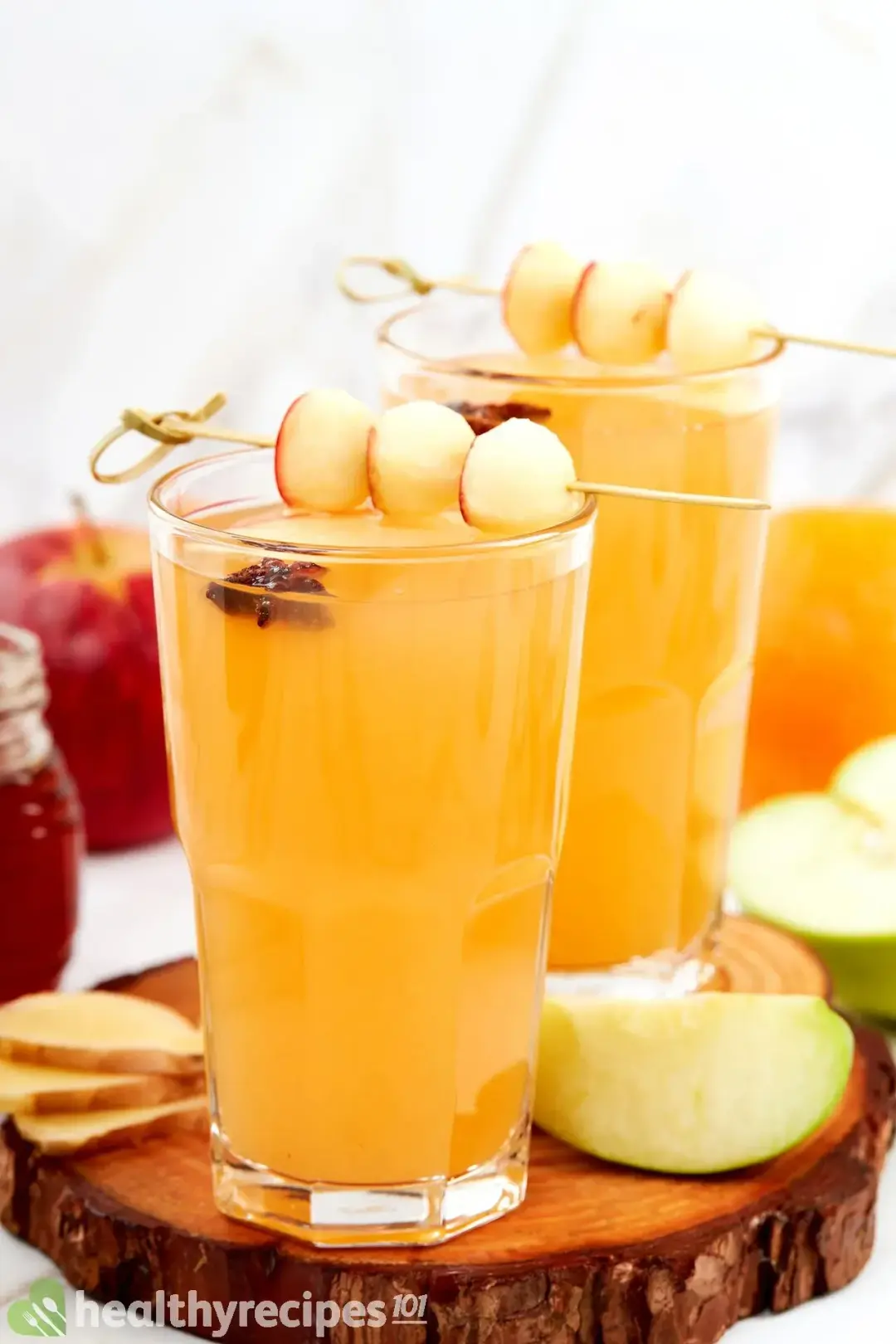 How Long Is Apple Cider Good for?
Apple cider only lasts 2 – 3 hours unrefrigerated since it is the raw product. Once refrigerated, your apple cider will be good for 2 – 3 weeks.
More Winter Drinks To Enjoy
Apple Cider Hot Toddy Recipe
Our apple cider hot toddy recipe generates a lip-smacking drink of whiskey, honey, lemon, and apple cider. It packs a punch and is truly a winter warmer.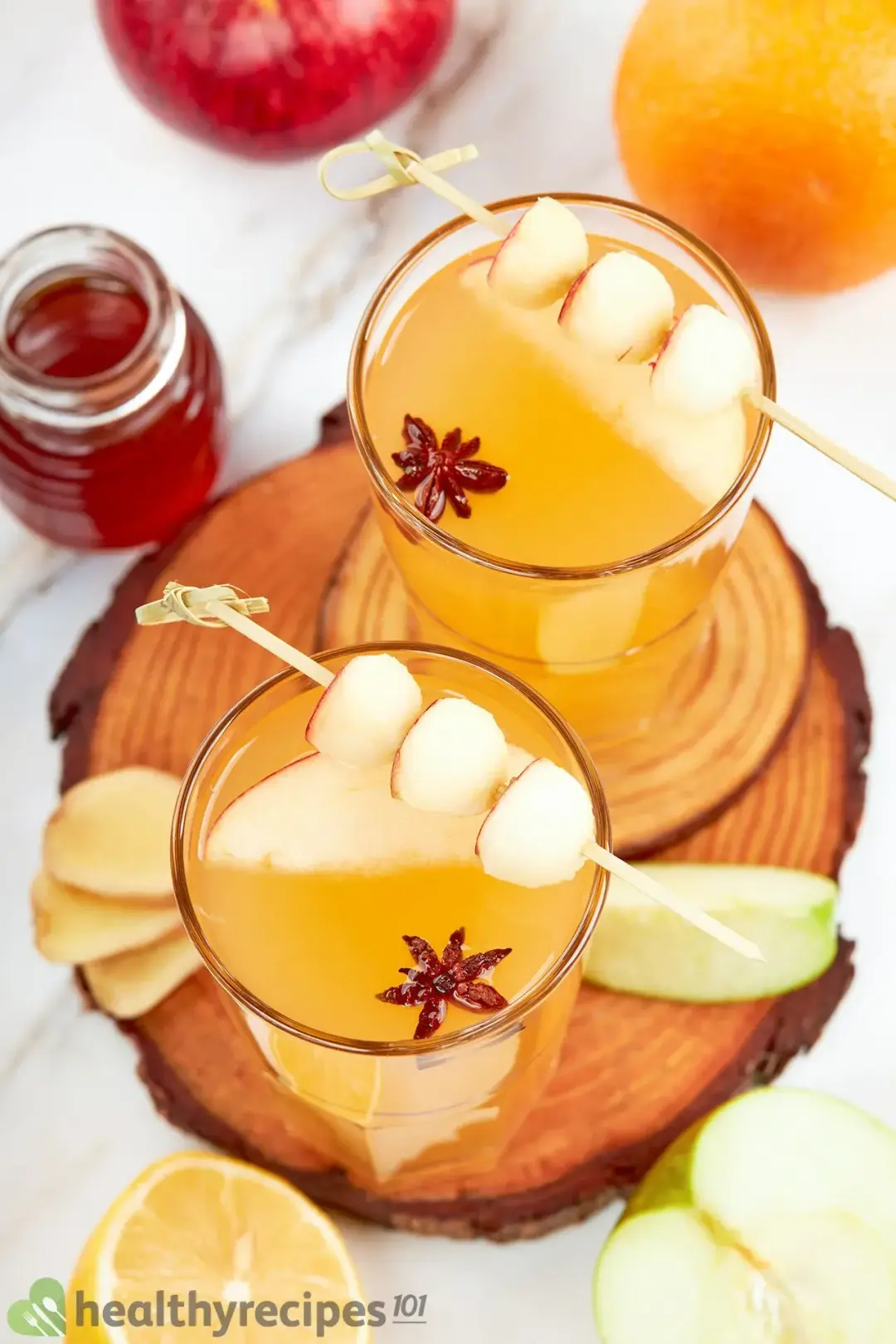 cook TIME

5 mins

prep TIME

10 mins

total TIME

15 mins
COURSE

Drinks

CUISINE

British

SERVINGS

servings

CALORIES

178 kcal
INGREDIENTS
3 cups

homemade apple cider

1 tbsp

honey

2 tsp

lemon juice

3 fl oz

whiskey 80 proof
INSTRUCTIONS
1
In a saucepan, bring 3 cups of apple cider to a boil. Remove from the heat and allow the juice to cool down a bit.
2
To a pitcher, add the warm apple cider, 1 tbsp honey, 3 fl oz whiskey, and 2 tsp lemon juice. Use a wooden spoon to whisk until well combined.
3
Pour the drink into glasses. Garnish at your pleasure and serve warm.
NUTRITION
Nutrition Facts
Apple Cider Hot Toddy Recipe
Amount Per Serving (1 serving)
Calories 178
Calories from FDA
% Daily Value*
* Percent Daily Values are based on a 2000 calorie diet.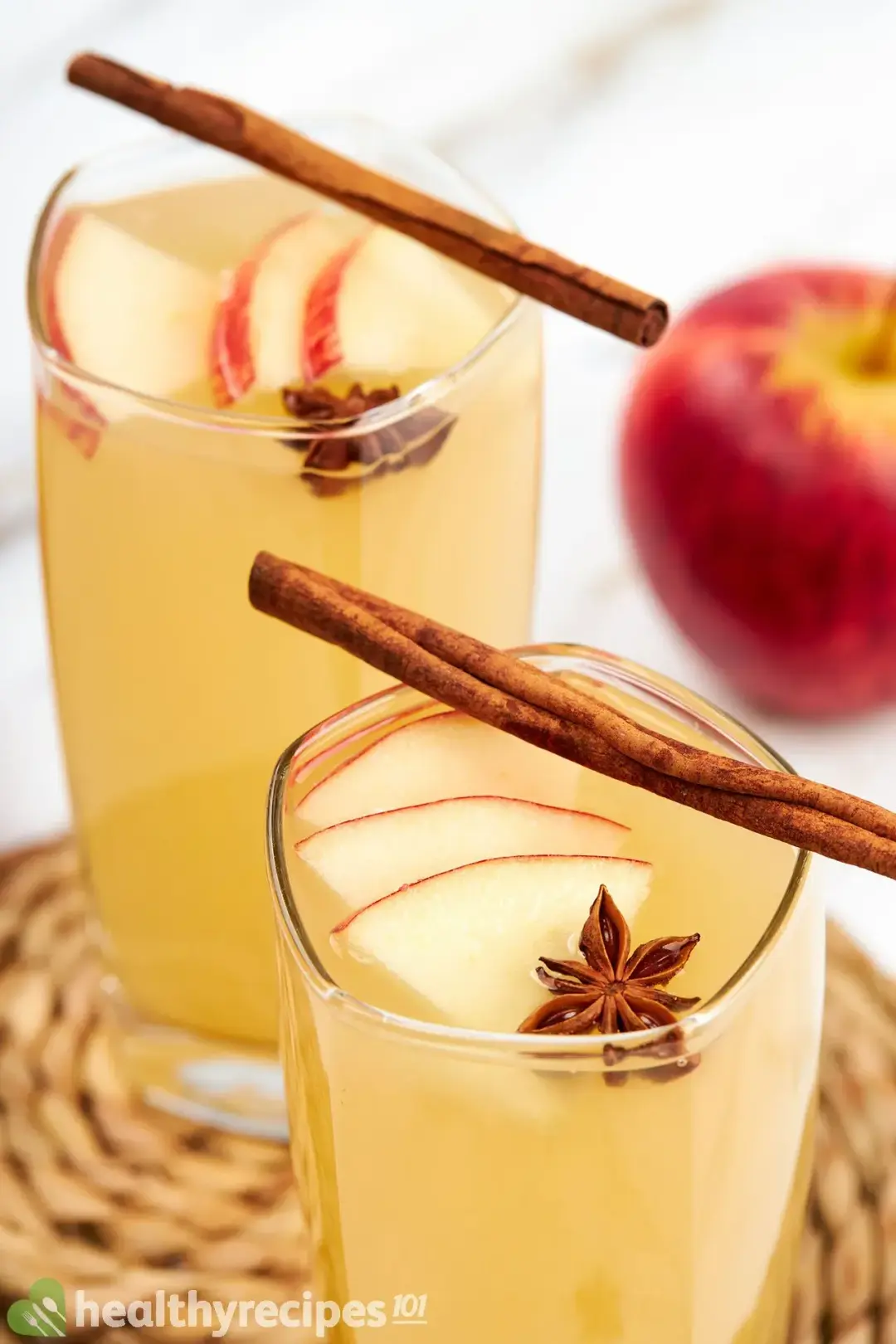 Previous Recipe
Sugar-Free Apple Cider
Sugar-Free Apple Cider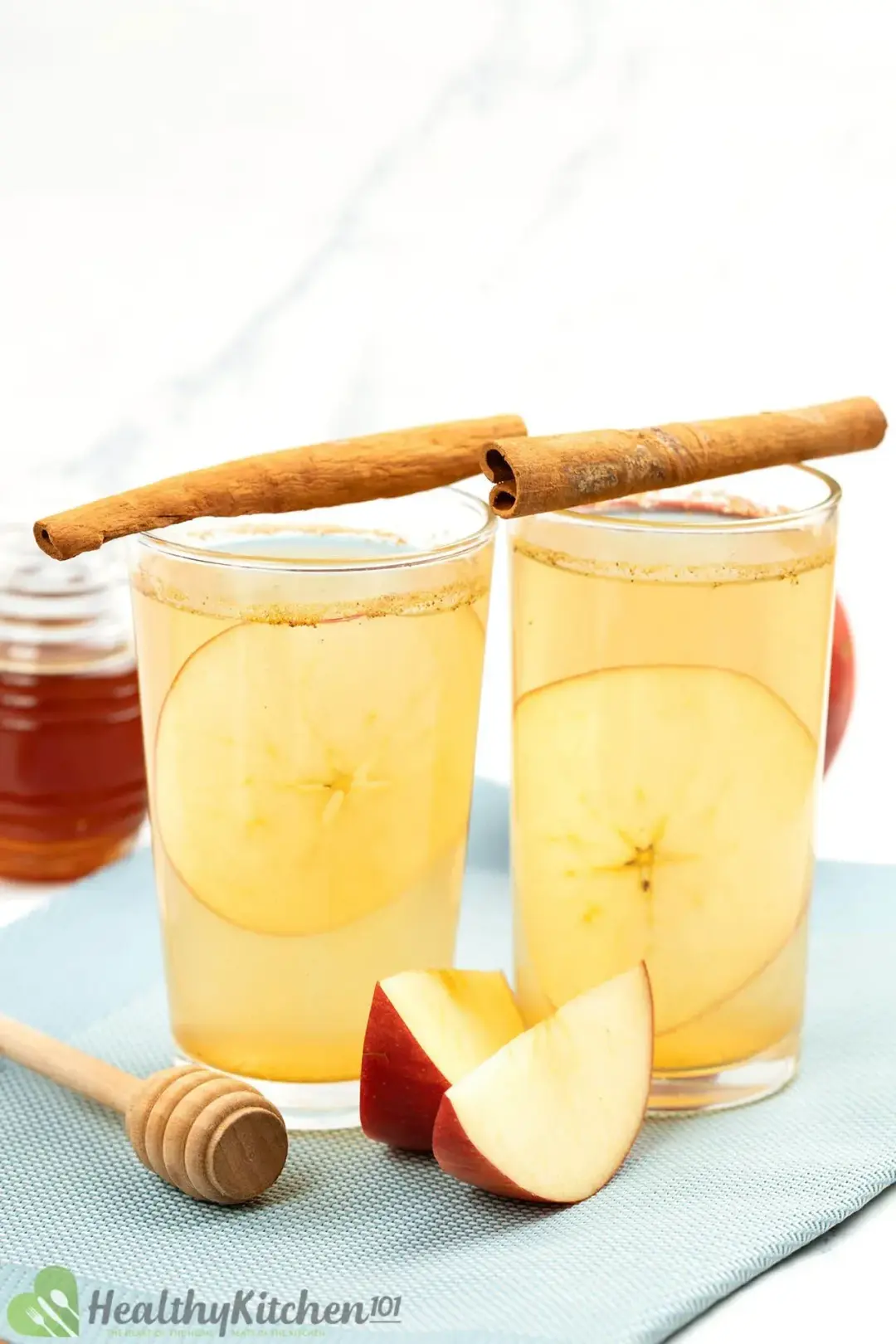 Next Recipe
Apple Cider Vinegar and Honey
Apple Cider Vinegar and Honey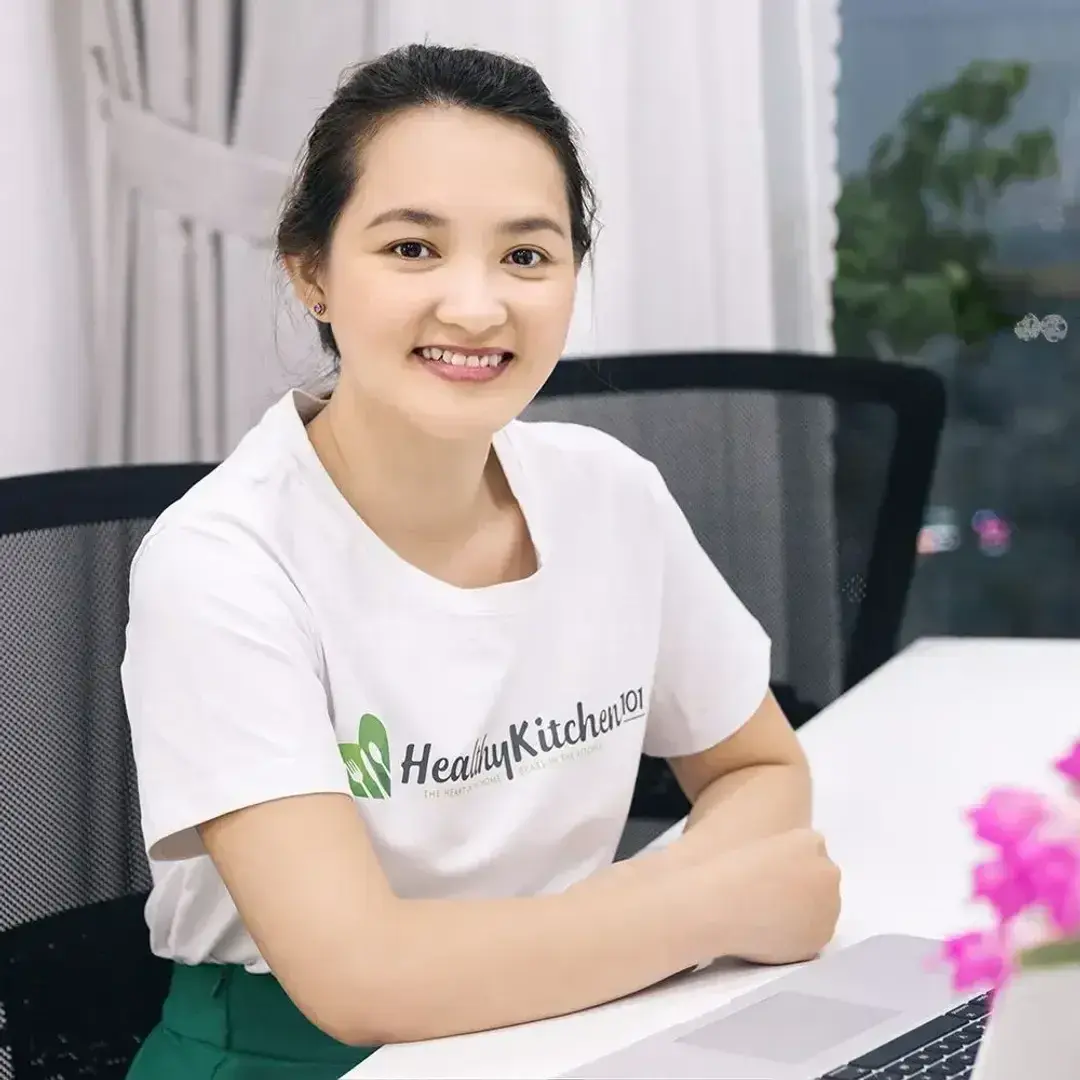 Writer, Author
Luna Regina is an accomplished writer and author who dedicates her career to empowering home cooks and making cooking effortless for everyone. She is the founder of HealthyKitchen101.com and HealthyRecipes101.com, where she works with her team to develop easy, nutritious recipes and help aspiring cooks choose the right kitchen appliances.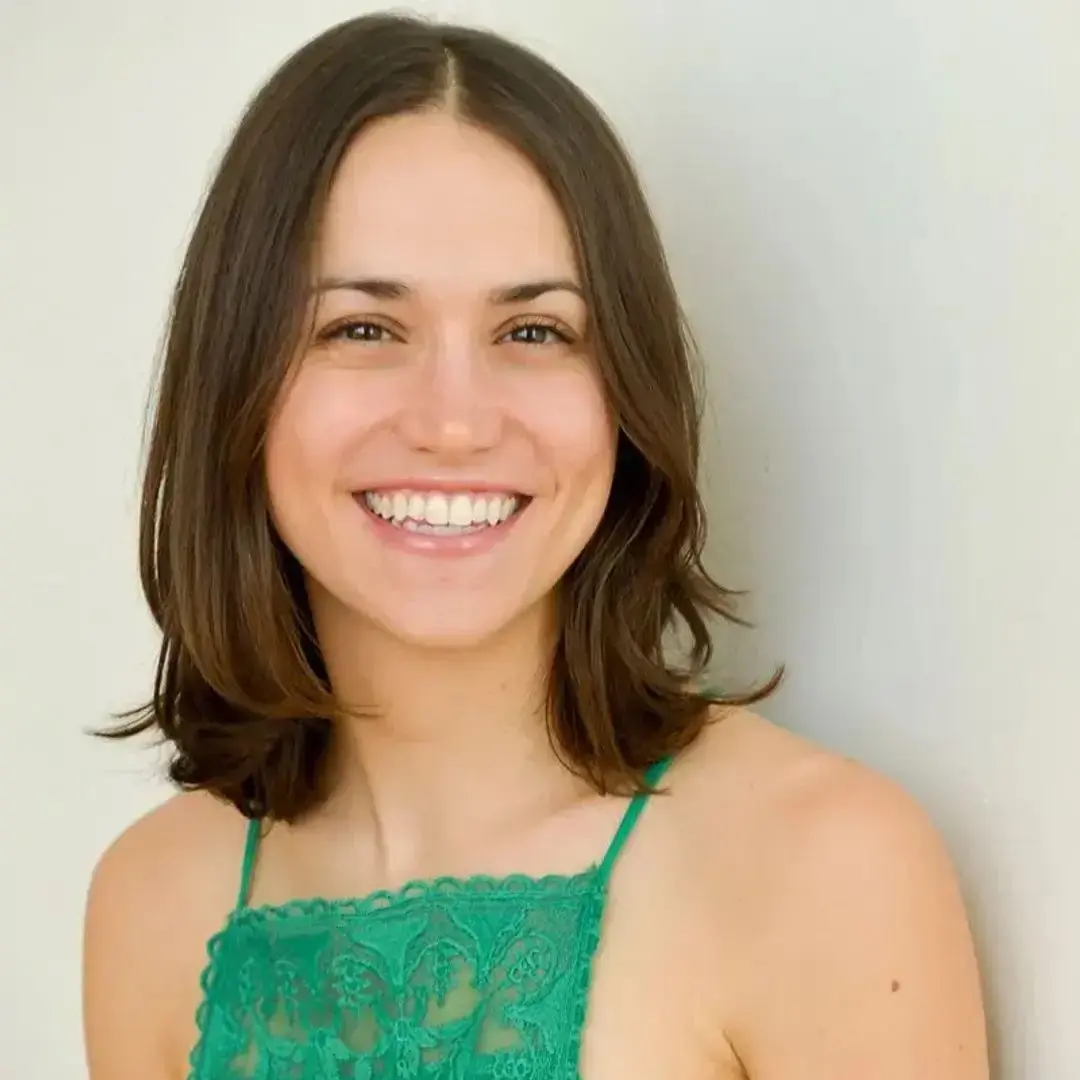 Nutrition Reviewer
Lizzie is a Minneapolis-based dietitian and founder of It's a Veg World After All. She completed her MS in Human Nutrition from Drexel University, and is an expert in culinary nutrition, recipe development, and nutrition communications.
Comments/ Reviews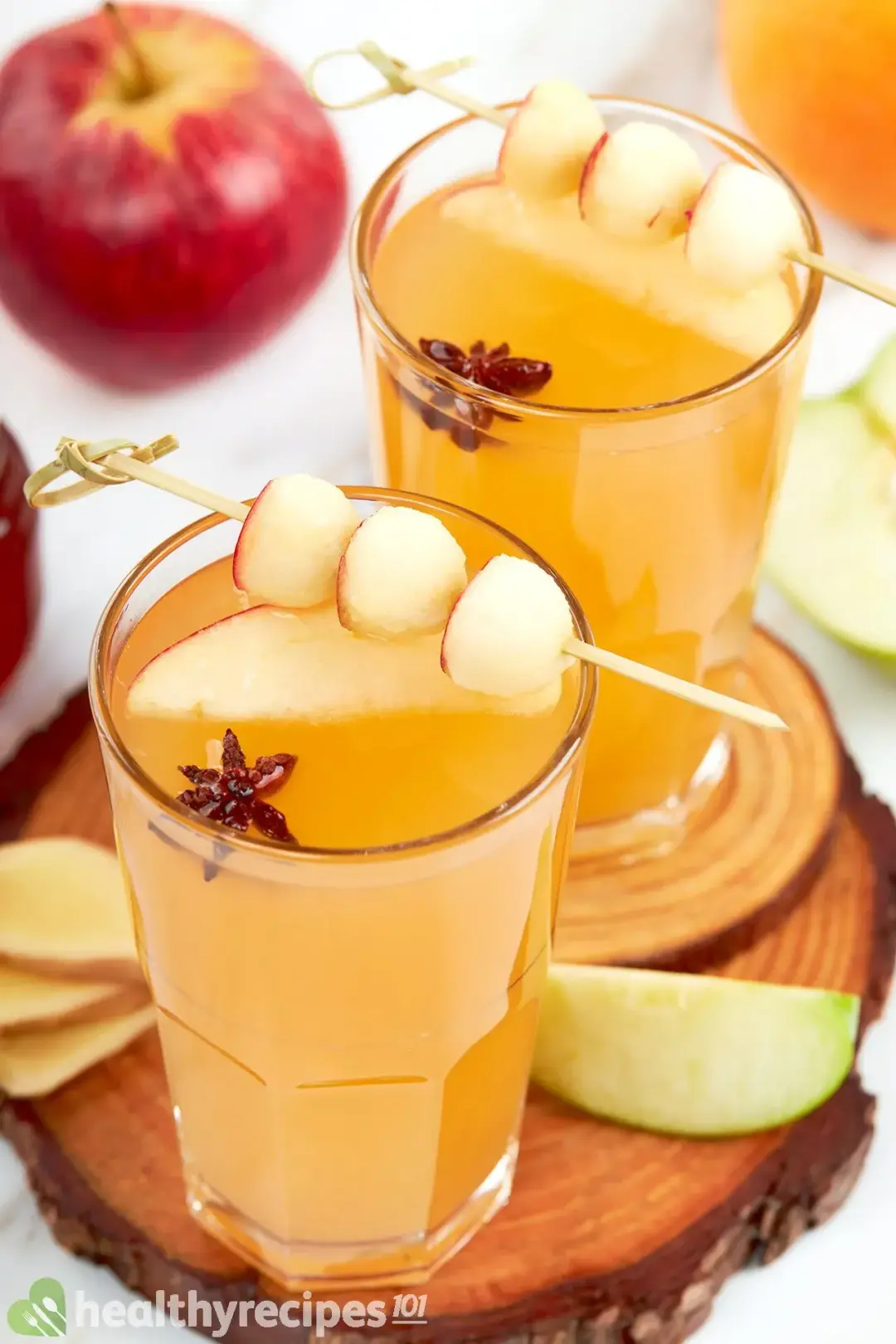 Apple Cider Hot Toddy Recipe