This cantaloupe juice recipe is THE solution to the summer heat.
If you're looking for a deeply refreshing beverage that beats the intense tropical heat, look no further. This sweet drink with an aroma of ripe melon and base notes of fresh mints is exactly what you need.
Click here to get the ingredients, or read on for some interesting facts about cantaloupe.
Benefits of Cantaloupe Juice
Cantaloupe is a good source of vitamin A, vitamin C, folate, and several minerals. These are all necessary nutrients for the body to function properly.
Similar to watermelon and cucumber, cantaloupe has a high water content — almost 90% of its weight. Snacking on chilled cantaloupe throughout the day can be a satisfying way to meet your daily fluid needs.
With that said, however, meeting your fluid needs with bottled cantaloupe drinks isn't a good idea.
What Makes Our Cantaloupe Juice Healthy?
According to the USDA, processed sugar or the sugar added to foods or drinks (added sugar) should be limited. If the drink's sweetness comes mostly from the fruit, it's a healthy drink, but rarely is this the case.
We took this into serious consideration as we created this cantaloupe juice recipe. As a result, each serving contains about 5 grams of added sugar, minimal compared to the daily recommended amount.
For more information, refer to the USDA's latest dietary guidelines or our healthy eating guidelines.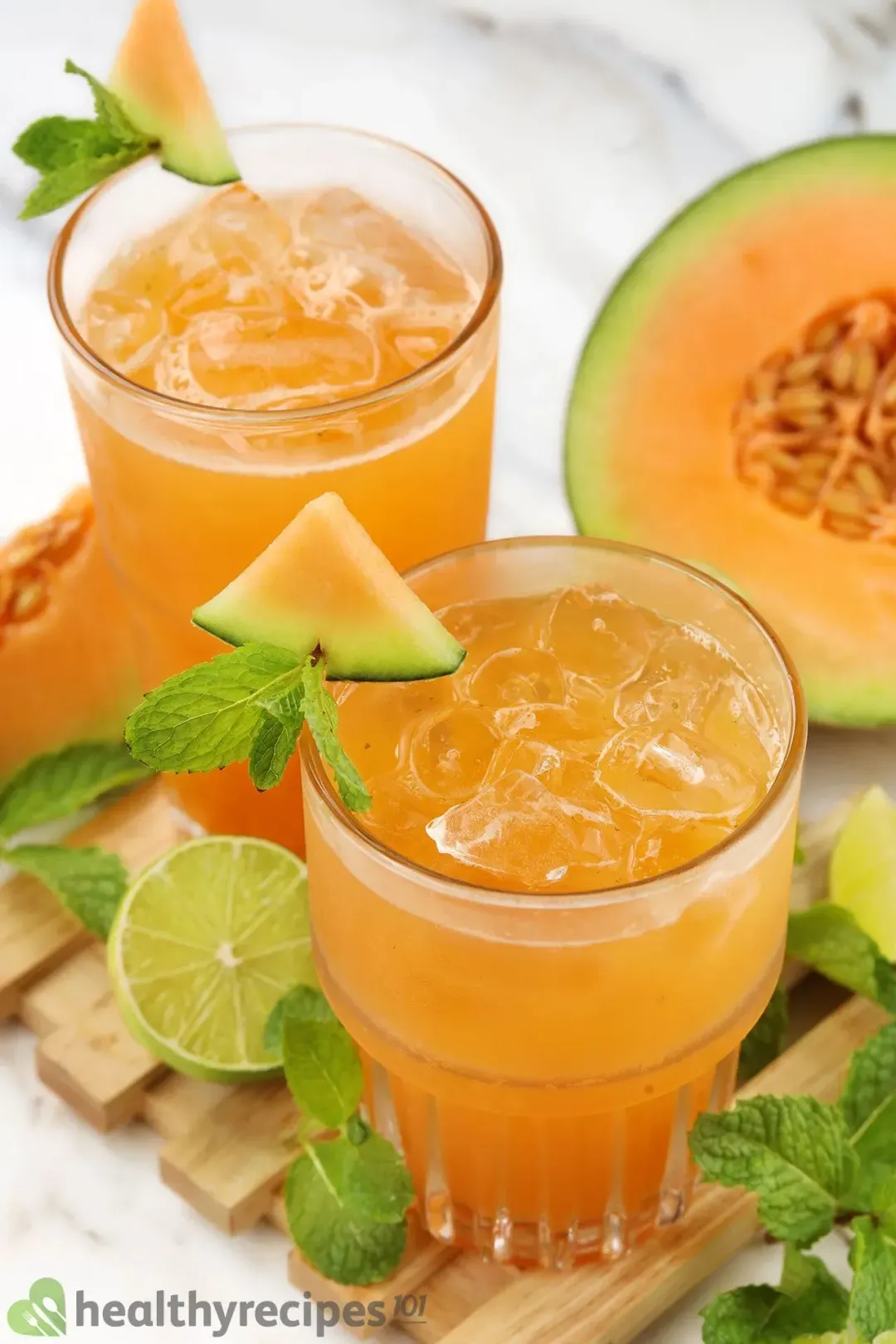 Honeydew vs Cantaloupe
Honeydew and cantaloupe are both melons with a juicy flesh protected by a hard skin, which explains cantaloupe's alternative name: rockmelon. They're both unique in their own ways.
At first glance, it can be tricky to tell the two apart because they both look alike. There is a tight net layered on the skin, telling the two apart from most melons.
As you slice the fruit in two, you can see which one is cantaloupe thanks to its orange-yellow flesh. Honeydew, on the other hand, has a green-to-white gradient from the outside in.
In texture and flavor, cantaloupe is softer and sweeter while honeydew is crunchier and just sweeter than a cucumber. You could juice cantaloupe and drink it as-is because it's already delicious on it's own.
For this reason, cantaloupe is the more popular fruit and is used widely in making sweet treats. This cantaloupe juice recipe is a good example.
How to Prepare a Cantaloupe
If you've dealt with watermelons, cantaloupe should be a piece of cake.
1. The Best Way to Peel a Cantaloupe
Because the skin of this melon is "rock" hard, it's a bad idea to peel it with a peeler. We remove the skin with a knife and a cutting board, similar to how we would a watermelon.
First, slice off both ends of the fruit and stand it on the cutting board.
Then, carefully make downward cutting motions to slice off the skin. Your cuts should resemble C-shaped curves since the fruit is shaped like a sphere.
Keep in mind that the white part between the flesh and the skin is edible, although it tastes bland. Some prefer keeping this part, but we don't — it affects the end result.
After the green-white skin is removed, all there's left to do is cut the flesh into slices or wedges.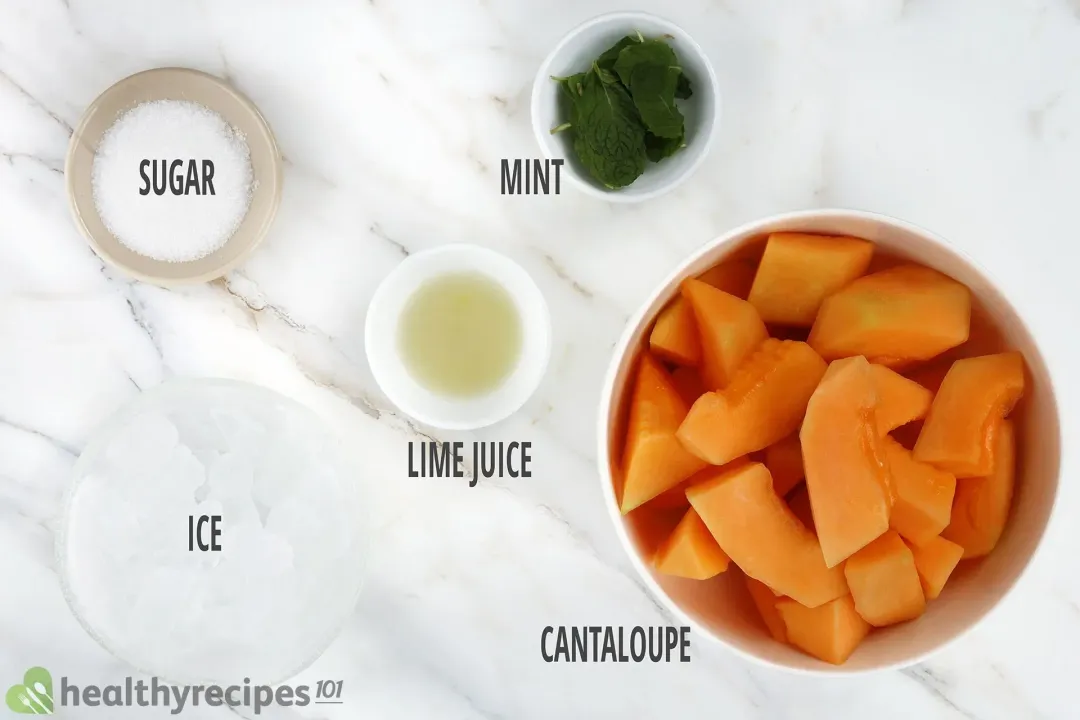 2. How to Cut a Cantaloupe
Slice the fruit open lengthwise to expose the seed compartment. Scrape all of the seeds and the fibrous part out with a spoon.
The easiest way to cut a cantaloupe is to slice it. Place the halves hollow-side down and slice like you would a cucumber.
Cutting the fruit into wedges is a little bit trickier:
Place the halves hollow-side down, but this time, slice them in half. You should end up with four quarters.
Lay the quarters on their convex curves and again, slice them in half. The shape of these quarters should allow them to balance on their own, allowing you to do this with ease.
At this point, you can refrigerate the wedges like this, or you can chop them into large chunks. We went for large chunks because they fit the juicer and are convenient to store in containers.
How to Make Cantaloupe Juice
Once you've got the cantaloupe prepped, here's what to do next: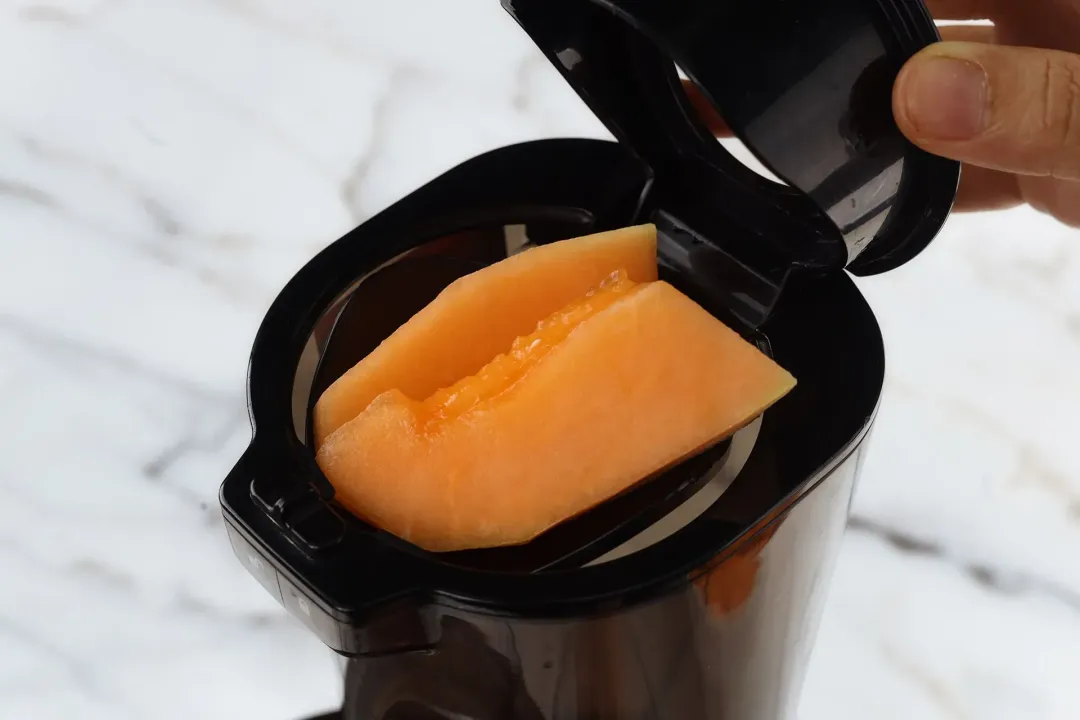 Juice the fruit along with mint leaves.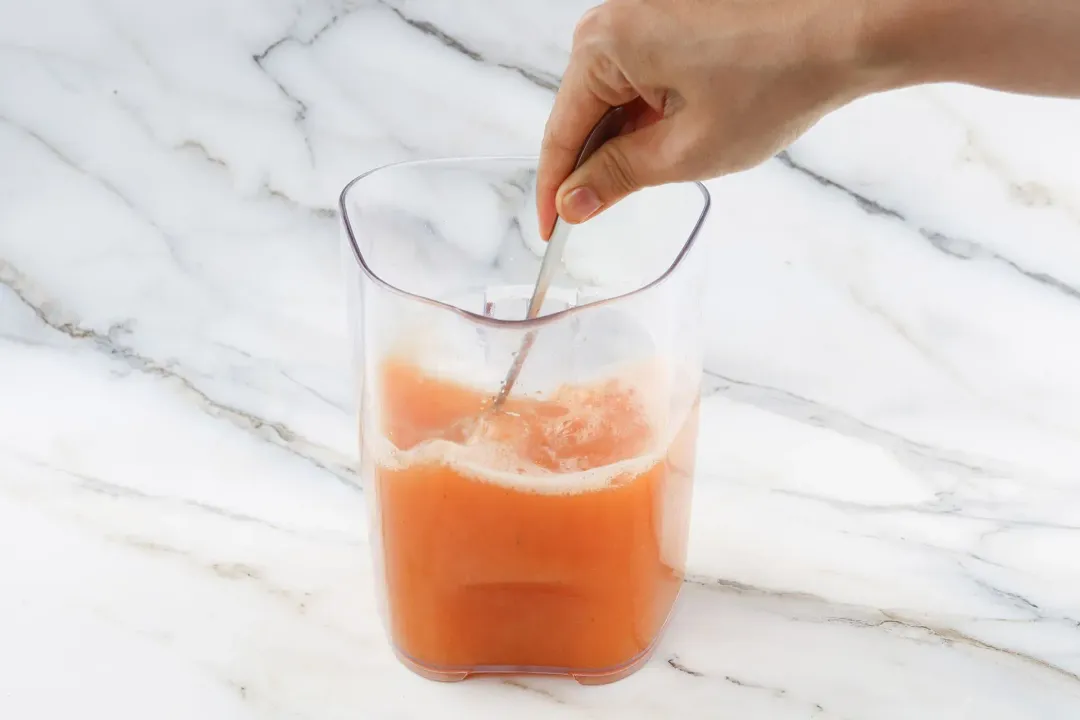 Stir the juice with lemon juice and sugar.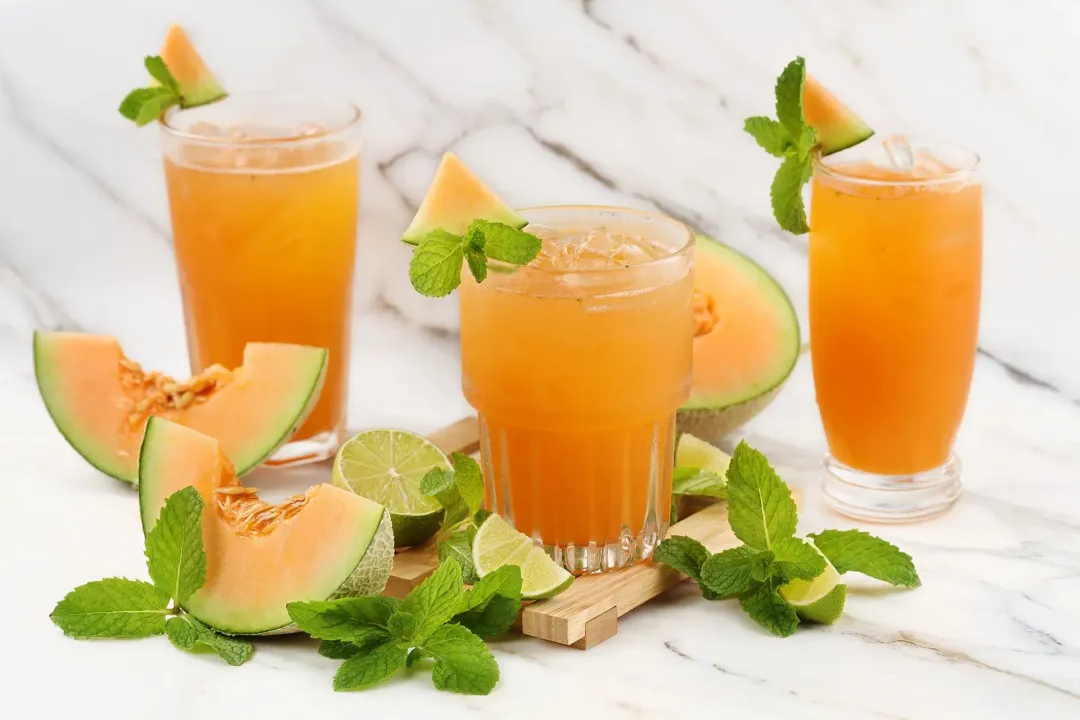 Serve the drink with ice.
For the full ingredients, refer to our cantaloupe juice recipe card below.
How to Tell if a Cantaloupe Is Ripe
It's not difficult to pick ripe cantaloupes. All you need is a few tricks forged from experience.
The easiest way is to look for fruits with a white or beige webbing, not green. Green fruits aren't as aromatic, sweet, or juicy as the fully mature ones.
Plus, look for those with a smooth, yellowish spot on the skin. This spot indicates that the fruit has been left to sit in the field for enough time to reach maturity.
These tricks should be handy when you go cantaloupe-hunting. If you want more tricks, we do have some more:
Ripe cantaloupes emit a sweet, pleasant smell that's strongest at the opposite end to the stem — the blossom end. A faint smell means it's not ripe yet, and an overpoweringly sweet smell means the fruit is overripe.
Overly ripe cantaloupe is extra sweet and soft instead of crunchy. They're excellent for making juice instead of eating raw.
Picking up the fruit also tells whether it's of good quality or not. The heaviest ones among the bunch are the juiciest, best-tasting ones.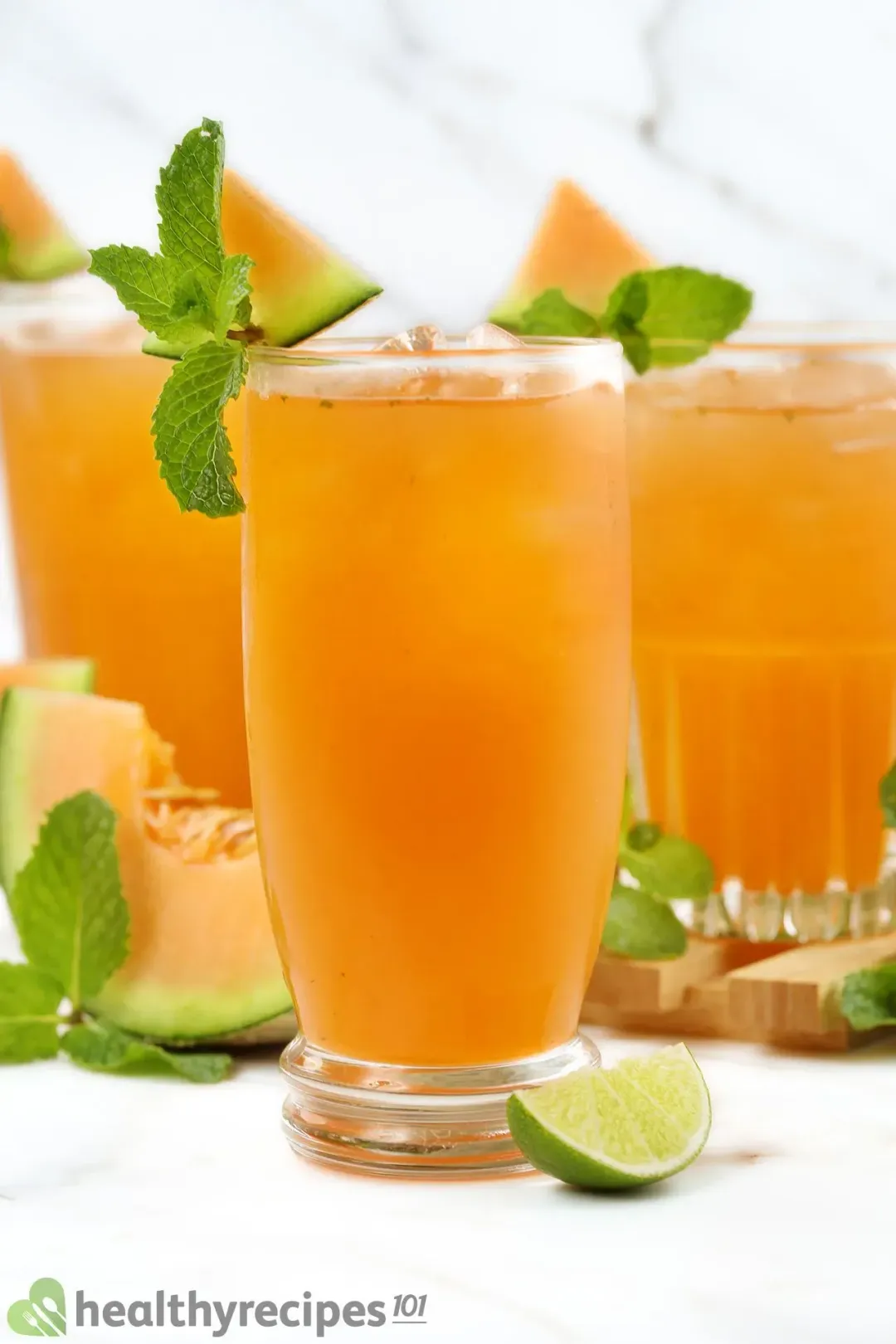 If you'd like to try more fruit juices, check out this quick and easy peach juice and our drink made from a sweet and sour fruit (better known as tamarind.) They're just as easy and tasty as cantaloupe juice!
Cantaloupe Juice
Our cantaloupe juice recipe will show you how to concoct a refreshing drink in 5 minutes, using organic ingredients.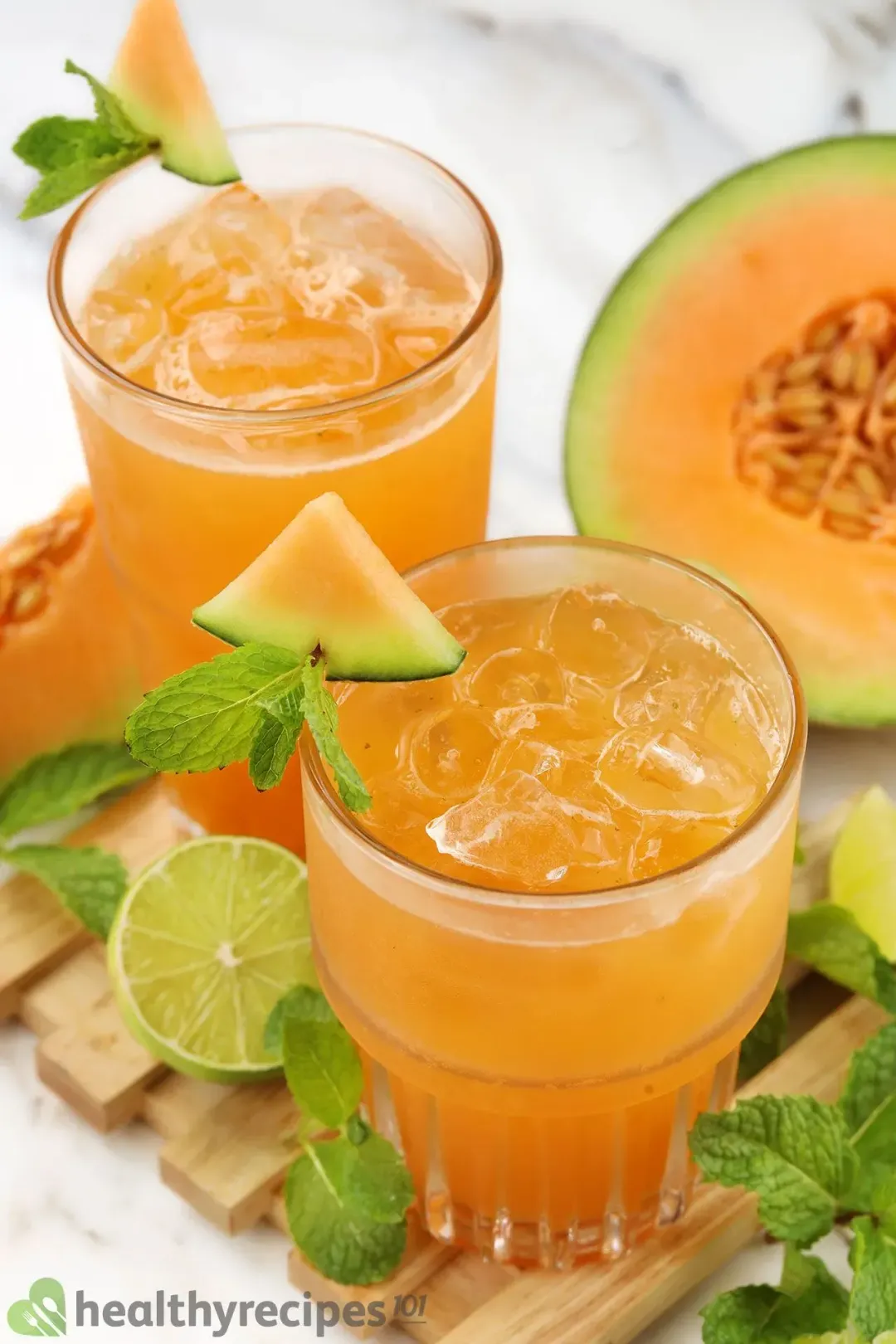 prep TIME

5 mins

total TIME

5 mins
COURSE

Beverage

CUISINE

Global

SERVINGS

CALORIES

85 kcal
INGREDIENTS
30 oz

cantaloupe

(cut into chunks)
INSTRUCTIONS
1
Run the juicer. Feed it with 30 oz cut-up cantaloupe and 2 tbsp mint leaves. Collect the juice in a container.
2
Add 1 tbsp lime juice and 1 tbsp sugar to the juice and stir to dissolve the sugar.
3
Top serving glasses with ice and pour the juice in. Garnish with more mint leaves and serve.
NUTRITION
Nutrition Facts
Cantaloupe Juice
Amount Per Serving (1 serving)
Calories 85
% Daily Value*
* Percent Daily Values are based on a 2000 calorie diet.
Keywords: benefits of cantaloupe juice, cantaloupe juice, cantaloupe juice recipe, how to make cantaloupe juice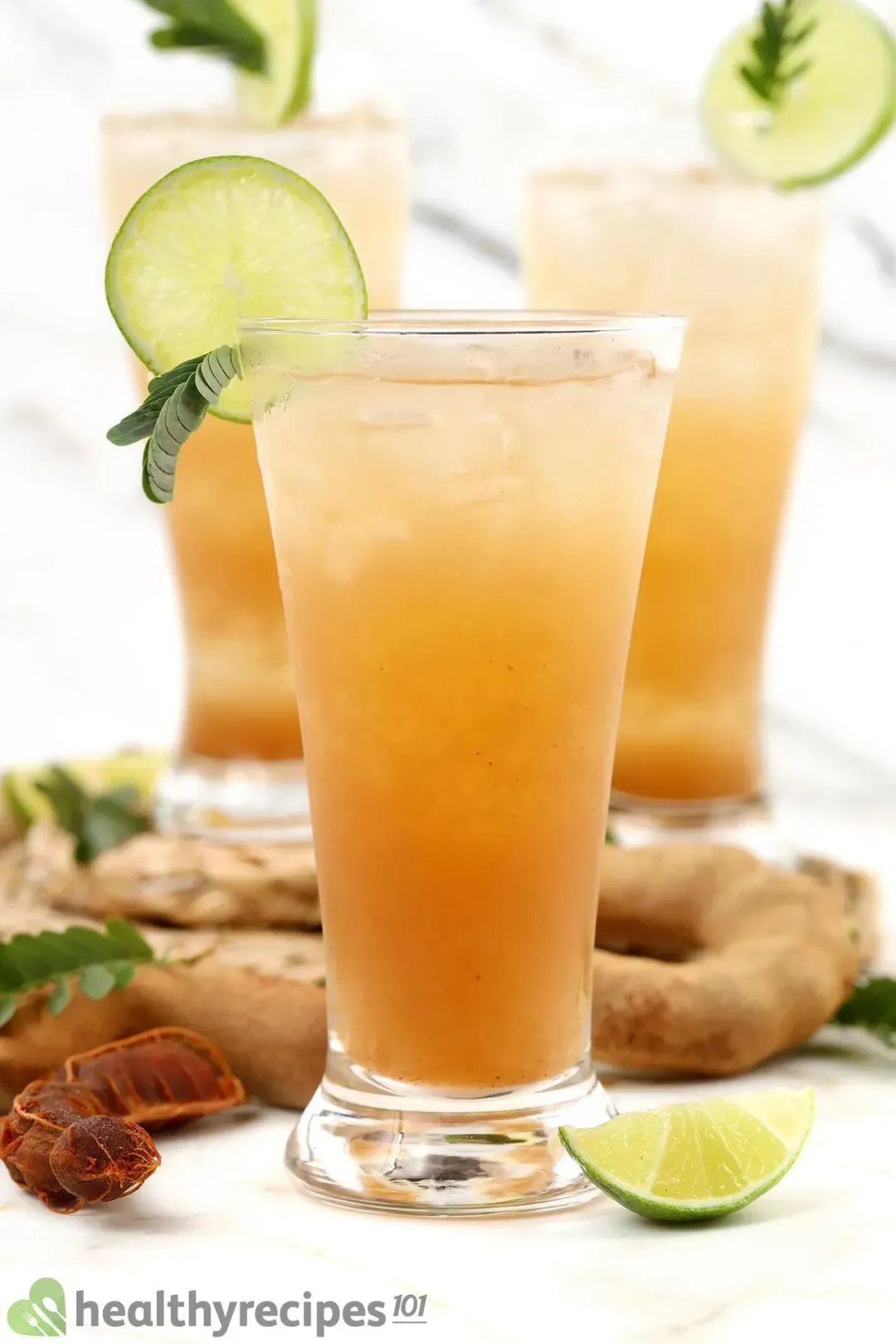 Previous Recipe
Tamarind Juice
Tamarind Juice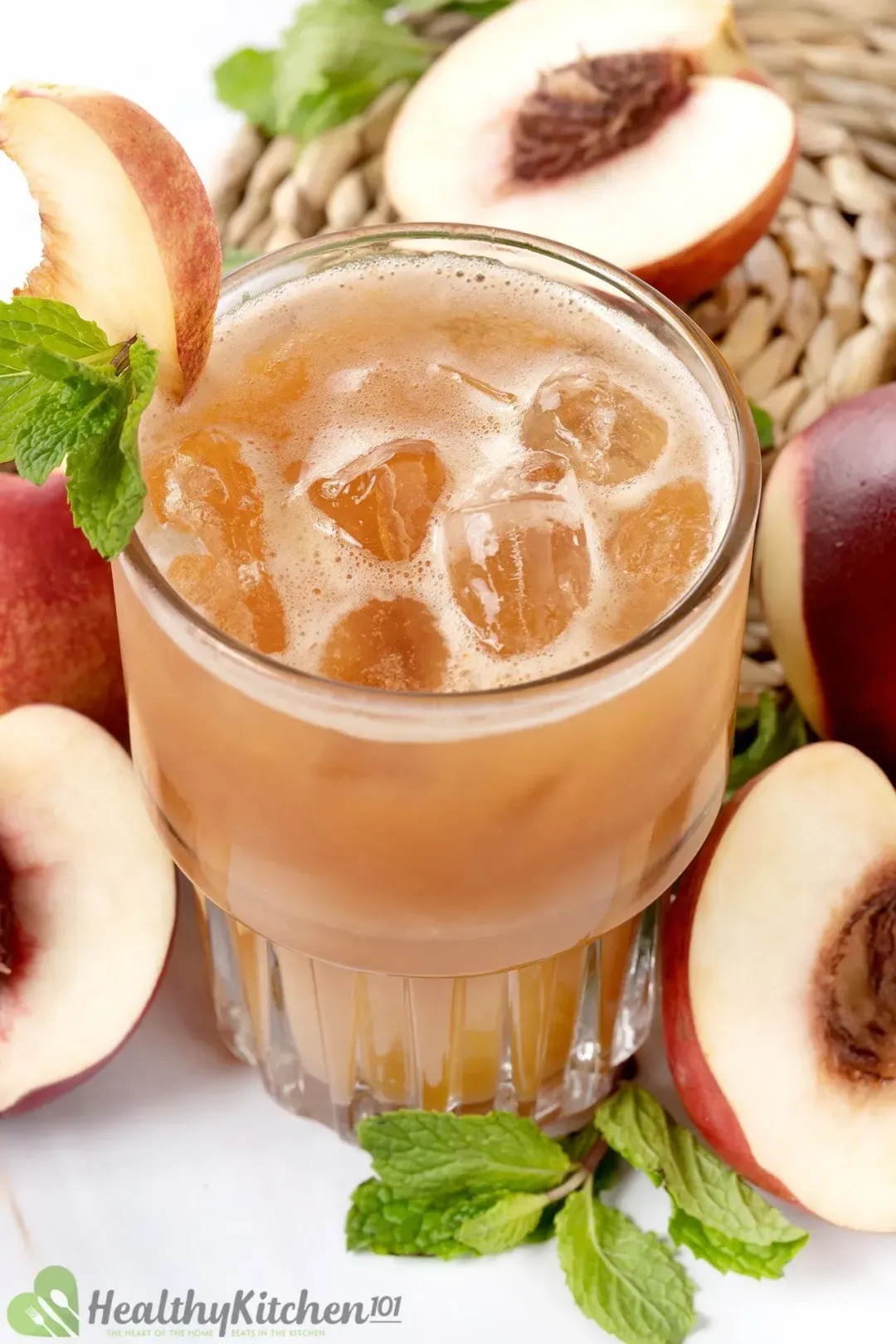 Peach Juice
Head Chef, Culinary Consultant
Tuyet Pham is an award-winning Saigonese chef who believes that joy is the secret ingredient to delicious food. At Healthy Recipes 101, Tuyet personally tests and simplifies every recipe, ensuring maximum flavor with minimal effort. With a background at prestigious French restaurants P'TI Saigon and Le Corto, Tuyet knows how to make every dish exceptional.
Writer, Author
Luna Regina is an accomplished writer and author who dedicates her career to empowering home cooks and making cooking effortless for everyone. She is the founder of HealthyKitchen101.com and HealthyRecipes101.com, where she works with her team to develop easy, nutritious recipes and help aspiring cooks choose the right kitchen appliances.
Nutrition Reviewer
Lizzie Streit is a Minneapolis-based dietitian and founder of It's a Veg World After All. She completed her MS in Human Nutrition from Drexel University, and is an expert in culinary nutrition, recipe development, and nutrition communications. Lizzie's philosophy is centered around making nutrition recommendations, and especially the advice to eat more vegetables, approachable and realistic. She is excited to be working with the team at Healthy Recipes 101 to ensure that their recipes are both nutritious and delicious.
Taste good,added more lime,a little nutmeg and honey.