Our peach juice recipe can help you recreate the extra-fragrant bottled beverage without using any additives.
If you always have bottled peach nectar in your fridge, we have something in common. The sweet nectar possesses a unique fragrance that keeps me going back to the fridge for more.
But reaching for one as I was in Walmart the other day, something obvious (but that I hadn't thought of before) came to mind. "Why buy this, when the chefs and I can make something better, with peaches just an aisle away?"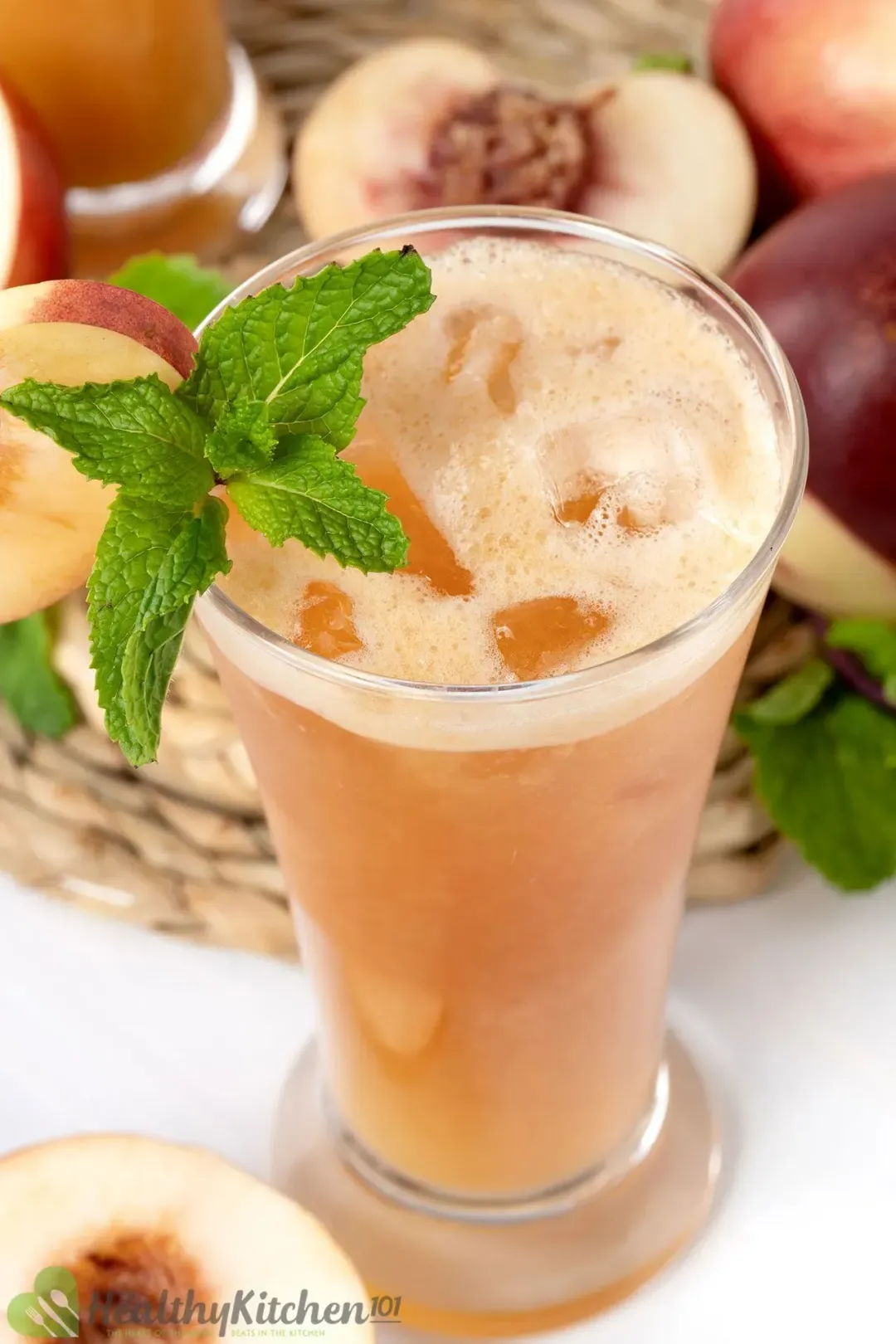 So, after a few trials (and failures) we hit upon the magic formula in our test kitchen. There is nothing artificial in this peach juice yet it shares the aroma and taste of the bottled version.
So, to find out how the plump fruit gets turned into a delicious beverage. Or, read on to see how homemade peach juice benefits your body.
Benefits of Peach Juice
Read the nutrition label on bottled peach nectar and you'll find some disappointing information — it's full of processed sugar. To avoid creating a bad image, companies refer to added sugar as "corn syrup", which may sound harmless but is actually just sugar.
Sugar is the leading cause of obesity in the United States, therefore the USDA tells us to consume less sugar in their dietary guidelines. So, to help you keep your system free of the innocent-looking demon, we're sharing this homemade peach juice recipe, which calls for very little added sugar.
Besides the sugar content, there is much to be said for the nutrients in peaches:
| A medium-sized peach | 5.4 ounces or 150 grams |
| --- | --- |
| Calories | 58 |
| Fiber | 2 grams |
| Vitamin C | 17% DV (of the Daily Value) |
| Vitamin A | 10% DV |
| Potassium | 8% DV |
| Niacin | 6% DV |
| Vitamin E | 5% DV |
| Vitamin K | 5% DV |
| Copper | 5% DV |
| Manganese | 5% DV |
Obviously these nutrients come in minute amounts, but don't avoid the flavorful fruit for this reason. As part of a varied diet, as per USDA recommendations, a glass of peach juice a day won't do any harm. 
Here are a few different juices that look gorgeous, taste divine, and can up your micronutrient intake:
Plus, we also add a touch of lemon juice to the drink, for both flavor and nutrients. It's chock full of vitamin C, and makes the juice much brighter.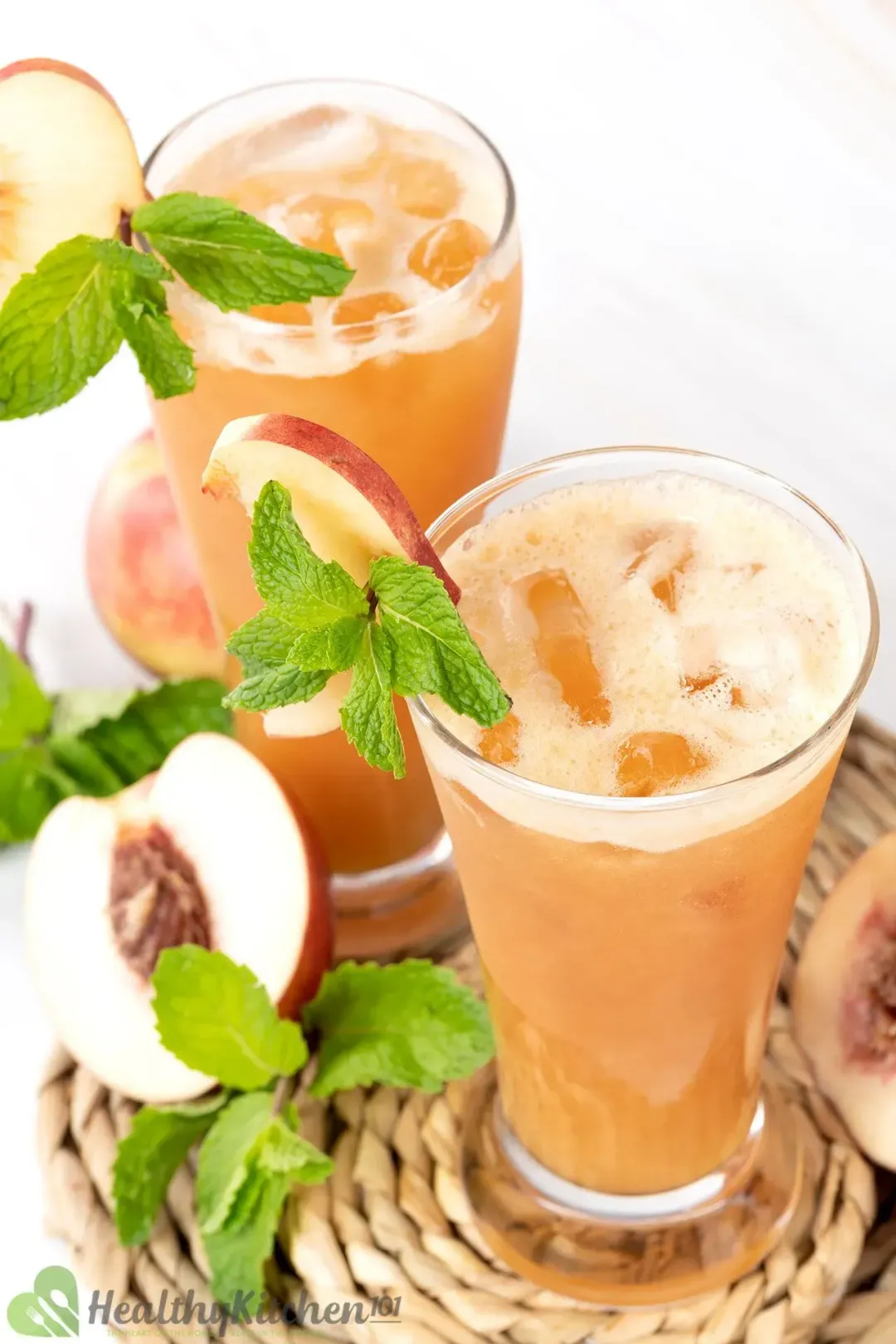 Types of Peach
Apparently, peaches come in different varieties (which was news to us!) and it matters what type you choose when it comes to making juice. We had to seek out a professional's insight, and here's what Belinda Smith-Sullivan had to say in her "Just Peachy" book:
"The three most common types of peaches grown in the United States are clingstone, semi-freestone, and freestone".
And by "stone", she means "pit", which says a lot about each type of peach.
A "clingstone" has a really clingy pit that's difficult to remove from the flesh. This type is ideal for eating (because they're the sweetest), but they make preparing desserts or beverages difficult.
A "freestone", on the other hand, has a pit that you can pick right off the flesh once sliced in half. This is the type manufacturers use for canning, as they're not as sweet as clingstone.
The third kind, semi-freestone, has the best of both kinds. They possess the sweetness of a clingstone, yet don't have a hard-to-remove pit, an ideal option for making desserts or juices.
How to Make Peach Juice
So, you've got your peaches, all peeled and pitted. Let's get to juicing.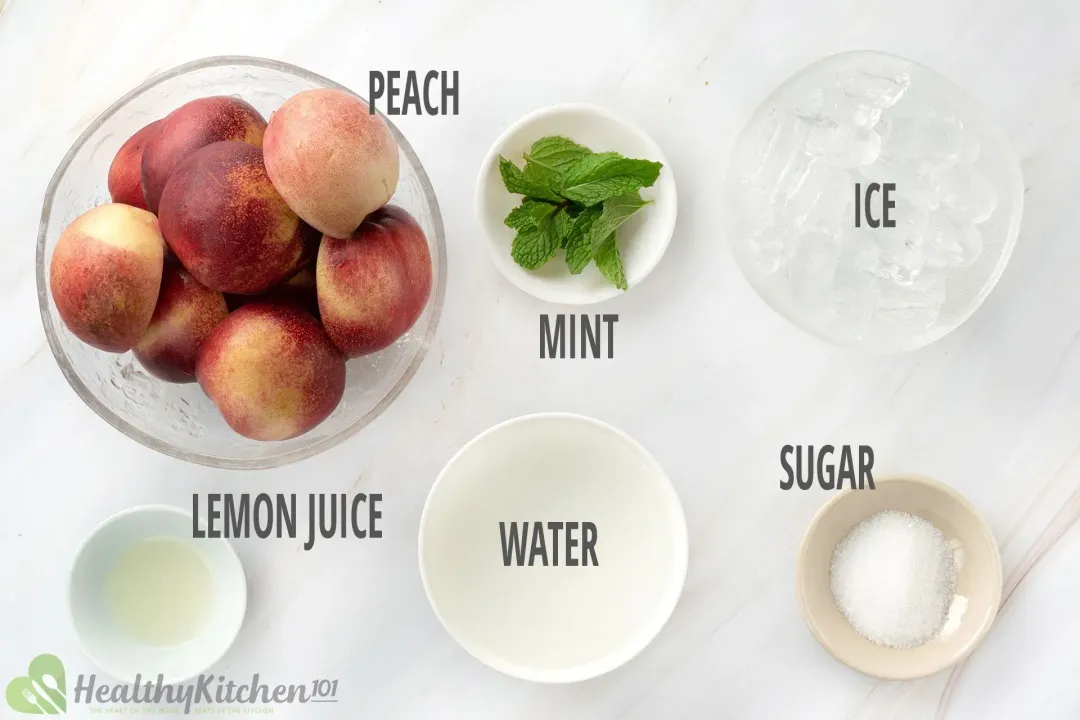 Our peach juice recipe is pretty straightforward: place the peach in the juicer, collect, and stir in other ingredients. There are five ingredients in total, and four already sit in your pantry.
But if owning fancy kitchen equipment isn't really your thing, don't worry. You can still make peach juice with a blender, a food processor, or an immersion blender.
First, add peach and water to the blender, and blend it really well. Pour the mixture into a sieve lined with cheesecloth, grab the corners to make a small pouch, then twist it slowly to release the juice.
Compared to a juicer (which only juices fruits and veggies), a blender/ food processor can turn anything into smoothies, soups, and juices. It's not a luxury, but more like a necessity that everyone should own.
Can You Juice Peaches with the Skin On?
You can rub your peaches really well in salt water, pit them, then add them to your juicer/ blender. If you want to add a pinkish hue to your nectar, this is not the way to go.
What to do instead is make strawberry syrup and add a tablespoon of it to your juice for a pinky, dreamy look. Start by simmering equal parts of chopped strawberries and sugar for 15 minutes, leave it to cool, then store or use to make treats.
Check out our tamarind juice recipe for more ways to juice fruits.
What Can I Mix with Peach Juice?
Peach juice already tastes good on its own, but here's what you can add to it to make it even better:
1. Orange Juice
If you have a soft spot for bright citrusy notes, orange peach juice could be your new favorite drink. Orange juice doesn't just add plenty of vitamin C, but also tons of flavor to peach juice.
You can play around with other citruses like lemon, lime, and especially grapefruit.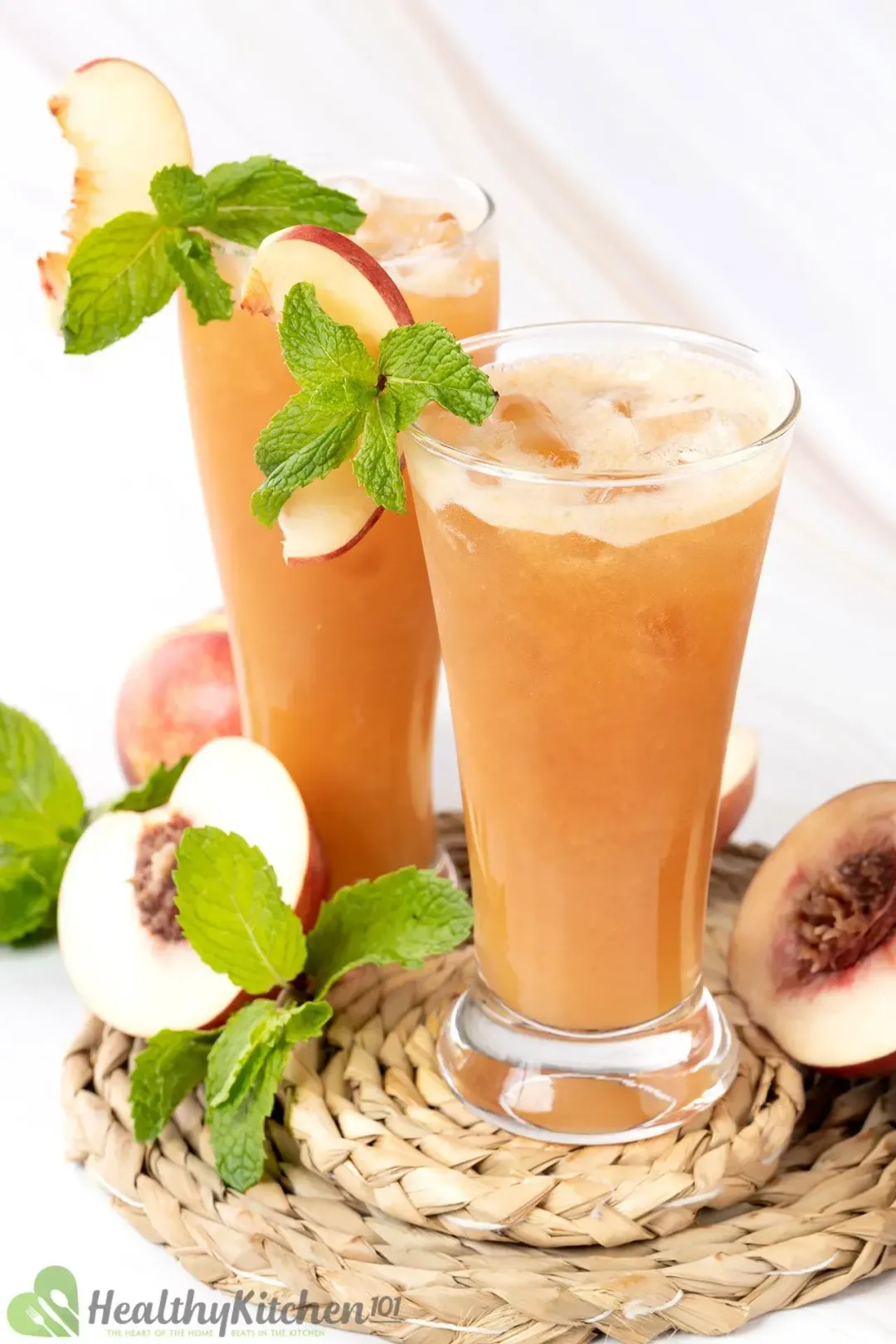 2. Mango Juice
Yes, you can make mango juice out of fresh mangoes, and add peach juice to it to make the best summer nectar. It's naturally fragrant, really sweet, and has a thick texture similar to bottled peach nectar.
3. Champagne
If you need a twist to the "New Year's Eve" classic, a touch of peach juice is what you need. Peach champagne is called Bellini, which looks gorgeous, tastes sweet, and packs pleasant aromas.
How to Store Peach Juice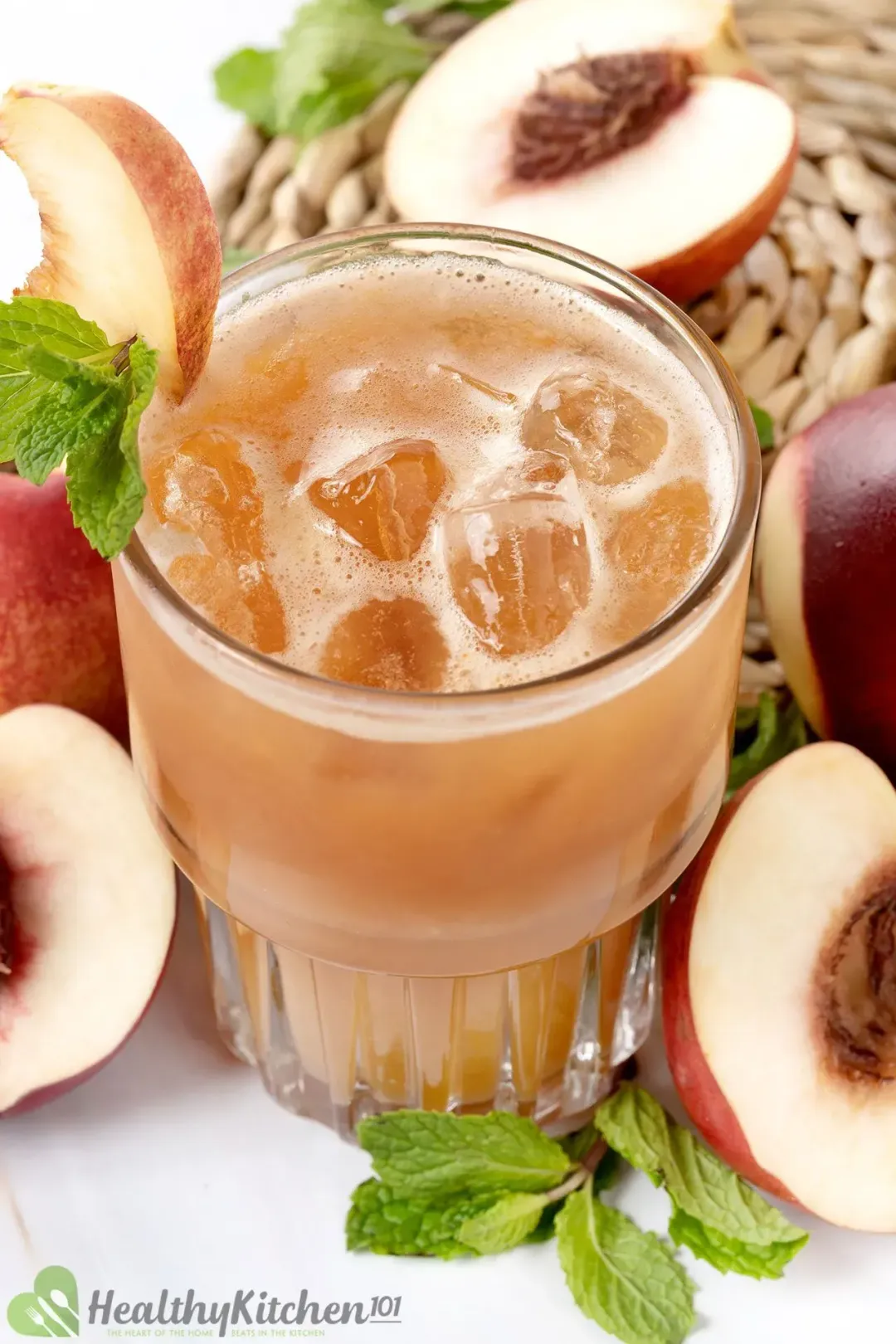 Fresh juices should be stored in the fridge and used within 2 days, since they have no preservatives. If you wish to store it for longer, place servings into individual Ziploc containers and freeze (thaw before consuming).
Quick and Easy Peach Juice
This peach juice recipe is quick and easy. All you need is five minutes with the juicer, and it's ready to drink right away or be stored in the fridge.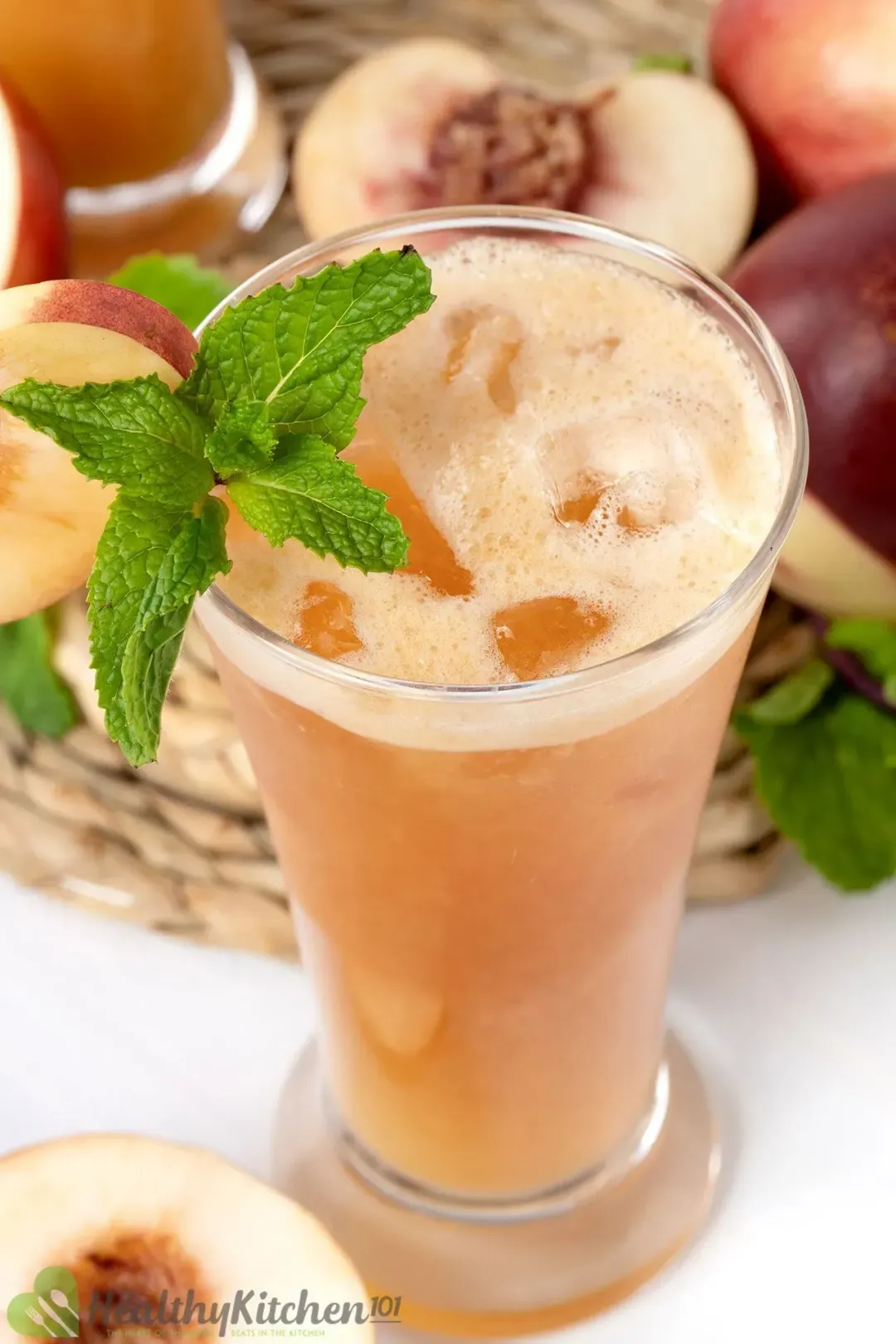 prep TIME

5 mins

total TIME

5 mins
COURSE

Beverage

CUISINE

Global

SERVINGS

CALORIES

73 kcal
INGREDIENTS
24 oz

peach

(giving 1.5 cups juice)

1 tbsp

mint

(a few leaves for garnish)
INSTRUCTIONS
1
Turn on your juicer, and add peeled, pitted peach to the feeder. Collect the juice in a container.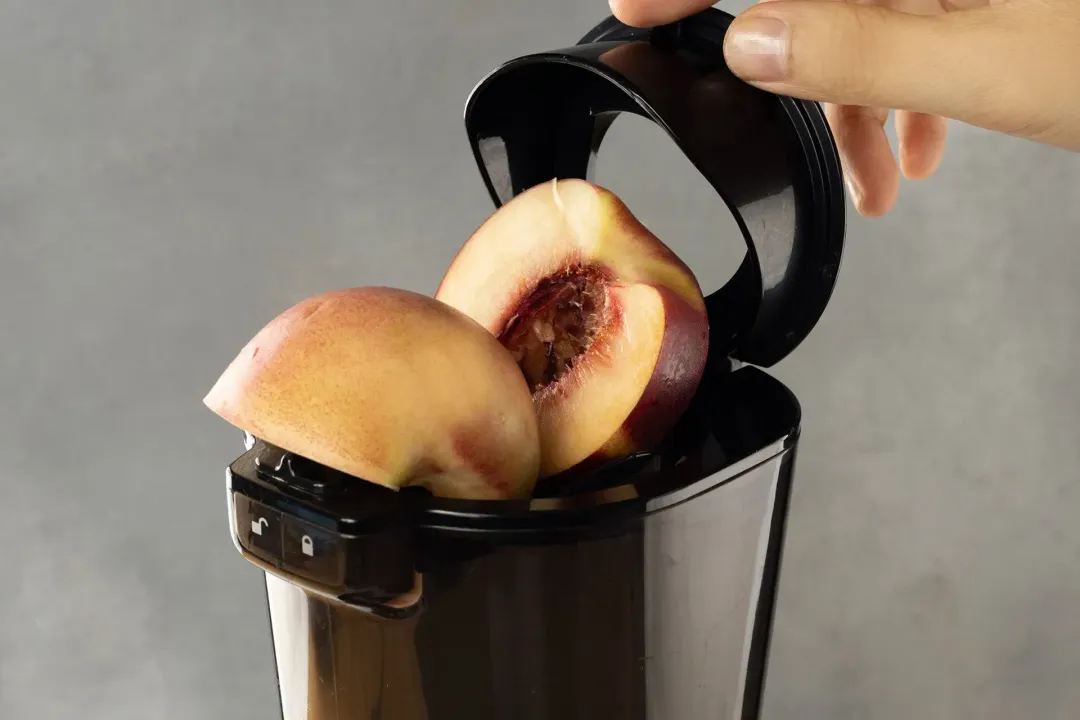 2
Pour the container into a large pitcher, and stir in sugar, water, lemon juice. Either place in the fridge or serve right away.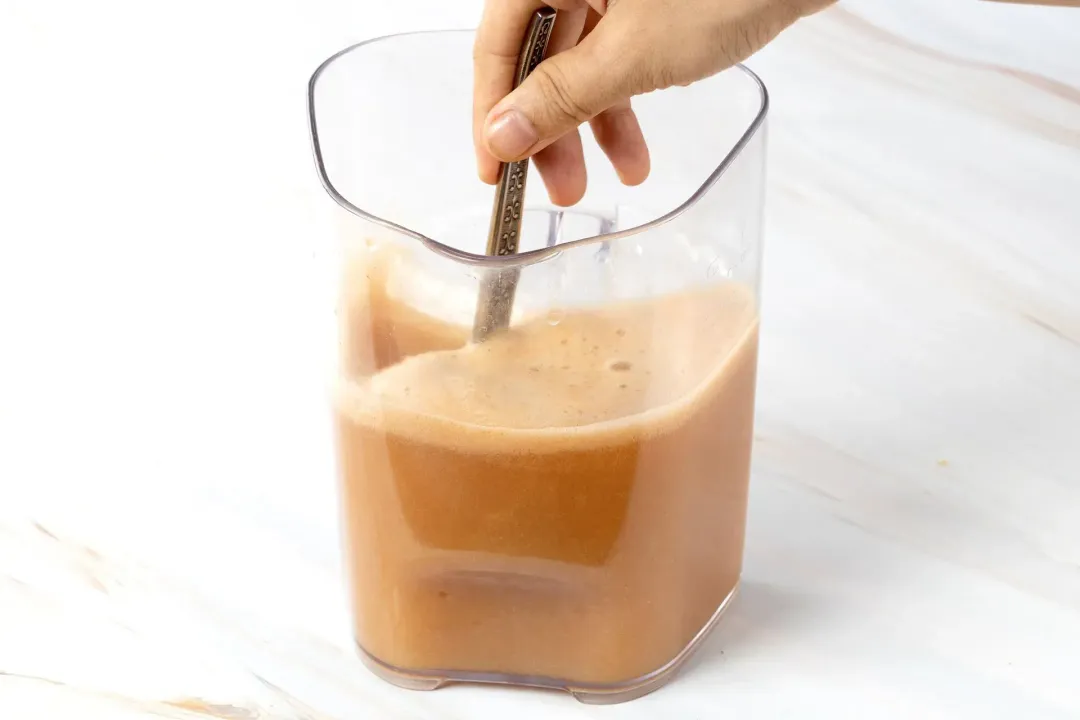 3
Serve: fill serving glasses with ice and pour in the peach juice. Garnish with mint leaves.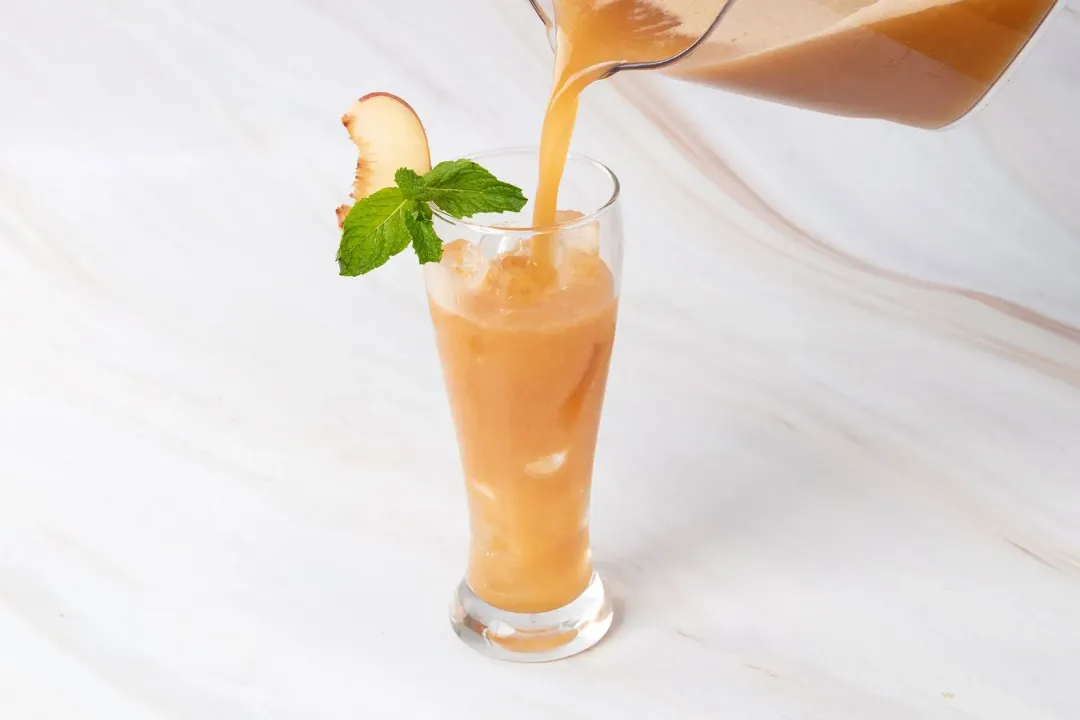 NUTRITION
Nutrition Facts
Quick and Easy Peach Juice
Amount Per Serving (1 serving)
Calories 73
% Daily Value*
* Percent Daily Values are based on a 2000 calorie diet.
Keywords: benefits of peach juice, how to make peach juice, peach juice, peach juice recipe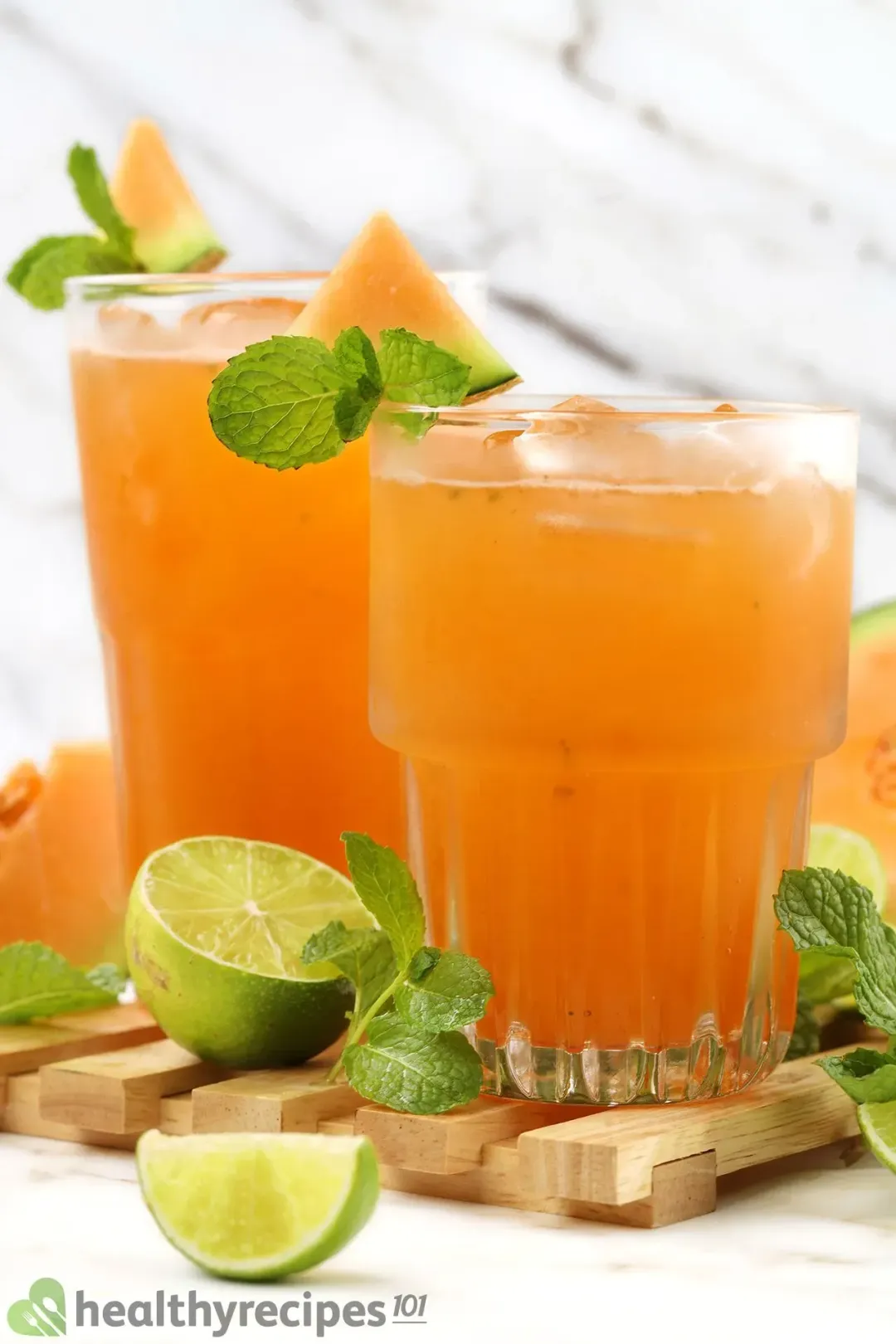 Previous Recipe
Cantaloupe Juice
Cantaloupe Juice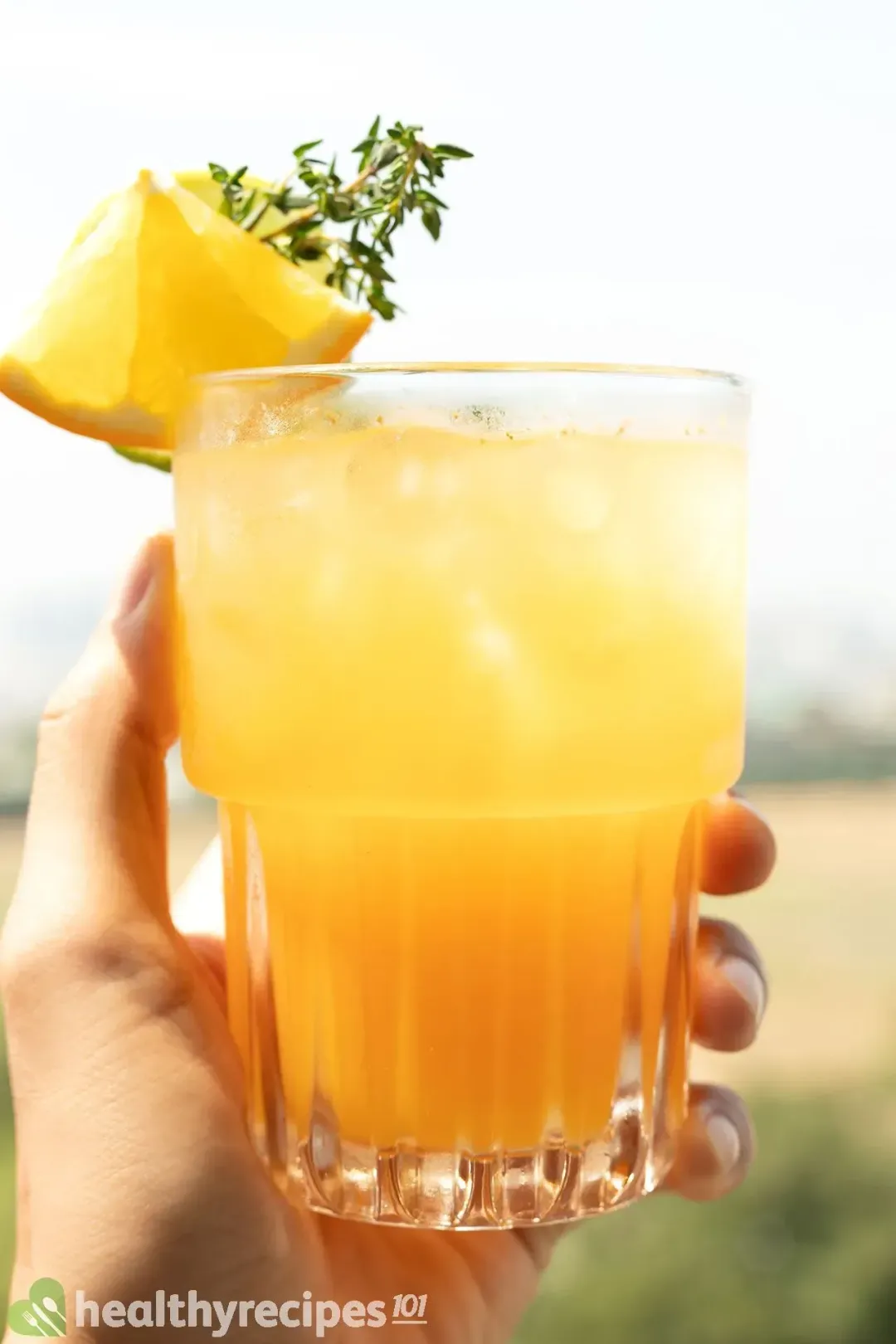 Next Recipe
Gin and Grapefruit Juice
Gin and Grapefruit Juice
Head Chef, Culinary Consultant
Tuyet Pham is an award-winning Saigonese chef who believes that joy is the secret ingredient to delicious food. At Healthy Recipes 101, Tuyet personally tests and simplifies every recipe, ensuring maximum flavor with minimal effort. With a background at prestigious French restaurants P'TI Saigon and Le Corto, Tuyet knows how to make every dish exceptional.
Writer, Author
Luna Regina is an accomplished writer and author who dedicates her career to empowering home cooks and making cooking effortless for everyone. She is the founder of HealthyKitchen101.com and HealthyRecipes101.com, where she works with her team to develop easy, nutritious recipes and help aspiring cooks choose the right kitchen appliances.
Nutrition Reviewer
Lizzie Streit is a Minneapolis-based dietitian and founder of It's a Veg World After All. She completed her MS in Human Nutrition from Drexel University, and is an expert in culinary nutrition, recipe development, and nutrition communications. Lizzie's philosophy is centered around making nutrition recommendations, and especially the advice to eat more vegetables, approachable and realistic. She is excited to be working with the team at Healthy Recipes 101 to ensure that their recipes are both nutritious and delicious.
Yummy! Fresh peach juice is the best thing ever!

Thanks, I hope you enjoy it!

Didn't get to try yet but it looks good

This peach juice is a refreshing and healthy drink that's perfect for summer days.