This carrot beet juice recipe is especially helpful when you have beets and are clueless about what to do next. It's rich in antioxidants, promotes heart health, and most important of all, it is delicious.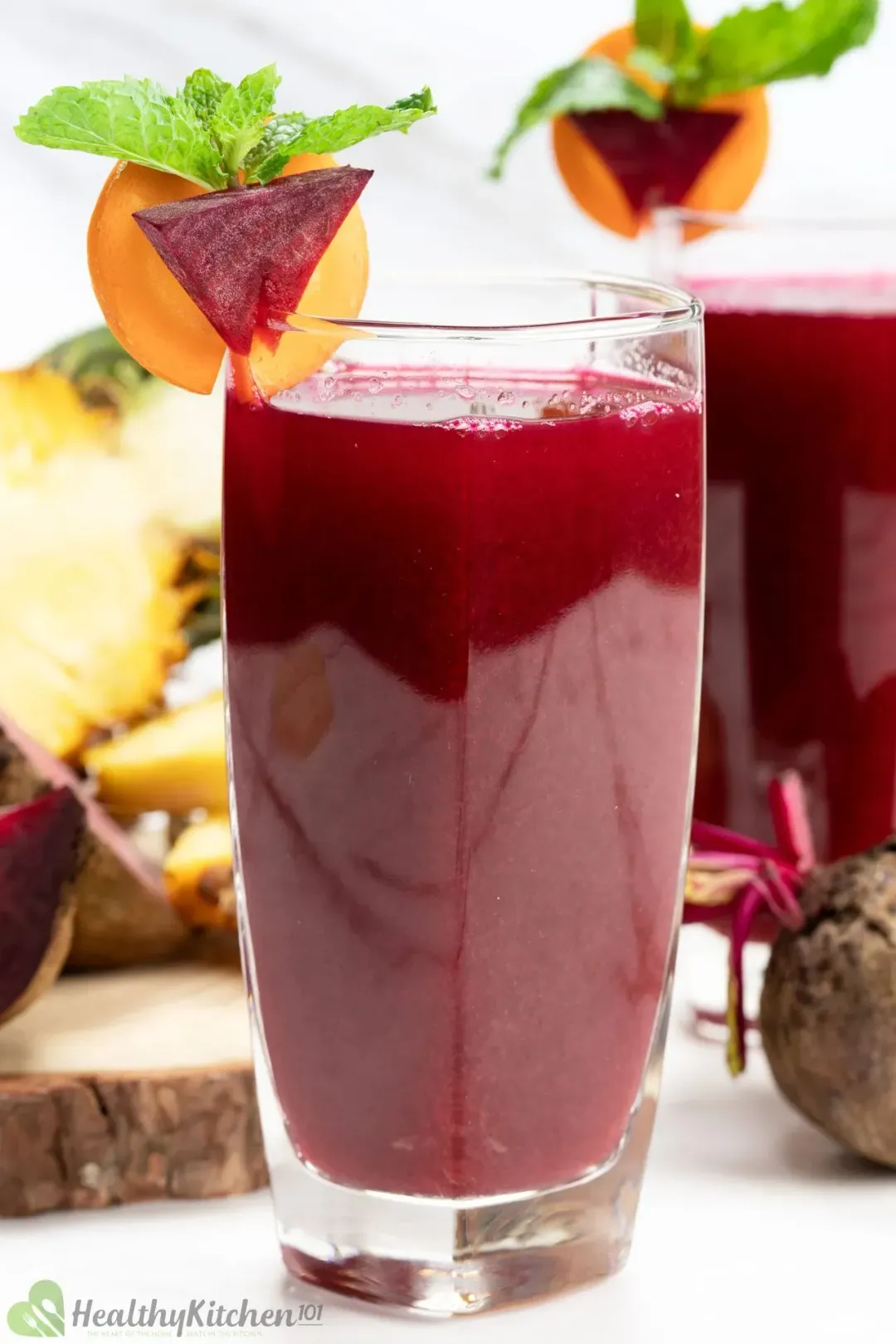 Are Beets Fruits or Vegetables?
Beetroot is a juicy root plant with a signature dark red hue on the inside. The plant behaves similarly to carrots, with the root growing larger and larger in time beneath the ground.
Unlike carrots, a beet's plant and leaves are edible and make delicious dishes. The leaves are tender while the stalk is thick and crisp, perfect for stir-frying or baking.
Is Carrot Beet Juice Healthy?
Carrots and beets are healthy vegetables to include in your diet. They contain a lot of vitamins, minerals, and loads of antioxidants that positively impact many health aspects:
1. Lower Blood Pressure
Beet is listed as the richest source of organic nitrates. These substances boost the level of nitric oxide in your body, which is known to reduce blood pressure.
2. Improve Vision
Carrots contain a large amount of beta carotene, a nutrient that is turned into vitamin A in our body. Vitamin A is known to be an immune-boosting antioxidant and a crucial element for a healthy eye:
Sufficient intake of vitamin A is linked to reduced risks of having night blindness. This health condition is described to give blurry vision when there is insufficient lighting.
Age-related macular degeneration stems from old age instead of a diet low in vitamin A. However, diets rich in carotenoids is found to possibly "protect against intermediate AMD in healthy women younger than 75 years", reported one study.
3. Boost the Immune System
This drink contains loads of antioxidants from carrots in the form of carotenoids, which make carrots orange, and vitamin A. Plus, added lemon juice and pineapple juice provide a considerable amount of vitamin C, which is also an antioxidant.
Antioxidants are known to reduce inflammation. Diets rich in antioxidants, therefore, can improve immune system performance.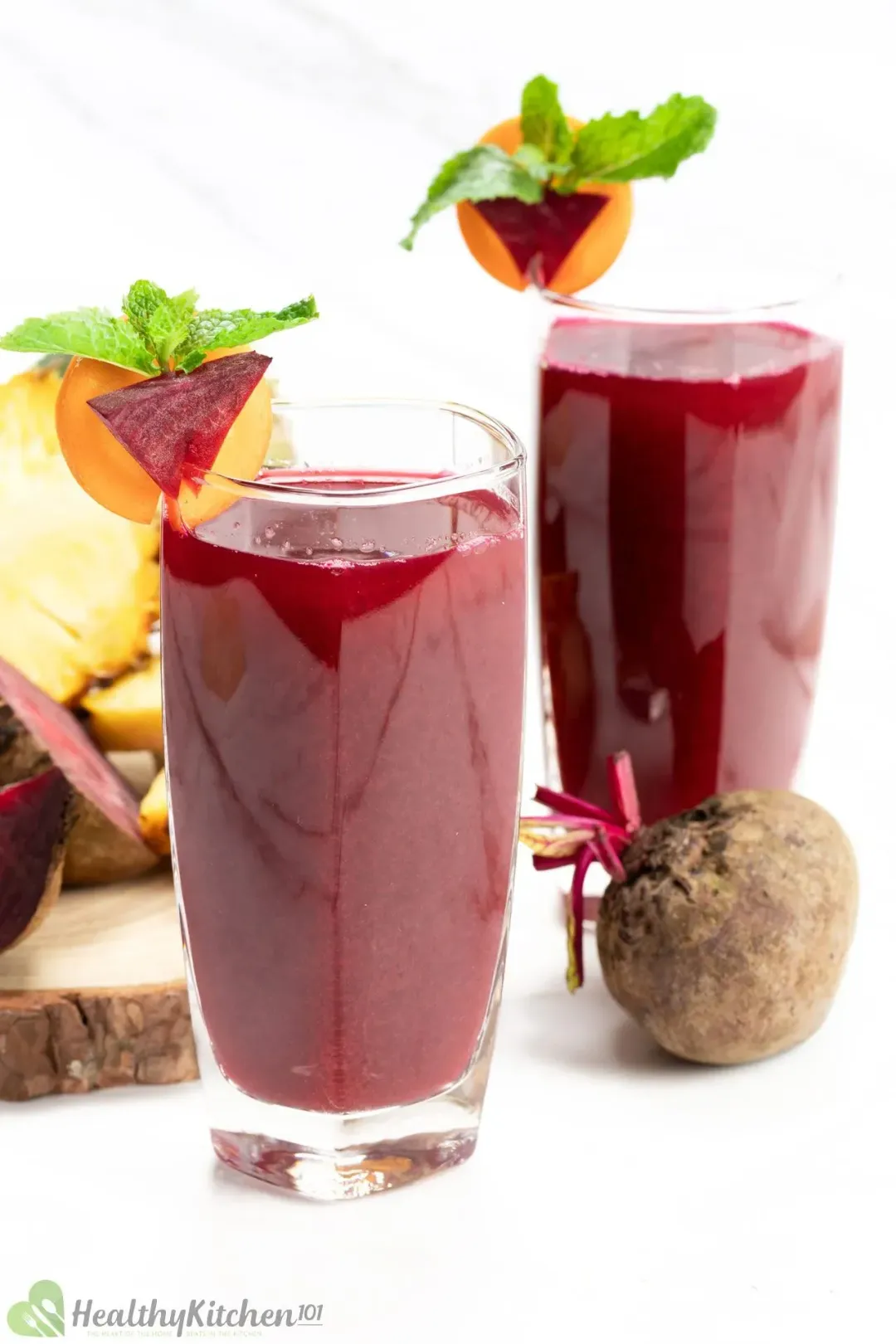 4. Promote Cardiovascular Health
One study mentioned that an antioxidant-rich diet is linked to lowered risks of cardiovascular diseases.
Iron and folate, present in beet juice, are great nutrients responsible for forming red blood cells. Sufficient intake of these nutrients means a healthy cardiovascular system.
Besides this carrot beet juice recipe, we also have the best beet juice recipes for you to peruse. They are also packed with micronutrients necessary for your body.
Carrot Beet Juice Calories
Each serving of this carrot beet juice recipe yields only 81 calories. More than 60% of the calories come from fruit juices, and the remaining from granulated sugar.
The added sugar accounts for less than 8 grams per serving. This amount is way less than the allowance:
| Daily Calories | Calories from Added Sugar (10%) | Daily Recommended Added Sugar |
| --- | --- | --- |
| 2000 | 200 | 51 grams |
| 2100 | 210 | 54 grams |
| 2700 | 270 | 70 grams |
How to Make Carrot Beet Juice
Steps of our carrot beet juice recipe:
Step 1: Make the juices
Feed your juicer with cubes of beets and ginger slices and collect the juice. If you don't have carrot juice and pineapple juice on hand, cut carrots and pineapples into chunks and feed them to the machine as well.
Step 2: Mix
Mix the juices with lemon juice, sugar, and water. Stir until everything is well-combined.
Serve with ice and garnish with mint leaves.
You can also mix in orange juice to make another juicing recipe with beet. Or attempt a nutritious juice cleanse with just ginger and beets.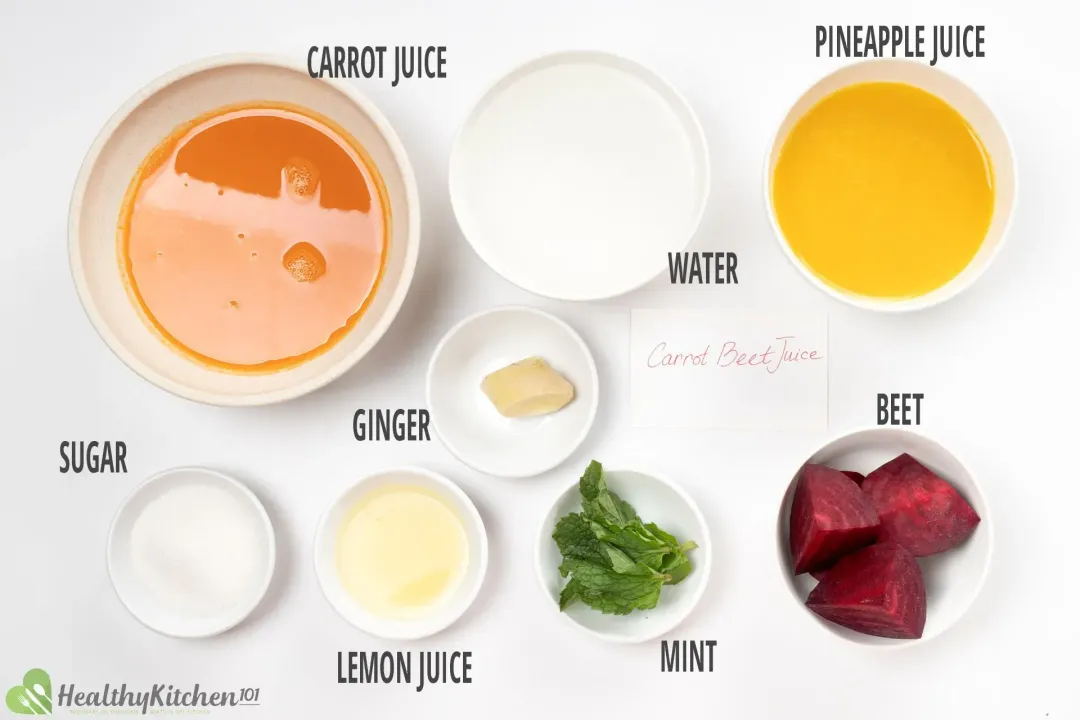 How Long Does Beet Juice Last in the Fridge?
Like other juices, this drink is best enjoyed within 2 days after making. However, we kept ours in the fridge for an extra day, and it still turned out great.
To keep any juice for as long as possible, make sure to store it properly by following these tips:
Make sure to clean your hands, the juicer, and any kitchen tools that touch your fruits. Some bacteria can still be active in the fridge, and they are potential food spoilers.
If you're more careful, keep the juice in an airtight container to limit exposure to air. This reduces the risk of spoilage caused by airborne bacteria.
If you refrigerate a whole glass/cup, cover it with plastic wrap and allow the wrap to touch the juice. This reduces the air in the glass/cup, hence lowering the chance of bacterial contamination.
Can I Drink Beet Juice While Taking Blood Pressure Medication?
Beets contain a lot of inorganic nitrates, substances that can reduce the blood pressure. Therefore, some of those suffering from hypertension consume lots of beetroots, hoping to keep their blood pressure under control.
As seemingly helpful as this home remedy is, it can potentially pose as a health risk.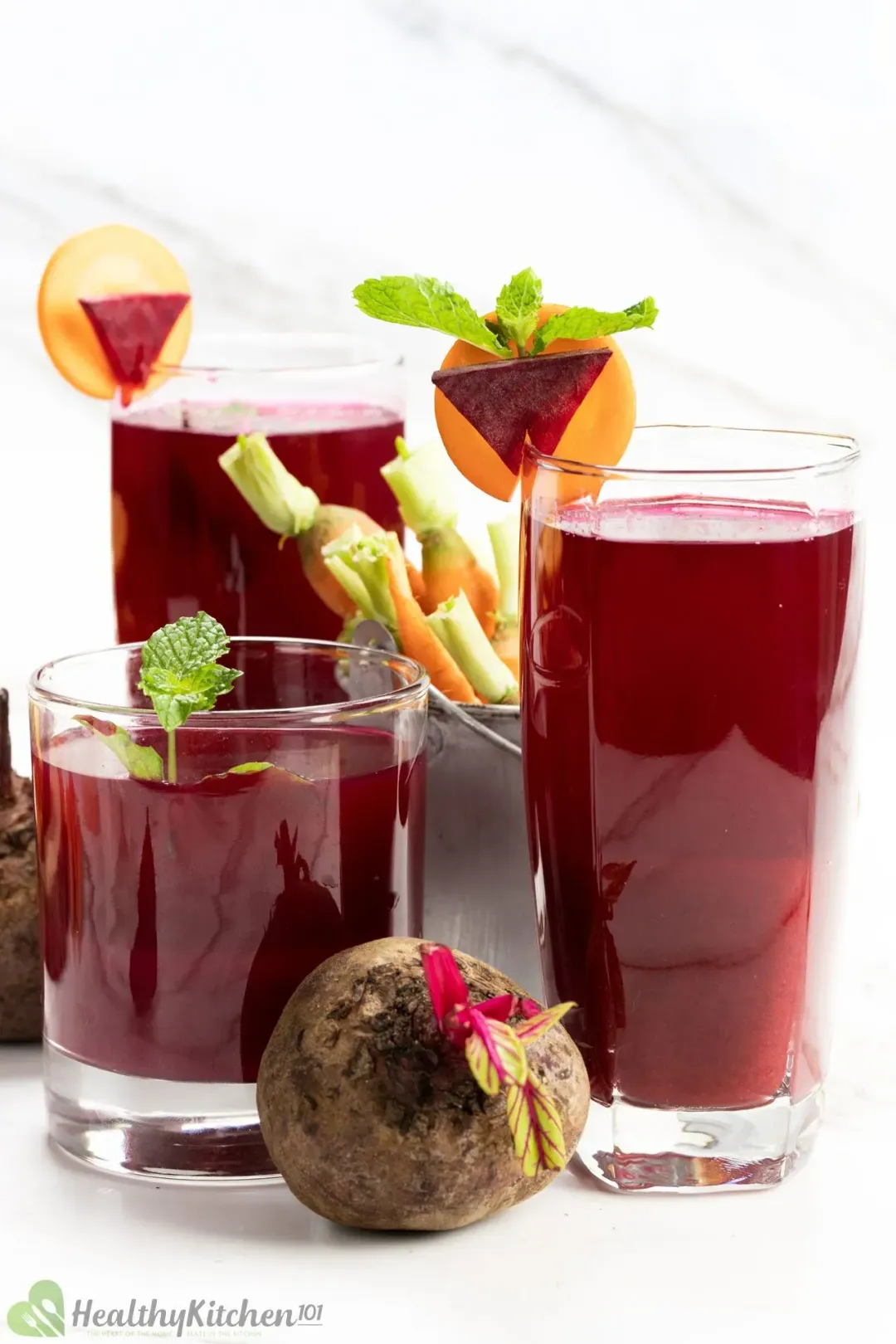 There is one reported case of experiencing nausea and dizziness after drinking a glass of pure beetroot and taking hypertension medication. It is explained the combination of the two can lower blood pressure below a safe level.
As soon as we saw this information, we immediately looked for trusted sites that discuss this in detail, but our searches came up empty. All we can say for sure is that if you are taking this medication, consult your doctor about beet juice.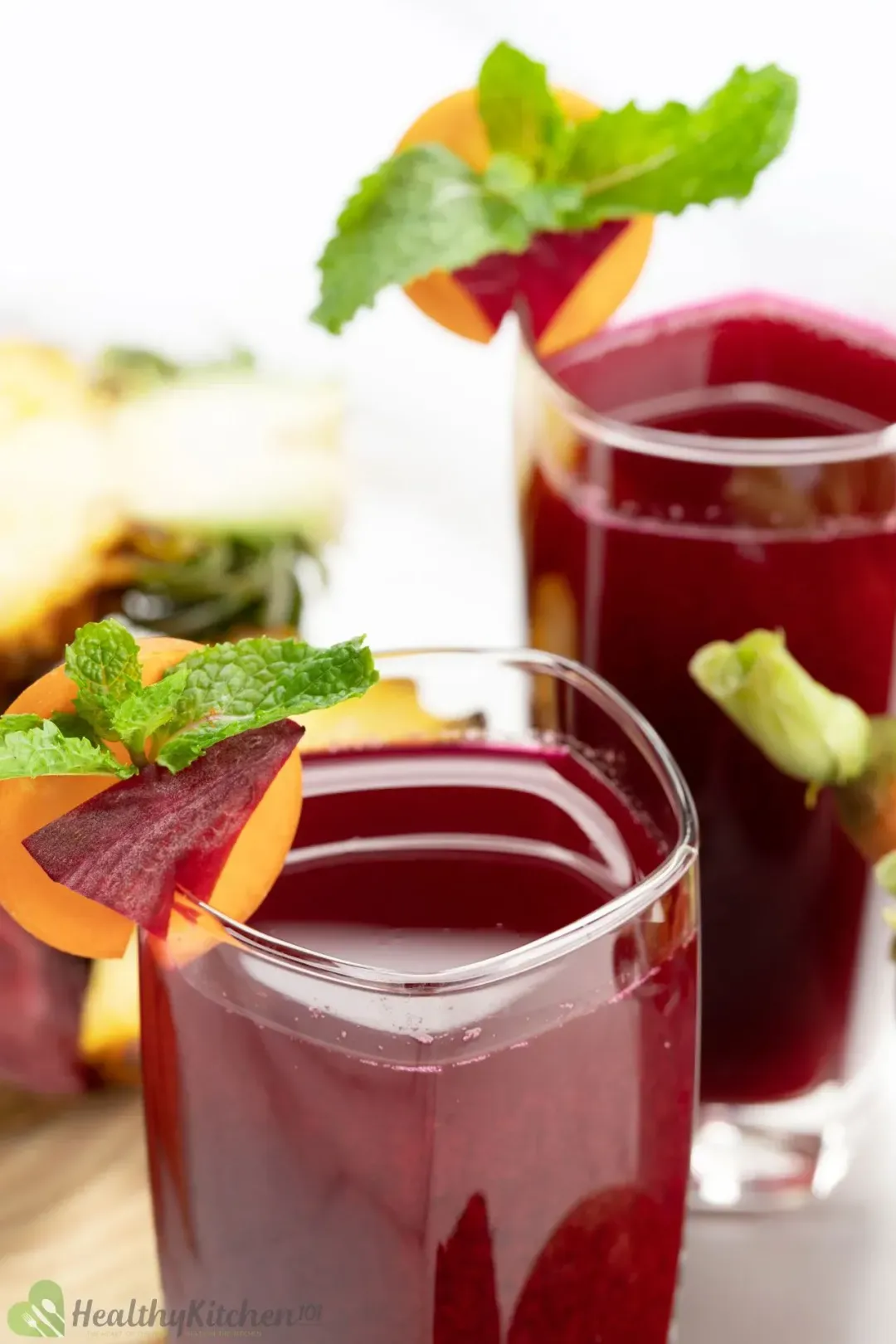 Carrot Beet Juice
This carrot beet juice recipe takes only two steps to make. It is a healthy and delicious daily dose of vitamins.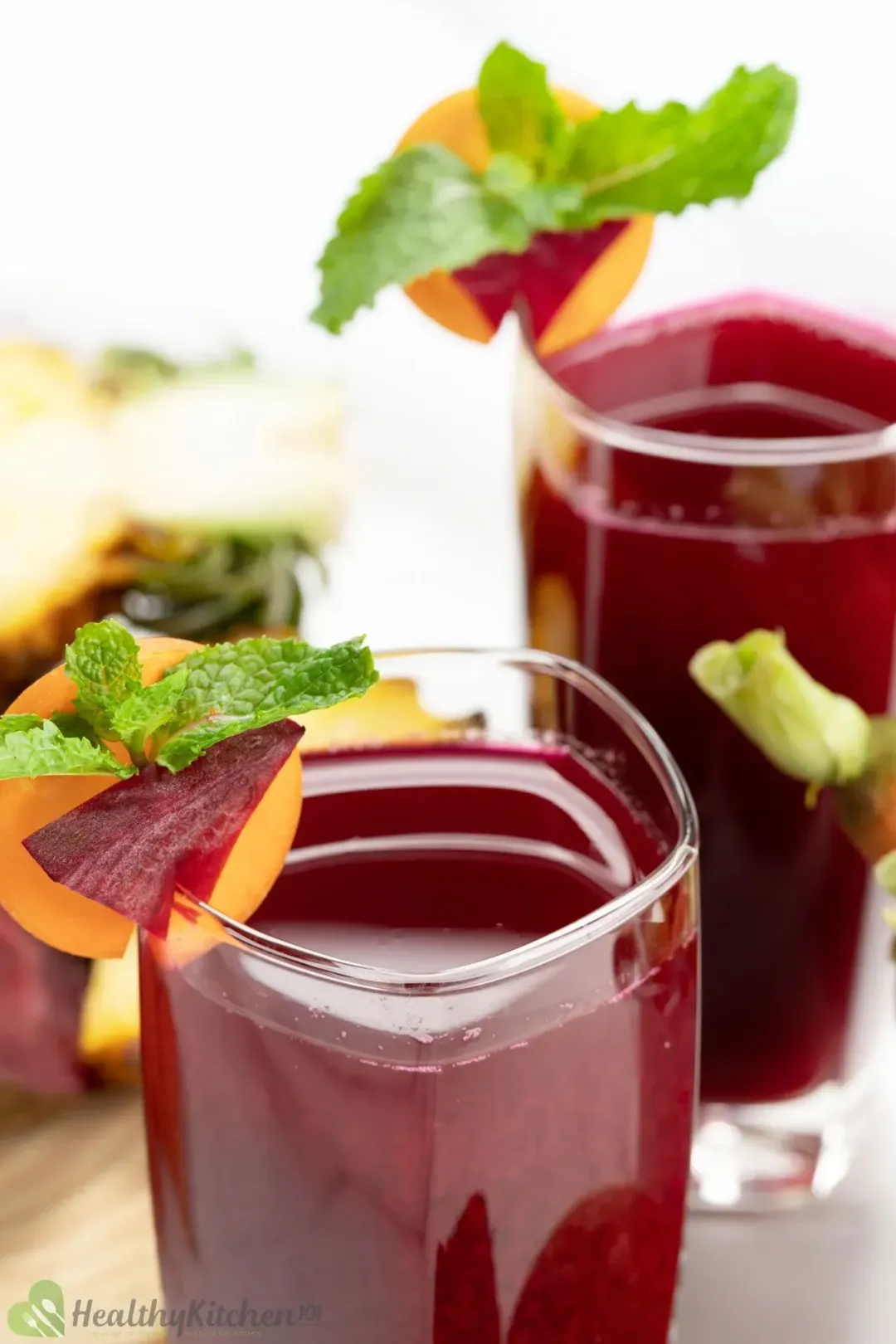 prep TIME

5 mins

total TIME

5 mins
COURSE

Beverage

CUISINE

Global

SERVINGS

CALORIES

81 kcal
INGREDIENTS
6 fl oz

carrot juice

(from 12-16 oz carrots)

5 fl oz

pineapple juice

(from 6-7 oz pineapples)
INSTRUCTIONS
1
Make the juices: Feed your juicer with cubes of beets and ginger slices and collect the juice. If you don't have carrot juice and pineapple juice on hand, cut carrots and pineapples into chunks and feed them into the machine as well.
2
Mix: Mix the juices with lemon juice, sugar, and water. Stir until everything is well combined. Serve with ice and garnish with mint leaves.
NUTRITION
Nutrition Facts
Carrot Beet Juice
Amount Per Serving (1 serving)
Calories 81
% Daily Value*
* Percent Daily Values are based on a 2000 calorie diet.
Keywords: Carrot Beet Juice, Carrot Beet Juice Recipe, How to make Carrot Beet Juice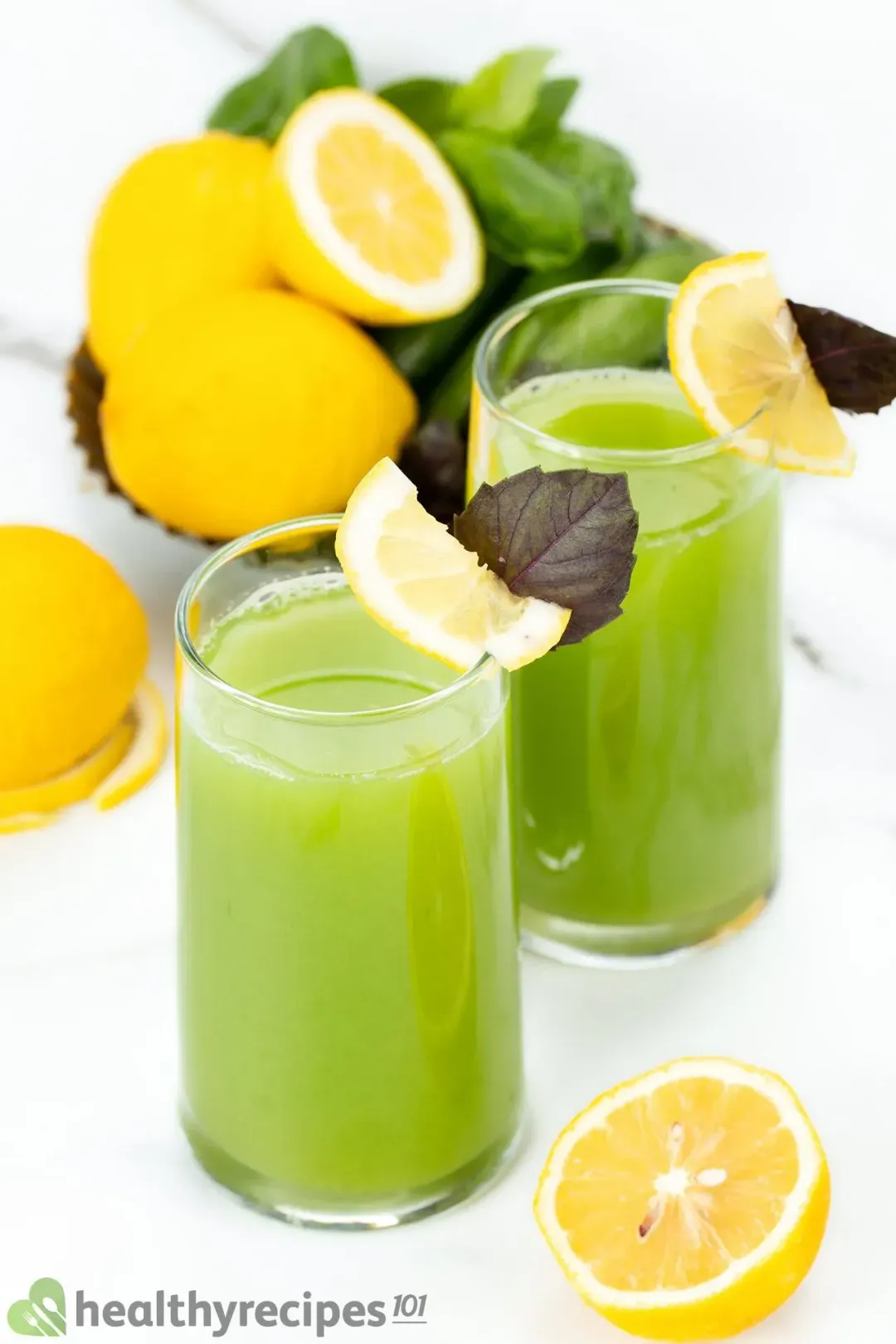 Previous Recipe
Cucumber and Lemon Juice
Cucumber and Lemon Juice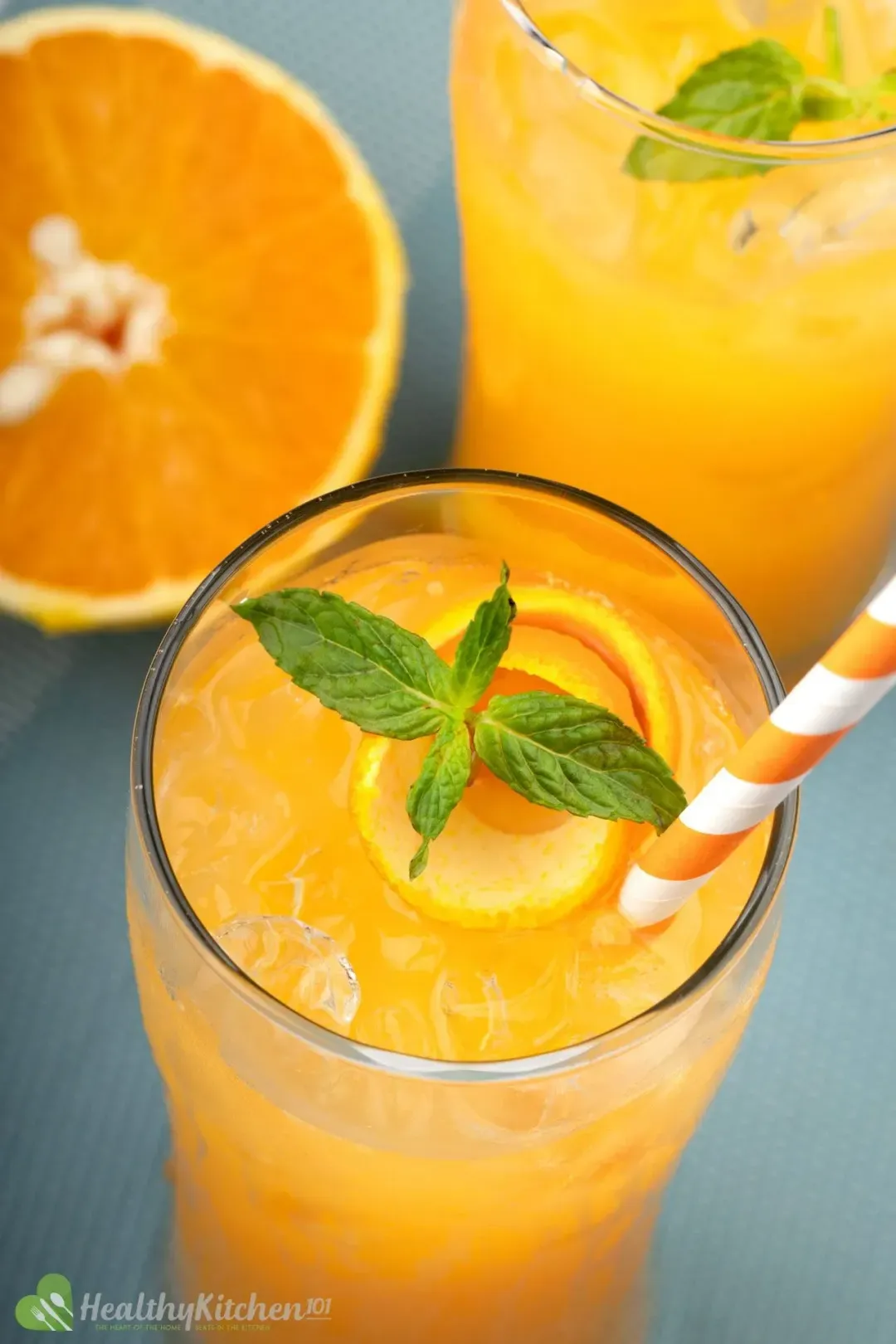 Next Recipe
Simply Orange Juice
Simply Orange Juice
Head Chef, Culinary Consultant
Tuyet Pham is an award-winning Saigonese chef who believes that joy is the secret ingredient to delicious food. At Healthy Recipes 101, Tuyet personally tests and simplifies every recipe, ensuring maximum flavor with minimal effort. With a background at prestigious French restaurants P'TI Saigon and Le Corto, Tuyet knows how to make every dish exceptional.
Writer, Author
Luna Regina is an accomplished writer and author who dedicates her career to empowering home cooks and making cooking effortless for everyone. She is the founder of HealthyKitchen101.com and HealthyRecipes101.com, where she works with her team to develop easy, nutritious recipes and help aspiring cooks choose the right kitchen appliances.
Nutrition Reviewer
Lizzie Streit is a Minneapolis-based dietitian and founder of It's a Veg World After All. She completed her MS in Human Nutrition from Drexel University, and is an expert in culinary nutrition, recipe development, and nutrition communications. Lizzie's philosophy is centered around making nutrition recommendations, and especially the advice to eat more vegetables, approachable and realistic. She is excited to be working with the team at Healthy Recipes 101 to ensure that their recipes are both nutritious and delicious.
This is a good juice, i'll be making this again!