Get some fresh, sweet oranges and the best natural honey you can find; this simply orange juice recipe is going to be amazing.
It's a straightforward, 3-ingredient beverage with orange juice, honey, and ice. You don't even need a juicer for this one—  just a knife and some very parched palates.
Our orange juice recipe is a classic that's excellent for quenching the soul and celebrating National Orange Juice Day (May 4). But does its orange essence translate into beneficial nutrients?
Read on to find out and learn how to make your own juice at home.
Is Simply Orange Juice Good for You?
Orange juice is the most popular type of fruit juice today. Whether a deep, dusky orange or a honey-golden hue, it not only looks the part but plays it too.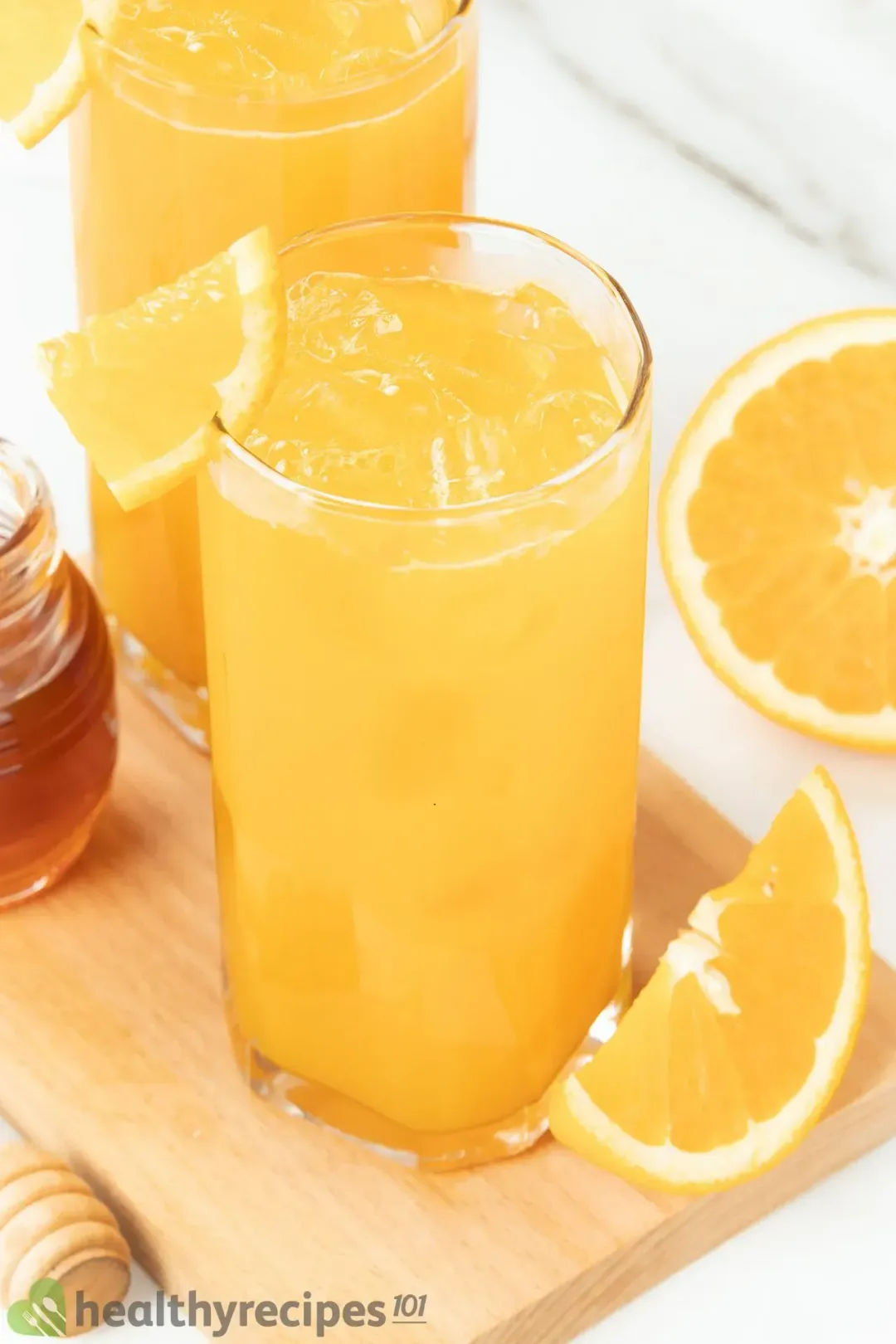 Here's are some reasons why:
1. Carotenoids & Vitamin A
Vibrant-colored fruits are an excellent source of carotenoids like beta-carotene. A 2015 study showed how regular consumption of fresh orange juice increases skin carotenoids that are linked to reducing the risk of cancer. 
Upon ingestion, our bodies convert beta-carotene to vitamin A. Vitamin A helps to support eye health and keep your vision intact.
A deficiency can lead to night blindness where your eyes cannot adapt to poor or low light settings; time to drink some orange juice before things get blurry.
2. Vitamin C
Orange juice is also a great source of vitamin C. In fact, vitamin C is more easily absorbed compared to vitamin A.
Together, vitamin A and vitamin C help protect against cell damage with their antioxidant properties, making this drink a useful aid against the onset of impaired vision and eventual blindness.
3. Honey
We used honey in place of sugar and achieved a natural sweetness. The proven benefits of honey show that it may help to lower blood pressure and bad cholesterol.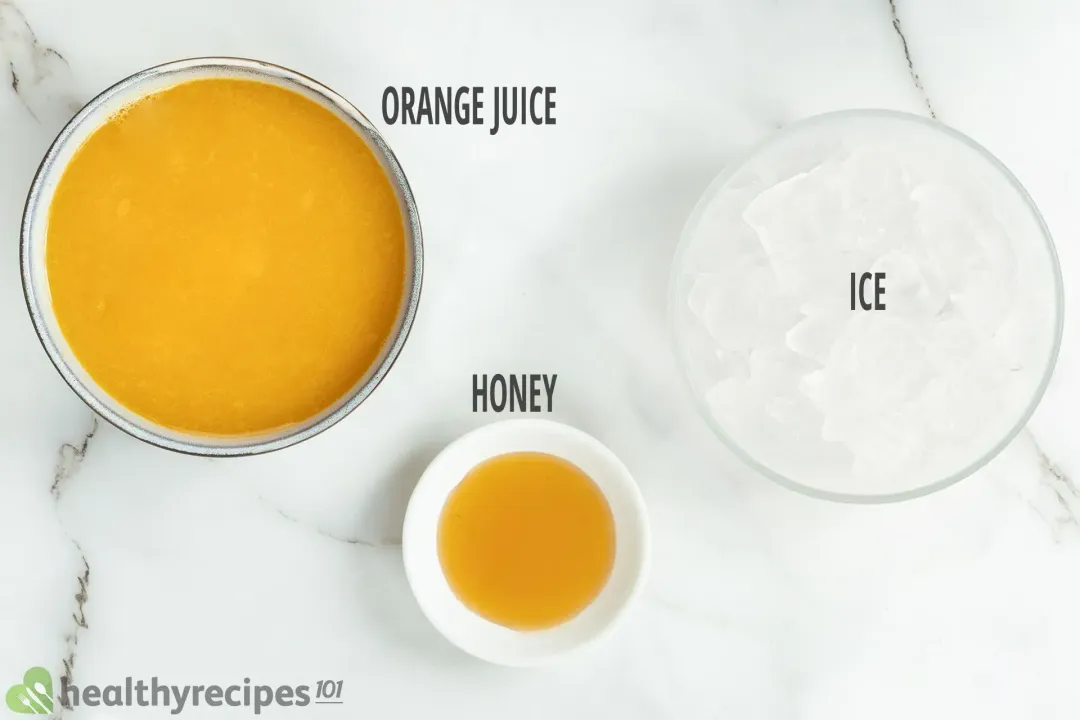 Using it is a great alternative to refined sugar.
Bear in mind that honey is still an added sugar and should be consumed in moderation. Health experts recommend limiting honey consumption to a little over 2 tablespoons for women and 3 tablespoons for men, which totals the daily limit for consumption of added sugars.
Ours contains only a 1/4 tablespoon per serving, enough to sweeten it without piling on calories.
The absolute best orange juice recipe will only ever be made with the freshest produce. Ripe, ready navel oranges will bring much more flavor and make this drink ultra-refreshing.
How do You Make This Orange Juice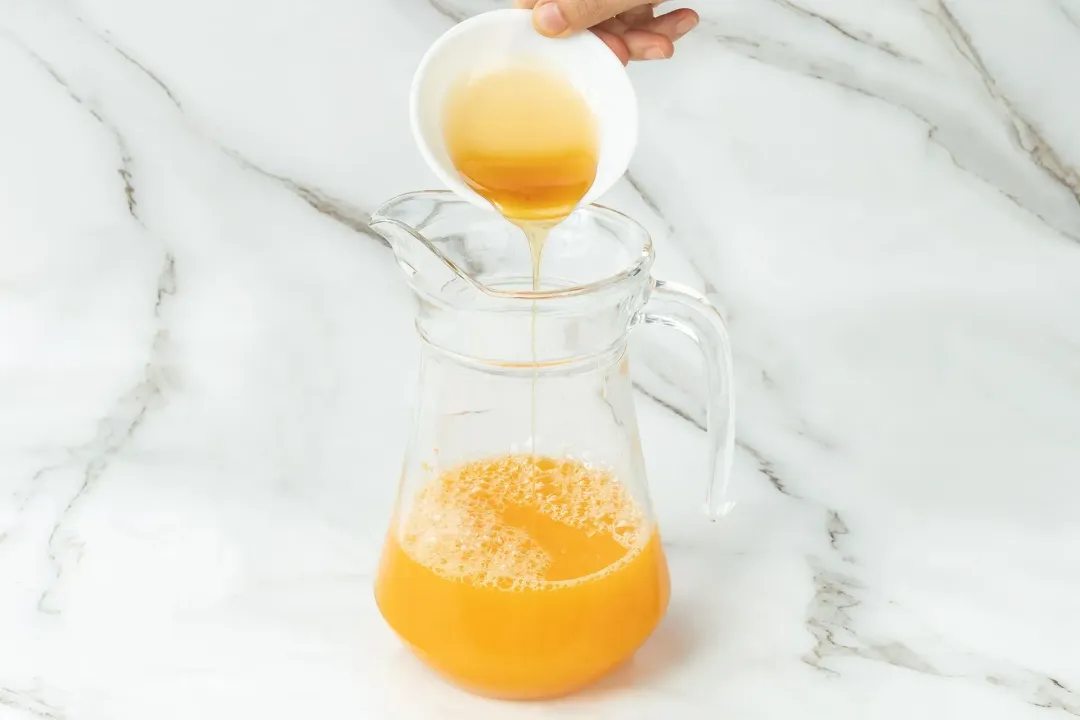 Mix orange juice and honey in a large pitcher.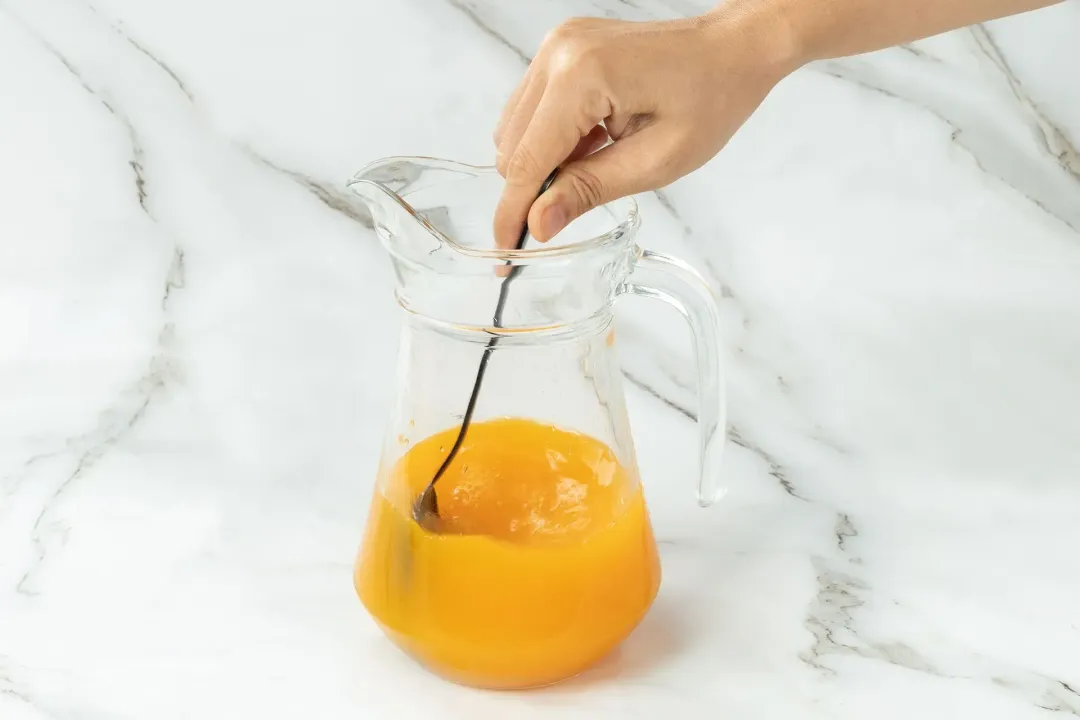 Stir to dissolve the honey.
Serve over ice.
The full ingredient list, measurements, and detailed instructions are available in the recipe section below.
Can You Freeze It?
Absolutely. You can freeze orange juice and have it within three months of storage.
Freezing juice is the best way to retain its nutrients. One study actually shows that thawed orange juice has more carotenoids than fresh varieties.
Though carotenoid concentration is higher in fresh juice, they're more bioavailable after freezing. The same study confirms that frozen orange juice raises carotenoid levels comparatively higher in the blood.
So it's not the amount of carotenoids that matter, but the accessibility. It gives added appeal to popsicles and ice pops; the fun and healthiest way to enjoy orange juice!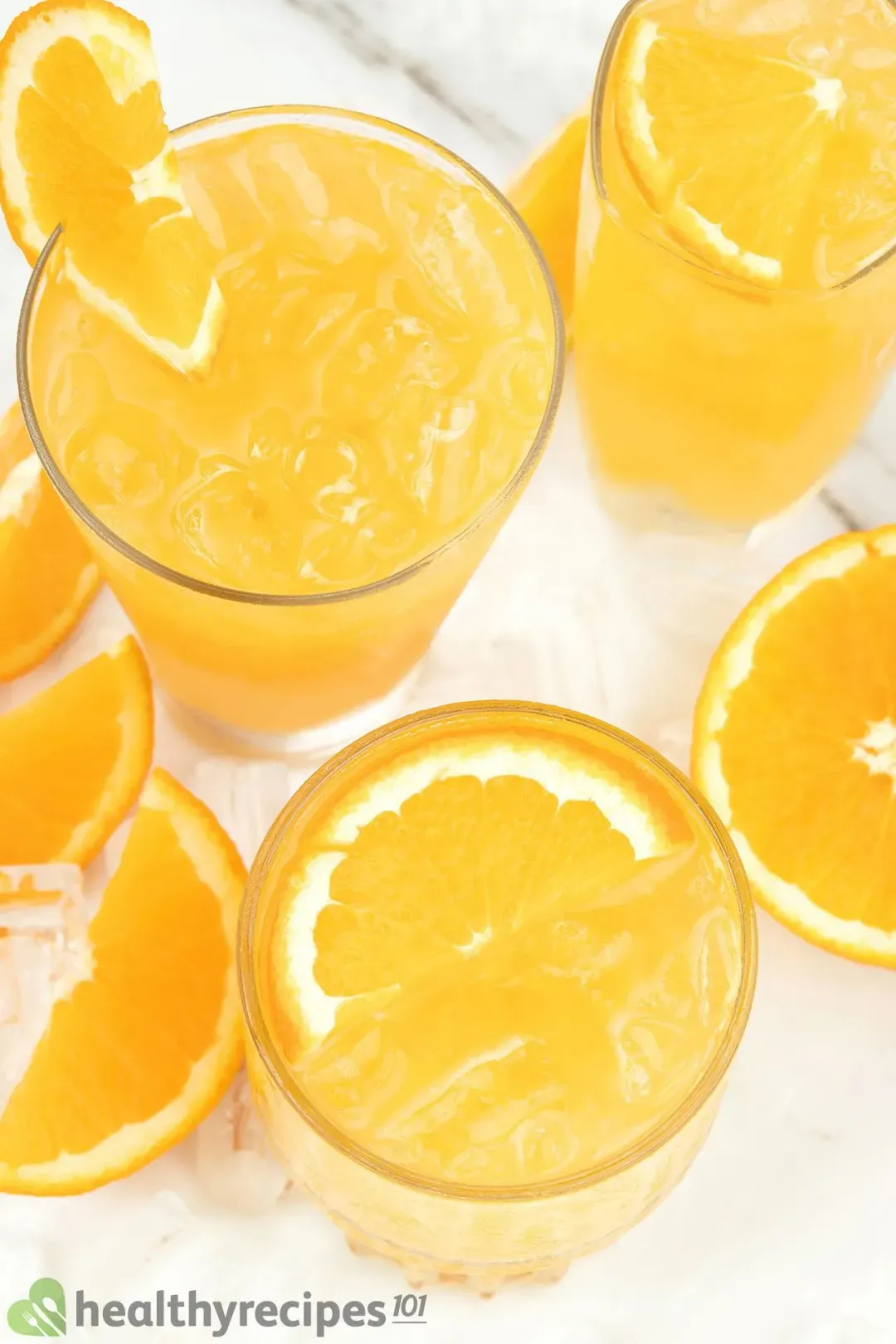 How Long Does Orange Juice Last?
Freshly-squeezed orange juice can last up to 2 hours at room temperature and 3 days in the refrigerator. Keeping it refrigerated helps to slow down the loss of nutrients.
Store it in an air-tight container to minimize oxidation while storing. And avoid exposing it to light and heat for long periods, as some vitamins are heat and air-sensitive.
Toss it out after 3 days to avoid any unwanted sickness after consumption.
Vacuum sealing is another way to securely store leftovers, including juice. You may even get away with an extra storage day since it's so airtight and oxidation-free.
The best method for long-term storage is to freeze your juice. Store it in the freezer after transferring the mix into a freezer-safe, airtight jar.
Remember to leave an inch of space to allow for expansion, and only keep it for a period of up to 3 months. After that, nutrient depletion will result in a less healthy mix and an even less tasty drink.
What Is the Best Time to Drink this Juice?
Don't save this simply orange juice recipe for rare occasions. Parties, gatherings, hot days, breakfasts; it sets the tone for any event.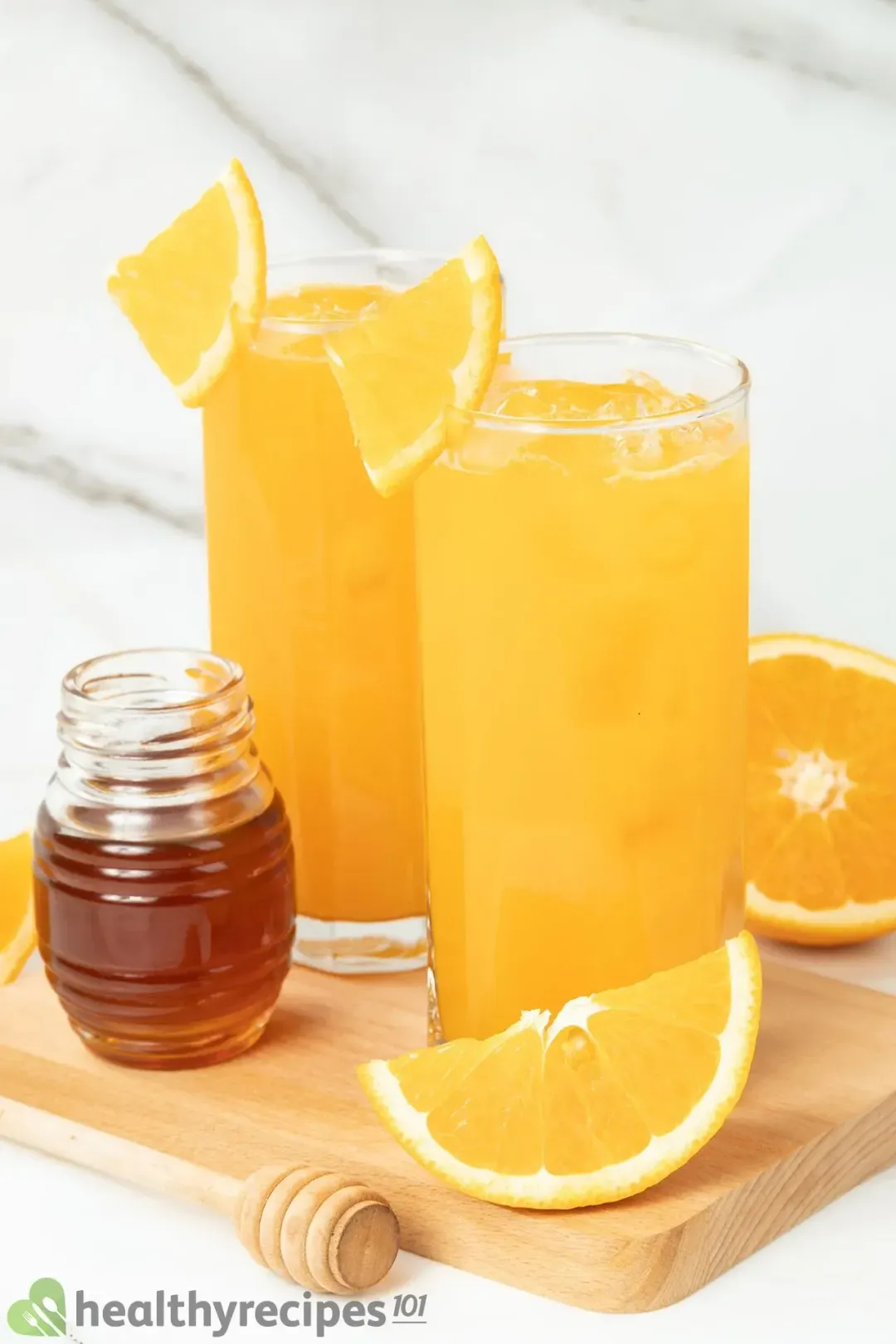 That's because it's such a versatile drink: Add alcohol for an orange juice cocktail. Add ginger ale for an alcohol-free beverage. Or, add carrot juice for a healthy combination with even more nutrients.
It's up to you what time you decide to drink simply orange juice.
You can have it in the morning and start a flavor-filled day. Or in the afternoon to combat the sweltering heat.
If you decide to have it at dinner, pair it with a healthy dish to create a well-rounded meal.
If you're a big fan of orange juice, this healthy orange juice roundup might be of help. Or check out our best healthy juice recipes for more beverage options.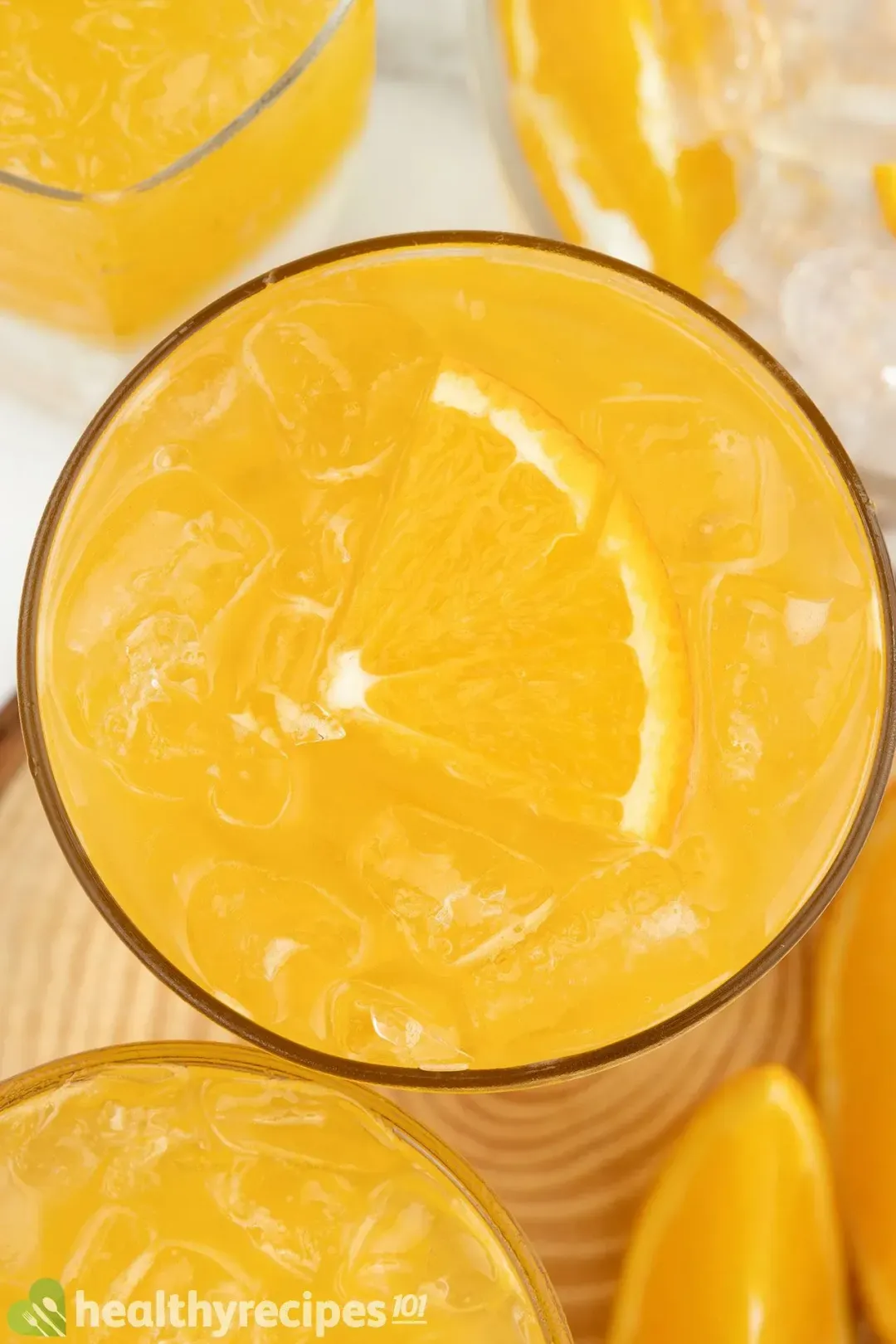 Simply Orange Juice
This simply orange juice recipe is a plain, 3-ingredient, all-time classic for any occasion. Prepare, serve, and simply enjoy.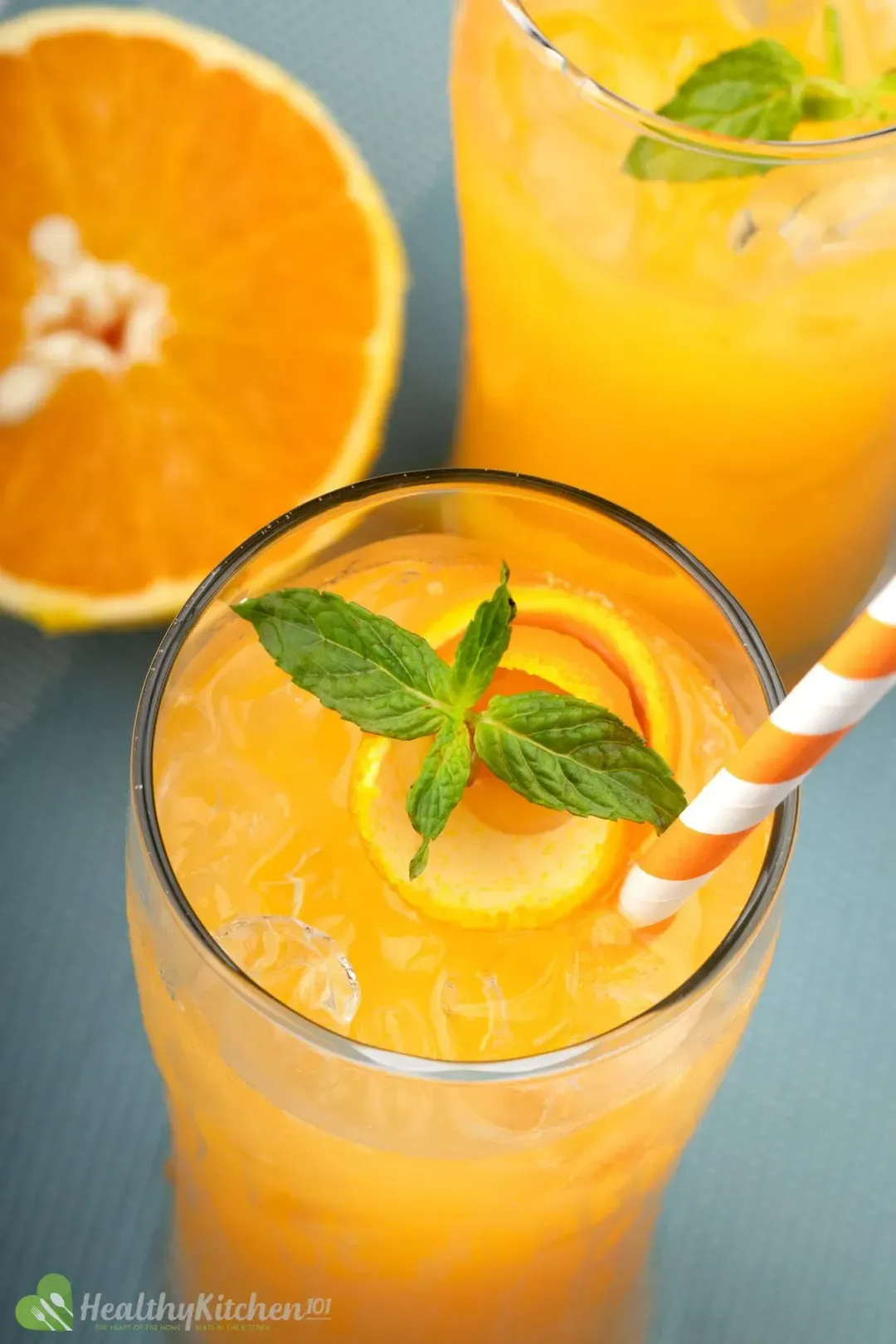 prep TIME

3 mins

total TIME

3 mins
COURSE

Beverage

CUISINE

American

SERVINGS

CALORIES

79 kcal
INGREDIENTS
18 fl oz

orange juice

(from 26 oz oranges)
INSTRUCTIONS
1
Mix orange juice and honey in a large pitcher.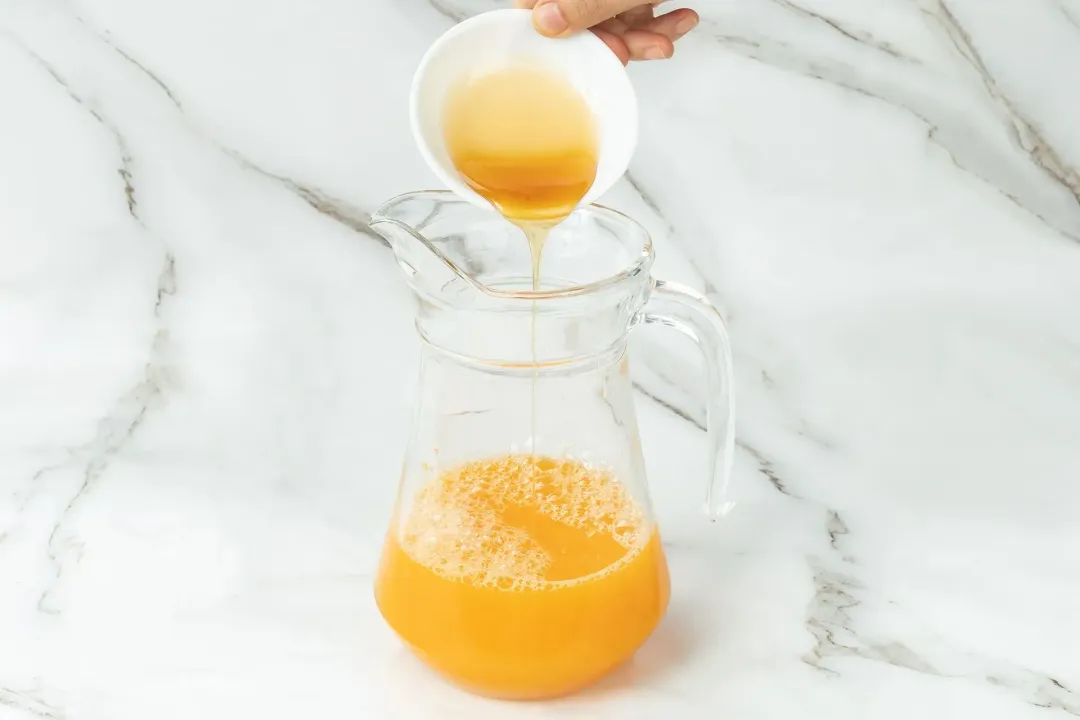 2
Stir until honey dissolves.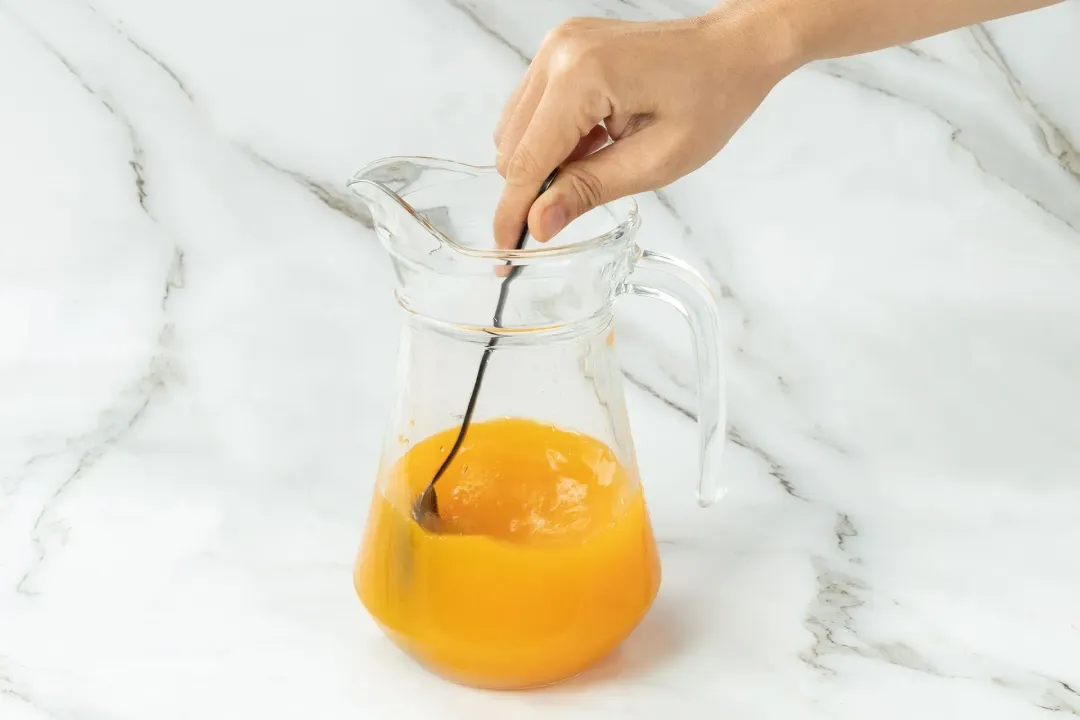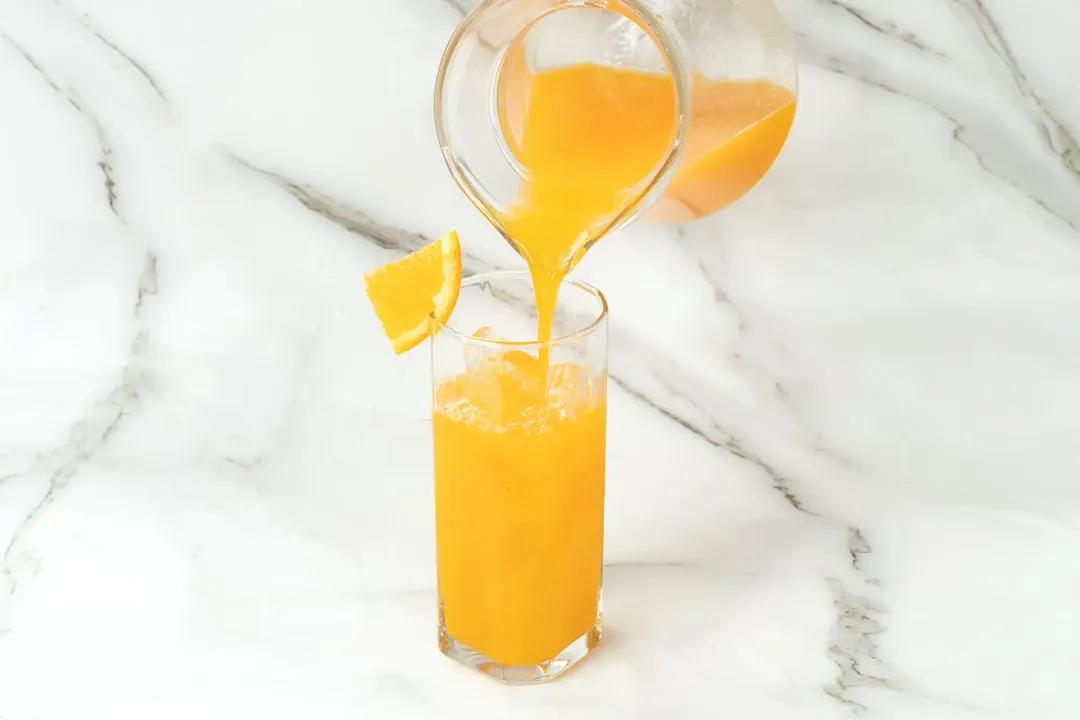 NUTRITION
Nutrition Facts
Simply Orange Juice
Amount Per Serving (1 serving)
Calories 79
Calories from Fat 3
% Daily Value*
* Percent Daily Values are based on a 2000 calorie diet.
Keywords: How to make Simply Orange Juice, Simply Orange Juice, Simply Orange Juice Recipe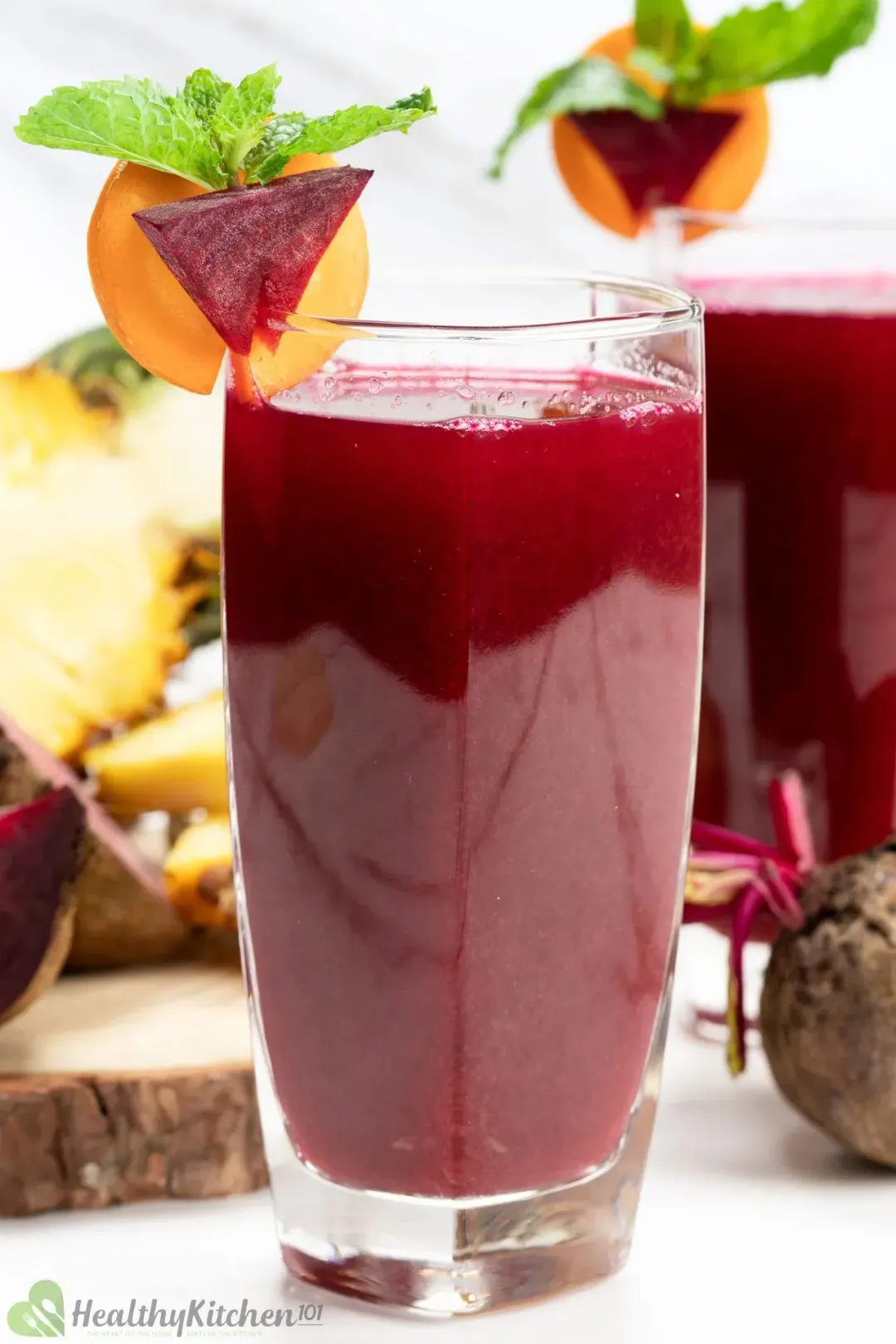 Previous Recipe
Carrot Beet Juice
Carrot Beet Juice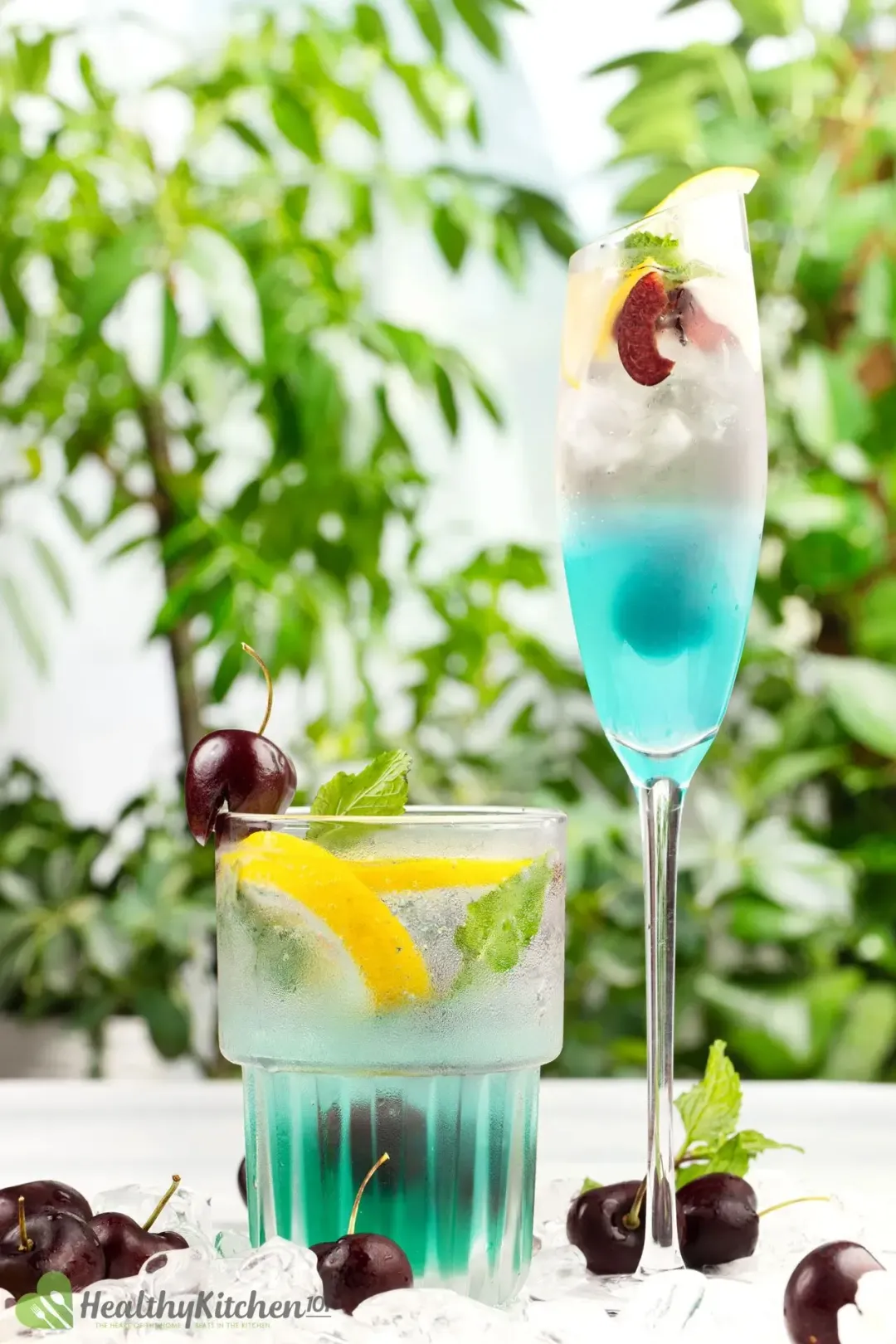 Next Recipe
Blue Jungle Juice
Blue Jungle Juice
Simply orange juice is one of my favorites - it's pure orange juice with no added sugar but full of flavor!