The fusion of grapefruit, grape, and lemon juices in today's fresh grapefruit juice recipe could be just what you need to make your summer sparkle.
This drink is a soothing blend of sweetness and tartness with a glamorous coral peach color. With zero artificial preservatives or additives, it takes only minutes to whip up but has amazing, invigorating effects.
Health Benefits
Fresh grapefruit juice can provide essential nutrients and offer many health benefits.
Rich in vitamins and antioxidants
Grapefruit is known to be rich in beneficial nutrients and vitamins, including vitamin A and C, lycopene, calcium, potassium, magnesium, etc… For instance, one cup of pink grapefruit juice has 93.9 mg of vitamin C.
Potent antioxidants in grapefruits are also known to help protect our cells from free radicals.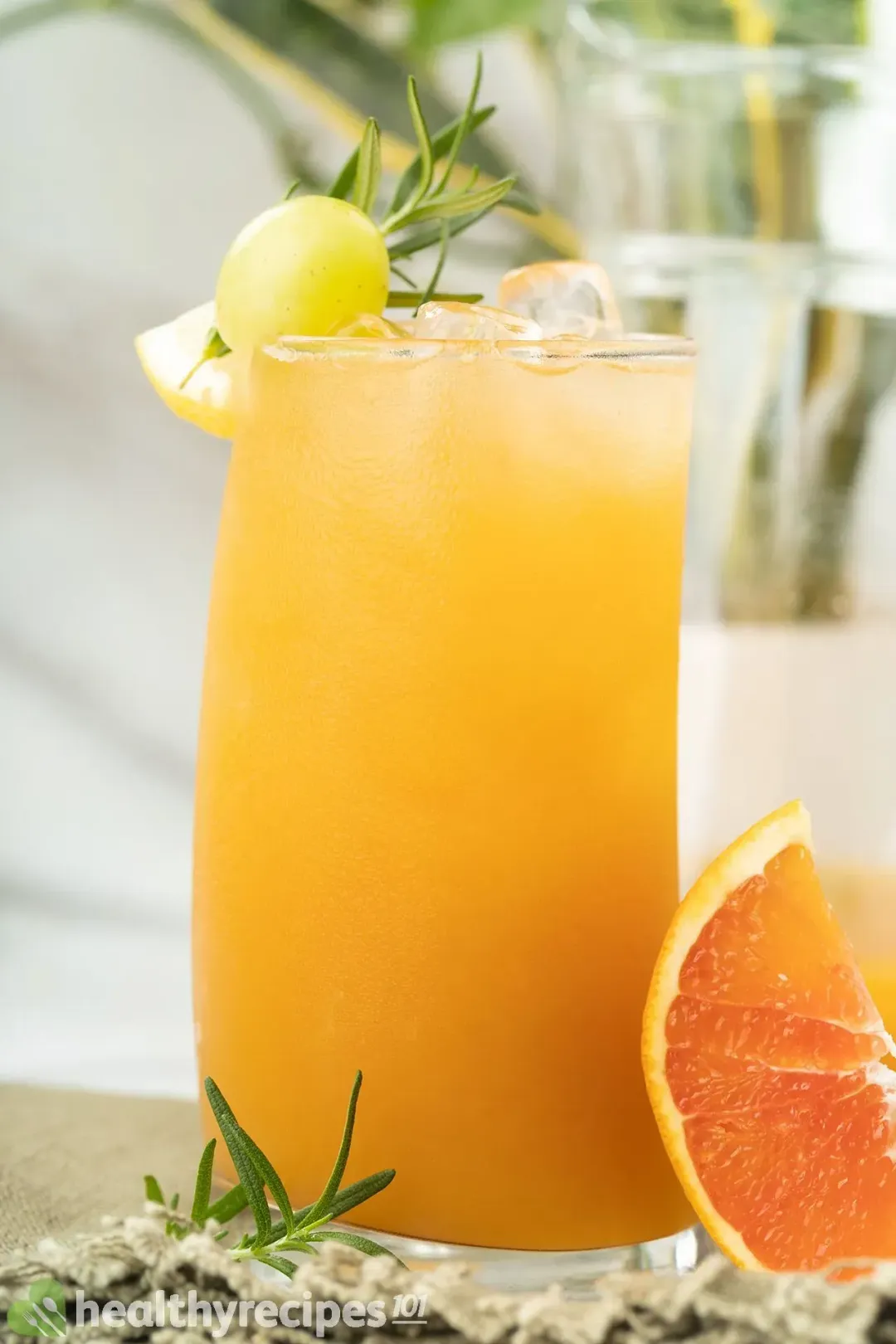 High in soluble fiber and low in calories
Nutrient-richness aside, grapefruits are also high in soluble fiber. This explains why their many benefits include improved heart health as well as lowered cholesterol levels and risks of cardiovascular diseases.
With only 96.3 calories per cup, grapefruit is beneficial for weight-loss diets. This fruit is a good food choice for diabetic patients as it helps improve blood sugar levels as well as prevent insulin resistance.
Sugar is optional for this recipe
As fresh grapefruit juice can deliver a slight sour and bitter taste, you may want to brighten it up with an addition of a sweetener. With this recipe, we're including grape juice, lemon juice, rosemary, and a little sugar to create a flavor balance and nutrition boost.
If you're trying to lose weight, please feel free to skip the sugar or replace it with honey or another sweet fruit. Carrot juice or orange juice can complement this drink nicely.
In case your summer spirit is on and it's craving for a cheat day with a sweet-tart boozy cocktail, you definitely shouldn't skip this vodka and grapefruit juice. 
Pomelo vs Grapefruit?
Both pomelo and grapefruit are citrus fruits with segments of flesh inside. They share pretty similar nutritional profiles as well as the sweet-sour taste and a hint of bitterness.
Despite all these similarities, pomelo and grapefruit are not interchangeable. Here's the lowdown on some of their major differences:
1. Origins
The major difference between pomelo and grapefruit is their origins. While pomelo itself is a separate species, grapefruit is actually a hybrid between an orange and a pomelo.
Among citrus fruits, pomelo is known to be the largest one. In the US, it's grown most commonly in Florida, California, and Arizona, and can grow to be the size of a watermelon.
Grapefruit is a subtropical citrus fruit that was discovered in the early 18th century on the island of Barbados. These fruits typically hang in bunches on trees just like grapes – hence the name "grapefruit".
In the US, grapefruit is grown most commonly in locations with high amounts of rainfall, such as Florida and Southern California.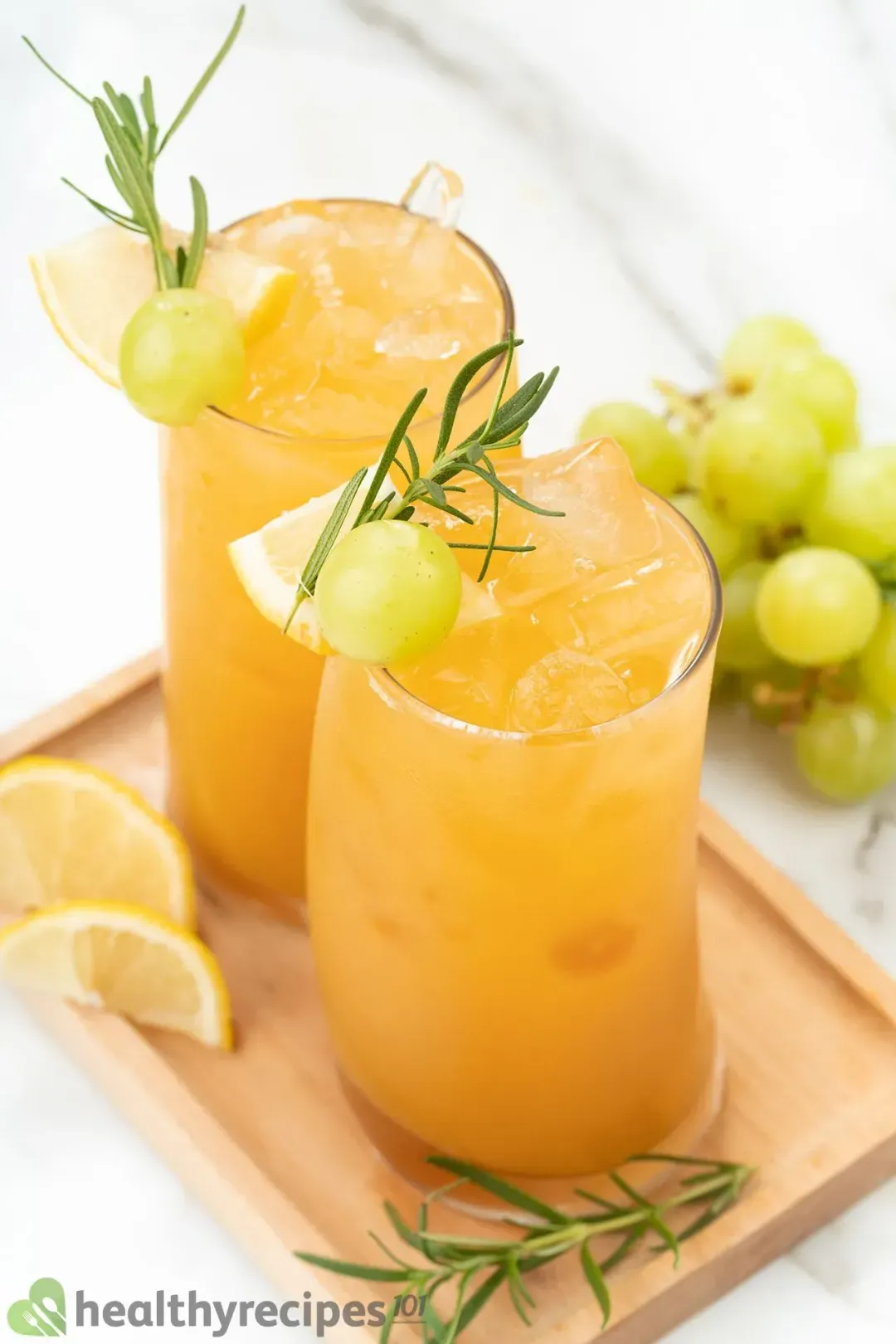 2. Appearances & Tastes
Pomelos are large, pear-shaped fruits with thick, finely-pitted, and limey-green peels. Sometimes, you can find visible oil cells that look like tiny green spots on their rinds.
Pomelo flesh is semi-transparent with a range of colors — from dark pink and coral peach to pale green. Their piths are also inedible and thicker than grapefruits'.
A grapefruit, on the other hand, usually comes in the size of a human fist — much smaller and more lightweight than a pomelo. A grapefruit usually bears a round shape with a smooth, bright orange or reddish yellow skin.
A grapefruit generally offers more pulp than a pomelo. The flesh comes in various hues, ranging from rose pink to coral to pale yellow.
Pomelos are generally sweeter, milder, and less bitter in flavor. Meanwhile, grapefruits are slightly bitter and more astringent.
3. Uses
In Asian cuisine, you can easily find pomelos in jellies, sweet soups, and sweet jams. Pomelos can also be used in marinades or salad dressings.
The thick rind doesn't have to go to waste. Instead, it can be made into candies and marmalades. This goes the same for the seeds — they're widely used to prepare medicines, especially in Southeast Asia.
Similarly, grapefruits are also used for jams, jellies, and marmalades. Both fruits can be delicious additions to fruit salads and cocktails.
Should You Peel Grapefruit Before Juicing?
It's optional. And if you're confused here, we're talking about the white, semi-transparent membrane that envelops the flesh and not the thick outer rind (of course, this one must be peeled off for juicing.)
Keeping the grapefruit skin could make the juice more bitter, but not significantly. Moreover, the pink grapefruit (also called red or ruby grapefruit) that we used in this recipe isn't as bitter as white grapefruit.
To save time and effort, you can totally skip the peeling without altering the overall flavor too much. Whether to peel or not to peel, it's a personal choice.
The skin aside, all the flesh and pith of grapefruit can be juiced. After cutting the fruit in half, simply chop it into small pieces and run it through a fruit juicer.
Is It OK to Drink It Every Day?
Yes, it is — as long as you consume no more than 8 ounces, or half of a fruit per day, and not together with any medications.
Grapefruit is a citrus fruit. Citrus fruits are prone to interact adversely with many prescriptions, including common over-the-counter (OTC) drugs. Grapefruit is no exception as it can alter the performance of dozens of medications in your body.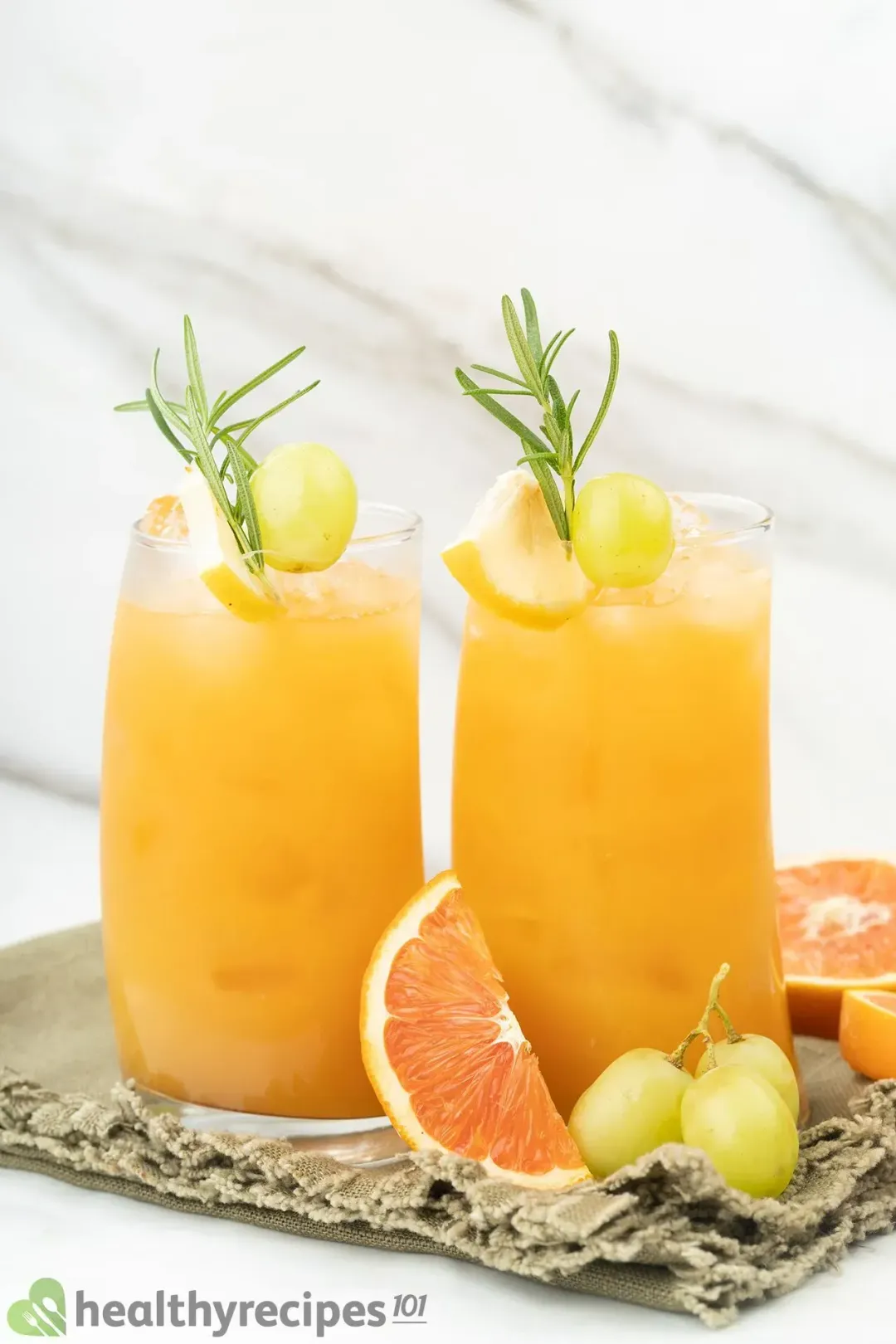 So, if you're currently in treatment and on medications, it's a must to check with a medical professional before consuming grapefruit or other citrus fruits. You can check with a pharmacist or doctor to find out how your medicine interacts with grapefruit.
The safest way is to avoid drinking grapefruit or any other citrus fruit juice until you complete your medical treatment.
Also, please always keep yourself informed about food-drug interaction in general. Read more about drugs that don't mix with grapefruit juice and why they interact.
How Long Does This Juice Last?
Our fresh grapefruit juice can last up to a week in the refrigerator. As it takes only 20 minutes to whip up, you can easily make a large batch in advance to enjoy for the whole week.
Fresh Grapefruit Juice
The fusion of grapefruit, grape, and lemon juice in today's fresh grapefruit juice recipe could be just what you need to make your summer sparkle. With a glamorous look and a refreshing taste, this juice can add pizzazz to any occasion, and it's surely several times healthier than fizzy drinks!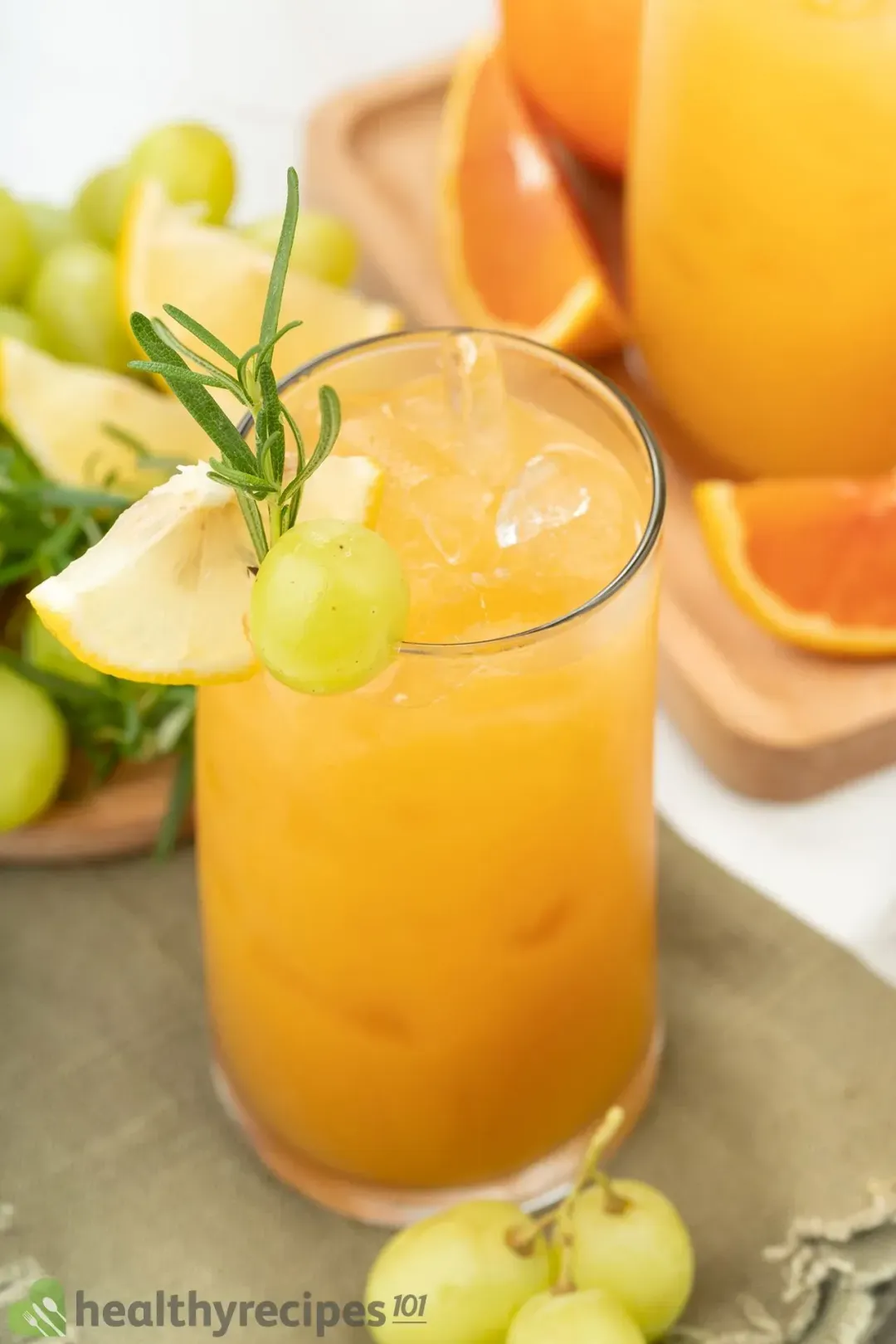 prep TIME

15 mins

total TIME

15 mins
COURSE

Beverage

CUISINE

Global

SERVINGS

CALORIES

104 kcal
INGREDIENTS
18 fl oz

grapefruit juice
INSTRUCTIONS
1
In a pitcher, whisk together 18 fl oz grapefruit juice and 6 fl oz grape juice.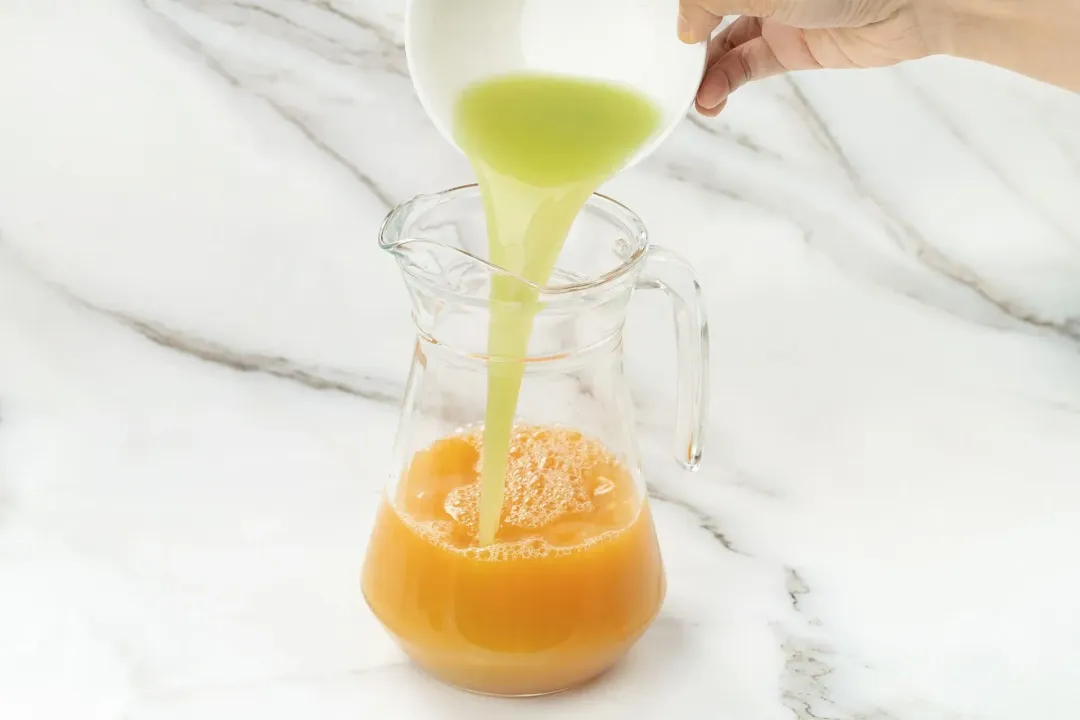 2
Stir 1/2 tsp lemon juice and 2 tbsp sugar to the juice mixture. Whisk until the sugar is dissolved.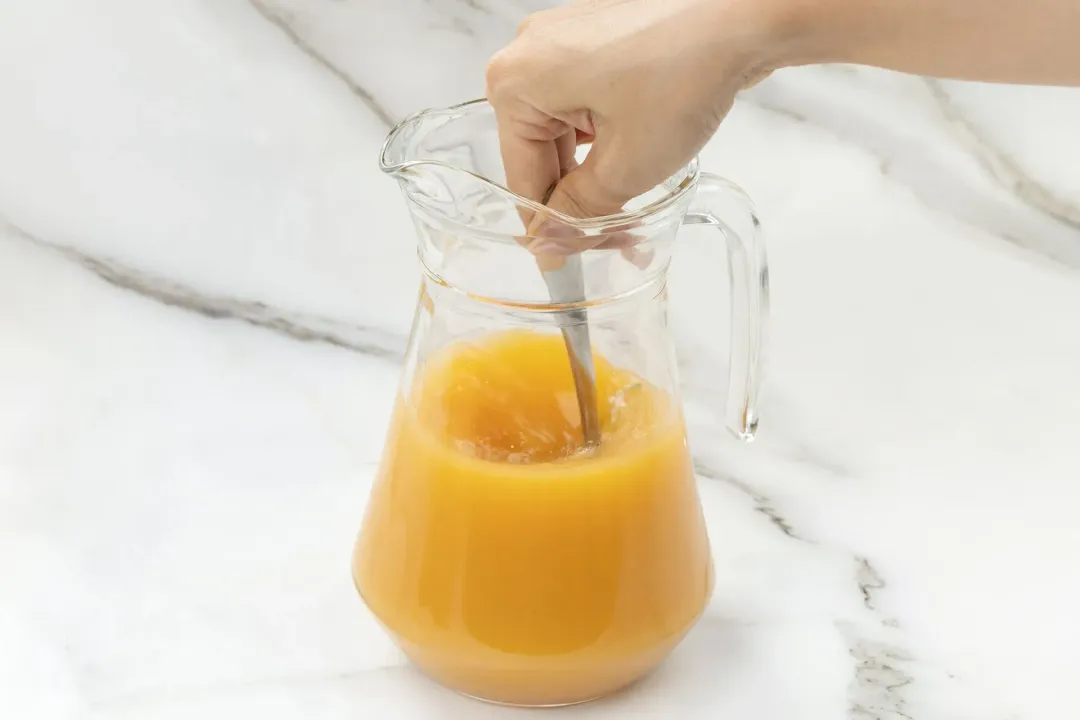 3
Divide 2 cup ice cubes into serving glasses and garnish with 1 tsp fresh rosemary. Pour the juice over. Serve chilled.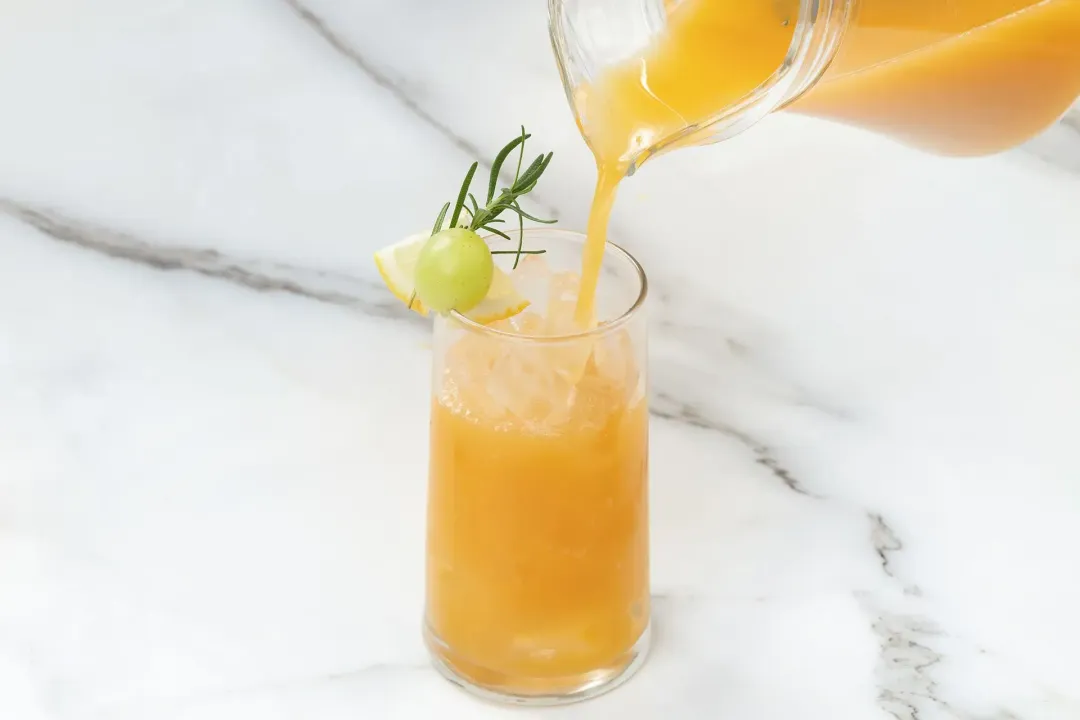 NUTRITION
Nutrition Facts
Fresh Grapefruit Juice
Amount Per Serving (1 serving)
Calories 104
% Daily Value*
* Percent Daily Values are based on a 2000 calorie diet.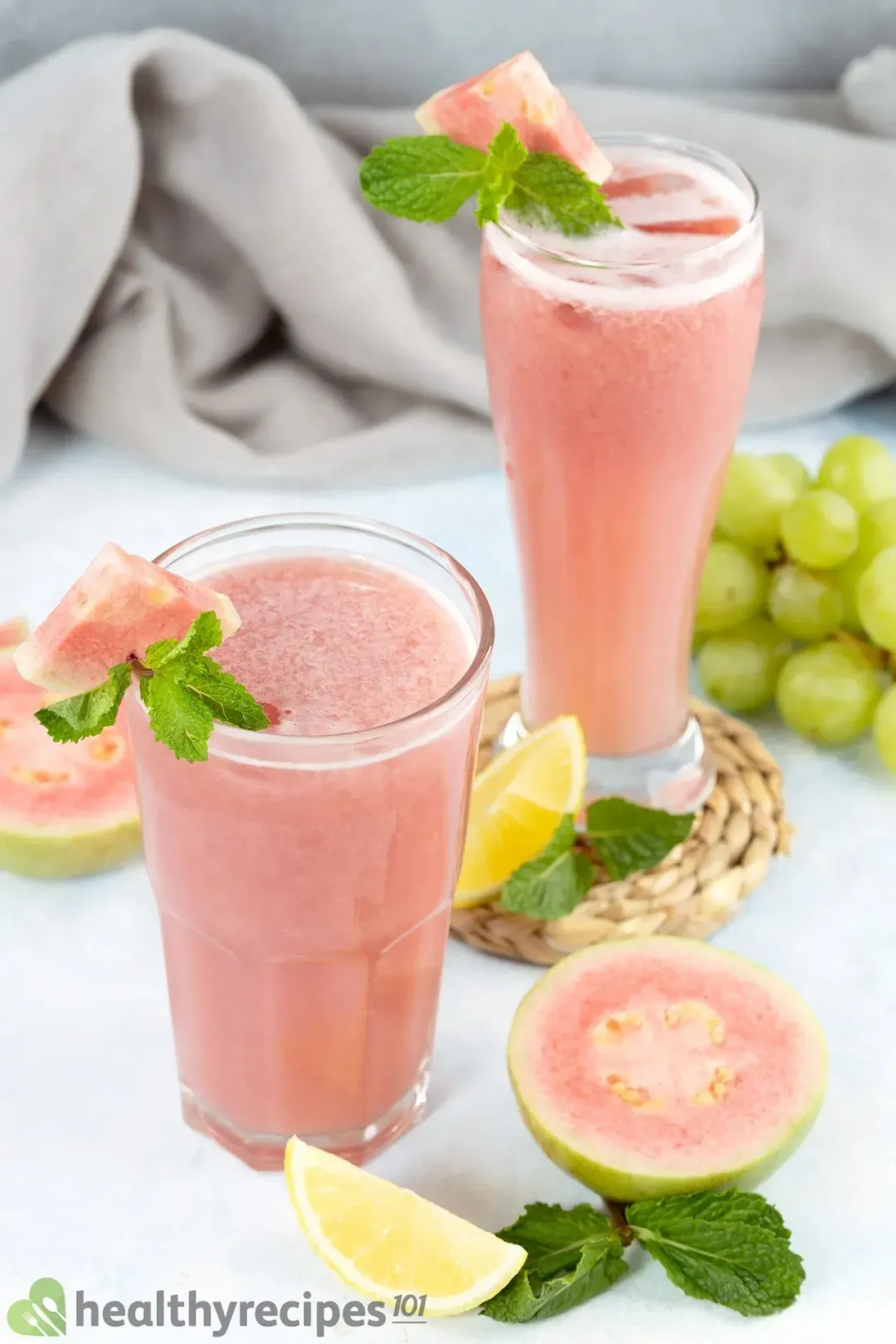 Previous Recipe
Guava Juice
Guava Juice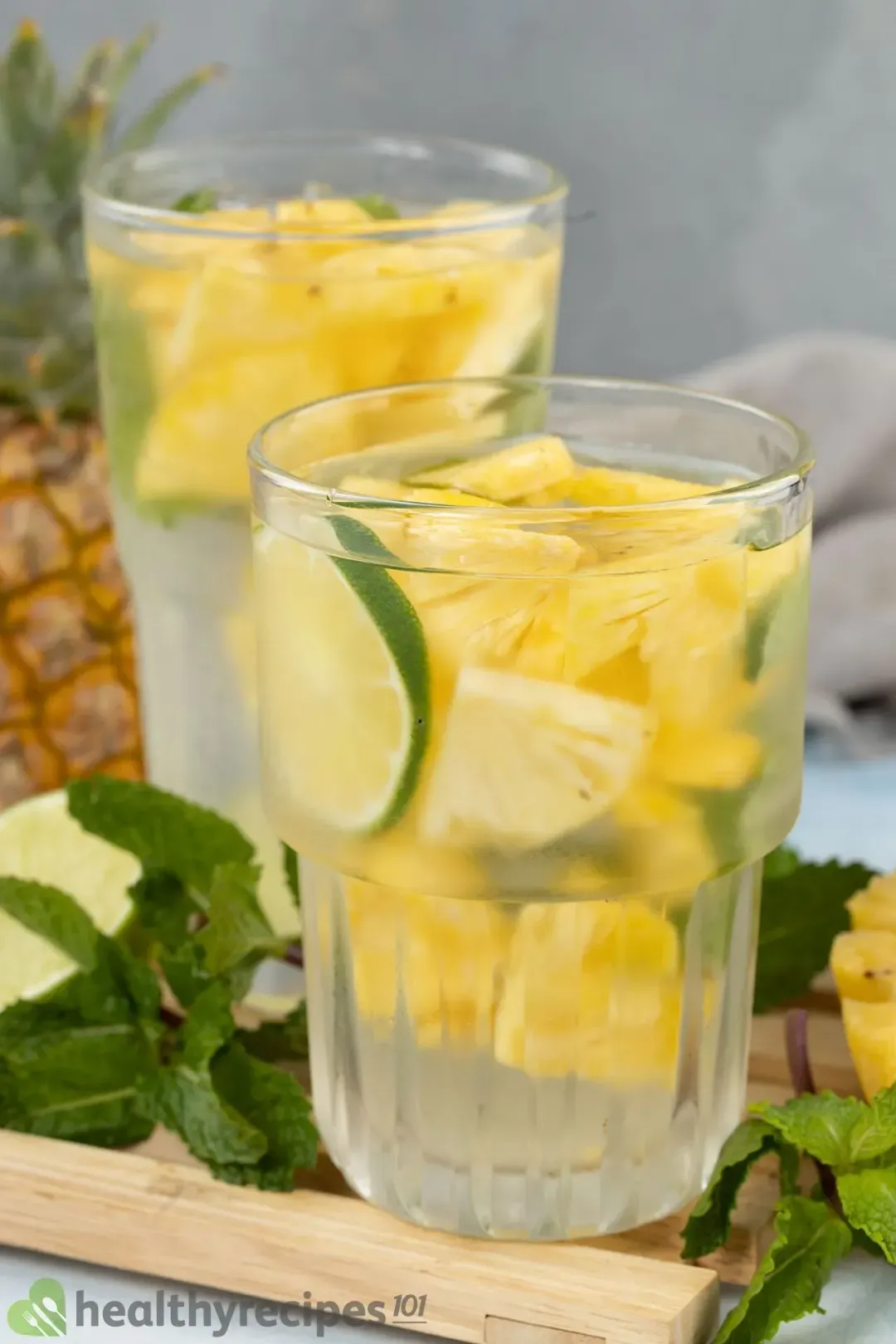 Next Recipe
Pineapple Water
Pineapple Water
Head Chef, Culinary Consultant
Tuyet Pham is an award-winning Saigonese chef who believes that joy is the secret ingredient to delicious food. At Healthy Recipes 101, Tuyet personally tests and simplifies every recipe, ensuring maximum flavor with minimal effort. With a background at prestigious French restaurants P'TI Saigon and Le Corto, Tuyet knows how to make every dish exceptional.
Writer, Author
Luna Regina is an accomplished writer and author who dedicates her career to empowering home cooks and making cooking effortless for everyone. She is the founder of HealthyKitchen101.com and HealthyRecipes101.com, where she works with her team to develop easy, nutritious recipes and help aspiring cooks choose the right kitchen appliances.
Nutrition Reviewer
Lizzie Streit is a Minneapolis-based dietitian and founder of It's a Veg World After All. She completed her MS in Human Nutrition from Drexel University, and is an expert in culinary nutrition, recipe development, and nutrition communications. Lizzie's philosophy is centered around making nutrition recommendations, and especially the advice to eat more vegetables, approachable and realistic. She is excited to be working with the team at Healthy Recipes 101 to ensure that their recipes are both nutritious and delicious.
Fresh grapefruit juice is such an invigorating beverage, especially when you make it yourself! Yum!

Easy to make and delicious.