This vodka and grapefruit juice recipe might be what you need to craft your very own luxury experience for National Vodka Day (October 4).
Refreshing, slightly tart, and looking extra glam, this cocktail is one of our favorites and could soon be yours too. It takes only minutes to whip up, and it fits any occasion, including cocktail parties and National Fruit Cocktail Day (May 13).
And this recipe isn't the classic one with just vodka and grapefruit juice. It's the best one after many of our trials and fails, and it's absolutely amazing.
What Is Vodka and Grapefruit Juice Called?
The cocktail has another name, "Greyhound," and we too begged the question "Why?". So we did some digging, and it turned out it's the name of the bus station where it once was a popular drink.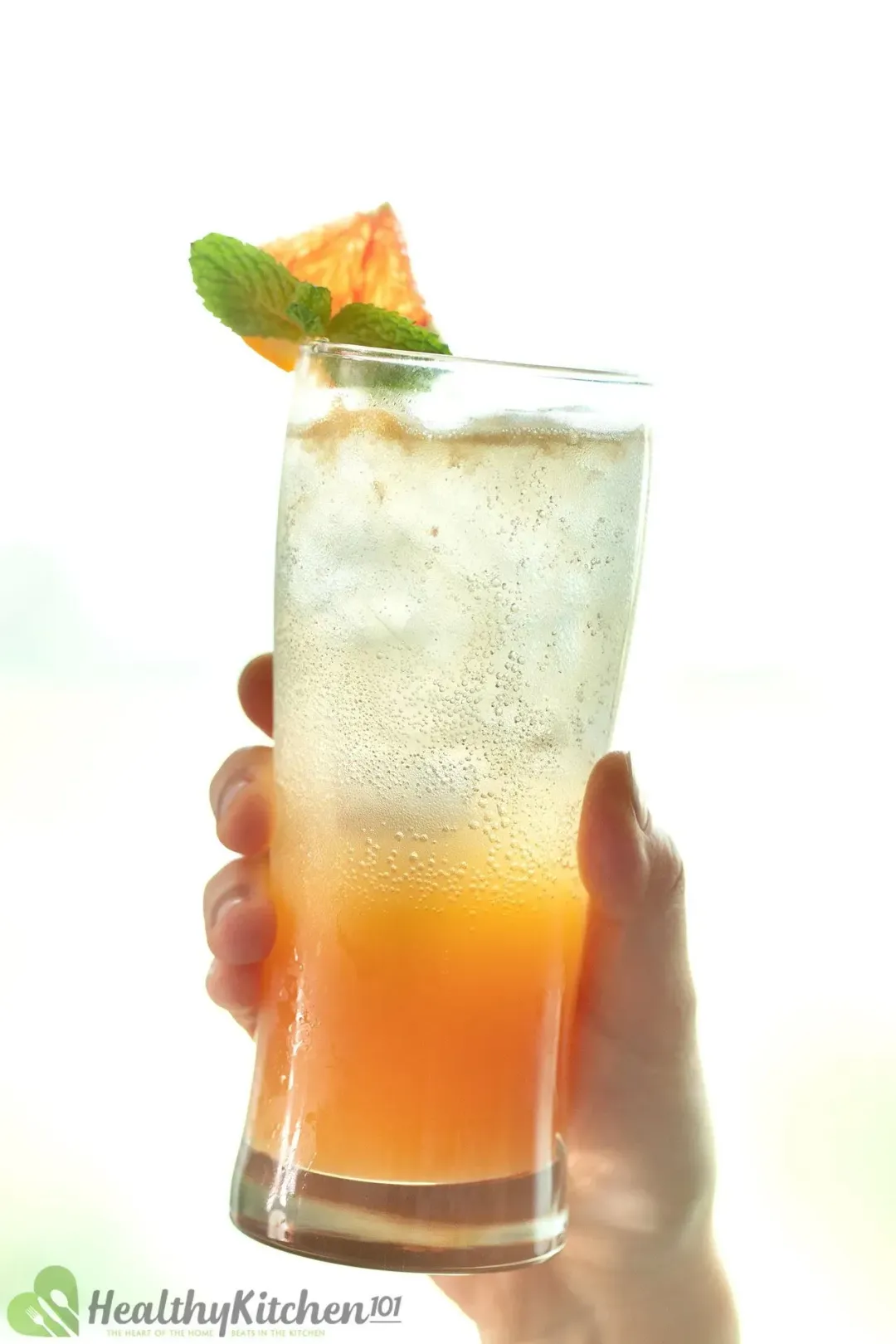 At the Greyhound bus station, the drink was originally made with gin. The formula changed after vodka became more popular, thanks to its flavorless flavor, which makes up its versatility.
If you're interested in knowing other cocktails involving vodka, there are many, and we've recreated quite a lot:
Is Vodka and Grapefruit Juice Good for You?
Cocktails, or alcoholic beverages in general, are not considered healthy as they contain alcohol. It packs calories (7 per gram), has no additional micronutrients, and is proven to do more harm than good.
However, knowing you love cocktails so much and can't cross them out from your diet, we've been trying to recreate healthier versions of them. The drinks we formulated, including this one, comply with the USDA's guidelines on alcohol consumption (listed on page 49).
Specifically, men should not have more than 28 grams of pure alcohol in a day, and for women, the limit is 14 grams.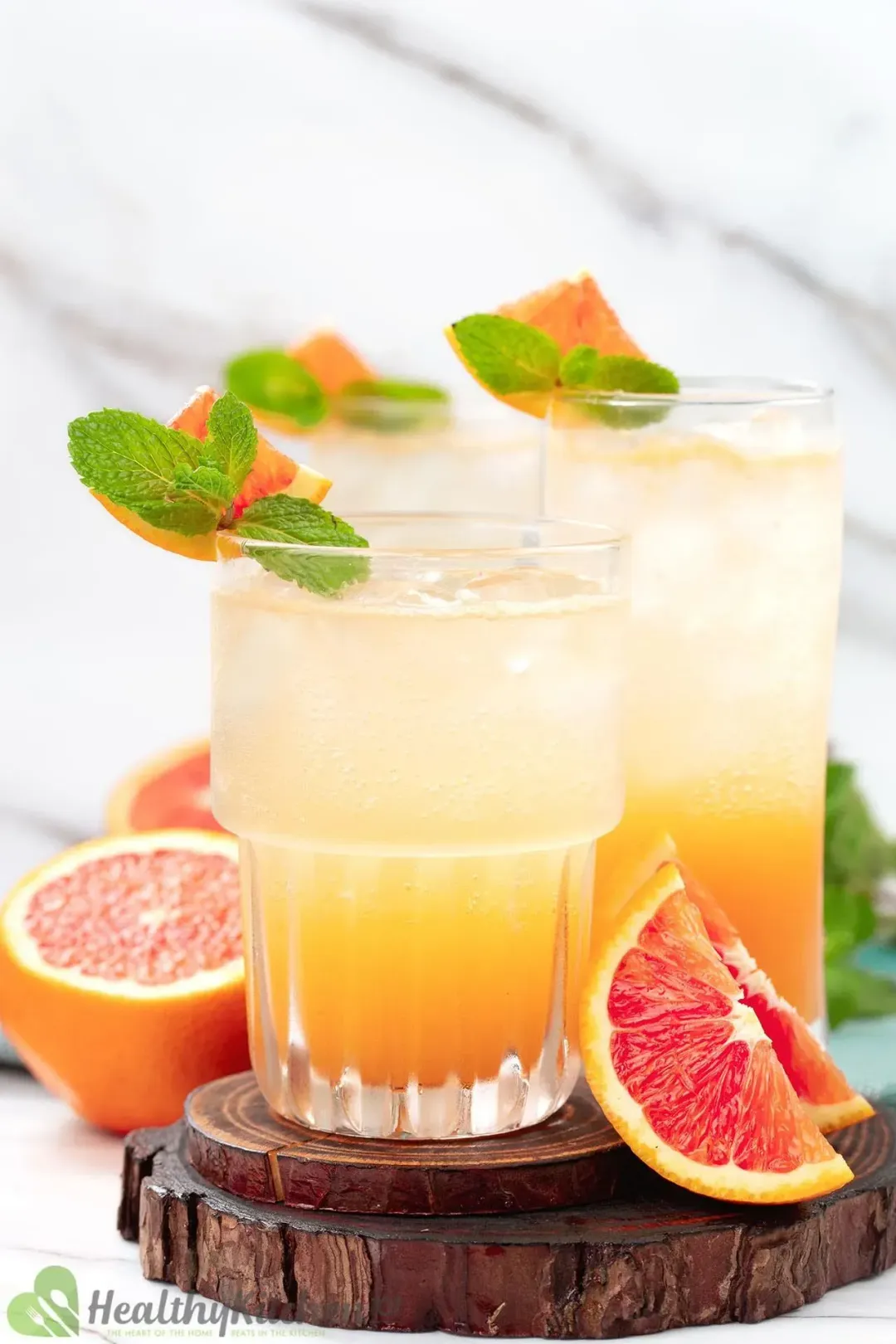 So, this vodka and grapefruit juice recipe isn't really a healthy drink option, but it's healthier than many other versions. There is less than 14 grams of pure alcohol in each serving, and it is no less cocktail than a regular greyhound.
Although there isn't much grapefruit juice in each serving, it is still packed with vitamin C. One drink has around 20% of vitamin C's DV, which can assure your vitamin C intake  combined with a healthy diet.
For more delicious check out our healthy and delicious juice recipes.
Greyhound Drink Ingredients
The original Greyhound recipe is really straightforward with only vodka, grapefruit juice, and with or without ice. We added a few more ingredients and ended up loving it more than the classic:
Sugar: to ease the tartness of grapefruit. If you have very sweet grapefruit, cross sugar out of the recipe.
Soda: carbonation boosts the citrus flavor, so that the cocktail will taste extra tasty.
Mint: for freshness and garnish.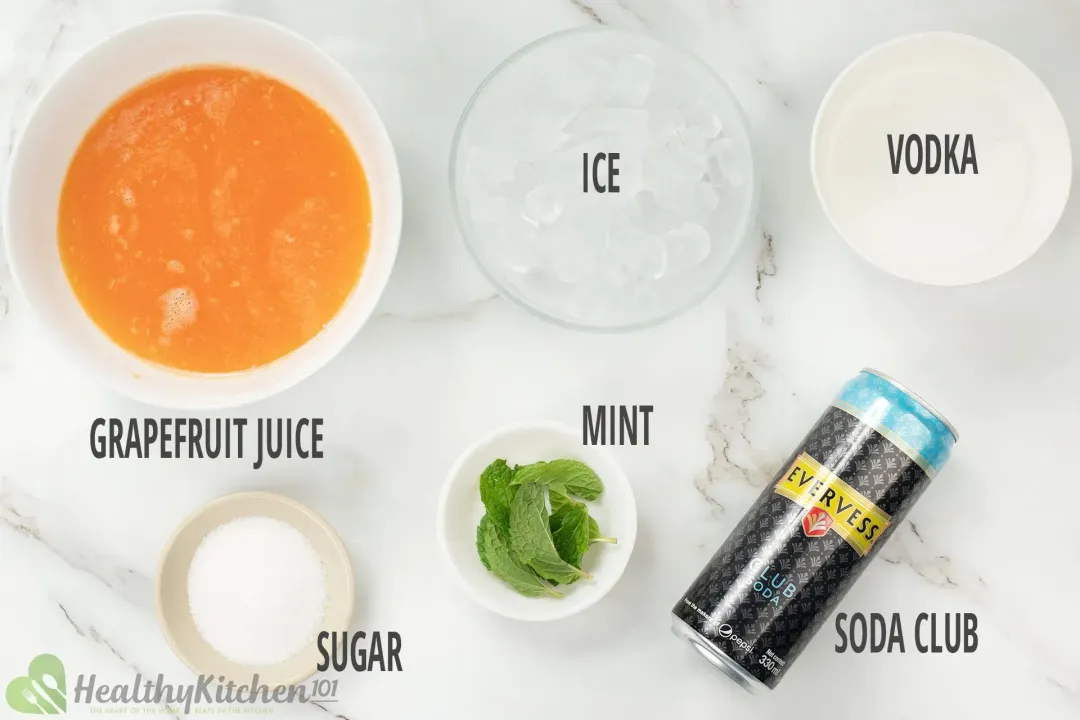 Can You Use Gin Instead of Vodka? 
Although vodka's been a replacement for gin ever since, gin and grapefruit still have their own vibe and are still served at bars. You can mix gin and grapefruit juice to have the original cocktail.
We also tried making many versions of gin and grapefruit and ended up with something much better. Our take on the cocktail includes thyme leaves, cinnamon, orange juice, and citrus to boost the flavors even more.
How to Juice a Grapefruit
Juicing a grapefruit is as easy as juicing an orange, as they have the same size and both belong to the citrus family. All you need to do is slice the fruit in half, then squeeze it hard with your hands or use a citrus juicer.
If you're a big fan of grapefruit juice, this Easy And Delicious Grapefruit Juice Recipes might be of help.
How to Make Vodka and Grapefruit Juice
Greyhound drink is pretty straightforward: mix the ingredients, add ice cubes (or not), and top with soda. Garnish with mint leaves.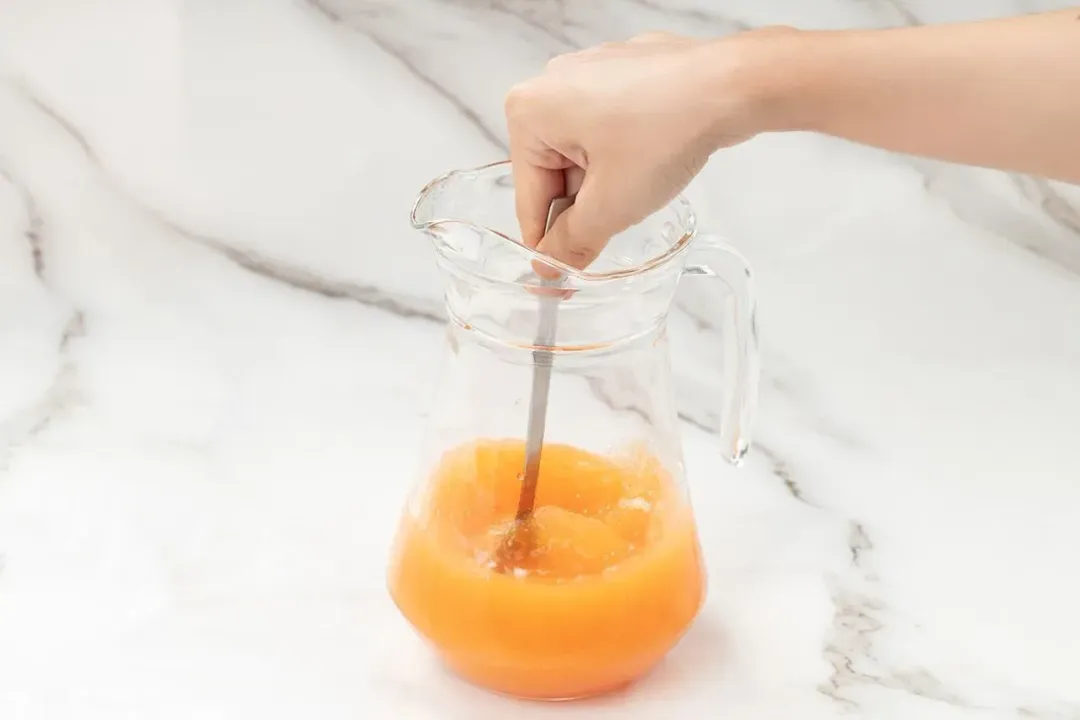 Step 1: Mix ingredients together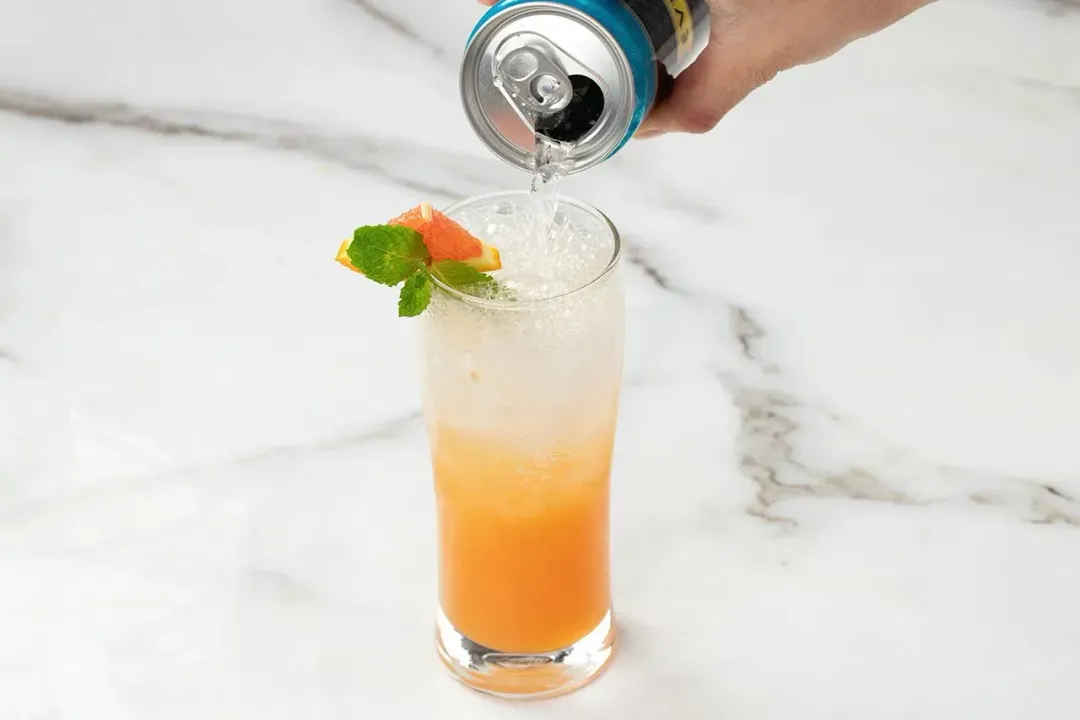 Step 2: Garnish, add soda, and serve
If you do have a cocktail shaker, use it to mix the ingredients. It'll incorporate everything faster, better, especially crucial for drinks with fruit juices, sugar, or egg whites.
Do note that by using a cocktail shaker, your drink should be chilled and watered down as the ice melts into it. So if you're planning to serve it in a large pitcher with ice, do stir the ingredients by hand instead of using the shaker.
Check out this healthy grapefruit juice compilation for more tasty drinks.
How Long Does Vodka and Grapefruit Juice Last?
Since there are no precise rules for keeping cocktails, we have to look at  their components.
At room temperature, liquors like vodka can last very long whereas fresh juice only stays good within 2 hours. Organic foods like juices should be kept in the fridge and used within one or two days.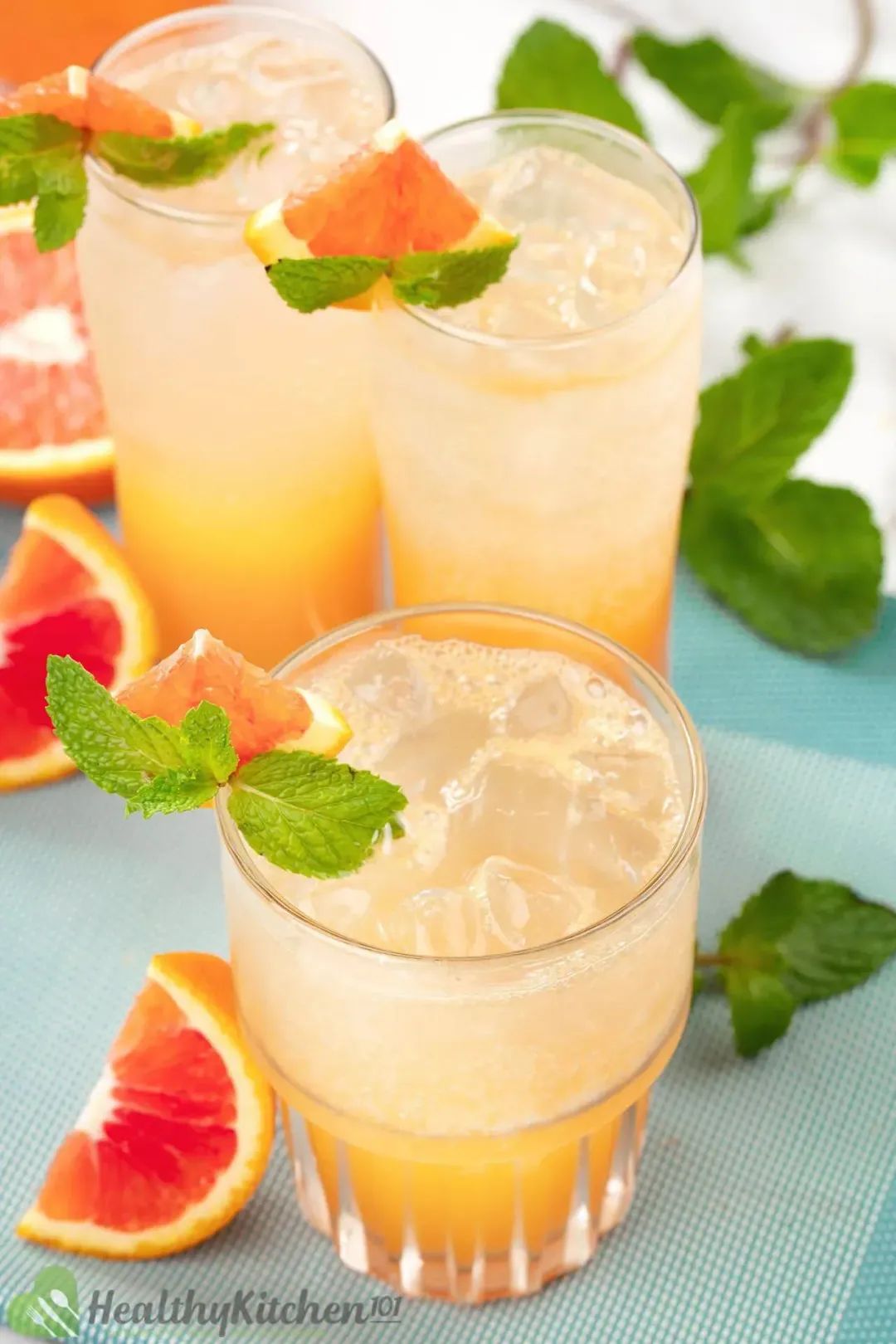 Since it takes just minutes to make the cocktail, we recommend making just enough so you can enjoy it fresh and chilled. Also, it has soda, so it'll get flat if left sitting out for too long.
Looking for more ways to include grapefruit juice in your routine? Try our grapefruit gin cocktail and this soda-free paloma cocktail recipe. Or, for a much healthier option, try our grapefruit and apple cider vinegar drink.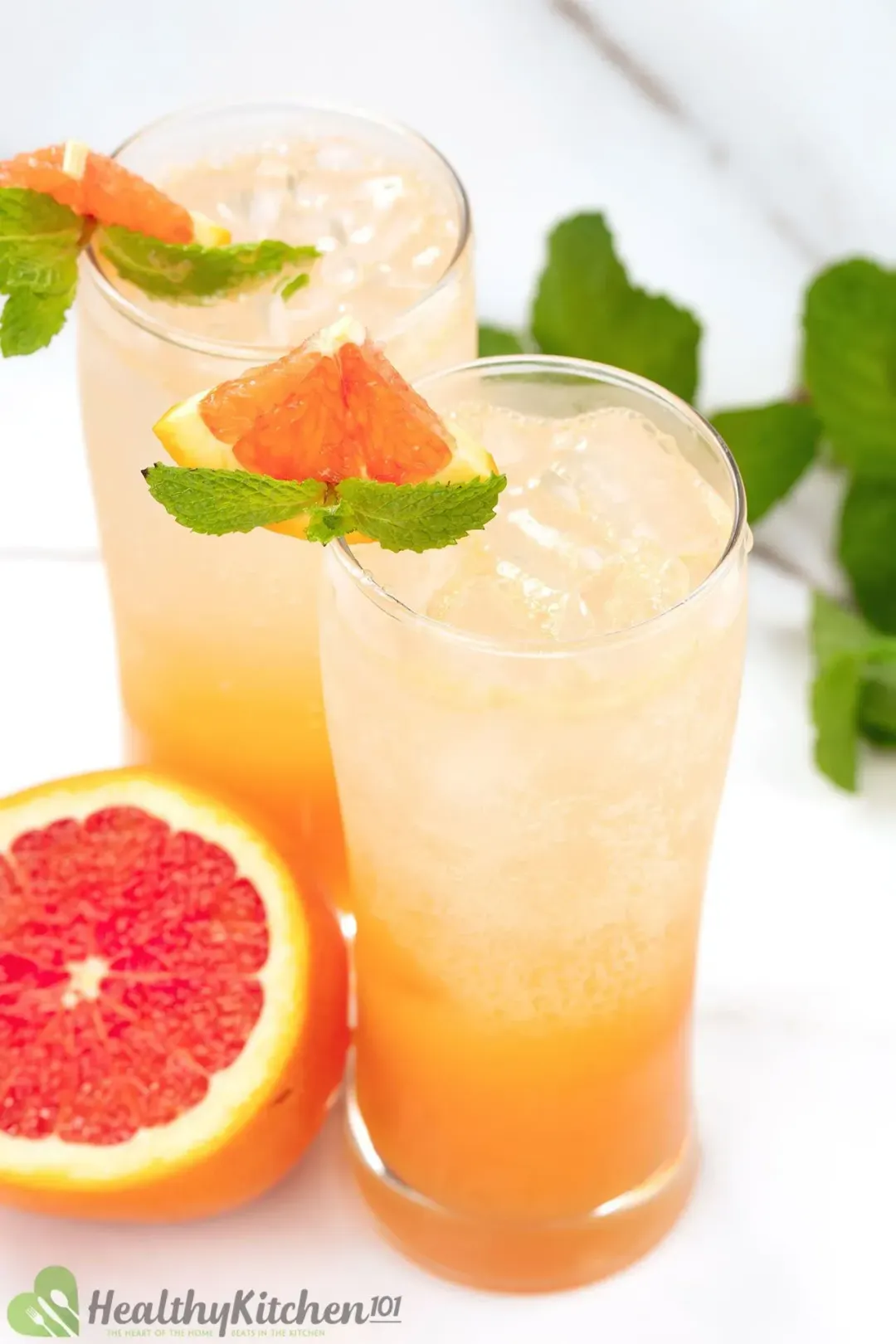 Vodka and Grapefruit Juice
This vodka and grapefruit juice recipe can help you make a tasty drink that also looks gorgeous. Just with two steps and in 5 minutes.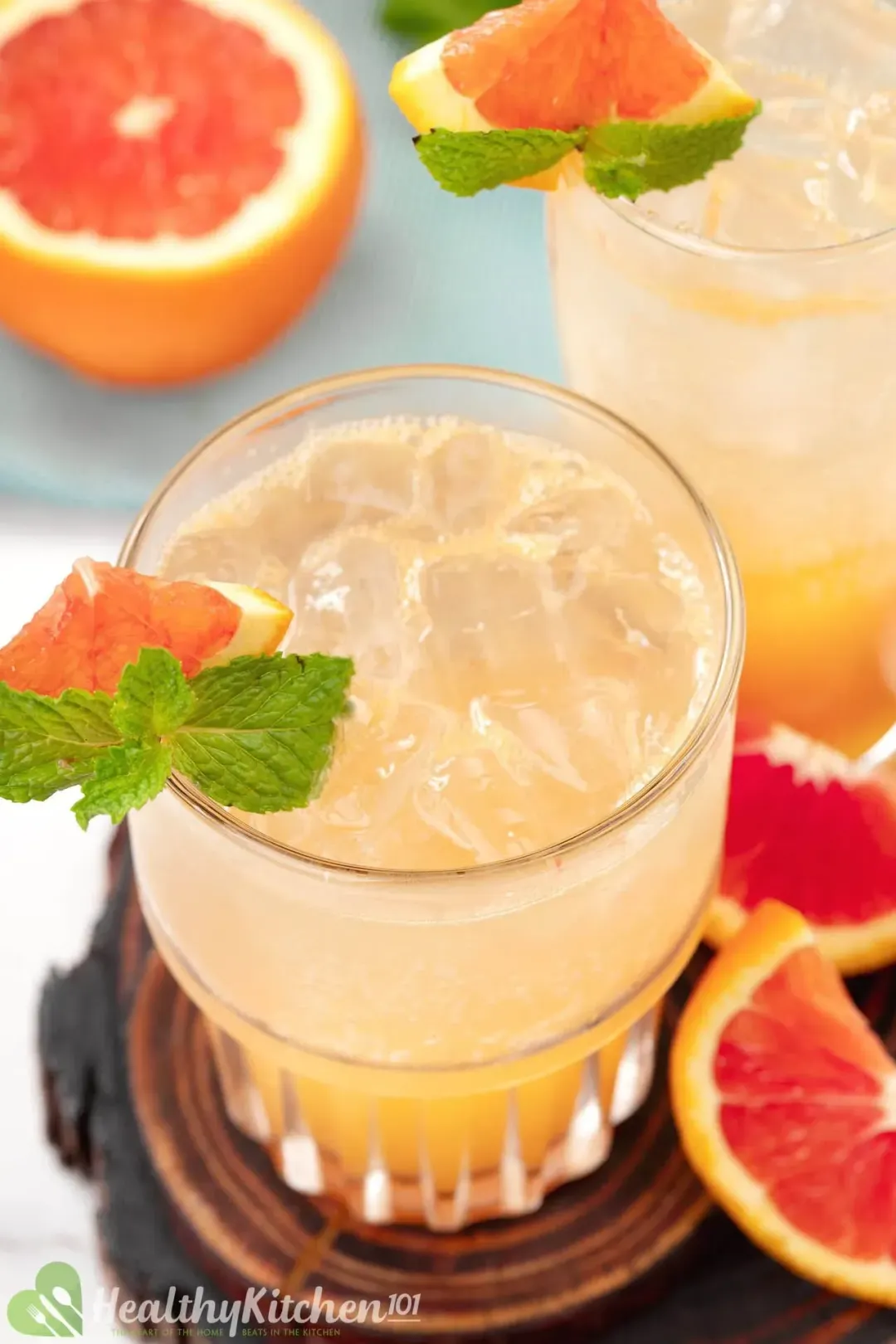 prep TIME

5 mins

total TIME

5 mins
COURSE

Beverage

CUISINE

Global

SERVINGS

CALORIES

116 kcal
INGREDIENTS
10 fl oz

grapefruit juice
INSTRUCTIONS
1
Stir 4 fl oz vodka, 10 fl oz grapefruit juice, and 2 tbsp sugar in a large pitcher until all of the sugar is dissolved.
2
Pour the cocktail into serving glasses to serve. Add mint leaves, ice (the ice is optional), and top each glass with 1/4 cup soda. Serve.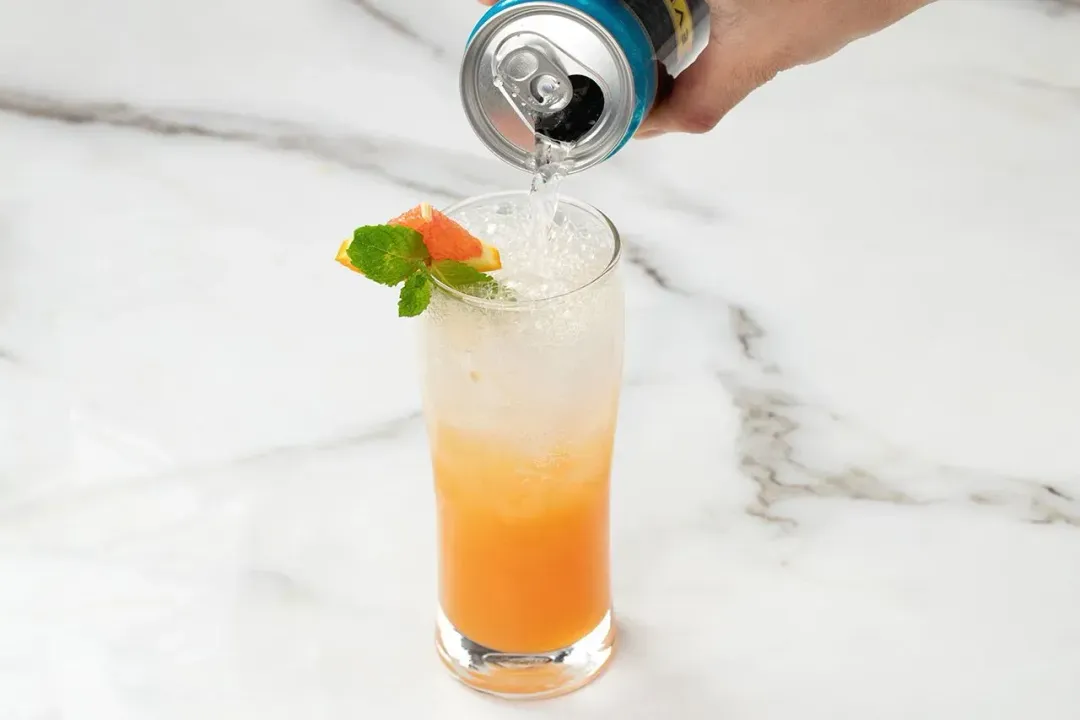 NUTRITION
Nutrition Facts
Vodka and Grapefruit Juice
Amount Per Serving (1 serving)
Calories 116
% Daily Value*
* Percent Daily Values are based on a 2000 calorie diet.
Keywords: grapefruit juice and vodka, Greyhound Drink, vodka and grapefruit juice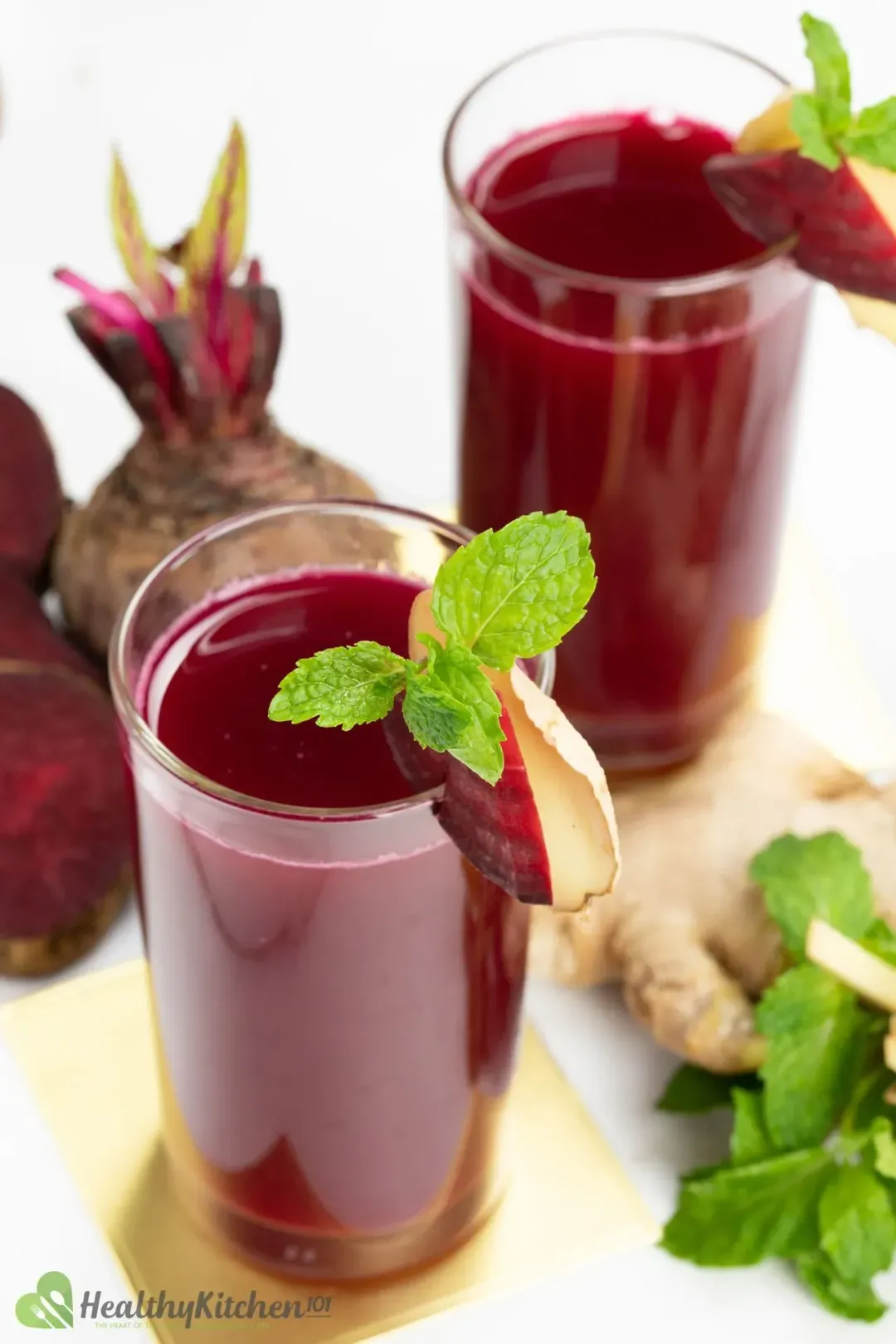 Previous Recipe
Ginger Beet Juice
Ginger Beet Juice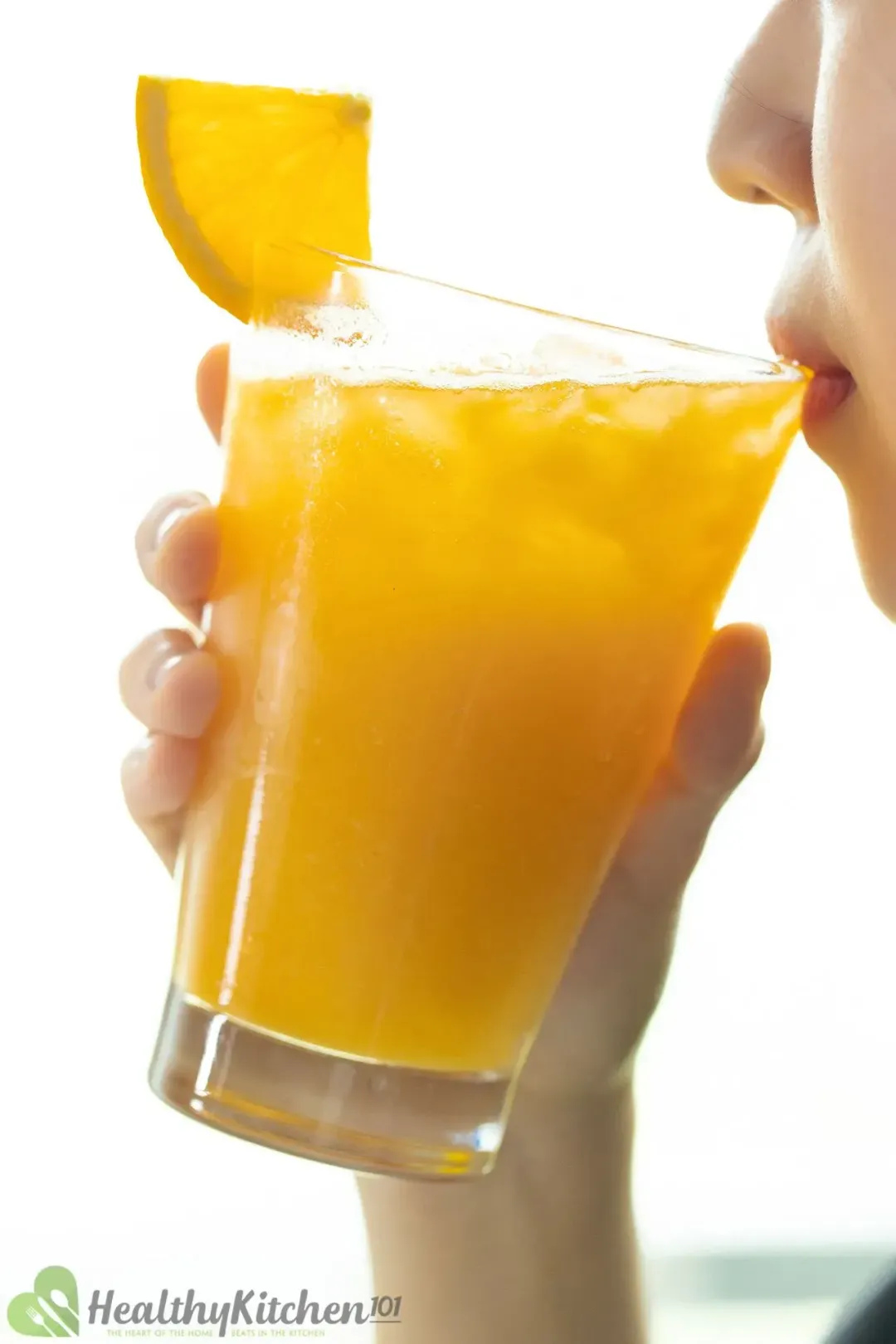 Next Recipe
Orange Mango Juice
Orange Mango Juice
Writer, Author
Luna Regina is an accomplished writer and author who dedicates her career to empowering home cooks and making cooking effortless for everyone. She is the founder of HealthyKitchen101.com and HealthyRecipes101.com, where she works with her team to develop easy, nutritious recipes and help aspiring cooks choose the right kitchen appliances.
Nutrition Reviewer
Lizzie Streit is a Minneapolis-based dietitian and founder of It's a Veg World After All. She completed her MS in Human Nutrition from Drexel University, and is an expert in culinary nutrition, recipe development, and nutrition communications. Lizzie's philosophy is centered around making nutrition recommendations, and especially the advice to eat more vegetables, approachable and realistic. She is excited to be working with the team at Healthy Recipes 101 to ensure that their recipes are both nutritious and delicious.
This came out pretty good and quick to make!