In today's ginger lemon honey apple cider vinegar recipe we'll show you a quick and easy way to incorporate apple cider vinegar into your diet. Our chefs take care of the taste and our nutritionist helps with the nutritional profile, so you can rest assured that this drink is not only healthy but it also tastes incredible.
This drink may not sound as cool as a 'blueberry blast' or other trendy drinks; but hey, that doesn't mean it's not fantastic in its own way. This flavor profile might just blow you away:
Lemon and honey make a sweet, zingy base that everyone loves.
Apple cider vinegar enhances the zing and adds a unique flavor twist.
Everything is tied together with warm notes from the ginger, which creates that soothing feeling we all need once in a while.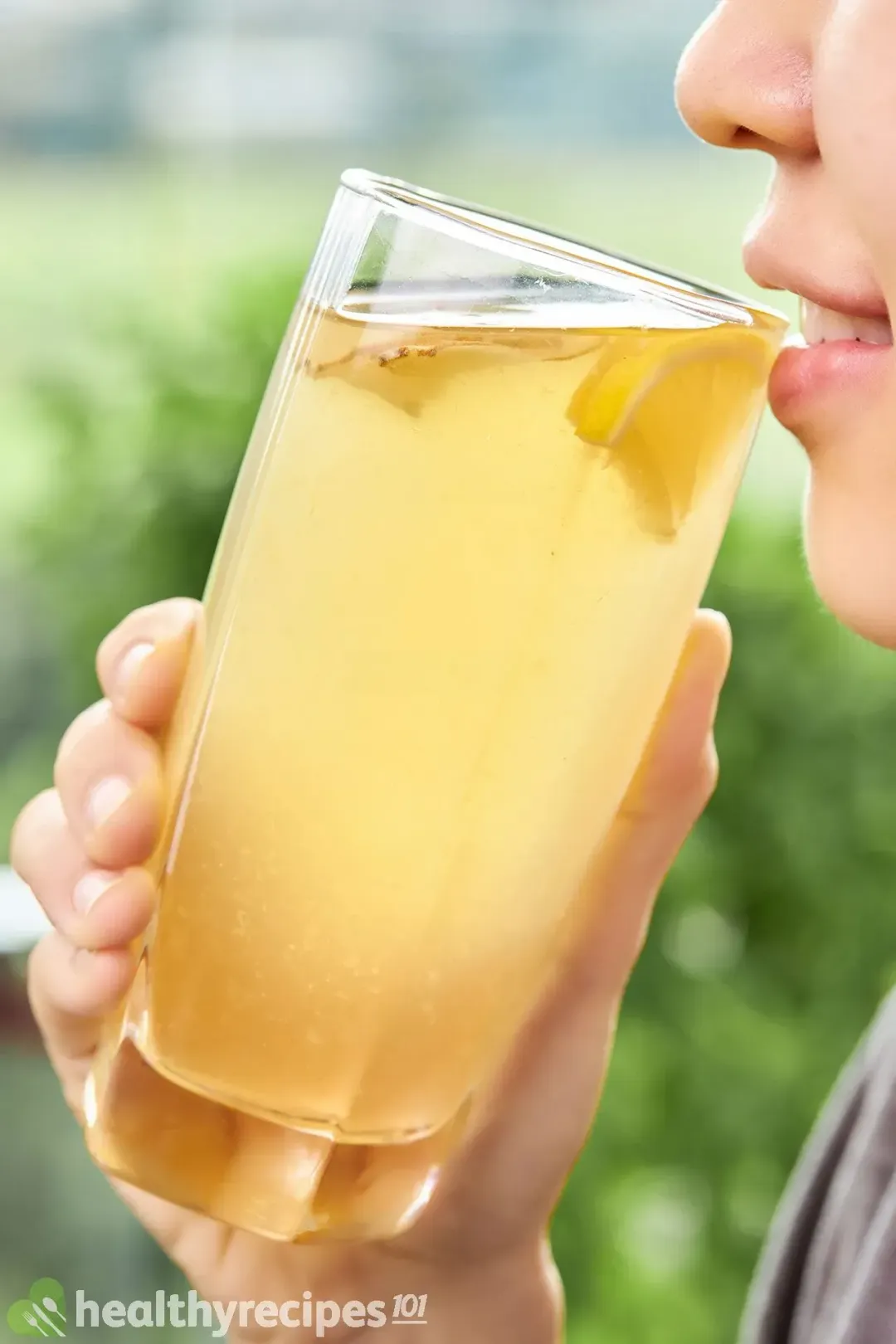 This combination of ingredients makes for a delicious and relaxing thirst quencher that's quite healthy. Keep reading to learn all about its health benefits.
Main Ingredients for This Drink and Their Health Benefits
1. Apple Cider Vinegar
These benefits of this sour substance have been circulated in the media: reduces body fat, lowers insulin and blood sugar, improves insulin sensitivity, and many more:
Aids weight loss
Lowers cholesterol
Boosts immunity 
Improves heart health 
Improves digestion
Helps balance the gut microbiome
Balances pH levels and blood sugar levels
They are, however, yet to be confirmed as they lack solid evidence and research. Until then, we'd like to think of vinegar as a flavoring that comes with trace minerals in them.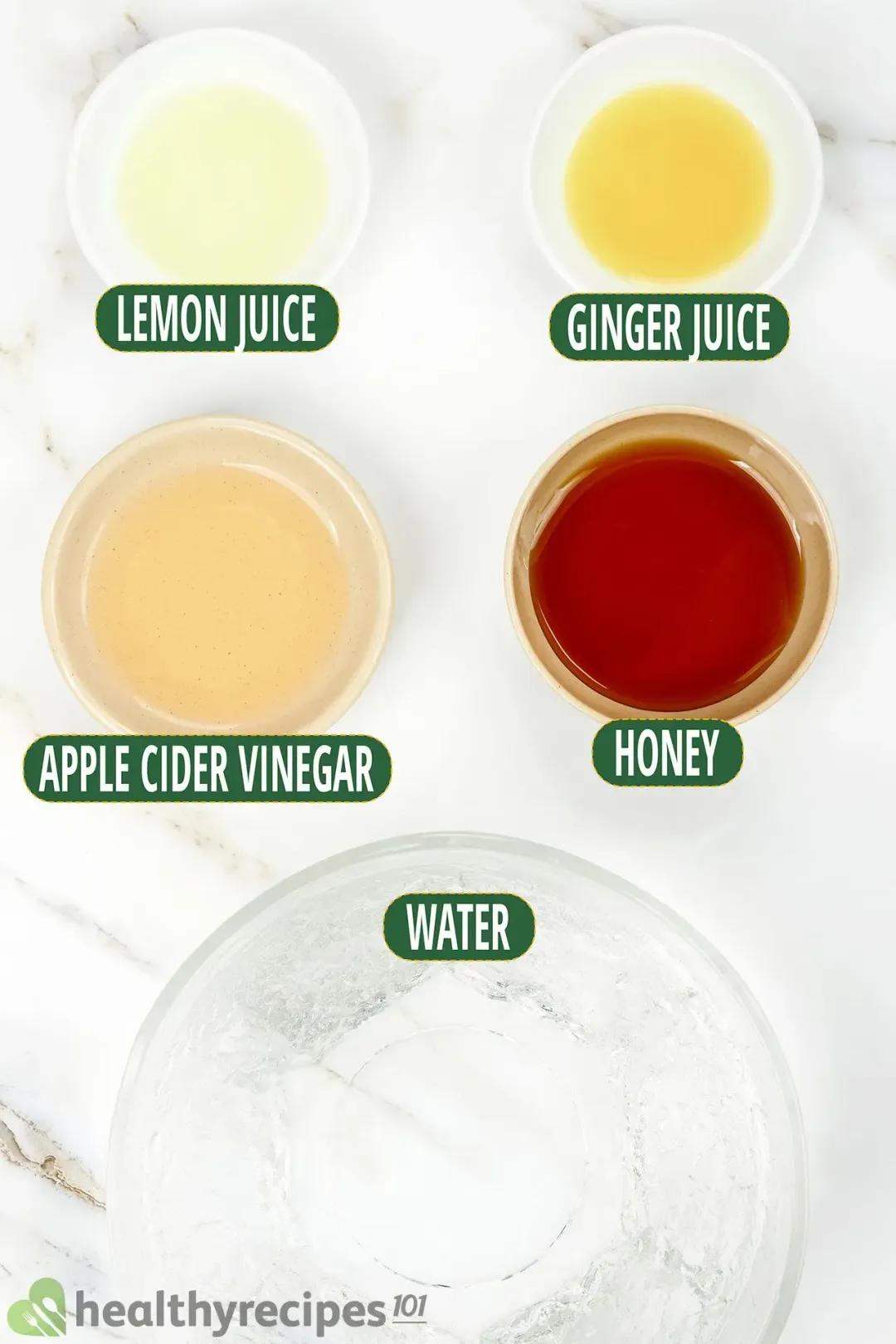 If you're up to making the condiment on your own, our instructions for how to make apple cider vinegar may be helpful.
2. Ginger
Ginger is a well-known herbal remedy for colds thanks to its antibacterial qualities. Besides having antioxidant and anti-inflammatory properties, the presence of ginger in your daily meals can benefit your body's health as it may:
Prevent the growth of certain bacteria, especially oral
Ease nausea and reduce flatulence
Soothe muscle aches
Reduce swelling
Ease menstrual cramps
3. Lemon
Lemon juice is a powerful source of vitamin C and folate. Similar to gingerols, vitamin C is among the antioxidants that possess the above-mentioned benefits to the human body.
You can have a look at more of its many health benefits here.
4. Honey
Honey comes last in our combination to round off the juice. With its sweet taste, you can flush it down smoother and easier.
Although not much, trace amounts of enzymes and antioxidants can be found in honey. It's considered a type of added sugar in diets, but with a tad bit more nutrients.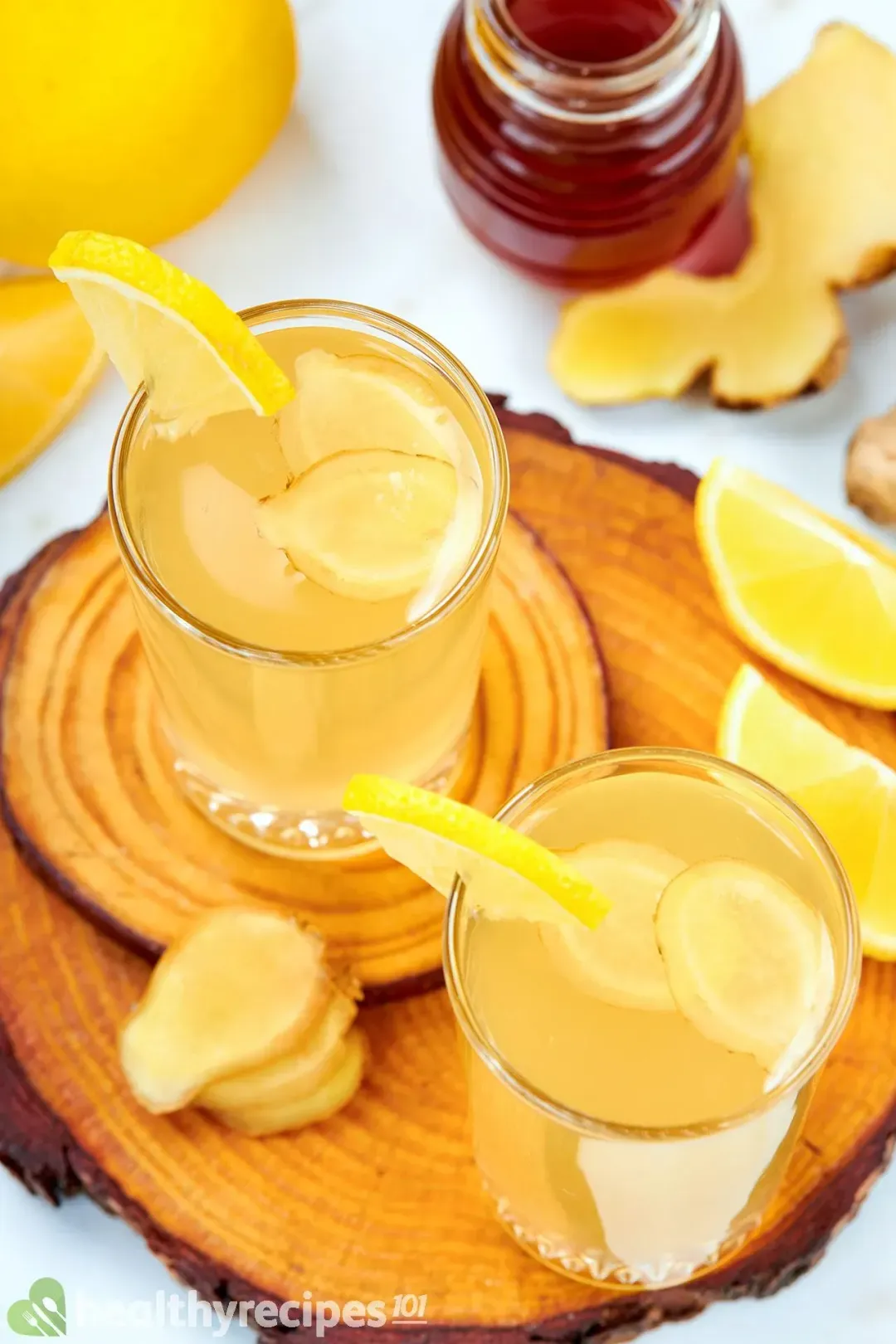 5. Nutritional Profile
Our healthy eating guidelines are strict in calorie input and consumption of certain important dietary components. For this drink, we keep the calorie and added sugar within acceptable ranges as agreed with our nutritionist.
When to Drink Ginger Lemon Honey Apple Cider Vinegar
It's ideal that you take this drink along with important meals of the day. We suggest a maximum of three servings per day only. Since it promotes digestion, this drink can also be taken before a meal or half an hour before going to bed. That being said, there are no set rules on the best time to consume this drink. Drink it whenever suits you best.
What Are the Side Effects of Drinking Apple Cider Vinegar Every Day?
It's always recommended to go slow with drinks that contain apple cider vinegar. Besides the positive effects of apple cider vinegar, like any other food, it does come with precautions.
A recommended dosage of apple cider vinegar is 1–2 tablespoons daily. Since its acidic properties are quite prominent in a high concentration, it's also recommended to, rather, consume the diluted version of it.
Some of the possible side effects if the daily consumption of apple cider vinegar exceeds the recommended amounts are:
Tooth enamel erosion: Apple cider vinegar is fairly acidic, so it's likely to react with your tooth enamel and gradually break it down if not diluted properly. You'll also need to rinse your mouth with water after drinking vinegar drinks.
Potential drug interactions: If you're on medication, seek medical advice from your doctor to see if there are any negative drug interactions. As an acid, ACV may react with some laxatives, diuretics, and certain medications for diabetes and heart diseases.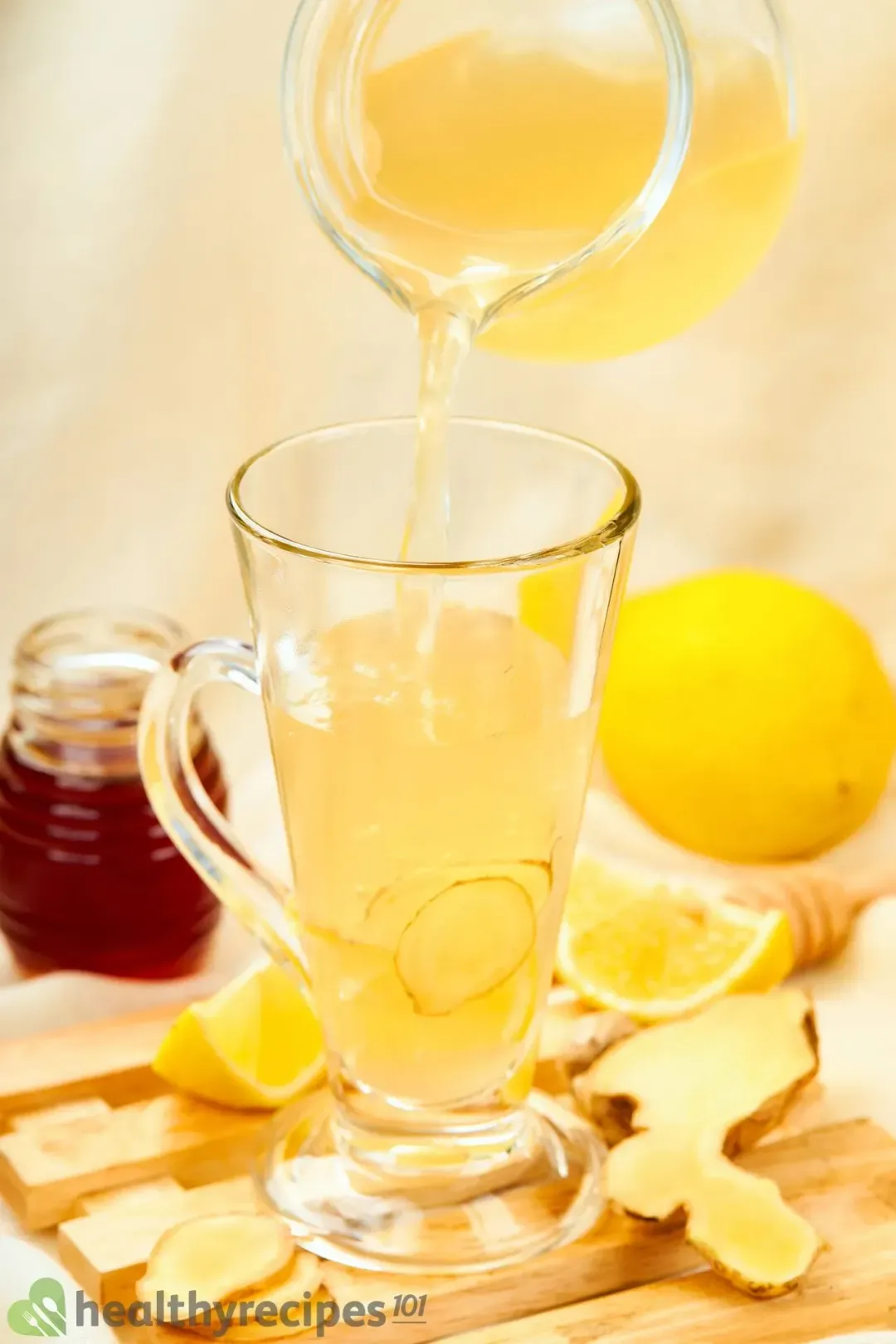 Tips to Make
Since honey doesn't dilute very easily, you can consider stirring it with warm water first.
If you don't feel like making ginger juice, you can substitute it with ginger powder. We recommend using 1 tsp of ginger powder in place of 1 tbsp ginger juice. Dilute the powder in 2 tbsp of warm water first, then whisk to mix it with other liquid ingredients.
The drink can last for the whole week in the fridge, so it's a good idea to make a big batch and keep it all in the fridge. Simply mix it in a mason jar and you'll have it ready any time you feel like taking a sip. Remember to shake well before pouring.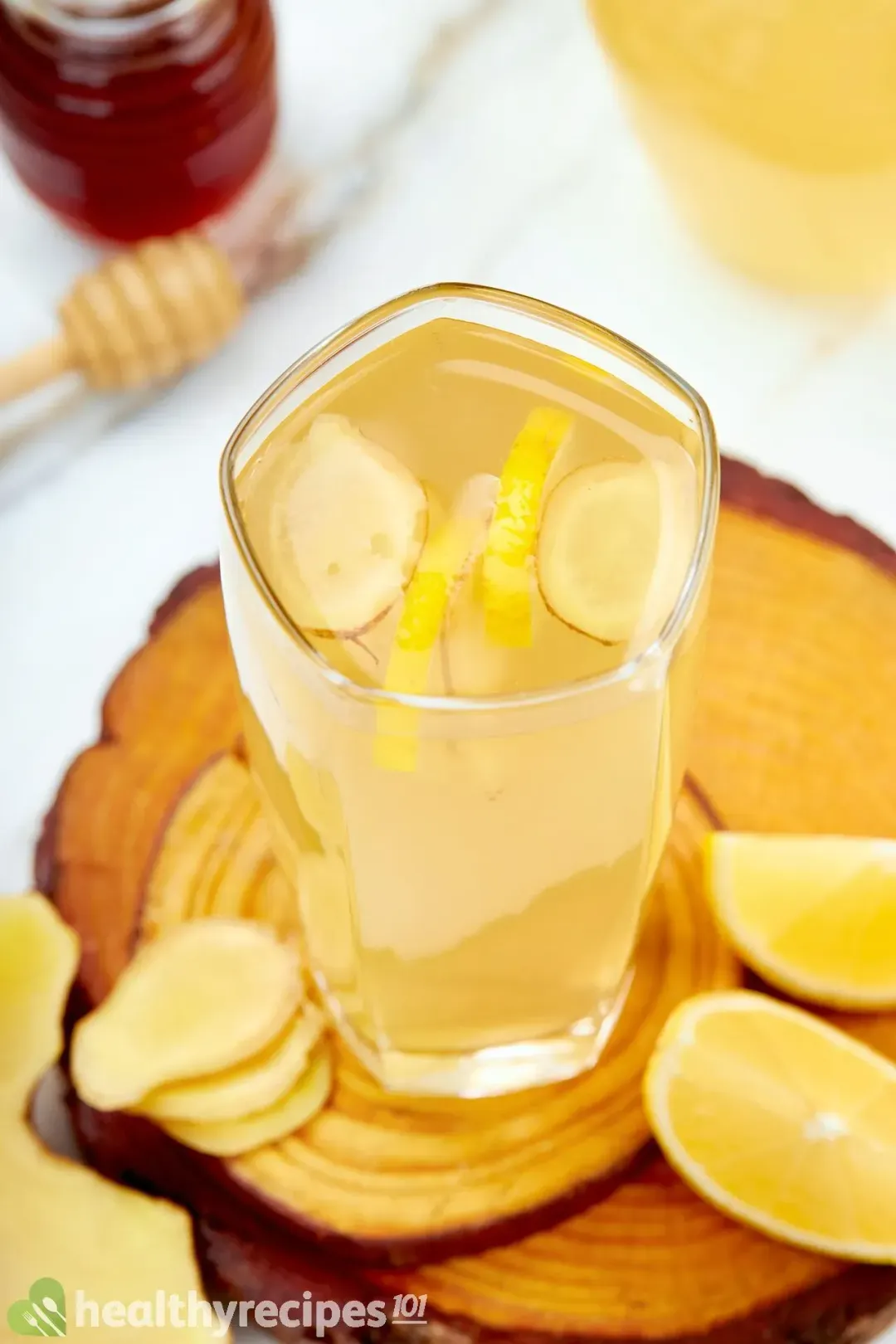 More Apple Cider Vinegar Recipes
There's more than one way to drink apple cider vinegar. Here are a couple of other (delicious) ways we use to incorporate this healthy ingredient into our diet:
Ginger Lemon Honey Apple Cider Vinegar
The simple 5-ingredient combination in today's ginger lemon honey apple cider vinegar recipe is refreshingly sweet and zingy! It's a tasty detox-cleansing juice with overflowing vitamins and nutrients to energize you throughout the day.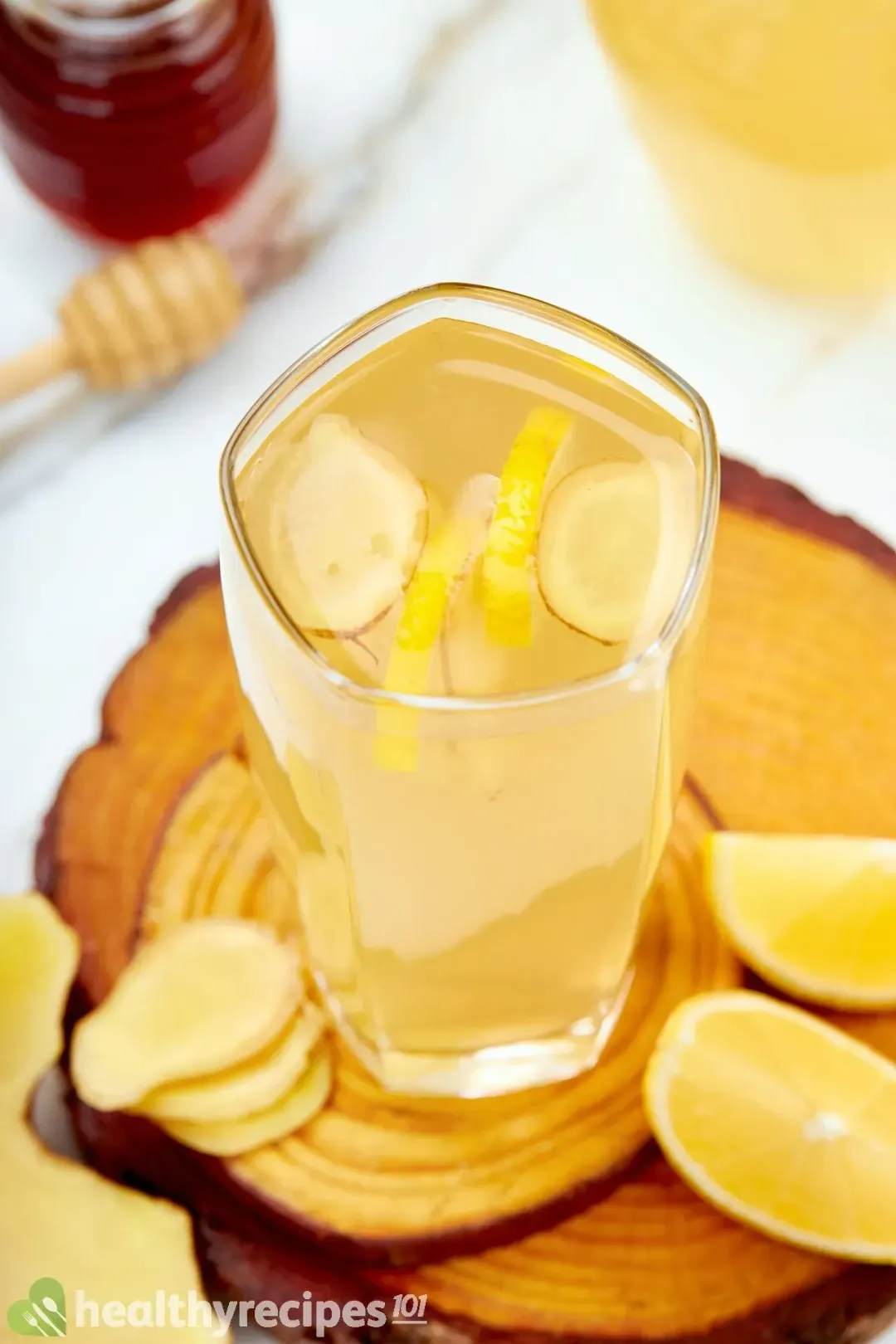 prep TIME

10 mins

total TIME

10 mins
COURSE

Beverage

CUISINE

American

SERVINGS

CALORIES

56 kcal
INGREDIENTS
2 tbsp

apple cider vinegar

1 tbsp

ginger juice

(from 1 oz ginger)
INSTRUCTIONS
1
In a large pitcher, combine all the ingredients: 3 tbsp honey, 2 tbsp apple cider vinegar, 2 1/2 cups water, 1 tbsp lemon juice, and 1 tbsp ginger juice. It helps to dilute honey by gradually adding in warm water first, then stir in the rest of the ingredients.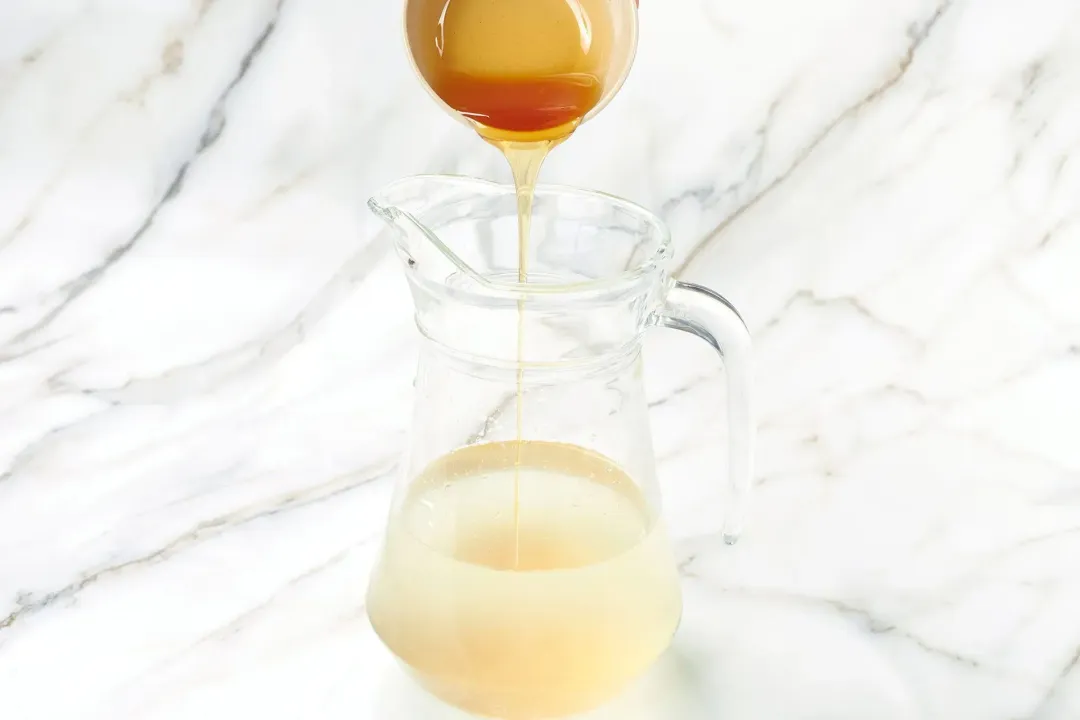 2
Whisk for a solid 30 seconds until well incorporated.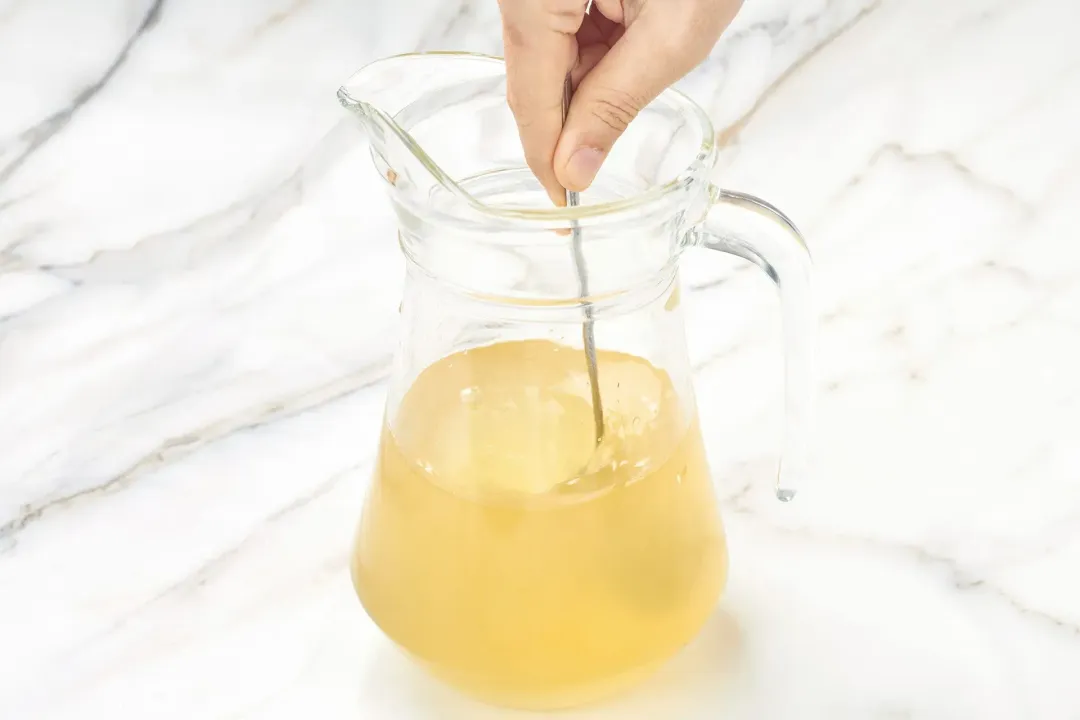 3
Slice some ginger and lemons for garnish, if you desire, and place them into serving glasses. Pour the drink in as well. Enjoy it chilled over ice or as-is.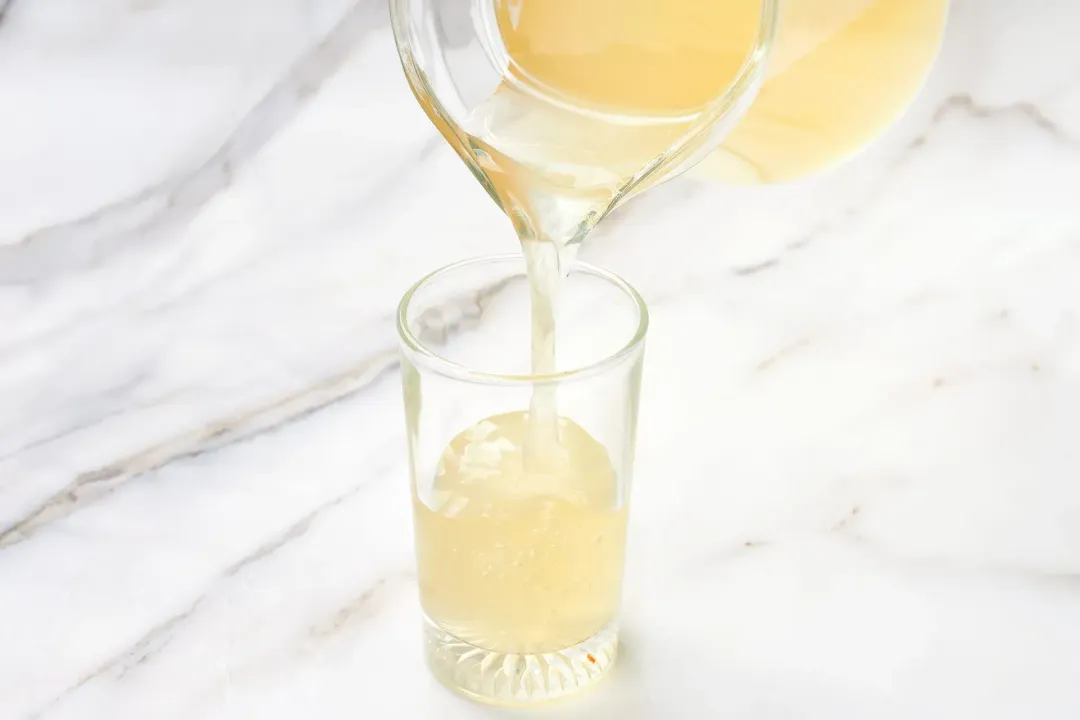 NUTRITION
Nutrition Facts
Ginger Lemon Honey Apple Cider Vinegar
Amount Per Serving (1 serving)
Calories 56
% Daily Value*
* Percent Daily Values are based on a 2000 calorie diet.
Keywords: ginger and honey apple cider vinegar, ginger lemon honey apple cider vinegar, how to make ginger lemon honey apple cider vinegar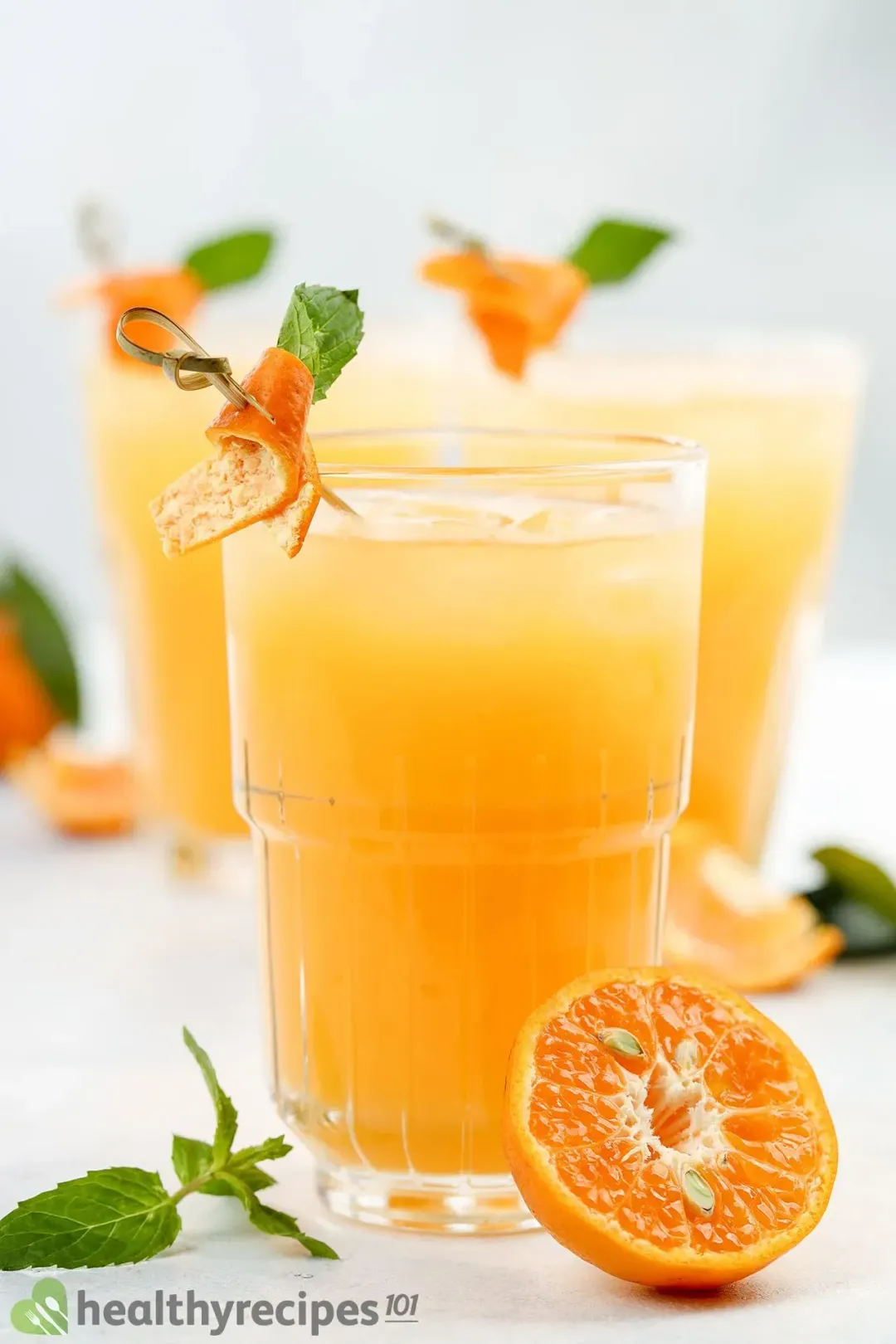 Previous Recipe
Tangerine Juice
Tangerine Juice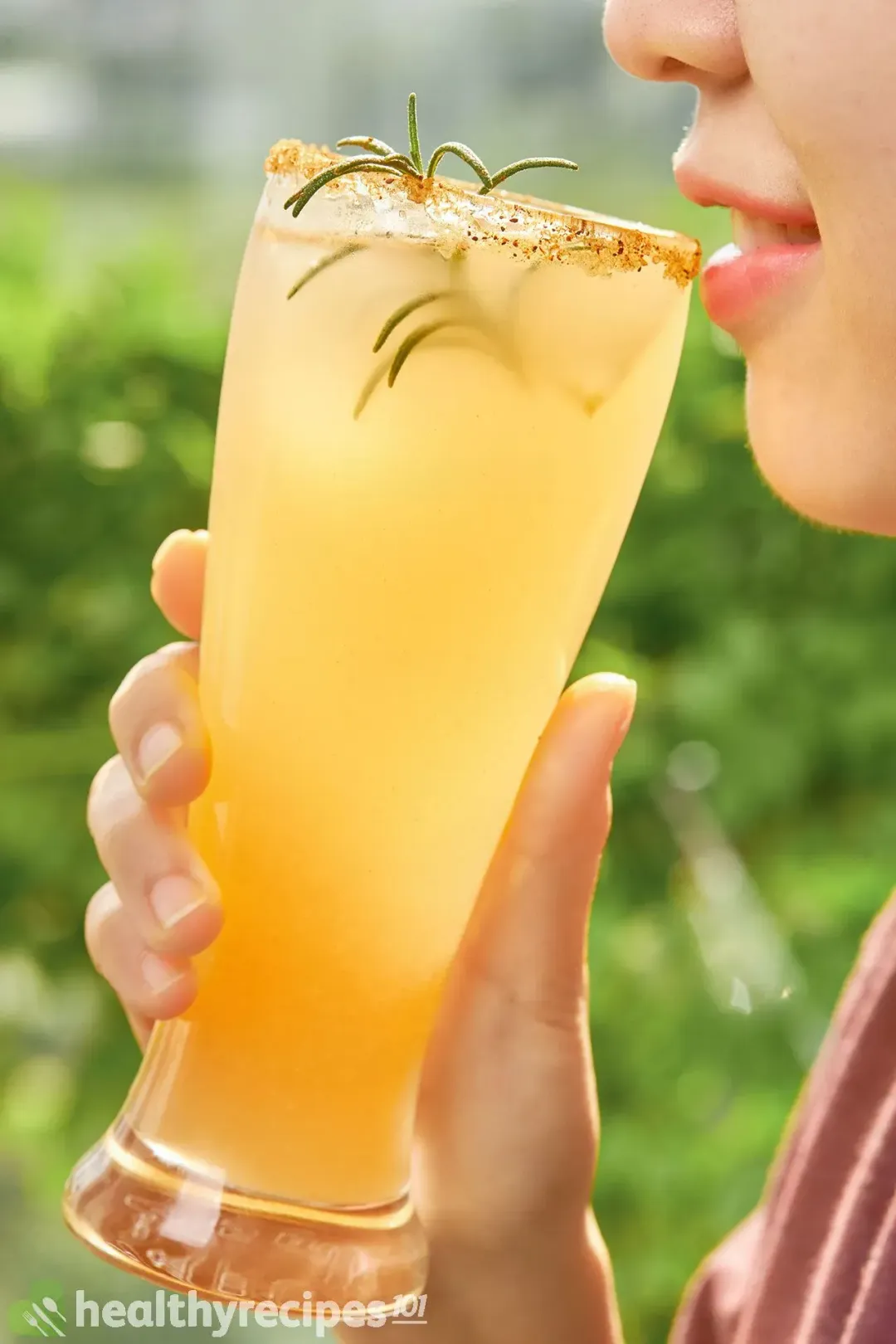 Next Recipe
Apple Cider Margarita
Apple Cider Margarita
Head Chef, Culinary Consultant
Tuyet Pham is an award-winning Saigonese chef who believes that joy is the secret ingredient to delicious food. At Healthy Recipes 101, Tuyet personally tests and simplifies every recipe, ensuring maximum flavor with minimal effort. With a background at prestigious French restaurants P'TI Saigon and Le Corto, Tuyet knows how to make every dish exceptional.
Writer, Author
Luna Regina is an accomplished writer and author who dedicates her career to empowering home cooks and making cooking effortless for everyone. She is the founder of HealthyKitchen101.com and HealthyRecipes101.com, where she works with her team to develop easy, nutritious recipes and help aspiring cooks choose the right kitchen appliances.
Nutrition Reviewer
Lizzie Streit is a Minneapolis-based dietitian and founder of It's a Veg World After All. She completed her MS in Human Nutrition from Drexel University, and is an expert in culinary nutrition, recipe development, and nutrition communications. Lizzie's philosophy is centered around making nutrition recommendations, and especially the advice to eat more vegetables, approachable and realistic. She is excited to be working with the team at Healthy Recipes 101 to ensure that their recipes are both nutritious and delicious.
Thank you it was great reading your recipes you are recipes for detox of the body the body and I greatly appreciate you for your knowledge thanks again

Drinking it now and I feel light. Also, good for losing bell fat.

So glad you loved it, Pertha!

I'm not a "juicer" and don't want to buy a machine for this one recipe. I substituted whole fresh ginger – sliced & let sit in hot water (like making tea) then strained water & added the remaining ingredients.
My question is am I getting the benefits of the ginger by "steeping" fresh ginger like this? Is there a better way short of "juicing"?

Sure, you can get the same benefits you get from ginger tea by steeping fresh slices. And I suggest that, short of juicing, you can grate/mince the ginger to release more juice.

Can I make this and drink over 4 days or should it be consumed within a certain time frame?

We usually recommend keeping it for a max of 3 days but you can play it by ear and make sure it's not funky before drinking.

Just a little bit of effort everyday makes such a big difference!

Cheers to your health!!!

Can I drink this everyday morning with empty stomach? Thank you

Hey Rose, that shouldn't be a problem 🙂

It's a champion this and I like it and it's just take a easy morning and lunchtime also even on it and it's tastes a nothing for good helping weight loss will be down malt fat away

So glad you loved it, Anne!

How often do you have to drink this to reduce belly fat ?

Hey Kate. Unfortunately I can't recommend you a frequency for that.

Can someone who haa not gibe birth drink this drink

Hi there. This drink is made for everyone, as long as you are not allergic to any of the ingredients and your medical prescription doesn't mention avoidance or limited consumption of any of the ingredients, then yes it's drinkable.

Can u use ground Ginger, or how do u make Ginger juice??

Yes, you can use ground ginger for this juice. We'd recommend 1 tsp of ground ginger to substitute for 1 tbsp ginger juice used in our recipe. Simply dilute the ground ginger in 2 tbsp of warm water first, then whisk it together with other liquid ingredients.

I have used this recipe before. I think it is great!

Can you substitute powdered ginger? If so, what measurement?

Yes, you can use ginger powder. We'd recommend using 1 tsp of ginger powder in place of 1 tbsp ginger juice used in our recipe. Simply dilute the powder in 2 tbsp of warm water first, then whisk it together with other liquid ingredients.

What is the recommended daily serving amount?

As much as you'd want. Currently we have yet to find a suggested upper intake for this drink, but it does contain sugar and added sugar should be limited, depending on your calorie intake. You can take a look at this article to determine how much added sugar you should have per day.

Hi Luna how many times a day should I drink this and for how long, just to avoid this side affects

Try and limit it to two times a day for any duration of your detox.

I bought ginger root garlic cloves honey Apple cider vinegar and lemons

I USED FRESH GINGER AND PLACED INGREDIENTS IN BLENDER FOR REFRIGRATION ALSO ADDED A CLOVE OF GARLIC. GOTTA GET RID OF THIS FLU.