Our apple cider vinegar and lemon juice recipe makes a refreshing and therapeutic drink chock full of nutrients.
Add it to your list of National Vinegar Day (November 1) recipes for a unique, vibrant drink.
Healthy, wholesome beverages don't have to be dull and tasteless.
Our cucumber lemon detox water, this basic lemonade recipe, and now, this ACV drink are all testaments to that.
Apple cider vinegar is a vibrant, nourishing ingredient. Mixing it with lemon juice, sugar, and honey makes a delicious drink with a sweet tang full of health benefits.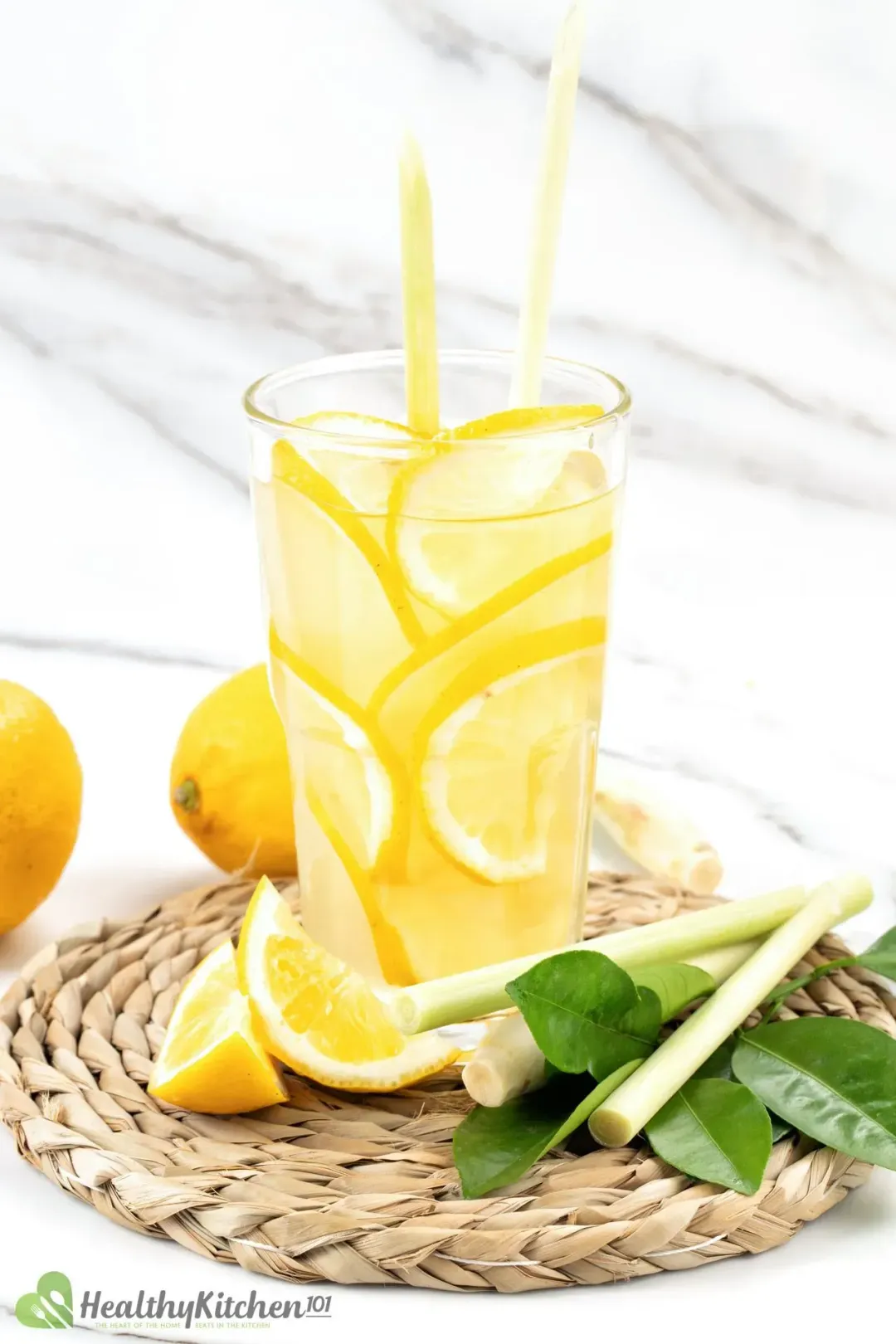 Read on to learn what these benefits are and how to prepare apple cider vinegar and lemon juice.
What Is This Drink?
Apple cider vinegar drink is a potent beverage for remedial purposes. You can occasionally use it for casual drinking while reaping its health benefits.
It's a drink typically made from apple cider vinegar and water. People generally add lemon juice, or other fruit juices, to make it less potent and more palatable.
Take care not to drink straight apple cider vinegar! Consuming vinegar straight can be harsh on the throat and poses a great risk of eroding your teeth enamel.
One study shows how the daily consumption of apple cider vinegar led to enamel erosion. So it's recommended to dilute it before drinking and reduce the consumption of acetic drinks to maintain healthy teeth!
Cinnamon and pepper are some of the popular flavors paired with apple cider vinegar drink to make the drinking experience more pleasant.
Healthy Benefits
Apple cider vinegar has long been used as a household disinfectant and food preservative. But is there any science-backed evidence to support its many purported benefits?
The better question is, what is apple cider vinegar?
It's a vinegar made by fermenting sugar (from crushed apples) to alcohol. The alcohol further converts to acetic acid, which composes at least 4% of the vinegar.
1. Anti-Diabetic
Acetic acid exhibits antioxidant and anti-cholesterol behavior. So it's no surprise that consuming apple cider vinegar over eight weeks reduced blood lipids in patients with hyperlipidemia.
Hyperlipidemia refers to high levels of fat in the blood that may result from diseases like diabetes. Thus drinking apple cider vinegar can be an inexpensive approach to treating hyperlipidemia.
However, drinking apple cider vinegar should not replace pharmaceutical approaches to treating hyperlipidemia.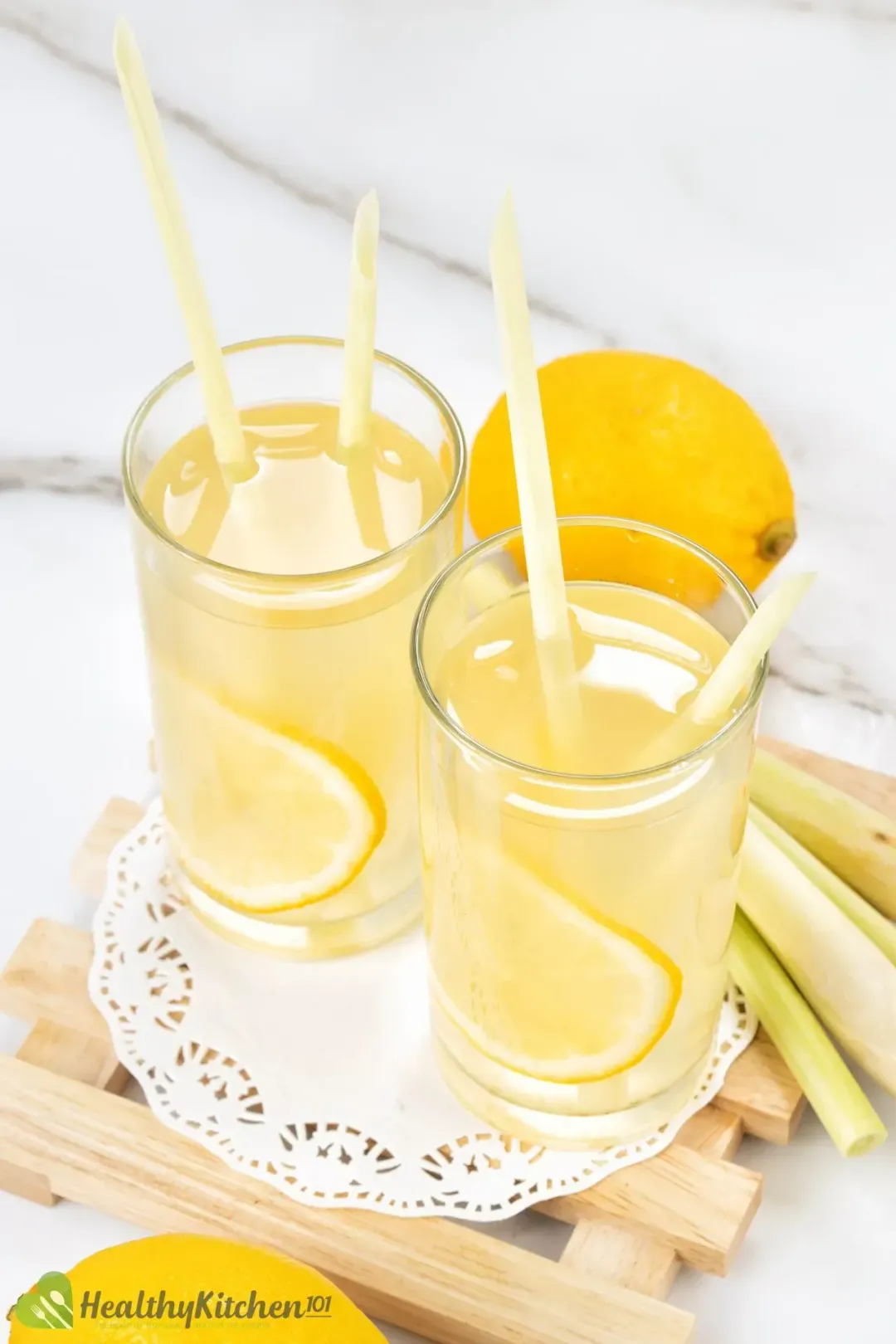 2. Weight Loss
Some animal studies also show how it may aid weight loss. Research shows how it improves metabolism, reduces and burns belly fat, and even suppresses appetite in rats.
And though this research is limited to animals, we can hope that future studies on humans will present similar results.
3. Vitamin C
The other main component, lemon juice, is a renowned source of vitamin C. Its antioxidant properties make it a proven force against factors that may harm the body.
Consuming vitamin C helps to fight against aging. It improves your immune system and contributes to building collagen for skin health.
Besides drinking it in this juice, you can regularly have plain lemon water to give you radiant, healthier skin.
4. Less Sugar
Our recipe also incorporates honey and sugar for a sweet element that balances the flavors.
We've added roughly two teaspoons of sugar per serving. This is within the USDA recommended guidelines and is only 37% of your daily added sugar limit.
How Often Should You Drink It?
You can drink apple cider vinegar and lemon juice daily. One 2016 study showed that the daily consumption of 15ml vinegar C (also containing acetic acid) was enough to positively affect hypertension, hyperlipidemia, and obesity.
Some people may feel the need to drink excessive amounts of apple cider vinegar to improve overall well-being. But drinking large amounts like 8 ounces may lead to adverse effects such as osteoporosis.
Also, there's no harm in incorporating straight apple cider vinegar in daily dishes like salads, condiments, and marinades. Mixing it with other ingredients helps with its taste and lowers the risk of drinking it straight.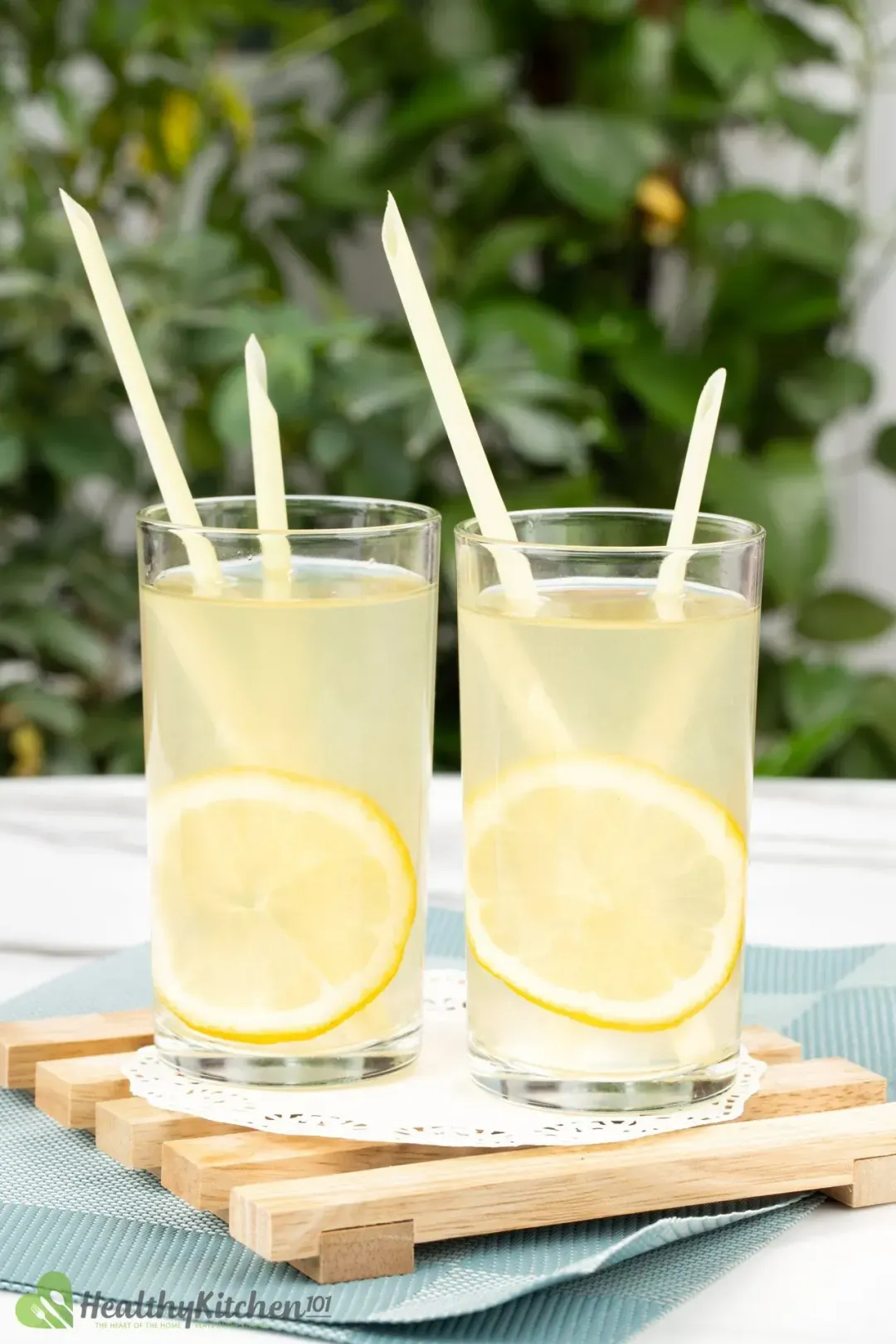 So take care to limit and mix apple cider vinegar with other ingredients. This is the most effective way to reap its benefits without risking conditions like enamel erosion.
If you would like to see more healthy apple cider vinegar options, see our collection of healthy apple cider vinegar recipes.
Can You Substitute Lime Juice for Lemon Juice?
Yes, you can substitute lime juice for lemon juice. Lime and lemon can pass off as duplicates for their similar properties and tastes.
Nutritionally, lime and lemon juices contain similar amounts of vitamin C. The differences are negligible and enough to make them interchangeable for health purposes.
Taste-wise, lime juice is usually more tart. Replacing with lime juice gives more zest— even in this apple cider vinegar and lemon juice recipe.
You can try this healthy Pineapple Celery Juice recipe or this ACV with pineapple juice recipe to experience lime juice's punch and taste.
But you can adjust the amounts in your beverage to make it less intense. And you'll most likely find the overall taste to be the same.
How to Make
The main components in this drink are (you guessed it) apple cider vinegar, lemon juice, and water. But to make it more palatable, this recipe includes fresh lemongrass, sugar, honey, and mint.
Start by placing the mint leaves in a pitcher and crushing them with a wooden spoon. Once they release their fresh aroma, add apple cider vinegar, lemon juice, water, and sugar.
Stir the mix until the sugar dissolves. Then add honey and lemongrass.
Stir until well mixed and serve it warm or iced. Enjoy it as is or alongside a healthy dish for a well-rounded, nourishing meal.
Make a substitute with buttermilk to create a bone-supporting dairy drink. Or swap in watermelon juice to make a great summer drink.
Calories
This apple cider vinegar and lemon juice recipe contains a minute 70 calories per serving. That's an incredibly low amount providing numerous health benefits!
Its low-calorie profile also makes this apple cider vinegar and lemon juice convenient for frequent and daily consumption.
Most of apple cider vinegar and lemon juice's calories come from carbs in the form of sugars, followed by protein. It's a negligible amount of carbs that you can also incorporate into a low-carb diet.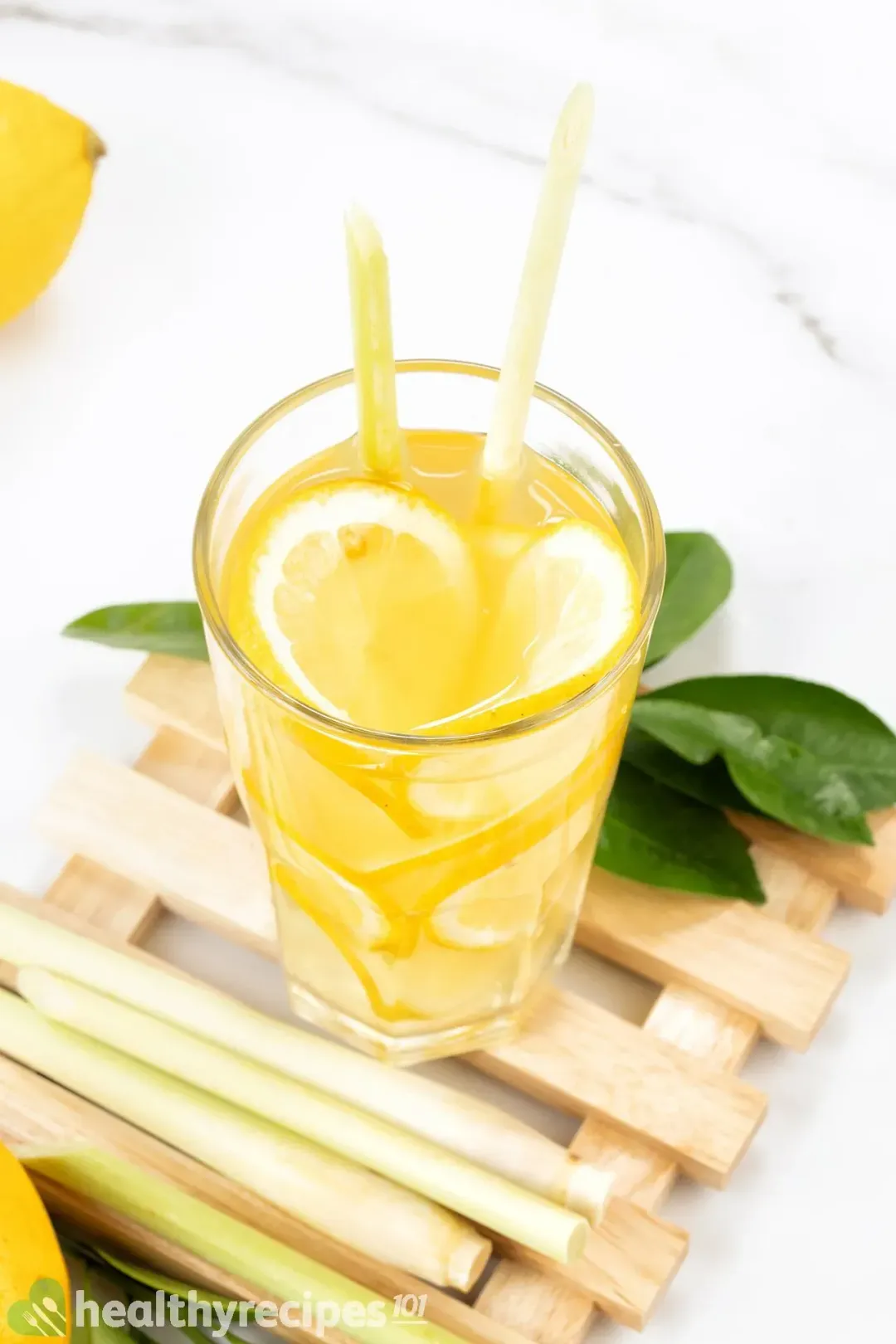 However, remember to monitor your overall sugar amounts. Even small portions can contribute to exceeding your daily sugar limit.
Take this recipe with a grain of salt and adjust some ingredients to your taste and nutrition!
You can also try out our recipe for another ultimate summer drink or read this article to find delicious lemon juice recipes.
Apple Cider Vinegar and Lemon Juice
This apple cider vinegar and lemon juice recipe is a sweet and sour drink singing with zesty citrus notes. It's a healthy beverage that you can enjoy plain, warm, or iced for cooling refreshment.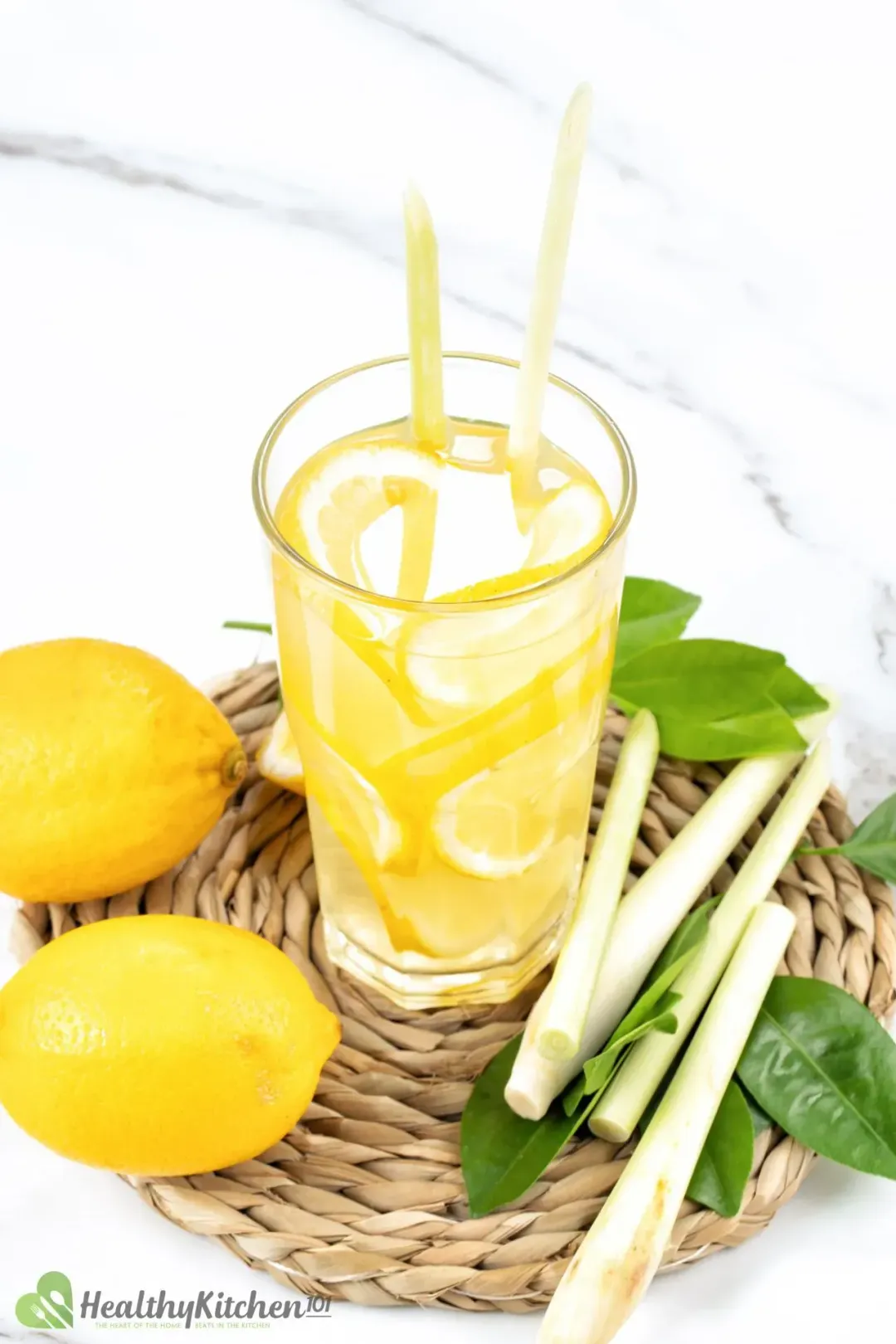 prep TIME

4 mins

total TIME

4 mins
COURSE

Beverage

CUISINE

American

SERVINGS

CALORIES

49 kcal
INGREDIENTS
2 tbsp

apple cider vinegar
INSTRUCTIONS
Prep:
1
Squeeze the lemon juice: cut a lemon in half and squeeze it into a bowl. Measure out 1 1/2 tbsp.
2
Cut the lemongrass: cut the top of a lemongrass and keep the stalk only. Peel 2-3 outer layers away, leaving only the fragrant root. Hit it on your cutting board lightly with the back of the knife to release more fragrance.
Steps:
1
Add 2 oz lemongrass stalks, 2 tbsp apple cider vinegar, 1 1/2 tbsp lemon juice, 1 tbsp honey, and 2 cups water.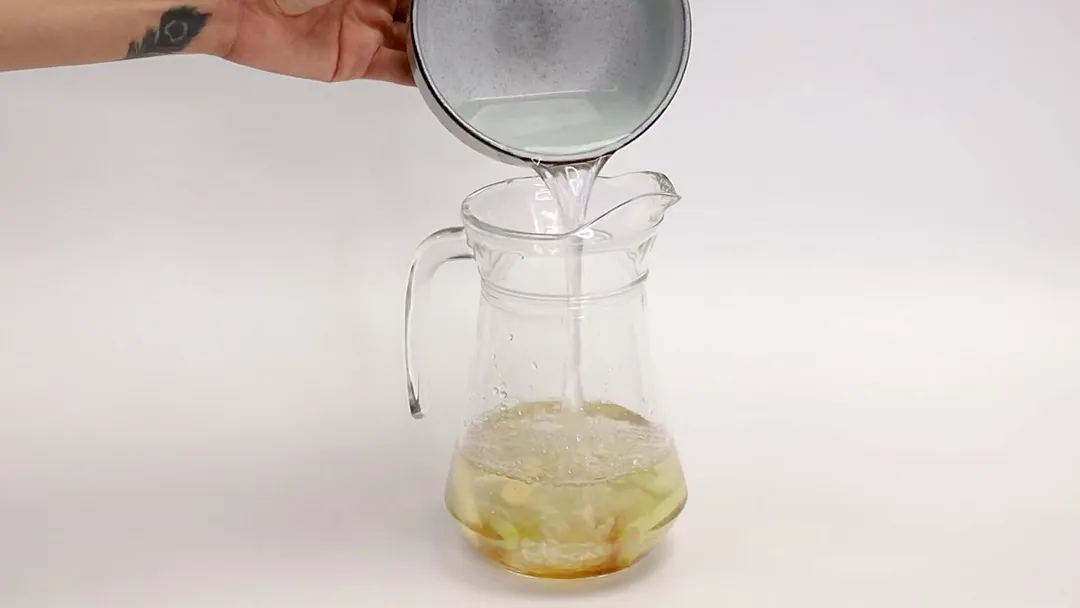 2
Stir for 2 minutes or until the honey dissolves.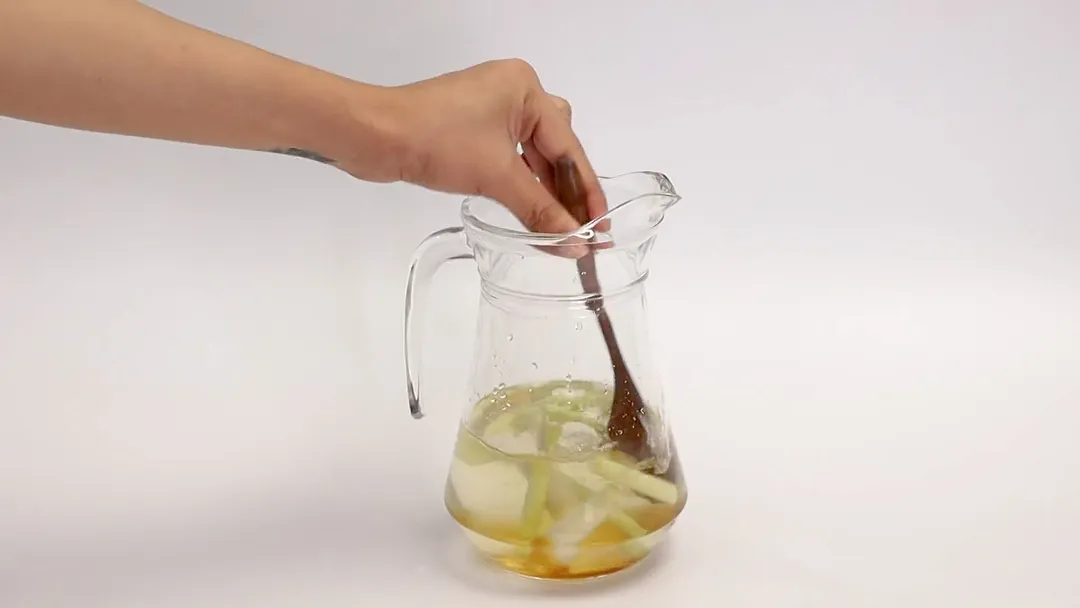 3
Garnish with more lemongrass stalks and mint leaves.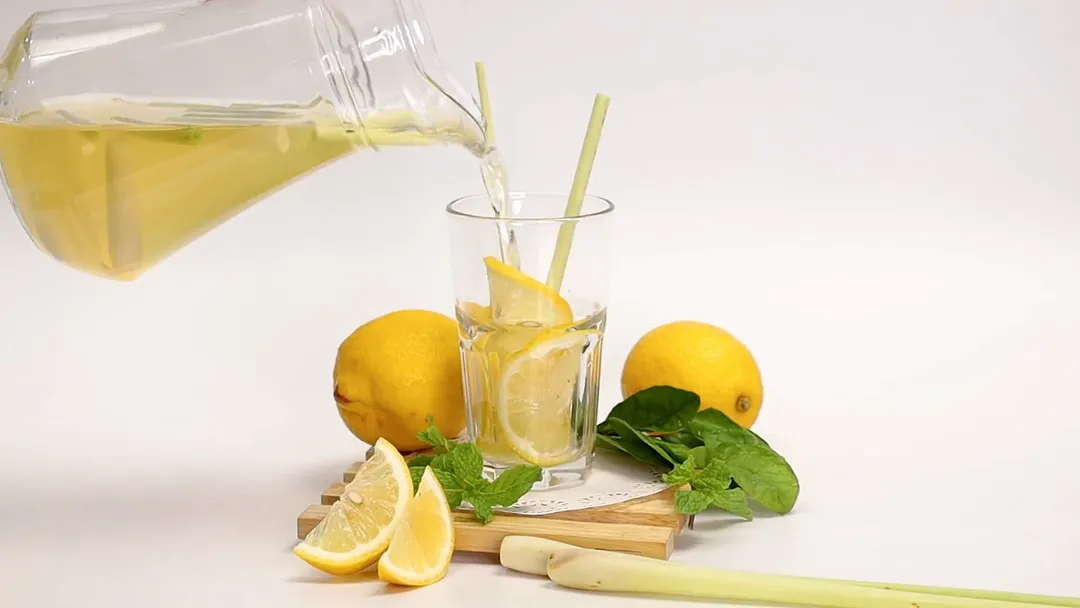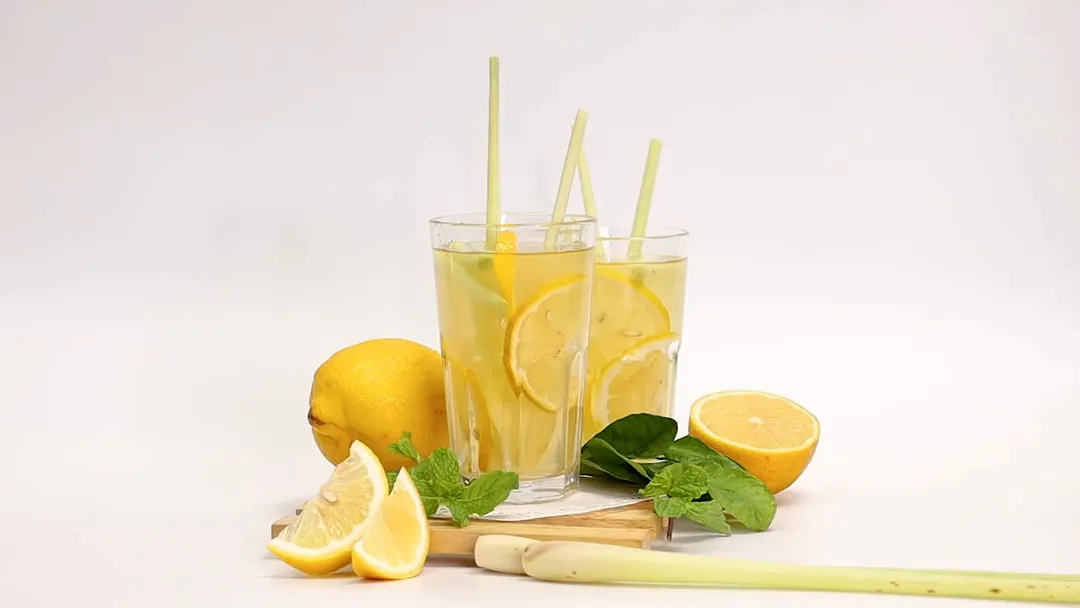 NUTRITION
Nutrition Facts
Apple Cider Vinegar and Lemon Juice
Amount Per Serving (1 serving)
Calories 49
Calories from Fat 1
% Daily Value*
* Percent Daily Values are based on a 2000 calorie diet.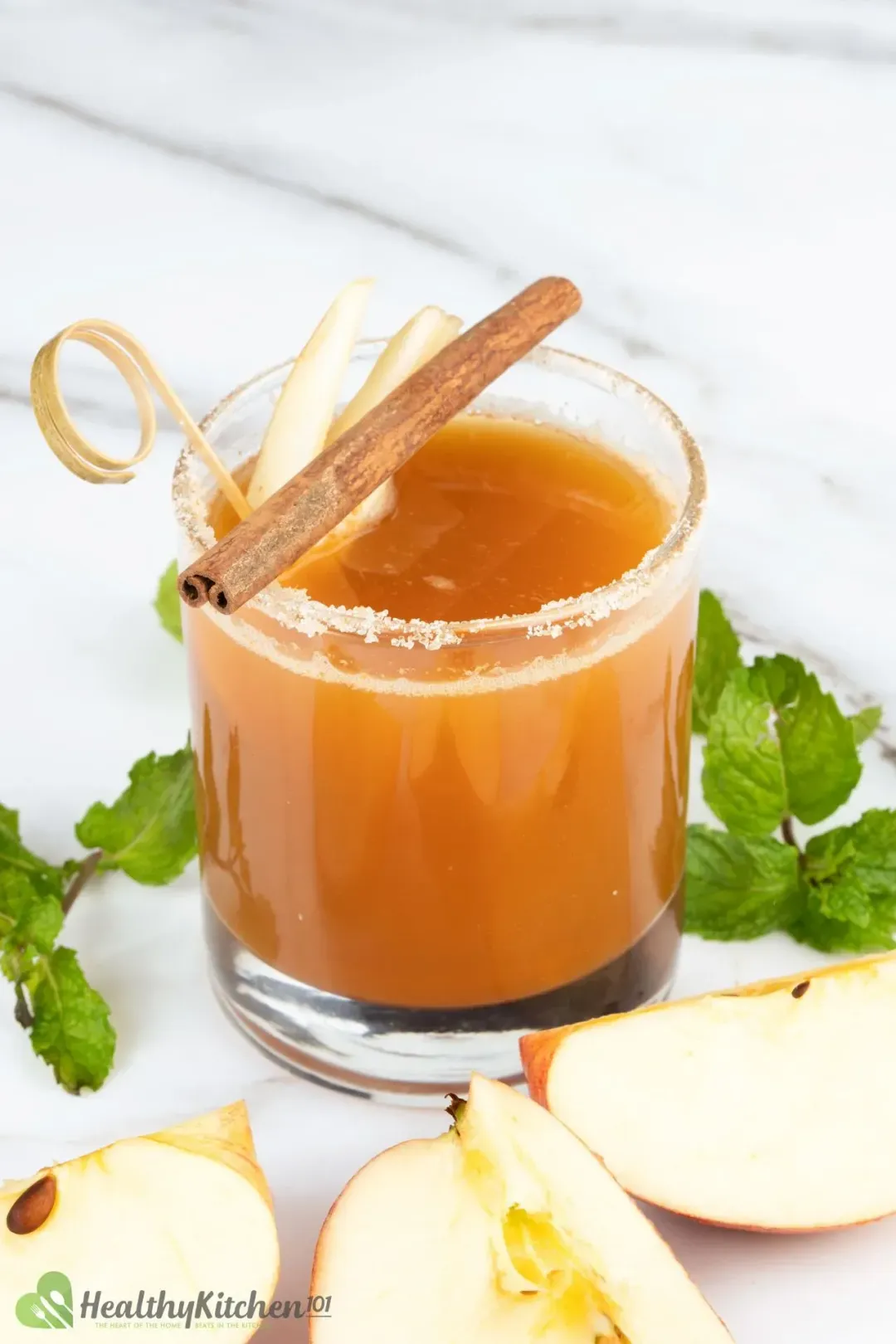 Previous Recipe
Apple Juice and Vodka
Apple Juice and Vodka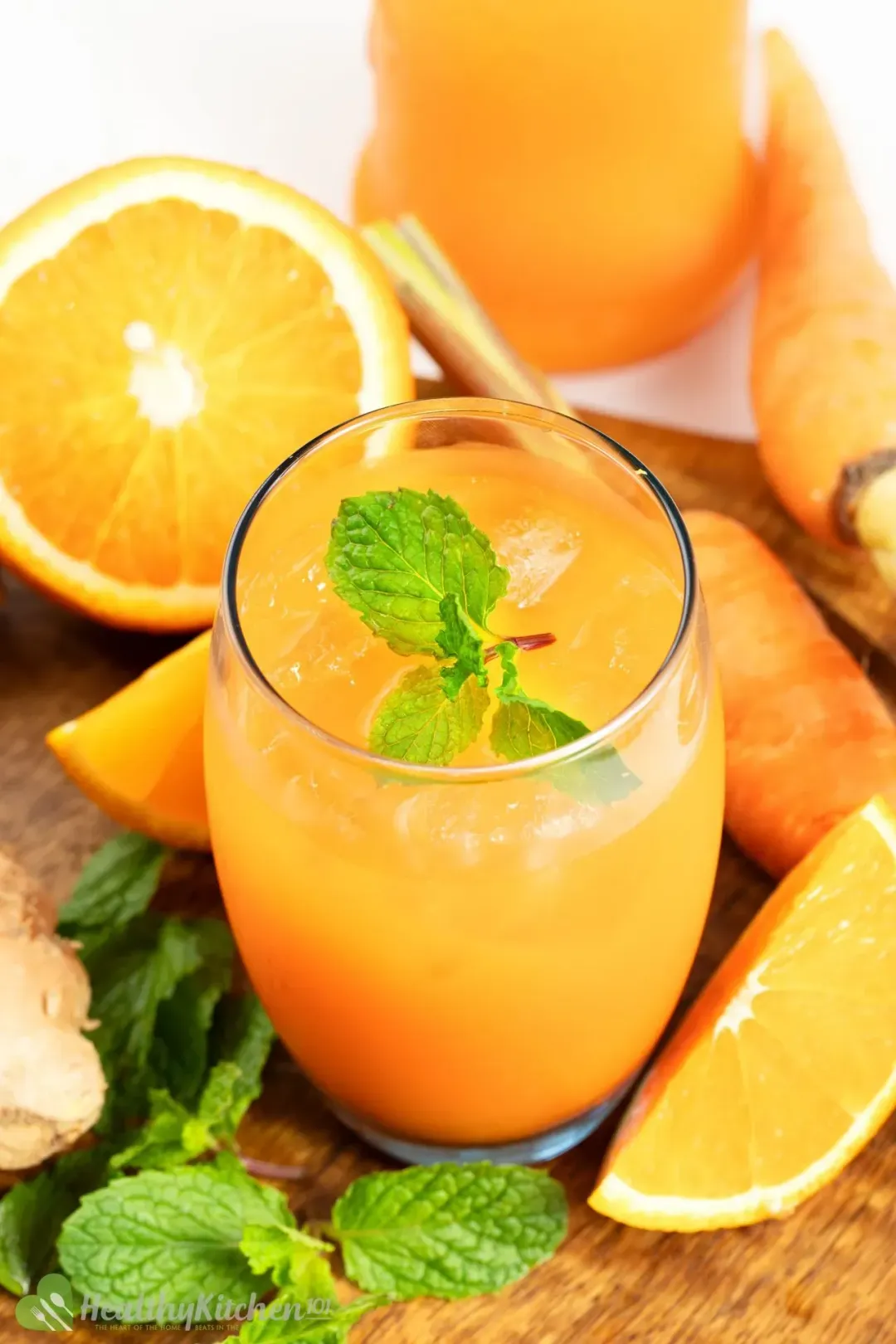 Next Recipe
Carrot Orange Ginger Juice
Carrot Orange Ginger Juice
Great article! I loooove acv.
Keep up the great content!

Good morning drink .
Try to sip on when at desktop.

I think great about apple cider vinegar and lemon recipe

It very refreshing I drink it in the morning before breakfast and before I eat dinner is that good

Hi Trina. As long as it's within your daily calories/sugar intakes, it should be ok!

Just want to try cidar and lemon juice to lose weight still don't know

You can try it in place of the usual high-calorie, high-sugar drinks and see how that goes. Good luck!

I drink it in the morning only but find it very refreshing no need to sweeten it in any way I'm on a keto diet just started as I'm really over weight seriously obese I've started keto diet is it ok on keto to carry on drinking this

I read article, recipe but confused on exactly how much to take drink daily for health and potential weight loss. Is it 15 ml or consume the full recipe at on sitting?

Hi Scott, 15ml is the amount of apple cider vinegar only. You can follow the recipe and drink one full serving in one sitting.

does it need to be refridgerated or can it be left out?

Hi Lorraine :). It's best to refrigerate it to avoid it spoiling.

The once to twice daily recipe I use is: 2 table spoons organic, raw, unfiltered ACV with 1 fresh juiced lemon in 16oz water. .*NO ADDED SUGAR*
I take it mainly to stop stomach upsets from among Ozempic (semaglutide for Diabetes II).
Secondly, it also helps reduce appetite, and I'll know by Jan. 2023 if there's any truth to ACV + lemon juice for lowering blood sugars/cholesterol.

Thanks for sharing your recipe, Patrick, and good luck with your health journey!

@ Patrick McKay – How is blood sugar and cholesterol?
@Luna Regina – Thank you for sharing!

It's a good combination of lemon and organic apple cedar.
Serve with mints leave it's will taste awesome and feel good to have in the morning on a empty stomach.

Like it with just water lemon and acv 2tsp acv 2tsp lemon juuice 8 oz water! tastes great!

Can I drink 2 x 750ml of apple cider vinegar and lemon juice with salt and pepper per day? Is it dangerous for your colon etc.

Hi Wilna, 750ml of ACV sounds like a lot. We advise following this recipe closely to avoid any unforeseen issues.

I drink apple cider vinegar and lemon juice and water. As a flush
2 cups water
2 tbsp ACV
2 tablespoons lemon juice
I just drink it down I don't sip it. I do this two or three times a day. Is this being harmful in any way. It seems to regulate my bowels eases joint and back pain.

Hi Bud, this looks a lot similar to the base of this recipe so there may be no harm. Read our 'How Often Should You Drink It?' section for details on frequency.

I had heard about this before but now I am ready to try it. To cut the stomach fat, lower my blood sugar and blood pressure, and lastly to cut down on the Kidney Stones is enough for me to give it a try
GH

All the best with your health, Gwen!

I love all your recipes, keep up the good work and thank your for your time.

So glad you loved it, Caroline!

Absolutely delicious and tastes great too! We used Meyer lemons hope that was okay…….Thank you very much for this recipe and we hope to drop a few pounds here and there.

Delicious and tart as a summer drink. Very easy recipe that you can fanagle with cinnamon and such. We hope to drop a few pounds of tummy tires that are clinging in our sixties.

Is it ok to take on empty stomach in morning. Just half lemon apple cider in glass warm water.

Hey Marie, it should be fine! Just see how your stomach responds to it. Some fare pretty well while others can't tolerate it on an empty stomach

Is there a time between ACV & Lemon to take medication please?

Hi Kezzie, you may want to ask your doc about that for accurate advice.

Awsome recipes. Thank you.!

What if I drank coffee first?

Hi Sigrid, Since you're mentioning coffee, we assume that you're having both in the morning, with or without breakfast. If you drink both on an empty stomach, there's a small chance that you'll hurt your stomach linings since both coffee and vinegar are acidic. Our stomachs are built to withstand acidic foods and drinks (its digestive fluid is acidic too), but introducing more acidic fluids can put it at risk. It's recommended that you eat something before drinking the two. They don't interact with each other to produce a harmful substance, if that's your main concern. Also, dilute your vinegar (it's 2 to 3 pH, very acidic) as shown in our recipe before you drink.

For someone with fibroids or cysts, how should the person take it

Hi Uchechi, as of now, there hasn't been enough scientific studies on the effects of apple cider vinegar on fibroids so we can't definitively recommend a dose. However, since ACV is relatively low-risk, you can probably add it to your diet as a health supplement. To be safe, please consult with your doctor and GP prior to taking this drink.