This lime water recipe is refined sugar-free and easy to make. The drink hydrates your body immediately, brings freshness to the morning, and makes you feel ready for a brand new day.
A simple combination of lime, water, and mint has the wonderful ability to wake you up peacefully and effortlessly in the morning. Plus, there are always great health benefits in adding citrus, including extra vitamins for your daily diet.
Benefits of Lime Water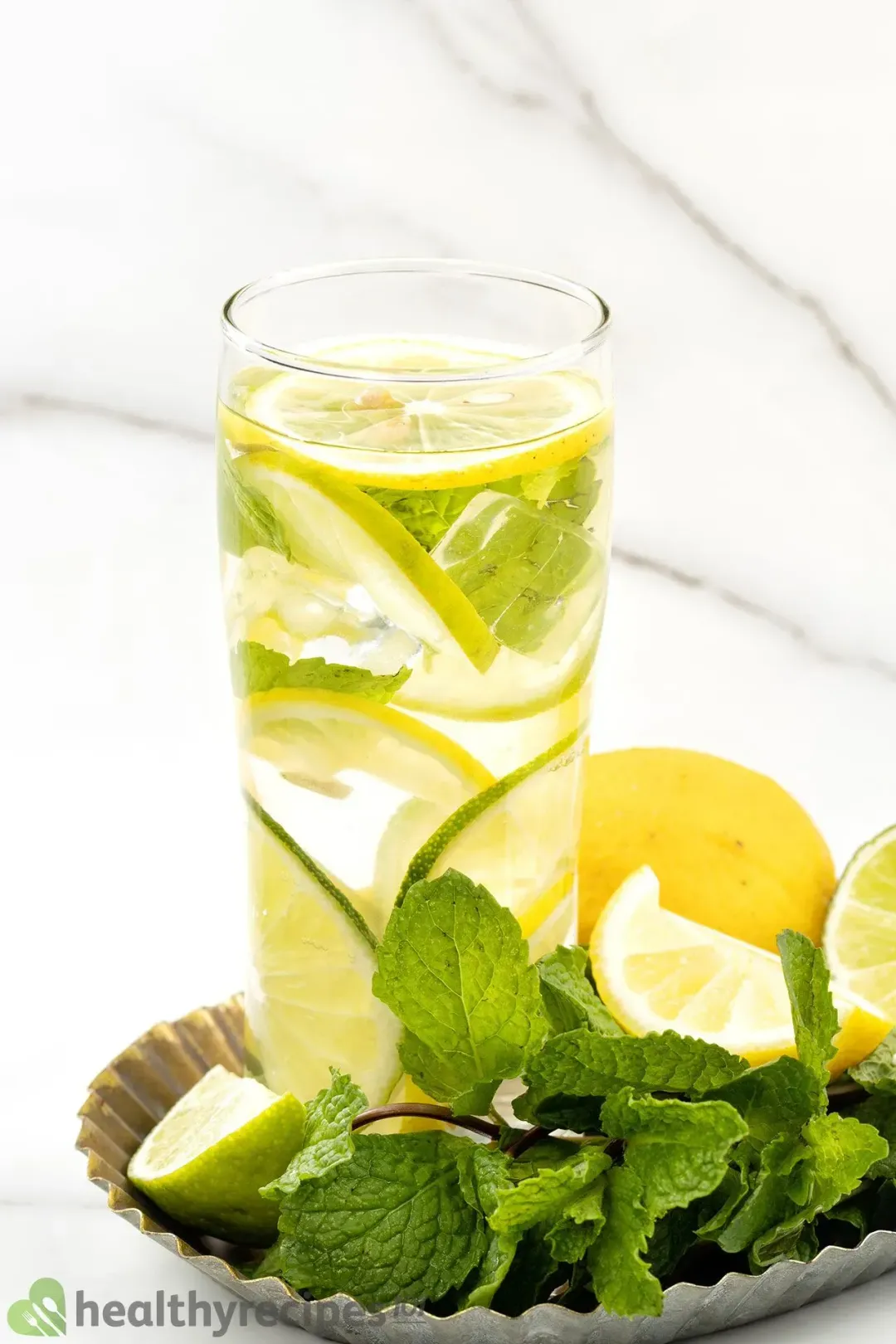 Drinking lime water every day offers more benefits than just hydration. Among them, the most significant benefits are:
Vitamin C. Limes are an excellent source of vitamin C — a nutrient that helps boost the immune system and protect your body against infections and disease. Additionally, vitamin C stimulates the absorption of iron, a mineral that plays a fundamental role in immune function.
Skin health. Lime water is widely considered a remedy for many kinds of skin problems such as acne, rashes, and blemishes. Not to mention the antioxidants and vitamin C found in lime may keep those wrinkles at bay and boost collagen production, hence smoother, healthier skin.
Lime Water vs. Lemon Water
Lime and lemon are two of the most common acidic fruits in the world. These two fruits have a sour flavor and feature in many culinary applications from cooking, to food preservation and flavor enhancement.
An easy way to identify limes and lemons is their color. Naturally, limes are green while lemons are yellow.
In terms of flavor, lime and lemon are both tart. However, lemons are slightly sweeter while limes are usually a little more bitter.
Some people describe limes as being more sour than lemons, but this varies depending on your taste and the type you get.
The bottom line is that it doesn't matter whether you use lime or lemon in this recipe. You can choose which fruit fits your taste preference, or have both, as in our lime water. Let's start your day with a glass of lime (or lemon) water to pump up your energy!
Is Lime Better than Lemon?
No, it isn't.
Based on much debate and research, lime water and lemon water are proven to deliver about the same nutritional content and health benefits.
How To Make Lime Water
Making lime water is never a complicated process. With only two ingredients – which are already in the drink's name – it can be done before you even realize.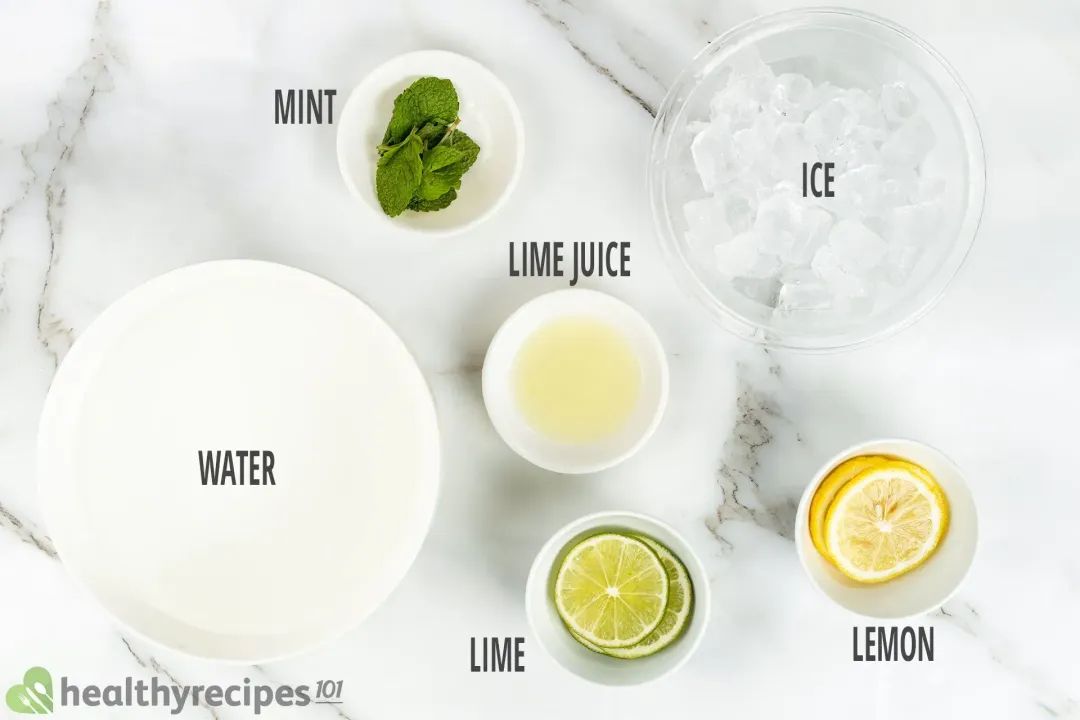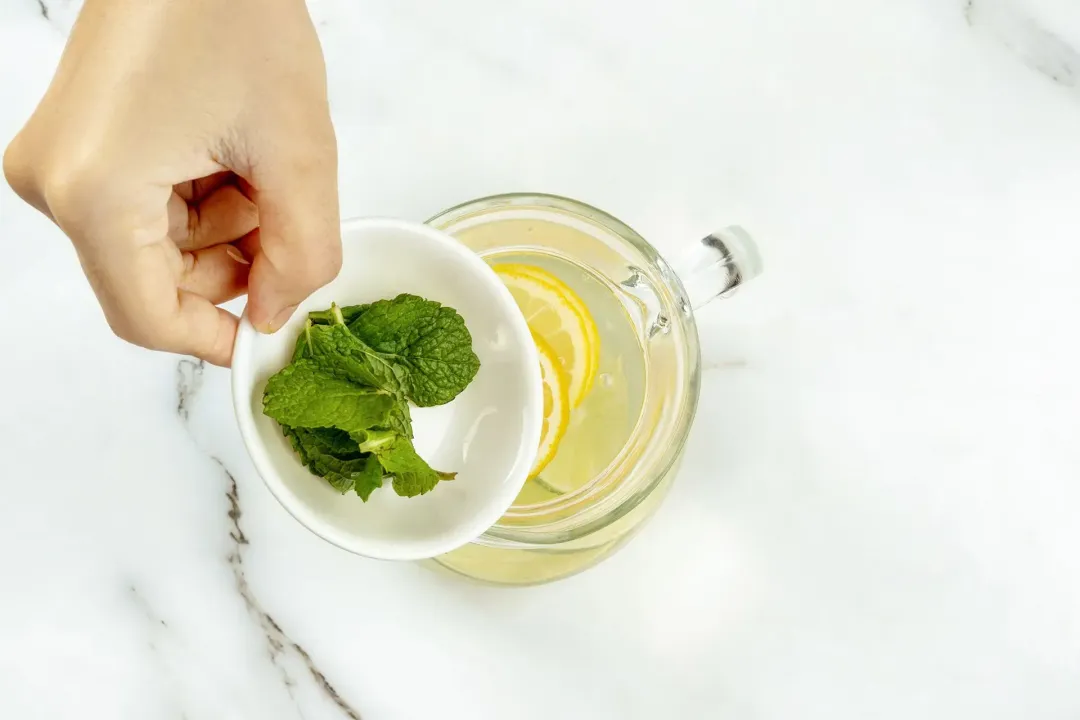 Make the juice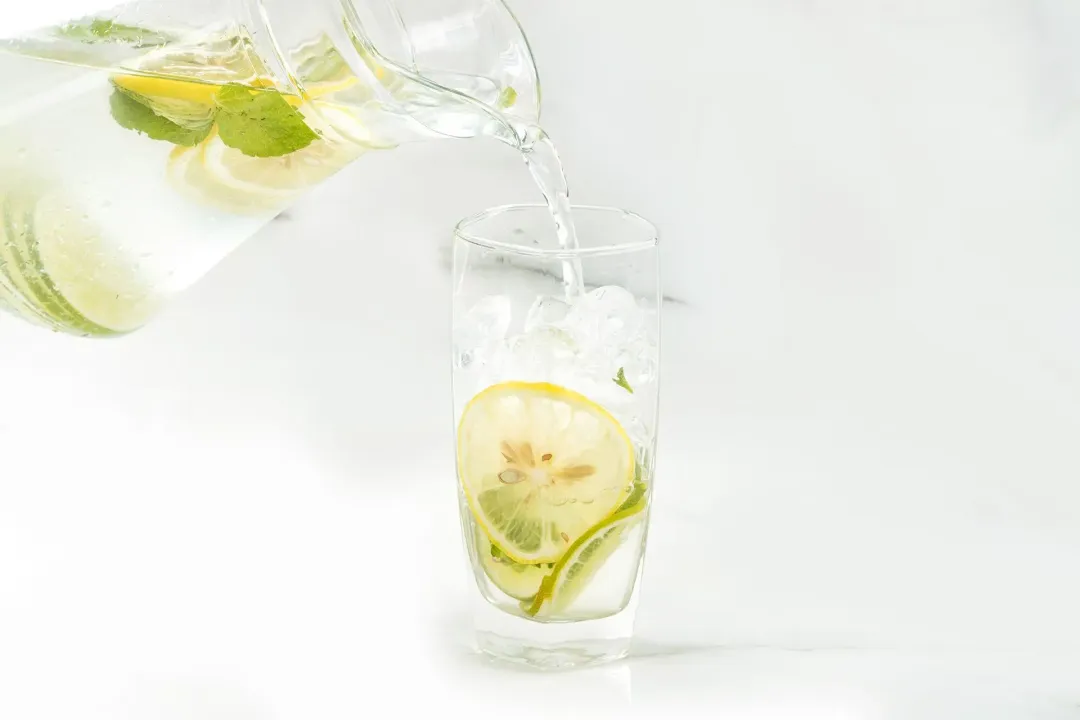 Serve
Lemon Lime Mint Water
This recipe is a nice way to add another refreshing citrus flavor to the lemon.
To make this simple lemon lime water, start by washing limes and lemons well under cold running water to get rid of any dirt on the surface. The peels will be added directly to the water as well, so it's good to make sure the lime is perfectly clean.
Next, squeeze juice from the limes and lemons, then cut some thin slices for garnishing later. In a pitcher, bottle, or glass, add water and the juice. Gently stir.
Now, put the mint leaves, lemon, and lime slices you saved earlier on top of the glass to make your drink look more attractive. If you want to have a particularly cold drink, simply add some ice cubes.
You may want to try out different amounts of lime, increasing or decreasing the quantity used in making this drink to get the perfect flavor and intensity for you.
How Long Do I Need To Infuse Lime Water?
The infusing time can vary depending on your taste. Some people love stronger flavors, others enjoy milder.
After the first 2 hours, you should be able to taste a bit of lime in the infused water. If you're looking for a stronger taste, you can leave the water in the fridge for 3 or 4 hours.
Keep in mind the lime water might taste a little different each time you make it since the fresher the ingredients, the stronger the infusion.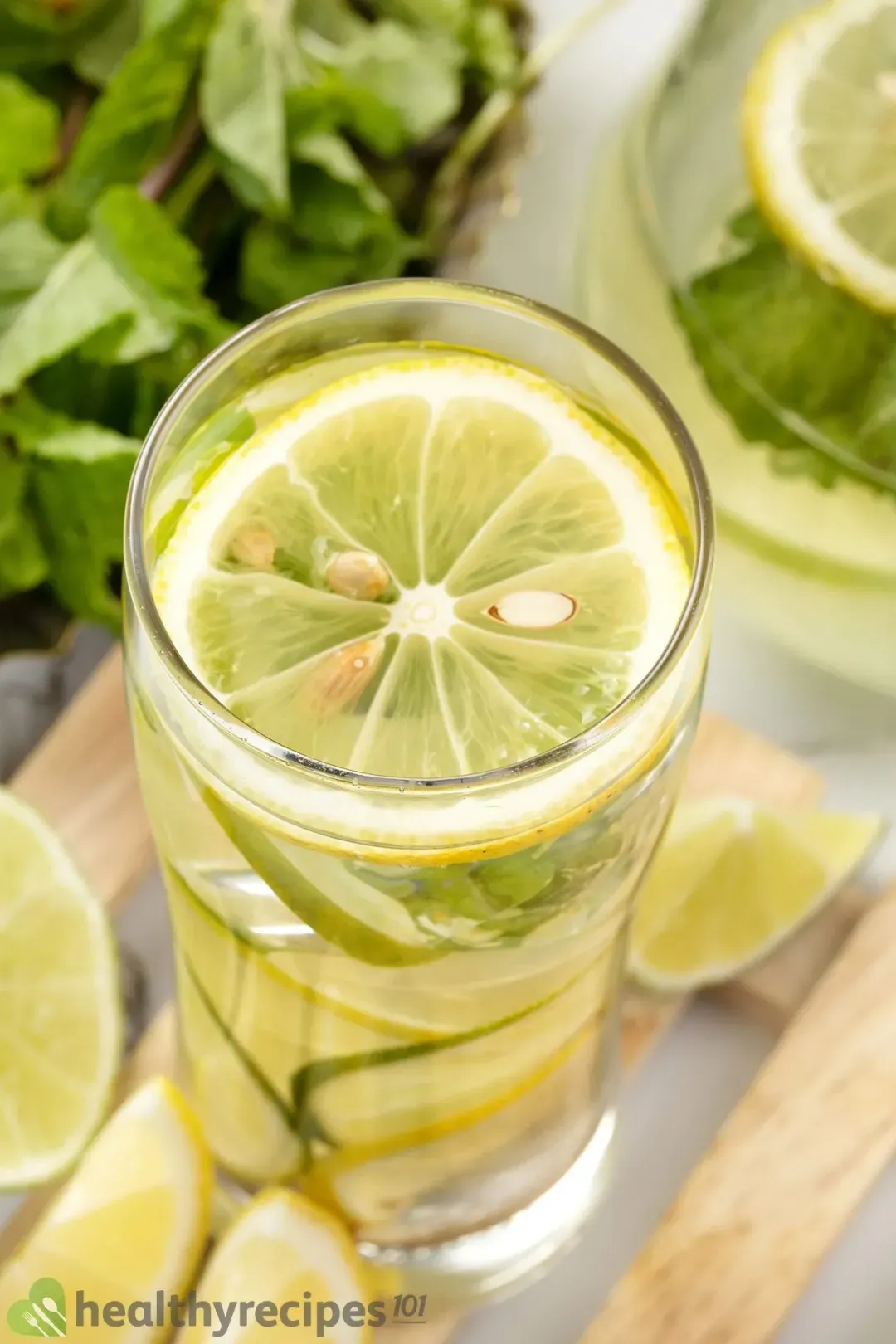 How Long Does It Last?
Fresh homemade juices are meant to be consumed quickly, so lime water should be used within the day it's infused. If being refrigerated, lime water can last up to 3 days.
Since citrus fruits like lime are natural preservatives, your infused water can last a bitter longer than 2 days. However, it can create a slightly bitter flavor after a few hours. A simple trick to avoid this is to peel citruses before infusing them.
Can I Freeze Lime Water?
If you have ever wondered this question, the answer is yes. There are also several ways to freeze lime water.
A simple method is to use ice cube trays. You simply fill each cavity with lime water. A regular-sized ice cube contains about 2 tablespoons of liquid.
When the cubes freeze, you can transfer them into a plastic freezer bag. That makes it easy to get out 1 or 2 cubes when you want it. The cubes can last up to 6 months.
Useful Tips For Lime Water
Lime water is not a complicated drink; however, there are still some tips you should know when making it: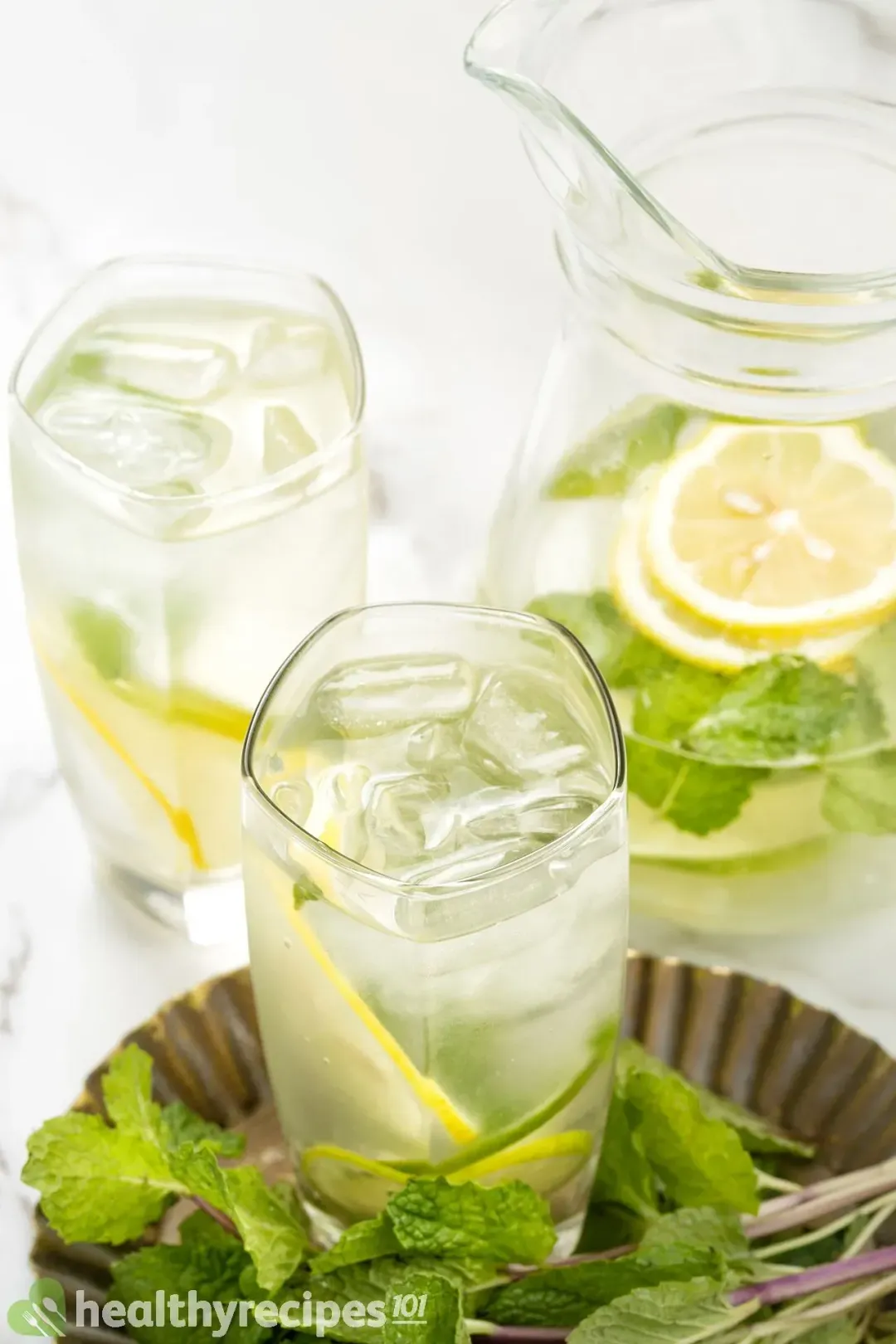 The overall taste is affected by the quality of water. We prefer using bottled or filtered water, but you can use whatever you have available or feel comfortable with.
As for lime (and lemon), we have found that the peel can make the water bitter if it is infused overnight. So we recommend removing the peel for the best taste if you are planning to leave the water for longer amounts of time.
You can enhance the flavors of the infused water by adding herbs such as rosemary, thyme, or ginger. For the leafy herbs like mint, tearing them helps to bring out more fragrant.
If you are looking for infused-water for this summer, our ginger water or cucumber water recipe are great options.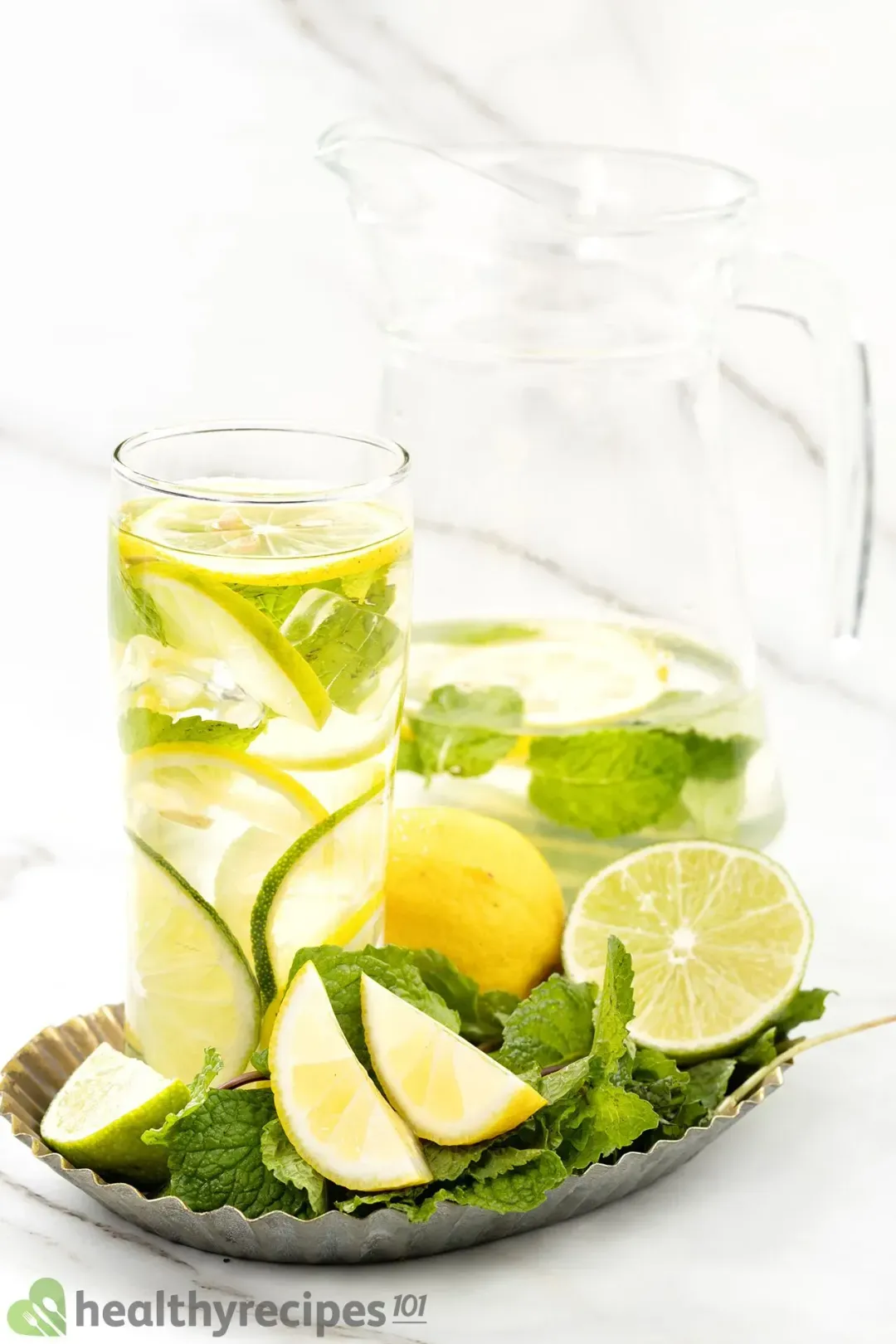 Lime Water
Calling for simple ingredients, this lime water is packed with amazing health benefits. A glass of lime water every morning after waking up is one of the simplest ways to energize yourself and be ready for the day ahead.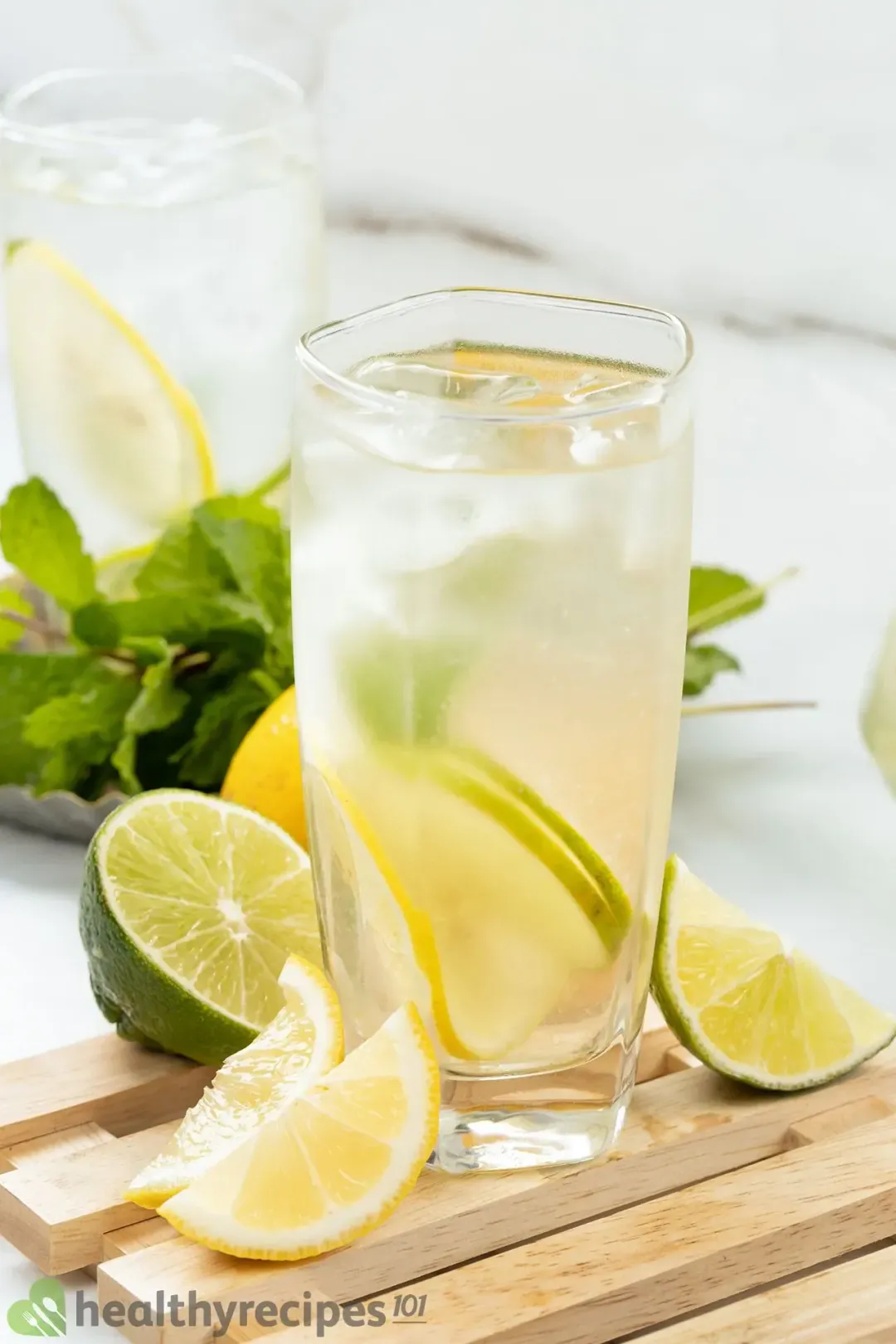 prep TIME

5 mins

total TIME

5 mins
COURSE

Beverage

CUISINE

Global

SERVINGS

CALORIES

9 kcal
INSTRUCTIONS
1
In a container, add 2 quarts water, 2 tbsp lime juice, 1 tbsp mint leaves, and 2 oz lemon and 2 oz lime slices.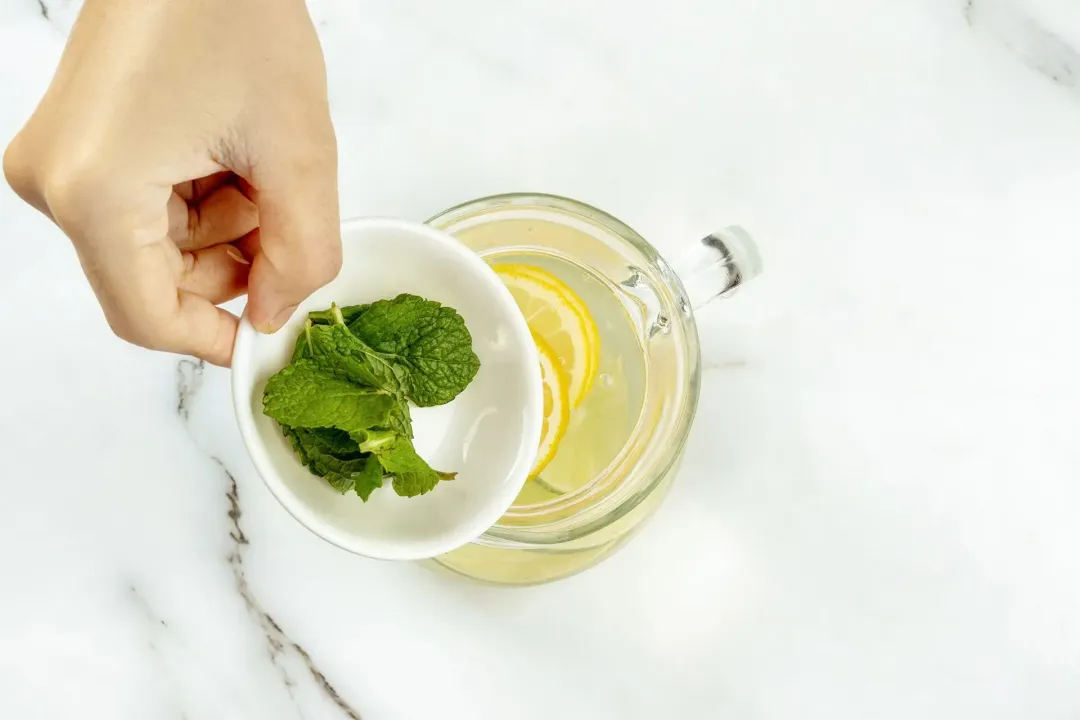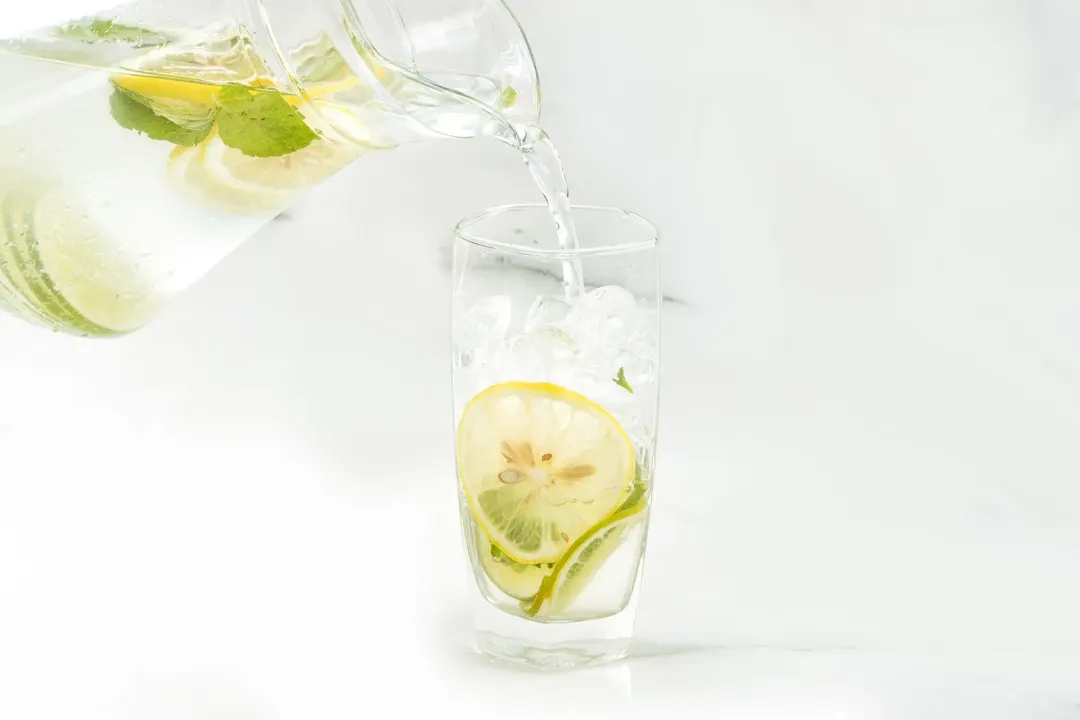 NUTRITION
Nutrition Facts
Lime Water
Amount Per Serving (1 serving)
Calories 9
% Daily Value*
* Percent Daily Values are based on a 2000 calorie diet.
Keywords: benefits of lime water, lime, lime juice, lime water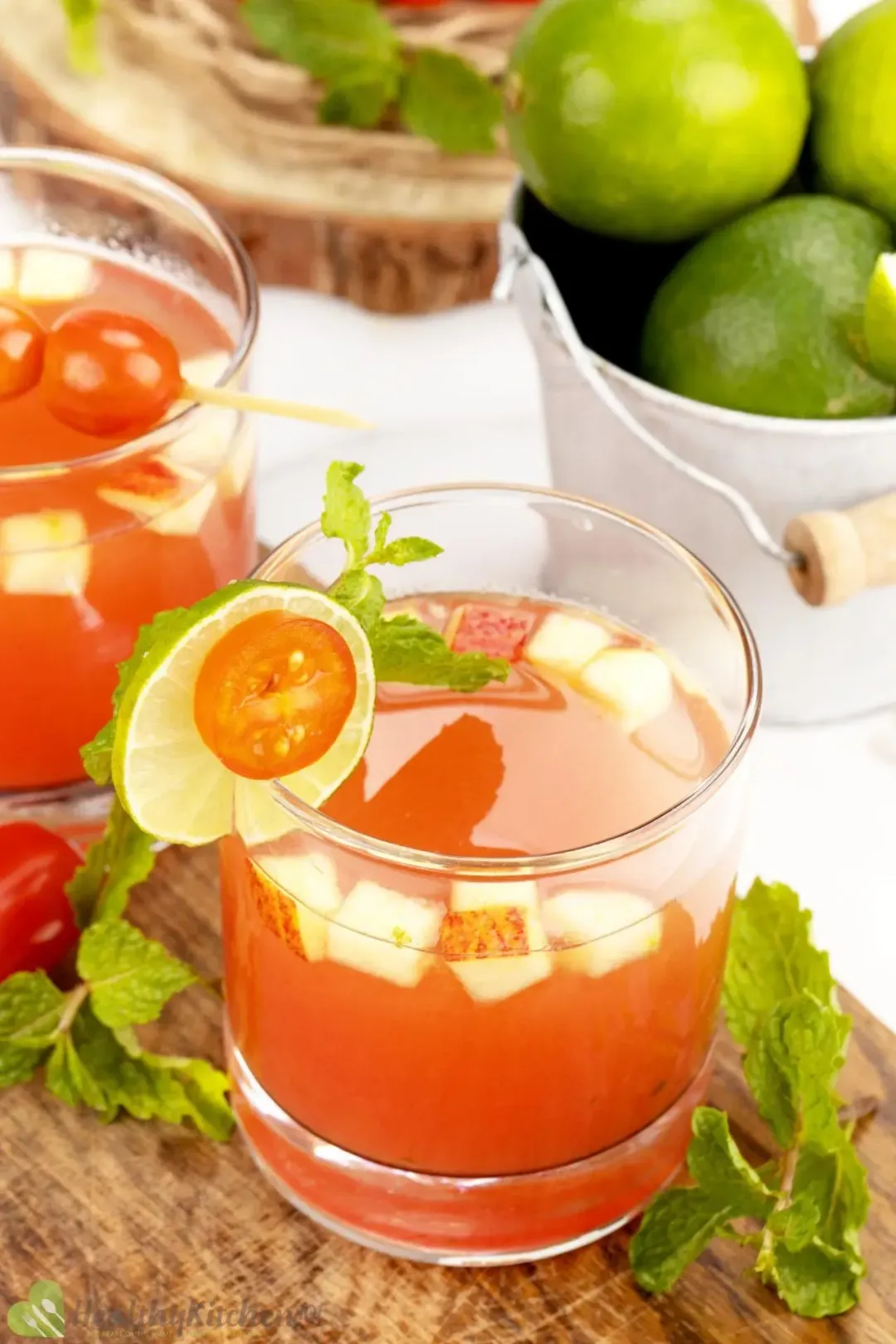 Previous Recipe
Tomato Cocktail
Tomato Cocktail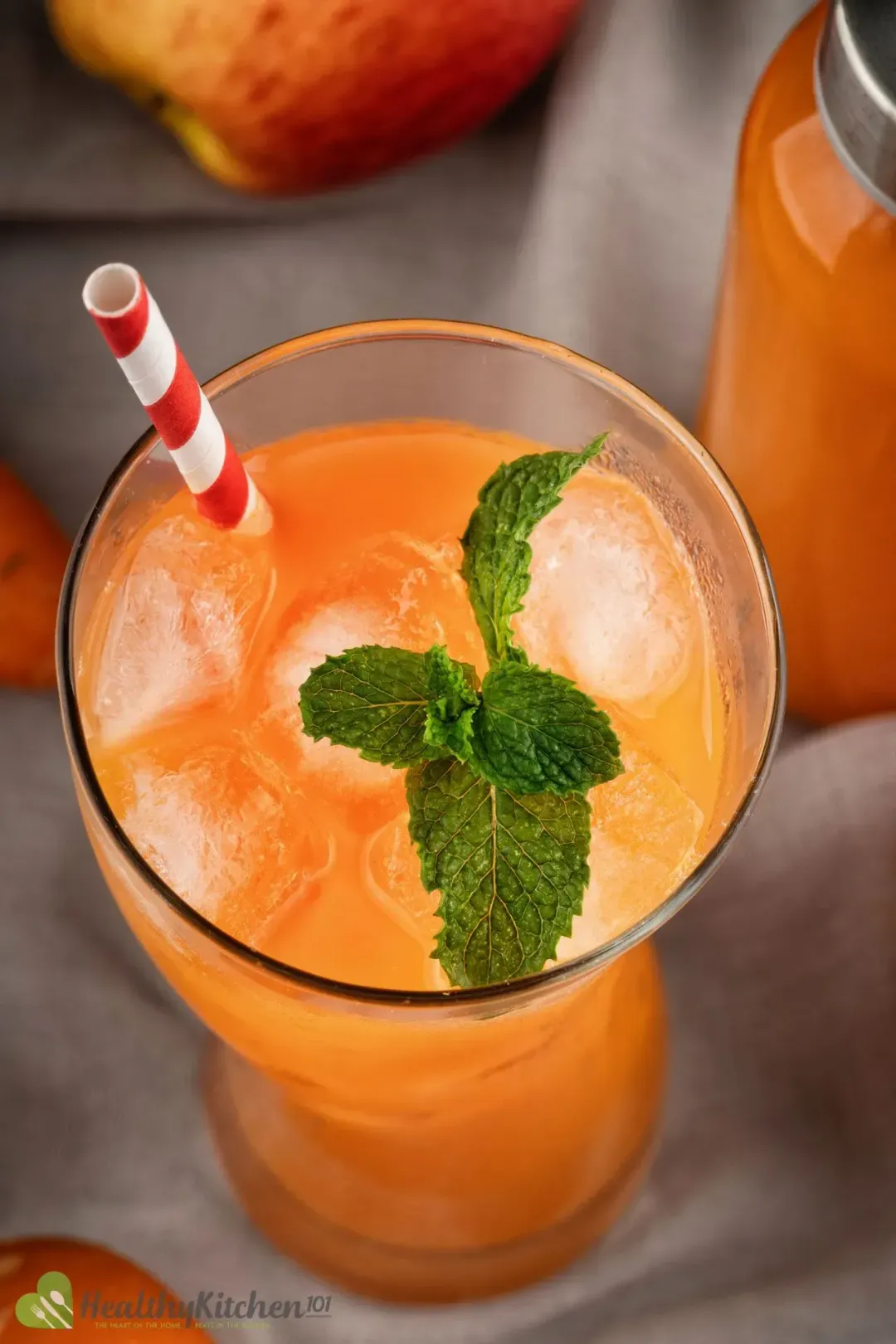 Next Recipe
Easy Carrot Juice
Easy Carrot Juice
Head Chef, Culinary Consultant
Tuyet Pham is an award-winning Saigonese chef who believes that joy is the secret ingredient to delicious food. At Healthy Recipes 101, Tuyet personally tests and simplifies every recipe, ensuring maximum flavor with minimal effort. With a background at prestigious French restaurants P'TI Saigon and Le Corto, Tuyet knows how to make every dish exceptional.
Writer, Author
Luna Regina is an accomplished writer and author who dedicates her career to empowering home cooks and making cooking effortless for everyone. She is the founder of HealthyKitchen101.com and HealthyRecipes101.com, where she works with her team to develop easy, nutritious recipes and help aspiring cooks choose the right kitchen appliances.
Nutrition Reviewer
Lizzie Streit is a Minneapolis-based dietitian and founder of It's a Veg World After All. She completed her MS in Human Nutrition from Drexel University, and is an expert in culinary nutrition, recipe development, and nutrition communications. Lizzie's philosophy is centered around making nutrition recommendations, and especially the advice to eat more vegetables, approachable and realistic. She is excited to be working with the team at Healthy Recipes 101 to ensure that their recipes are both nutritious and delicious.
Oh, that does look refreshing!! 🙂

Oh thank you for the nice words :))

this recipe honestly changed my entire life

I drink lime water all day but I hate water so I have to put sweet n low in it.S that ok?

Hey Rita. It should be okay if you're looking for a sweeter flavor. Enjoy!