Cucumber water recipe is what I always make this time of the year. It's a refreshing drink that doesn't just quench the fiercest thirst during hot summer days; it's also packed with amazing health benefits
Benefits of Cucumber Water
Cucumber is one of the most nutritious and health promoting fruits that are available all year round in America.
Most people consider cucumber a vegetable because of the way it's used in cooking. However, because cucumbers grow from flowers and contain seeds, they are botanically fruits. 
Like other fruits, they are very high in nutrients and water but low in calories. A medium cucumber (about 8 inches long) provides about 45 calories.
Is It Good for You?
In terms of micronutrients, cucumbers contain a significant amount of essential minerals. Besides potassium, magnesium, and calcium, the top nutrient in cucumber is vitamin K – a compound for good bone, hair, and skin health. 
Composed of 95% water, cucumbers are an excellent food to promote hydration and help you meet your daily fluid needs. With a bit of creativity, you can enjoy this fruit fresh or pickled in many dishes from salads to drinks.
How To Make Cucumber Water Recipe
To make this cucumber water recipe, all you have to do is combine cucumber and herbs in a pitcher, then pour water over them. The next step is to allow the mixture to sit for at least 2 hours. If you want a stronger flavor, simply leave it in the fridge overnight.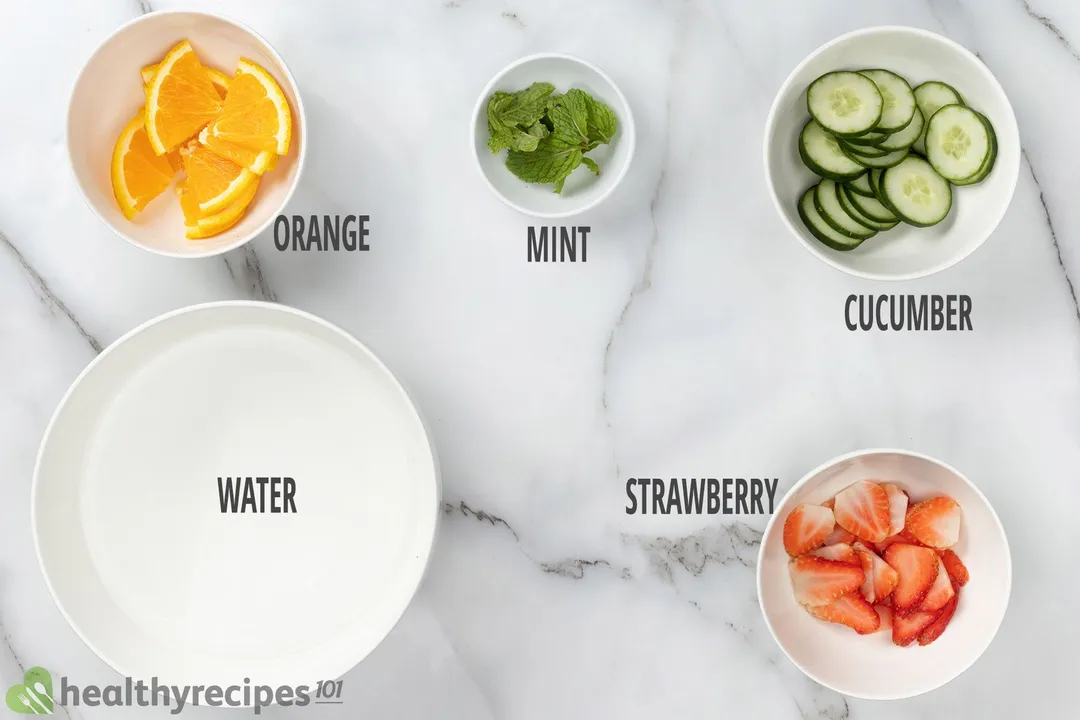 We've also come up with some fruit combinations to help start your fruit-infused water recipe journey!Other Combinations
Cucumber is wonderful paired with fresh fruits and herbs for a cooling infused water. From the base cucumber water recipe, we love to play around with different ingredients and flavors to create other combinations. 
Today we're bringing you some of our best-loved combos:
1. Cucumber Mint Water
Ingredients:
½ cup cucumber, sliced
2 tablespoons fresh mint leaves
4 cups water
Your water bottle becomes much more tasty with some slices of cucumber and fresh mint leaves. We usually let the cucumber water sit in the refrigerator for at least 1 hour so that the flavors can infuse for longer, making it stronger. 
Quick, easy, and so healthy – this recipe is an excellent way to ensure you drink enough water everyday.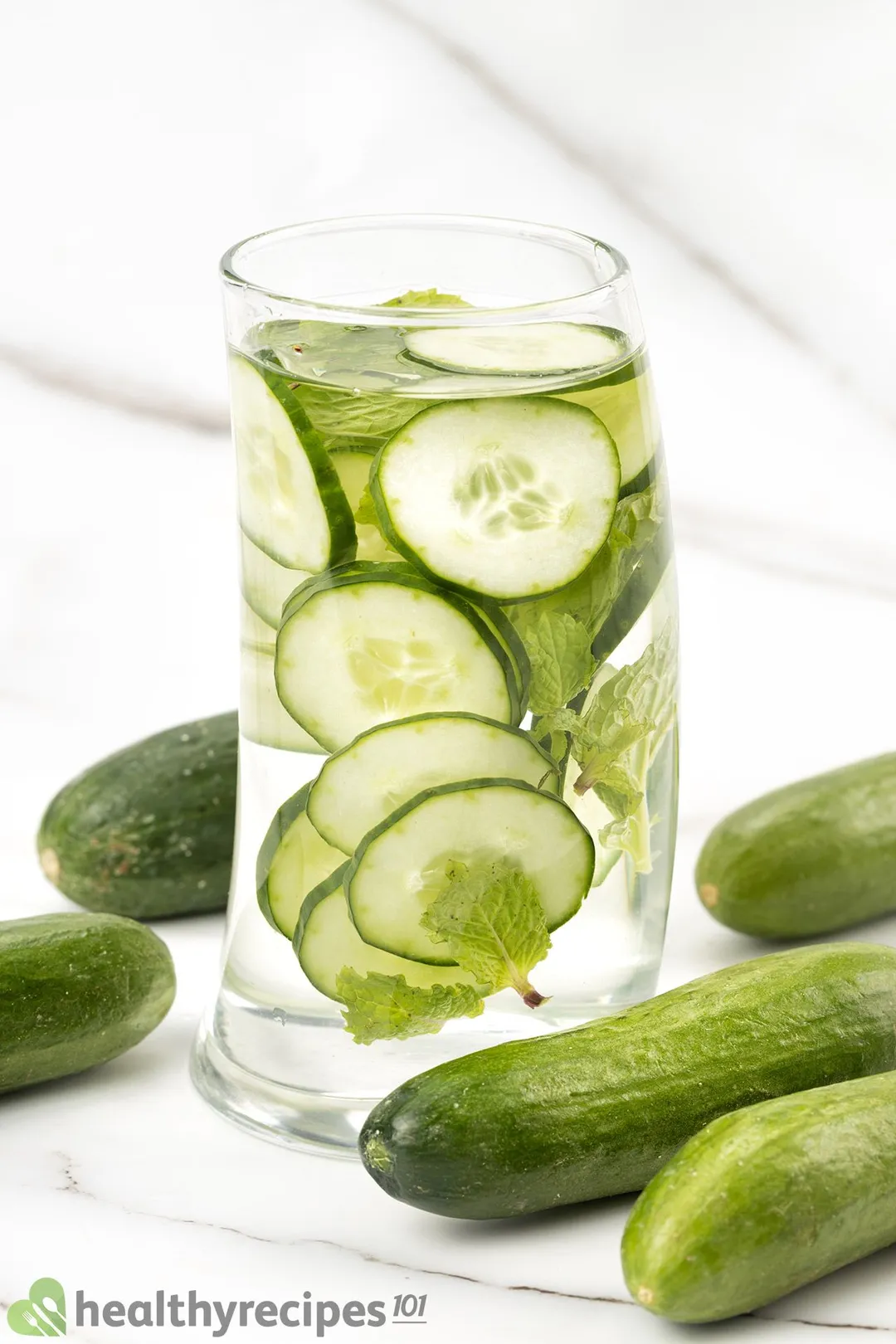 2. Cucumber Strawberry Water
Ingredients:
½ cup cucumbers, sliced
½ cup strawberries, sliced
1 lime, sliced
1 tablespoon fresh mint leaves
4 cups water
This is a perfect drink to jazz up your hydration routine. Strawberries are an excellent source of vitamin C and antioxidants which have great benefits for heart health. 
The sweetness of strawberry and the sour note of lime are brought together well with the mild flavor of cucumber. This combo looks fantastically colorful and striking in a water pitcher. It's a great drink everyone will rave about!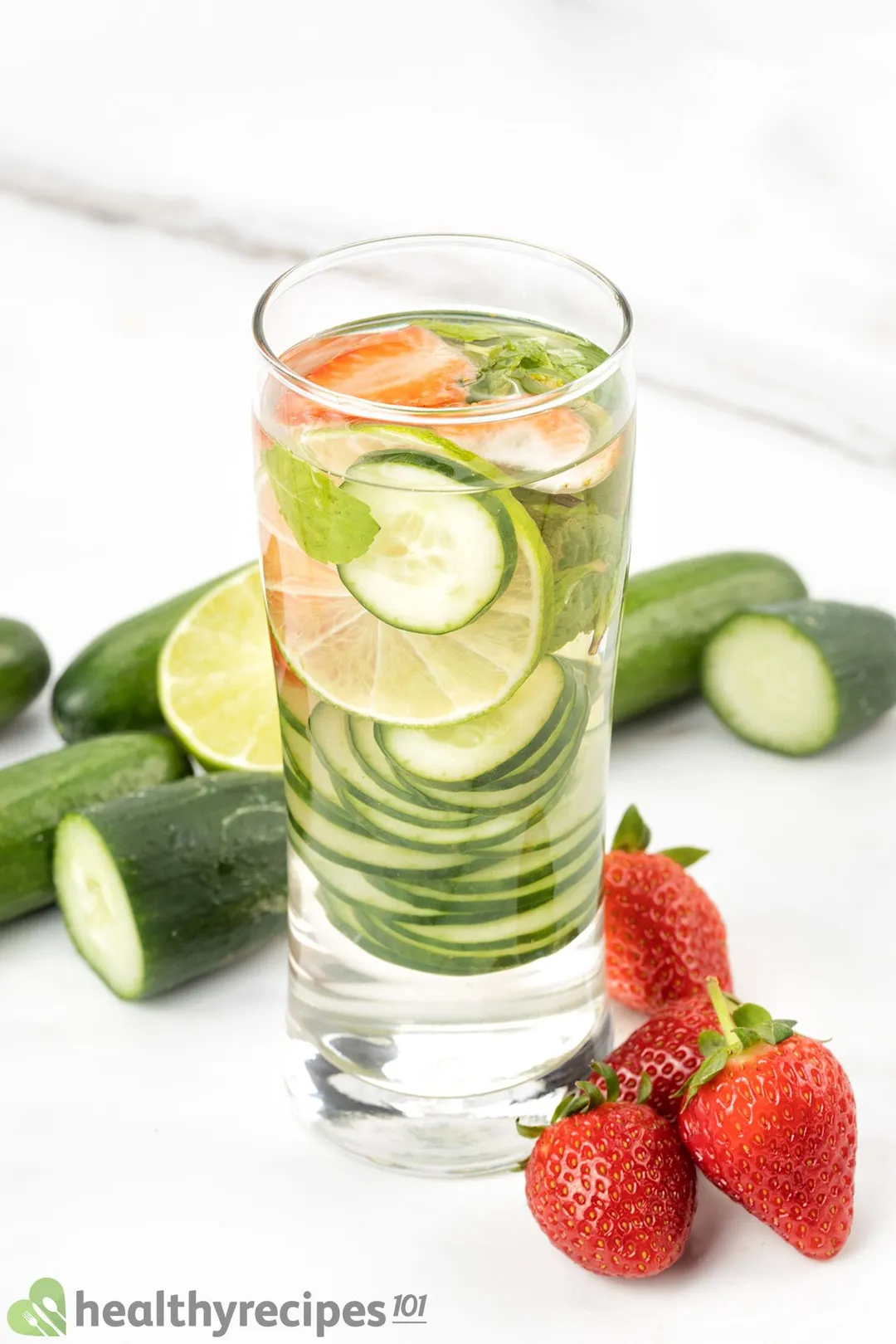 3. Cucumber Lemon Water
Ingredients:
½ cup cucumber, sliced
1 small lemon, sliced
4 cups water
This nearly zero-calorie thirst-quencher might become the reason you never want to drink soda or soft drinks ever again. 
These two healthy ingredients, lemon and cucumber, naturally complement each other. They both have refreshing flavors, making the drink utterly thirst-quenching and delicious. 
In addition to the health benefits of cucumber, lemon is a great source of vitamins A, C, and B6, as well as many essential minerals.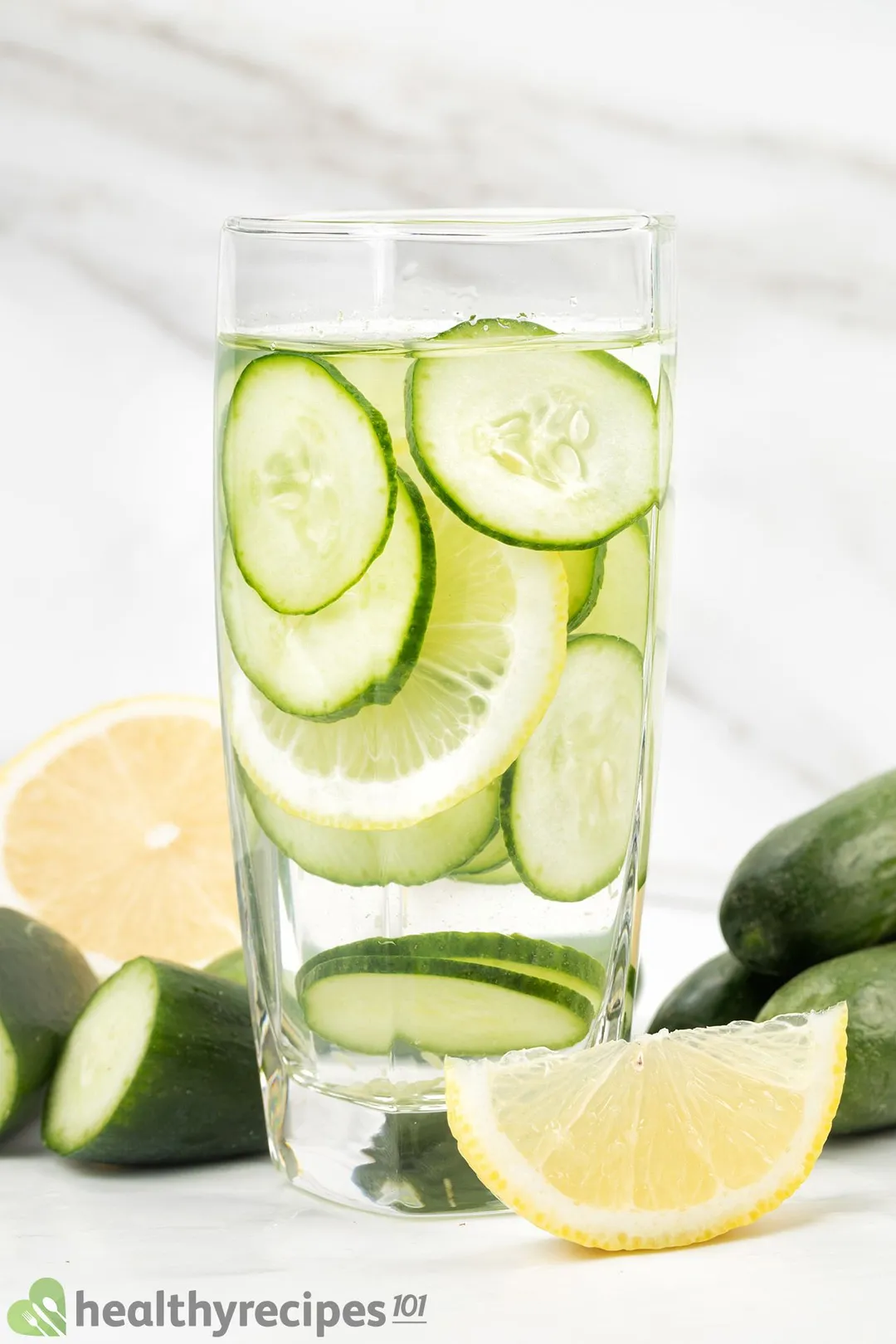 4. Cucumber Lime Water
Ingredients
½ cup cucumber, sliced
1 small lime
2 cups ice
2 tbsp mint leaves
If you are a big fan of infused water, we believe this cucumber water recipe deserves a place on your list. This water is so tasty, and refreshing without any added sugar. A simple way to help you maintain your hydration goals!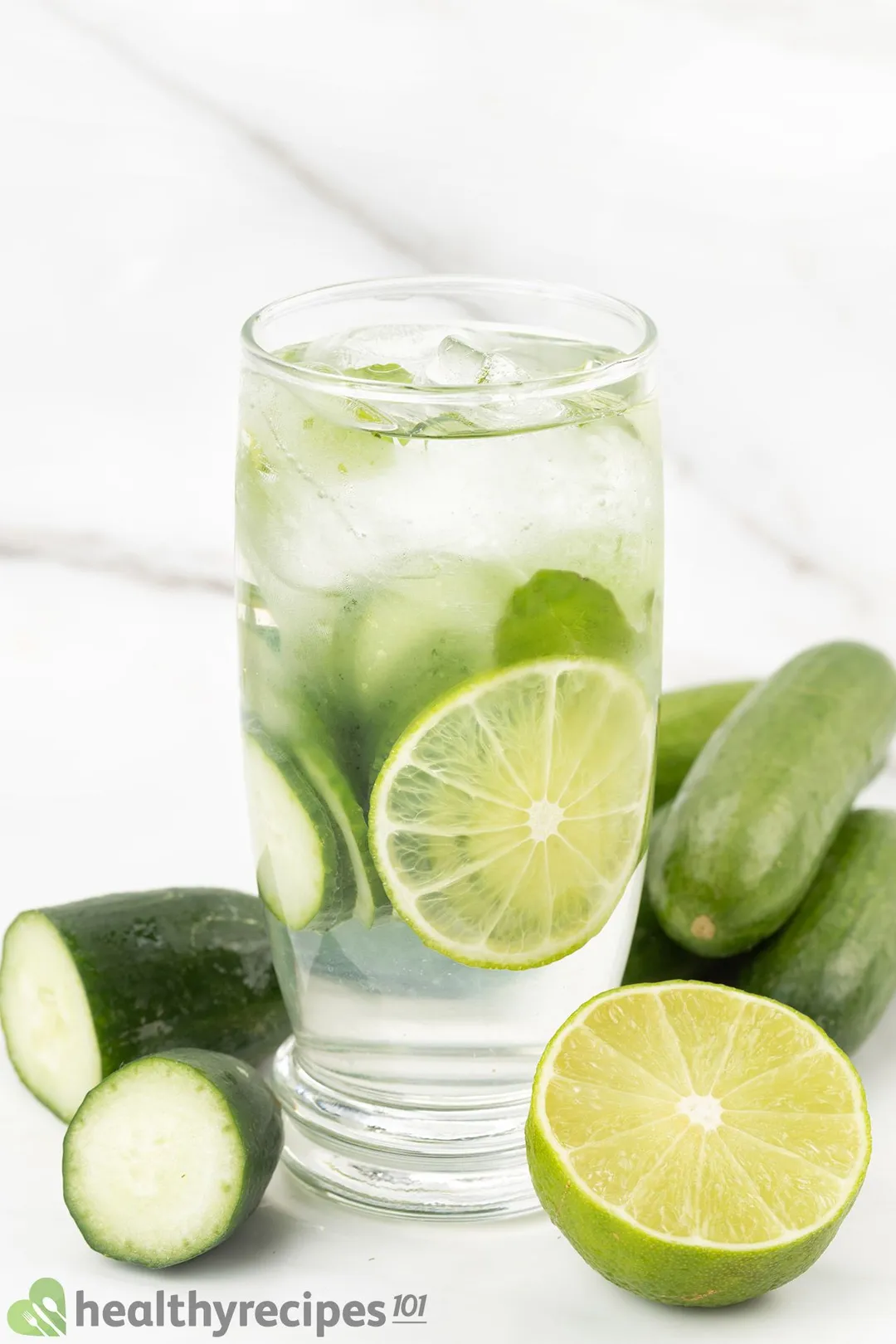 How Long Does Cucumber Water Last?
For the best result, I always refrigerate the cucumber water for 2 to 4 hours before drinking to give the flavor time to infuse throughout the water. 
However, the longer cucumber water sits, the stronger the flavor will be. You may want to try making the drink with different sitting times until you get the perfect flavor for you.
Cucumber water can last anywhere from 2 days to about a week. It depends on the kinds of fruits and herbs you add. 
For this cucumber water recipe, the cucumber slices should never be kept in water for more than 12 hours because they will soften and may become slimy. If you don't think you will drink it all before that time, simply take the cucumber slices out. Just remember to keep your water in the fridge and use the freshest ingredients. 
For more healthy drinks to put into your collection, check out this juice roundup article.
How Much Water Is in A Cucumber?
We know that since our body is more than 60 percent water, staying hydrated is the key to a healthy body. There are plenty of fruits that supply a huge amount of water, and a bunch of vitamins and minerals.
Cucumbers have an extremely high water content, about 95%. This makes this wonderful fruit a great way for everyone to consume more water.
How Much Should I Drink Daily?
Cucumbers are delicious and so versatile. You can use them fresh or pickled, in salad and soup, as well as detox drinks.
This cucumber water has great health benefits, but as with anything in life, too much or too little of something is bad for you. So let's find out how much is enough.
It has been found that drinking too much water in a short time can cause an electrolyte imbalance in our cells. That also means the acids required for food digestion may not operate properly, which can lead to poor digestion. 
We rarely drink large amounts of water to put us at health risk. However, we don't recommend swapping your regular meal for any detox drink for weight loss purposes.
The short answer for how much water to drink a day is 8 glasses. On average, we should drink about 1.5 litres of water a day.
If you're doing exercises or being outside on a hot day, you definitely should drink more water to stay hydrated. The truth is the same when you have an illness like a fever or runny nose.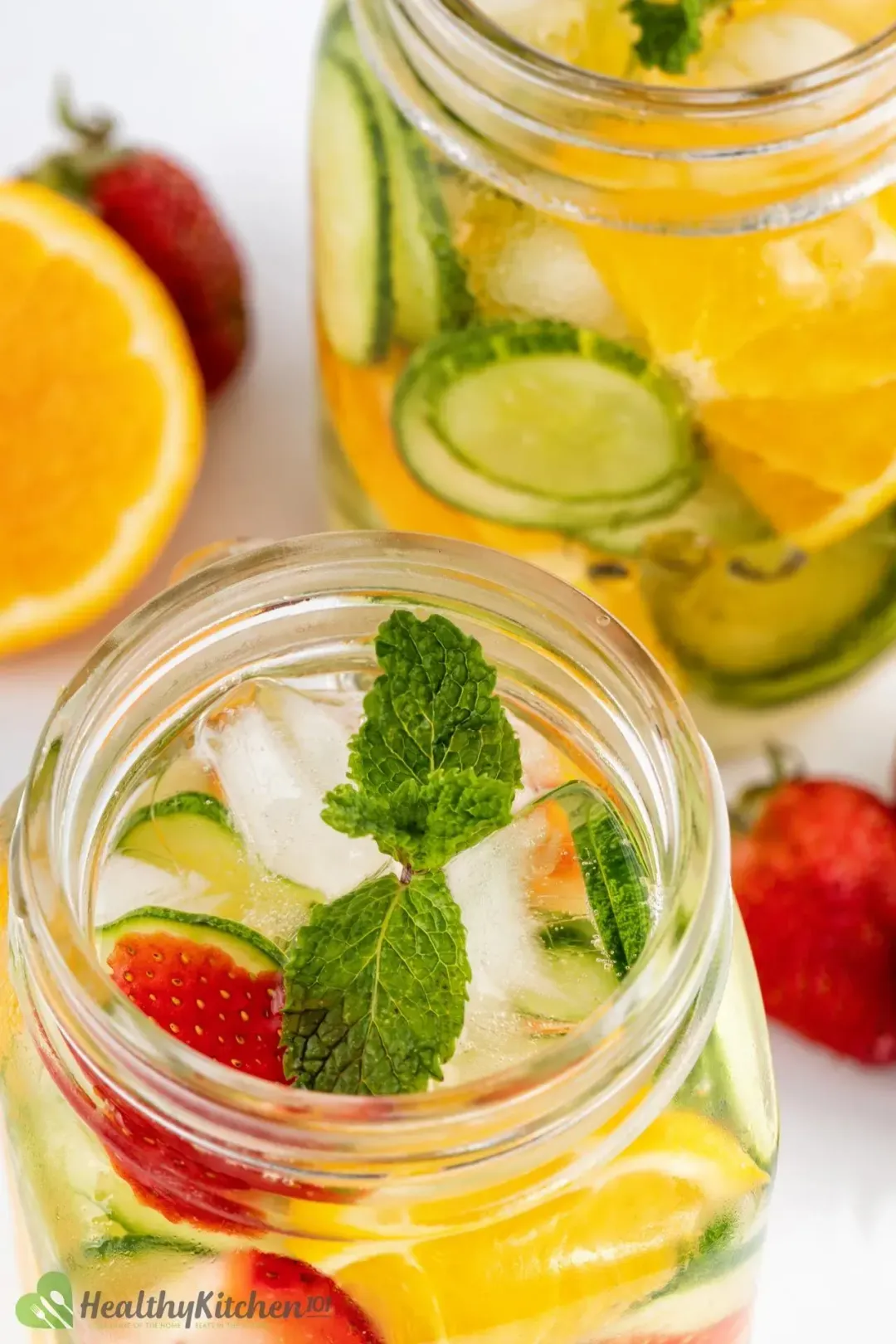 If you're looking for infused water recipes, our lime water and ginger water also great option.
Healthy Cucumber Water Recipe
This healthy cucumber water recipe makes one of the most refreshing drinks ever. It's not only delicious and healthy, but also visually gorgeous. The cucumber slices placed neatly in a pitcher with water look so lovely that everyone who sees it loves it, and wants some instantly!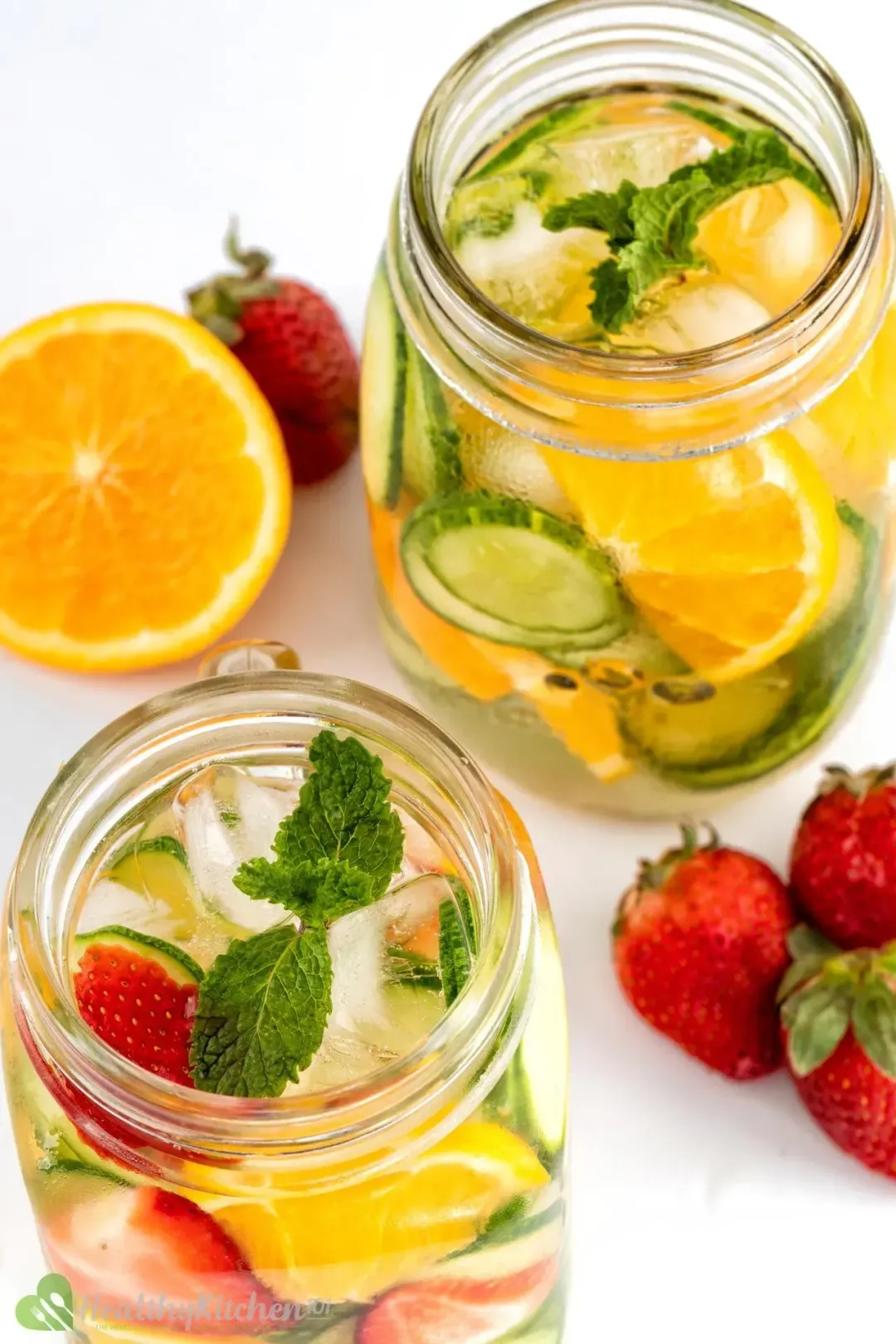 prep TIME

5 mins

total TIME

2 hr 5 mins

INACTIVE TIME

2 hr
COURSE

Beverage

CUISINE

Global

SERVINGS

servings

CALORIES

24 kcal
INSTRUCTIONS
1
Wash the fruits and veggies to remove any traces of dirt. Keeping or peeling off the skin is your choice.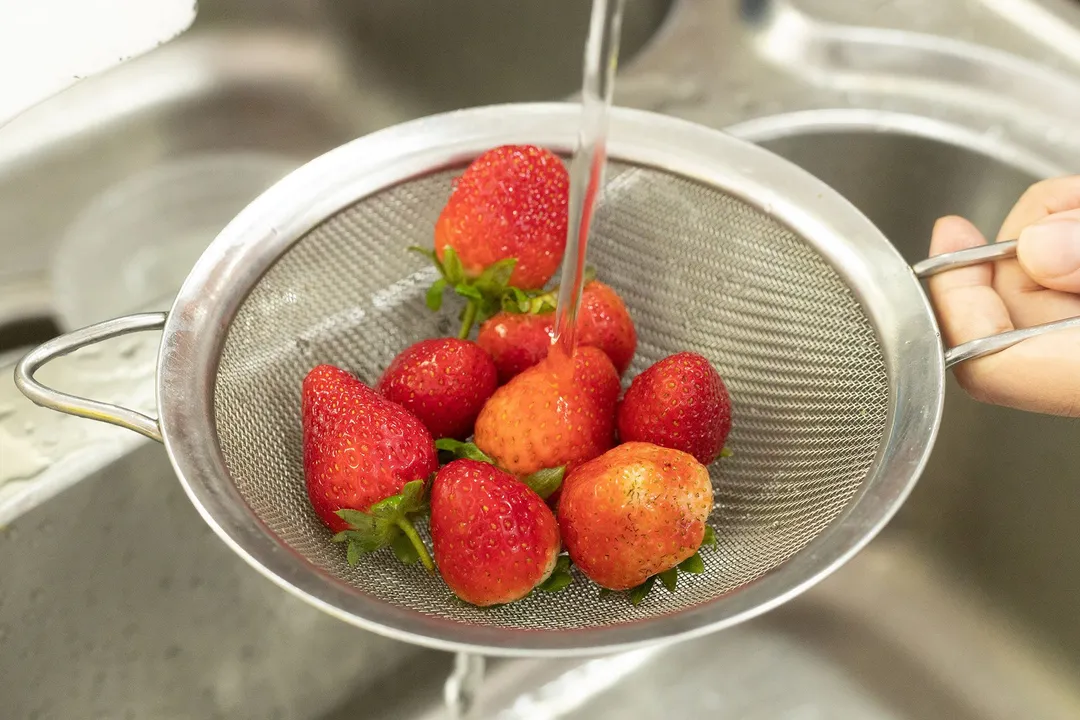 2
Slice 2 oz cucumber, 2 oz orange, and 1 oz strawberry into thin slices.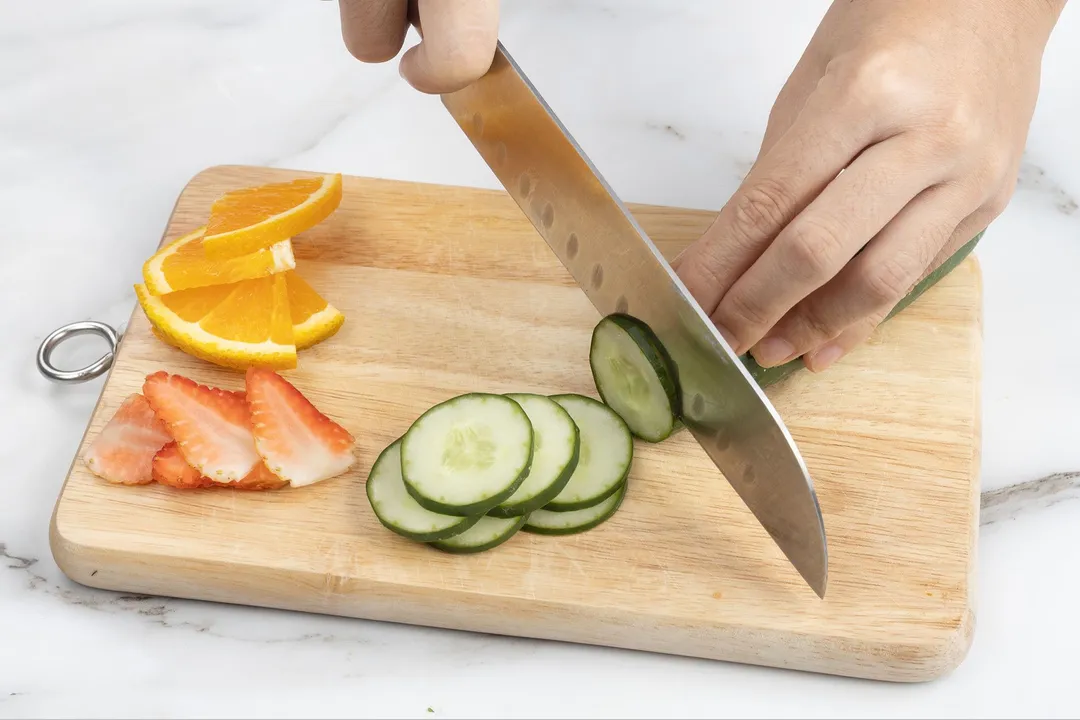 3
Place as much sliced fruit as you like into a container or pitcher with 0.5 quarts water and mint leaves.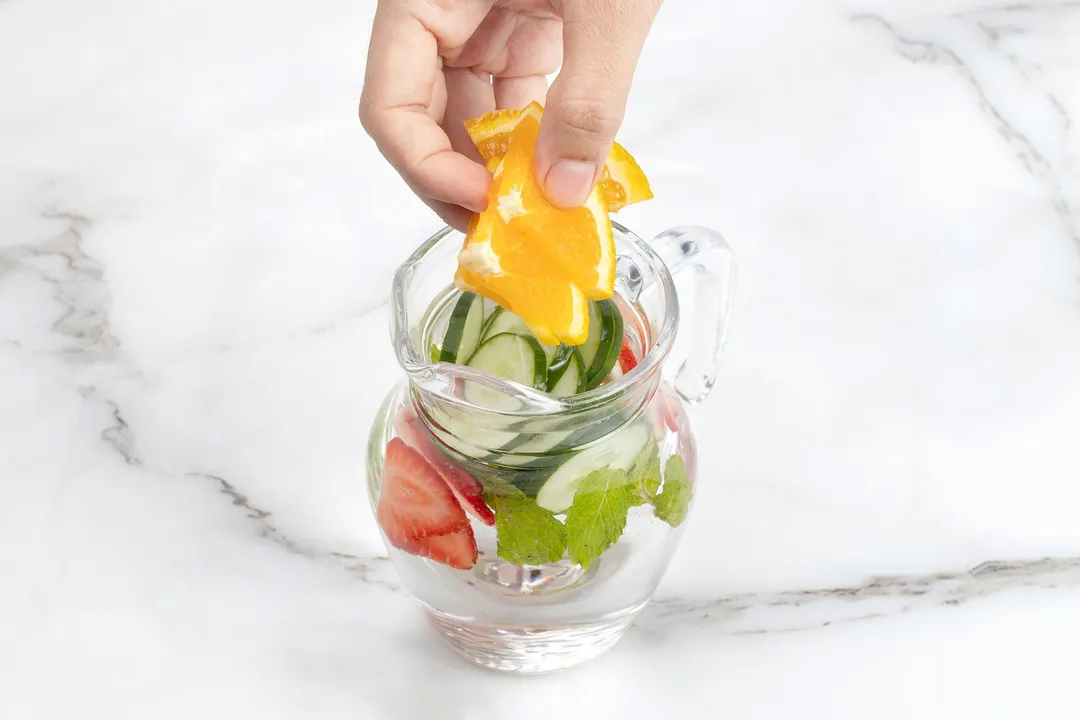 4
Allow the flavor to infuse into the water by refrigerating for 2 to 4 hours. Serve cold.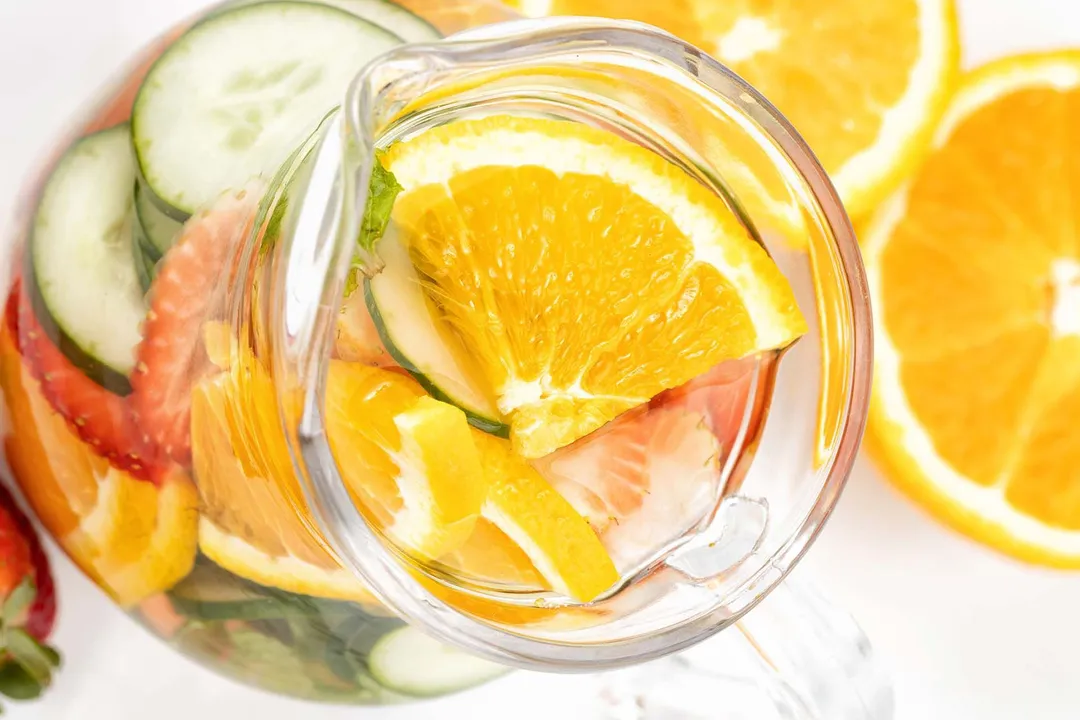 NUTRITION
Nutrition Facts
Healthy Cucumber Water Recipe
Amount Per Serving (1 serving)
Calories 24
Calories from FDA
% Daily Value*
* Percent Daily Values are based on a 2000 calorie diet.
Keywords: benefits of cucumber water, cucumber benefits, cucumber calories, cucumber health benefits, cucumber water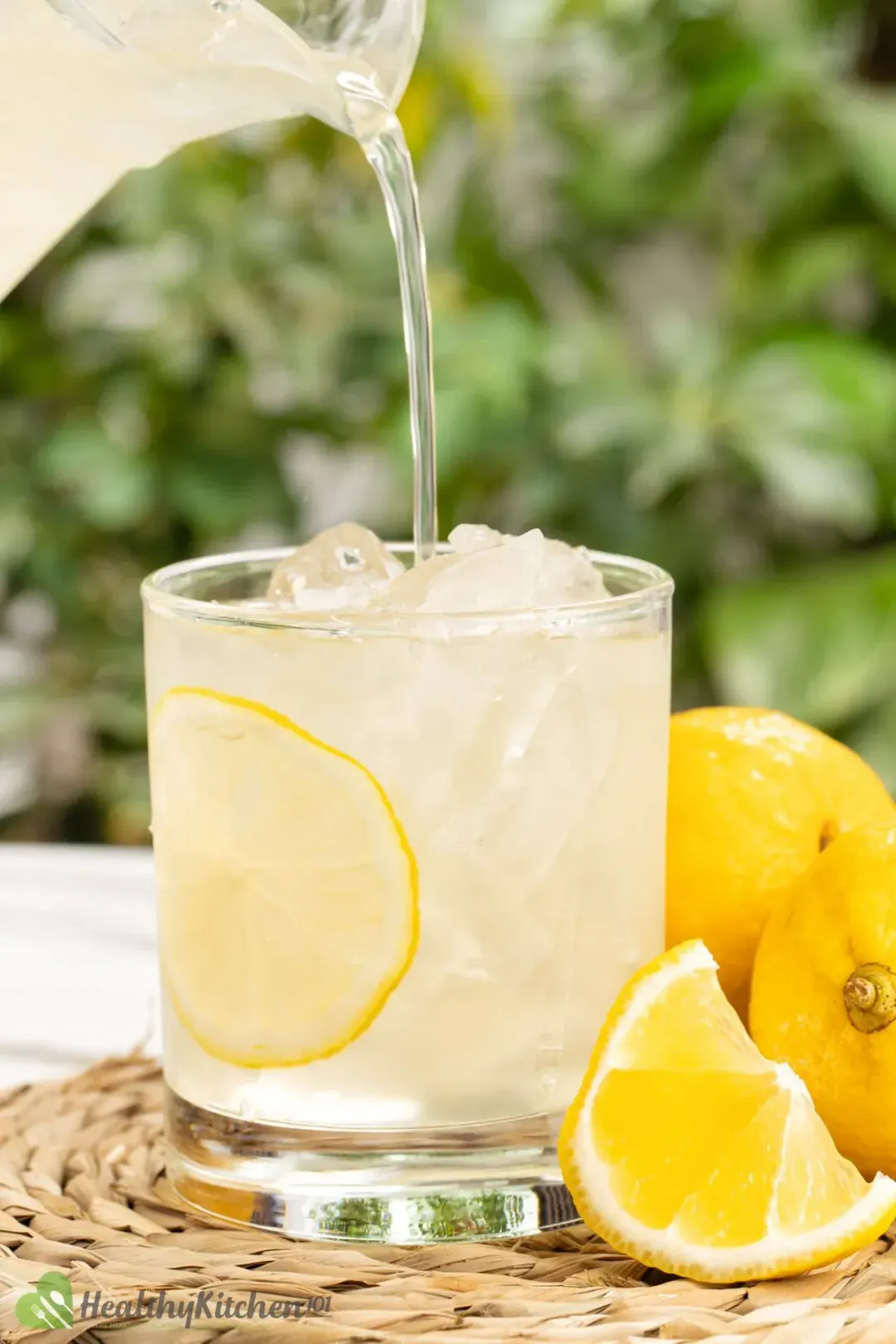 Lemonade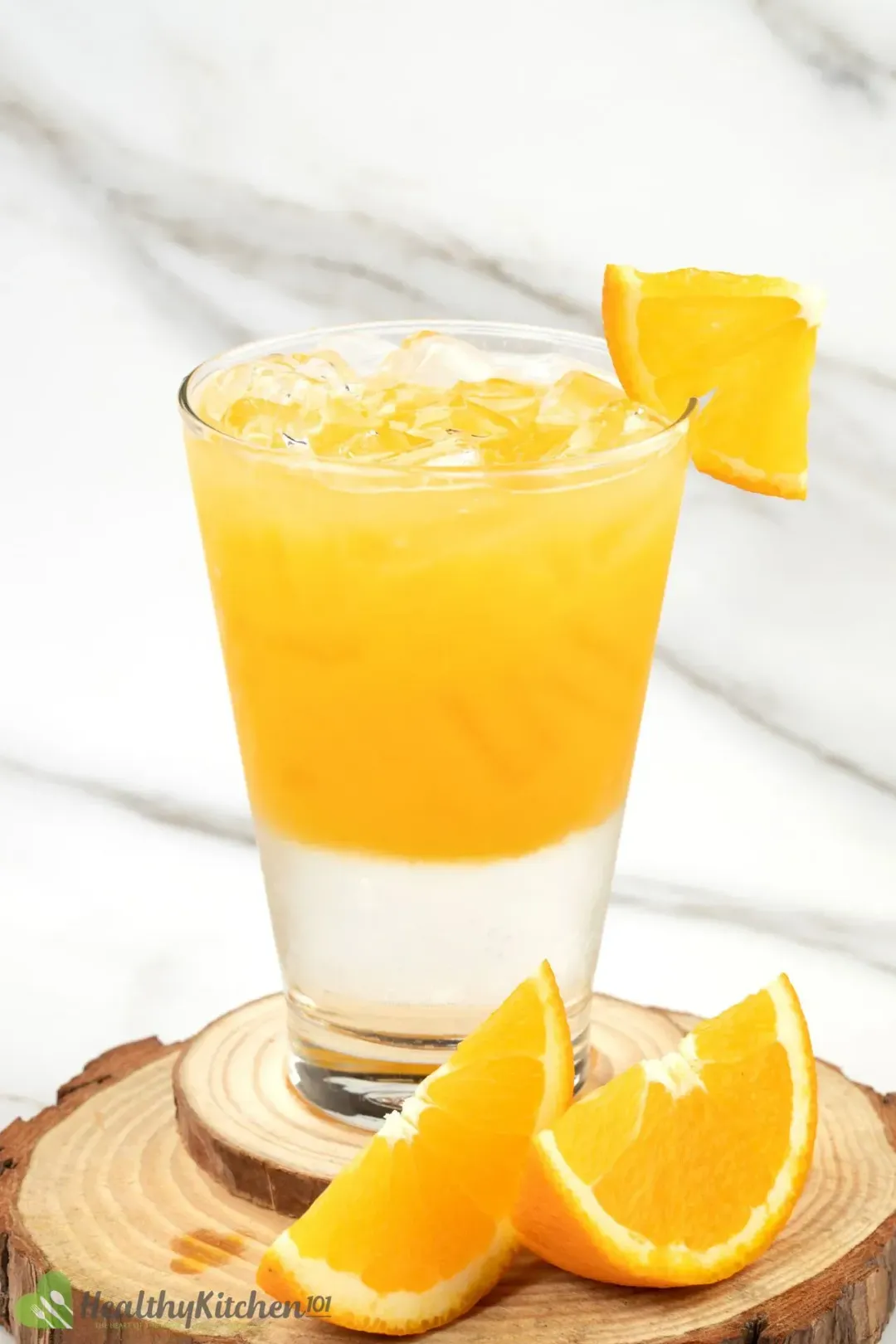 Next Recipe
Vodka and Orange Juice (Screwdriver)
Vodka and Orange Juice (Screwdriver)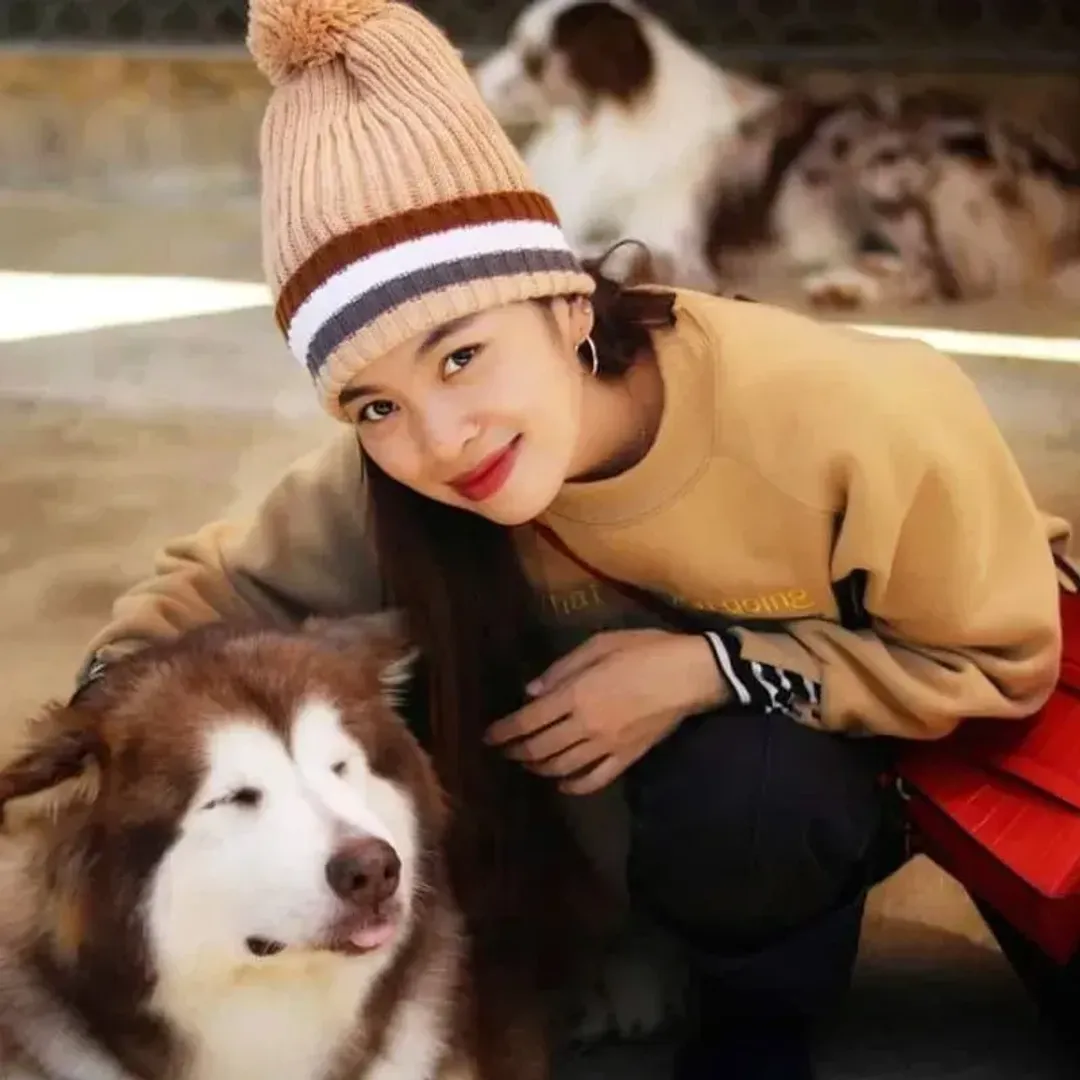 Chef, Culinary Consultant
Tuyet Pham is an award-winning Saigonese chef who believes that joy is the secret ingredient to delicious food. At Healthy Recipes 101, Tuyet personally tests and simplifies every recipe, ensuring maximum flavor with minimal effort. With a background at prestigious French restaurants P'TI Saigon and Le Corto, Tuyet knows how to make every dish exceptional.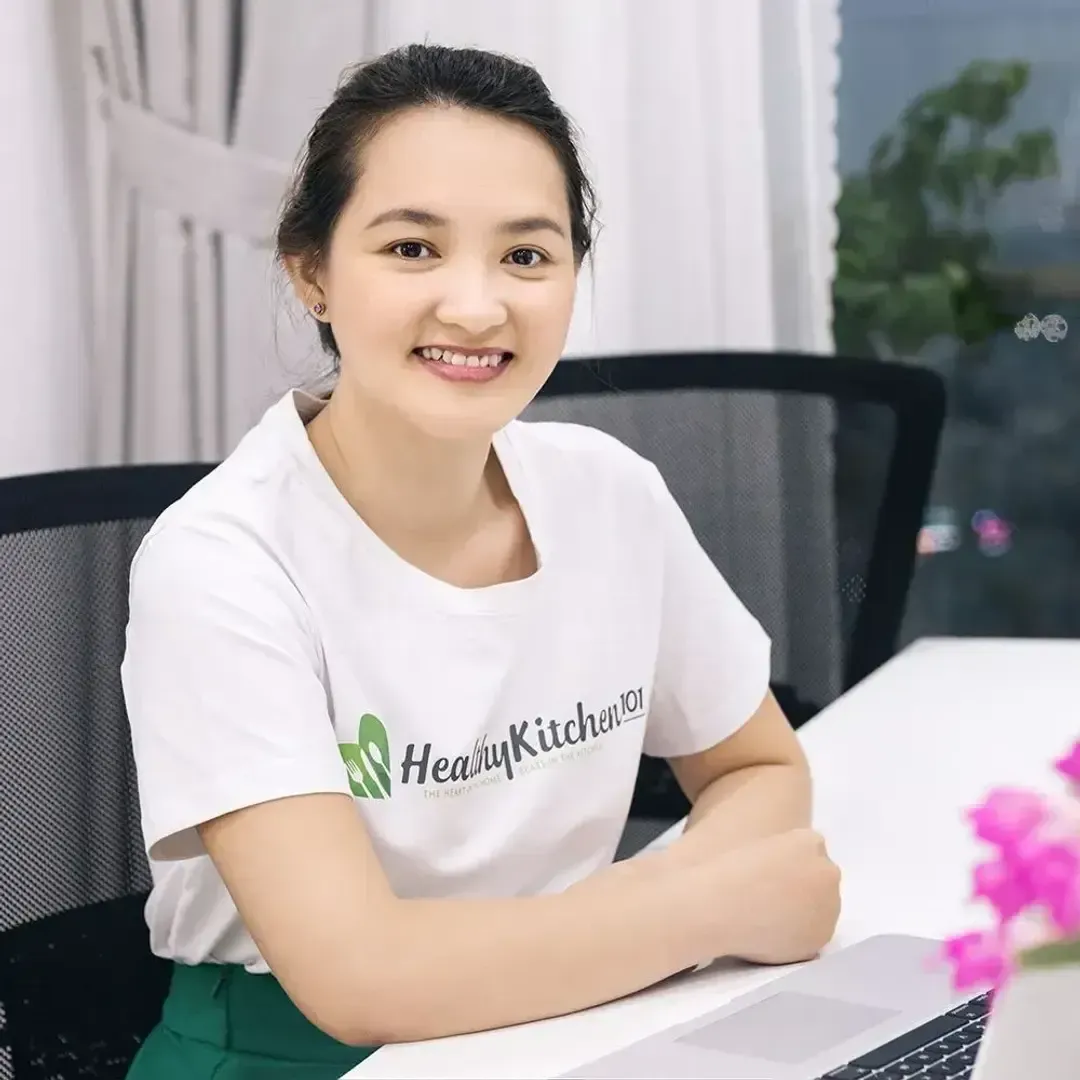 Writer, Author
Luna Regina is an accomplished writer and author who dedicates her career to empowering home cooks and making cooking effortless for everyone. She is the founder of HealthyKitchen101.com and HealthyRecipes101.com, where she works with her team to develop easy, nutritious recipes and help aspiring cooks choose the right kitchen appliances.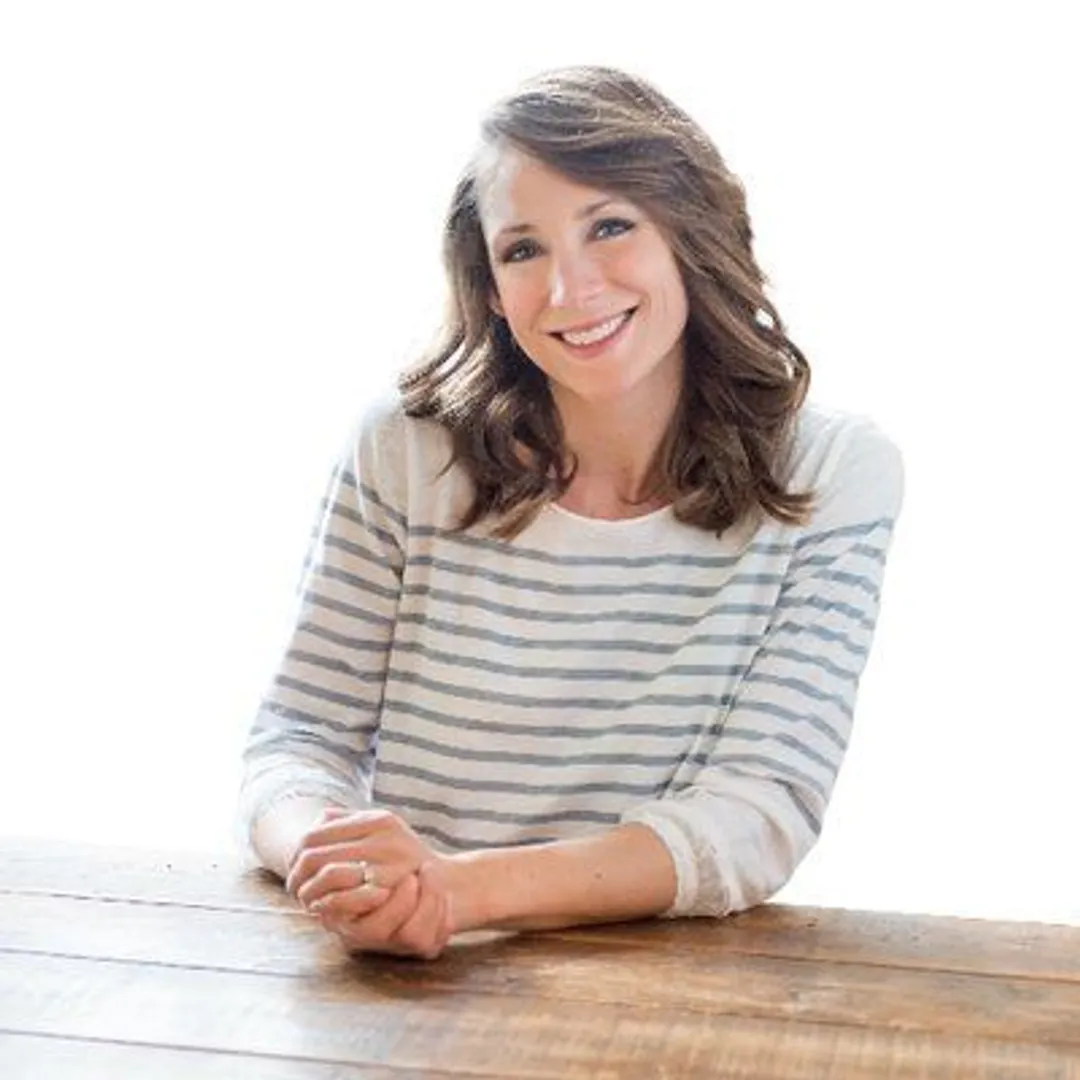 Nutrition Reviewer
Natalie is a registered dietitian nutritionist with a passion to help others live their best life through food, fitness, safer beauty and a healthy lifestyle. She has expertise with a variety of diets and diseases and believes that there is no one-size-fits-all approach for health.
Comments/ Reviews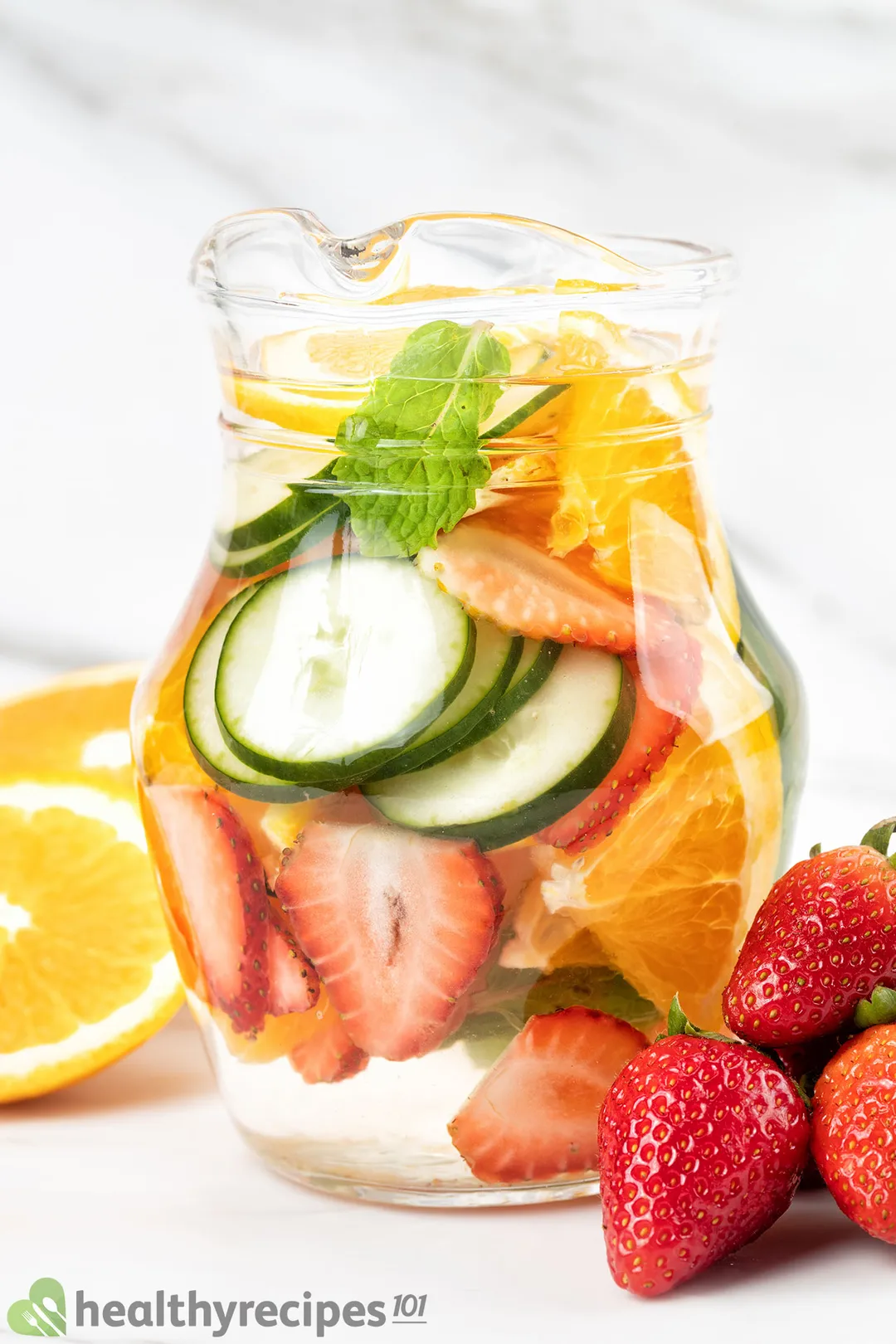 Kimberly

July 17, 2020 at 1:51 AM

It looks so refreshing and delicious. Thanks for the recipe!

Mom-mom

April 27, 2021 at 6:23 PM

Hello Luna
I have been doing cucumber water for years. you just added on two more recipes I can use. thanks. and it really healthy. I feel great after a tall cold glass of cucumber water.

God Bless
Mom-Mom

Connie

October 8, 2021 at 3:06 AM

It's look so good in is it's a healthy drink to drink every morning for belly fat