Our apple cider vinegar and pineapple juice recipe makes light work for a delectable drink with great potential health benefits.
Benefits of Drinking ACV Pineapple Juice
As the name implies, this beverage contains two main ingredients: apple cider vinegar and pineapple juice. These ingredients individually offer some essential nutrients, and combining them creates a palatable drink with some impressive healthy benefits.
1. For Weight Loss
To start, it is important to know that apple cider vinegar is made by crushing and juicing apples. Bacteria and yeast are then added to the liquid to start the fermentation process, which turns the sugar into alcohol which later becomes acetic acid.
Acetic acid appears to promote weight loss in several ways, including reducing fat storage, improving the body's ability to burn fat, and suppressing appetite. Most experiments thus far have been conducted on animals; further research is needed in humans to clarify these promising effects.
2. For the Immune System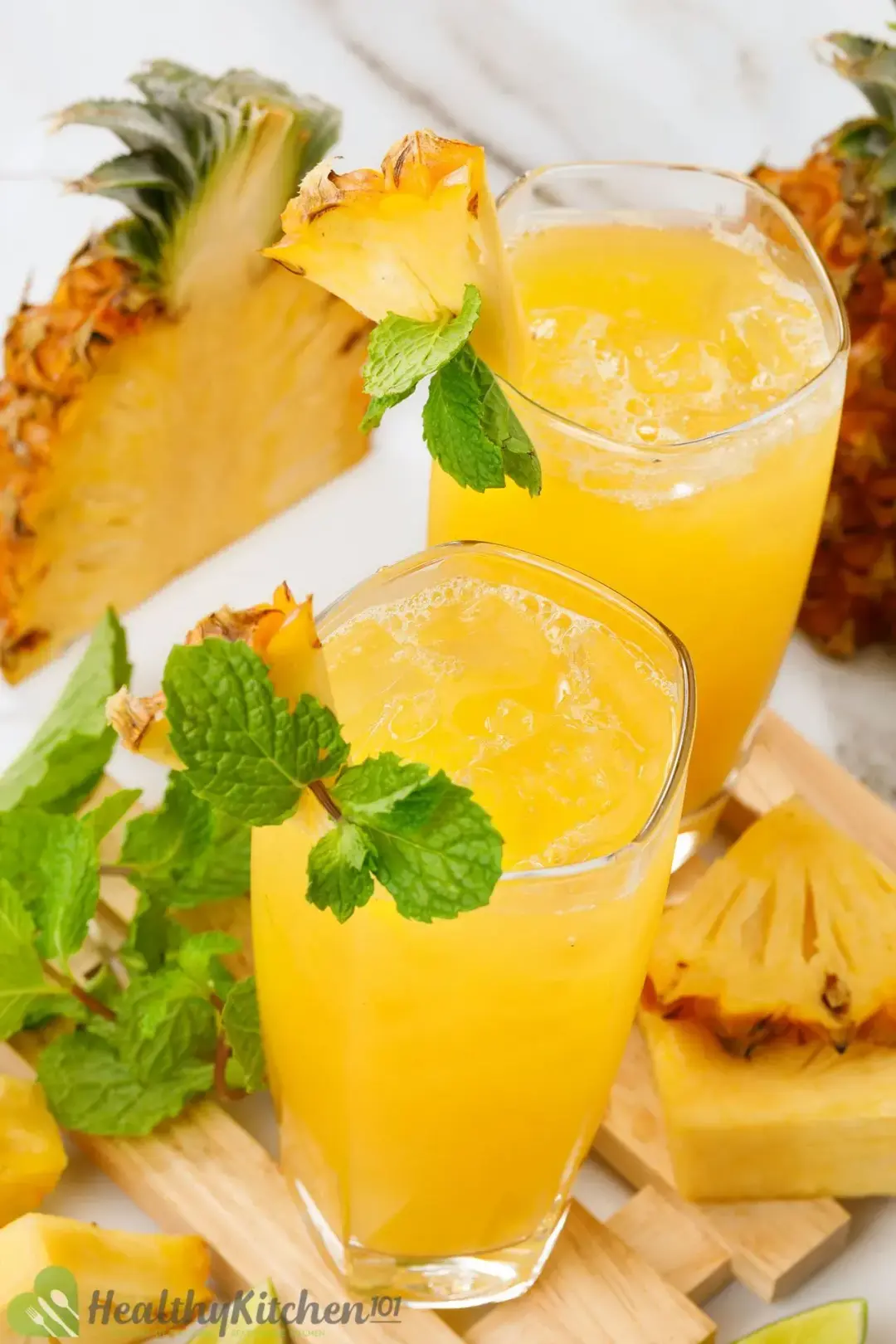 Pineapple is loaded with antioxidants, vitamin C, B6, manganese, and other essential nutrients. A significant amount of research has linked this tropical fruit to health benefits such as improved digestion, reduced inflammation, and boosts to the immune-system.
Apple cider vinegar has been used for centuries for its medical properties. This fermented drink contains some beneficial bacterias and prebiotics that can positively affect the immune system.
If you are excited about those health benefits, the good news is that it doesn't require much to make a palatable ACV drink.
How to Make Apple Cider Vinegar Pineapple Juice
This homemade beverage could hardly be simpler: combine all the ingredients in a pitcher and serve over ice.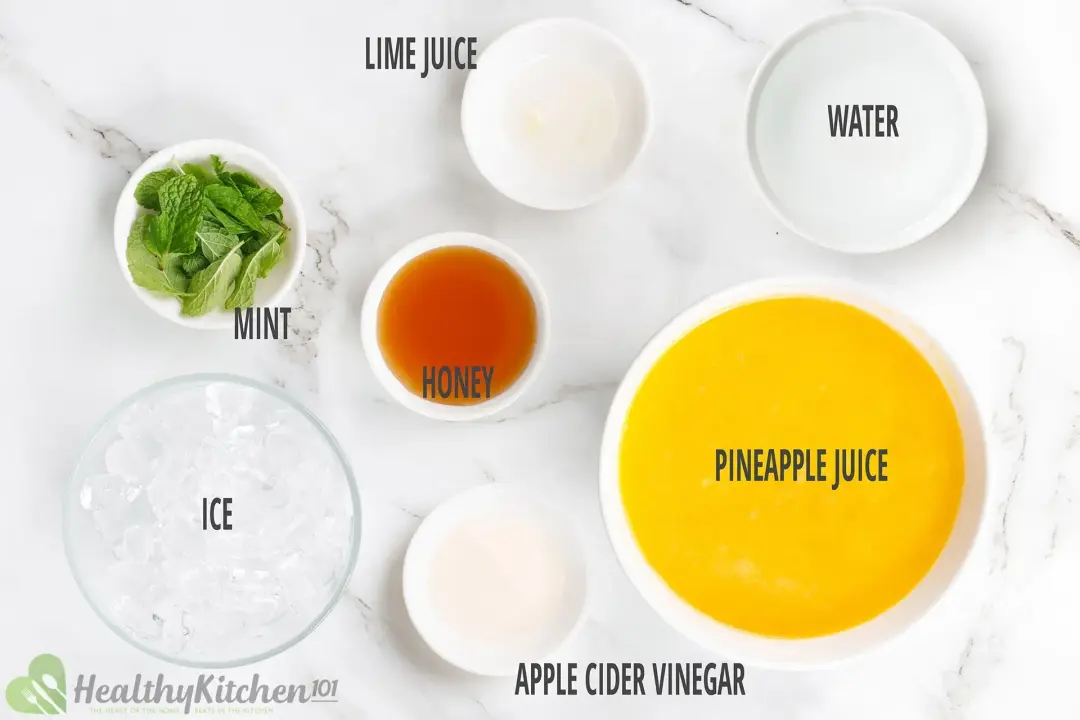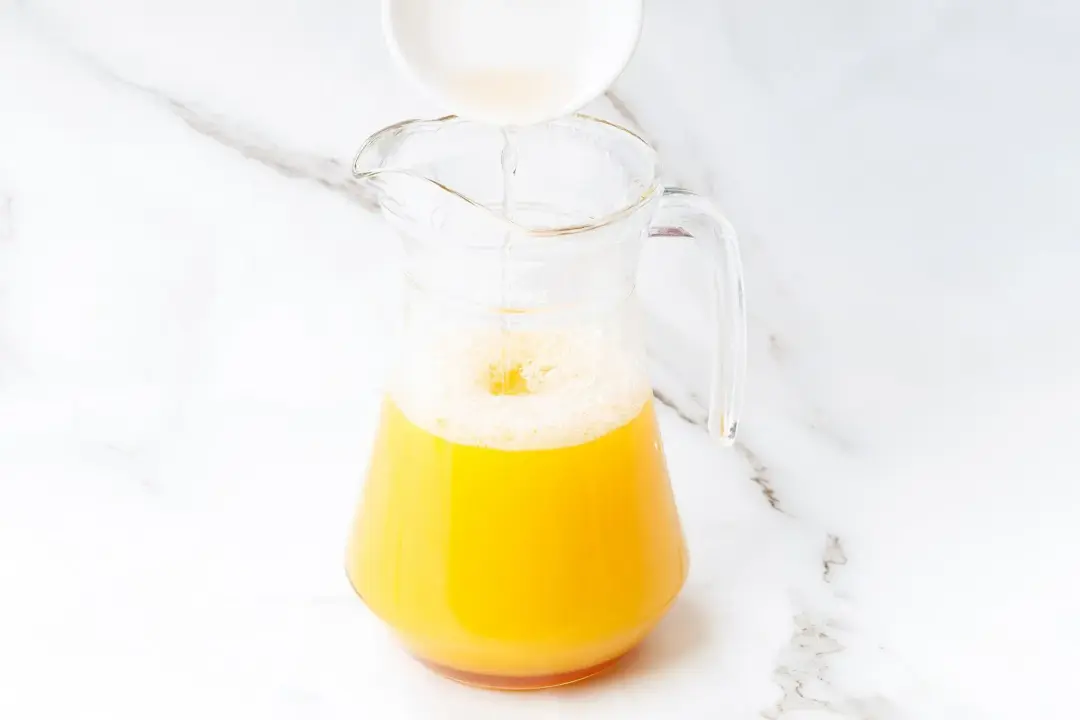 Add pineapple juice, apple cider vinegar, lime juice, honey, and water to a pitcher. Stir to combine.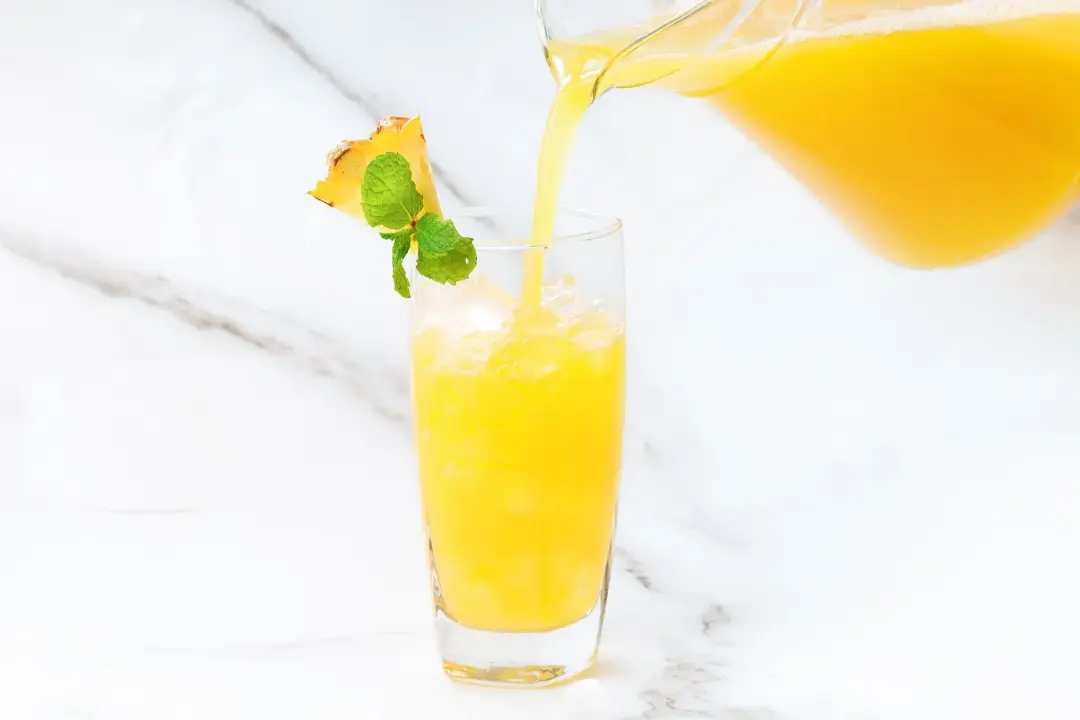 Garnish with mint leaves. Serve over ice.
Best Time to Drink Apple Cider Vinegar
There is no set of rules or scientific studies to determine the best time to drink apple cider vinegar. You can dilute ACV with water once or twice a day, in the morning, or before a meal.
If you don't like the idea of drinking water with ACV, consider combining it with your meals instead. Drizzle a tablespoon of vinegar over a salad or roasted vegetables, or try some refreshing drinks from our ACV collections, such as apple cider vinegar and lemon juice and apple cider vinegar and grape juice.
How Much Apple Cider Vinegar is Healthy Per Day
Acetic acid accounts for 5 – 6% of apple cider vinegar. Though it is classified as "weak acid," you shouldn't exceed one or two tablespoons of apple cider vinegar in a single day.
Higher apple cider vinegar consumption can lead to some health warnings like those below.
For more juice recipes with pineapple, please visit our diverse list of juicing recipes using pineapple.
What Are the Side Effects of Drinking Apple Cider Vinegar Every Day?
Apple cider vinegar is highly acidic compared to most foods, so that it can have some harmful side-effects on health, especially if consumed in large doses. 
Like other acidic foods or beverages, consuming too much ACV can weaken tooth enamel and potentially lead to tooth decay. And for those with gastroparesis, apple cider vinegar might slow down the stomach's emptying process and make your symptoms worse.
Another severe side effect of ACV relates to its interactions with other medications. Specifically, it may affect those who take diabetes medication, digoxin, and diuretic drugs. It's always a good idea to speak with your doctor before taking ACV to avoid unwanted complications.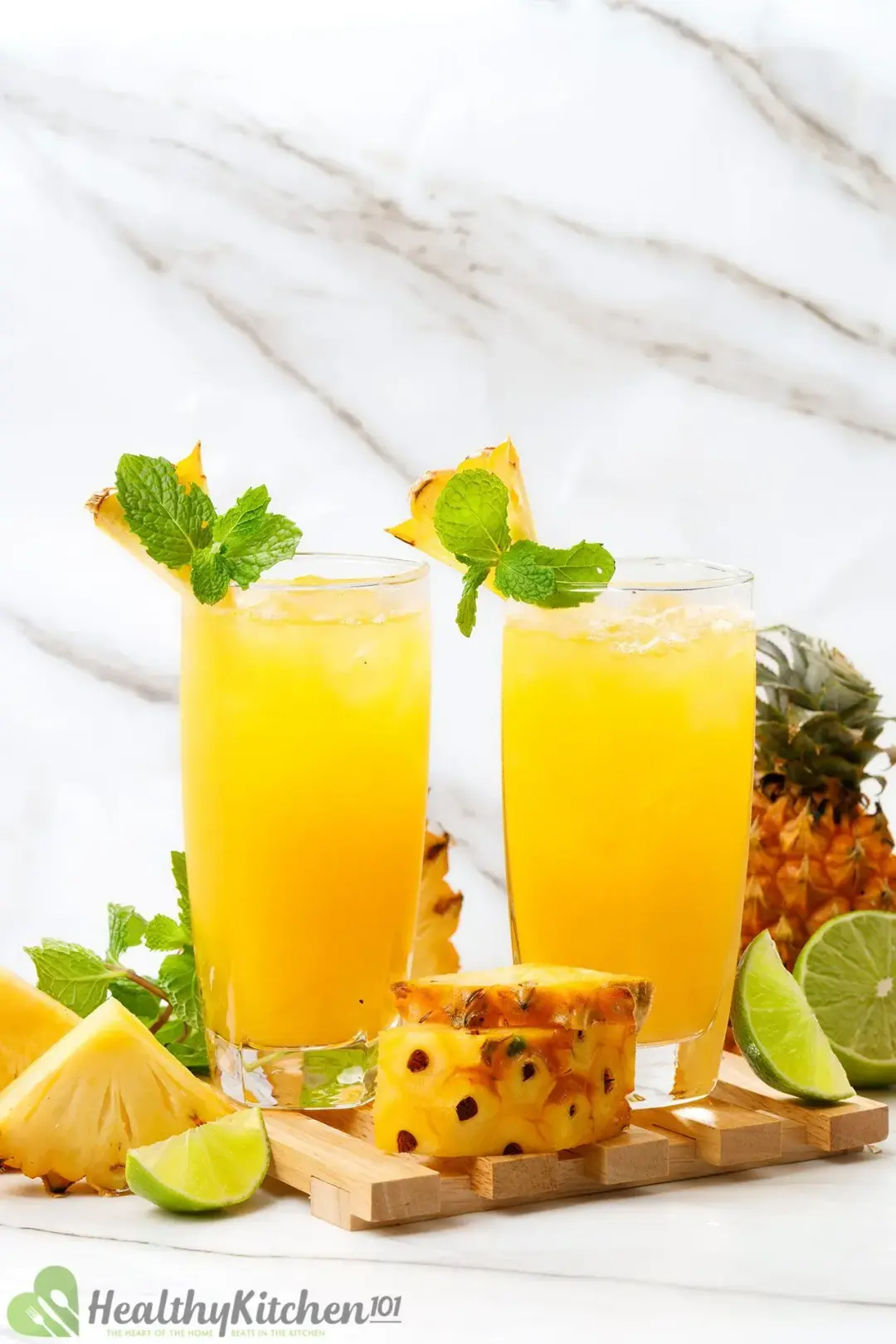 How Long Does Apple Cider Vinegar Pineapple Juice Last?
This apple cider vinegar and pineapple juice can last up to 3 days if refrigerated. However, we encourage you to use the beverage within 2 hours because too much time at room temperature can cause a rapid decrease in nutrients and a dulling of the flavor.
To limit the oxidation and maximize the juice's shelf-life, keep it in an airtight container and place it in the freezer for up to 2 – 3 months. And don't forget to leave an inch of air in the container to allow for expansion.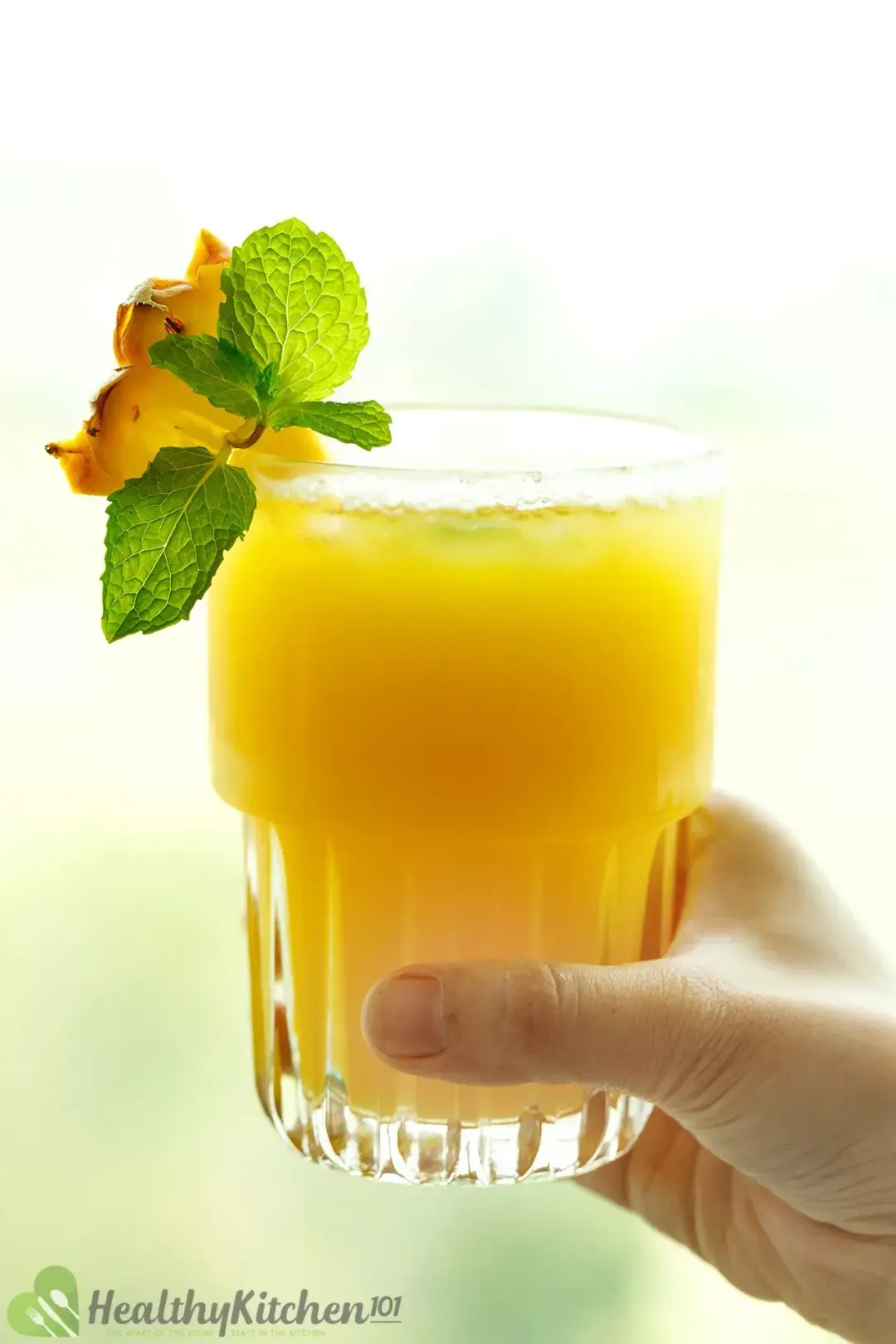 Check out this healthy juice recipes for more tasty drinks. Or if you would like to see more healthy apple cider vinegar options, see our collection of best apple cider vinegar drink roundup.
Apple Cider Vinegar and Pineapple Juice Recipe
This apple cider vinegar and pineapple juice recipe makes a sweet-and-sour drink that satisfies your thirst while exhibiting many health benefits.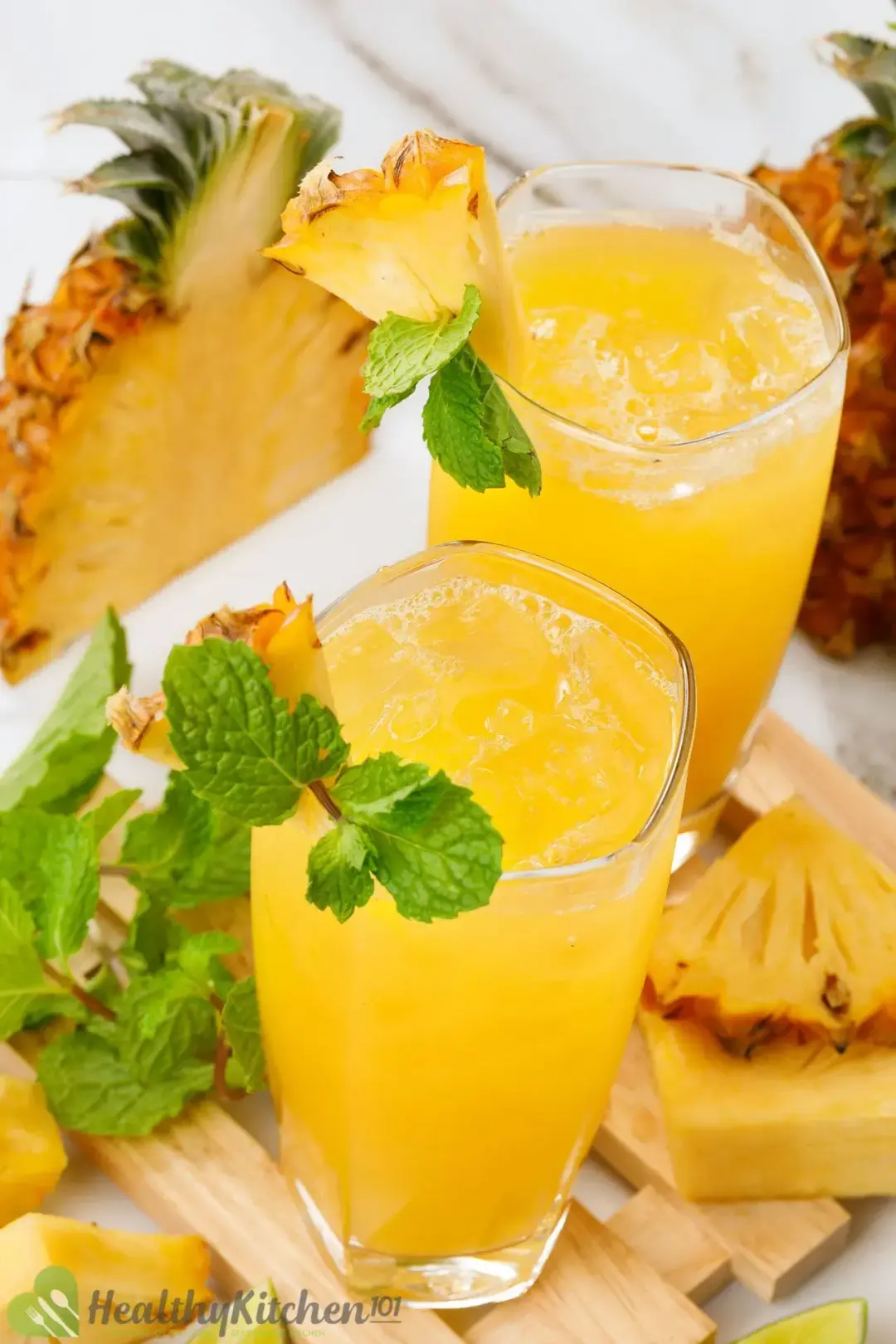 prep TIME

10 mins

total TIME

10 mins
COURSE

Beverage

CUISINE

Global

SERVINGS

servings

CALORIES

67 kcal
INGREDIENTS
2 tbsp

mint leaves

16 fl oz

pineapple juice (from 18-20 oz of pineapple)

1.5 tbsp

apple cider vinegar

1 tsp

lime juice

1 tbsp

honey

1.5 cups

water

2 cups

ice
INSTRUCTIONS
1
Drop mint leaves into a large pitcher and use a wooden spoon to crush them.
2
Add pineapple juice, apple cider vinegar, lime juice, honey, and water. Stir until all the honey dissolves.
NUTRITION
Nutrition Facts
Apple Cider Vinegar and Pineapple Juice Recipe
Amount Per Serving (1 serving)
Calories 67
Calories from FDA
% Daily Value*
* Percent Daily Values are based on a 2000 calorie diet.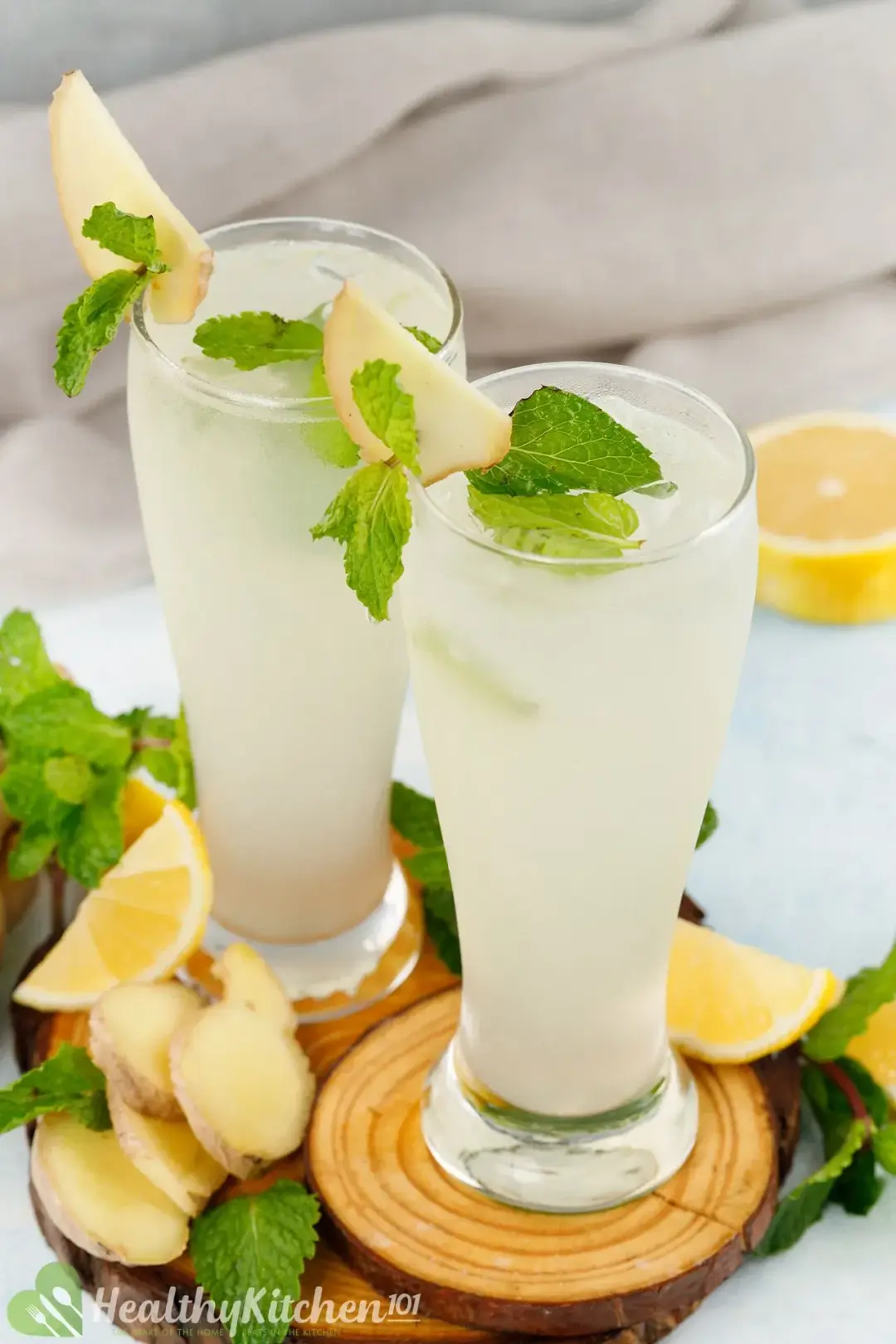 Previous Recipe
Ginger Lemonade
Ginger Lemonade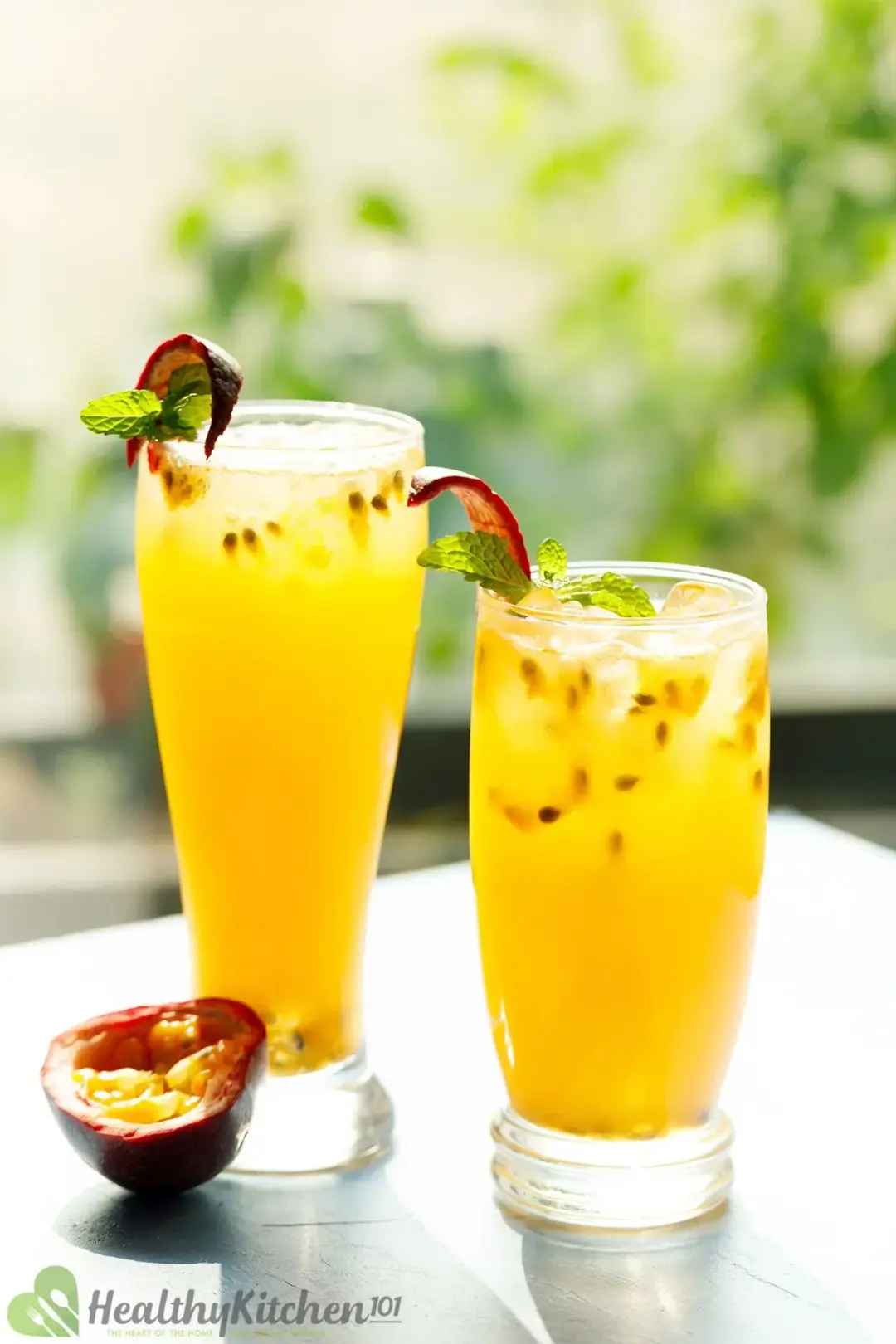 Next Recipe
Passion Fruit Juice
Passion Fruit Juice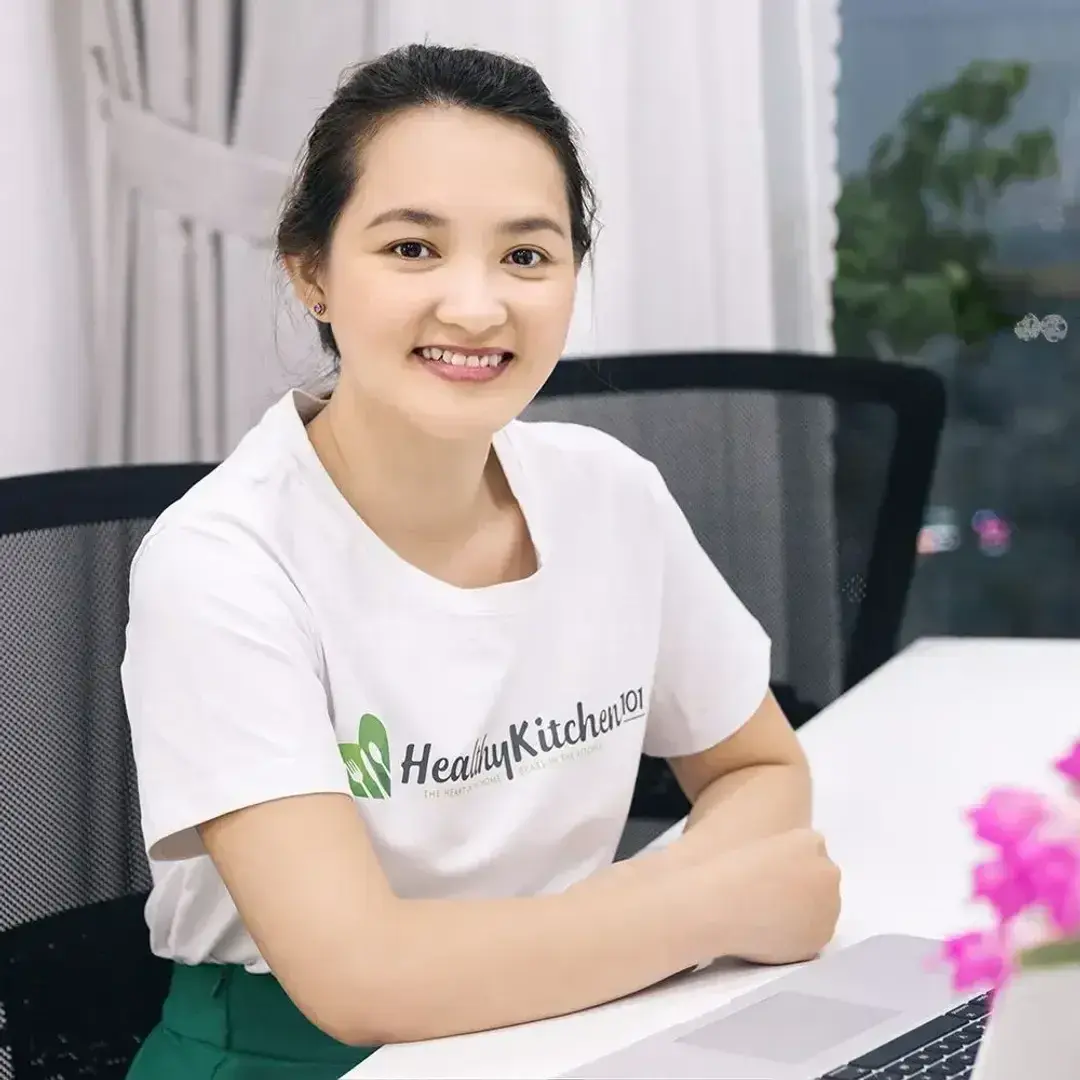 Writer, Author
Luna Regina is an accomplished writer and author who dedicates her career to empowering home cooks and making cooking effortless for everyone. She is the founder of HealthyKitchen101.com and HealthyRecipes101.com, where she works with her team to develop easy, nutritious recipes and help aspiring cooks choose the right kitchen appliances.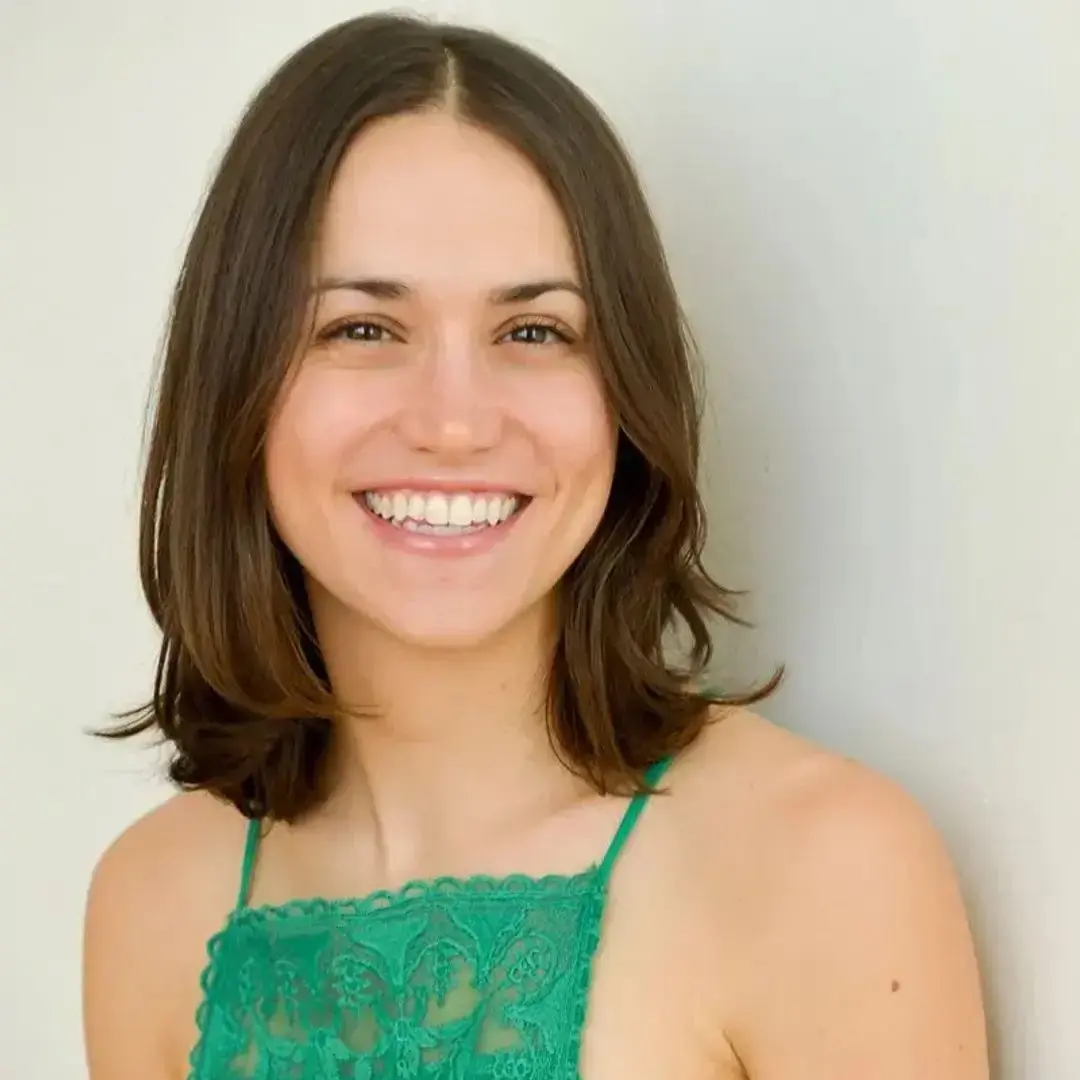 Nutrition Reviewer
Lizzie is a Minneapolis-based dietitian and founder of It's a Veg World After All. She completed her MS in Human Nutrition from Drexel University, and is an expert in culinary nutrition, recipe development, and nutrition communications.
Comments/ Reviews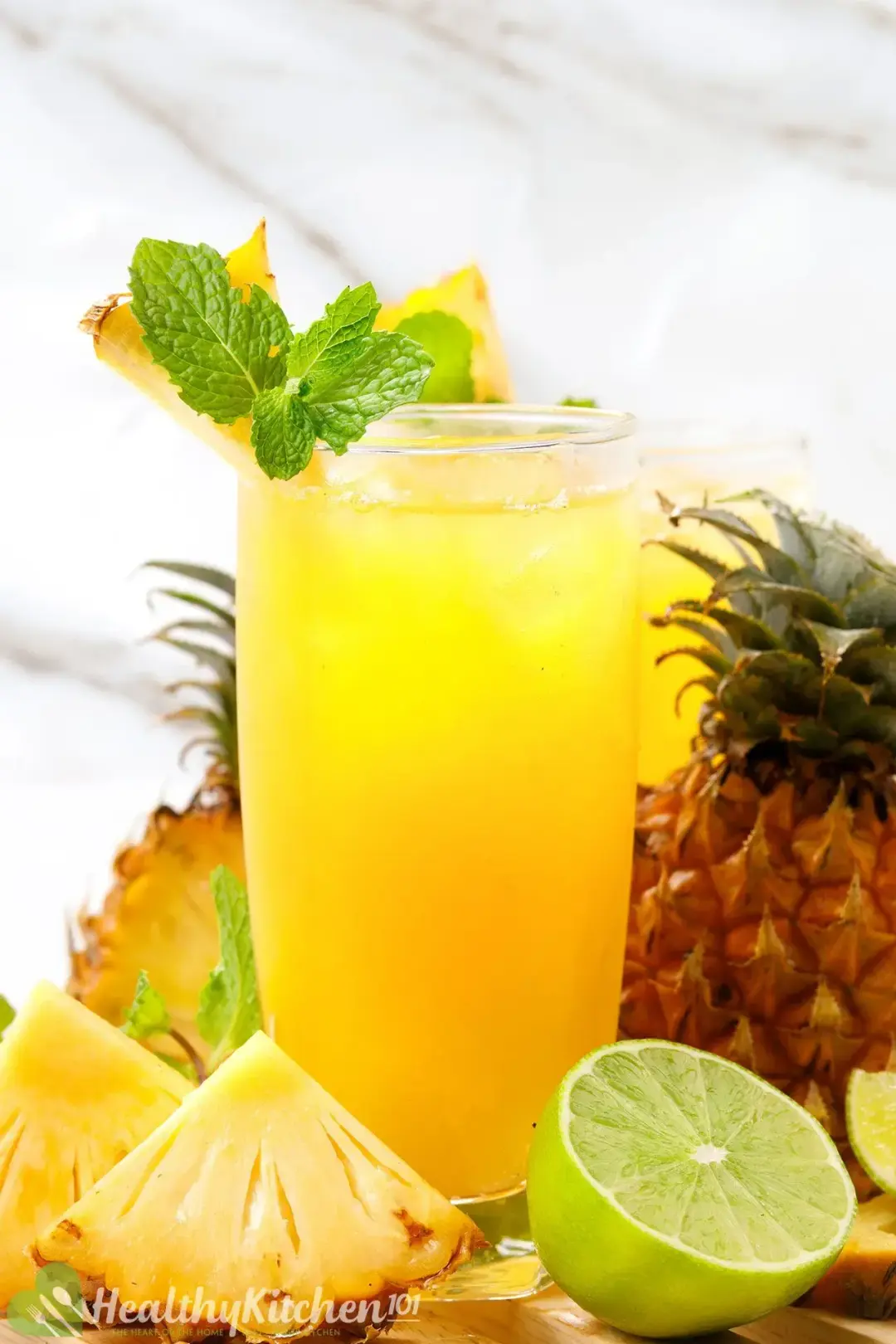 Apple Cider Vinegar and Pineapple Recipe