This foolproof blue jungle juice recipe keeps your health in mind. It shaves the sugar, cuts the calories, and trims down your time.
Today, we share secrets on how to make it more agreeable. You see, jungle juice is easy on the eye— not so much on the body.
A few swigs can turn you tipsy, then drunk, and leave you feeling sick. In one wild night, you can lose your soberness and your love for jungle juice.
But you don't have to. We tried our best and came up with a simple, safer version.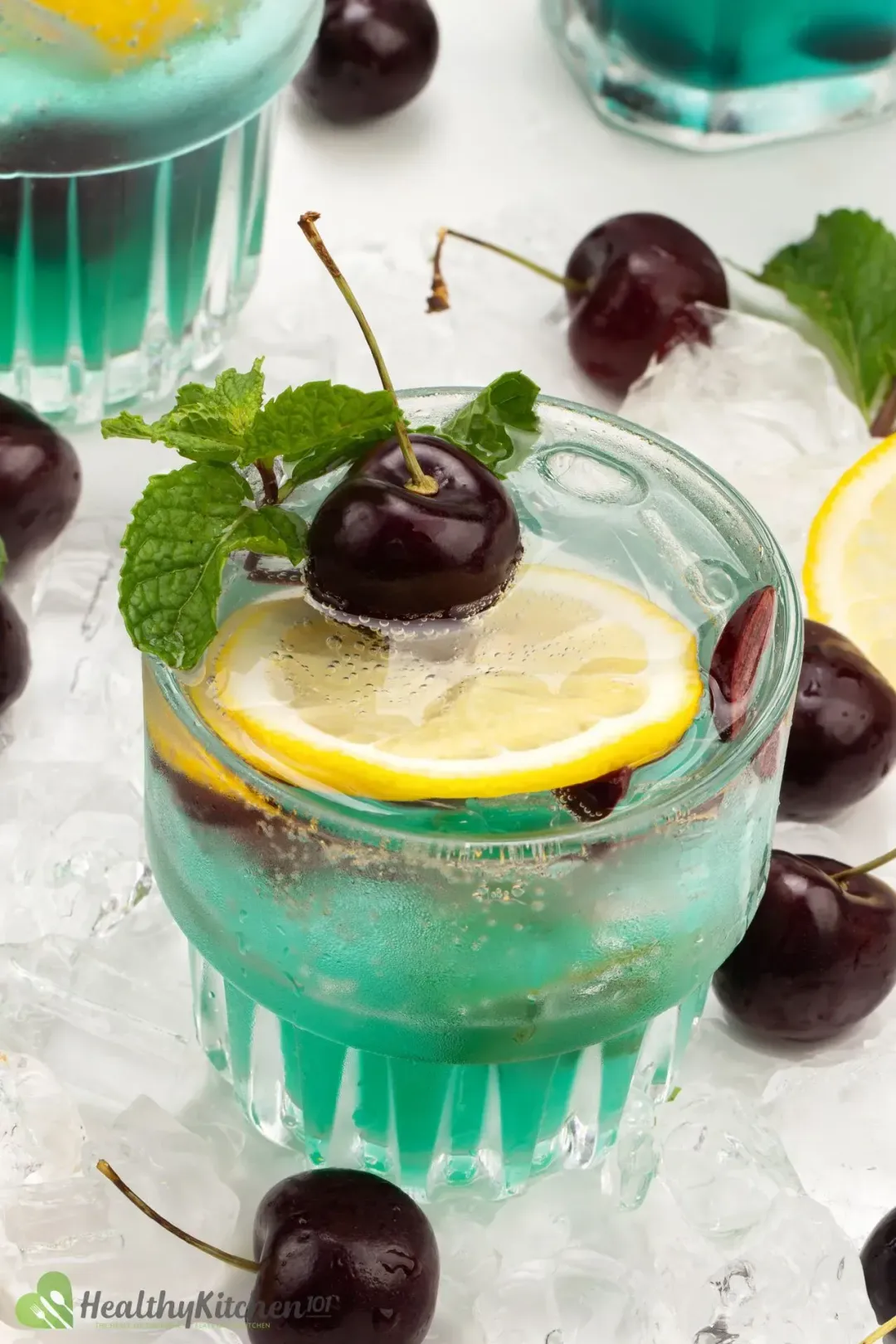 Read on to learn how we've made this cocktail health-friendly and how you can carefully enjoy it.
Why Is It Called Jungle Juice?
Jungle juice is a mix between a fruit brew and a cocktail.
It starts off as overnight fermented fruits mixed with alcohol. The following day, a dangerous jungle juice fruit punch.
The drink rivals stiff cocktails such as the bone-dry martini and has recently emerged as a frat-house version of a fun night: fruit juice, club soda, liquor, sugar, fruits, sticks, stones, you name it.
Whatever you do, don't go overboard with it.
Is This Blue Jungle Juice Good for You?
You can have this blue jungle juice without experiencing the trainwreck that comes with other alcoholic cocktails. That doesn't make it healthy, but the following reasons make it safe for incorporating into a healthy lifestyle:
1. Alcohol Amounts
If you've ever experienced a rough headache after a night of drinking, you'll want to avoid it in the future.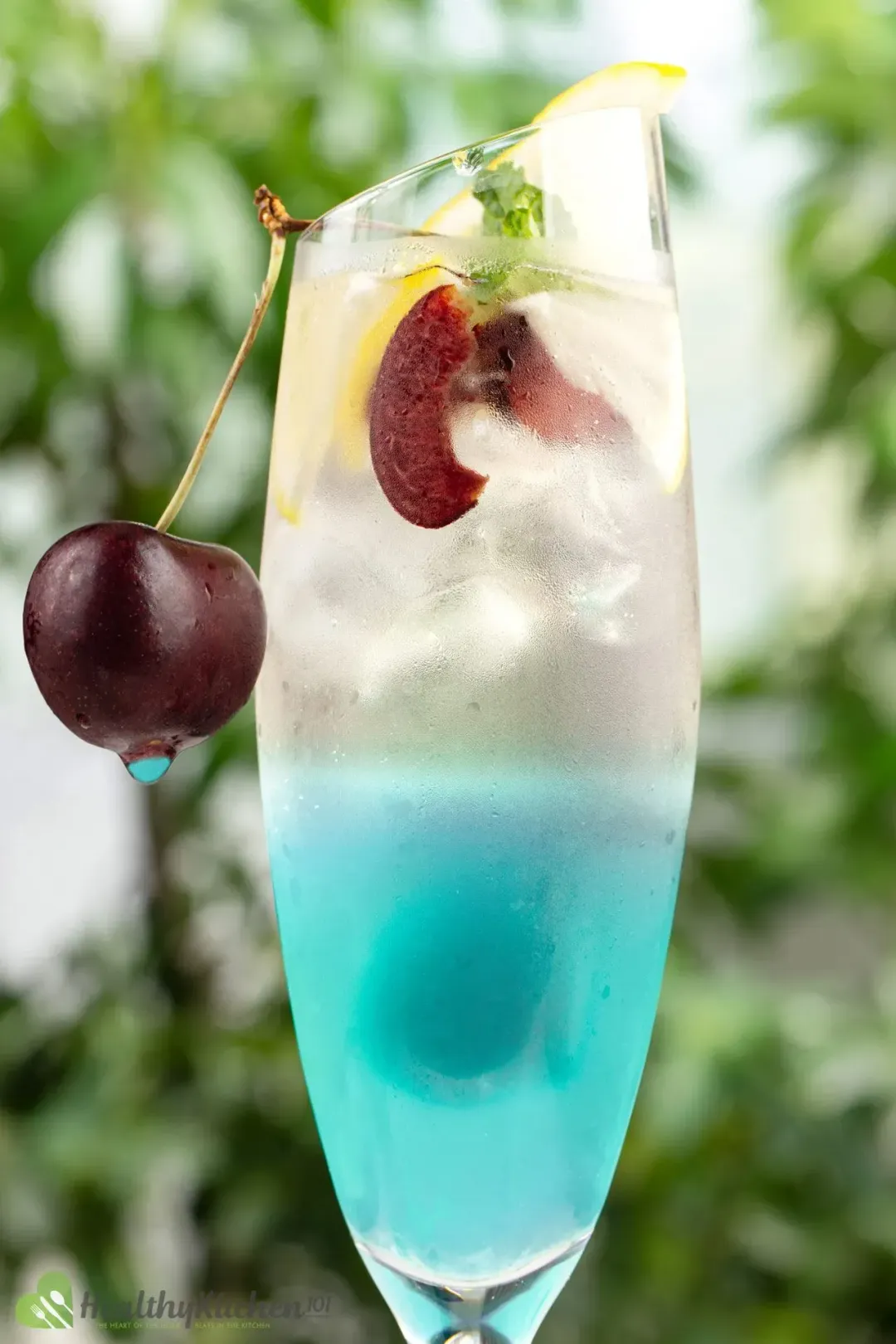 We achieved a less toxic cocktail by reducing the amount of alcohol per serving while limiting adverse effects such as hangovers.
According to the USDA, our blue jungle juice recipe keeps alcohol within the guidelines. A serving contains 42%-83% of the daily limit.
A habit of drinking more than this can impose health risks such as cancer and liver damage.
We recommend you practice drinking in moderation to maintain a healthy lifestyle and decrease the risk of alcoholism— and regret. You can check out another jungle juice recipe of ours that will fit perfectly into a healthy diet with similar modifications.
2. Sugar Amounts
Another pressing issue that precludes achieving a healthier lifestyle is not sugar itself, but large amounts of it.
Mixers usually add copious amounts of sugar to jungle juice to make up for the dominant liquor flavor. This makes it more palatable and equally more hazardous.
Eating sugar in excess can contribute to tooth decay and cavities. It could also lead to more severe conditions like diabetes and obesity.
Sugar contains many calories, and high-calorie diets have been linked to weight gain and an increased risk of diabetes. It's like a one-way ticket to compromised health.
But you can rectify this by reducing the amount of added sugar in your diet. By limiting it, you can control your weight better and reduce the risk of chronic diseases.
How to Make Blue Jungle Juice with Fruit
This is not your typical jungle juice with Everclear. Instead, it uses 80 proof liquor for a lower percentage of alcohol by volume.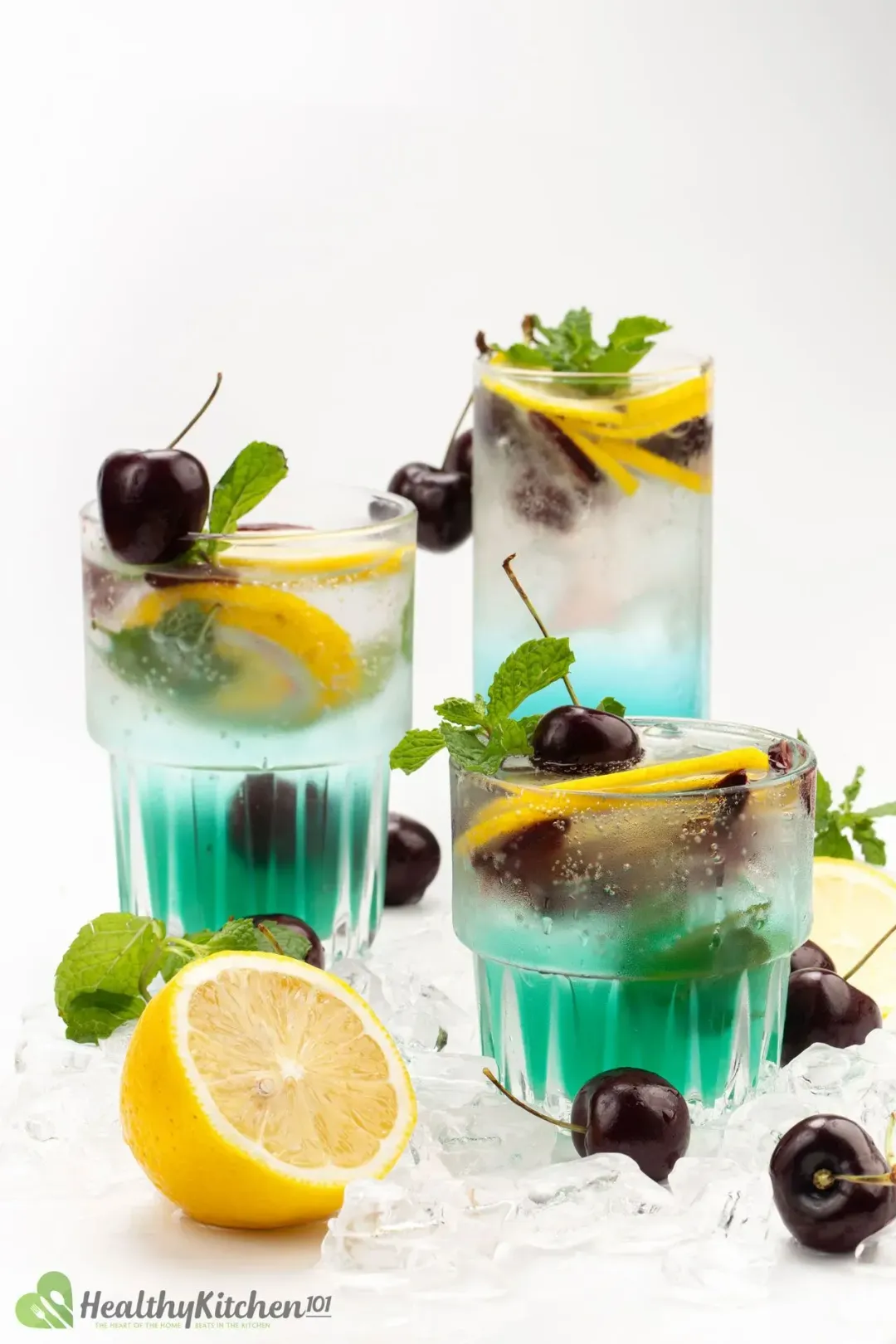 Start with fresh pineapple and lemon juices. You can juice your fruits for a cleaner, more refreshing finish.
Wash the cherries and set them aside. Then, measure rum and blue cordial into a large pitcher.
Add pineapple and lemon juices, coconut water, and club soda. Stir in the sugar until it dissolves.
Next, assemble your glasses and fill them with ice. Pour in the blue jungle juice and garnish with mint, cherries, and lemon slices.
The aim is to create a mix of fresh fruit and juice to end up with an enjoyable alcoholic cocktail. Feel free to use it for a jungle juice recipe that's just as quick and easy to follow.
What Happens When You Drink Jungle Juice?
You can get drunk if you consume large amounts of jungle juice. Even with our revised recipe, too many servings at a time could make you lose control.
The best way to avoid the cumulative effects of drunkenness is to use our above health guidelines for drinking moderately.
Other ways that help include drinking plenty of water whenever you drink jungle juice. This can help to dilute the alcohol and reduce the negative impact on your liver.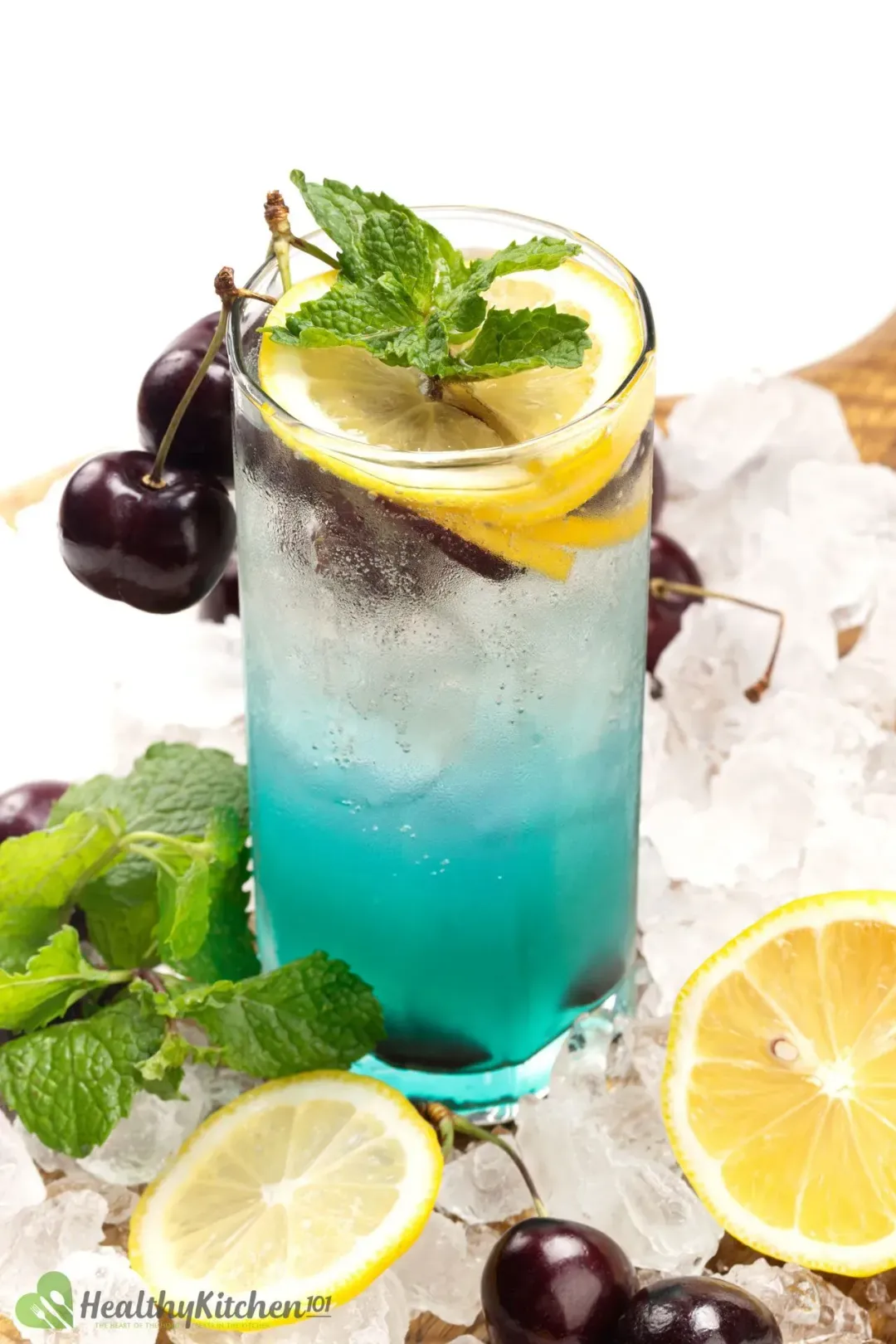 You can also space out your drinks, limiting them to about one serving per hour. This may further give your liver time to manage the alcohol.
For more easy and nutritious drinks, take a look at our healthy juice recipes.
How Long Does Blue Jungle Juice Last in the Fridge?
Jungle juice can last up to 3 days in the refrigerator. You can keep it in an airtight container (like a secure mason jar) to keep it fresh and preserve nutrients.
Try not to leave it at room temperature for over 2 hours, as this makes it less safe to consume.
For extended storage, transfer it into a freezer-safe jar and leave it in the freezer for up to 3 months. Remember to keep an inch of space to allow room for expansion.
When ready to use, leave it at room temperature to defrost for 1 to 2 hours. Taste to make sure it still has flavor before serving.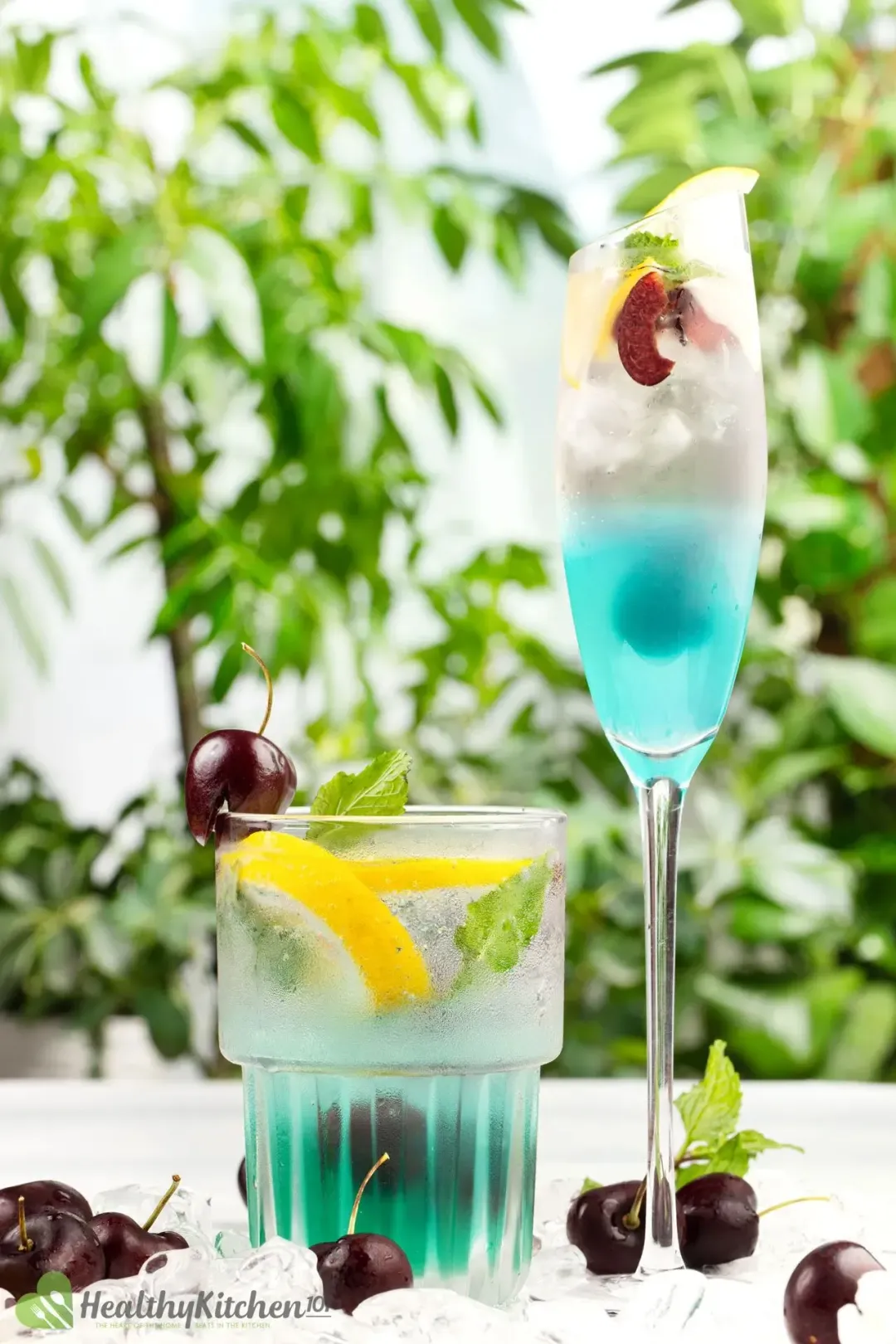 For more party beverages, check out a similar fruit mix drink with vodka or the full list of jungle juice recipes.
Blue Jungle Juice
This blue jungle juice recipe is a gorgeous blend of liquor and fruit punch. Elegantly garnish and serve on the rocks.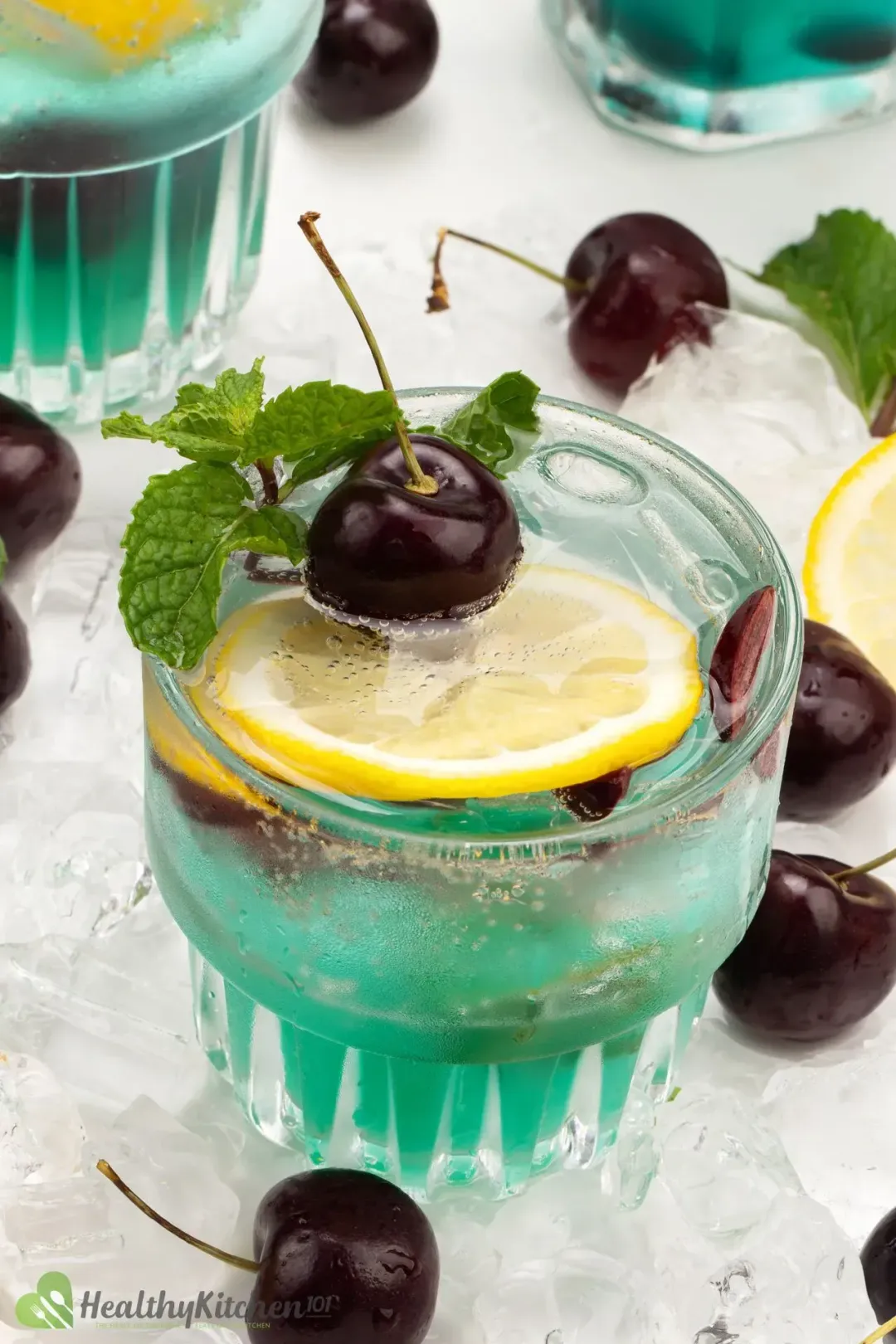 prep TIME

6 mins

total TIME

6 mins
COURSE

Beverage

CUISINE

American

SERVINGS

CALORIES

149 kcal
INGREDIENTS
2 fl oz

pineapple juice

(fresh)

1 tbsp

lemon juice

(fresh)

2 fl oz

80-proof white rum

8

fresh spearmint leaves

(garnish)
INSTRUCTIONS
1
Add lemon and pineapple juices, club soda, coconut water, rum, cordial, and sugar into a larger pitcher. Stir to combine.
2
Garnish with cherries, mint, and sliced lemon. Serve over ice.
NUTRITION
Nutrition Facts
Blue Jungle Juice
Amount Per Serving (1 serving)
Calories 149
% Daily Value*
* Percent Daily Values are based on a 2000 calorie diet.
Keywords: Blue Jungle Juice, Blue Jungle Juice Recipe, How to make Blue Jungle Juice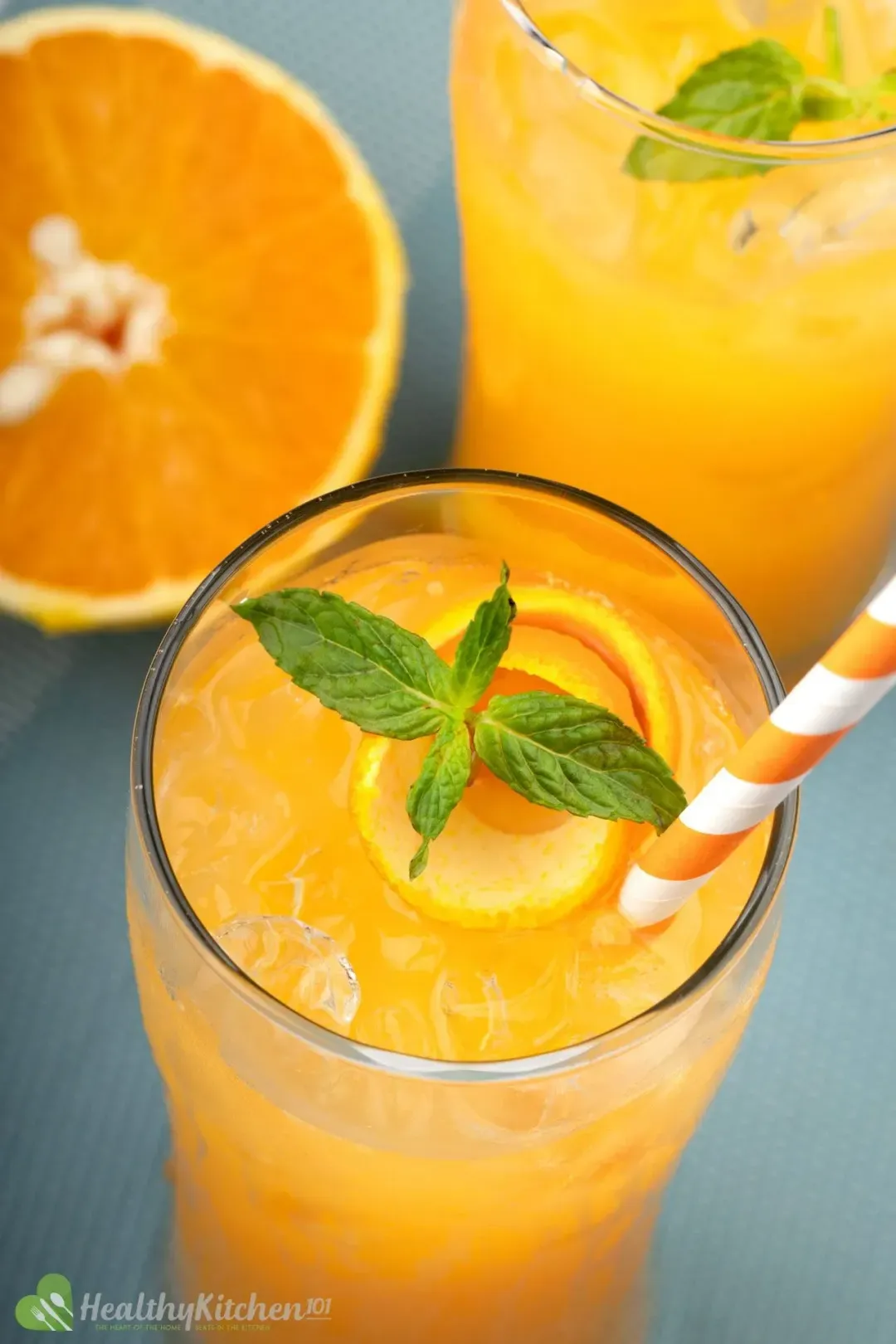 Previous Recipe
Simply Orange Juice
Simply Orange Juice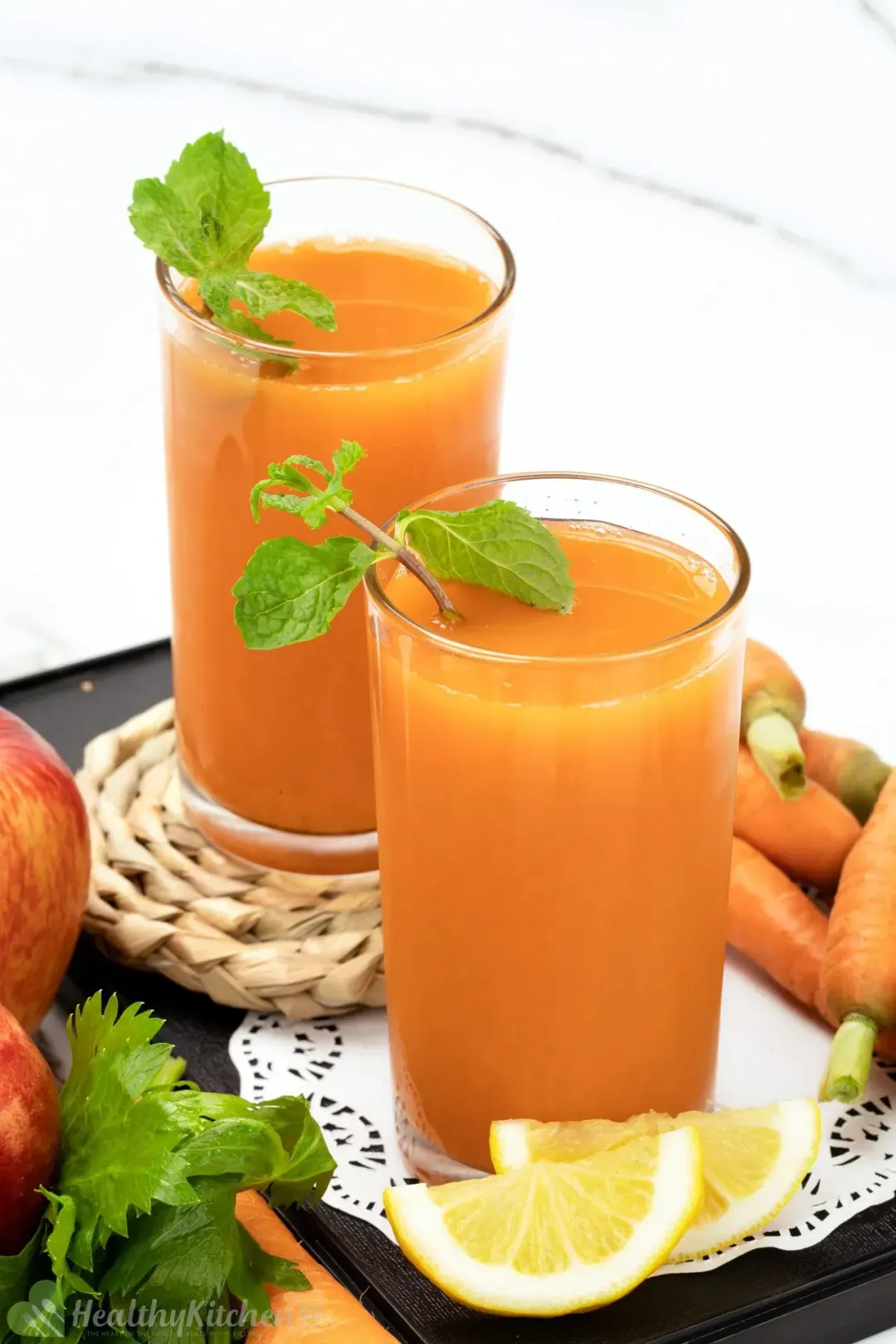 Next Recipe
Carrot Celery Juice
Carrot Celery Juice
This Juice tasted amazing and the blueberry flavor was the star of this drink. I could taste all the different fruit flavors as I sipped on it.

Vibrant jungle juice recipe.