Coming up with an excellent recipe for spicy tomato juice this International Hot and Spicy Food Day (January 16) can be tricky. One has to consider nutrition, calories, and content— elements beyond taste that determine whether or not a recipe is good.
So, when we found a perfect balance of flavors and nourishment, we were excited to share this drink. It's a tomato-jalapeño mix that can help boost your vision and weight loss journey using fruits and vegetables.
Read on to learn how it can contribute to your health and how to make your own tomato beverage.
Is Tomato a Fruit?
It depends on how you look at it. Whether scientifically, nutritionally, or from a culinary perspective, all have reasons for defining tomato as either a fruit or vegetable.
We believe the tomato is a fruit.
According to botanists (scientists who study plants), a fruit is the fleshy substance that develops from fertilization of a flower's ovary and contains seeds. In short, the product of an impregnated flower.
Taking a look at the tomato's plump texture and seeded center, this description fits that of a botanical fruit. Other examples are cucumbers, eggplants, and obvious ones like mangoes.
We also considered nutritional and culinary definitions that group fruits as sweet or high-fructose produce only. These naturally rule out tomatoes because of their low fructose and savory nature.
Although not wrong, these definitions are botanically incorrect. Under strict scientific description, and for the sake of amity, most can agree that the tomato is a fruit.
Is Spicy Tomato Juice Good for You?
Juggling this recipe to nail the taste and nutrition includes putting generous amounts of beneficial ingredients while restricting others. After careful experimentation, here's a summary of the most significant benefits you'll get from our homemade spicy tomato juice: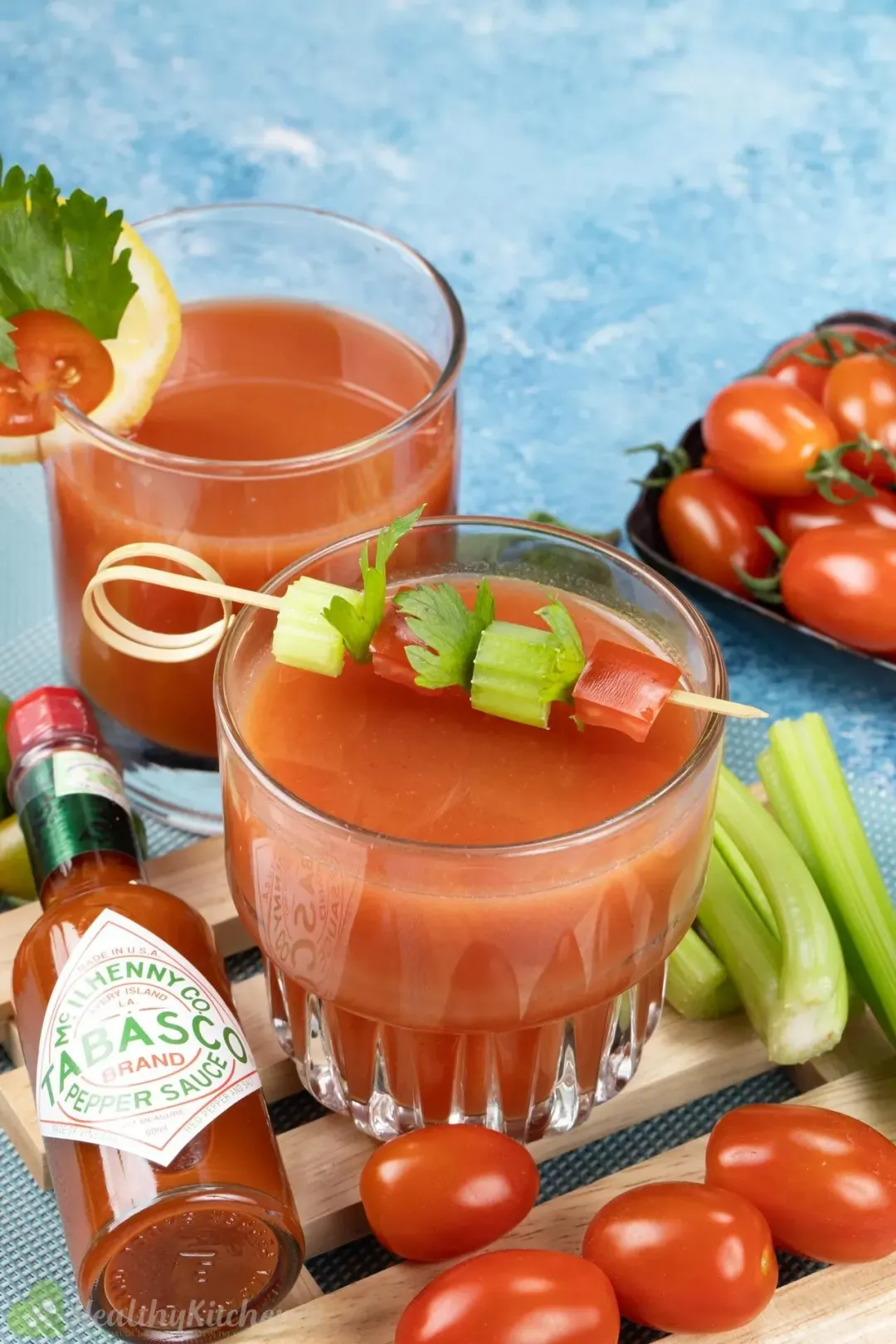 1. For Weight Loss
Over 70% of this drink draws from freshly-squeezed tomato juice. Today, most of us know tomato juice as an airplane remedy for its pungent smack that delivers robust, acidic flavors.
Although this bitterness owes to malic, ascorbic, and citric acids, it is lycopene that largely distinguishes tomato's nutrient content. Lycopene is an antioxidant that reduces inflammation in the body.
One 2015 experiment administered tomato juice to healthy women daily for 2 months. As a result, their levels of pro-inflammatory factors reduced, along with their waist circumferences and cholesterol levels.
So, you can both feel and look good with the help of tomato juice's lycopene.
As a precaution, if you are prone to heartburn, ingest only small amounts of tomato juice. Or, avoid it altogether to prevent triggering acid reflux.
2. For Eye Health
We've also incorporated carrot juice to temper tomato juice's sharp taste. Though it can boost vision, consuming copious amounts of carrot juice is not the way to achieve 20/20 vision.
It does, however, contribute to a decreased risk of blindness and eye cataracts. In this recipe, we have it in considerable amounts to help promote your eye health.
3. Moderate Sugar
To tie the flavors together, we've added 1.5 teaspoons of sugar per serving— enough to create an appreciative sweet and sour contrast.
The beauty with homemade juices, however, is you can add more sugar without going overboard. Ours is within the daily limit, meaning you can add at least one more teaspoon to achieve your desired taste.
Homemade Spicy Tomato Juice
There's nothing wrong with the occasional v8 tomato juice for a convenient drink. But there's no way to adjust health-risk elements like added sugar.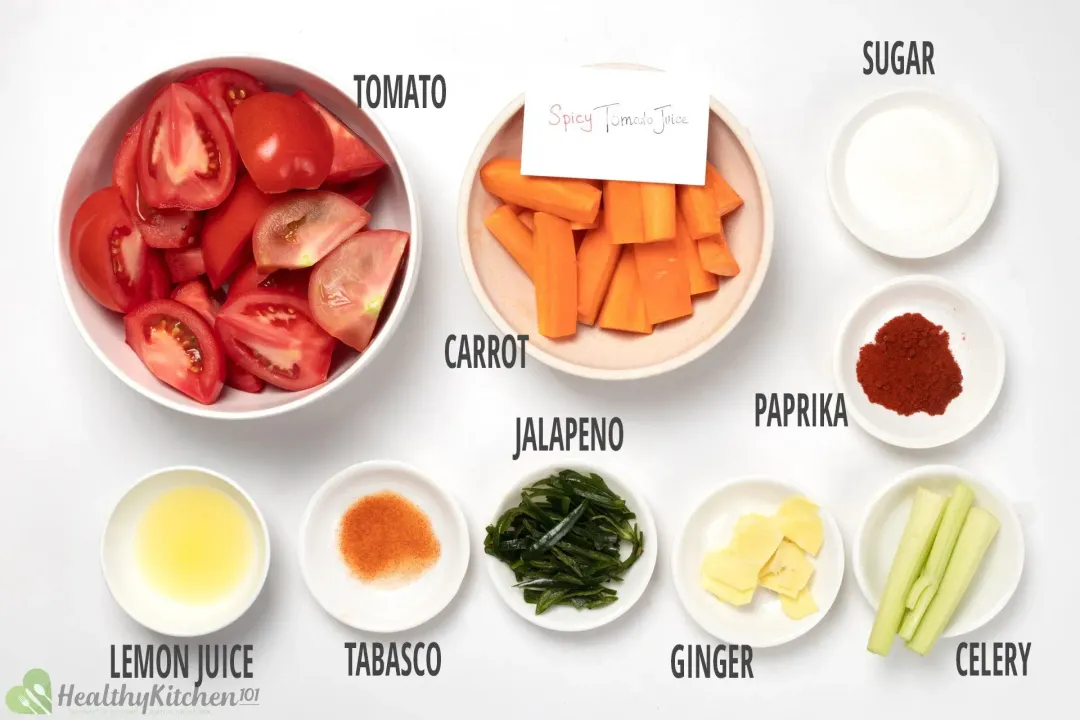 More importantly, this spicy tomato juice wholly depends on fresh ingredients for an ultra-refreshing finish that v8 won't achieve.
Start with fresh tomatoes, carrots, celery, ginger, and jalapeño peppers. Wash them and pat dry with a kitchen towel.
Then, cut all the produce into chunks and run them through a juicer. Collect the juice in a pitcher and, if you prefer a smooth mix, strain it to remove any lumps.
Otherwise, skip the above step for a chunky, more nutritious drink.
In a pitcher, combine the remaining lemon juice, sugar, Tabasco sauce, and paprika with the tomato juice mix. Stir to combine, then serve at room temperature.
Take care not to leave it out at room temperature for more than 2 hours. Instead, you can safely store any leftovers in the refrigerator.
Suppose you occasionally entertain alcohol in your diet. In that case, we have a red beer mix of mid-western flavors, a bloody mary recipe for vodka lovers, and this rum version of a tomato and alcohol drink. All within health guidelines for you to enjoy!
How Long Does Spicy Tomato Juice Last in the Fridge?
Our spicy tomato juice can last from 48 hours to 3 days in the refrigerator. Unlike store-bought juices, homemade fruit beverages do not have a long shelf life.
They lack preservatives, so your best chance of safely storing them is to limit air, light, and heat exposure.
To do this, transfer the drink into an airtight container like a mason jar or Ziploc bag. Keep it tucked away in the refrigerator, only exposing it to light when necessary.
When ready to use, taste it to ensure it's still fresh before serving.
Calories
Our spicy tomato juice contains 70 calories per each 6.5-oz serving— less than a similar serving of milk. Though it doesn't quite compete for protein, it provides a small amount that makes up the total calories.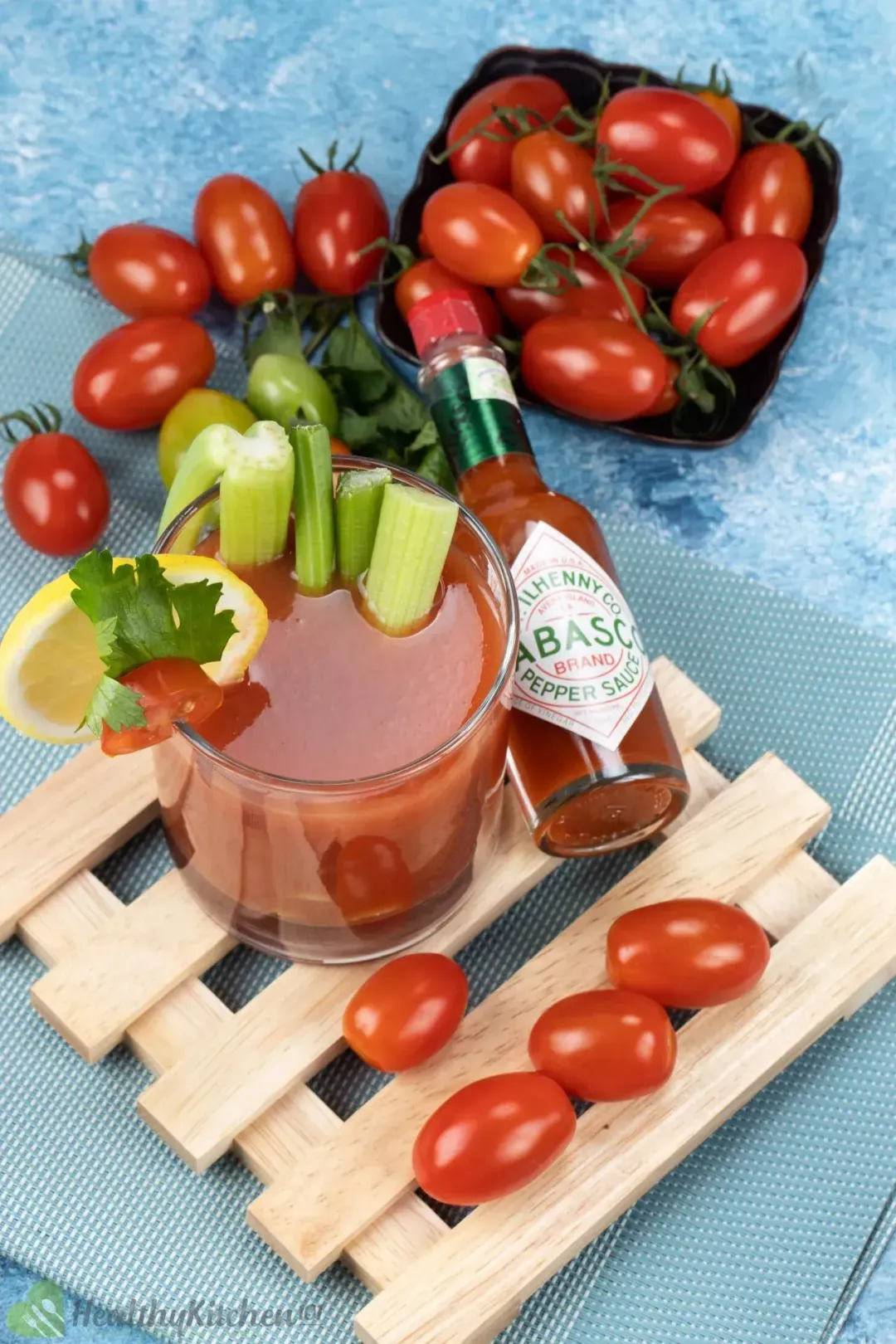 If you love the idea of tomatoes and low calories, we have another healthy juice recipe you may enjoy. It has even fewer calories and is less spicy to give you a different taste in a tomato juice beverage.
You can incorporate this spicy drink into healthy gluten-free, vegetarian, and low-calorie diets. Feel free to also check out our top 10 tomato juice recipes or best easy and delicious juice roundup for more drinks to relish this winter.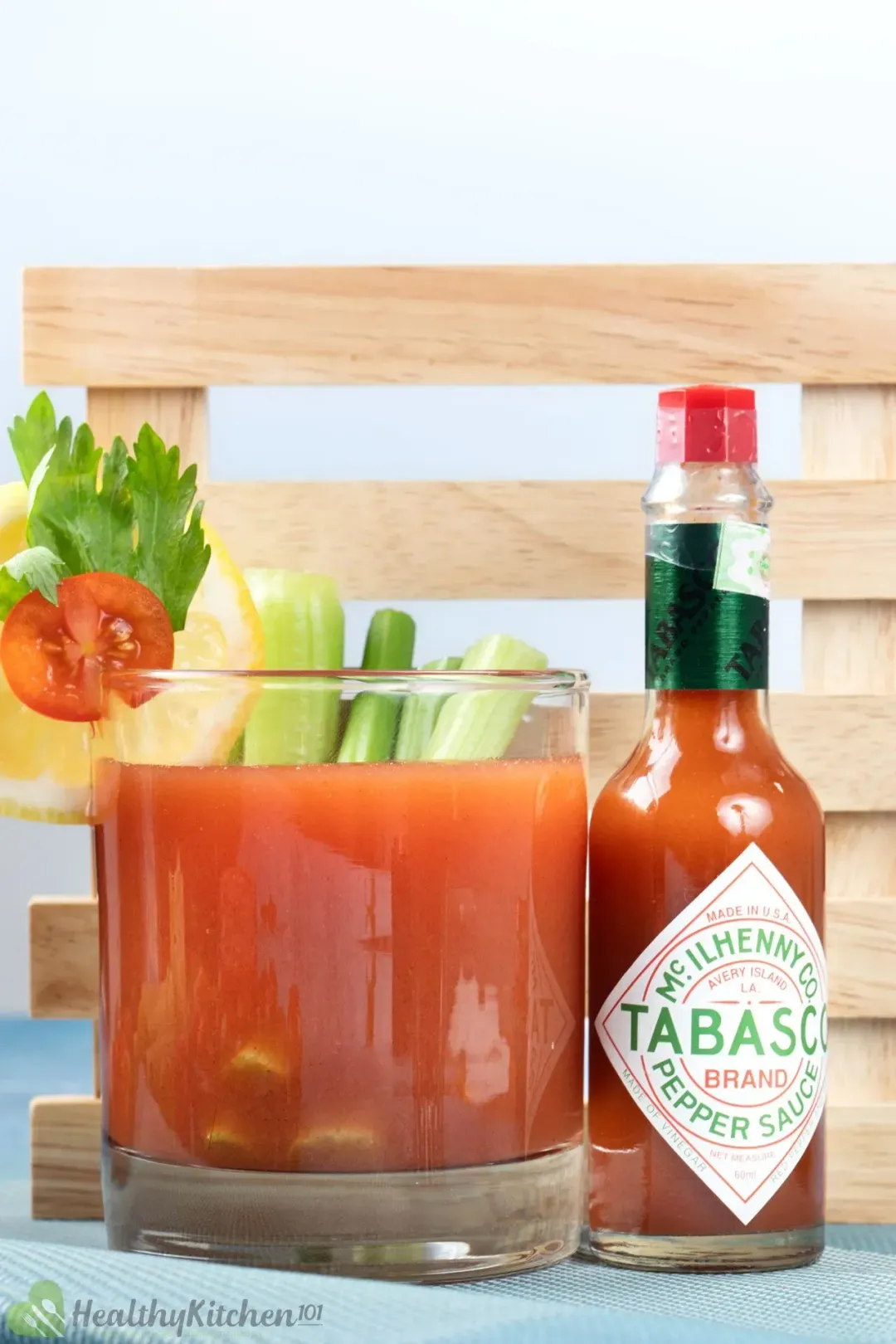 Spicy Tomato Juice
This spicy tomato juice recipe is a sweet and tangy drink that is excellent as an appetizer or starter. Don't strain for a chunky drink, and serve it at room temperature.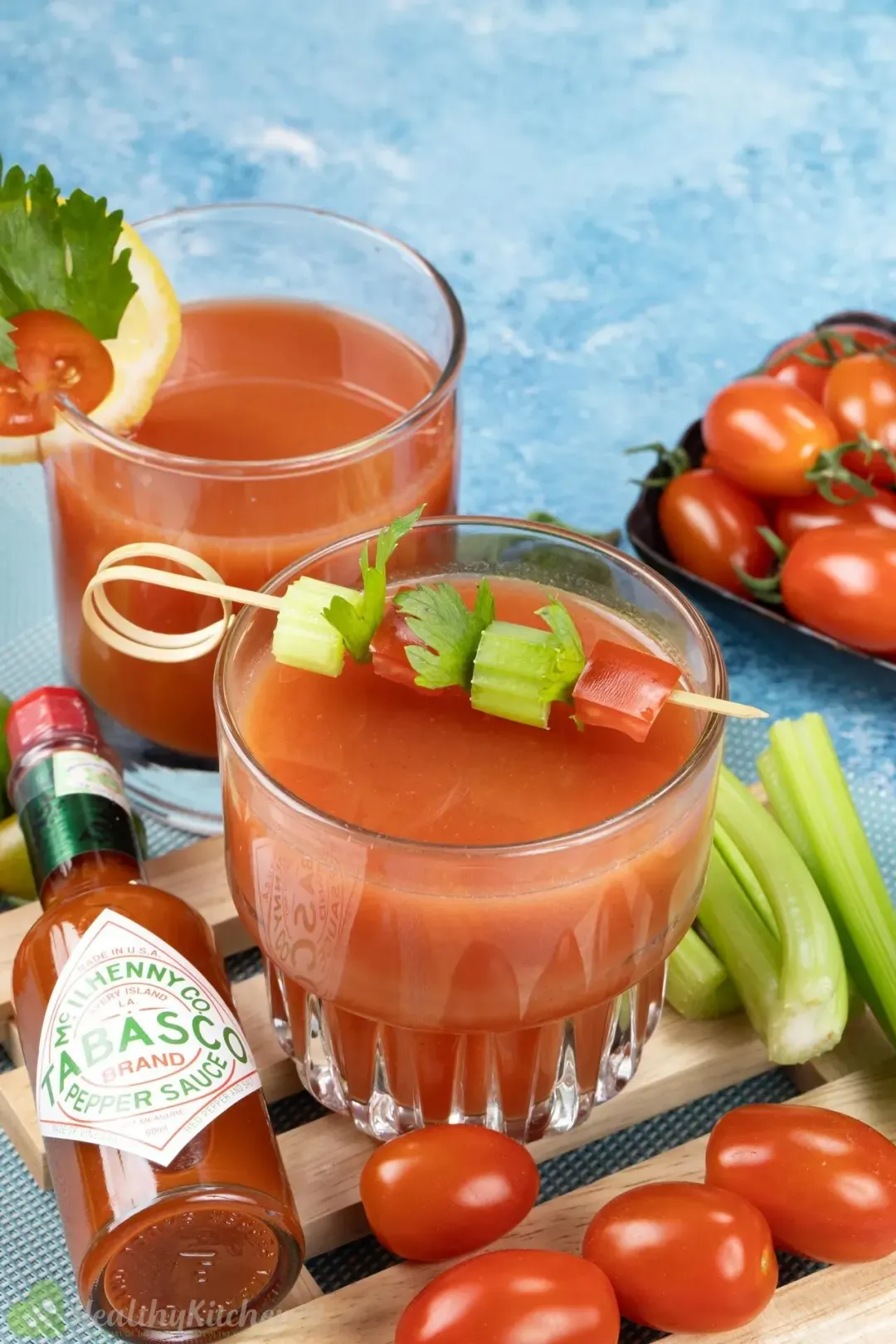 prep TIME

10 mins

total TIME

10 mins
COURSE

Beverage

CUISINE

American

SERVINGS

CALORIES

70 kcal
INGREDIENTS
20 fl oz

tomato juice

(from about 21 oz fresh tomato)

4 fl oz

carrot juice

(from about 10 oz raw carrots)

1.5 fl oz

celery juice

(from about 1 oz celery)

0.5 oz

ginger

(roughly 1-inch knob, peeled)

1 oz

jalapeño peppers

(deseeded)

1 tbsp

lemon juice

(fresh)
INSTRUCTIONS
1
Rinse tomatoes, carrots, celery, ginger, and jalapeño peppers. Pat dry and cut into chunks.
2
Run carrots, tomatoes, celery, jalapeño, and ginger through a juicer. Collect juice in a pitcher.
3
Strain the juice to remove any lumps (optional).
4
In a pitcher, combine lemon juice, sugar, Tabasco, and paprika. Add tomato mixture and mix well.
NUTRITION
Nutrition Facts
Spicy Tomato Juice
Amount Per Serving (1 serving)
Calories 70
Calories from Fat 5
% Daily Value*
* Percent Daily Values are based on a 2000 calorie diet.
Keywords: Spicy Tomato Juice, Spicy Tomato Juice Recipe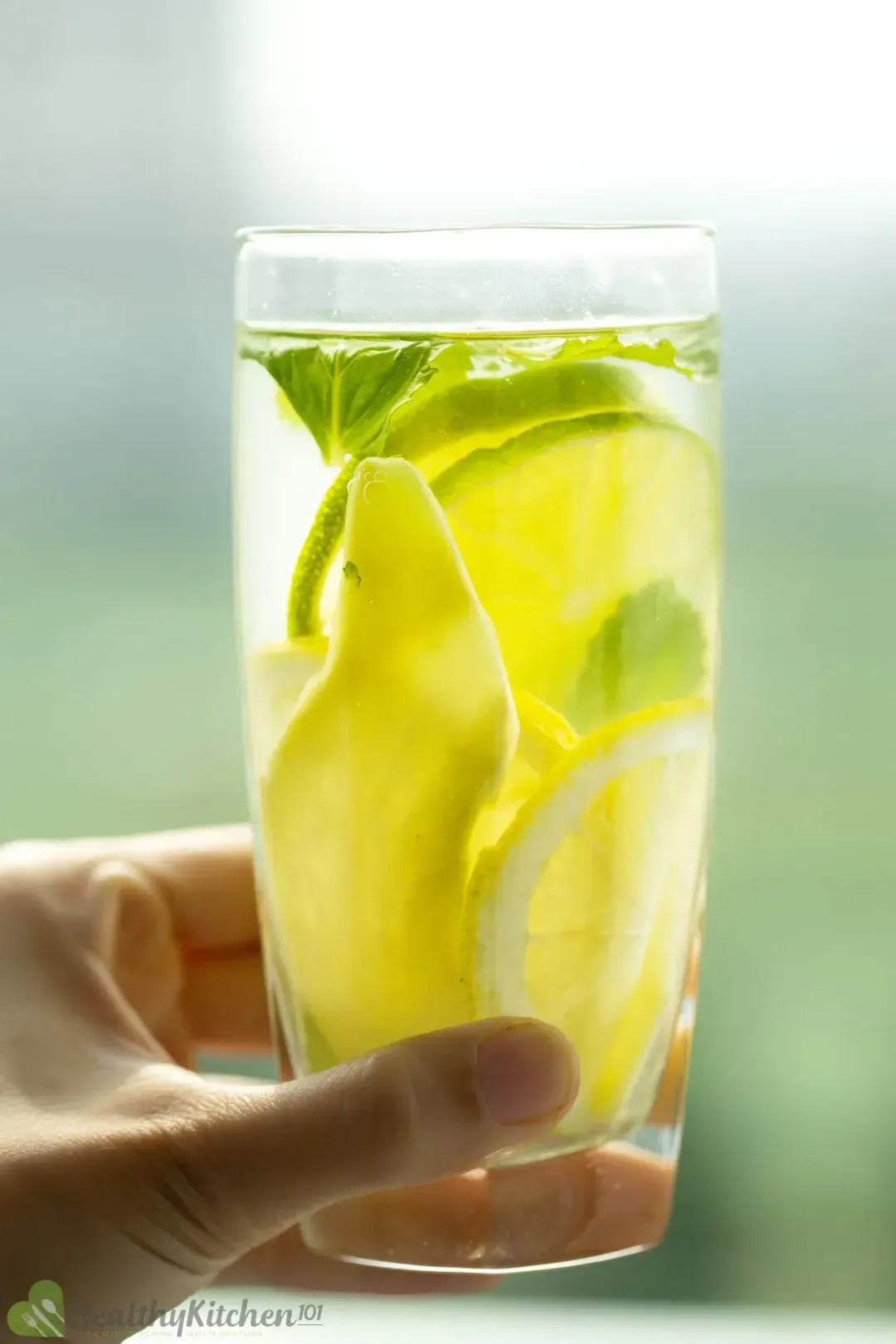 Previous Recipe
Ginger Water
Ginger Water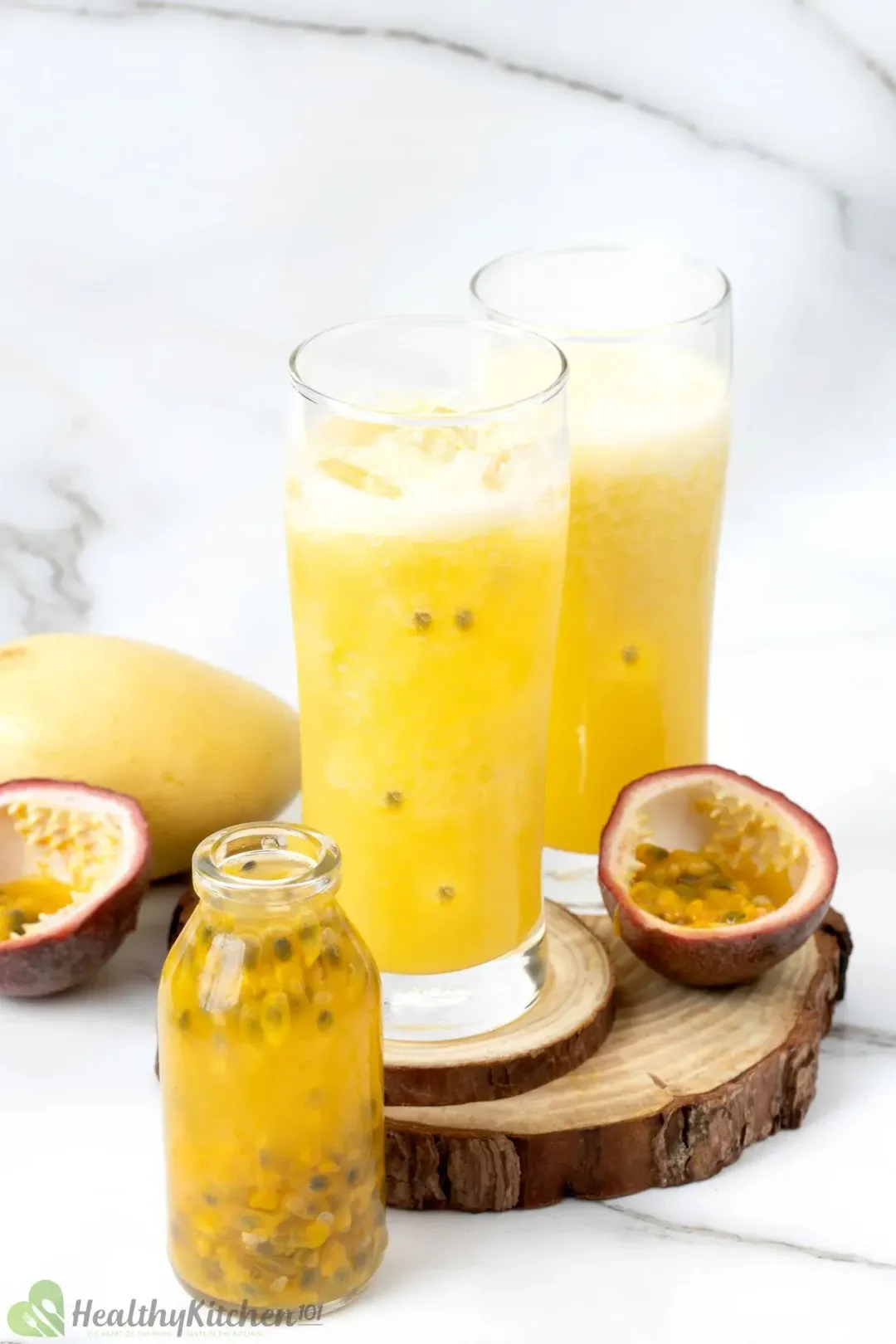 Next Recipe
Passion Fruit Mango Juice
Passion Fruit Mango Juice
Flavor is good but more spices would kick it up a notch.