Our top 10 tomato juice recipes are healthy and contain numerous vital nutrients. Sometimes it's difficult to follow a regular routine of eating whole vegetables.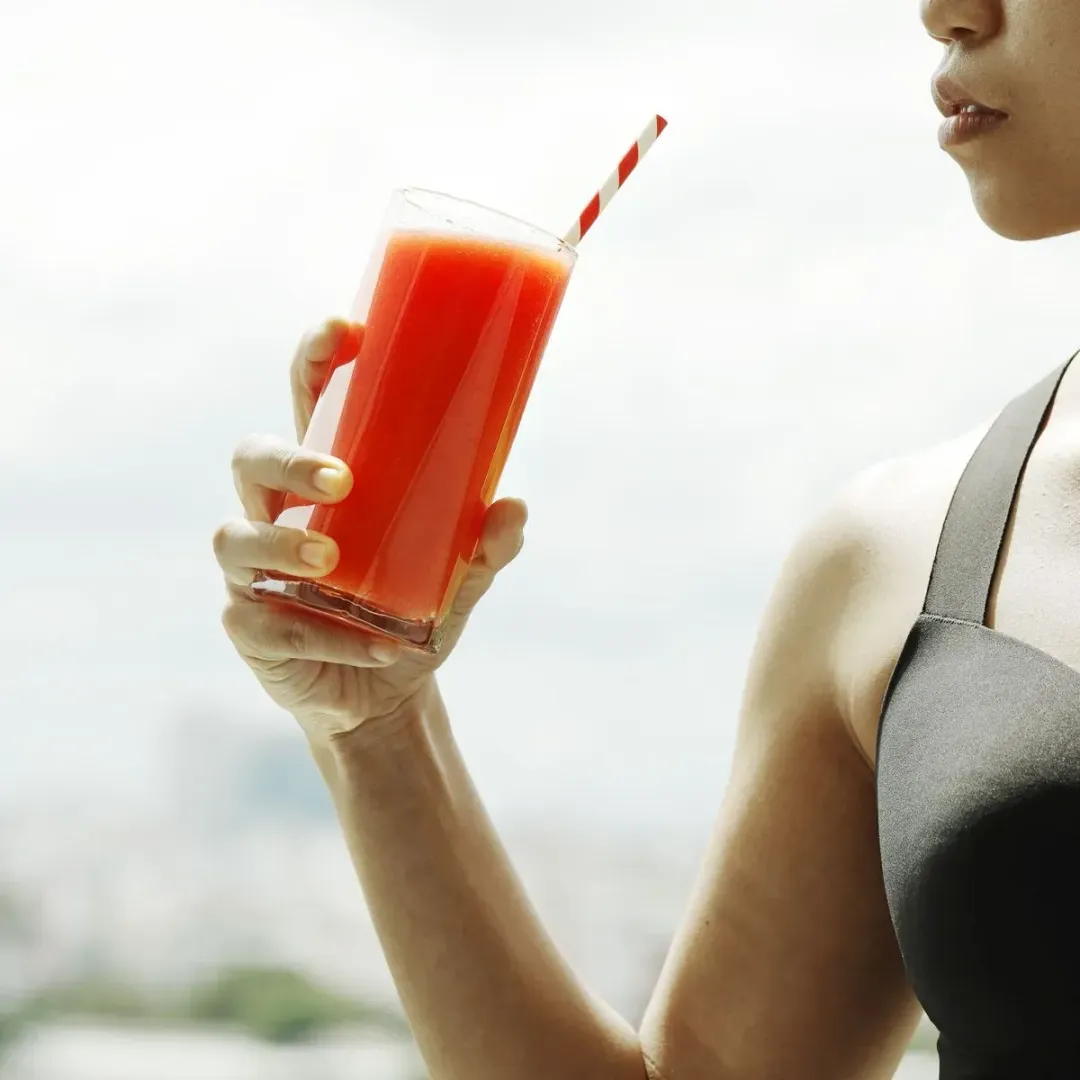 Sound familiar? Maybe you could use a healthy tomato drink as a supplementary source to your diet.
How does tomato juice do that?
Read on to learn some health benefits of this juice. We'll examine the nutrient content of tomatoes, how homemade tomato juice differs from packaged, and some tips for making great recipes at home.  
How to Make Tomato Juice 
Tomatoes are great when cooked. But they offer another level of versatility in the form of juice. You can make tomato juice in a couple of ways— some extracting more nutrients than others.
1. How to Make in a Blender/Juicer 
To use a blender, cut the tomatoes and remove any bad spots. Core and cut the tomato, and add the pieces into the blender. 
Blend until a puree forms. And there you have it, tomato juice with all its nutritious pulp and seeds. 
With a masticating juicer, run the tomato chunks through the juicer funnel and collect the juice in a pitcher. You can sieve it to remove the remaining pulp and seeds or serve it as-is for higher nutritional value. 
To avoid a bitter taste, you can add some apple or orange juice and acquire some sweetness. Celery is also a great addition as it lends more fiber and dilutes the tomato flavor. While a bit of rum will turn this into a spicy cocktail. The options are endless!
2. How to Make Stovetop Tomato Juice
Another juicing method involves cooking in a non-reactive pot (the acidity of tomatoes can affect some cookware surfaces).
Simmer your sliced tomatoes with some olive oil, salt, sugar, and other flavorings of your choosing (celery and onion are excellent choices). After 25 minutes or so, the result is a soupy and thick fusion.
Once it has cooled down, strain your juice through a sieve and allow it to completely cool to room temperature before drinking. 
It's crucial to use a non-reactive pot that's preferably stainless steel. Aluminum pots react to tomato's natural acidity and could add unpleasant chemicals into your juice.
Tomato Juice Benefits 
So what are tomato juice's health benefits? According to healthline.com, it's naturally high in vitamins, minerals, and many other nutrients.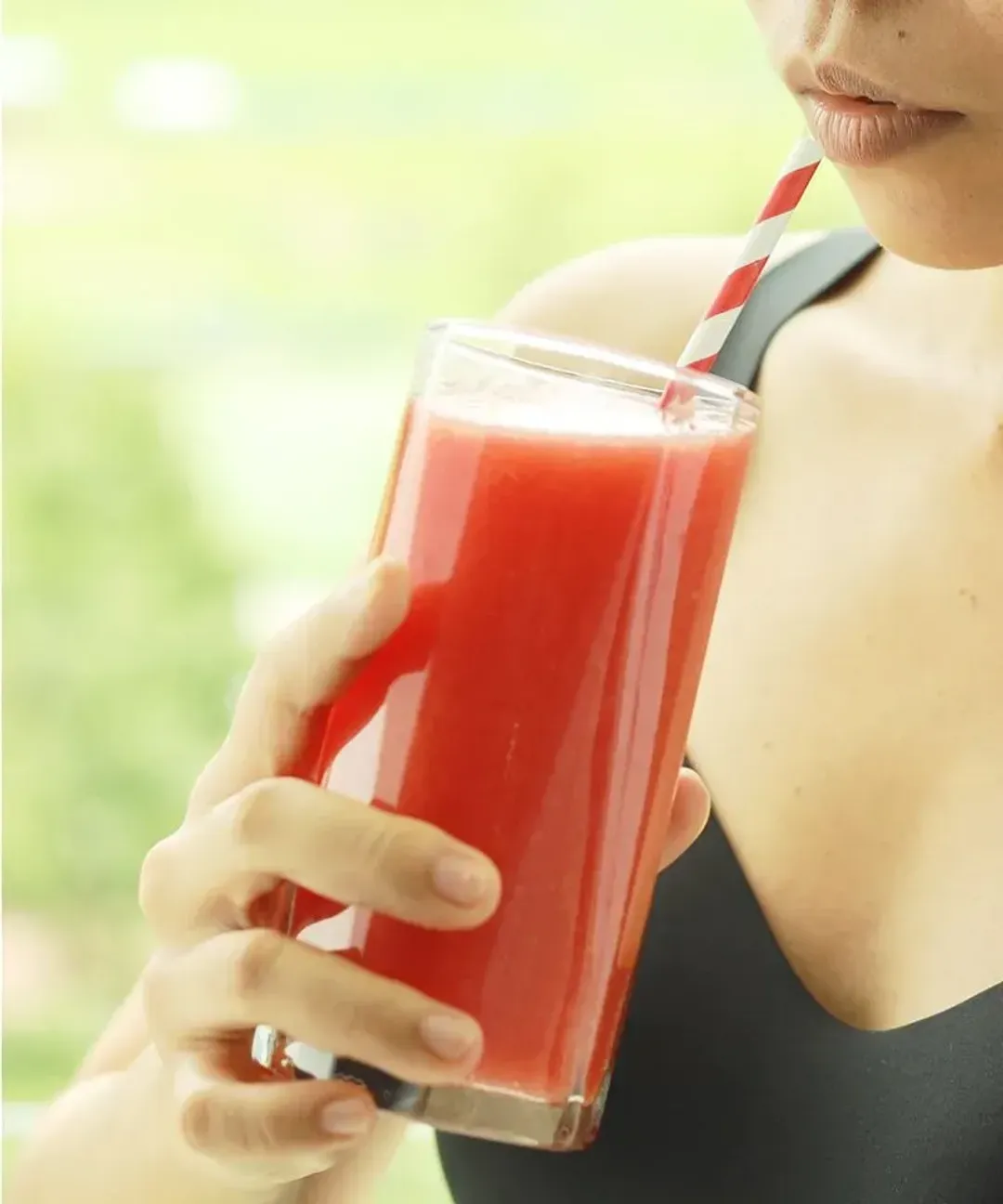 For example, a glass of this juice provides 20% of your daily beta-carotene needs, which your body converts into vitamin A. Along with this, you also get magnesium, copper, manganese, and potassium.
Tomato juice also contains potent antioxidants— in particular, lycopene. Lycopene is excellent for reducing inflammation caused by free radicals. Several studies suggest that it has positive effects on cholesterol levels, atherosclerosis, and overall waist circumference.
It may also reduce the risk of heart disease and prostate cancer. There's some preliminary evidence that it fights skin cancer too, but human studies on the subject are yet to be completed.
There are other benefits to consider beyond nutrients. For instance, we can replace liquid calories, usually in the form of soda or other highly sweetened beverages, with healthier options like homemade juice. 
This can be a step in the right direction healthwise. You can control the amount of sugar and other additives in homemade juices and gradually wean yourself off the bad stuff.
Tomato Juice Nutrition
1. Carbs
Tomatoes are low-carb. A cup of tomato juice contains less than 9 grams of carbs.
Roughly 6 grams belong to natural sugars, and the remainder is fiber. Compare that to a cup of soda's 25.6 grams of high-fructose, corn syrup sugar!
Remember that the total amount of fiber in your juice depends on how finely you strain out the pulp. A pulpier juice will be more nutritious.
2. Calories
One cup of tomato juice will net about 47.5 calories. Most of them come from carbohydrates, and more pulp equals more calories.
You also get a few protein calories from tomato juice, with a cup containing about 2 grams of protein. 
3. Potassium
Potassium is one of the many nutrients that make tomatoes beloved by health experts. It's one of the seven most critical macrominerals that your body needs.
A high-potassium diet helps reduce blood pressure, lowers the risk of stroke, and protects against kidney stones, among other things. Potassium is also critical for regulating electrical signals to your muscles.
Less than 2% of Americans get the full recommended intake of potassium every day. Potassium deficiency can lead to fatigue, weakness, and constipation, and sometimes more severe complications.
 A single cup of pure tomato juice provides about 16% of your daily need.
Is Tomato Juice Good for You?
Based on the nutrition facts, the answer is a definite yes. However, there are a few things to keep in mind. 
If you buy tomato juice at the store, take a look at the nutrition information. Many brands, such as V8 and Campbell's add a lot of salt into their juice.
But since our modern diets already include large amounts of sodium, packaged juices can be a problem. You could end up consuming a third of your daily recommended allowance of sodium in a single glass— not ideal! 
Too much sodium can raise your blood pressure and counter the positive effects of potassium.
Some packaged tomato juices also contain added sugar to make them more palatable. And this too, piles on calories.
If you buy premade tomato juice, we recommend looking for those with low sodium and sugar content. Homemade tomato juice offers far fewer salt and sugar-related risks.
A general rule with fruits and vegetables is that drinking them in juice form is not as healthy as eating them whole. Extracting juice implies that you'll leave some of the plant tissue behind, and tossing that aside tosses some benefits too. 
Easy And Delicious Tomato Juice Recipes
Some drinks on this list are alcoholic. And though all the beverages are full of nutrients, it's advised to drink them in moderation.
1. Best Tomato Juice: Tomato Juice Recipe (4 servings)
This is a basic recipe using lemon juice to enhance the taste of tomato while sugar ties the flavors together. Overall, it's a healthy, anti-inflammatory beverage that delivers a companionship of sweet acidic essence.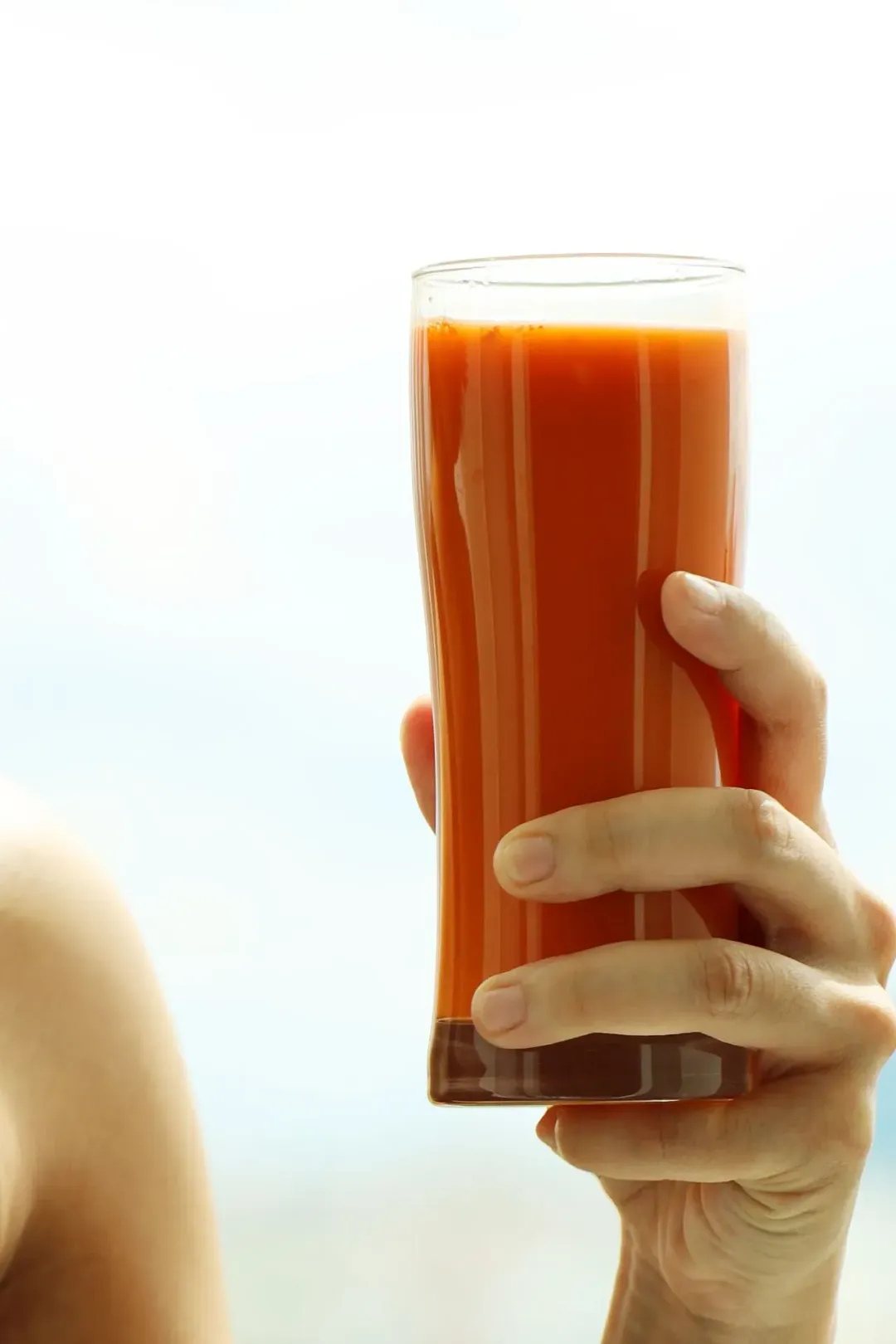 2. Spicy Tomato Juice (4 servings)
Spicy tomato juice is a vibrant, tangy, and zesty beverage. 
And we'll admit, it tastes odd at first, but you'll quickly warm up to it. It packs heat accompanied by sweet, earthy, and herby aromas that have this drink flowing with warming flavors.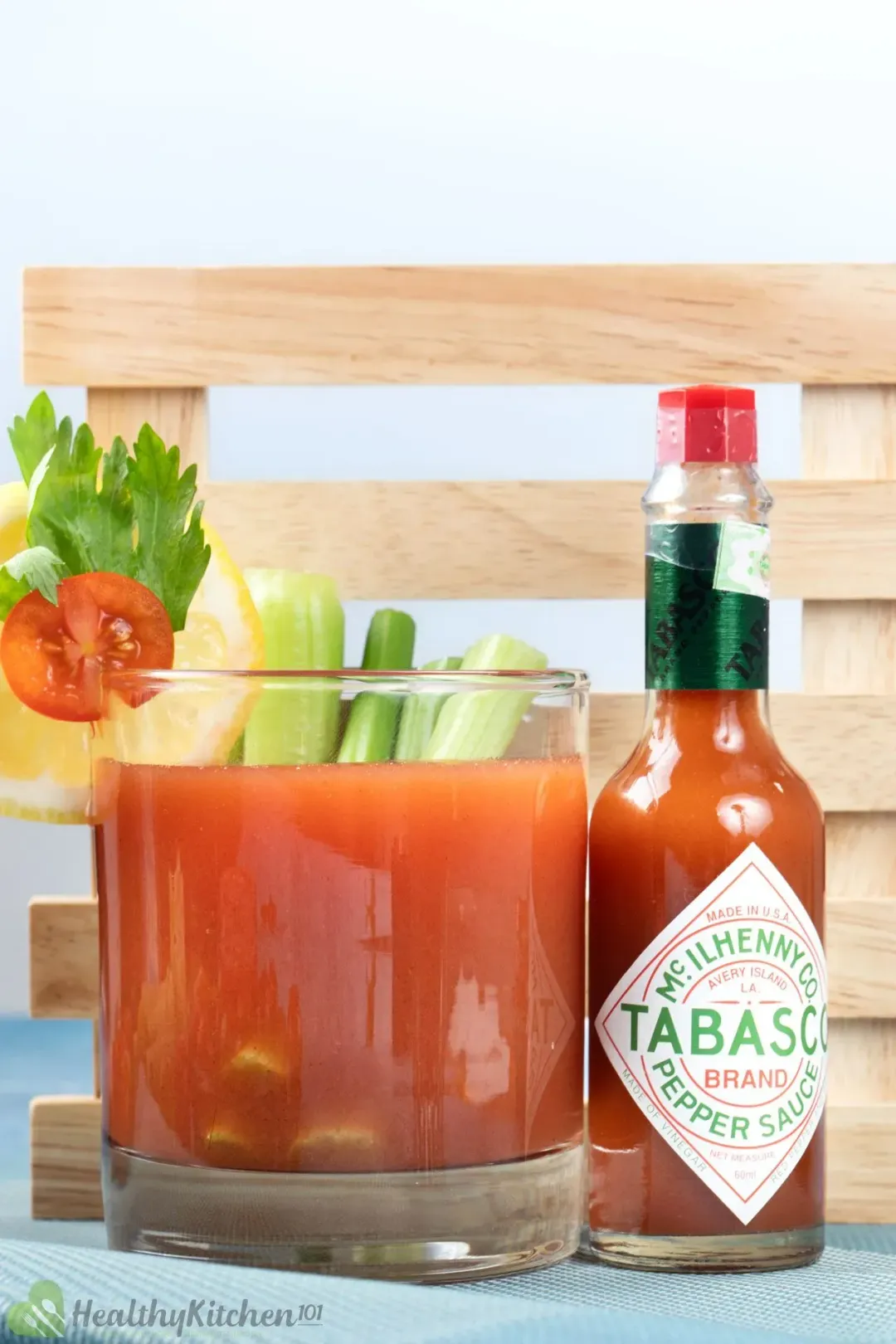 Ingredients
4 fl oz carrot juice, from about 10 oz raw carrots
20 fl oz tomato juice, from about 21 oz fresh tomatoes
1 oz celery
1 oz jalapeno peppers, deseeded
1/2 oz ginger, about 1-inch knob, peeled
½ fl oz lemon juice
2 tbsp sugar
1/2 tsp Tabasco
1/4 tsp paprika
Instructions
Rinse and drain carrots, tomatoes, celery, and jalapeno peppers. Pat dry with kitchen towels. Cut all vegetables into chunks.
Run carrots, tomatoes, celery, jalapenos, and ginger through a juicer to extract juice.
Sift the juice to remove any lumps (optional).
In a pitcher, combine the juice, lemon juice, sugar, Tabasco sauce, and paprika. Mix well.
Divide the juice into 4 glasses and serve.
3. Carrot Tomato Juice (4 servings)
Carrot and tomato are a highly nutritious duo. Drinking carrot juice can speed up metabolism and support your eye health. 
Tomato juice has lycopene to help you fight free radicals that could lead to cancerous cells in your body. And topping this drink with mint gives it an added refreshing element.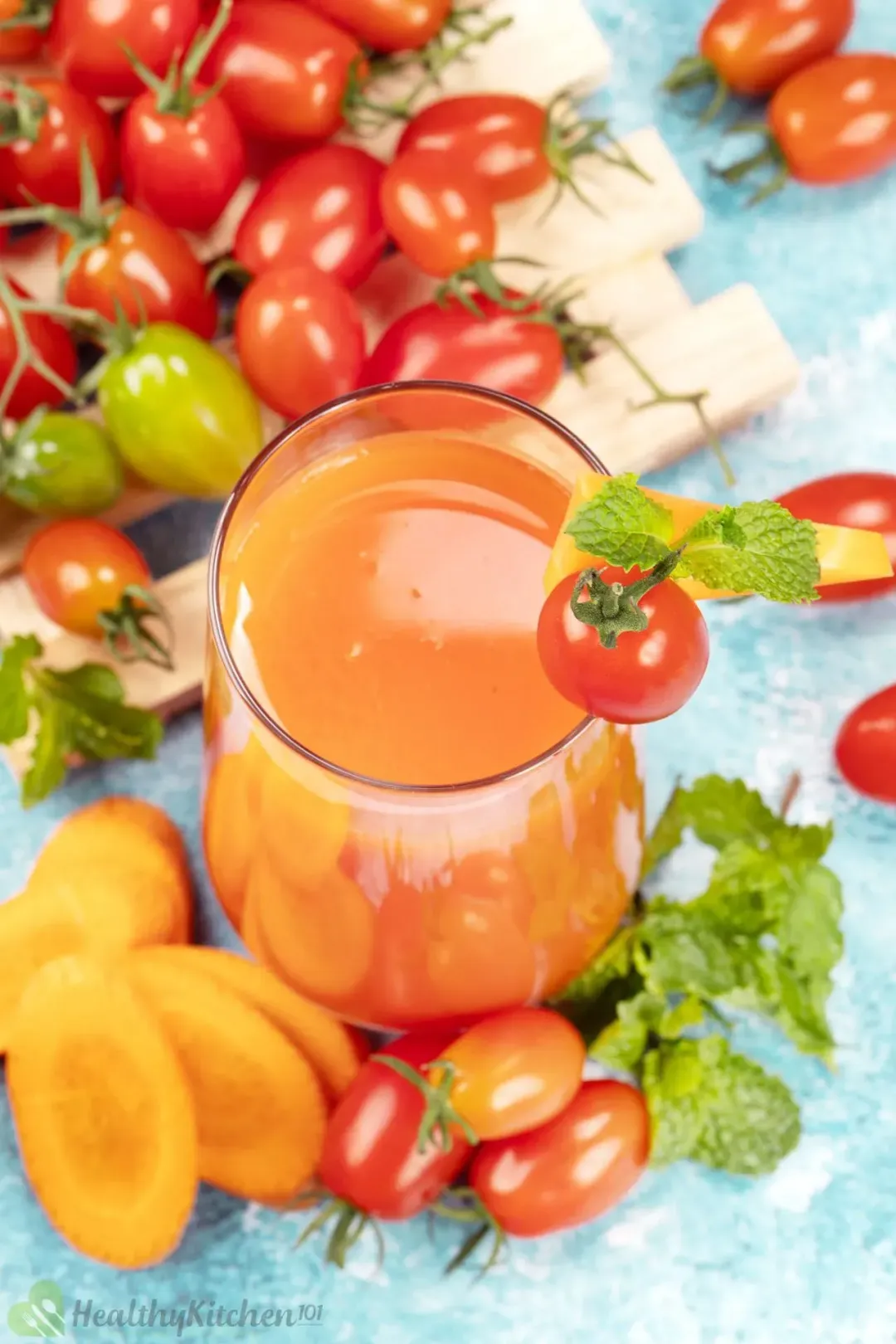 Ingredients
6 fl oz tomato juice, from 8 oz tomatoes
8 fl oz carrot juice, from about 16-20 oz carrots
2.5 tbsp sugar
1 tbsp mint leaves
½ cup water
1 tbsp lime juice
1.5 cups ice cubes
Instructions
Blend the tomatoes with mint, sugar, and water.
Place a cheese cloth onto a strainer over a bowl. Pour the mixture in, take the four corners of the cheese cloth and carefully squeeze the juice out. We recommend that you do this in batches.
Juice carrots and collect the juice in the tomato juice bowl. Stir in lime juice.
Top 4 serving glasses with ice and pour the juice in. Serve.
4. Ginger Tomato Juice (2 servings)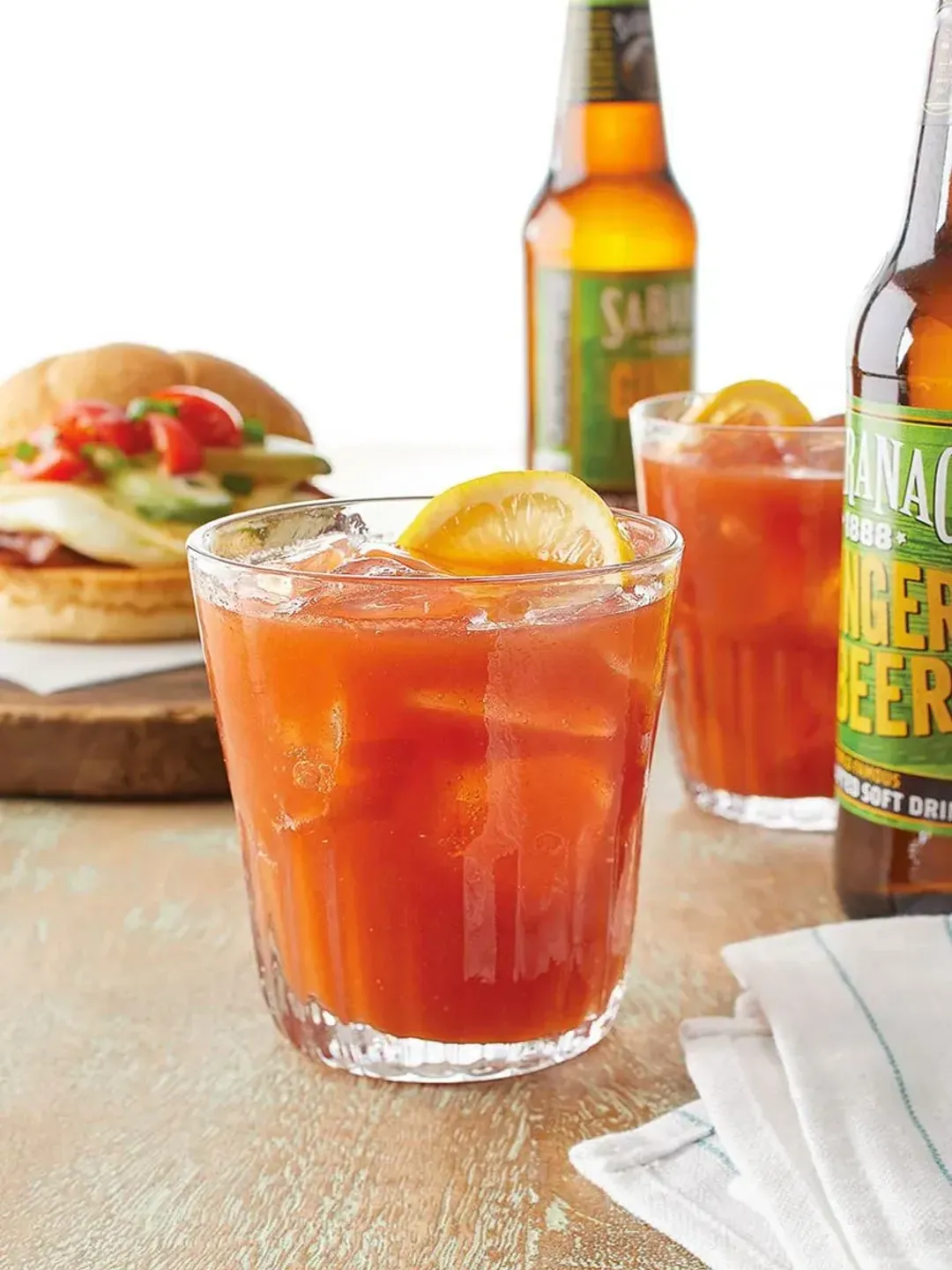 Ginger beer, which is neither alcoholic nor sweet, adds a hint of pungency that makes this a peppy beverage. Together with Worcestershire and Tabasco sauce, it's a seasoned drink that celebrates the sweetness in tomato.
Ingredients
6 fl oz tomato juice
6 fl oz ginger beer
Worcestershire sauce to taste
Tabasco sauce to taste
1 cup ice cubes 
Instructions
Add ice to glasses. Halve the tomato juice and ginger beer into both glasses, add Worcestershire and Tabasco sauce and stir to mix. Serve.
5. Orange Tomato Juice (2 servings)
This refreshing orange tomato juice works up your appetite. Not to mention the vitamin C and fiber-packed benefits of orange juice alone.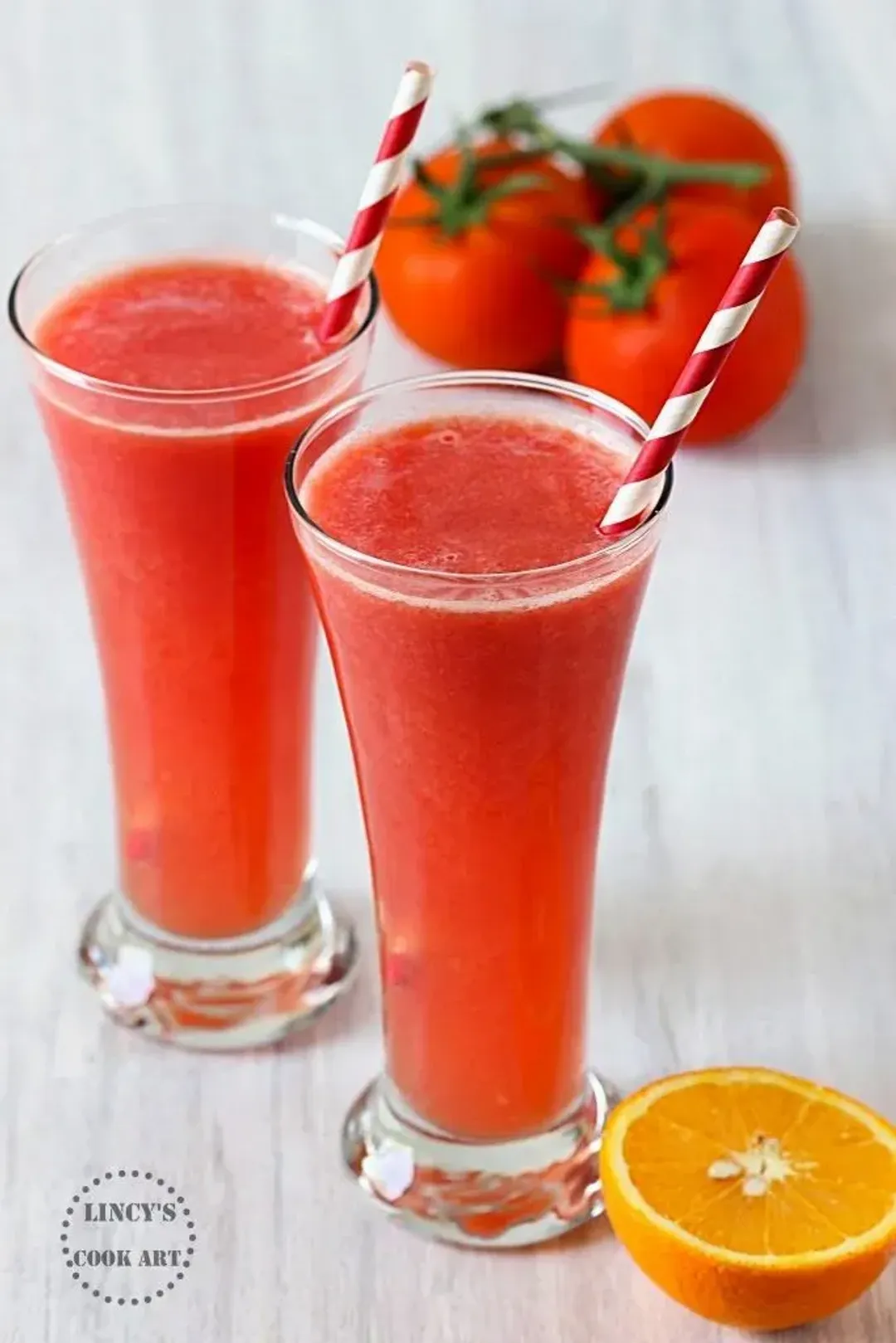 The mix of tangy-acidic flavors is balanced by a small amount of sugar. It's so easy to prepare, which makes it ideal for large crowds.
Ingredients
10.5 fl oz tomato juice, from about11 oz tomatoes, 
4 fl oz orange juice, from about 6 oz oranges,
2 tbsp sugar
Salt, pinch
1/2 cup water, chilled
1 cup ice cubes
Instructions
Wash tomatoes and oranges. Roughly chop tomatoes and add them into a blender. Blend to a puree. Add water and blend to mix.
Pass the juice through a sieve into a pitcher and discard the residue (seeds and peel).
Slice the oranges in half and use a squeezer to extract orange juice into a small jug. Add the orange juice, sugar, and salt into the pitcher and stir until sugar dissolves. Add ice and serve chilled.
6. Beer and Tomato Juice (4 servings)
This beer and tomato juice combines sweet and bitter flavors to create a zestful beverage. Lime and tomato juice offer vitamin C supplementation while beer, in moderation, may benefit heart-health.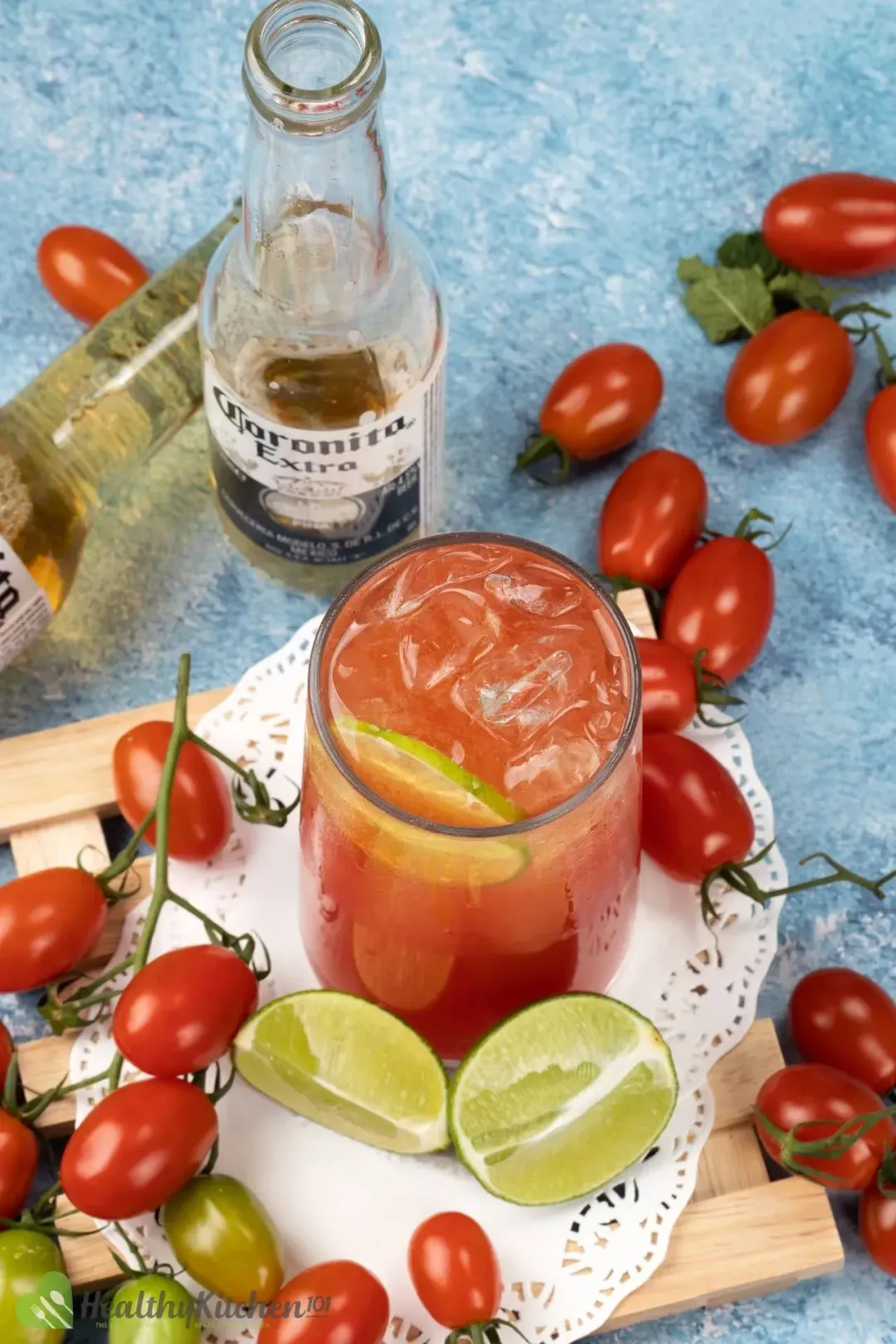 And though moderate beer consumption (12 ounces/day for women, 24 ounces/day for men) is less likely to have adverse effects, it's good practice to counteract dehydration by drinking plenty of water whenever you consume alcohol.
Ingredients
6 fl oz tomato juice, from 16 oz tomatoes
1 oz celery
1 tsp Tabasco
2 tbsp sugar
½ tsp lime juice
8 fl oz beer
2 cups ice cubes
Instructions
Wash and juice the tomatoes and celery. Collect the juice in a pitcher and stir in the Tabasco, sugar, and lime juice.
Divide the juice into 4 glasses topped with ice. Pour beer into the glasses and serve.
7. Vodka and Tomato Juice (4 servings)
This vodka and tomato juice recipe is a spicy drink with hints of sweet notes that tone it down to a smooth accent. The Tabasco sauce and cayenne bring a peppery element balanced by the sweetness of celery, sugar, and tomato juice.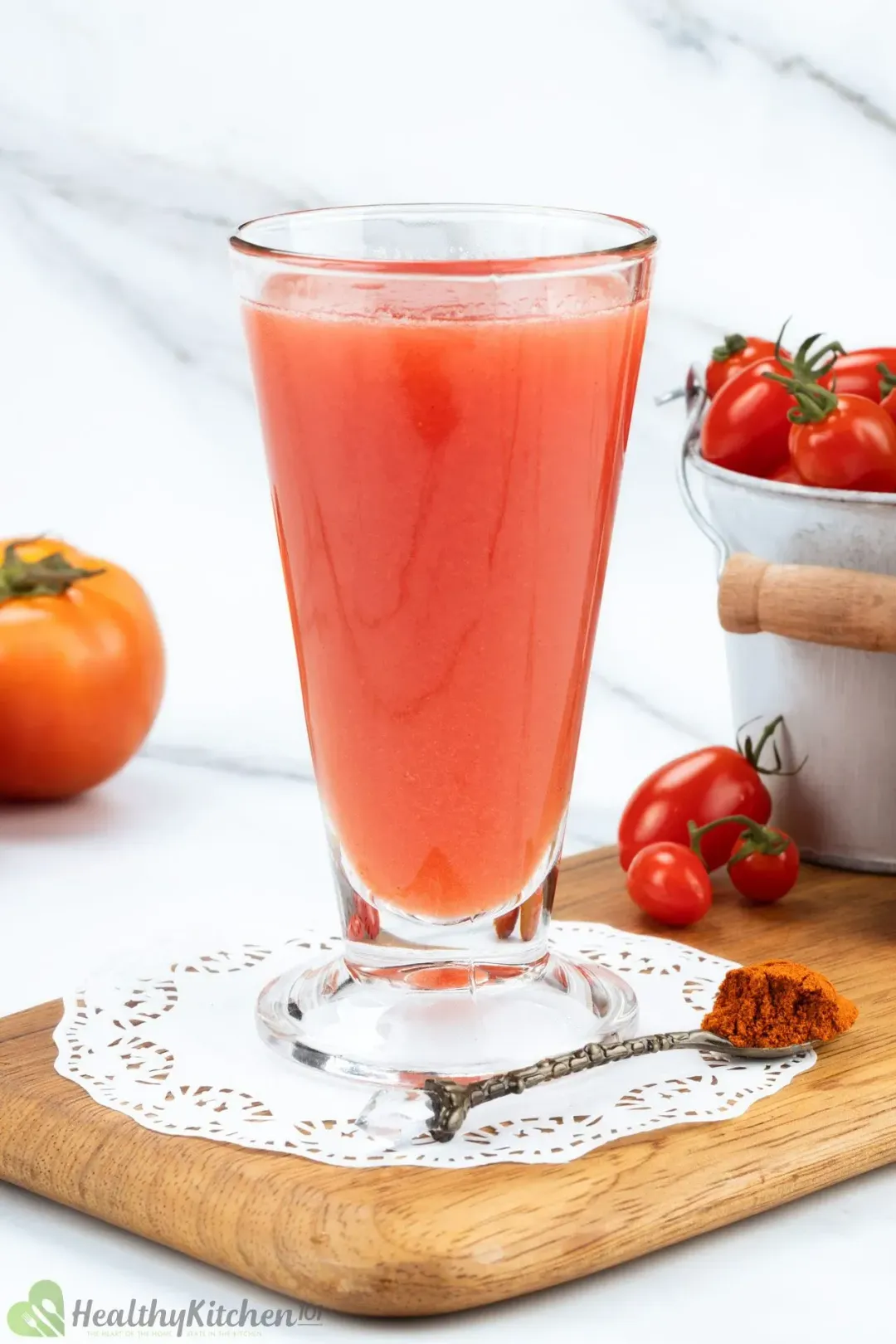 Ingredients
20 fl oz tomato juice, from about 21 oz fresh tomatoes
1 oz celery
4 fl oz vodka
½ tsp Worcestershire sauce
1/2 tsp Tabasco
1 tbsp lemon juice, fresh
3 tsp sugar
1/8 tsp cayenne pepper
Instructions
Rinse and drain tomatoes and celery. Pat dry with kitchen towels. Cut into chunks and run all vegetables through a juicer to extract juice.
In a pitcher, combine the juice, vodka, Worcestershire sauce, Tabasco sauce, lemon juice, sugar, and cayenne pepper. Mix well until sugar dissolves.
Pour the juice into 4 glasses. Add ice and serve.
8. Green Tomato Juice (4 servings)
Not your typical 'Bloody' Mary, this drink employs green tomatoes that provide vitamins K, A, and C. Though initially tart, the cooking process produces a roasted succulence and sweetness.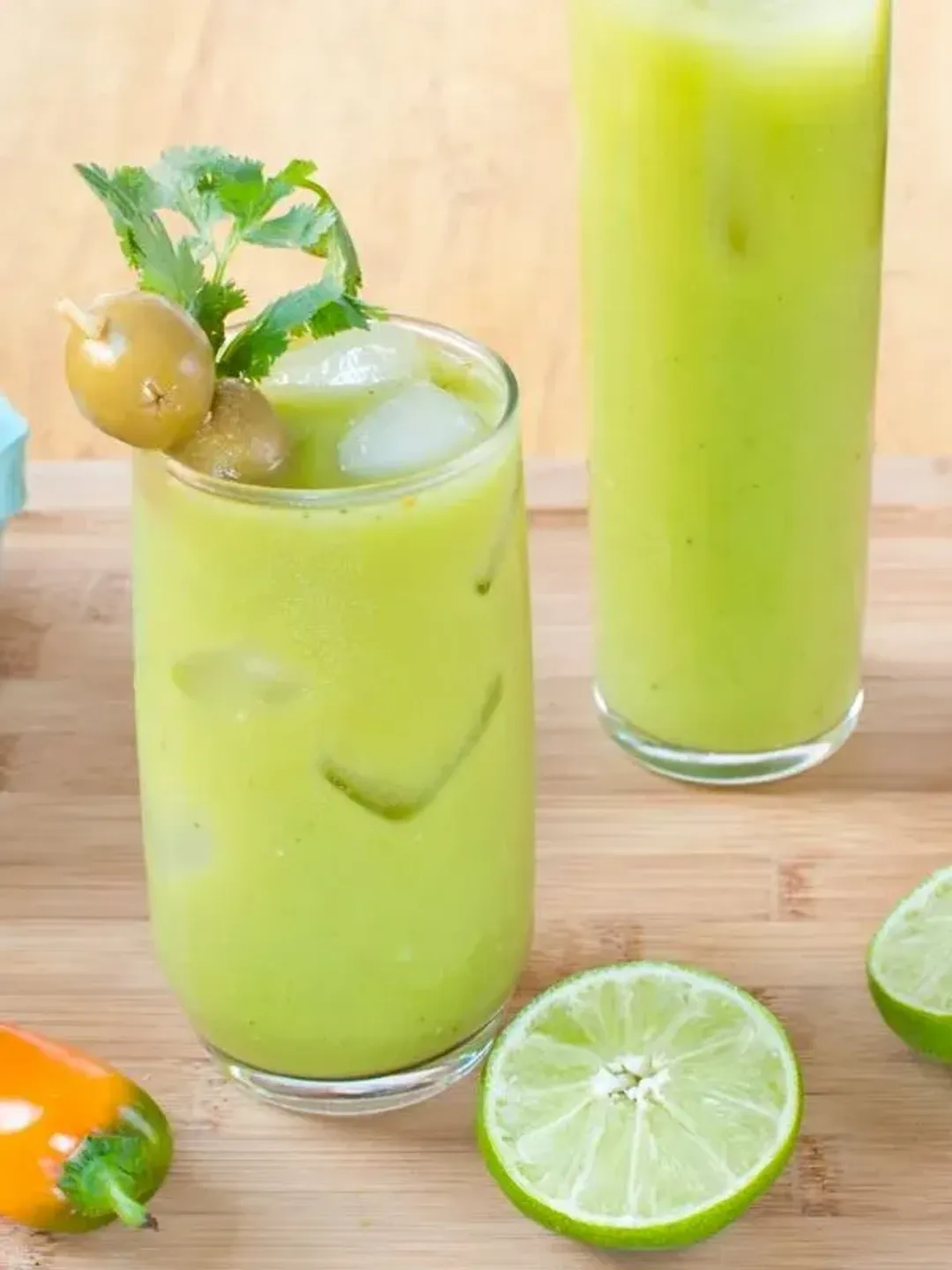 Ingredients
27.5 oz green tomatoes
2 tbsp olive oil
7 oz cucumber, chopped
3 oz green bell pepper, chopped
1/2 tbsp jalapeno pepper, chopped 
1/3 cup fresh parsley
1/3 cup fresh cilantro
1 cup water
2 tbsp lime juice
Salt & pepper to taste
10 fl oz vodka
Olives, garnish
Cilantro, garnish
2 cups ice cubes
Instructions
Preheat oven to 300°F. Line a rimmed baking sheet with parchment or foil.
Quarter the tomatoes and place on a baking sheet in a single layer. Drizzle with olive oil.
Roast until tender, about 1 hour and 15 minutes. Leave to cool at room temperature.
Remove tomatoes and juice from the baking sheet to a container and refrigerate for at least an hour.
Once cool, place tomatoes in a blender. Add cucumber, bell pepper, jalapeno, parsley, cilantro, water, lime, salt, and pepper. Blend until smooth.
Strain mixture into a pitcher and discard residue. 
Pour into glasses over ice and add vodka (1.5-2 oz). Stir and garnish with olives and cilantro. Serve.
9. Gin and Tomato Juice (1 serving)
This drink is a crafty mix of zesty, spicy ingredients that'll give you a quick boost. Tomato juice is the elixir that ties all the elements together and makes this drink a semi-sweet tonic, fit for casual sipping.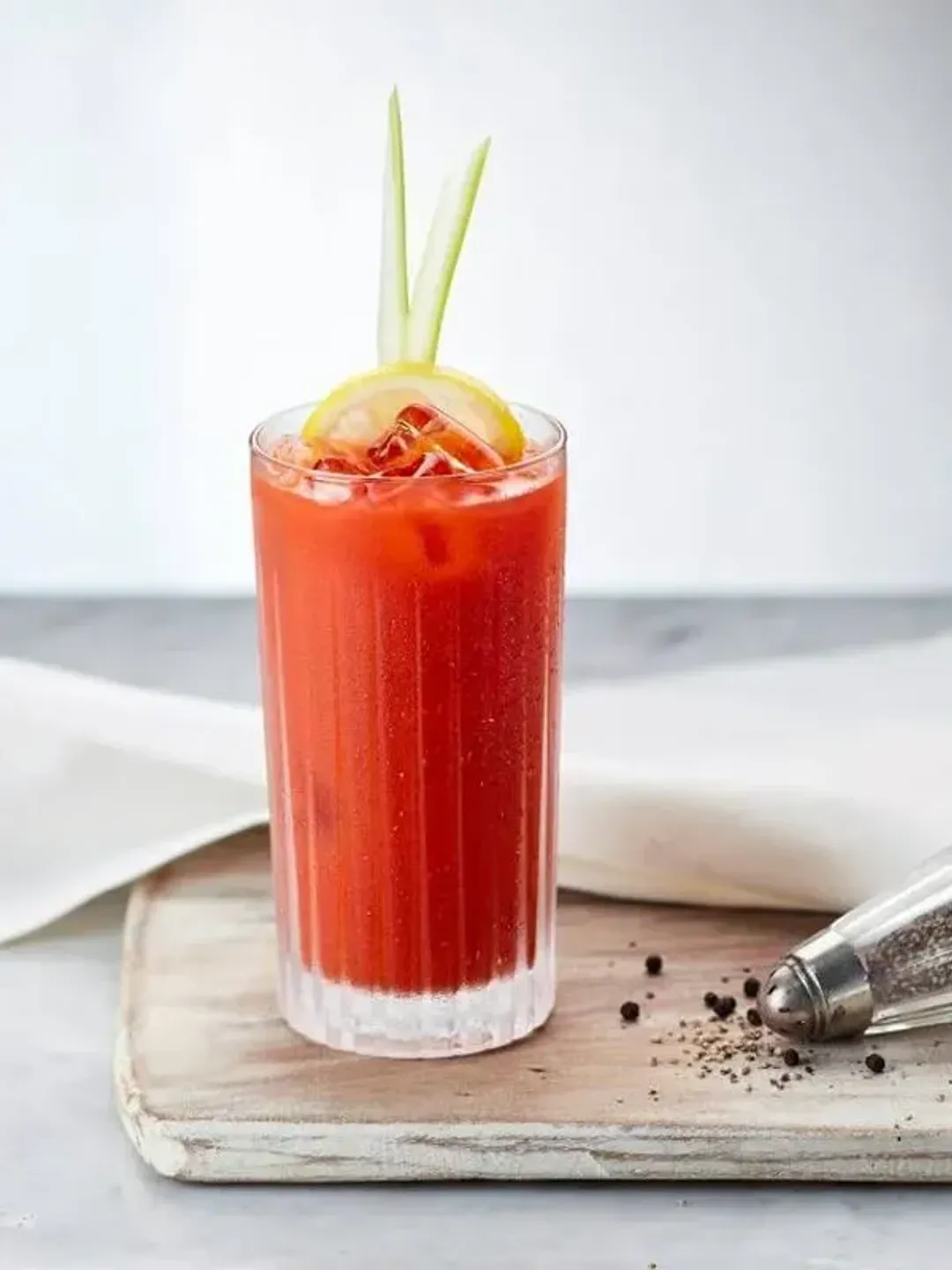 Ingredients
4 fl oz tomato juice
1 fl oz gin
1/2 fl oz lemon juice
7 drops Tabasco sauce
4 dashes Worcestershire sauce
celery salt, rim
black pepper, rim
½ celery stick, optional
Instructions
Combine salt and pepper in a plate and rim your glass. 
Add gin, tomato juice, lemon juice, Tabasco sauce, Worcestershire sauce, and ice into a mason jar/mixer. Shake for 15 seconds and strain mixture into a glass. Garnish with a celery stick. Serve.
10. Tequila and Tomato Juice (1 serving)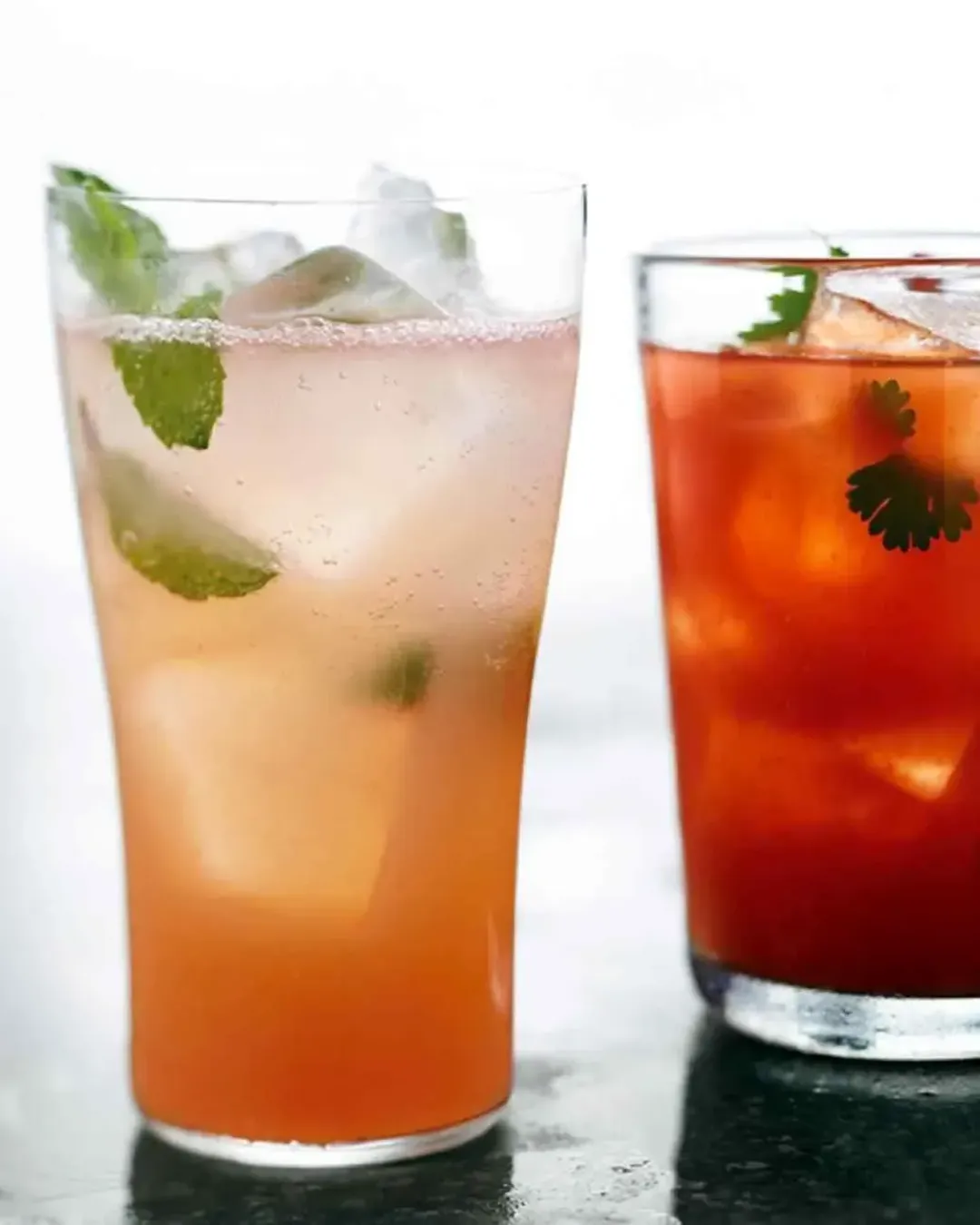 Tequila and tomato juice is an agave sweet-bitter drink. Tabasco sauce and lime juice give it vibrancy to create a spicy beverage great for pairing with a simple, clean meal.
Ingredients
1/3 cup tomato juice
2 fl oz *blanco/tequila
1 tbsp lime juice, fresh
1/8 tsp Tabasco sauce
1/2 cup ice cubes
Cilantro leaves, fresh, garnish
Instructions
Add tomato juice, blanco, lime juice, and Tabasco sauce into a tall glass. Stir to mix.
Add ice and garnish with cilantro leaves. Serve.
FAQ
1. Can You Freeze?
Yes. You can freeze tomato juice for later use.
It may be a good idea to make an oversized batch and store the excess portion. You can drink it over the next few days and even months when frozen. 
You can thaw it by placing the container under running water until the juice turns to liquid. Or place it in the refrigerator to defrost.
2. Is This Juice Healthy?
Tomato juice is unequivocally a healthy drink. A cup a day has been proven to lower blood pressure. It may even protect against cardiovascular disease too. 
And making it at home allows you to enhance the flavor. Experiment with different fruits and veggies— you can keep it healthy while customizing it to your taste.
3. Is Tomato Juice a Pure Substance?
Tomato juice can be kept pure, especially since you can have it plain when making it at home. Or you can dilute the flavor with sauces, spices, fruits, or vegetables. 
With store-bought juices, however, most aren't pure. Some have added salt, many include vegetables, and most add sugar. 
If you're going for 100% tomato juice with no additives, be sure to inspect the label for ingredients.  
Tomato Juice pH
Tomatoes are acidic fruits. Tomato juice's pH value ranges from 4.1-4.6.
That's more acidic than many vegetable juices, but less than fruits like lemon, grape, and apple.
Some fad diets make a great deal over the acidity of foods. But as long as your liver and kidneys are in good health, the acidity likely won't affect you. 
Most acidic fruits and vegetables leave alkaline ash once metabolized. But it certainly won't change your body chemistry to "acidic" or "alkaline." 
So focus on getting the vital nutrients, and your body will take care of the rest.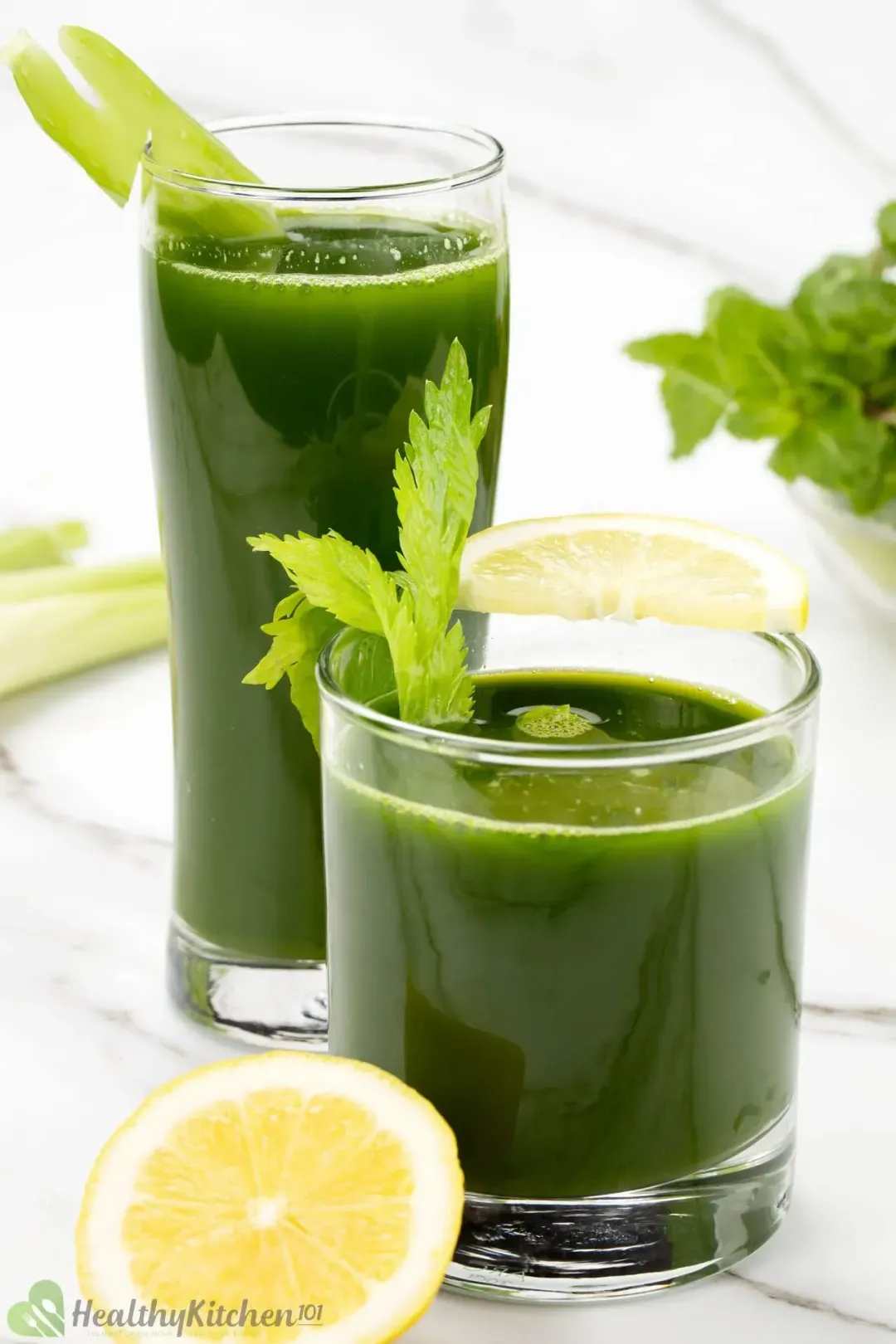 Previous Recipe
Top 10 Celery Juice Recipes
Top 10 Celery Juice Recipes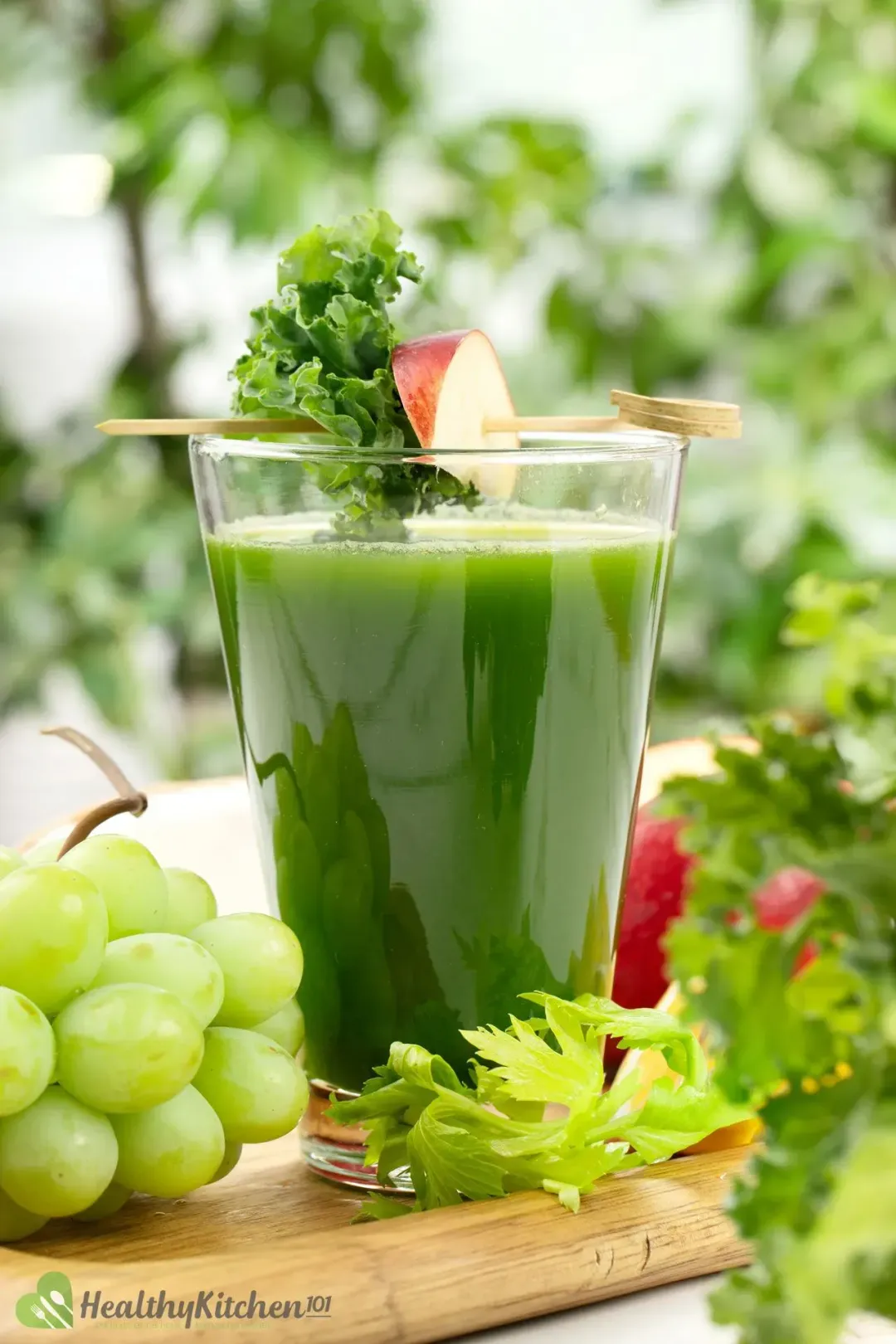 Next Recipe
Top 10 Green Juice Recipes
Top 10 Green Juice Recipes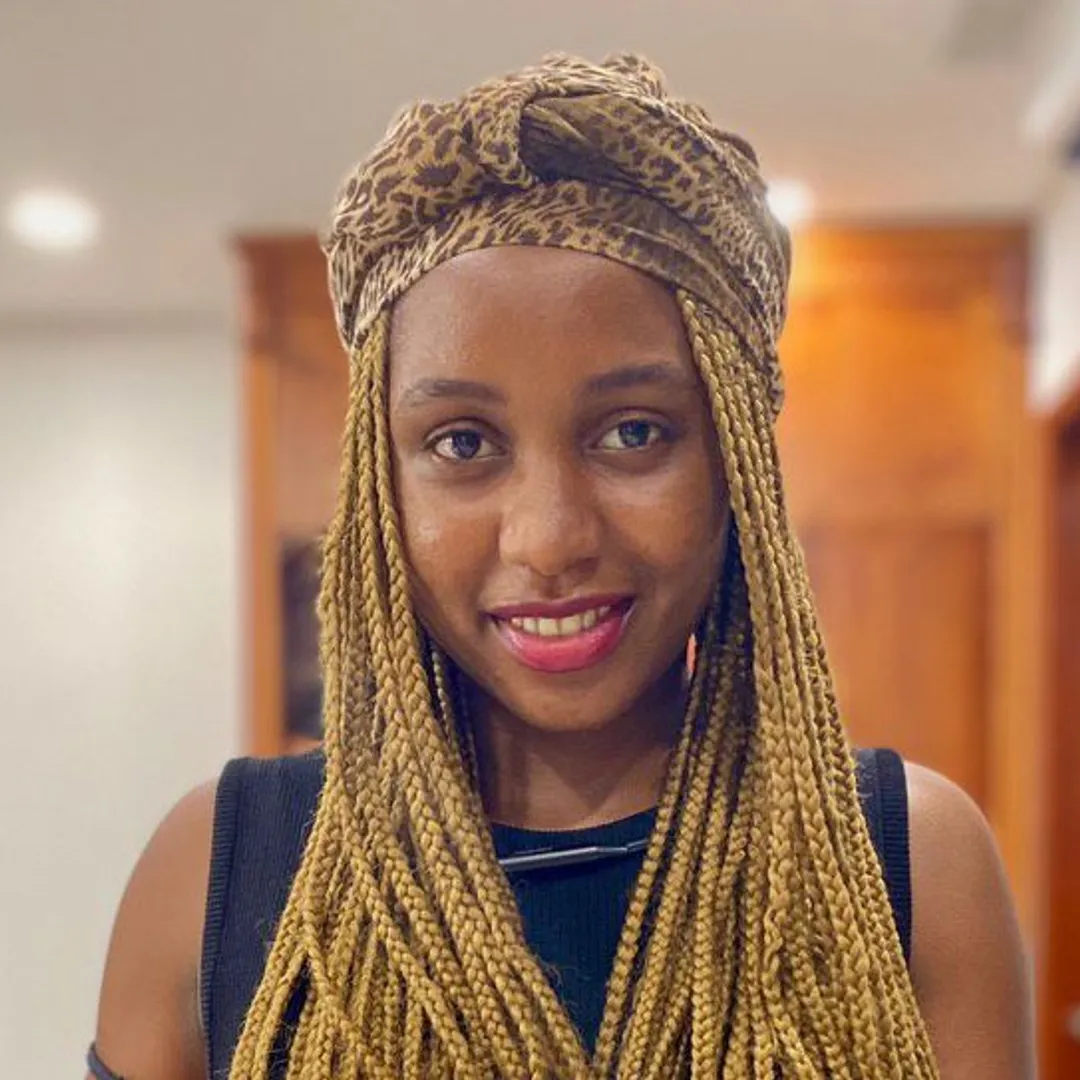 Writer, SEO Specialist
Neola Muhambi is a food and travel writer and SEO outreach specialist. Her African heritage and travels across various countries in Asia have given her a keen appreciation for cultural diversity and a sensitivity to the unique characteristics of various cuisines. Her experiences also sharpened her communication skills, which are helpful in her tasks to establish organic connections among websites.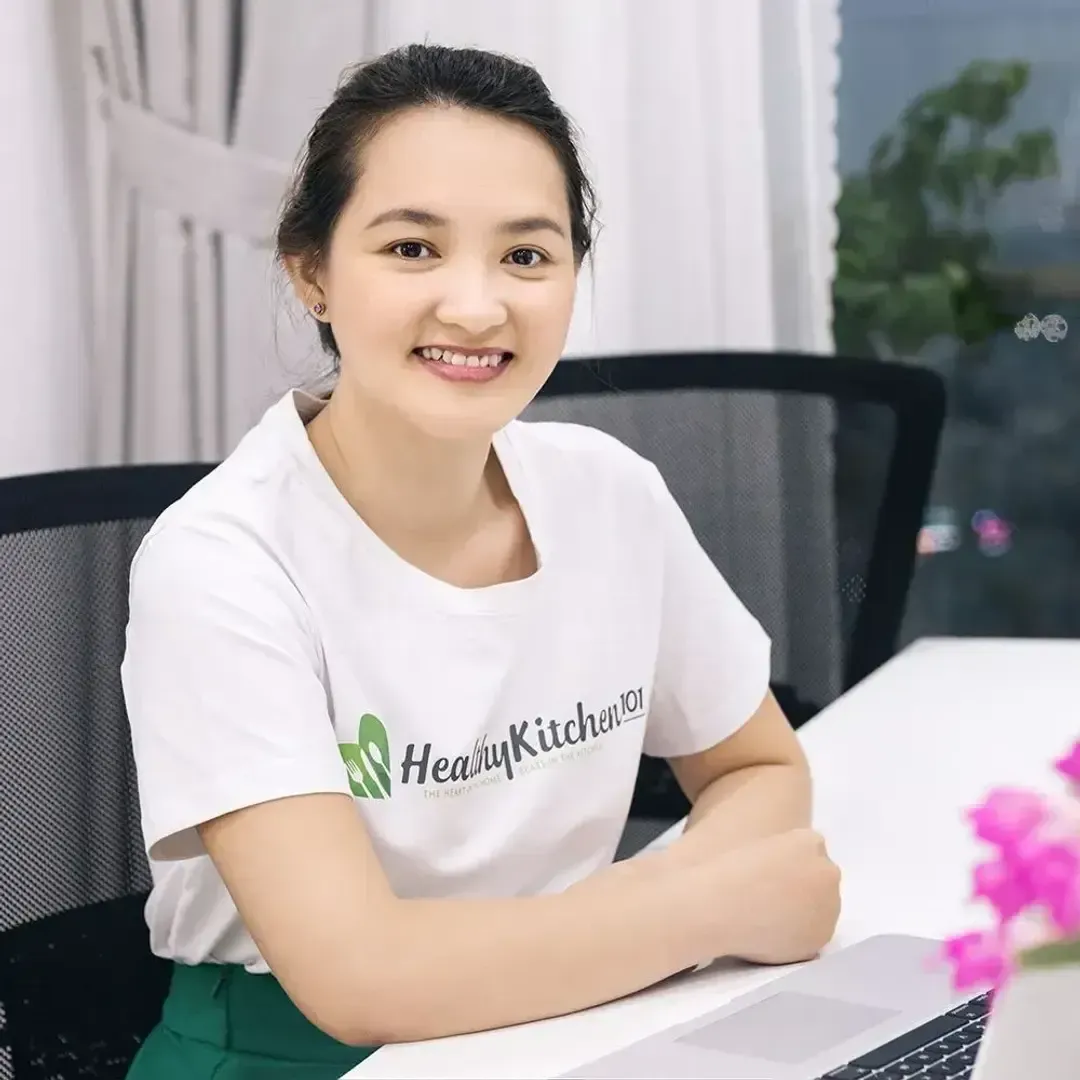 Writer, Author
Luna Regina is an accomplished writer and author who dedicates her career to empowering home cooks and making cooking effortless for everyone. She is the founder of HealthyKitchen101.com and HealthyRecipes101.com, where she works with her team to develop easy, nutritious recipes and help aspiring cooks choose the right kitchen appliances.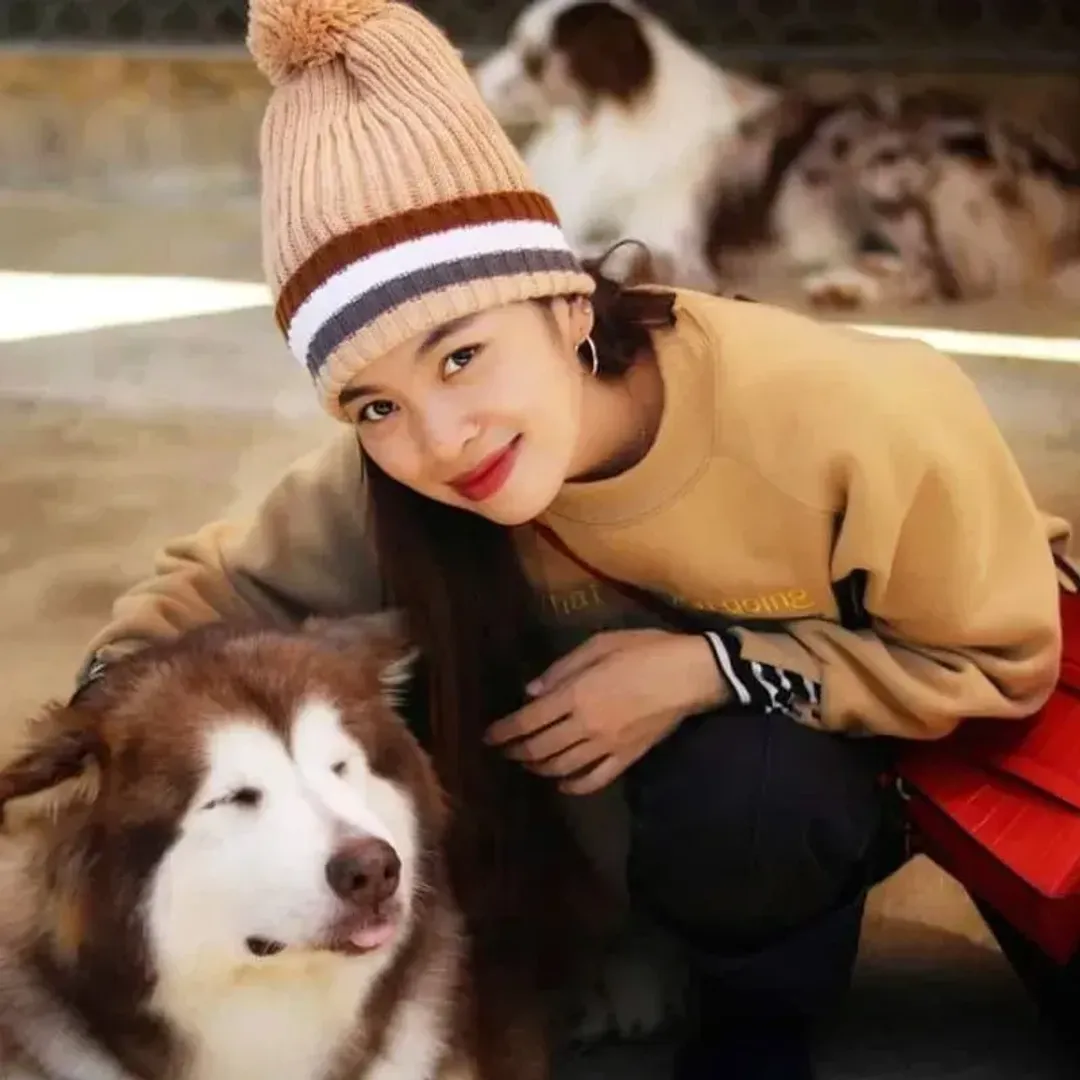 Chef, Culinary Consultant
Tuyet Pham is an award-winning Saigonese chef who believes that joy is the secret ingredient to delicious food. At Healthy Recipes 101, Tuyet personally tests and simplifies every recipe, ensuring maximum flavor with minimal effort. With a background at prestigious French restaurants P'TI Saigon and Le Corto, Tuyet knows how to make every dish exceptional.
Comments/ Reviews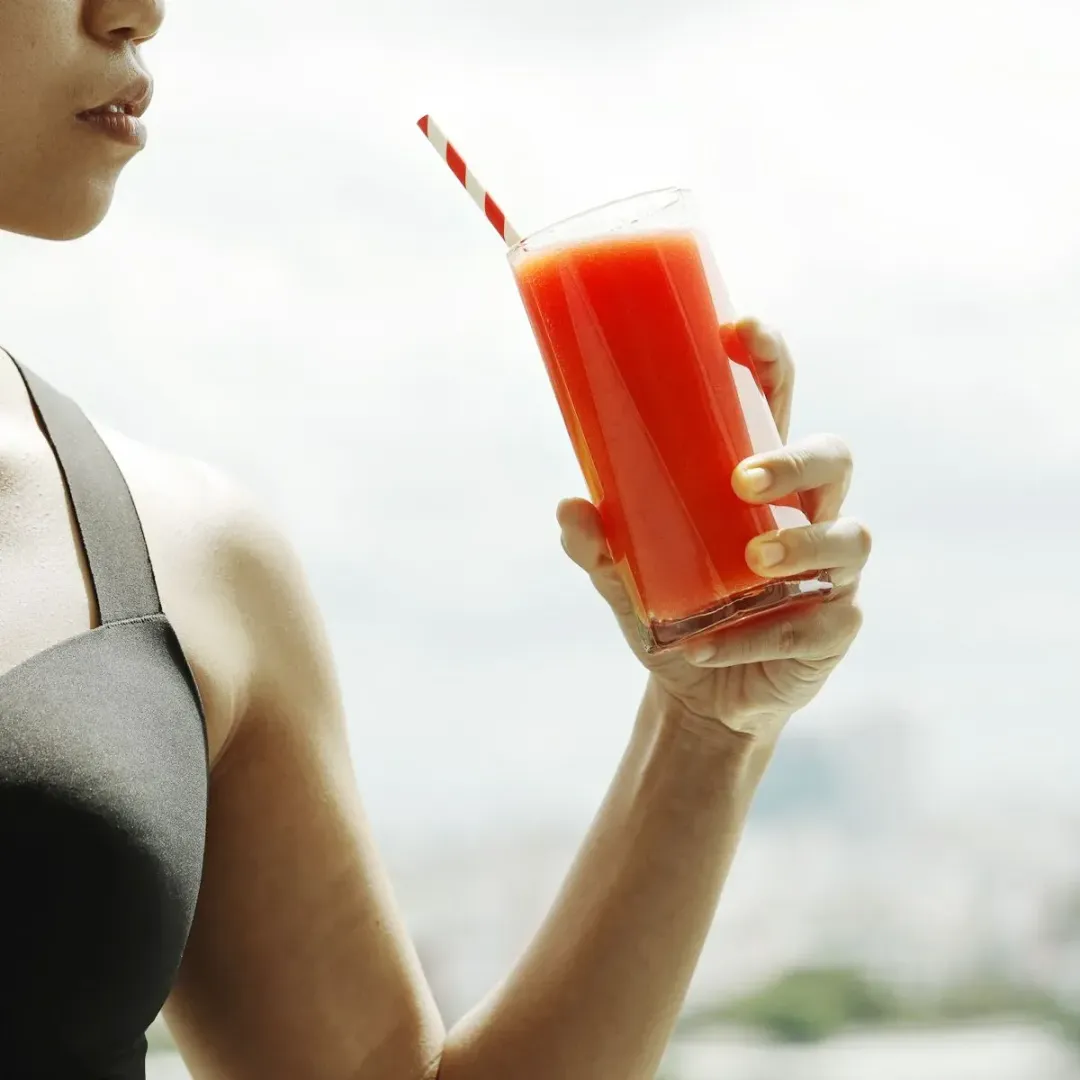 Erica Siebert

February 22, 2023 at 9:35 AM

Awesome, i love beer and tomato juice recipe! Have made it multiple times.