Everyone can appreciate a good watermelon cucumber juice recipe to help beat the heat. Summer wouldn't truly be complete without one.
That is why we squeezed the freshest melons and coolest cucumbers to bring you a clean, quenching hot-day beverage. Find out why we recommend this drink as the ideal juice for your routine.
Is This Watermelon Cucumber Juice Healthy?
Yes, here's why this drink is healthy.
For one, it hydrates you and cools your body in the summer heat. The naturally-occurring water, vitamins, and electrolytes found in watermelon help to prevent dehydration.
There's also no better way to save your skin, literally, than to drink fluids to keep your organs functioning properly.
We also added sugar to this drink, and although it's often a point of contention, small amounts will not harm a healthy diet.
This drink contains about ¼ tablespoon (or ¾ teaspoon) of sugar per serving, which falls within the USDA guidelines.
See here for more healthy mixes with cucumber.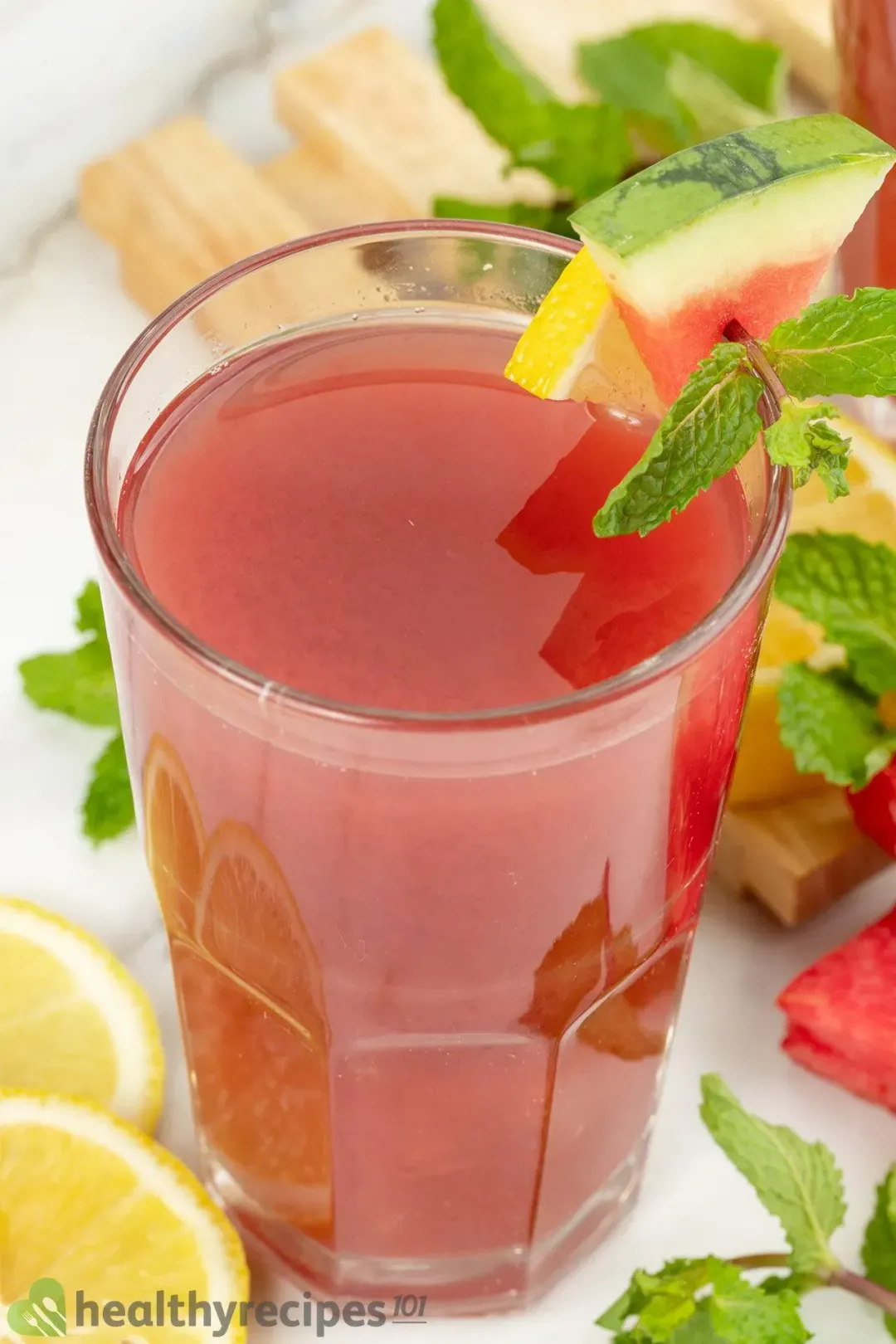 How Many Calories Are in Watermelon Cucumber Juice?
This juice contains roughly 54 calories per serving, making it one of the best low-calorie juices we've ever made.
If you want to lower your calorie intake even further, you can leave the sugar out completely. Watermelon is naturally sweet, so the resulting beverage will still be delicious.
Tips on Picking a Sweet Watermelon
Picking the perfect watermelon can prove challenging. Nothing adds insult to injury like lugging home a big, heavy melon only to bite into tasteless pulp inside.
To help you avoid this, here are some tips we'd like to share on how to pick a sweet watermelon:
Pay attention to the appearance. A sweet watermelon will have a deep green color and large web patterns.
Look for melons with dry and curly stems: This indicates that the fruit is ripe and tastes sweeter.
Check the spot on the watermelon: If the spot on the bottom (where it sits in contact with the ground) has a yellow color, chances are good that watermelon is sweet.
Avoid those with a white spot. A white spot on the bottom usually indicates that the watermelon is unripe and will taste bland.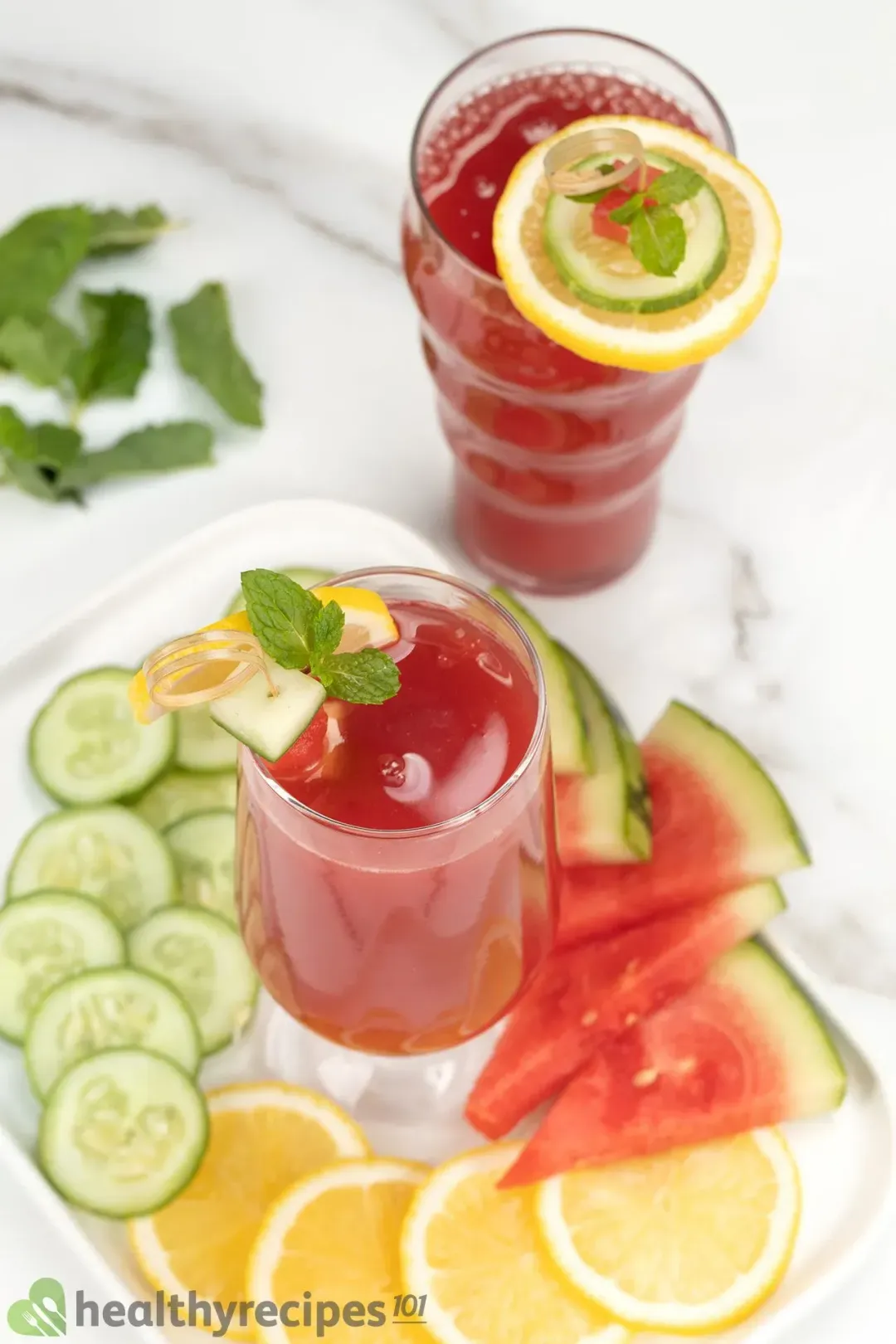 How to Make Watermelon Cucumber Juice
Here's a visual illustration of the juicing process: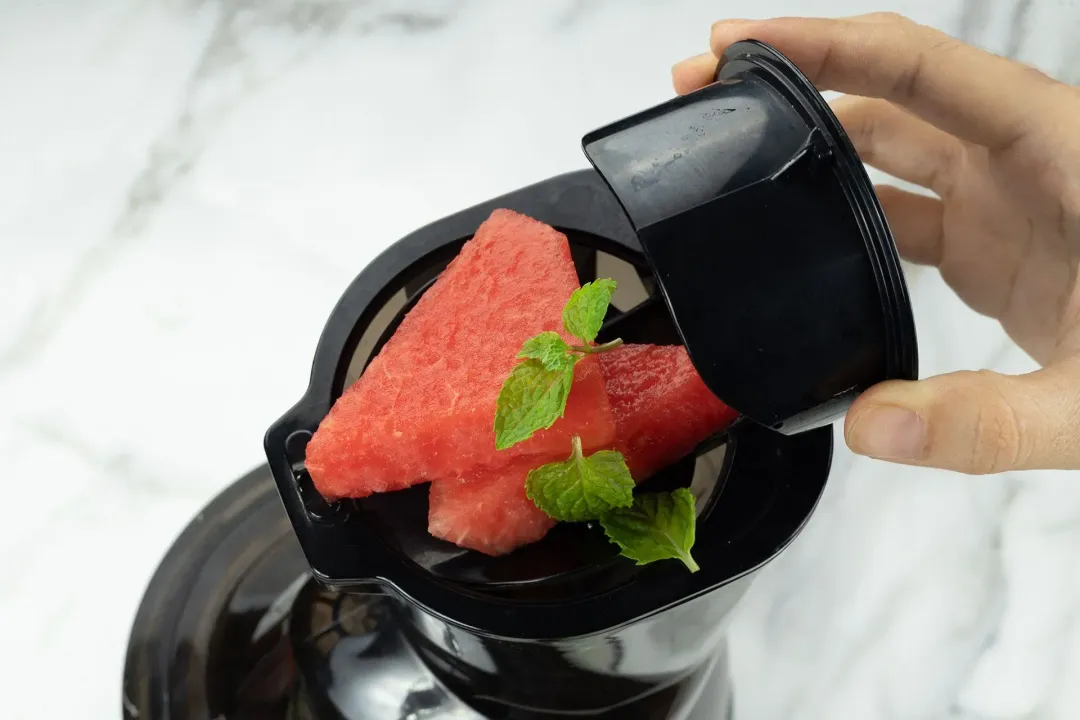 Juice the fruits and spearmint.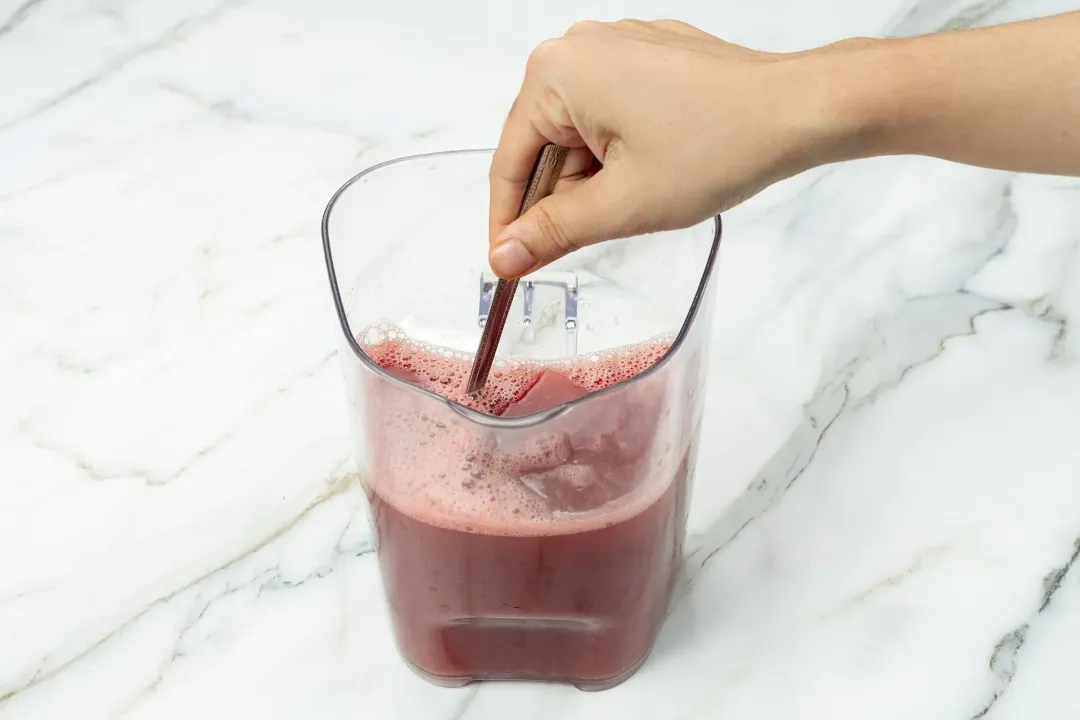 Mix the drink with sugar and lemon juice.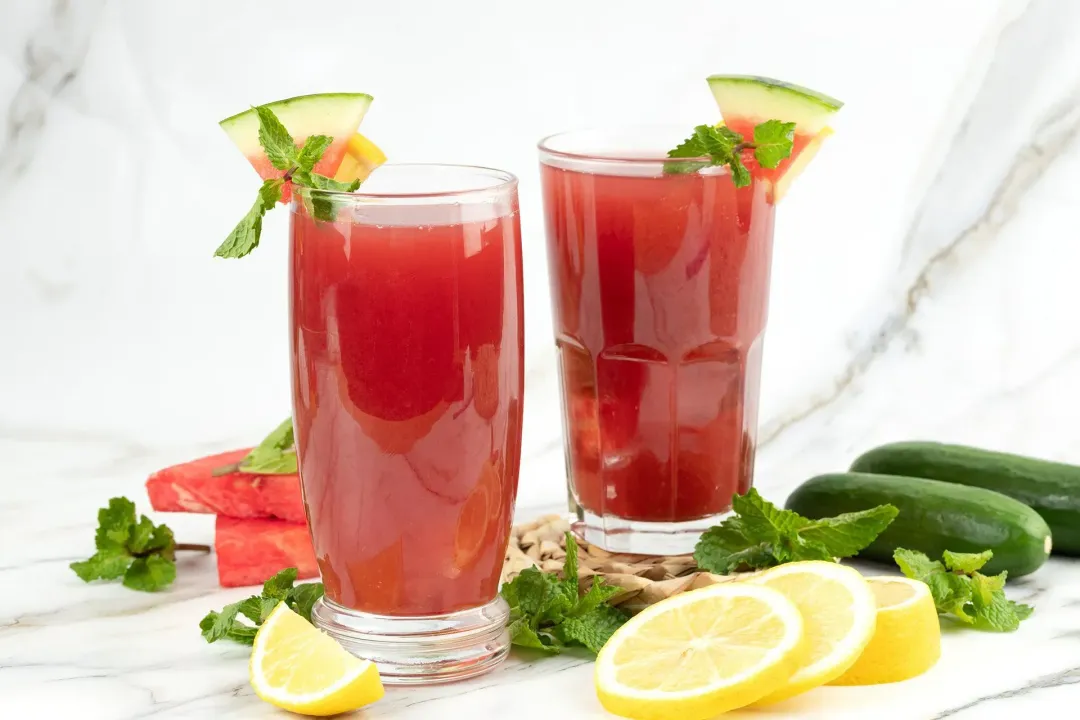 Serve.
Full ingredient measurements and detailed instructions are available in the recipe section below.
Can You Freeze Watermelon Cucumber Juice?
Yes, you can freeze this drink if you want. We suggest putting it in a freezer-safe, airtight container to store safely.
You may even prefer it this way, especially when making it in batches. That way, you won't have to juice fruits each time you want to enjoy this drink.
To thaw, transfer the frozen juice into the fridge and let it defrost slowly overnight.
How Long Does This Juice Last?
Like many of our homemade juices, this one lasts about 2 hours at room temperature. For this reason, we highly recommend drinking it soon after juicing.
That said, watermelon cucumber juice can last up to three days in the fridge and six months in the freezer. We recommend keeping it in an airtight container or mason jar to prolong its shelf life in the fridge.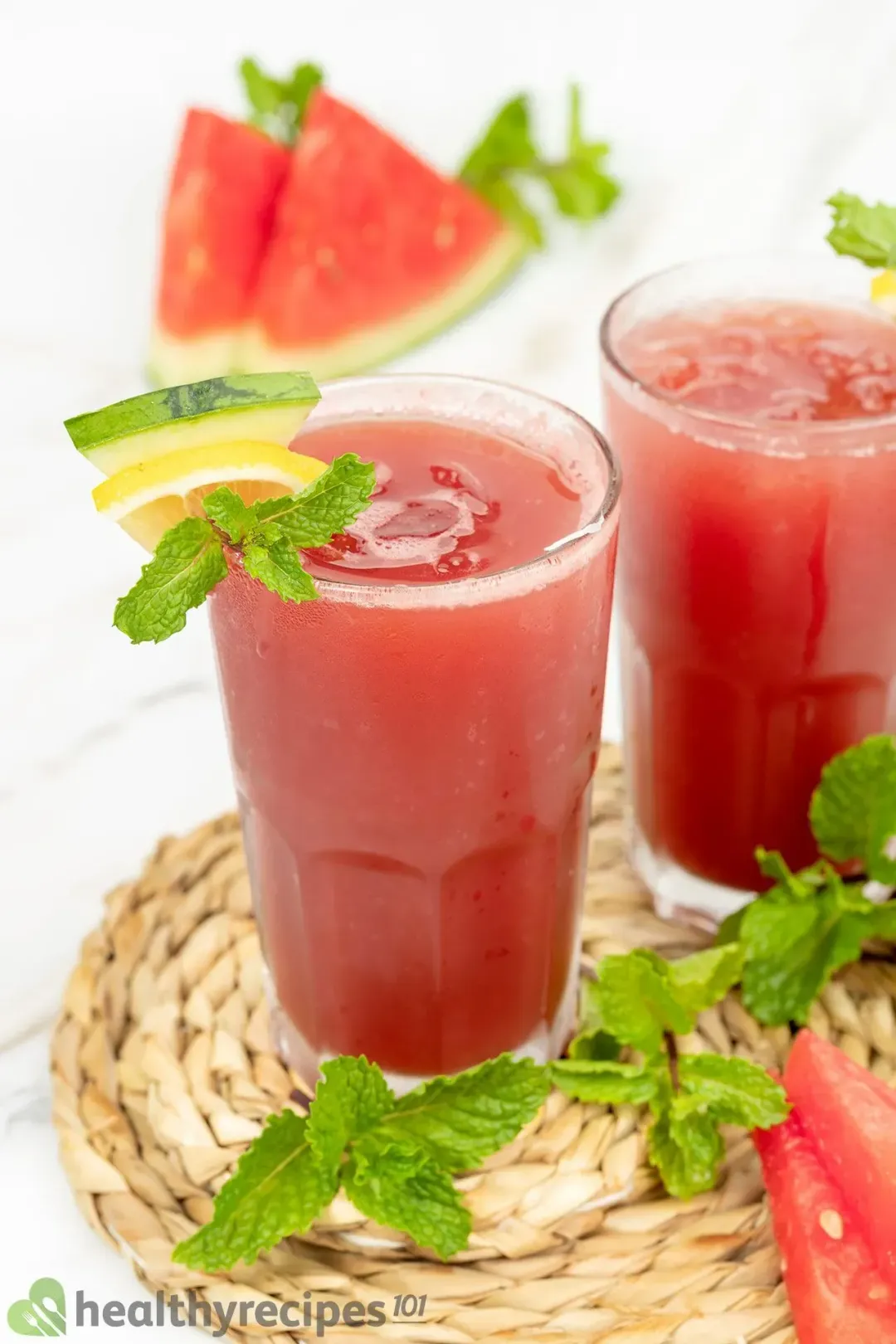 If storing in the freezer, be sure to use a freezer-safe container like a freezer bag.
In both cases (refrigerator and freezer), the juice may separate or settle. Don't worry, this is absolutely normal for fresh juices. The pulp with all the minerals and vitamins settles at the bottom of the container leaving water in the top half.
Give it a quick stir before serving, and it will be normal and delicious again!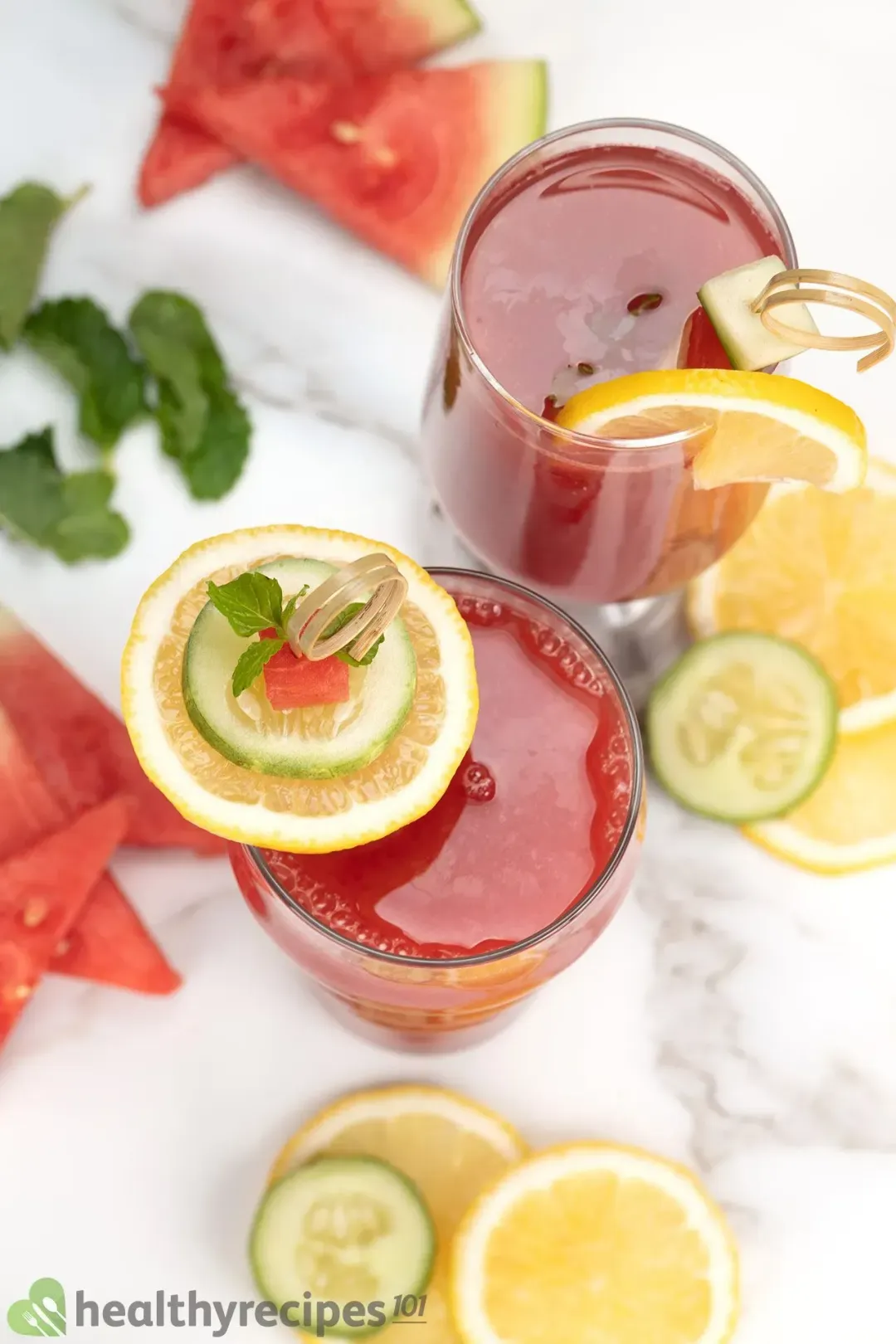 Check out our healthy juice roundup or best watermelon juice recipes for more delicious drinks.
Watermelon Cucumber Juice
This watermelon cucumber juice recipe is an all-year beverage, but we find it especially handy during summer. Enjoy it cold for the perfect refreshment.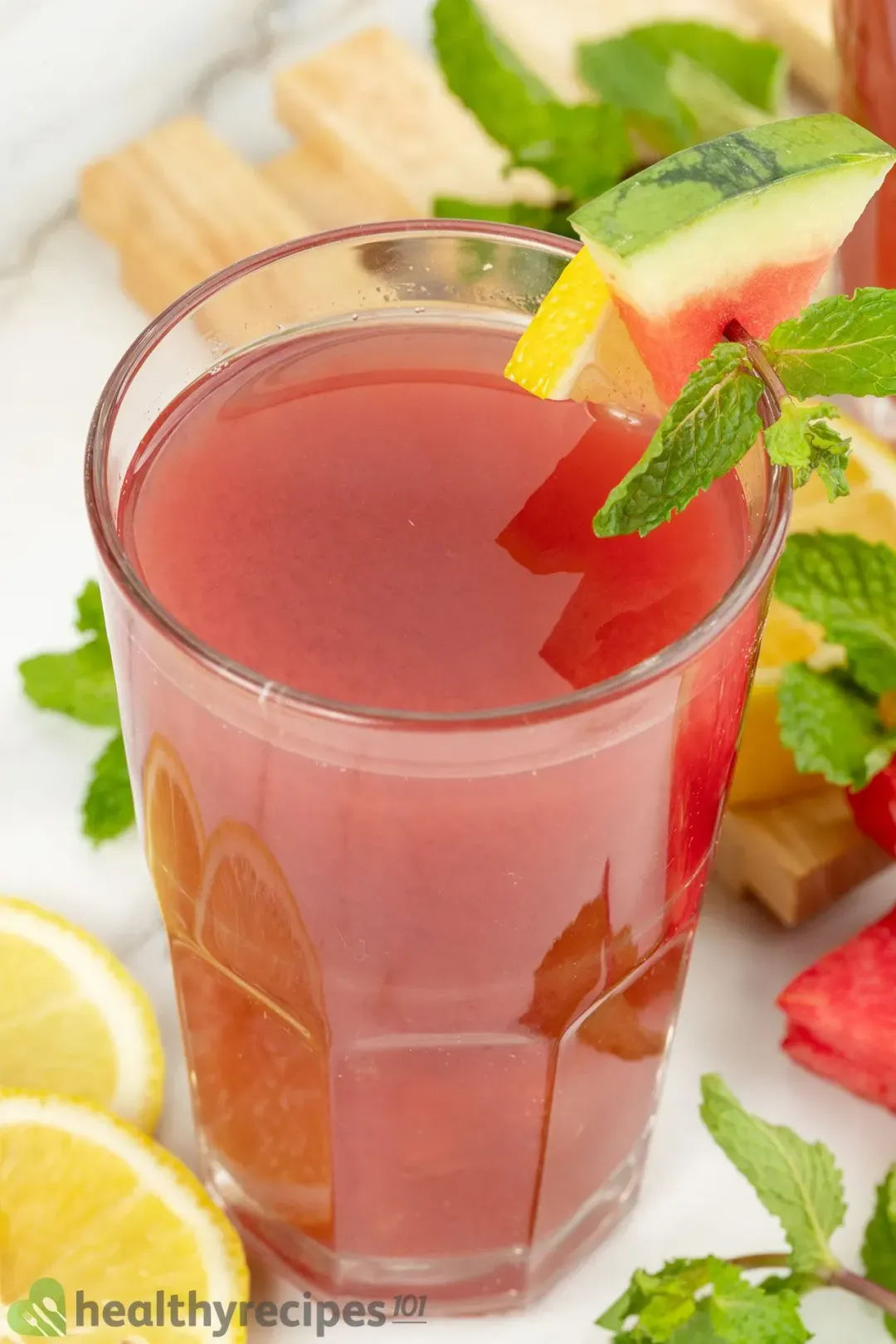 prep TIME

10 mins

total TIME

10 mins
COURSE

Beverage

CUISINE

Global

SERVINGS

CALORIES

54 kcal
INGREDIENTS
7 oz

fresh cucumber

(6.5 fl oz cucumber juice)

16.5 oz

fresh watermelon

(15 fl oz watermelon juice)

4 tbsp

spearmint leaves

(plus extra for garnish)

4 slices

lemon

(for garnish)
INSTRUCTIONS
1
Juice the fruits: Remove the watermelon flesh from the rind. Cut the cucumbers and watermelon into chunks that fit your juicer chute. Put the spearmint leaves and fruits into the juicer and collect the juice in a pitcher.
2
Mix the drink: Add sugar and lemon juice to the juice pitcher and stir well to dissolve.
3
Serve: Add ice into 4 glasses and pour in the juice. Garnish with a piece of lemon and a sprig of spearmint. Serve.
NUTRITION
Nutrition Facts
Watermelon Cucumber Juice
Amount Per Serving (1 serving)
Calories 54
% Daily Value*
* Percent Daily Values are based on a 2000 calorie diet.
Keywords: cucumber watermelon juice, how to make watermelon cucmber juice, watermelon cucumber juice, watermelon cucumber juice benefits, watermelon cucumber juice recipe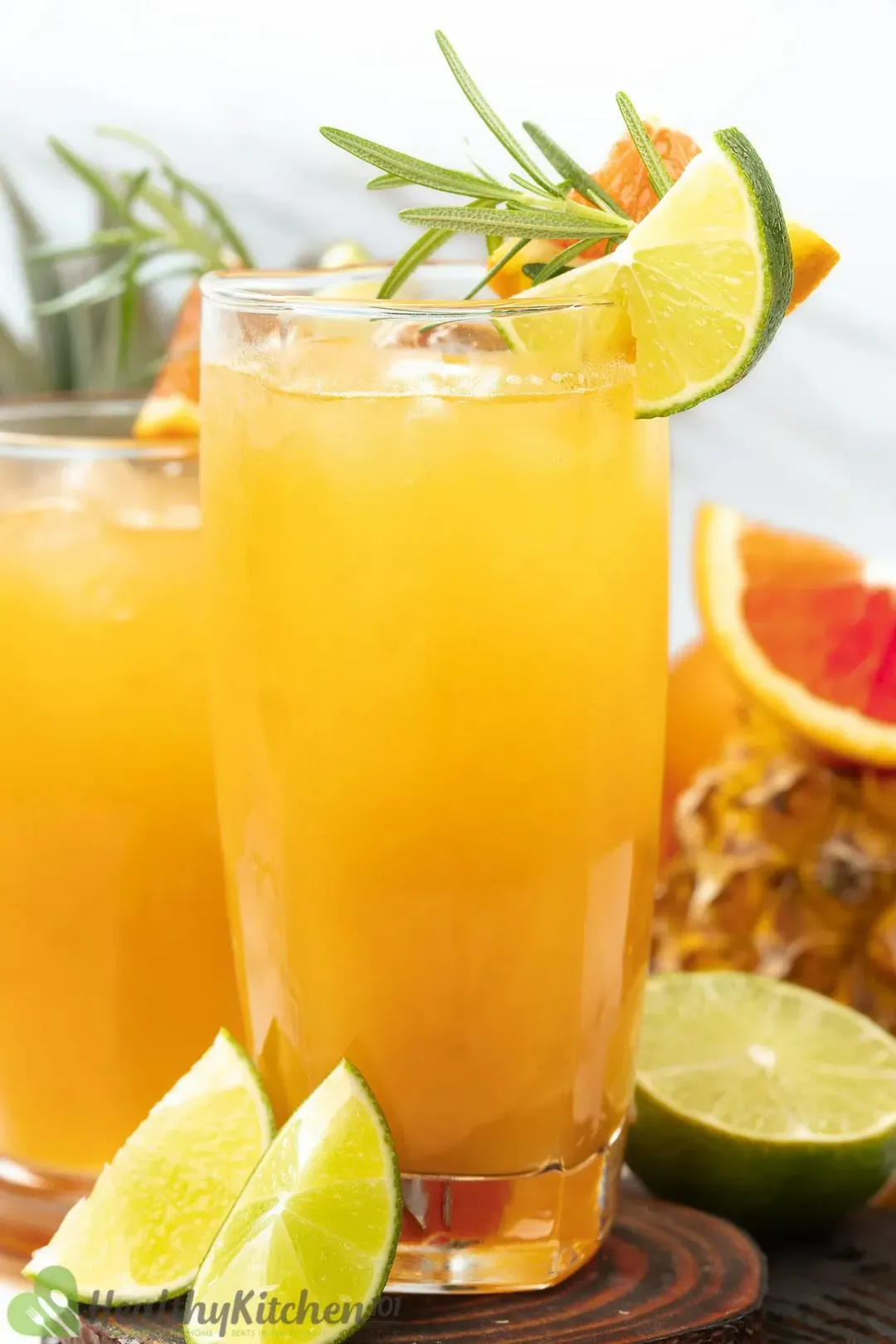 Previous Recipe
Tequila and Grapefruit Juice
Tequila and Grapefruit Juice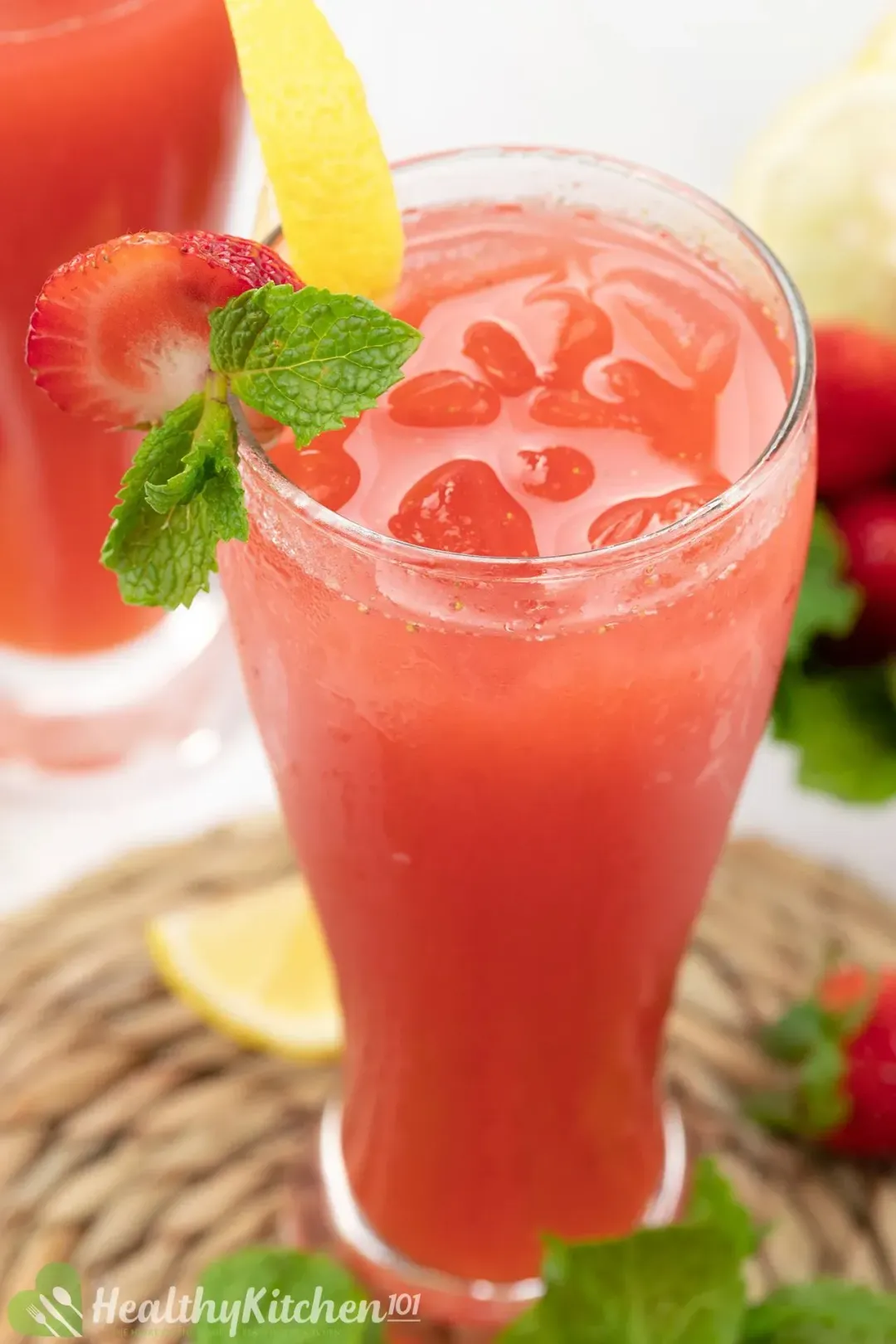 Next Recipe
Simple Strawberry Juice
Simple Strawberry Juice
The cucumber adds a refreshing taste and the watermelon adds a sweet flavor.