Have fun this National Drinking Straw Day (January 3rd) with our homemade strawberry juice recipe completed with your favorite straw! We'll reveal the secrets to making a refreshing fruit drink you can enjoy every single day!
Before we begin, let's discuss strawberries, their juice extract, and the potential benefits they bring.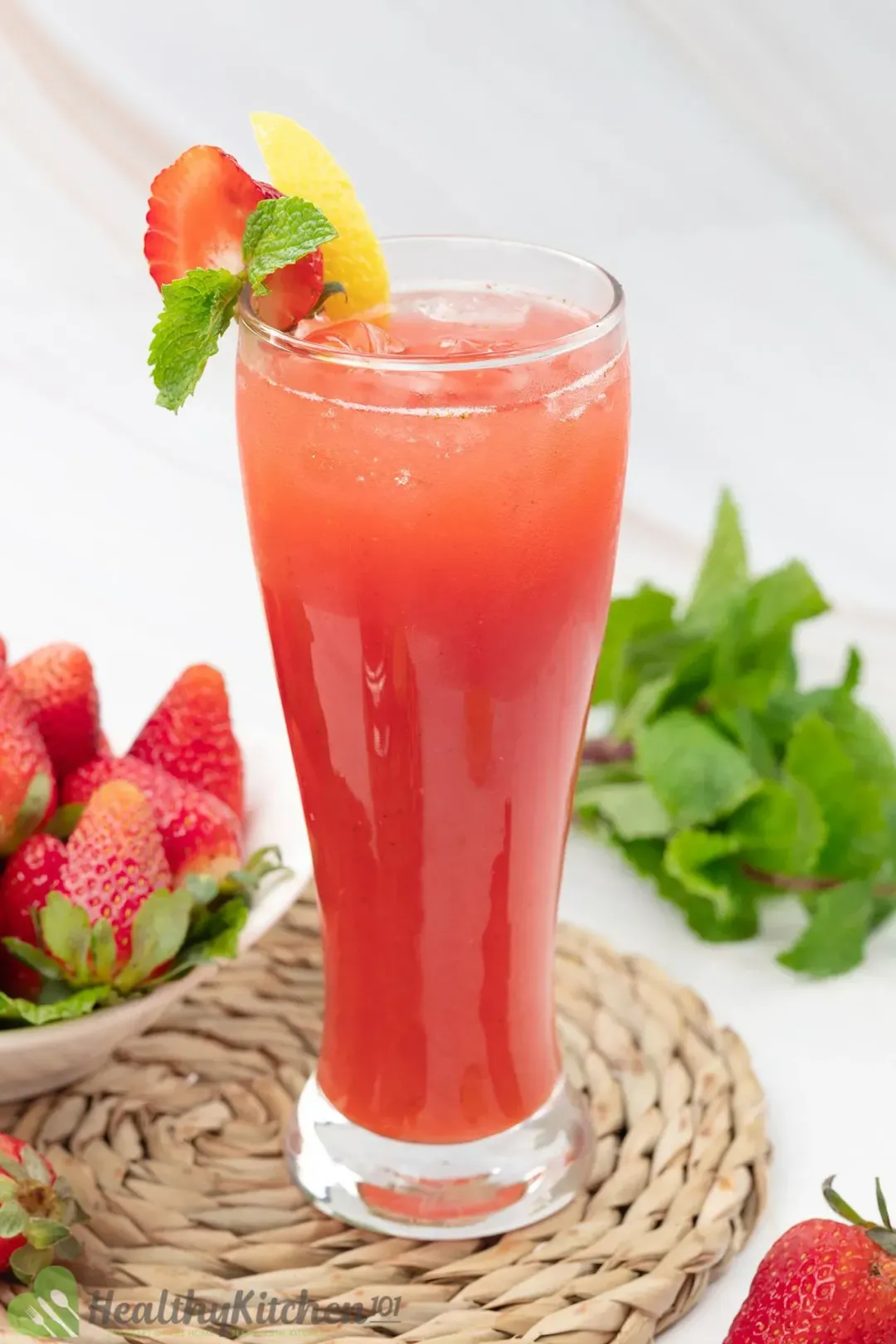 Benefits of Strawberry Juice
Strawberry juice is much like its fruit in that it also provides nutrition. The major difference is the juice is void of any fiber.
However, you still retain enough nutrients to make juicing worth the effort.
1. For Health
For one, pure strawberry juice comes with no additives or preservatives. Research shows that certain additives may affect thyroid growth and function, particularly in children.
Given these findings, it's a good rule of thumb to live by "the fresher, the better." Go for fresh fruit and veggies whenever possible to maintain your and your children's health.
This strawberry juice also contains just three teaspoons of added sugar per serving. To put that into perspective, that's 33% for men and 50% for women of the recommended sugar intake on a 2,000-calorie diet — a pretty great bargain on your sugar budget!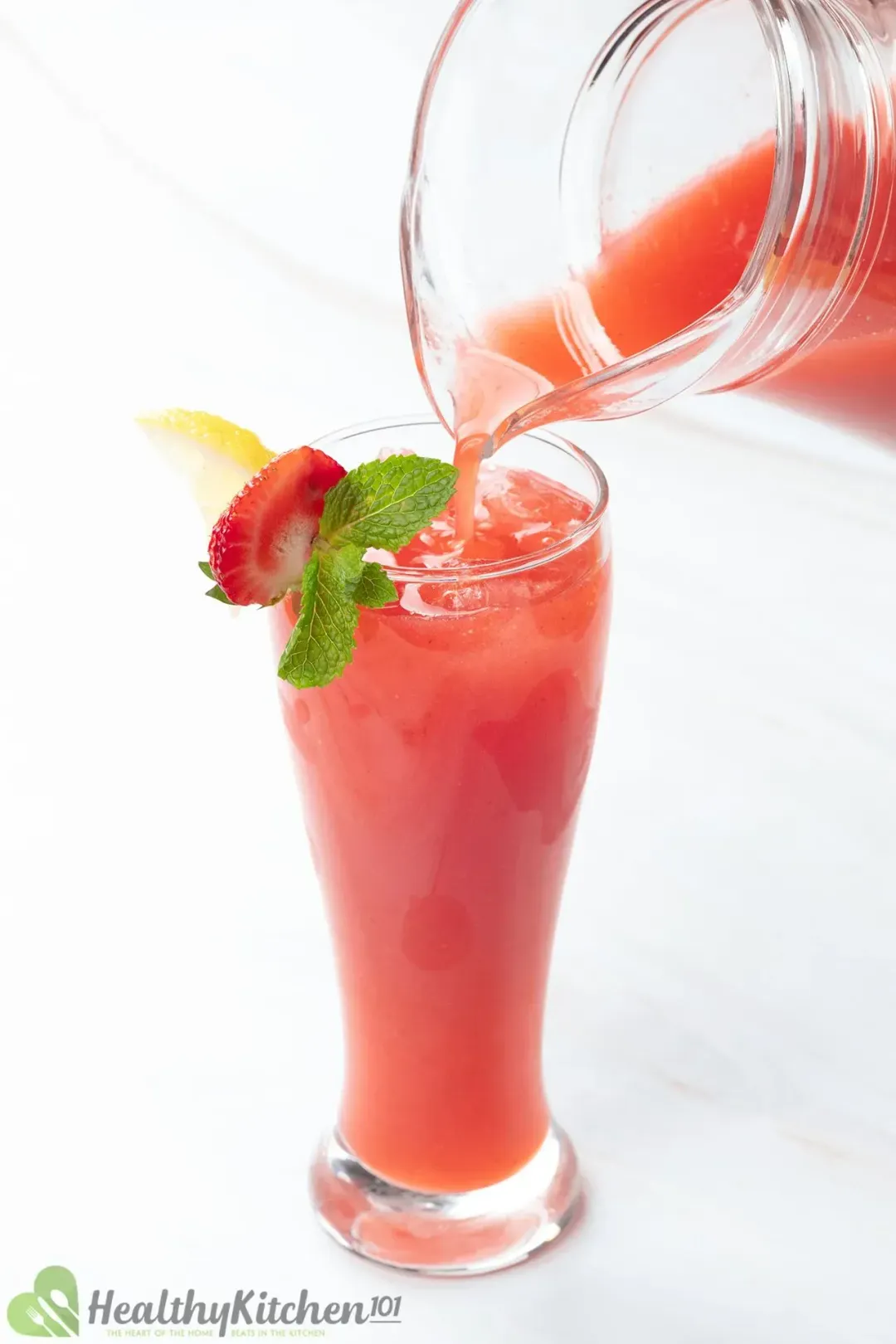 2. For Skin
A significant advantage of this drink is its potential skin-related benefits derived from Vitamin C. Vitamin C is an antioxidant involved in many functions that keep our bodies healthy, including protecting the skin.
With over 50% of the vitamin C recommended daily intake per serving in this drink, you can soon drink your way to healthier skin.
3. For Weight Loss
Try as we may, we can't lose weight by simply incorporating fruit or vegetable juices into our diets. Unfortunately, that's not how weight loss works.
But given that strawberry juice can cure a sweet tooth, you can enjoy it when those cravings creep up and avoid dipping your hand in a can of sugar-laden snacks.
This helps to limit your sugar intake and, as a result, your total caloric intake. Coupled with a healthy eating regimen directed towards weight loss, you may start to see those pounds shedding quicker than you think.
Is This Strawberry Juice OK to Drink Every Day?
Yes, it is absolutely safe to drink this strawberry juice daily. That said, this beverage does contain sugar, so we recommend limiting its consumption to once a day to avoid overconsuming sugar.
The key is to remember that the ball is in your court when it comes to making juice at home. You could leave the sugar out to make a healthier, lower-calorie beverage — or omit the sugar altogether.
Main Ingredients
Let's take a quick look at the ingredient list: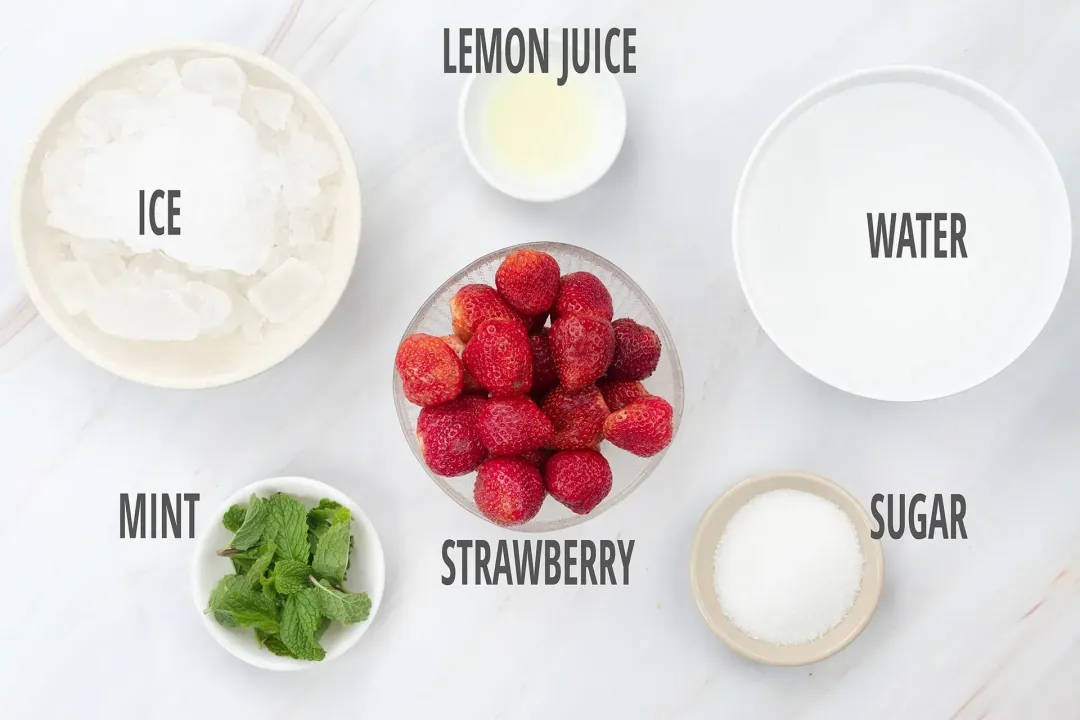 Strawberries: It's best to use fresh instead of frozen ones for today's recipe.
Lemon juice: Adds a touch of freshness to brighten up this drink.
Sugar: In limited quantities only. Feel free to cut back further on the sugar.
Mint: We used spearmint, but any available mint in your local supermarket will do.
Water: A bit of water makes the juice less concentrated, less viscous, and lighter on the palate.
We did use ice in this recipe, but note that it dilutes the juice once it melts, and not everyone may enjoy the drink afterward.
How to Make Strawberry Juice
Here is a step-by-step photo guide to making our strawberry juice: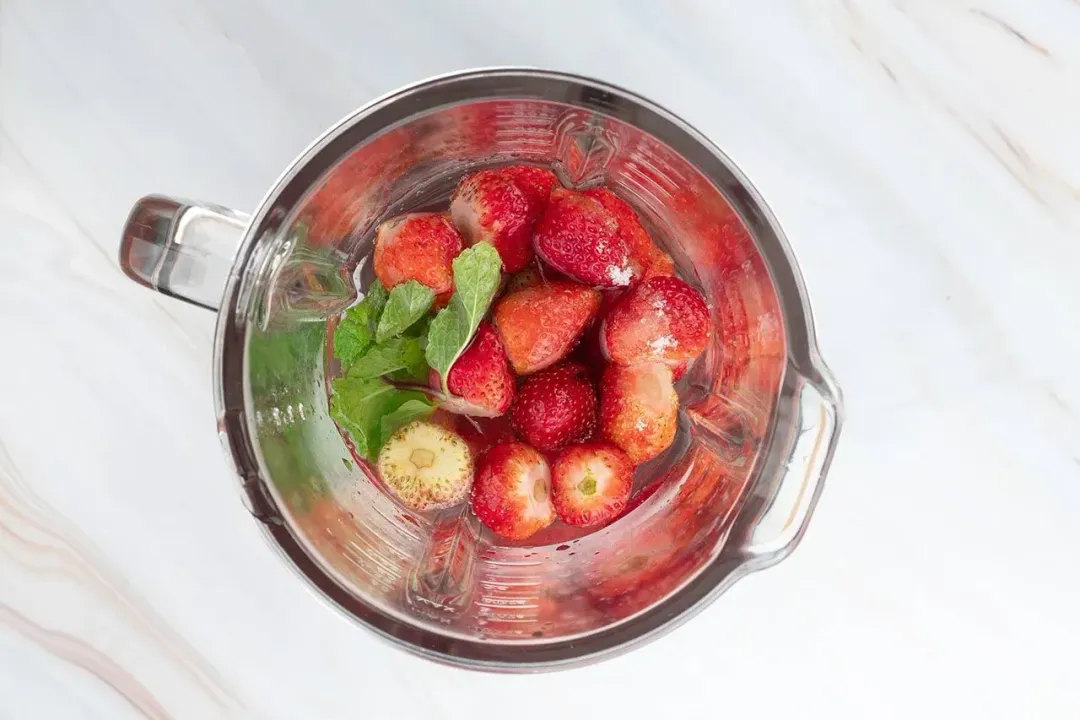 Blend all the ingredients.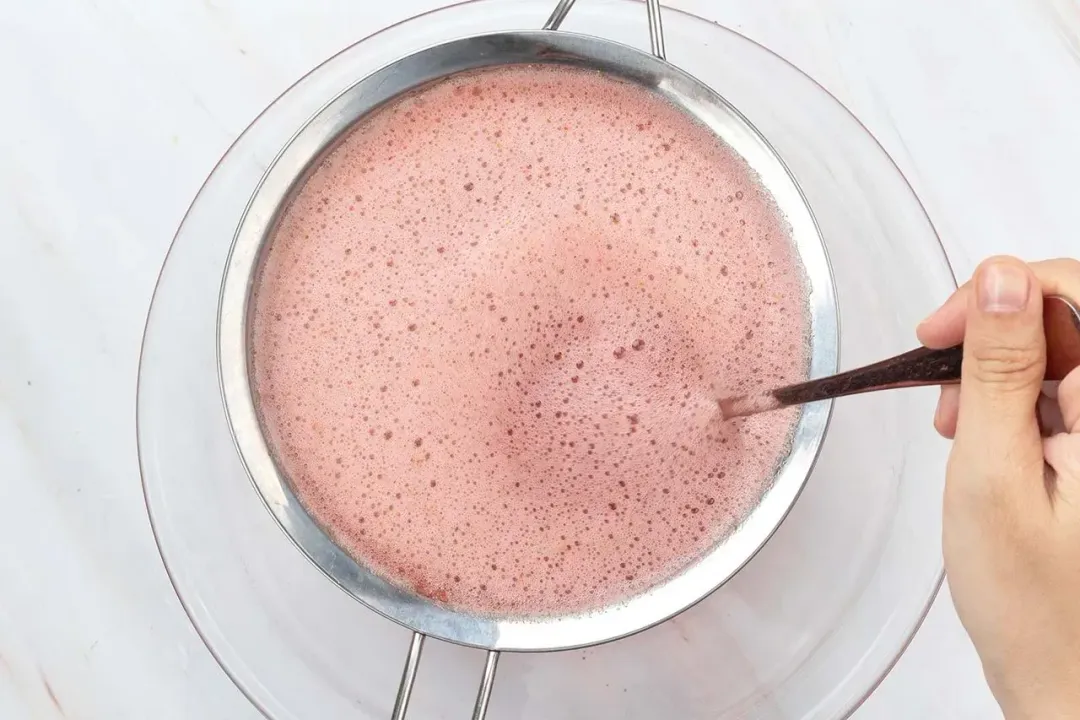 Strain the mix.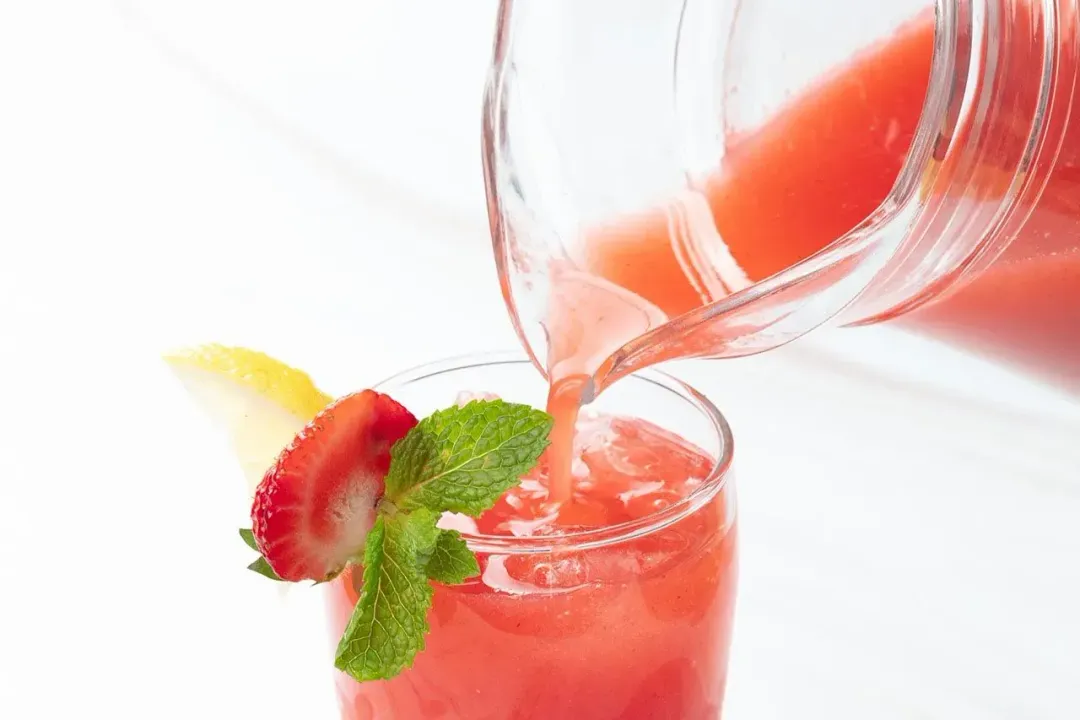 Serve
Can You Put Strawberries in a Juicer?
Yes! You can, but this comes with its drawbacks.
Strawberries are lacking in fiber and their texture is relatively soft. Thus they won't produce much liquid and will be squashed to a purée when you push them through a juicer.
Another problem is strawberries getting stuck in the juicer's feed chute. If this happens, add water or fibrous fruit into the tube to help push out the strawberry purée.
What Other Fruit Goes Well With Strawberry Juice?
Add your personal touch to this strawberry juice recipe with some extra fruit in the mix. Here are a few suggestions: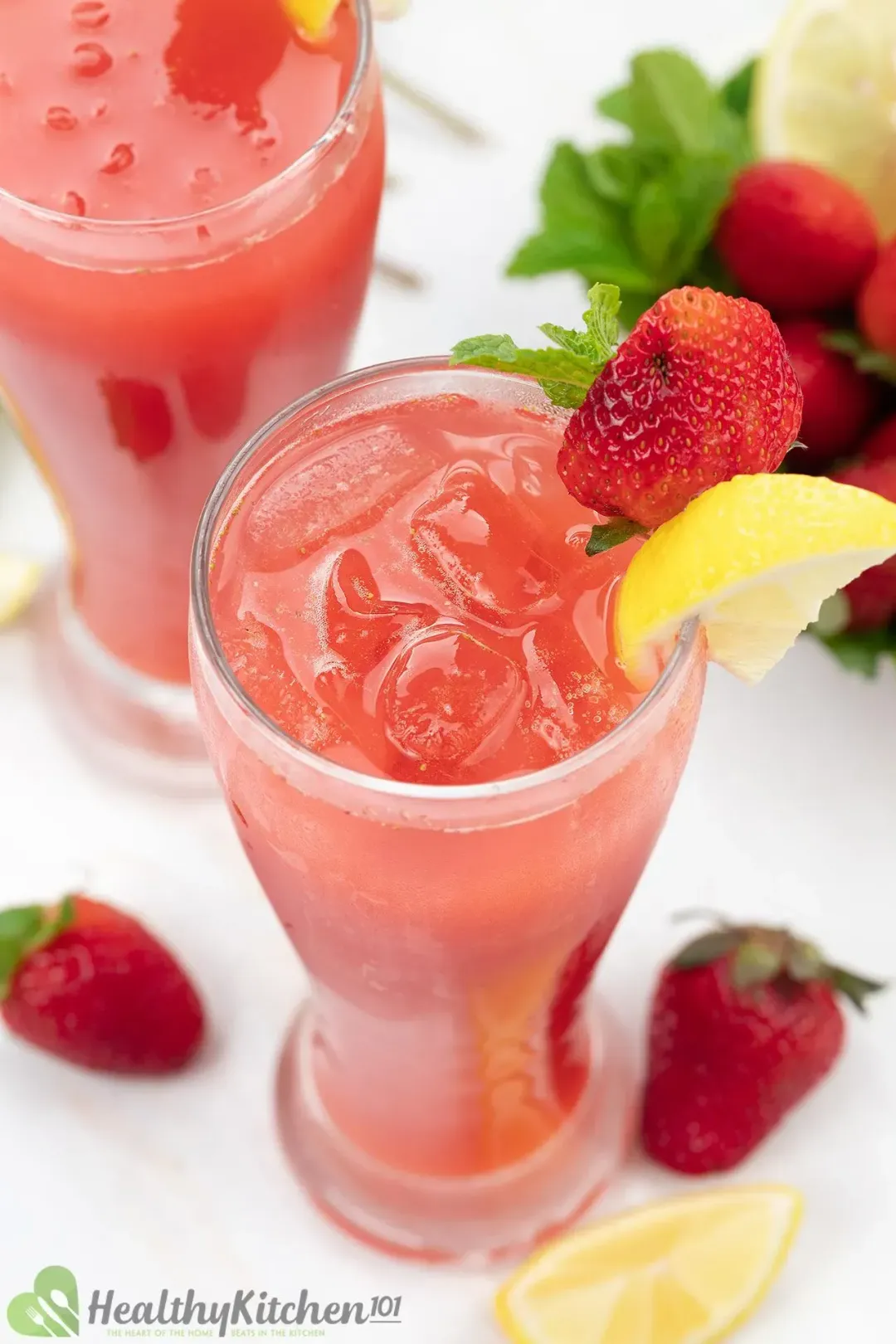 1. Kiwi
Kiwi and strawberry make a great combination. Although kiwi is a bit tarter, it balances the sweetness of strawberry to create a harmony of flavors.
Similar to strawberries, kiwi is also soft in texture. It's best to put it in the blender along with your strawberries to add body to the texture.
See our refreshing kiwi juice recipe for more kiwi details.
2. Apple
If you're pairing apples with strawberries, we recommend trying the Granny Smith variety. Its tart yet mild fruity aroma complements berries better than sweeter apple varieties.
3. Orange
Citrus fruits are versatile and effortlessly add vibrance to any food or drink.
Create another summery fruit beverage by juicing one orange and adding the juice to this strawberry mix. Or stick to just lemon juice, like we did with this tasty strawberry lemonade.
4. Watermelon
A while ago, we tested our first strawberry watermelon recipe, where we simply ran the two fruits through the juicer.
This little experiment turned out remarkable. It produced a refreshing, sweet drink with a deep red color that is appealing and absolutely worth a try.
How Long Does Strawberry Juice Last?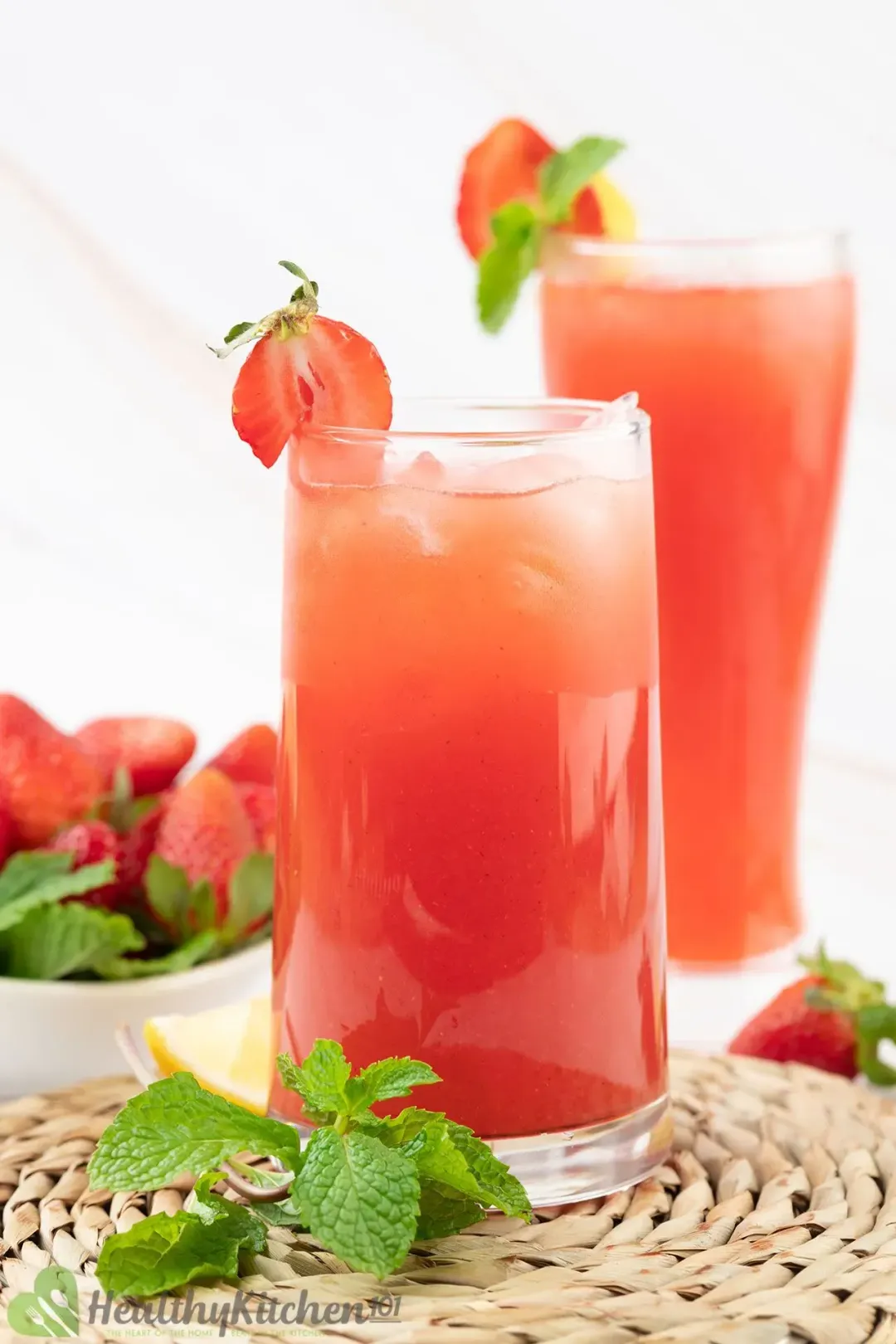 Our fresh strawberry juice can last up to 2 days in the fridge.
We recommend storing it in an airtight container, a bottle, or a mason jar to slow down oxidation. If the juice separates, just give it a quick stir to return it to its original state.
Strawberry Juice
This strawberry juice recipe only requires a handful of ingredients but makes a healthy, delicious drink just in time for summer!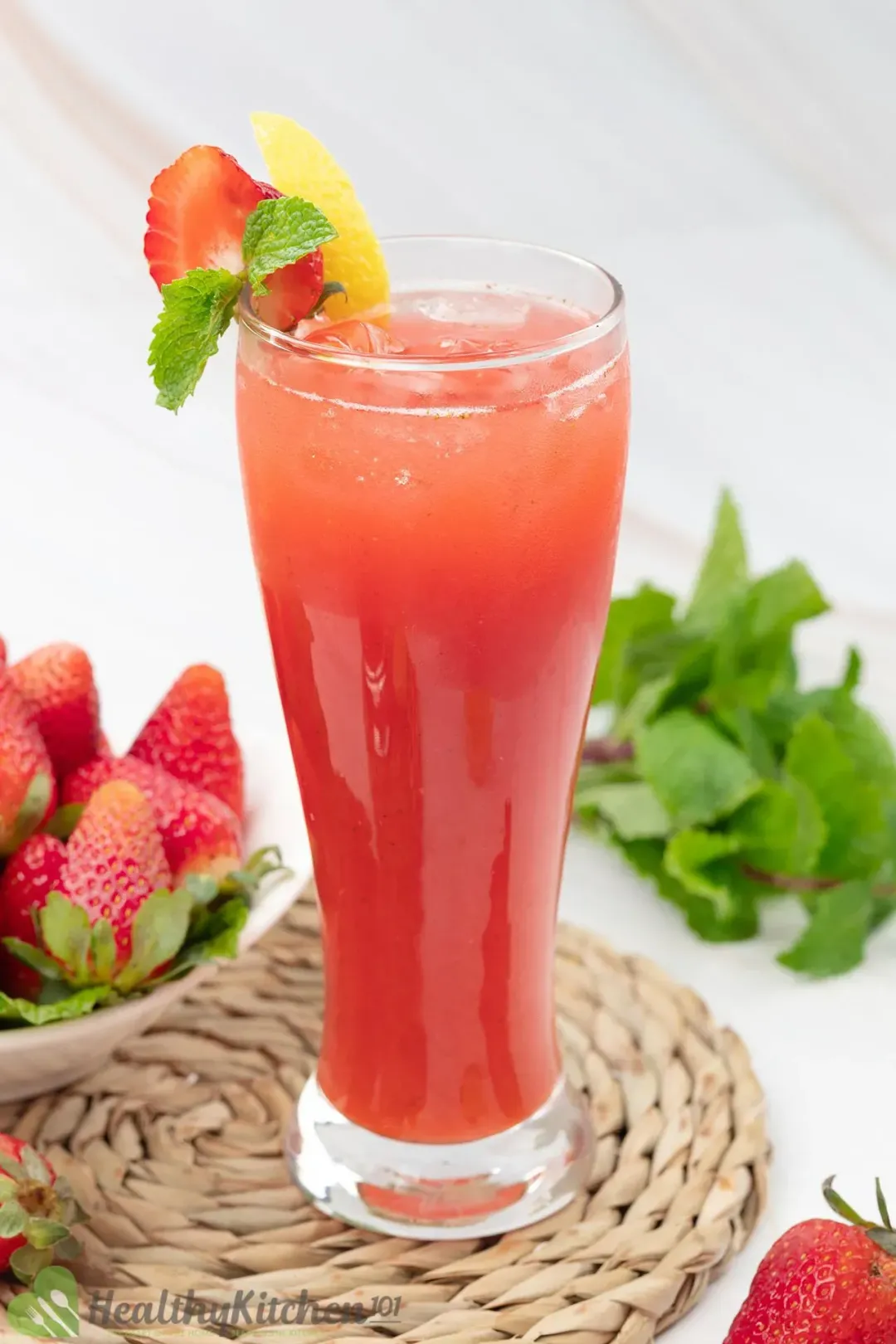 prep TIME

10 mins

total TIME

10 mins
COURSE

Beverage

CUISINE

Global

SERVINGS

CALORIES

77 kcal
INGREDIENTS
12 oz

strawberries

(stems removed)

1 tbsp

lemon juice

(freshly squeezed)

2 tbsp

mint

(leaves only)
INSTRUCTIONS
1
Blend ingredients: Add strawberries, sugar, lemon juice, mint leaves, and water to a blender. Blend until smooth.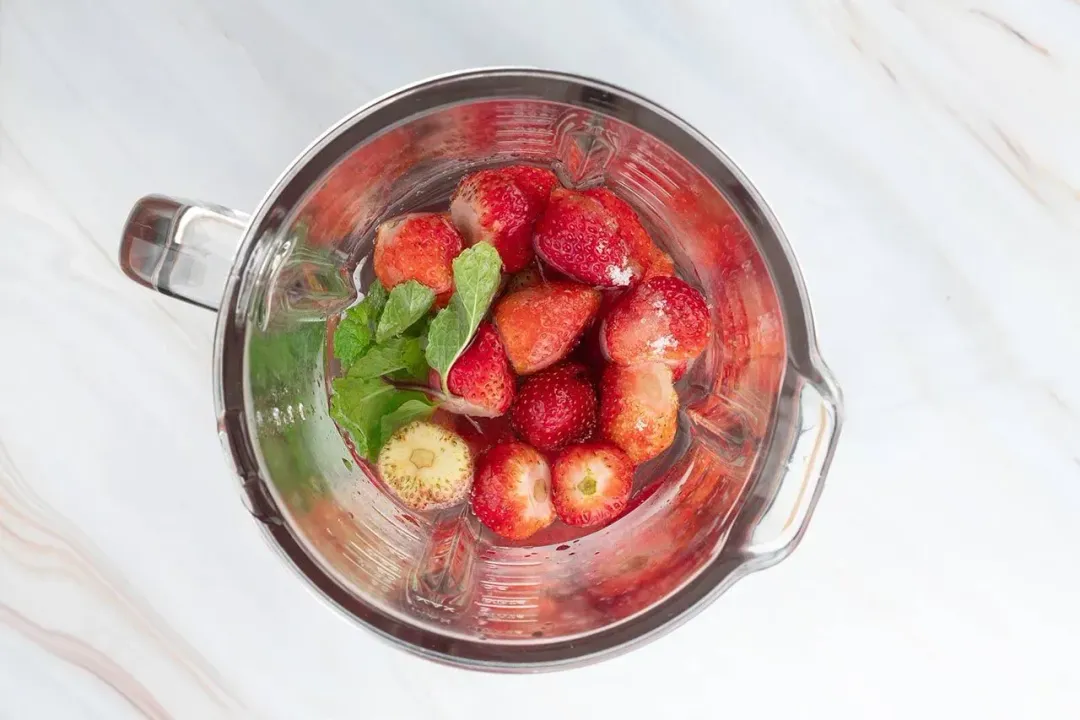 2
Strain the juice: Put a fine sieve over a bowl. Pour the juice into the sieve and strain to get a clearer liquid. Discard any skin and seeds.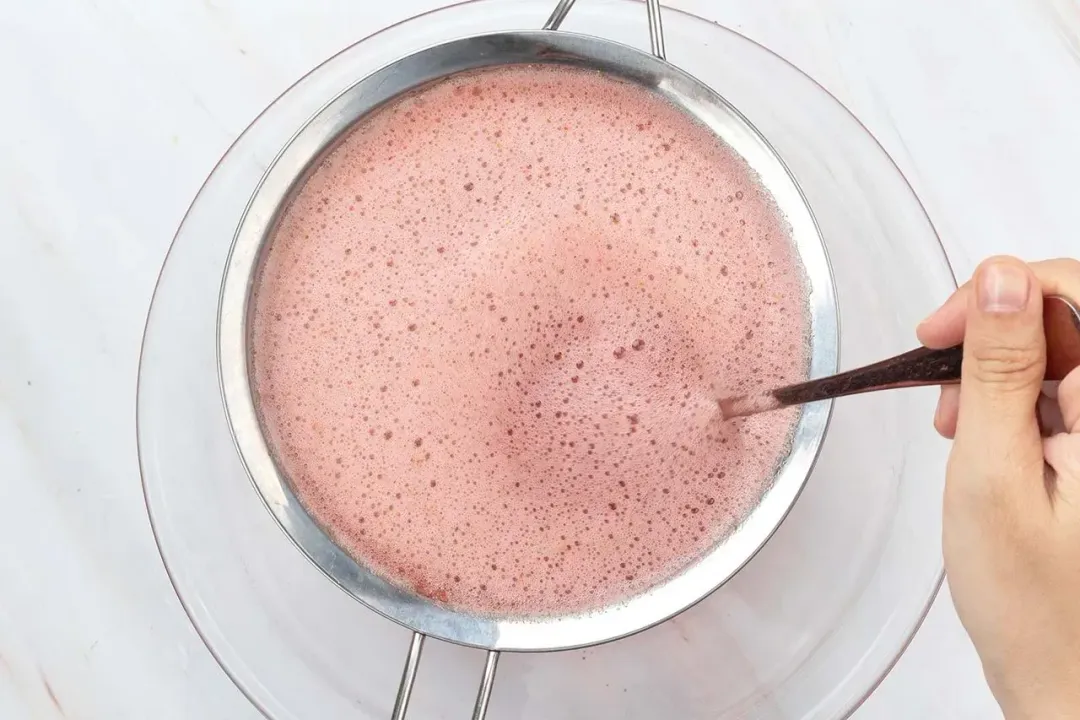 3
Serve: Divide into four glasses. Add ice and serve.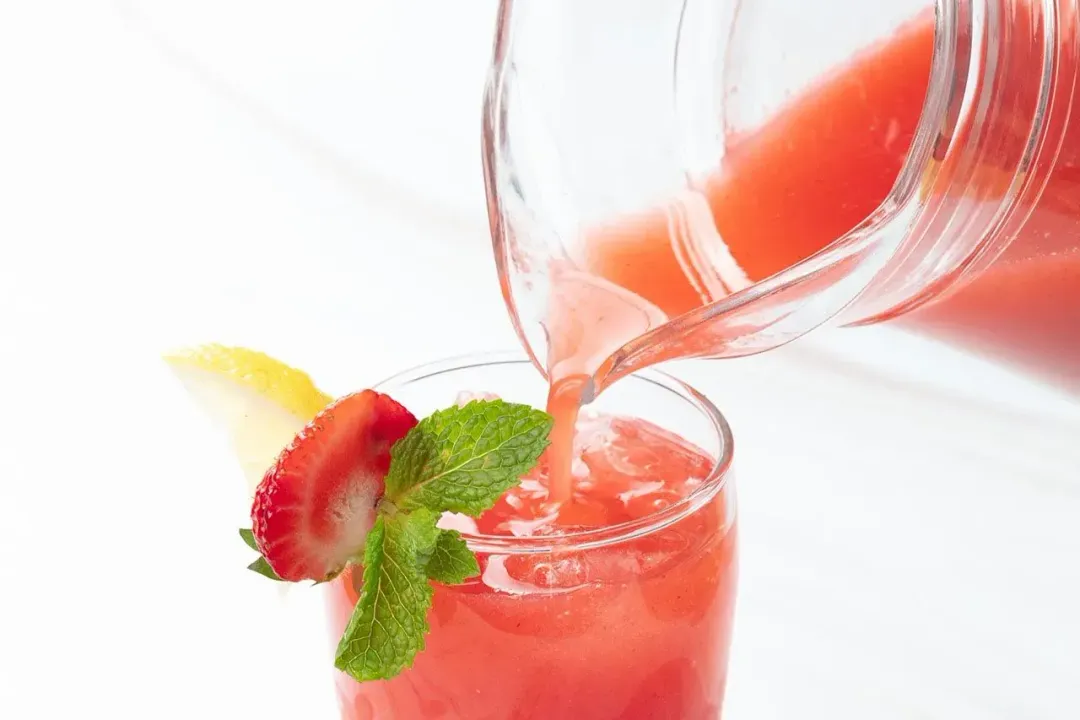 NUTRITION
Nutrition Facts
Strawberry Juice
Amount Per Serving (1 serving)
Calories 77
% Daily Value*
* Percent Daily Values are based on a 2000 calorie diet.
Keywords: homemade Strawberry Juice Recipe, Strawberry Juice, Strawberry Juice Recipe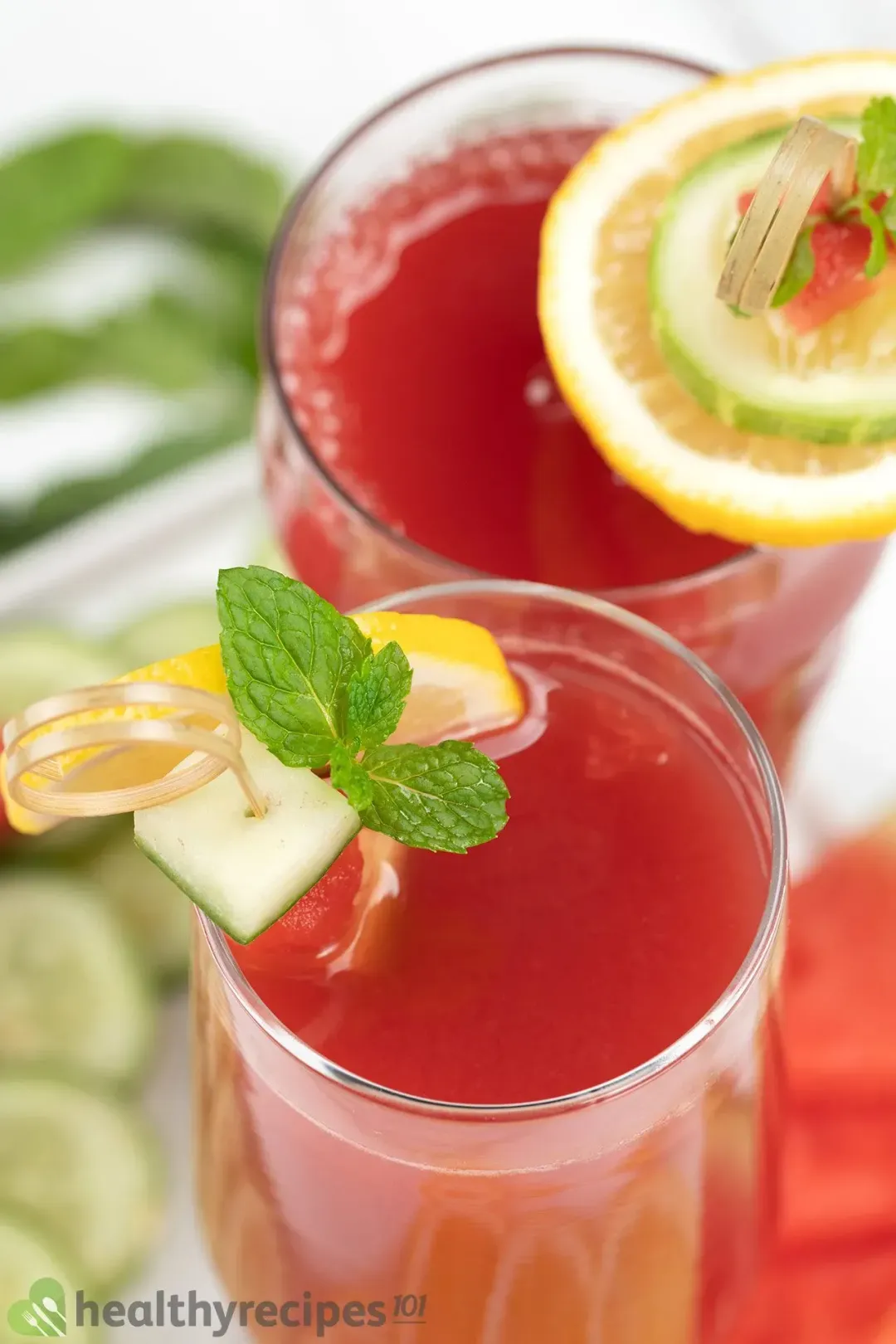 Previous Recipe
Watermelon Cucumber Juice
Watermelon Cucumber Juice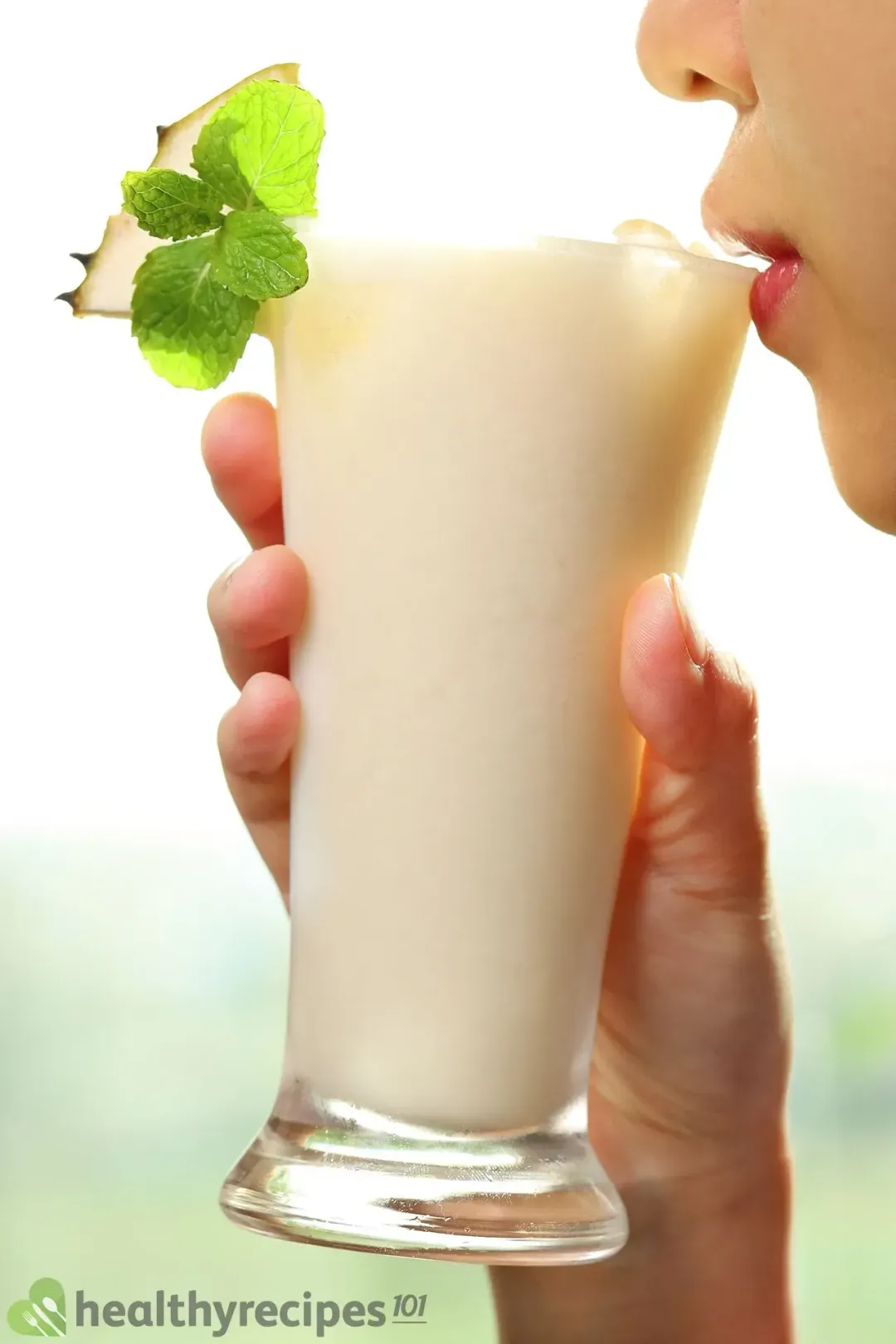 Soursop Juice
Very refreshing! Made this for my son and he really liked it.