Whether you prefer your fruit juice pure and unadulterated, or infused with a medley of bursting flavors, the possibilities are endless with these mango juice recipes. From tangy twists to creamy dreams, these vibrant, tropical drinks will captivate your taste buds and transport you to a sun-drenched paradise with every sip.
Beyond the flavor splendor, these drinks are also packed with nutrients that may boost your immune system, increase your energy, aid in weight management, and prevent various diseases. If you find eating mango too monotonous, turning it into delicious, lip-smacking beverages might just be the way to go.
Easy and Delicious Recipes
1. Mango Orange Juice
This mango orange juice is a magical fusion of tropical delight and citrusy zing. Picture the luscious sweetness of ripe mangoes, perfectly blended with the tangy burst of juicy oranges. It's a match made in fruity heaven!
Even better, it's made with four simple ingredients and requires no additional sugar, so you can put it together in just a few minutes and be out the door in a blink of an eye—perfect for energizing yourself on those busy mornings.
Go to Recipe
2. Homemade Mango Juice
In need of an invigorating drink for when you're feeling down? Good news: This light mango juice that's made in a jiffy could be just what you're looking for!
It's a velvety, luscious blend of fresh mangos, lemon juice, coconut water, and a sweetener that fills your senses with vibrant flavors. When the weather warms up, make sure to tank your energy with this wholesome mango juice.
Go to Recipe
3. Pineapple Mango Juice
Get ready to embark on a tropical adventure with this pineapple mango juice. With a vibrant sweet taste and rejuvenating aromas, this drink is a burst of pure sunshine that will transport your taste buds to a beachside paradise. Whether you're lounging by the pool, hosting a summer barbecue, or simply looking for a new refreshment, let this delicious, nutritious drink be your go-to companion.
And if you love tropical fruits as much as we do, don't forget to also check out this collection of Pineapple Juice Recipes for more fun, healthy, and flavor-bursting drinks.
Go to Recipe
4. Mango Passion Fruit Juice
Indulge in the tropical paradise of this passion fruit mango juice, where every sip is a burst of pure joy. The tangy passion fruit adds a vibrant zing, while the smooth mango brings a touch of tropical sweetness. It's a harmonious blend that will leave you refreshed and rejuvenated in an instant—a perfect thirst quencher for those sweltering hot summer days.
Go to Recipe
5. Mango Carrot Juice
Carrot and mango together doesn't sound too appealing, but don't let that deter you from giving this juice a try. You'll be surprised by how well the carrot's earthly sweetness harmonizes with the mango's tropical vibrance. Moreover, it's also packed with nutrients that may boost the immune system and have great benefits for the eyes, skin, and teeth.
Go to Recipe
6. Skinny Mango Cocktail Vodka
This low-calorie mango cocktail is the perfect way to elevate any occasion, adding a touch of elegance and a burst of flavor to your cocktail repertoire. It's a smooth, seamless blend of fresh mangos, vodka, sweetener, sparkling water, ice, and lime juice. The combination gives you a sweet, fizzy beverage that excites the taste buds from the very first sip.
Go to Recipe
7. Mango Lemonade
Refreshing, vibrant, and effortless, this mango lemonade perfectly captures the sunny and carefree essence of summer. The lemonade's classic citrus taste gets a tropical twist that laces it with vibrant sweet notes and a tantalizing aroma. Serve it in an ice-filled glass for a summer refreshment that instantly chases away that pesky heat.
Go to Recipe
8. Mango Agua Fresca
Agua fresca is a Mexican beverage made from a mix of fresh fruits, water, lime juice, and a bit of sweetener. With this recipe, mango takes center stage, giving the drink a lively sweetness that never fails to captivate the taste buds. It comes together in three simple steps and a quick five-minute, so you'll have no problem putting together a large pitcher to enjoy on those sweltering hot summer days.
Go to Recipe
9. Mango Mojito
Mango, pineapple, rum, mint leaves, lime wedges, and sparkling water, that's all you need to put together this feel-good drink that tastes like sunshine in a glass. It's sweet and slightly sour with fizzy touches that tingle delightfully on the taste buds. Have a glass on hand whenever you want something breezy and relaxing but still beaming with exhilarating flavors.
Go to Recipe
10. Mango Green Tea
Delicate, fragrant green tea mixed with mango's tropical goodness gives you a drink that tastes like pure heaven. All you need to do is blend the fresh mangos into purees, brew the tea, and mix these ingredients together—an easy-peasy process that barely takes 15 minutes. Throw in a few ice cubes and some mint leaves, and voilà, your very own piece of paradise encapsulated in a cold glass of beverage.
Go to Recipe
11. Orange Carrot Mango Turmeric Juice
With orange, carrot, mango, and turmeric as the main ingredients, this juice is a nutrient powerhouse that comes with various potential health benefits. Moreover, it also tastes amazingly unique, with sweet, tangy, and peppery notes that seamlessly meld into one another. Start your mornings with a glass of this beautifully-colored drink and feel your senses awaken with every sip.
Go to Recipe
12. Mango Dragon Fruit Lemonade
Enticing and eye-catching, this mango dragon fruit lemonade is a joy-inducing elixir that will perk up all your summer festivities. It's a concoction of mango juice, pineapple juice, dragon fruit, and lemon juice. The juicy sweetness of mangoes blends harmoniously with the vibrant dragon fruit, creating a drink that is as visually appealing as it is delicious. And let's not forget the zingy twist of lemonade that adds a refreshing and citrusy kick, making this beverage the perfect companion for those hot days to come.
Go to Recipe
13. Golden Mango Tonic
This mango tonic is a hypnotizing mix of freshly brewed chamomile tea, apple cider vinegar, mango juice, and lemon juice, all infused with ginger, turmeric, and cayenne pepper for a delectable spicy kick. You can top it off with sparkling water for a fizzy touch, or use vodka to make a fiery cocktail. It makes a fantastic addition to any occasion, whether they're fancy dinner parties or just casual get-togethers.
Go to Recipe
14. Mango Pineapple Punch
A large pitcher of this mango pineapple punch is exactly what you'll need to beat the fervor heat of summer. It requires only four simple ingredients—mango juice, pineapple juice, lime juice, and sparkling water to create a refreshing, tropical concoction that instantly cools you off. So, grab a glass, fill it to the brim with this punch, and get ready to take on any summer festivities!
Go to Recipe
15. Mango Michelada Beer
Michelada is a Mexican drink made with beer, lime juice, sauces, and spices. This recipe brings a tropical twist with mango juice that gives it a perfect balance of sweet, savory, and zesty, with a spicy kick to tingle the taste buds. Serve it in a chilled glass with a salt rim and you've got yourself an instant pick-me-up.
Go to Recipe
Health Benefits
Mango is packed with vitamins, minerals, antioxidants, and fiber that can benefit your health in various ways. Here are a few prominent ones that we found:
For the Skin
Mango has a lot of vitamin C, which boosts your immune system and strengthens your heart. But what you may not know is that vitamin C also keeps your skin elastic and wrinkle-free.
One cup of mango contains about 67% of your recommended daily intake of vitamin C to speed up your metabolic rate and decrease inflammation, according to various studies. These properties are important because a slow metabolic rate and swelling can trigger various skin issues, including acne and dark circles.
Additionally, research shows vitamin C has a pivotal role in creating collagen. Collagen is an important protein for your body. Basically, it's what keeps your skin plump and sag-free.
But vitamin C is not alone in this fight to keep your skin healthy and beautiful.
One cup of mangos also contains 10% of your vitamin A recommended daily intake. Vitamin A is essential for growing strong hair and protecting your skin from damaging UV rays.
Don't forget that many skin issues such as rashes, blisters, and allergic reactions can appear if you have a weak immune system. Mango juice will strengthen your immune system, though, thanks to its combination of vitamin C and polyphenols. These polyphenols are antioxidants that counteract oxidative stress and aging. Therefore, you can be healthier and have younger-looking skin for longer.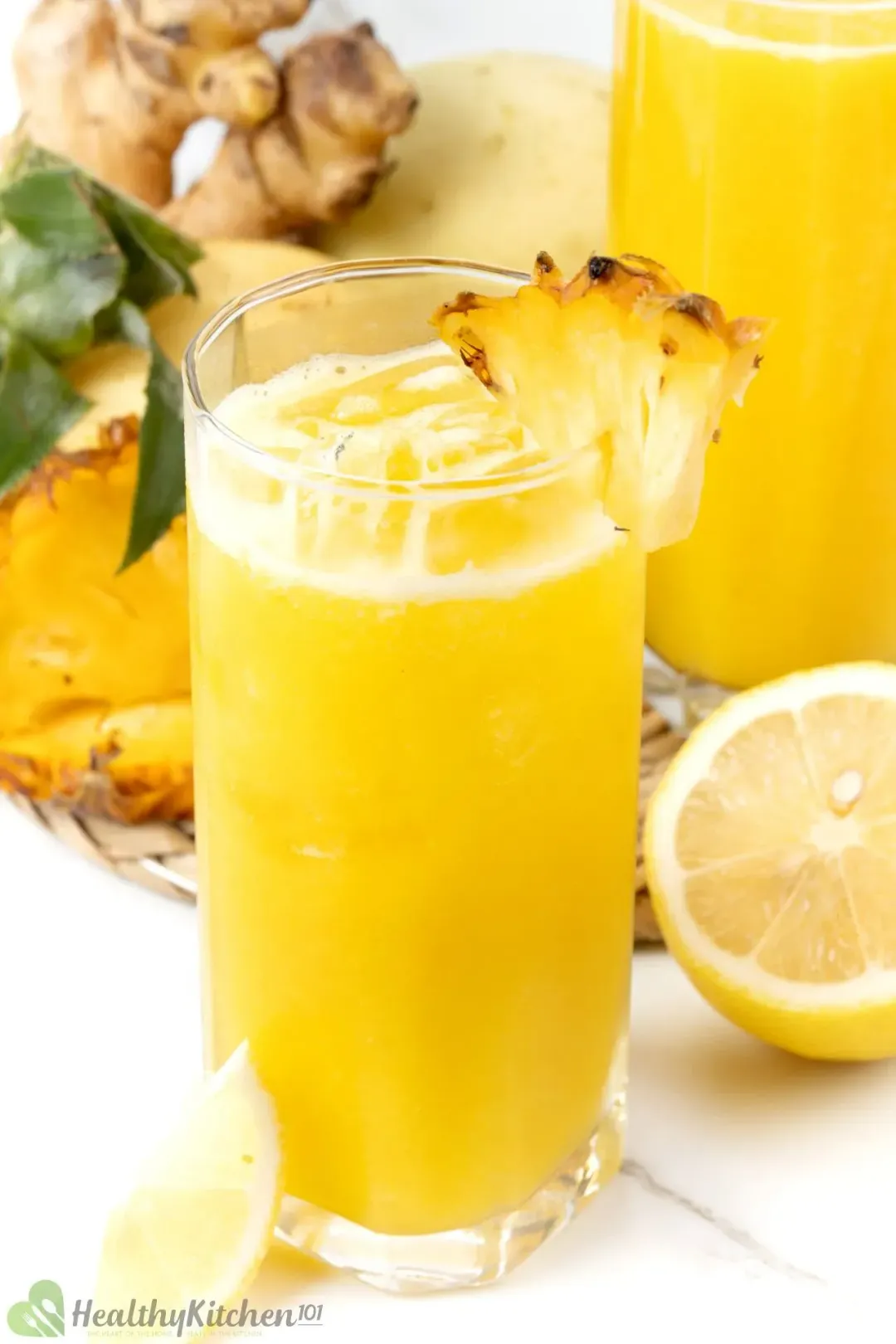 For Weight Loss
Mangos are filled with natural fibers that reduce hunger and improve your digestion. So, if you're feeling bloated and gain a few pounds when you're constipated, know that mango is better for solving this problem than most supplements.
Moreover, mangos are also packed with other nutrients that can help you maintain a healthy weight:
Antioxidants: Mangos have a lot of vitamin C and antioxidants. Vitamin C increases your metabolic rate and, along with the antioxidants and other vitamins and minerals in mangos, strengthens your immune system. These properties are important because a lot of weight loss issues are caused by slow metabolism, inflammation, and a weak immune system.
Polyphenols: Mango juice is filled with polyphenols. These antioxidants are shown to burn fat stores because they improve your insulin levels and reduce bad cholesterol.
Vitamins and minerals: Some people experience feelings of hunger when they're lacking energy or when their mood is low. If that's the case with you, know that the vitamins, minerals, and natural sugars in mango juice will help you feel energetic and relaxed.
The vitamin B complex and magnesium in mangos also contribute to an improved mindset because they keep your brain healthy and help convert food into energy faster.
Mango juice is good for weight loss, but since mango is relatively higher in calories compared to other fruits, we recommend limiting your intake to one cup per day.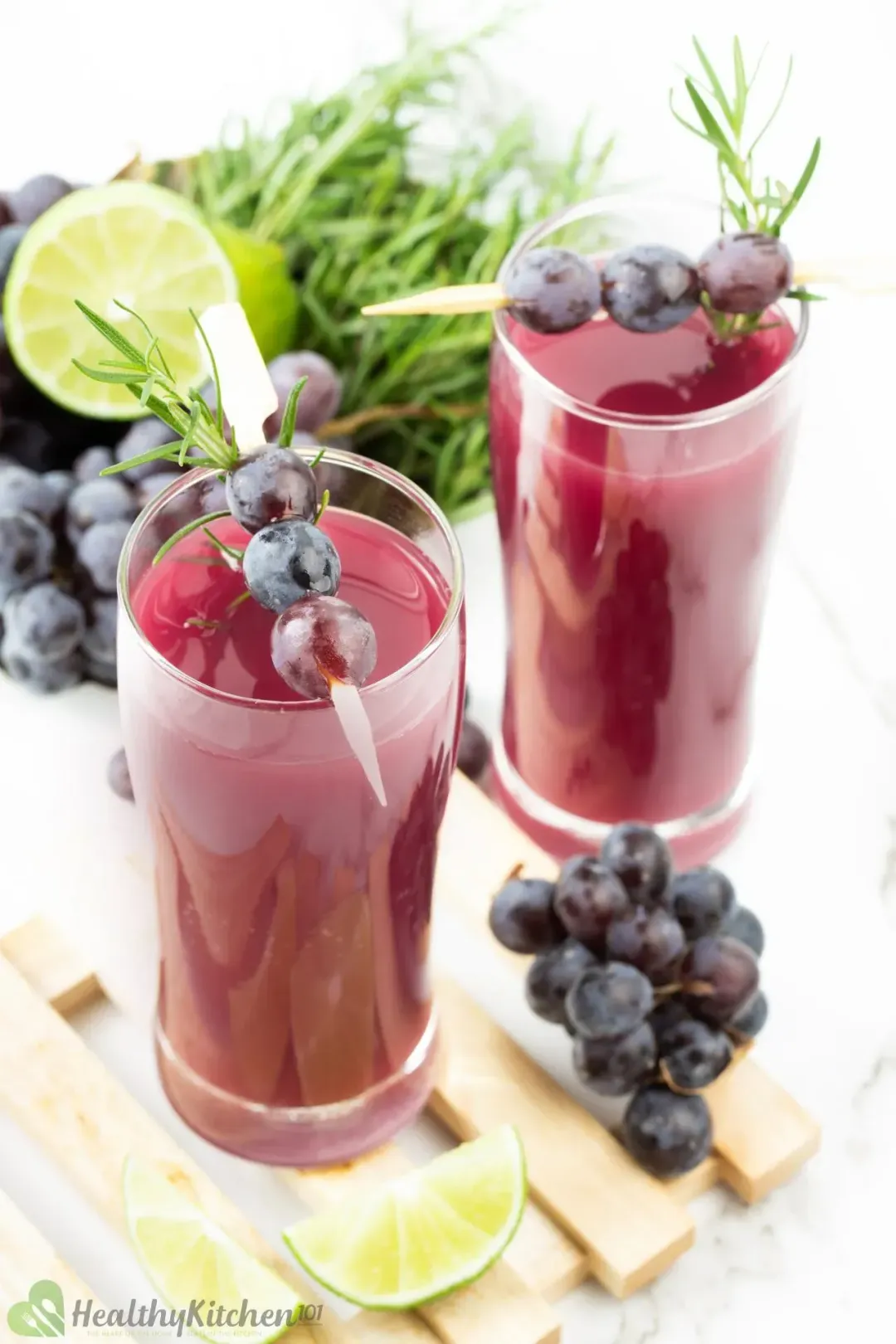 Previous Recipe
Top 15 Grape Juice Recipes
Top 15 Grape Juice Recipes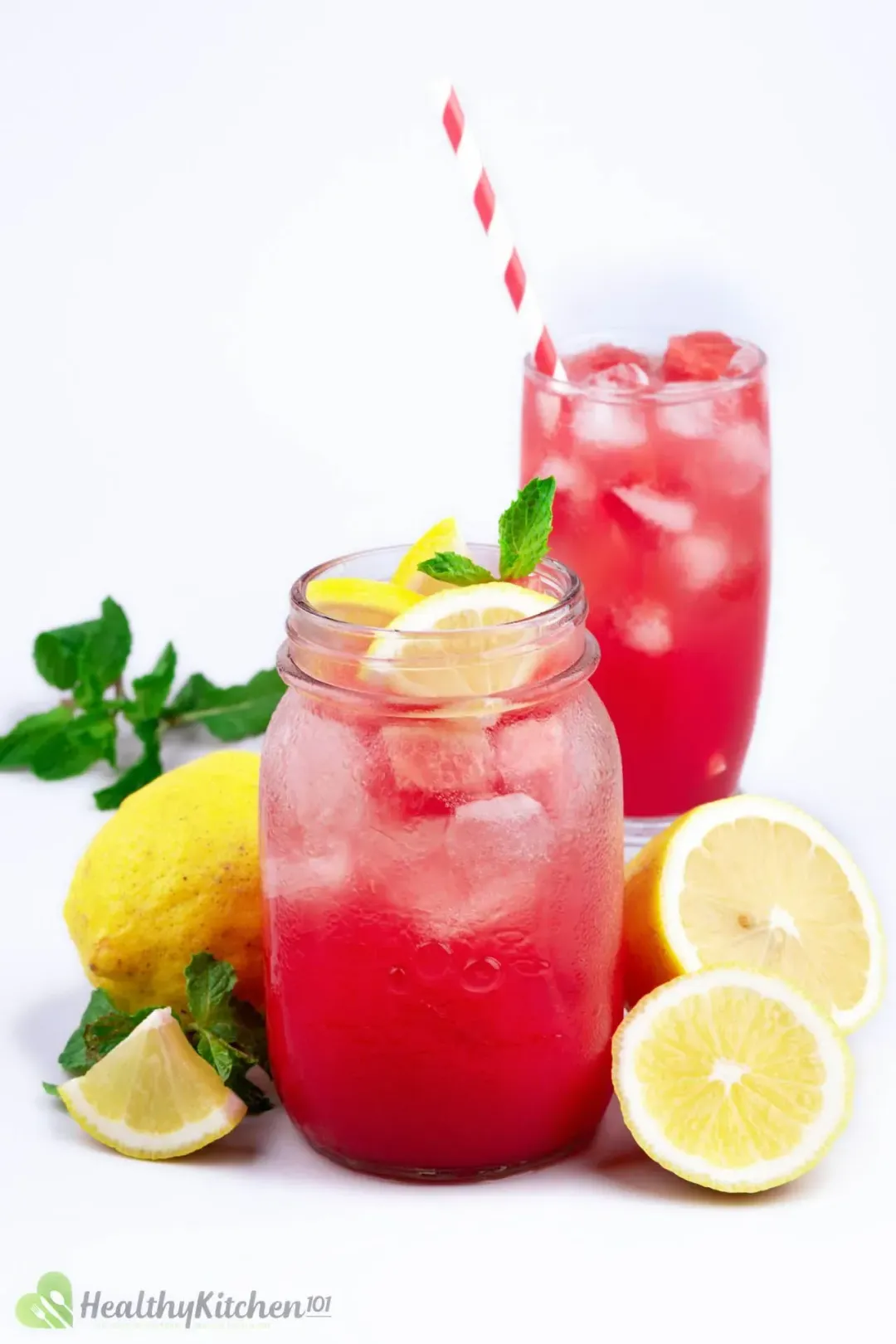 Next Recipe
Top 10 Watermelon Juice Recipes
Top 10 Watermelon Juice Recipes
Writer, Author
Luna Regina is an accomplished writer and author who dedicates her career to empowering home cooks and making cooking effortless for everyone. She is the founder of HealthyKitchen101.com and HealthyRecipes101.com, where she works with her team to develop easy, nutritious recipes and help aspiring cooks choose the right kitchen appliances.
Comments/ Reviews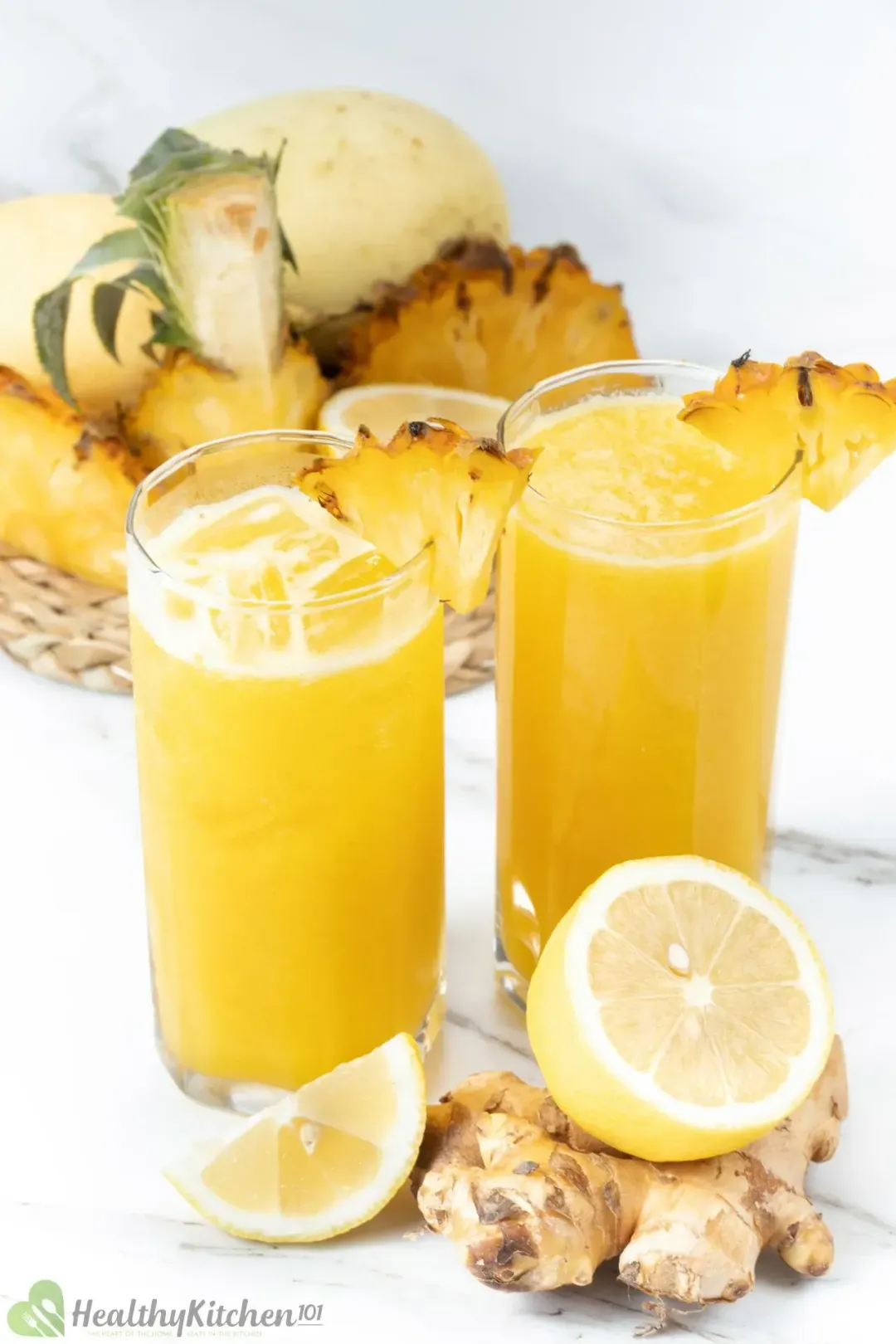 This is a tasty recipe, silky smooth and delicious!

Im starting to juice but also my roommate i have to trick her if she knows its a carrot or celery she will say she hates it without tasting it and im worried about her health.

Tropical delight with refreshing mango juice recipe!