Mango juice is one of the most popular and delicious treats you can prepare at home. This healthy juice is packed with essential micronutrients that boost your immune system, increase your energy, and help you lose weight.
Of course, you can get all these nutrients from whole mangos. But there are reasons you should you try these 10 best mango juice recipes that we collected.
By changing the ingredients and the preparation method, you can reap more of mango's health benefits. But, if you don't use this juice the right way, you can gain weight and experience digestive issues.
You will avoid making these mistakes if you read this article.
We examined all the most recent research to discuss the pros and cons of this juice, and, at the end of the article, you can find some mouthwatering recipes.
How to Make Mango Juice 
You can make mango juice every day and never get bored with it because you have recipes galore.
Most of these are child-friendly, too, and all of them are easy to make.
You can also adjust the recipes to your health needs and preferences by using the right ingredients.
For instance, you can add ginger and mint if you want to improve your intestinal tract. If you prefer less sugary snacks or want to strengthen your immunity, add some lemon juice to the mix. Coconut water is a good addition, too, if you're interested in rehydration after intense exertion.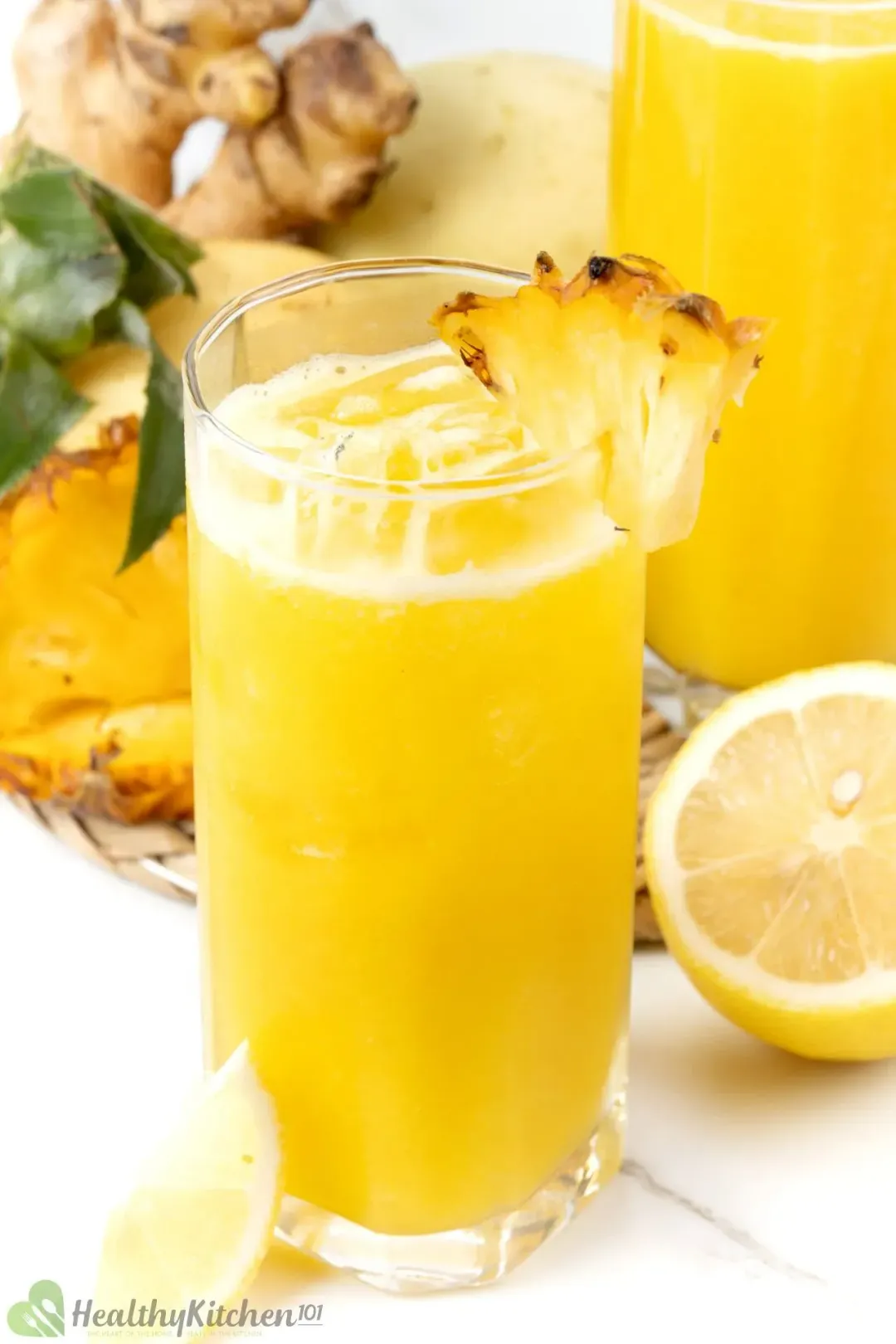 As you can see, the world is your oyster when it comes to mango juice. Here's what you can try:
1. No-Frills
If you're a purist, this no-frills mango juice will surely satisfy your taste buds. You only need mangos and water for the job, as well as a blender.
You can play around with the proportion of water and mango depending on how thick or thin you want your drink to be. Mango is a fibrous fruit, so you may need to use a sieve if you prefer juices over smoothies.
Pro tip: Add some ice cubes into your drink if it's a scorching day.
2. The All-Fruit
Replace the water in the original recipe with other fruit juices you like. You can prepare them at home, or buy organic ones from your local supermarket.
For instance, apple or prune juice will aid your digestion when combined with the delicious and fibrous mango. Lemonade and orange juice help strengthen your immune system because citric fruits are rich in vitamin C. Blueberries are rich in antioxidants, so they help your body fight against free radicals.
3. The Spiced-Up
Sugar, spice, and everything nice; these are the ingredients chosen to create the perfect this juice. Of course, you can skip the sugar if you're using ripe mangos, have diabetes, or small kids. But you can try plenty of other spices.
Ginger
Many people like to include ginger in their mango juice because it has a sharp taste that contrasts well with the sweetness of mango. Besides, ginger is renowned for its curative properties, such as lowering blood sugar, reducing inflammation, and fighting morning sickness.
Cinnamon 
Cinnamon is a delicious and healthy addition as well. Much like ginger, this spice also reduces swelling and stabilizes your insulin levels. Moreover, cinnamon can decrease the risk of heart disease.
4. How To Make Mango Juice Without A Blender
If you don't have a blender or find the sieving process too messy, give this no-blender method a go.
Start by peeling your mango and chopping it into small pieces. Put your fruit into a non-metallic pan filled with enough water so that the mango cubes are completely submerged. Boil the mango until it's mushy enough to stab it with a fork.
Turn off your stove and let your mango soak for at least eight hours. The next morning, you can take the pieces of mango out and enjoy a cup of delicious juice.
You can spice up this recipe with all the herbs and spices you like. Another good idea is to combine this no-blender mango juice with other fruit or vegetable juices to get more healthy nutrients. You can do this when your mango juice is ready, or chop some other fruit and veggie bits into your original broth.
We told you, the world is your oyster with mango juice. You can read the detailed recipes below, but now it's time to understand the benefits.
Mango Juice Benefits
Mango is packed with vitamins, minerals, antioxidants, and fiber. This delicious fruit will help you stay healthy, happy, and good-looking because its health benefits are now scientifically proven.
Here's why you should add mango juice into your diet:
1. For Skin
Mango has a lot of vitamin C, which boosts your immune system and strengthens your heart. But what you may not know is that vitamin C also keeps your skin elastic and wrinkle-free.
One cup of mango contains about 67% of your recommended daily intake of vitamin C to speed up your metabolic rate and decrease inflammation, according to various studies. These properties are important because a slow metabolic rate and swelling can trigger various skin issues, including acne and dark circles.
Additionally, research shows vitamin C has a pivotal role in creating collagen. Collagen is an important protein for your body. Basically, it's what keeps your skin plump and sag-free.
But vitamin C is not alone in this fight to keep your skin healthy and beautiful.
One cup of mangos also contains 10% of your vitamin A recommended daily intake. Vitamin A is essential for growing strong hair and protecting your skin from damaging UV rays.
Don't forget that many skin issues such as rashes, blisters, and allergic reactions can appear if you have a weak immune system. Mango juice will strengthen your immune system, though, thanks to its combination of vitamin C and polyphenols. These polyphenols are antioxidants that counteract oxidative stress and aging. Therefore, you can be healthier and have younger-looking skin for longer.
2. Mango Juice for Weight Loss
Mango juice is good for weight loss, but you'll have to take a few things into account.
Firstly, this juice has more calories than other juices, which means you'd better stick to one cup per day.
Secondly, mangos are filled with natural fibers that reduce hunger. But, if you sieve your mango juice and eliminate the fibers, you won't experience this decrease in hunger pangs.
The high fiber content in mangos improves your digestion as well. So, if you're feeling bloated and gain a few pounds when you're constipated, know that mango is better for this problem than most supplements.
With that in mind, here's the evidence that shows how mango juice can help you lose weight:
Antioxidants: Mangos have a lot of vitamin C and antioxidants. Vitamin C increases your metabolic rate and, along with the antioxidants and other vitamins and minerals in mangos, it strengthens your immune system. These properties are important because a lot of weight loss issues are caused by slow metabolism, inflammation, and a weak immune system.
Polyphenols: Mango juice is filled with polyphenols. These antioxidants are shown to burn fat stores because they improve your insulin levels and reduce bad cholesterol.
Vitamins and minerals: Some people experience feelings of hunger when they're lacking energy or when their mood is low. If that's the case with you, know that the vitamins, minerals, and natural sugars in mango juice will help you feel energetic and relaxed.
The vitamin B complex and magnesium in mangos also contribute to an improved mindset because they keep your brain healthy and help convert food into energy faster.
Easy And Delicious Mango Juice Recipes
1. Best Recipe: Mango Juice Recipe (4 servings)
In need of an invigorating drink for when you're feeling down? Good news, this light mango juice that's made in a jiffy could be what you're looking for!
With mango blended into fresh lemon juice and coconut water, it promises a pleasant and fantastic mango shake. When the weather warms up, make sure to tank your energy with this wholesome mango juice, will you?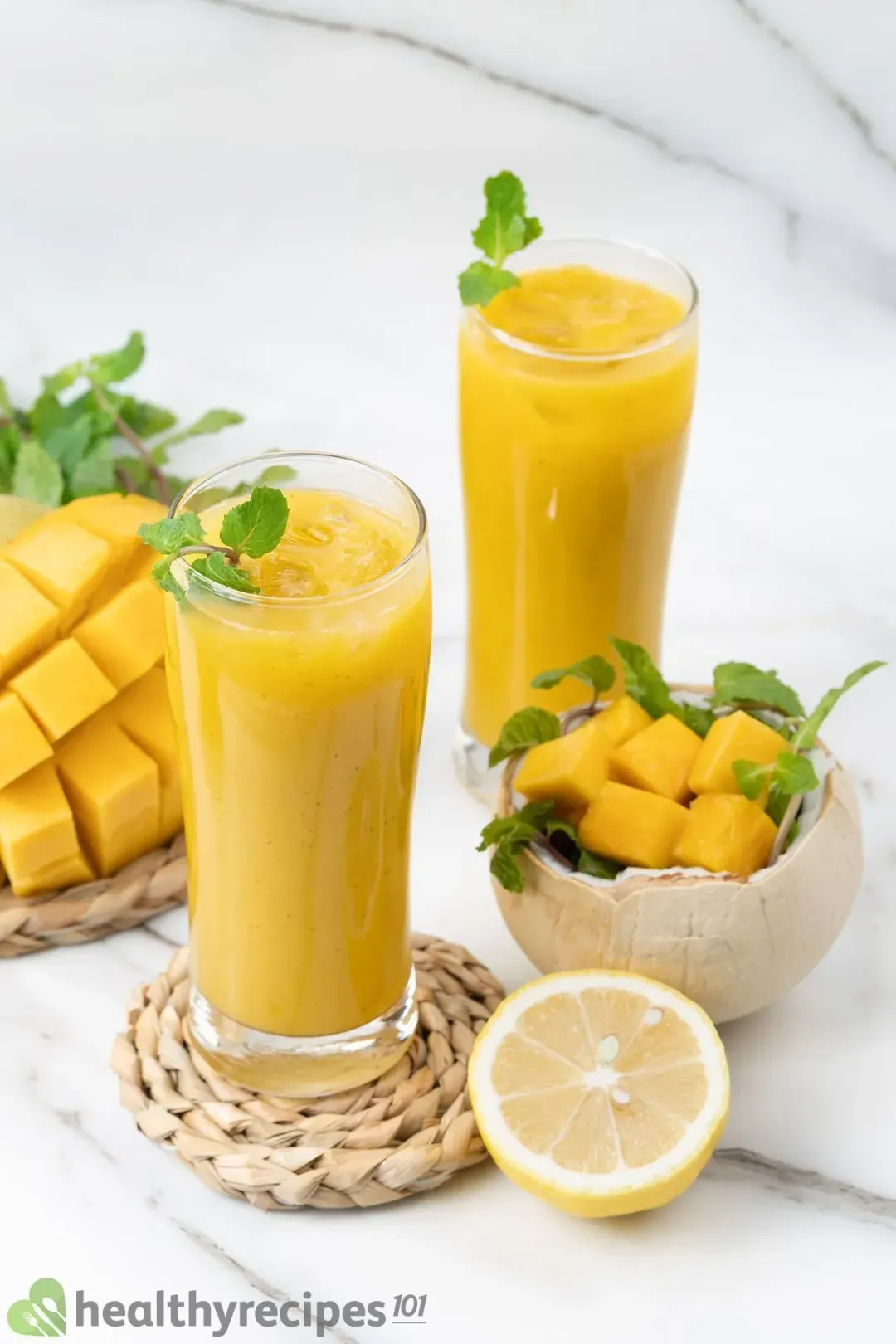 2. Mango Orange Juice (4 servings)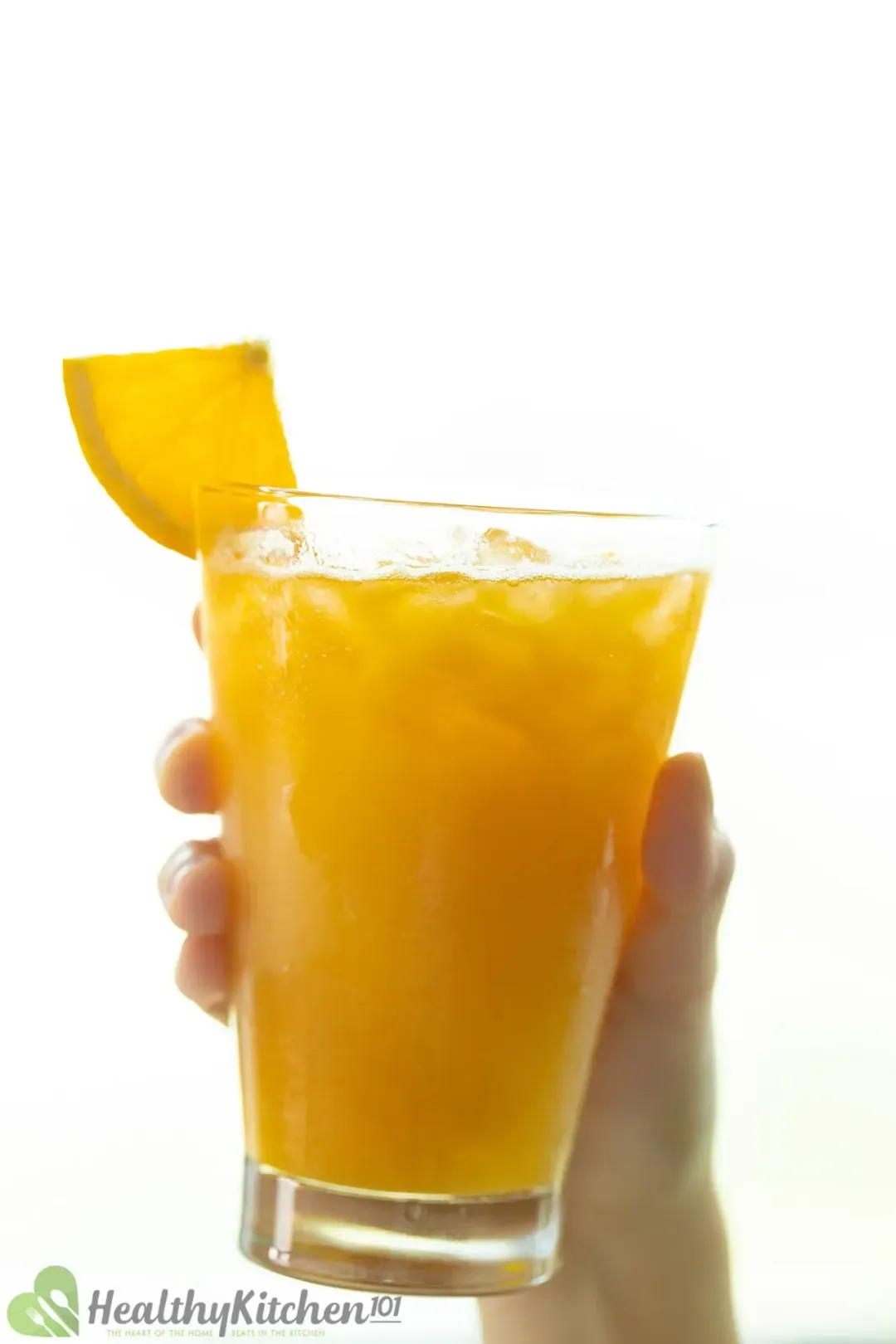 This mango orange juice recipe requires four ingredients only but makes an amazingly refreshing and nutritious drink. You'll only have to spend a few minutes for a drink that fuels you up on hot summer days.
Ingredients:
16 oz mango
1 cup ice
1 cup water
12 oz orange
Instructions
Add mango and water into a blender and blend until pureed. 
Strain the mango through a fine sieve to remove fiber.
Add orange juice and serve it chilled with ice cubes.
3. Pineapple Mango Juice (4 servings)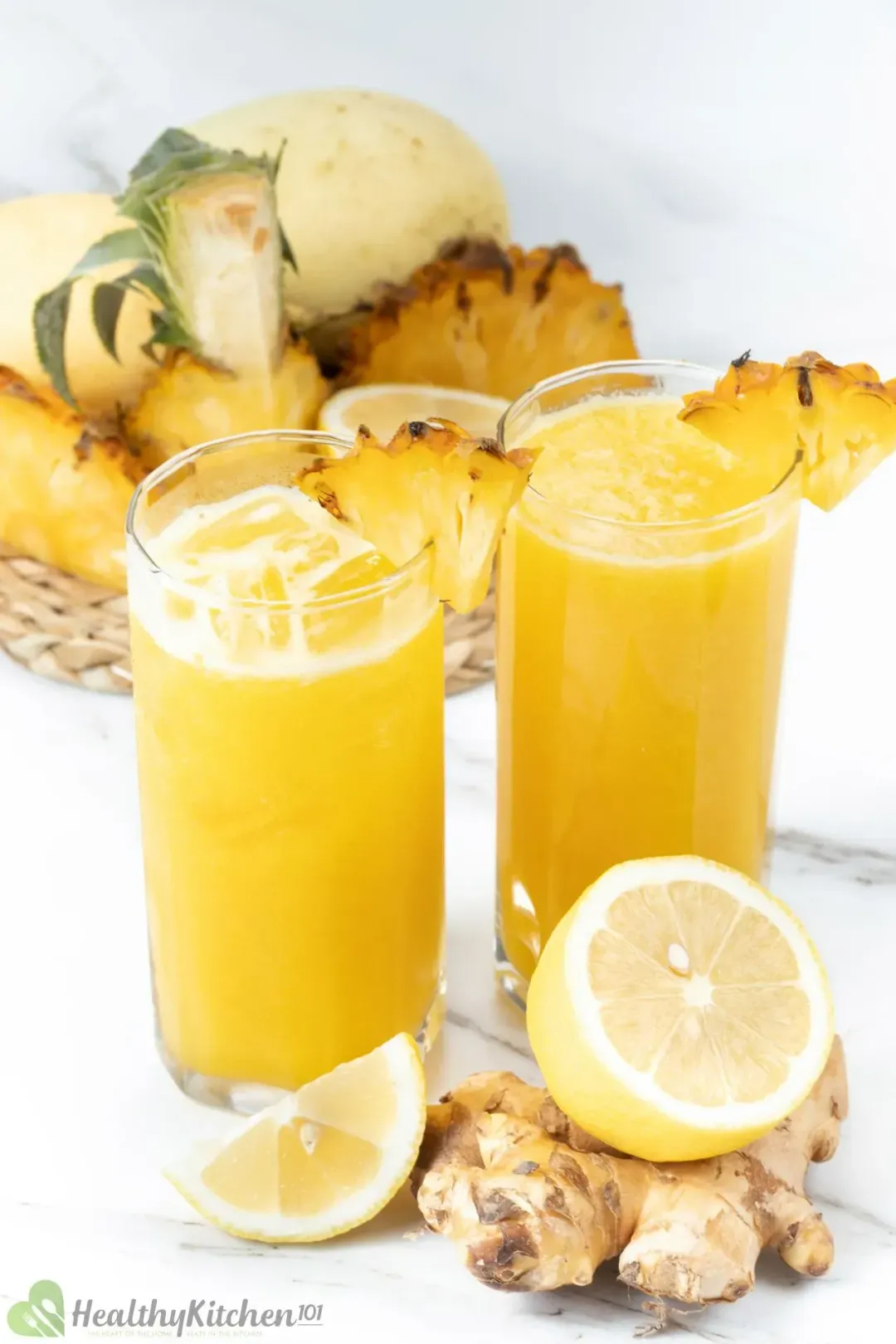 Rich, creamy, and smooth, this pineapple mango juice is a true boost of energy. It's specially made for mornings when you're getting lazy and need something really simple with minimal mess and delightful flavors.
Ingredients:
8 oz mango
16 oz pineapple
1/2 oz ginger
1 cup ice
1 fl oz lemon juice
Instructions:
Run mango, pineapple, and ginger through a juice.
Whisk the mixture with lemon juice.
Serve it chilled with ice cubes.
4. Mango Passion Fruit Juice (4 servings)
This mango passion fruit juice is sweet and mildly sour with a nice touch of tropical flavor. It's made simple with only six ingredients.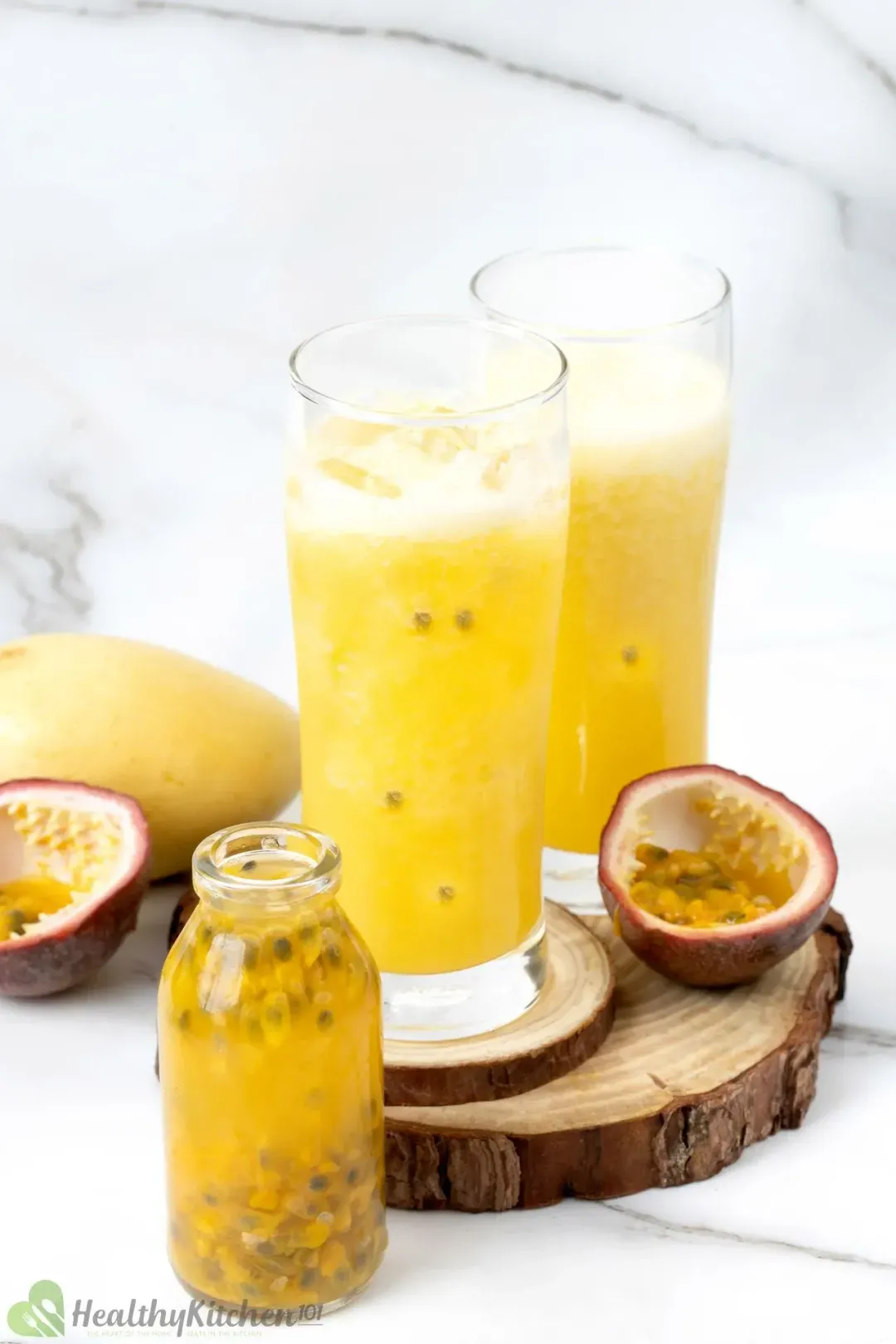 Note that you might want to opt for ripe mangos as the passion fruit has delivered enough tartness for the drink.
Ingredients:
6 oz passion fruit
12 oz mango
3 tbsp sugar
3 cups water
1 cup ice
1 tbsp lemon juice
Instructions:
Place the mango slices and water in a blender. Mix until smooth.
Strain mango through a fine sieve. Add sugar, lime juice, and passion fruit into the juice mixture.
Serve the mango passion fruit juice with ice cubes.
5. Mango Carrot Juice (4 servings)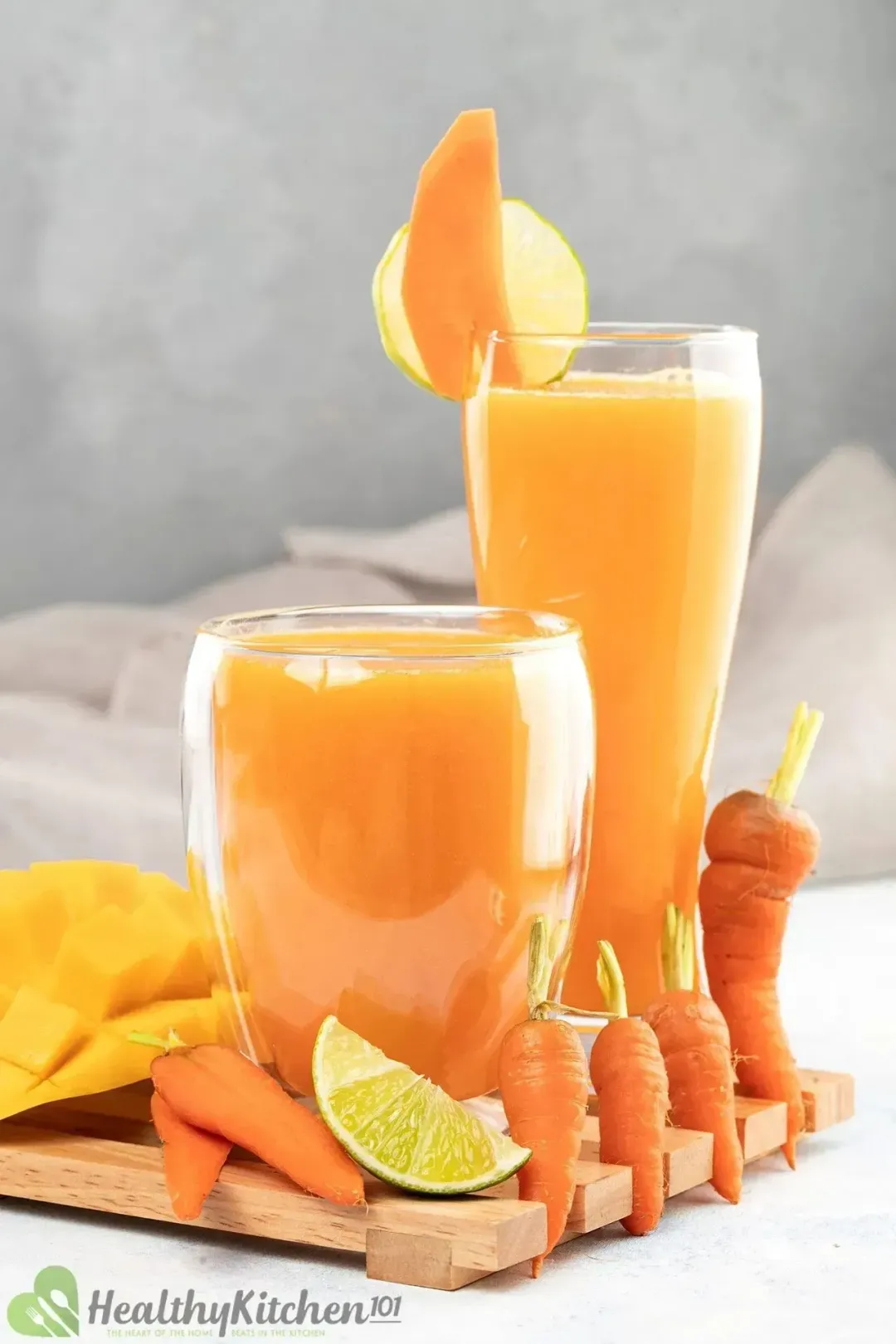 Mango carrot juice is made with whole fruits, and packed with nutrients and vitamins. It's a brilliant choice to start a day— let's make big batches of it to enjoy for a whole week.
Ingredients:
12 oz mangos
1 tbsp lime juice
1 tbsp sugar
3/2 cup water
4 fl oz carrot juice
Instructions:
Process mango and water in a blender until smooth.
Strain the mixture through a fine sieve.
Whisk the filtered mango juice with carrot juice, sugar, and lime juice.
Serve with ice cubes.
6. Vodka and Mango Juice (2 servings)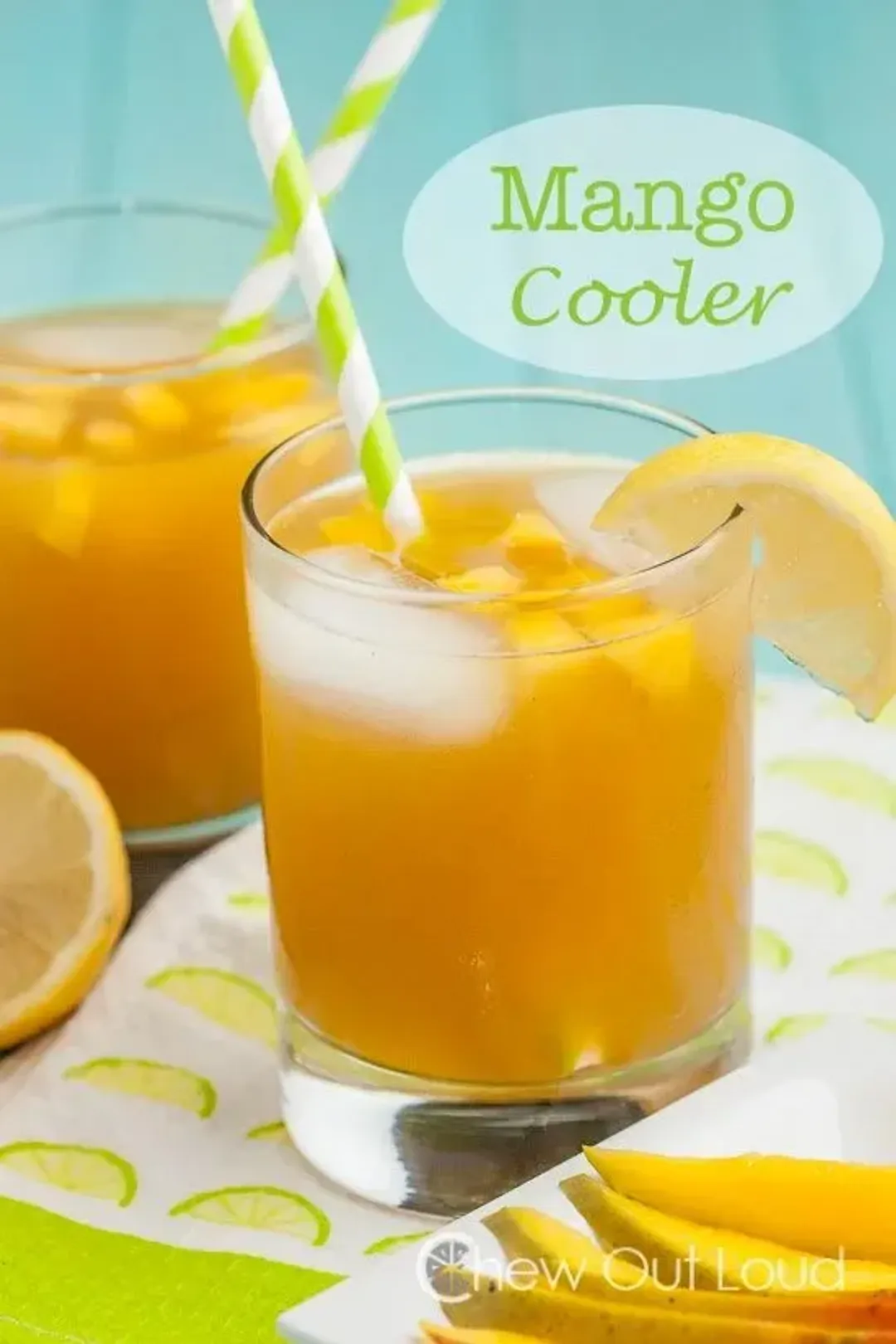 This vodka and mango juice is perfect for summer cocktail parties. It's bursting in mango and makes a tasty pick-me-up.
Ingredients:
1 fl oz fresh lemon juice
1 fl oz fresh-squeezed lime juice
4 fl oz pure mango juice
4 fl oz vodka
2 fl oz lemon-lime soda
Optional: Ripe mangoes, diced
Instructions:
Combine lemon juice, lime juice, mango juice, and vodka in a cocktail shaker, and shake well to combine.
Fill serving glasses with ice cubes, pour the cocktail into glasses.
Pour 1 fl oz of lemon-lime soda into each glass and stir.
Serve cold.
7. Orange Pineapple Mango Juice (1 serving)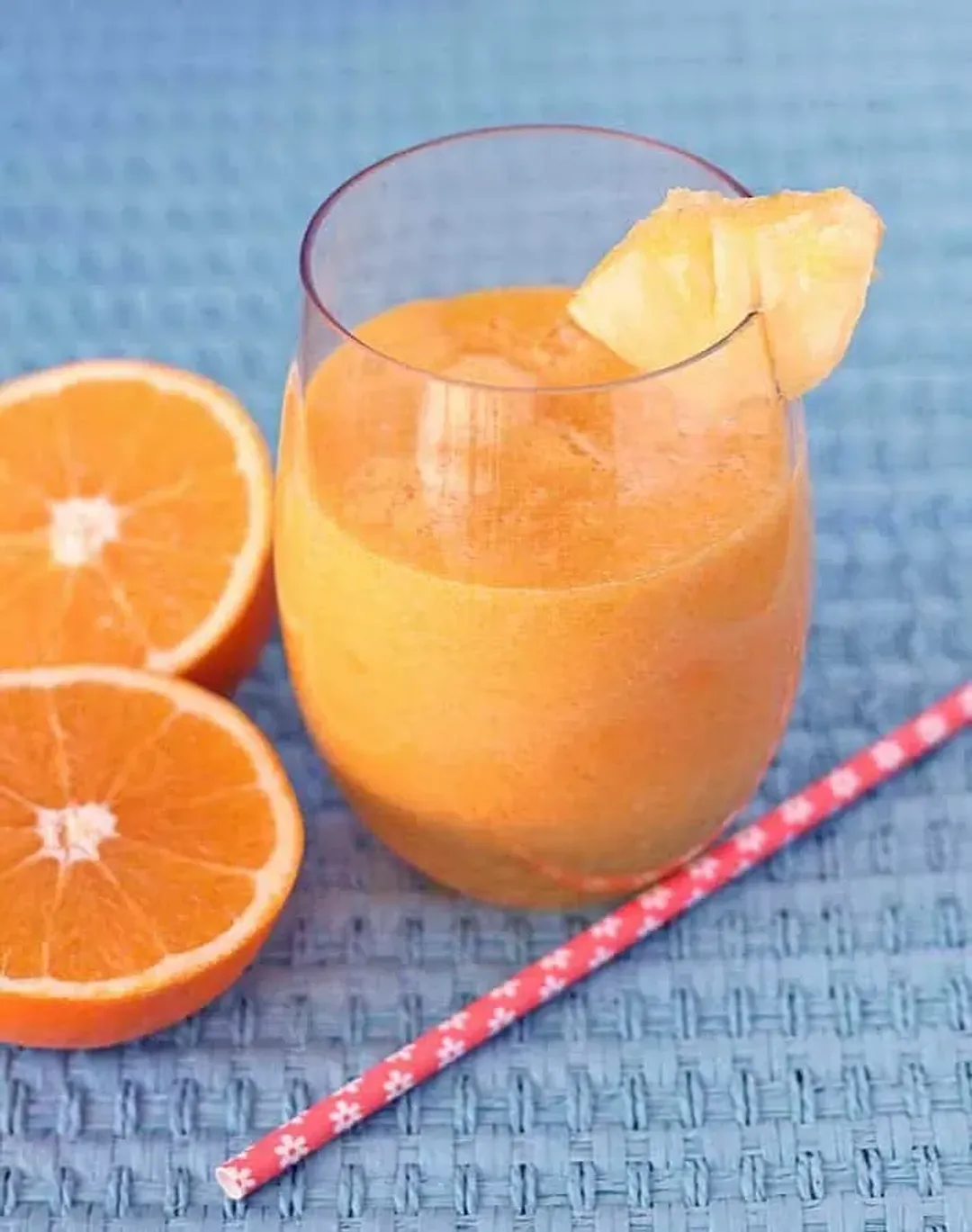 Ingredients for this orange pineapple mango juice are everything that's in the name, no more no less. The process is laughably simple: just throw everything in the juicer!
Ingredients:
1/4 pineapple, peeled and chopped
2 oranges, peeled and quartered
1/2 red mango, peeled
Instructions:
Run all the prepared ingredients through the juicer.
Divide into serving glasses. Add ice if desired and serve immediately.
8. Rum and Mango Juice (3 servings)
With an intense yellow-orange color, rum and mango juice might be your next perfect summer poolside drink.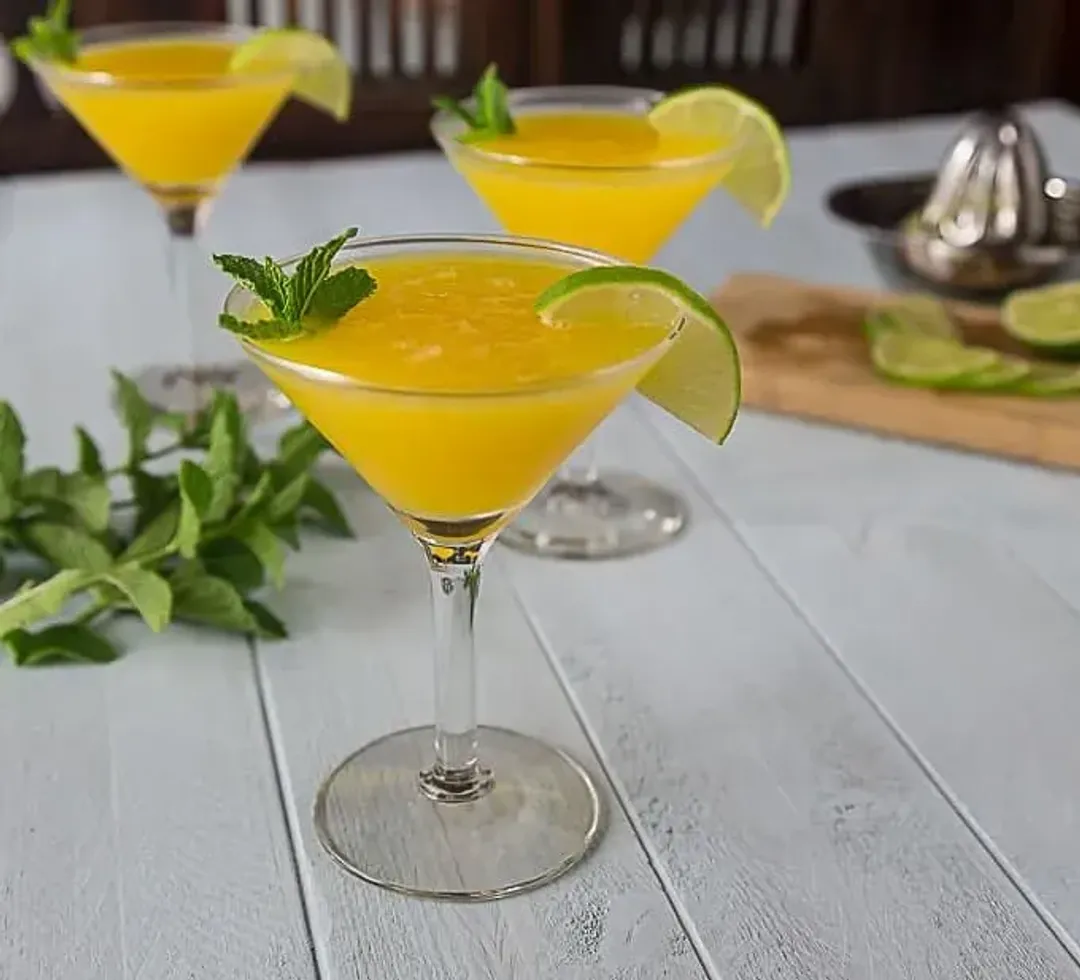 This juice can be served either for parties or on summer Sunday brunches. Mango nectar is mixed with rum and lime juice for a super festive flavor.
Ingredients:
9.6 oz mango nectar
3 oz rum
1 oz fresh-squeezed lime juice
1 cup ice cubes
6 mint leaves
2 lime slices
Instructions:
Process mango nectar, rum, lime juice, and ice cubes in a blender until smooth.
Divide into small portions. Garnish with mint and the lime slices.
Enjoy.
9. Tequila and Mango Juice (1 serving)
Sweet, frosty, and creamy, this tequila and mango juice gives off the vibe of a Mexican summer treat. For this drink, you'll have two recipes to try: mango margarita on the rocks and frozen mango margarita.
The two recipes are also very adaptable as they can be made with either fresh or frozen mangos. For both, all you need to do is shake everything up to combine, and then serve over ice.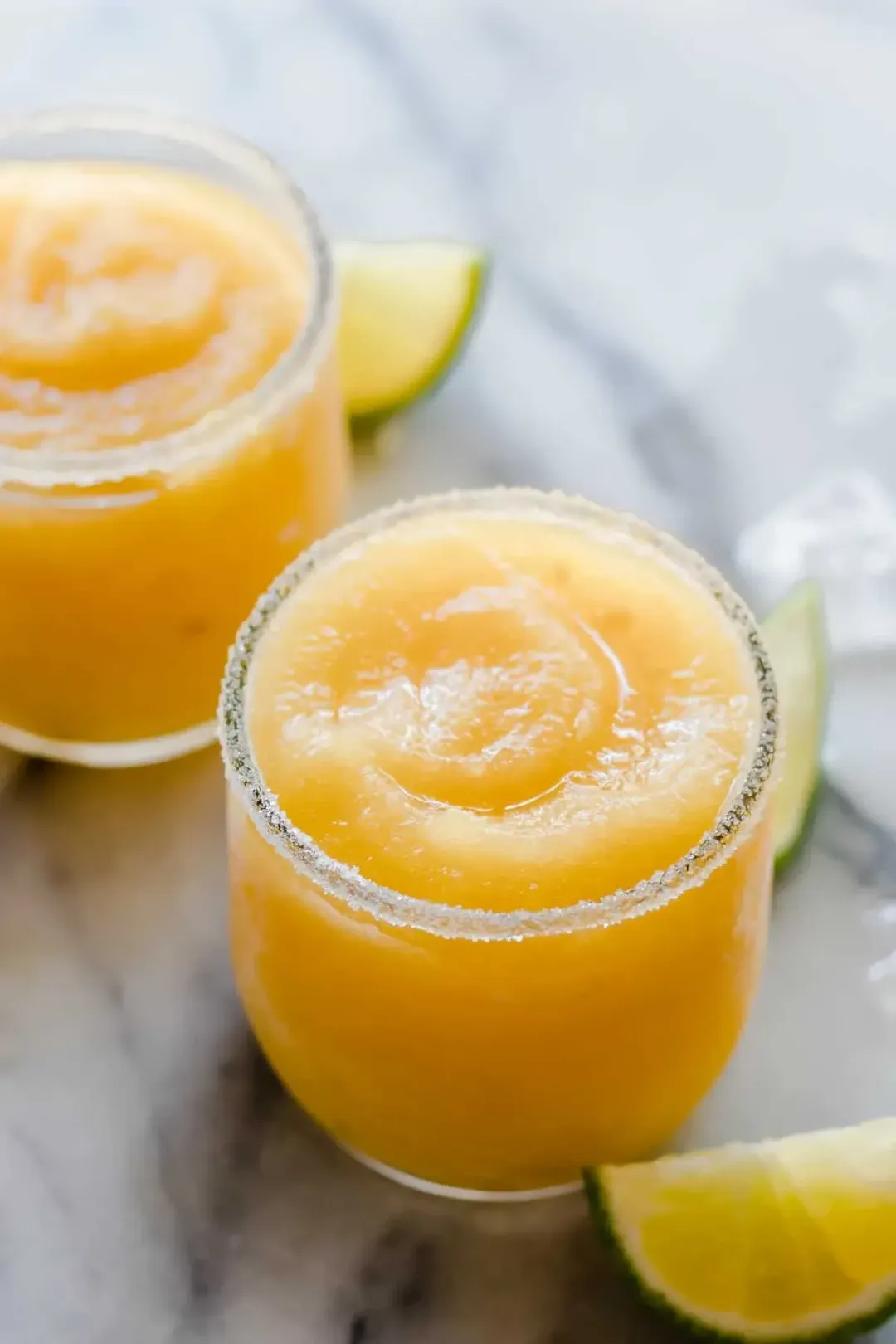 Ingredients:
For mango margarita on the rocks:
1 ½ fl oz tequila
½ fl oz triple sec
1/2 cup mango juice
Juice of half a lime
1 cup ice
Margarita salt
For frozen mango margarita:
1 cup ice
1/2 cup frozen or fresh mango
1 1/2 fl oz tequila
1/2 fl oz triple sec
2 tbsp agave
Juice of half a lime
Instructions:
For mango margarita on the rocks:
Mix tequila, mango juice, lime juice, and triple sec together.
Wet the rim of the cups with lime juice and dip into the margarita salt.
Add ice cubes to the cups and pour the juice over ice. Garnish if desired.
For frozen mango margarita:
Process ice, mango, tequila, triple sec, agave, and lime juice in the blender. Blend until smooth and creamy.
Wet the rim of the cups using a lime wedge, then dip into margarita salt or sugar.
Pour the drink into cups, garnish with a slice of lime and enjoy.
10. Green Mango Juice (4 servings)
Made with puréed unripe mangoes, sugar, and ice, sweet-tangy green mango juice is a popular summer drink in tropical Asia that's so easy to make at home.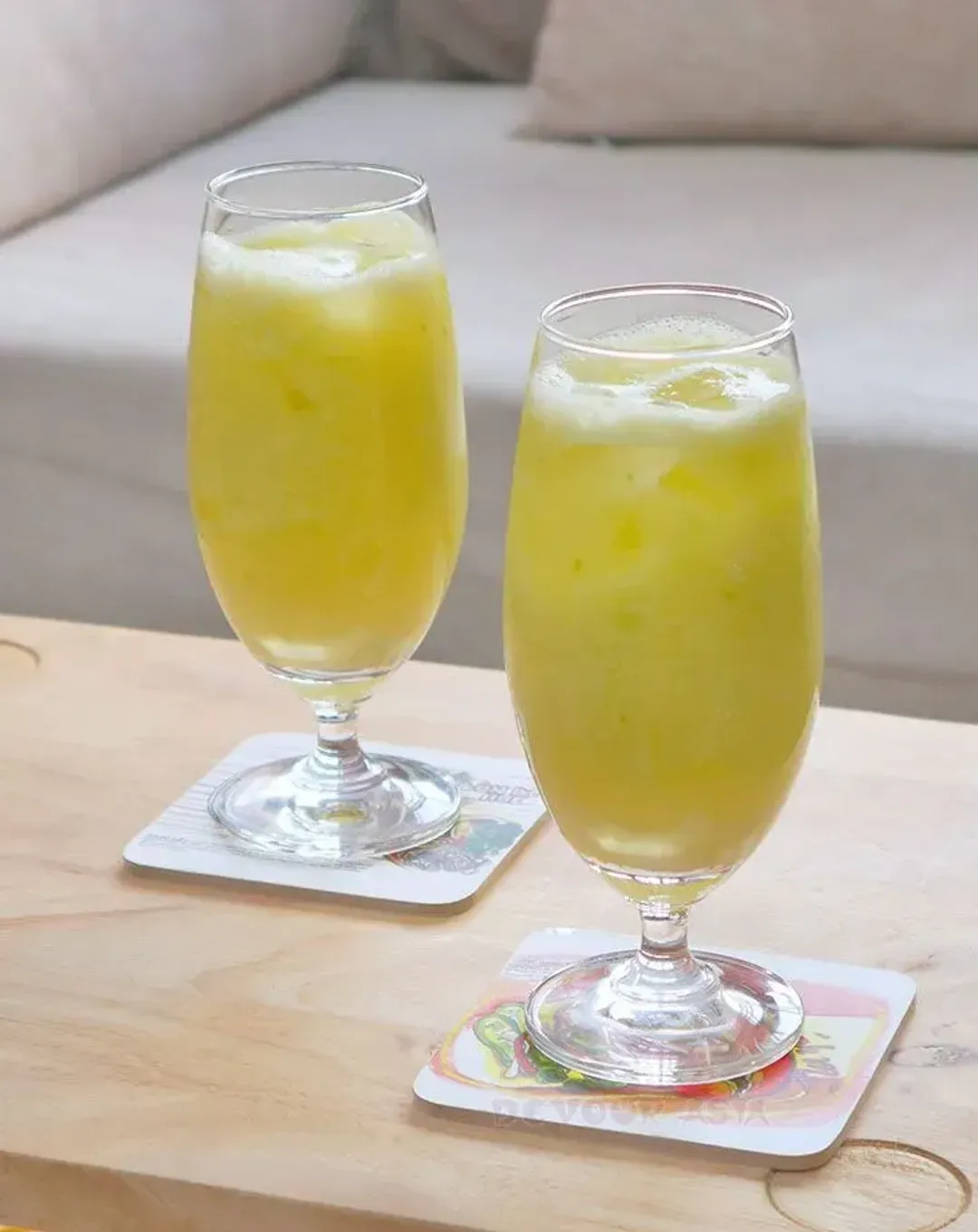 Green mango juice is made by whisking puréed mango together with sugar and ice for a mesmerizing sweet-tart flavor. Three ingredients are enough to make this simple tropical summer drink whenever you want.
Ingredients:
4 green mangoes peeled and stones discarded
2 tbsp sugar
Ice cubes
Instructions:
Roughly chop the mango into smaller chunks to purée them in the blender.
Continue to add sugar and water to the blender, and give everything a pulse until the mixture is smooth.
Pour ice cubes into glasses. Pour the green mango juice over and serve immediately.
FAQ 
Now you understand why mangos are so good for your health. However, you may still have some unanswered questions. You're not alone; here's what most people are interested in knowing:
1. How Many Calories Does Mango Juice Have?
Some sources like My Fitness Pal indicate that mango juice has 109 calories per glass, whereas other sources go up to 128 calories per glass.
Remember, mango juice's caloric intake depends on what you prepare it with. If you add extra sugar and use milk instead of water, you can get up to 200 calories per glass. If you use the no-blender method, your mango juice can have less than 100 calories per glass.
2. Is Mango Juice Good for You?
Yes, mango juice has a lot of health benefits, such as consolidating your immune system, upping your energy, and keeping you hydrated.
The vitamins and minerals in mango juice protect your heart, skin, hair, and muscle health. The polyphenols in mangos also protect you against illness and decrease inflammation. Some studies cited by Healthline emphasize evidence that mangos can reduce the symptoms of neurological conditions such as Alzheimer's.
3. Is Mango Juice Good for Weight Loss?
Yes, mango juice is good for weight loss as long as you're not abusing it. The vitamin C, vitamin B complex, and antioxidants improve your metabolism and help you burn fat faster. However, remember that one glass of mango juice has 110+ calories.
4. What Are the Side Effects of Mango?
Mangoes are safe and healthy, as long as you eat them in moderation and as long as they're organic.If you eat too much mango, you can gain weight and experience diarrhea because of the excess carbs and fiber. Besides, some mangoes are ripened with calcium chloride, which is a toxic substance that affects your brain health.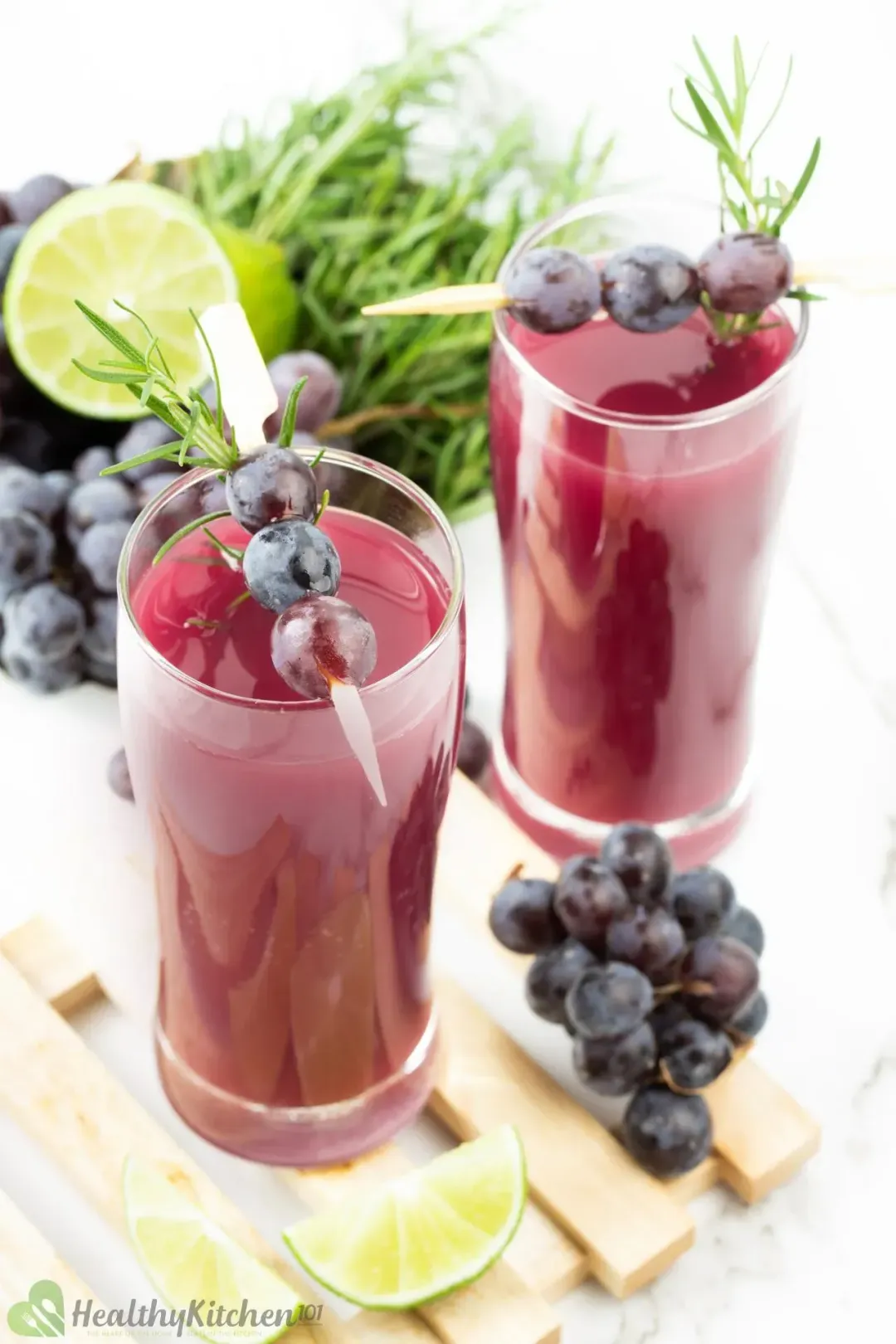 Previous Recipe
Top 10 Grape Juice Recipes
Top 10 Grape Juice Recipes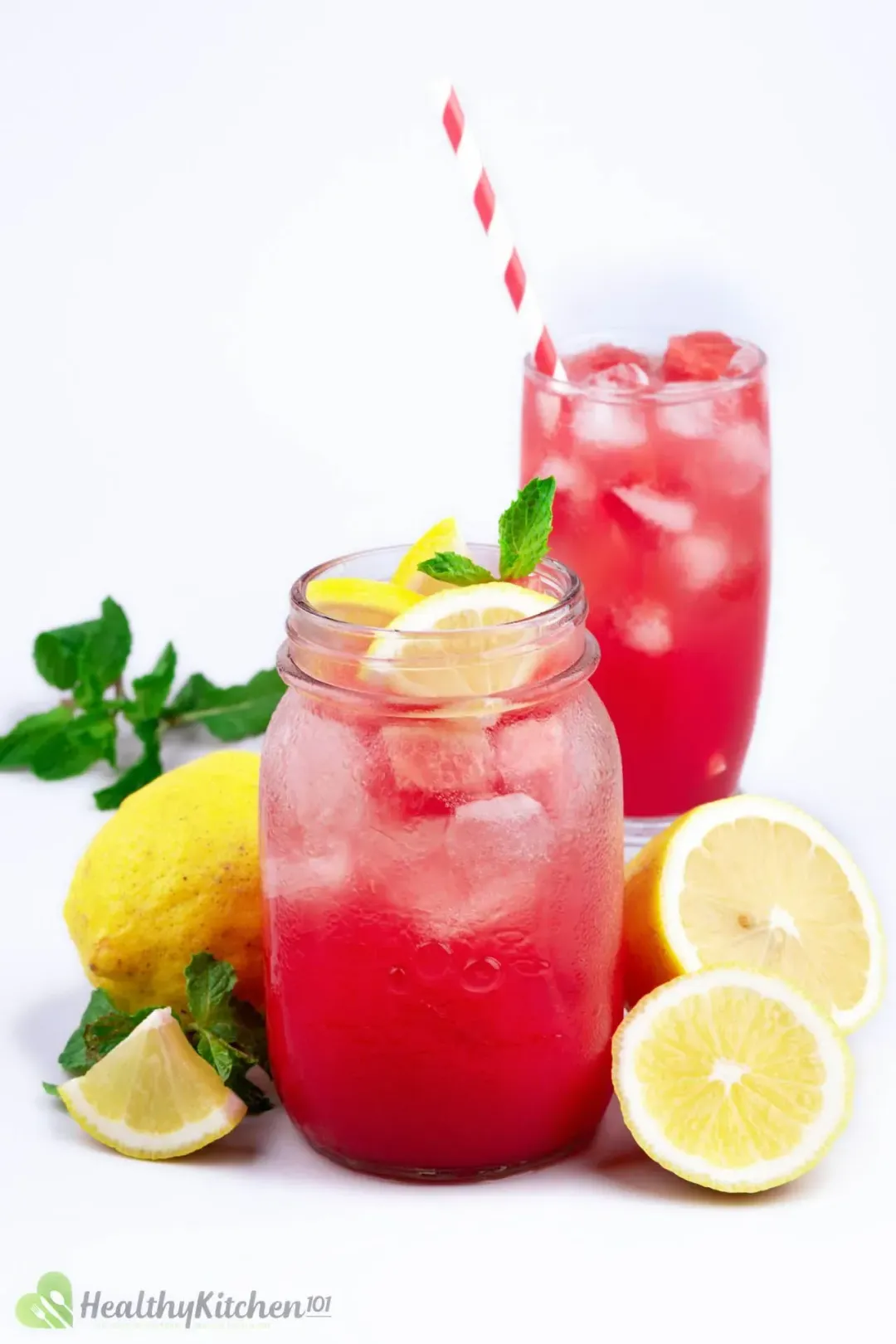 Next Recipe
Top 10 Watermelon Juice Recipes
Top 10 Watermelon Juice Recipes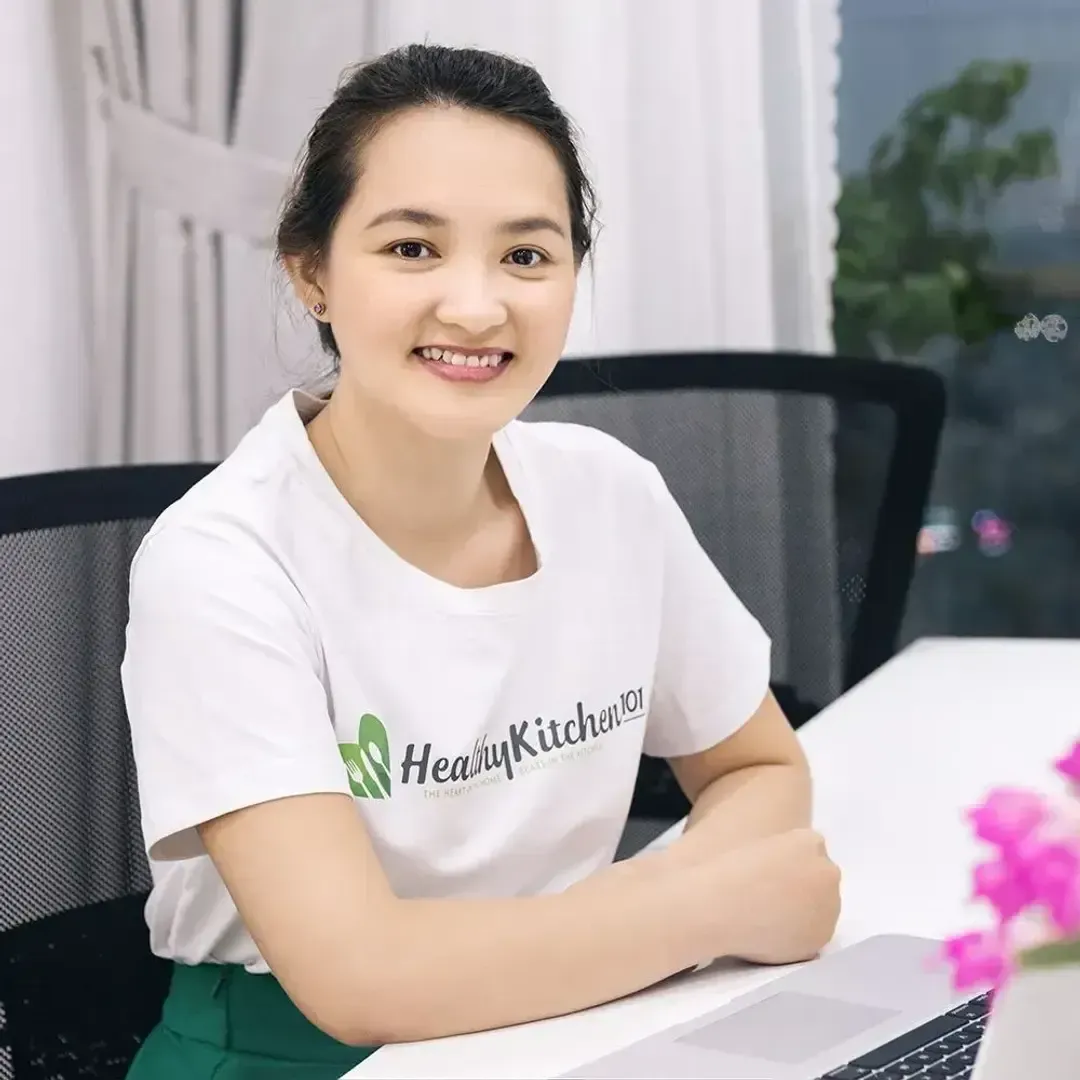 Writer, Author
Luna Regina is an accomplished writer and author who dedicates her career to empowering home cooks and making cooking effortless for everyone. She is the founder of HealthyKitchen101.com and HealthyRecipes101.com, where she works with her team to develop easy, nutritious recipes and help aspiring cooks choose the right kitchen appliances.
Comments/ Reviews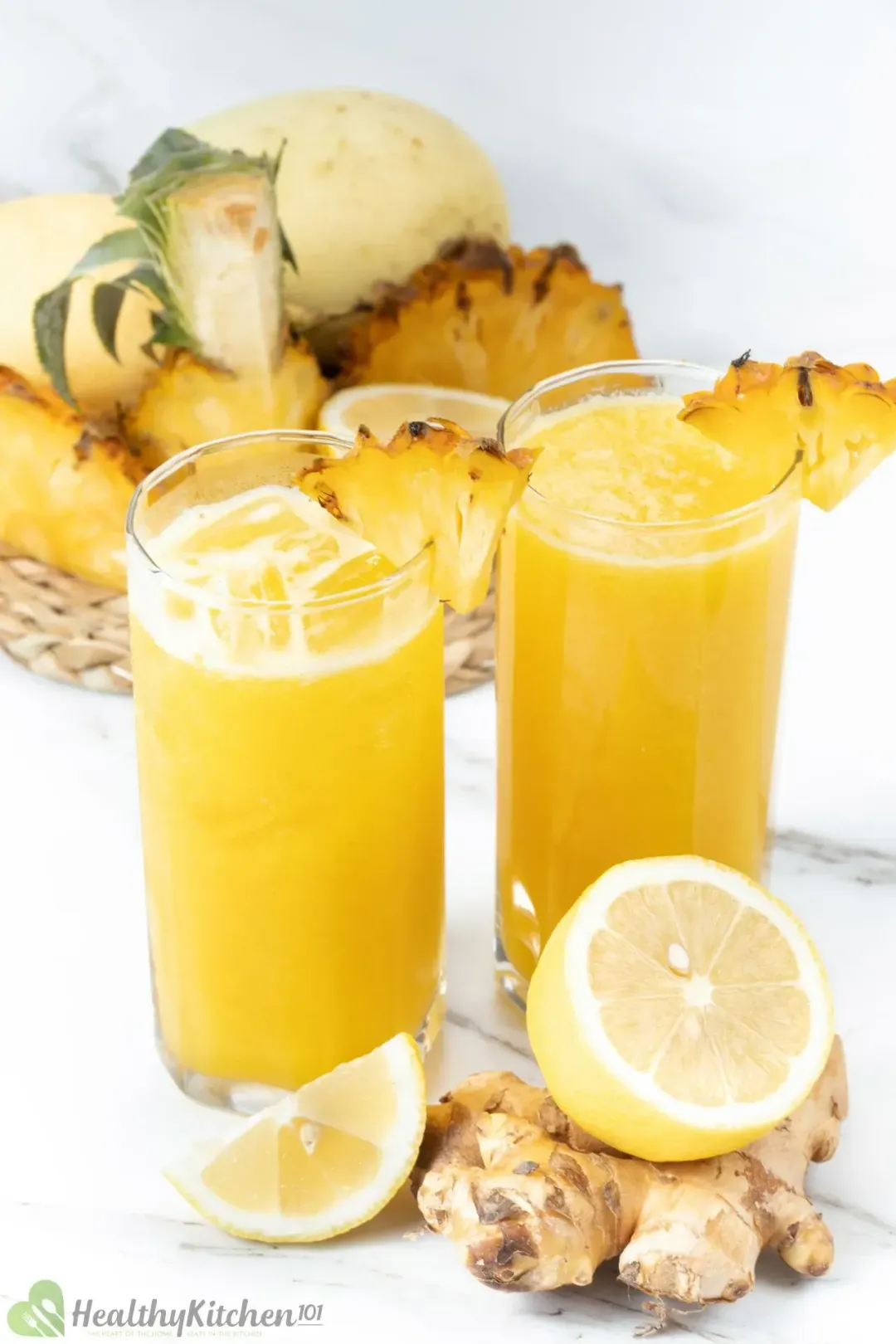 Adam Mar

February 11, 2023 at 8:40 AM

This is a tasty recipe, silky smooth and delicious!

Debbie Rivera

April 22, 2023 at 4:08 AM

Im starting to juice but also my roommate i have to trick her if she knows its a carrot or celery she will say she hates it without tasting it and im worried about her health.