Our carrot mango juice recipe will help you turn simple ingredients into a delicious and unique beverage.
If "juicing mango" sounds strange to you, you're not alone, because this concept doesn't exist. Juicers can't juice mangoes, just like they can't juice avocados or bananas — these fruits are too thick.
What we do instead is blend the mangoes, then sieve the mixture to get a smooth, thick liquid that we call "juice". This is a smart way to sneak vitamins and minerals into your diet, and above all, the drink tastes awesome.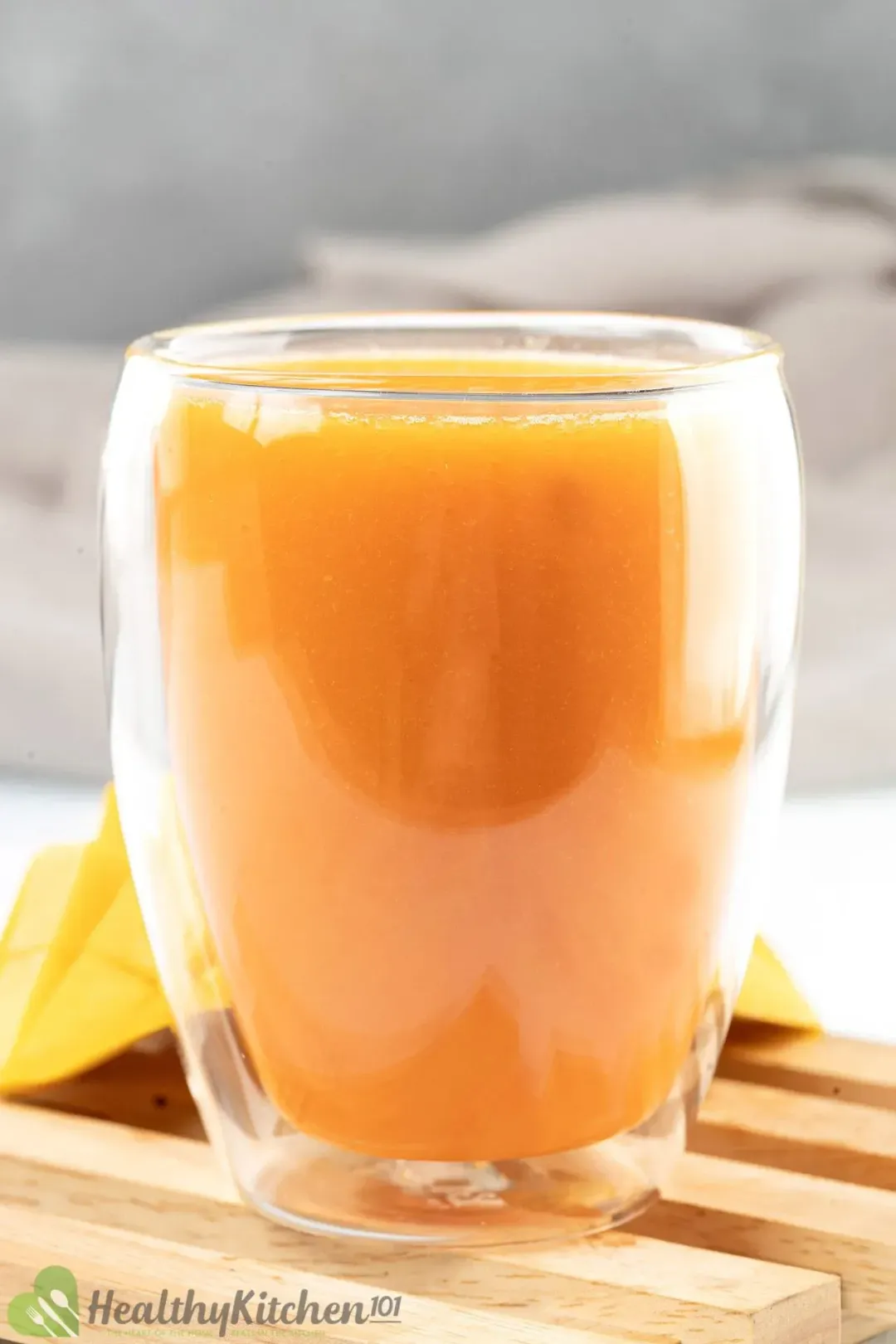 So without further ado, let's get to the full ingredients list and the simple three-step how-to by . Or read on to learn more about this beverage's health benefits, calories, preparation and storage tips.
Is Carrot Mango Juice Healthy?
Let's see what mangoes and carrots bring to the table.
1. Benefits of Mangoes
Mangoes, like cantaloupe, citrus fruits, and kiwi, are a good source of vitamin C. Vitamin C supports the immune system and enhances the body's self-healing capability, so meeting the recommended daily intake is a must. 
Besides this, the fruit also contains fair amounts of vitamin A, potassium, and vitamin B6. These nutrients also serve important functions in the body.
Although mangoes are sweet, they can potentially help you lose weight, according to Healthline. Substances called phytochemicals in mangoes "may suppress fat cells and fat-related genes."
If you love this amazing fruit, here's some other beverages you can make with it: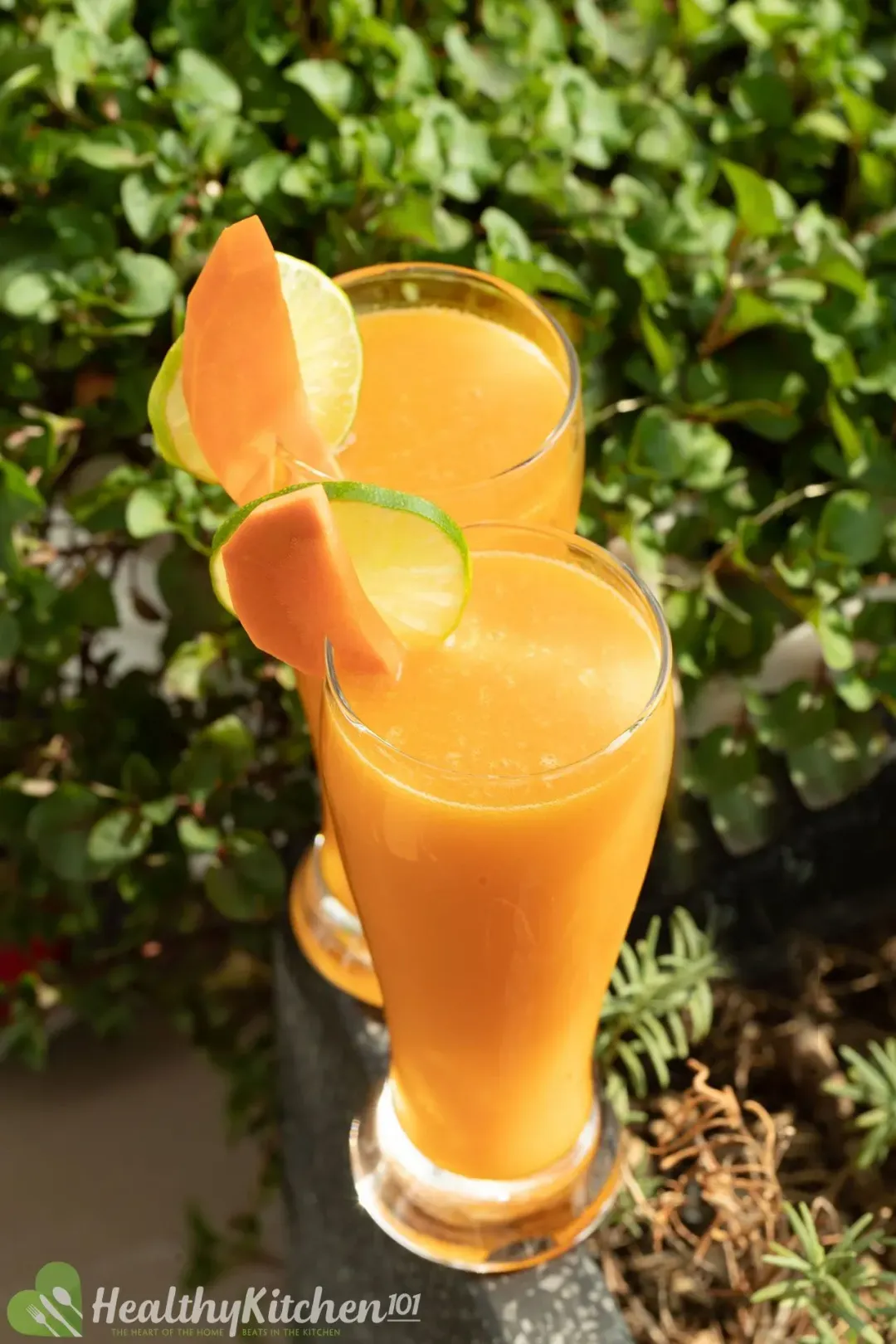 2. Benefits of Carrots
It goes without saying that eating carrots improves vision, and this is true. Our body converts beta-carotene, a substance found abundantly in carrots, into vitamin A, and vitamin A is crucial for healthy eyes.
Vitamin A also helps "maintain healthy teeth, skeletal and soft tissues, mucus membranes, and skin", says MedlinePlus.
3. Nutrients and Calories in Carrot Mango Juice
Using data from the USDA's food database, we calculated the amount of calories and nutrients present in the juice. Here's what each serving of our carrot mango juice recipe contains:
| Calories | Nutrient | Amount | % Daily Value |
| --- | --- | --- | --- |
| 76 | Vitamin C | 131.6 mg | 146% |
| | Vitamin A | 471 mcg | 52% |
The juice contains other micronutrients as well, but they're not listed since they come in insignificant amounts. These are the major nutrients present in the juice.
How to Peel and Cut a Mango
Prepping carrots is a breeze — all it takes is seconds to peel the skin and cut it into chunks. But when it comes to mangoes, you can end up with a mess without a proper cutting method.
In this section, we're looking at conventional ways to peel and cut the tropical fruit and see which works best.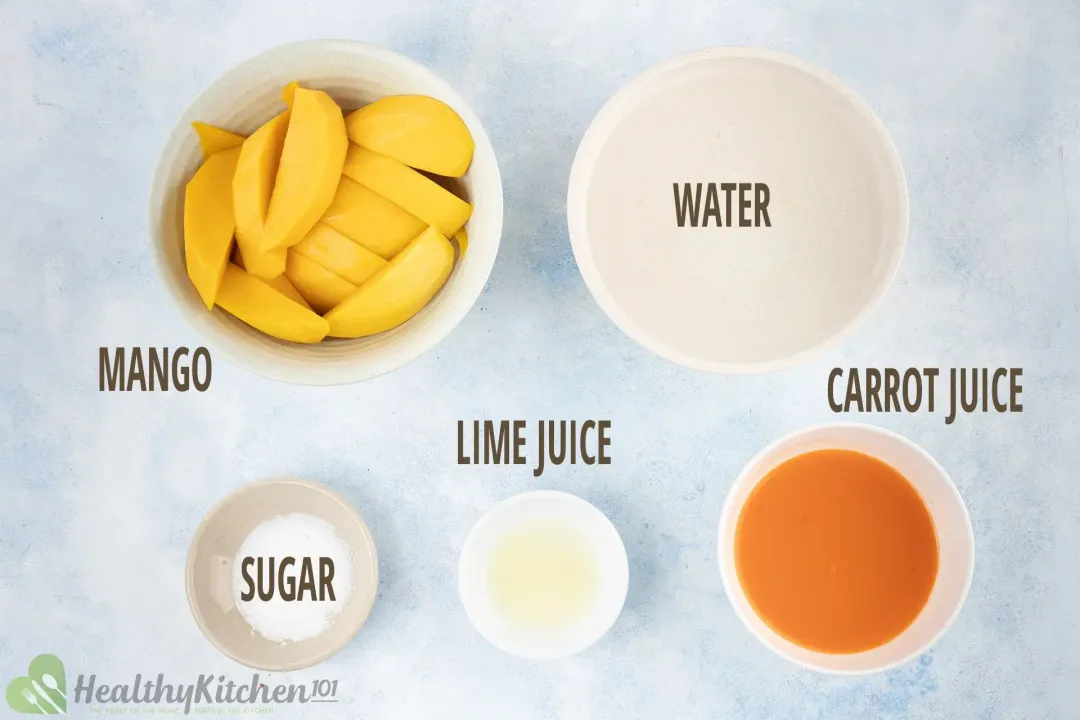 1. Cut Around the Pit, Twist, Remove the Pit, and Scoop the Flesh out
Because mangoes have a large pit, it's natural to go around it, twist, and the pit should come out easily, right? Not always.
This method works well with avocados because the pit doesn't stick to the fruit's flesh. It's quite the opposite with mangoes, where chances are, the pit won't budge one bit.
To deal with mangoes, there are two ways of cutting, depending on what you're cutting them for.
2. Peel the Skin, Cut the Sides out, Cut the Flesh into Cubes
This method comes in handy when you want neat-shaped mango slices/cubes. It's an efficient way to prep a large number of mangoes and refrigerate them.
Begin by peeling the skin off with a peeler. Place the mango on the cutting board and since it's your first time slicing mangoes, here's a little tip:
Not all parts of the mango are equally thick. The side it naturally rests on and the opposing side contain the most flesh; these are what we call the "cheeks".
Once you've identified the "cheeks", hold the mango straight with one end on the cutting board. Place the knife 1 inch away from the center line, and slice off one cheek.
Do the same with the other, and you should end up with two large cheeks separated from the middle piece. Cut off the flesh around the middle piece, then slice that part and the cheeks however you want.
Place the mango cubes/slices in a container and they're ready for eating, chilling, or making treats.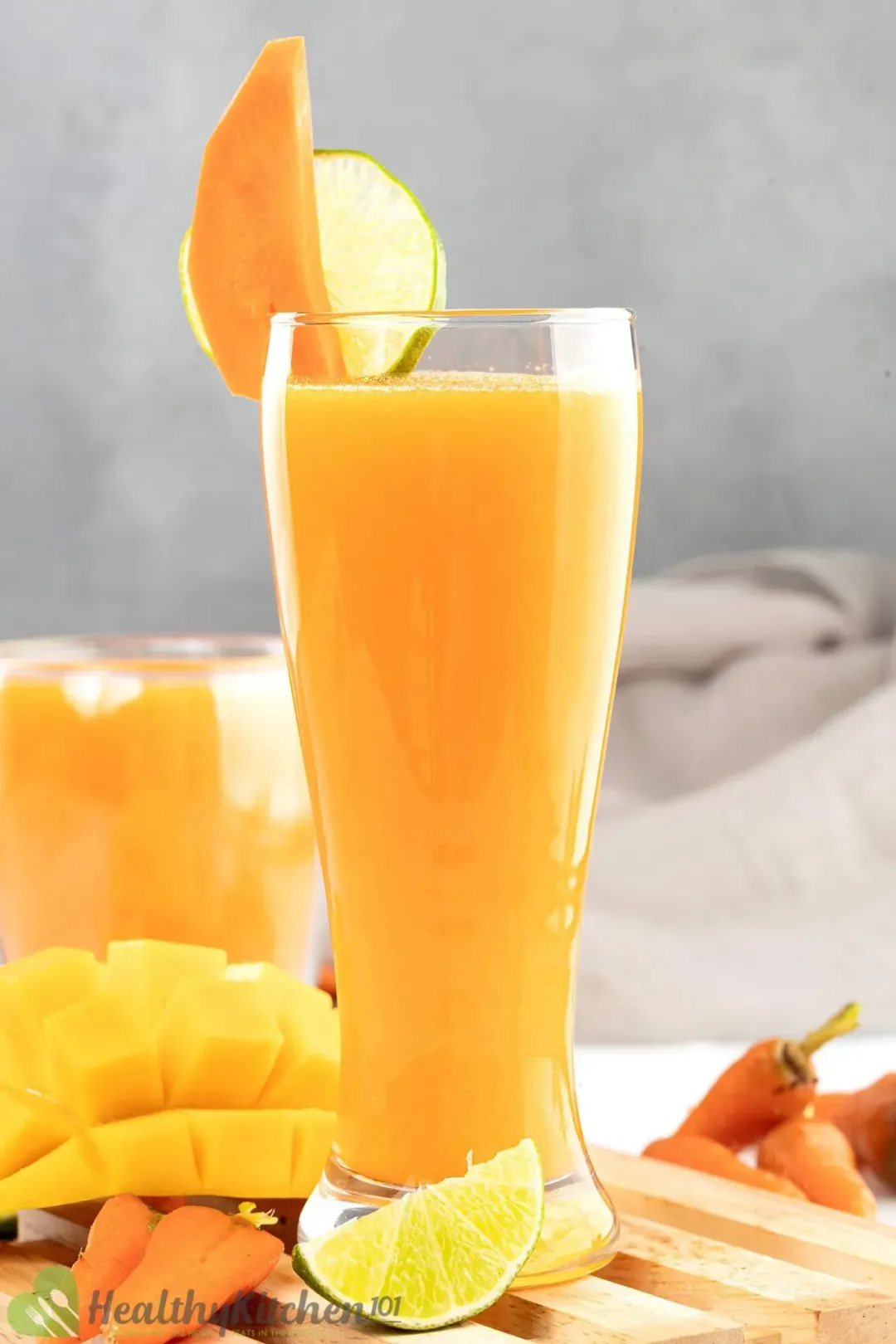 3. Slice the Sides, Score Each Side, and Scoop the Flesh out
The previous method ensures that you get even cubes of mango, but it takes a long time. This method gets the job done more quickly — it's especially efficient if you're cutting the mango to serve yourself.
First, put the peeler away and leave the mango skin on. Then apply the method we've mentioned earlier to slice the two thick cheeks off the pit.
Pick up one cheek and score the flesh by making horizontal and vertical slits into the flesh. Use a spoon to scoop the flesh out, or pop it open into a "mango flower" and eat it like that if you want.
For the pit, peel away the skin and cut around the edge to get all the remaining flesh. Slice the flesh to store, chill, make a beverage, or munch on.
With the carrots cut and the mangoes cubed, it's time to make the juice.
If you're a big fan of carrot, this healthy carrot juice roundup might be of help. Or check out this article to see more healthy mango juice options.
How to Make Mango Carrot Juice
Here's the short version of our carrot mango juice recipe: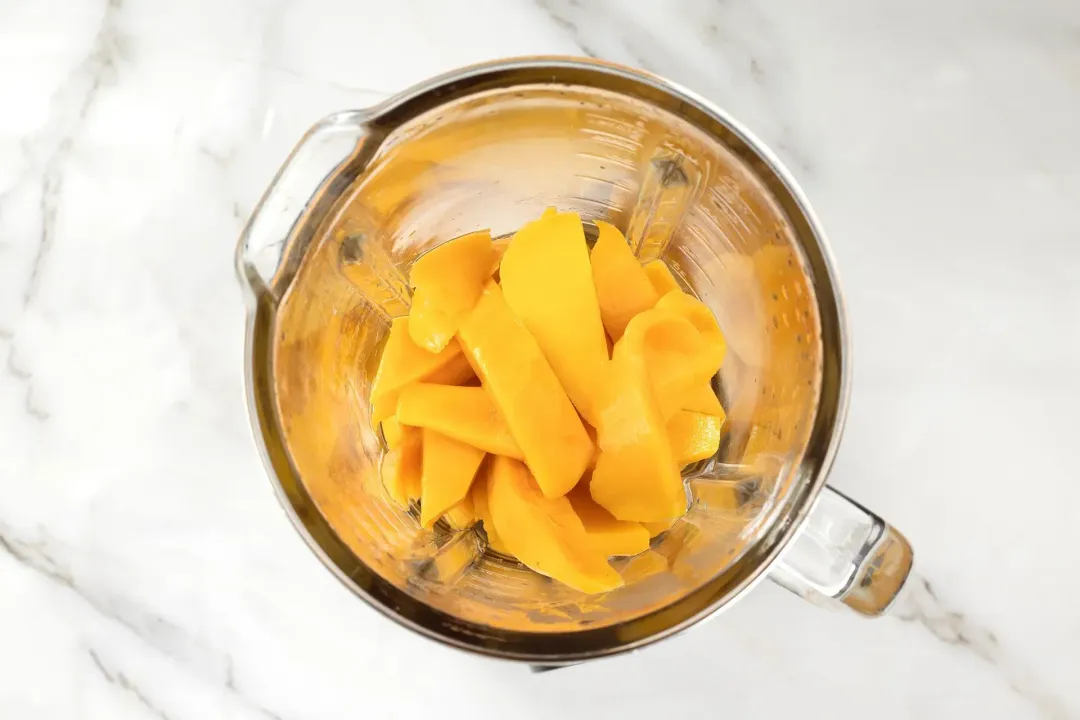 Blend the ingredients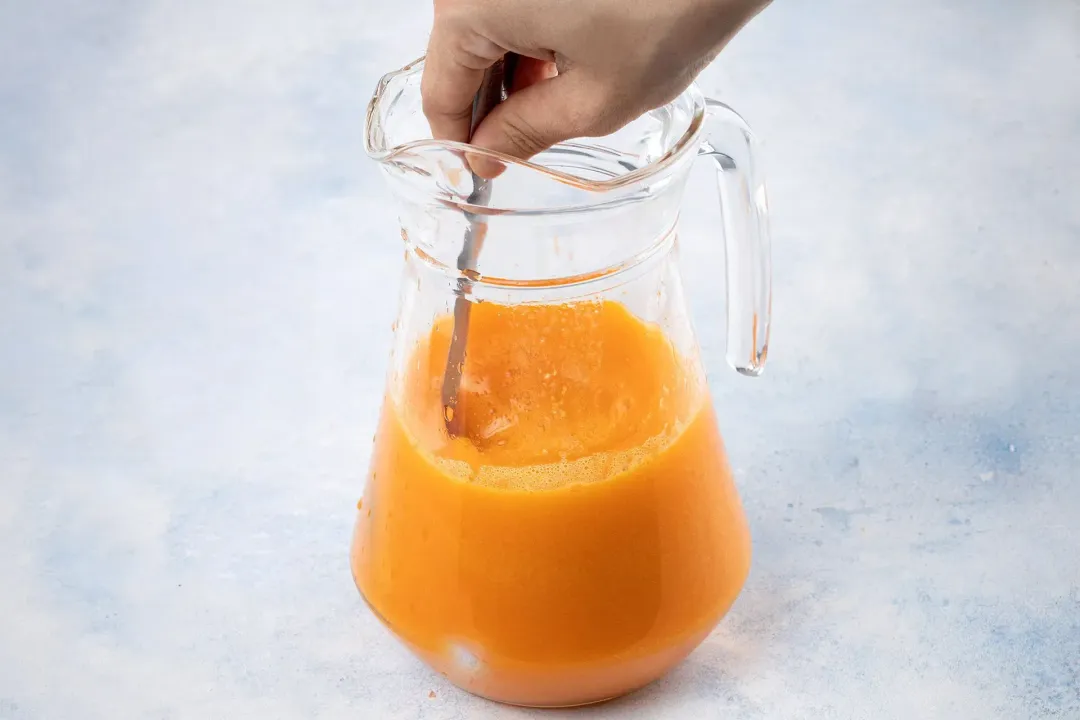 Sieve the mixture and collect the juice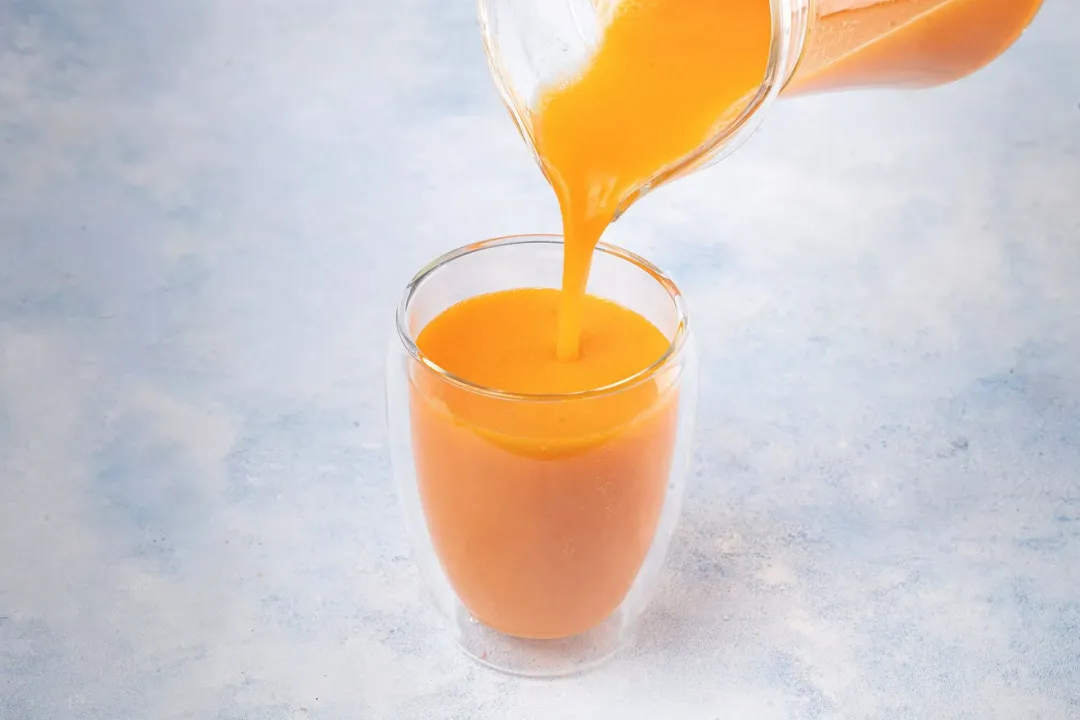 Garnish and serve
How Long Does Carrot Mango Juice Last?
Any juice should last for 24 hours refrigerated, 48 hours maximum, and less than 2 hours at room temperature. If you want to store the juice for longer, divide it into portions, place in individual Ziploc bags/containers and freeze away.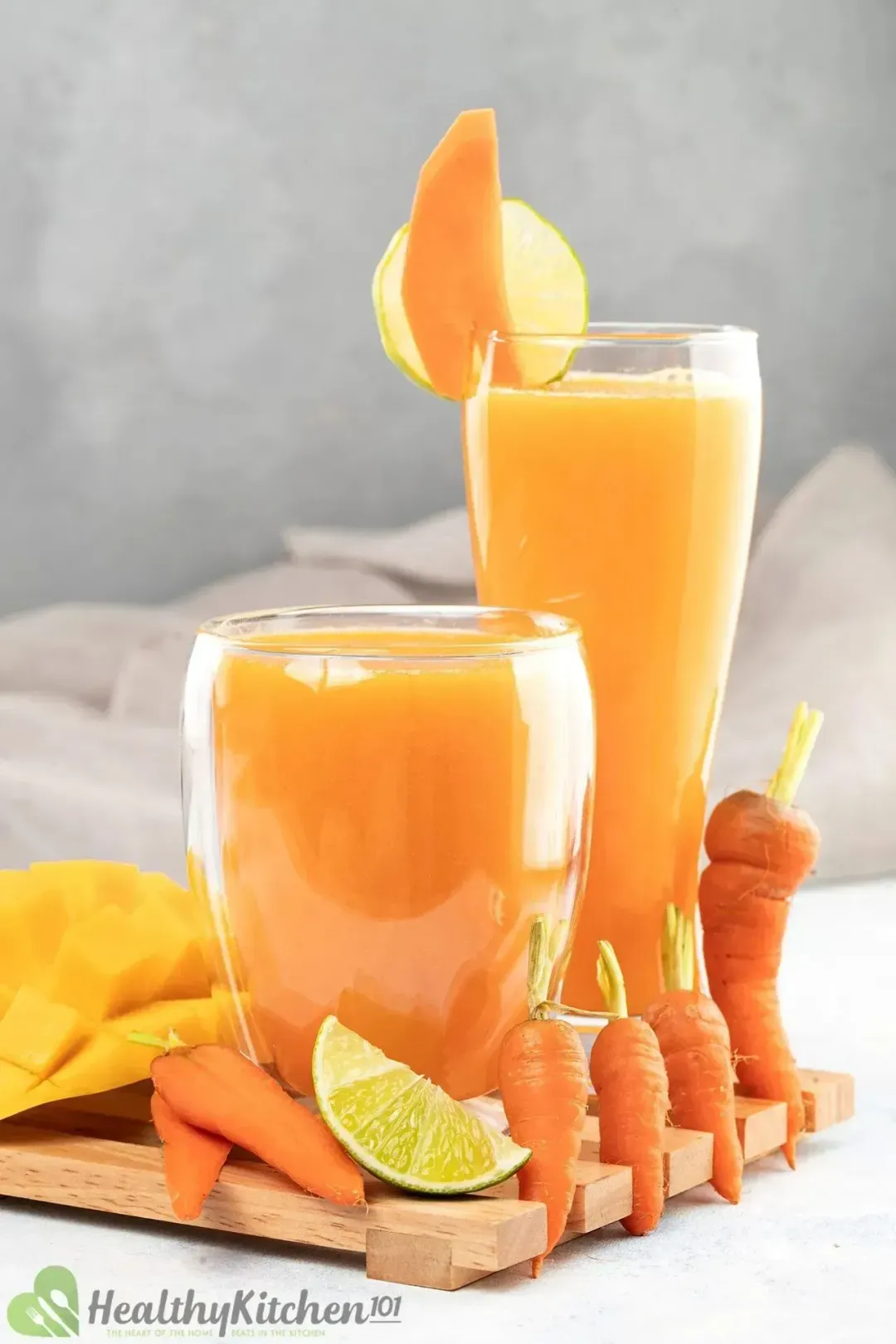 Before cutting the fruit, remember to wash it very thoroughly. Bacteria living in the skin can be transferred to the flesh while cutting, and it's not safe to consume.
Check out healthy and delicious juice for more delicious beverage recipes.
Carrot Mango Juice
Our carrot mango juice recipe will get you a nutrient boost in just 10 minutes. The results won't disappoint!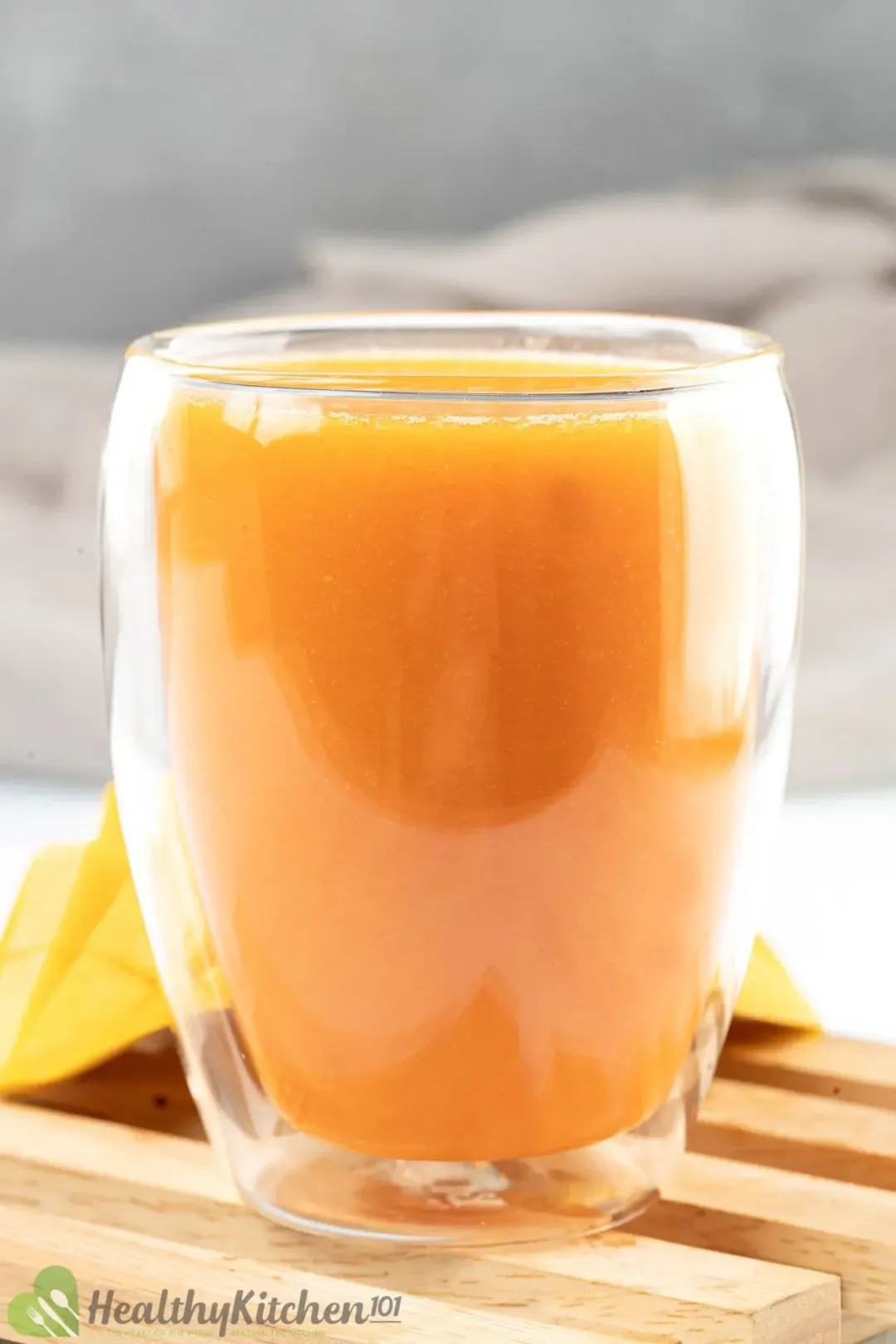 prep TIME

10 mins

total TIME

10 mins
COURSE

Beverage

CUISINE

Global

SERVINGS

CALORIES

76 kcal
INGREDIENTS
4 fl oz

carrot juice

(from 8-10 oz carrots)
INSTRUCTIONS
1
Add to your blender 12 oz mangoes, 4 fl oz or half a cup carrot juice (we juiced beforehand), 1 tbsp lime juice, 1 tbsp sugar, and half the amount of water, and blend away. It helps to chop mangoes into little cubes before blending. Once finished blending, add the remaining water, blitz for 5 seconds, then turn off the blender.
2
Grab a sieve and place it over a large bowl. Pour the mixture into the sieve (just enough to fill the sieve) and use a spoon to stir around. When all of the liquid goes through the sieve, repeat until all of the mixture has been strained.
3
Pour the mixture into serving glasses or a large pitcher. Serve it as-is or with ice, depending on your preference.
NUTRITION
Nutrition Facts
Carrot Mango Juice
Amount Per Serving (1 serving)
Calories 76
% Daily Value*
* Percent Daily Values are based on a 2000 calorie diet.
Keywords: Carrot Mango Juice, Carrot Mango Juice Recipe, Homemade Carrot Mango Juice Recipe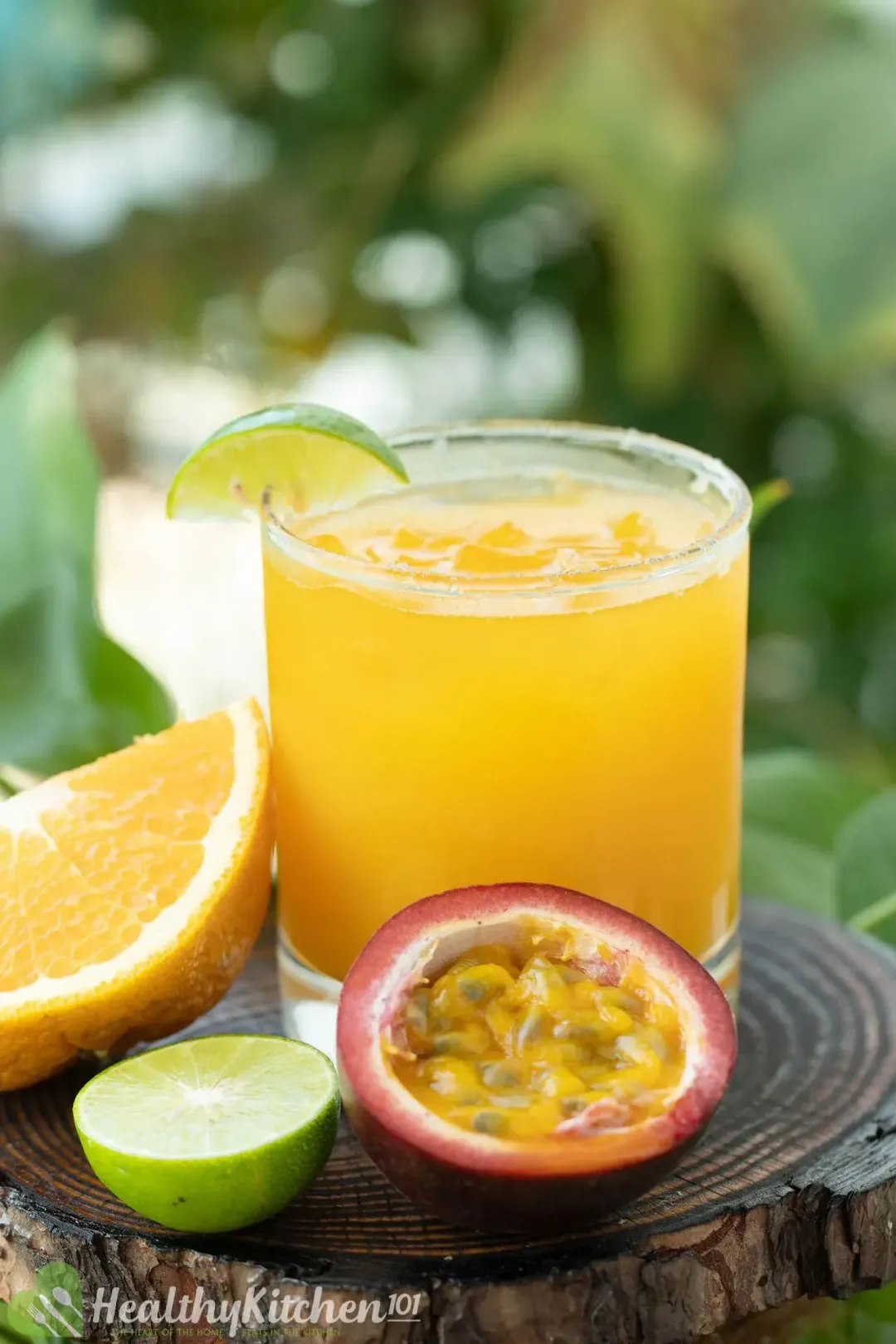 Previous Recipe
Passion Fruit Margarita
Passion Fruit Margarita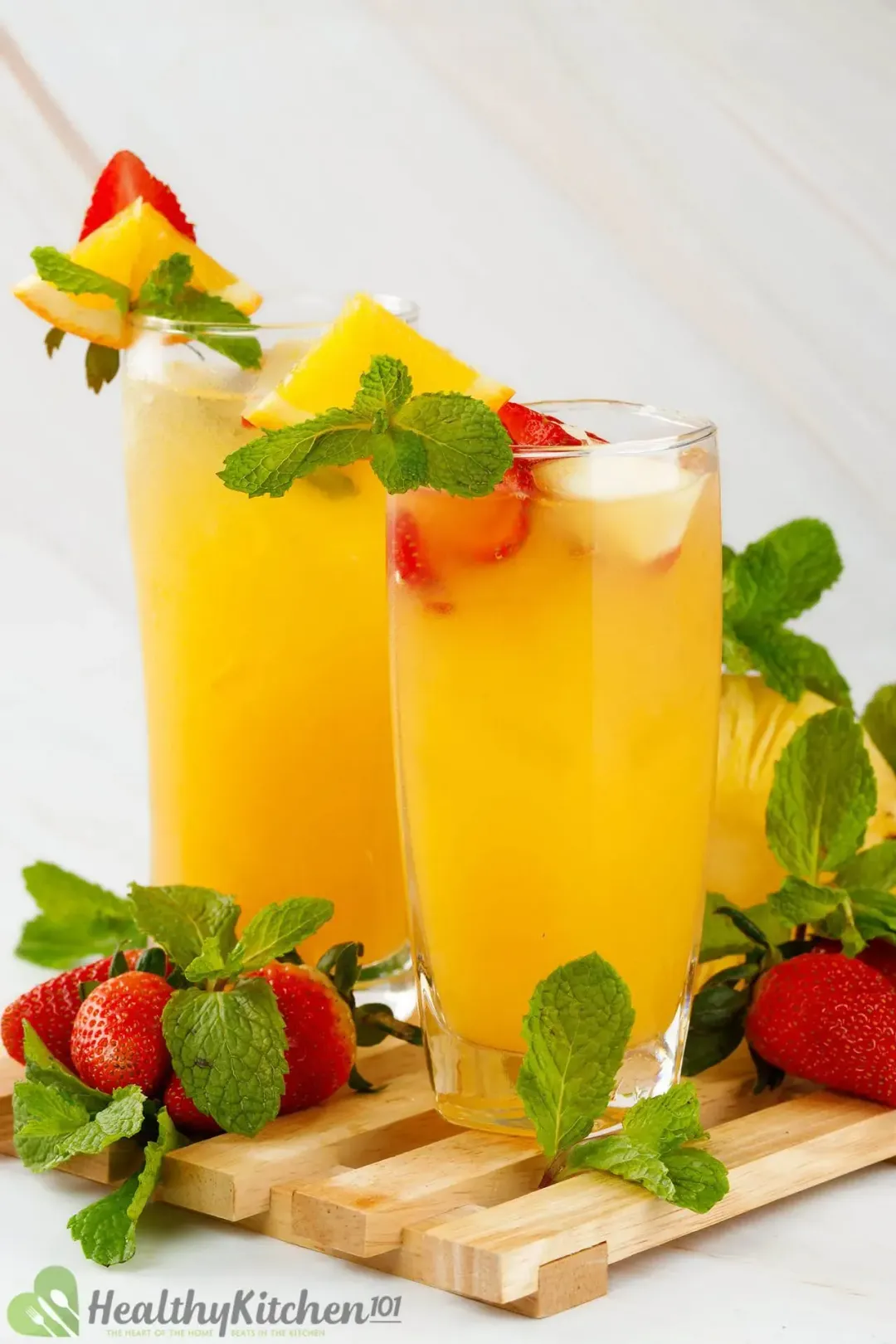 Next Recipe
Halloween Jungle Juice
Halloween Jungle Juice
Head Chef, Culinary Consultant
Tuyet Pham is an award-winning Saigonese chef who believes that joy is the secret ingredient to delicious food. At Healthy Recipes 101, Tuyet personally tests and simplifies every recipe, ensuring maximum flavor with minimal effort. With a background at prestigious French restaurants P'TI Saigon and Le Corto, Tuyet knows how to make every dish exceptional.
Writer, Author
Luna Regina is an accomplished writer and author who dedicates her career to empowering home cooks and making cooking effortless for everyone. She is the founder of HealthyKitchen101.com and HealthyRecipes101.com, where she works with her team to develop easy, nutritious recipes and help aspiring cooks choose the right kitchen appliances.
Nutrition Reviewer
Lizzie Streit is a Minneapolis-based dietitian and founder of It's a Veg World After All. She completed her MS in Human Nutrition from Drexel University, and is an expert in culinary nutrition, recipe development, and nutrition communications. Lizzie's philosophy is centered around making nutrition recommendations, and especially the advice to eat more vegetables, approachable and realistic. She is excited to be working with the team at Healthy Recipes 101 to ensure that their recipes are both nutritious and delicious.
There is no need for sugar, but pretty good, will make again.